---
Beth and Eric's 25th Anniversary New Zealand/Aotearoa Adventure
Thursday 3 November-Sunday 20 November, 2016
It's been more than 25 years since the day we made our vows (back in upstate New York), and we're still doing our best to keep them. Such an anniversary called for something particularly special. Because we love volcanoes, glaciers, and exotic wildlife, Eric and I chose unbelievably beautiful New Zealand for our celebration. New Zealand is a land of geologic extremes, torn apart by a very active fault and a similarly active volcanic zone. All of this geologic activity gives it so much to see, a great variety of extremely adventurous activities available in reasonable driving distances. In our 17-day journey, we walked into an active volcano, swam with wild dolphins, rode a boat into a glacial lake full of icebergs, dove in the very special environment of Milford Sound, hiked through ice caves on a glacier, saw many exotic endangered animals (including penguins!), visited six national parks, and drove [didn't you have this number? 3000+?] km through incredible scenery (on the left side of the road).
North Island/Te Ika-a-Maui
Visiting the City of Sails, Auckland, and Kelly Tarlton's Sea Life Aquarium.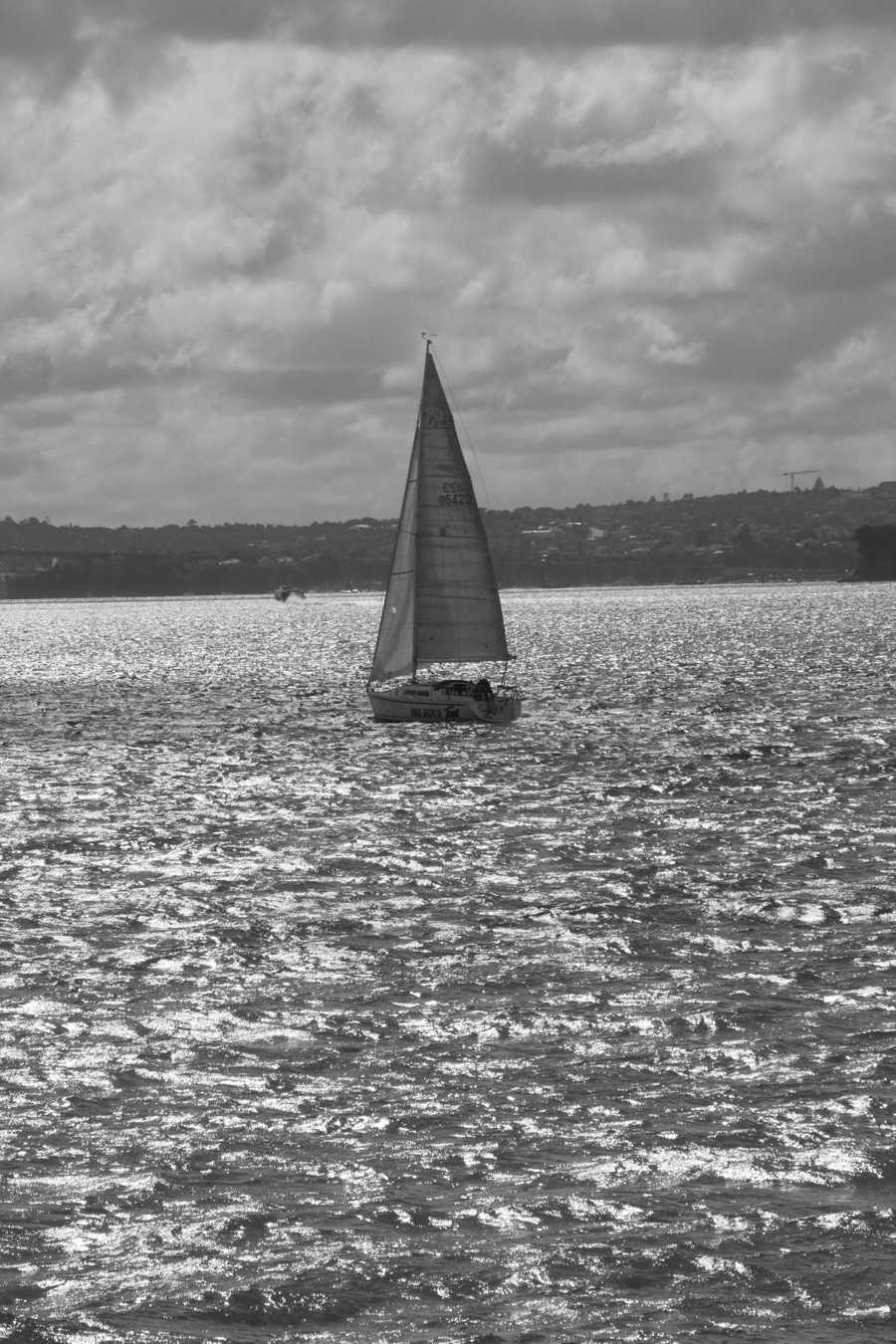 Touring the charming Hobbiton Movie Set and seeing the hobbit holes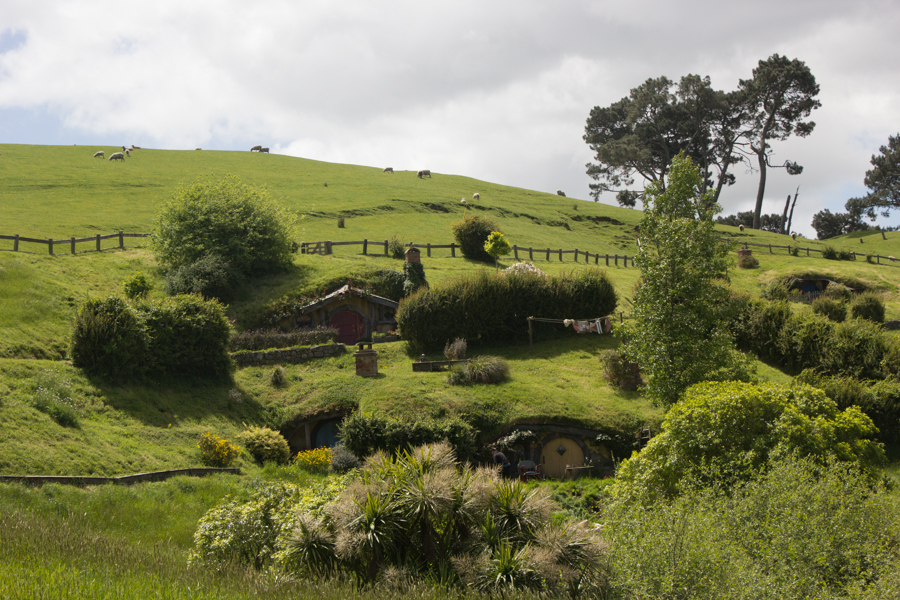 Walking right into an active volcano on Whakaari/White Island.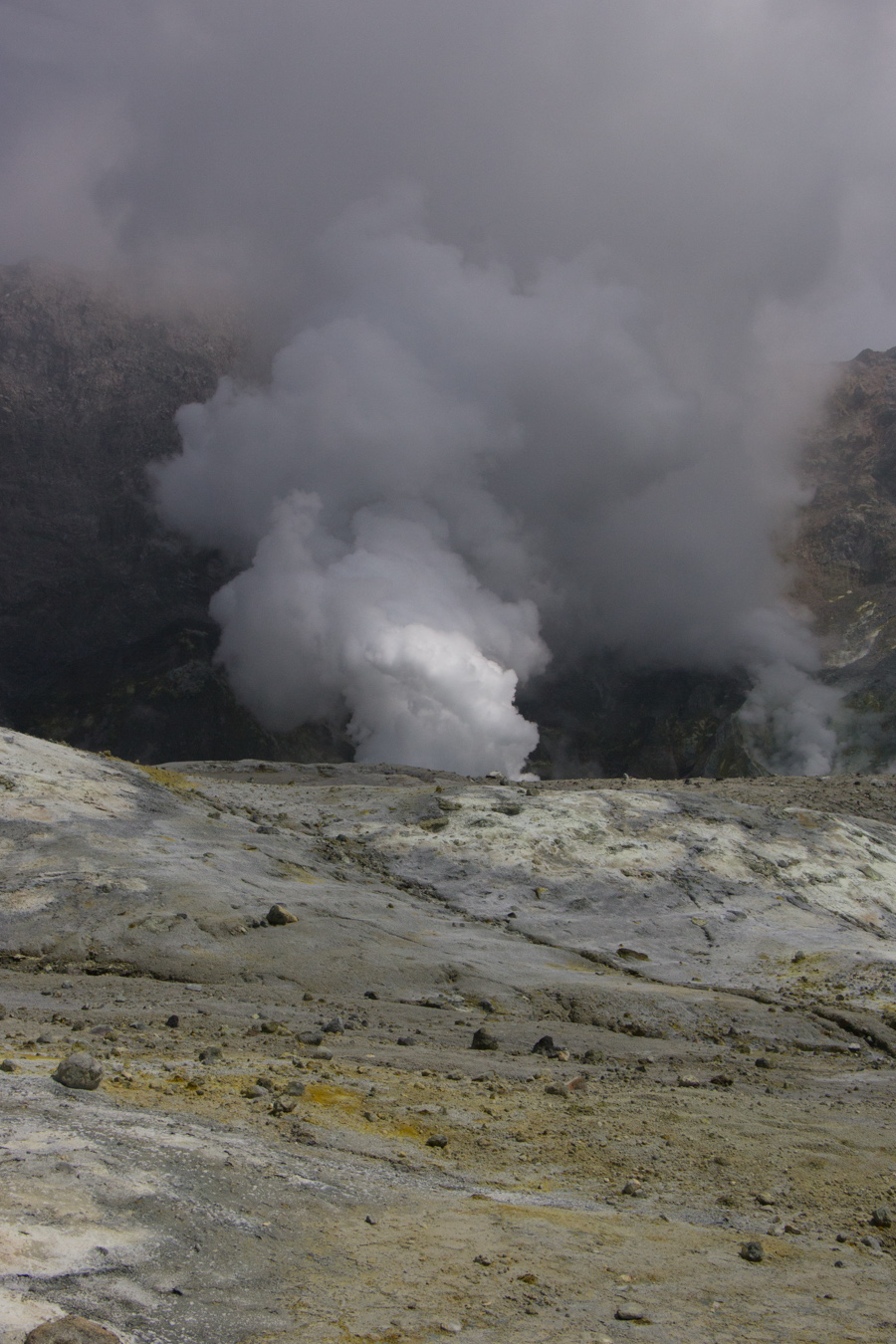 Visiting the indigenous Maori at Mitai Maori Village and having the geothermally-cooked hangi meal.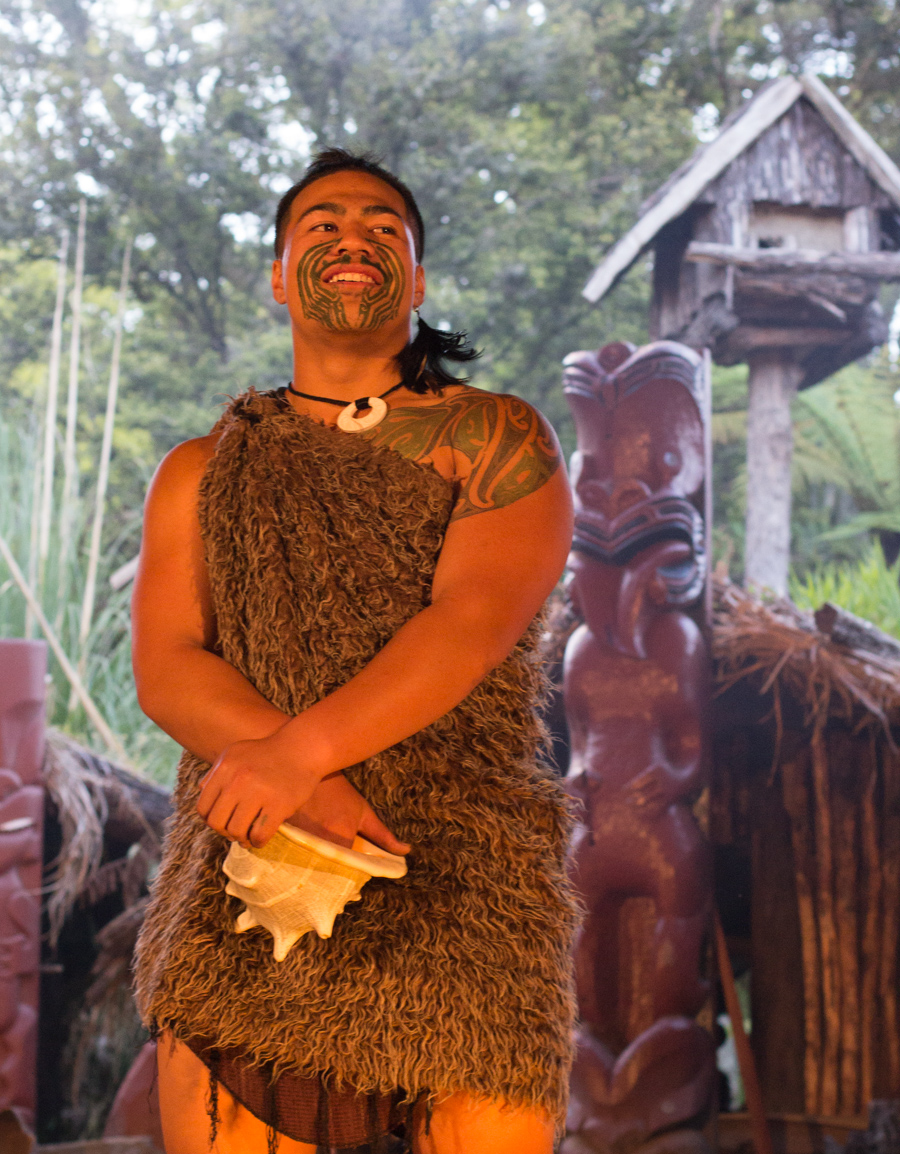 Exploring the active geothermal area of Waimangu Volcanic Valley near Rotorua.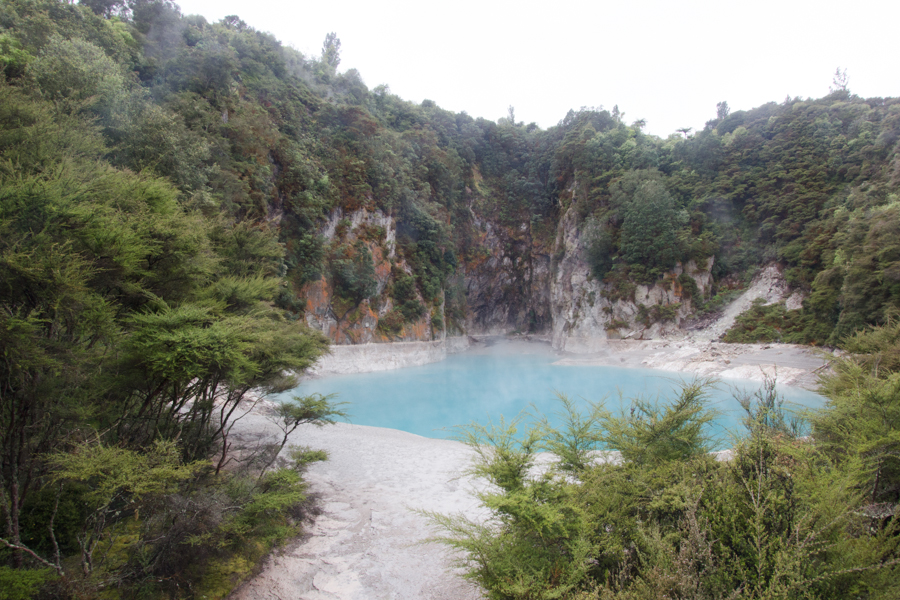 Tramping through lava to Taranaki Falls in Tongariro National Park.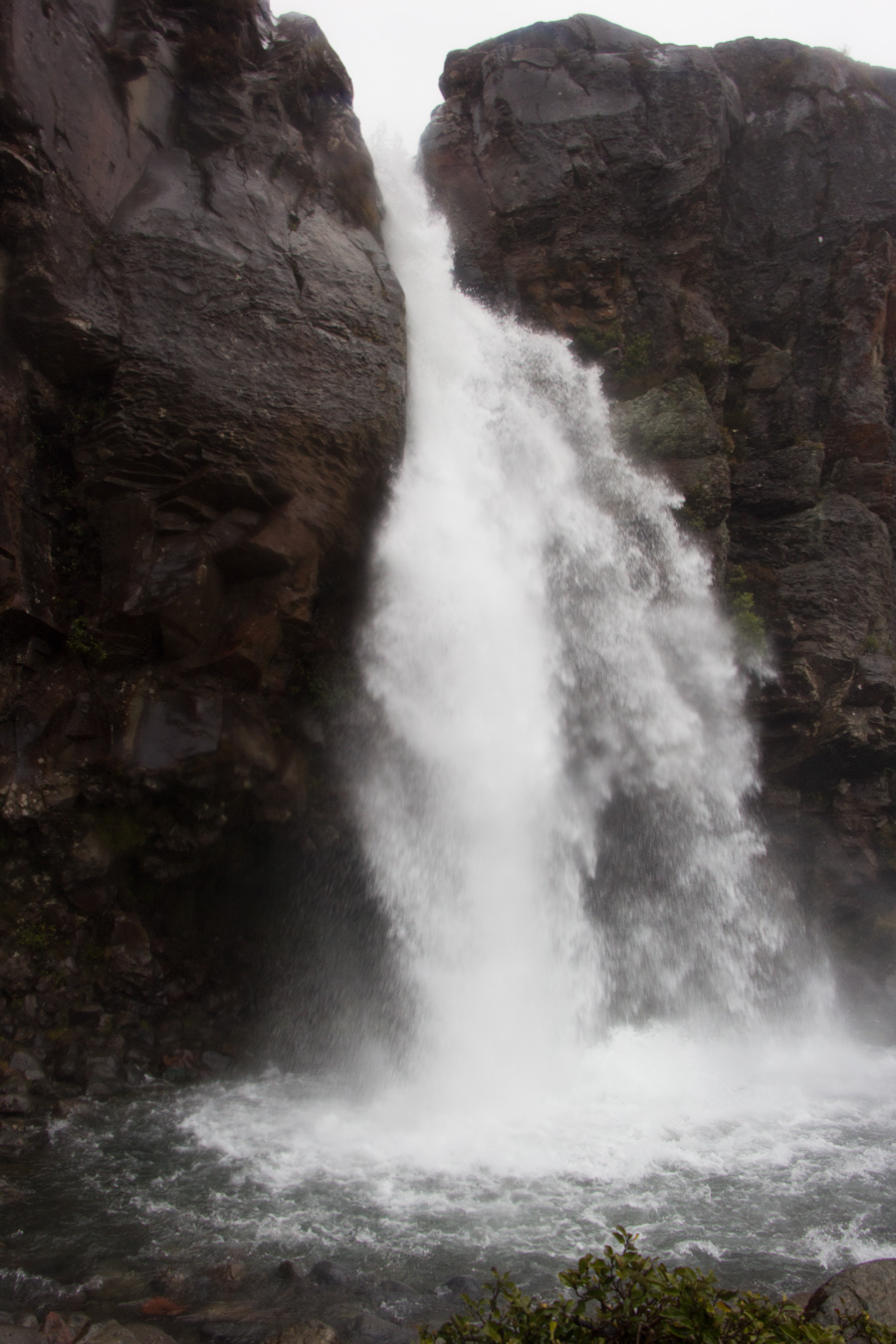 Visiting the capital City of Wellington, with more Maori culture at Te Papa, the national museum of New Zealand, and wildlife viewing at Zealandia, a live recreation of a native New Zealand environment free of mammals. Eric's picture of the Welllington waterfront.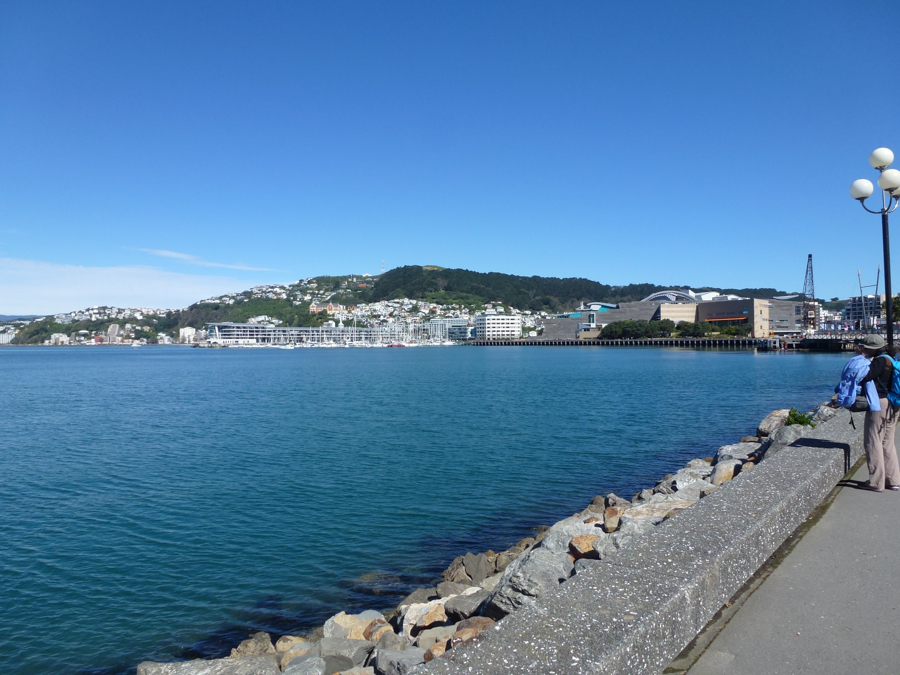 South Island/Te Waipounamu
Travel across the Cook Strait from the North Island to the South Island on the scenic Interislander Ferry, supposed to be one of the most beautiful ferry rides in the world, and some fantastic wildlife along the drive to Kaikoura. Eric's photo of a New Zealand Fur Seal pup, with mama in the background.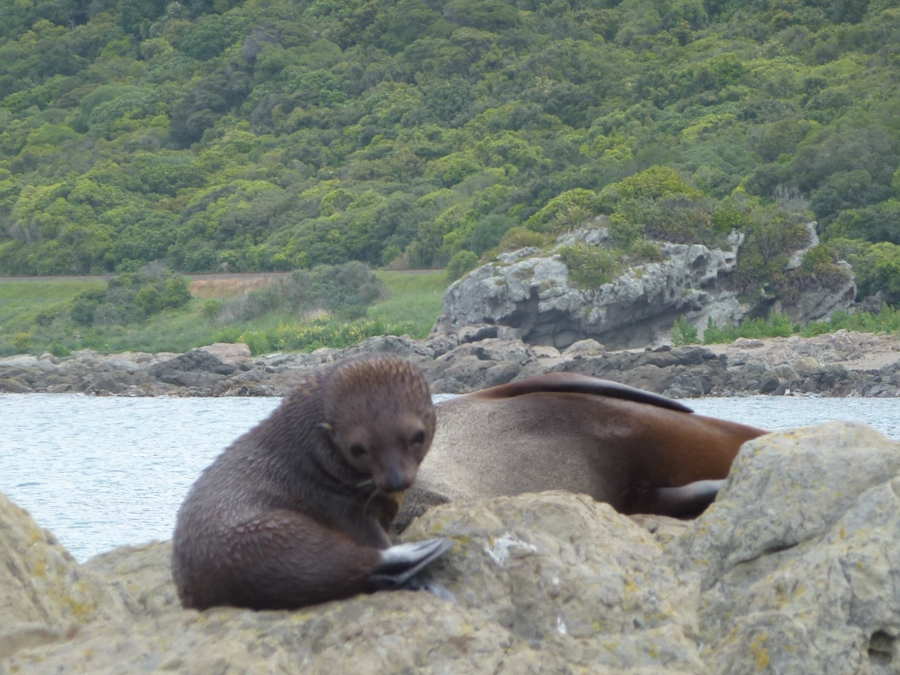 Seeing a Sperm Whale and many native birds, and swimming with wild Dusky Dolphins in Kaikoura, one of the best places in the world for seeing marine life. Eric's video extraction of a leaping Dusky Dolphin.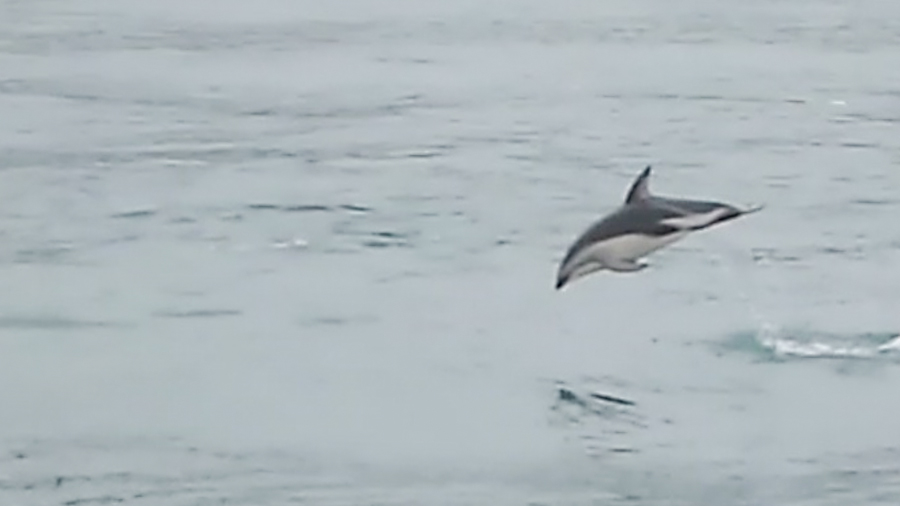 Tramping up to view a glacial lake full of icebergs in Aoraki/Mt. Cook National Park Part 1.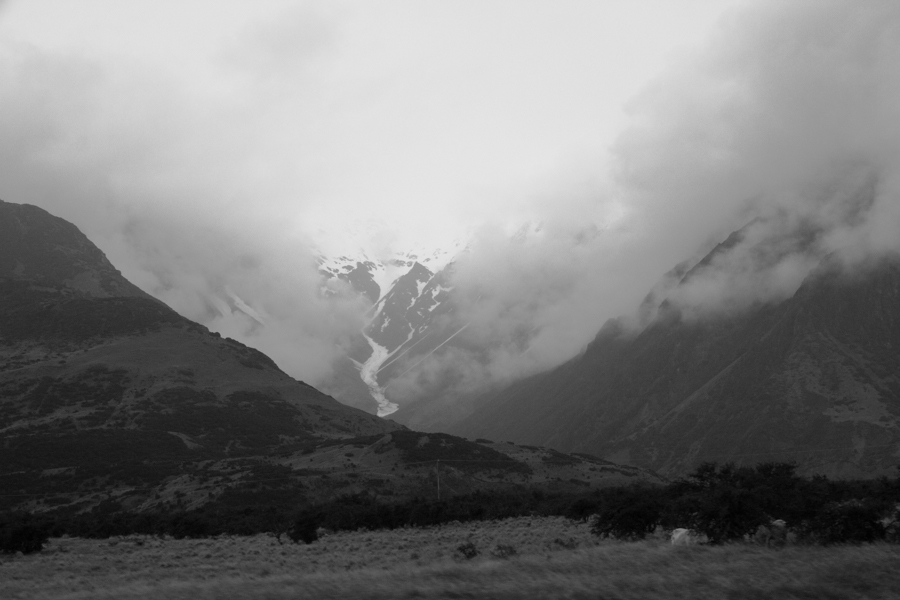 Riding a boat right into the glacial lake in Aoraki/Mt. Cook National Park Part 2. Tasman Lake and Mt. Chudleigh.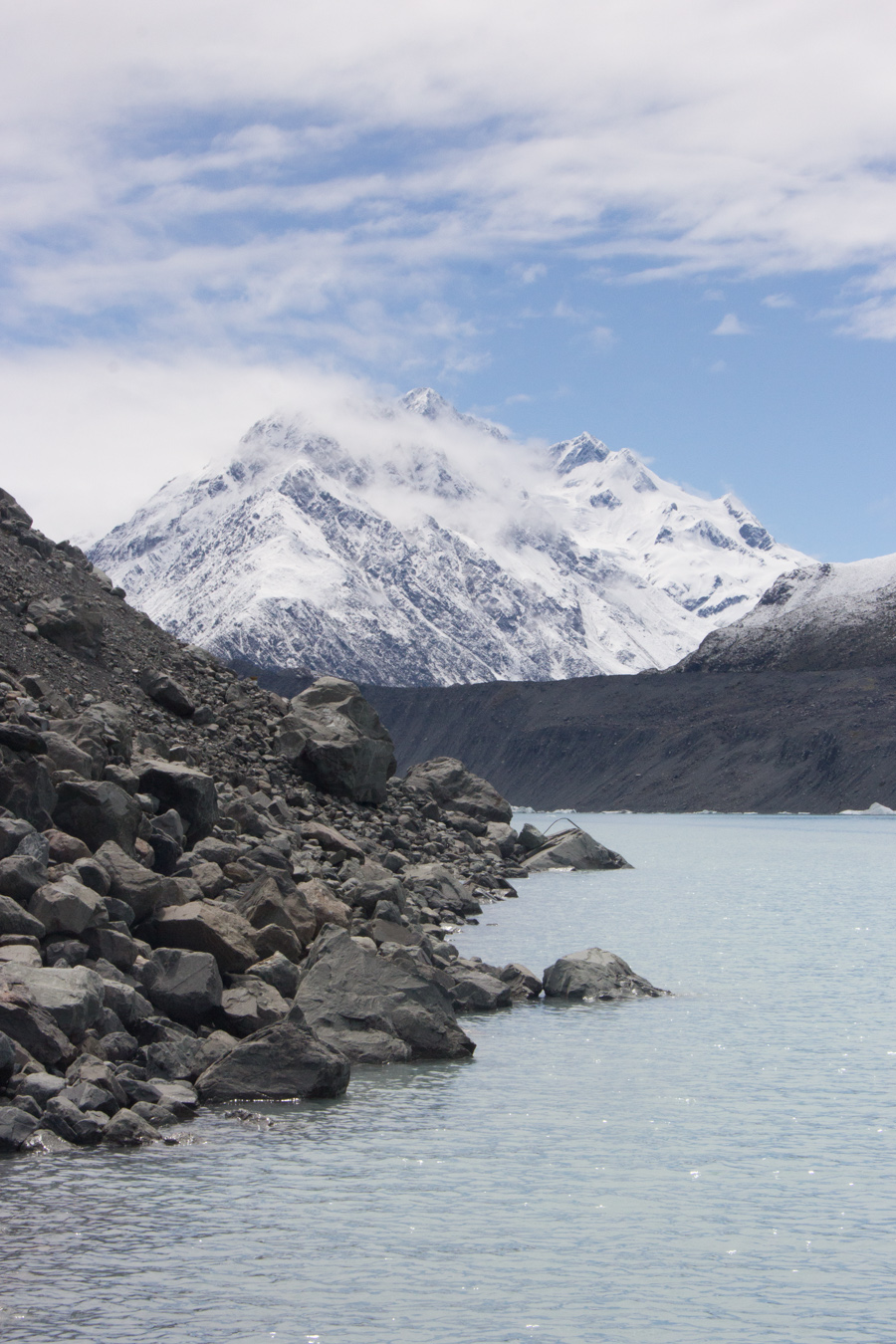 An amazing day of wildlife touring on the Otago Peninsula near Dunedin, with albatrosses and penguins. Northern Royal Albatross in flight.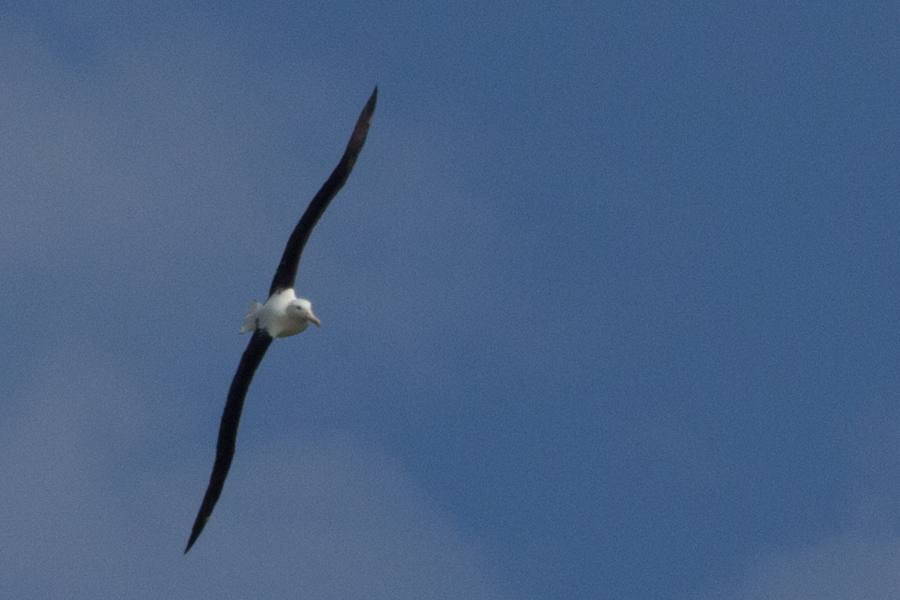 Touring the charming Catlins at the southern end of the South Island, and getting a close look at a Yellow-eyed Penguin.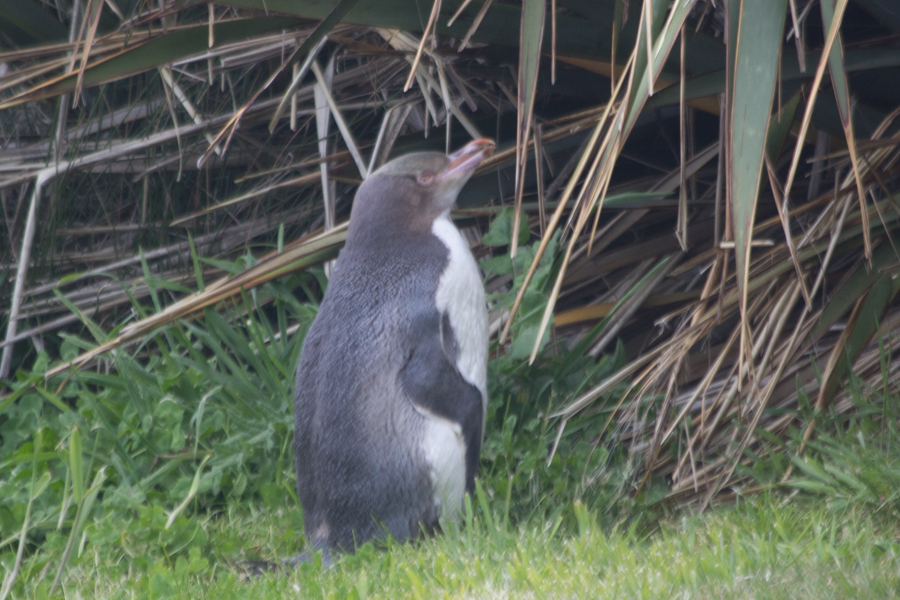 Diving the unique environment of Milford Sound/Fiordlands National Park Part 1, where there is a 5-m freshwater layer above the marine layer, and seeing more penguins.
Riding to the outer edge of Milford Sound on an overnight cruise, and exploring some other sites in Milford Sound/Fiordlands National Park Part 2, plus Glow Worm caves.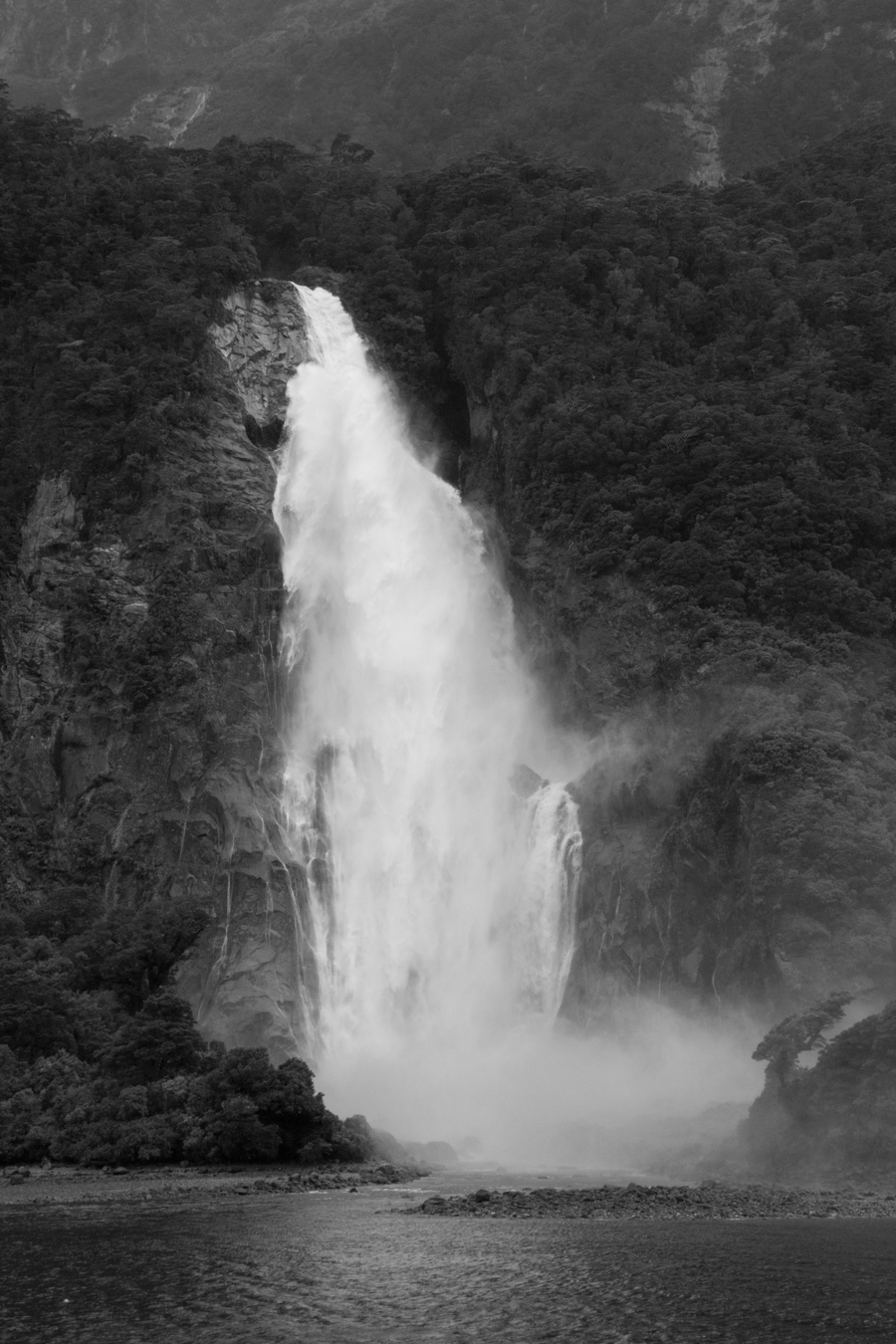 Visiting the lovely lakeside town of Wanaka, and tramping up nearby Iron Mountain. Eric's picture of Lake Wanaka and the surrounding hills.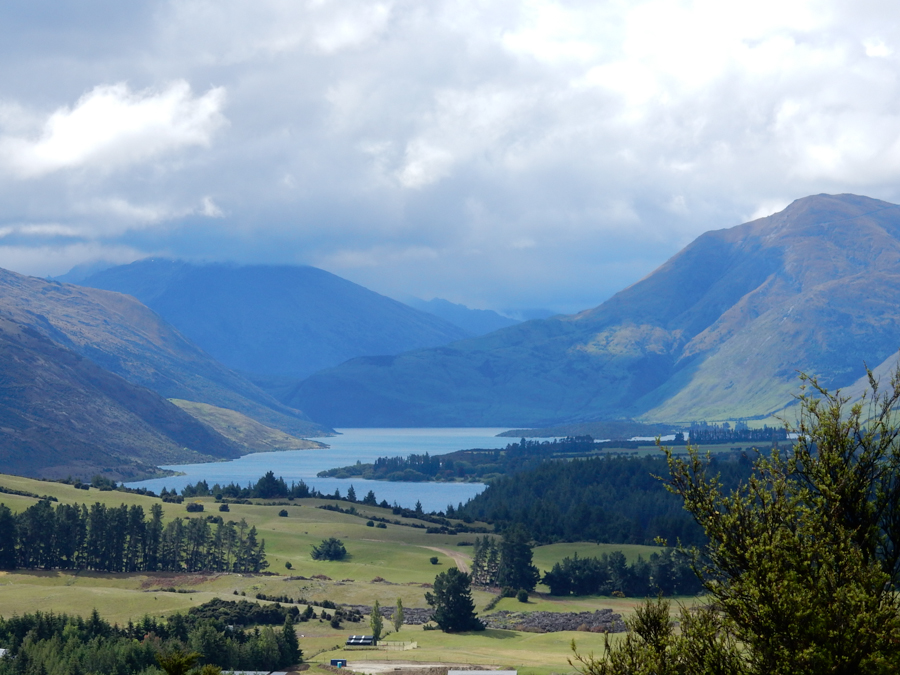 Tramping through ice caves on the Franz Josef Glacier in Westland Tai Poutini National Park. Eric's picture of me emerging from an ice cave.
One last national park, the drive through Arthur's Pass to see the waterfalls, and a visit to Cave Stream Scenic Reserve. Eric's picture of me tramping in Cave Stream Scenic Reserve.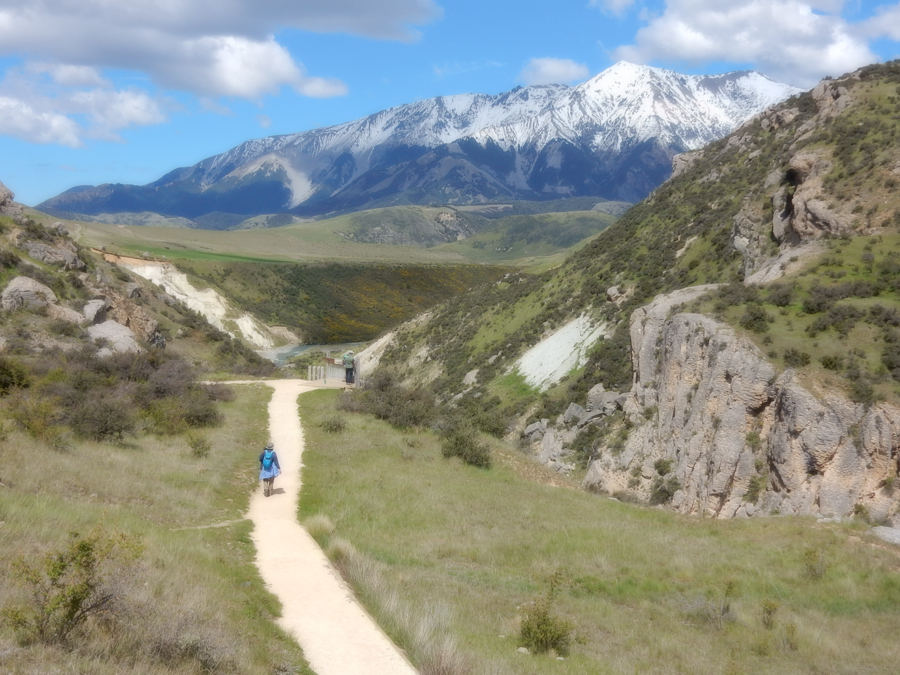 General Notes
New Zealand is of course known for some of the world's best adventure travel. It is all very geologically young, having only split off from the part of Gondwanaland that became Australia during the early Teritary Period, 65 to 23 million years ago. The Alpine Fault, between the Pacific and Indoaustralian Plates), crosses the South Island. The Alpine Fault sometimes acts as a subduction zone, where movement of the Pacific Plate under the Indoaustralian Plate forces up the Southern Alps on the west side of the South Island. But sometimes the Alpine Fault acts as a transform boundary like the San Andreas Fault, and the plates slide along each other. The eastern part of the South Island slides along the western part at a rate of 37 mm per year. That's very fast in geologic time!
Eric making his way through an ice cave.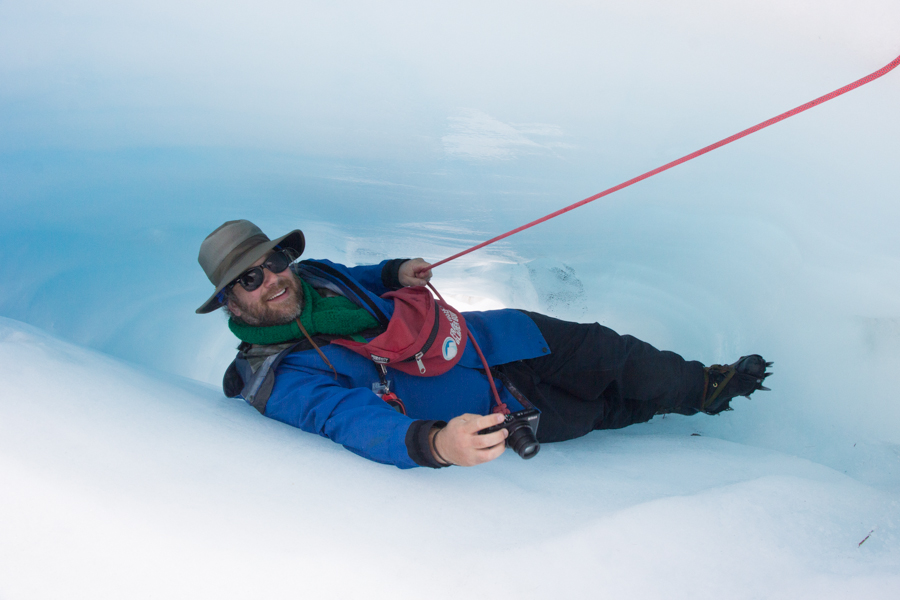 The area between the northern part of the South Island and the southern part of the North Island features the Hikurangi Trough. Movement along the southwest/northeast boundary is even greater here, 38 mm per year. The plate boundary continues east of the North Island as the Kermadec Trench. Here, the Pacific Plate pushes under the Indoaustralian Plate at even greater speeds, 41 mm per year along most of the North Island, and 47 mm per year on the Northland peninsula. Inland and parallel to the Kermadec Trench, the North Island is ripped apart along by the Taupo Volcanic Zone, about 1.6 million years old. The oldest volcanoes here are in Tongariro National Park, and the Zone stretches about 200 km, on the same southwest/northeast line, beyond Whakaari/White Island.
Whakaari/White Island.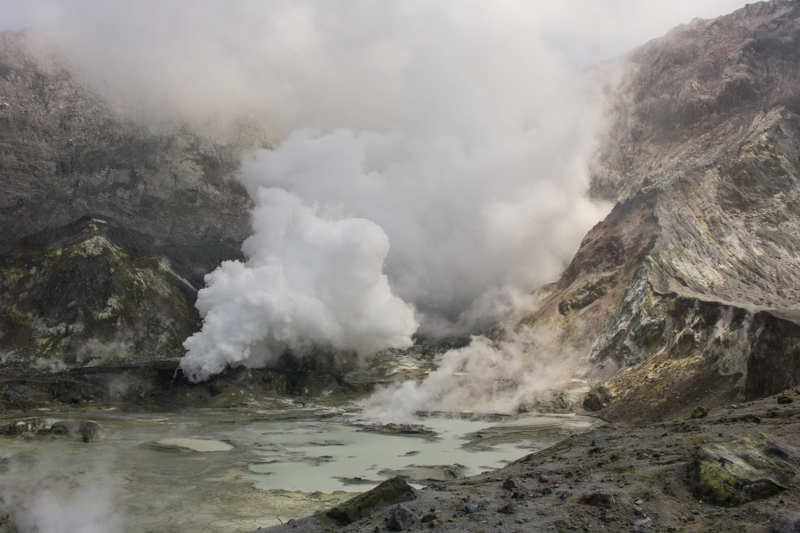 [Source: The Field Guide to New Zealand Geology by Jocelyn Thornton.]
All of this geologic drama of course means that earthquakes occur fairly frequently in New Zealand. And an earthquake of magnitude 7.8 did occur while we were there. The epicenter was north of Christchurch, and fortunately we had traveled considerably south of Christchurch, to Dunedin, by that time. We did not feel the earthquake, although others in Dunedin said they did. A tsunami warning was issued for the entire east coast of the South Island, but it was only 1 m and it did not affect our travels in any way. However, the earthquake greatly affected Kaikoura, where, three days before, we had had an incredible day of whale watching and swimming with dolphins. Two-thirds of the rooms in the beachside motel where we stayed were rendered unusable by the earthquake. Roads in the area were heavily damaged. Also, the sea floor rose several meters around the wharf from which the tour operators launch the boats. Until the wharf is modified, they will only be able to get boats in and out of the wharf for a few hours every day around the high tide. Most tours will be canceled for the entire tourist season, which was soon about to begin when we left New Zealand. We were very lucky we did not miss out on our amazing day in Kaikoura! [Source: www.stuff.com, and Hayley the travel agent]
Damage from the 2010, much more serious, earthquake to the Cathedral of the Blessed Sacrament, Christchurch.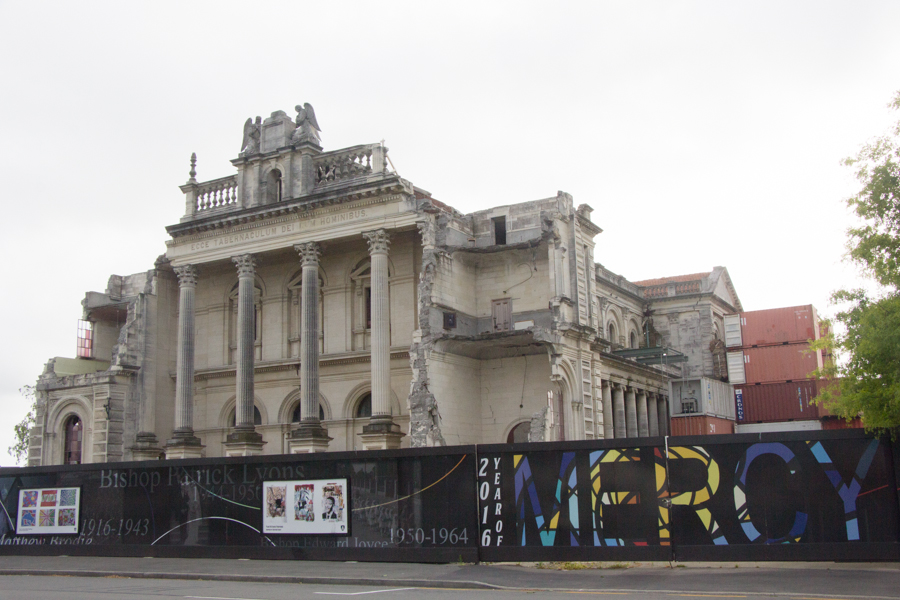 New Zealand is an incredible place for wildlife viewing because, as an island nation, it was devoid of mammals until the Maori, and later the British, arrived. Its plants, birds, and reptiles evolved in this unusual mammal-free environment. Many native species were driven to extinction by the introduction of mammals, but those that survive are unique and unusual. As our guide at Zealandia, Johannes, said, "If it makes no sense, it's native!"
Yellow-eyed Penguin.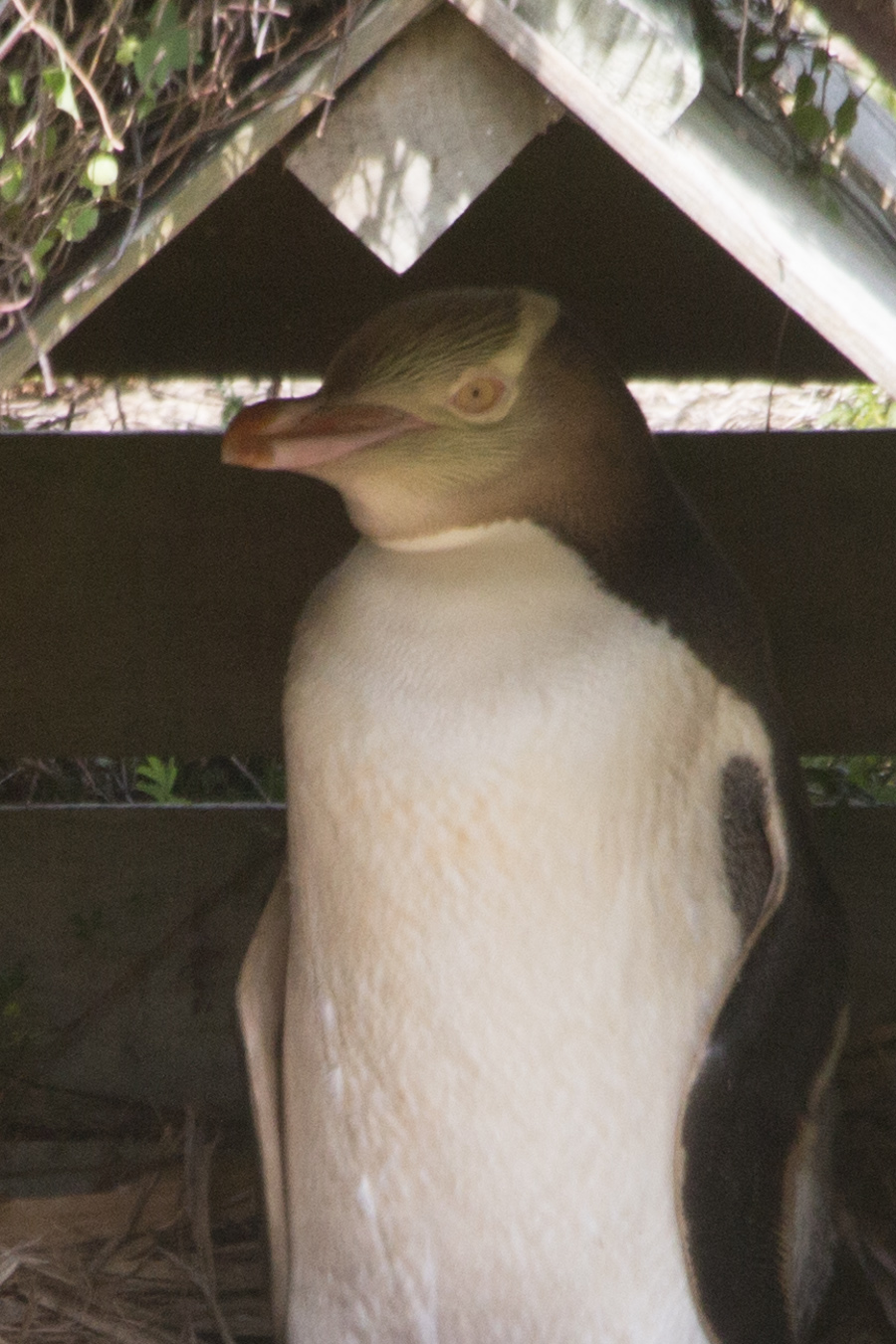 New Zealand is a highly civilized place. Other than driving on the unfamiliar side of the road, tourism is easy and relaxed. Some of the world's best backpacking is here, and abundant huts provide shelter for backpackers. The Department of Conservation maintains a list of Great Walks of New Zealand, some of the most excellent hikes in the world. Other than the most popular places during the high tourist season, you don't even need to reserve huts in advance! While Eric and I did not want to drive a camper van on a bunch of windy, mountain roads, this is a very viable option for others. There are many available places to park your camper van overnight (most of them spectacularly lovely), and our road atlas came with a very clear directory of available sites. Our maps were marked with all of the camper van parking sites, indicating whether or not a particular site had the dump facilities that camper vans need every few days. Developed park facilities are everywhere in New Zealand, with clean toilets that actually have toilet paper.
Eric's picture of a New Zealand Alpine Club hut.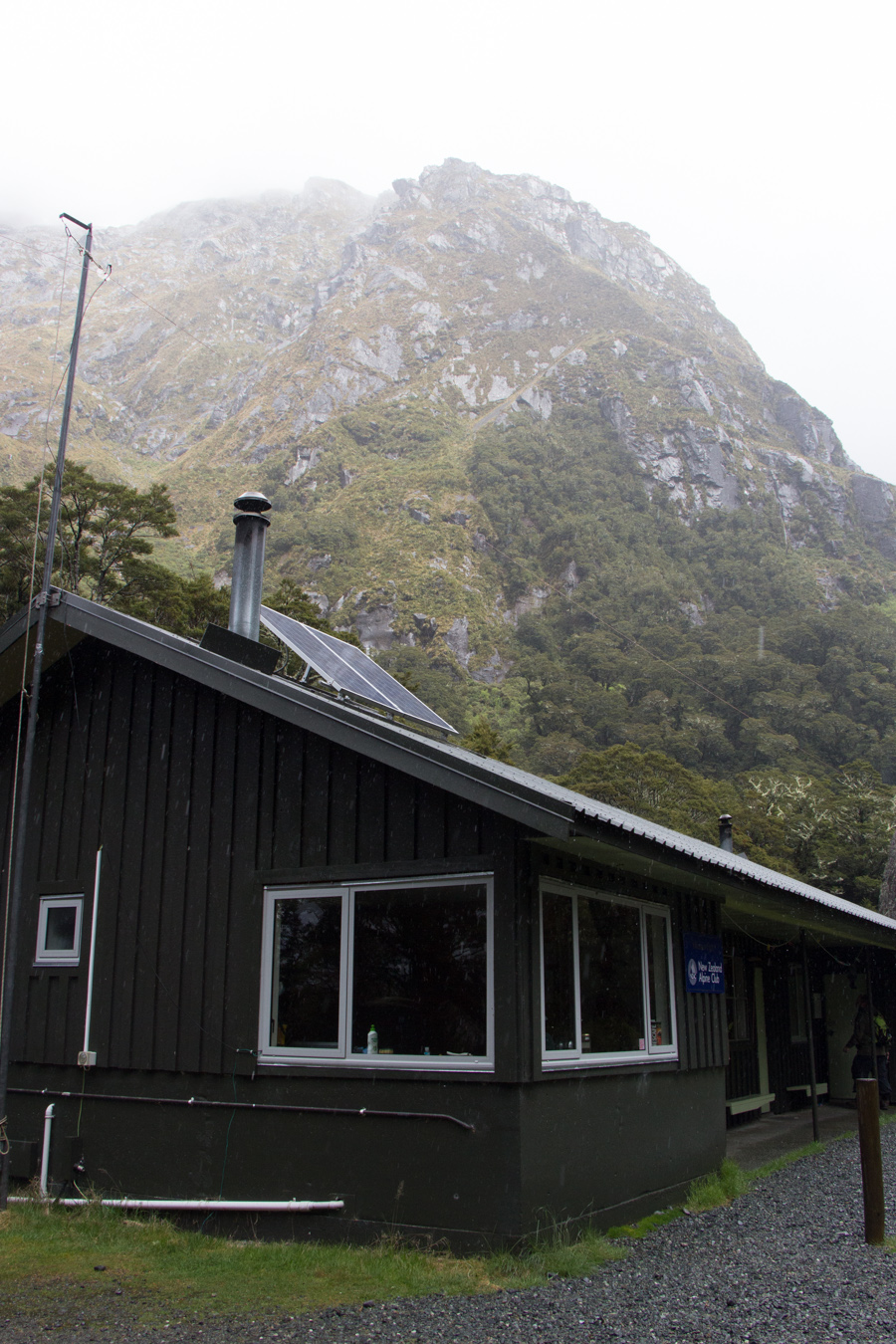 We chose November, or late spring in New Zealand, so that we could avoid the worst weather but still visit outside of the main tourist season (from December through February). We definitely could have done better on weather. It rained about half of our days. And when we say it rained, we're not just talking about the little sprinkles we get in California, we mean heavy rain. We also had to cope with hail and snow. In Kaikoura, I optimistically bought a second tube of sunscreen, thinking that at some point I might need to apply it to some part of my body other than my face, but I was never warm enough to expose any more than my face and hands to the sun. We were most disappointed that our tramp on the Tongariro Alpine Crossing was canceled due to heavy rain and high winds. We also missed out on viewing the Southern Sky with an astronomer in an International Dark Sky Reserve due to snow, but that was much less disappointing than missing the Tongariro Alpine Crossing. National Geographic says that one is one of the best day hikes in the world.
Eric's picture of me in the rain at Aoraki/Mt. Cook National Park.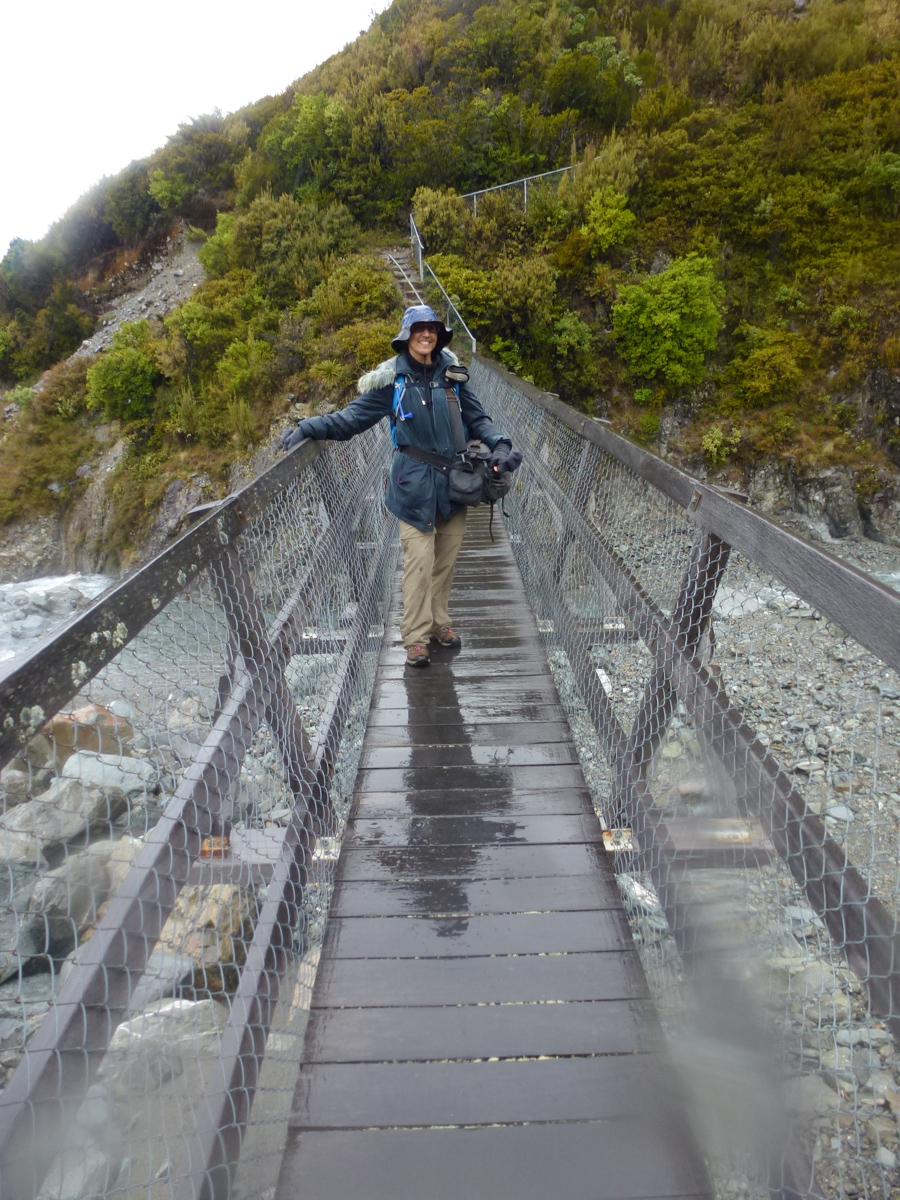 Hoteliers in New Zealand are considerably more helpful and friendly than their American counterparts. We were extremely happy with most of the service we received from them. The same cannot be said for restaurant service. While staff were friendly, food service was slow. So slow, in fact, that we frequently abandoned the idea of eating out and bought supermarket food, and occasionally "take-away" to eat in our rooms. We became quite familiar with Countdown and Four Square, two of New Zealand's supermarket chains. Kiwi food is more or less like British food, except they call meat and vegetables baked into a pastry a pie instead of a pastie. We like pies, and they were frequently available for take-away, so this suited us. The best food we had was tea at the Chateau Tongariro. Better than the tea we had in London!
The Chateau Tongariro tea service. Note the weather outside the window.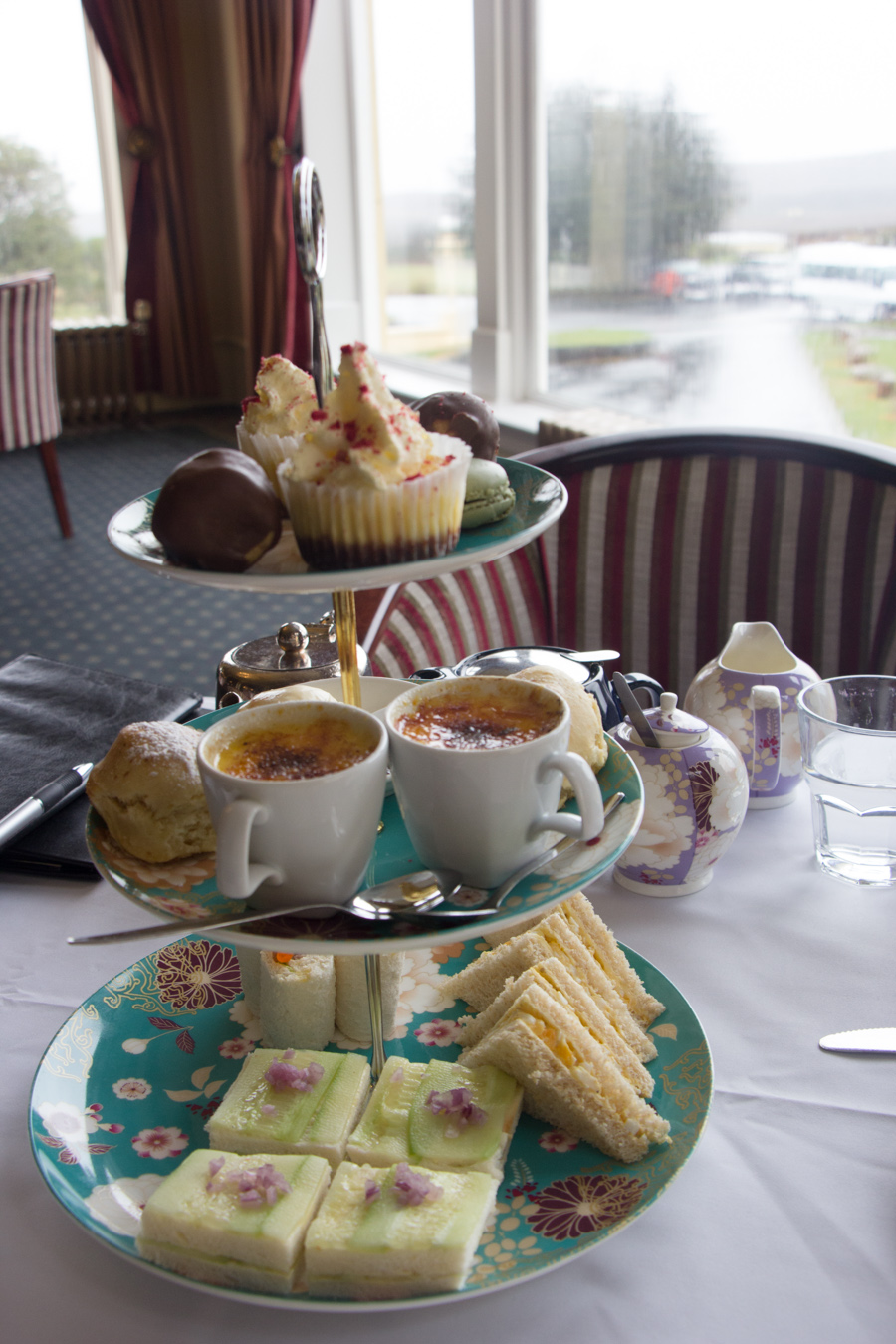 I can't, in the end, write about this trip without mentioning the impact on us of something even more difficult than the buckets of rain we endured: hearing the news of the terrible events back in the United States. The results started to come down the afternoon of the day we traveled from the North Island to the South Island. Things were still not fully finalized when we went to bed in Kaikoura, but we were devastated the next morning when we set off on our day of whale-watching and swimming with dolphins. We did our best to put it all out of our minds and enjoy our time on the South Island, but it was quite a struggle, and our memories of our time on the North Island are much more pure, joyous and carefree.
Distance driven: 3553 km (2208 mi)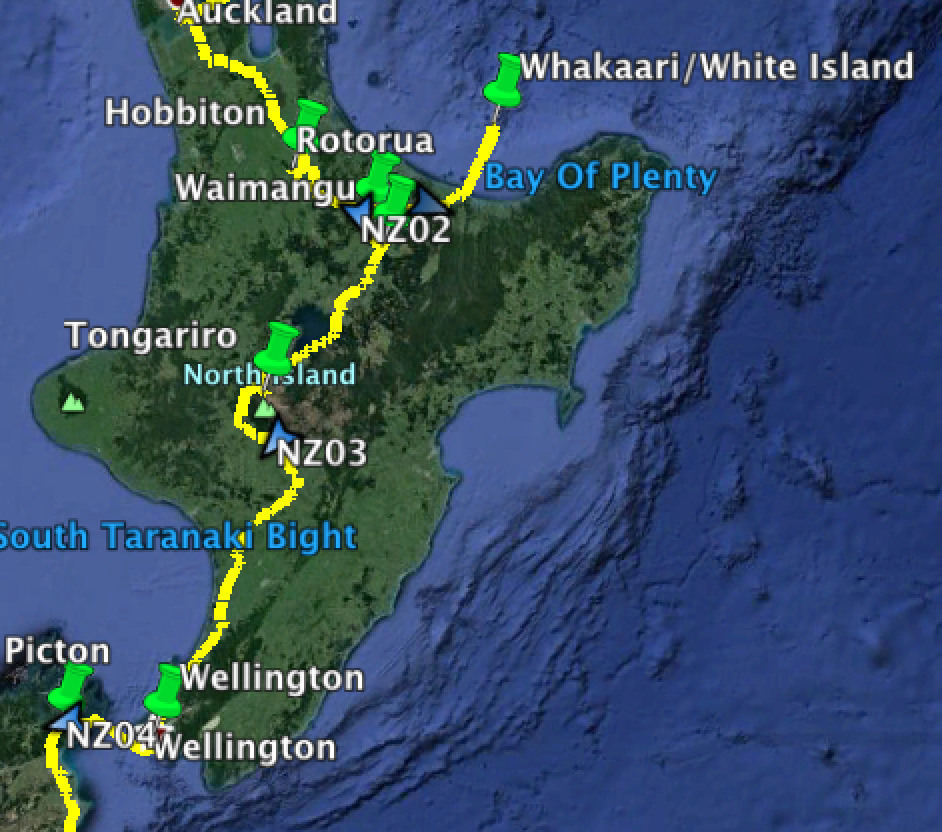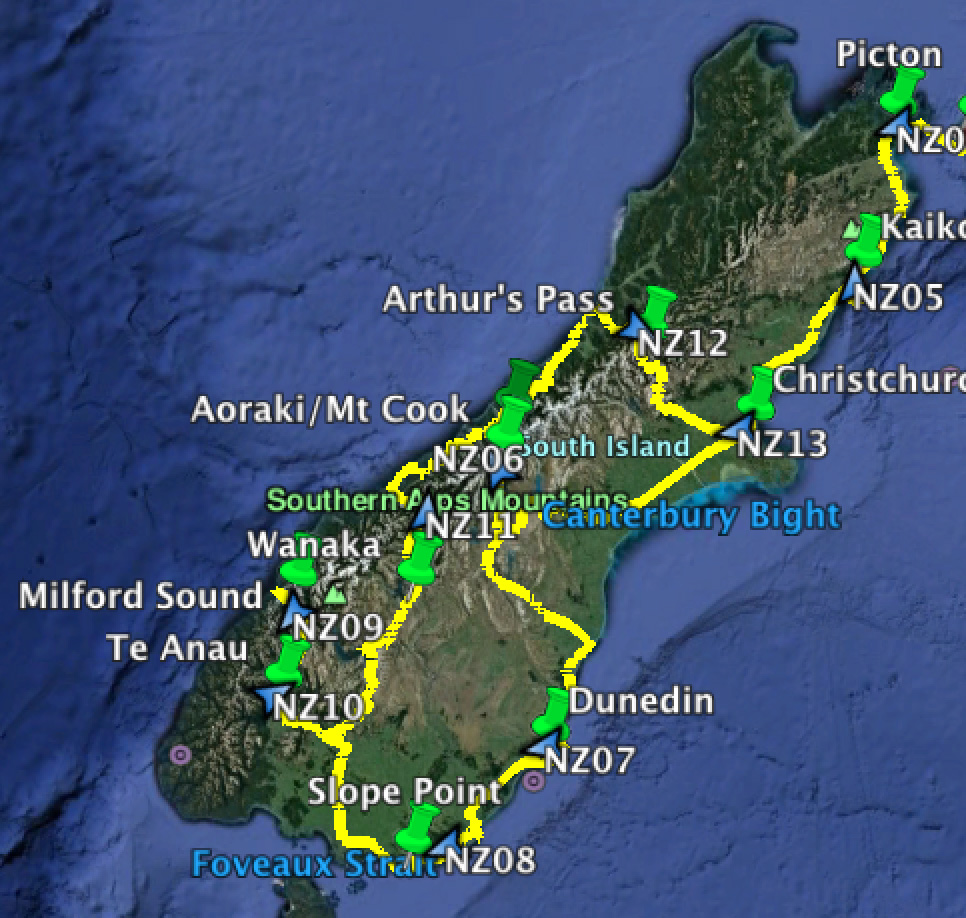 Caches found: 32, including two first-to-find Earthcaches... plus two DNF's.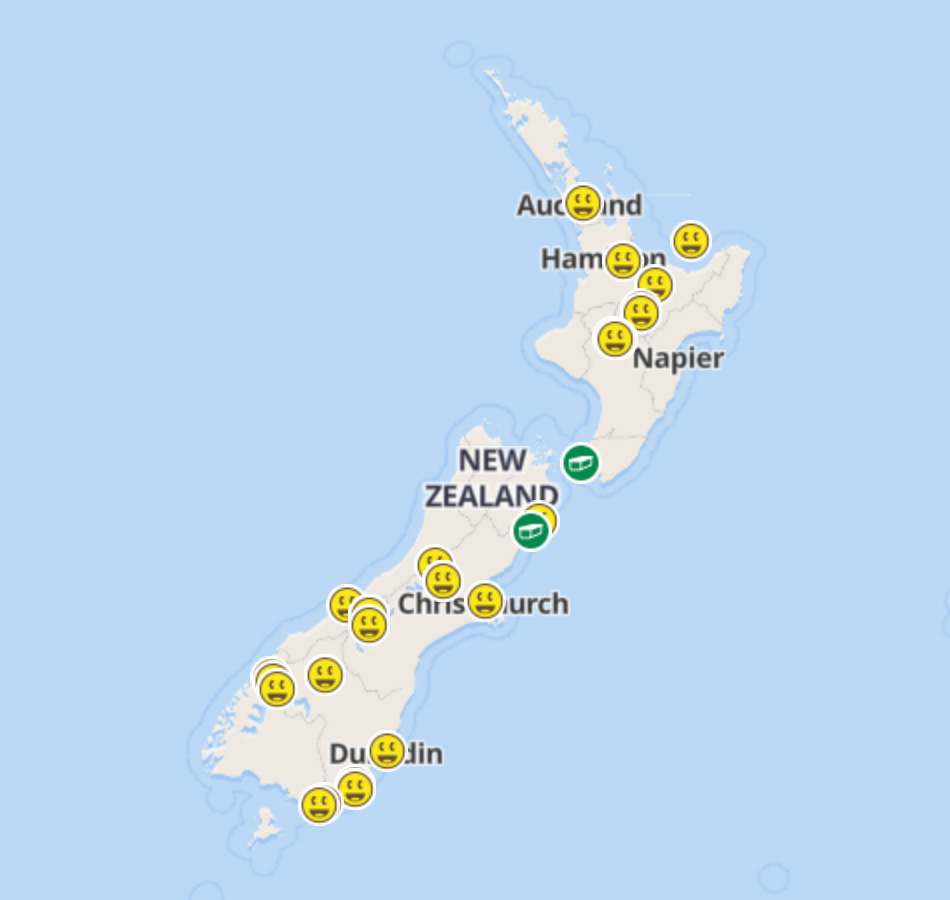 Special thanks to Eric for doing almost all of the driving, making the production of this website possible.
---
Last updated: 4 January, 2017 by Eric and Beth Zuckerman6>