---
Mt. Aspiring National Park and Westland Tai Poutini National Park
Friday 18 November, 2016
Me emerging from an ice cave on the Franz Josef Glacier. Photo by Eric.
Our big adventure goals for New Zealand were walking in a volcano, boating on a glacial lagoon, diving Milford Sound, and walking on a glacier. This was the day we accomplished the last one.
Westland Tai Poutini National Park has New Zealand's famous glacier sites: the Fox Glacier, the Franz Josef Glacier, and the Tasman Glacier. The edge of the Franz Josef Glacier is steep and unstable enough that hikers ride ride up onto the glacier in helicopters. We were scheduled for the glacial helihike at 14:00. But, while we had only two days left in New Zealand, we still had three national parks to see! Yes, we visited two national parks in one day. We explored Mt. Aspiring National Park on the way to the glacial helihike. I wanted to tramp up to the lookout in the Haast Pass, another one-hour trip. So, we rose at 5:00, and managed to get on the road in Fenway at 6:50.
Sunrise view from our room in Wanaka.
Our reward for early rising was views of the amazing morning mist along the road.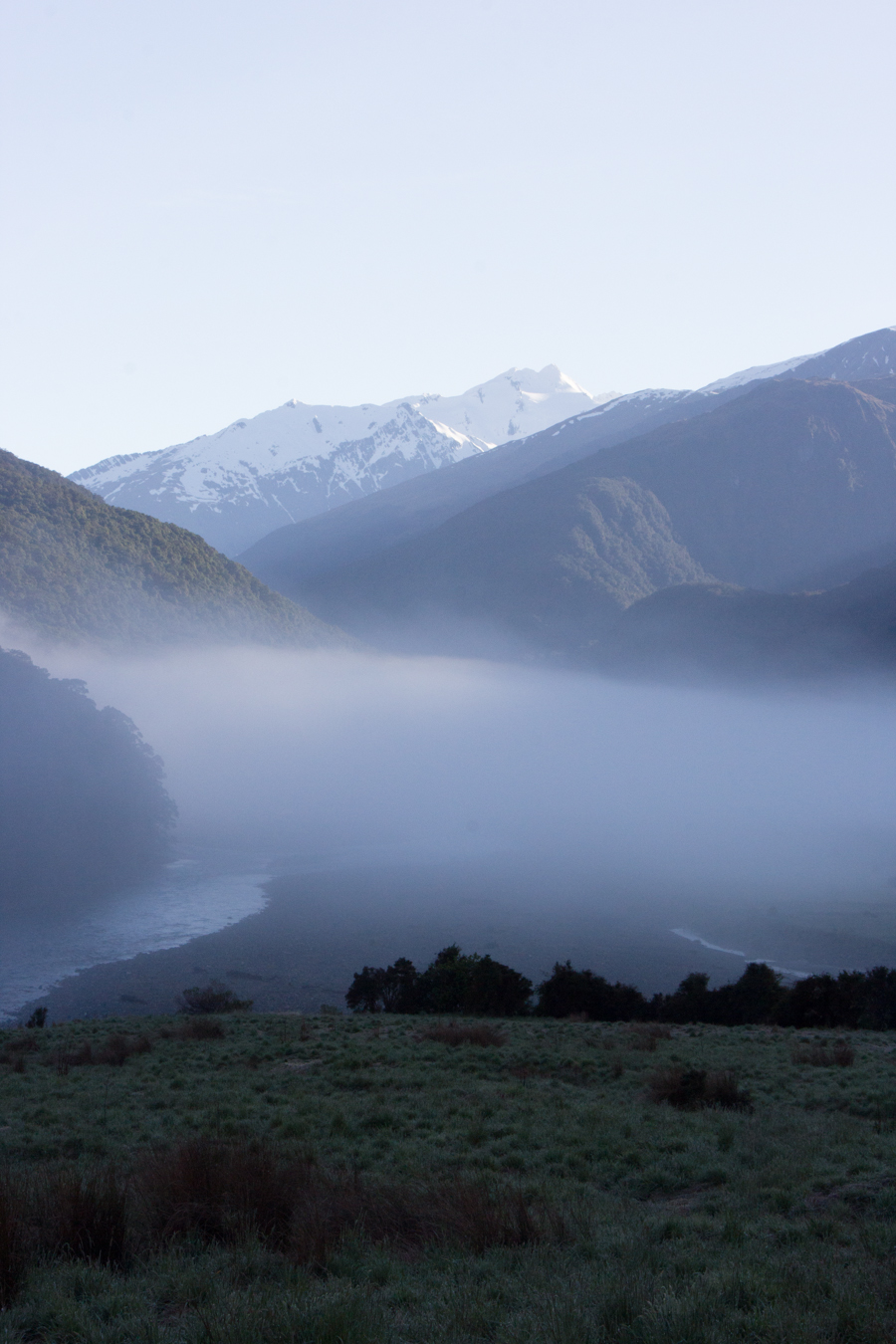 Eric, as always, was more creative with his photography.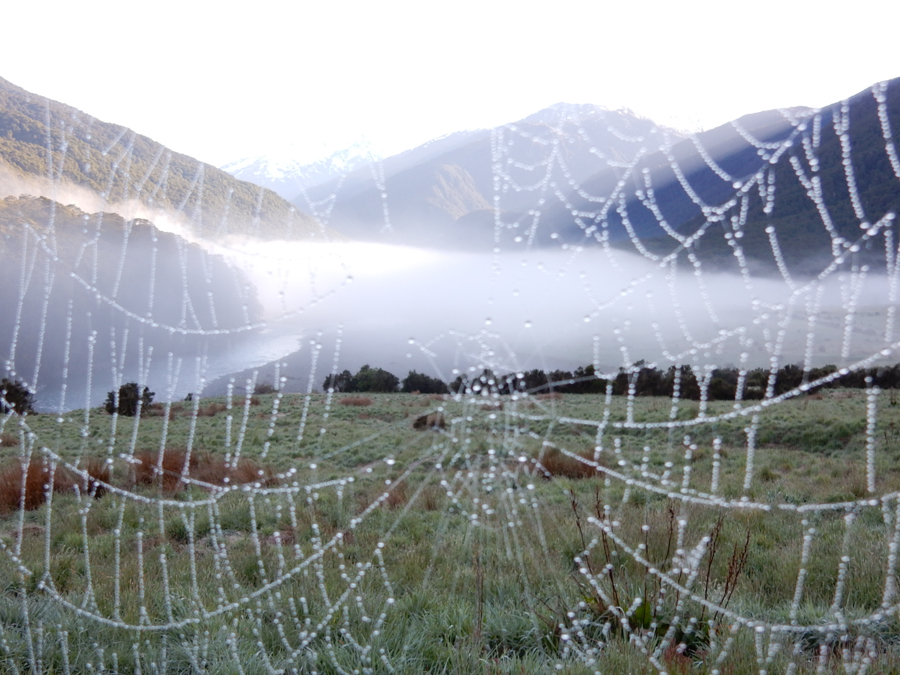 Mt. Aspiring National Park
We arrived at the Haast Pass, the lowest pass over the Southern Alps, and began our tramp at 8:39. This track climbs about 140 m in 1 km. It's very steep.
As always, we were fascinated by the moss along the track.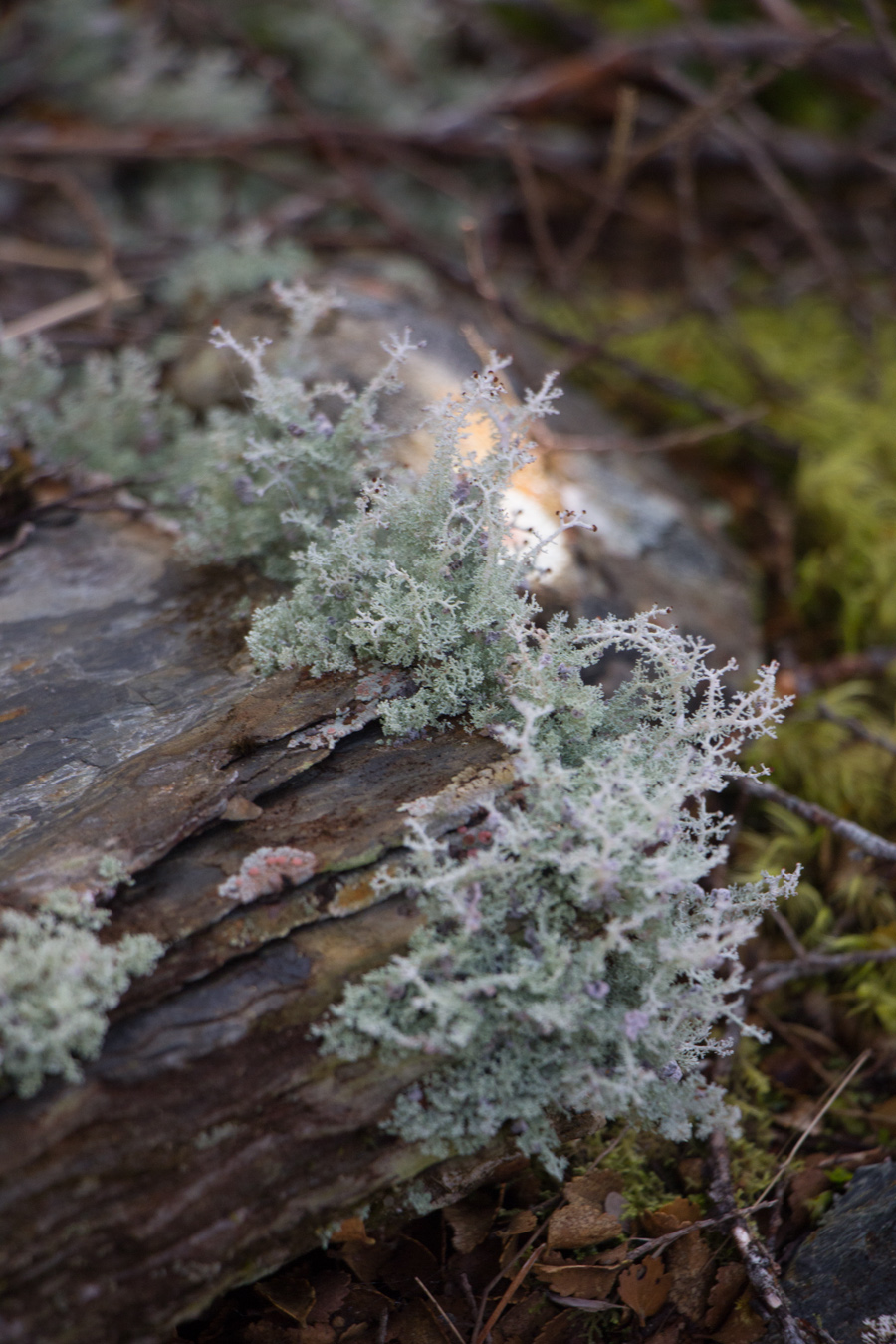 Interesting raised dimensions in this rock. I will try to find out what it is.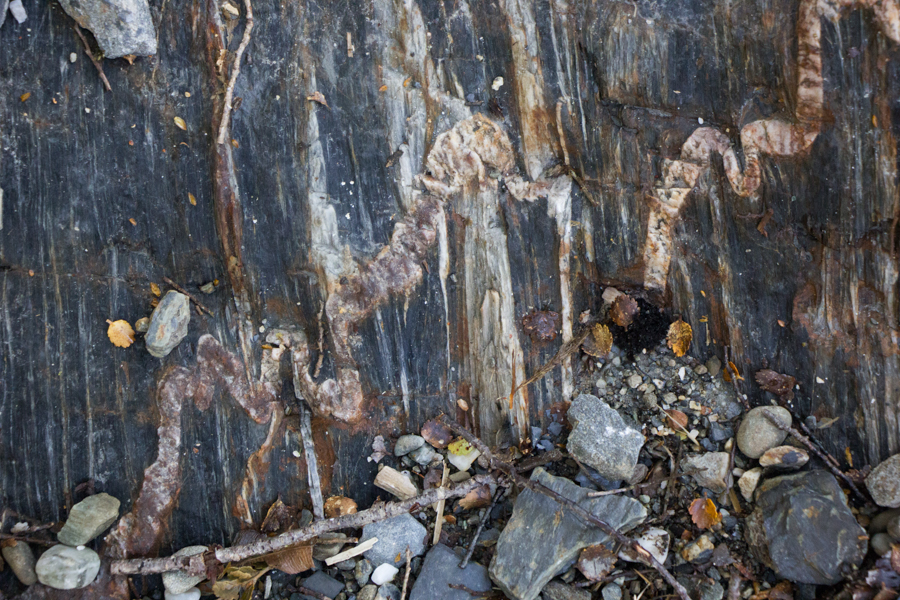 The view looking west from the top! Somehow, I had had thought we would be able to see all the way to the Tasman Sea.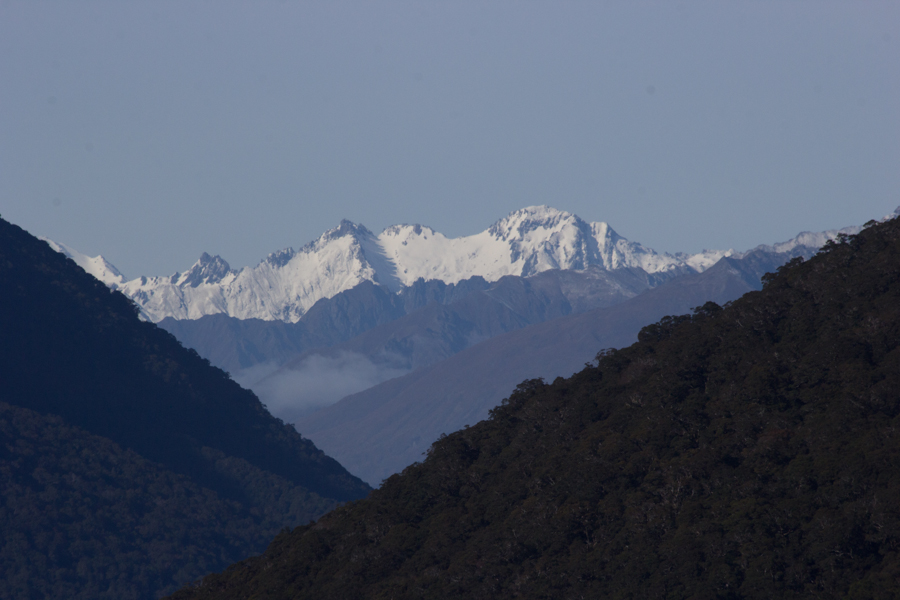 Snow-capped mountains to the east of the summit.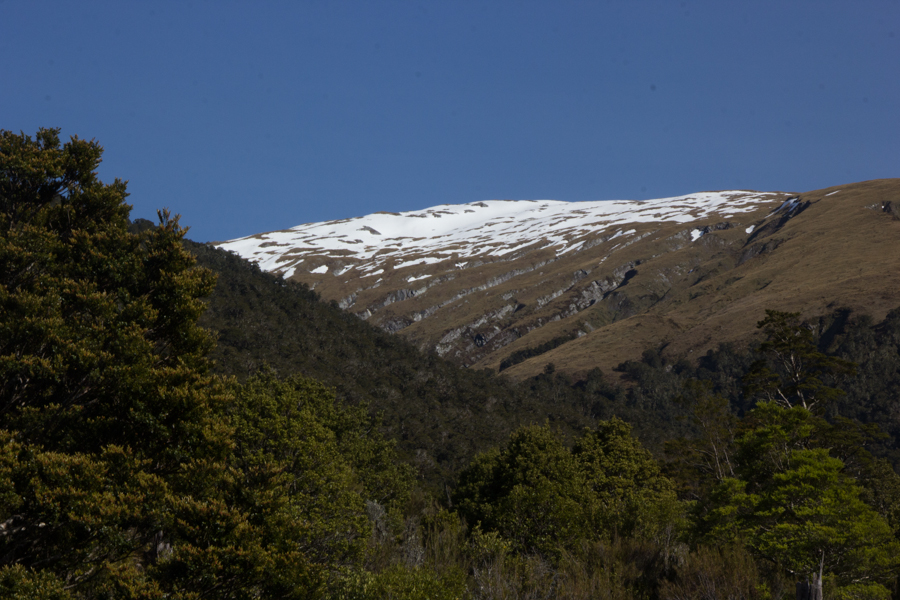 We arrived back at Fenway at 9:10! We did a steep, one-hour hike in only 45 minutes! This would leave us more time for seeing more sights along the rest of the route.
But there was a lot to see, so we couldn't stop for everything. I had to take some pictures of the lovely snow-capped peaks out of Fenway's window.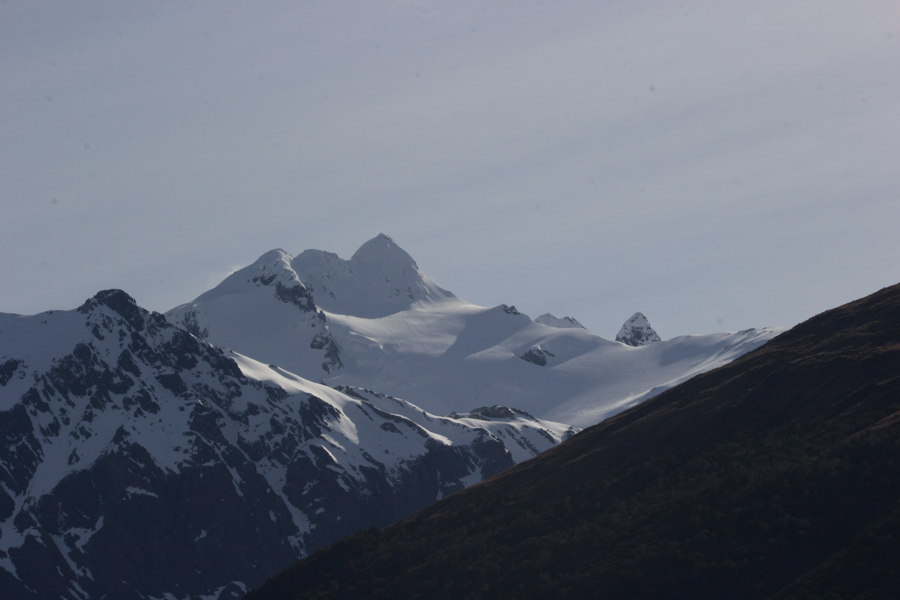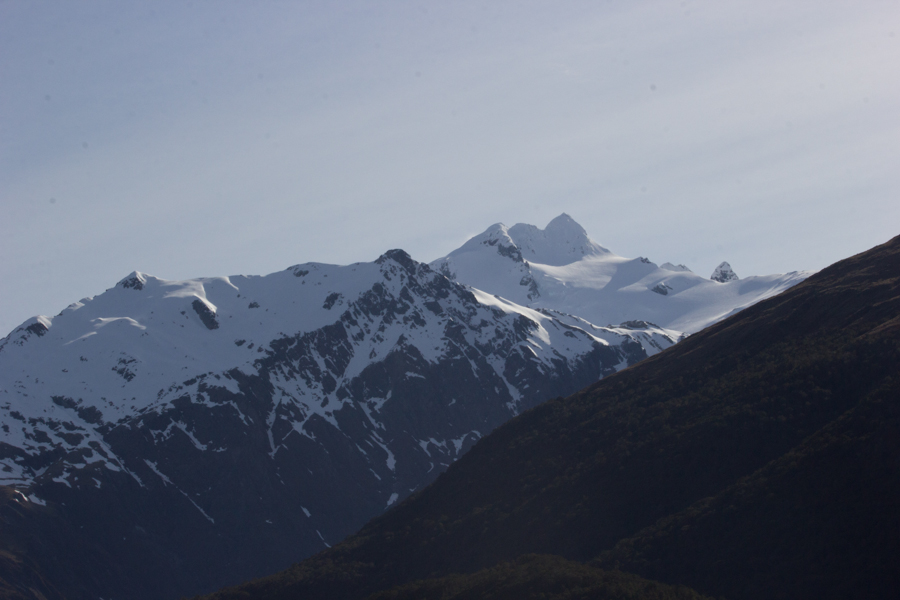 We stopped to see Feather Falls, a short walk from the parking.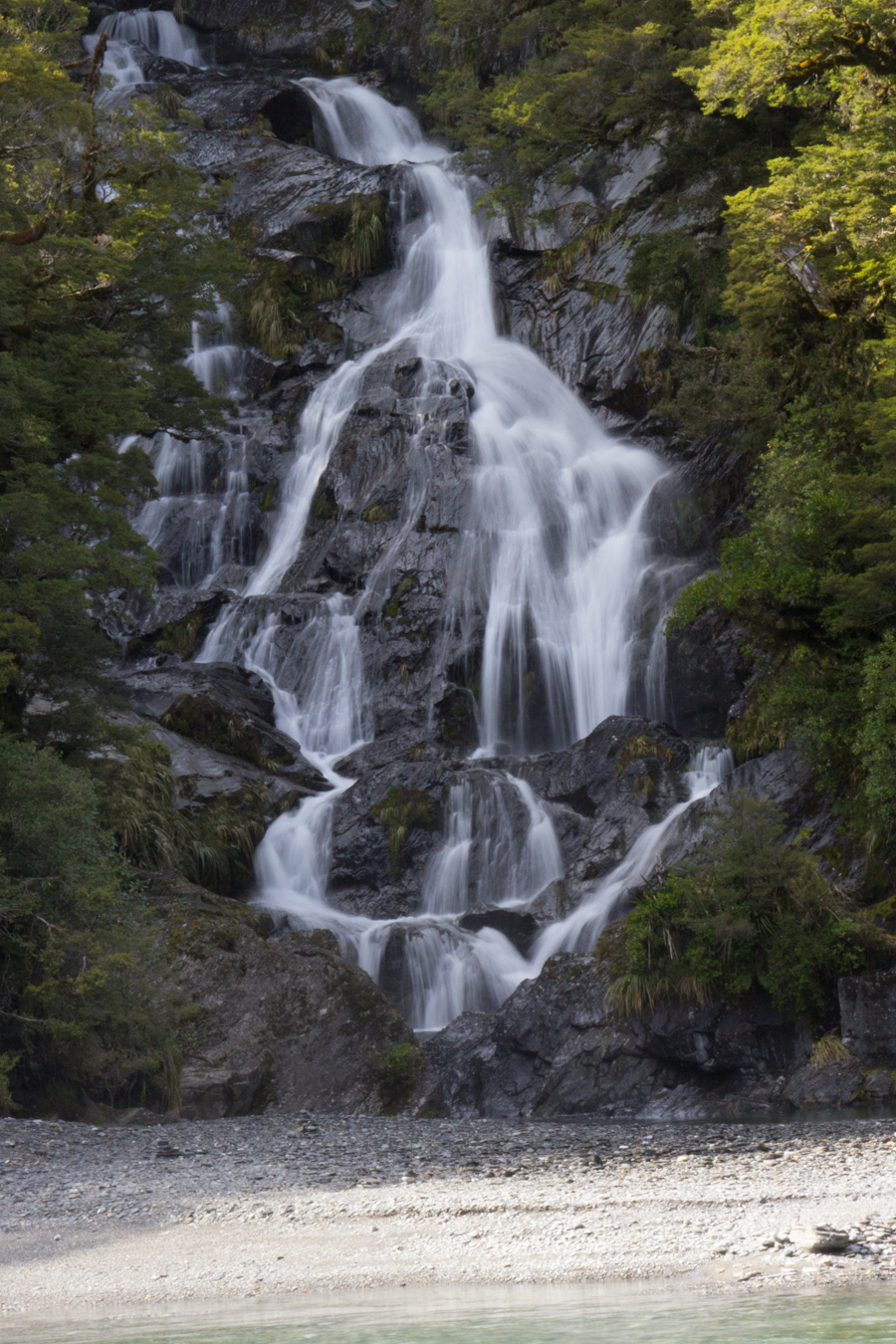 It wasn't as exciting as the Gates of Haast.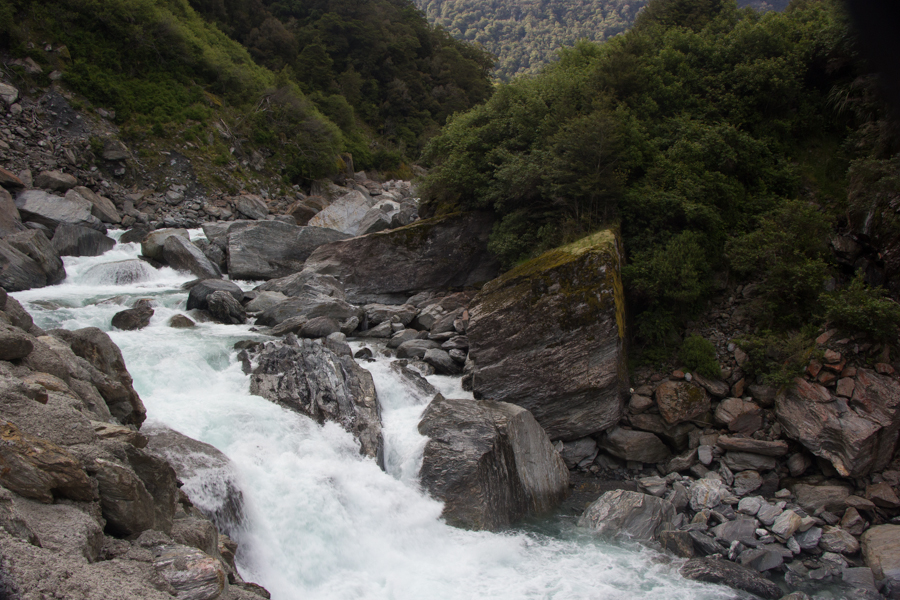 Eric's view.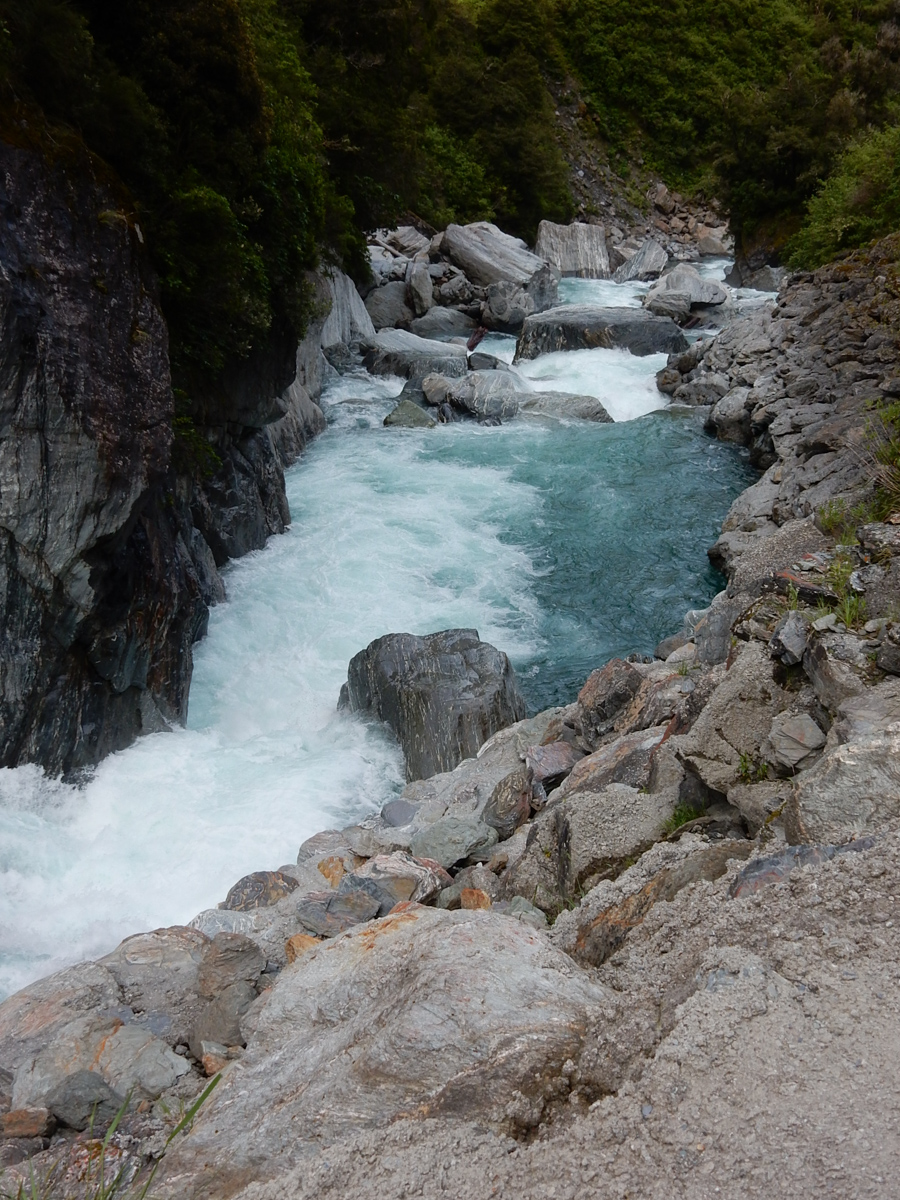 Back on the road, I took more pictures from Fenway's window as Eric drove.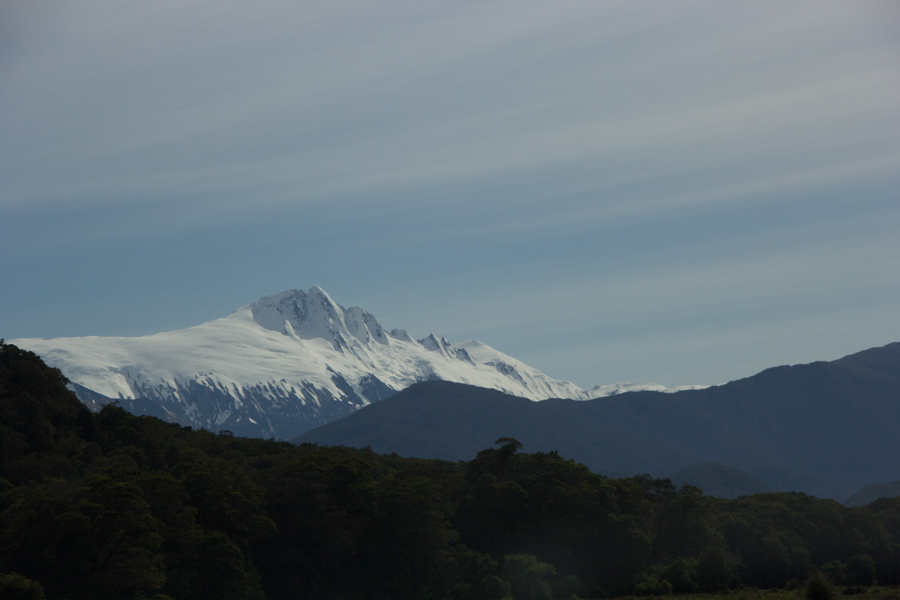 The scenery was spectacular, but we did need to make that glacier hike!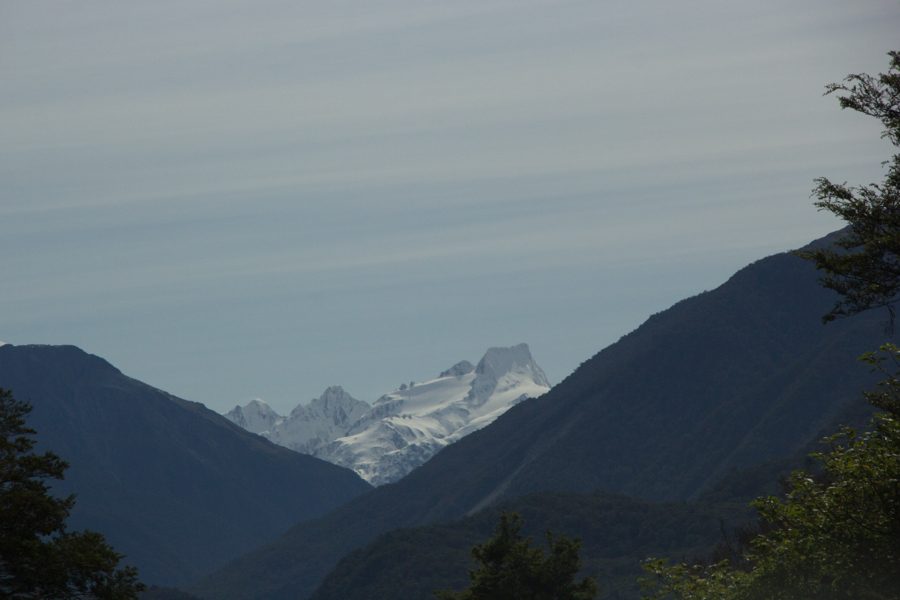 West Coast
We stopped briefly to see the Knights Point Lookout.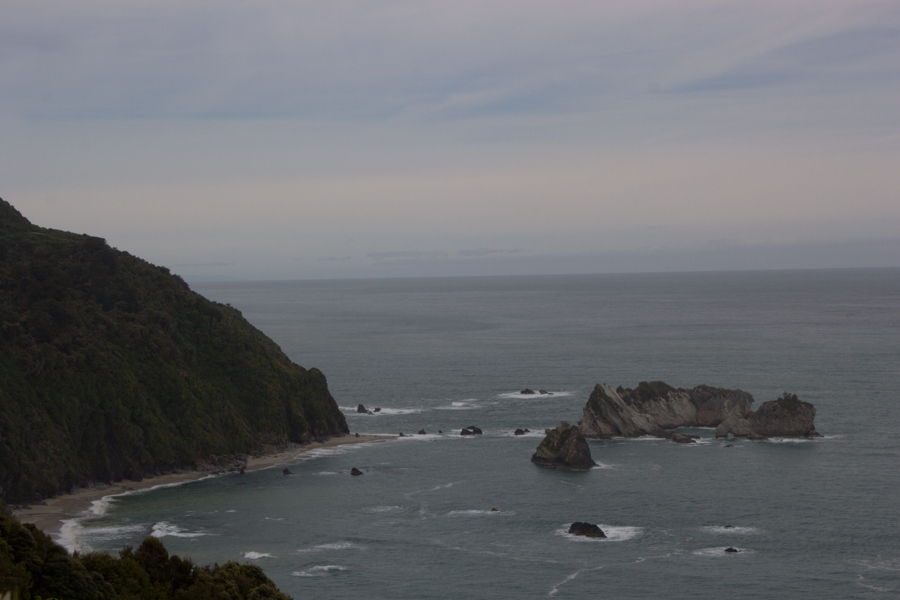 We stopped at Bruce Beach to be first to find a new earth cache.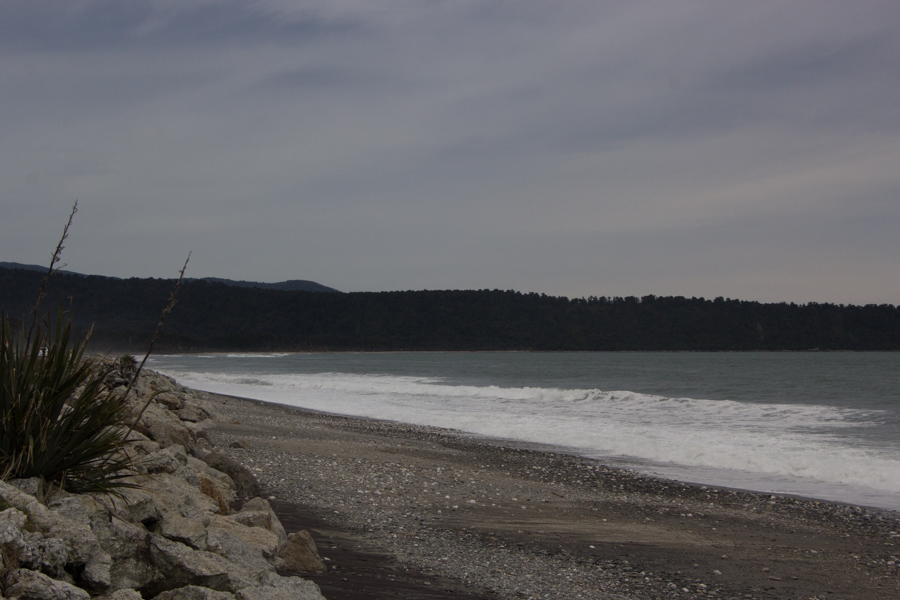 See the bright metallic flecks in the rock.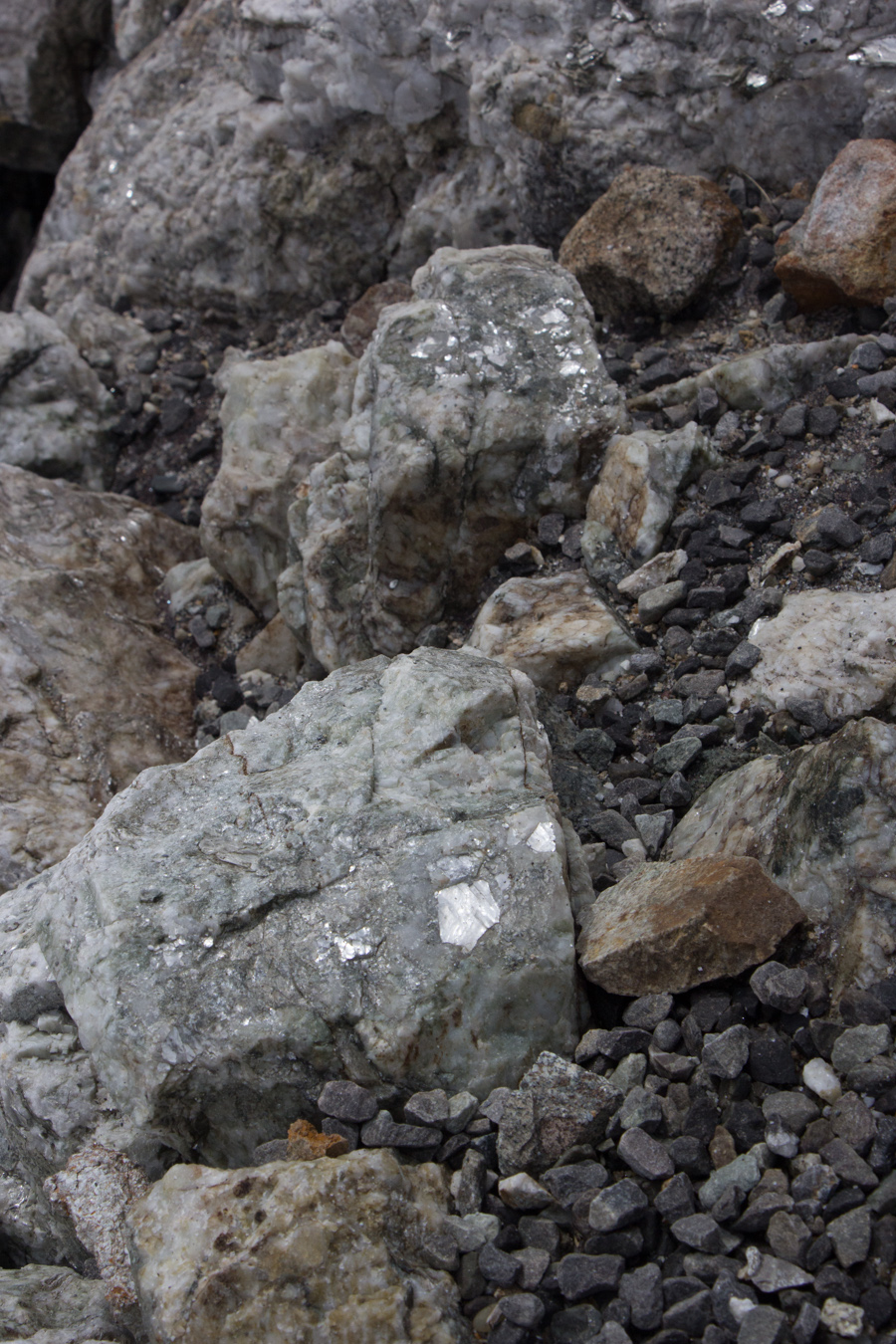 They were beautiful and sparkly.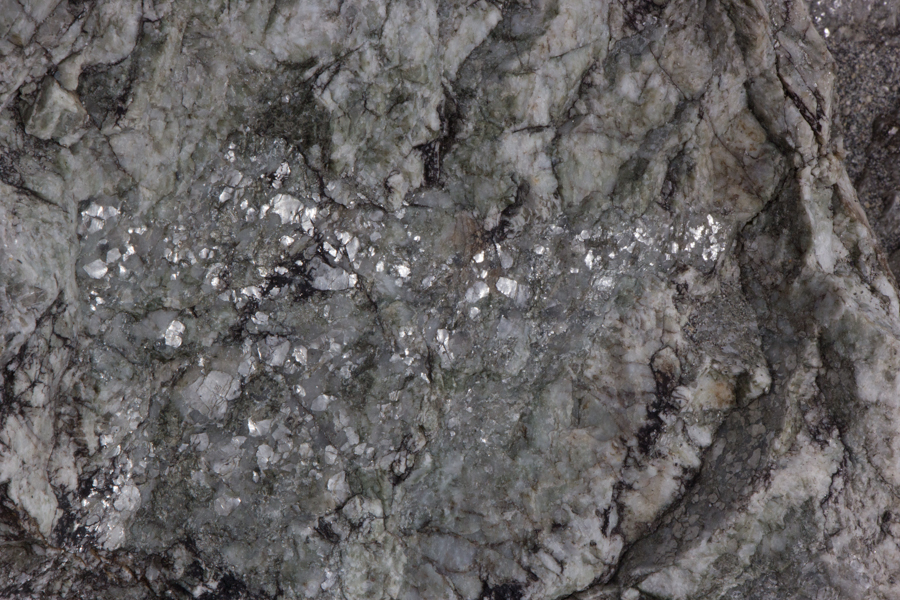 Along the way, I laughed at the names of some of the peaks on the map. Mt. Awful? Mt. Awkward? I guess New Zealanders have so many peaks, they can afford to be whimsical in naming them.
Westland Tai Poutini National Park
When we reached Westland Tai Poutini National Park, it was still only about 12:30, so we took a worthwhile detour on a dirt road to the viewpoint for the Fox Glacier.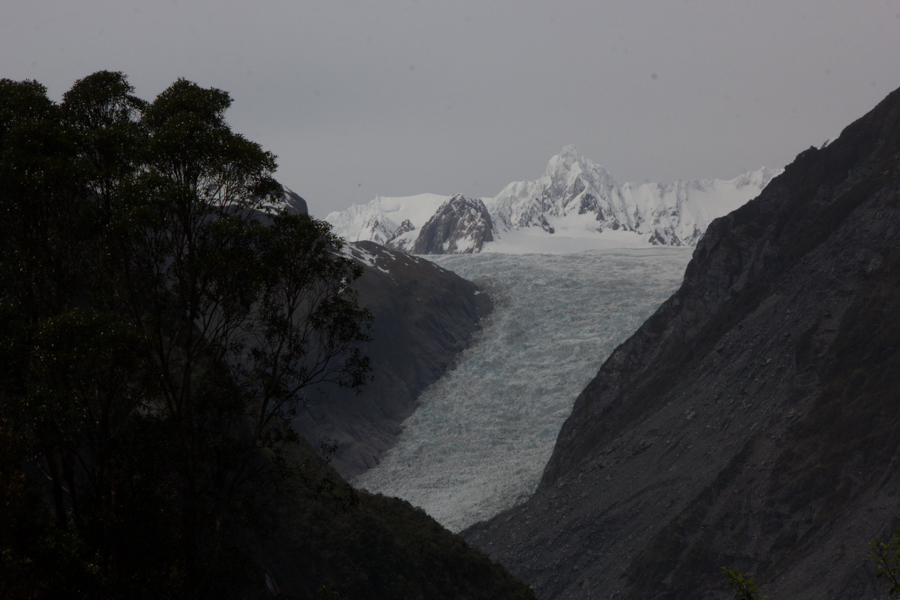 Fox Glacier.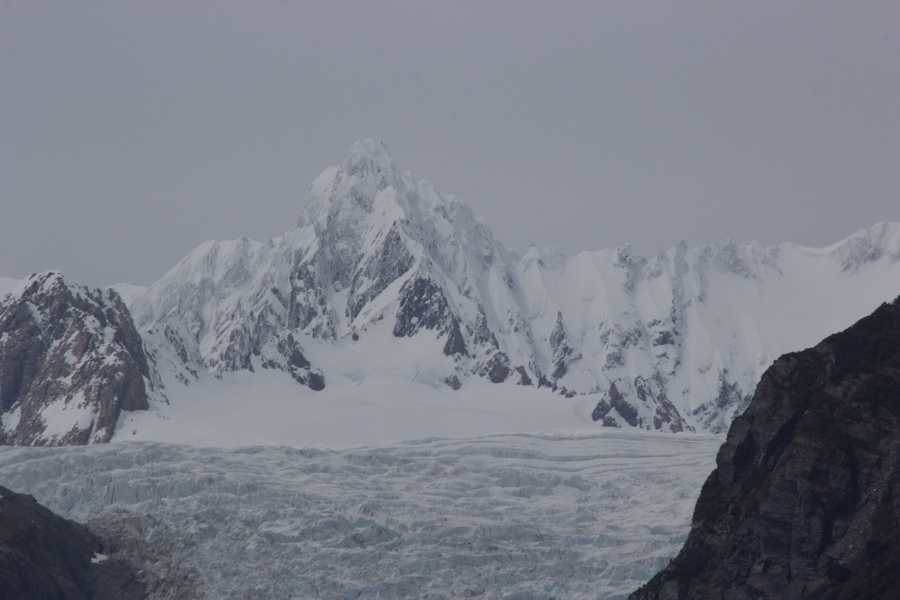 We arrived in Franz Josef Glacier Village at 13:30, and so decided to check into our room at the Rainforest Retreat first. But I was very hungry and, when I saw a Four Square market, I wanted to run in for a sandwich. I told Eric to "Check us in," and walked to the Rainforest Retreat to meet him with sandwiches.
But Eric hadn't understood what I meant, and when I arrived at the Rainforest Retreat, I saw no bright green Fenway. The desk staff said they had not seen him. So, I took the key from them and set off for Glacier Guides. Fortunately, we had cell signal and Eric was able to call me.
We dumped our bags in our lovely tree cabin and headed off for Glacier Guides. Photo by Eric.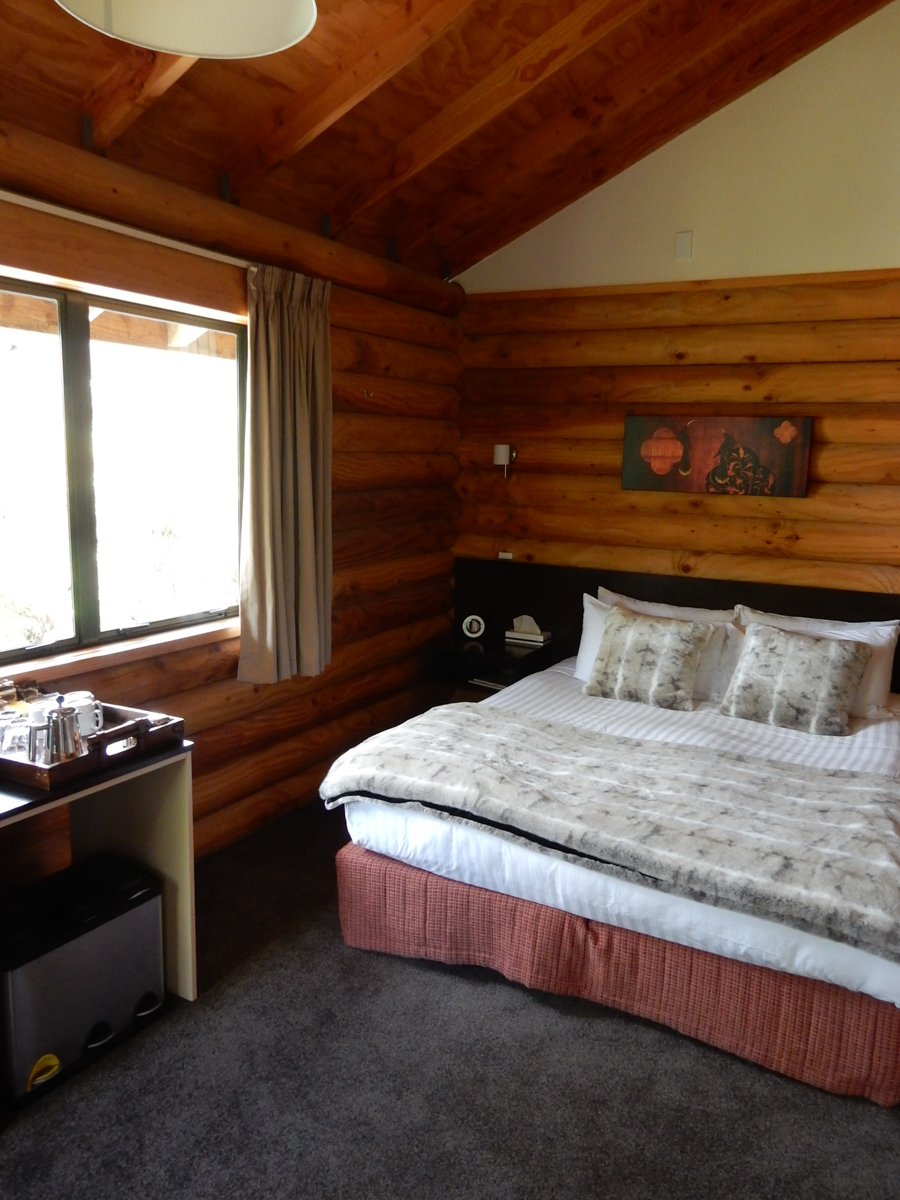 While our tour with Franz Josef Glacier Guides was otherwise fabulous if overly popular, we did have one big problem with the way they ran things. We arrived right at 14:00, which was the scheduled check-in time. Typically, for these sorts of tours, you are given a check-in time that is absurdly early, just to make sure you get there when they actually want you there, and then you stand around shopping in their gift shop for half an hour until your tour actually begins. It usually is perfectly safe to arrive ten or fifteen minutes late, but we didn't want to do that, and we showed up at 14:00 as instructed. On our check-in, however, we were told that the tour had been moved up half an hour, and that we would have to scramble into our gear as quickly as possible.
We were handed "goodie bags." We were outfitted with jackets, pants, and boots, all waterproof. They did take the time to try to ensure I had the right boot fit, but they didn't have my size and had to give me an extra pair of wool socks instead. The boots were still too big and made me clumsier than I would have been in my properly-fitting boots. We were issued fanny packs with crampons pre-sized to our boot size. Because we were riding in a helicopter, we were not allowed to bring our own bags with us. We didn't have enough time to think about what to bring and what to leave behind. I quickly grabbed my passport, my phone, my sunglasses, my camera, and, at the last minute, decided I could fit my telephoto lens into the crampon bag. I threw on the hat Mark had knitted for me, and got on a shuttle van to the helicopter landing site.
All of this had made me very hot and thirsty, and I had been forced to leave behind my Camelbak with my customary constant supply of water. They brought me a glass of water, but no one told me that there had been a water bottle in the goodie bag I hadn't had even a moment to inspect before throwing it into a locker back at the check-in site. We were weighed with our belongings, and assigned to groups. It turned out that there was another opportunity at the weigh station to leave your belongings. I desperately wished I had known that, because a few minutes on the shuttle van to think about what I needed to bring would have been very valuable. I would have brought nasal spray, chapstick, a tissue, a lens tissue, and gloves. I found out later that there had been a chapstick and a small bottle of sunscreen in the goodie bag. Eric, who had pockets, loaned me a tissue, a chapstick, and his gloves. We were, of course, given the mandatory safety briefing... Stay away from the helicopter blades... Yes, we saw Raiders of the Lost Ark. The rush was all very frustrating, and I was even more frustrated when they assigned me to a middle seat on the helicopter.
Eric's picture of the helicopter.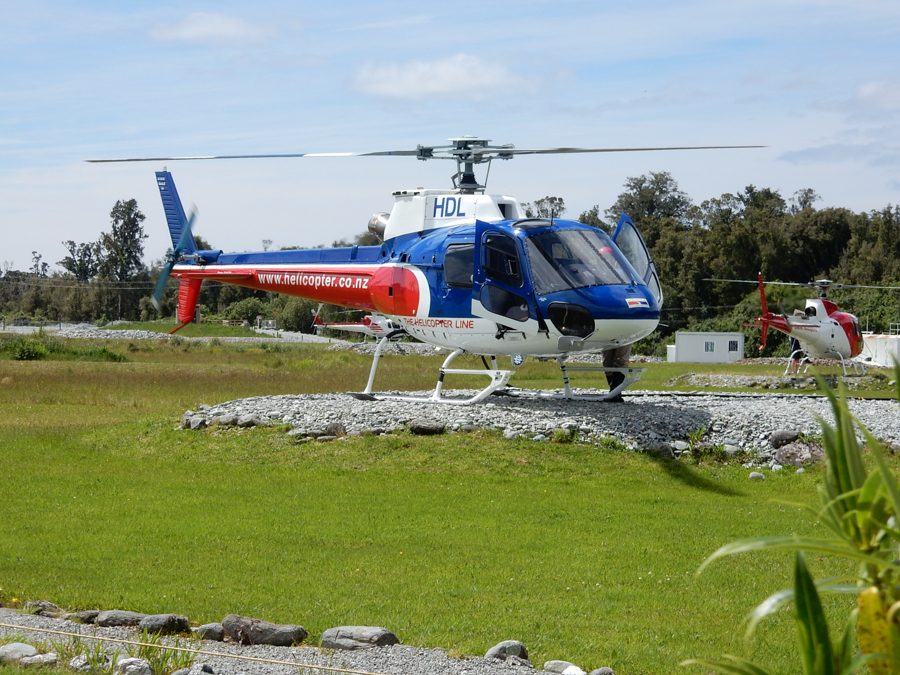 I did manage to get a nice picture of the glacier on the very short helicopter ride.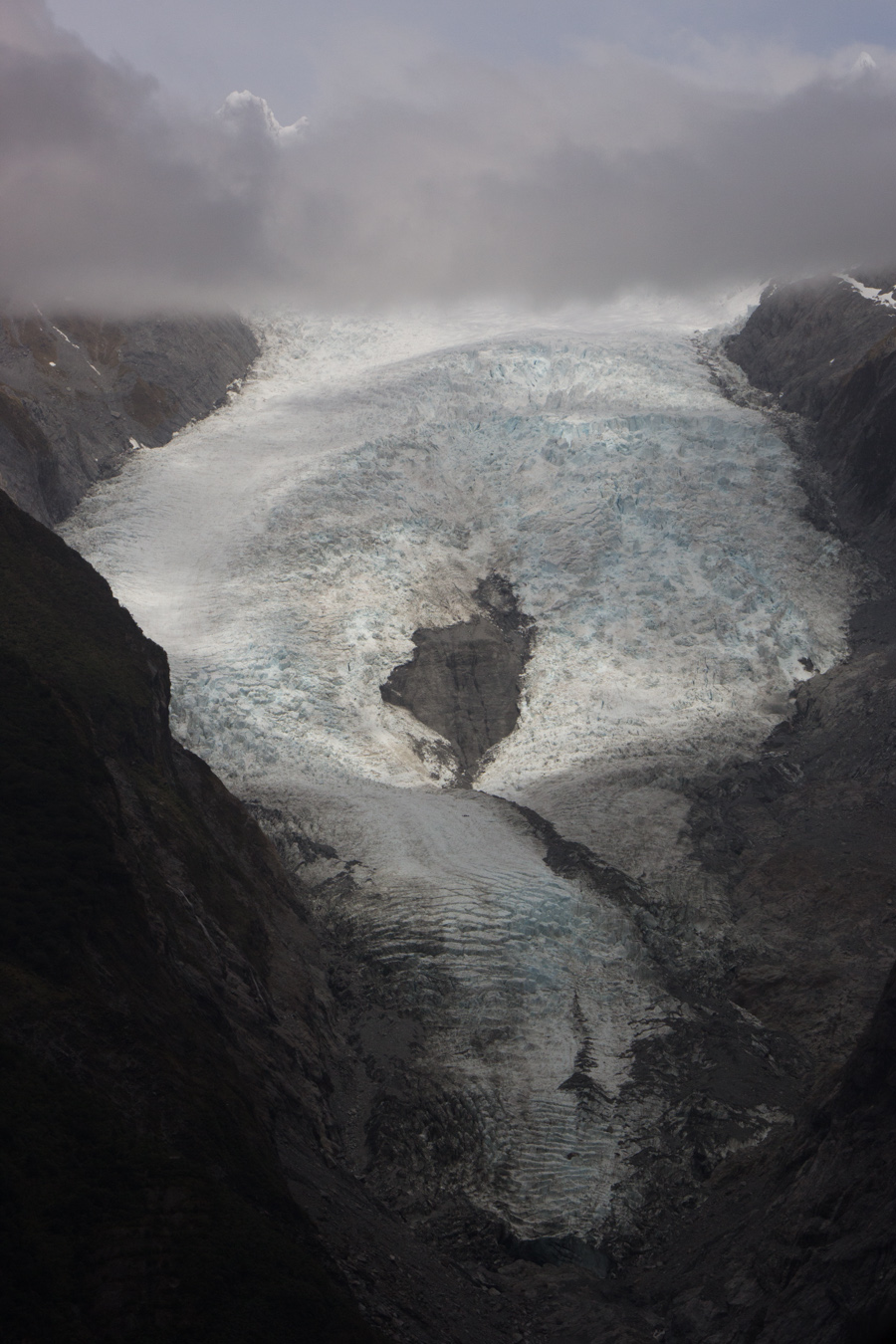 Eric's photo from the window seat.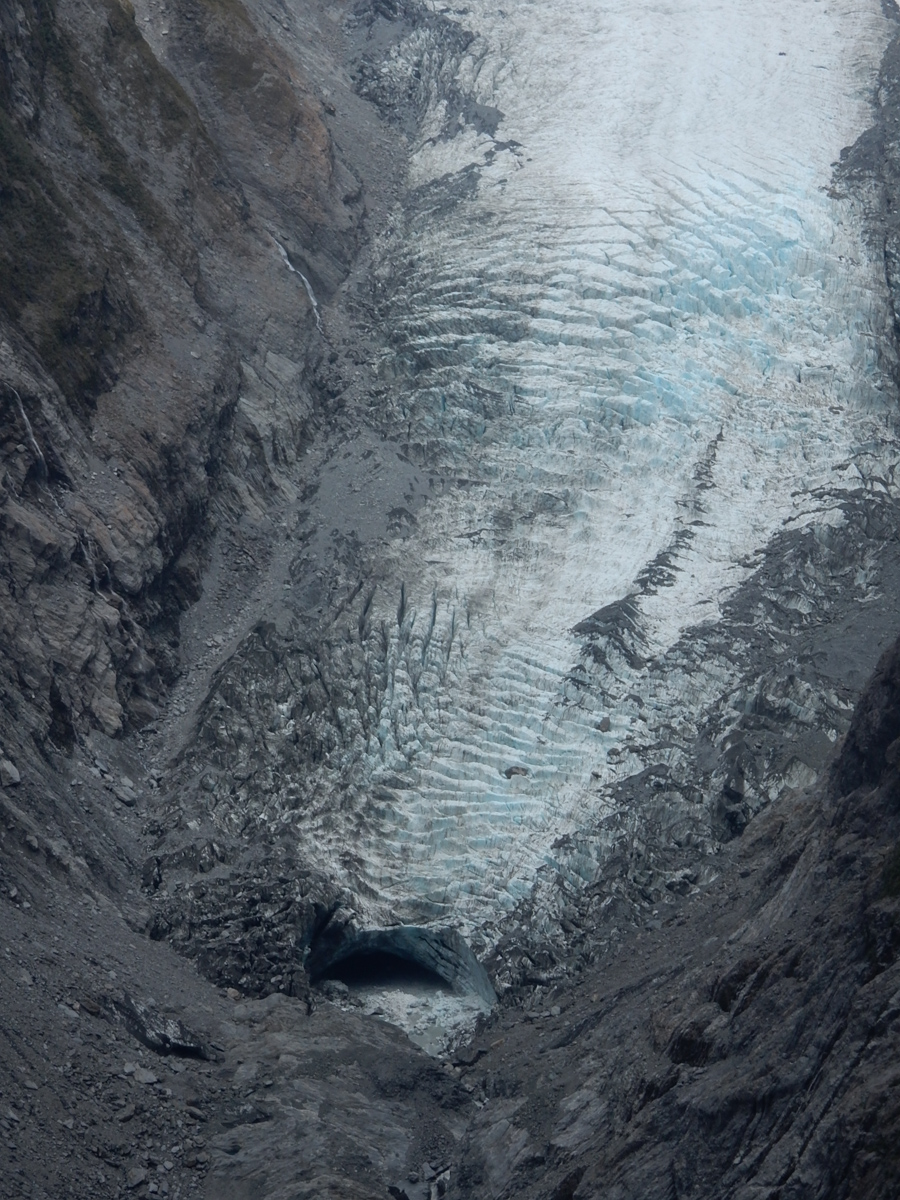 Eric took a picture showing the two icefalls, upper and lower.
I did get a dramatic view of the ice. But it was over all too soon.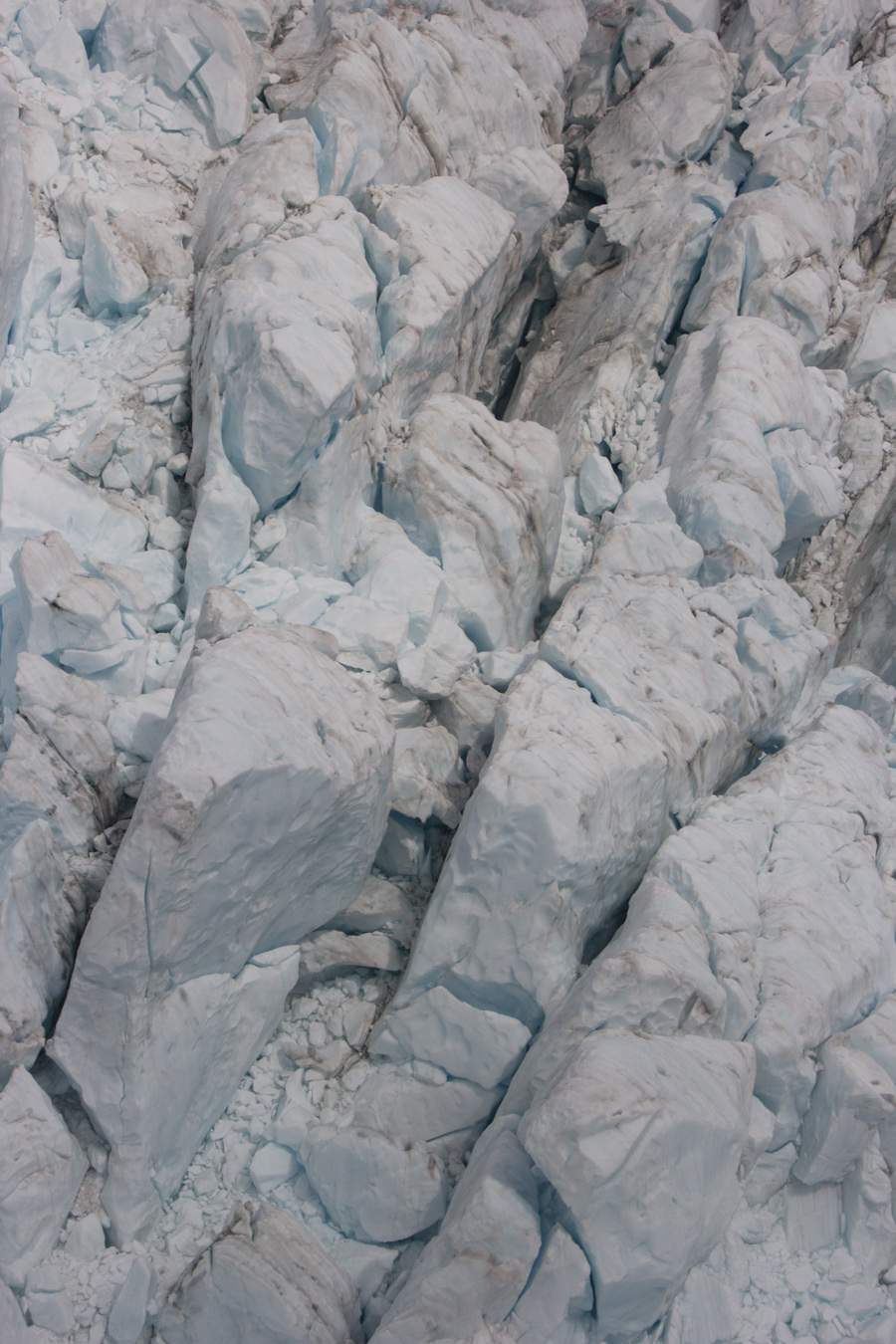 We landed on the glacier and were directed on a safe path along the ice away from the helicopter blades. Here, we met our guide, Cody. In spite of my frustration, I was excited to be out on a glacier again.
I must say that the employees of Glacier Guides do a marvelous job in spite of the very difficult circumstances into which their employer seems to throw them. Despite the mad rush we had to go through, we were properly outfitted and briefed, and they attended to small details for us. When they saw me putting my phone into the fanny pack, they gave me a child's mitten to protect the screen from the spikes on the crampons. They really were paying attention and trying to meet our needs as best they could.
Cody was assigned to guide twelve hikers. All by himself. On our first glacier hike, in Wrangell-St. Elias National Park in Alaska, we paid a small amount extra to have a guide all to ourselves rather than sharing him with two other people. On our second glacier hike, in Skaftafell National Park in Iceland, we had two guides for ourselves and eight Russians, some of whom had to translate for the others. Here was one guide, Cody, for twelve. And yet, he did a remarkable job, not only in keeping everyone safe, but in making sure we all saw and experienced the incredible beauty of the glacier. I have to give him great kudos. The situation forced us to stand around quite a bit while he dealt with the other ten of us, but we were standing in a beautiful environment and this gave me a chance to change lenses. Cody was exuberant, methodical, professional, effective, and fun. But I do think the trip would have been better, and safer, with a much lower guide-to-tourist ratio. It already cost NZD 449 (USD 322), and a better ratio of course would have made it even more expensive.
Cody had us place our crampons on the ground in front of us, and he demonstrated how to put them on properly. I was amazed at his speed in noticing small details of improperly-donned crampons and making corrections. This was only the first time I was to be surprised by his skill as a guide.
The scale of everything around was dramatic. Note the tiny size of the other tour group.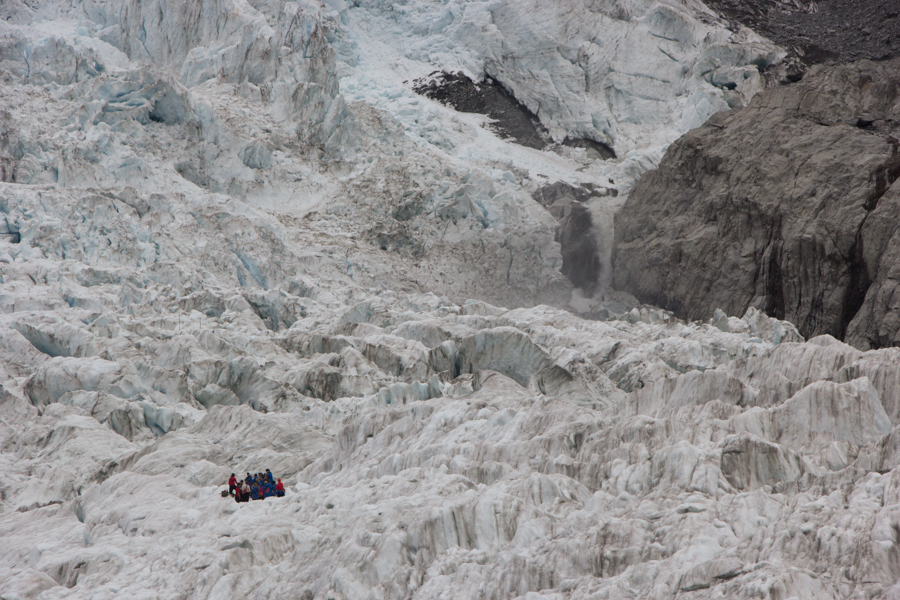 Cody then told us a little bit about our amazing glacier environment. We were in an ablation zone, he explained, where a solid acts like a liquid. While the ice is solid, it flows down the slope, in the icefalls before us. Under some parts of the glacier, there was liquid water. The area where we were standing received an average of 20 m of rain per year. That's a lot of rain! But it rarely freezes and snows. This was the first day in a week that the weather had been good enough to fly out to the glacier. Forty percent of tours were canceled due to weather. We felt lucky to be there!
The ice takes on a blue color because pressure squeezes all the oxygen out of it. It is safe to drink, but might eventually lead to electrolyte deficiency. Since they hadn't let me bring my Camelbak with me, I was already sucking on the ice. Photo by Eric.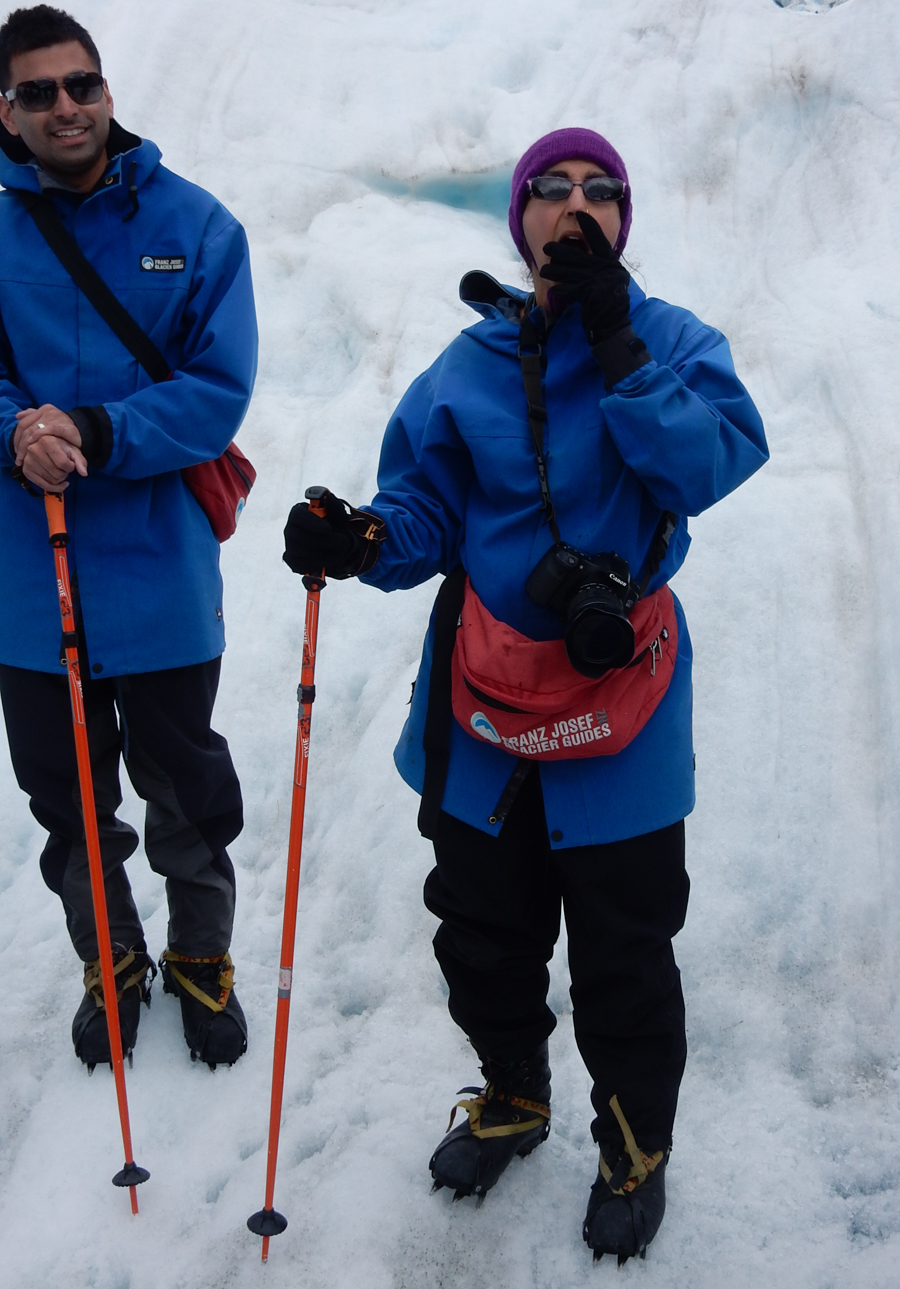 Cody then demonstrated how to walk in the crampons. He showed us stairs he had made for us with the ice axe he carried, and he showed us how to walk up and down the stairs in the crampons. This was something of a review for us, but the explanations were detailed and clear.
A group this large with one guide could not travel the distances over the ice on which we had traveled on our previous glacier hikes. But Cody made it an amazing experience by taking us to explore several ice caves.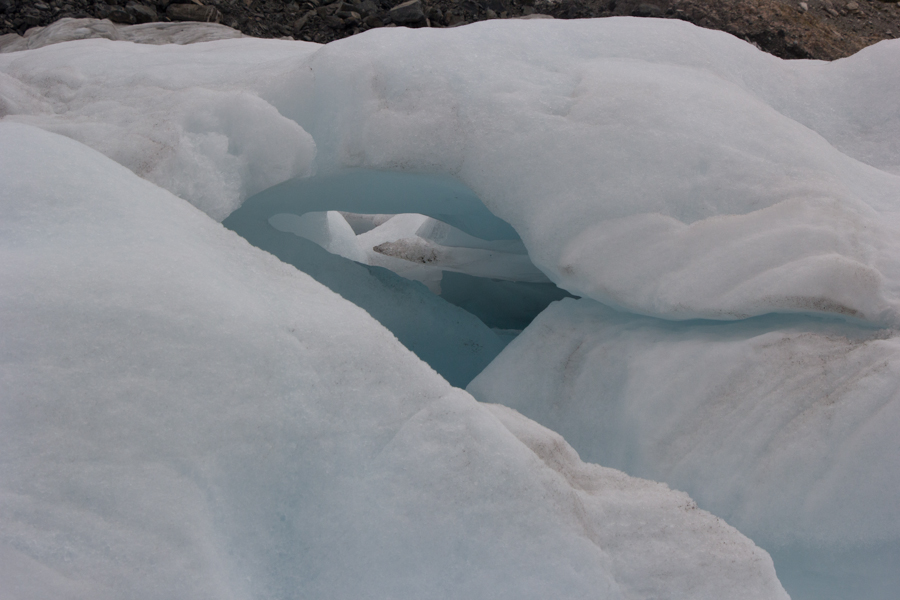 Even having been out on glaciers twice before, we had never seen anything quite like this.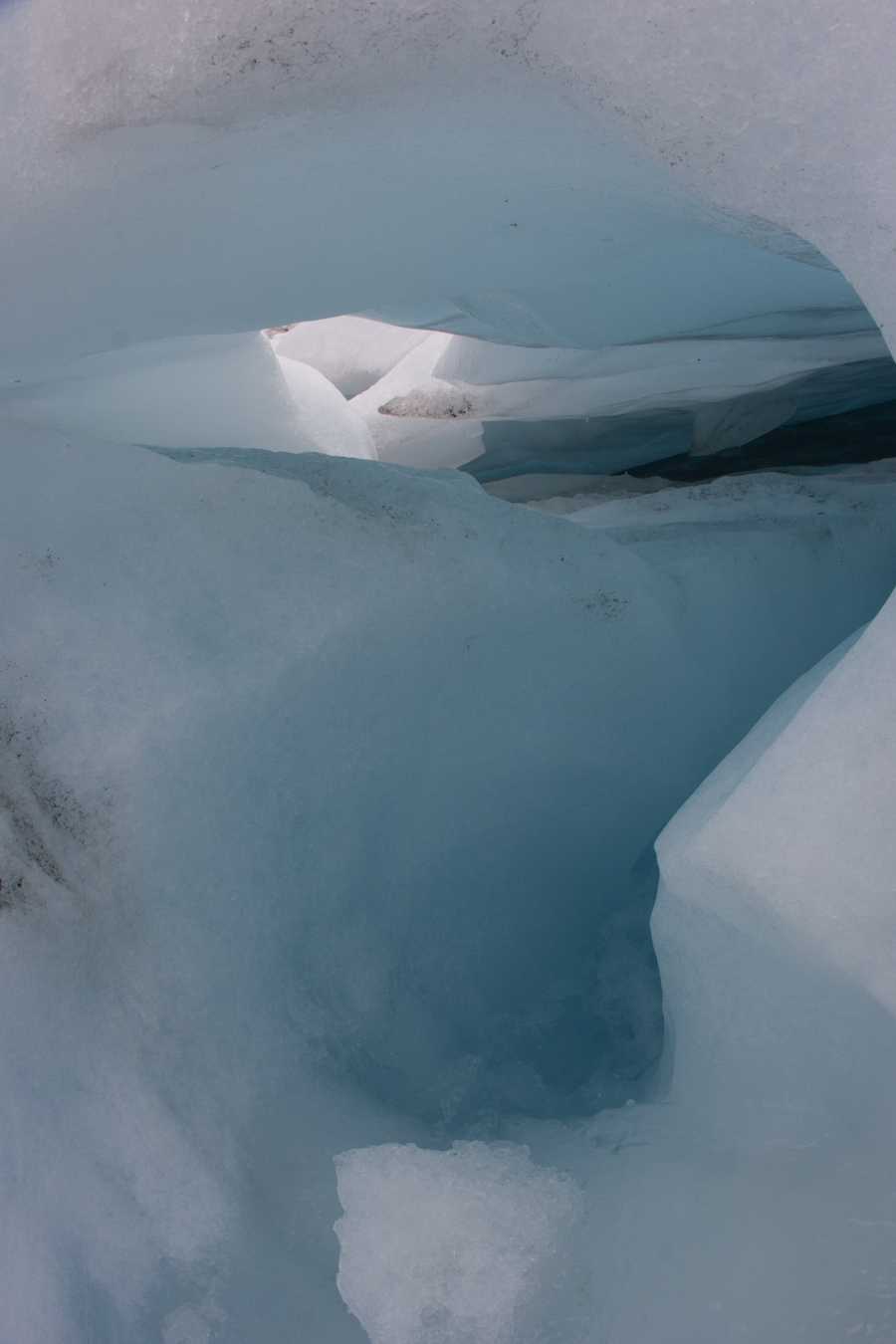 Cody took us one by one to see this moulin. Photo by Eric.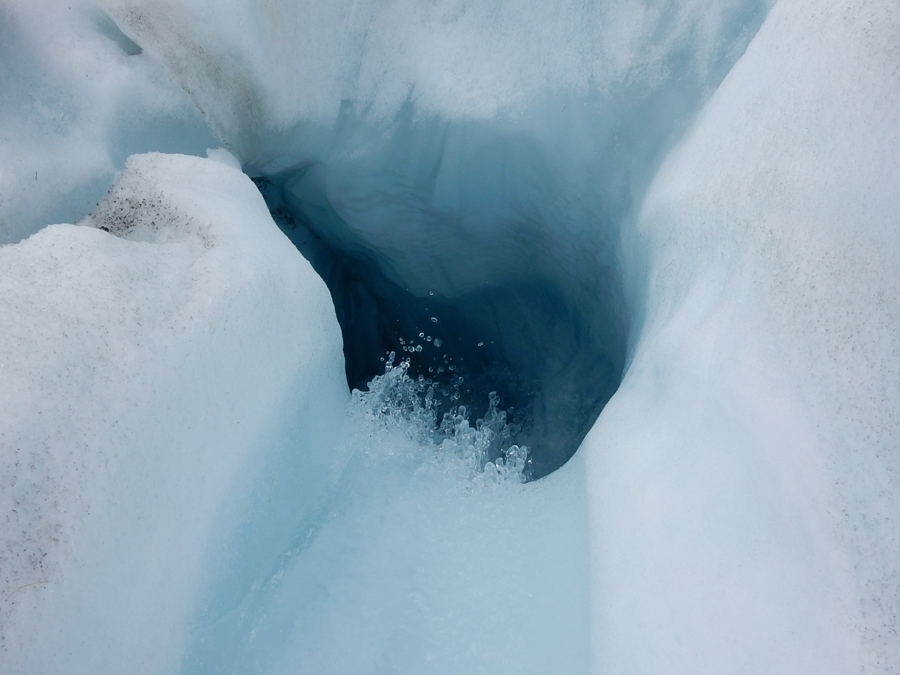 A moulin is a deep hole in the ice. The circular motion of water on the surface of the glacier carves a hole that just gets deeper and deeper. Cody told us that a large collection of rocks piled up can create protected spots on the glacier, by shading it and keeping it colder.
While Cody was managing the others and making sure they didn't fall into the moulin, we were able to look at the magical ice formations around us.
I asked Cody what made the formations slant as they did. He said that many factors contributed to it, such as wind, gravity, and rainfall.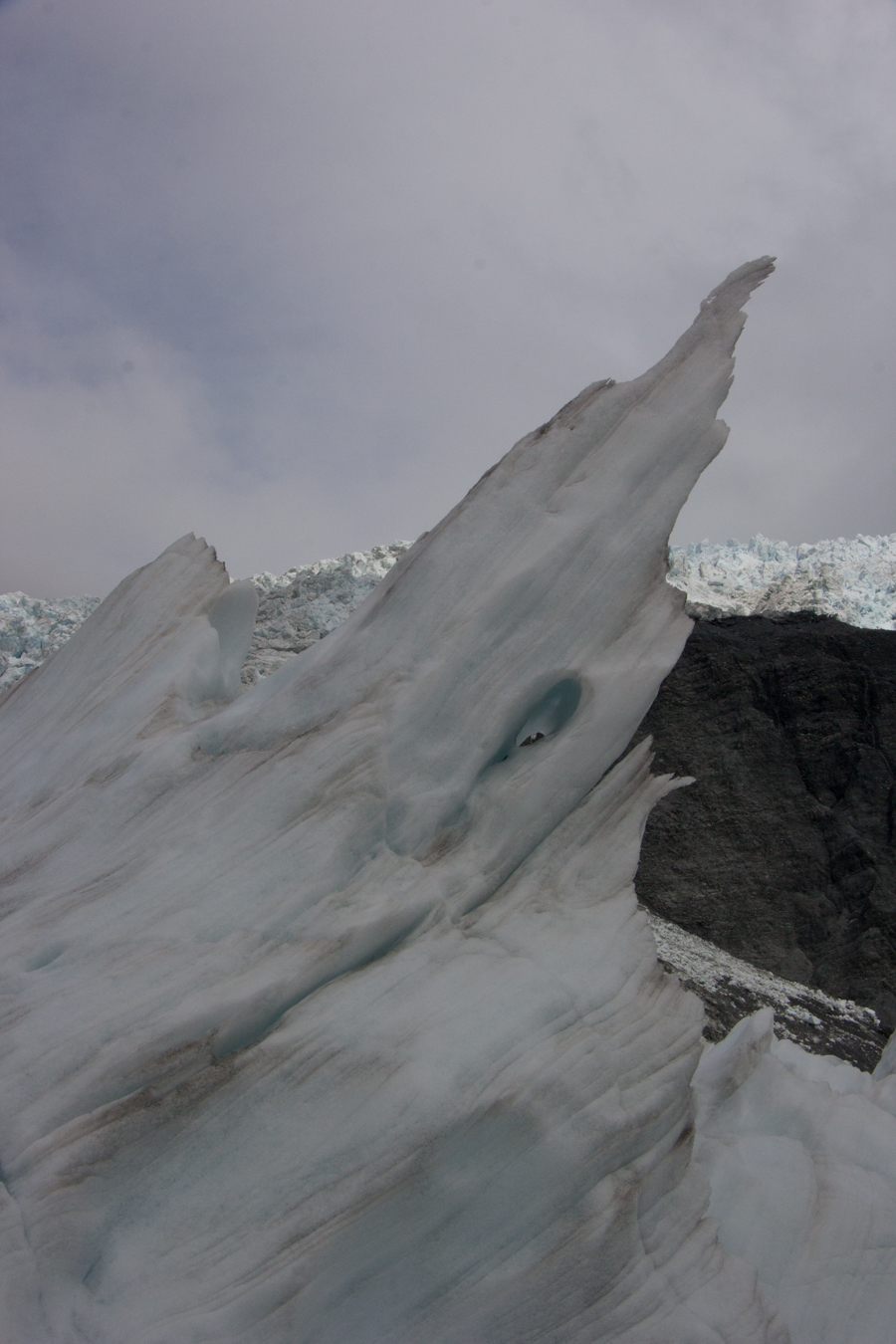 I was enchanted by the magical environment around me. I kept thinking of The Lion, the Witch, and the Wardrobe.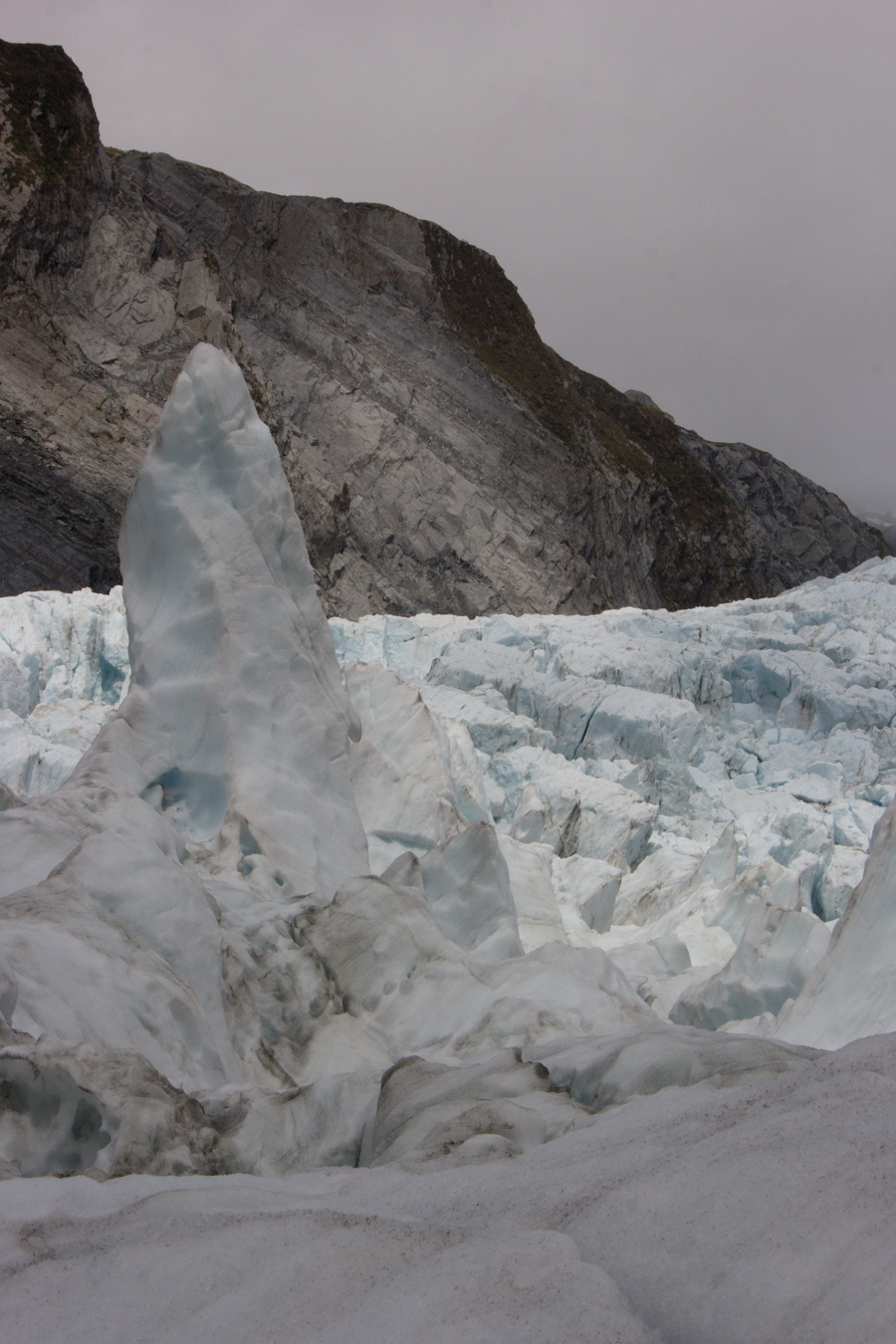 This kissing formation particularly delighted me.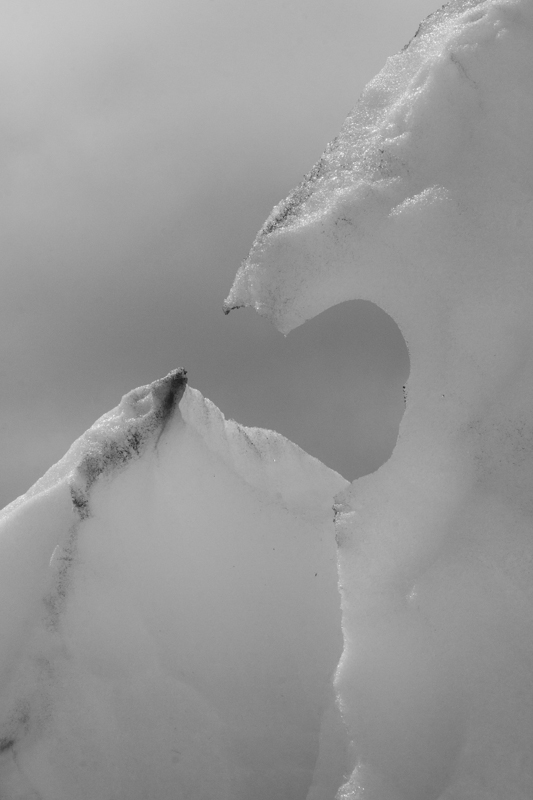 A dramatic view of the kissing.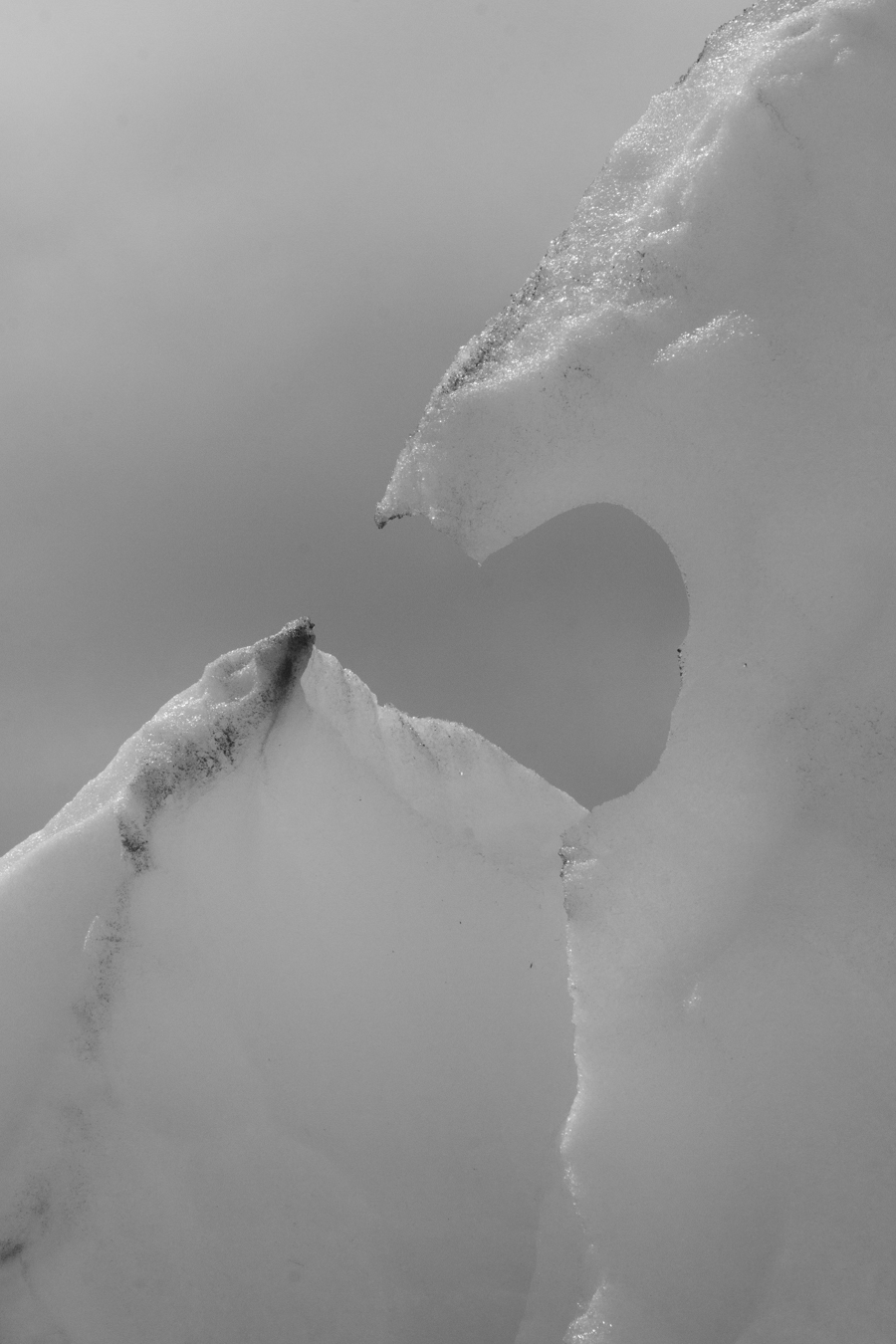 Cody showed us another ice cave. We would be able to go through this one!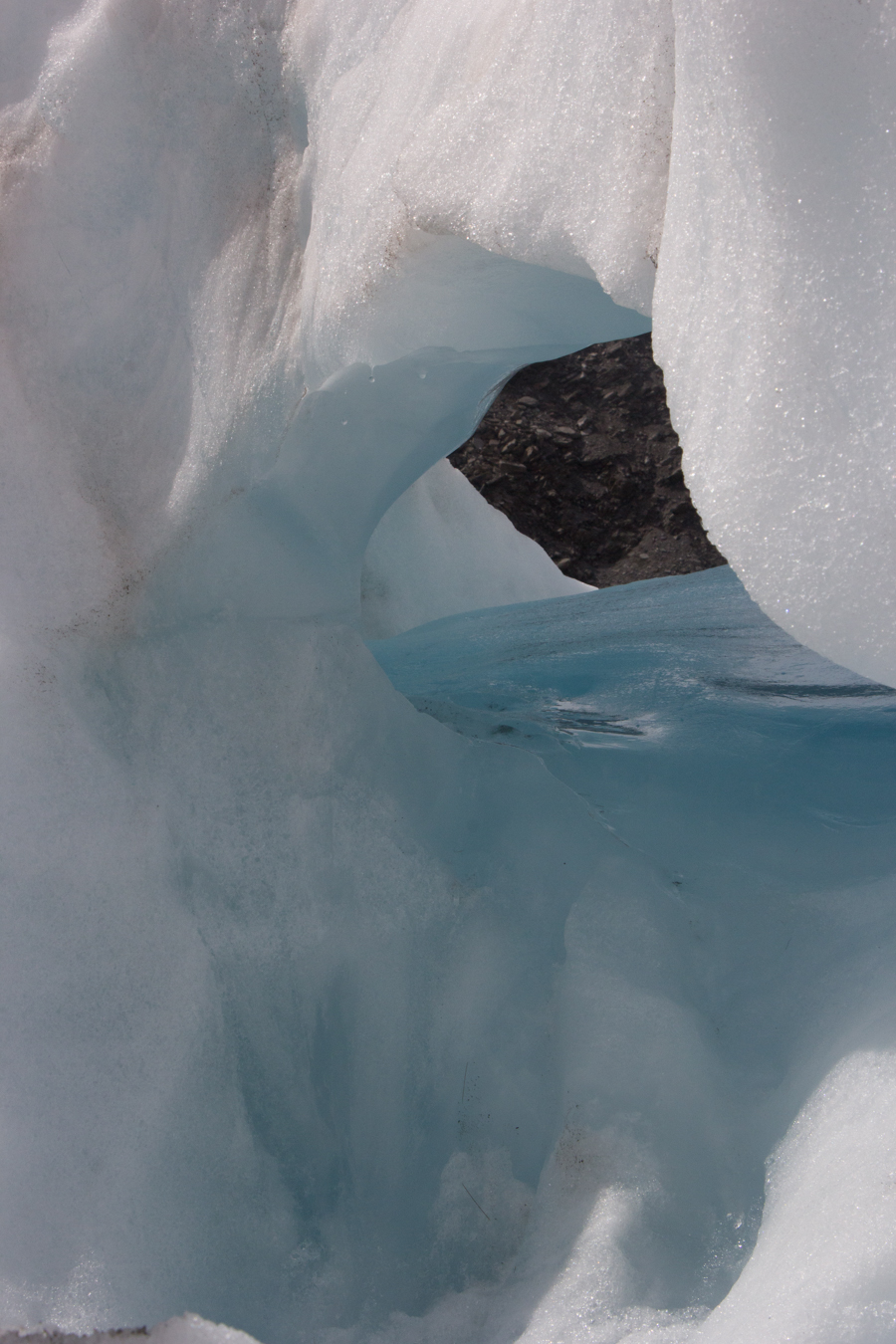 Eric took my picture entering the ice cave.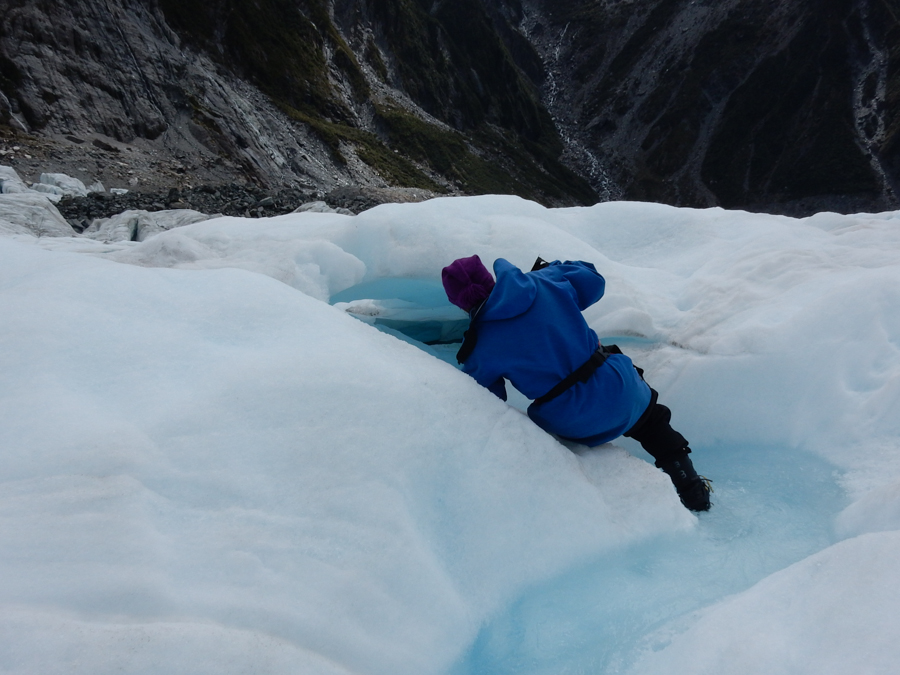 You had to slither through on your side, walking against the side wall, pulling yourself along on a rope Cody had placed for us, as you see Eric doing here.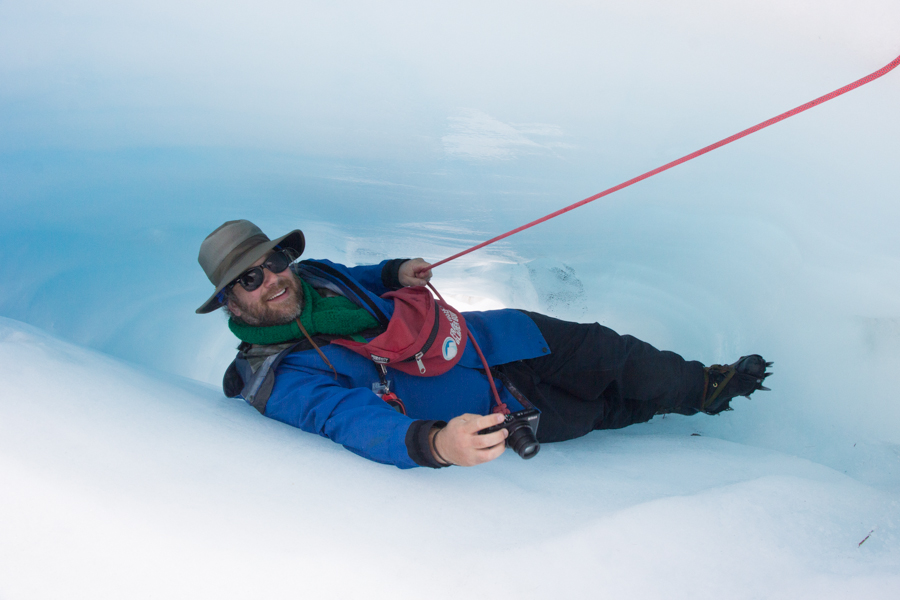 Eric took a picture inside the cave.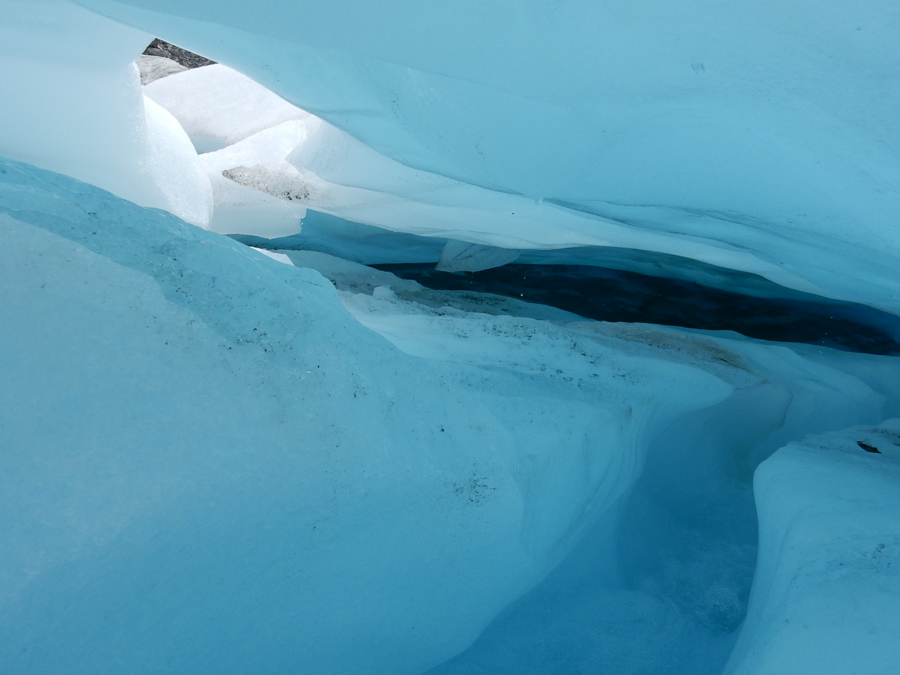 Ice formation.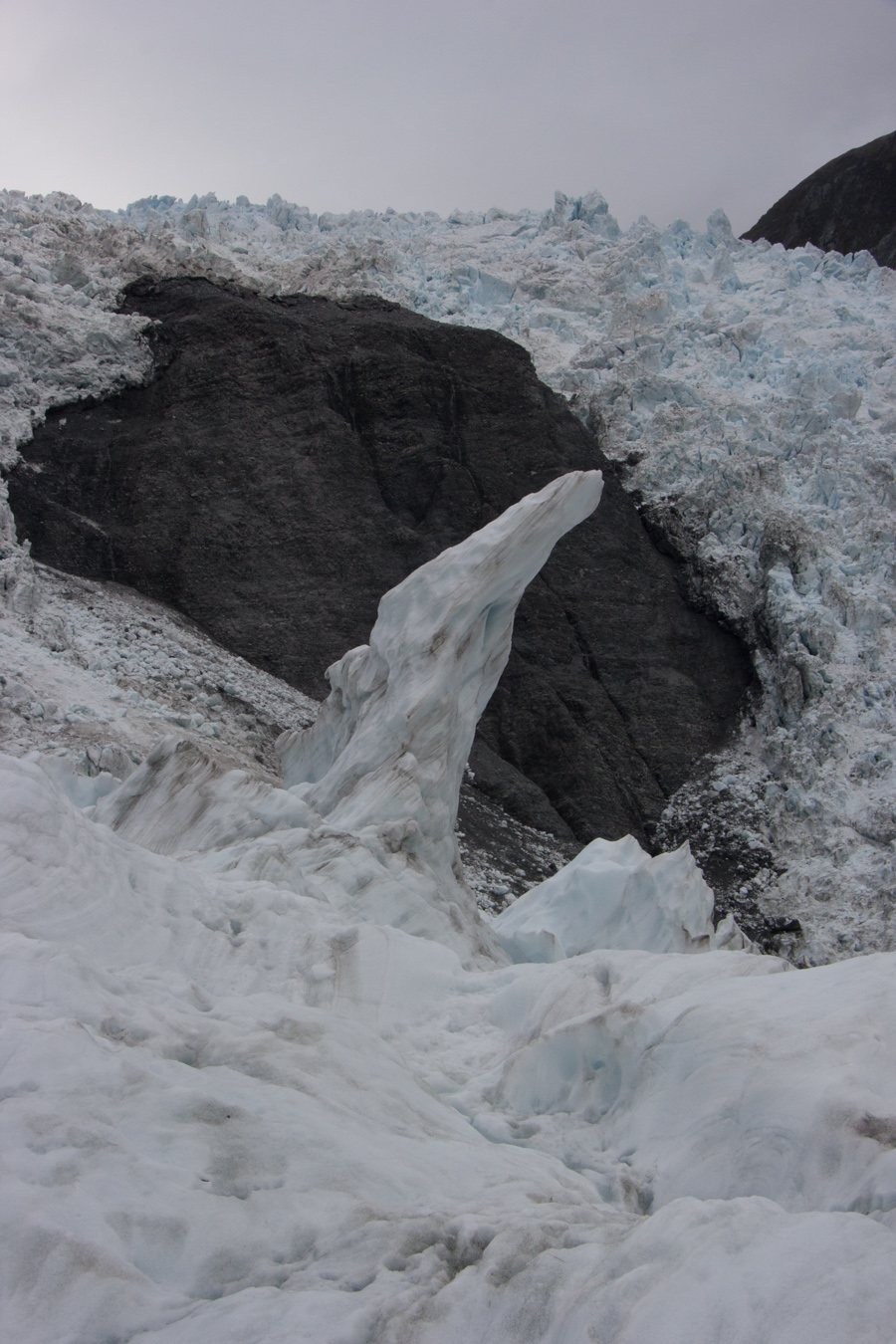 Cody had challenged us to find a hut on the hill to our right. He had spent a week in the hut once when the weather had been inhospitable and they were unable to fly him out. Eric spotted the hut.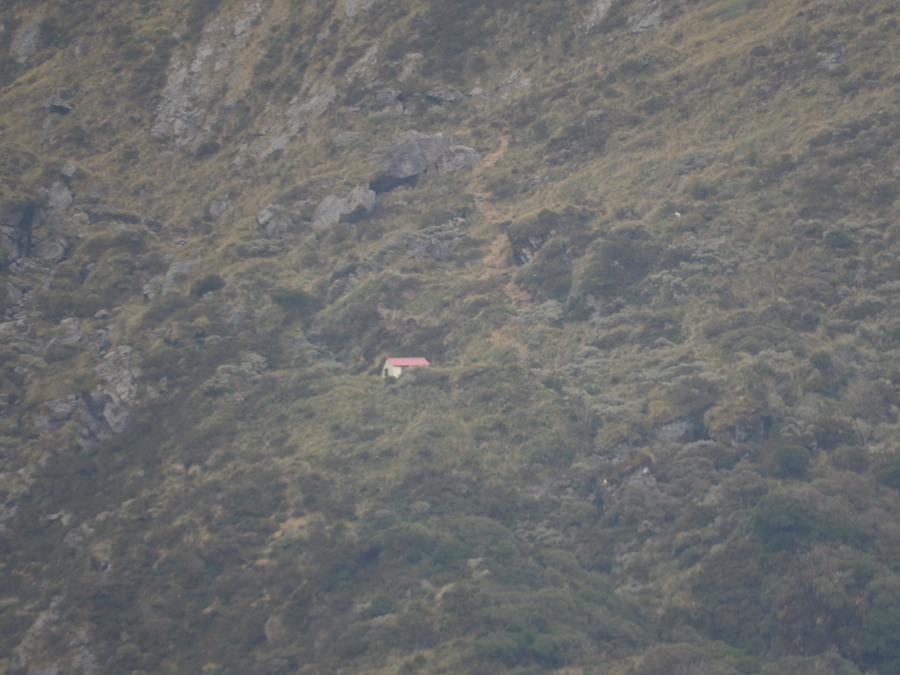 Cody spent so much time helping each of us individually. Here he is helping Eric down some stairs.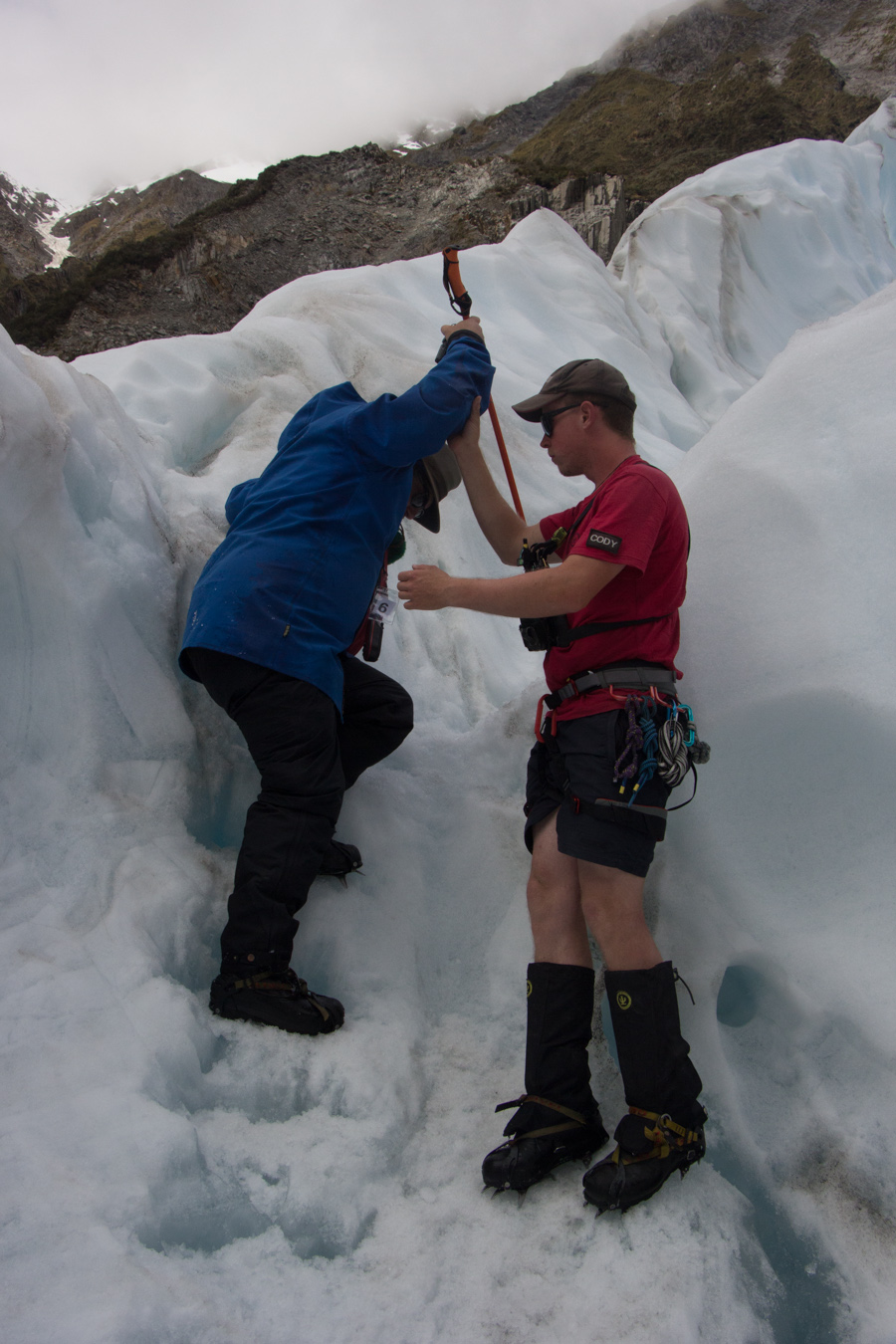 I continued to be fascinated by the pyramid. Someone had carved eyes in one side of it.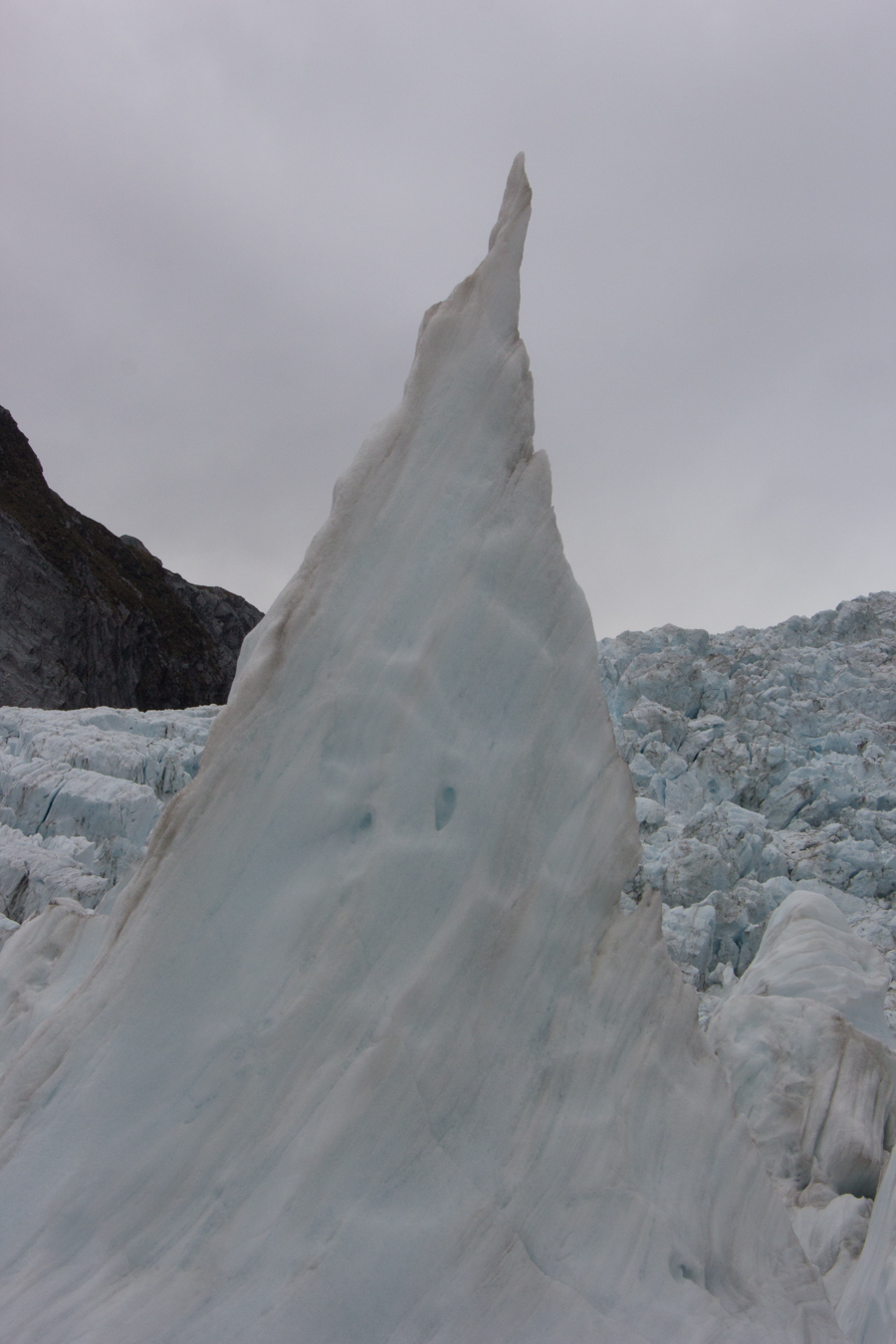 Pyramid.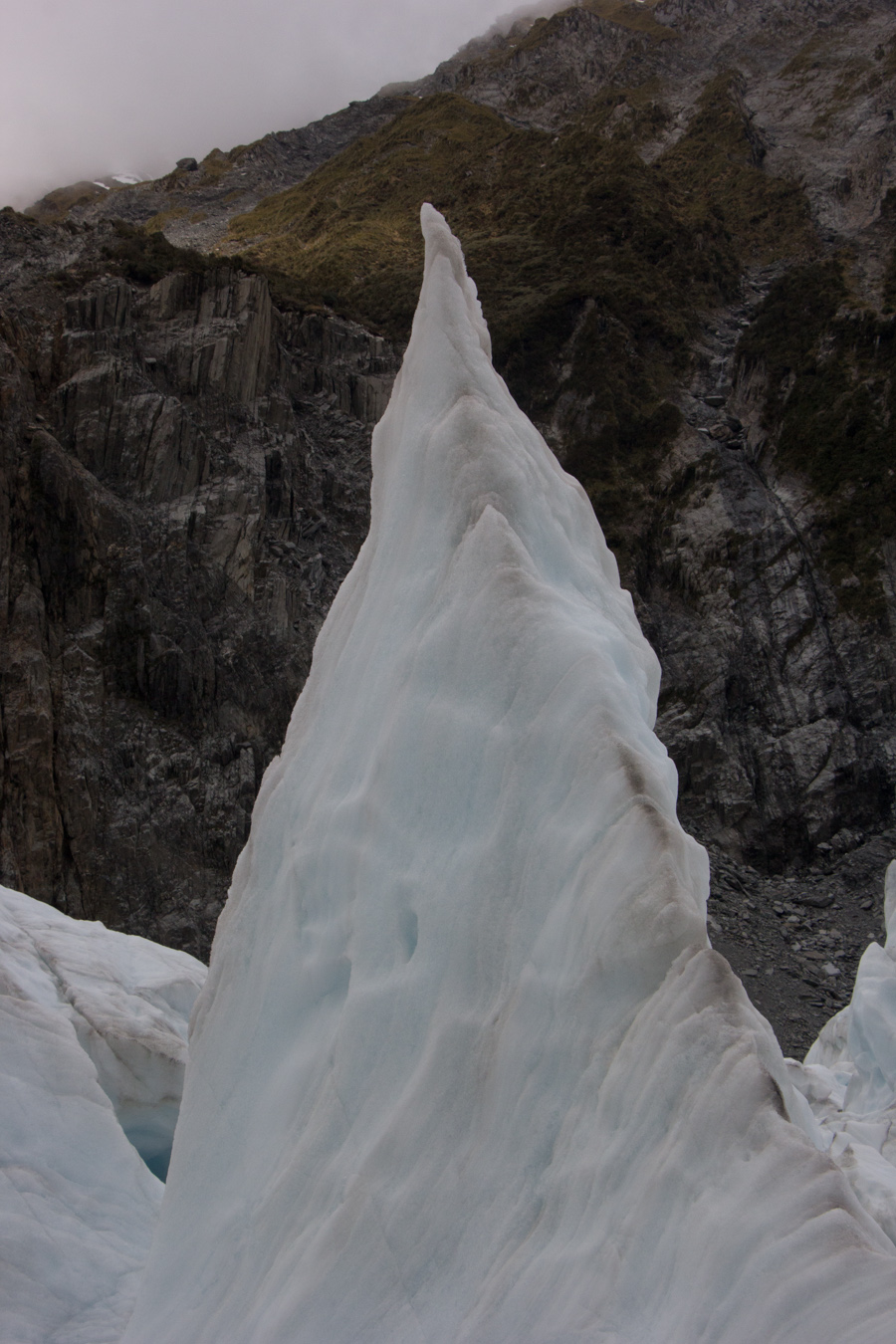 Cory scouting with his axe.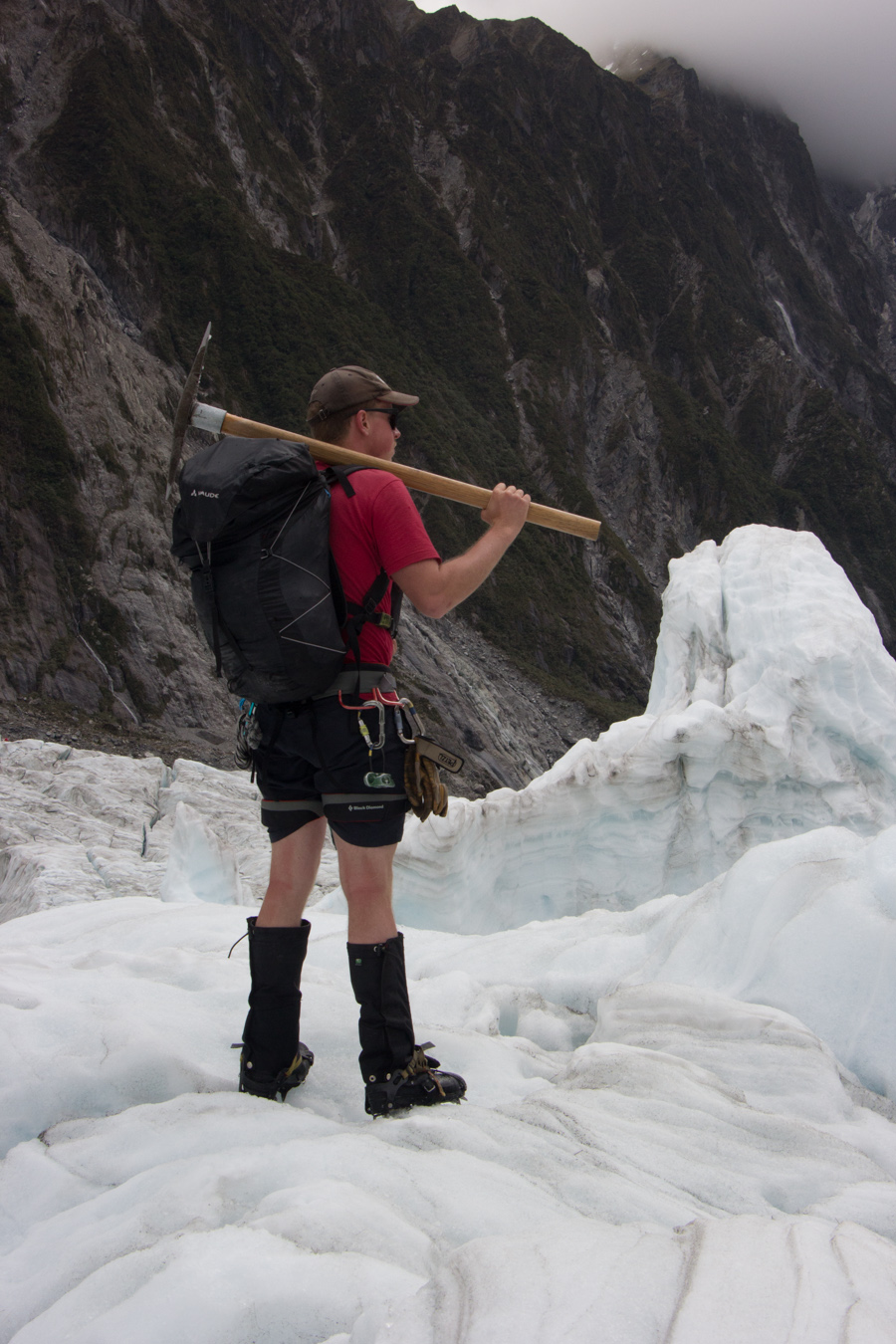 Cody had another ice cave to show us, but we could not enter it as it was too challenging for our skill level.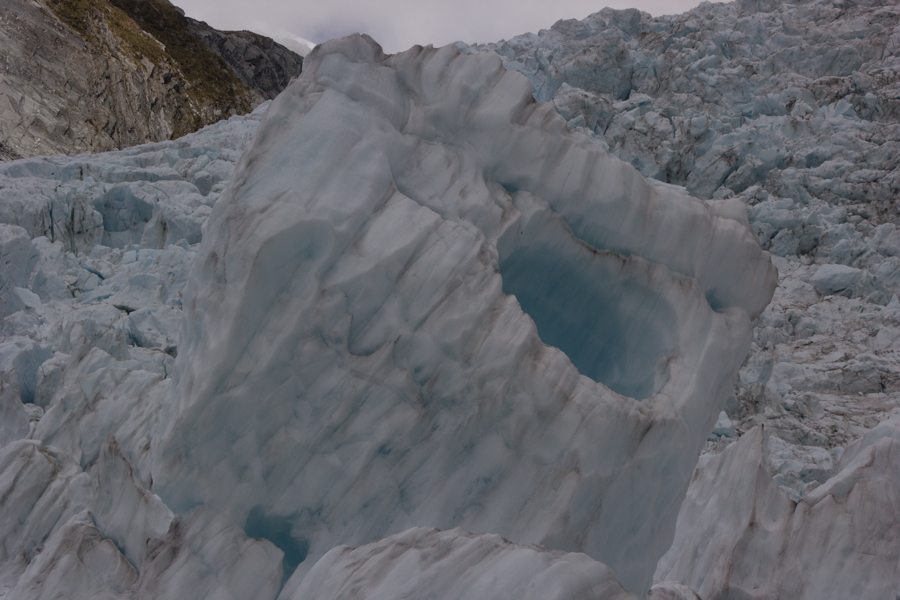 Ice cave.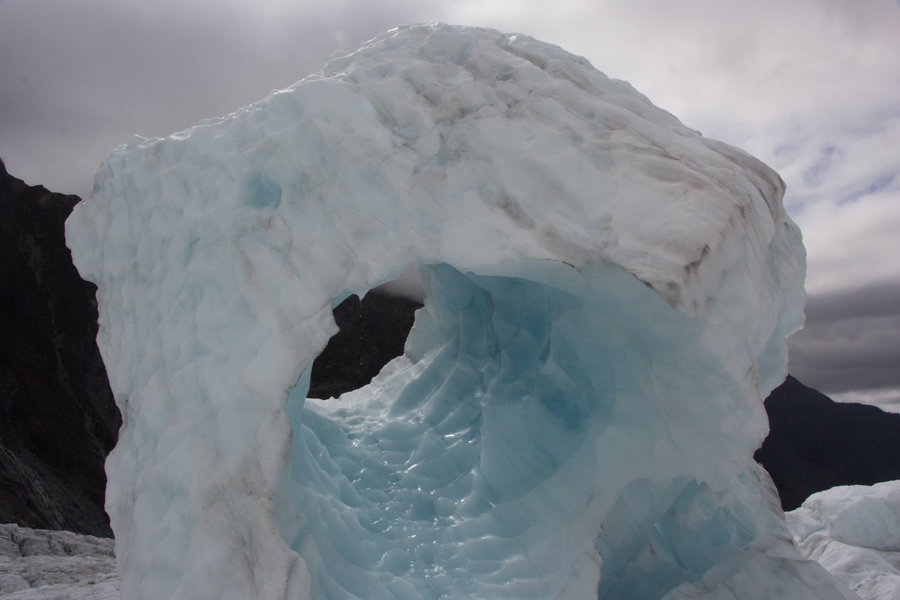 Looking through the ice cave.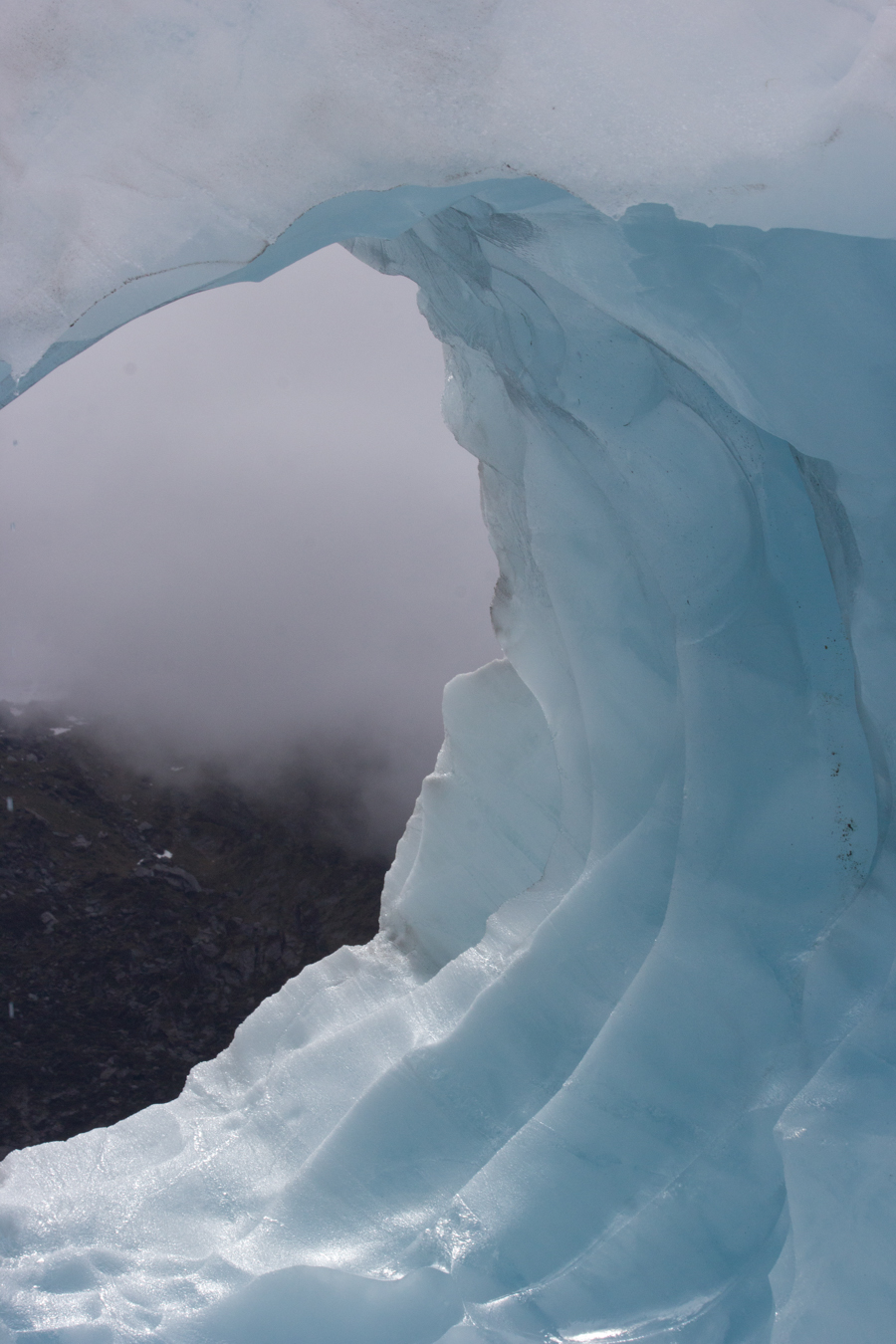 Ice cave detail.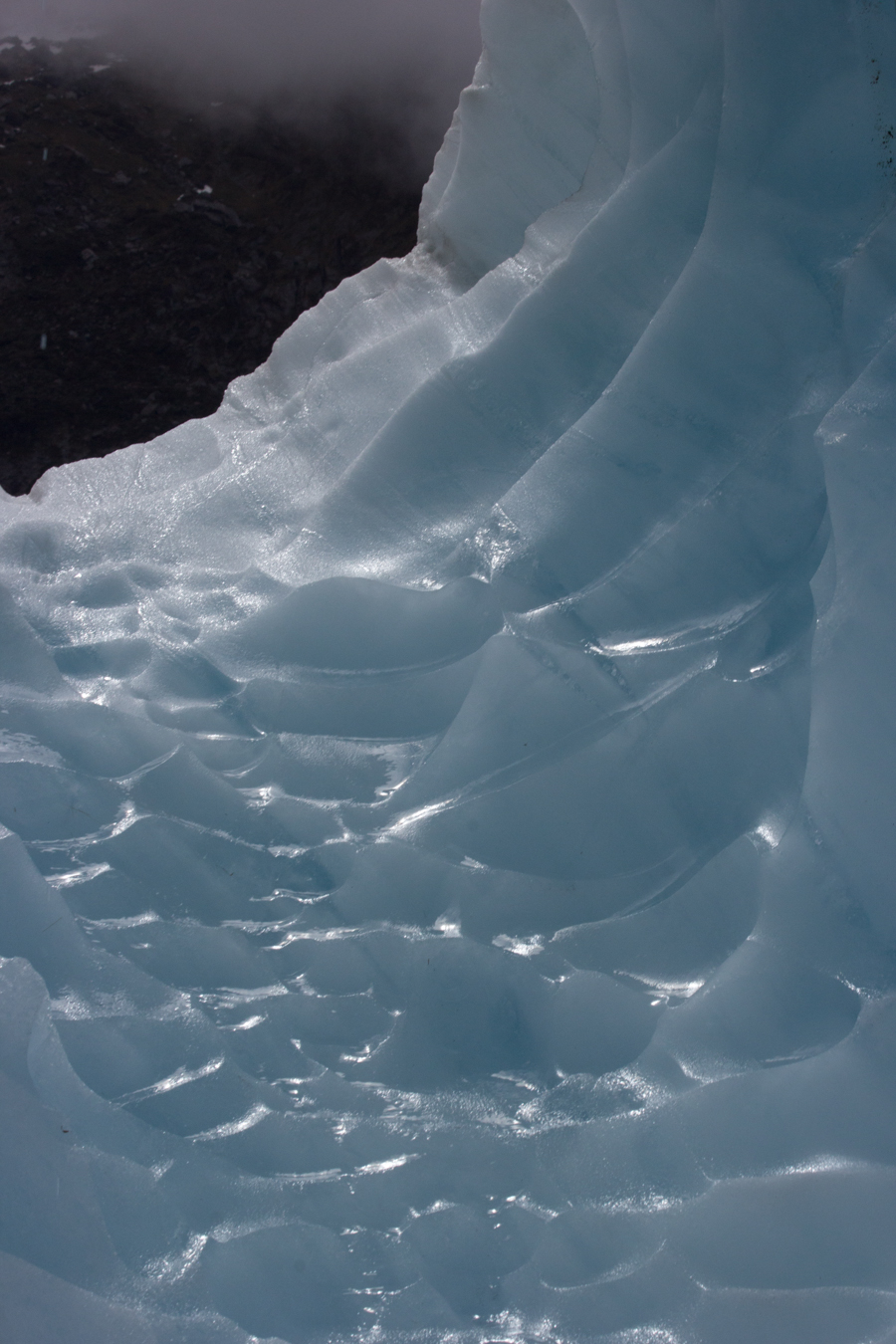 Eric took a pictures of me photographing the ice cave.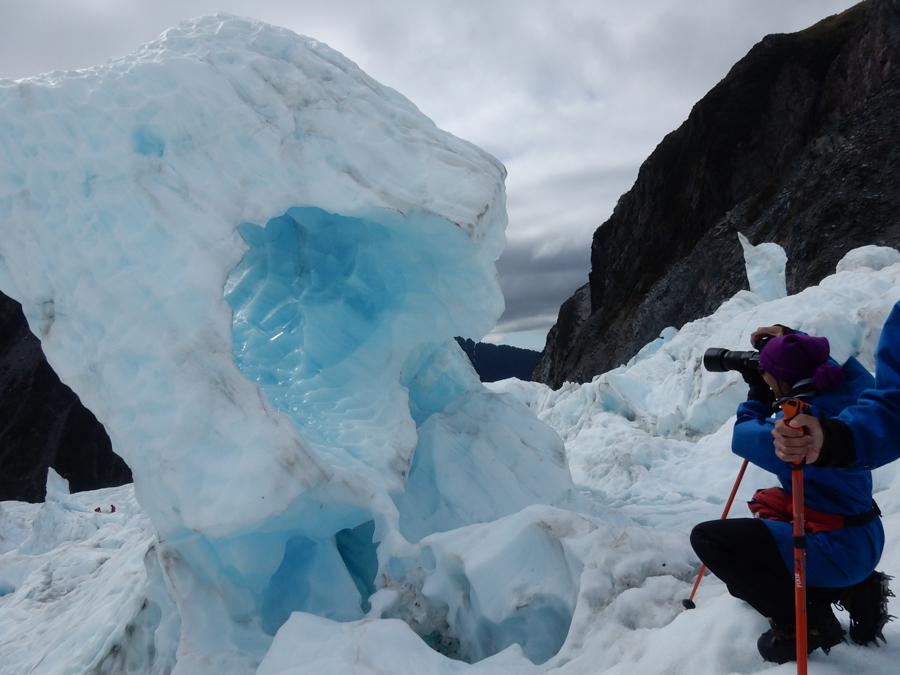 We needed to go through a passage with a hole in the middle of it. The hole was only about waist deep, Cody explained, but it was full of extremely cold glacial melt. Furthermore, Cody said, that morning, another hiker had fallen into the hole. The hiker was fine, but his phone had ended up in the bottom of the hole. Cody had reached his arm all the way in, but had been unable to retrieve the phone. It probably had sustained too much water damage to be functional in any case. But Cody obviously did not want any more people, or phones, to end up in the hole. So, he carefully prepared steps around the hole and guided us individually through the passage.
Eric took my picture maneuvering through the passage around Cody.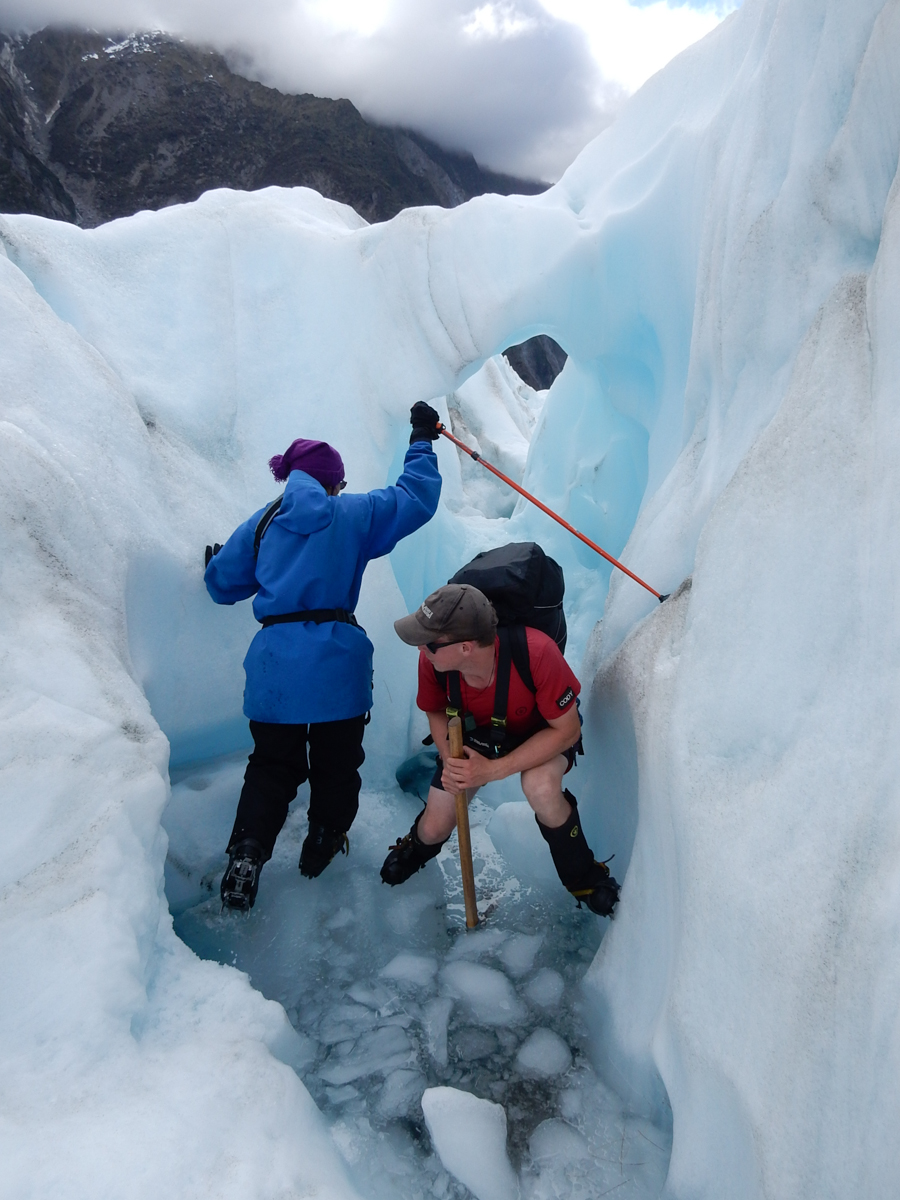 Cody had one last ice cave to show us. Eric took my picture taking a picture back through it.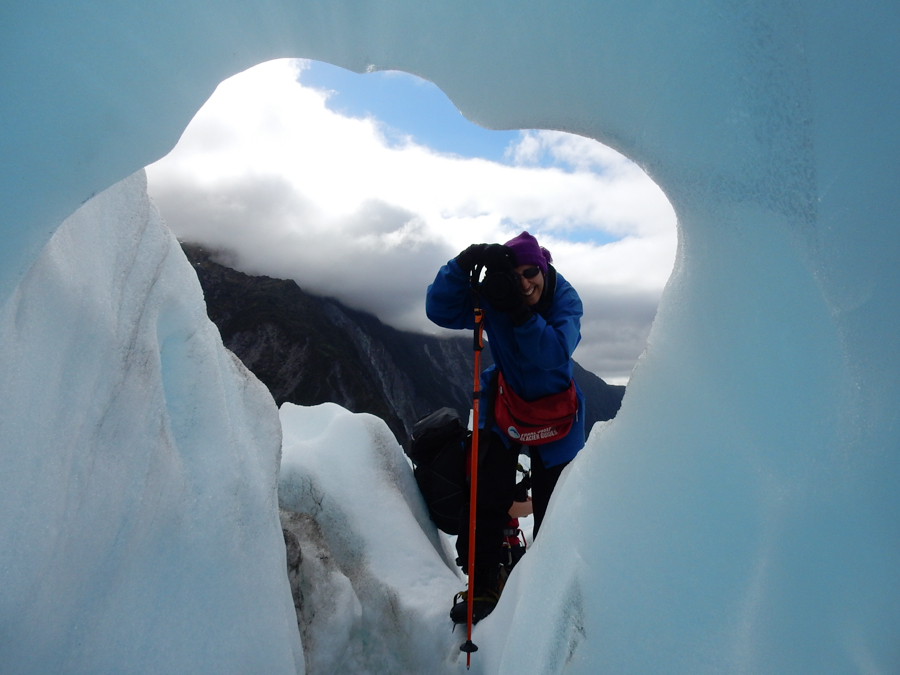 Eric obviously enjoying the last ice cave.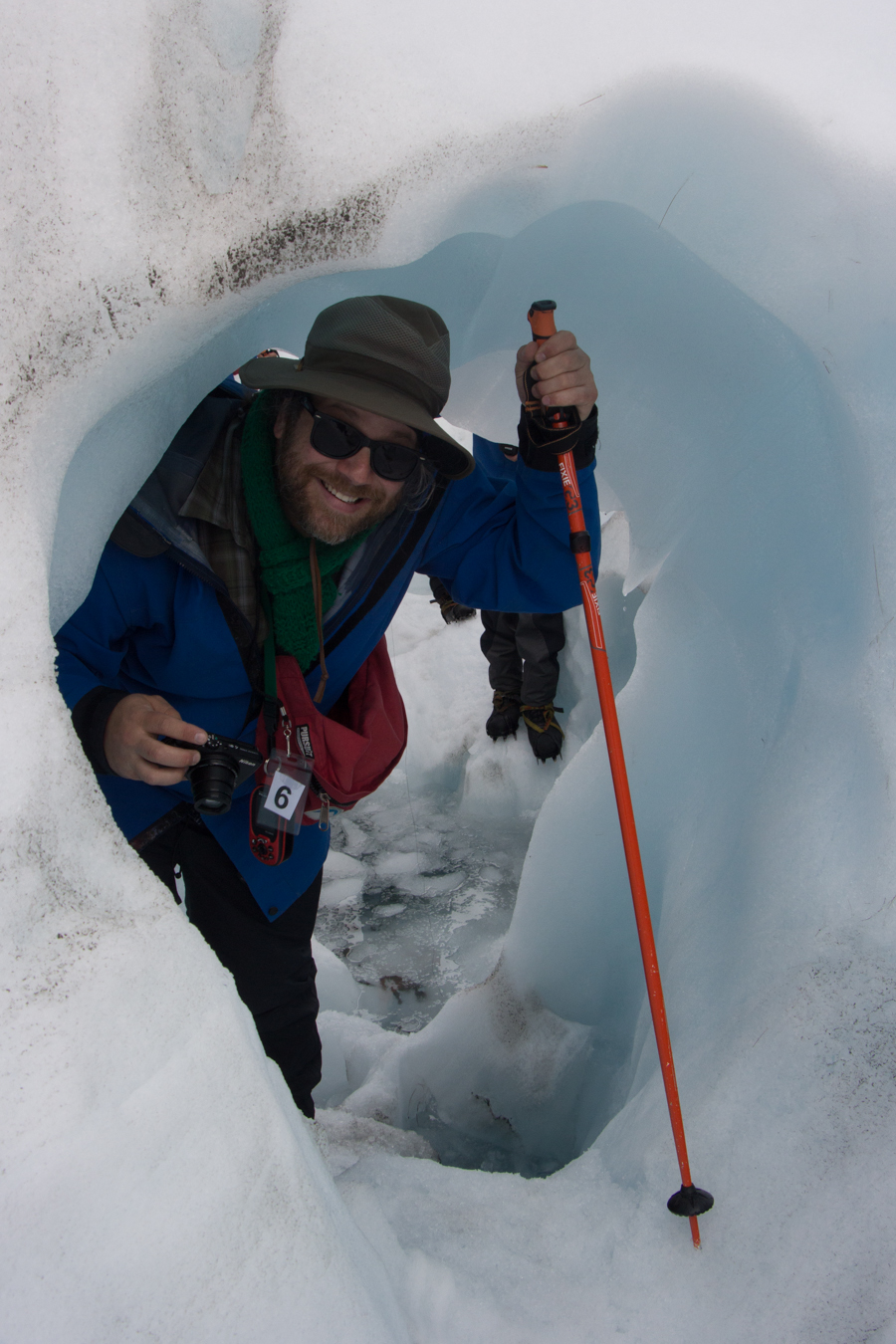 We looked back up at the ice cave that had been too challenging for us, and Cody said, "There's my boss!"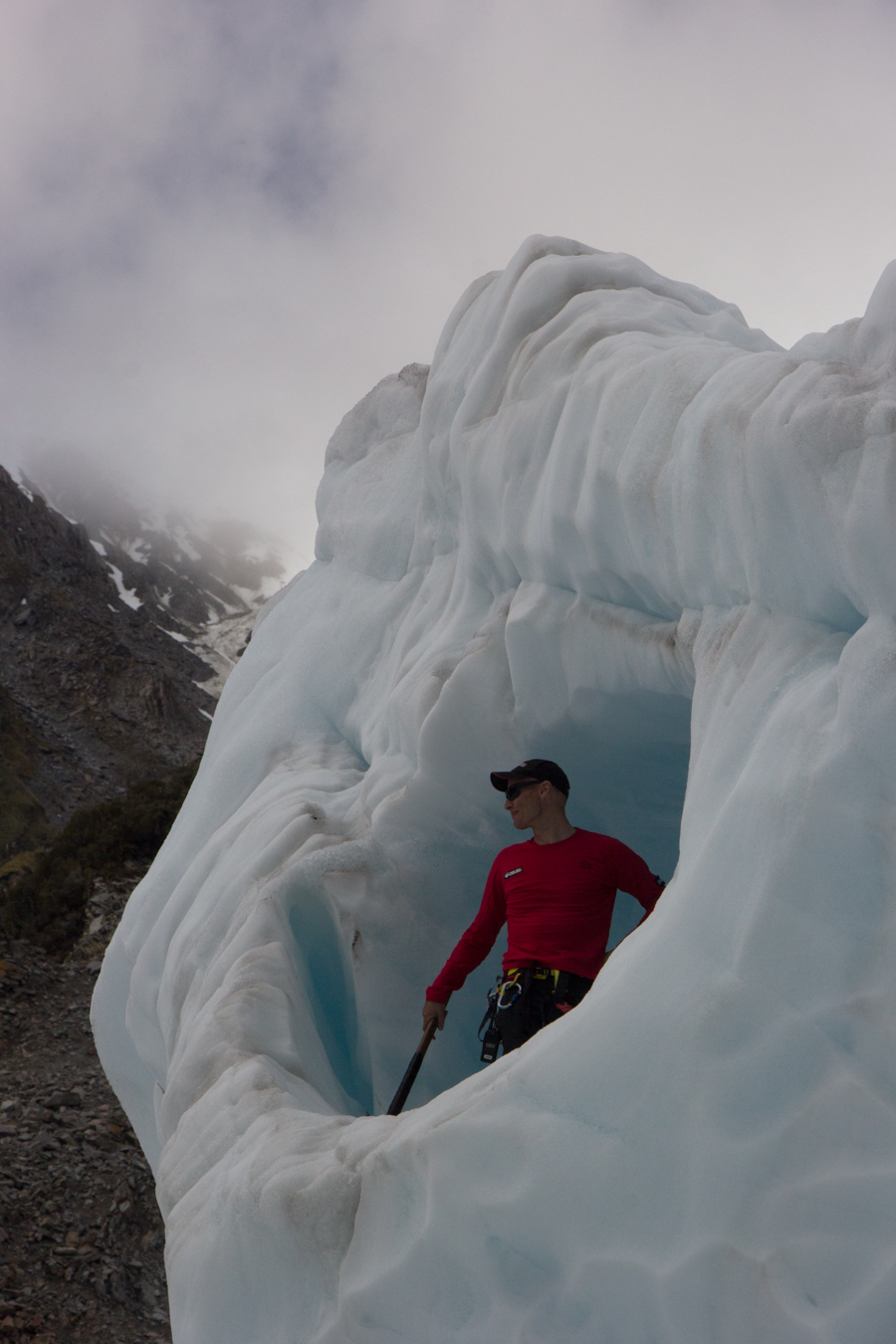 Cody explained that, not only was the boss very skilled on the ice, he was wearing climbing boots and crampons.
Looking back at that dramatic ice cave on the approach to the helicopter landing site, we could see how far we had traveled on the ice.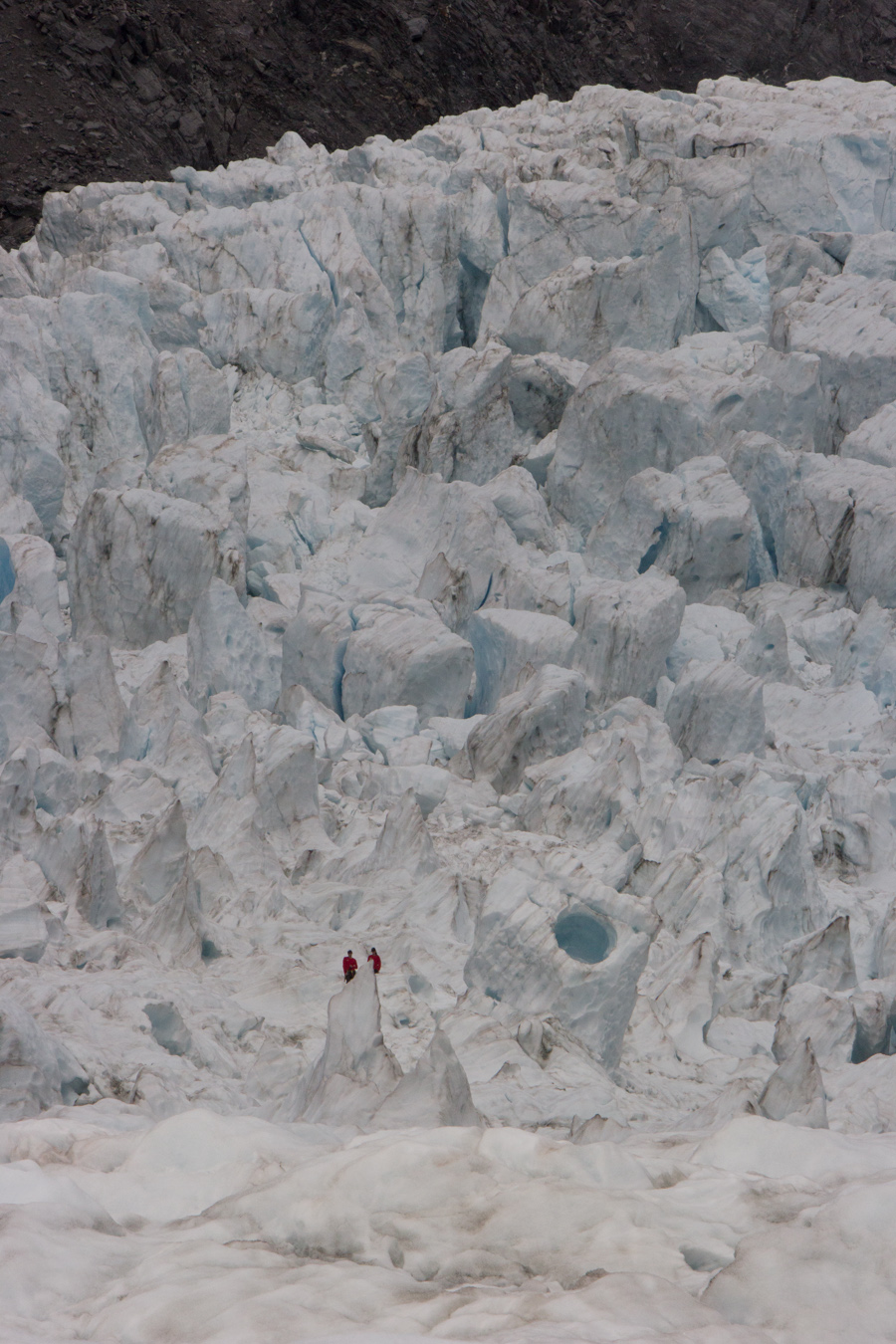 Eric took a picture looking into some of the meltwater.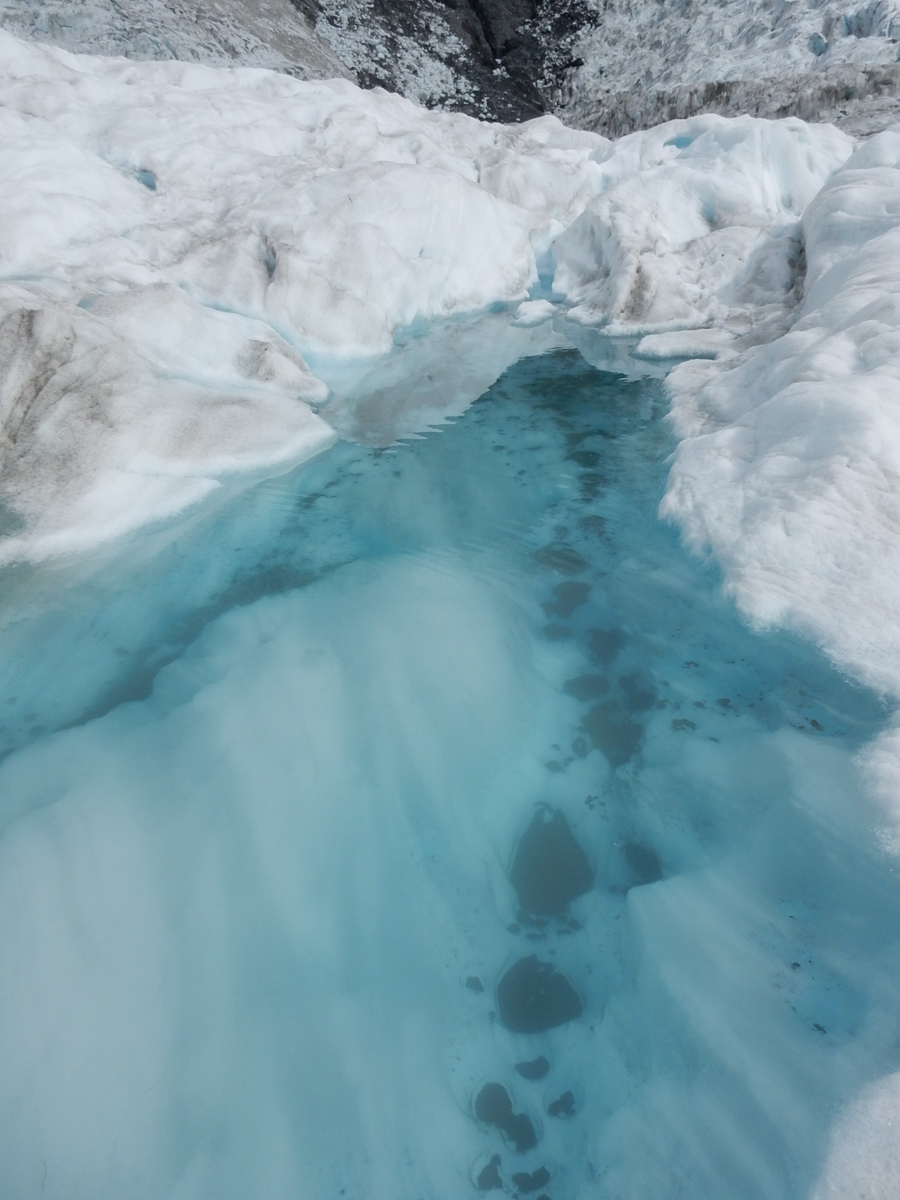 Cody loaded us into the helicopter. I didn't think it was fair that the same people as before were given the front seats, but at least I was assigned to a window this time.
The experience of lifting off in a helicopter is breathtaking. Such a feat of engineering! However, we turned around immediately and couldn't see the glacier. So, it wasn't really worth bothering taking pictures on the return.
Glacier Guides' building has glacier hot pools, a bunch of outdoor hot tubs of varying temperatures. A dip in the tub was included with our hike. Of course, in all of the haste before, we had not received wristbands, and I had to get them after the fact. We had to go back to the Rainforest Retreat (just a short distance away) to retrieve our bathing suits. We decided our things would be safer in our room than in a locker, and so left all of our valuables behind.
When we got back to the hot pools, we were told that there was a towel rental fee of NZD5.20. I said that I hadn't brought any money with me, and, after all the rushing we'd been put through, couldn't we have the towels free to make up for some of it? "Of course," they said. Free towels did not make up for all of the rushing. Not at all. And they get NZD449 for a glacial helihike and they want NZD5.20 for a freaking towel? It was ridiculous.
The glacier hot pools were nice, but nothing exceptional. Even the hottest pool was not as hot as I like it. We overheard some people speaking what we thought might have been Portuguese, but instead it was Spanish from Madrid. It sounds very different from the Castilian Spanish we are more accustomed to hearing in California.
We had dinner in the restaurant at the Rainforest Retreat, where they were putting on an 80's night for a tour group. They played 80's pop, and the waitstaff were all dressed up in 80's outfits with ponytails on the sides of their heads. The food was good but not incredible, but we had the best restaurant service we'd had in New Zealand!
On to Arthur's Pass National Park.
---