---
Auckland
Thursday 3 November, 2016
We started our New Zealand adventure in Auckland, the City of Sails.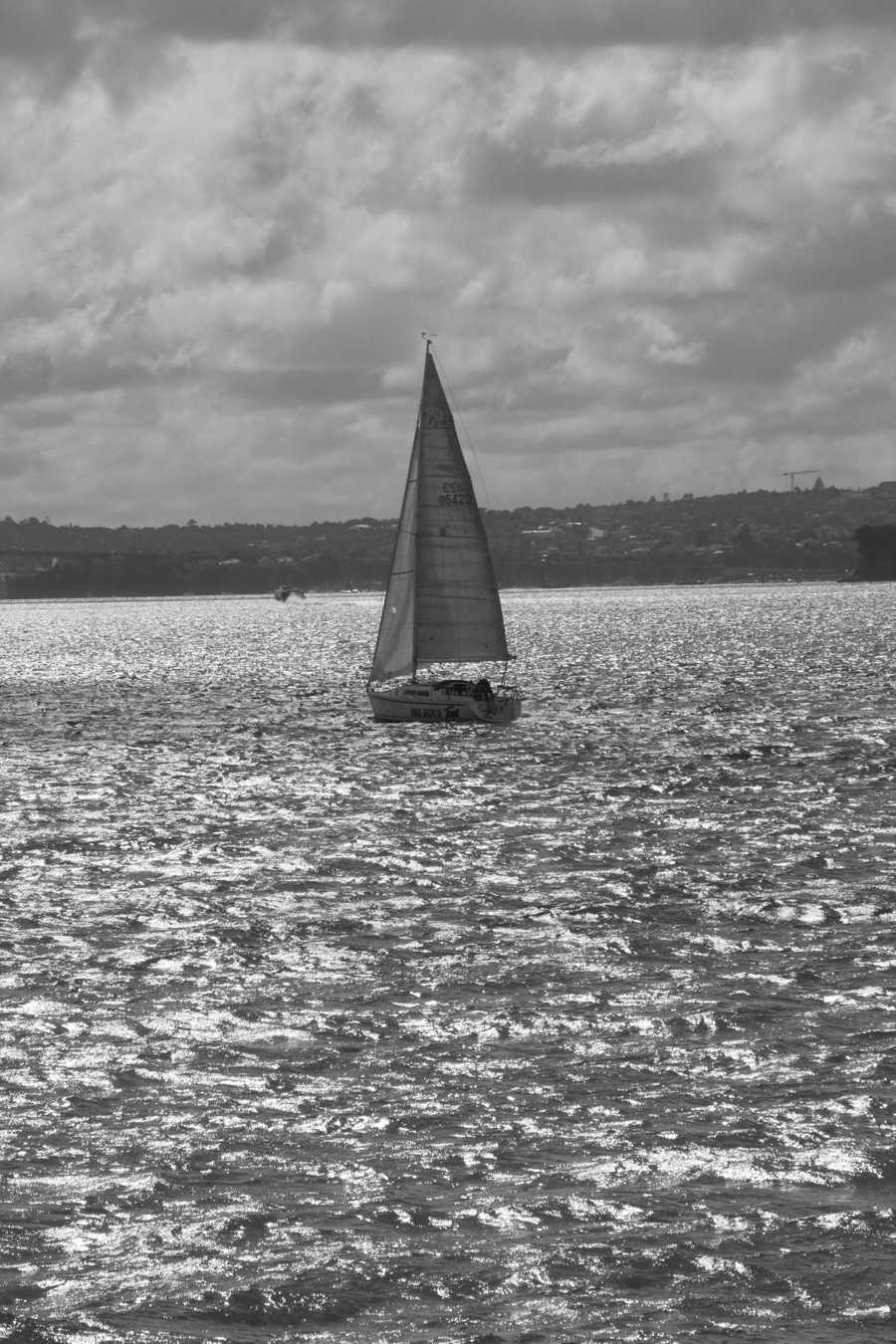 After I chose our Economy Plus seats back in the spring, United changed the form of the 777 for the flight, separating all the couples who had chosen seats together on an entire side of the plane. Because something like 8% of the passengers wanted seat changes, the gate representatives announced that there would not be any. While enduring the wait at the gate, I went through the struggle of getting a live United representative on the telephone, but was only able to fix our arrangements for the return flight. In order to sit together, we had to negotiate with another couple who had also been separated. A bunch of unnecessary stress, and not the way one wants to start out celebrating one's 25th anniversary. The flight was, fortunately, otherwise uneventful.
Our entry into the country was mostly uncomplicated. Eric was slightly delayed, but he did get a passport stamp, while I did not. We had been told to expect significant inspections of our outdoor equipment (my wetsuit, our dive computers, and our hiking boots) for invasive species, but only the hiking boots were inspected, and the inspection was most cursory. We had gone to the excessive trouble of scrubbing the boots down with an old toothbrush! We were met by a representative from the travel agency, and out of the airport in about 1:15.
After a night in an airplane, we were excited to be able to check into our room in the morning and get a shower right away.
Our room at the Mercure Auckland was an accessible room.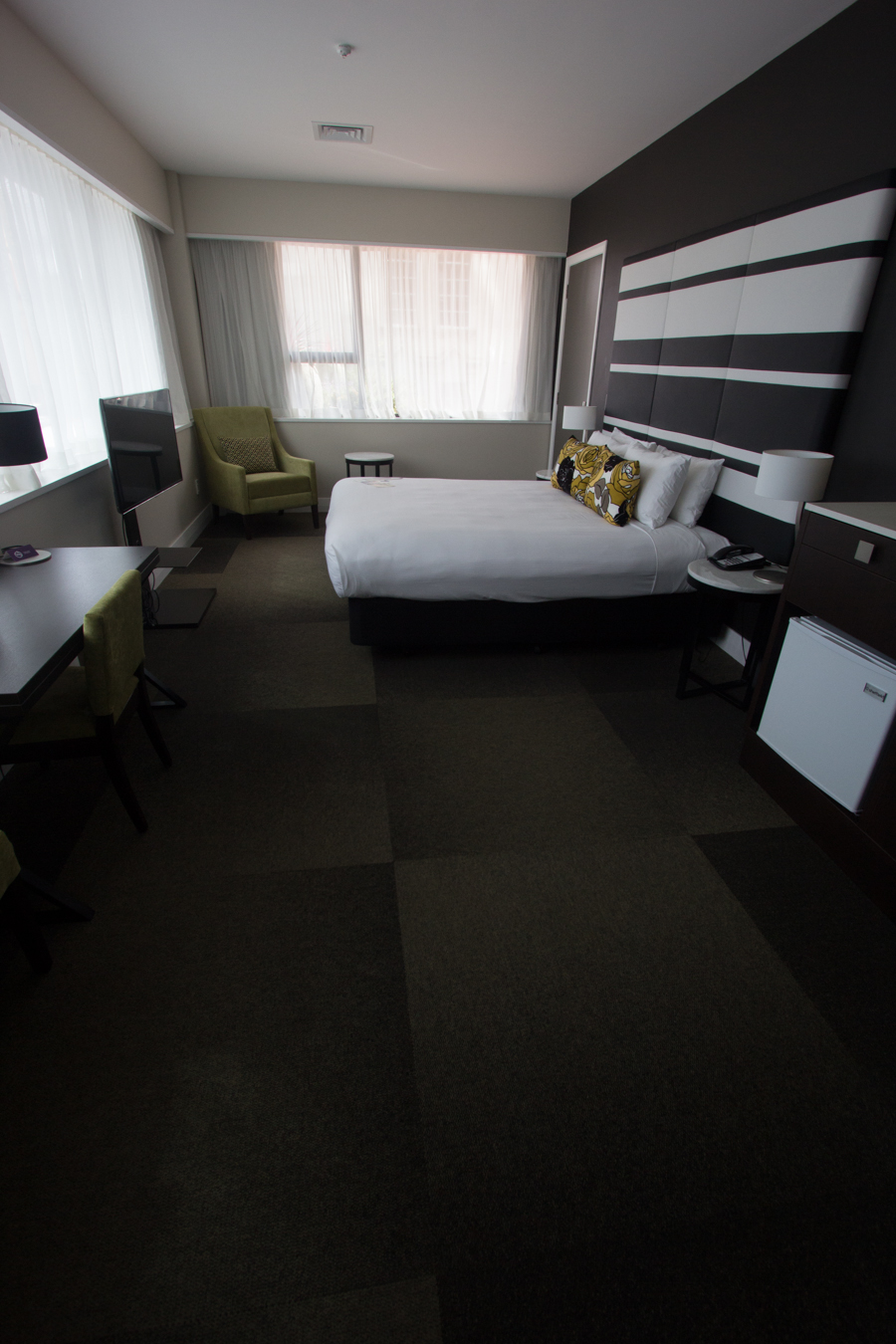 Since we were not allowed to bring food into the country, our next step was to walk to a supermarket to acquire some snacks for the car.
In some ways, Auckland is a lot like San Francisco.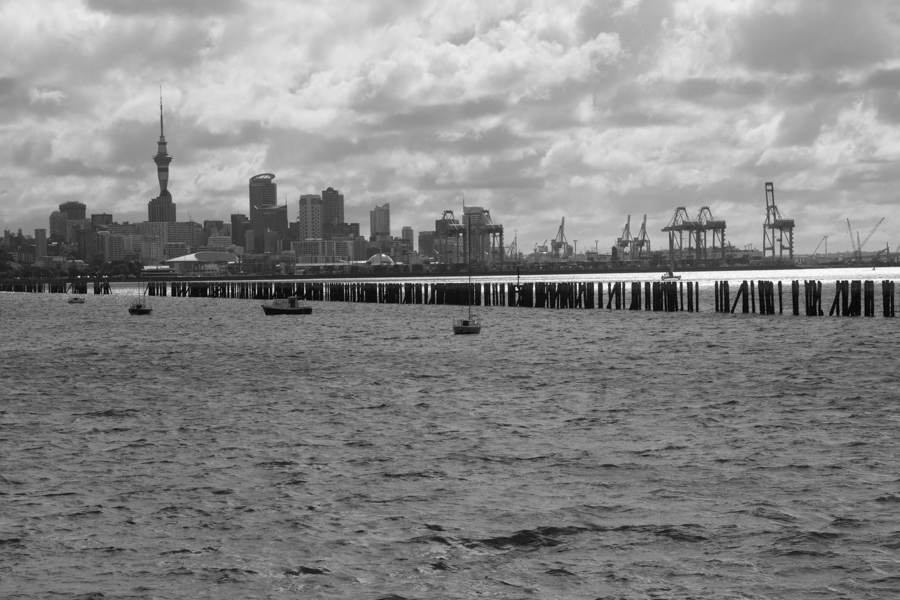 There's a large body of water, Auckland Harbour.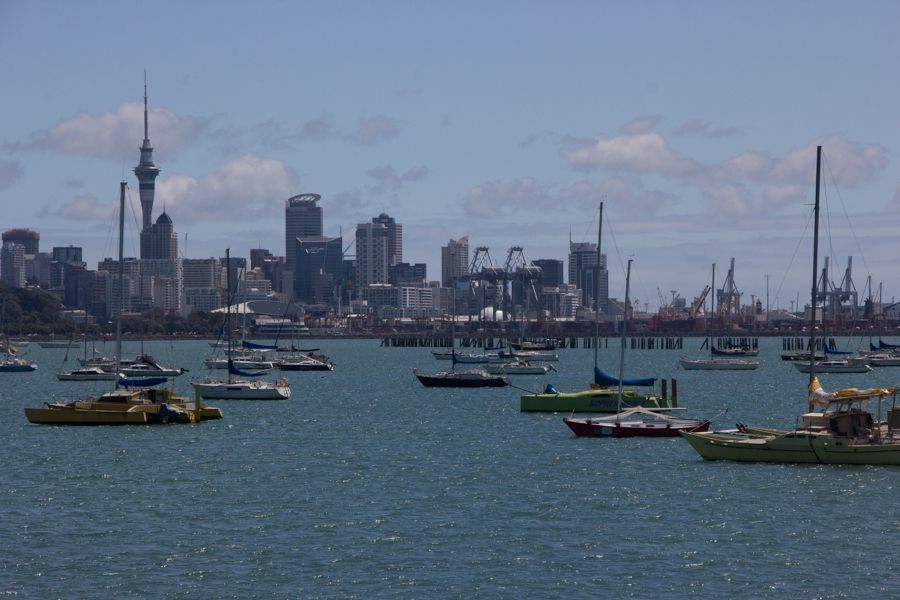 There's an iconic Ferry Building.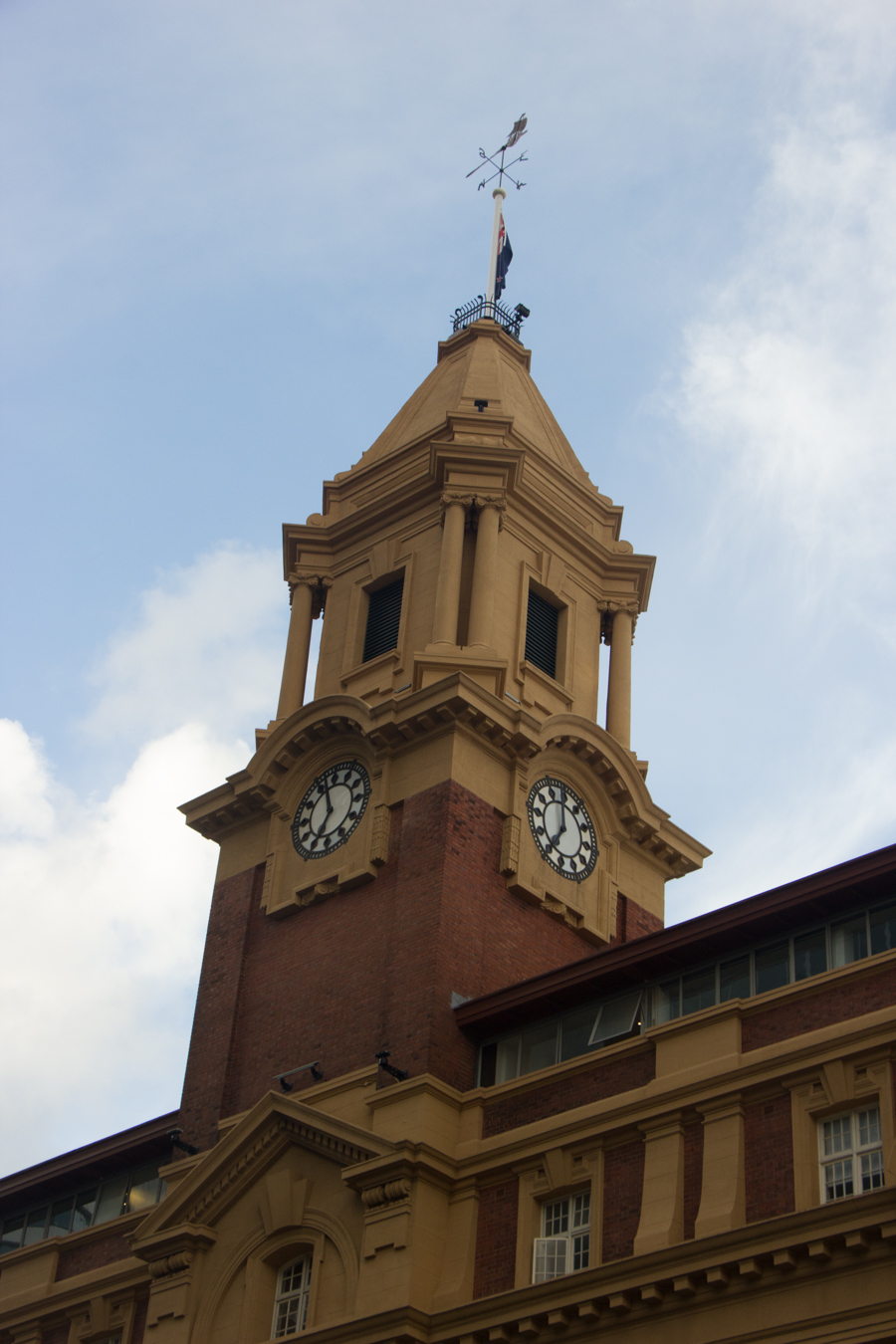 There's an iconic tower, the Sky Tower.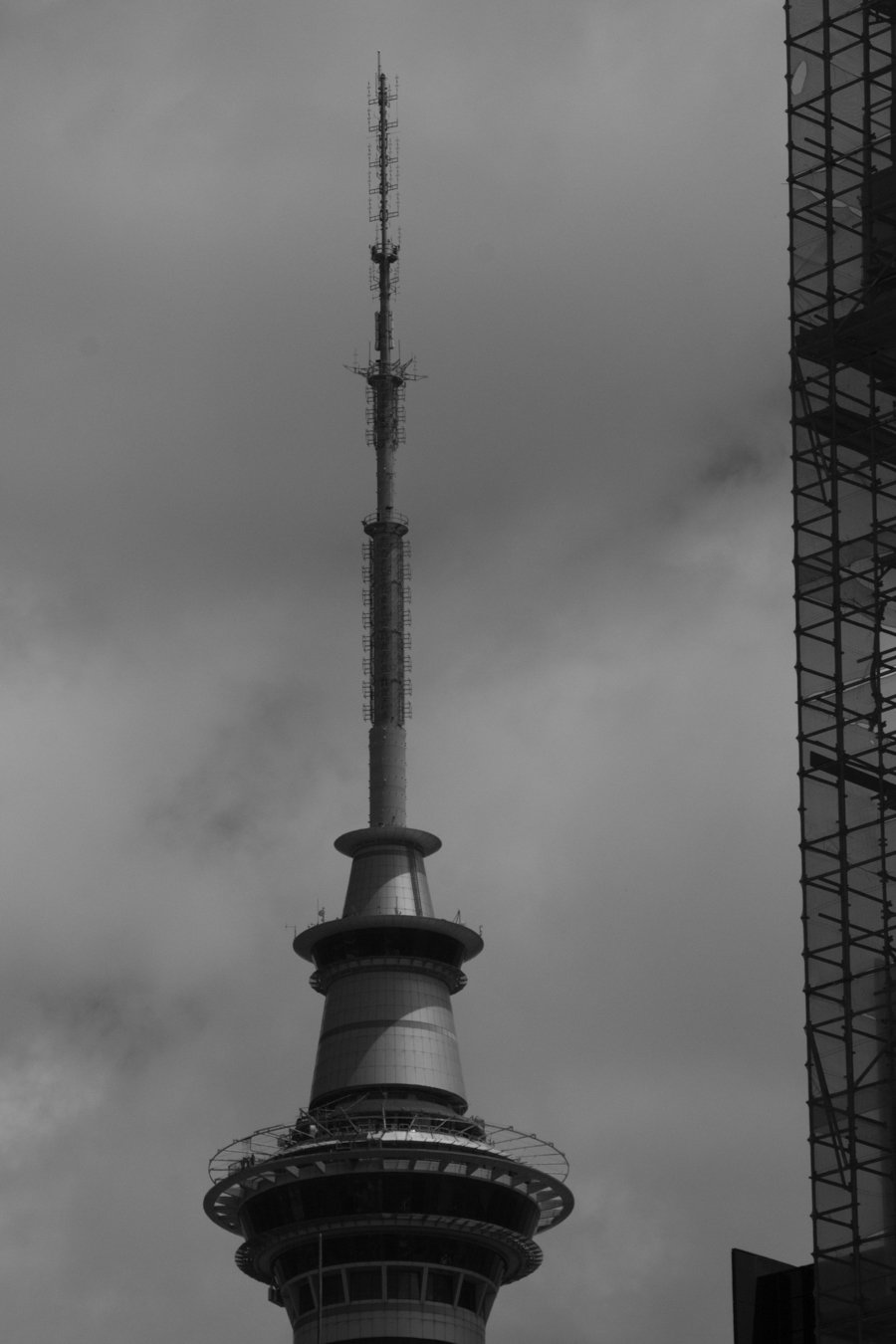 There are office towers. Photo by Eric.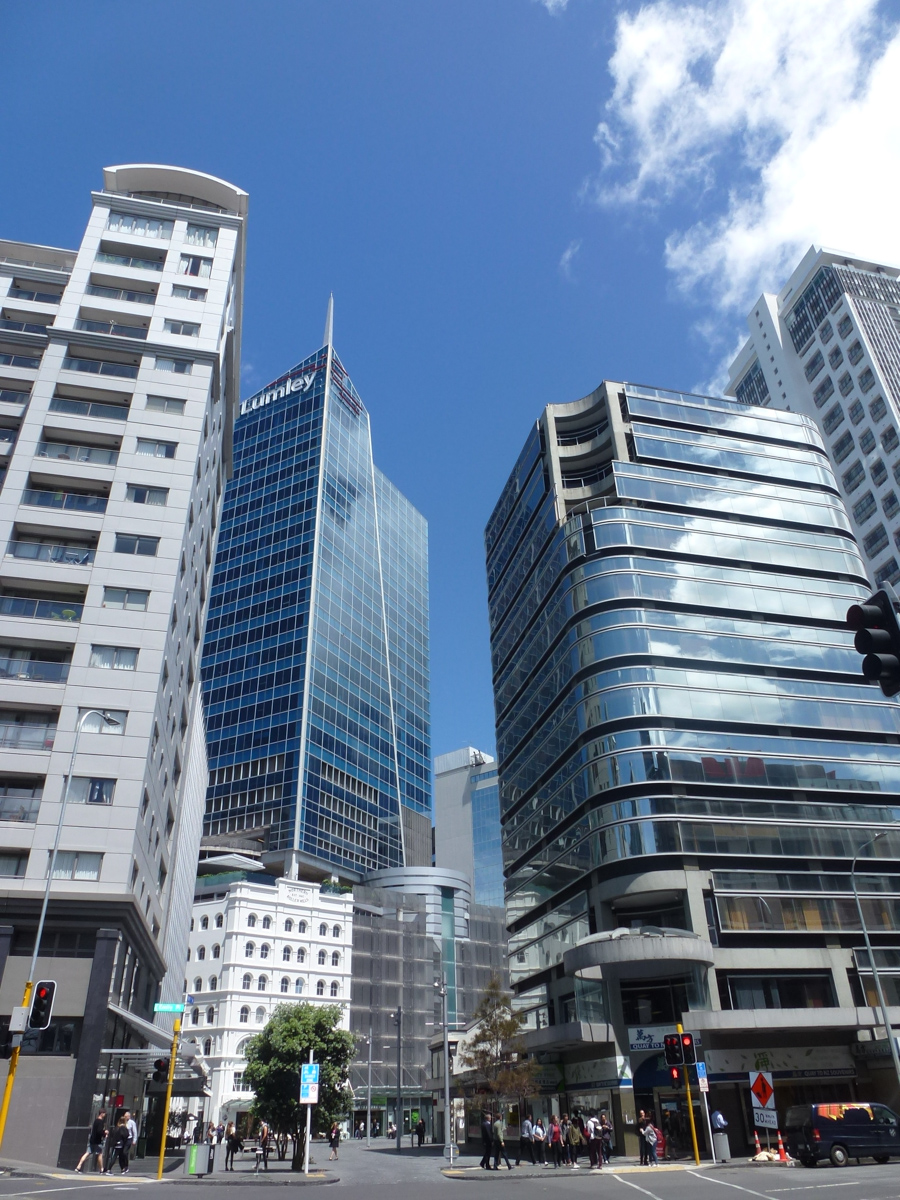 We walked out on a pier and looked at the water. There were people fishing. It was a lot like my lunch hour.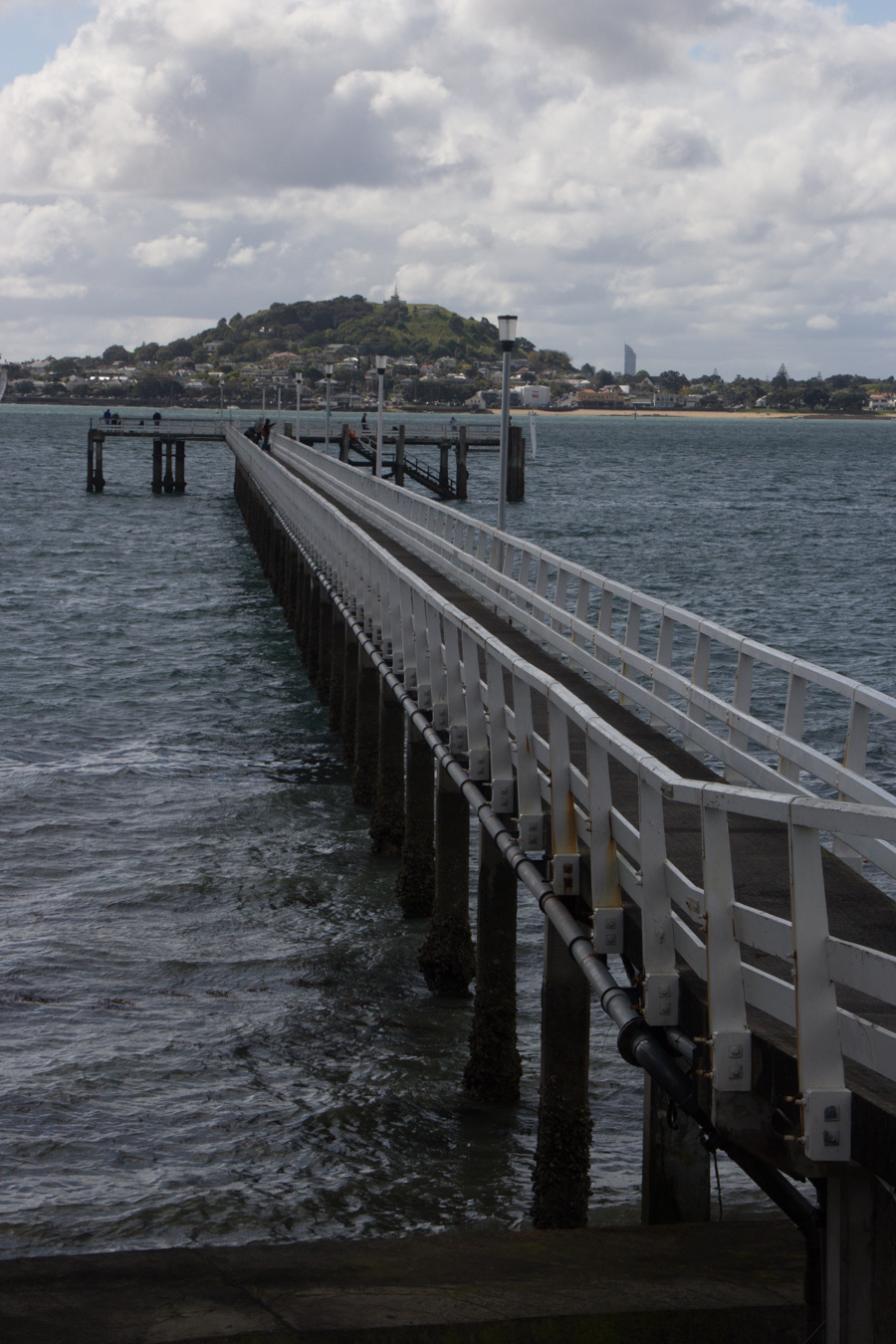 In other ways, Auckland is more like Oakland.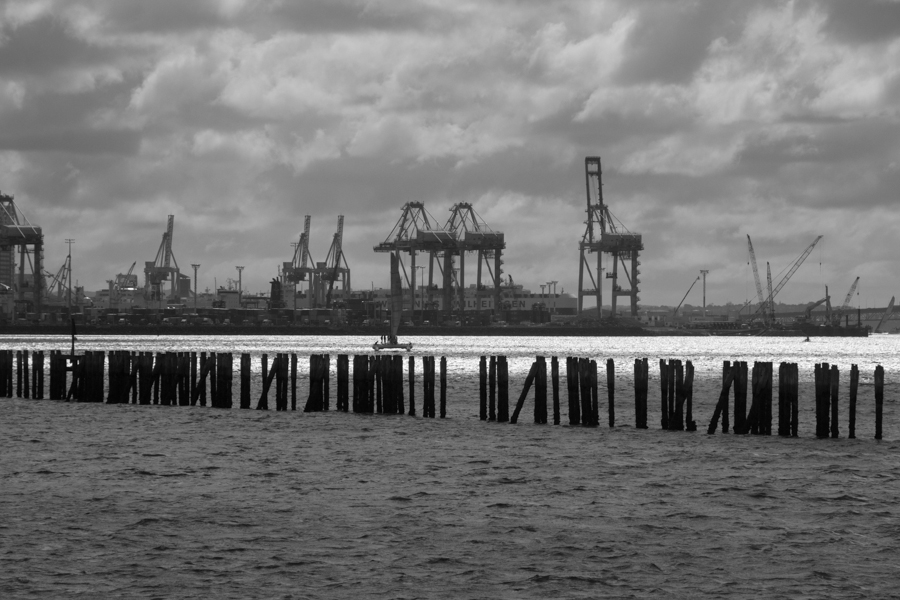 While some things felt so familiar, others felt foreign, especially the cars on the other side of the road. People would speak to me in unusual-sounding accents, and I kept expecting to have to engage the other-language-speaking portion of my brain. Then I would realize that I could readily understand them and that I should respond in English, and they would readily understand my English.
Since we were celebrating our anniversary, on our return to our room, we were greeted with a small bottle of champagne and strawberries with chocolate. Photo by Eric.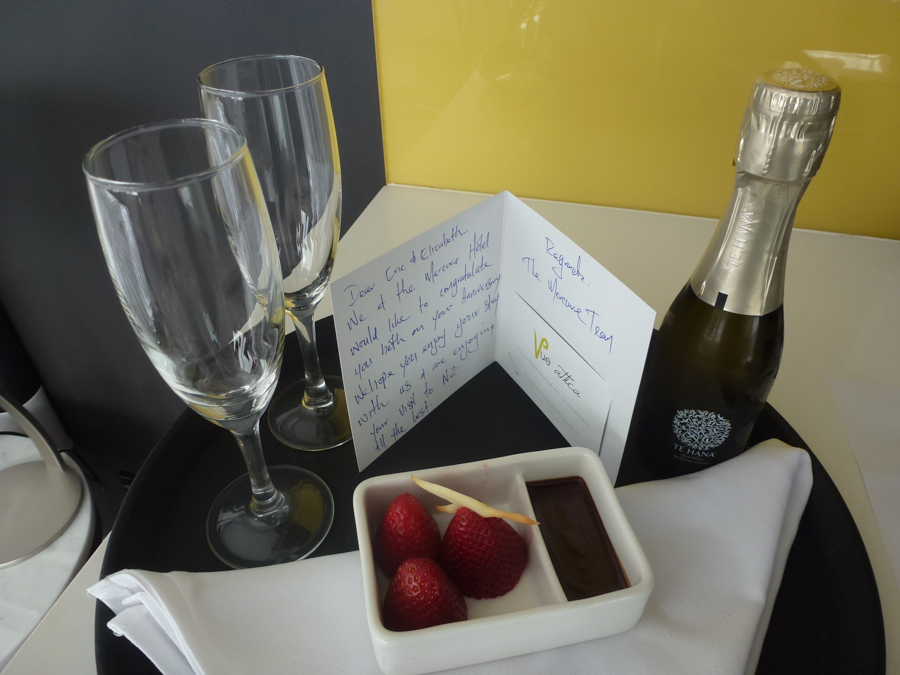 Auckland has many museums and attractions. We chose Kelly Tarlton's Sea Life Aquarium, primarily for the Antarctic Experience.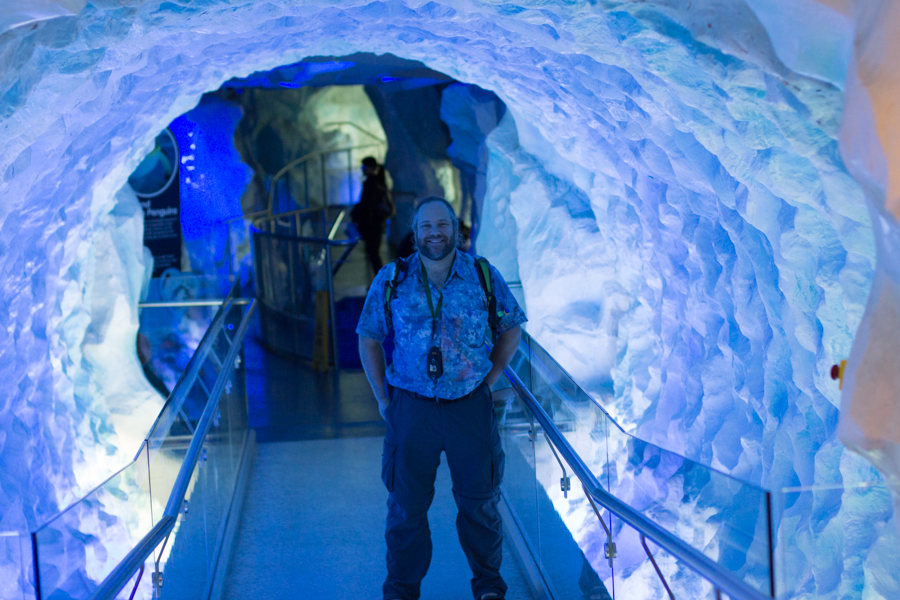 It was primarily a penguin exhibit, but it did have a model of Shackleton's base on Antarctica. There was no mention the Amundsen expedition, which was actually the first to reach the South Pole.
King Penguin swimming toward me.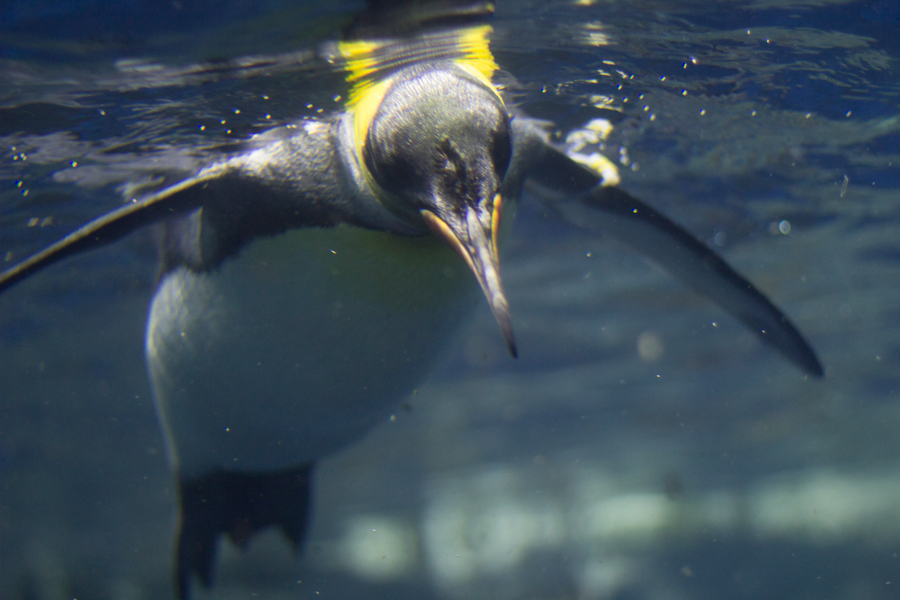 King Penguin performing ablutions.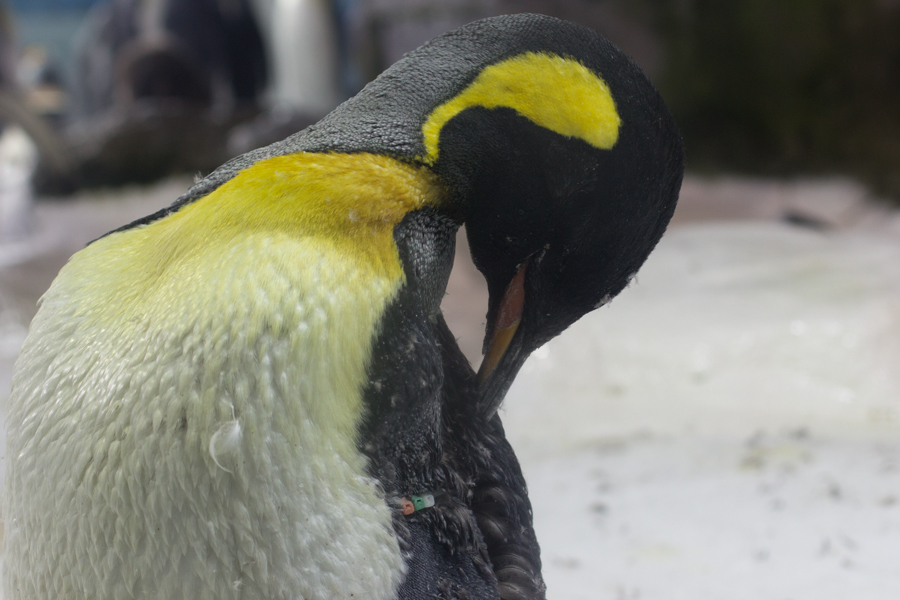 The exhibit has many King Penguins.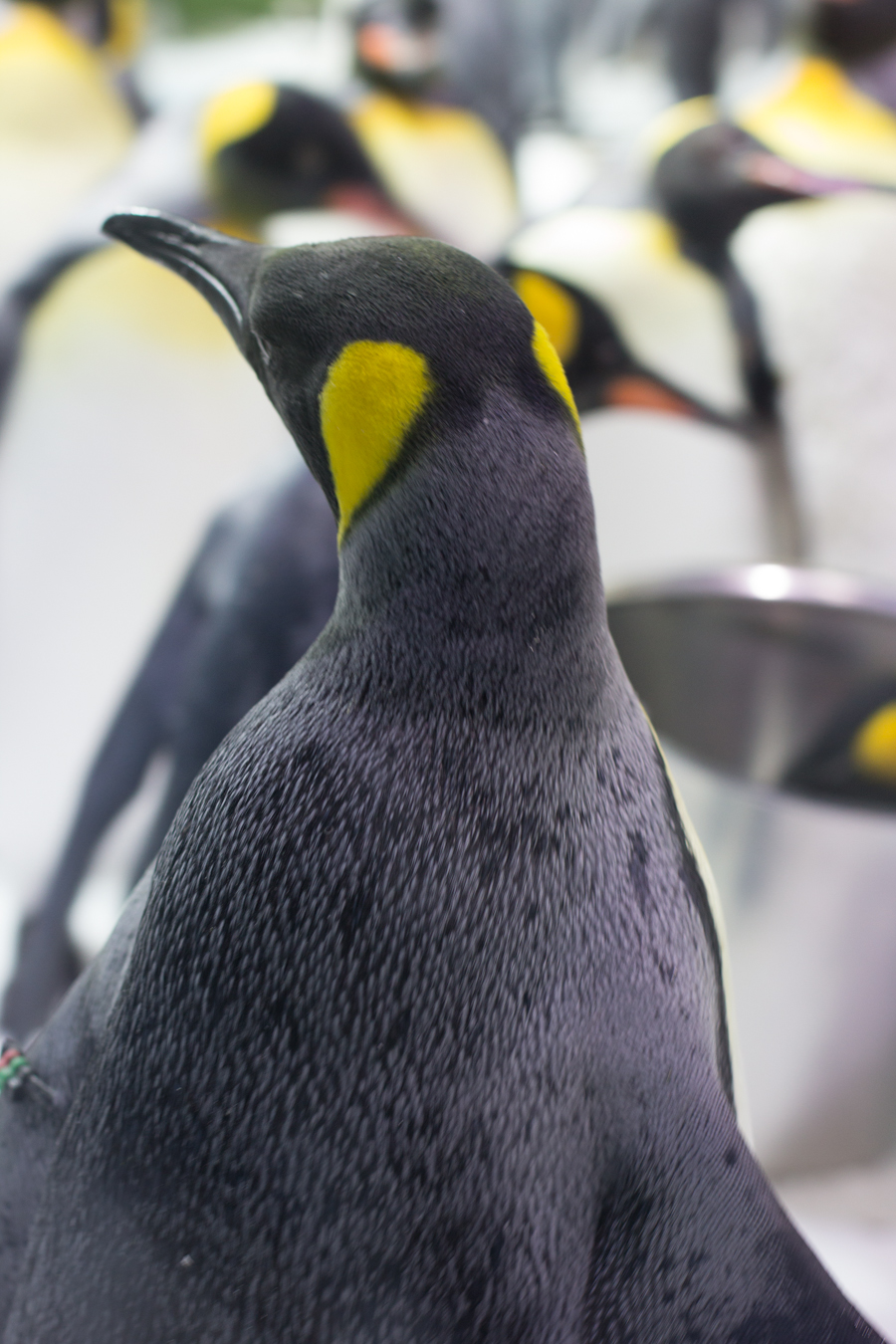 This one must have been molting. Those feathers are a mess!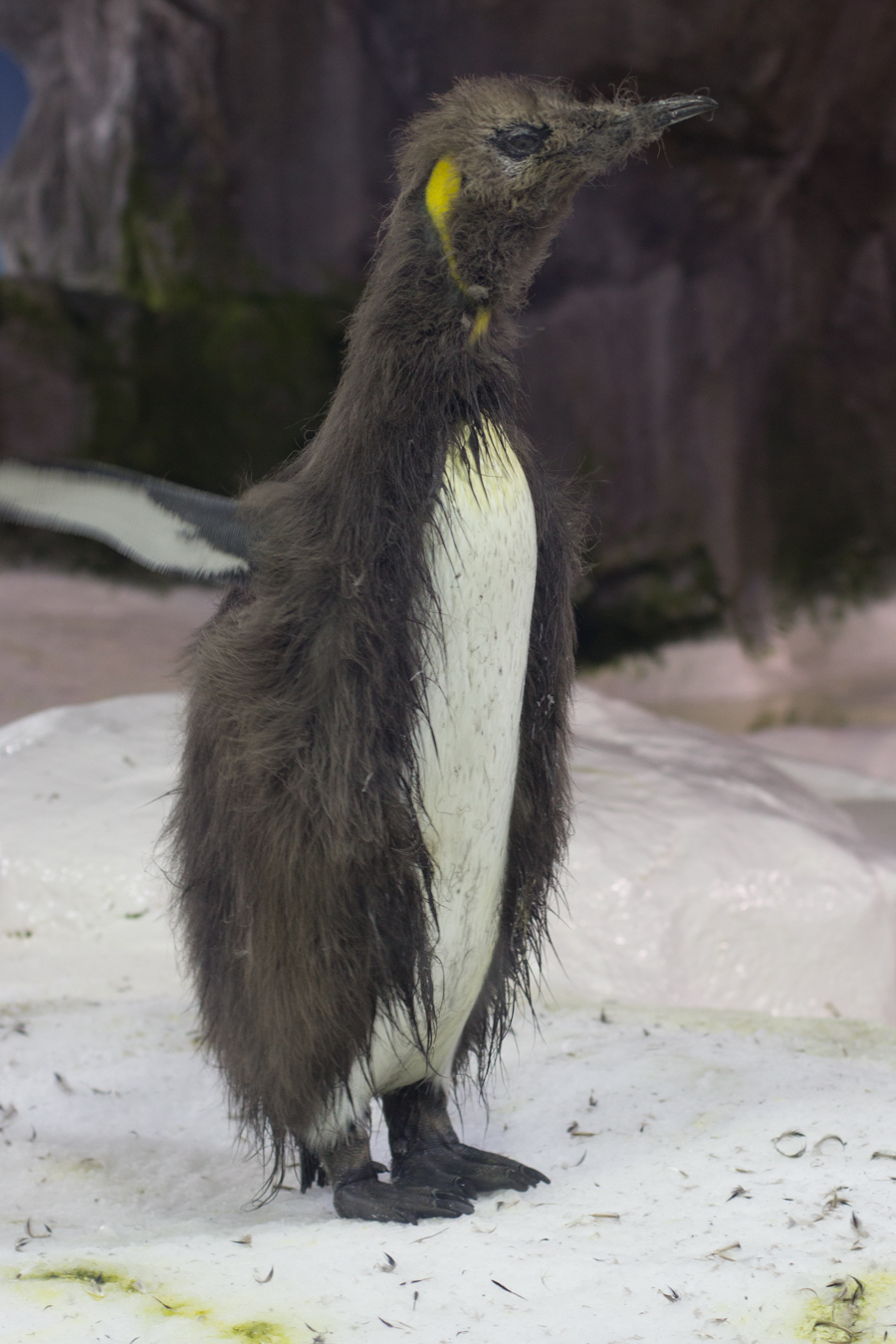 Eric took a picture of their adorable feet.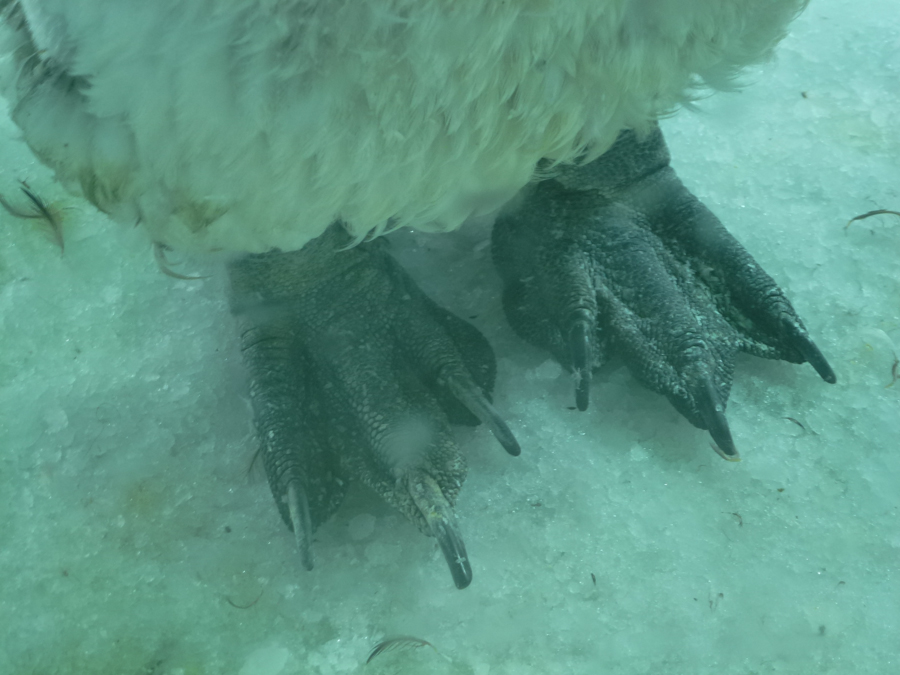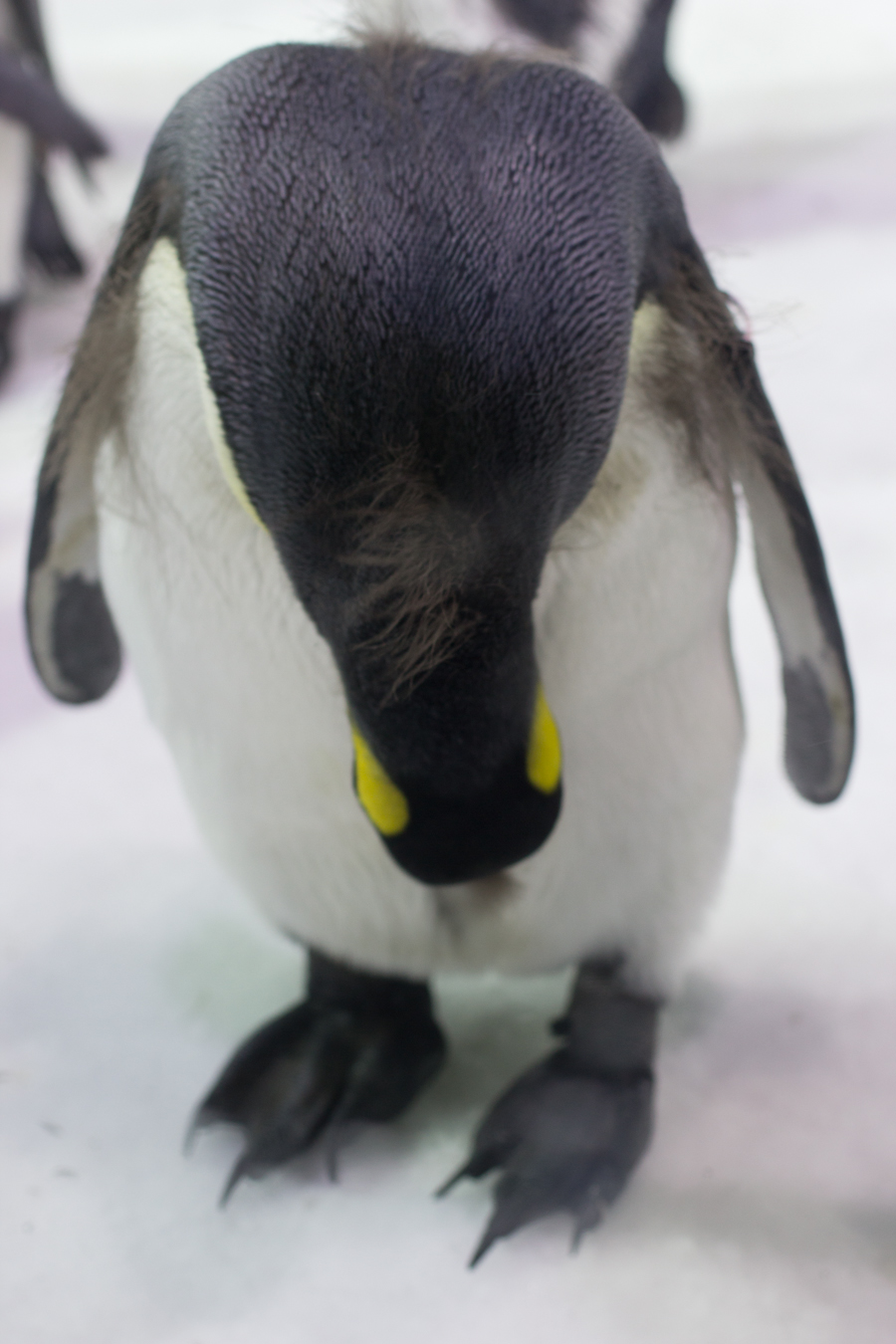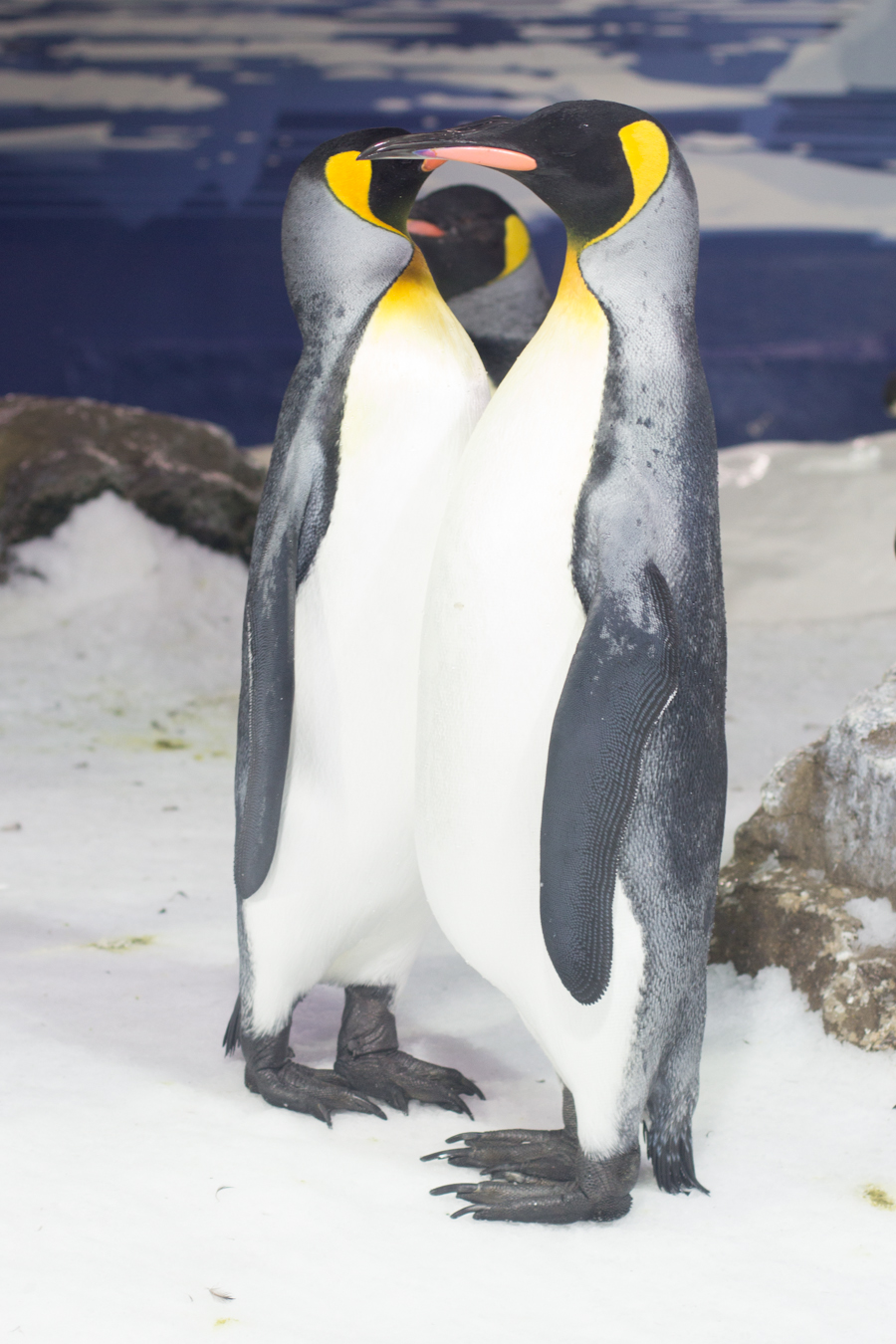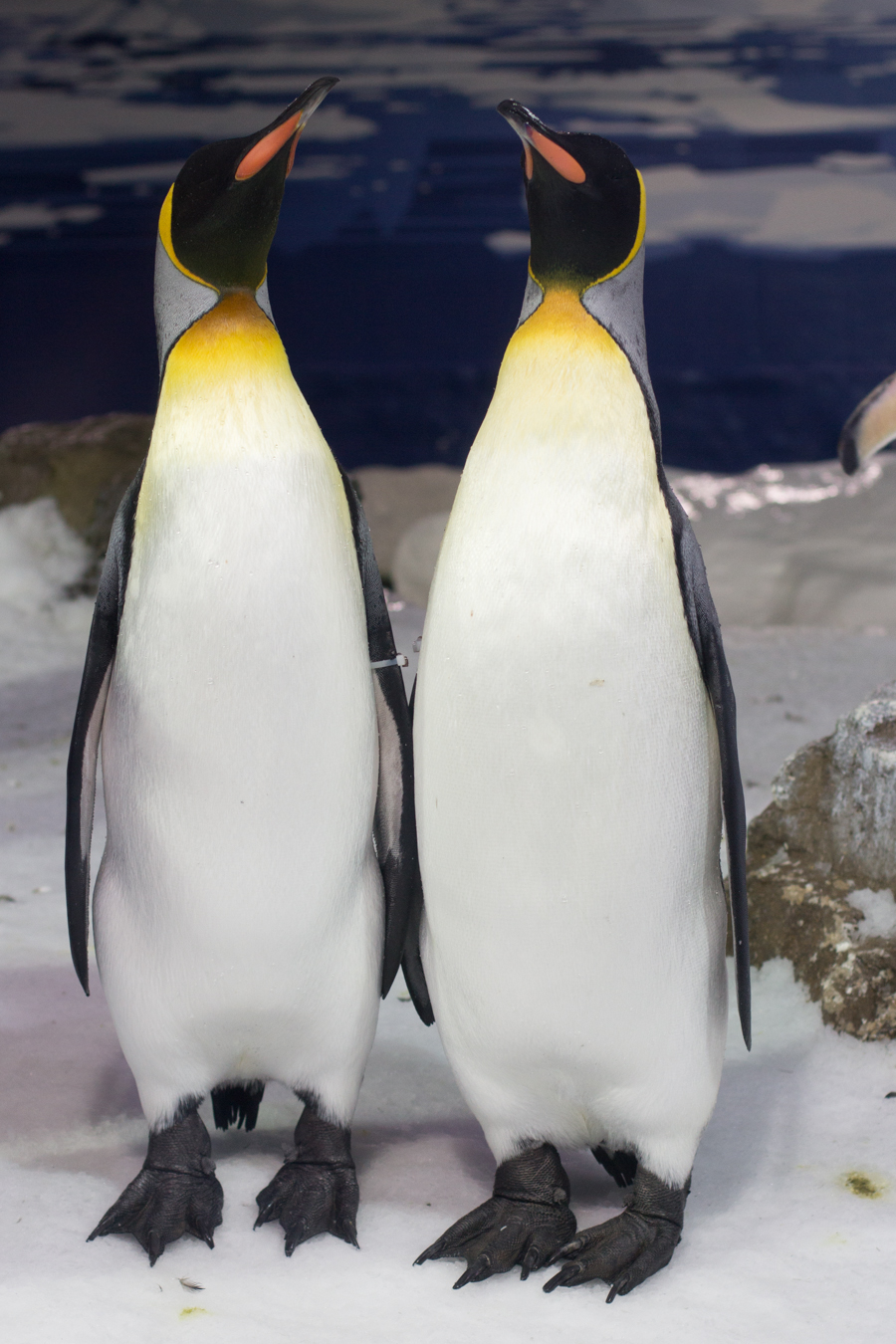 The exhibit also had smaller Gentoo Penguins.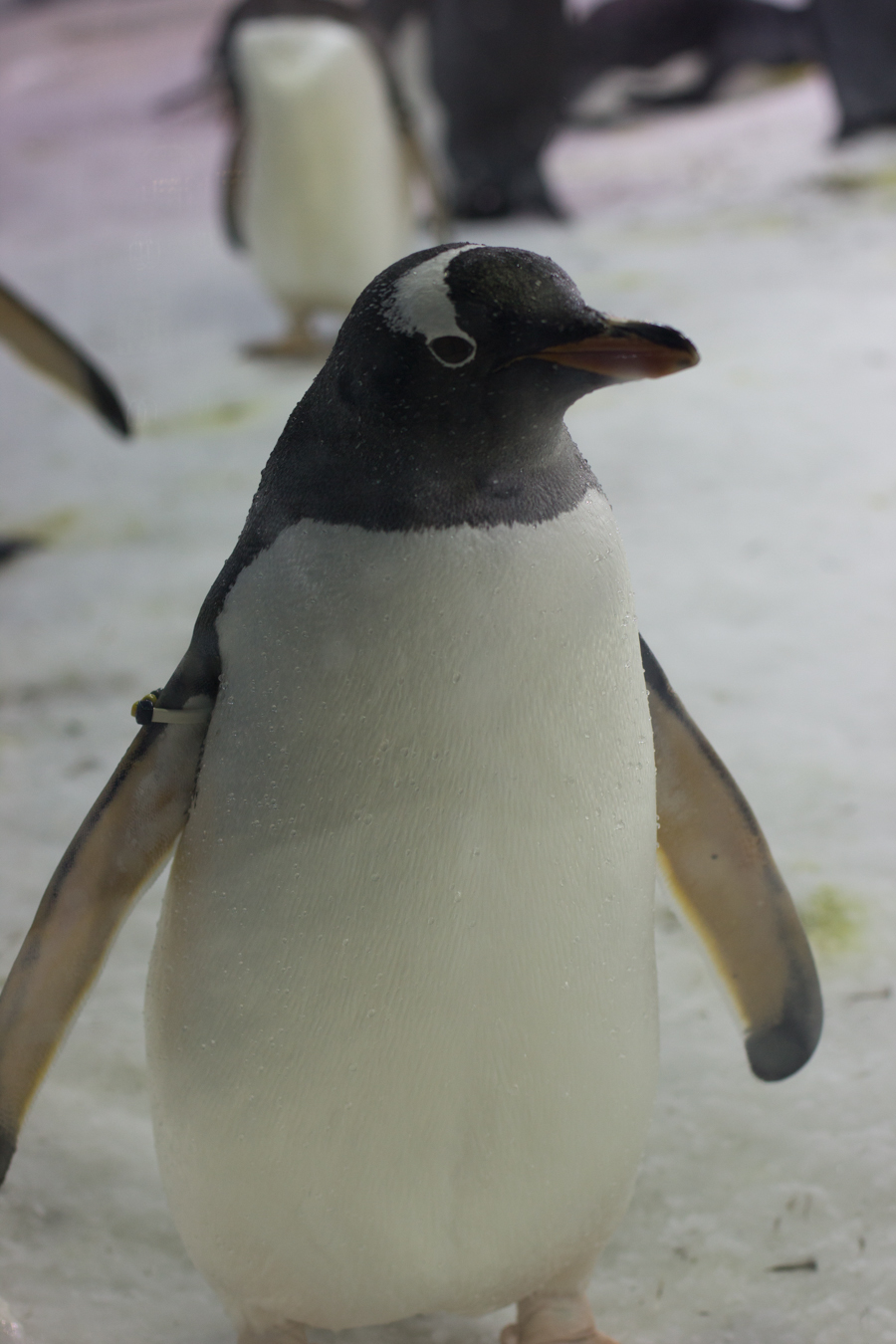 Eric took a picture of me and a Gentoo Penguin examining each other.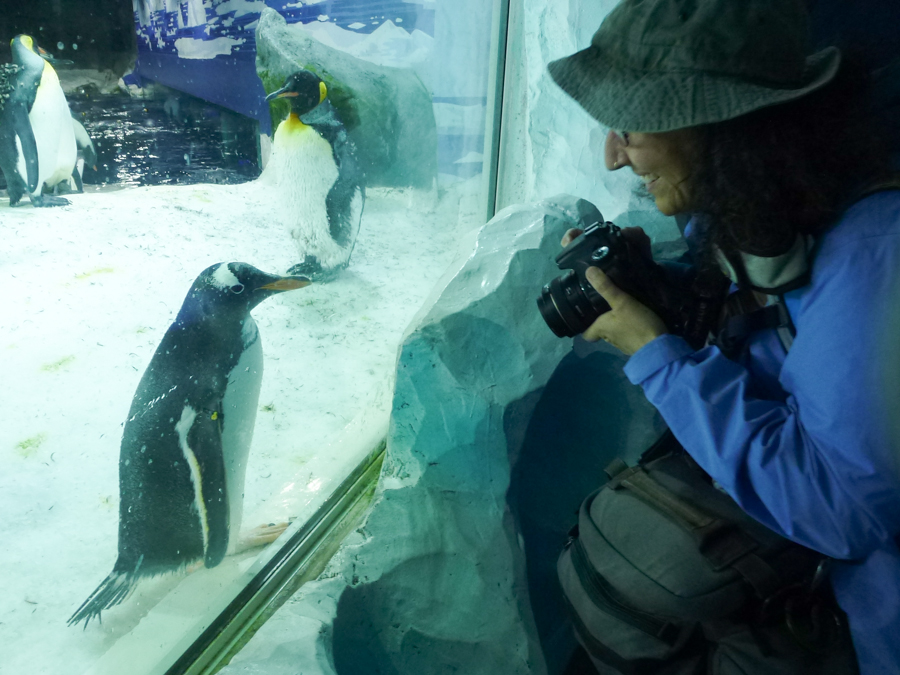 Gentoo Penguin feet!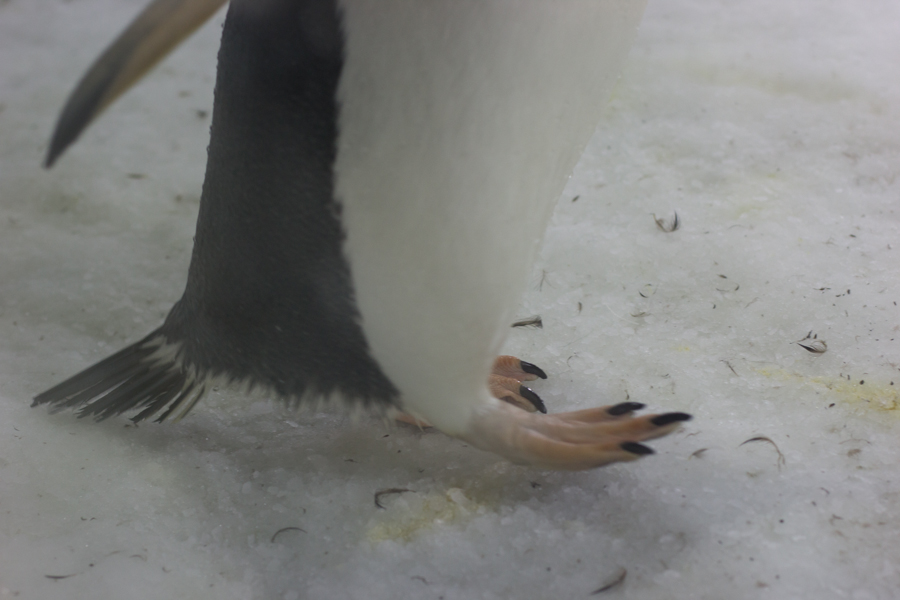 Pufferfish.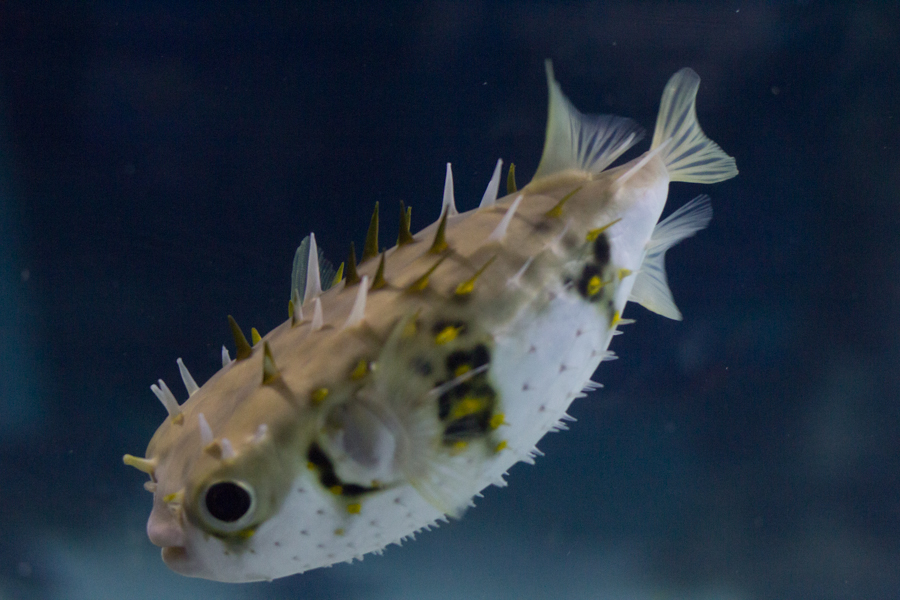 Pufferfish spines.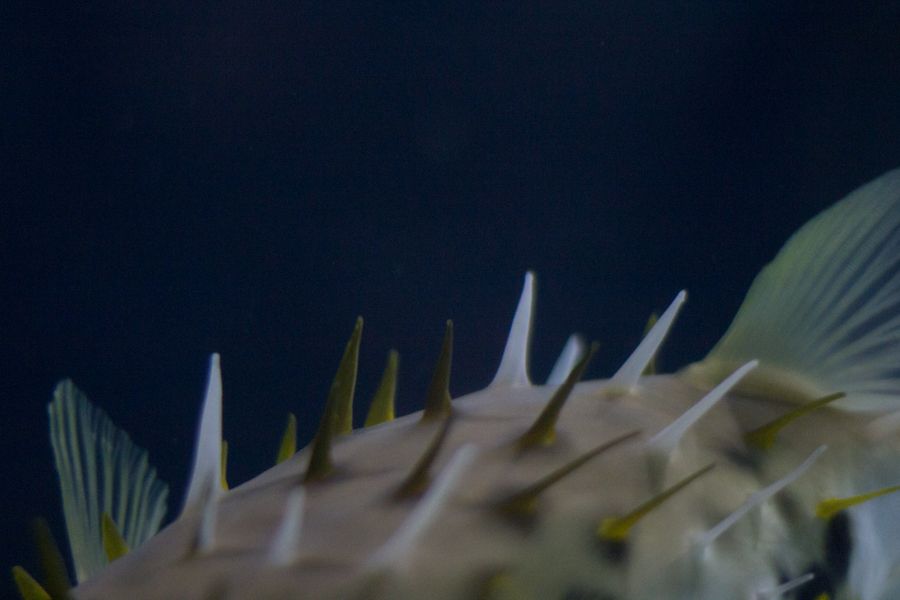 Elephant Shark.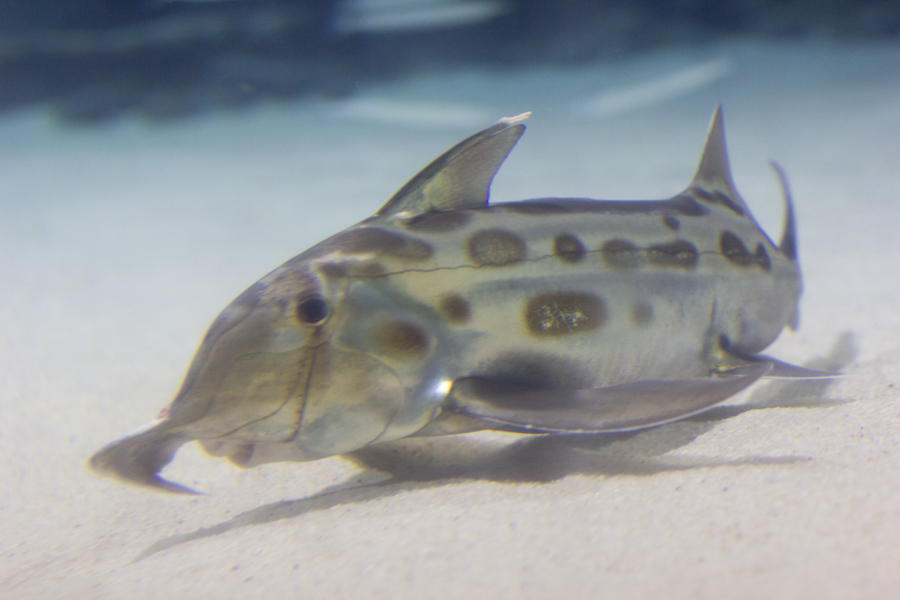 Elephant Shark proboscis.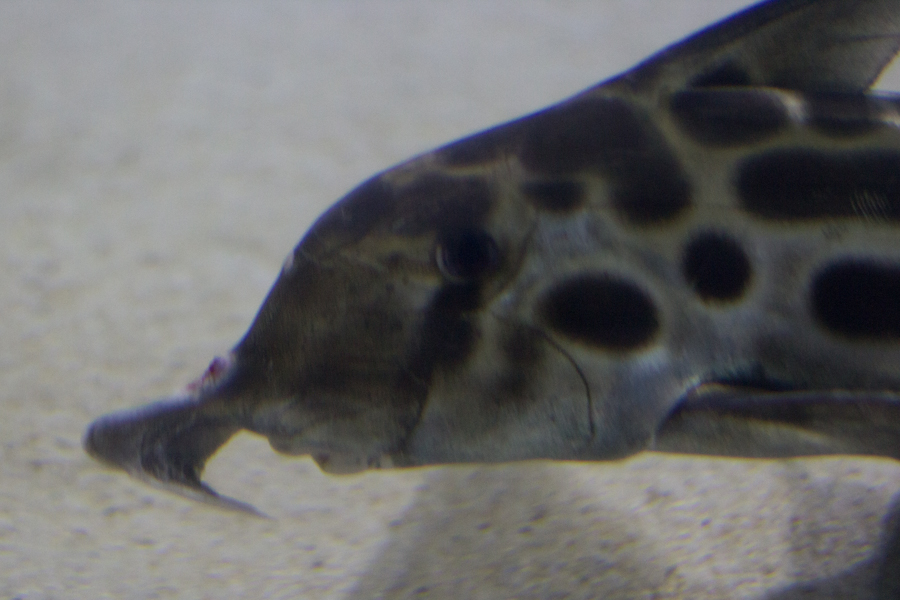 Short-tailed Stingray.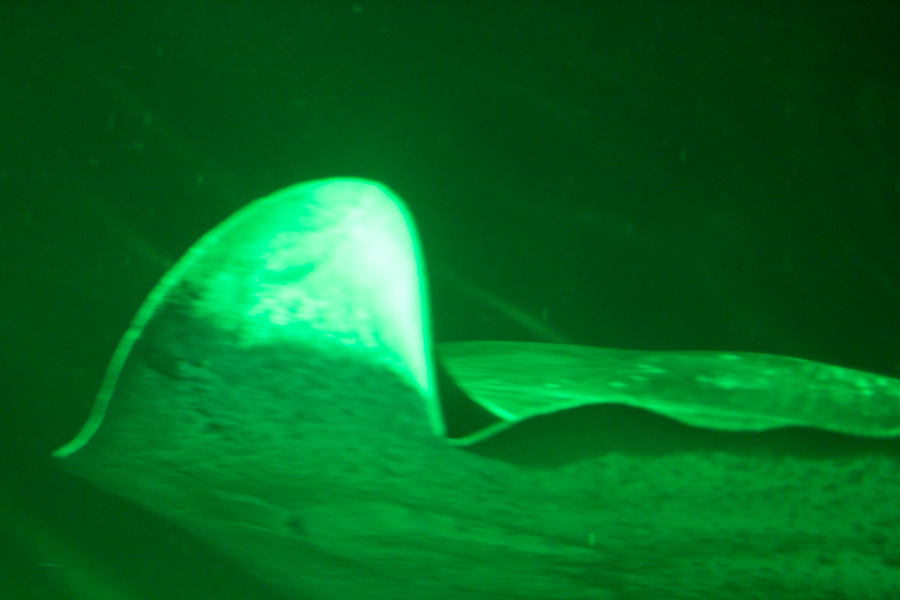 The ray's wings flow dramatically through the water.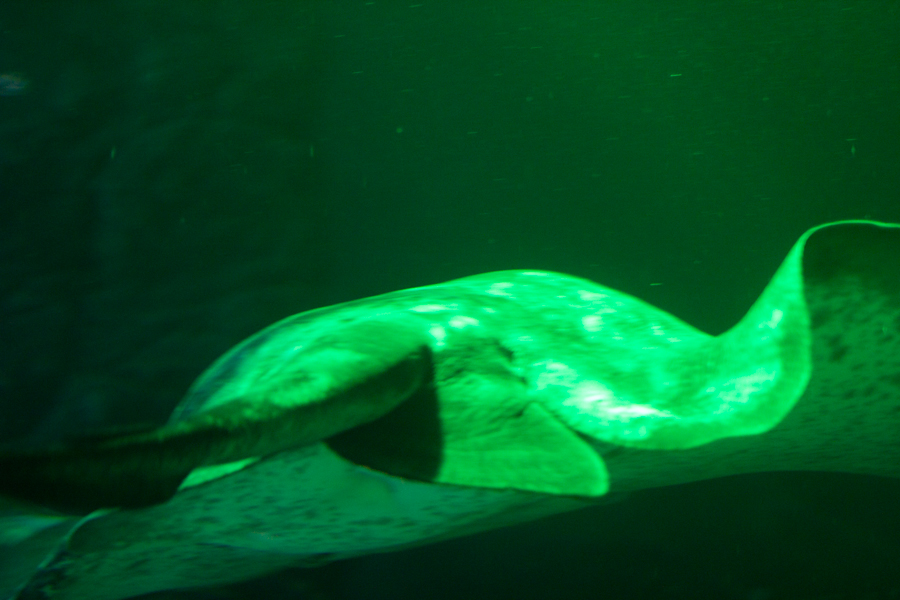 Fins of Wobbegong Shark.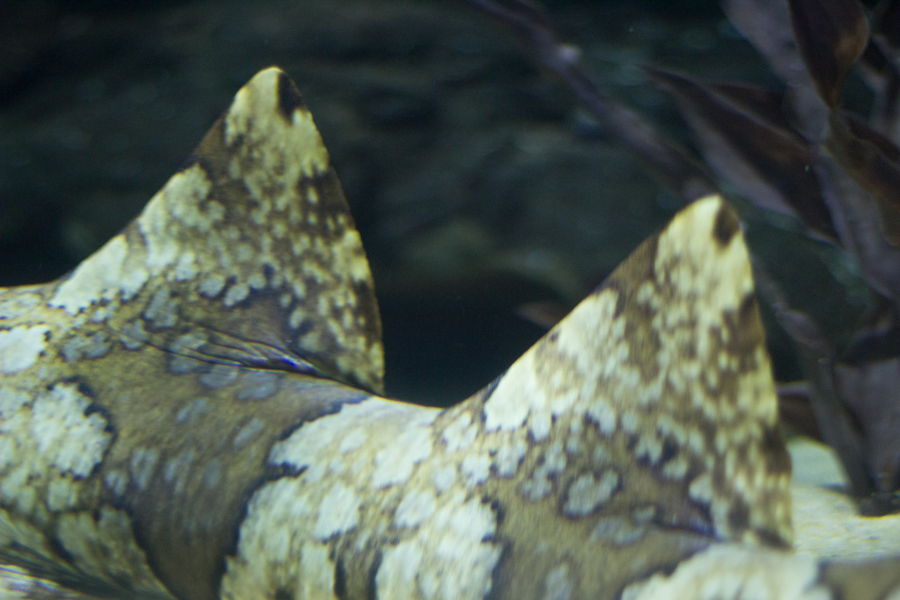 Lobster.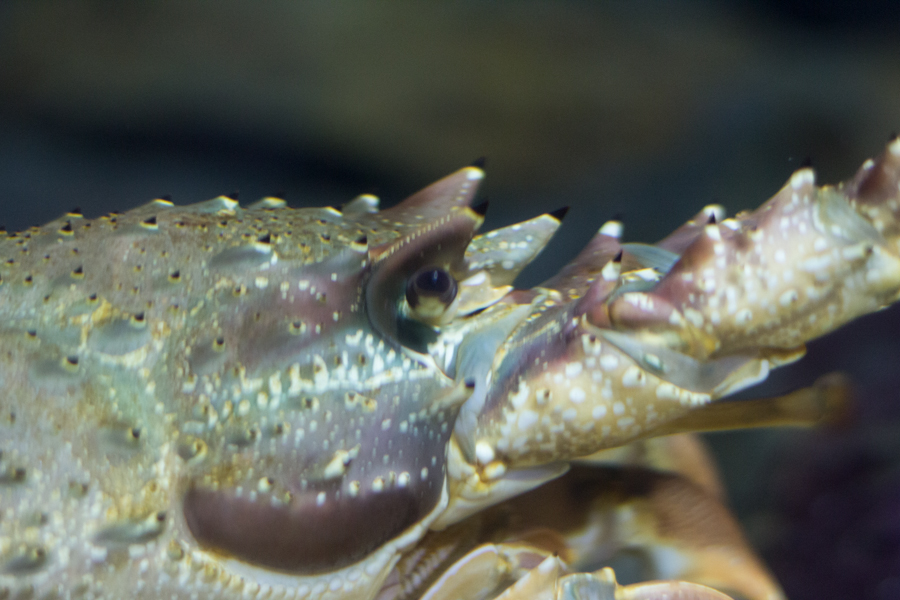 Turtle swimming above us in a walk-through tube.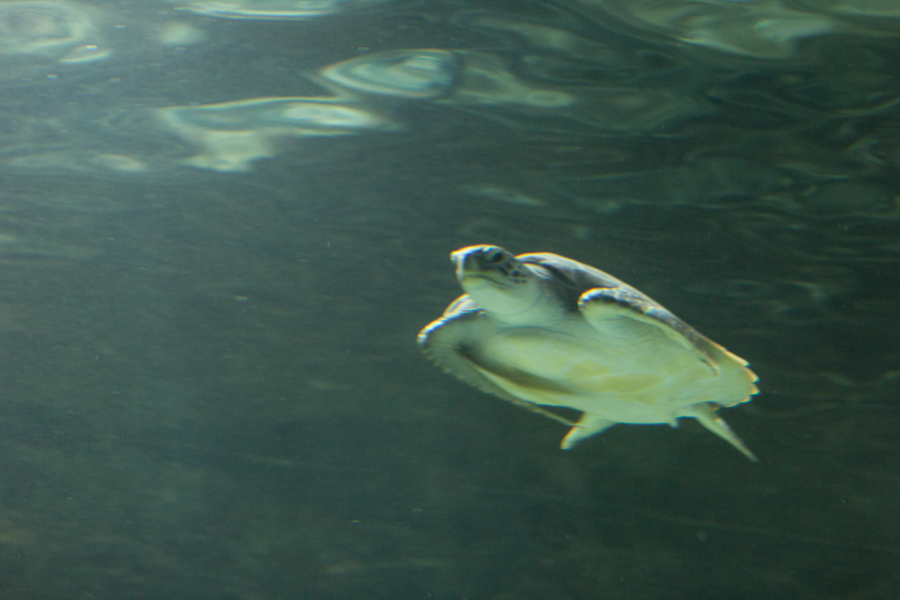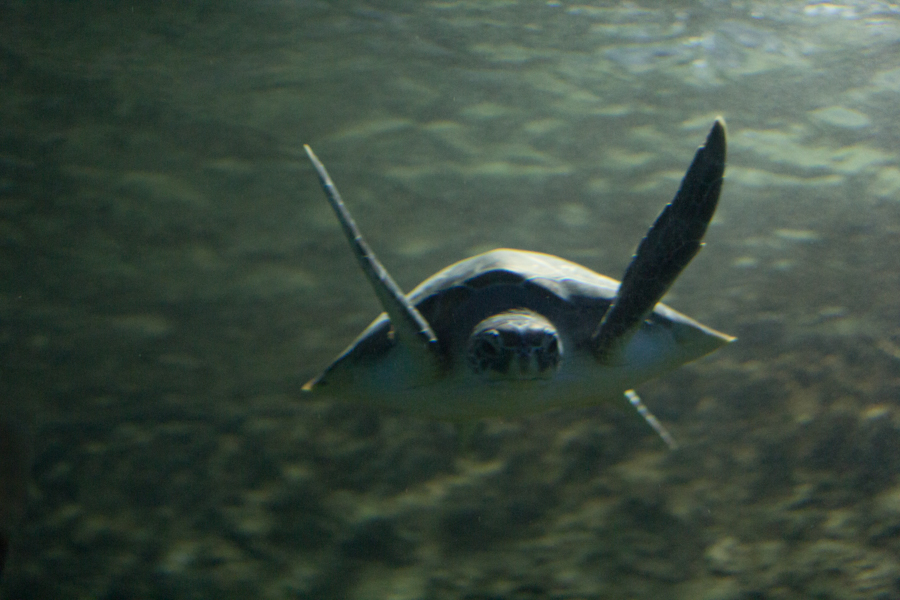 Octopus.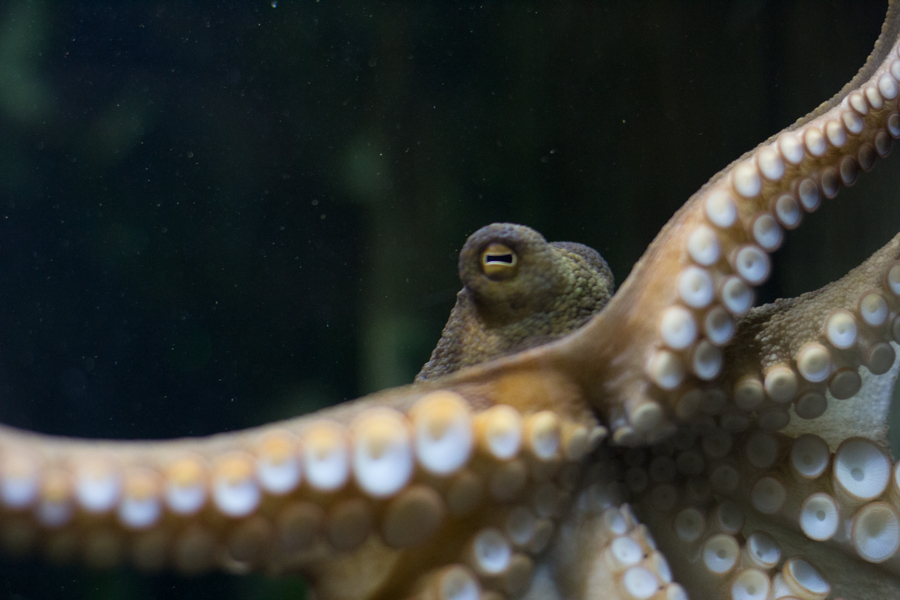 Octopus curling an arm.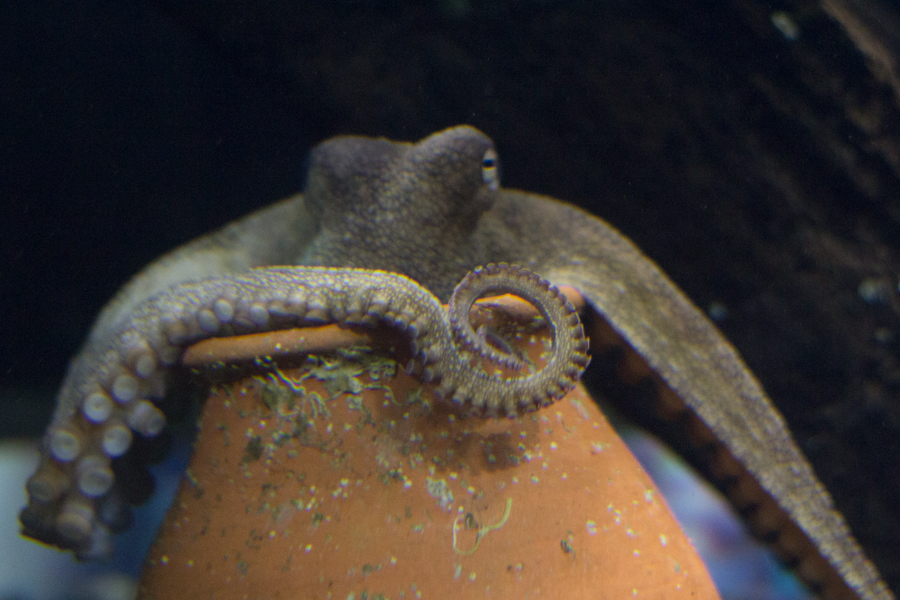 Suckers.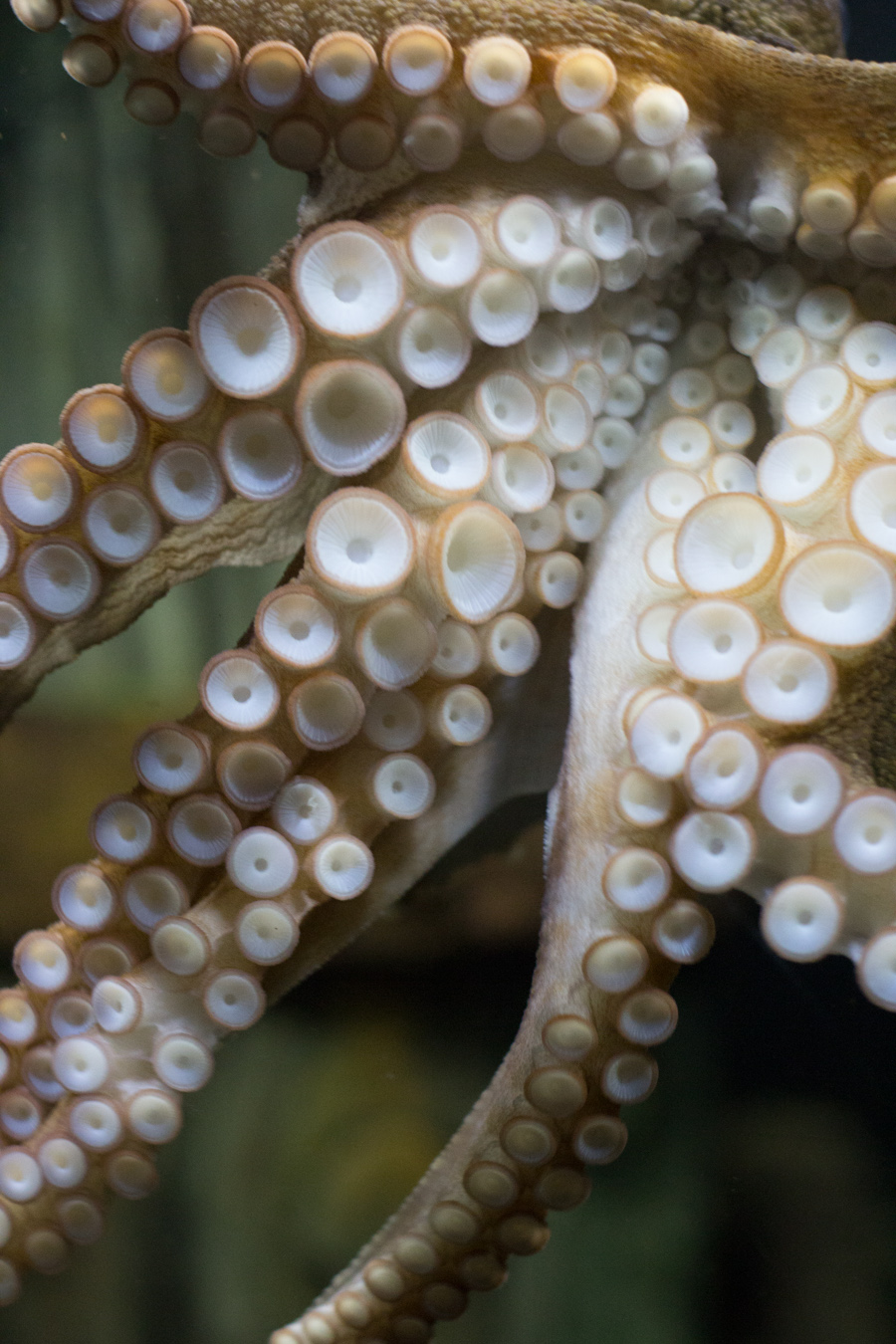 Anemone.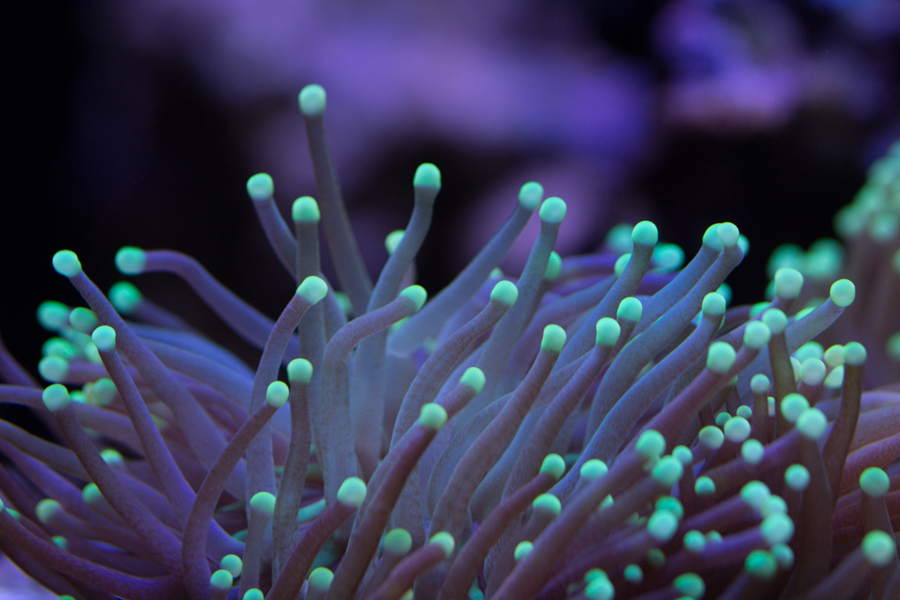 Corals.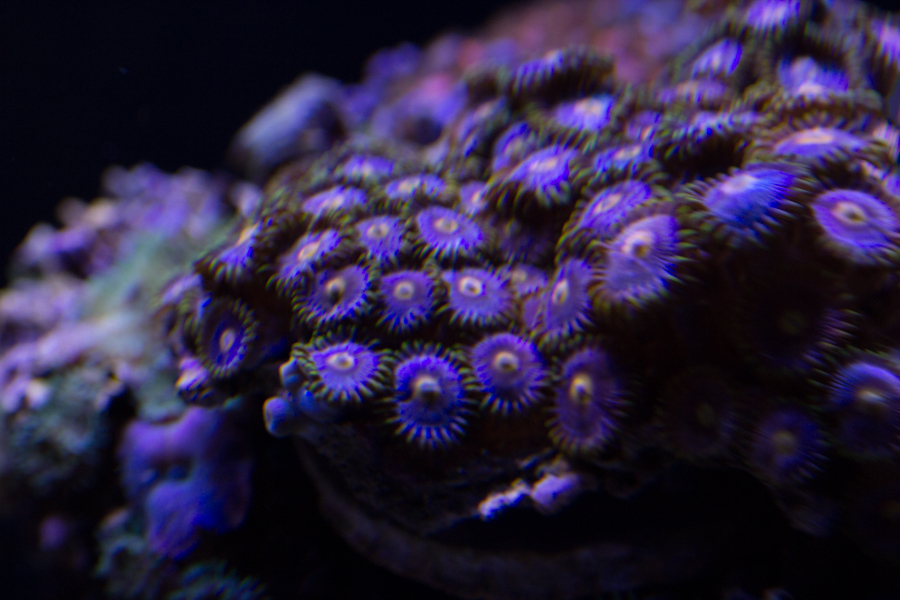 Spiny Sea Dragon.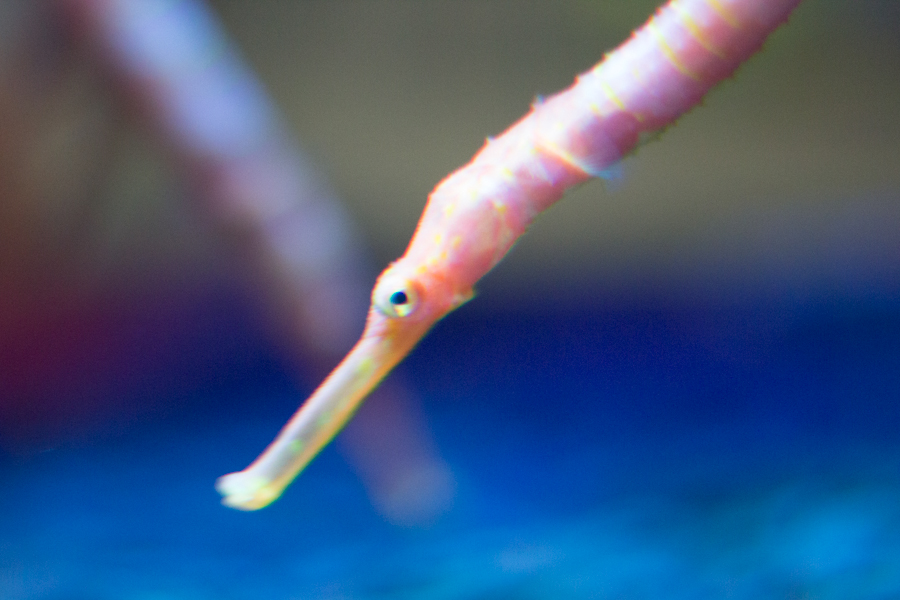 Eric's view of the Spiny Sea Dragons.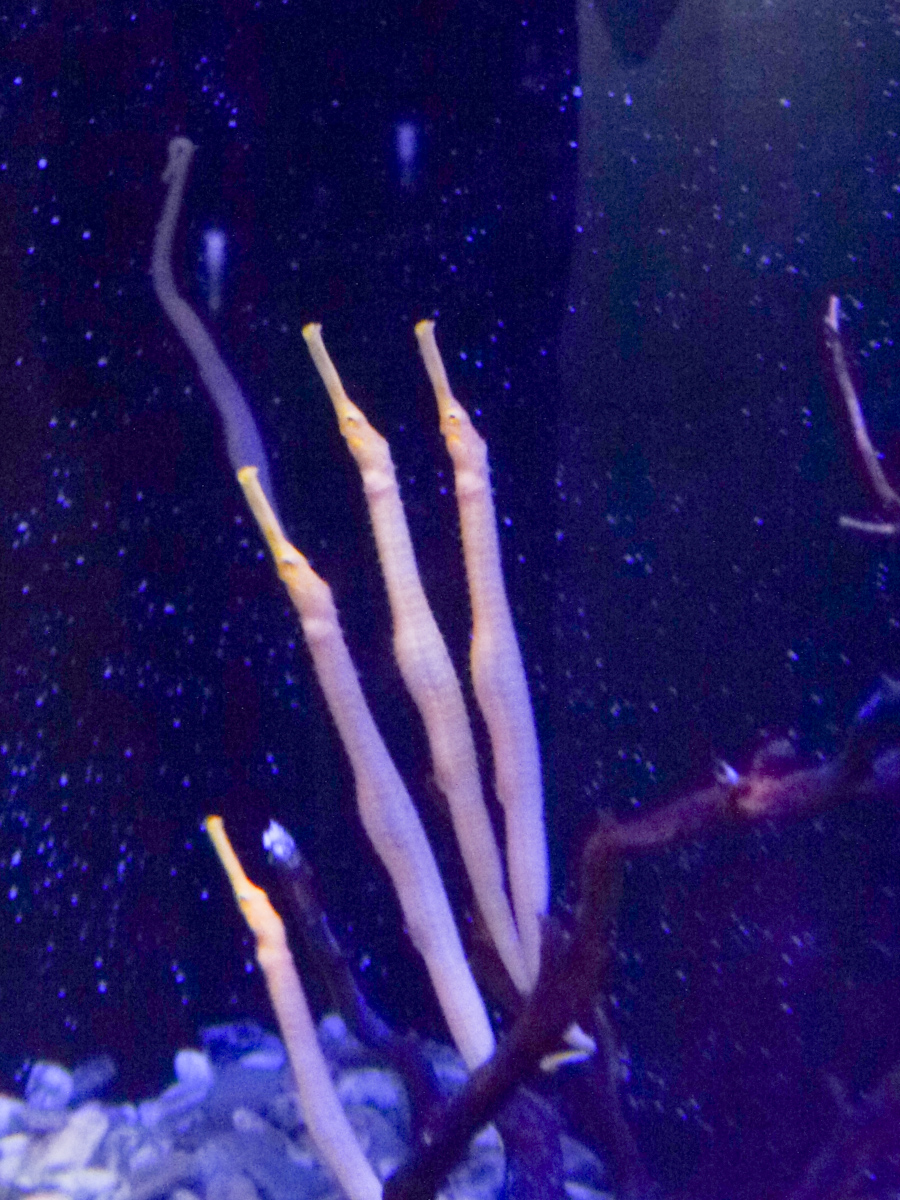 Big Bellied Seahorse.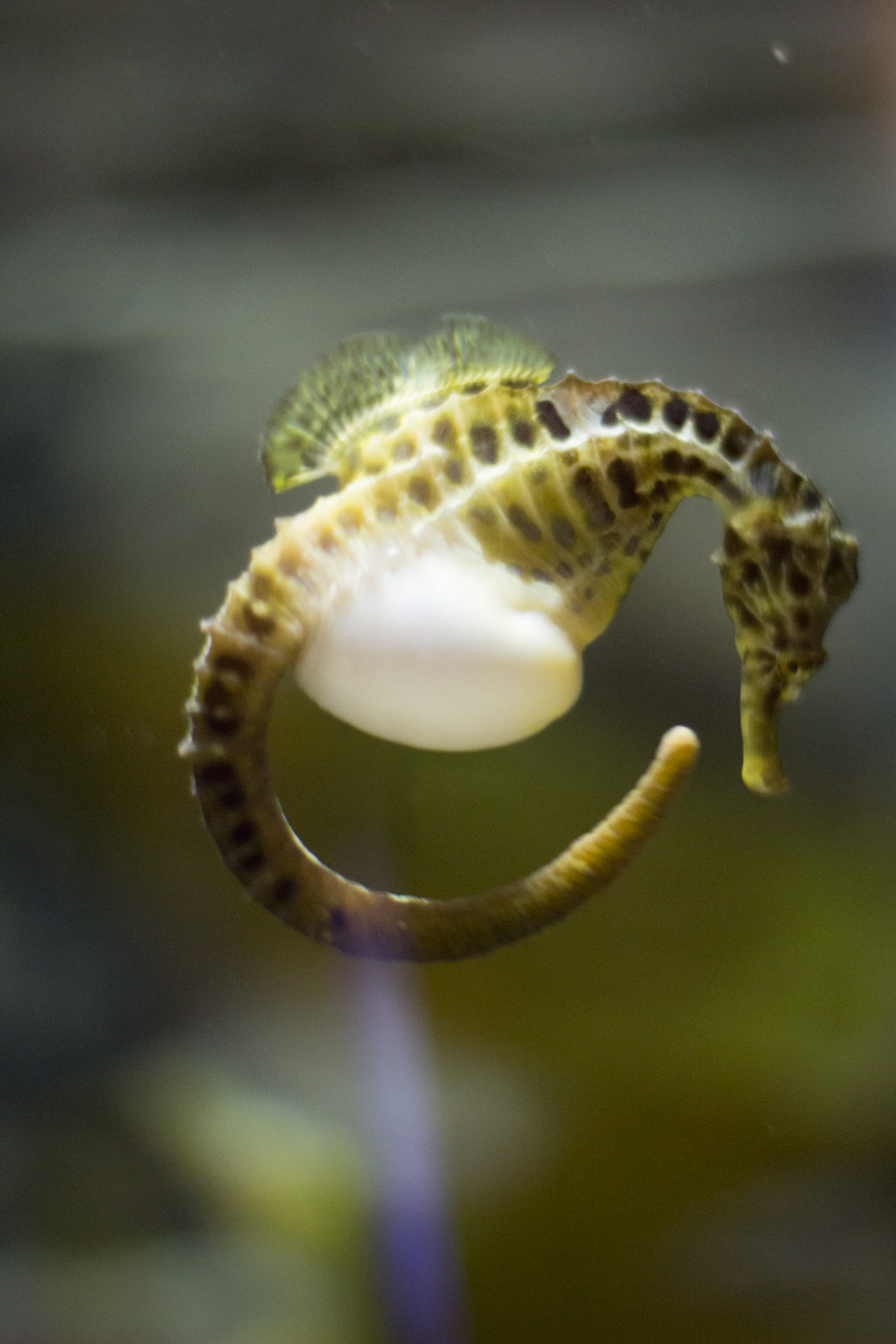 Eric took a picture of a Moorish Idol.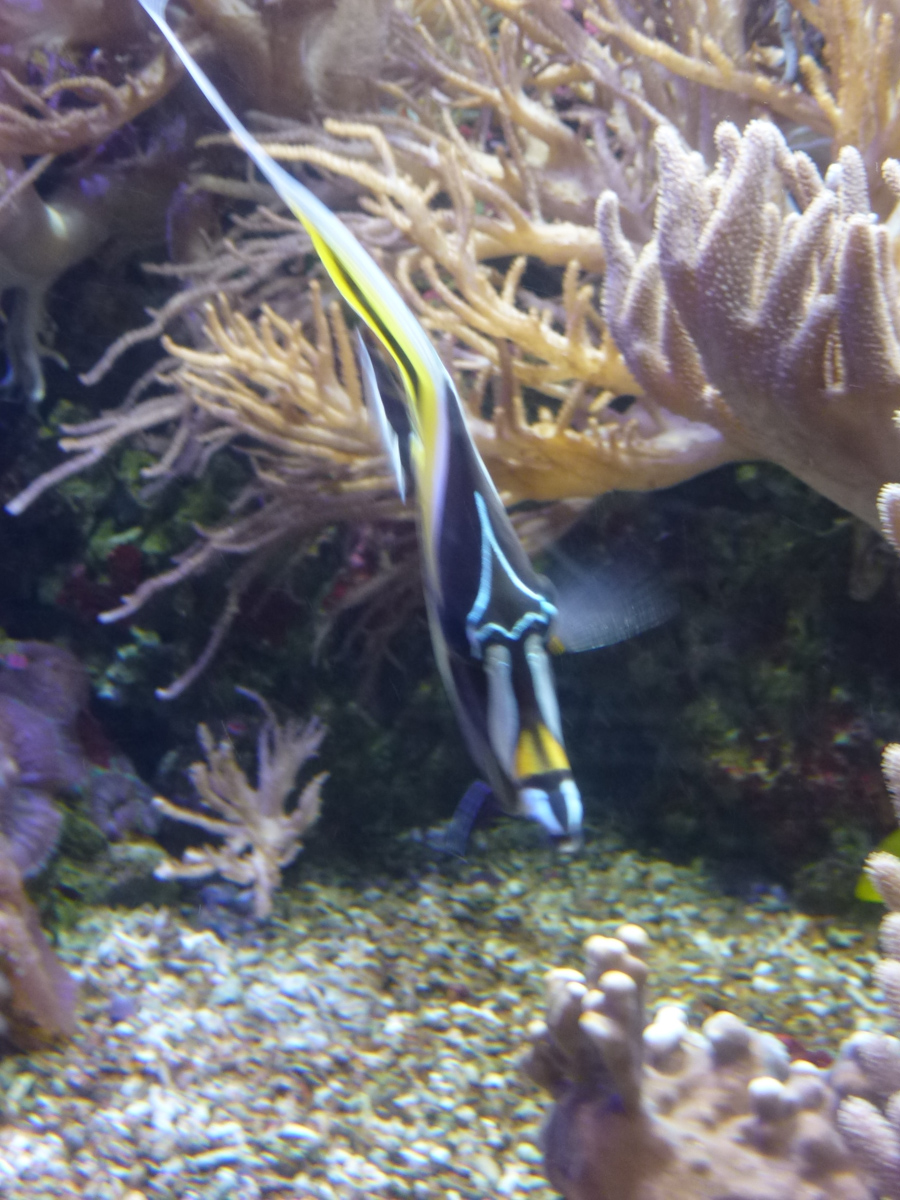 On our return to the hotel, we had a visit with an American friend whom I had met at a party at the World Science Fiction Convention last year in Spokane. Jo moved from the US to Auckland in 2004 and has not looked back. The hotel had given us some drink tickets, so we met in the bar on the top floor.
View from the bar. The buildings bore the logos of so many American companies.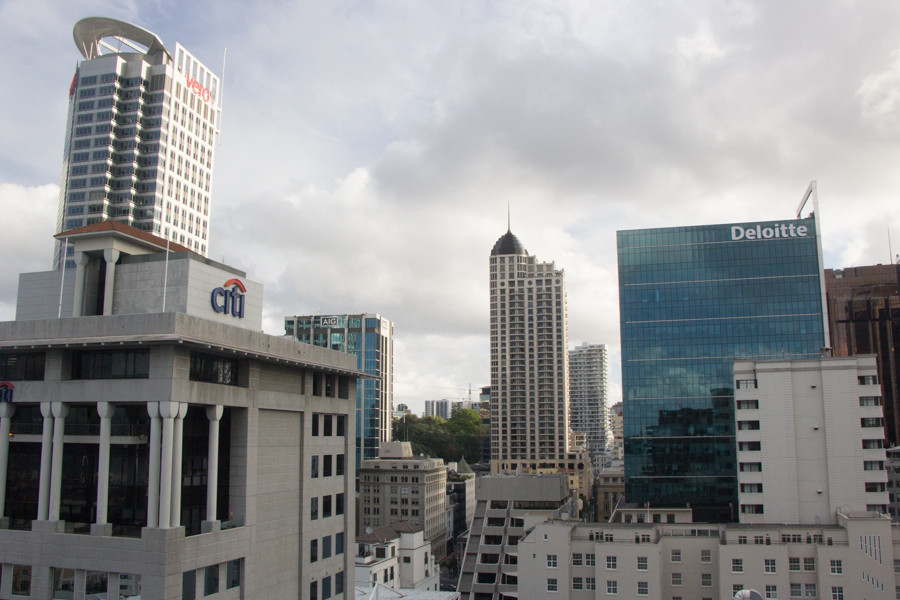 Jo took us to dinner at a pan-Asian restaurant. Eric got a nice duck noodle dish, while Jo and I split a Panang chicken and something called firecracker chicken that had been recommended by the hotel staff. Naturally, coming from San Francisco, I assumed that, when warned by the waitstaff that a dish would be very hot, it would be, oh, a little bit hot. The firecracker chicken was very hot. Jo and I enjoyed it, but it was, in fact, much hotter than either of us had expected.
On the way out, we noticed this extremely terrible sign in the sidewalk. "Racism is here, too," Jo declared. Photo by Eric.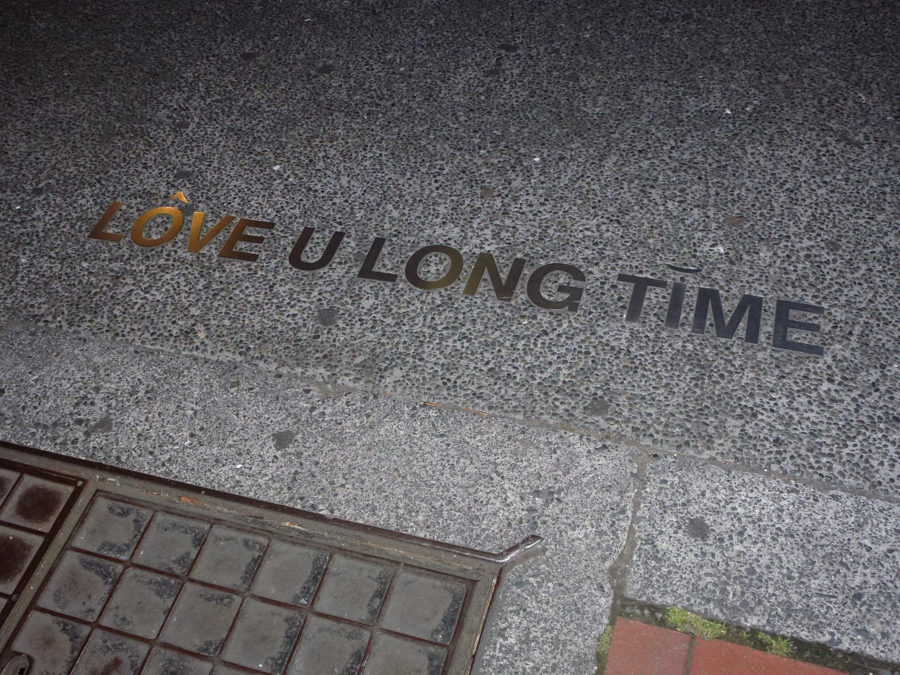 It was nice to have a fairly relaxing day to acclimate to our new environment. But for most of this trip, we are seeking much greater adventure!
On to Hobbiton.
---