---
Fiordland National Park/Milford Sound Part 1
Tuesday, November 15, 2016
When it rains (which it does a lot!) Milford Sound is full of waterfalls!
Te Anau to Milford Sound
Milford Sound is not truly a sound; it is a fjord. A fjord is a glacier-carved valley that gets filled with seawater.
One of the highlights of our trip was to be SCUBA diving Milford Sound in Fiordland National Park. Because Milford Sound is such an incredibly rainy place, there is a five-meter freshwater layer on top of the saltwater layer. This gives the fjord a unique diversity of life, and it was one of Cousteau's favorite dive sites.
Eric's photo of the Pacific Runner, Descend Diving's boat. I'm the one getting off the boat with a green furry hood. Notice that, like David Letterman trying to get the attention of the ice skaters at Rockefeller Center, I am not wearing pants. More on that later.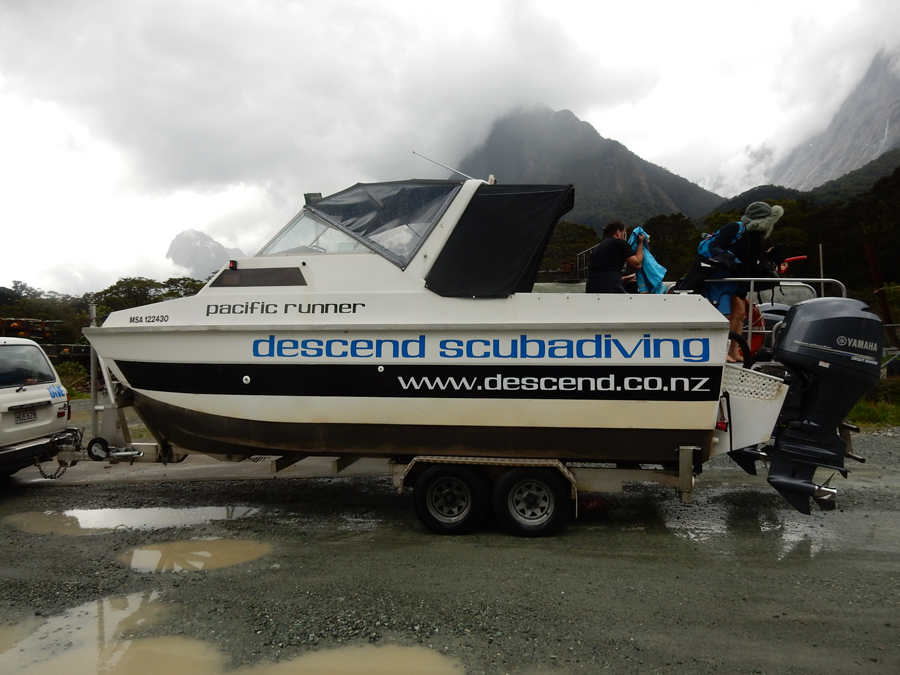 Diving this wonderful place, however, is complicated, and it wasn't just that I had to deeply pare down my luggage so as to be able to bring along my custom-altered wetsuit. Lodging in Milford Sound is only for those who work in the park, so you must make a two-hour drive over the top of the divide from Te Anau. Furthermore, even though the pass has a tunnel through it, it is high enough (945 m) that, at least technically, there is some risk of decompression sickness from driving over the pass after diving. There are two alternatives. The first is to rent a camper van instead of a car and spend the night in Milford Sound. However, the camper vans are only rented for a minimum of three days, and we didn't want to drive a camper van that long. The other alternative is to spend the night on a scenic cruise through the fjord. When you considered that it includes a full buffet dinner and breakfast plus lodging and activities, the pricing isn't too terribly high. We chose this option.
Eric's photo of the Milford Mariner, where we spent the night.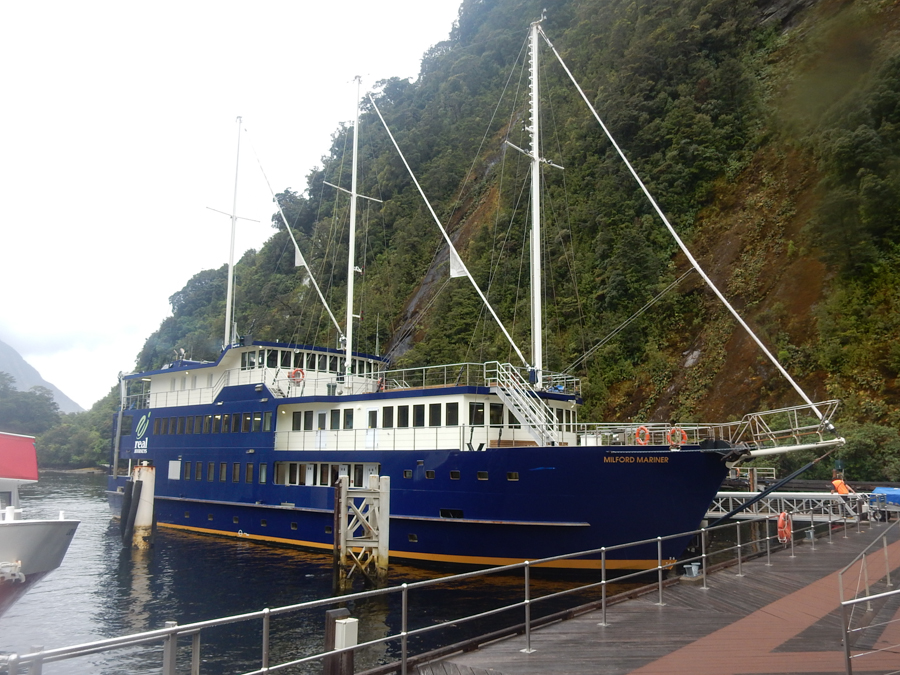 Our timing was delicate. The overnight cruise was scheduled to depart at 16:30, and Hayley the travel agent knew the SCUBA boat sometimes had trouble meeting it. Our instructions from her said, "Real Journeys is aware you are coming from SCUBA diving." To make matters worse, our scheduled time for meeting the dive boat was 9:00. "Early morning START with a 9am start time in Milford Sound, this is to allow for more time in Milford Sound," our instructions read. Since there was no lodging in Milford Sound, we had to drive two hours from Te Anau. "Please leave Te Anau no later than 7am to ensure you arrive on time," said Hayley's instructions.
Thus, since we had spent so much time exploring the Catlins, we hardly had any time to spend in this enormous suite we accidentally found ourselves in. In addition to this living, dining, and kitchen area, it had two big bedrooms!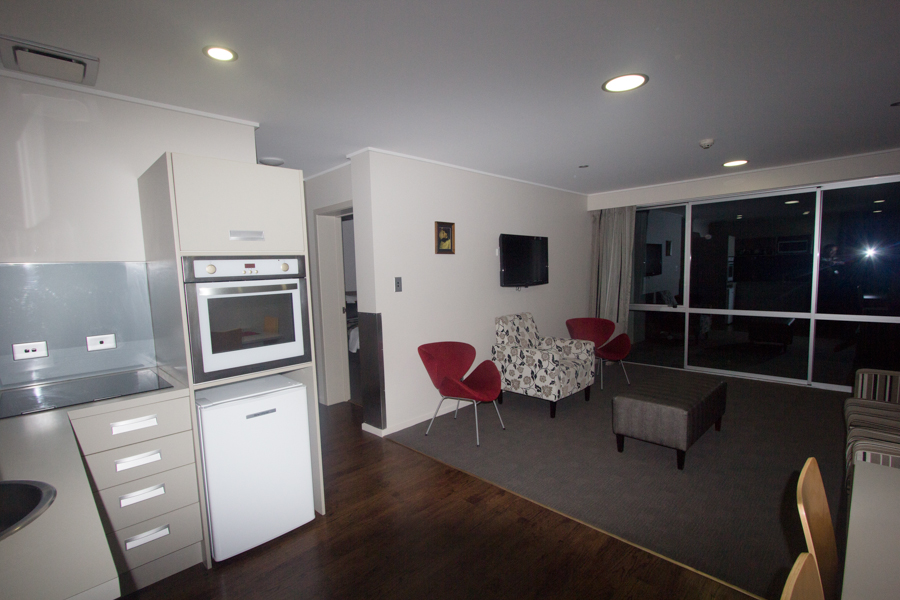 The motel had an awesome view of Lake Te Anau.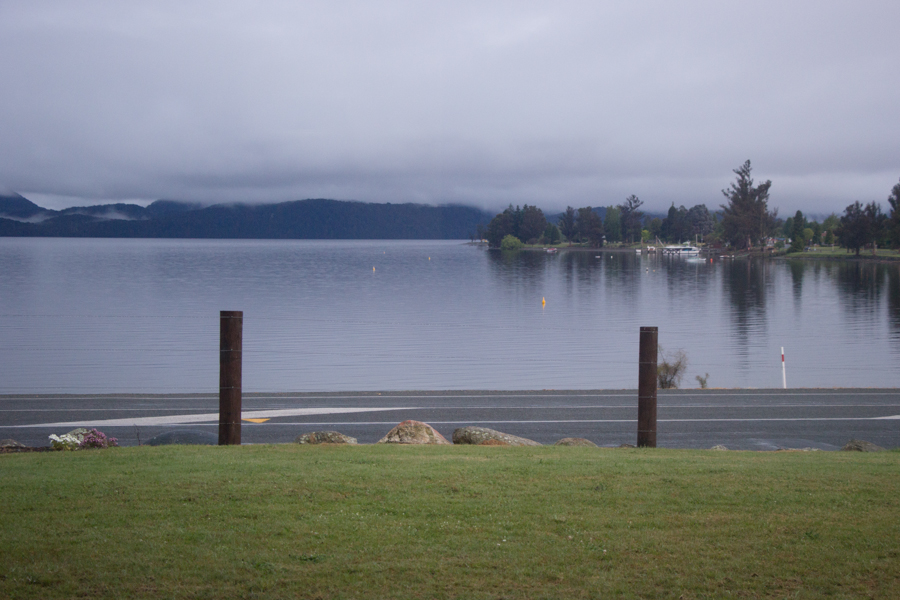 While connected to the internet in Te Anau, I found two e-mail messages from Descend Diving. The first said that our dive trip for the next day had been canceled due to wind conditions. But there was another message saying that the forecast had improved and that we were back on! Phew! It was a good thing I hadn't been able to receive the first message, because then we might have spent too much time exploring the Catlins and missed out on diving.
So, we got up at 5:00, hoping to get in Fenway by 6:30, and actually left at 6:40. Even driving past incredible scenery without stopping, it was surely for the best that we did not leave any later.
We headed up the Milford Road through some incredible scenery, knowing that we would have to wait until the next day to explore it. I did take a few pictures out of the car window while Eric was driving.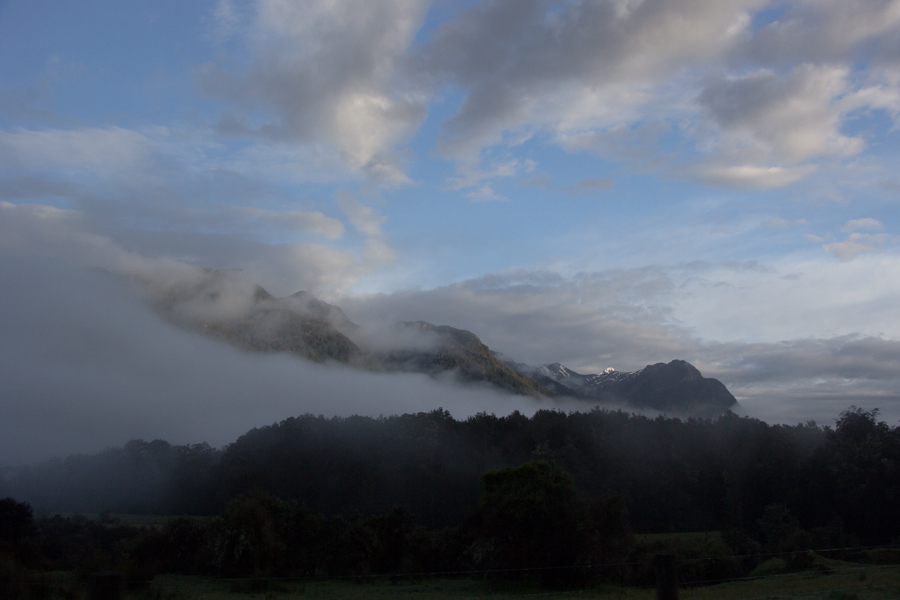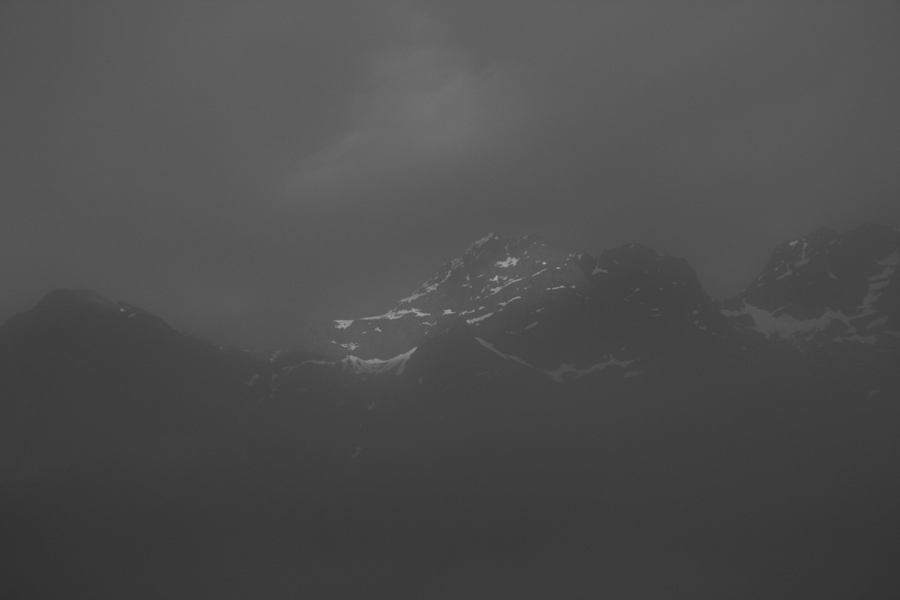 We made just one bathroom stop, where I took this picture.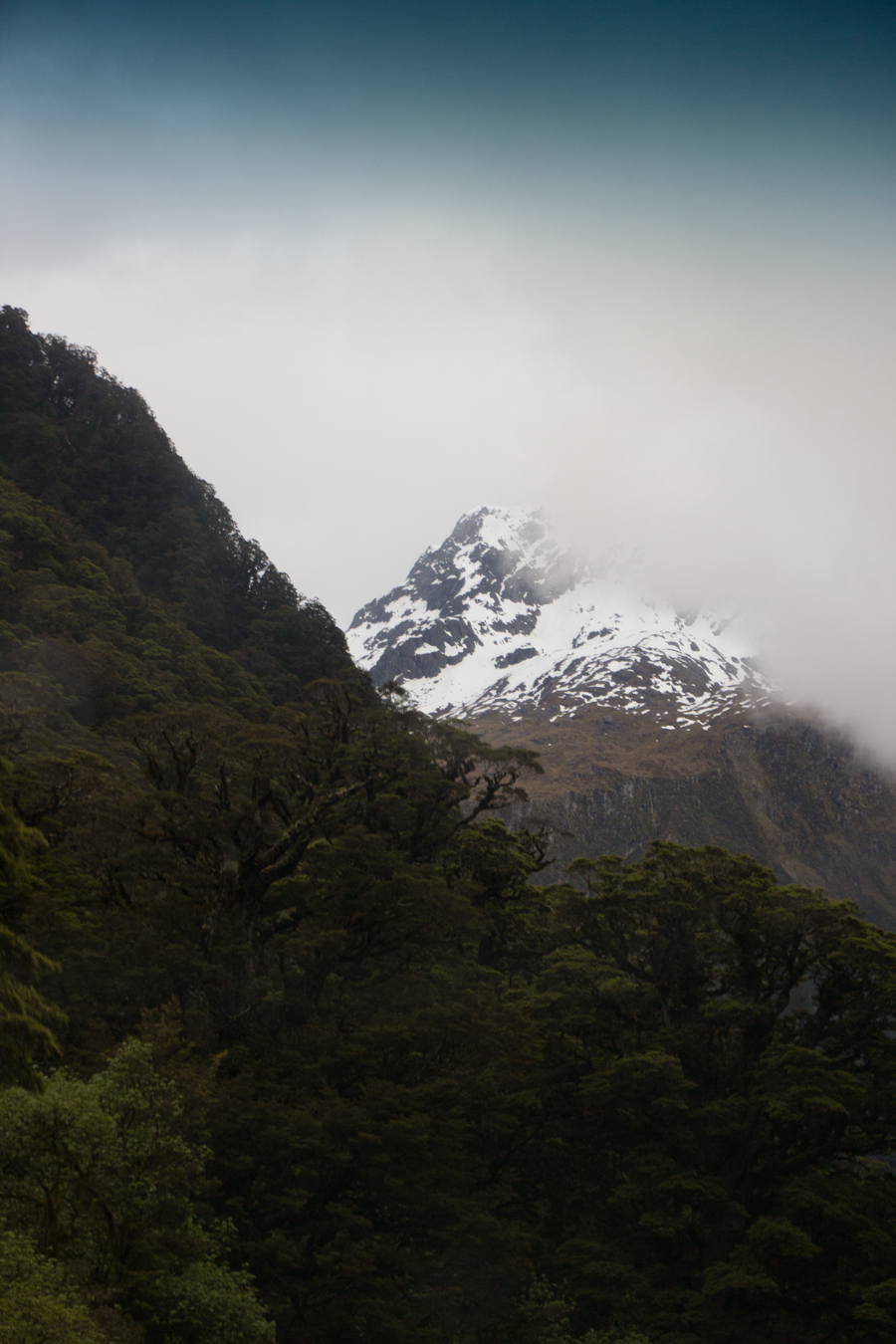 Diving Milford Sound
We arrived at the Visitor Centre at about 8:40. As specific as Hayley's instructions were about the timing, thy didn't tell us exactly where to go to meet the dive boat. It would have been better to have inquired at the Visitor Centre as to where to go, but I mistakenly figured we should head straight for the boats. It turned out the boat landing was 15 minutes' walk from the parking lot!
At the boat terminal, we were only able to find the desk for Real Journeys, operators of the overnight boat. They asked me for the name of the SCUBA company, and my information from Hayley was back in Fenway. There was no cell service or wi-fi, but thankfully, I was able to look at my cached e-mail inbox and find that the name of the dive company was Descend Diving. The Real Journeys people looked up Descend Diving on their wired internet connection and got them on the phone for us. It turned out we were to drive to a different launch area! So, we had to go all the way back to Fenway. Real Journeys told us that we could leave our luggage with them for the day, but it was back in Fenway, and we were already late. Later, when we came back and were rushing to get onto the overnight boat, we would have to have Eric drop off me with the luggage, then take Fenway back to the parking lot and walk back. This was a delay we had not anticipated. As for getting to the harbour from which we would depart for diving, Descend Diving offered to lead us in the van, but they were faster than we were and this proved difficult. All the same, we did find them and the harbour, thanks to Eric's good navigation and spotting. It just made for a great deal of frustration. When I write up all of my comments for Hayley at the end of the trip, I'll have to say that this was where we really needed some more directions and information.
We met our raucous divemaster, Lance, his intrepid 19-year-old assistant divemaster, Jackson, and their on-the-boat assistant, the very helpful Simone. We also met our fellow divers, all New Zealanders. Their names have escaped us, but two were a husband-and-wife pair, and the other was the wife's brother. The brother's wife was taking care of the children for all of them while the other three were diving. Jackson remarked that it was unusual for tour operators to see New Zealand divers, because most New Zealand divers dive for food rather than recreation.
First, Lance showed us lovely Stirling Falls. Jackson told us that, while we were completely surrounded by waterfalls, only three waterfalls in Milford Sound were permanent. Stirling was one of them. The other waterfalls were just coming out because of all the rain.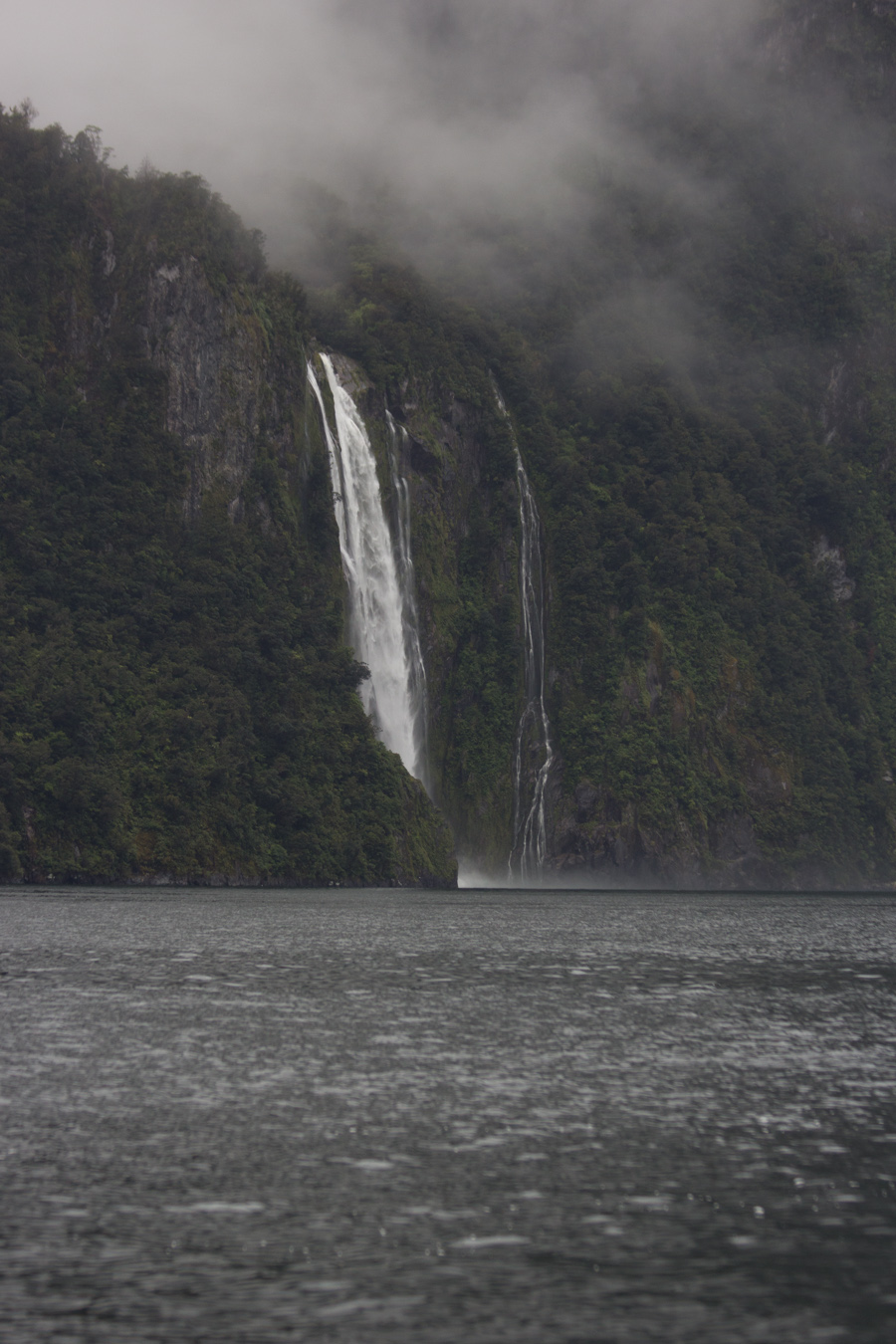 Stirling Falls.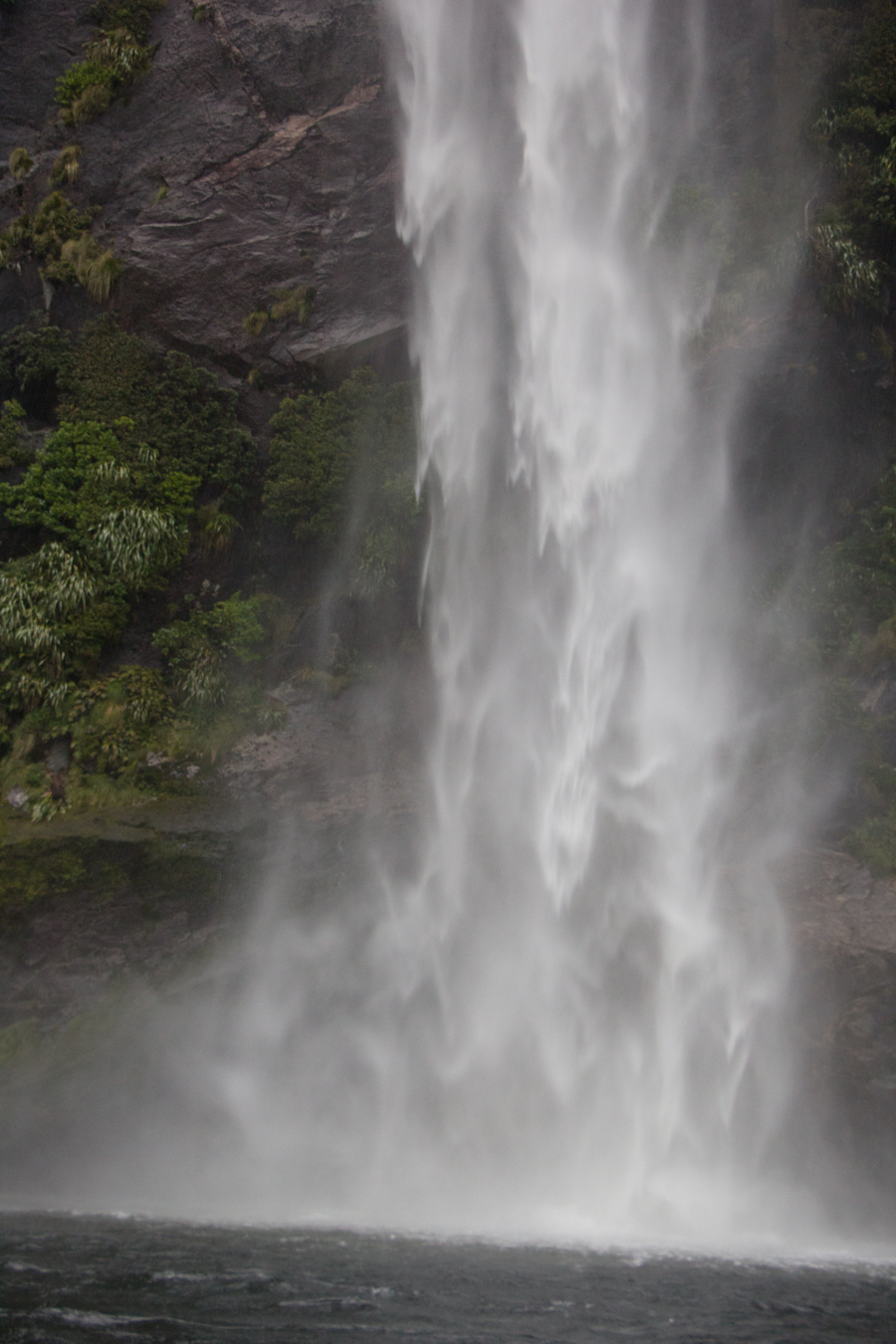 We reached the mooring point for our first dive, Penguin Cove. Lance began the safety briefing. He wanted to call us "Team America" and the others "Team New Zealand," but I said I didn't feel like my fellow Americans wanted me as part of their team anymore. "Oh, those people all live in trailer parks," he said. He explained where the life jackets were, how to use the boat's radio, and how, if we needed to use the toilet, Simone or Jackson would have to set it up for us. He recommended that gentlemen just use the stern of the boat when possible. He complained that we kept interrupting his safety briefing to make jokes. When we returned from the first dive, he told us, we would be given chocolate. It was mandatory, as a safety precaution, to eat 70% dark chocolate after diving. Chemicals in the chocolate would accelerate the offgassing of nitrogen in our bodies. He said he had been saying this for years, but had recently found out that it was actually true. You see why I am always telling our dive buddies that it is important to eat French pastry before diving.
Then, all of a sudden, Lance shouted, "Dolphins!" He started the engine and took off after them.
Wow, the Bottlenose Dolphins playing in the water were an amazing sight! It was difficult for me to get the camera in and out of the protected dry area under the cabin, but Eric, with his smaller equipment, got some video captures.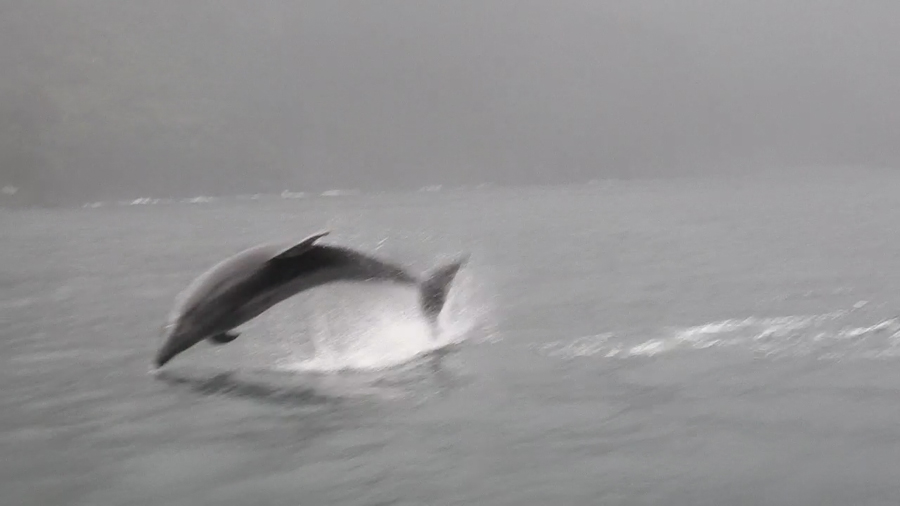 Video capture by Eric.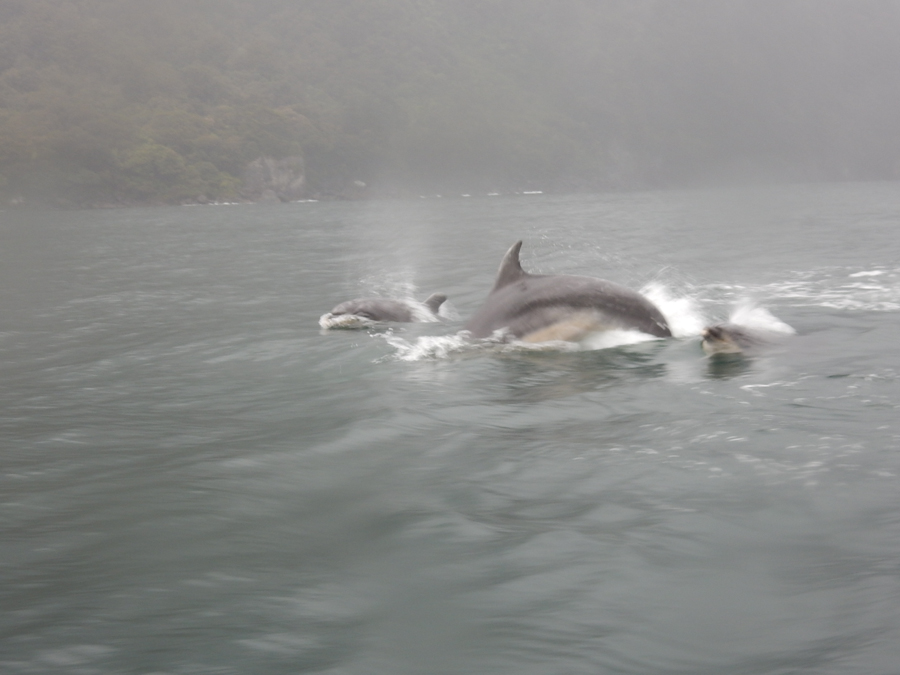 We returned to the cove, where Lance once again attempted the safety briefing. But then, on shore, we saw Fiordland Crested Penguins!
We were too far away for me to get a good picture, but we were so excited that Lance said, "All right, Monie, take them back to see the fucking penguins. You're going to be late for your other boat!"
The penguins hid in the bushes when the Pacific Runner got closer, but Eric did get some video captures of them.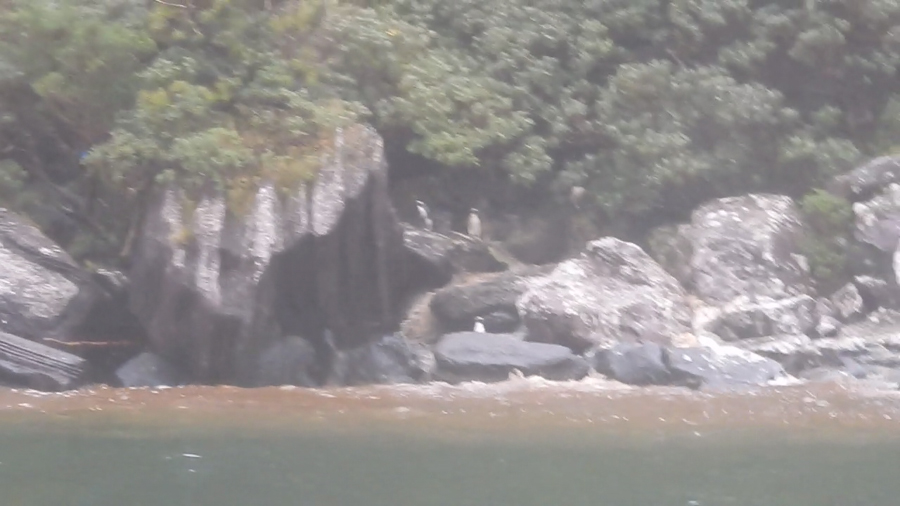 Video capture of Fiordland Crested Penguin by Eric. These exciting birds are endemic to the southern part of the South Island and have vulnerable status.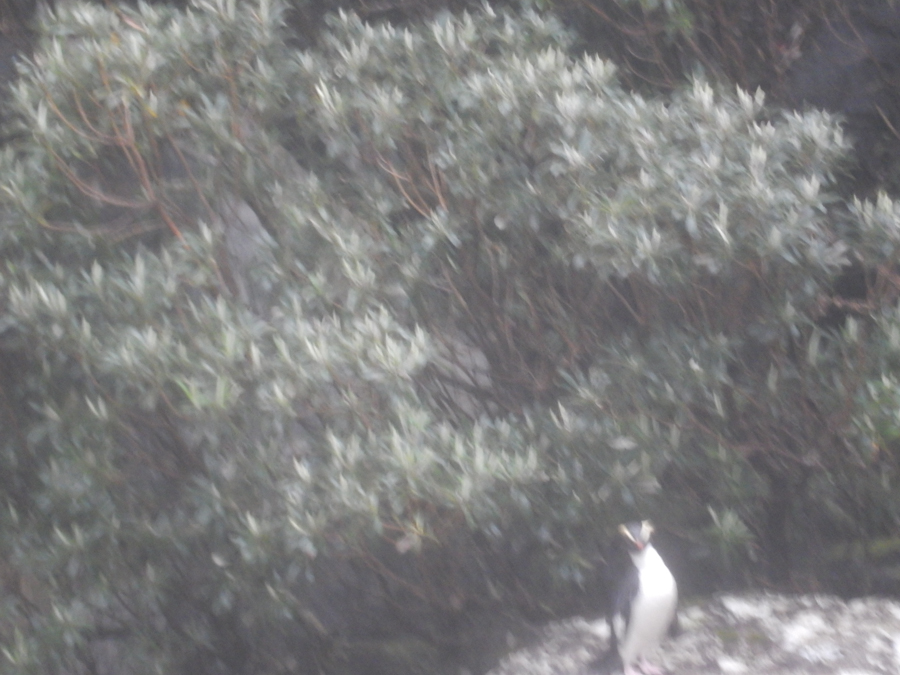 Here
is Descend Diving's much better photo of the Fiordland Crested Penguins.
At last, Lance was able to finish the briefing, and we got into the water with Jackson. Although we were, as always, clumsy on the surface, we went out with the less experienced guide because of our extensive cold-water diving experience. Photo by Simone.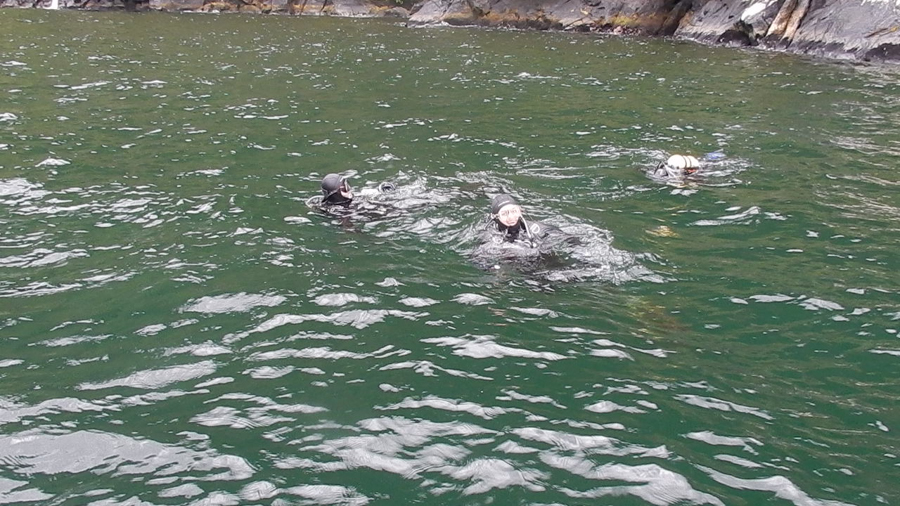 We descended through the freshwater layer (very slowly, because unfortunately I had an extreme amount of difficulty with my ears) into a wondrous, extremely unusual world. "Black" coral, which normally only grows in much deeper waters, is easily found here. Its structure is black, but it has a white layer on the outside, so it is looks like a snow-covered tree. We don't have an underwater camera, but this image from Descend Diving's site shows what this incredible stuff looks like. This is what we came to New Zealand for!
We saw so many Butterfly Perch! With schools of fish swimming around us, it felt a bit like tropical diving. Here is Descend Diving's photo of the Butterfly Perch.
We surfaced and were fed our mandatory chocolate. New Zealand chocolate is just delicious!
We needed to spend an hour on the surface to decompress. Simone took great care of us, keeping track of the statistics from our computers and feeding us crisps (chips), biscuits (cookies), felafel wraps, and hot chocolate for warmth. I had to take off enough of my suit to use the marine toilet (I've become an expert on the use of these contraptions, with all of the boats we've been on), and she wrapped me up in a bunch of jackets and a hat and scarf to keep me warm enough that I could go on the second dive. It was amazingly comfortable for cold water SCUBA conditions. Lance kept joking about turning the stern either to face the large passing cruise ships, or, alternatively, into the wind, just as the gentlemen were peeing off of it.
After the appropriate interval, Jackson led us out on the second dive, in Cray's Crack. As soon as we entered the water, we saw a New Zealand Fur Seal doing flips below us. They don't just flip on the surface, they do it underwater, too. We had to return to the surface to exchange Eric's mask, because it was leaking.
Jackson took us back down again to see many of the large New Zealand crayfish. They look like very large lobsters. Jackson was very excited to find Feather Stars. He told us that, although they look like plants, they are actually animals and can move around. My ears still bothered me too much for us to go anywhere near our maximum depth of 24 meters, sadly.
Simone e-mailed me a great picture of the Feather Star to share with you.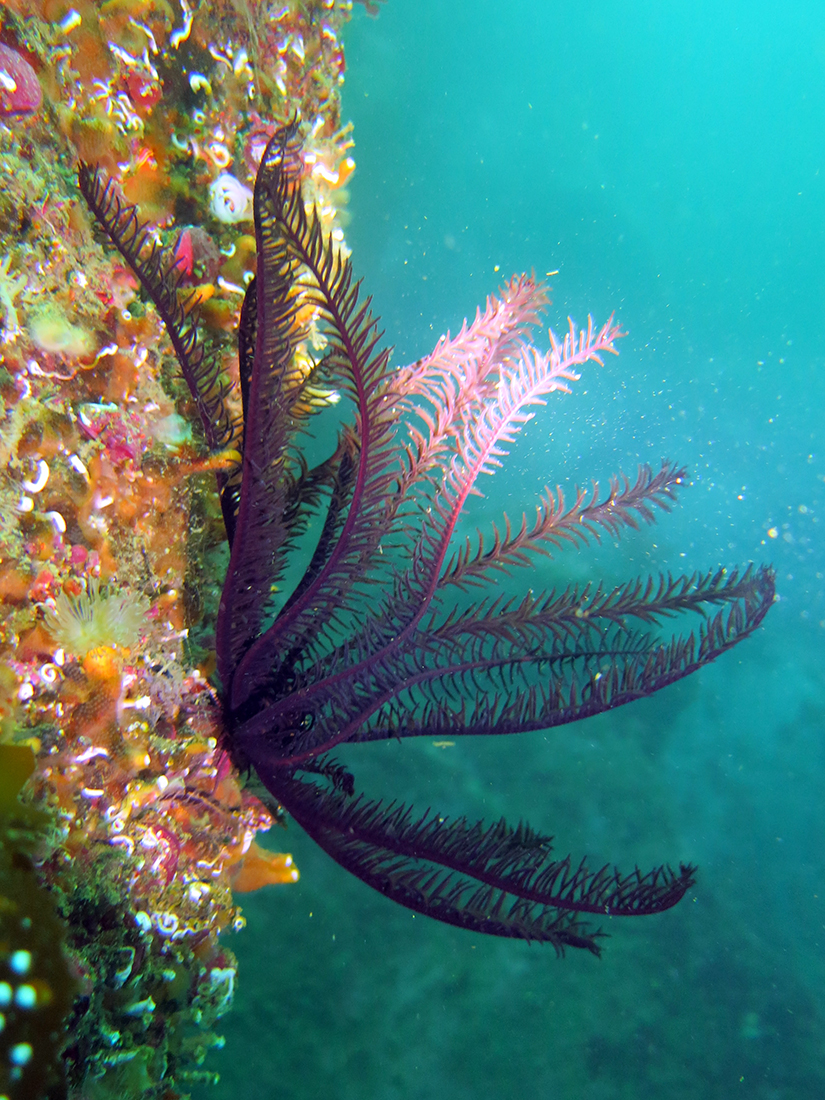 Each dive was just amazing and unique, and we will surely remember our experience diving in New Zealand for the rest of our lives.
On the way back, of course, we did see more New Zealand Fur Seals. Photo by Eric.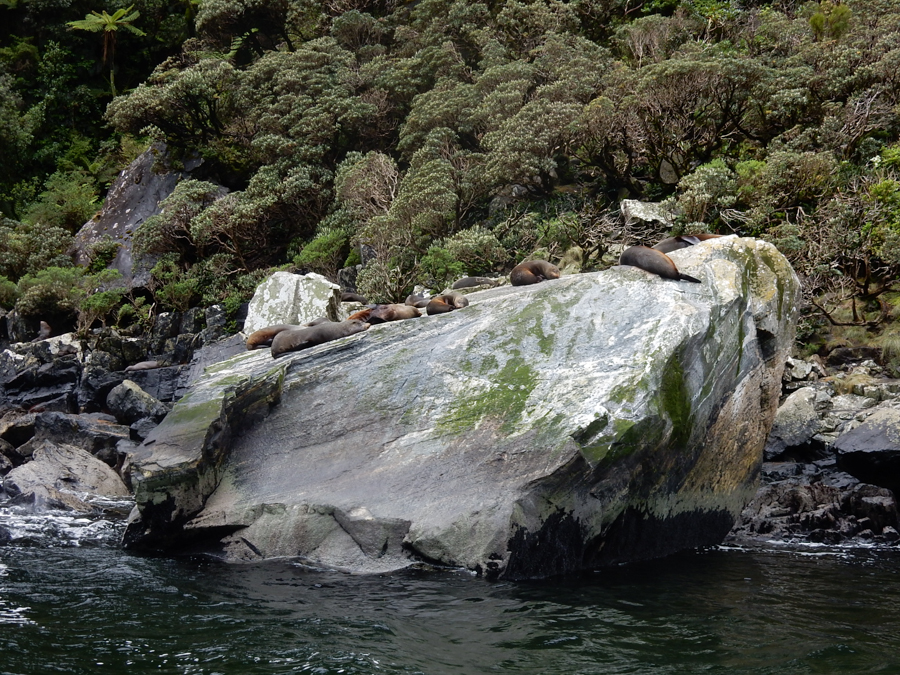 Lance and Jackson clarified that it was unclear whether or not these animals were really seals or sea lions, as they had characteristics of both. While they looked to us like sea lions because of their external ears and forwardly rotated hind flippers, they also had front flippers like seals. They were a difficult species to characterize.
I was, of course, incredibly cold, so I had to take off my wet wetsuit as soon as we got back on the boat. I had thought I had brought my clothes with me on the boat, but apparently they were on the van, and all I had with me was my underwear. So, I wore my underwear and my heavy coat. Simone wrapped me up in more jackets.
Simone took a picture of all five of us divers together.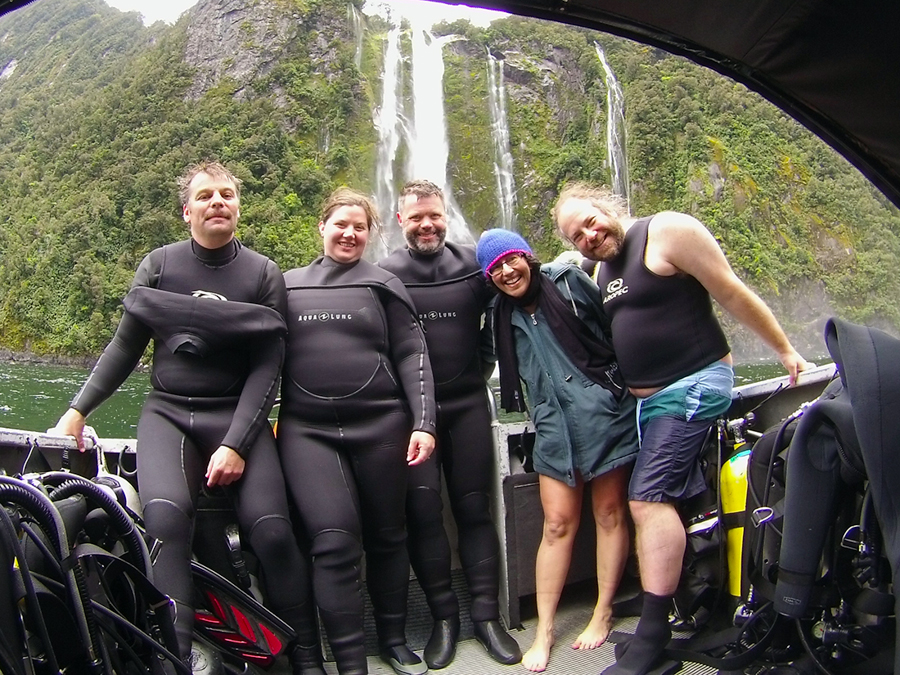 Because I had removed my wetsuit, I missed out on what Lance called the "glacial facial." He drove the boat under Stirling Falls, giving the other divers a shower in the glacial runoff. I'm sure it must have been great, if bracing.
Simone took a picture of the glacial facial.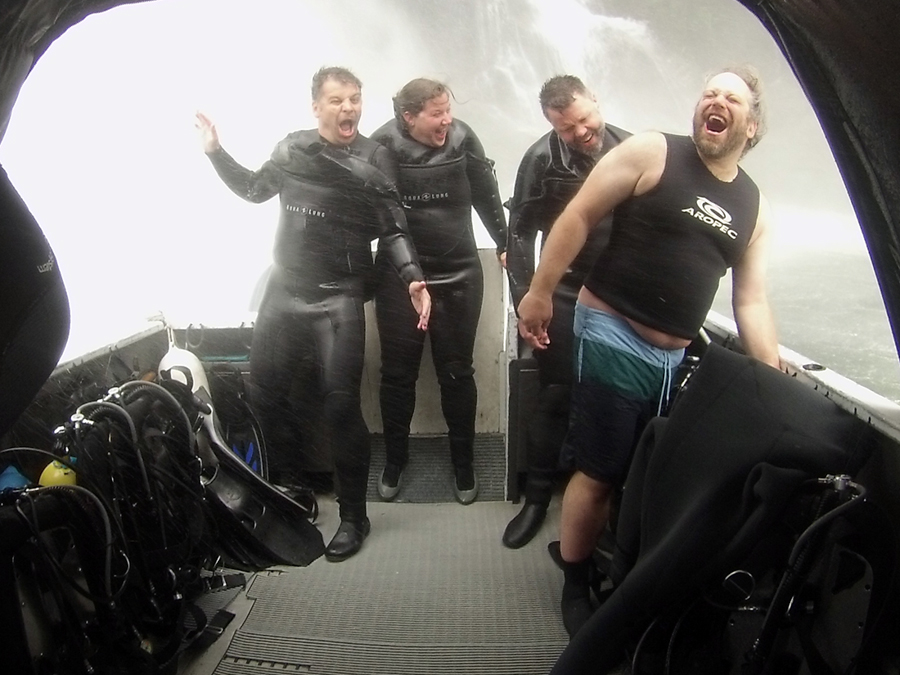 Of course, after all of this mad excitement, Lance had to drive the Pacific Runner really fast in order to get us to our overnight boat. We pounded over the wakes of other boats. After so many boat rides where our captains had tried to make our rides so gentle, it was an absolute blast to bounce around like this. I screamed with delight. Best boat ride ever!
We really have to thank Lance, Simone, and Jackson for an incredible experience. They had a ratio of three crew for five divers, and the service was excellent. If you're a diver and you get to New Zealand, definitely try to do this dive with Descend Diving.
Milford Mariner Overnight Cruise, Part 1
By the time we returned to Fenway, it was 16:05, and we really had to run for the overnight boat, the Milford Mariner. We like to find a geocache every day on vacation, but we would have to miss this one. Eric drove me, still wearing only underwear underneath my coat, to the terminal, and I dragged all of our luggage with me to the check-in desk. It would have been nice if we had had time to pack a smaller overnight bag for the boat, but that had just not been possible. At least I had had a chance to put on my shoes on socks while we were driving from the other wharf! When I checked in and got our boarding passes, the Real Journeys staff told me that, after 16:00, we could have parked in the bus lot right next to the terminal. But they don't tell anyone that until 16:00! Had they been willing to give us this information in the morning, when we were trying to figure out, in front of them, how to work the transfer between boats, we could have saved the entire 15 minutes it took Eric to walk back from the Visitor Centre parking lot. So, I blame them for the fact that we held another 58 passengers up for 15 minutes. I'm going to tell Hayley to tell future divers that this is possible and that they don't need to do the walk from the Visitor Centre parking.
Our cabin on the Milford Mariner. Not too small. Photo by Eric.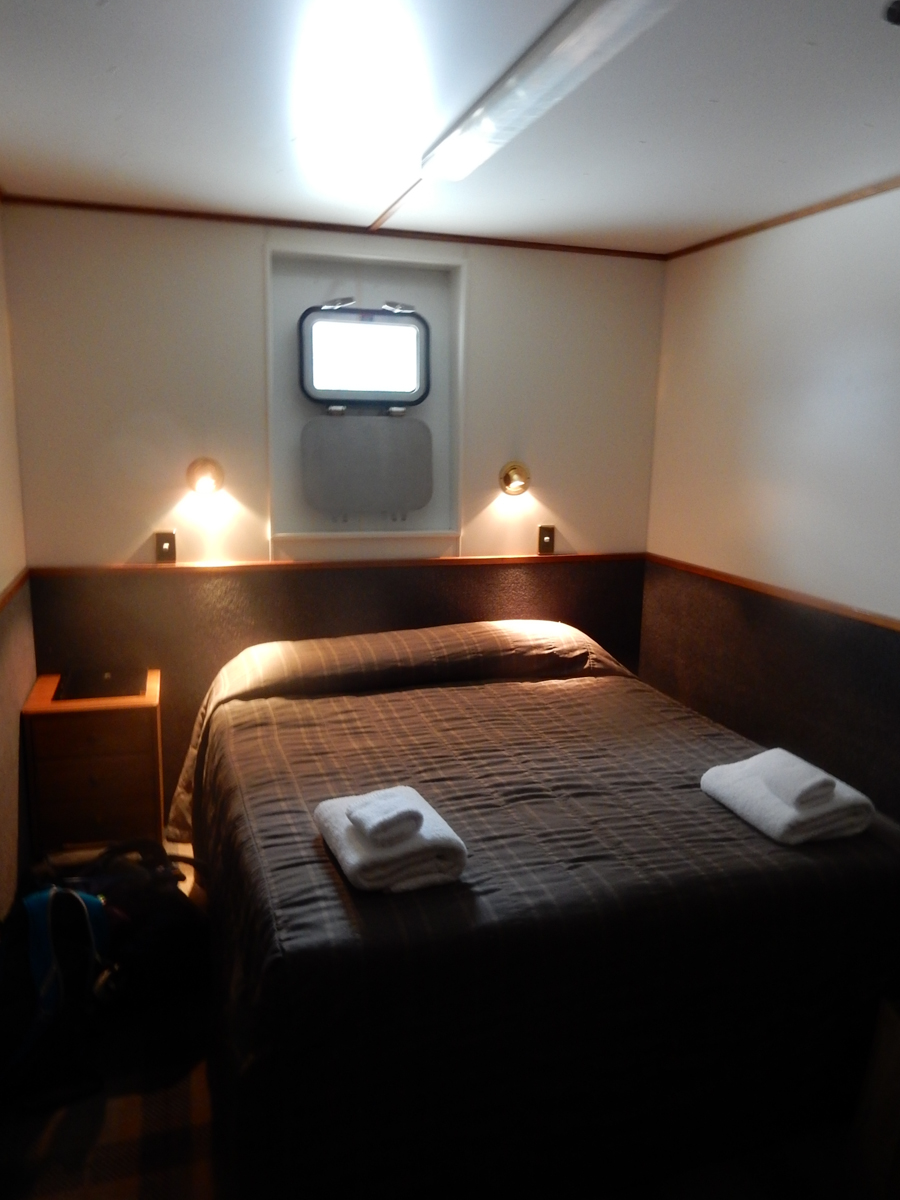 At last, I was able to put on pants.
Eric's picture of the fjord.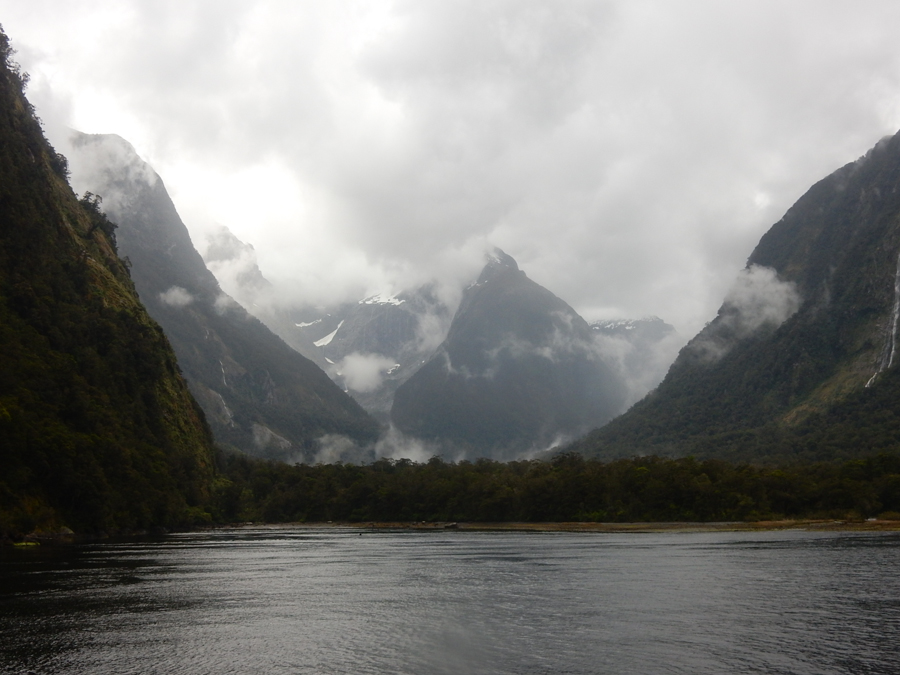 I had thought that it was time to relax, take pictures of the spectacular scenery, and then perhaps process at last process some of my photography over a post-diving beer. But at the obligatory safety briefing (here are the life jackets, we had heard this so many times now), we were informed that there were activities available! You could go out in a smaller tender for a closer look at the scenery and wildlife, or you could go kayaking. Which one should we do?
"Does kayaking require a wetsuit?" Eric asked. Neither of us felt like enduring the misery of donning a wetsuit again. I inquired, and was told that it did not, but that water-resistant pants would be a good idea as they kayaks had no spray skirts. The guide thought my hiking pants were fine, but, since I had waterproof cycling pants with me, I put those on, too. I had spent so much of the day not wearing any pants, I might as well spend some of the day wearing two pairs to make up for it.
They only had one size of kayak, and Eric found the small boat too tippy for his comfort. So, he stayed on the Milford Mariner while I kayaked out among the rocks. At least I had a photographer, since, given the possibility of capsizing, I couldn't bring a camera.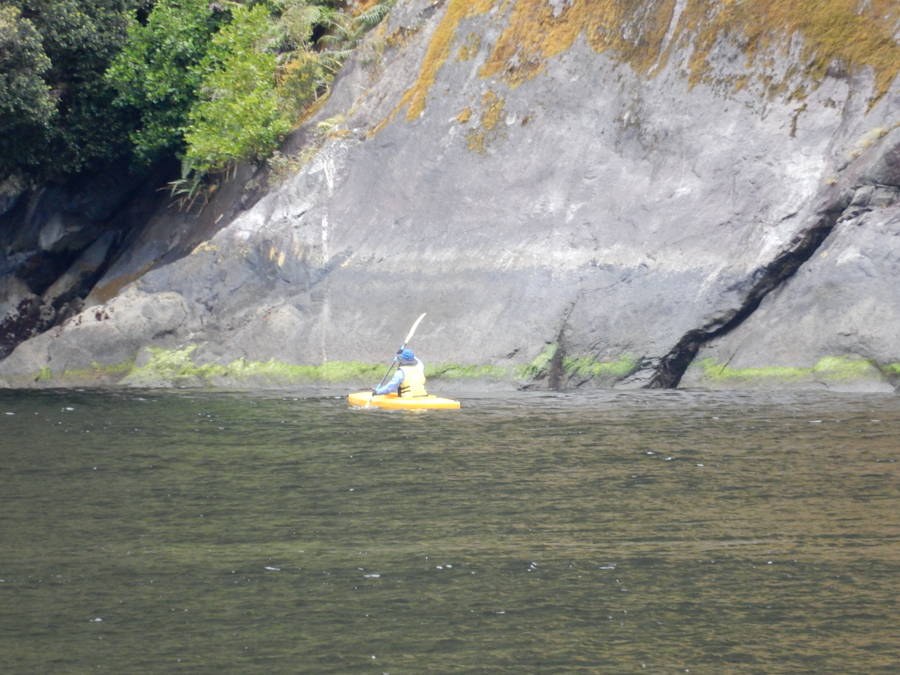 There were about a dozen kayakers, and about half of us had clearly never done it before, so stuck with a guide who tried to show them how to maneuver their boats properly. The rest of us set out on an adventure.
This was where I so wished I had a camera! If only I had brought a telephoto and my older spare camera body with me. Because I got an absolutely amazing look at another Fiordland Crested Penguin!
I was about 15 meters from shore when I spotted the penguin in the cove. At first, it stood further back away from the water, cleaning its feathers and flapping its flightless wings. I pointed it out to the other delighted kayakers. I had, at least, brought my binoculars, as they are waterproof. I got an amazing look at the penguin through them.
After a few minutes, the penguin waddled further out toward the water. It stood there considering things for a while, and then jumped in.
Wow. That was just so incredible. I was so sorry Eric did not get to see it, and that I would have no pictures to show you.
Although we have sea kayaking certifications and theoretically remember how to roll a kayak and perform a rescue, I have kayaked only three or four times since acquiring the certification perhaps two decades ago. I don't have the musculature for holding my arms up as is required, and they were tired! Part of me was ready to go back to the Milford Mariner after the penguin, but the rest of the group was moving out around the protected cove, and, you know me, I was not about to be outdone by a woman with more gray hair than I have. I pushed myself on, even after diving, and kayaked for some 40 minutes. Although it was quite lovely, I didn't see anything else as amazing as the penguin. I pointed out some White-fronted Terns and a Variable Oystercatcher to the other kayakers.
Eric took my picture returning to the Milford Mariner with some of the others.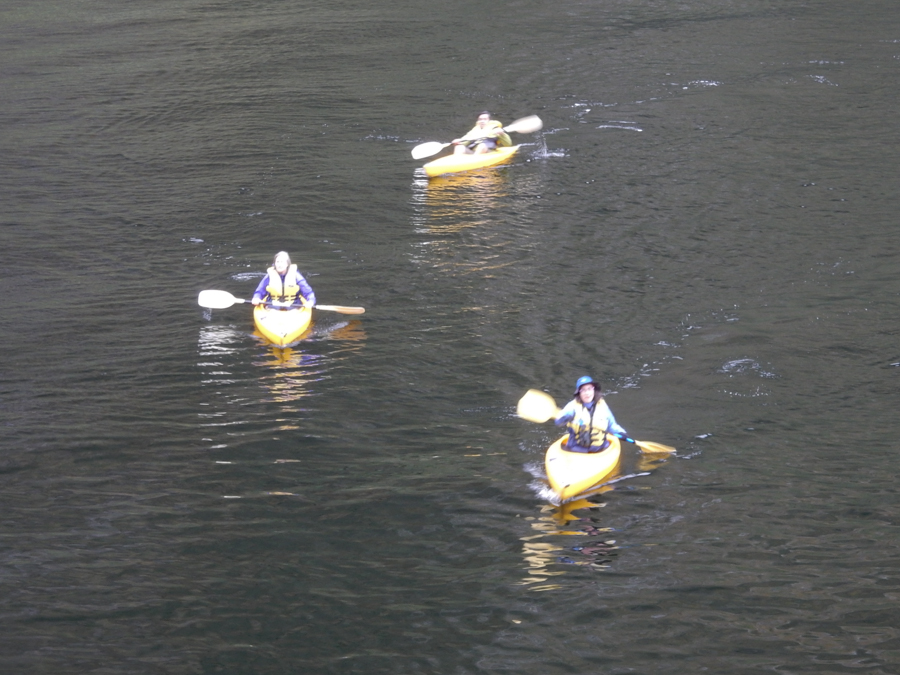 Of course, by the time I returned from kayaking, it was time for an elaborate buffet dinner, so I never got to sit down with my computer and memory card. Eric met Les, a stock broker from Long Island, and his wife Shelly. Les, it turned out, had graduated from the same high school as Eric, Stuyvesant, in the class of 1961. Les was lots of fun.
Eric and his new friend Les.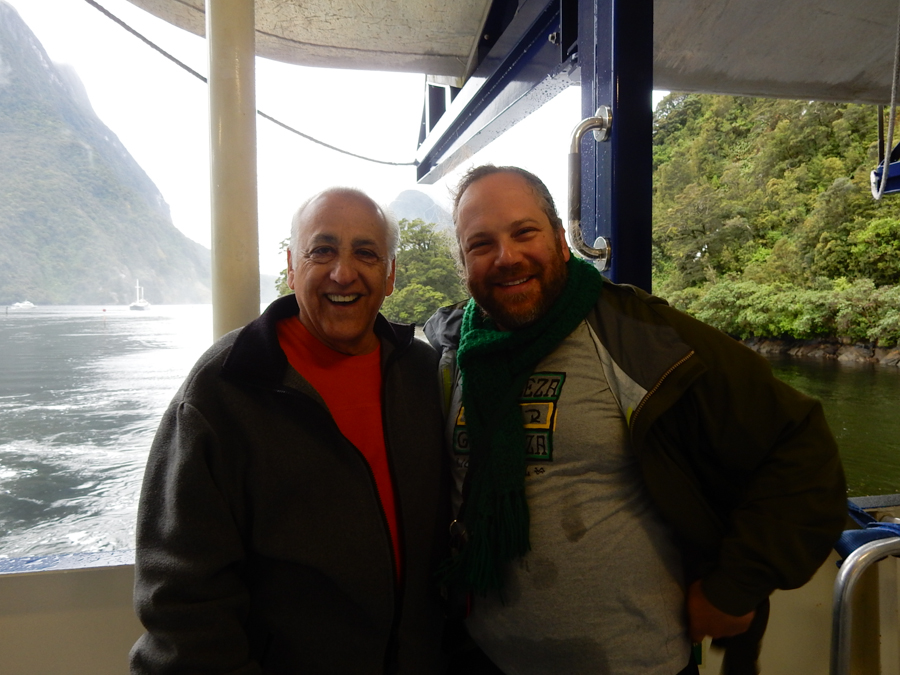 There was a slide presentation after dinner, but it was after 21:00, and we had been told that breakfast would be served at 7:00. I decided we needed to go back to our cabin and go to sleep.
This was an absolutely incredible day, a highlight of an entirely outstanding trip. Everything far exceeded expectations. I don't know whether we will ever top these experiences.
On to Fjordland National Park/Milford Sound Part 2.
---