---
Tongariro National Park
Monday 7 November, 2016
Taranaki Falls.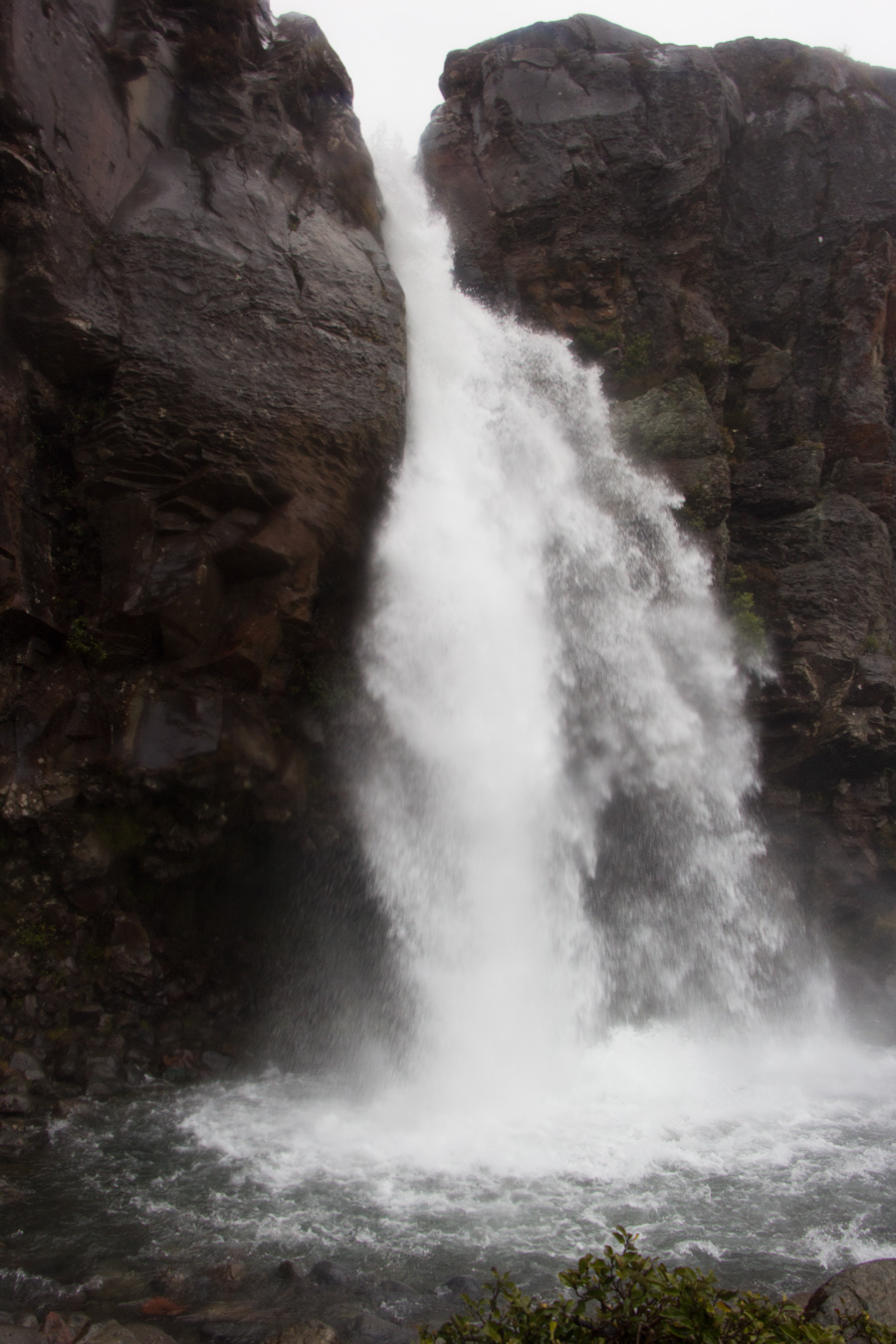 The North Island of New Zealand is ripped apart by a volcanic rift known as the Taupo Volcanic Zone, or, as we might like to call it, Mordor. The Taupo Volcanic Zone runs about 200 km on a southwest/northeast angle through the island, parallel to the present boundary between the Indo-Australian Plate and the Pacific Plate. Because we love volcanoes so much, I scheduled three days to explore this wild and wondrous area. We started out in the northeast at Whaakari/White Island, the youngest volcano to have emerged above sea level (smaller volcanoes continue northeast underwater), which has been building up for about 150,000 years. We made our way through the geothermal features of Rotorua, about 220,000 years old. Our last stop was to the oldest of the volcanoes in this zone, in Tongariro National Park, about 270,000 years old. Note that we are giving geologic time here in hundreds of thousands of years, not hundreds of millions of years; this entire area is very young. Tongariro National Park has three major volcanoes, Mt. Tongariro, Mt. Ngauruhoe, and Mt. Ruapehu. Mt. Ngauruhoe has an extremely symmetrical dome and became famous when it starred as Mt. Doom in The Lord of the Rings films.
Sadly, while we had excellent looks at Whaakari/White Island and Rotorua, our luck ran out at Tongariro, and our plans were foiled by foul weather. We were unable to see Mt. Ngauruhoe/Mt. Doom or any of its fellow peaks. Yes, we came all the way to New Zealand and did not see the volcano. Even more disappointingly, we had hired a guide for doing one of the Great Walks of New Zealand, the Tongariro Alpine Crossing, described in the National Geographic guide as "the greatest one-day walk in the world...tak[ing] in volcanoes, crater lakes, alpine desert, forest, waterfalls, and hot springs." This had been one of the parts of the trip to which we had looked with greatest anticipation, but, when I called from Lake Taupo to confirm our pickup time the next morning, I was told that the "tramp" (as they call a hike in New Zealand) was canceled due to a forecast for heavy rain and high winds. We were, of course, massively disappointed.
But we persevered. We made the most that we could of our visit to Tongariro National Park. We did a shorter hike to Taranaki Falls, most of which was along part of a different Great Walk, the Tongariro North Circuit. And we made the most of the hotel. I had asked the travel agent for one five-star hotel as a place to have a special anniversary celebration, and she had chosen the Chateau Tongariro, a beautiful 1930's-era hotel right at the foot of Mt. Ruapehu, inside the park. We would have plenty of time to enjoy the hotel, if not the famous views from it.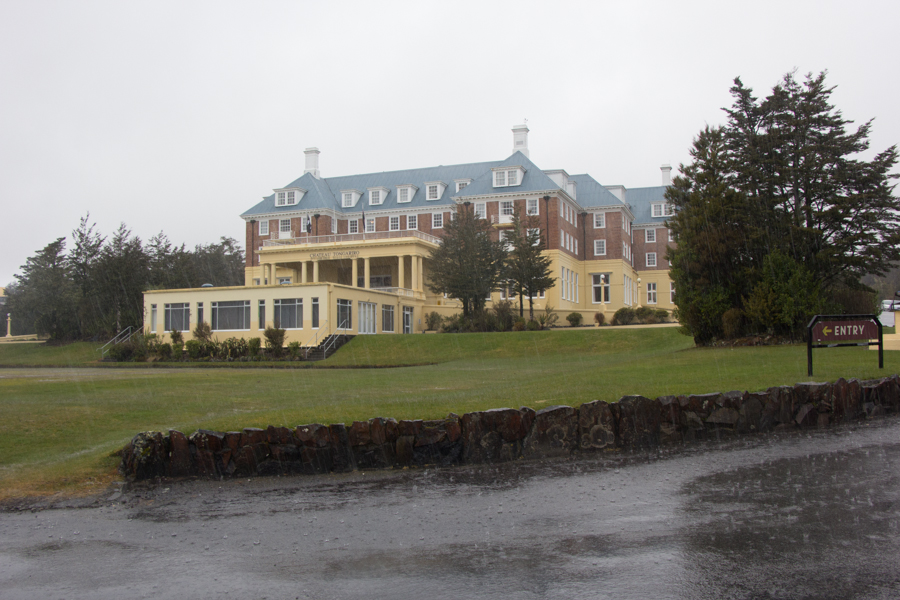 A link to a photo of the Chateau Tongariro actually showing its dramatic surroundings.
Lobby of the Chateau Tongariro.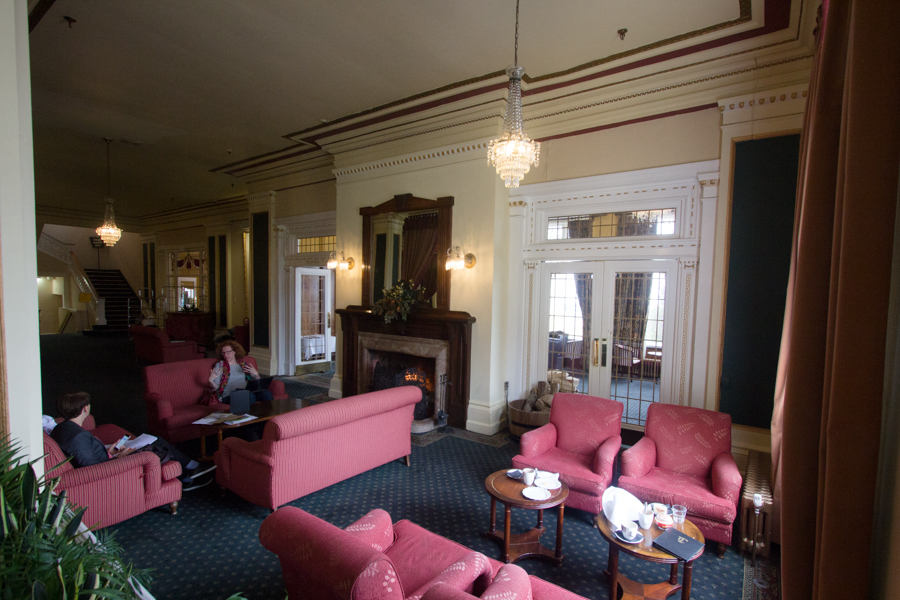 Bar of the Chateau Tongariro.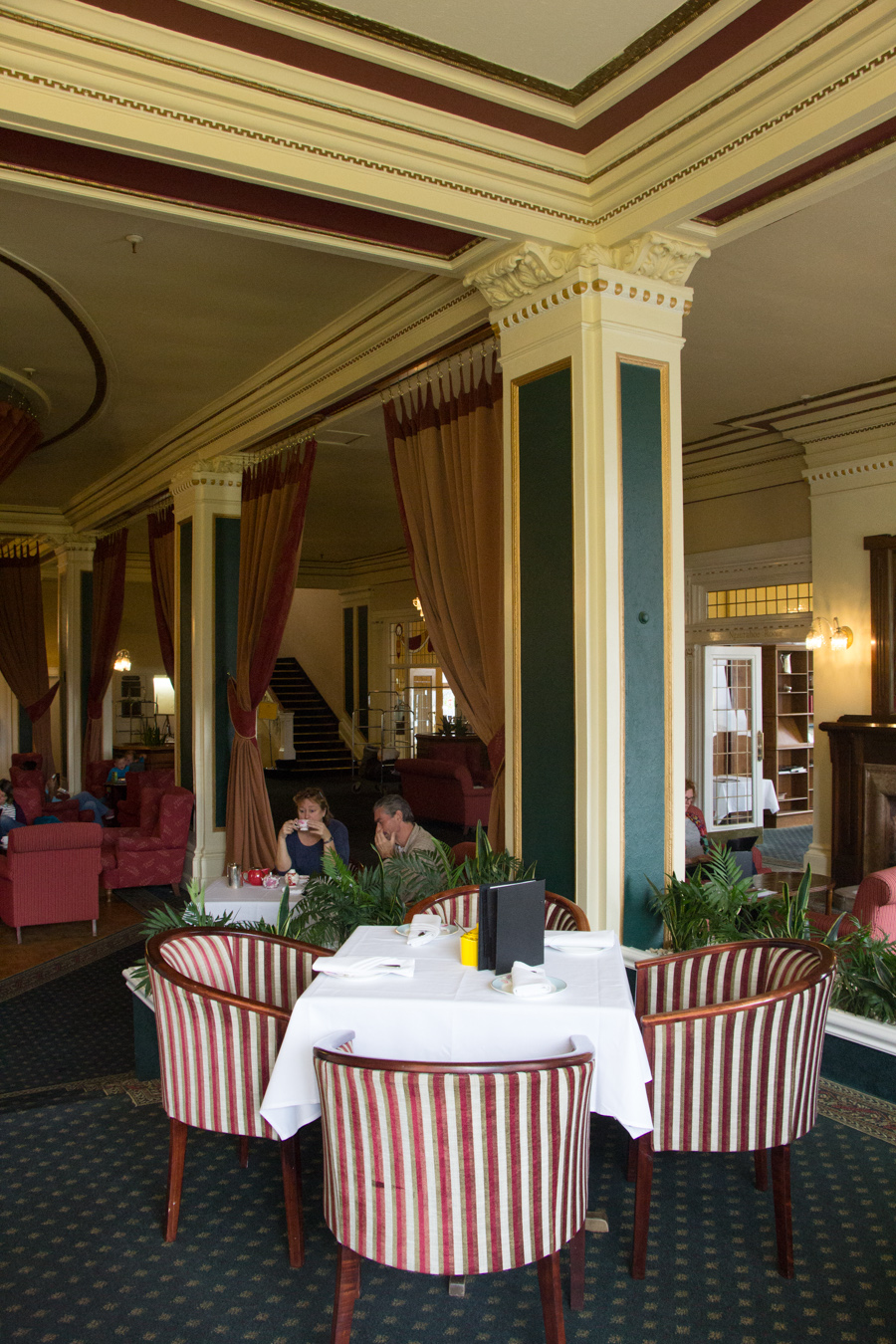 The Wikipedia article on the hotel tells us that it was built largely with prison labor. The New Zealand government was trying to provide incentives for a private developer to build a hotel on the site.
Eric took a picture of our executive suite. It had a gas fireplace and a lovely hot tub in the bathroom.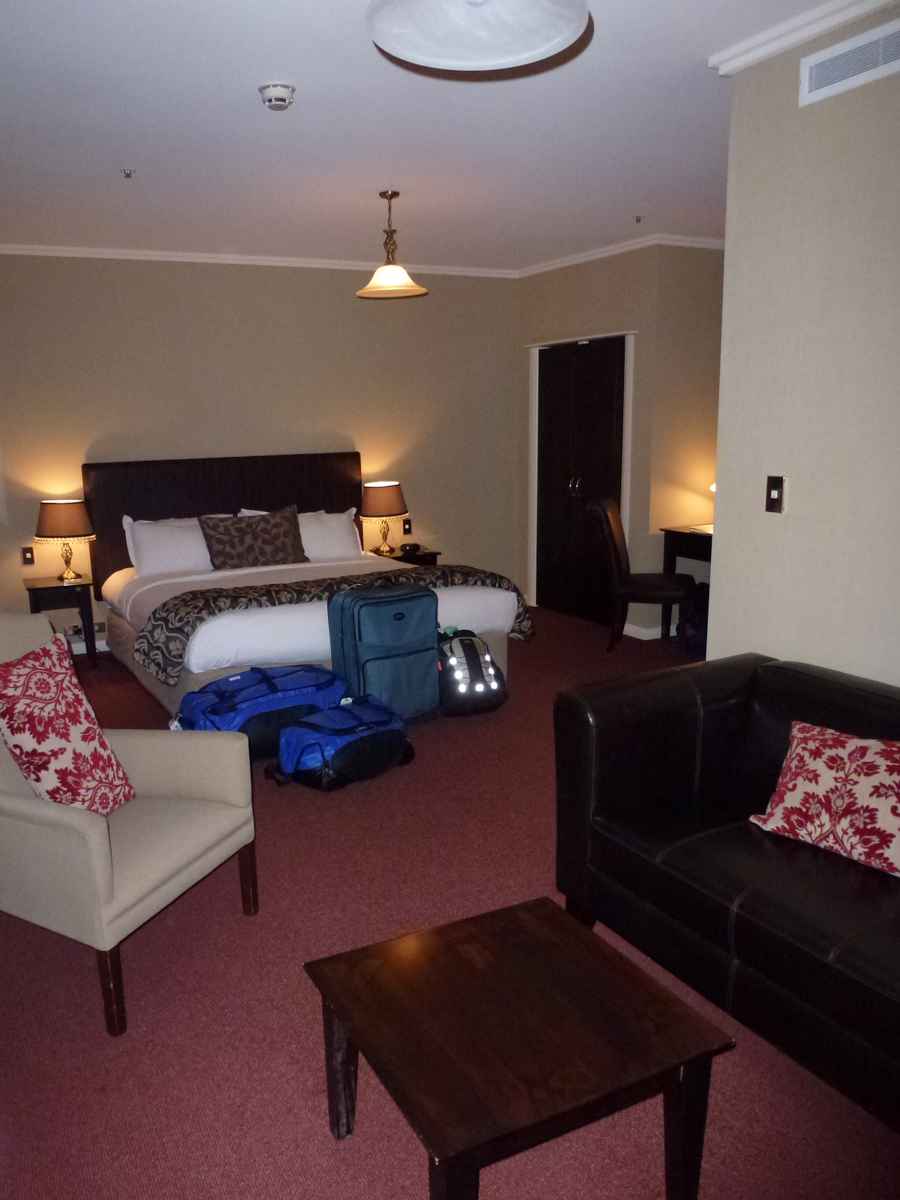 We could tell that there were supposed to be amazing views out the window, but we couldn't see them. One of the desk clerks told us that he hadn't seen any of the mountains in a week.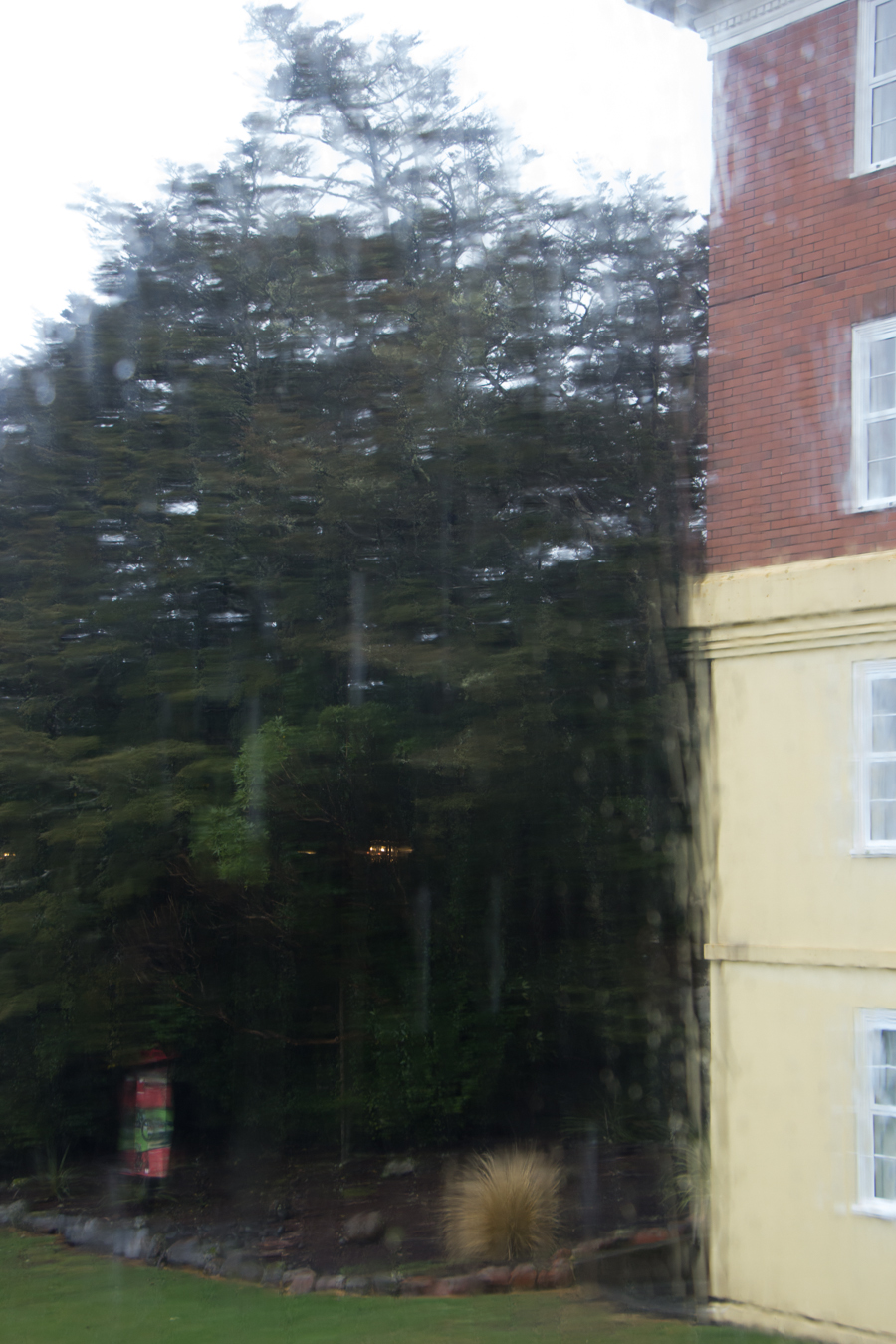 The hotel served high tea from 11:00-17:00, and, since we had some extra time, we decided to sleep in and have high tea for breakfast at 11:00. Eric took my picture with my tea, showing the absence of what should have been a spectacular view behind me.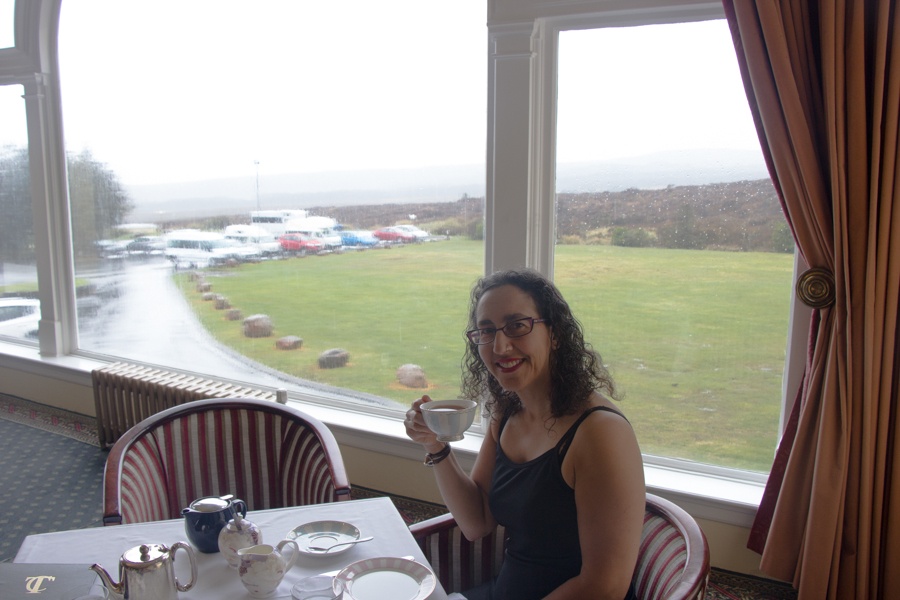 While dinner the previous night in the hotel's fancy restaurant had left much to be desired, the high tea was excellent. Photo by Eric.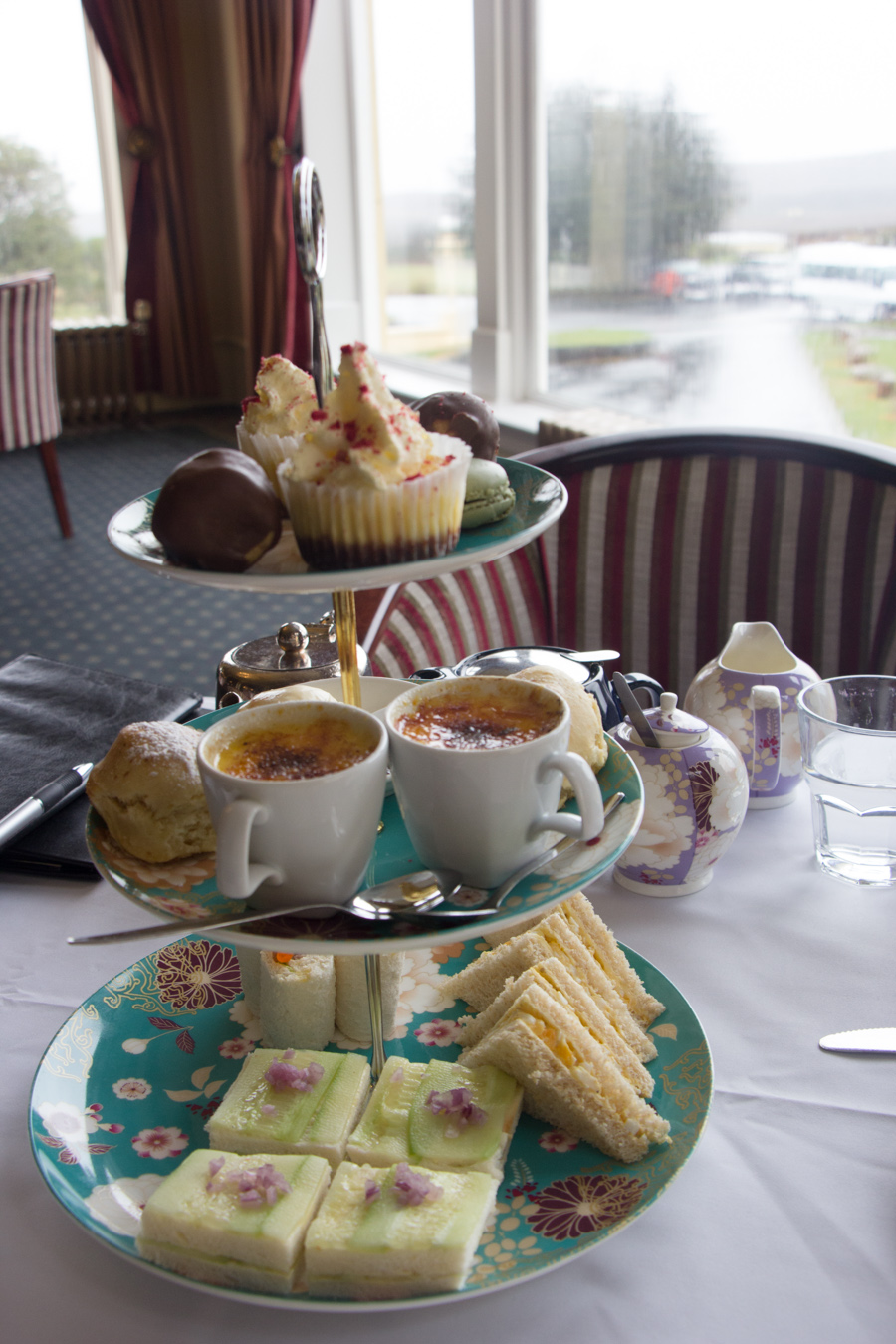 In addition to the traditional cucumber sandwiches, there were cheese sandwiches, and this "sushi." It was smoked salmon, with the roe on top, but wrapped in white bread instead of nori. Unusual, but tasty!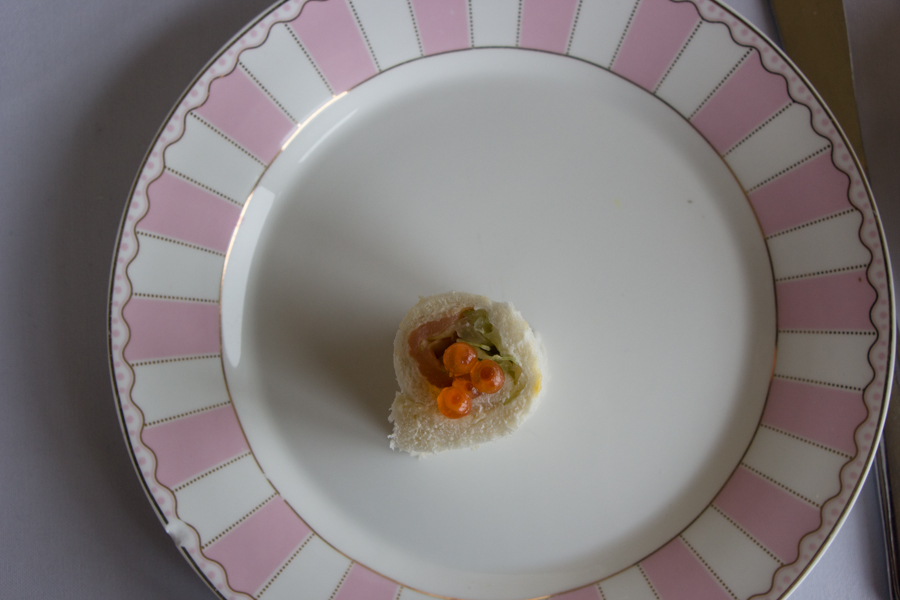 The tray of course had the traditional scones with jam and tasty clotted cream. For dessert, there was cr&egraveme brul&eacutee, macarons, chocolate-dipped cream puffs, and a positively delicious cupcake-like thing. It had a spicy soft dark bottom, then a vanilla creamy layer, and whipped cream with some dried raspberry shavings on top. Usually I have desserts in restaurants and think I can imitate them, but this pastry took considerable skill. The tea itself was fantastic. On the whole, it was better than the high tea we had in London.
After a stop at the park's Visitor Center, we headed out on the trail in the rain.
A small mountain peeked out through the clouds, but we couldn't see any of the major peaks.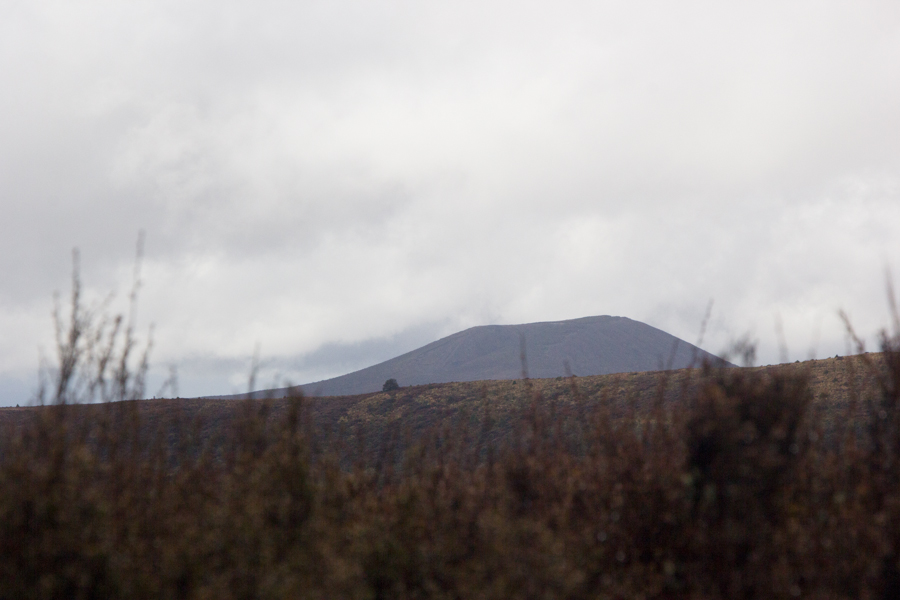 Eric took my picture crossing a bridge.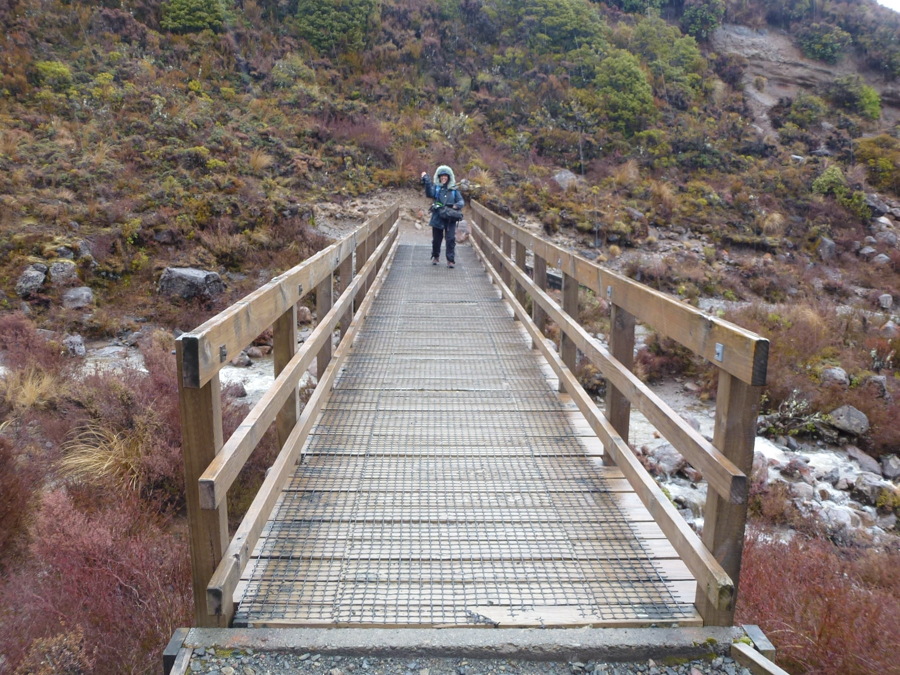 Ominous weather.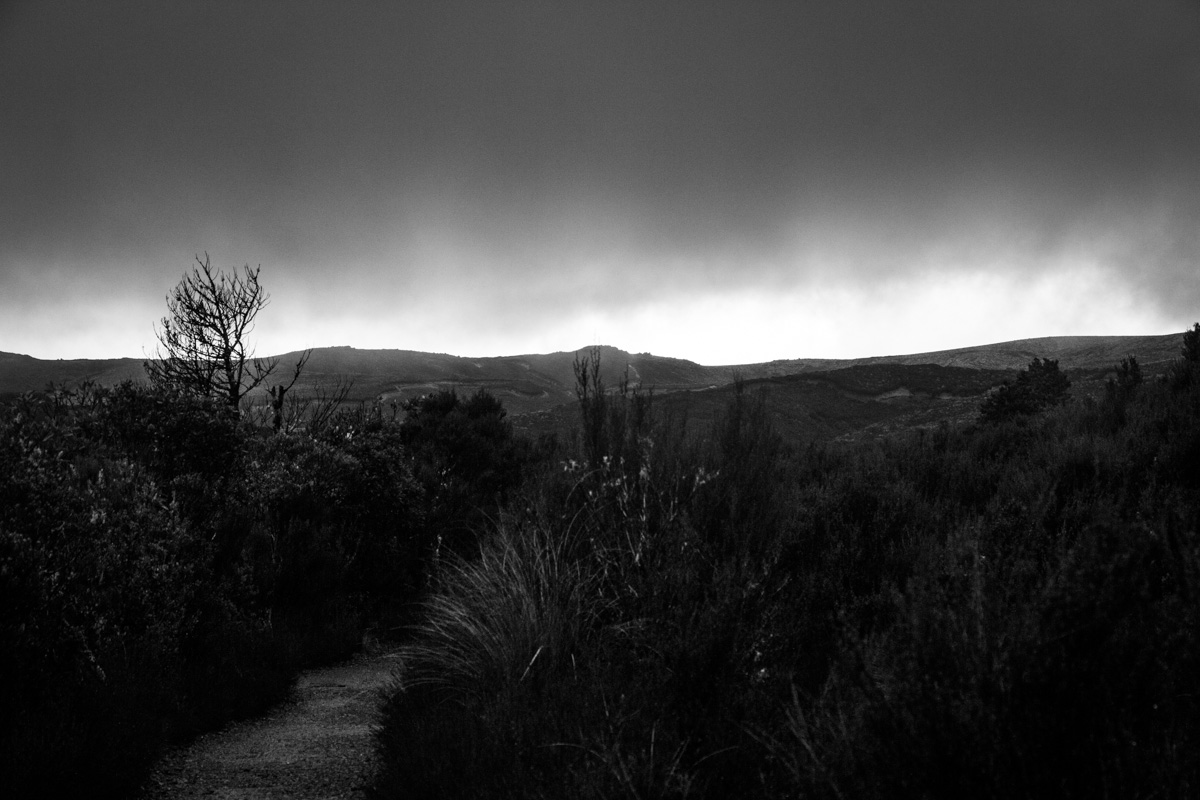 The park ranger had warned us of potential hail, and sure enough, it appeared. Photo of hail on my camera bag by Eric. Determined to see some sights with our time in Tongariro, we soldiered on.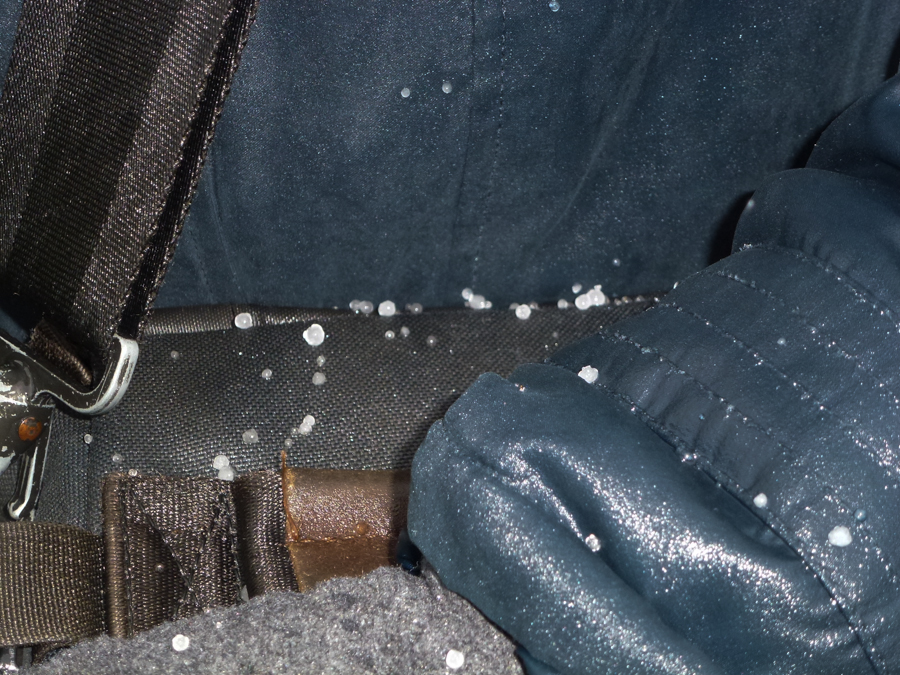 Fascinating fungi along the trail.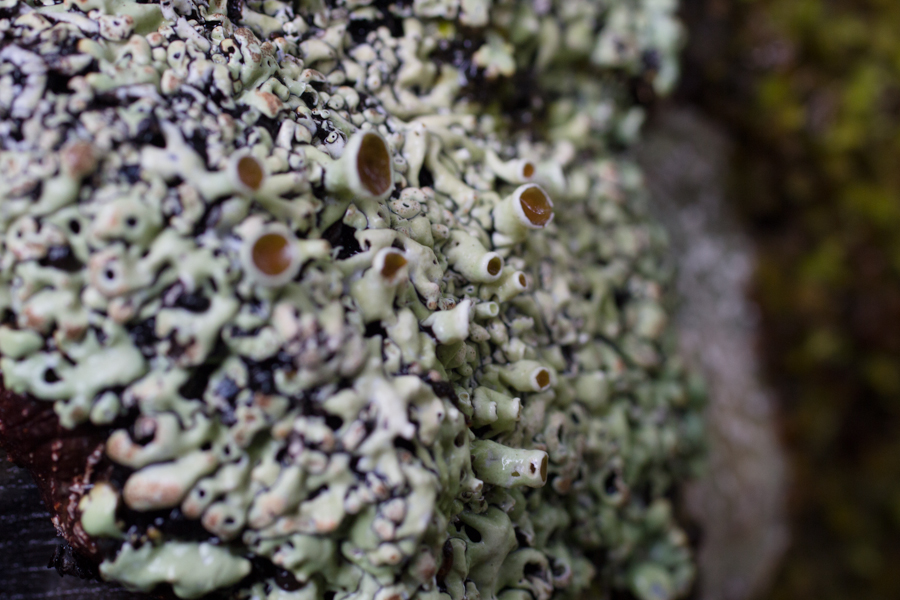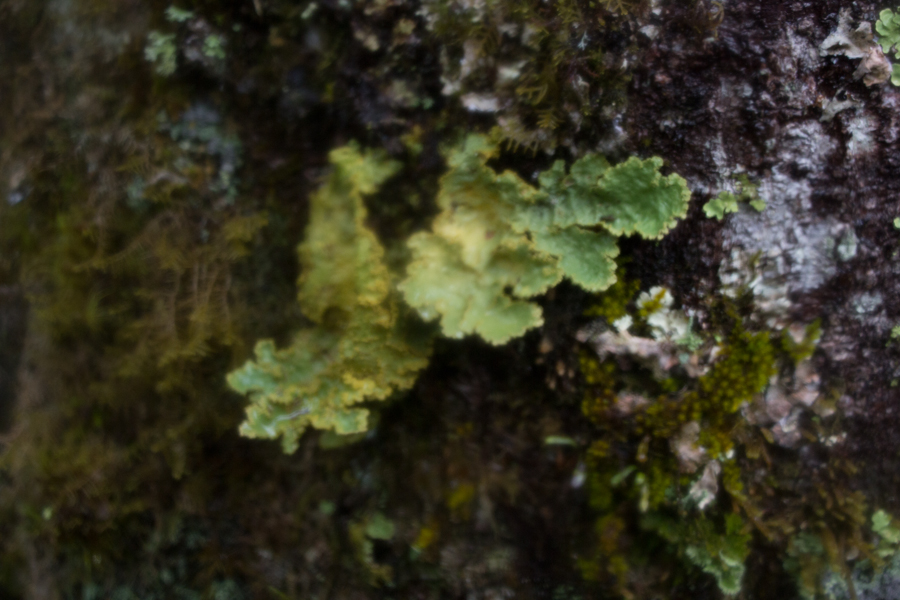 Some variety of cup fungi.
We saw a couple of unidentified waterfalls in the distance.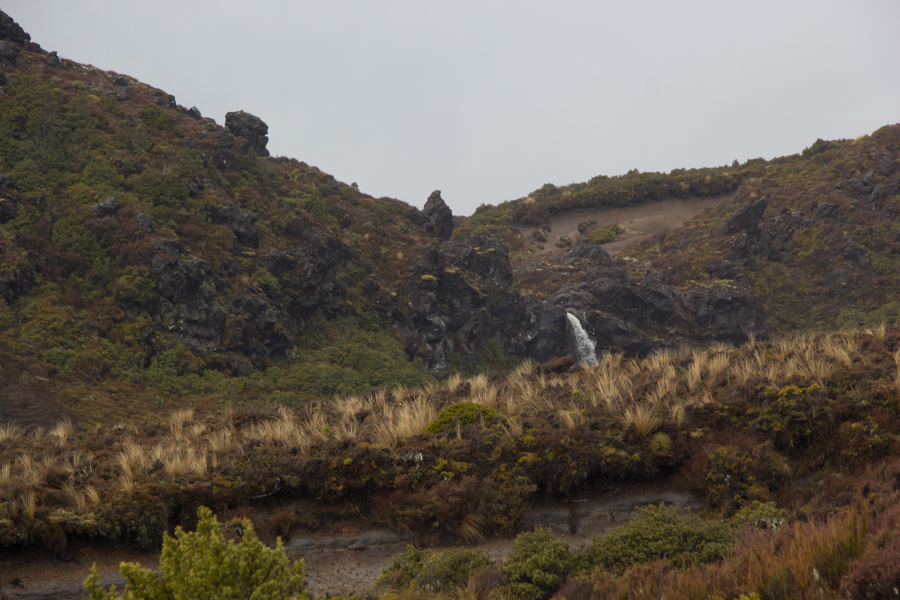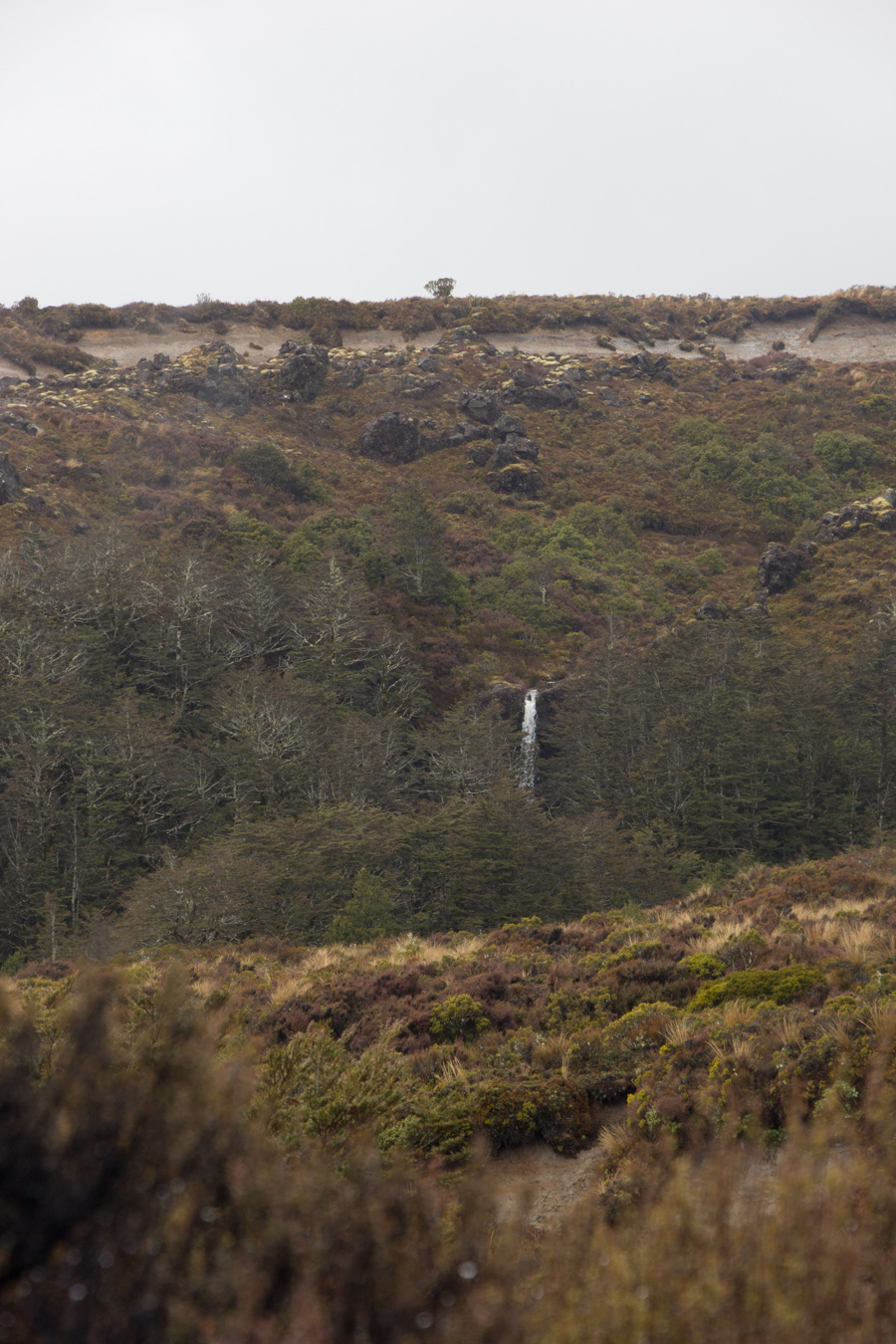 Stream running through the vegetation. I was fascinated by the variety of colors of the plants.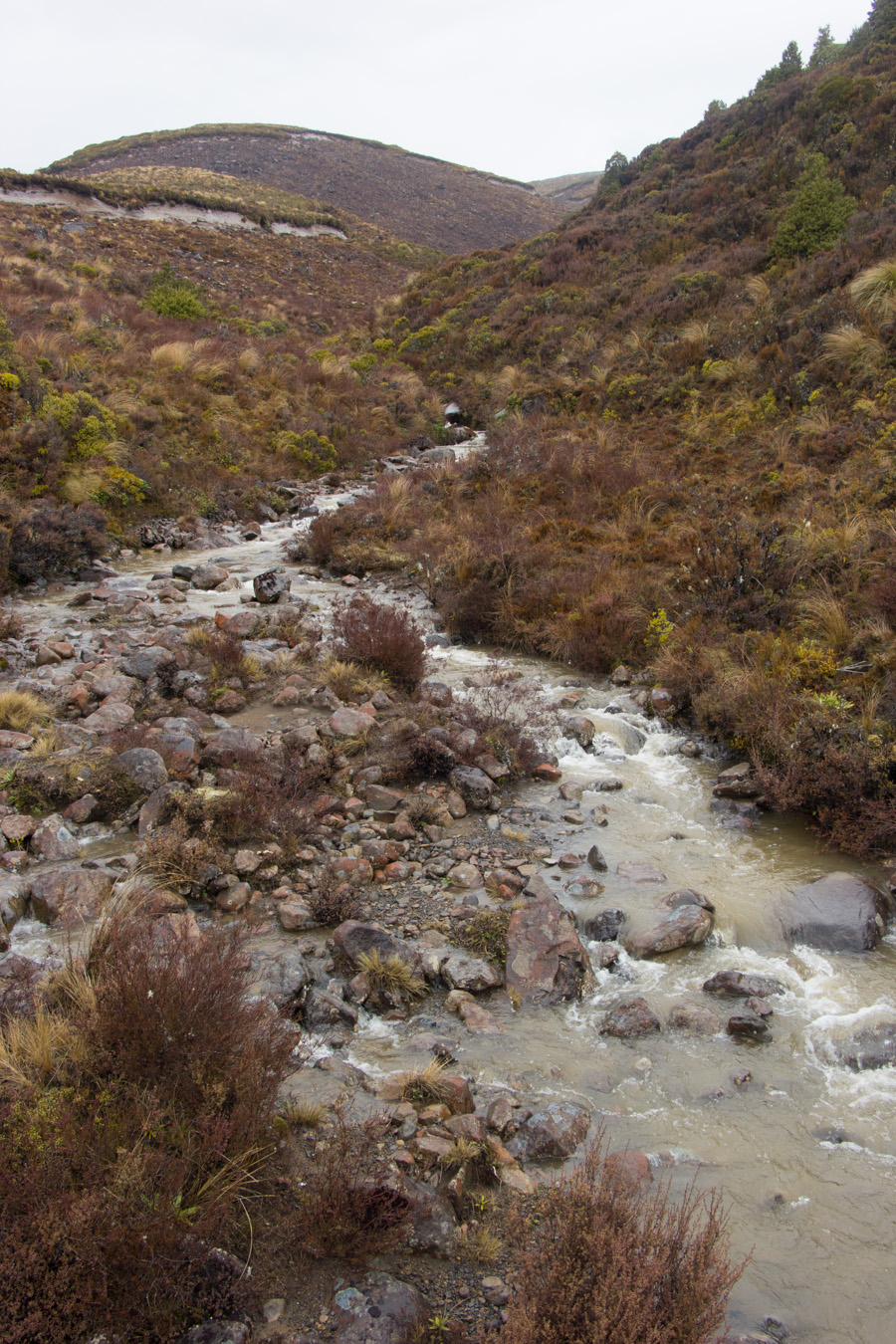 The greens were very intense.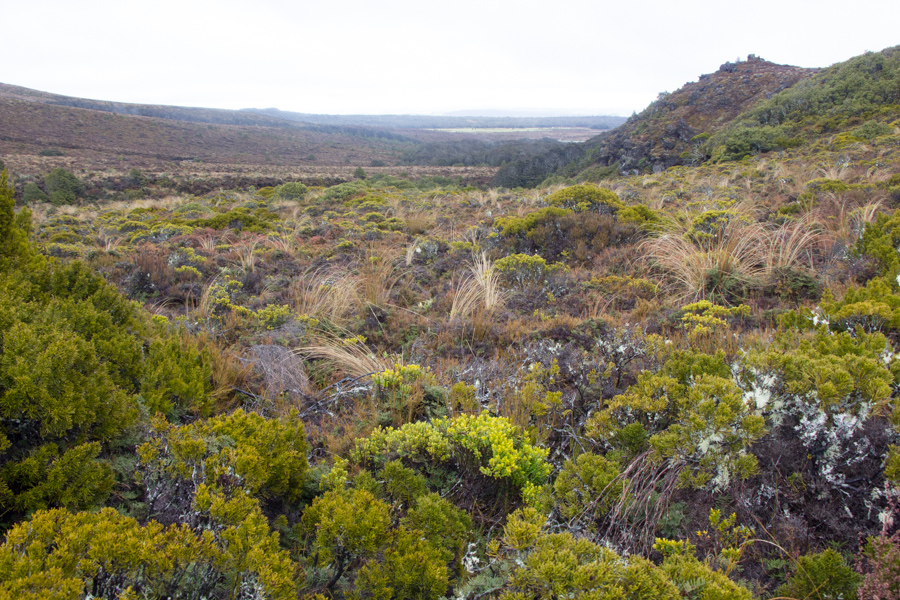 At last, we came to something that made us feel like we really were on a volcanic hike.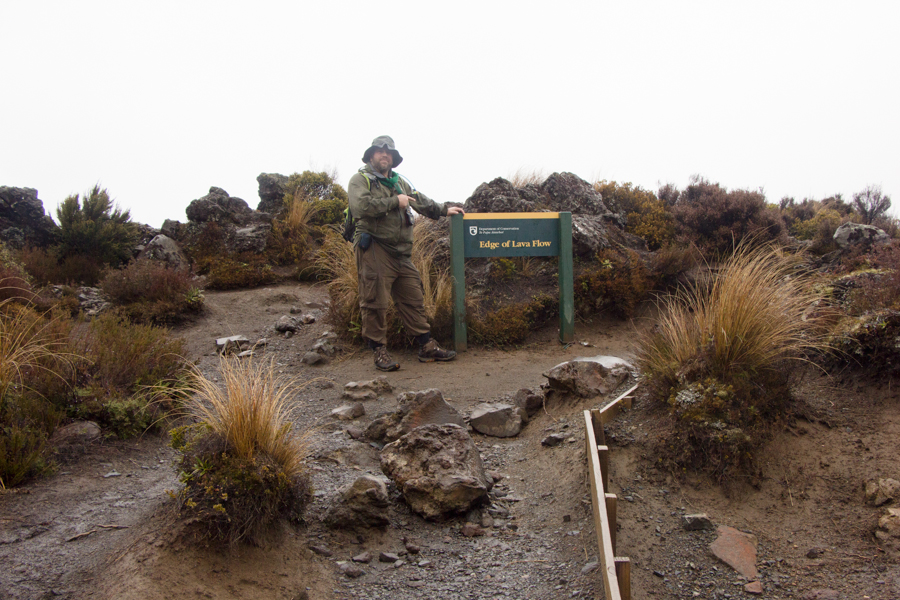 I stopped for a moment and looked down at the side of the trail, and there was just such a concentration of great macro subjects.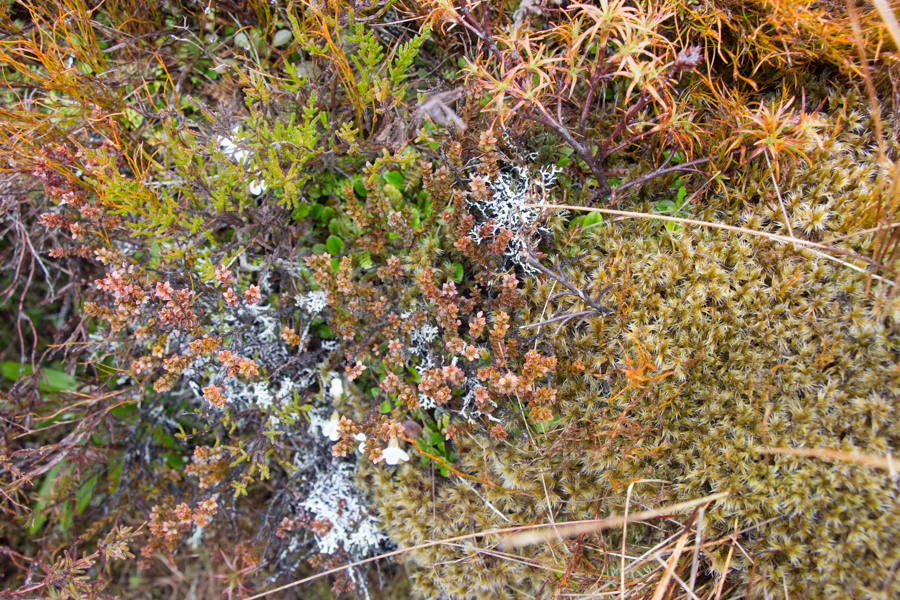 Flower detail.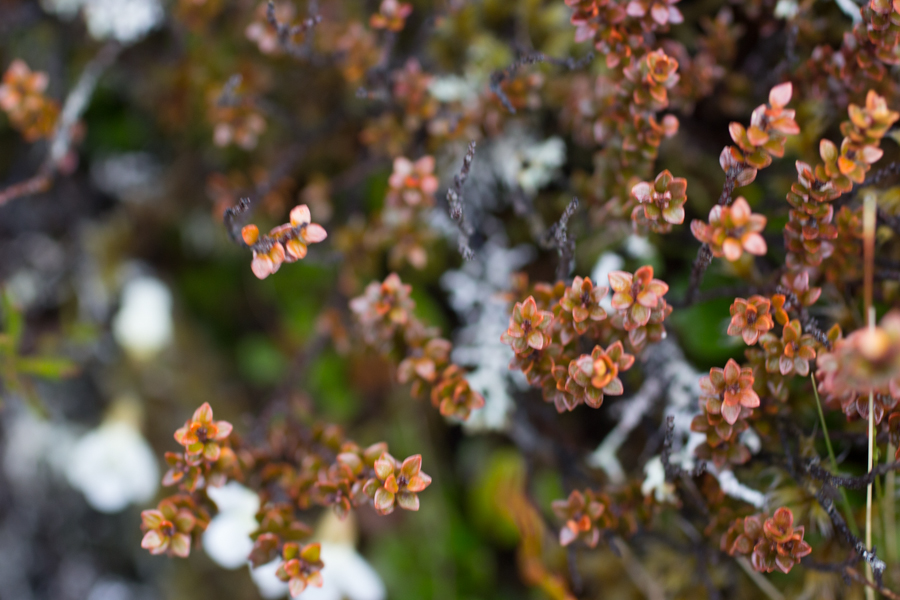 I looked at a field guide in a gift shop to try to identify some of these flowers, and I think these might be libertia.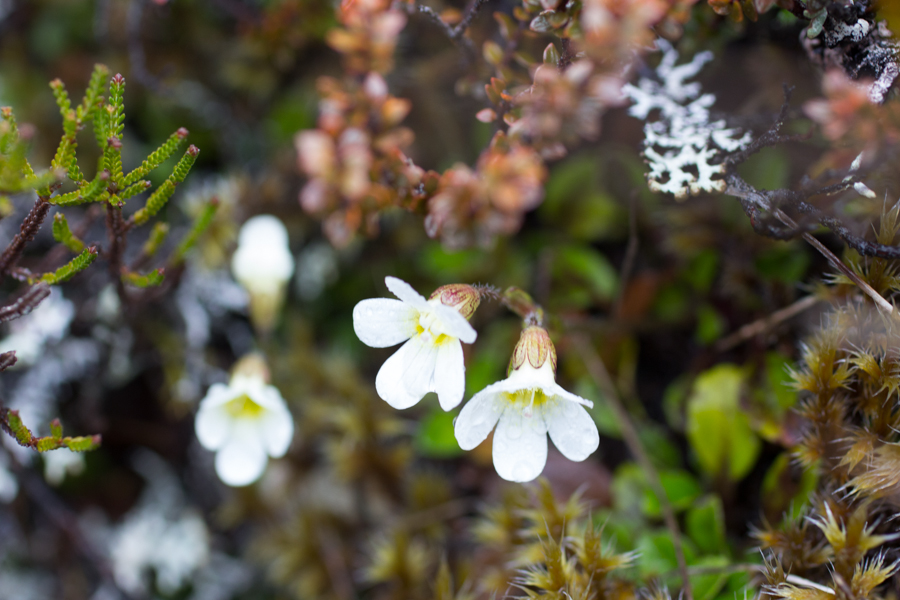 Spines.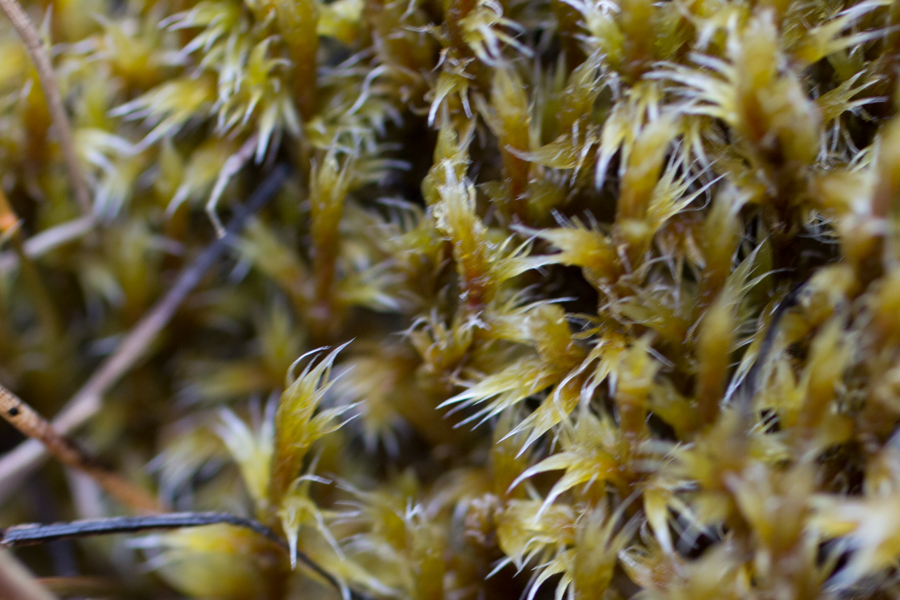 A larger, very green, plant.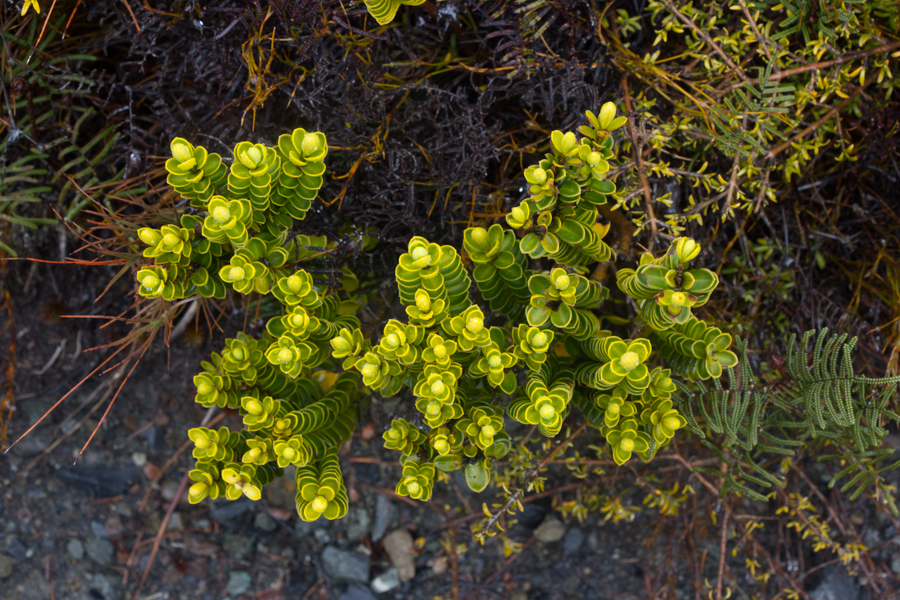 Eric's plant picture.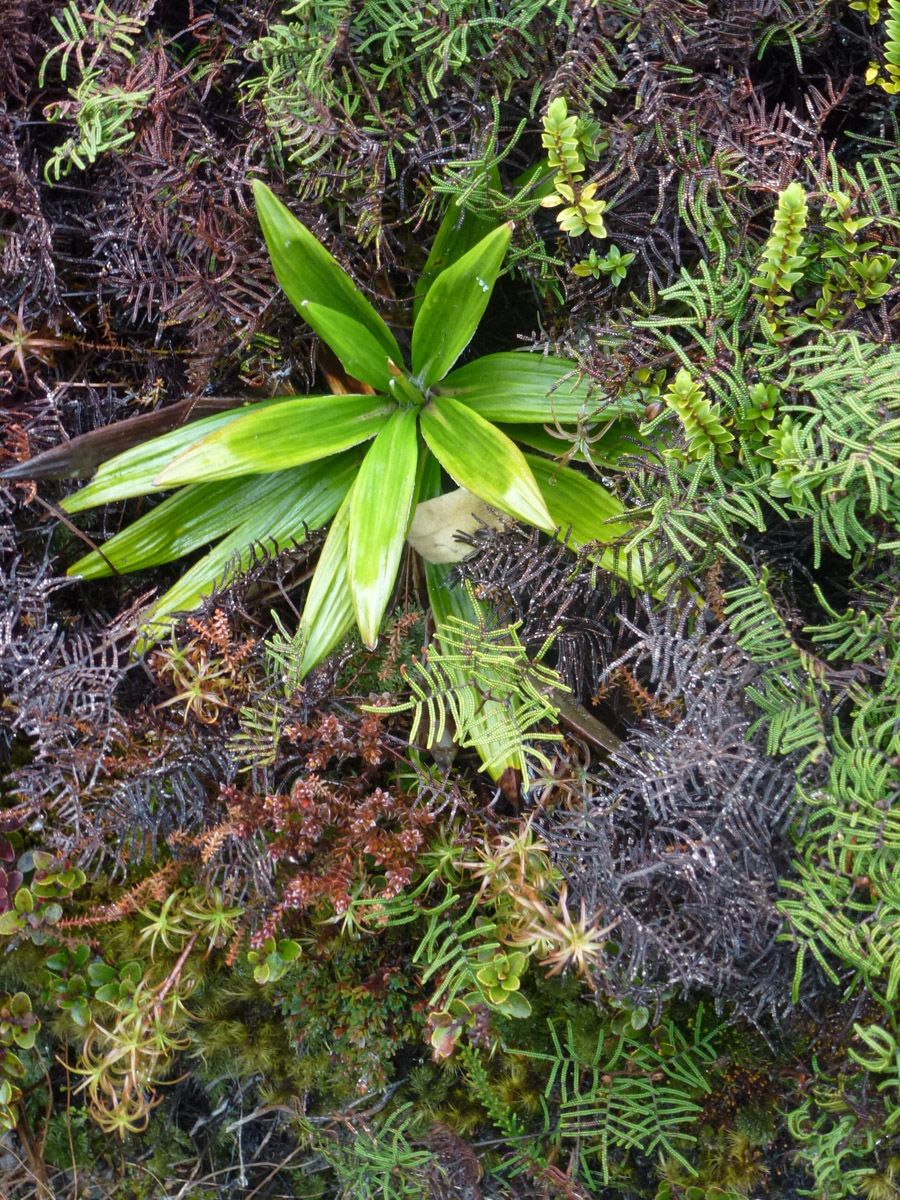 Stream along the trail.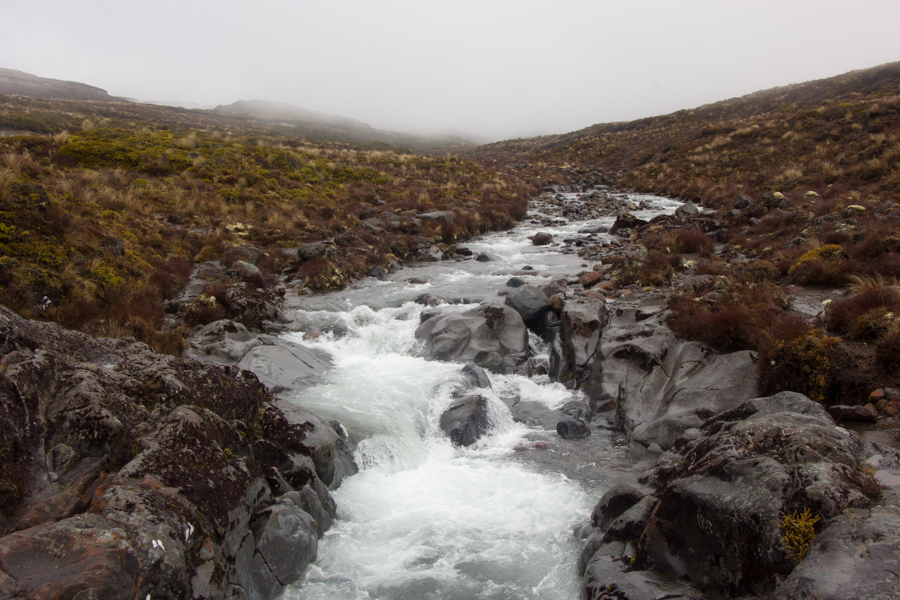 Eric took my picture hiking as the trail became more interesting on the approach to the falls.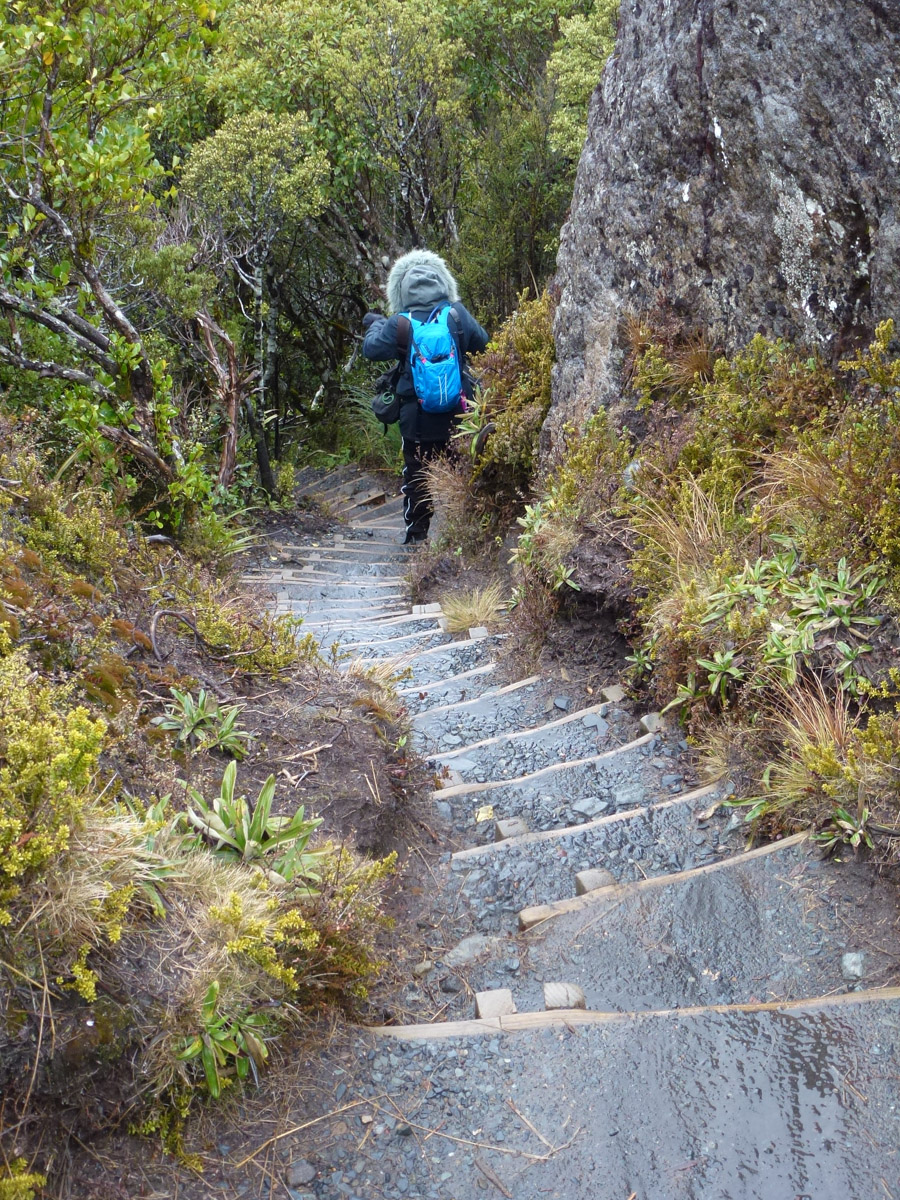 Eric took my picture in front of Taranaki Falls.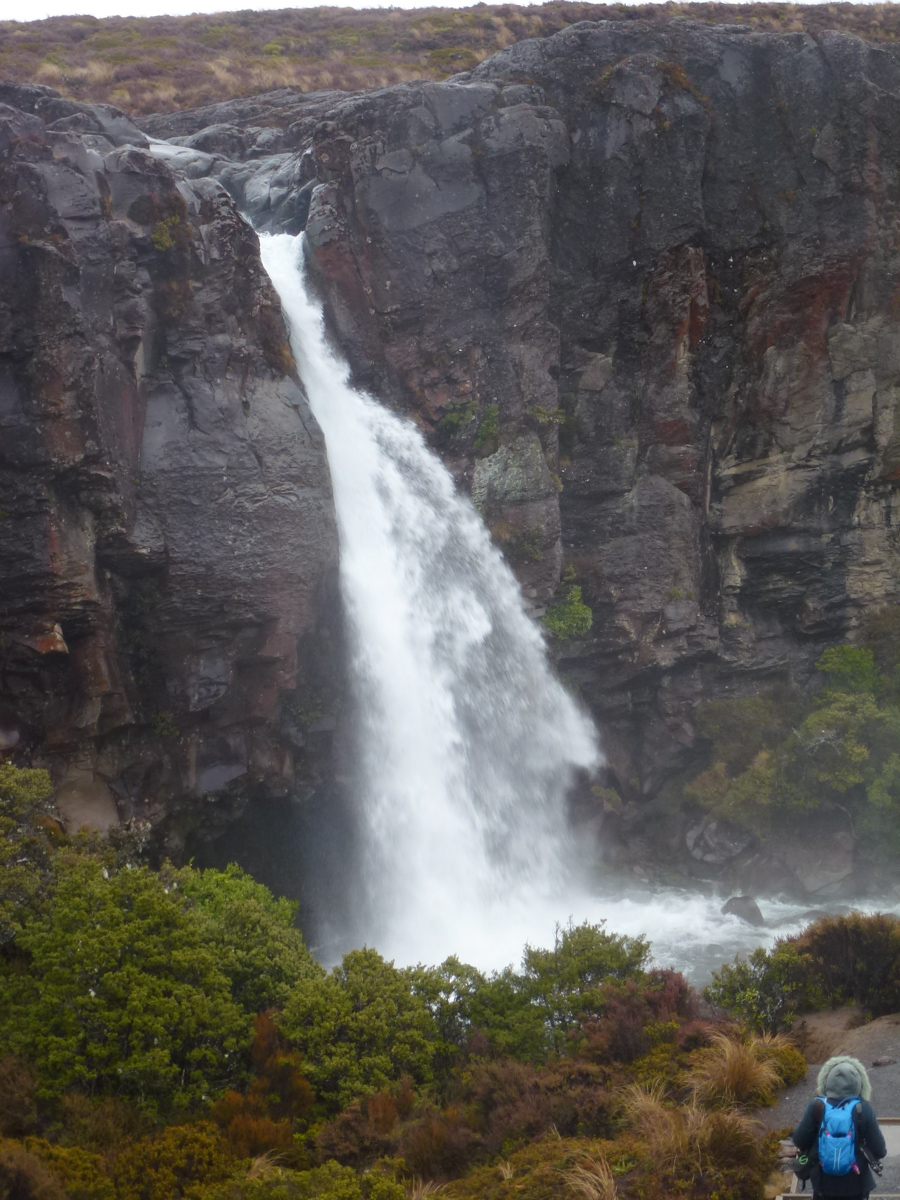 Here's where, struggling with a borrowed (carbon fiber!) tripod, I dropped one of our two lens tissues into a puddle. That made photography for the rest of the tramp much more difficult.
Taranaki is one of those falls that people get so excited about, because you can walk behind it. Walking behind a falls is not a novelty for those of us from New York's Capital District, and perhaps, given the conditions, we shouldn't have tried it. We had been somewhat wet before, and now we became very, very wet. In particular, while our feet had been relatively dry before, they became soaked here from trudging around on the rocks below the falls. Photo depicting conditions by Eric.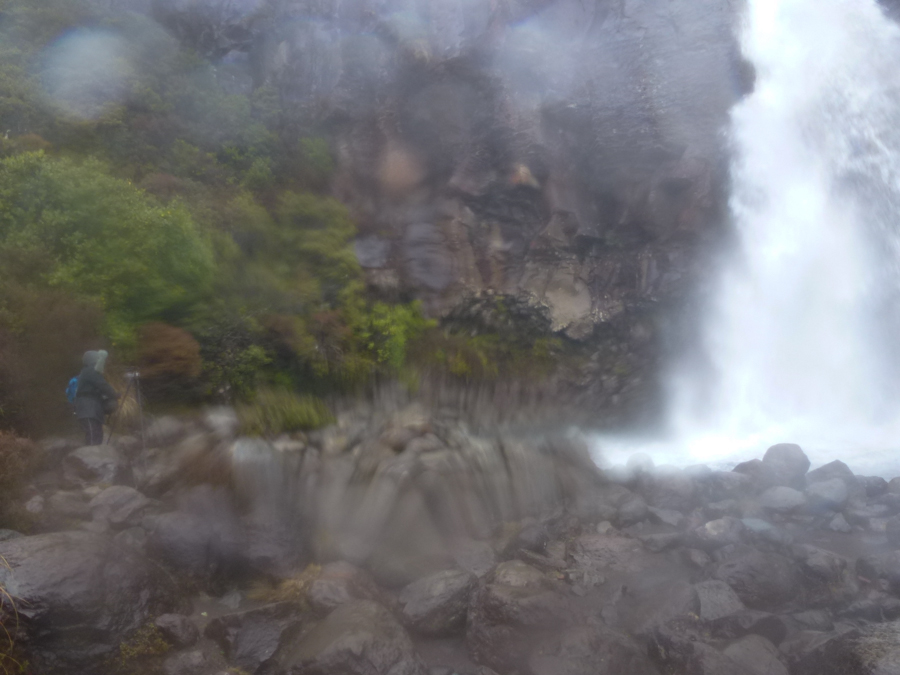 The views from back there were dramatic, though. Eric took a picture looking up at the water flowing over the top of the falls.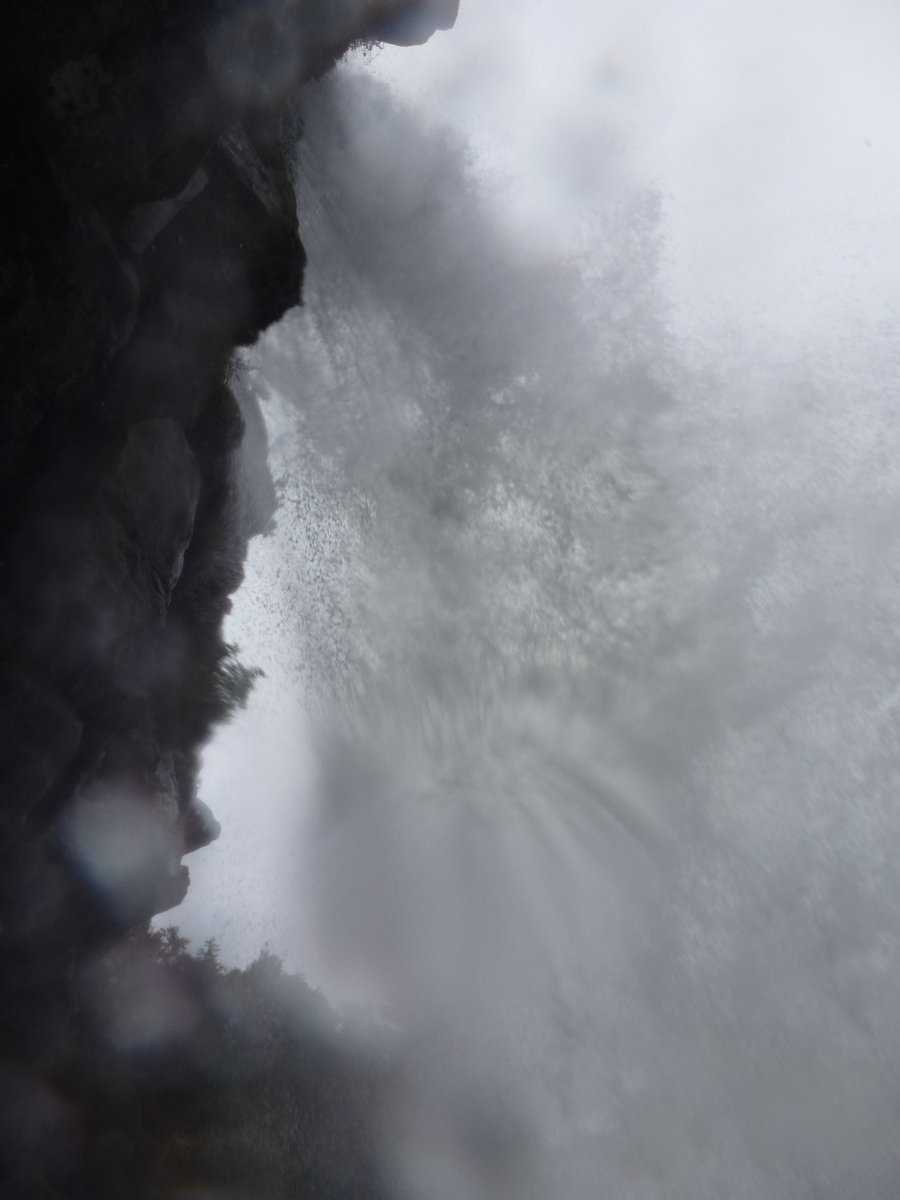 My dramatic views.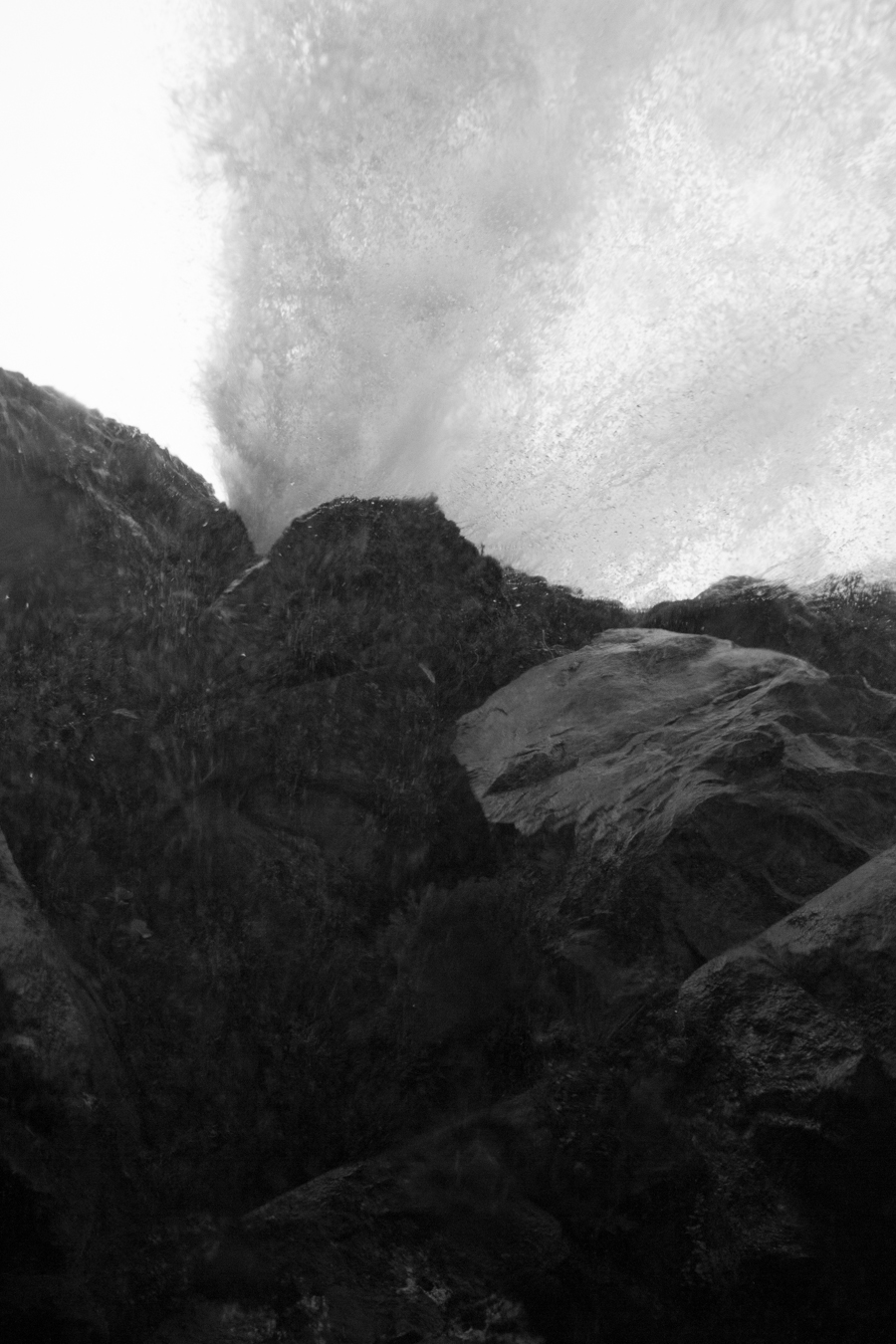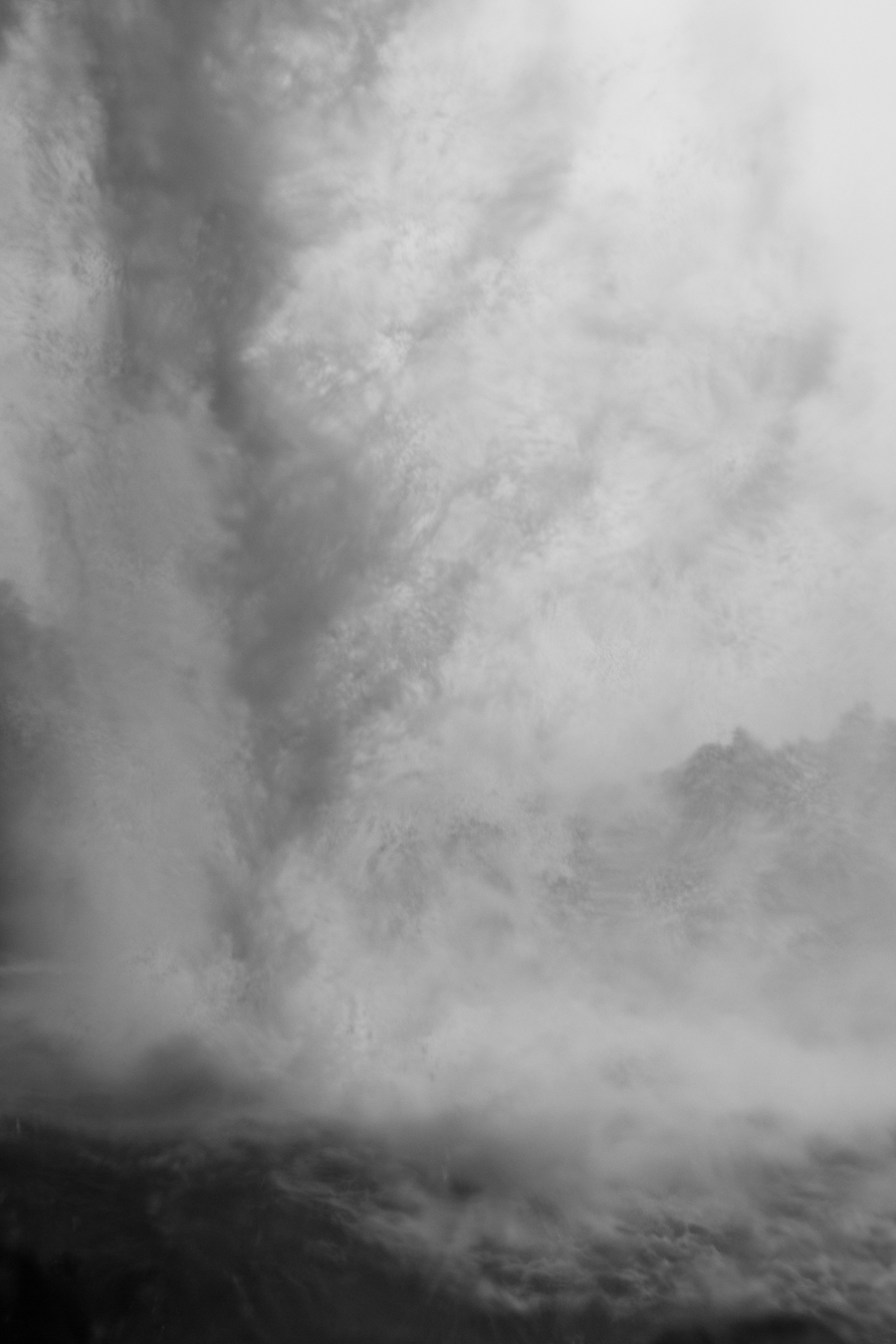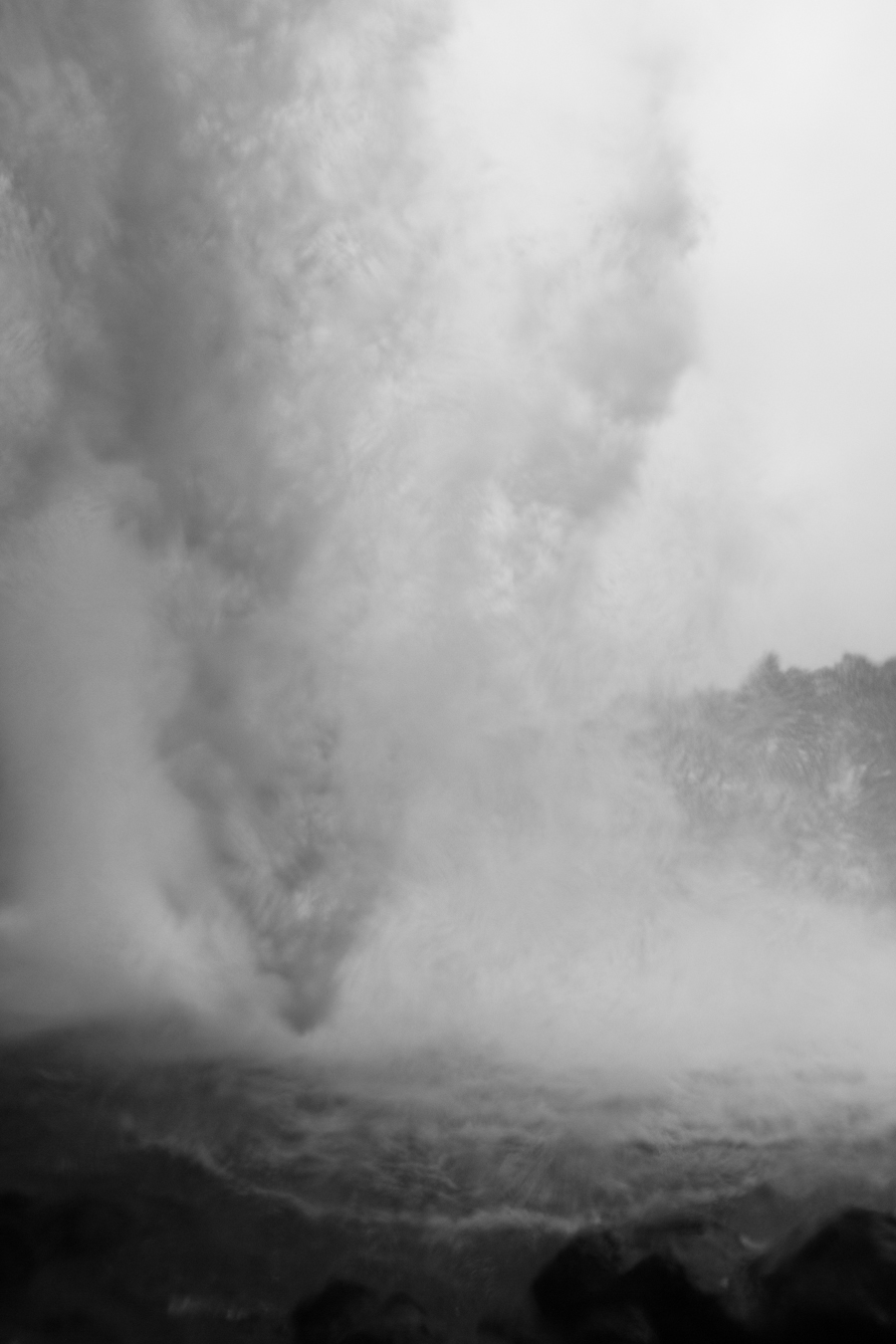 Looking back at the falls after we emerged from the wettest conditions and the rain had let up.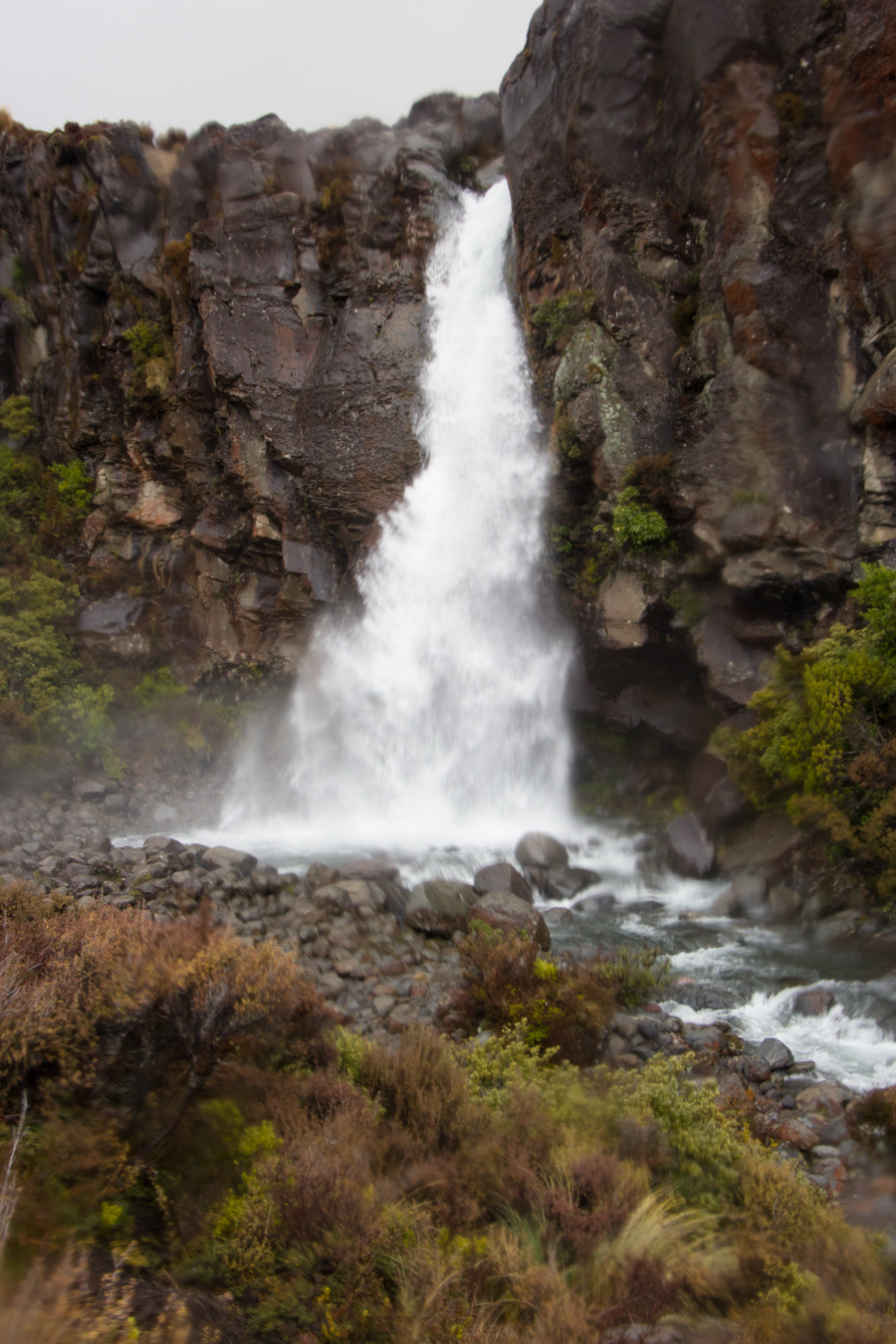 Cold, wet, and bedraggled, we made our way back to the hotel taking fewer pictures. We did stop for this stream.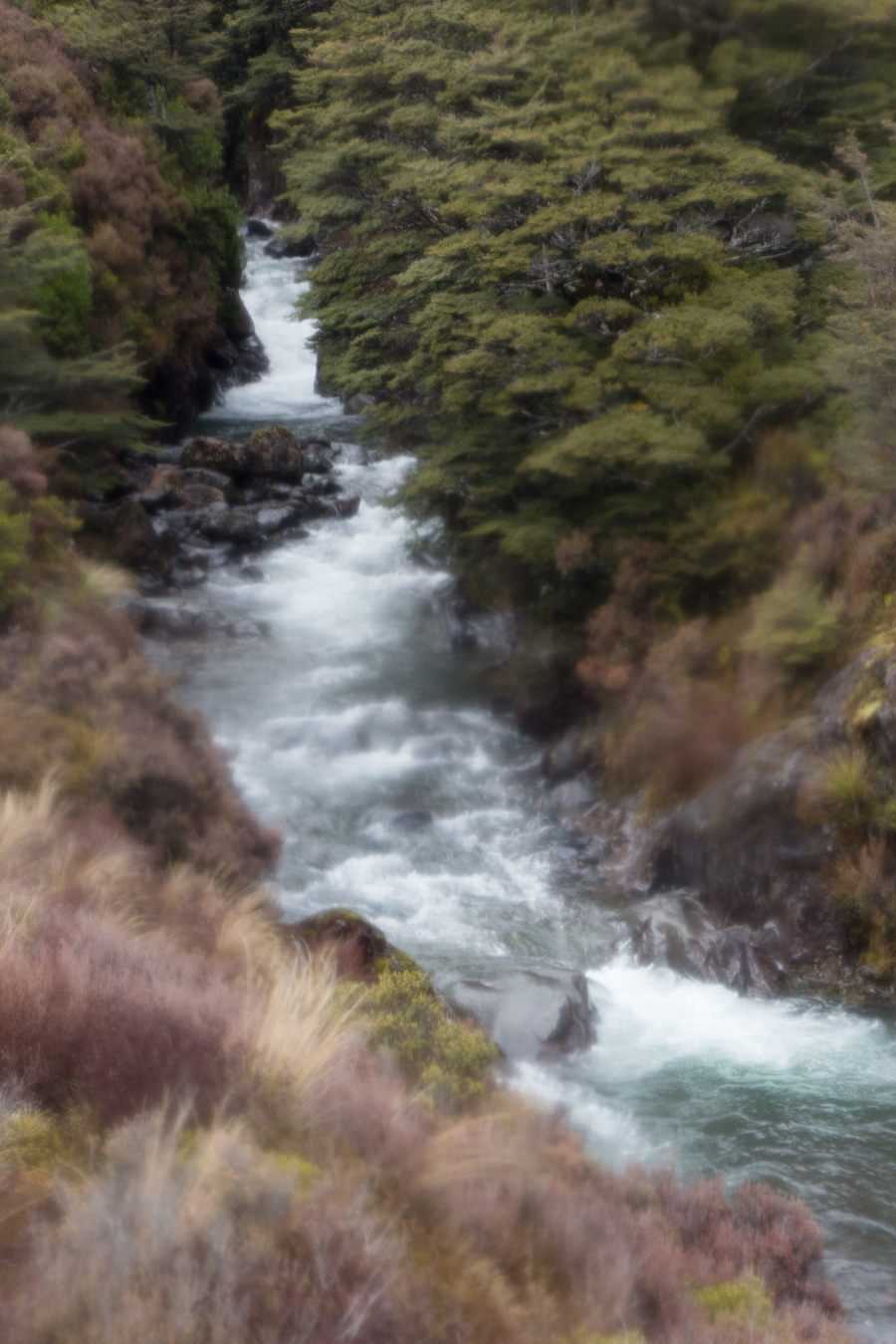 We passed a sign saying we were only 20 minutes from the trailhead, but five minutes later, the Chateau Tongariro still looked far away. Photo by Eric.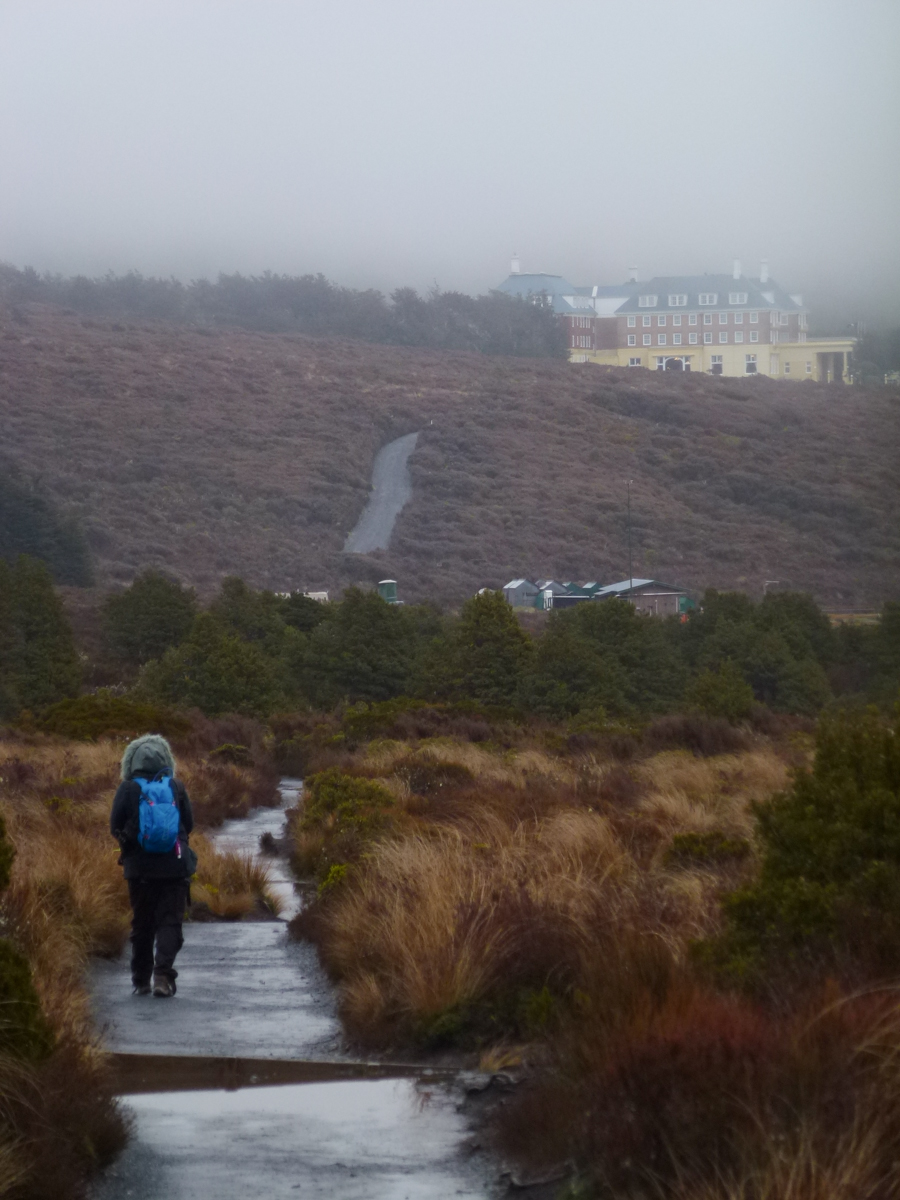 The whole 6-km trail was supposed to take about two hours; it took us about 3.25. This was a bit faster than our usual 1-mph pace. While we did not get to do the positively epic hike we had expected, we did get to do a hike we call worthy.
We stopped on the way back to the Chateau Tongariro to make a reservation for dinner at the Skotel. We recouped in our room, removing our wet layers and jumping into the hot tub. My toes were so cold that the hot water really hurt them. I think they were also suffering from boot compression. They were fortunately free of blisters.
The menu at the Terrace Restaurant at the Skotel described mountain views at sunset so dramatic that guests would abandon their dinners and run for their cameras. Not so for us. We just watched the clouds get darker.
On the way out of Tongariro in the morning, Eric took a picture of this hilarious kiwi sign.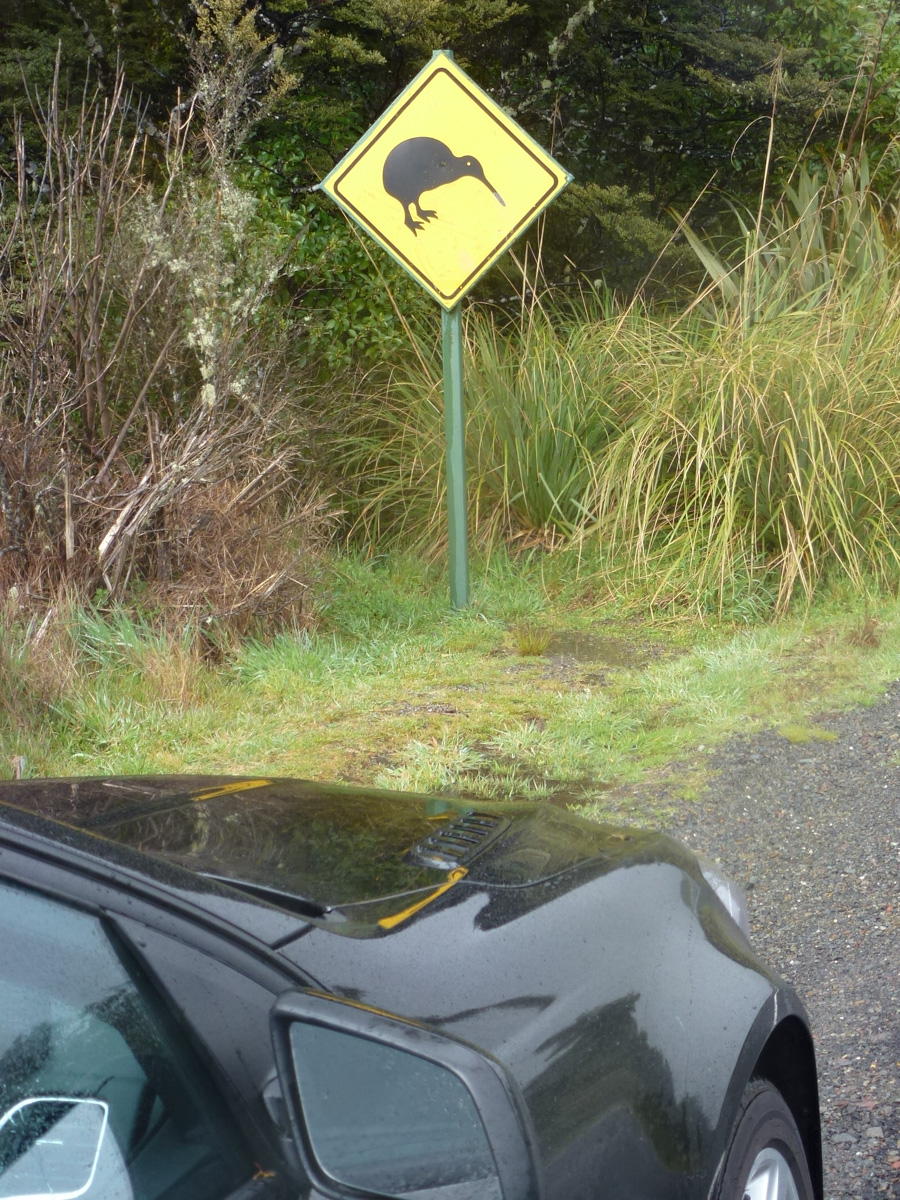 So, we managed to salvage a worthy national park visit in spite of difficult weather conditions. And we had a lovely anniversary celebration.
On to Wellington.
---