---
Fiordland National Park/Milford Sound Part 2
Wednesday 16 November, 2016
Milford Mariner Overnight Cruise, Part 2
Stirling Falls.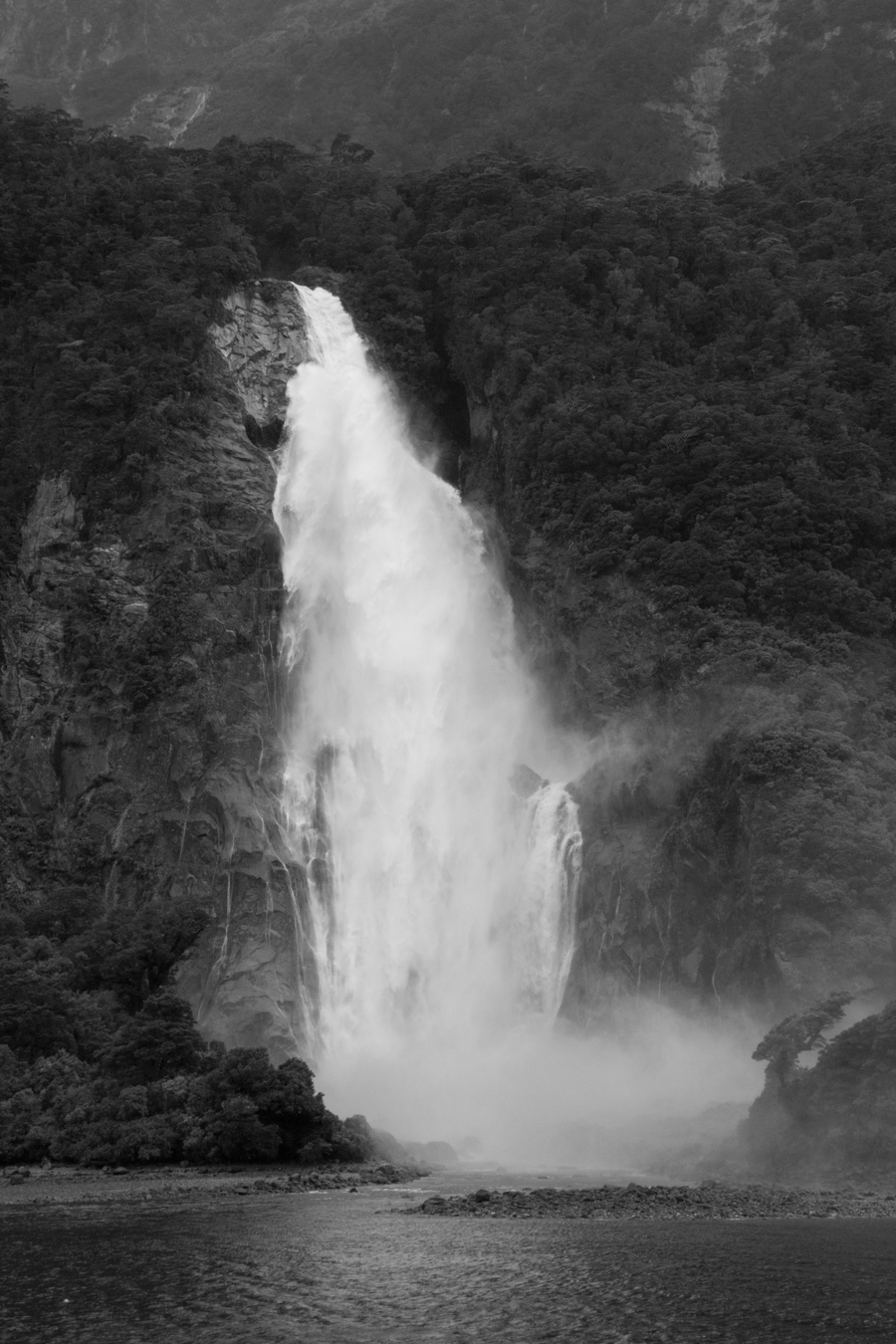 Milford Sound is small enough (16 km deep) that the overnight cruises are kept stationary overnight. We woke up early for a great cooked buffet breakfast, and soon the boat started moving out into the fjord.
Waterfalls are the major attraction.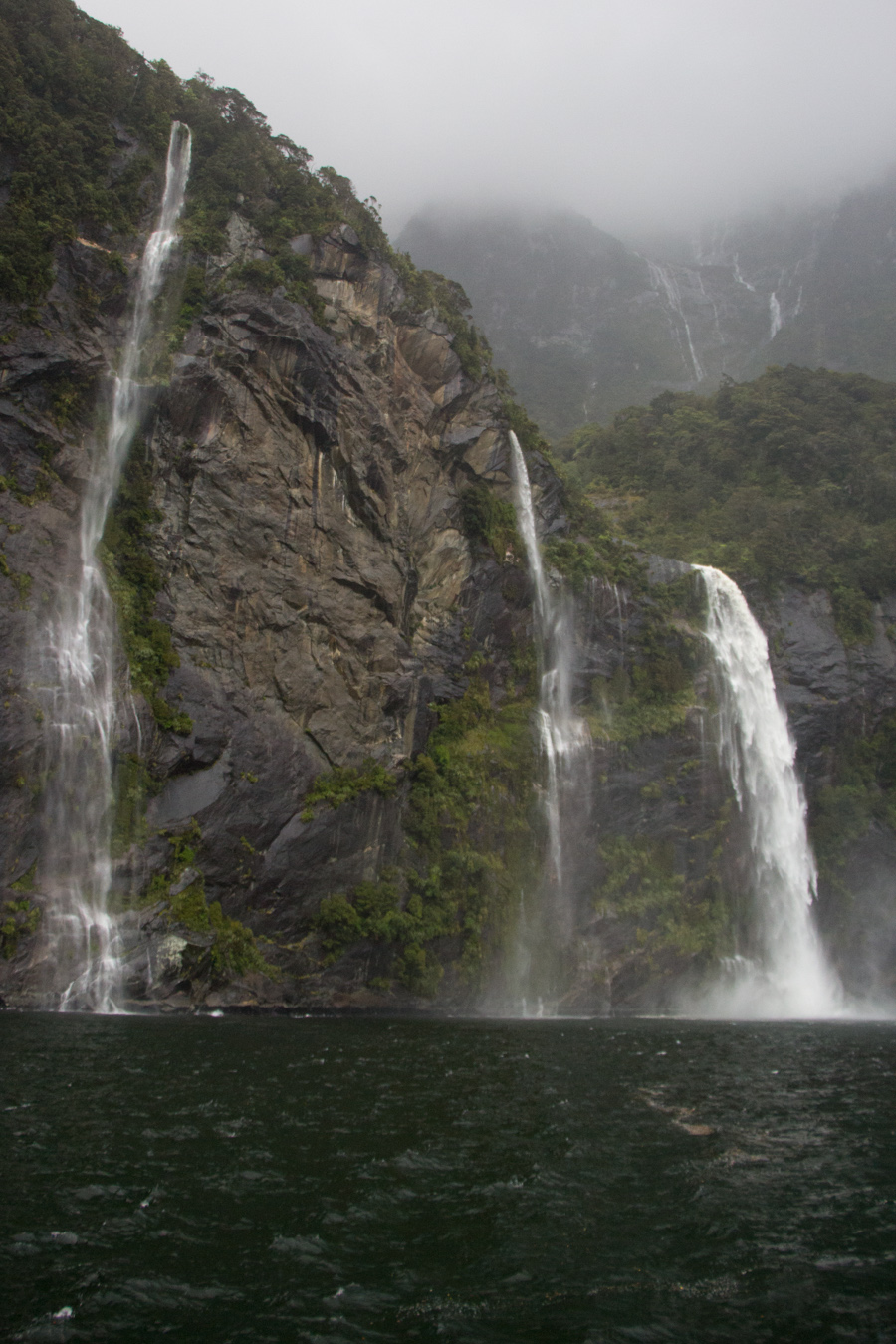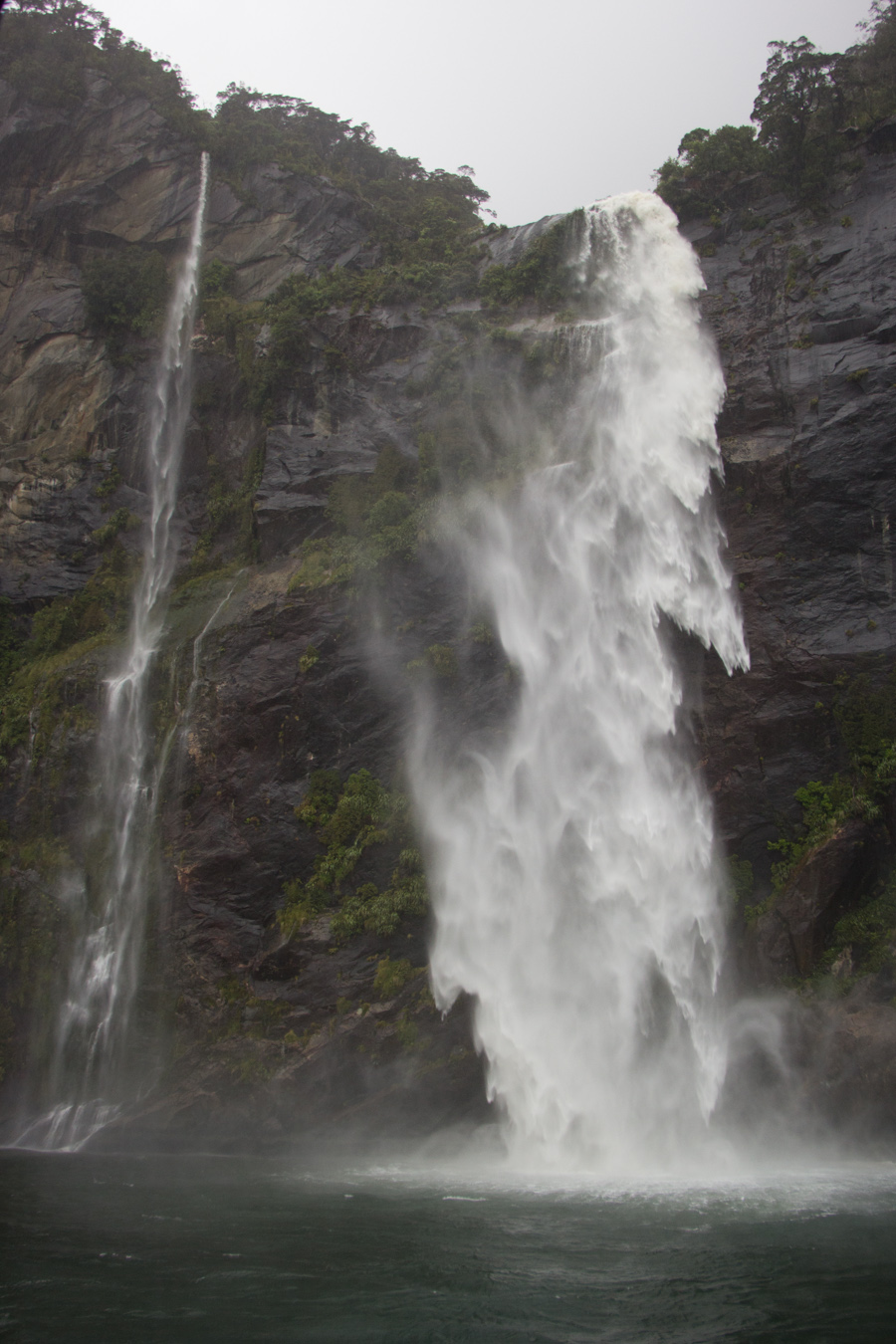 As we headed out into the Tasman Sea in the direction of the West Island (sometimes called Australia), I took a picture looking back into the fjord.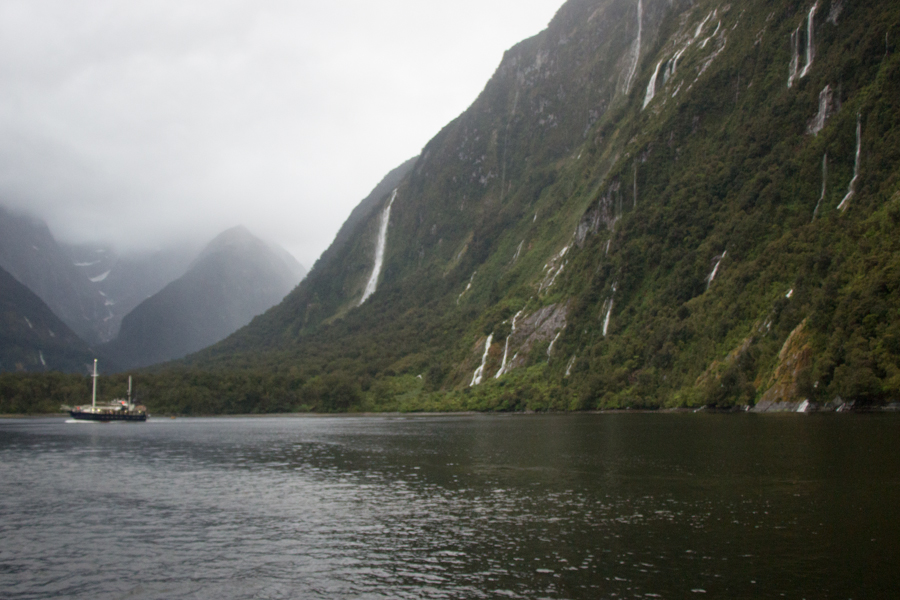 The outside edge of the fjord, south side. Out here, it was actually not raining. The weather systems come in along the fjord, then hit the wall of mountains and drop all of their rain. It's a lot like Seattle or the Willamette Valley.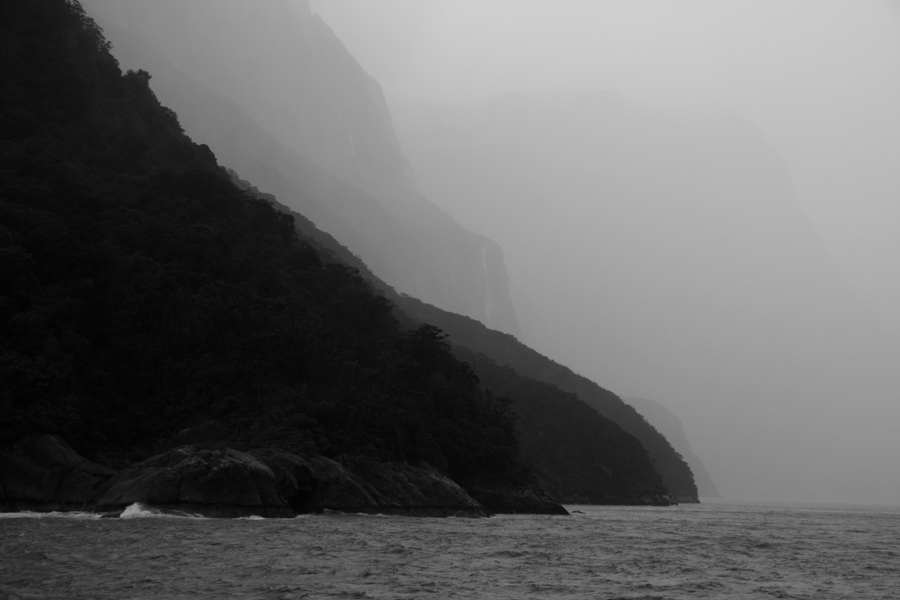 Outside edge of the fjord, north side. When conditions are right, the ship sails out here, but they weren't right on our trip.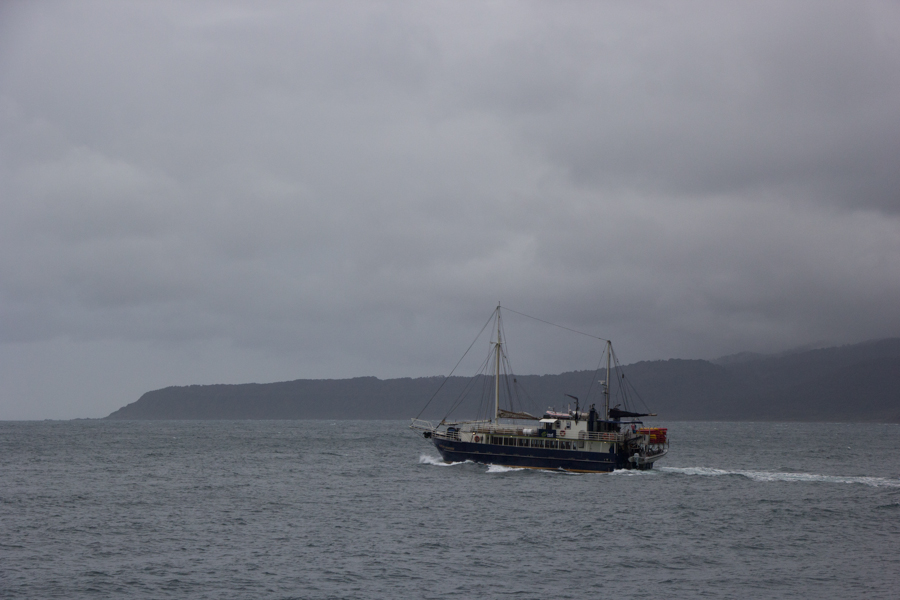 Our guide, Blair, pointed out this Takaawai Greenstone, the rocks just at the water's edge. The stone is only found here in Milford Sound. It was precious to the Maori, who used it for jewelry.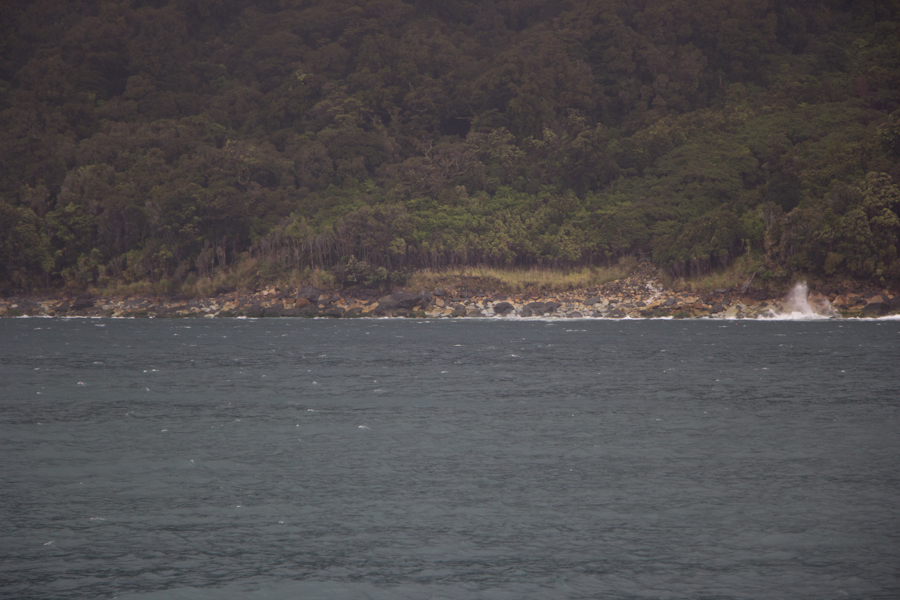 Eric's picture of the fjord.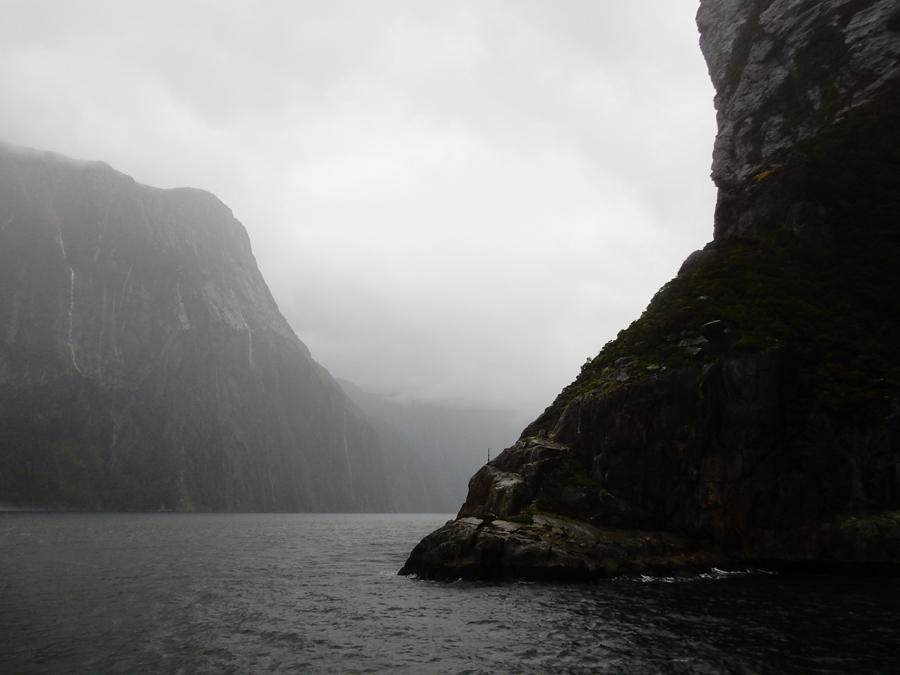 Eric took my picture standing on the bow in the weather.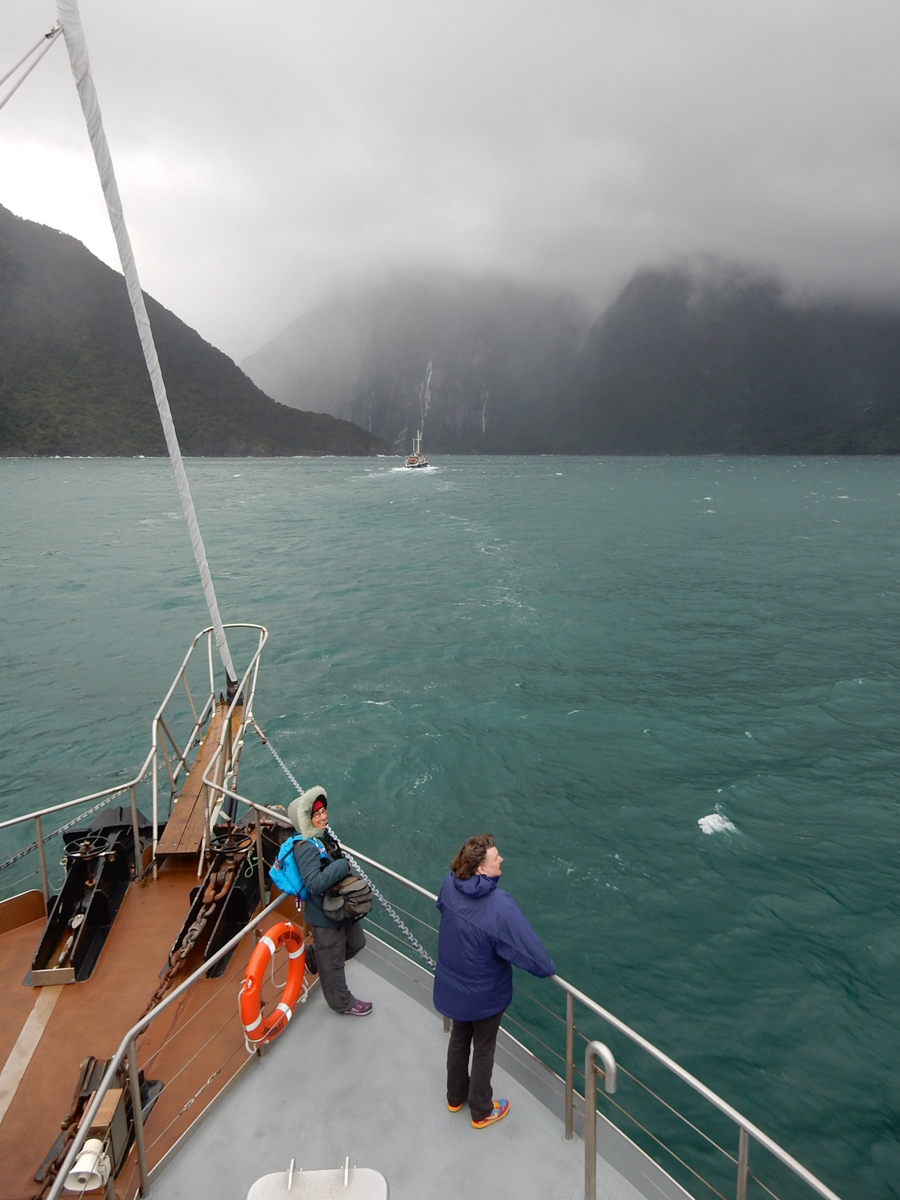 He took some waterfall pictures, too.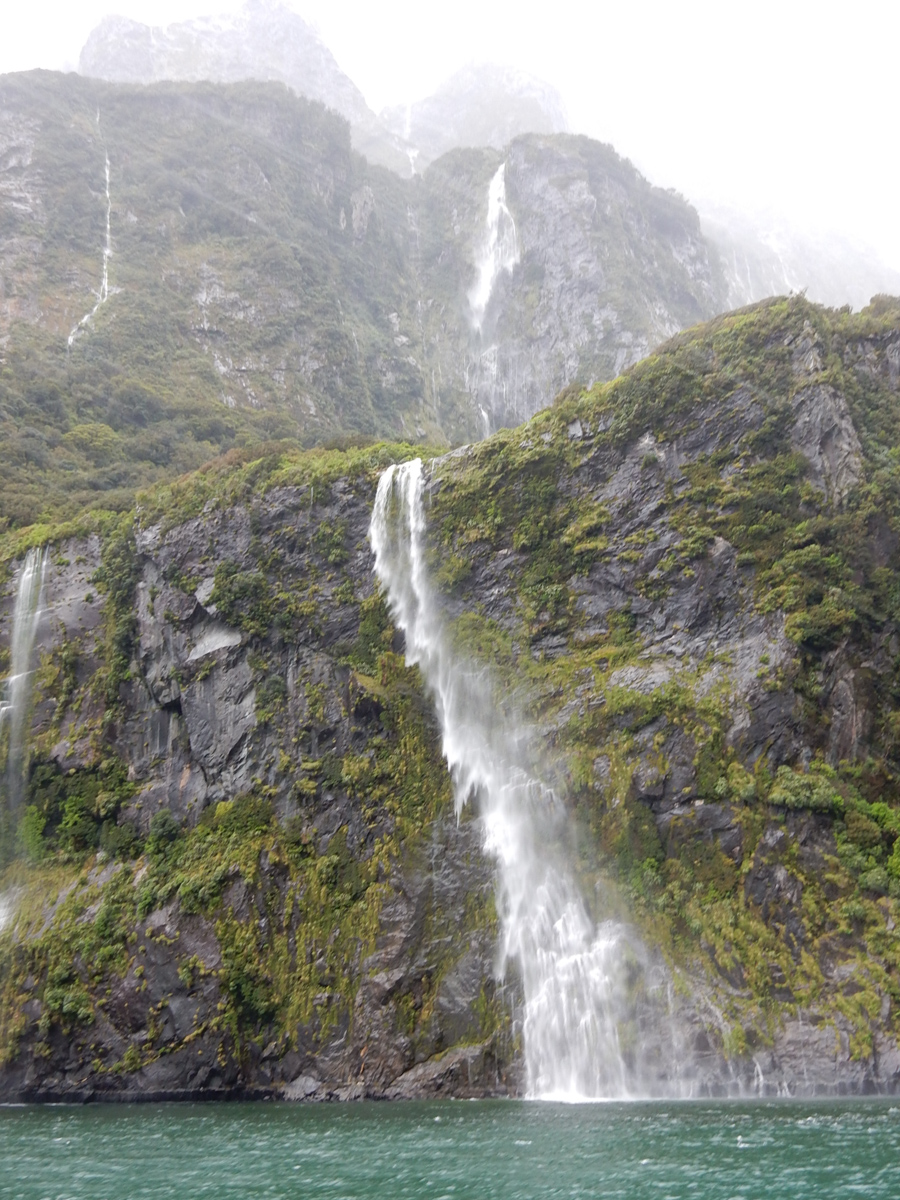 He also took this picture, showing the height of the fjord's walls.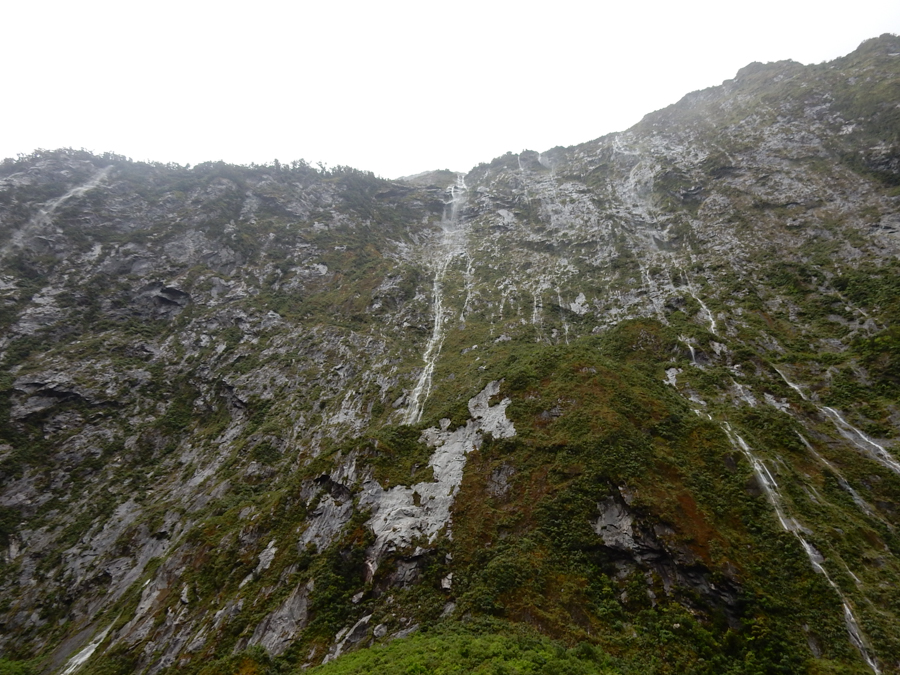 Blair pointed out some more Fiordland Crested Penguins in the water. At last, I was able to capture a minimally decent, but still not very good, image.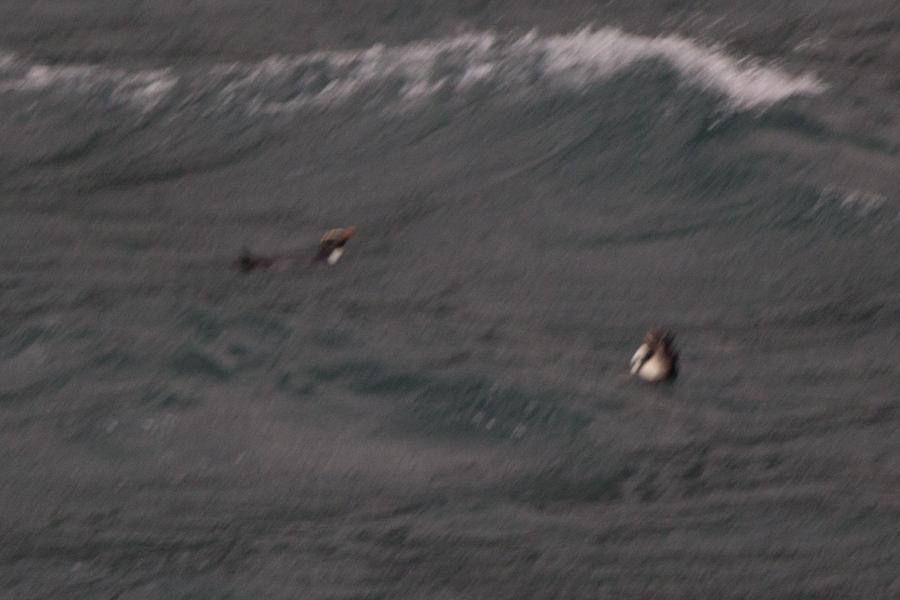 Another boat going under Stirling Falls for the glacial facial. Apparently, they all do this.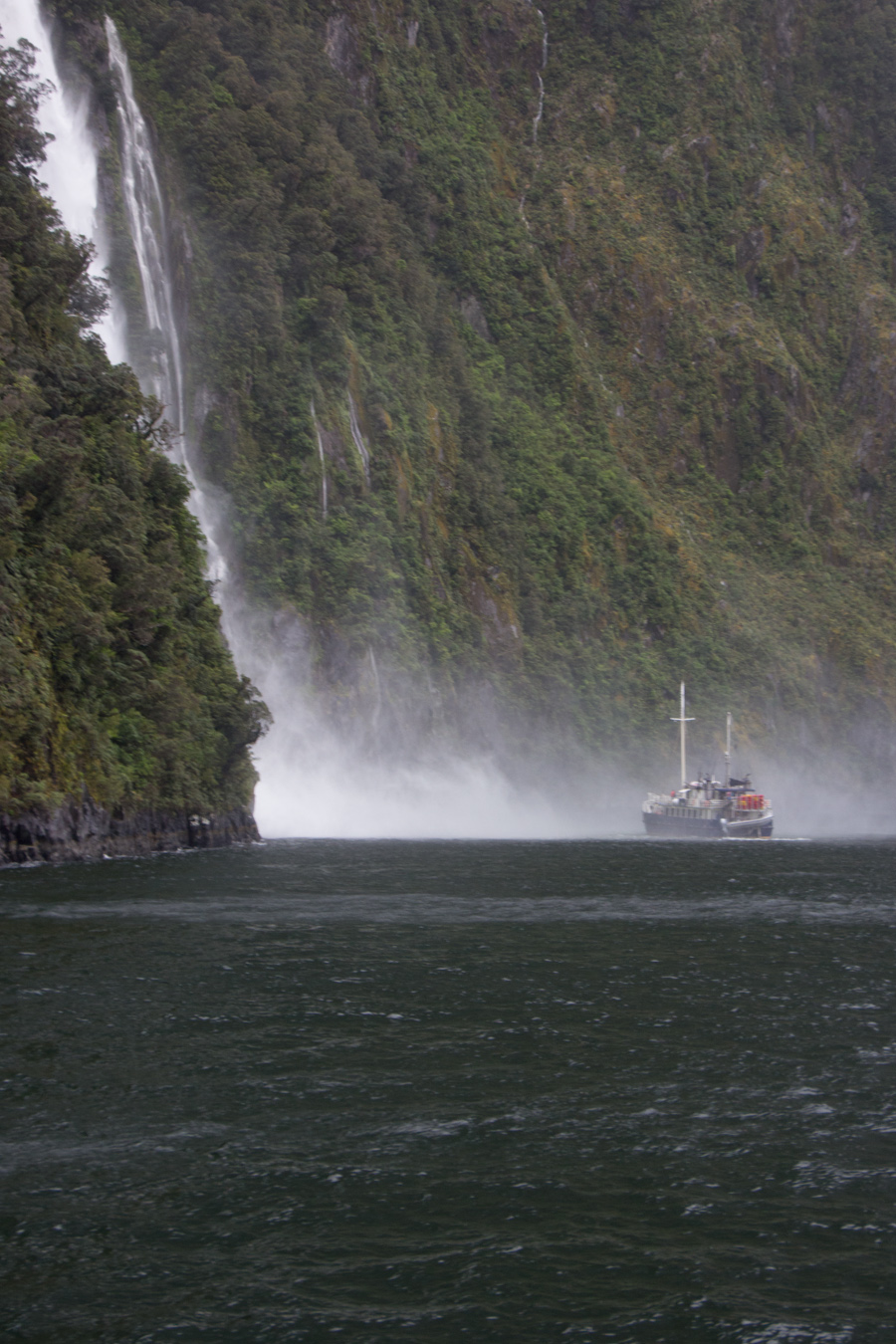 We went under Stirling Falls as well. I took shelter on the other side of the boat, but one young man let himself get very wet. With no wetsuit.
The Milford Mariner dropped us off around 9:00. We had only to drive back to Te Anau for the rest of the day, plenty of time to stop off for scenery.
This is where things began to go wrong for us. Eric couldn't find his rain hat, the Seattle Sombrero. We had hoped we would find it in Fenway, but it was not there. We drove back to the other harbour to drop off a scarf with which I had inadvertently run off, and to see whether the Descend Diving crew had found Eric's hat. The crew was not there; apparently they had had to cancel the trip for the day. I left the scarf next to the electric kettle. We drove back to the Milford Mariner, and they let me run in to check our room to see whether we had left it there. No sign of the hat. I had been the one to check the Pacific Runner before getting out, and somehow missed it in the rush. I felt responsible for its loss. We definitely needed rain hats in New Zealand, and we were both upset.
It turned out that Simone had found the hat and dropped it off at the Real Journeys (operators of the Milford Mariner) desk in the terminal. If only we had thought to check there. We didn't get Simone's message until it was too late, as we didn't have any connectivity until we were back in Te Anau.
The motel in Te Anau had this interesting poster, with some Maori thoughts about Milford Sound. Note "Hinenuitepo ensured mortals would not linger by unleashing Te Namu (the Sandfly)." As soon as you stopped moving, the sand flies were everywhere around you. Eric was covered in bites.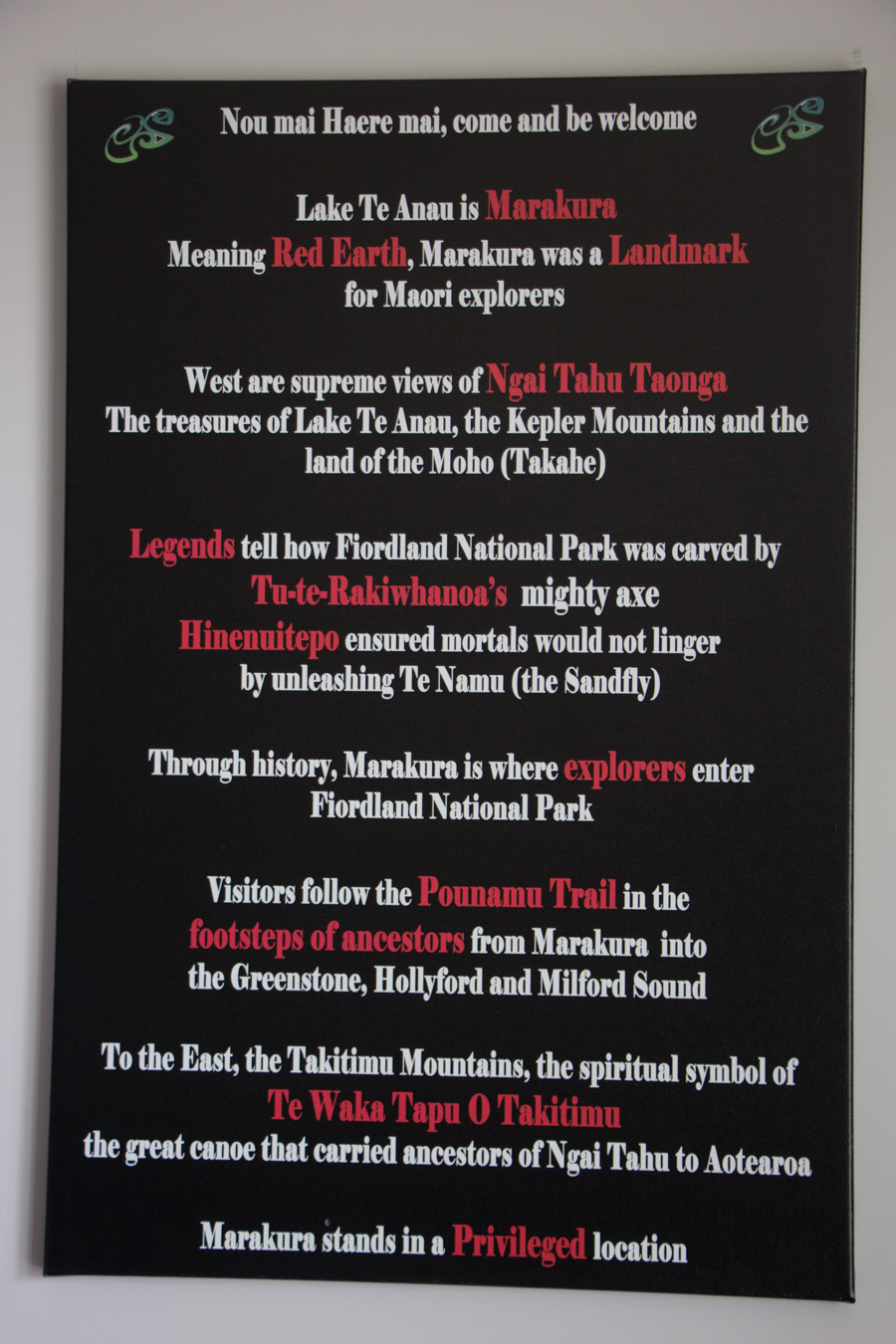 The Chasm
We headed out of Milford Sound on the Milford Road back to Te Anau. Our first stop was the Chasm, a fascinating geologic site.
In the parking lot, we saw the Kea, an endemic genus. Supposedly, this bird is vulnerable.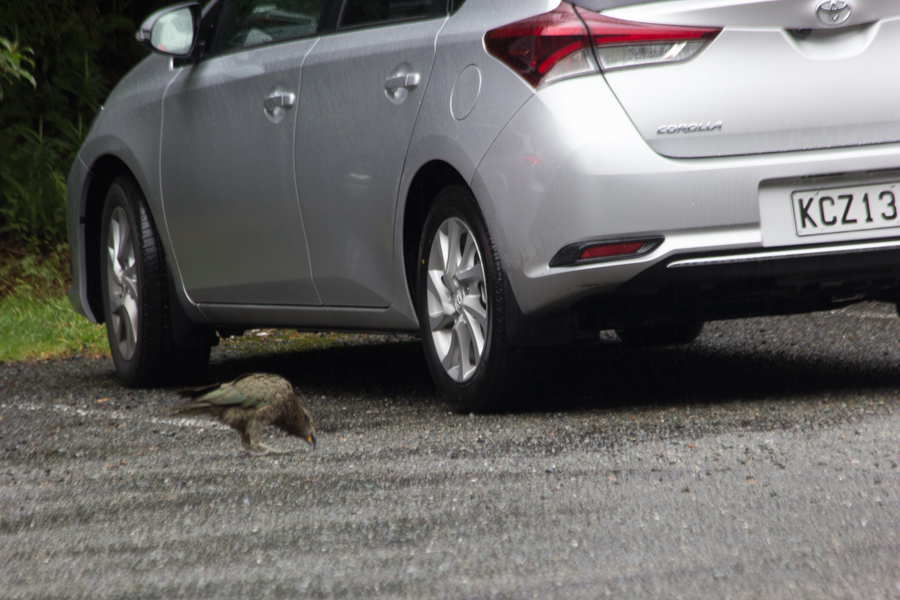 I don't know why I was taking pictures with a telephoto when the bird was walking right up to people getting into their cars.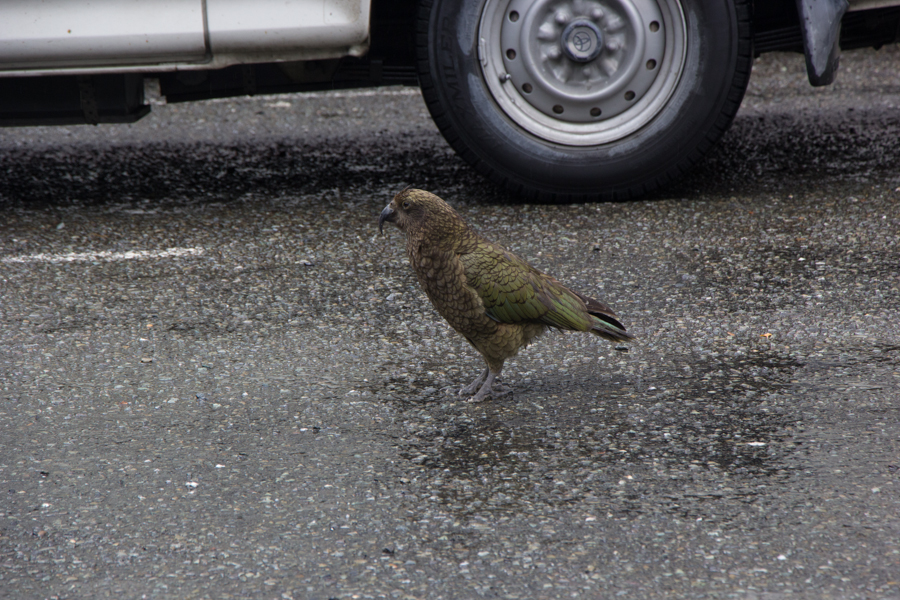 Obviously, people were not heeding this sign.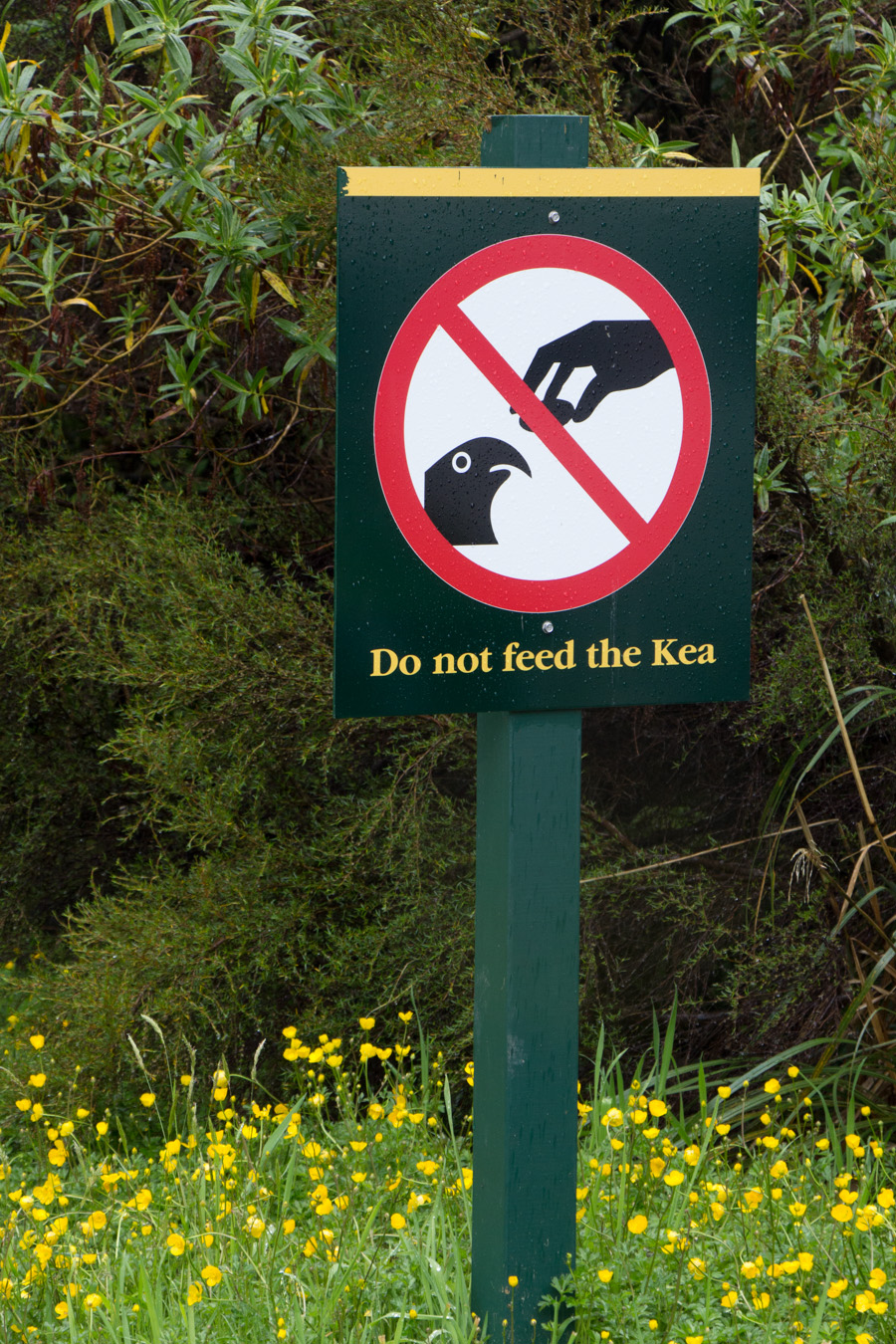 Eric cried out as he took a picture of the sign, because the Kea came up behind him and pecked him! I walked rapidly away from it, not wanting to be pecked myself. We saw someone holding his hand out to the Kea. This is why you shouldn't feed wildlife anywhere but at home, people. The animals become dependent on you, and what are they going to eat when you're gone?
Eric on the trail to the Chasm.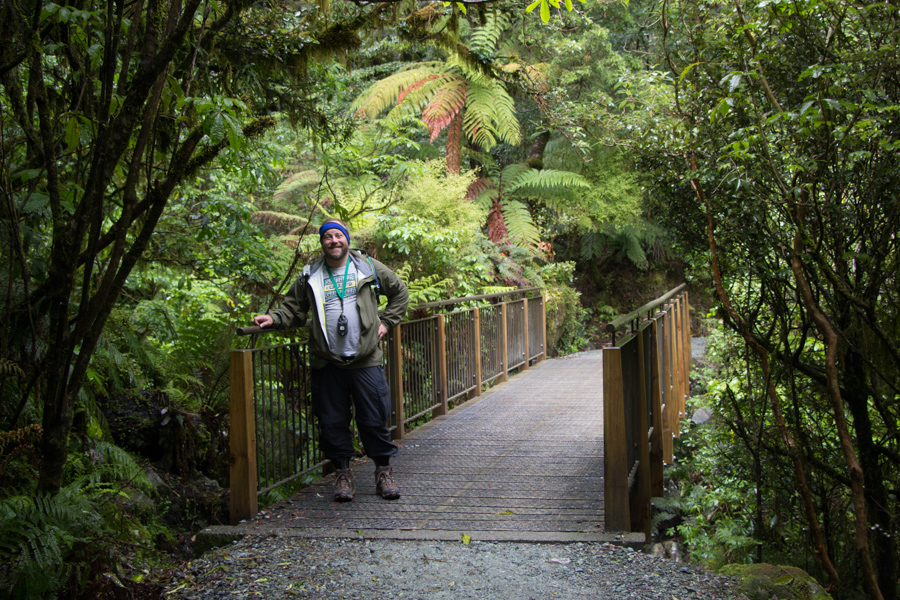 Fascinating moss hanging from a tree.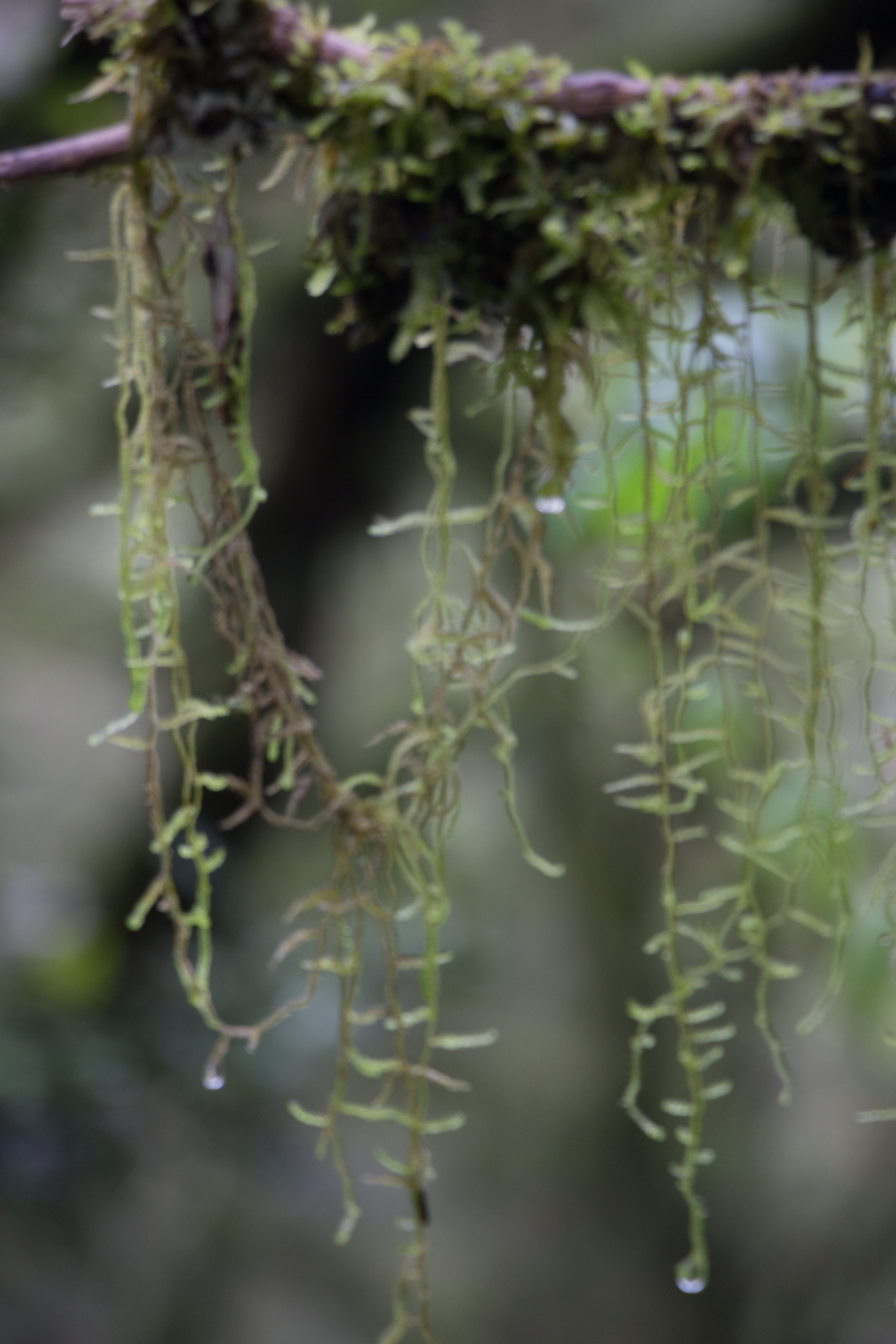 New Zealand is full of dramatic ferns.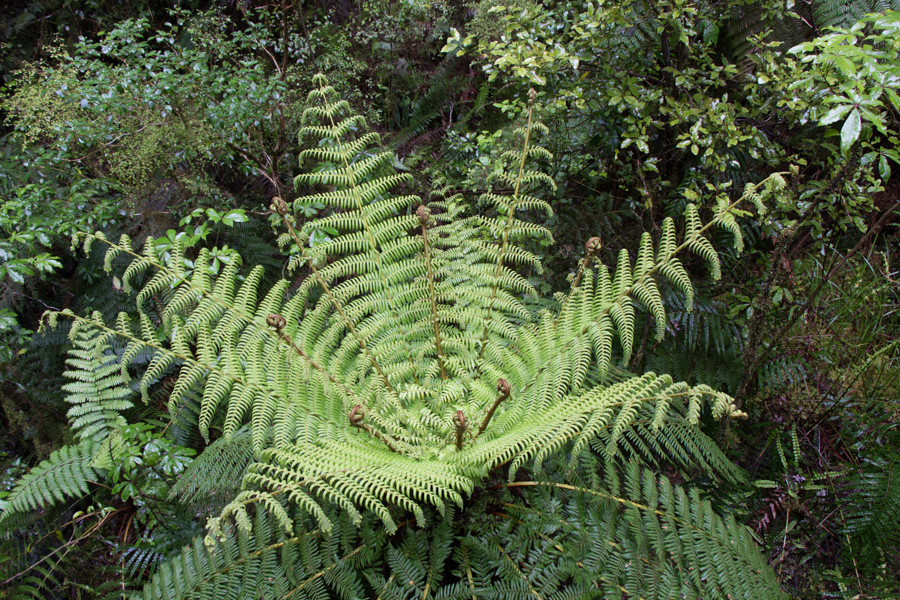 The Chasm.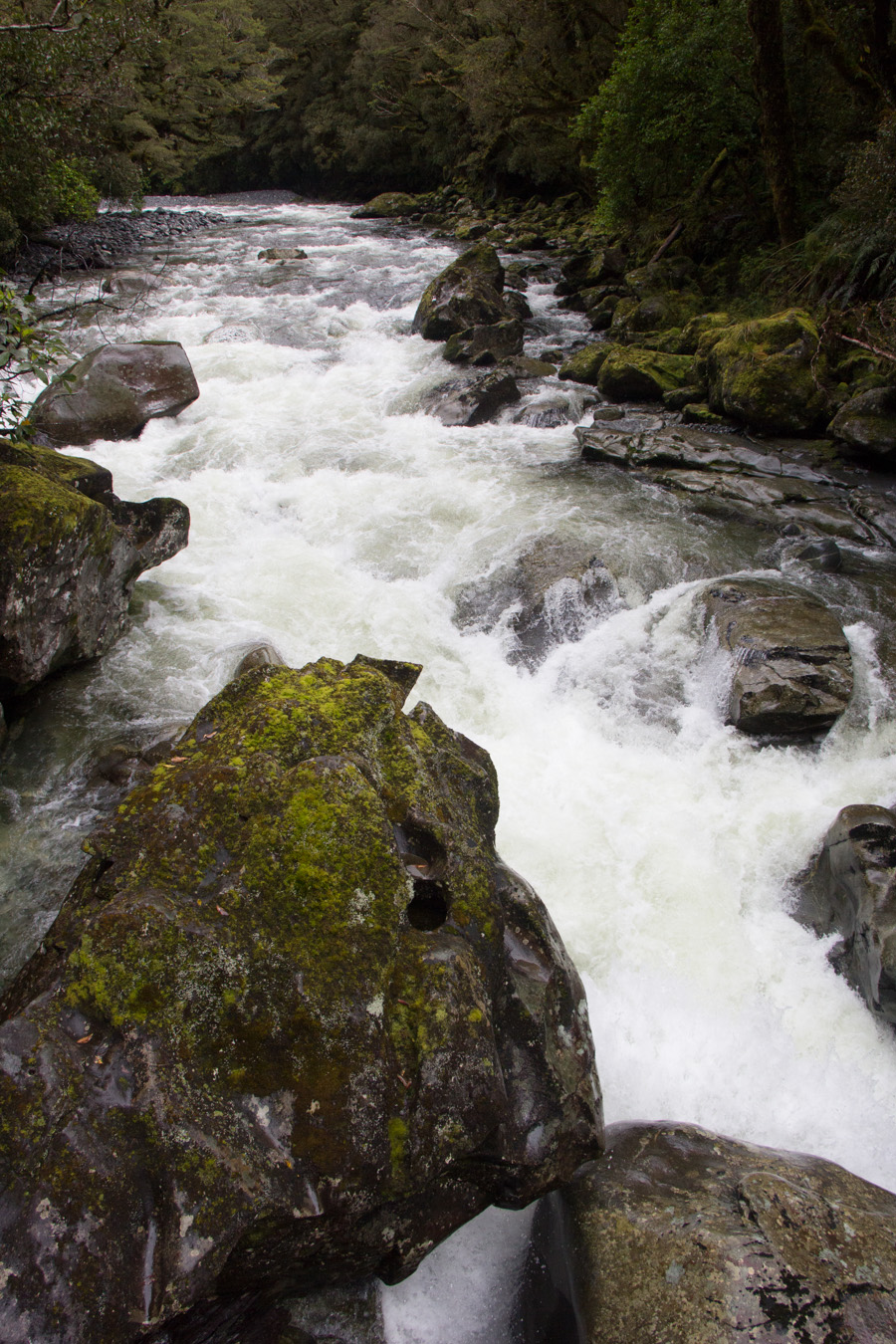 Eric's view.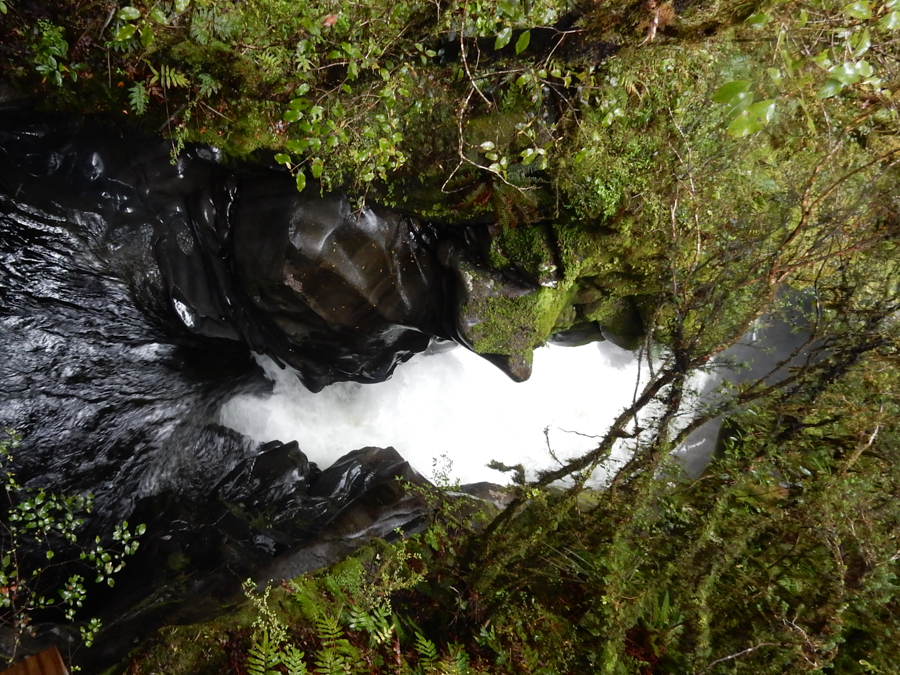 These ridges in the rock are formed by the water swirling smaller rocks around inside the ridges. This is honeycomb weathering on a grand scale!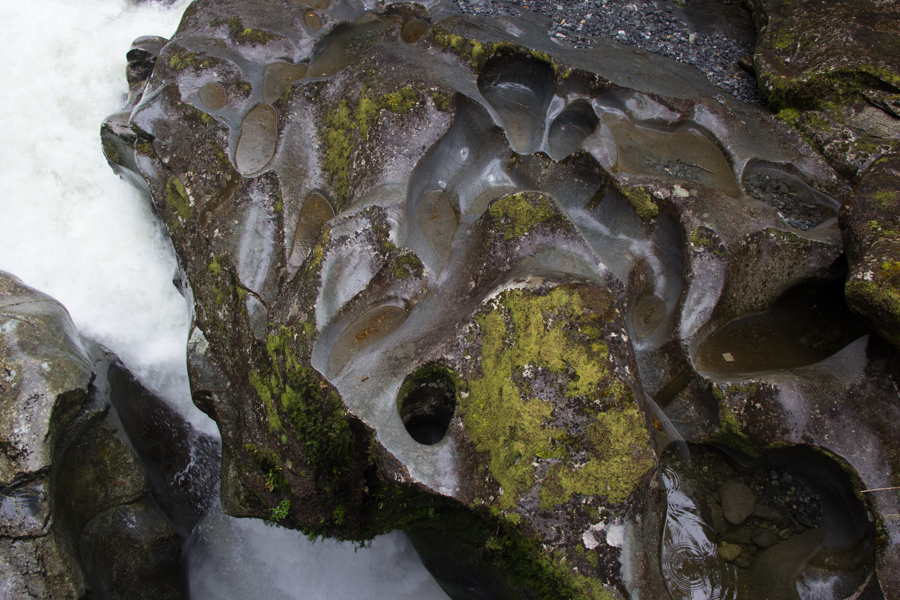 Another example.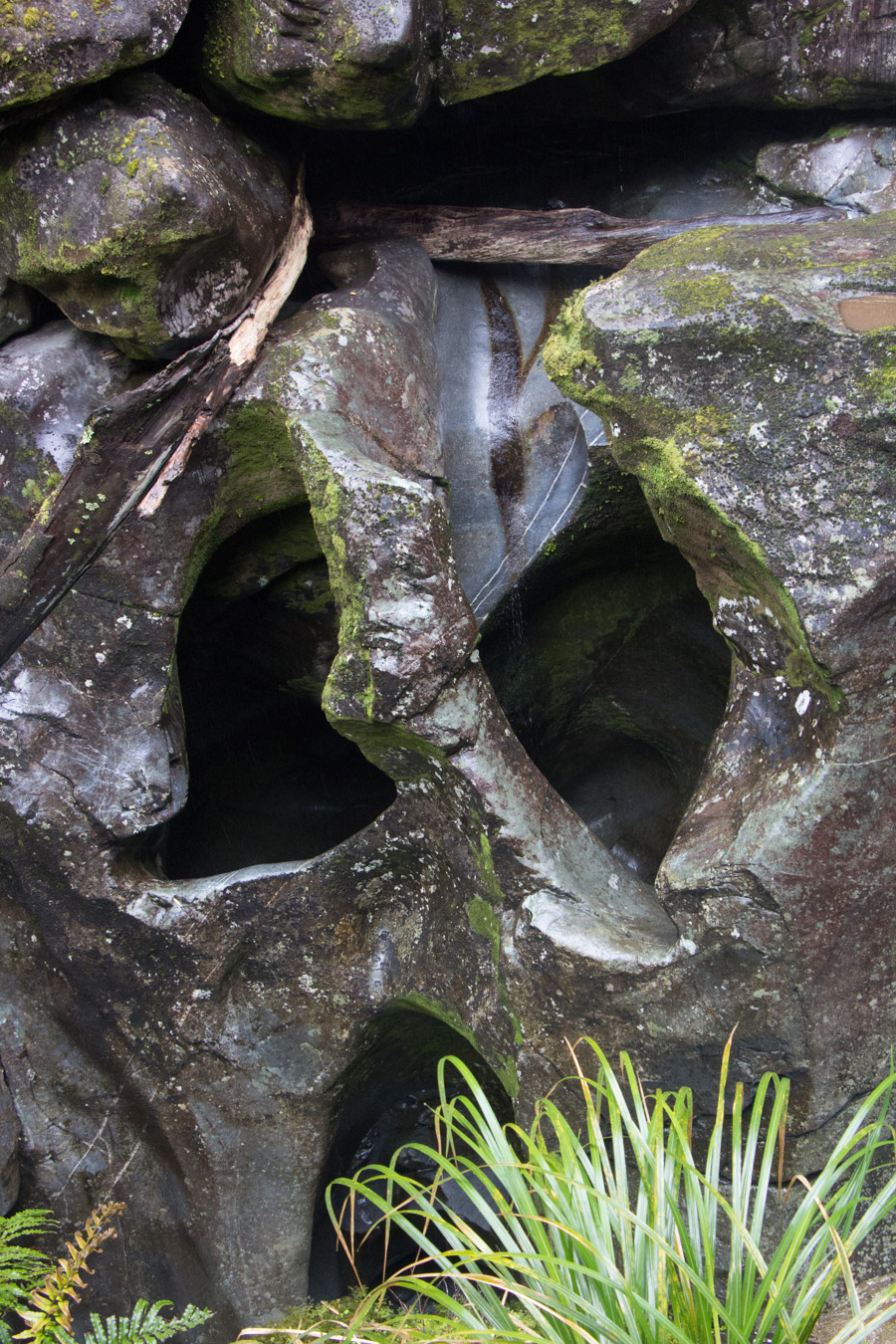 Pretty cool for a 15-minute hike!
We stopped in a pullout for a picture, and I just screamed when this Kea jumped up onto the rear-view mirror right outside my (fortunately closed!) window!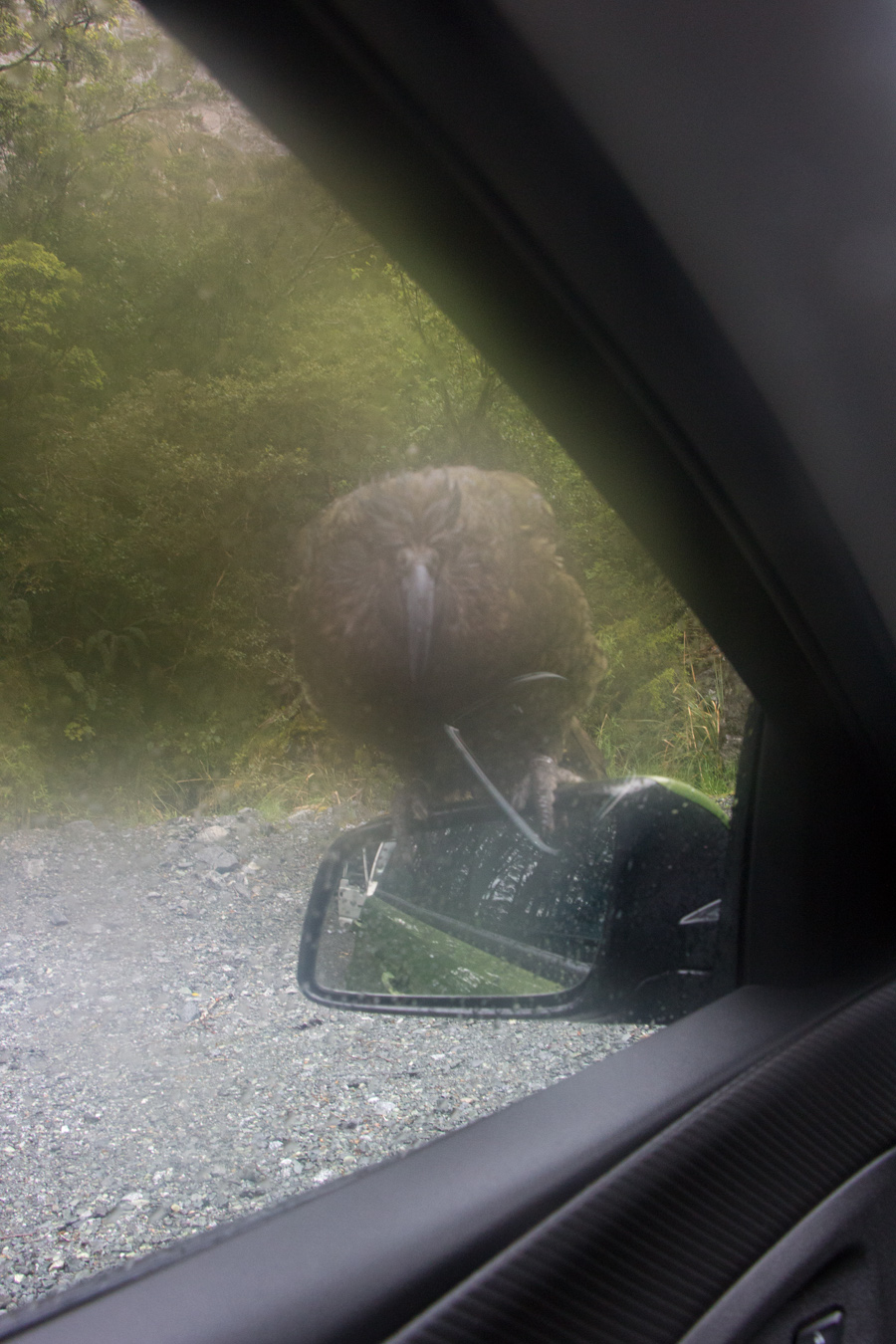 I was munching on a bag of crisps, and it clearly expected a handout. It probably even knew the look and sound of a bag of crisps. No, bird, I am not sharing!
It stayed there long enough for Eric to get out and take a picture from the outside of the car.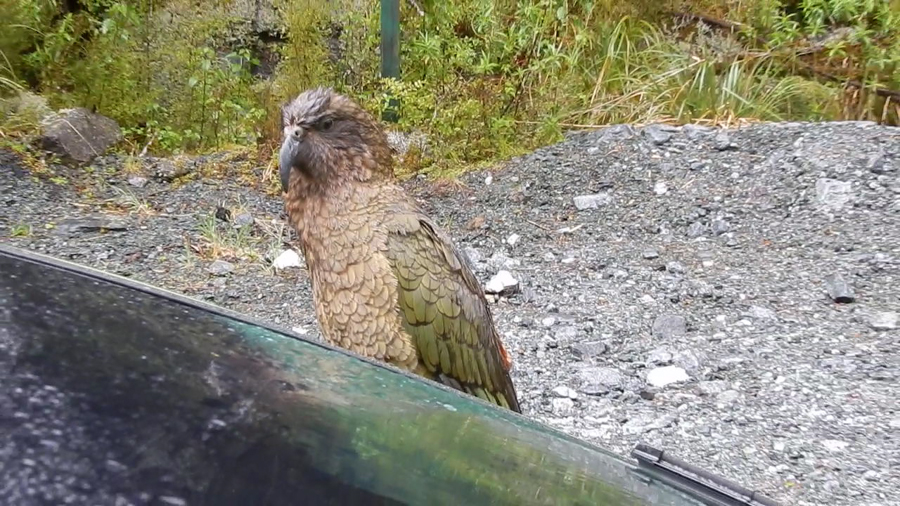 Eric caught some of the lovely red underside of the wing as the bird finally flew away (after it saw me crumble up the empty chip bag and toss it into the back seat).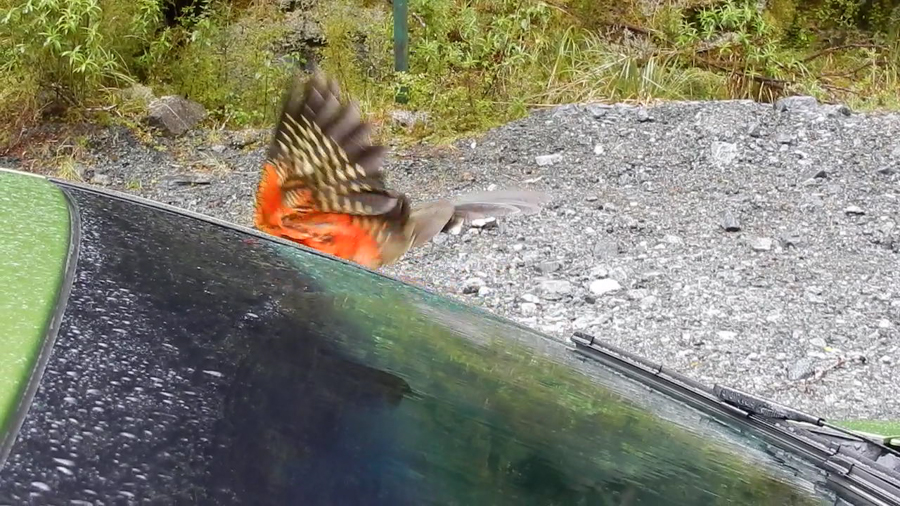 Now, things got even worse. We made a stop to take a picture, but the pullout was on the opposite (right) side of the road, and we needed to cross the oncoming lane to get back onto the road. To our right was a very close blind curve. This would have been no problem in the US, but here it was the oncoming lane. I tried to get Eric to back Fenway up not just further into the pullout, but also so as to turn perpendicular to the roadway, so that we would cross the oncoming lane at a steeper angle. I couldn't find the appropriate words to communicate this, though, and to my frustration, Eric kept backing up parallel to the road. As we argued, Eric, in front of a crew of construction workers, backed into a rock. You know, that stupid backup warning system might actually have been of some use here if we hadn't become so accustomed to its violent screaming about everything that came within a meter of the car.
The damage was only to the bumper. "It's insured," I declared. "We're not fucking going to worry about it now."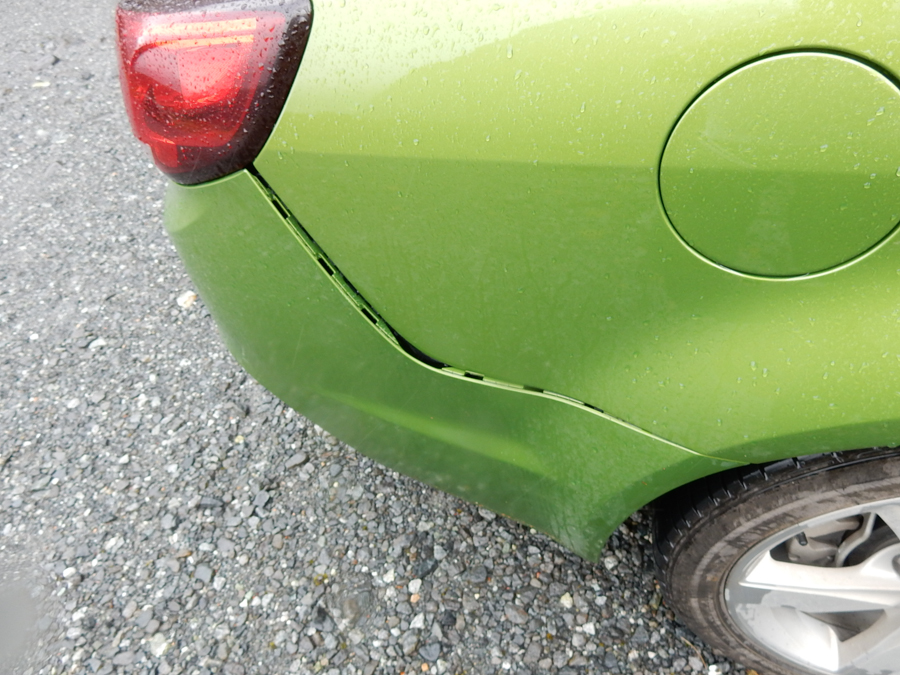 I had received an e-mail message about damage to Fezzik, the rental car we had had on the North Island. As we didn't do any damage to Fezzik, I had no idea what that was about, but clearly Europcar was very serious about any damage to its vehicles.
New Zealand is known for backpacking, and has a network of huts where backpackers can stay. Supposedly, most of them do not book up months in advance as they would in California, and you can just head off into the wilderness without a tent and find a shelter in which to sleep. While I would have loved to have tried it, I couldn't bring myself to believe that such an adventure would actually work out.
This hut was run by a private organization, the New Zealand Alpine Club. We met some climbers there, hiding out from the rain, cooking in a large kitchen.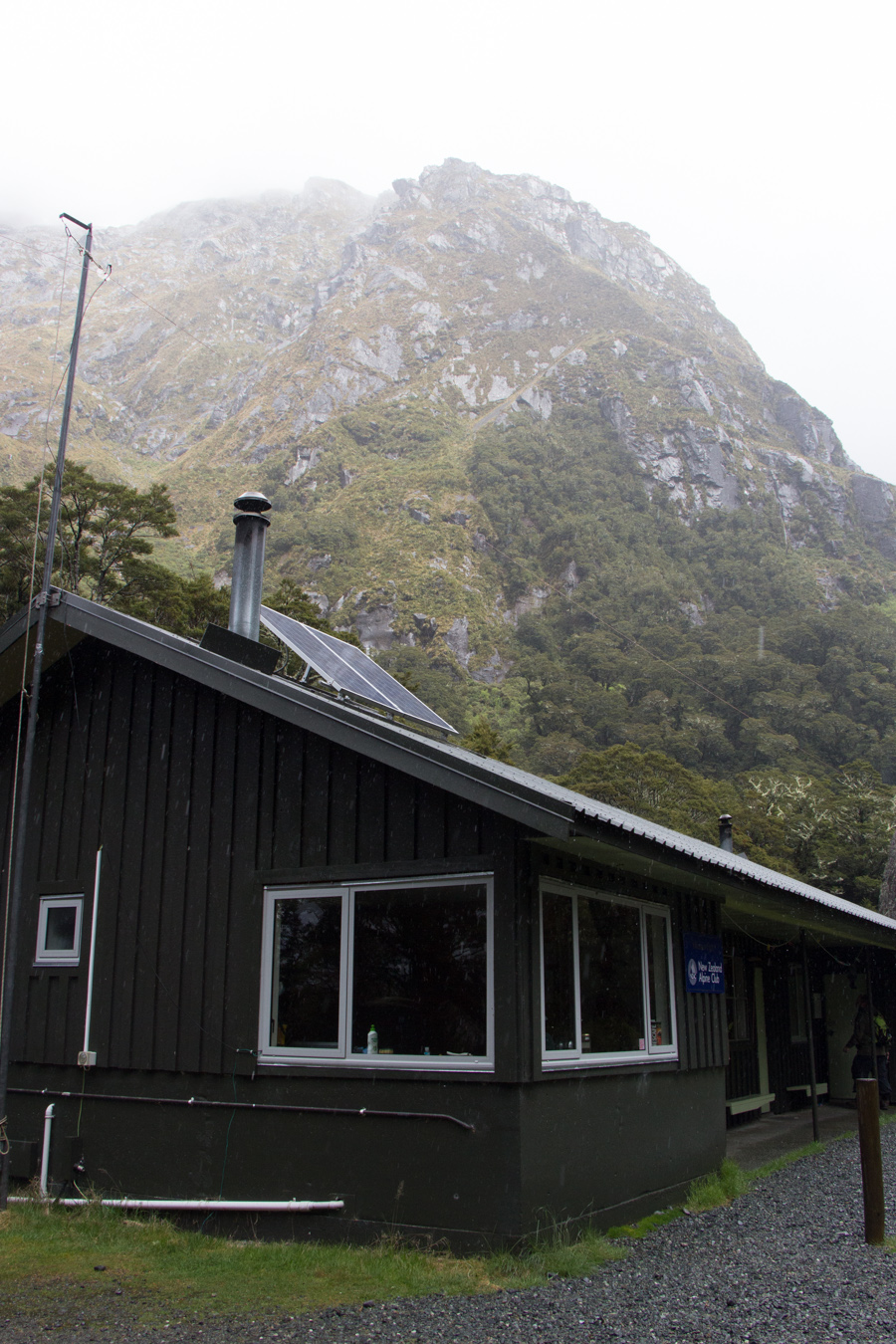 Eric took a picture of some of the bunks. What a civilized country!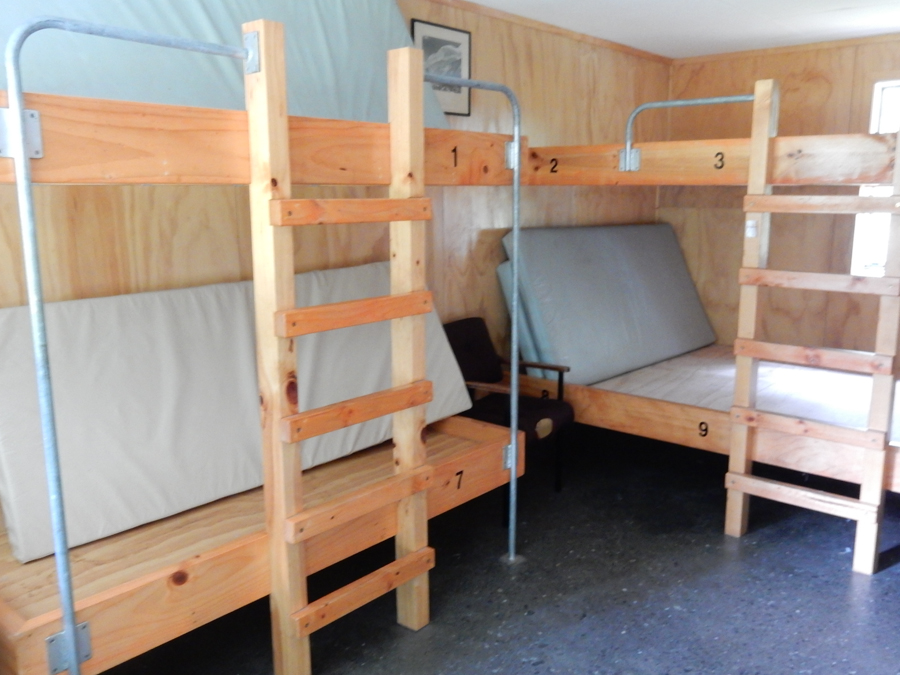 Cascade Creek Nature Walk
We stopped for peanut butter and jelly sandwiches at a picnic site at Gunn Lake.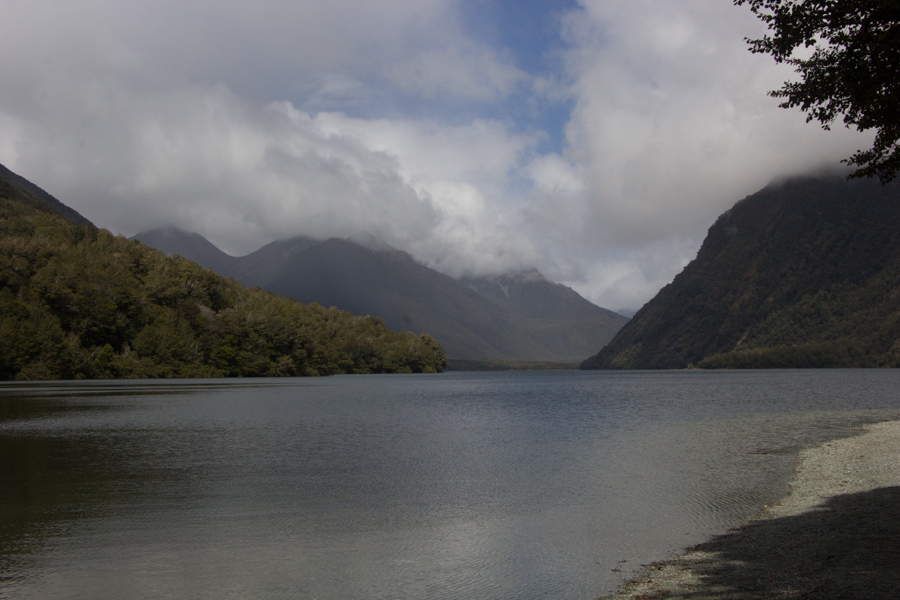 Small inlet of Gunn Lake.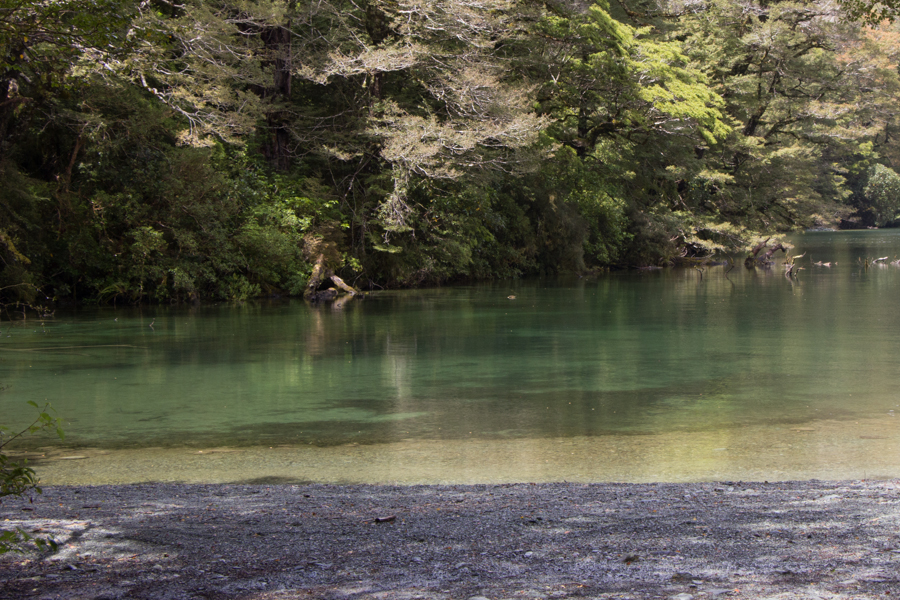 We were the only humans at the site, and we kept hearing all sorts of bird calls, but I couldn't see anything in the trees. Perhaps there were some truly wild Kea, or Kaka.
As soon as we returned to Fenway, this South Island Robin jumped down onto our table to look for crumbs. I hoped we hadn't left any.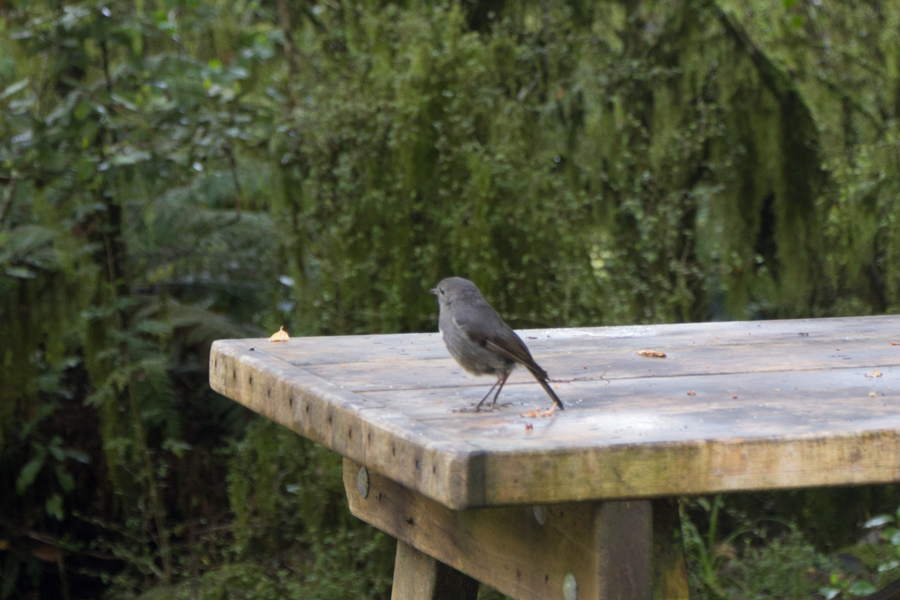 We did the nature walk at the south end of Gunn Lake.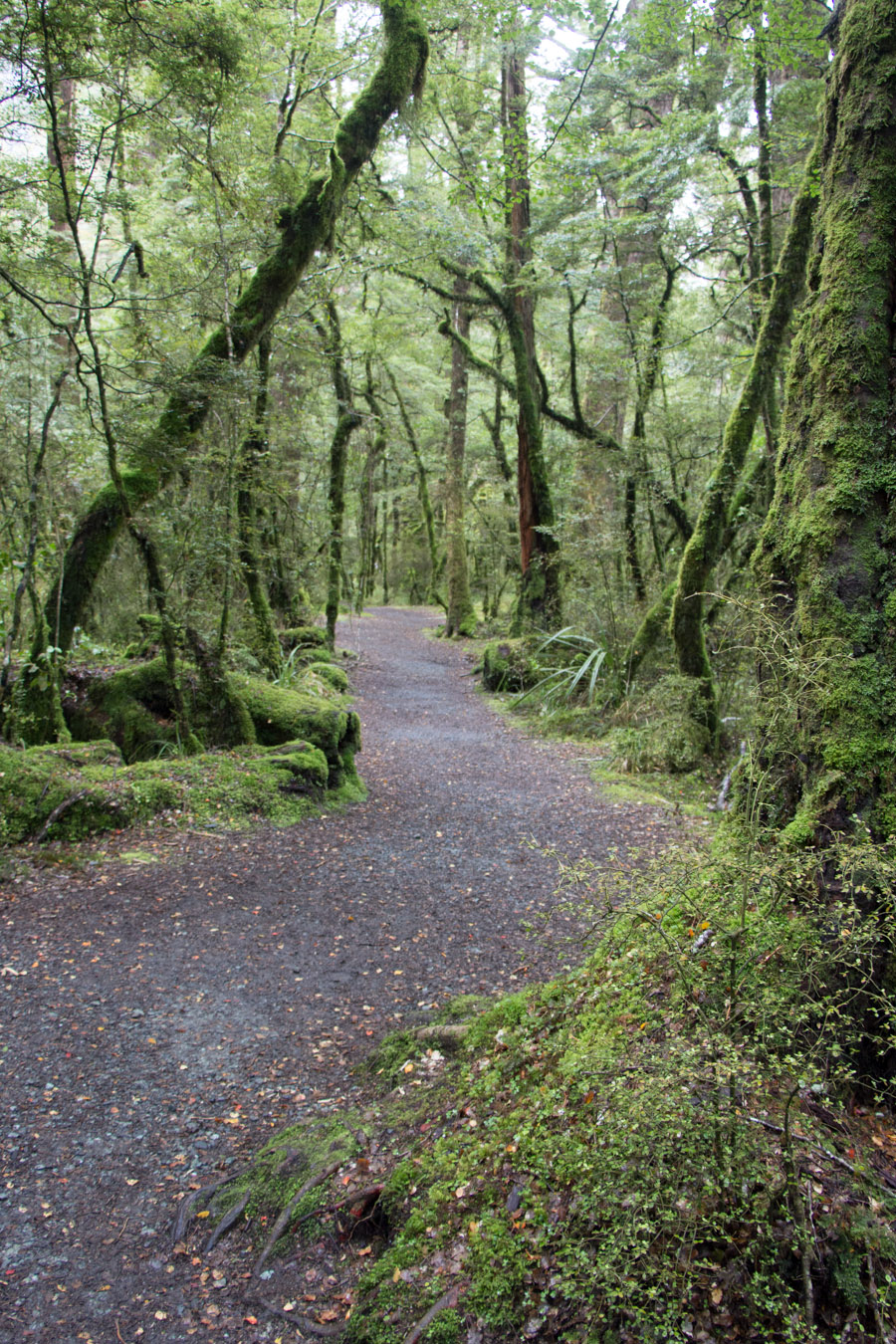 Moss on a native Red Beech.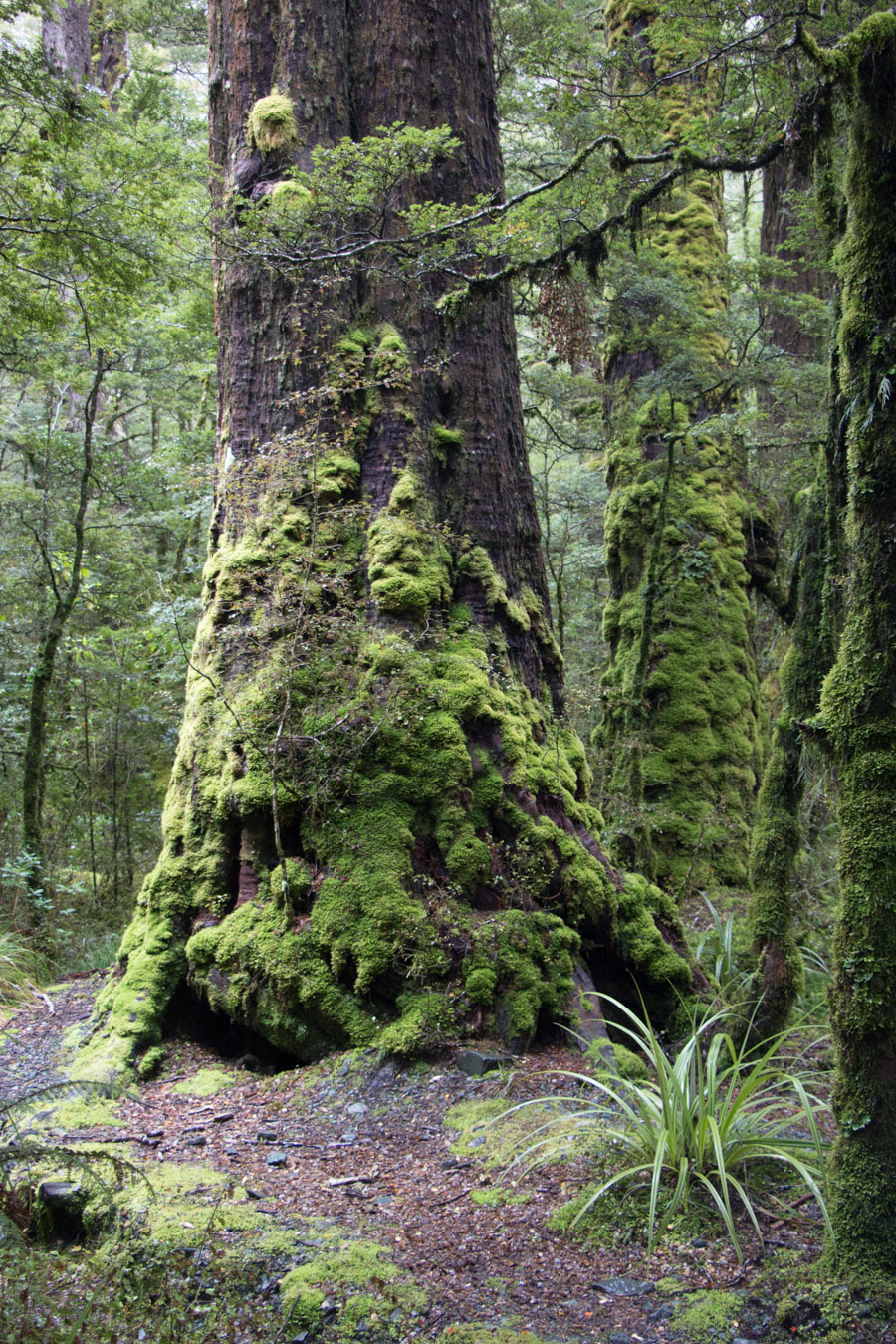 Macro moss detail.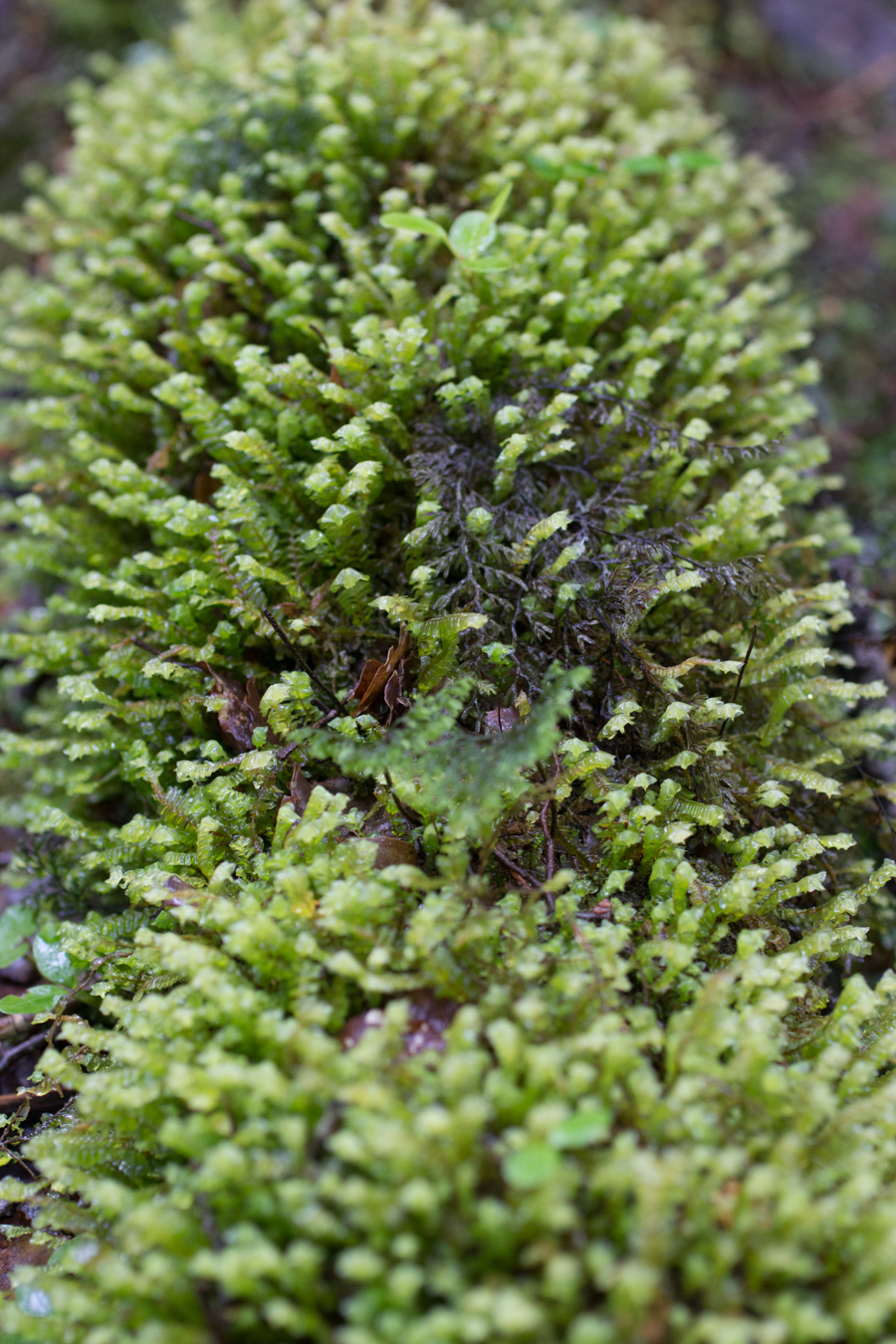 Macro moss detail.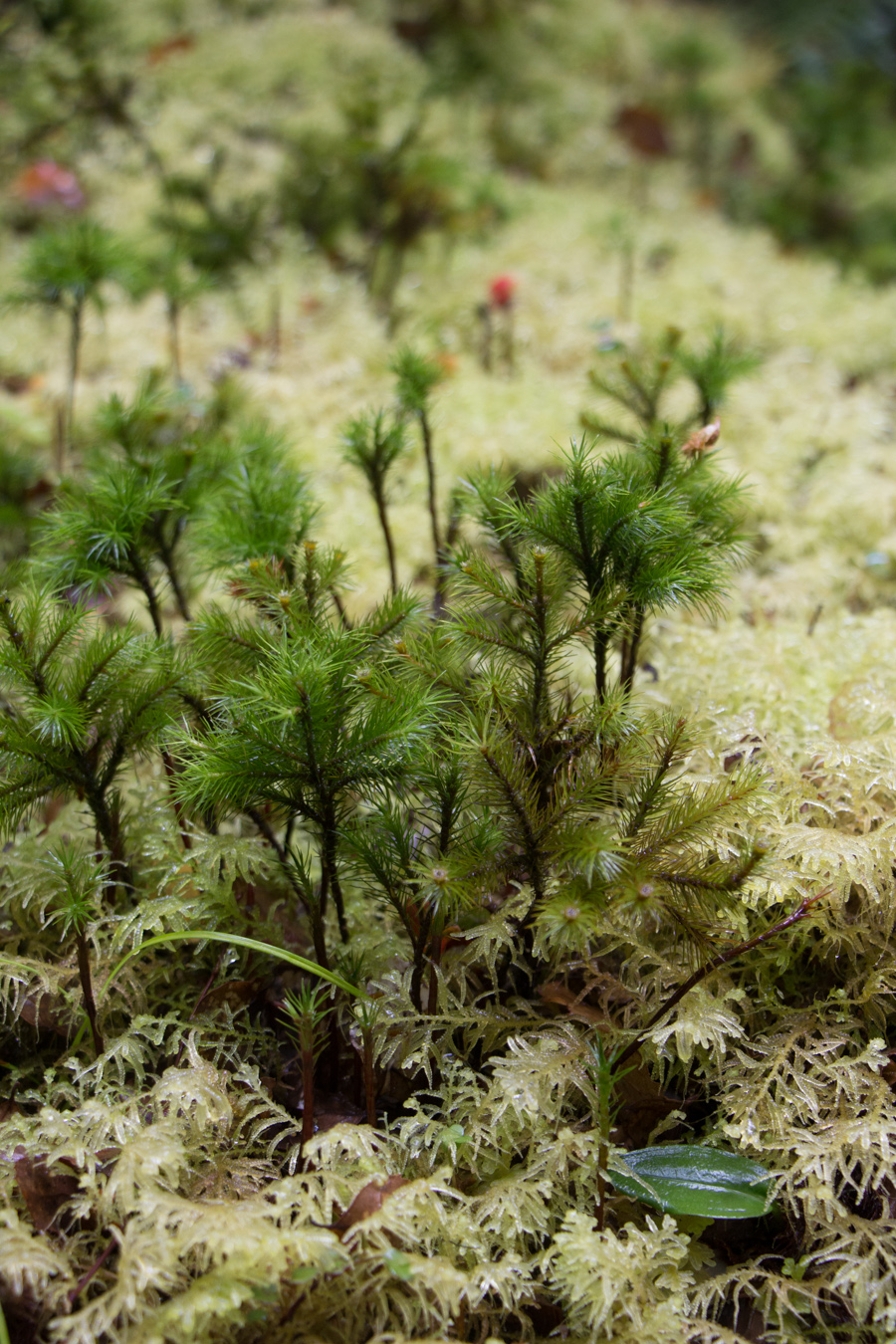 With all the rain, everything was so green!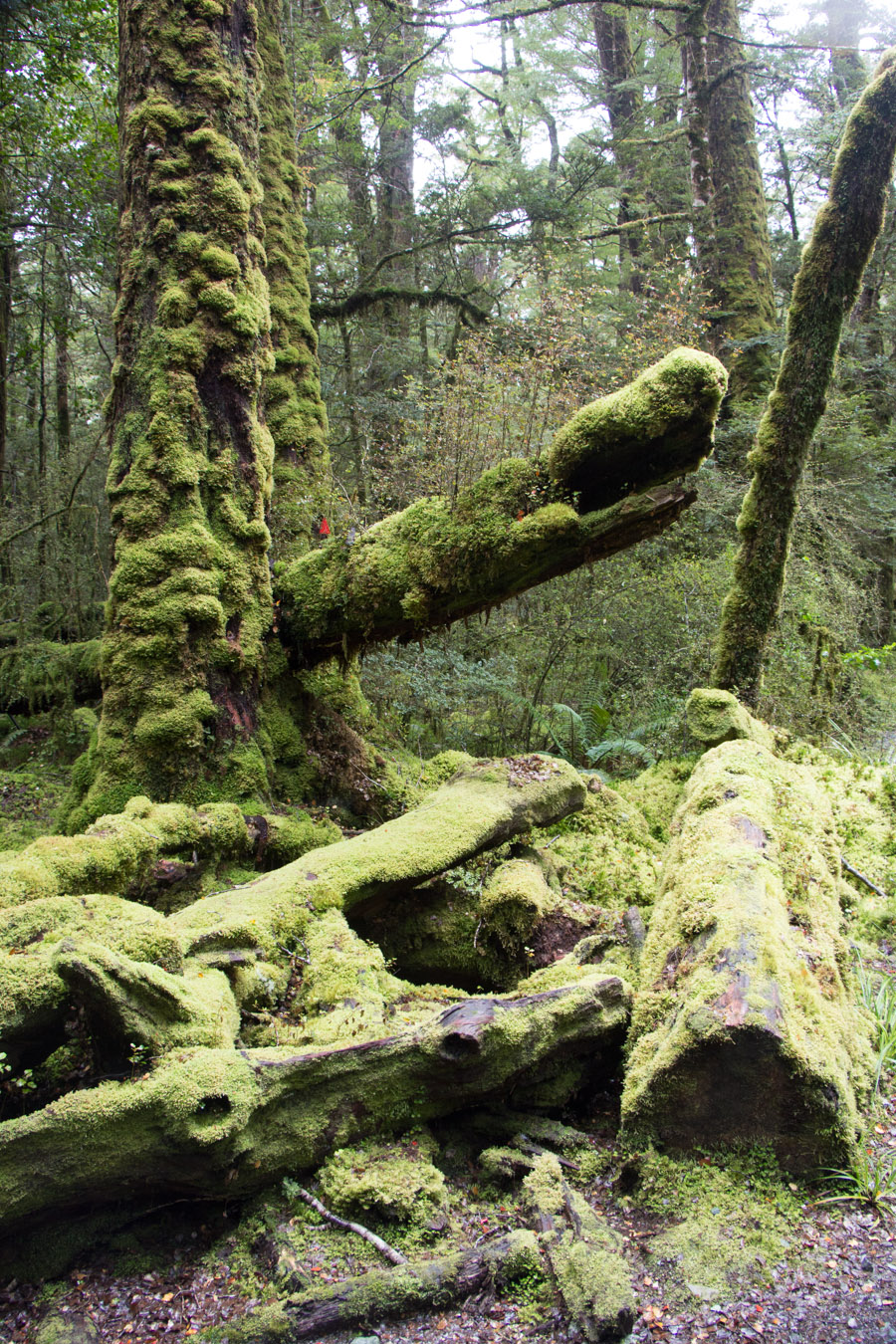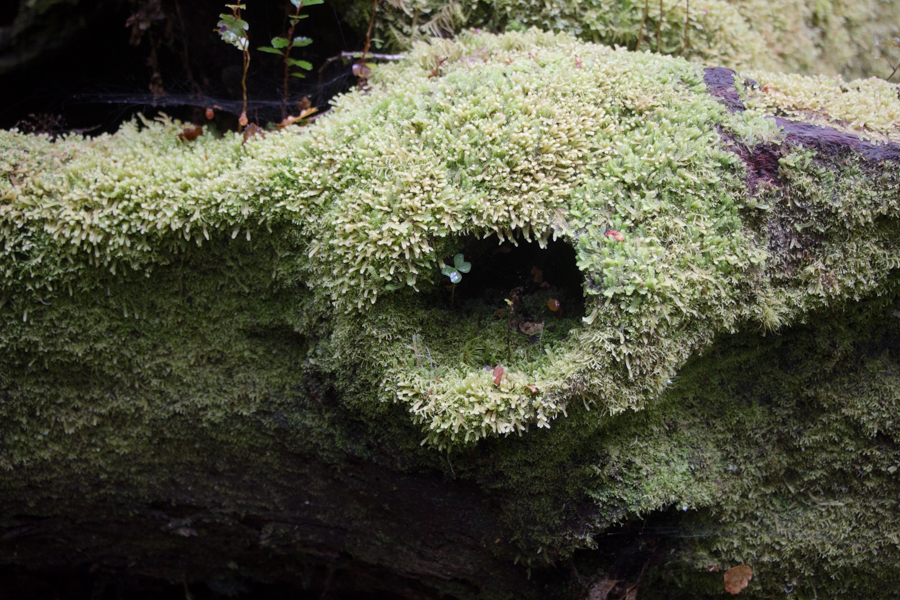 What is this tree trying to ask?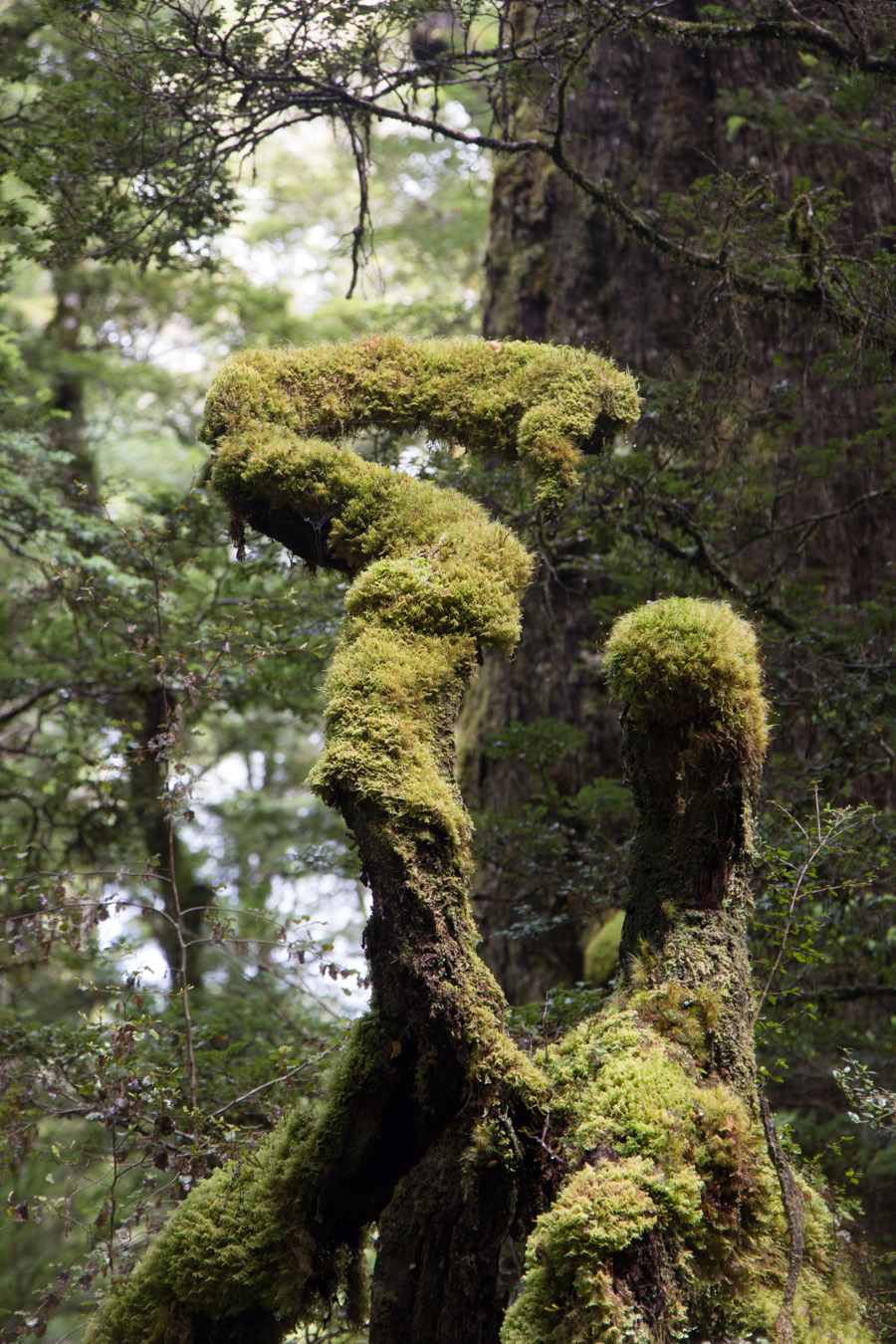 Red Beech.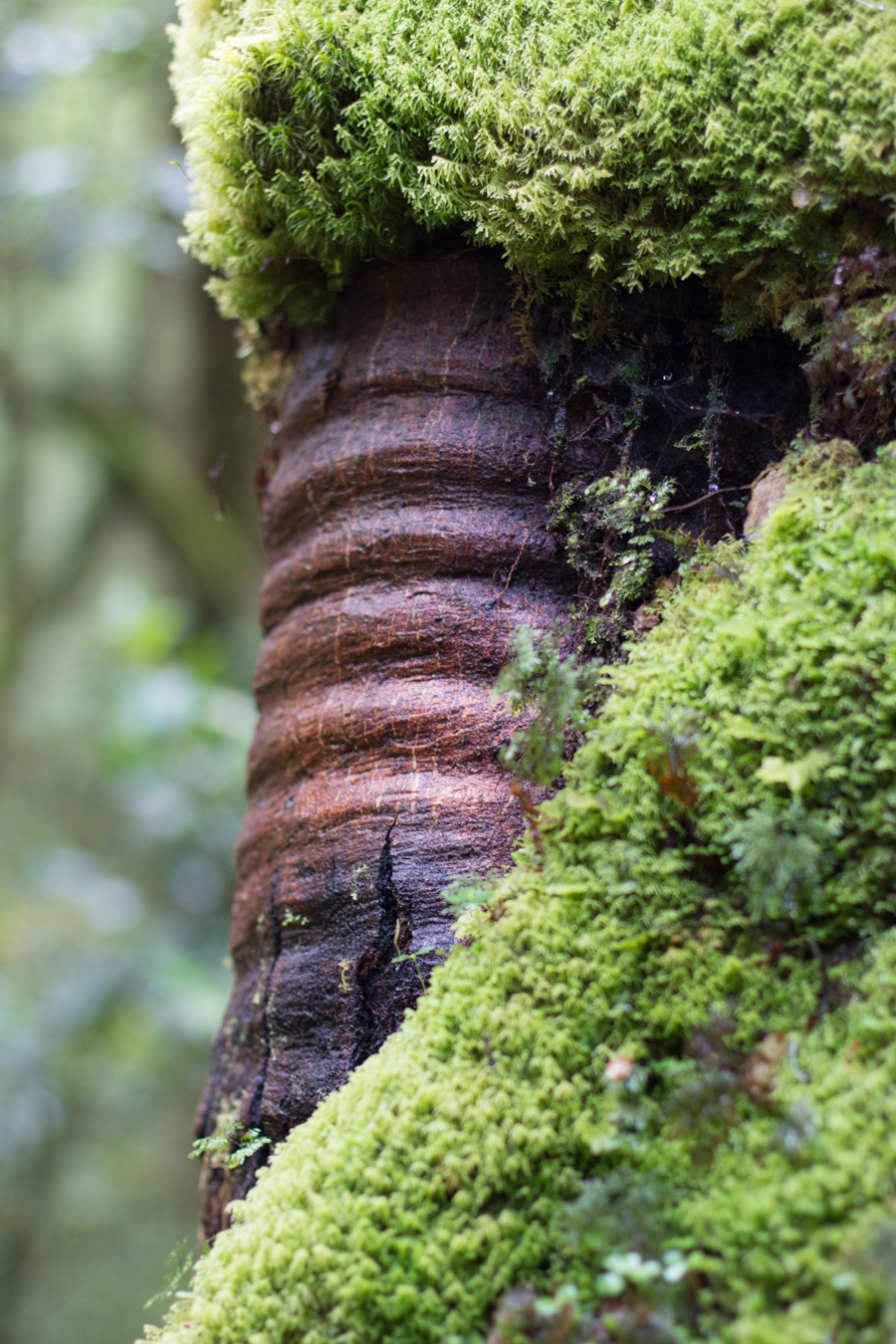 Red Beech trees sometimes have these unexplained galls growing on them.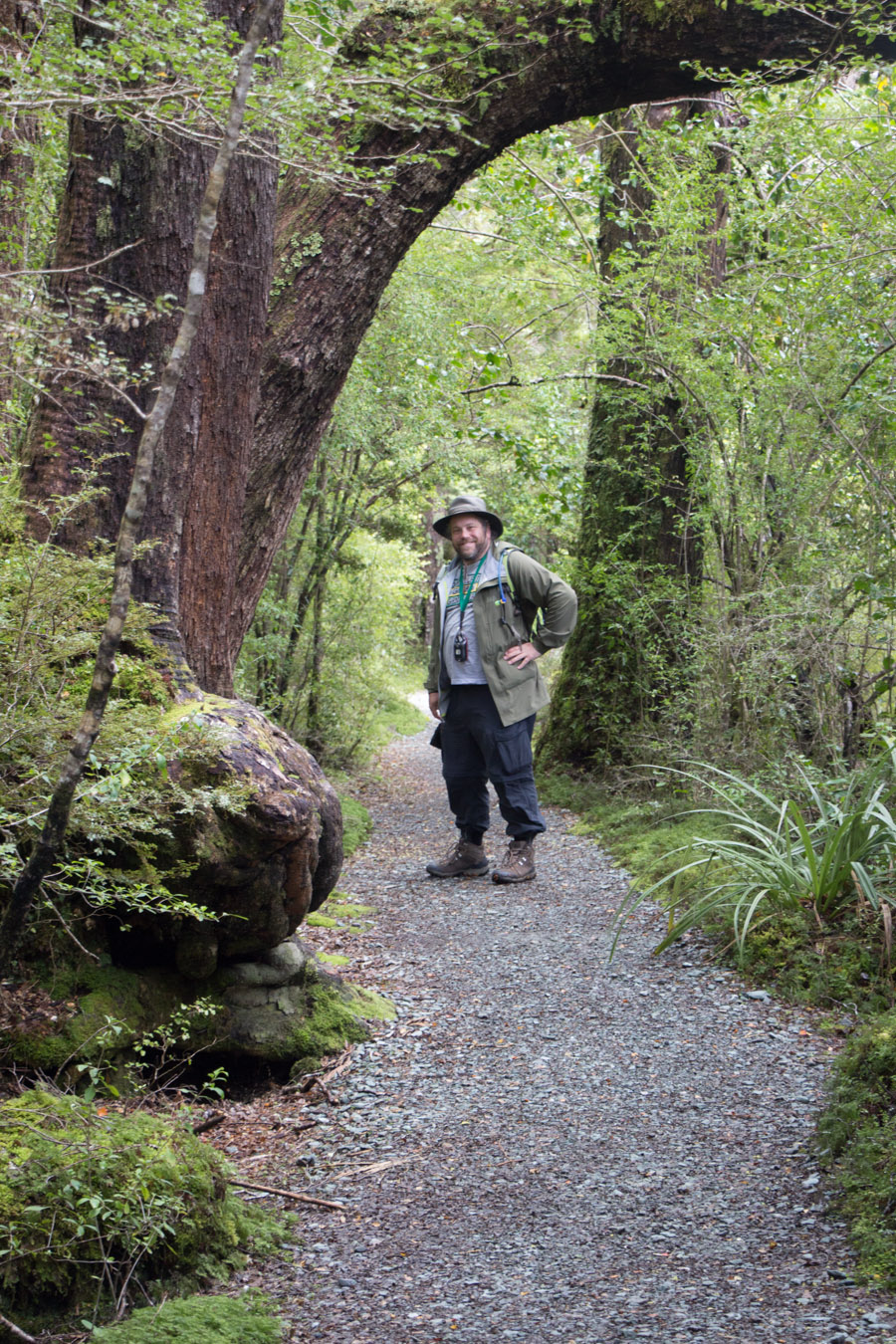 We ran into our friends Les and Shelley, hiking in the rain. Shelly had been hoping to do some longer hikes, and was disappointed by the rain.
We were mostly disappointed by the brown muck in the water at Mirror Lakes, but Eric managed to get a good picture.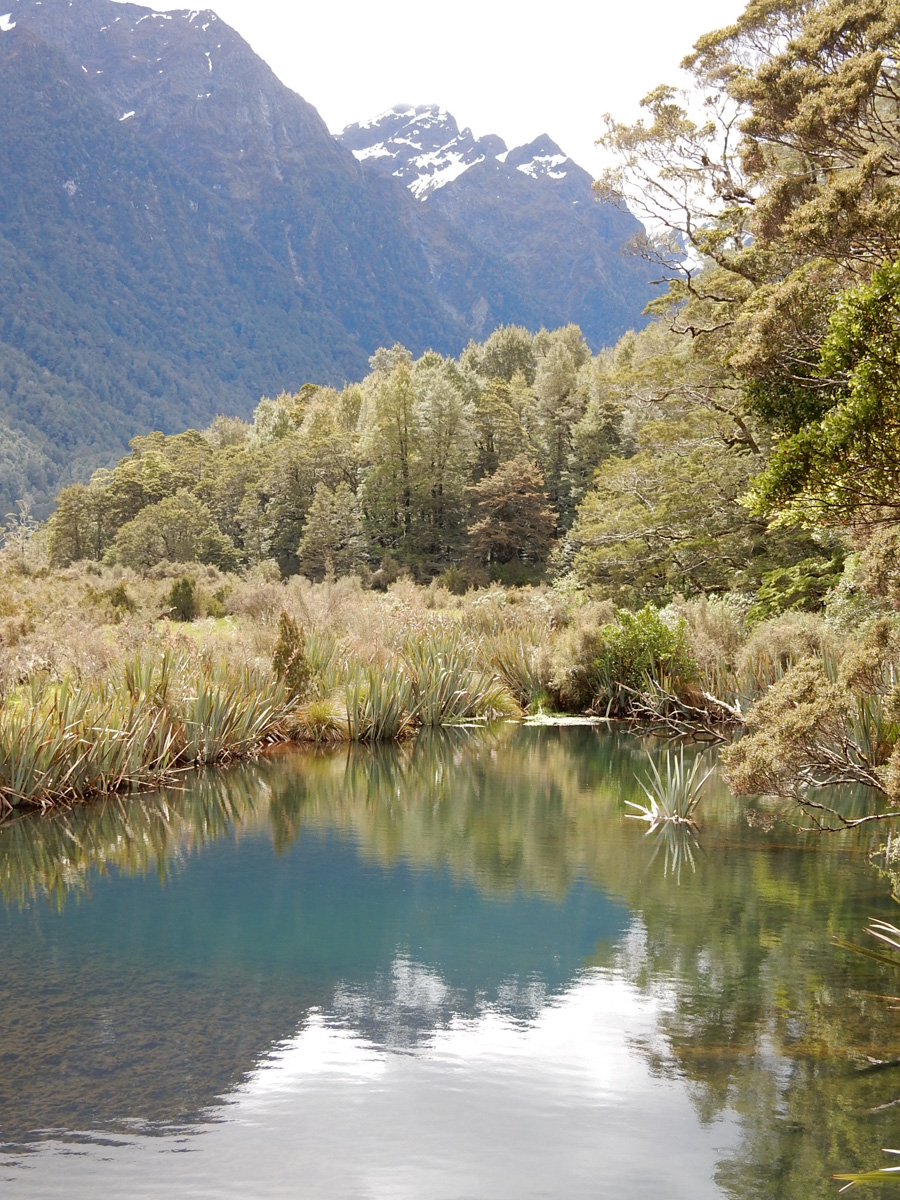 We also ran into Les and Shelley there, which was a good thing, because they told us we had missed the 45 degrees latitude sign.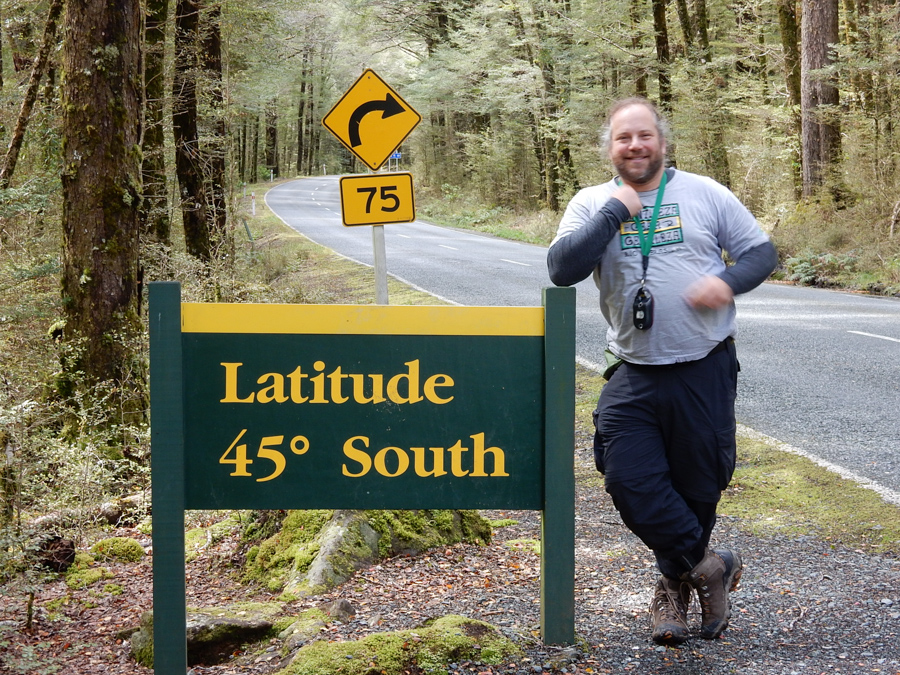 Te Anau Glow Worm Caves
There were two more unfinished agenda items on our New Zealand itinerary: glacier hiking, and Glow Worm caves. The Glow Worm caves were back in Te Anau. We were assigned to the room size we had actually paid for, no suite this time. Still, it was nice and had a kitchenette. Finally, we were out of the incessant rain. We had a few minutes to regroup and eat take-away before walking over to see the Glow Worms.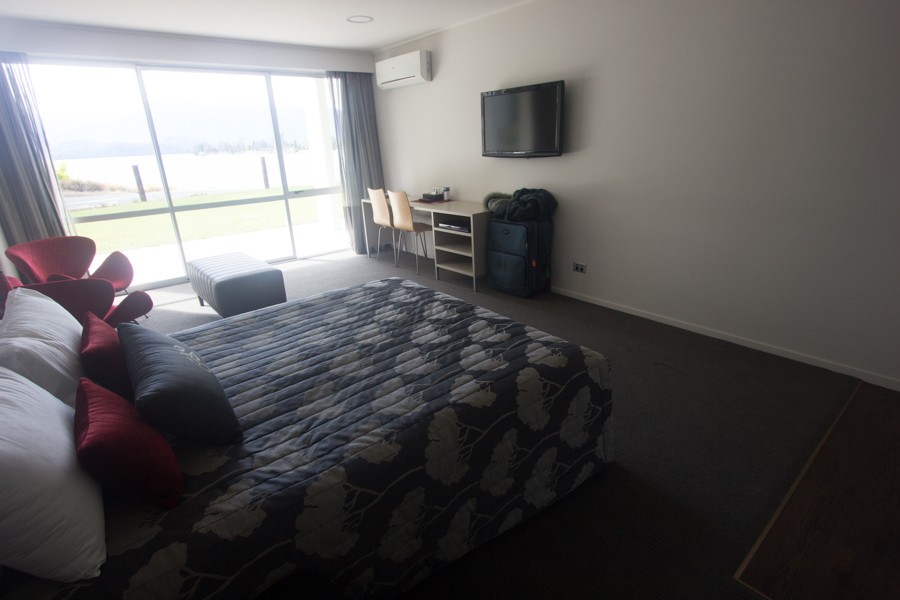 New Zealand Glow Worms live all over the country, and we had already seen some at the Mitai Maori Village and at Zealandia. But there are tours in caves where you can see lots and lots of them, a very dramatic experience.
Sadly, they don't let you take pictures in the caves, because a flash can harm the glow worms, and people cannot be trusted to turn off their flashes any more than they can be trusted not to feed the Kea. Even more sadly, they don't let you take pictures even in the parts of the fantastic cave that do not have Glow Worms. We saw such amazing underground waterfalls, and I could totally have taken pictures with my f/1.4, but no. Safety reasons. We wouldn't want you to lose your footing on the walkway with a railing, would we? You'll have to trust me, it was gorgeous.
I had known we would see the Glow Worms on a boat in the caves, but I didn't know we'd be taking yet another boat across Lake Te Anau to get to the caves. Two more boats, for a total of twelve boats on the trip! Photo by Eric.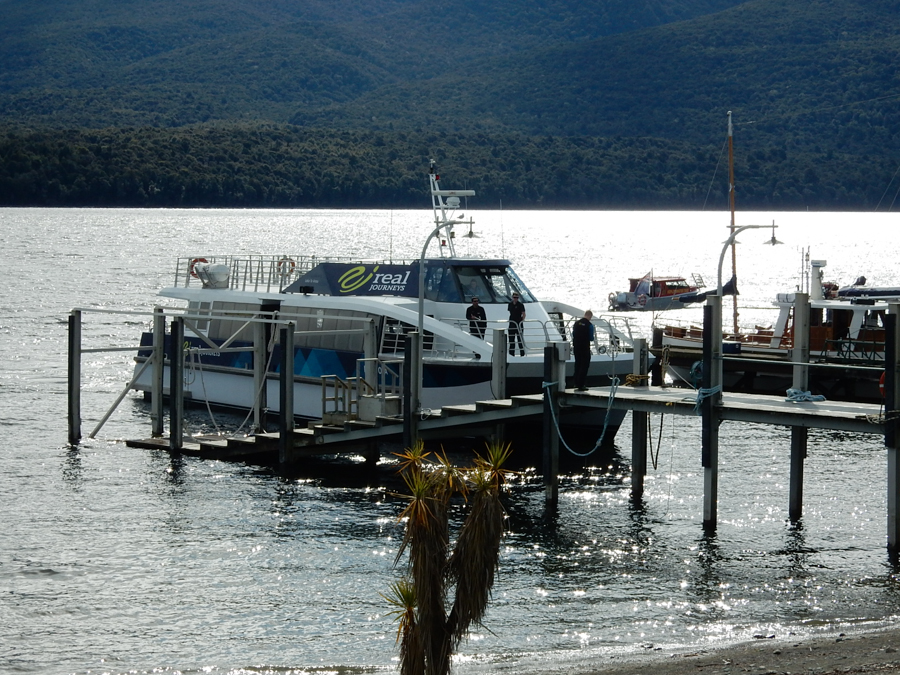 The scenery from the boat was lovely.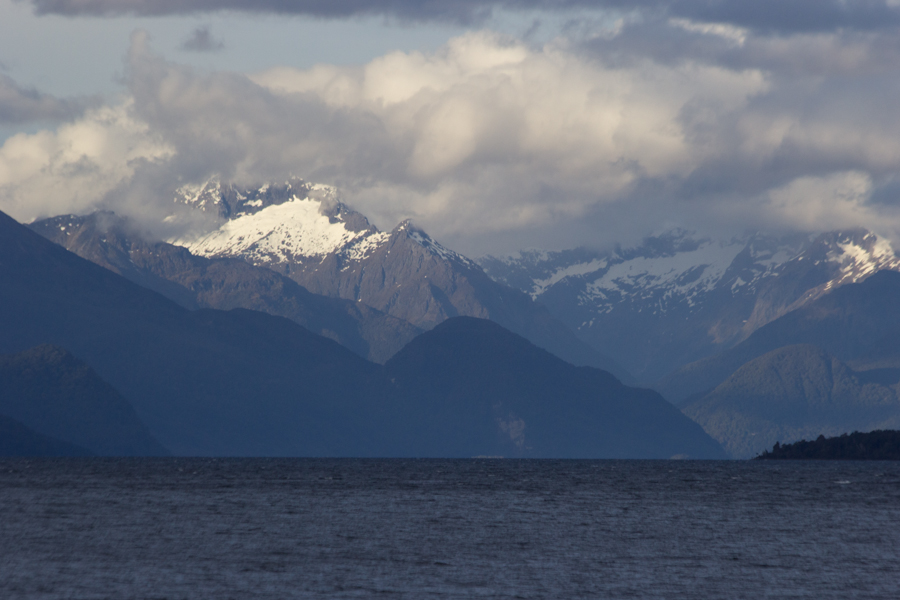 Eric took a picture of the native Manuka trees on the hillside. Our guide told us that their roots can be intertwined, sometimes causing tree avalanches.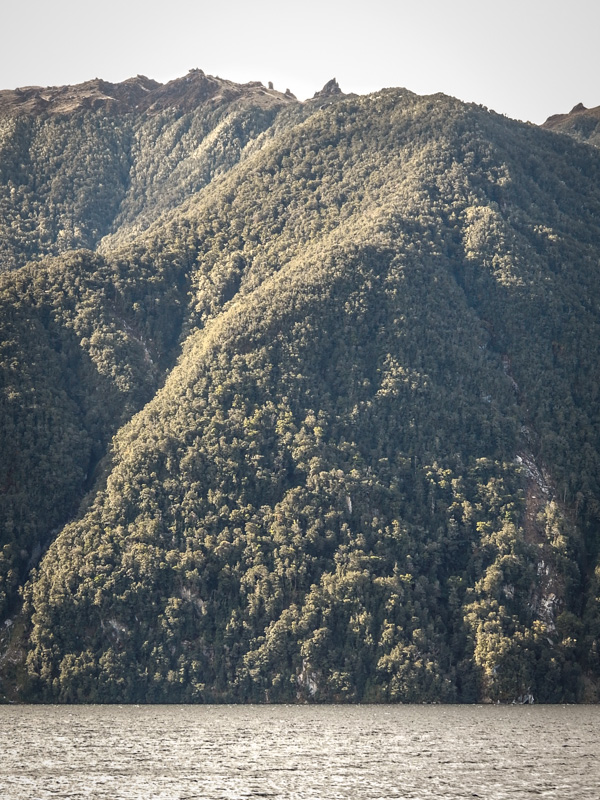 Eric took this picture of Real Journeys' video screen. They take groups of about a dozen into the caves at a time, so we got to watch the video first.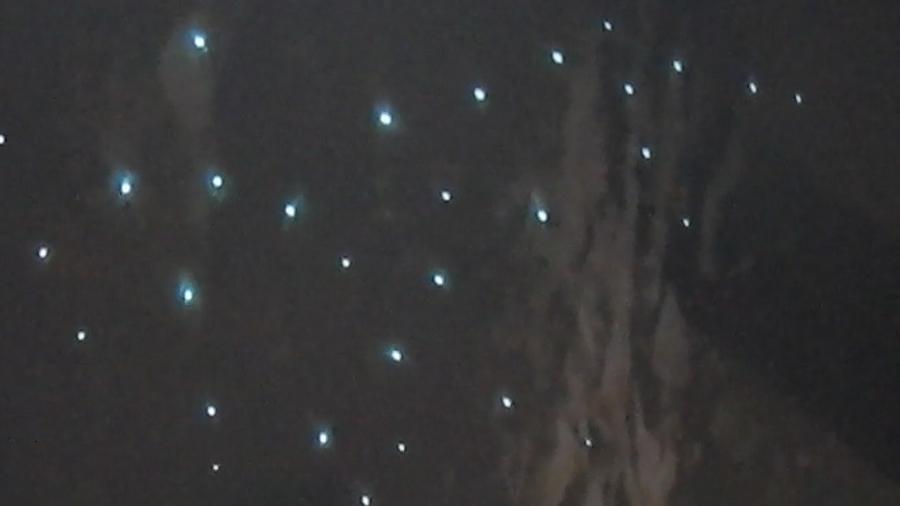 You can see photos of the Glow Worms, their fascinating fishing lines, and some of the beauty of the cave on Real Journeys' web site.
Our guide, Brent, was from Maryland. He told us about the life cycle of the Glow Worms. They live about ten months. They live the longest phase of their lives, about nine months, as larvae, and it is during this stage that they do most of their glowing. They glow to attract their insect prey. While they will eat the annoying sand flies, they much prefer a nice big moth. They build "fishing lines" that they hang down and use to catch the prey, much like a spider's web. They inject chemicals into the eyes of their prey to pre-digest the insect before chowing down. We watched this on the video. Glow Worms are territorial and will sometimes cannibalize competitors. We watched this on the video, too.
At last, it was our turn. While the cave system was several kilometers deep, we were only going in to the first 250 m. You needed a special permit, and either a SCUBA tank or an ability to hold your breath for a very long time, to see the rest. We walked through the river-carved cave on developed walkways, and there were lights. It was totally safe enough to have taken pictures. There were a few Glow Worms, though, and Brent was able to show us some of their fishing lines. Exciting!
The caves were marvelous. So fantastic. In our short walk, we saw several rushing waterfalls. It was breathtaking.
These caves are very new as caves go, only about 12,000 years old. They had not had enough time to build up stalactites and stalagmites. Brent showed us the one tiny stalactite in the cave. It was about 5 cm long. He told us it was about 400 years old. Geologic time is really long.
We reached the Glow Worm Grotto, with the highest concentration of the Glow Worms, and were guided into a boat. We were not the only passengers to make comparisons to Disney World. But these boats were not powered by any electrical machinery--they were pulled on chains by the tour operators. They moved very slowly through a passage into the darkness of the grotto, where there was no light from anything but the Glow Worms.
It was magical. Floating in the dark, looking up at the Glow Worms, spectacularly romantic.
The guides turned the boat around (an elaborate process), and we made our way back out of the passage. Then we hiked back through the amazing caves, staring at incredible cave waterfalls I so desperately wanted to photograph. We were amused by the natural rebar formations in the cave roof. We can never forget about earthquakes.
We exited the gorgeous caves and, while the next group went in to see the Glow Worms, we followed Brent on a short nature walk.
Brent showed us the native Lancewood tree. It evolved at the same time as the now-extinct Moa, who became Maori food. The Lancewood tree evolved these spikes on its leaves to protect it from the Moa.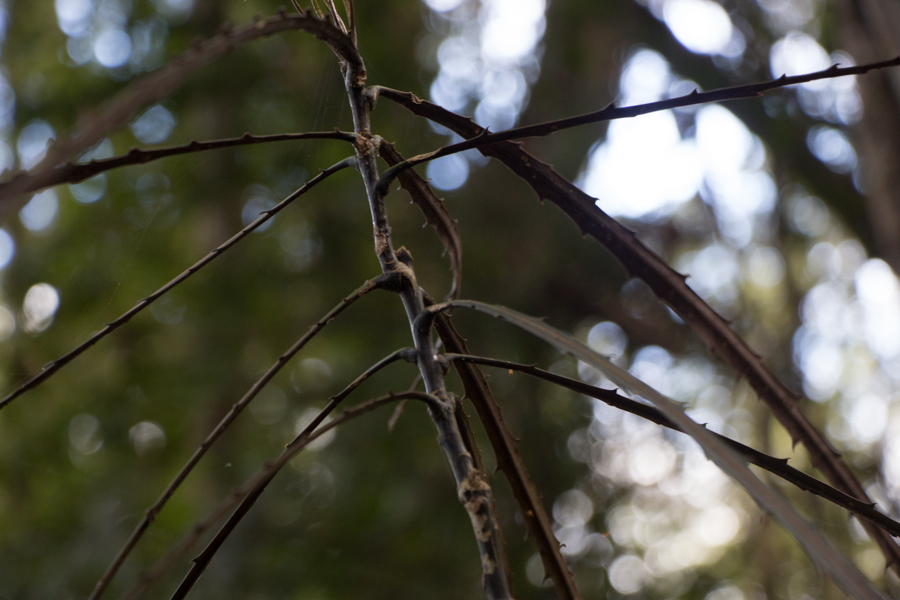 We saw some amazing shelf fungus, but we don't know the species.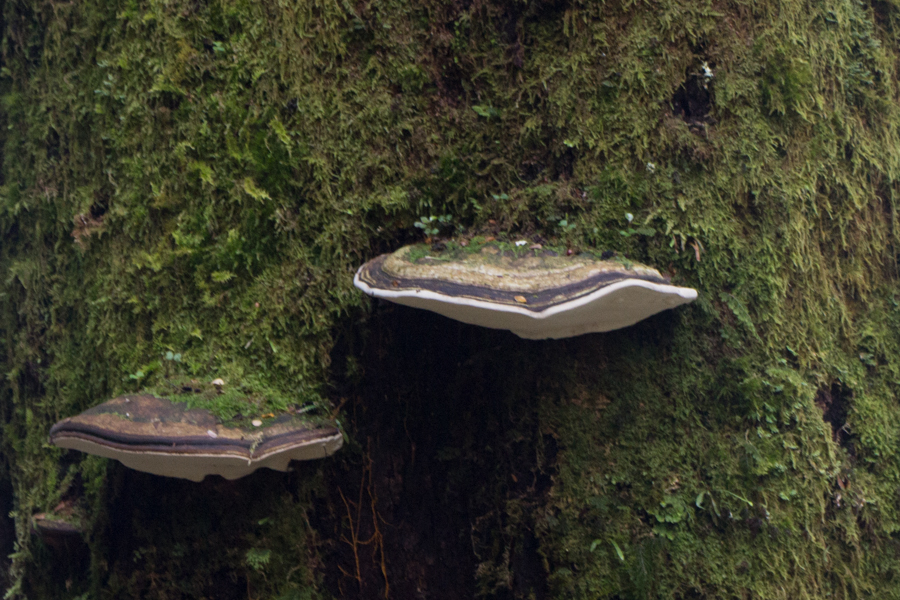 It stays light so late this far south, we were able to see gorgeous scenery on the boat trip back into town. Photo by Eric.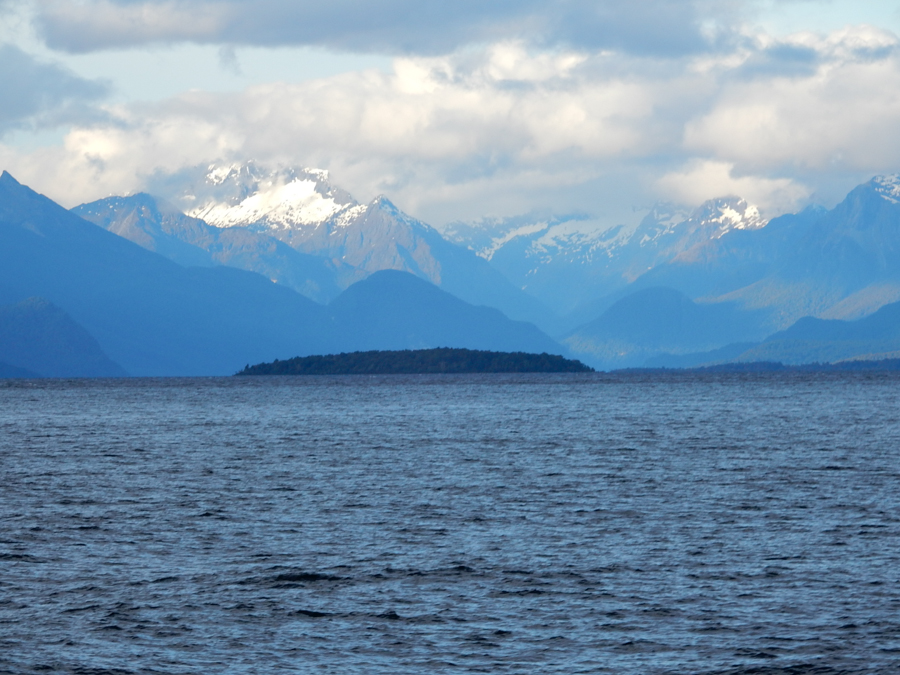 That was a dramatic day, with lots and lots of changes. We had some problems, but we also saw some amazing things. We will surely always remember it.
On to Wanaka/Iron Mountain.
---