---
Beth and Eric's Excellent Pacific Northwest Adventure
August 27 - September 13, 2010
---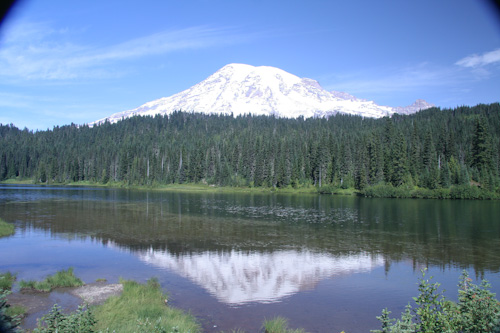 The Pacific Northwest is magnificent. It is a land of varied landscapes, both mountain and coastal. It features climactic peaks, clear lakes, rushing rivers, lovely islands, lofty waterfalls, and copious lava. The basic geology of the area, in a nutshell, is that the marine Pacific Plate abuts the higher and drier North American Plate, creating a beautiful and dynamic coastline, and the Pacific Plate subducts underneath the westward-moving North American Plate, causing volcanism (the Cascade Mountains) a significant distance inland.
We first beheld a Cascade mountain shortly after moving to California in 1993. Majestic Mt. Shasta was aglow in the light of a full moon. The sight of this pearlescent mountain was so impressive that Eric woke me up to see it. This was the unforgettable beginning of our fascination with the Cascades. We've seen many more of these exciting volcanic mountains in our travels to visit Pacific Northwest friends over 17 years of living on the west coast, from either Interstate 5 or the air. But as most of the mountains are significantly to the east of Interstate 5, until now we had only visited two up close, Mt. Shasta and relatively recently-erupted Mt. Lassen, those most proximitious to the Bay Area. We wanted a chance to get off the beaten path, out onto the forest roads where we could see these incredible mountains up close.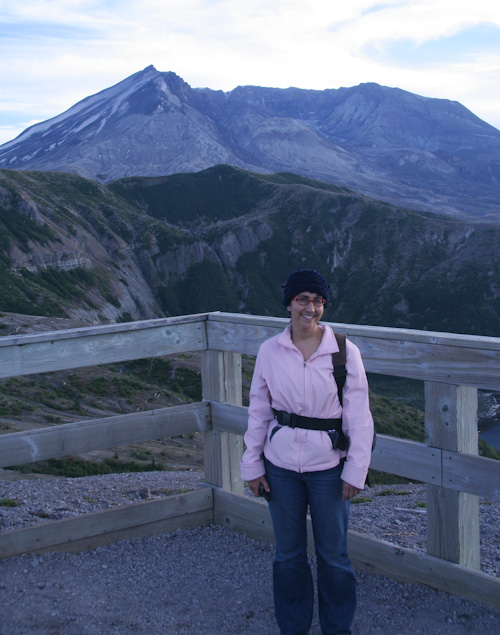 So the northbound half of the trip is all about fire. But there's so much more to the beautiful Pacific Northwest than just the Cascades. We wanted to see the lovely seaside City of Vancouver and the beautiful San Juan Islands. I also became excited about diverse Olympic National Park, replete with mountains, coastline and rainforests, after my father sent me pictures of his visit there. So the southbound half of the trip is about water.
Thus we planned the amazing Pacific Northwest adventure you can read about below.
Fire
Fire Mountains of the West: The Cascade and Mono Lake Volcanoes, by Stephen L. Harris, lists nineteen major Cascade peaks, and we wanted to see as many as possible as closely as possible. We were very proud to have hiked to the Lassen summit in 2008, but scaling most Cascade peaks requires mountaineering equipment and skills. We experienced the mountains as closely as time, weather conditions and our skills permitted.
Again, the Cascades are volcanic mountains. While the volcanic nature of Mt. Rainier, for example, is inobvious in the famous views from the Seattle Space Needle, Google Earth's satellite view shows the giveaway cone at the top. The Cascades Range features different types of volcanoes, from stratovolcanoes, which form dramatic peaks, such as Mt. Rainier and Mt. Shasta, as well as flatter, more spread-out shield volcanoes.1 Shield volcanoes, like Kilauea in Hawai'i, are exciting in their own right because they produce more surface features, such as lava tubes and lava caves, for exploration.2 Two shield volcanoes in the Cascades are most readily accessible to visitors: Medicine Lake at Lava Beds National Monument and the Newberry Caldera at Newberry National Volcanic Monument.2 Interesting features in both of those areas are visible in Google Earth, and we were able to explore them up close. Our visits to the shield volcanoes were some of the most exciting parts of our trip.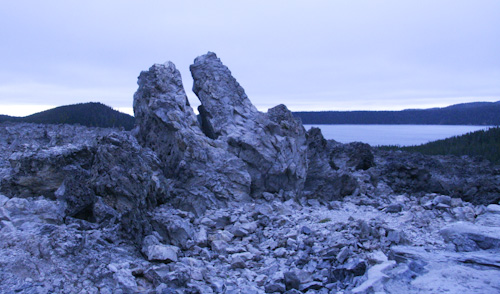 No one knows when or where the next Cascade eruption will occur, but we do know that the area is subject to continued volcanic activity.
Mt. Lassen: (world's largest plug dome volcano, 10,457 ft/3,187 m2): Climbed to the top before, skipped this trip.
Lassen Cinder Cone (cinder cone volcano, 6,907ft/2,105m2): Seen from Mt. Lassen before, hope to climb someday, skipped this trip.
Mt. Shasta (stratovolcano, 14,179 ft/4,322 m3): Seen from road at distance of 10 miles (16 km).
Medicine Lake Volcano (shield volcano, 7,795 ft/2,3763): Visited on this trip.
Mt. McLoughlin (shield volcano, 9,495 ft/2,894 m3): Seen from road at distance of 26 miles (42 km).
Crater Lake (remnants of destroyed stratovolcano3, overlook 6,173 ft/1,882 m2): Visited on this trip.
Mt. Thielsen (shield volcano, 9,184 ft/2,799 m): 13 miles (21 km) from road, but could not be seen due to weather.
Newberry Caldera (shield volcano, 7,989 ft/2,435 m3): Visited on this trip.
South Sister (stratovolcano, 10,363 ft/3,159 m3): Seen from road at distance of 18 miles (29 km).
Middle Sister (stratovolcano, 10,047 ft/3,062 m3): 22 miles (35 km) from road, but could not be seen due to weather.
North Sister (shield volcano, 10,085 ft/3,074 m3): 16 miles (25 km) from road, but could not be seen due to weather.
Mt. Jefferson (stratovolcano, 10,497 ft/3,200 m3): 18 miles (29 km) from road, but could not be seen due to weather.
Mt. Hood (stratovolcano, 11,249 ft/3,429 m3): Seen from Mt. St. Helens at distance of 63 miles (101 km).
Mt. St. Helens (stratovolcano, 8,365 ft/2,549.7 m3): Visited on this trip.
Mt. Adams (stratovolcano, 12,281 feet/3,743 m3): Seen from Mt. St. Helens at distance of 33 miles (53 km).
Mt. Rainier (stratovolcano, 14,411 ft/4,393 m3)): Visited on this trip.
Glacier Peak (stratovolcano, 10,541 ft/3,213 m3): Unfortunately had to skip this trip (closest approach, 54 miles (87 km).
Mt. Baker (stratovolcano, 10,781 ft/3,286 m3): Unfortunately had to skip this trip (closest approach, 27 miles (43 km)).
Mt. Garibaldi (stratovolcano, 8,786 ft/2,678 m3): Unfortunately had to skip this trip (closest approach, 42 miles (68 km)).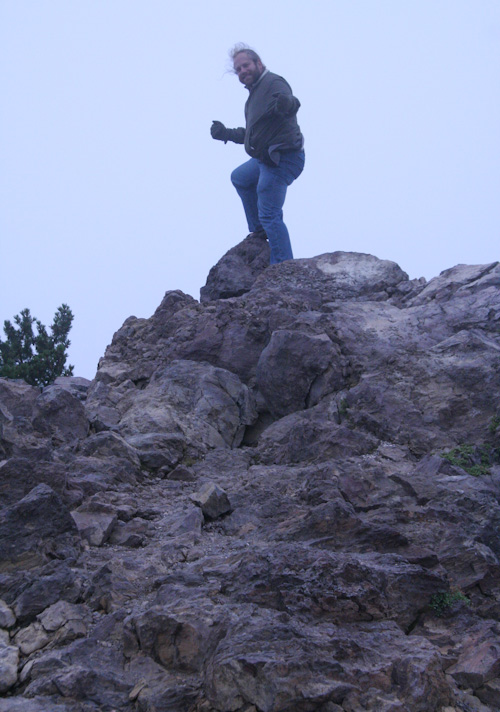 Water
Our southbound route took us down the west coasts of British Columbia and Washington. In addition to hiking out to the Pacific Ocean beaches on the Olympic Peninsula, we encountered water in many other ways. We crossed the Strait of Georgia on the way from Vancouver to Victoria, the Strait of Juan de Fuca on the way back to the US from Canada, and the famously beautiful Puget Sound through the San Juan Islands, all by ferry. We viewed Padilla Bay at Deception Pass. We cycled along English Bay, the Burrard Inlet, and Vancouver Harbour in Vancouver. We saw marine mammals from the shore of Lopez Sound in the American San Juan Islands. We dove into the Saanich Inlet near Victoria and saw a Pacific Giant Octopus.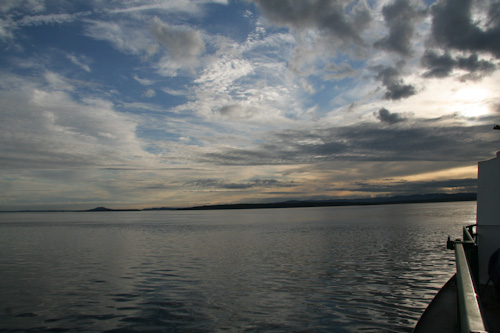 We did also see outposts of water up in the fire zone. Small lakes like Paulina, many waterfalls, and of course larger Crater Lake. I am absolutely fascinated by the fact that all of the volcanic activity in the Cascades is ultimately caused by tectonic forces interacting on the coast, over a hundred miles (160 km) away. The water and fire zones are intimately connected.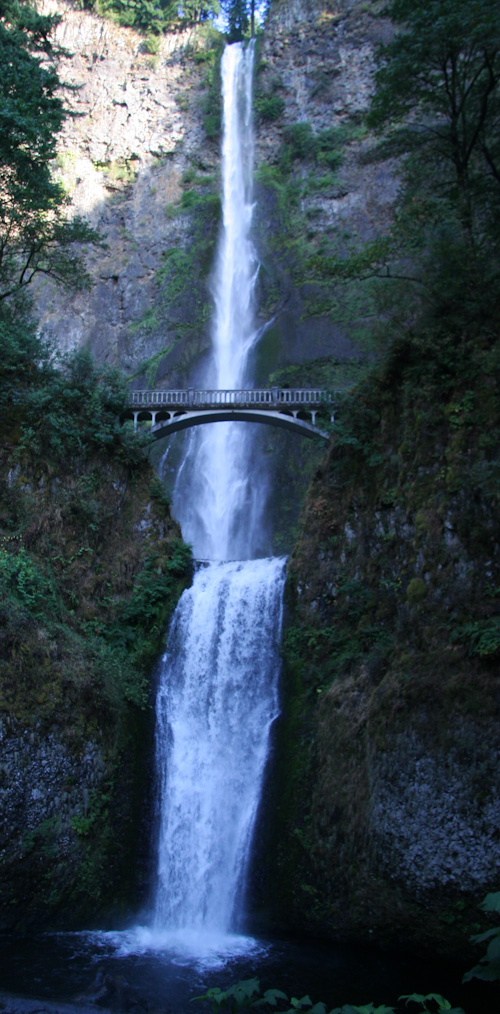 And, of course, everywhere we went, we looked for wildlife.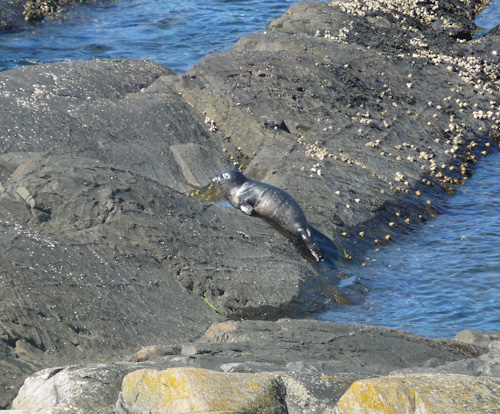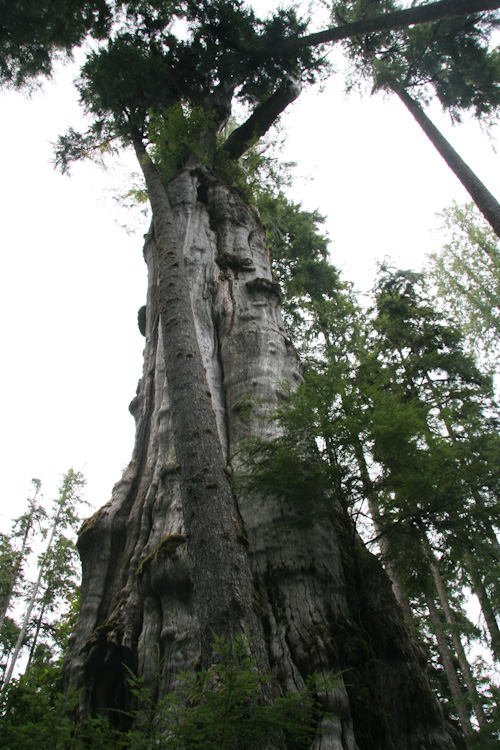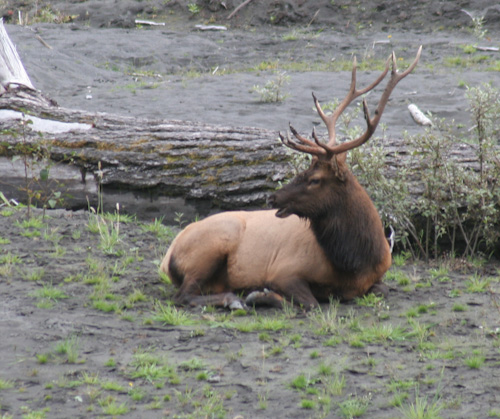 General Trip Notes
Great romance and poetry can be found in the experience of the road. The sensation of movement, the thrill of greeting each dawn and finding a new place to see, the satisfaction of exploration. Traveling this way is one of the most gratifying experiences life offers.
We had a marvelous time on this trip, and in most cases, it exceeded our high expectations. In looking back on the days where we were disappointed, there is one major common factor: rain. In addition to making everything wet, clammy and muddy, rain clouds up the skies and prevents you from seeing anything at even a relatively short distance. On an urban vacation, we would have had alternative indoor activities like museums. But since we chose to see the great outdoors, when rain occurred, it dampened our plans in an enormous fashion.
We were also negatively affected by an enormous cold front. Nearly everywhere we went, cashiers told us that the weather was unusually cold for that particular area in late August or early September. The clear lesson here is that research on typical weather patterns for an area is insufficient; one must always plan for unseasonable temperatures.
Eric was fond of telling people we met on the road that "Napoleon did not invade Russia with the level of planning that went into this trip." It's true that we both spent many, many hours looking at maps. I also spent more than a week's worth of lunch hours talking on the telephone to rangers of the US National Park and Forest Services, which in most cases was the most effective way to get information. I would also refer travelers to the US NPS' positively excellent website and the FS' good but much less detailed site. The geocaching website is a potentially good source of information as well, but requires quite a bit more searching to find the best information.
To see all that we did in the time that we had required not only a high level of planning in advance, but also a relentless pace on the trip itself. Yet, even though we saw so much in so little time, we were perpetually frustrated by the lack of time to see more. We constantly saw signs on the road for attractions we couldn't see, state parks, waterfalls, scenic views. We could easily have filled another two weeks with fun and fascinating activities in this amazing area. Our only hope is that we will somehow manage to have enough money to retire while we are still healthy enough to travel, so that we will be able to take a more leisurely pace. And travel in an RV. We have been staring enviously at RV travelers with their warm, watertight environments. At the very least, maybe we could have a camper trailer.
We are entirely thrilled with our Saturn, Pearl, and the way she handled a difficult trip up to high elevations and along bumpy dirt roads, especially at her advanced age of nearly 15 years and nearly 150,000 miles (240,000 km). She was a great car when we bought her new from the dealer, and we still love her. Sometimes, however, we wished for a somewhat larger vehicle. Travel advisors always tell travelers to leave more things at home, but we definitely would have been happier if we could have brought more with us. In particular, my winter coat and our own diving buoyancy jackets would have made the trip more comfortable. I had to develop an elaborate plan for fitting everything we did bring into the car, in such a fashion as to have the particular things we would need while driving (water, snacks, maps, guidebooks, cameras, computers) within reach of the seat-belted passenger. Things would shift in the course of overnight stops, and every morning, I would have to shove all the bags back into their designated places. We saved an enormous amount of money by eating mostly from grocery stores rather than restaurants, but almost half the back seat was always filled with grocery bags.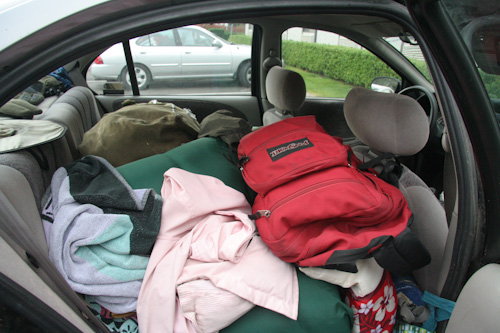 As a final note, remember that most of the places we visited were administered by the federal government of the United States, either the NPS or the FS: Lava Beds National Monument, Crater Lake National Park, Newberry National Volcanic Monument, Multnomah Falls in the Columbia River Gorge National Scenic Area, Mount St. Helens National Volcanic Monument and the nearby Gifford Pinchot National Forest, Mount Rainier National Park and Olympic National Park. We also visited East Sooke Park (which seems to be administered by Capital Regional District Parks of British Columbia) and Deception Pass State Park (administered by Washington State Parks). I can't stress enough the importance of the availability of access to the most special places on our great continent, and how tax dollars make it all possible. Wherever you are, please support your parks! I would also encourage you to go visit them! Fantastic (and inexpensive) recreational activities like ours are outside your door. These experiences are among the best that life has to offer. Get out there and enjoy them!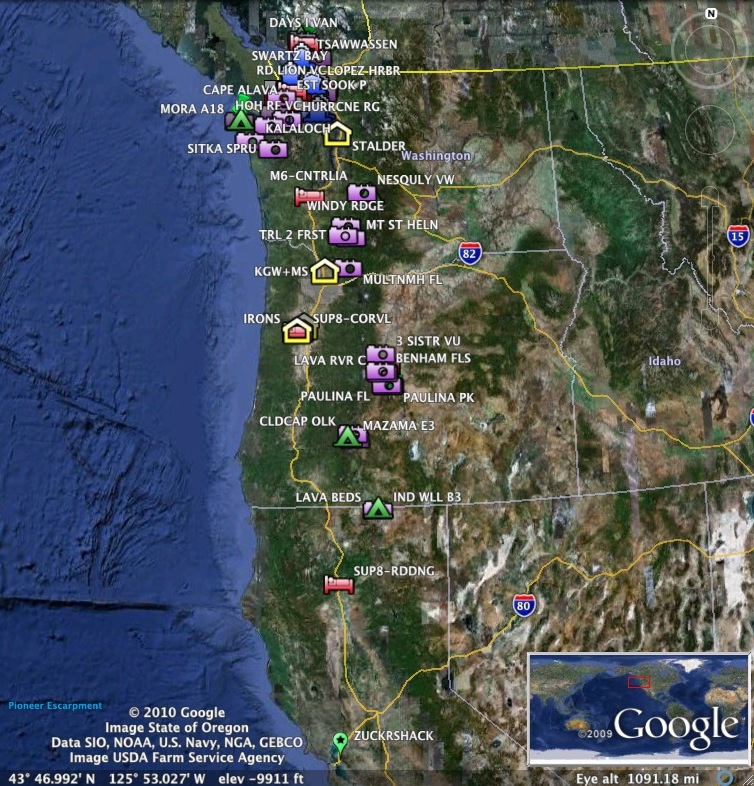 Distance driven: 3,097 mi (4,984 km)
Caches found: Eric, 36, Beth 32
Special thanks to Eric for doing most of the driving, making the production of this website possible.
1Fire Mountains of the West
2US National Park Service
3www.wikipedia.org
---