---
Diamond Hitch Ranch
Saturday 19 August-Tuesday 22 August, 2017
Alpenglow shining on Wedding Cake.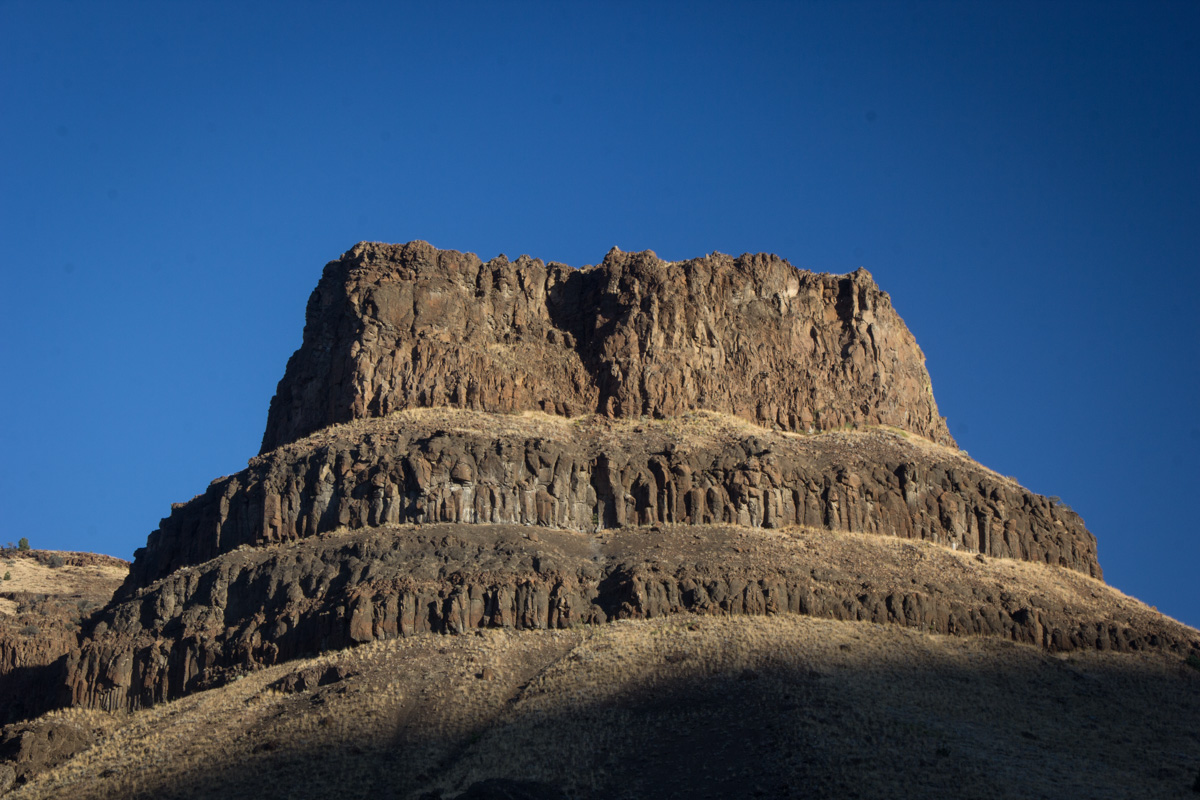 "Where are you going for the eclipse?" my friends would ask.
"A mule ranch," I would reply.
Eric's photo of the mule ranch sign.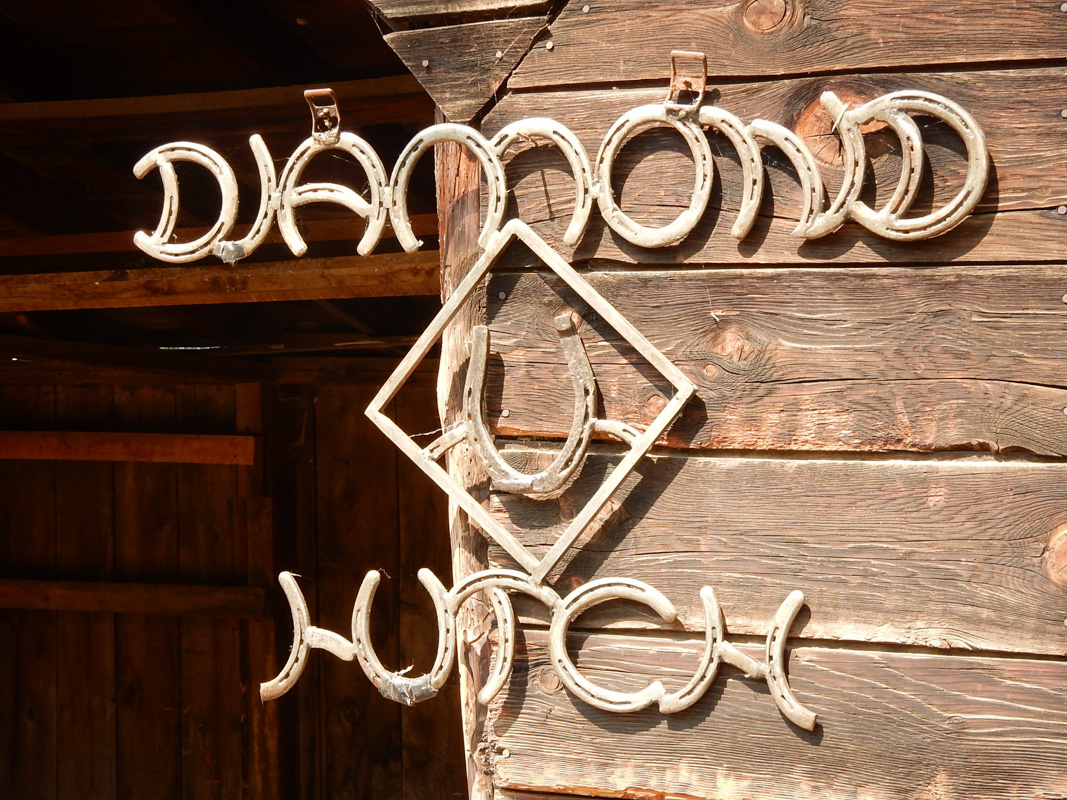 Jody Foss. Mule Rancher - Writer.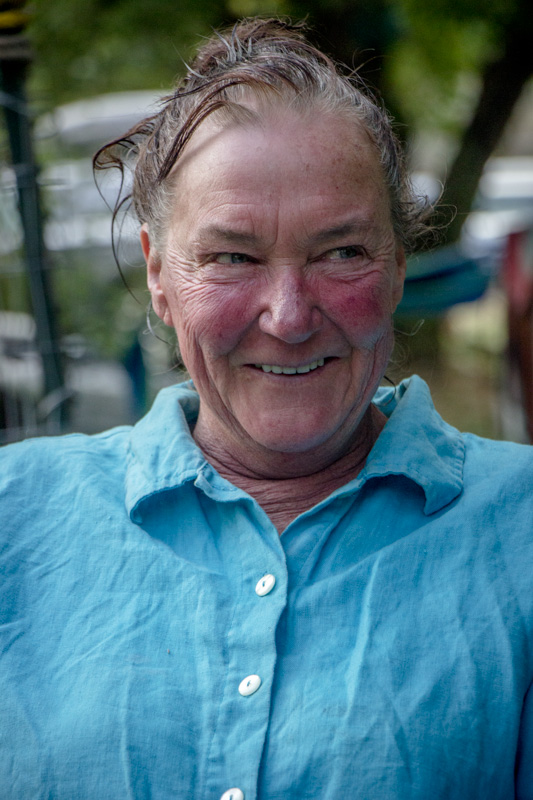 Jody with six-toed Slippers, who was less than thrilled to pose for a picture.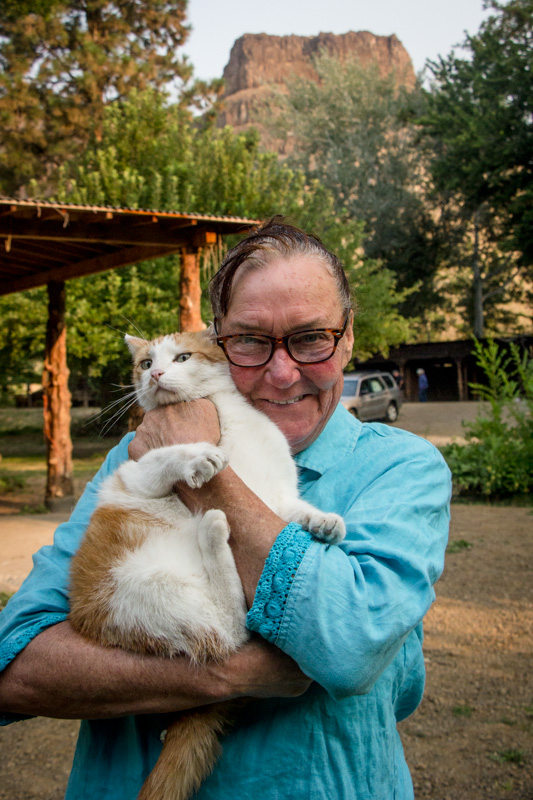 Jody is someone who has figured out how to live. She came from southern California, and loved horses and mules her whole life. When she was 21, Jody and her sister Deb took a mule trip all the way from Park City, Utah, to Spokane, Washington. Jody wrote a book about her travels, Mules Across the Great Wide Open. You can see this on her web site. Jody wanted to build a life with mules, so she bought a piece of property near Kimberly, Oregon, for herself and her mule, Mavis. Sadly, Mavis died earlier this year, but she was 35 years old, and Jody had had her for 33 years.
This is Juanita, a mule. Photo by Eric.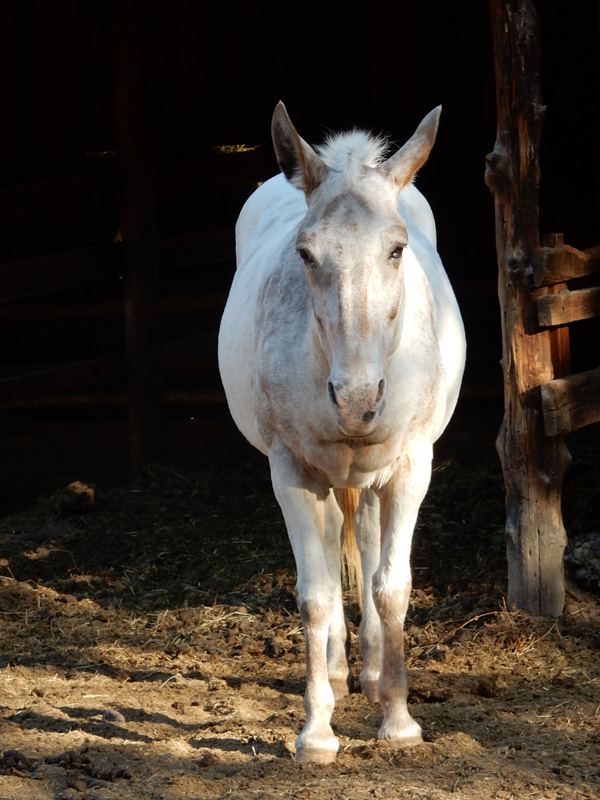 Chester, the lone male mule.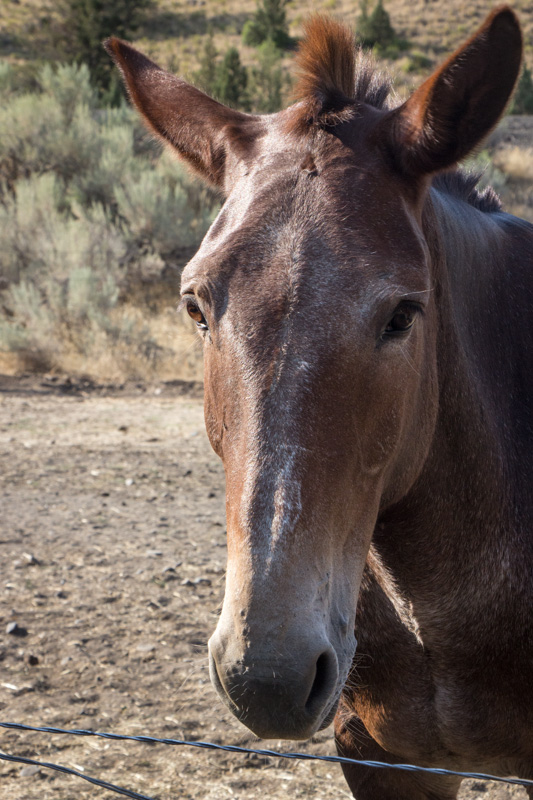 Mules Cocoa, Chester, and Nadine. Photo by Eric.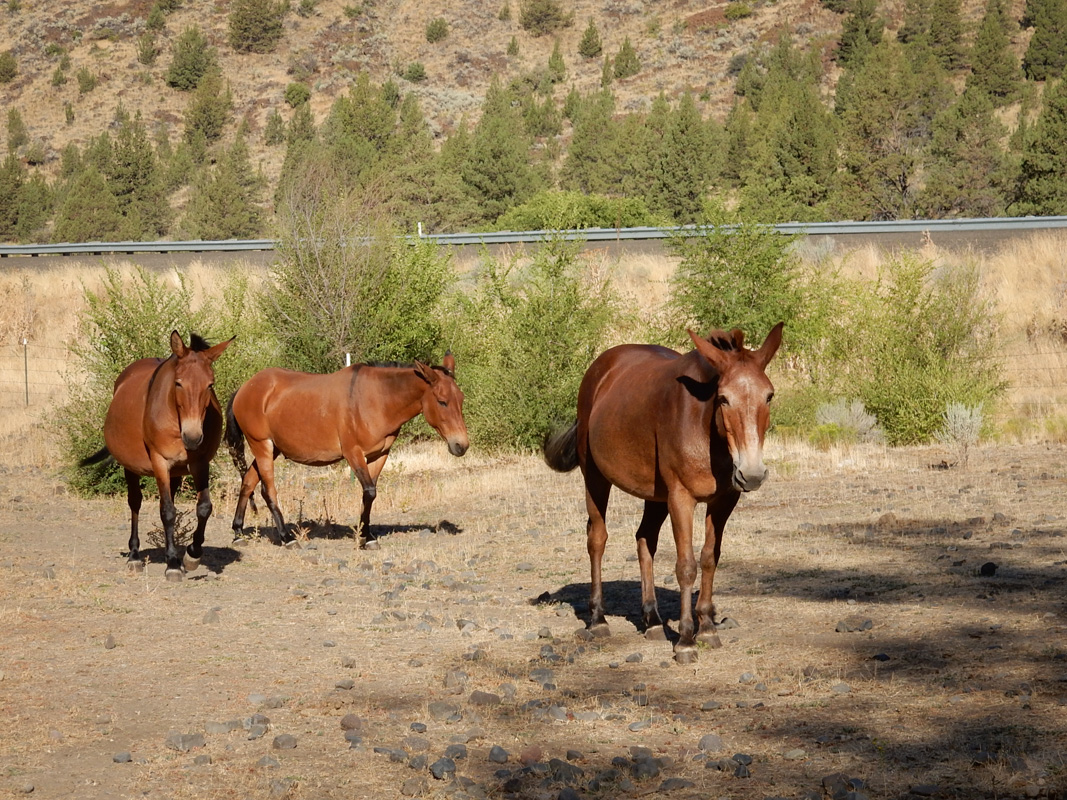 Linguini, an actual donkey. Photo by Eric.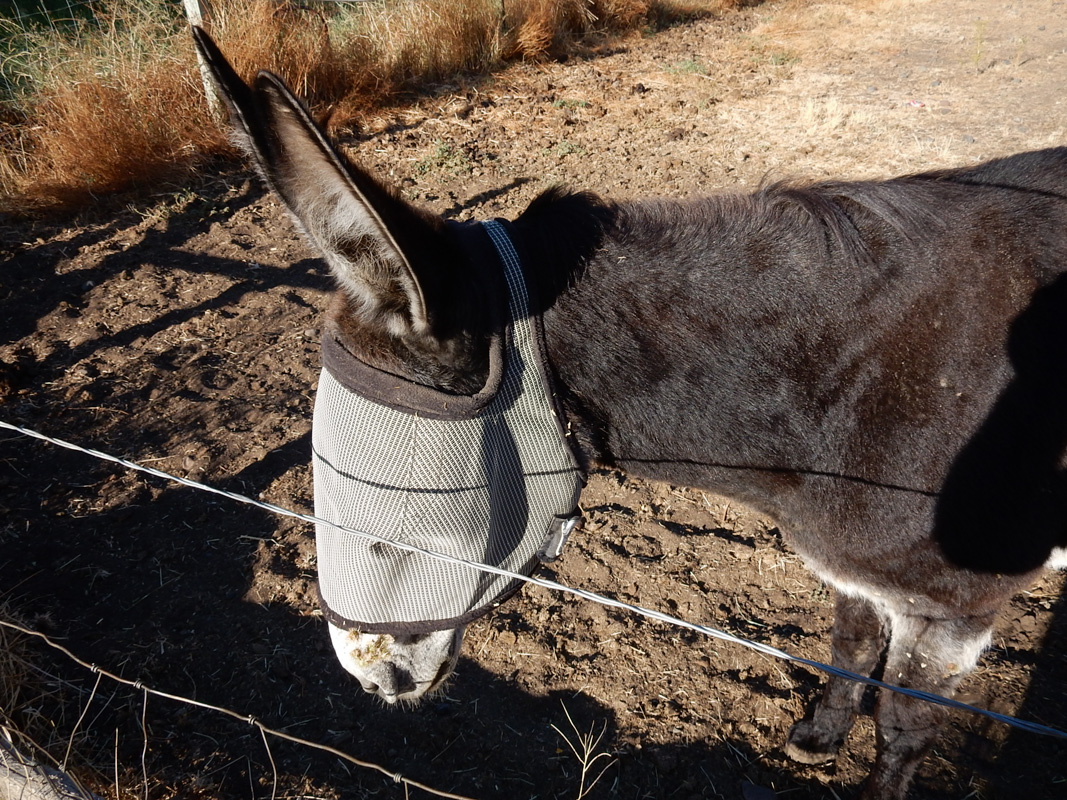 We met Helen, a biologist from San Mateo and volunteer at the Monterey Bay Aquarium. She told us that mules are cross-bred between donkeys and horses, but that some are much larger than others and that that depended on which parent was the donkey and which was the horse. We speculated that the size might be carried on the Y chromosome, but in looking it up on Wikipedia, I find that a mule is the offspring of a male donkey and a female horse. The offspring of a male horse and a female donkey is called a hinny. A hinny is typically smaller than a mule, because the hinny fetus cannot grow to horse size because its growth is limited by the size of its donkey mother's womb. Chester, smaller than Nadine and Cocoa, may actually be a hinny.
How did Jody come to host an eclipse event? Tyler is an astronomy professor at the University Redlands in southern California, on the way between Los Angeles and Joshua Tree National Park. Tyler got his graduate degrees from Cornell University, but went to Reed as an undergraduate, which is why he was associated with the Reed College Alumni Association.
Tyler with his wife, whose name I sadly did not get.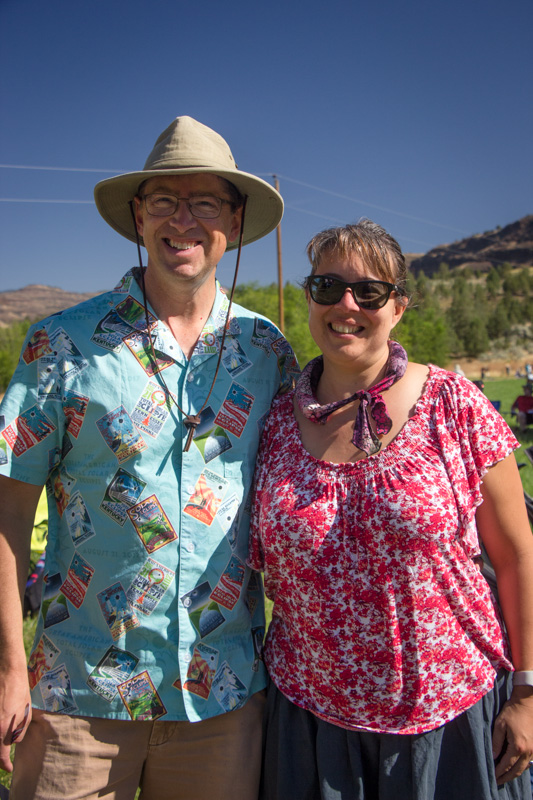 Tyler had an extremely disappointing experience viewing the 2015 eclipse in the Faroe Islands, where clouds covered the sun and moon just before the totality. He was determined that he was not going to miss the 2017 eclipse in the same fashion. He searched the path of the totality for the spot with the greatest number of historically sunny days in mid-August, and settled on the area around Kimberly, Oregon. When he asked people in Kimberly about hosting an eclipse event in the area, someone suggested he call Jody at the Diamond Hitch Ranch, because Jody would sometimes host musical events on her property.
Some pieces of Jody's farm equipment, perhaps some kind of plow. Photo by Eric.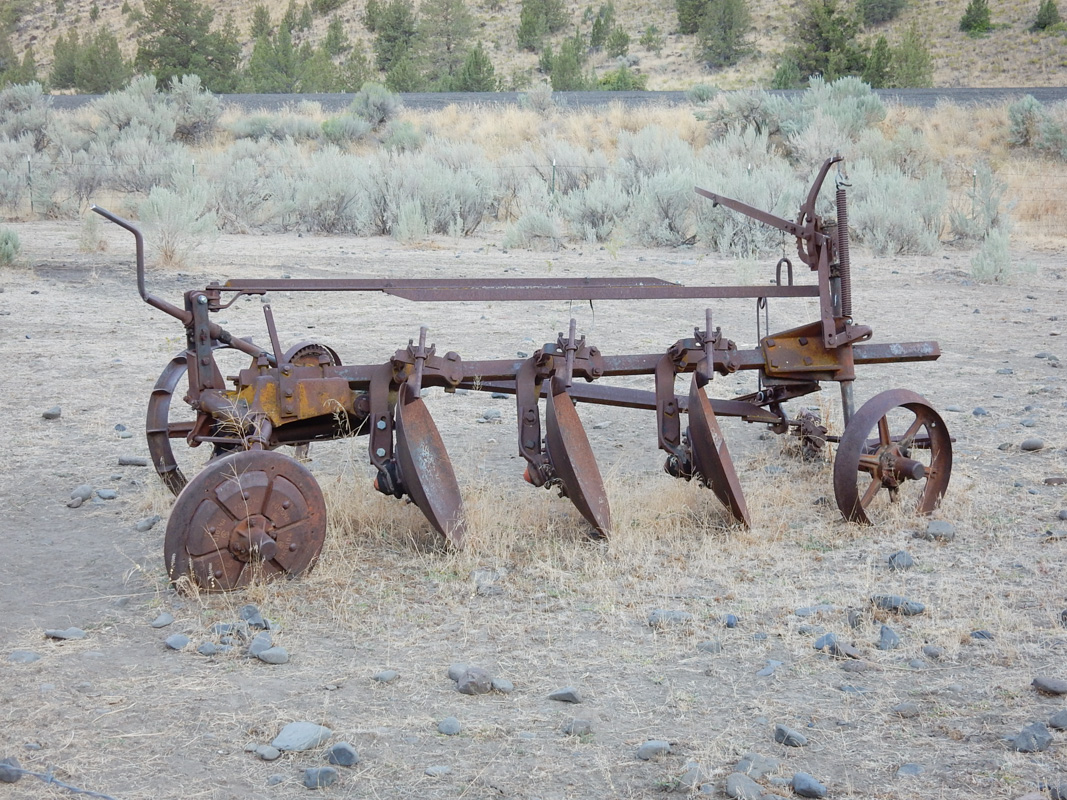 And so Jody and Tyler planned the Diamond Hitch Ranch Great American Total Eclipse Event. The web site promised four days on the ranch, breakfast with fresh fruits Sunday and Monday, a barbecue dinner and an astronomy presentation Sunday night, and a great view of the totality on Monday.
Eric and I found out about it because our friend Auros Harman had also scouted out best places for eclipse viewing (thank you, Auros, for doing this legwork for us!), and chosen the Lands Inn, also near Kimberly, Oregon. Auros had been trying to gather a group of friends to go up there and watch the eclipse, and I had told him we were interested, but he wasn't able to gather enough people for a group reservation and just made a reservation for himself and his spouse, Plymouth. By the time Eric and I figured out that the group booking had not panned out and that we needed to make our own reservation, the Lands Inn was already filled up. The hosts there, however, were kind enough to tell Eric about the Diamond Hitch Ranch Great American Total Eclipse Event, and that's how we were lucky enough to experience the eclipse the way we did.
Admission ticket for eclipse event. It would have been somewhat easier to find the ranch if I had remembered to bring these with me. As it was, we were only able to find it because I had bought one of Jody's books and the address was in the back for ordering more books. Photo by Eric.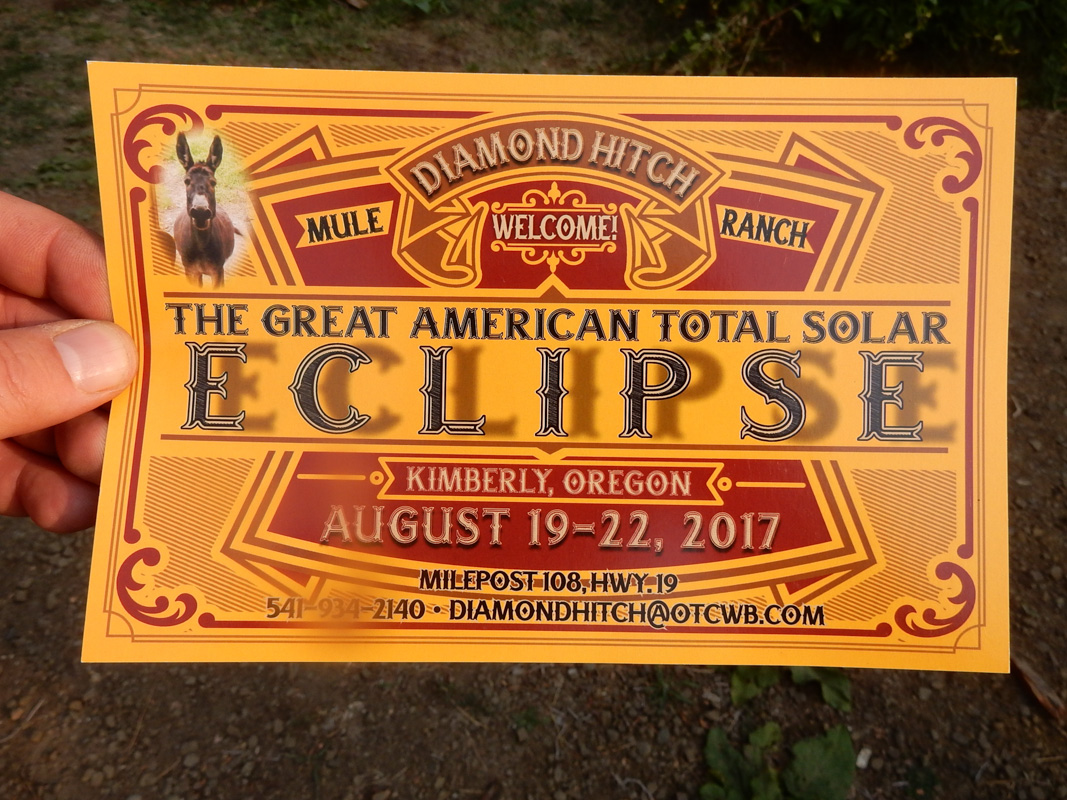 The chuck wagon. Photo by Eric.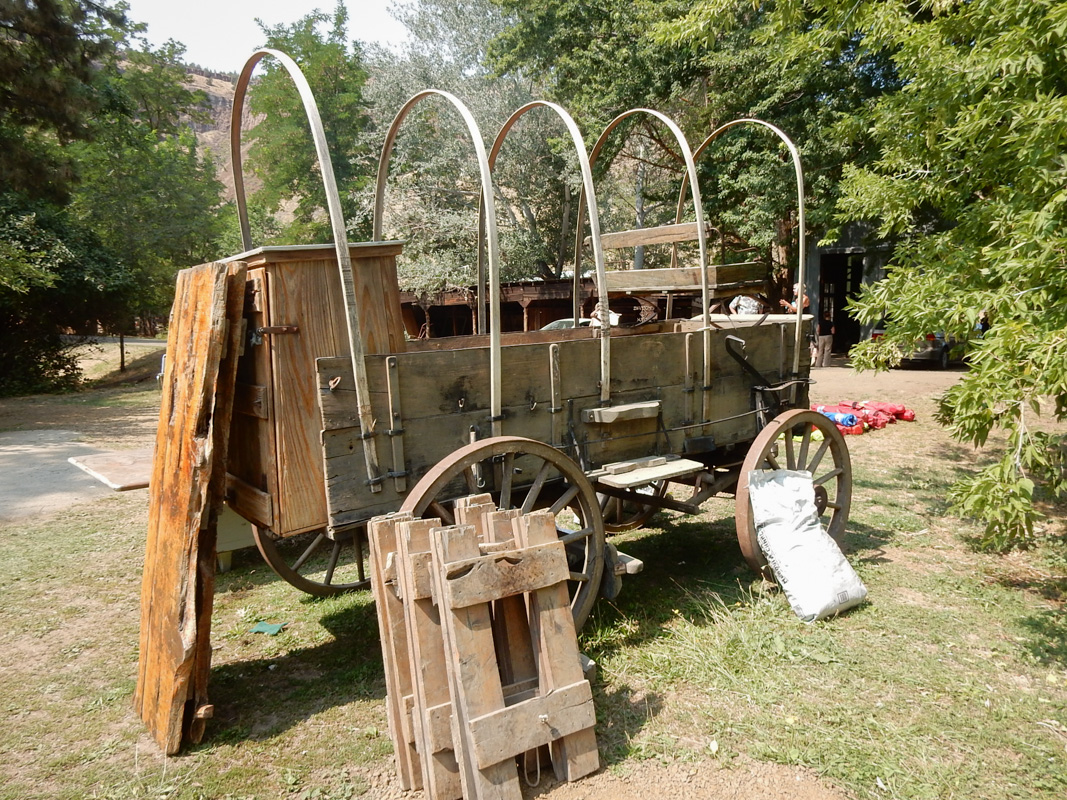 Can I even describe just how much the Diamond Hitch Ranch exceeded our expectations? The service was absolutely amazing. From my e-mail discussions with Jody early on in the planning process where I asked for a spot in the shade (this was no issue; there were plenty of spots in the shade), to ordering her book and receiving an autographed copy, to finally meeting Jody and checking in far too late in the day, to the fabulous meals we were served, the entire experience was just great. There was hot water on tap, with solar showers to fill and take back to your camp to shower with a bathing suit on. There was wi-fi near the house. There were mules!
Jody and me, on the ranch. Photo by Eric.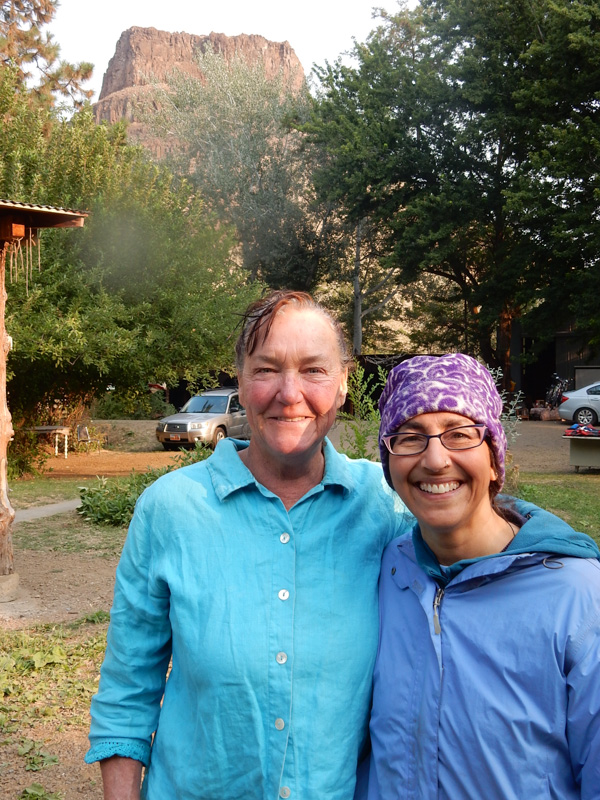 And there was utterly unexpected incredible scenery. Here's Eric petting Linguini with a formation called the Wedding Cake in the background.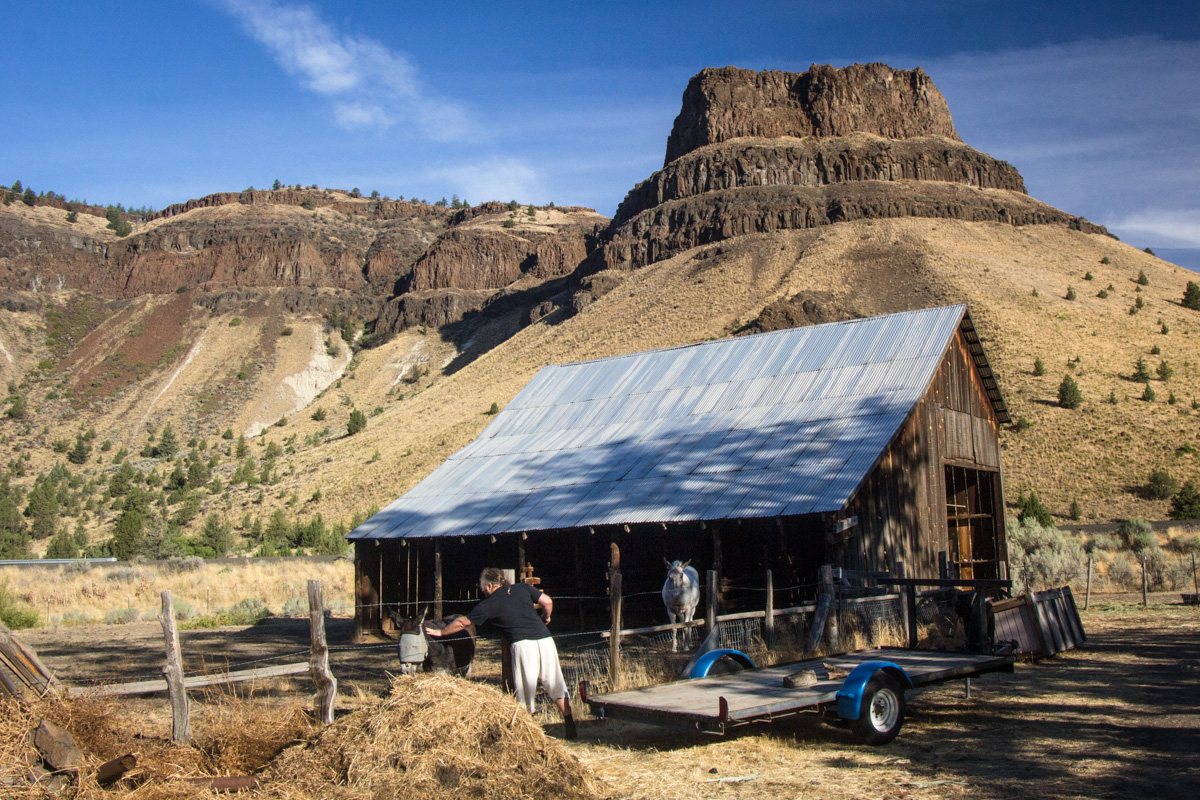 I will write more about the geology of the area on the John Day Fossil Beds page, but for the curious, I will say here that the Wedding Cake looks very similar to rocks further south, in Picture Gorge, which Roadside Geology of Oregon identifies as remnants of periodic eruptions of the Picture Gorge Volcano.
When we made the reservation for the eclipse event back last September, the cost seemed like a ridiculous extravagance. We told ourselves that we could always recoup our costs by selling the reservation and making an alternative reservation at a Forest Service campground instead if we could get one when those opened up in February. But over time, I became enchanted by the idea of the mule ranch and decided not to sell the reservation. We're so glad we didn't. As the eclipse approached and we saw how popular the area was going to be, and dire warnings of crowds and traffic began emanating from the Oregon State Police, our price began to seem like a tremendous bargain. It only seemed more so as the experience unfolded (and the food was served!).
Jody's web page advertised that the ranch was only 8 miles (13 km) from the John Day Fossil Beds. I looked at the Park Service's web site, saw the pictures of the Blue Basin, and determined that we should spend Sunday hiking there. As we were expecting the road to be completely clogged with traffic, I said that we should bring Screech and Scheherezade, so that we could ride right past all of those stopped cars. Eric grumbled, complaining that the bikes would be a pain to manage on the lid of the trunk, that they would cut our gas mileage severely, and that they would not be worth it. I went on excitedly about the park, and e-mailed links to the Park Service's pictures, until I prevailed.
Screech and Scheherezade on Sydney, in front of Abert Rim at the intersection of US 395 and OR 31. Photo by Eric.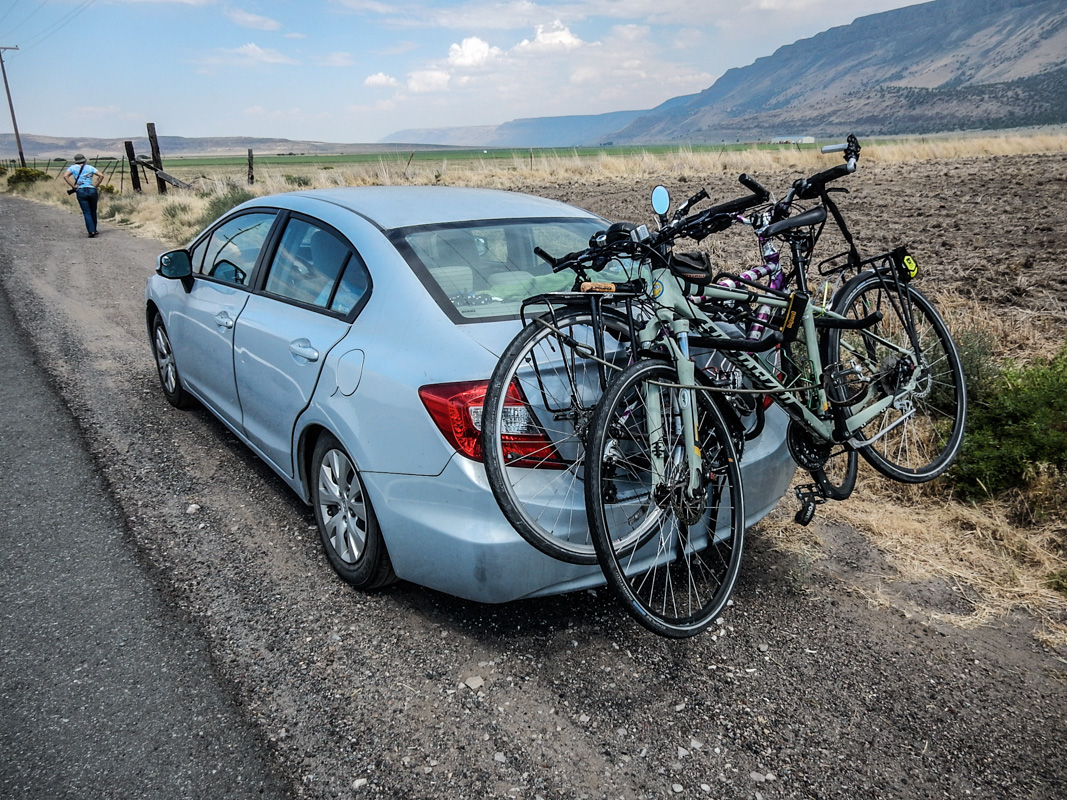 As it turned out, all the dire predictions of traffic delays were highly exaggerated (at least by Bay Area standards), and the Screech and Scheherezade were indeed an unnecessary burden. But we wouldn't know that until later.
Our original plan had been to drive all the way to the ranch on Saturday. But all the traffic warnings made us decide to spend one less night with the kittens and set out Friday night instead. We like to get as far as Redding in the evening of a northbound trip, but the Super 8 in Redding was charging $110 per night, while the Super 8 in Red Bluff, 30 miles (50 kim) closer to the Bay Area, was charging only $55. So, that was a no-brainer (although part of that $55 saved came at the cost of a waffle iron at breakfast; they just had toaster waffles). At least Red Bluff got us out of the Bay Area traffic. We didn't get packed up and out of the Zuckershack driveway until 20:00, and had to detour around a backup in Fairfield, and so didn't get to Red Bluff until 22:30. In typical Beth-and-Eric fashion, we didn't manage to get through breakfast, out of the motel room, and loaded up until 9:45.
And then Sydney wouldn't start.
Eric pop-started her in the Super 8 parking lot, and we drove to a Napa Auto Parts in Redding. Marie at Napa was great. She brought out a battery tester and tested Sydney's battery. If we hadn't needed a new one before we ran it down, we sure needed one now. She said Sydney's alternator would need to be replaced, but we figured that, with a new battery, we could get by on the existing alternator until we got home to our regular mechanic. Marie loaned us a wrench with which to replace the battery, as our wrenches were all deeply buried in Sydney's trunk underneath Screech and Scheherezade and their rack. For an automotive trouble problem, the approximately 1:15 delay that this caused us was actually rather minimal. And, some hundreds of miles further north, we discovered that the problem had not been random at all, but that I had carelessly left the map light on the night before. Alas. At least we were less worried about Sydney's alternator. We left Redding around 12:00.
The new battery.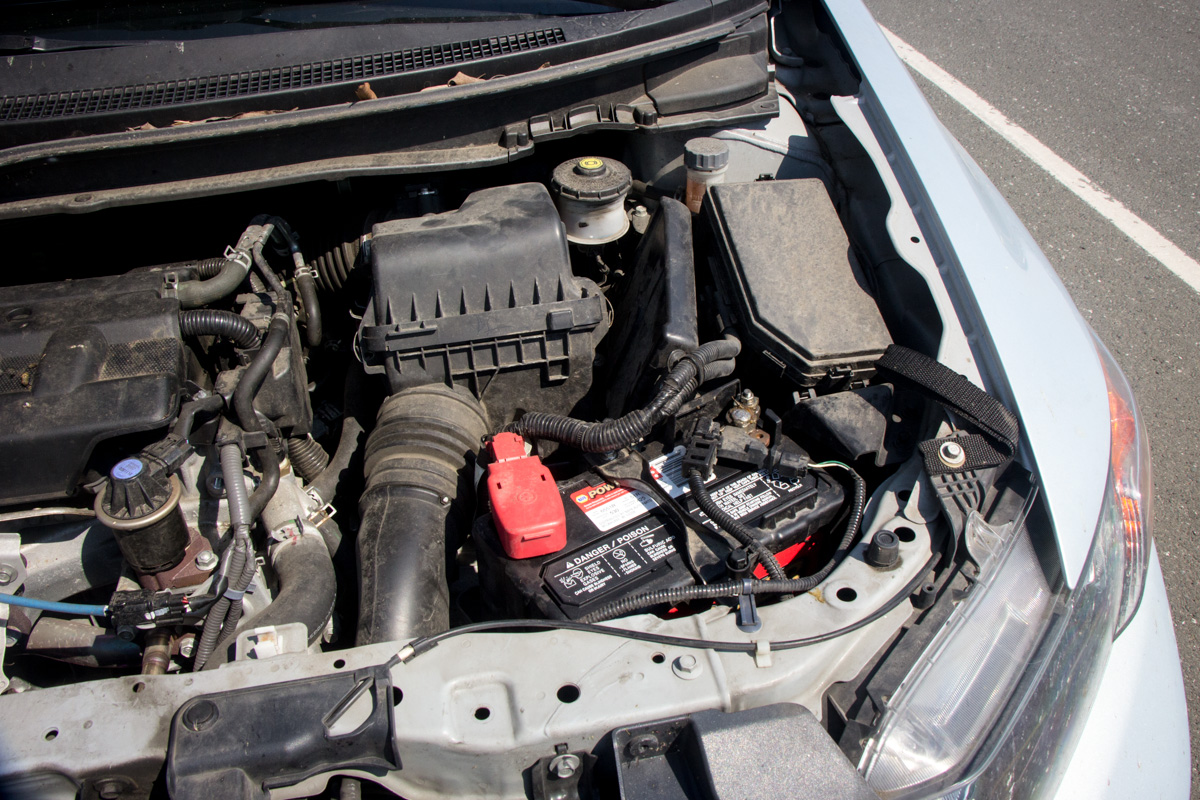 "AVOID US 97 AND US 26," declared the Oregon State Police sternly. "You probably can't," if you're trying to get to the eclipse, warned The Oregonian. So, even though it was 55 miles (88 km) farther and an additional hour on the road, we decided to take CA 299 northeast from Redding and drive into Oregon on US 395. There was no realistic way to get to the ranch without driving on US 26, but we figured there would be less traffic if we approached from the east.
And so we found ourselves in the "Oregon Outback." A brilliant bit of marketing, Eric thought.
Abert Rim. Roadside Geology of Oregon says that Abert Rim is "one of the most spectacular fault scarps in the country," and that it provides significant evidence that this part of Oregon is still subject to seismic movement.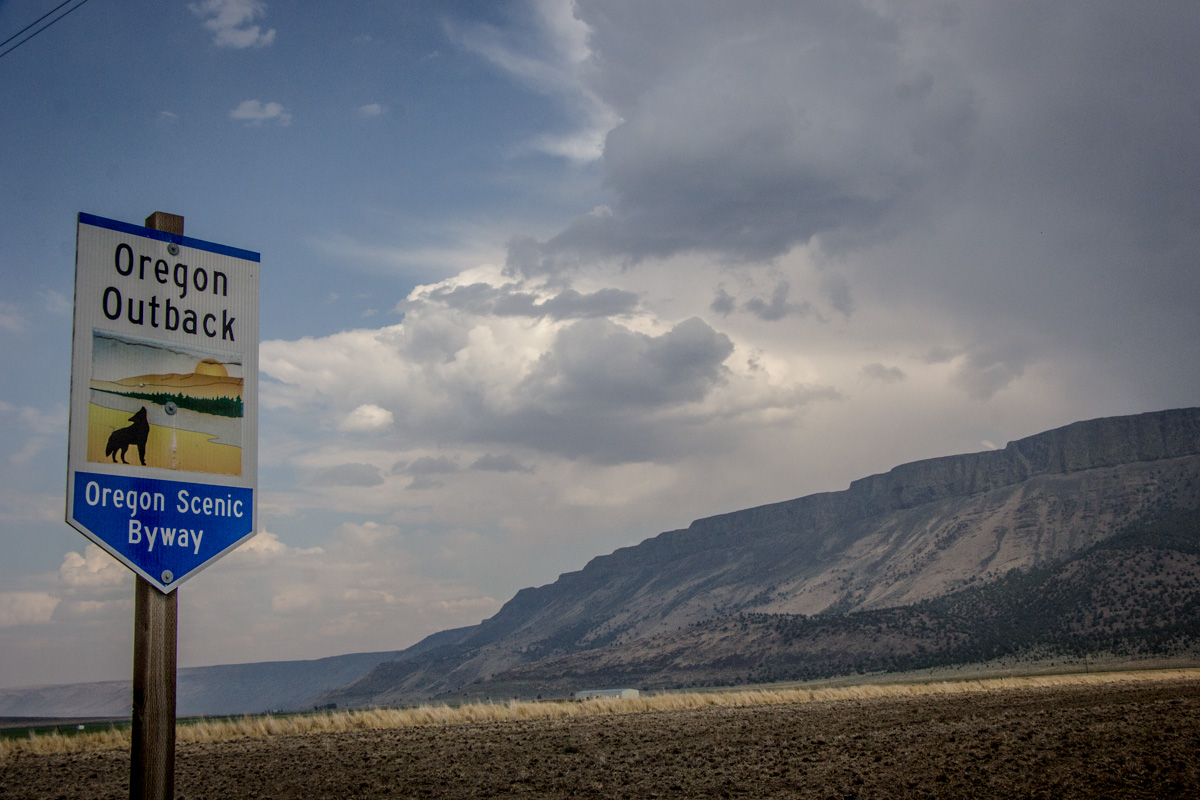 This place was so empty, we saw signs like this. Photo by Eric.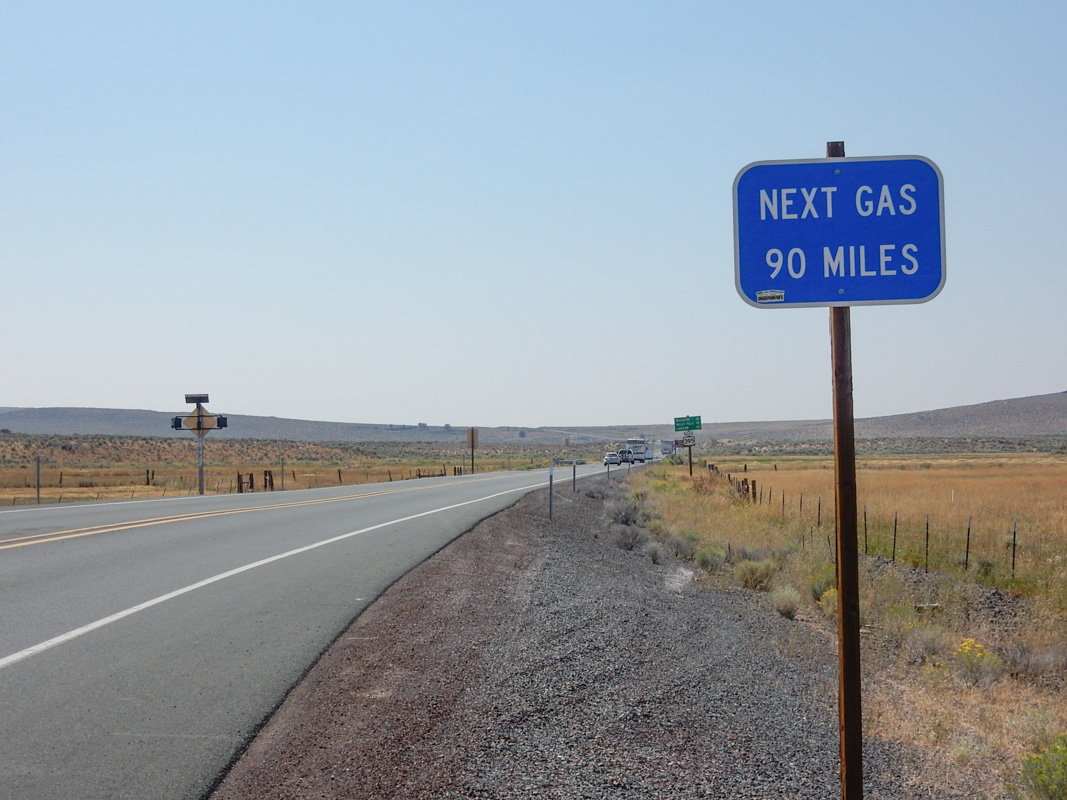 Riley was at the divergence of US 20 and US 395, and all there was was a general store with a gas station and some maps and books about Oregon, a post office, and this sign. Photo by Eric.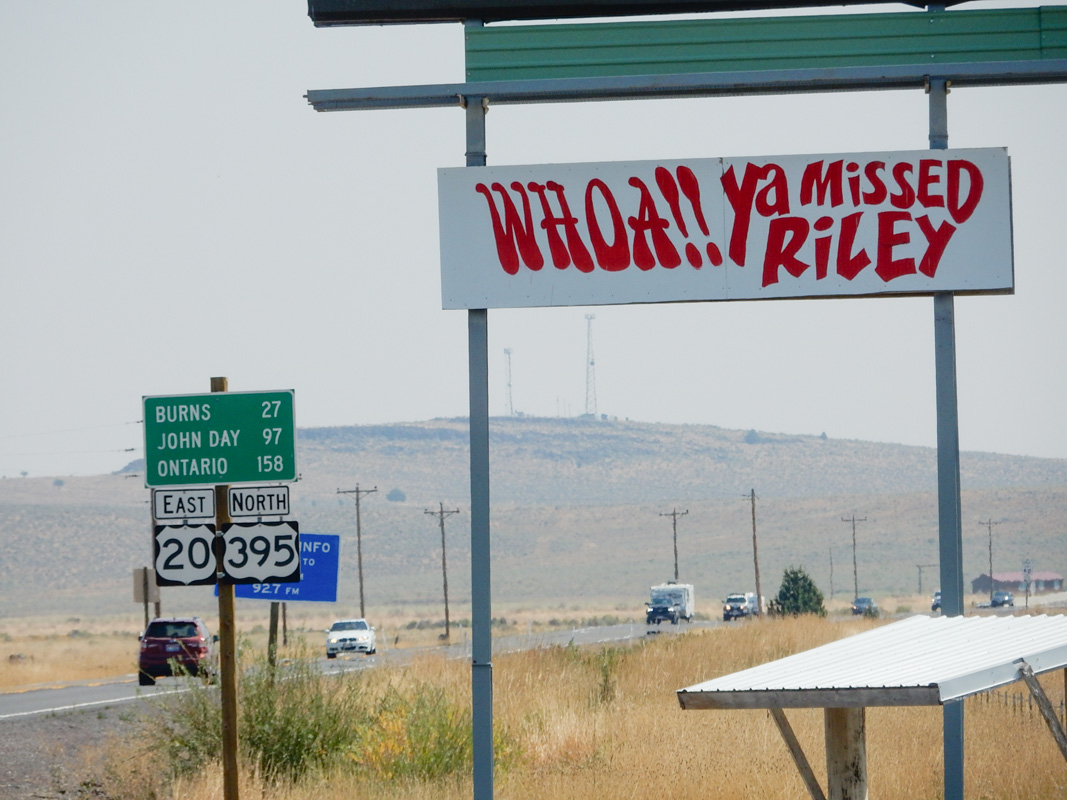 We went places that were so rural, you were allowed to pump your own gas after 18:00. Photo by Eric.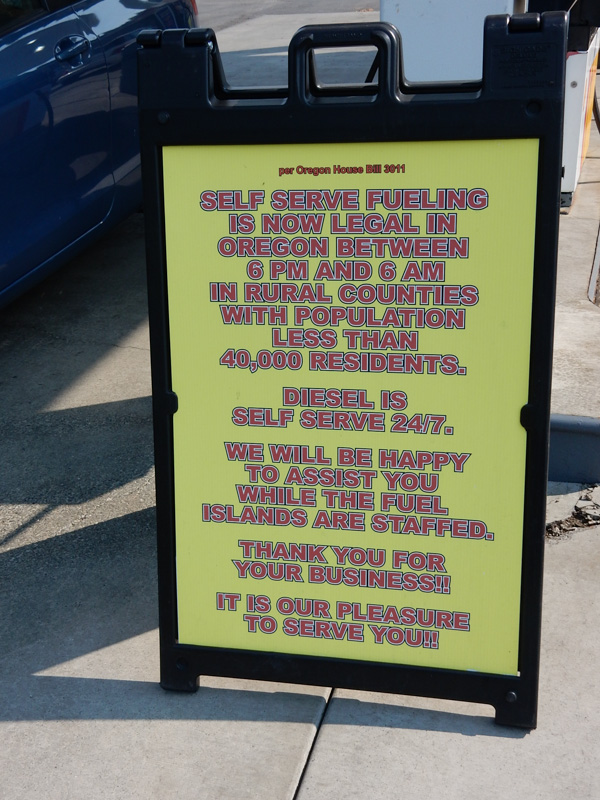 But my goodness, it was gorgeous! Even in the smoke! This is a reflection of Abert Rim (a fault escarpment) in Abert Lake.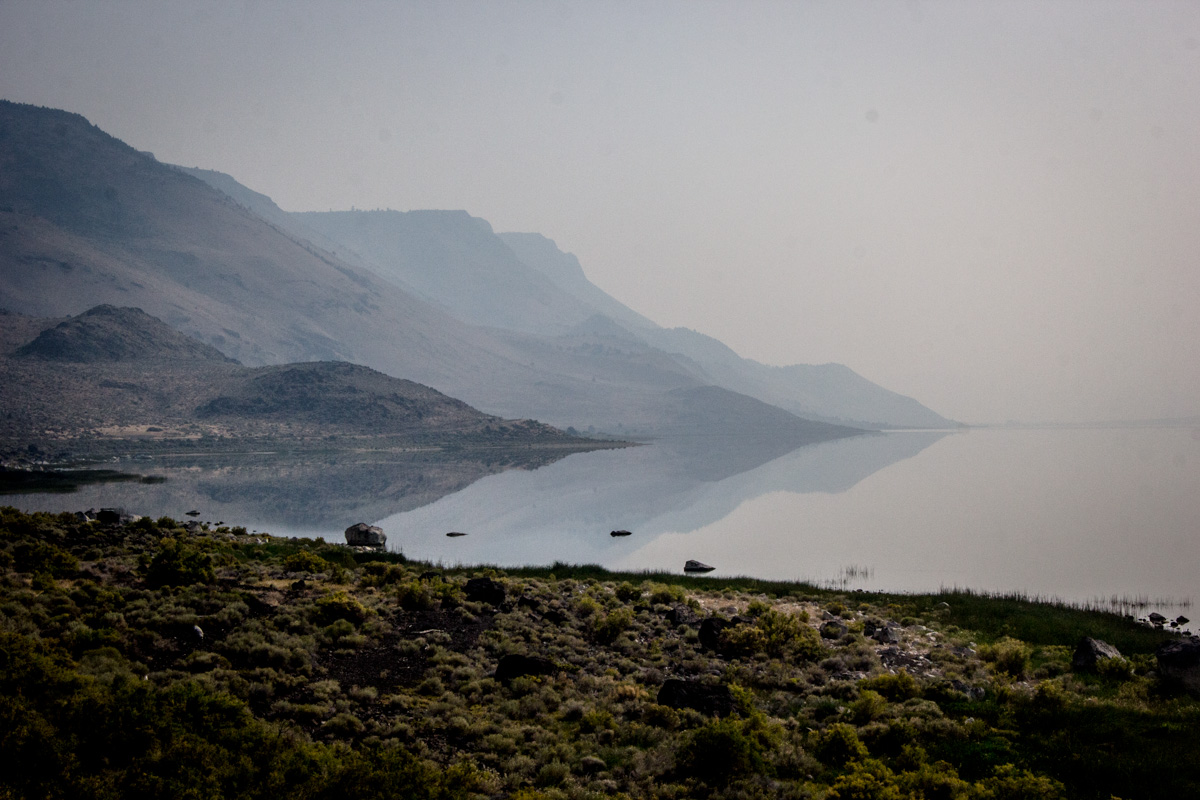 I was so pleased at how much I'd learned about geology, finding myself reliably able to identify fault escarpments and confirm them in Roadside Geology of Oregon or Roadside Geology of Northern and Central California. A substantial length of US 395 seems to follow the path of one or more faults.
You all know how much I love to drive, and roads like this, super scenic yet fast, are my absolute favorite. US 395 is amazing. We went through a pass somewhere in the Malheur National Forest, and came out of the smoke to mile after mile of stunning scenery. I forgot all about how late we were and how frustrating the battery delay had been, and found myself with a giant smile on my face. It was so pretty, we decided to drive back the same way on Tuesday, even though rumors of extremely heavy traffic had proven to have been unfounded. Even though we spent the whole day pretty much just driving, it was an incredible day and I was filled with joy.
It was 20:15, with the light beginning to dim, when we got to the ranch. Jody welcomed us warmly and showed us a couple of sites she thought we would like, pointing out the piles of manure where we should not pitch our tent.
And what a spot we got! We couldn't even see the Wedding Cake in the falling darkness, but here you can see how close our camping spot was from the barn and the view. See Sydney and our tent in the foreground.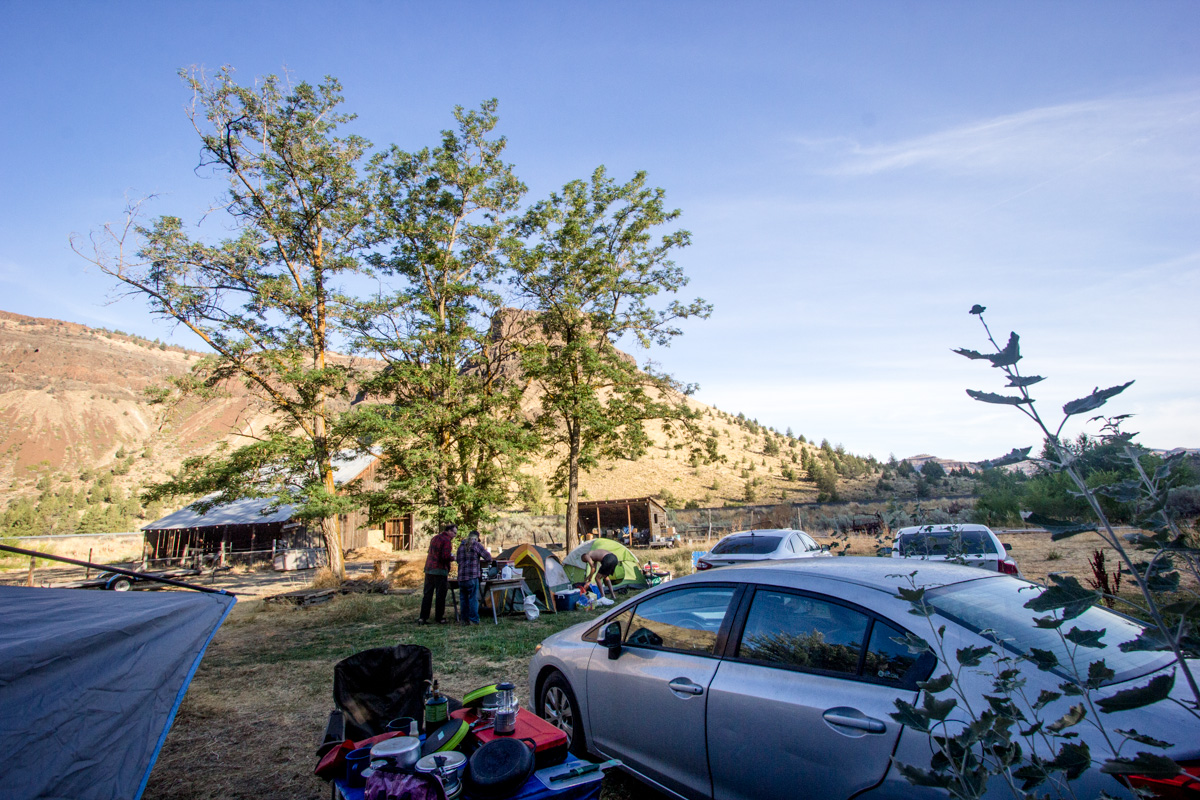 Eric took a picture of the view in the other direction from our site, of the meadow from which we would observe the eclipse. And look, there I am in the picture, camera in hand.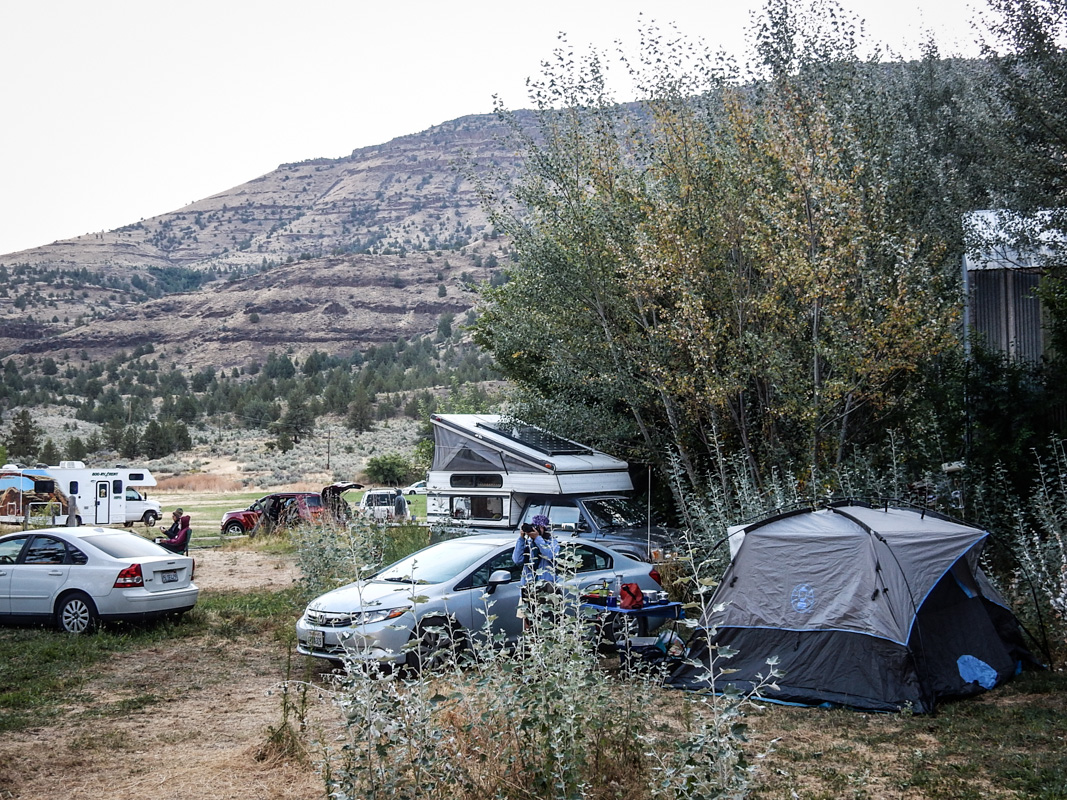 Because of the ridge on the other side of the meadow, the alpenglow didn't fall on the Wedding Cake until 7:15, enabling me to take this photograph without getting up at 4:30.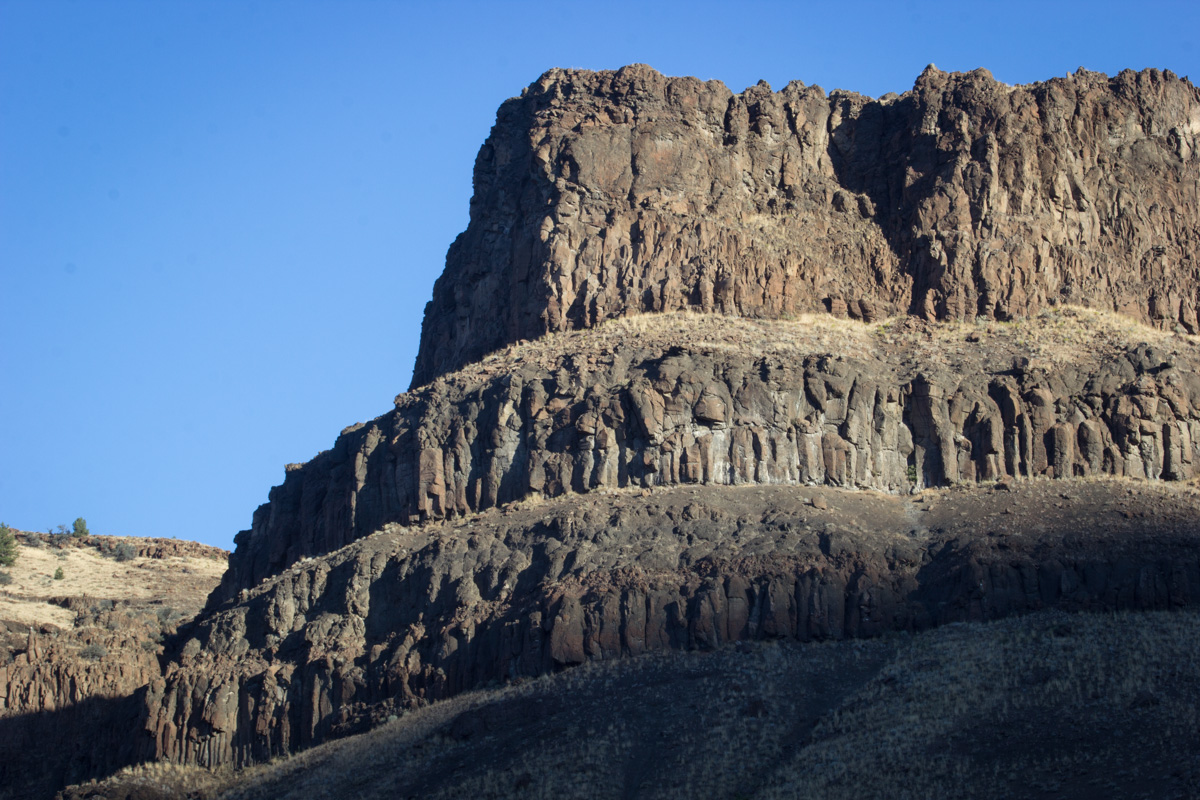 Alpenglow falling on the hills over the meadow in the evening.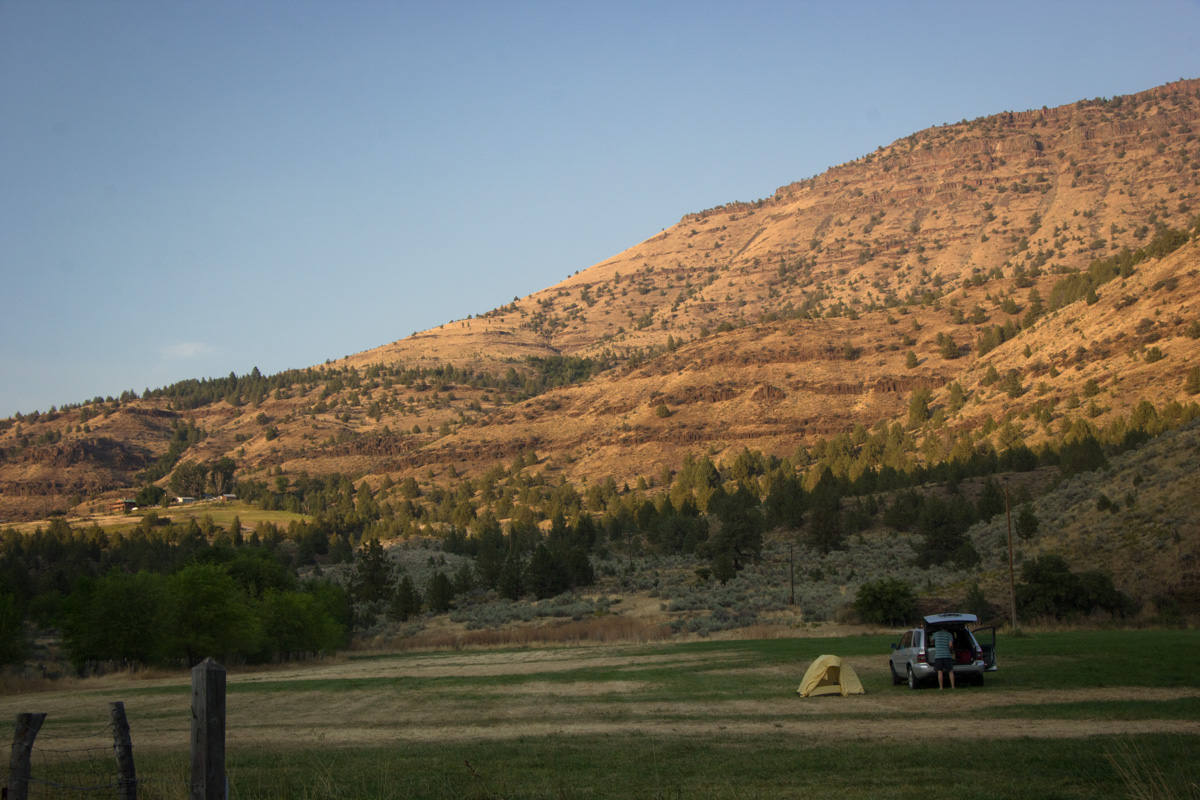 We got up Sunday morning to breakfast burritos. There were eggs, chorizo (both pork and vegan), fresh cilantro, homemade salsa, cheese, and sour cream. There were also cinnamon rolls, both regular and gluten-free, and fresh watermelon and cantaloupe. Jody had never cooked for a group of more than 20 before and was nervous, but she and her cooks and helpers (her mule-trip sister Deb among them) did a fabulous job. She found recipes for 100 and doubled them. Earlier in the week, she had taken time out to drive out to a friend's farm to buy boxes and boxes of melons and the most amazing red ripe tomatoes. She had feared turning some of the corners on the mountain roads, that her van would tip over with the weight! But it was all delicious.
Jody could easily have tried to pack many more campers onto her ranch, but she wisely limited the event to a very comfortable size that kept everyone friendly rather than competitive and hostile. And the eclipse itself attracted a very educated and conscientious crowd. We met many wonderful people. Many of them were from the Reed Alumni group. Very friendly Fawn, with whom we watched the eclipse. Pretty Mary Rose with a pretty name. Ann who loved her cats and her Impreza. Jo-Ann, who didn't actually attend Reed but was there with her traveling companion, Barbara, who did. Jo-Ann drove a rare stickshift Civic hybrid and rode with us to the Fossil Beds. Eric from Concord, who camped near us and regaled us with stories of his first job in the Bay Area, moving bodies for a morgue service. Ken and Robert, who were camped with Eric. Dan raved about his Honda generator. Ken was going off on a further road trip in eastern Washington and not going back to work until September. We told him to go see Palouse Falls. A Swiss family, now living in London, who had driven from San Francisco in a rented RV. Steven and Sandy, also camped near us, with a camper shell covered in Bernie Sanders stickers, living as blatant liberals in very guns-n-ammo northeastern Oregon near Hell's Canyon. Steven and Sandy were probably approaching 70 years old, and when I came back from the eclipse, they were standing behind their blatantly liberal camper shell, side by side, Steven shirtless with a hiking hat and Sandy in a black bikini and a baseball cap identifying her as a pilot. They looked like such a couple of classic American characters that I desperately wanted to take their picture, but figured it would have been rude.
We spent Sunday afternoon hiking in the John Day Fossil Beds, and came back to Jody's wonderful barbecue. Dinner was served on ceramic plates with metal silverware and pretty cloth napkins. There were choices of pork, beef, and chicken, along with roasted rosemary potatoes (with more sour cream!), bread (regular and gluten-free), caesar salad (both regular and vegan), and cole slaw. They did a great job of catering to everyone. But the best thing, the very best thing, were slices of those red-ripe tomatoes. With a little salt and pepper, I couldn't get enough of them.
A meal Eric made Monday evening with some of the leftover tomatoes. Photo taken before the addition of pesto sauce.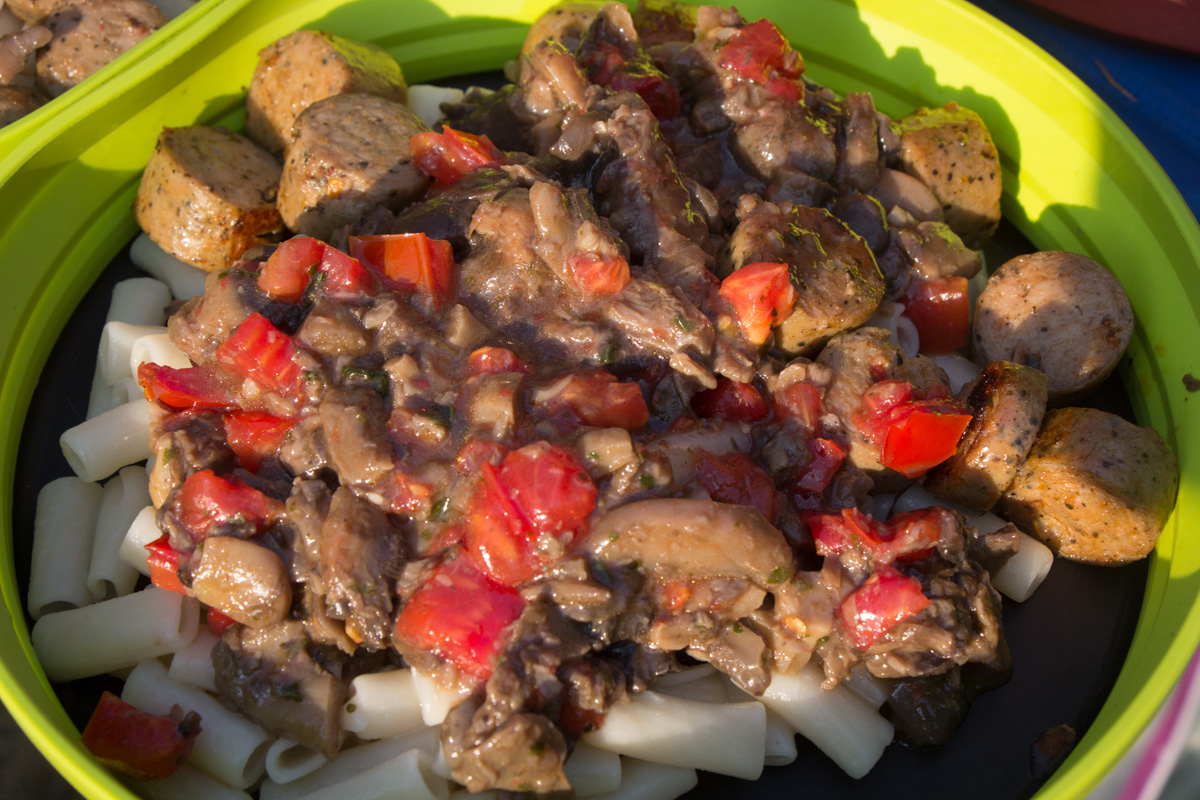 "This isn't going to be featured in Sunset magazine anytime soon," he said, "but I think it's pretty good!"
We had been camping for our entire 24 years in California with a single gas-can-top burner from Target. But at the 2016 REI anniversary sale, I had found a real camp stove on sale and convinced Eric to buy it.
What a wonder! What an improvement! We don't know how we lived without it all these years. "Best of all," Eric said, "it doesn't tip over at the slightest provocation."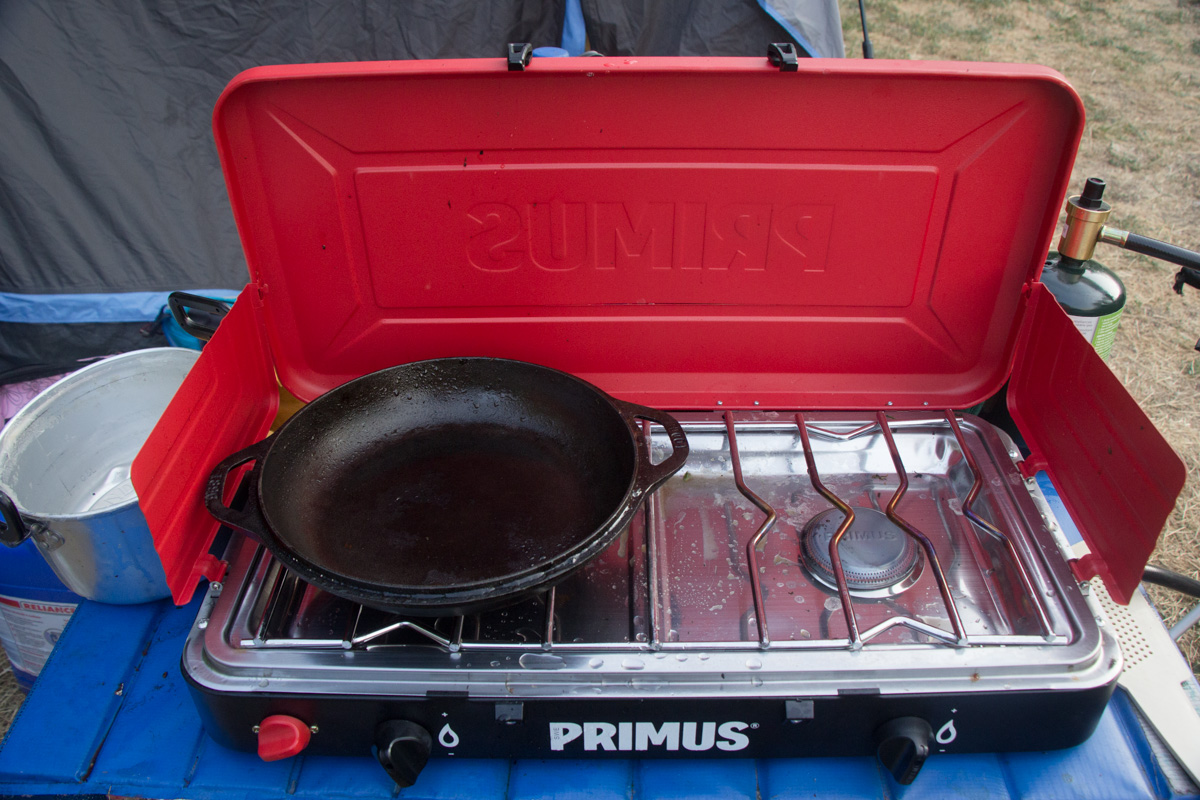 "Ooh!" I said when we were packing up. "We have a real camp stove now! Let's bring our cast iron pan!"
"It's cast iron," Eric complained. "It's really heavy."
"Camping," I explained, "is in significant part about how you can make a fabulous meal outdoors."
And so I convinced him to bring the pan, and plan different meals than the reconstituted backpacker food we would have made on our old gas-can-top burner. Yes, the pan's weight was a pain, and it broke the handles of our camp kitchen bag, but we had such delicious food! Chicken fajitas (unfortunately cooked in the dark because of the battery delay) Saturday night. Grilled cheese sandwiches with red ripe tomatoes for lunch after the eclipse Monday!
And to illustrate my point about camping, our neighbors used their generator to power an electric coffee grinder and have fresh-ground coffee in camp. "It's gotta be Honda," Robert said. "The other ones don't last anywhere near as long."
As we sat in camp, having a 6:30 breakfast on Tuesday, I told Eric that camping was all about how he should enjoy sitting there having his morning coffee in a beautiful place and enjoying the scenery. I may yet convince him that camping is OK.
Breakfast Monday morning was leftovers from the previous two meals, so there were roast pork and cole slaw along with eggs and melons for breakfast. Best of all, there were more of the tomatoes! There were so many tomatoes, Eric and I not only had them for breakfast, lunch, and dinner on Monday, Jody gave us a half a dozen to take home, along with a cantaloupe and some of her unsold lavender sachets ("Best smelling thing in this car!" Eric remarked, because this was when we had packed our camp garbage into the back seat along with everything else but hadn't dumped it yet.). Thankfully, the California Fruit Police let us into the state with all of this loot, since we didn't have any cherries.
In addition to the beautiful scenery, the fantastic food, the hot water, the clean port-a-potties, the wonderful company, and especially the generous hospitality, for our money, Tyler also gave an astronomical presentation Sunday night as part of the event. More about this on the eclipse page.
So, you can see why we enjoyed the Diamond Hitch Ranch so much, and why it was such a perfect place to stay for the eclipse. Thank you so much to Tyler for having the idea, to Auros for pointing us to the right area, and especially to Jody for her awesome hospitality!
---
Last updated: 24 August, 2017 by Eric and Beth Zuckerman6>