All text and photos copyright 2005, Elizabeth A. Zuckerman, unless otherwise noted. Dates, facts, etc. quoted from Lonely Planet's Brazil, unless otherwise noted. No photos have been electronically edited. For the Amazon Rainforest, click here.
RIO DE JANEIRO, 6/7/02-6/10/02 and 6/15/02-6/16/02
I am a mighty Carioca party animal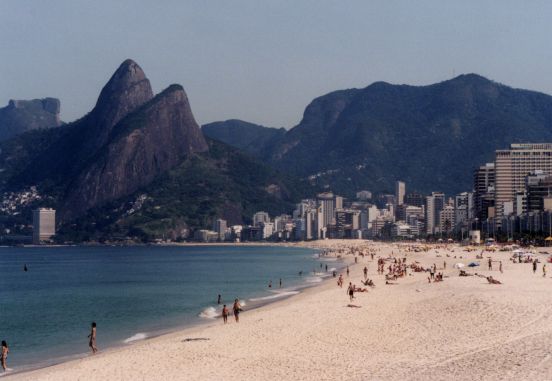 Before I went to Rio de Janeiro, I had heard from one of the lawyers in my office that Rio was more beautiful than San Francisco. Looking out of our 40th story windows at our beautiful bay, and the picturesque hills of our fine city, I couldn't believe any place could be more beautiful. But I was wrong. Rio is, in fact, more beautiful than San Francisco. It has the same basic geographic setup, a bay surrounded by hills, but the hills in Rio are steeper and more dramatic. The famous hills, Corcovado (home of the giant Jesus statue), Pão de Açúcar (Sugarloaf), Morro Dois Irmãos (the two brothers) and Pedra da Gávea are stunning. While you can't swim in the San Francisco Bay due to low water temperatures and dangerous currents, Rio has beautiful surf beaches to rival those of Los Angeles. But Rio is more than just beautiful. The cultural experience there is incredible. It has the sexually liberated atmosphere of San Francisco and the party atmosphere of New Orleans, all rolled into one. Caipirinhias (drinks made with lime juice and a sugar cane liquor called cachaça) are as common as hurricanes in New Orleans. Who could ask for more?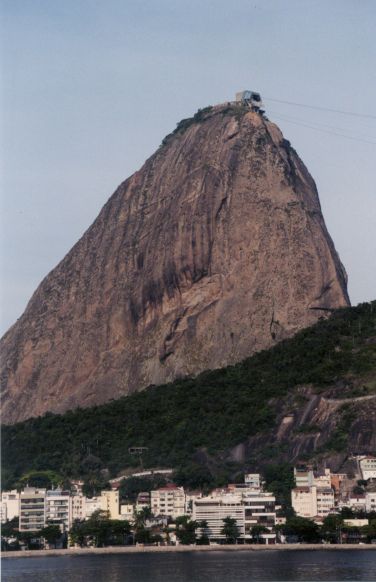 Unfortunately, though, our first day in Rio did not go spectacularly well. Our hotel room was pathetically small (and once again had two twin beds to push together), and we were annoyed at having to use up a large portion of our available cash as a deposit for a key to the in-room safe. Chronic medical problems of mine were bothering me, and we were supposed to have a city tour, which failed to materialize. I had very much wanted a guide our first day in Rio in order to help us get oriented in a strange city, one which we had heard was quite dangerous. It turned out that our tour guide had gone to the wrong hotel because our travel agent in San Francisco had gotten confused, but due to the 4-hour time difference between Rio and San Francisco, we were unable to determine this until a substantial part of the day had passed.

Our attempts to reach our travel agent, however, did help us get oriented. We were staying at the Arpoador Inn on Arpoador Beach. Arpoador Beach is on the very tip of a peninsula, with Copacabana to the east and Ipanema to the west. We explored the Ipanema area on foot, looking for international telephone lines and Internet access, and in finding those, we also found an ATM (which solved the cash problem) and a drugstore where we were able to pick up several necessary sundries. We finally got a message from our travel agent, who had arranged a tour for us the following afternoon. To make up for the confusion, we were to receive a complimentary tour of the Tijuca Forest the following day.

Feeling somewhat better for having solved several problems, we headed for the beach, which was right outside the Arpoador. And what a beach! Arpoador is a famous surf beach. The water was cool, but still relatively easy to get into. The scenery was spectacular. So much water! Everywhere I went in Brazil, I felt surrounded by water. Although I saw few of Rio's famed thong bathing suits, in my 2-piece sport racing suit with boy legs, I was the most dressed person on the beach. On our way back to the inn, we stopped at a beachside coconut stand. Vendors sell coconuts on the beach for 1 real (a unit of Brazilian currency, approximately US$.35 at the time we were visiting). The vendor will take a large machete, cut off the bottom of a coconut so it will sit flat on a table, then make 3 slits in the top to make a triangular-shaped hole, and insert 2 straws. You then drink the fresh coconut juice straight out of the coconut. Eric said to me, "Now, this is good, honey. We're drinking coconut juice out of a fresh chilled coconut that a man has hacked the top off of with a machete, and walking along Ipanema Beach. Now, we are on vacation!"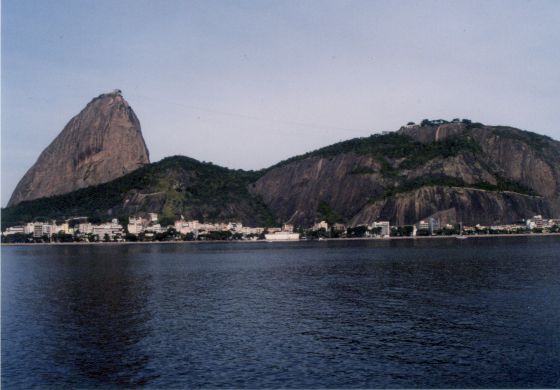 We had dinner at an Italian restaurant in Copacabana. We found Copacabana more lively than Ipanema, and the walk along the beach was nice and well-lit. There were many vendors selling items along the beach walkway. An English-speaking waiter told us that in the Rio prostitution system, the women work for themselves; there are, at least according to him, no pimps. We met some other tourists from the Bay Area there. We were disappointed to be turned away from a dance club, however, because I was wearing shorts.
The next morning, we went to a laundromat and did our laundry. Little by little, we were learning the system and communicating slightly better in Portuguese. All the same, I was looking forward to having a guide to get us oriented. And, boy, did we get guided! We had an adventurous Italian tour guide named Barbara from a company called Jeep Tours. She had lived in many places all over the world, but loved Rio best. She lived in one of the favelas (very poor, structually unsound, crime-ridden neighborhoods built on Rio's hillsides) because she liked it and felt safe there. Apparently, the criminals do not bother the people who live there. She was very enthusiastic and obviously very much in love with Rio, and she helped us to love it, too. The tour was absolutely amazing.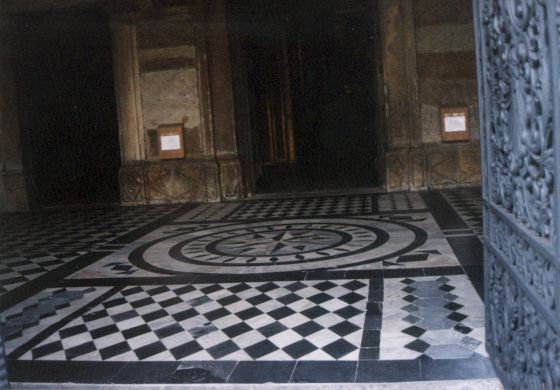 We traveled by Jeep, so we could see up and out of the vehicle easily. We drove along the road by Copacabana, seeing fabulous views of Sugarloaf and the other surrounding hills. Next, Barbara took us to the downtown neighborhood, called Centro. Centro was an interesting mix of new and old. The City of Rio de Janeiro was settled by Europeans in 1555, long before any city in the US. In Centro, you see an eclectic mix of baroque and neoclassical buildings, juxtaposed against modern skyscrapers. There are wide, paved streets beside cobblestone alleyways full of open-air cafes. Rio was the capital of Brazil it moved to Brasília in 1960. Many old government buildings are left in Centro, converted to art galleries and theaters.
Barbara took us to a little church on top of a hill, called Nossa Senhora de Campo. It was a wooden baroque buildling. Inside, the wood was covered in gold leaf. Barbara said it was the most beautiful church in Rio. Unfortunately, it was too dark to take pictures of the wood, but you can see the lovely marble flooring here.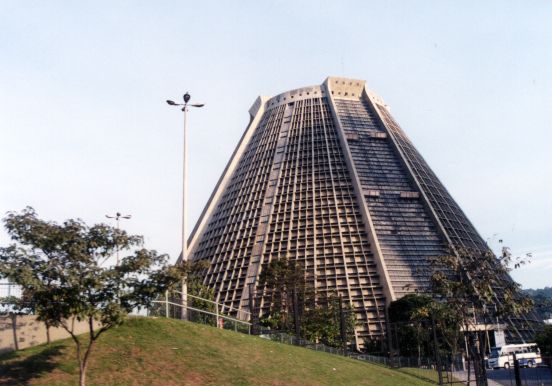 Barbara then took us to one of Rio's most distinctive landmarks, the modern Church of St. Sebastian, the patron saint of Rio. Barbara told us that this volcano-shaped buildilng was built in the 1970's in order to prove to the world that Brazil was capable of producing modern buildings and was not an undeveloped country.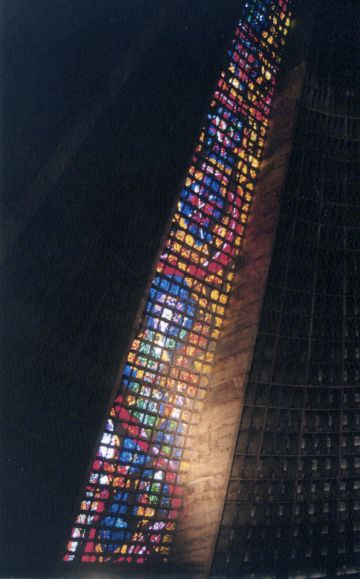 Part of the surface area you see on the outside of the cone (on the long vertical panels) is actually stained glass. The panels go from floor to ceiling. Here is an interior view.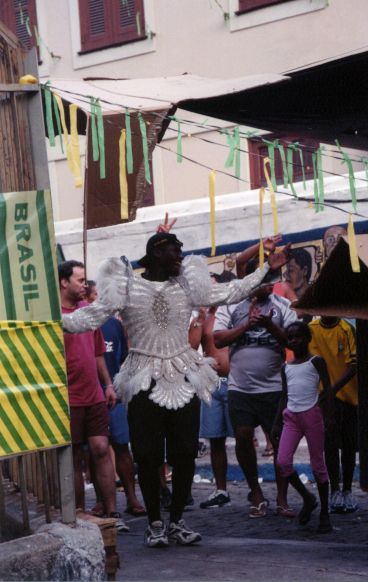 Next, we headed up narrow cobblestone streets to Santa Teresa, a charming artsy neighborhood with very European architecture. The road we took was covered in streamers of yellow and green, the main colors of the Brazilian flag. The Brazilians were all very excited because they had won one of the playoff games for the World Cup in soccer that morning. There were many people dancing in the streets in celebration, waving to us to join them. The games were taking place on the other side of the world in Seoul, so they were on TV very early in the morning in Brazil. This did not stop nearly every Brazilian in the country (including Barbara) from getting up at 4:00 am to watch.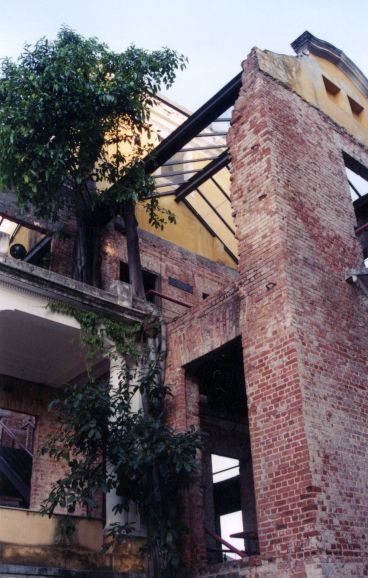 In Santa Teresa, Barbara took us to a fascinating place called the Parque das Ruinas, or Park of Ruins. The brick structure had once been a mansion belonging to Laurina Santos Lobo. She was a patron of artists and musicians and held many gatherings at her home. After she died, however, the building fell into disrepair, as residents of nearby favelas took the house apart to use it s building materials for their own homes. Eventually, the city turned it into a park and opened it to for jazz concerts and for its magnificent hillside view of the city and bay.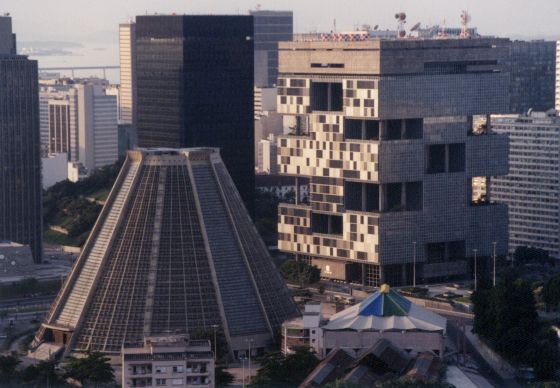 The mansion was restored only partially; a lot of it was left in ruins for the look of it. It has all been reinforced, however, and there is a stairwell you climb up through the center. At the top, you are rewarded with an amazing panoramic view, including Sugarloaf Mountain and Corcovado with its giant Jesus statue. It was the highlight of our whole tour. Barbara arranged things so we got to the top just as the sun was setting, and the light was gorgeous. Unfortunately, I didn't have enough film to take really nice panoramas of the water, but I did get this nice picture of the volcano-shaped church and some other downtown buildings.

Everywhere we went in Santa Teresa, Barbara knew people. We visited a craft shop where some of her friends worked, and she ran into someone else she knew in the street. At one point, our Jeep was accosted by a man in a peace T-shirt that also knew her. He rode along with us for a bit, hanging on to the side of the Jeep, chatting to us in Portuguese we didn't understand. Barbara told us he was a follower of Che Guevara.

The tour ended with Barbara and our driver, Claudio, telling us a little bit about their lives in the favela slums. Apparently some favelas are plumbed (Barbara said hers was) and have electricity. The parts of each favela that are closer to the street are considered nicer, because you do not have to walk as far into the favela to get home. Barbara says there is a code in the favelas that you do not disturb others who come from the same favela; thus, those who live there are relatively safe from the drug dealers. She is very comfortable there. Apparently there is decent medical care available to favela dwellers as well, because Claudio told us that he and his wife were expecting their first child, and that she had had a sonogram the day before. P

Barbara's tour was incredibily amazing, and we learned more about Rio than we would have had any other way. We were now quite excited about our opportunities to explore this city more.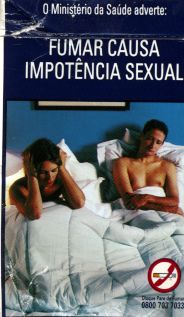 By this point, we had learned to do what the Cariocas do, and napped through the early evening instead of having dinner as early as we had the night before. We ended up going out for dinner with several of my brother's friends (we were in Brazil for his wedding). We had dinner in Santa Teresa, right near the craft shop Barbara had taken us to, so we felt like we knew the neighborhood. A smoker at the table showed us this hilarious cigarette package warning, the sort of thing you would never see in the US.
Afterwards, we all went out to a club called Beats at Six. It was very large, with two floors on different levels, one playing house music and the other playing softer dance hits. All of the music was American and thus had lyrics in English. My brother Tim and future sister-in-law Daniela met us there. I noticed that most of the Brazilians could sing right along with the music, and Daniela told me they could sing the songs perfectly, but did't know what the words meant. Very strange. The club had an interesting system where you paid a fairly high cover charge to get in (40 reais for men and 25 for women), but you were issued a card that you could use to buy drinks up to the amount of the cover charge. At the end of the night, you checked out before leaving, and if you had bought drinks that cost more than the cover charge, you had to pay up. It wasn't a bad system, and the wait in line at the end of the night probably gave a lot of people a little time to sober up.
Not that anyone seems to care about being sober in Rio. The energy at the club was amazing, and the caipirinhas were flowing. A caipirinha is a drink made from lime juice, sugar, crushed ice and a sugar cane liquor called cachaça. They go down very easily. It was all incredible fun, and it was very easy to lose track of time. Around the time I thought it must be about 2:00 am, I looked at my watch and found it was 3:30! Eric and I were supposed to meet Barbara for a tour of the botanical gardens at 9:00. So, we had to leave. Most of the crowd stayed on -- the bar certainly wasn't closing any time soon. There were many people still up in the streets outside. It doesn't seem that 3:30 am is particularly late on a Friday night in Rio.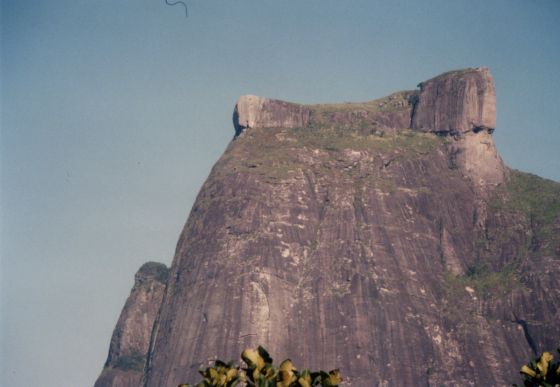 The Arpoador Inn had a beautiful restaurant on the beach, with mirrors reflecting the view. At breakfast, I asked myself aloud where the napkins were, and was answered by a man who was obviously American. It turned out he lived less than a mile from us. There were a lot of American tourists there, even though it was low tourist season.
We didn't have Barbara all to ourselves that day -- we picked up an Englishman and a couple from São Paulo. First, we got our free tour of the Tijuca Forest. It wasn't all that exciting for us, having just come from the Amazon. It is interesting, though, that there is a tropical rain forest surviving in the actual City of Rio de Janeiro. There was a nice view of Pedra da Gávea, from which hang-gliders jump, up there.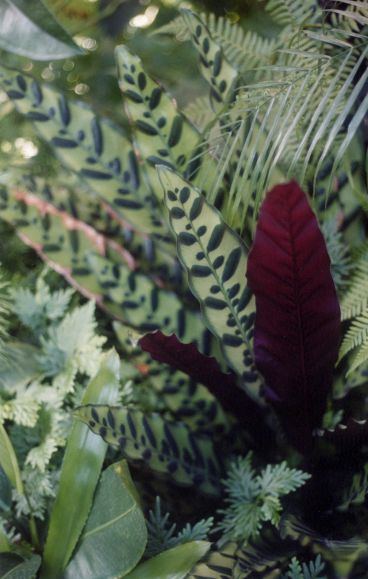 We only got an hour at the Botanical Gardens, not as long we would have liked. They were lovely, but not as spectacular as some I have seen. The highlights were a bromeliad room and an orchidarium. In this bromeliad photo, you can see the leaves of another parasitic plant growing on the larger leaf. Barbara did tell us, though, that many bromeliads, because of their water-collecting capabilities, attract mosquitoes and spread the dengue fever. She told us she had suffered from it.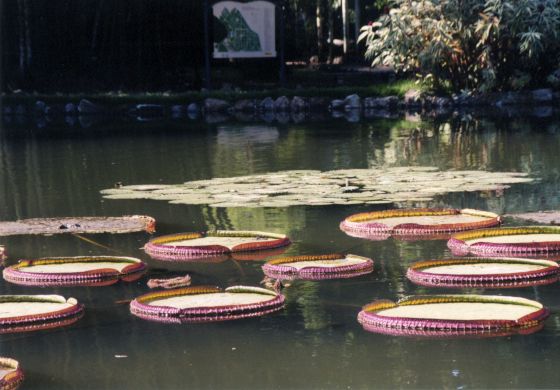 There was a beautiful lagoon with these amazing lily pads. If you look closely through the water in the photograph, you can see that all the pads emerge from one stem and are part of one plant.

In the afternoon, we went to the beach, Arpoador Beach right outside of our hotel. Barbara had told us that the lifeguard stations in Ipanema designate areas where particular groups of people gather. Station 7 was for surfers, station 8 for gays, station 9 for students, and stations 10 and 12 were for families with children. "We do not swim at number 11," Barbara told us, "because there is a sewage dump there." Arpoador Beach is at station 7, the surfing area, so apparently it has the best surf. The water was a little rough but lovely, and we went snorkeling. The water was quite clear -- visibility of 15 or 20 feet.

When we returned to the hotel for our now-daily disco nap, we found Tim and Daniela. Tim napped with us. His bachelor party was scheduled for that night, which Eric was very excited about. How many Americans get to go to a bachelor party in Rio? Dani told me that she was arranging for all the women to meet for dinner that evening while the men were out. We had dinner at a very nice restaurant called Academía de Cachaça. At this restaurant, I had the best food I had in Rio. It was something called escondidinho de truta, kind of a trout shepherd's pie.

Now, the best man, Dana, had little idea of where to take the men for a bachelor party, and the only resource for information he had was Daniela. She had recommended a restaurant for dinner, where they went, and then told him to ask the driver to take them to the Academía de Cachaça, telling him it was a topless bar. She also arranged for the women to have a large table right by the entrance to the Academía de Cachaça. Imagine the surprise of the men, thinking they were going to a topless bar, finding themselves instead in a restaurant with all of their wives and girlfriends! It was quite a practical joke. It deflated their energy quite a bit, and some of them were ready to give up and go back to their respective hotels with their wives, but Eric insisted that they were having a bachelor party in Rio and that the men must go on. I didn't ask for details of what they did the rest of the evening.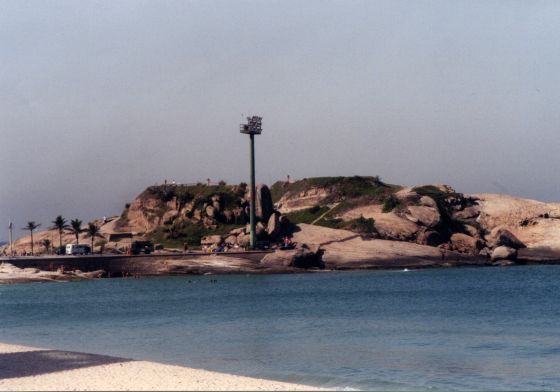 On Monday, Eric and I slept late and went snorkeling at Arpoador Beach. We had to climb over a lot of rocks to get to the snorkeling site. There were a lot of fish to see, but they were mostly small, Sgt. Majors and plain white fish. We had dinner in the restaurant at the hotel, which was overpriced, and the food wasn't very good. We had wanted to go clubbing, but found out belatedly that clubs in Rio are only open from Thursday to Sunday. That was kind of a disappointment.
On Tuesday, I took a walk on Ipanema Beach with my mother while Eric took a surfing lesson. He said that he didn't get to stand up on the board, but that very few people do their first time surfing. In the afternoon, we left for our next destination, the beach paradise of Angra dos Reis. On to Angra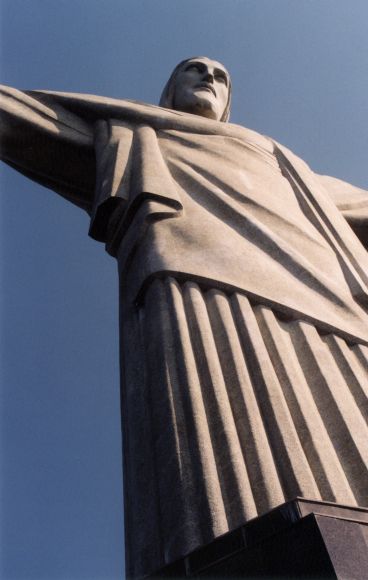 The following Friday, we returned to Rio by bus. Our travel agent in San Francisco had recommended that we get an ocean view room at the Arpoador Inn, even though such rooms cost nearly twice as much as the others. We only partially heeded his advice, deciding to get the ocean view room only for our one-night stay after the wedding. What an improvement! The room not only had an ocean view, it was twice the size of the room we'd had previously, where we had been continually climbing over each other to get around. The bathroom also was much larger and more comfortable. Best of all, there was one full-size bed, instead of the two twin beds to push together!
By this time, we were much more comfortable in Rio, knowing where the Internet cafes were, where the ATM's were, etc. We went to a sandwich shop, and Eric ordered a tuna sandwich entirely in Portuguese. He was especially proud of himself for figuring out the Portuguese word for tuna from seeing it translated from Japanese on a sushi menu. We had dinner that evening in a restaurant in Copacabana that the guidebook recommended, but it had no vegetarian entrees. We had a bunch of unremarkable appetizers.
We had to get up early on Saturday for a tour of Corcovado, the giant Jesus statue on top of a hill. (We unfortunately did not get to go to Sugarloaf and ride the cable cars through the air to the top, because it was closed for improvements while we were there.) Our travel agent had arranged a tour with a different company, Best Tours in Rio. We *really* appreciated Barbara after this tour. This was a whole bunch of people in a bus rather than just a few in a Jeep. The tour guide, who repeated everything she said first in Portuguese, then in English, then in French, was perfunctory and uninspired. She had none of Barbara's excitement and love of Rio. On the bus, we met a Viet Nam-era draft dodger who had been born in Berkeley and moved to Vancouver.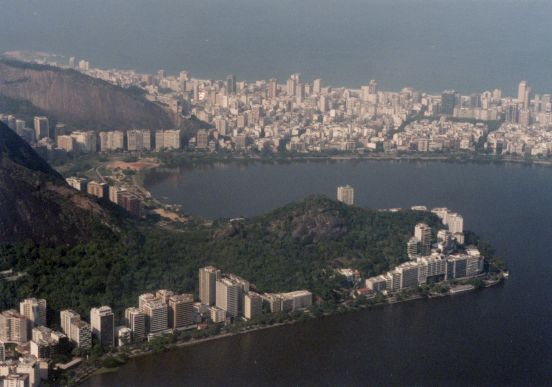 The tram up to Corcovado was interesting. It goes *very* close to some homes -- you have to keep your head and arms in. The statue was impressive -- 710 meters tall. It has giant toes, and stigmata in its hands. The view, however, was disappointing, because the weather was nowhere near as clear as it had been when we were at the Parque das Ruinas. You could see that it would be spectacular on a clear day. I still took some pictures of the panorama.

We took Mom for a walk to Copacabana and had a very nice lunch. I had trout that came with an excellent grape sauce. It was flambeed at the table. It was fabulous food for a low price. It was so much food, we were later disinclined to eat dinner.
We found ourselves with about two hours in the afternoon before we had to catch our return flight to the US. Mom said she wanted a little time to herself, so we decided to take a cab and check out one of Rio's love motels. These are places where couples go to be alone together, since living conditions in Rio are so crowded. The guidebook said that there was no stigma attached to these places; they are just taken as a matter of fact. The place was called the Sinless Motel and the sign said in Portuguese, "Love Is No Sin." They had two classes of room -- one "silver" for 50 reais and one "gold" for 65 reais. Having learned our lesson that the more expensive room is really worth it, we went for the gold room. It was still the equivalent of about US$20.

The room was great! You could enter surreptitiously from a spiral staircase from the garage. For your 65 reais, you got a hot tub, a steam room, and a queen-size bed! After all the twin beds we had had to push together for the last two weeks, we were convinced that it must have been the biggest bed in Brazil! The room had mirrored walls and very funky disco lights -- very gay. After a lovely romp, we got back to the Arpoador Inn in plenty of time to get to the airport.

So, it was quite a trip. I wish I had felt physically better for more of it so I could have enjoyed it even more, but it was still amazing. Yes, Rio was even more beautiful than San Francisco. It is full of excitement and fun, with some of the best beaches you'll see anywhere in an urban environment. There is so much to see and do, all together in one place. Where else can you find spectacular beaches, awesome dance clubs, beautiful buildings, gorgeous hillsides, amazing panoramic views and a tropical rain forest, all in one city? I would encourage anyone who loves either beaches or dance clubs (but especially people like me who love both) to check it out. Bring lots of energy with you -- you'll need it!