All text and photos copyright 2005, Elizabeth A. Zuckerman, unless otherwise noted. No photos have been electronically edited. For the Amazon Rainforest, click here. For Rio de Janeiro, click here
ANGRA DOS REIS, 6/11-14/02
I am a mighty SCUBA-diving wedding guest
Angra dos Reis is a beach resort on the Brazilian coast about two hours' travel by bus or car from Rio de Janeiro. It is a popular getaway spot for Cariocas seeking an escape from the frenetic pace of their city. The Angra area is lanquid, tranquiil and, of course, beautiful. Angra itself is a peninsula jutting out into the Baía de Ilha Grande (Bay of the Big Island). Ilha Grande borders the Baía to the east, and the Baía is filled with smaller islands. Each island features spectacular scenery and warm water beaches.

The plan for the wedding was for everyone to spend three days in Angra. We traveled from Rio to Angra on Tuesday afternoon and came back Friday afternoon. Tuesday night there was a Brazilian dinner and party hosted by the mother of the bride. Wednesday was a day of activities for wedding guests, with choices ranging from SCUBA diving to kayaking to touring the nearby colonia village of Parati. Thursday was the wedding itself, and Friday we had a little time on the beach before heading back to Rio.

As I unfortunately did not have a waterproof cameraa at the time I visited Angra, I do not have very many pictures from the day before the wedding, so unfortunately I cannot present the beauty of the Angra area to you in the fashion in which I would like to. A lot of this will be mostly text.

My brother Tim had arranged two buses to take all of his family and friends from Rio to Angra. There were some pretty sights of the ocean from the bus, but a lot of the view was just trees. On the bus, Eric conducted interviews of friends and family of Tim and his bride Daniela and taped them for the bride and groom.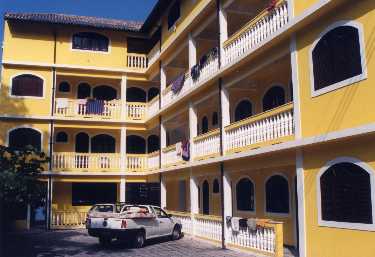 We settled into our room in the Pousada Verde e Mar. The pousada was right on a beach, near a yacht club. The outside was very cute, but the room was small and badly lit, and we had troubles getting enough hot water. The air was as damp as it had been in the Amazon, and it was hard to get our towels to dry. We relaxed for awhile in the room until it was time to join the throngs of wedding guests for the Brazilian-style dinner and party.
It was a huge feast. I'm sure it was delicious, but Eric and I (and the bride) couldn't eat most of it because it was barbecued meat. There aren't very many Brazilian vegetarians. Eventually, the cooks cooked up some fish and garlic bread for the three of us. Daniela was joyfully overwhelmed by the number of people who had come all the way to Brazil for the wedding, and the distances they all had come. Much of her family had come from Argentina, and of course Tim's family had come from the United States. But they also had friends who came from England, Spain and Germany as well as the States. It was quite a mix of people. After dinner, one of Daniela's friends spun records and we danced. It was great music, and the warm beach at night was lovely.
Wednesday was one of the best days of my life so far. Tim and Daneila had arranged a day of activities for friends and family. We went hopping around the island in a boat, with diving included. My mother came along, as well as a large number of my brother's friends.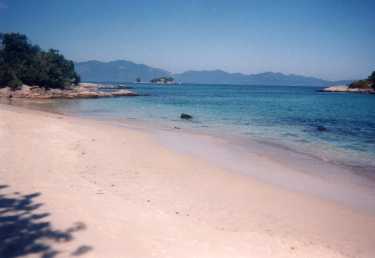 We were given a tour of Ilha Grande, in a yacht. The boat first took us to an isolated beach on the island. It was stunningly beautiful. We all got out and splashed around in the water. It was incredibly good fun in the sun.
Next, we went to meet a smaller dive boat, while the non-divers went to another beach to snorkel. The tour guide actually got my mother to snorkel, which she had never done before. There were only five of us who were diving, and fortunately one, Shannon, could speak both English and Portuguese. Without her, we would have had a lot more trouble! The divemaster's assistant asked us about our diving experience, and Shannon was able to tell her that although our experience was relatively limited, it was in the very difficult and cold waters of the Monterey Bay. So, they decided we were safe to go to a wreck in about 20 meters.
A lot of the equipment was suboptimal. Neither Shannon's nor my depth guage worked, our fins were too big for us and had to be taped on with masking tape, and one of the divers was unable to dive at all because his mask broke. But it was a completely new experience for me being in a lighter (5mm) wetsuit. Because I did not need to compensate for 14mm of neoprene, I did not have to dive with as much weight (and I could lift my own weights by myself!), and buoyancy control underwater was much easier. It was such a joy being able to move freely in water and control my depth so easily for the first time! The density of life was terrific! We were able to see lots of fish during our descent, before we reached the wreck. Being from northern California, Eric and I had not dived among tropical fish before. There were lots of groupers and clownfish, and we also saw a couple of larger angelfish. The visibility was better than the Monterey Bay by an order of magnitude. We couldn't believe how well we could see. The actual wreck was surrounded by lots of exciting fish for us to look at.
After our thrilling dive, we met the larger boat with the snorkelers. We were taken to a fish buffet dinner. It was crowded, but eventually we got to sit down and eat. The food was delicious. The owner of the restaurant liked Eric so much that he gave him a bottle of coconut rum! The generosity of Brazilians is incredible. Eric immediately poured drinks from the bottle for the restaurant owner and his wife. It was all so much fun, in such a convivial atmostphere, in such a beautiful place! I felt wonderful.
Thursday was the wedding. And what a wedding it was! I have never seen the likes of it elsewhere. My sister-in-law had selected this little church on the lovely Ilha di Gipóia.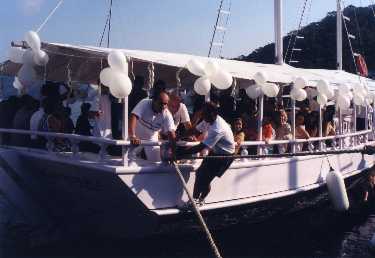 This meant that we all had to travel to the church by boat. Two of these large festive boats were deployed for this purpose. Of course, this would later mean that no one could leave the reception unless a boat took them back. Both boats left for the wedding at 2:15 pm. One returned at midnight, and the other at 2:00 am. This will give you some idea of what an elaborate affair this was. Daniela took a boat all by herself with her parents so no one else would see her dress before the ceremony.

It was a Catholic ceremony in Portuguese. There was an English translator. It was quite a lengthy ceremony, and at several points it was interrupted by the crowing of a rooster. The priest asked my brother in Portuguese if he would take Daniela as his wife, and he responded, "Sim" in Portuguese. The congregation roared. Then the priest asked Daniela if she would take Tim as her husband, and she responded, "Yes" in English. The priest said the Lord's Prayer in Portuguese, and my father, who is a Methodist minister, repeated it in English.

One of my Egyptian cousins was in the ceremony, so his wife, who is half English and half Thai, sat with us. I loved introducing her to people simply as my cousin and offering no further explanation, but she kept telling people we were cousins by marriage so they wouldn't be confused. I thought it was funnier my way.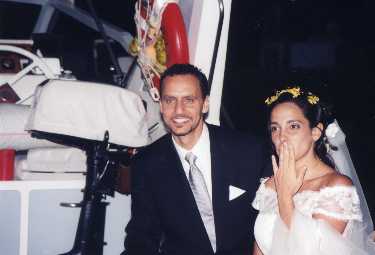 After the ceremony, we all got back on the boats to take us to another part of the island for the reception. The bride took the groom with her in her little boat. Here is a picture of the happy couple taking off in their boat. These moments were surely better documented by the enormous crew of approximately seven photographers and videographers in blue shirts who were hired to cover the wedding (and swarmed over the couple the entire time), but this is my work.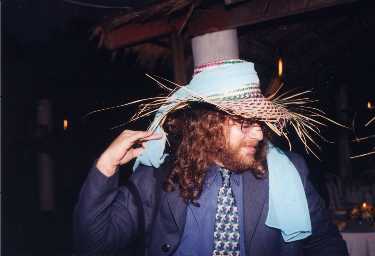 This was definitely the most elaborate wedding reception I have ever attended. It started around 5:00pm and lasted until 2:00am. We were given straw hats as favors -- Eric tied a scarf around his to make it fancier. There was an open bar the whole time, and not one but two meals. First, there was a giant buffet when we arrived. Later, around 10:00pm, a deliciously buttery fish stew was served. And, of course, there was a fabulous wedding cake, with chocolate and banana fillings. Live musicians performed for nearly the entire time. The band seemed to rotate musicians out for breaks as they fatigued, but to keep some music playing whenever anyone wasn't making a speech. There was so much food, drink and entertainment, it was like being on a cruise ship! The music was Brazilian, and the beat was nice, but we didn't know many of the songs they played. At one point, we recognized La Bamba, but the words were in Portuguese rather than Spanish, so it sounded different. The Brazilians and Argentians, of course, danced like crazy, even more than me.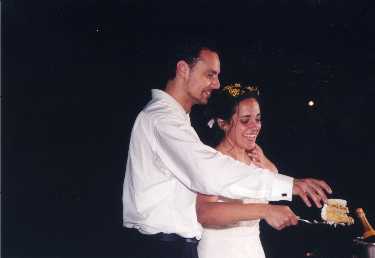 The reception took place outdoors, on a dock over the water. There was a beach nearby, and a bonfire was lit on the beach as part of the reception. Several of the guests got up and sang, including one English friend of Dani's who was an amazing blues singer.

On the whole, it was a truly incredible affair. The food kept coming, the drinks kept flowing, the band kept playing, the bonfire kept burning, the guests kept dancing and singing, and the party kept going, on and on and on. For seven hours. Those Brazilians sure know how to party!

Naturally, the next day I felt underslept. But we were leaving on the bus back to Rio in the early afternoon, so of course I wanted to get into the water before we left. Eric and I went out on the beach and snorkeled. We saw a few fish, and some pretty orange coral growing under a dock. It was a nice morning.

At last, it was time to leave the tropical paradise of Angra dos Reis and head back to the bustling party that is Rio de Janeiro. I'll always remember my terrific experiences in Angra, and the absolutely amazing and special place that Angra is.