---
Riding All Around Lake Tahoe
Saturday 8 September, 2012
Lake Tahoe. Overdeveloped, commercialized and casino-ridden, yet still shining out as an amazing destination. This lake, one of the deepest in North America, is nestled in the northern Sierra Nevada mountain range, straddling the border between California and Nevada, just west of Reno and south of the infamous Donner Pass. The lake is known for its incredible clarity and intense blue color. It's a stellar setting, known primarily as a ski resort. But there is plenty of summer recreation in this fantastic area as well.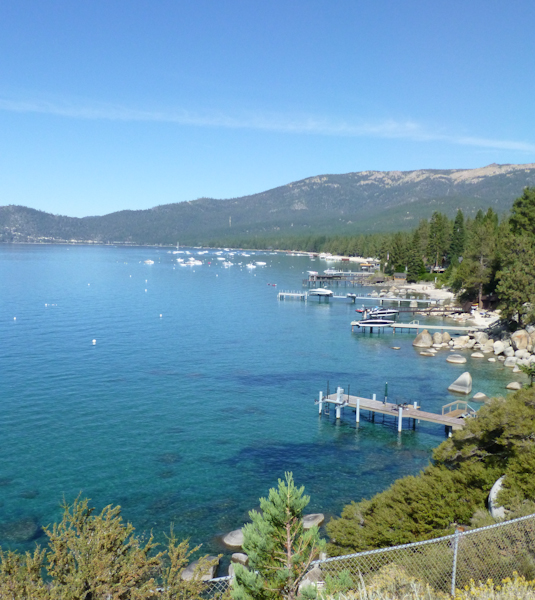 At over 1,800 meters (6,000 feet) of elevation, Lake Tahoe is surrounded by taller mountains, some over 3,200 meters (10,000 feet). Consequently, many people think that the lake lies in a collapsed volcanic crater like Crater Lake. It doesn't. According to Roadside Geology of Northern and Central California, "The Carson Range east of Lake Tahoe rose, and the valley that contains the lake sank, as a slice of rock rotated while moving east along a curving faunt. Meanwhile, volcanic eruptions built a volcanic pile across the valley, creating the natural dam that impounds Lake Tahoe." A perfect example of geology making spectacular beauty.
Imagine, now, seeing this wonder of nature from the seat of a bicycle, able to travel fast enough to get around the entire lake (a 112-km (72-mi) trip) in a weekend, yet slowly enough to take an intimate look at the shimmering blue water and surrounding dramatic mountain slopes. For our bike trip this year, Eric wanted to circumnavigate the lake.
Planning and Preparation
There's a lot of discussion in cycle-touring circles about the relative advantages and disadvantages of different touring styles. The most demanding style is "self-contained," meaning that you load panniers down and carry everything you need on your bike, struggling to drag all of your gear up the hills. The least challenging style is "supported," meaning you pay a tour operator an exhorbitant sum of money to plan your trip, organize hotel stays, and carry your gear in a van. You can also ride in the van if you sustain an injury, get tired, or, if you are feeling especially lame, just desire not to climb a particularly gruesome hill. A newer style is somewhere in between, known as "credit card touring," promoted by my friend Piaw Na. In Piaw-style credit card touring, you make your own plans, go at your own pace, and are not followed by a supportive van, but you carry minimal gear (Piaw carries one medium-sized underseat bag) and, rather than camping, spend your nights in comfortable hotels and motels. You take your time and, if you fall behind in your itinerary, you get on a train to catch up.

Eric and I share a disdain for overly-expensive, supported tours that require very little strength or stamina (and don't allow you to stop to find any geocaches). But Eric favors Piaw's credit-card style, while I prefer the full immersion experience of feeling the power of being able to sustain myself completely. On last year's Yosemite flat-fixing trip, we stayed in tent cabins and so did not have to carry a tent or any bedding with us. No cooking is allowed in Curry Village, so we didn't carry cookware or tableware, either. We just carried clothes, toiletries, and (fortunately) emergency bicycle repair gear. So, while we were technically "camping," that was in many ways more like a credit card-style tour. I felt that this deprived us of both the challenge and the reward of self-sustenance, and wanted to go back to real camping. Eric reluctantly agreed to this plan, with the major caveat: that we not carry food and cook in camp, but eat dinner in a restaurant. This was acceptable to me.

Since we last went tent camping on our bikes, we've gone to some REI sales, and gotten some presents from Mom, converting some of our old metallic camping gear to modern, lightweight, backpacking gear. Among our acquisitions was a nifty collapsible bucket that packs down to be smaller than your fist. I started thinking that, with this new equipment, we might not need to use the Y.A.K. Trailer Eric had laboriously pulled on previous trips.

This would mean we'd have to put more of the weight of our gear on my bike, so as not to break Eric's spokes. After so many disastrous hours spent by the side of the road to Yosemite last year patching and pumping tubes, the last thing I wanted to do was try to true a wheel out on the road (although we did, to be safe, bring along some extra spokes and a spoke wrench).
With the high terrain around Tahoe, this meant that I really had to train myself to carry heavy loads up very steep hills. Dutifully, Eric and I climbed ultra-steep Centennial Boulevard every week we could all summer. When I recently spent eight days in Los Angeles, I brought along Scheherazade and the heaviest pieces of equipment, the tent and the double sleeping pad. I climbed up the steepest hills I could find, and then bought groceries (including, at one point, a 9-kg (20-pound) bag of kitty litter), and rode back to my mother's house with the entire load.
One day, I took the camping gear and rode up a dirt fire road through part of Eaton Canyon, a ridiculously steep grade, in 32+ C (90+ F) heat.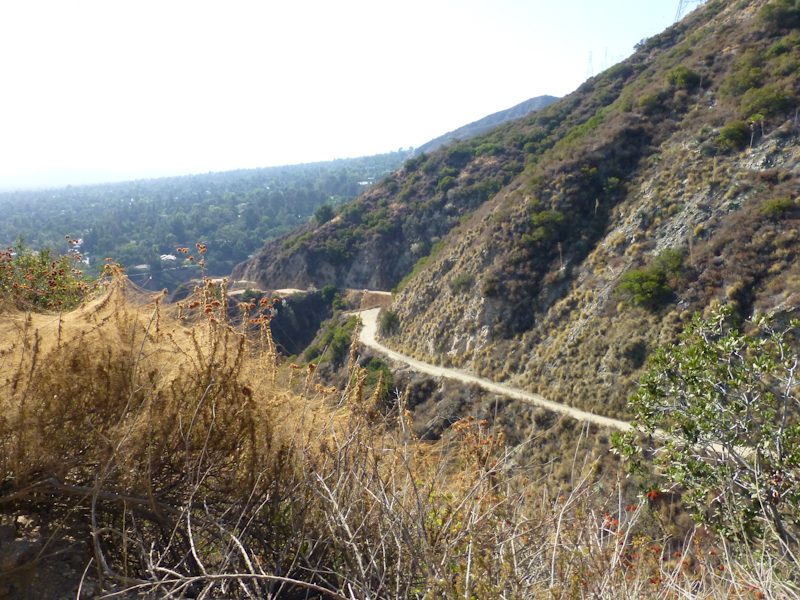 I mean, I really, really trained my butt off. I started to climb Centennial much faster. Eric was calling me a "mountain goat." But I had a hard time getting good elevation profiles of the Tahoe area, even with topographical software. Sometimes I would calculate the steepest grades as 8%, other times 18%. I was worried that we might be facing Centennial-like grades, and that I hadn't trained myself to ride Centennial with the gear.
Just generally speaking, I was worried about the trip. This would be our seventh overnight bike trip together, and two of the previous six had been fairly disastrous. We had suffered some sort of bike failure (flat tire, broken shifter cable) on half of the trips, and two of those trips were not the most disastrous ones. To make things worse, a week before the trip, we met another cyclist who was also planning on riding around Tahoe the same weekend. He would be doing the whole thing on Sunday, on a supported ride, the Tour de Tahoe, to raise money to fight diabetes, and he had done the ride before. While my topographic software had indicated that the steepest hills were on the Nevada side, he told us that the worst part was the rise up to Emerald Bay in California. "There's no shoulder," he told us, "and there's death to the right" (indicating a very steep dropoff). I told myself that, if death would be to our right, at least we wouldn't be going around any blind curves to the right (those scared me quite a bit when we were slowly climbing up to Yosemite last year with cars speeding by around us).
But my trepidation did not stop me from wanting to do the trip, and Friday night we strapped Scheherazade and Boing to Sydney and drove up to Kings Beach. If you picture a clock on the map of the lake, Kings Beach is at right about 12:00. I chose this location so that we could start as far east as possible while still doing a minimum of driving. I had looked at the list of California State Parks with bike camping (note the $0-$7 pricing) and decided the best place for us to stay was at D.L. Bliss State Park. With 85 km (53 mi) to cover on Saturday, we were going to need every minute we could get. We spent Friday night at the Tahoe Inn, which was serviceable and had good wi-fi but was otherwise unremarkable.
Kings Beach to Incline Village
In the morning, we were plagued by our usual problems in getting started, plus more. While I had thought I had mapped out a geocaching plan and put together a bookmark list several months before, I must have confused my Tahoe planning with my Brazil planning, because I had no such list. I went off in search of breakfast while Eric quickly went through the geocaching web site, selected a few choice caches, and loaded them into his GPS. I returned with some really terrible hummus bagels and a reasonably good blueberry pastry from a place called the Java Hut. I brought Eric some coffee that he didn't like, but used the motel's free tea bags, as the Java Hut lacked any semblance of reasonable tea choices. Avoid the Kings Beach Java Hut.

So, as is unfortunately typical, even though we got up at 6:30, by the time we got everything loaded onto the bikes and started off, it was 9:20. I was very concerned about the time. We had chosen September rather than summertime for this trip so that there would be less traffic on the roads, but this also meant that we had fewer hours of light, so it was imperative that we arrive at camp by 20:00 at the very latest. Given our average distance of about 10km/hr (6 mi) (with geocaching and photography), and the need to plan on time for dinner in a restaurant, we had just barely enough time to reach D.L. Bliss before dark.

The load we carried. My load is on the purple-striped bike (in case you somehow couldn't figure out whose bike was whose). My right pannier weighed 5 kilos (11 lbs), and my left pannier weighed almost a whopping 12 kilos (26 lbs). Photo by Eric.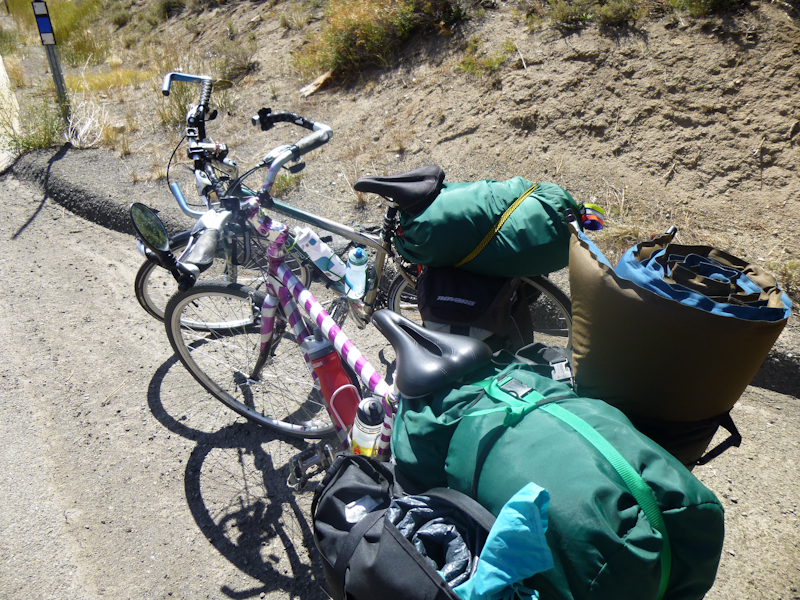 Almost immediately after leaving the motel driveway, we entered the State of Nevada. In the interest of time, we decided to skip the cache at the entrance sign.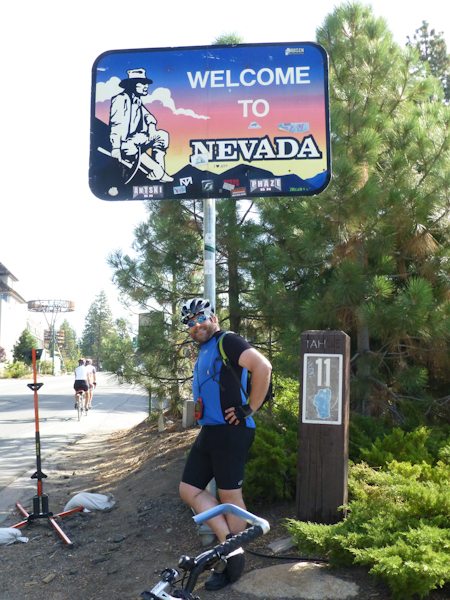 In the next town, Incline Village, we came to a Visitor Center, which had a cache. We stopped for the cache and the rest rooms. It was a very nice Visitor Center, with free coffee. I thought Nevada was very civilized. I had intended that we might have lunch there in Incline Village, as there were few towns between there and South Lake Tahoe, but 10:00 just seemed too early.
On the edge of Incline Village, we found an old-style "virtual" cache at the site where Bonanza was filmed. Eric said he had never seen Bonanza, and I told him he had not been deprived of any important experience.
I took a picture of the moon over the trees. I was impressed that I was able to get this picture with the pocket camera I carry on the bike.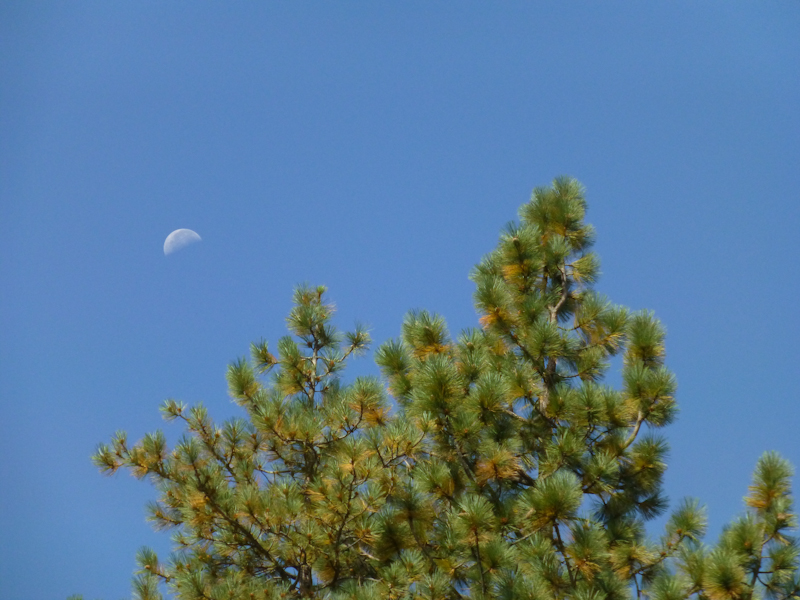 Eric took this picture of some steampunk-y machinery at the Bonanza site. No, we don't know what this thing is.
Lake Tahoe Nevada State Park
Nevada has protected a significant portion of its side of Lake Tahoe as a state park. Interestingly, however, the state park does not follow the shoreline precisely, but rather follows the road from the lakeshore up into the surrounding hills to include some of the lakes up there. The park has three sections, Sand Harbor, Spooner Backcountry, and Cave Rock.

As we entered the park, we started seeing the famous lake views we'd been expecting.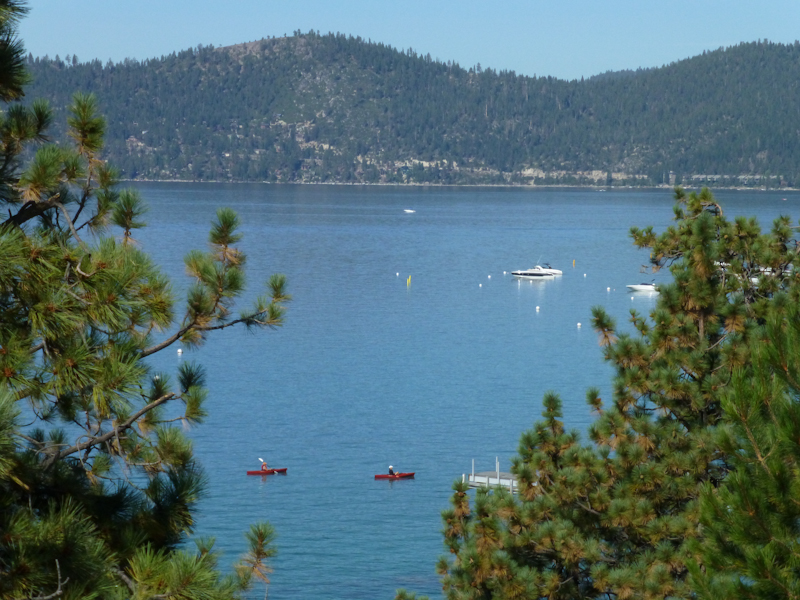 The northern part of the park, called Sand Harbor, was very beautiful.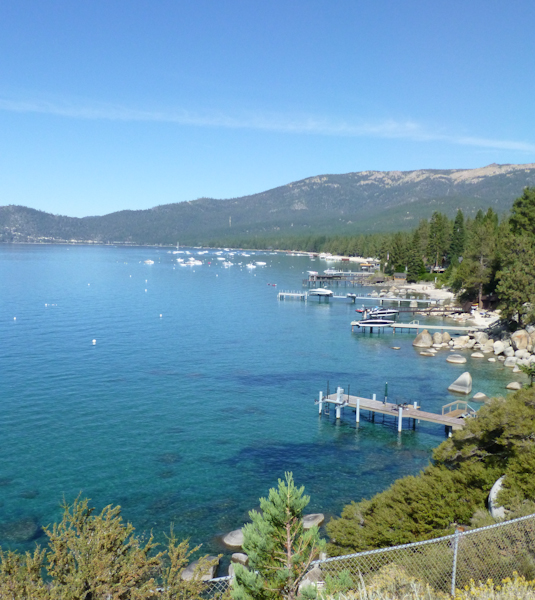 Eric took this picture showing the famous clarity of the water.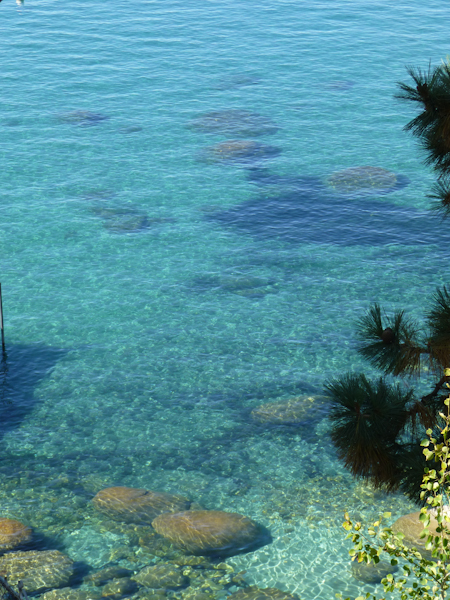 Generally, I found the Nevada State Parks to be well serviced with nice, clean restrooms and available fresh water. One overlook, however, had clogged, overflowing bathrooms. But it had a very helpful sign, which Eric photographed.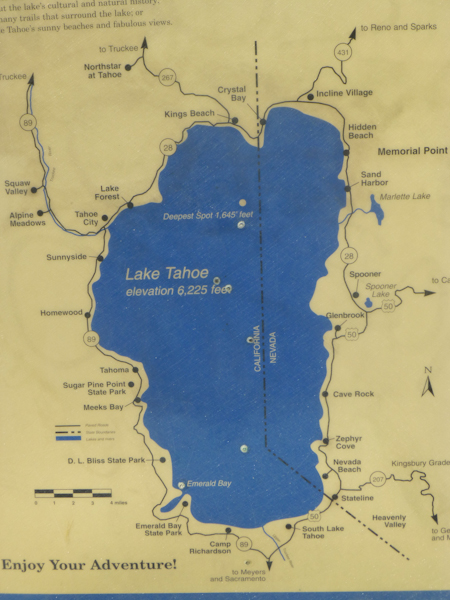 Look at the bottom of the map. You can see our target for the day, D.L. Bliss State Park, over at about 7:30. But look at 6:00. "Camp Richardson?" we said. "What is Camp Richardson?"
A look at the web informed us that Camp Richardson was operated by a concessionaire in US Forest Service territory south of the lake. Considering that we had not yet made much progress, and still had quite a bit of climbing ahead of us, we decided to call Camp Richardson. They told us that they had plenty of tent sites for the night, so there was no reason to make a decision yet. We would see how things went.
To enter the actual harbor at Sand Harbor (where there was a cache), we each had to pay a dollar. I was annoyed by this, because California State Parks let cyclists in free, but Eric wanted to support the Nevada Park Service.
Eric took my picture at the harbor.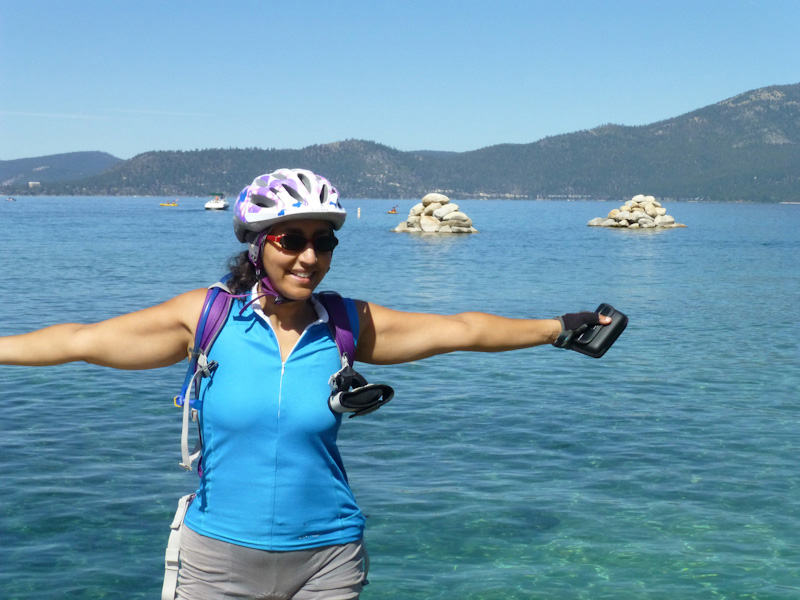 The boat launch at Sand Harbor. Those paddle surfboards were quite popular on the calm lake.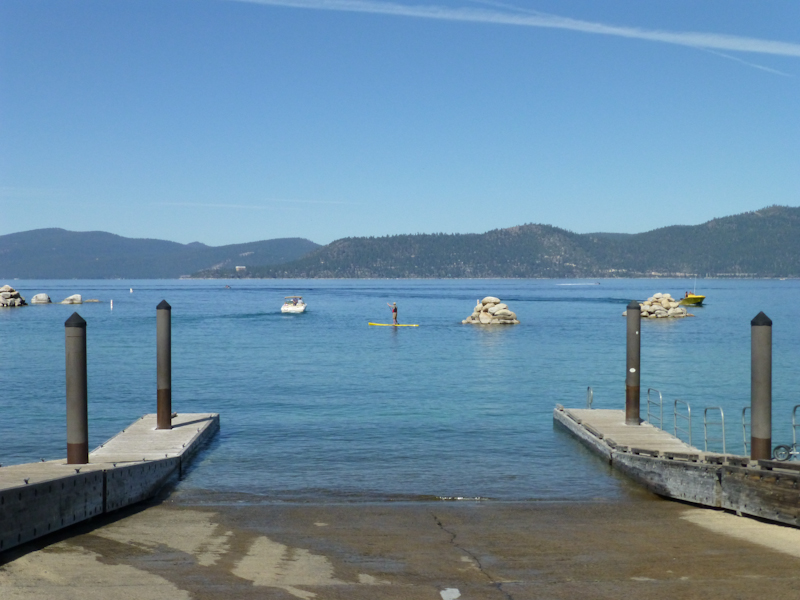 Eric finally got the picture both of us had been trying to take all morning--kayakers in the clear, shallow water.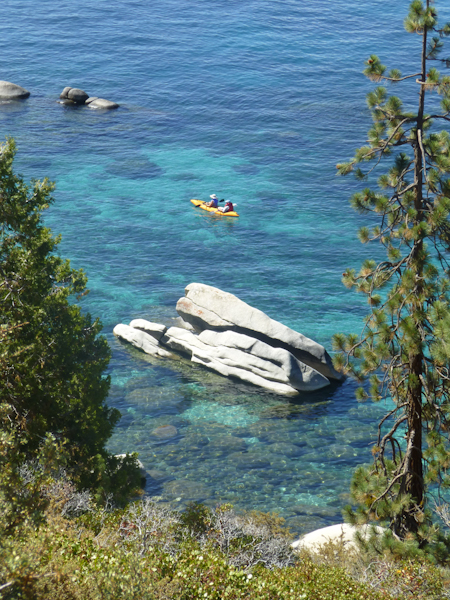 I enjoyed the view of these people on the rocks by the clear water.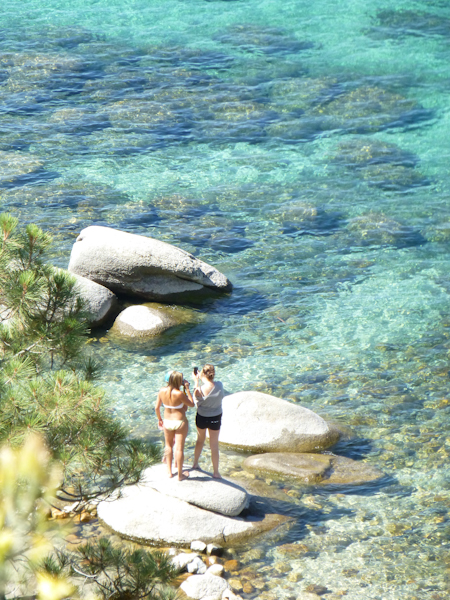 I loved the contrast between the shallow water, which looked quite tropical, and the surrounding pine trees.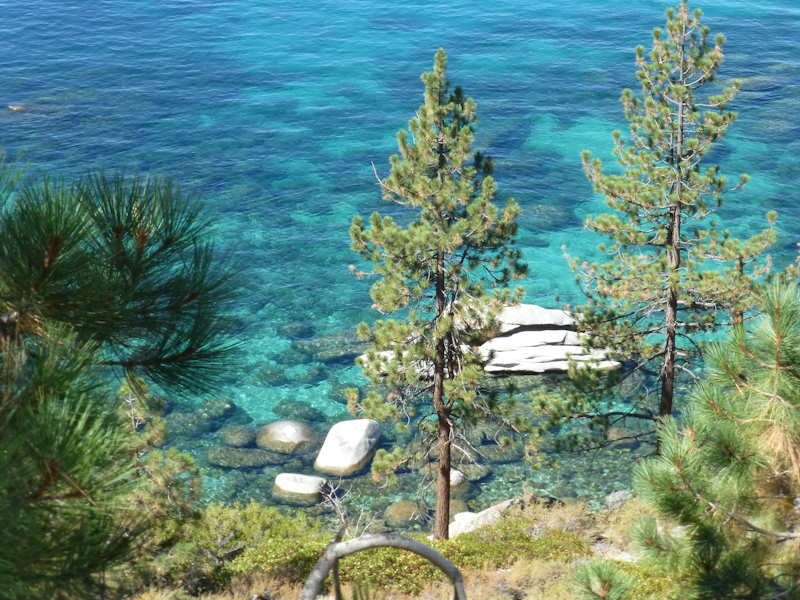 As we started the steep climb up to Spooner Lake (which we thought would be the steepest of the trip), Eric took a picture of this alpine meadow.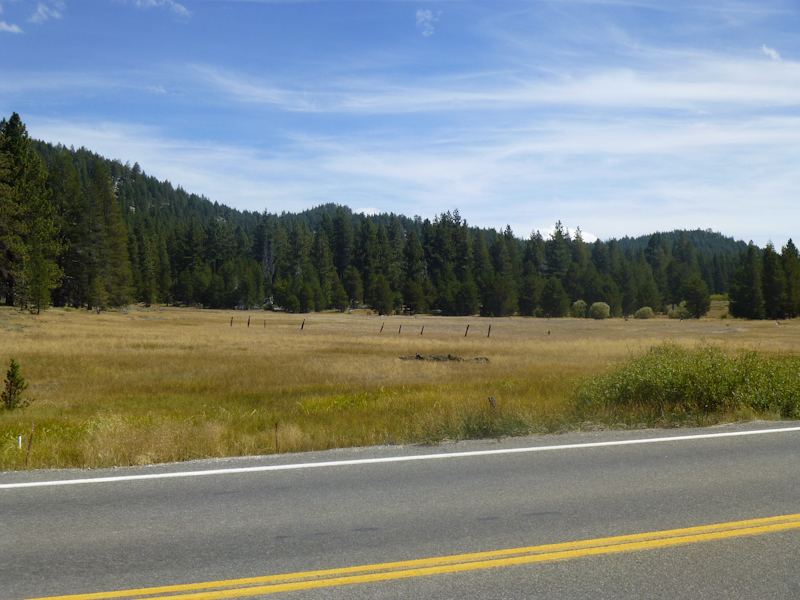 I took his picture in front of the meadow with the loaded bikes.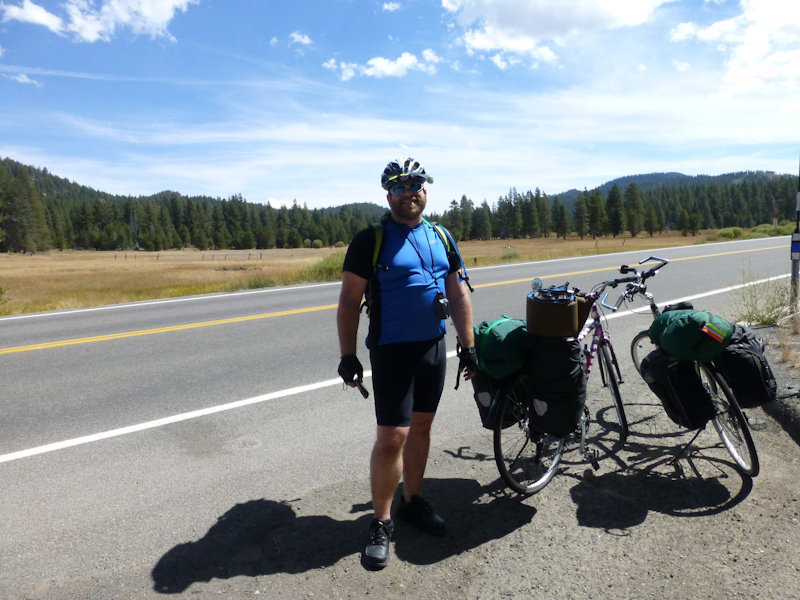 As we climbed up to Spooner Lake, I was really feeling the extra weight. I had trained with the tent and sleeping pad in my panniers in Los Angeles, but didn't count on the extra weight of my sleeping bag, clothes and toiletries. My sleeping bag weighs 1.8 kilos (4 lbs)! Who would ever have guessed that a sleeping bag could weigh so much? I made it up the hill, but my legs were tired!
We both were fascinated by the beauty of the road and the surrounding rocks.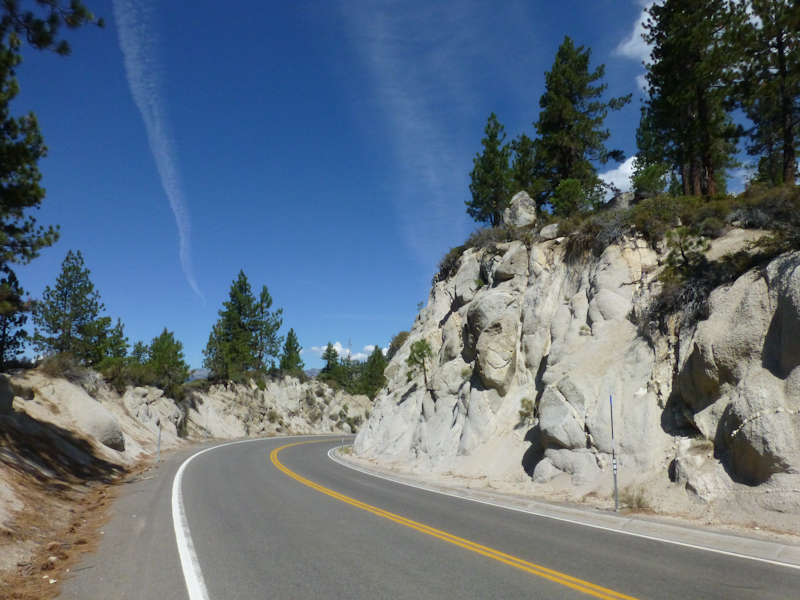 Interesting geology.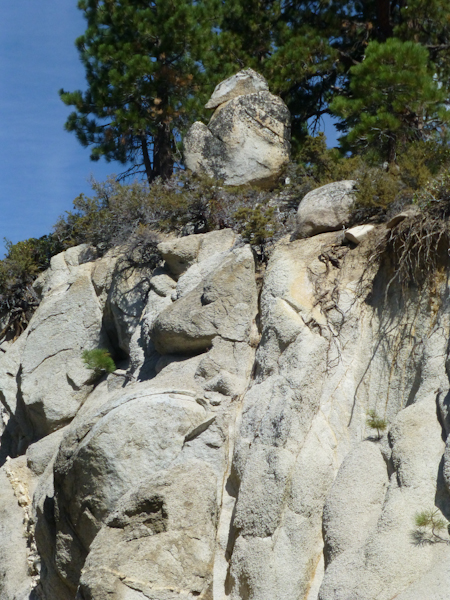 Nearing the top, we reached a sign marking an elevation of 7,000 feet (2,134 m).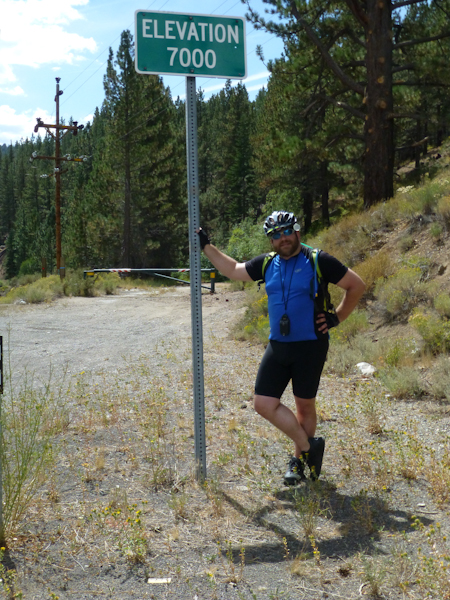 The climb to the top, while difficult, was not as trying as we had expected. Thinking that we had survived the worst climbing of the trip, I was relieved.
Eric took my picture with the lake in the background.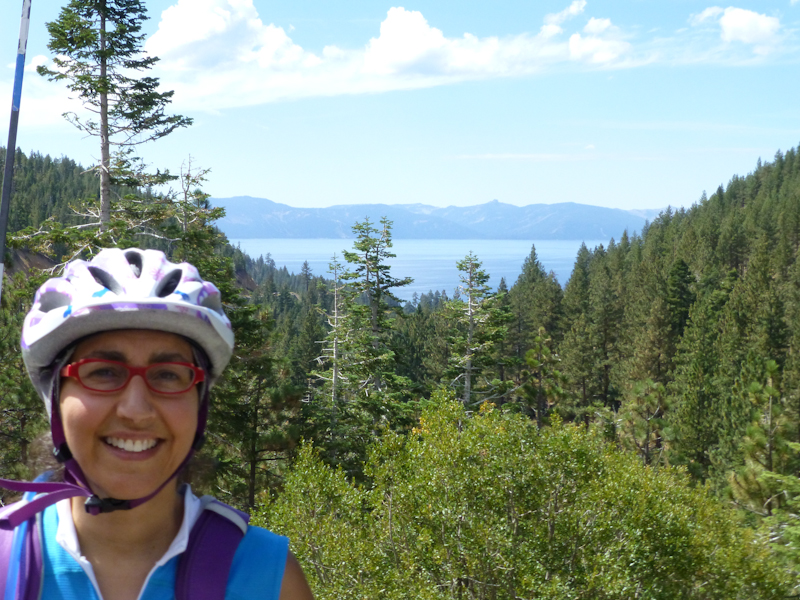 Then we had an unbelievably steep descent, which I felt that I handled very well. It was scary but exhilarating.
The climb brought us to the Spooner Backcountry part of the state park. Once again, we had to pay a dollar to get in, but this time I was expecting it. The ranger told us that there was a bike shop just inside the park, and that they had food. As we were into the afternoon at this point, had had only a couple of Clif bars and seen no restaurants whatsoever since Incline Village, we were quite ready for some food.
Apparently, this part of the park is a serious mountain biking destination. The fact that we were only charged a dollar was because our bikes were so obviously unsuited for the off-road territory. Flume Trail Bike Shop had snacky things like Clif Bars and Haagen Dazs bars. I was hoping for more for lunch than a Haagen Dazs bar, but I'd take what I could get.
I kept thinking about the contrasts between California and Nevada State Parks. California State Parks are constantly under threat of closure, and you have an ongoing sense that services are not quite what they should be. In Nevada, however, the state parks seem to be healthy, thriving and very well serviced. I guess California would be less likely to put a private business like a bike shop in a state park, though, and I have mixed feelings about the idea. I was definitely grateful for the ice cream, and for the fact that, had we had some bicycle failure, we could have had the problem repaired even out there in the space between towns. While I certainly wouldn't want to see them put in a Pizza Hut, a small, locally-owned bike shop seems relatively innocuous.
Next, we came to the Cave Rock section of the park. This is a spot with a rock so large the government had to tunnel through it to build the road. The rock was interesting enough to be an earth cache.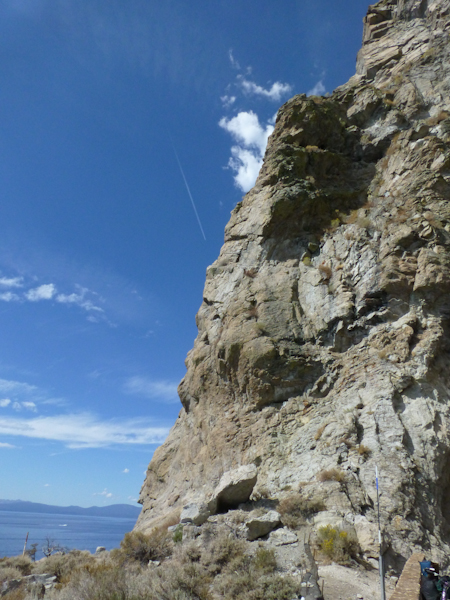 I was scared of the tunnel, but it actually was very short. Eric took my picture coming out of it.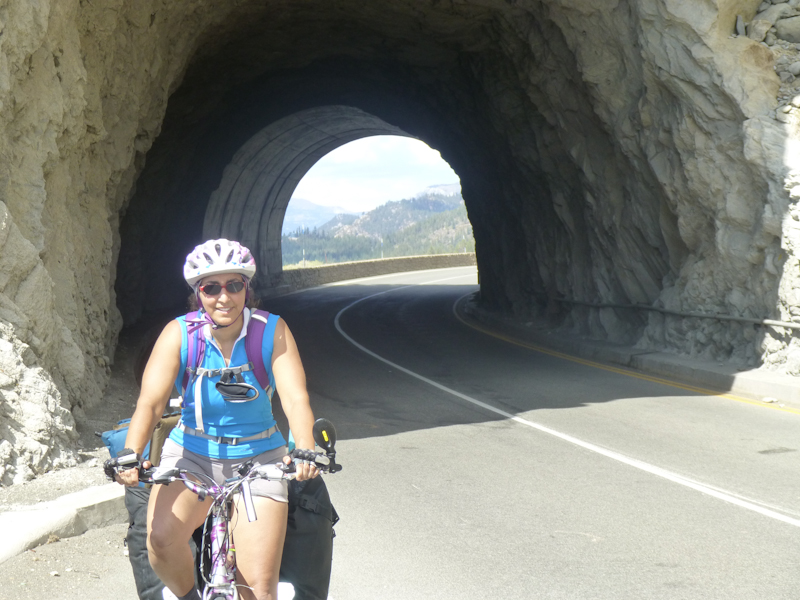 The caves in Cave Rock.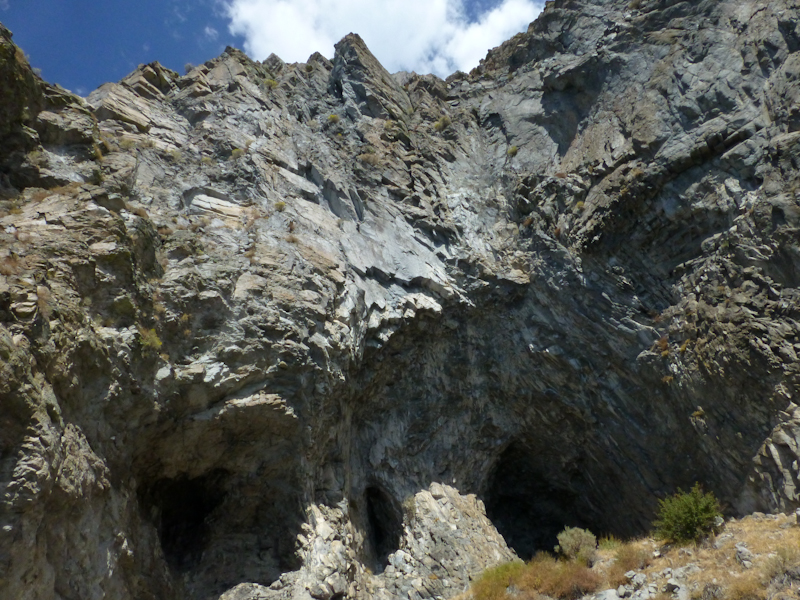 Looking back at Cave Rock from further south on the road.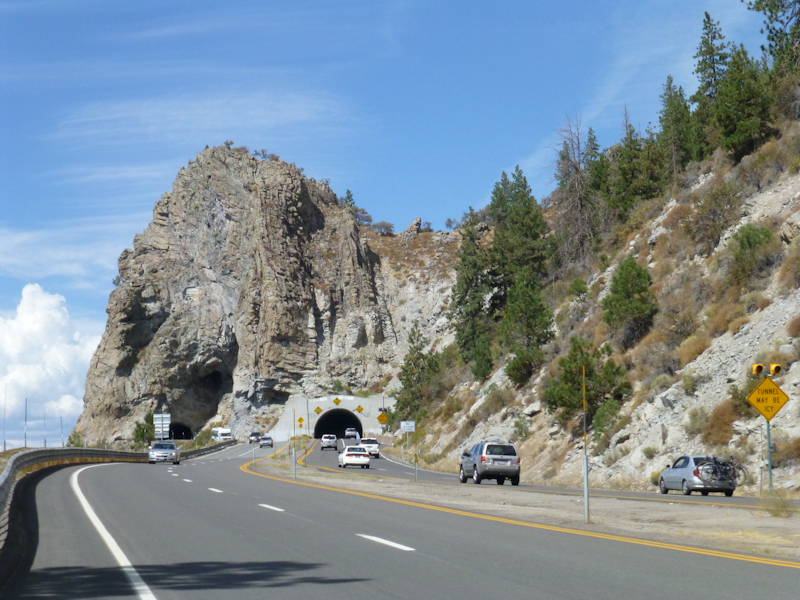 As we went over a small overpass, Eric saw some people poking around behind the barrier. He said, "Those look like our kind," so we stopped to talk to them. They did indeed turn out to be geocachers looking for a cache, RWCLady and her husband. They had come up to Tahoe from Redwood City (south of San Francisco) mostly to watch the U.S. Open, but went out hiking when the tournament was postponed due to weather. We had a nice chat and found the cache ourselves.
Zephyr Cove to Camp Richardson
Very suddenly, we came out of the park and found ourselves in an urbanized area, the first since morning. We saw the first restaurant we'd seen since 10:00. But since it was 14:50, it seemed too close to dinner for a large meal, so we contented ourselves with some dried green beans.

I took Eric's picture with a bike sculpture.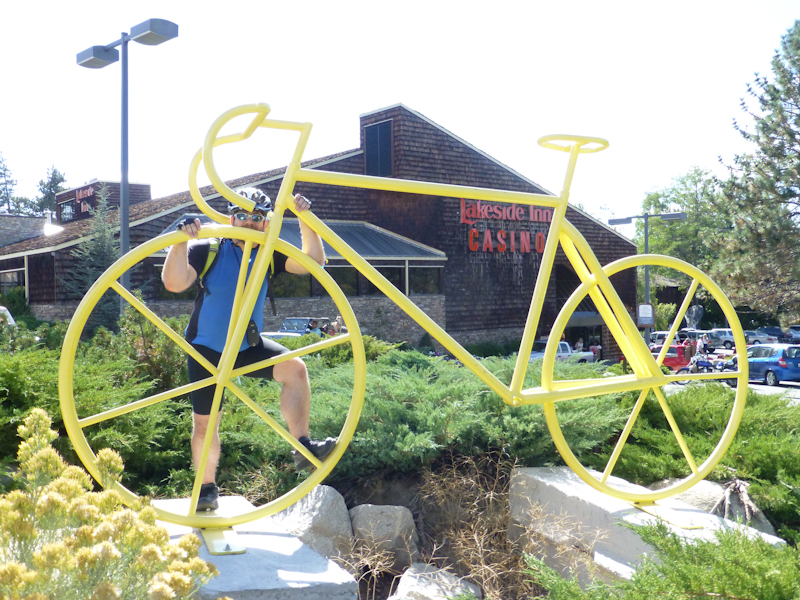 Eric took a picture of some pointed Nevada signage.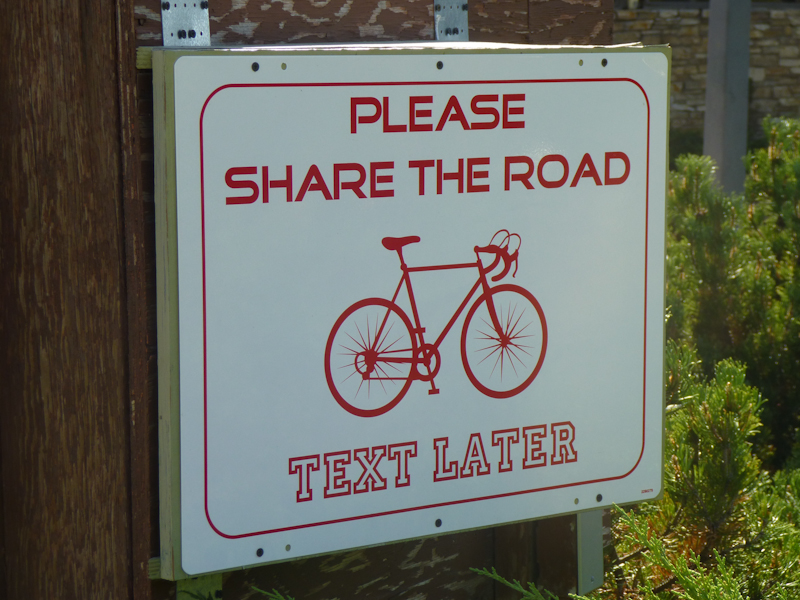 We stopped to find a cache at another nicely-appointed Nevada Visitor Center. They had many bear sculptures, including Dr. Bearenstein, photographed by Eric.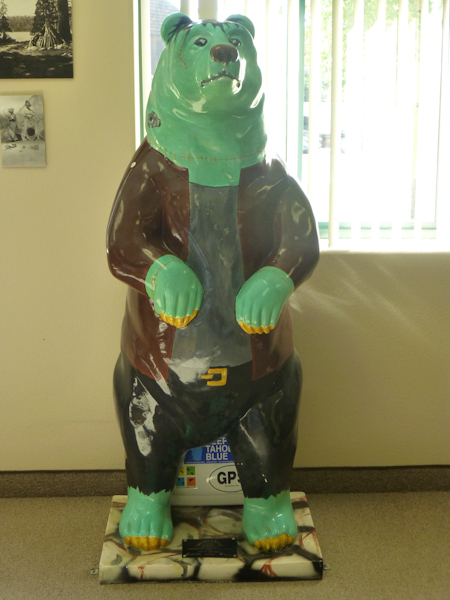 I spent a little while talking to the Visitor Center's host, who was from Long Island and very excited to be going to see the B-52's that night. I kept singing, "Take me down where the love honey flows" the rest of the day. I told him how much cooler I thought the Nevada side of the lake was.
There was an inn right on the border of California and Nevada, and there was supposed to be a cache associated with one of its horse-drawn carriages. The drivers told us, however, that the particular carriage with the cache was at a wedding for the day, so we couldn't find it. Photo by Eric.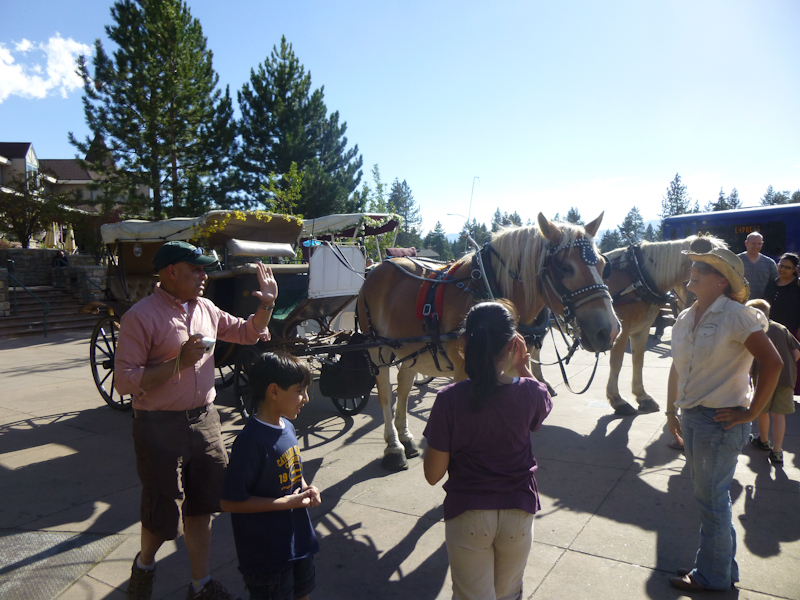 Back in California, we rode for a while in city traffic. We came to a beach in South Lake Tahoe. Photo by Eric.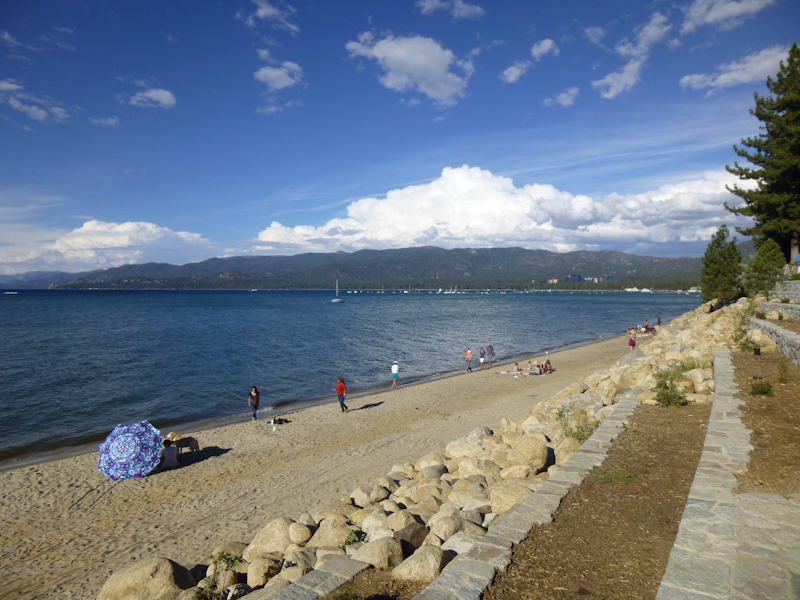 By this time, it was apparent that, while it might be physically possible to reach D.L. Bliss by nightfall, it would be a major push to do so, and we would be doing the steep climb with death on our right in failing light. Spending the night at Camp Richardson would split the distance between the two days almost evenly. This was not so wonderful, in a way, because Sunday's itinerary needed to include a three-hour drive back to Berkeley. But we thought the worst climbing was behind us and that we would make better time on Sunday. Also, the ranger at Spooner Lake had told us that Camp Richardson had a restaurant, which would allow us to secure lodging for the night and even partially set up camp before dinner, something we couldn't do at D.L. Bliss. All around, Camp Richardson seemed the better choice.
Once we had definitely made this decision, we were no longer in any kind of a rush, and I desired strongly to experience the lake more intimately. Photo obviously by Eric.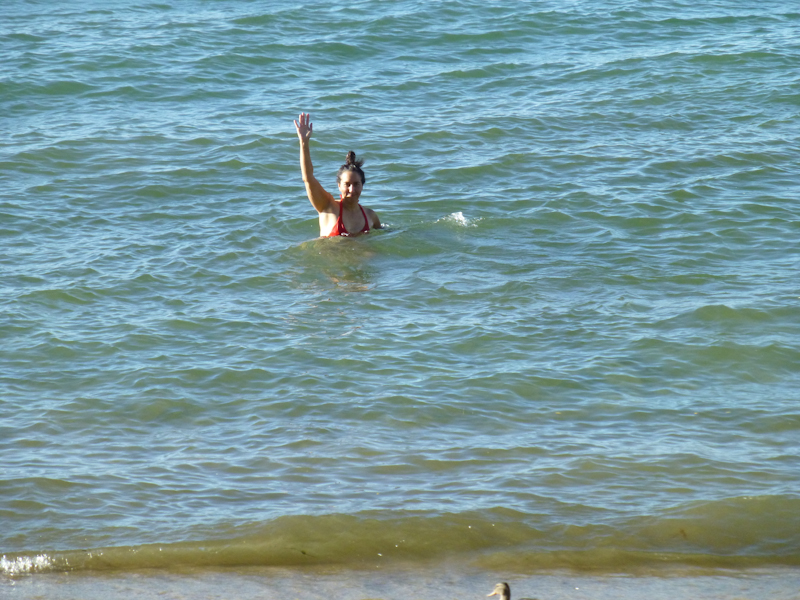 It felt so good to get in the water and cool off, literally to immerse myself in the nature around me and feel it supporting me.
Eric, meanwhile, photographed dramatic clouds above the casinos on the Nevada border.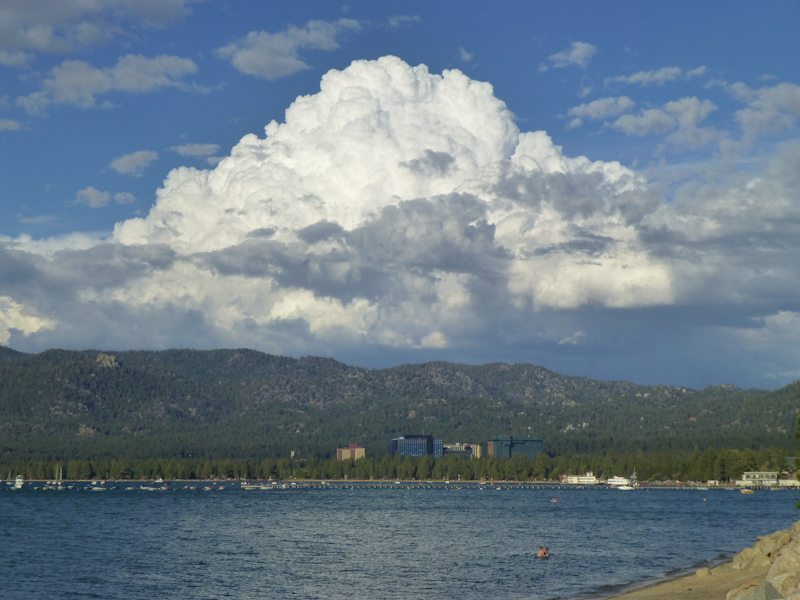 We stopped for one last cache for the day, one camouflaged to match the pine trees. That made ten for the day, or about one per hour.
We arrived at Camp Richardson about 19:00. It was an interesting mix of luxury resort and rustic campground. There was a hotel, and a fancy restaurant, but there was also camping.
We were impressed by this awesome relief map of the lake bed. You can buy one of these for a whopping $200, or a smaller one for $100.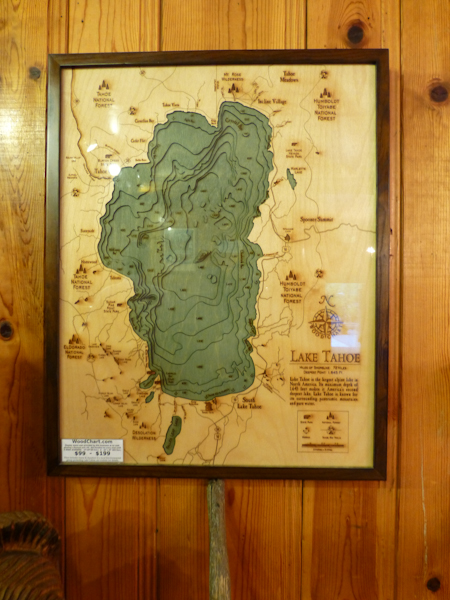 We were instructed to look around and pick an available site, then come back to the hotel and pay. Eric started setting up our camp while I went back to the hotel with a credit card. Annoyingly, we had to pay $35 for a car site rather than the $0-7 we would have paid for a bike site at D.L. Bliss. This was also the first time, in seven overnight bike trips, that we had failed to reach our planned goal for a day (although there have certainly been occasions in the past where we reached our planned goal long after dark, so maybe we are learning something). But we were happy to have camp mostly set up in the light, feeling mostly settled in for the night.. We had come 62.77 km (39 mi) in about ten hours, which is slow even for us, but what would be the point of all this if we couldn't enjoy the scenery and the caching? My final distance for the day, with the trip back to the hotel, was 63.96 km (nearly 40 mi).
I've recently become fascinated by the Forest Service territory, the federally administered area beyond national and state parks. These places are usually much less crowded than actual parks, but still afford excellent opportunities for recreation. They're not as well protected as parks, however, as the Forest Service was allowing a concessionaire to operate a fancy hotel and restaurant here. But we were grateful for the restaurant, especially considering that the only other restaurant in the area that was currently open was an ice cream shop. Now, I love ice cream as much as the next person, but after ice cream for lunch, I needed something more substantial for dinner! I was positively ravenous. And the environment at the restaurant was definitely much more palatable after a hard day of cycling than the loud sports bar atmosphere of Curry Village in Yosemite.
It was just getting dark as we approached the Beacon Restaurant, right on the lake. We chose a table on the outdoor patio.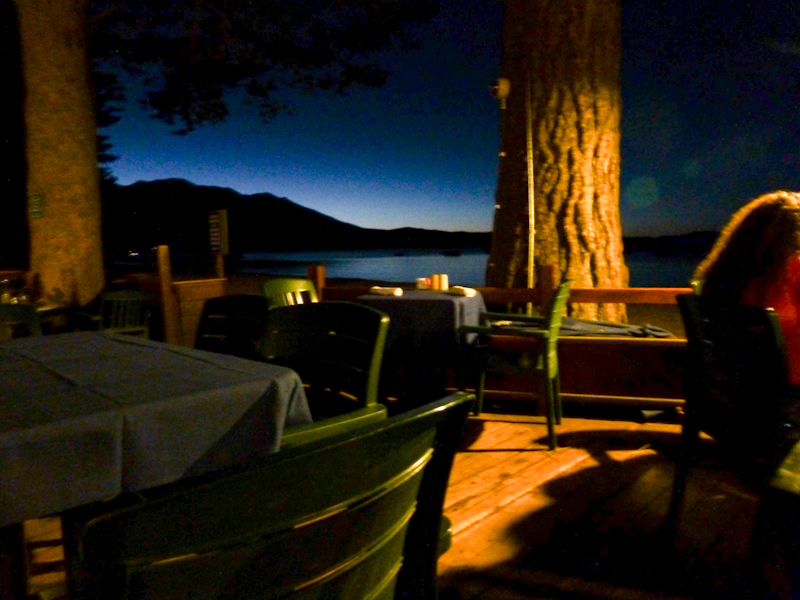 We shared an appetizer of shrimp tostadas, and then split two entrees, a pasta primavera and a Mediterranean salad. We were still hungry for dessert, so we had a brownie a la mode.
After dinner, we walked out to the end of the very long pier and enjoyed the brilliance of the stars. Here is the view looking back at the lights of the shore.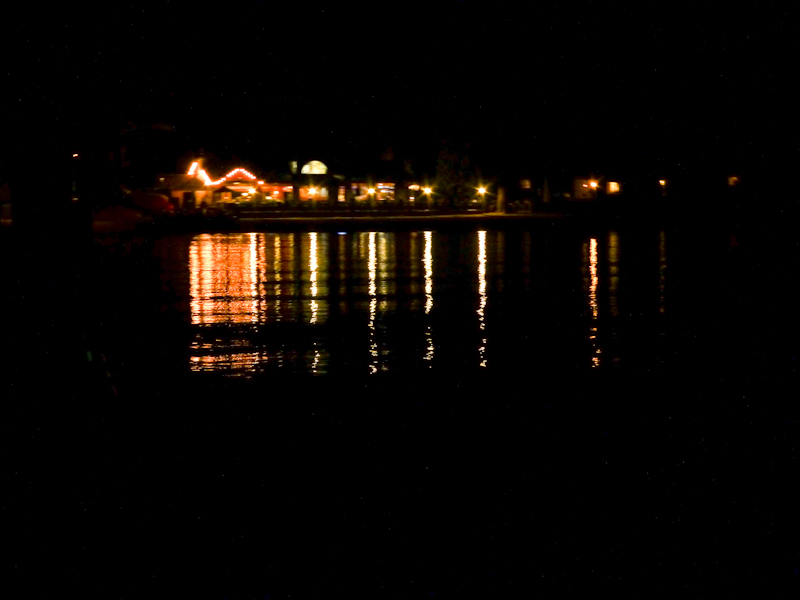 Back at the campsite, there was an absolutely fabulous spider in the women's bathroom. It was brown and had a single black stripe around each leg, closer to the body than the part where the leg bends.. I think it may have been a Violin Spider. Unfortunately, I didn't bring the camera or even my phone with me to the bathroom, so I can't make a positive identification, but I enjoyed seeing it.