---
Florida Keys
Friday-Sunday, 23-25 March, 2018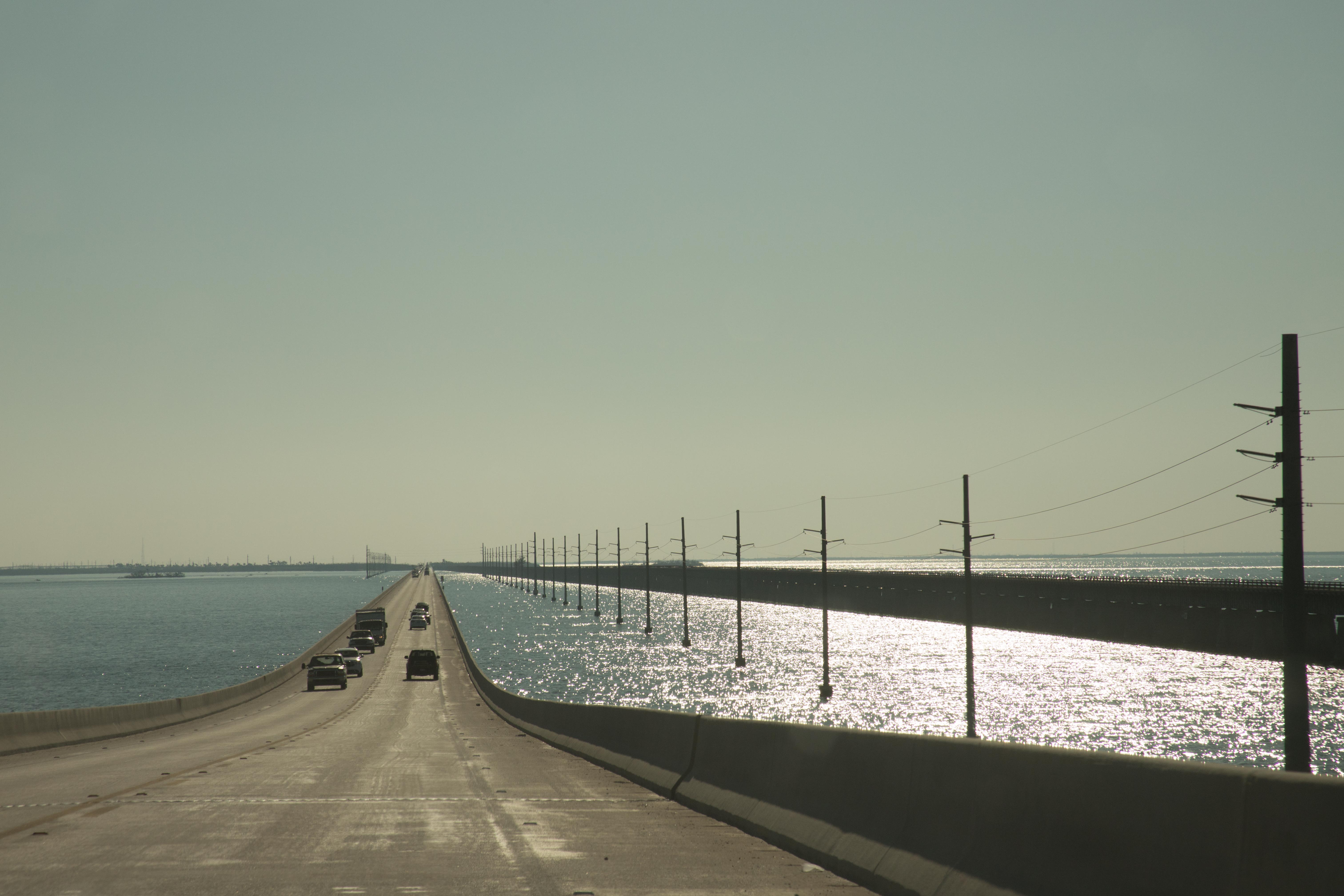 "...[I]f there is a more beautiful drive anywhere on the planet Earth, I don't want to take it. I don't think my heart could stand it. But I don't see how there could be."
This is how Spider Robinson described the drive on US 1 out on the Florida Keys in Callahan's Key. We read the book when it was first published in the early 2000's, and planned ever since to take this supposedly amazingly scenic drive on lengthy bridges over beautiful water between the Keys. Once we finally got to take the drive, though, the reality proved to be Key after Key of billboards, tattoo parlors, t-shirt emporia, psychic shops, fake "vistors centers," and other tourist traps, punctuated occasionally by a gorgeous stretch over a bridge like the one pictured above. On re-reading the book after our return home, we noticed that Robinson had also written, "When you do cross a Key, the strip along either side of the road briefly becomes heavily encrusted with restaurants, burger stands, motels, boating and fishing and diving and tanning service industries, souvenir joints, swim-with-real-dolphins places, and assorted other tourist-milking apparatus." It seemed to us that much more of the drive was on the tourist-milking Keys rather than on bridges over lovely water between them.
The enormous difference between the overdeveloped western Keys, and the lovely northern ones that have been protected as Biscayne National Park, was palpable. We saw older, broken-down bridges that had been replaced by ugly viaducts. Yes, we had water on both sides of us, but otherwise the craggy California coast is much more impressive. Perhaps it was different 30 or so years ago when Robinson wrote about it.
We did enjoy a second breakfast/early lunch at Harriette's Restaurant in Key Largo, with great food and very friendly staff. Key Largo is known for diving, and, since we had been unable to dive in Biscayne, we found a PADI outfit and checked in with them. They did have an afternoon trip available, but thought that our scheduled seaplane flight the next day meant that diving was contraindicated. So, instead, we spent the afternoon exploring Key Largo's state parks.
Dagny Johnson Key Largo Hammock Botanical State Park
Apparently, a primary attraction at Dagny Johnson Key Largo Hammock Botanical State Park is walking out to the shore and seeing a large number of shorebirds. But much of the park was closed for restoration of Hurricane Irma damage. So, instead of seeing shorebirds, we found ourselves walking along this relatively boring "trail."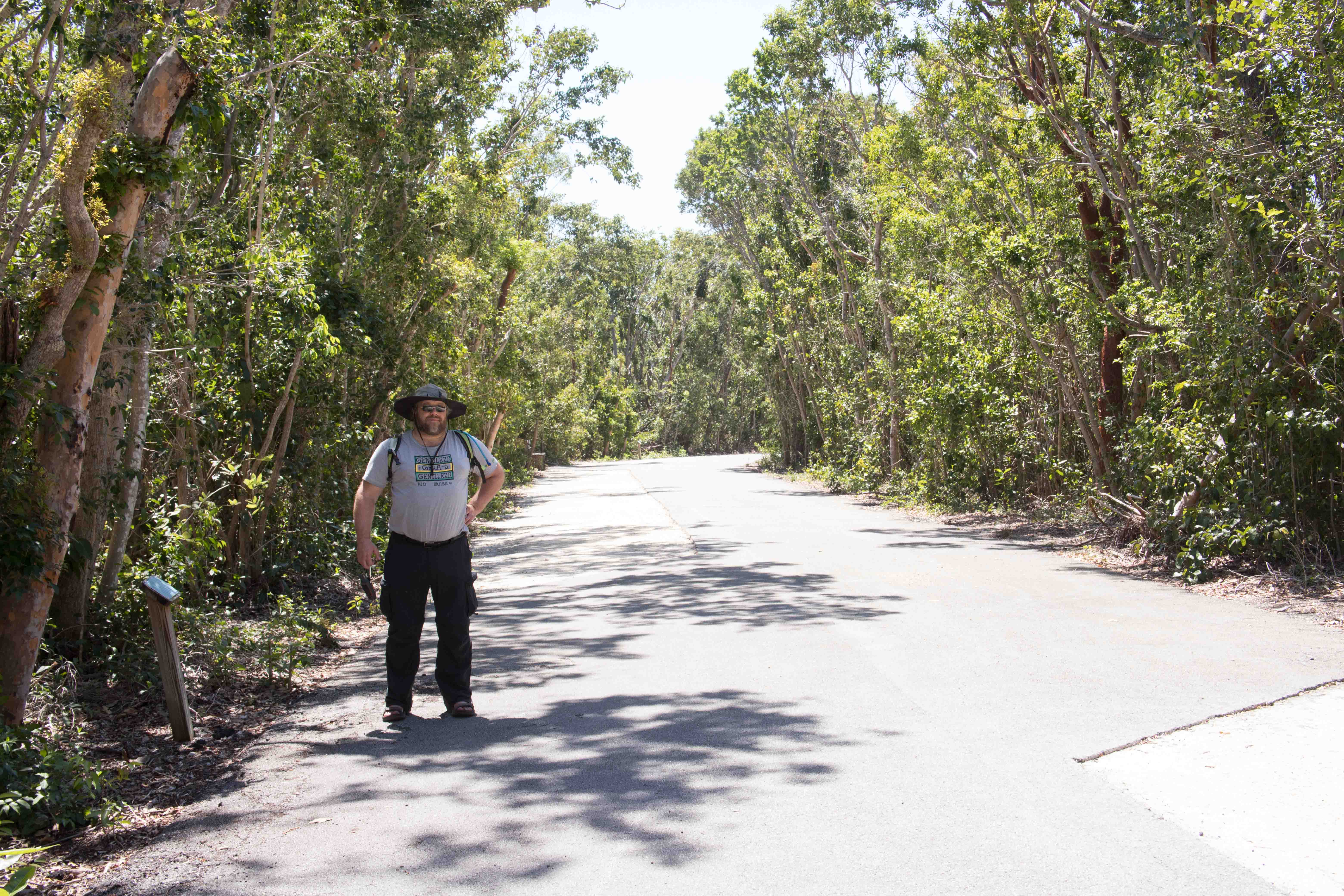 Eric photographed this stuff called poisonwood, related to poison oak and poison ivy. It was all around us, and we were wary of touching any of the surrounding vegetation. The weather was hot and humid, and mosquitoes were biting my legs.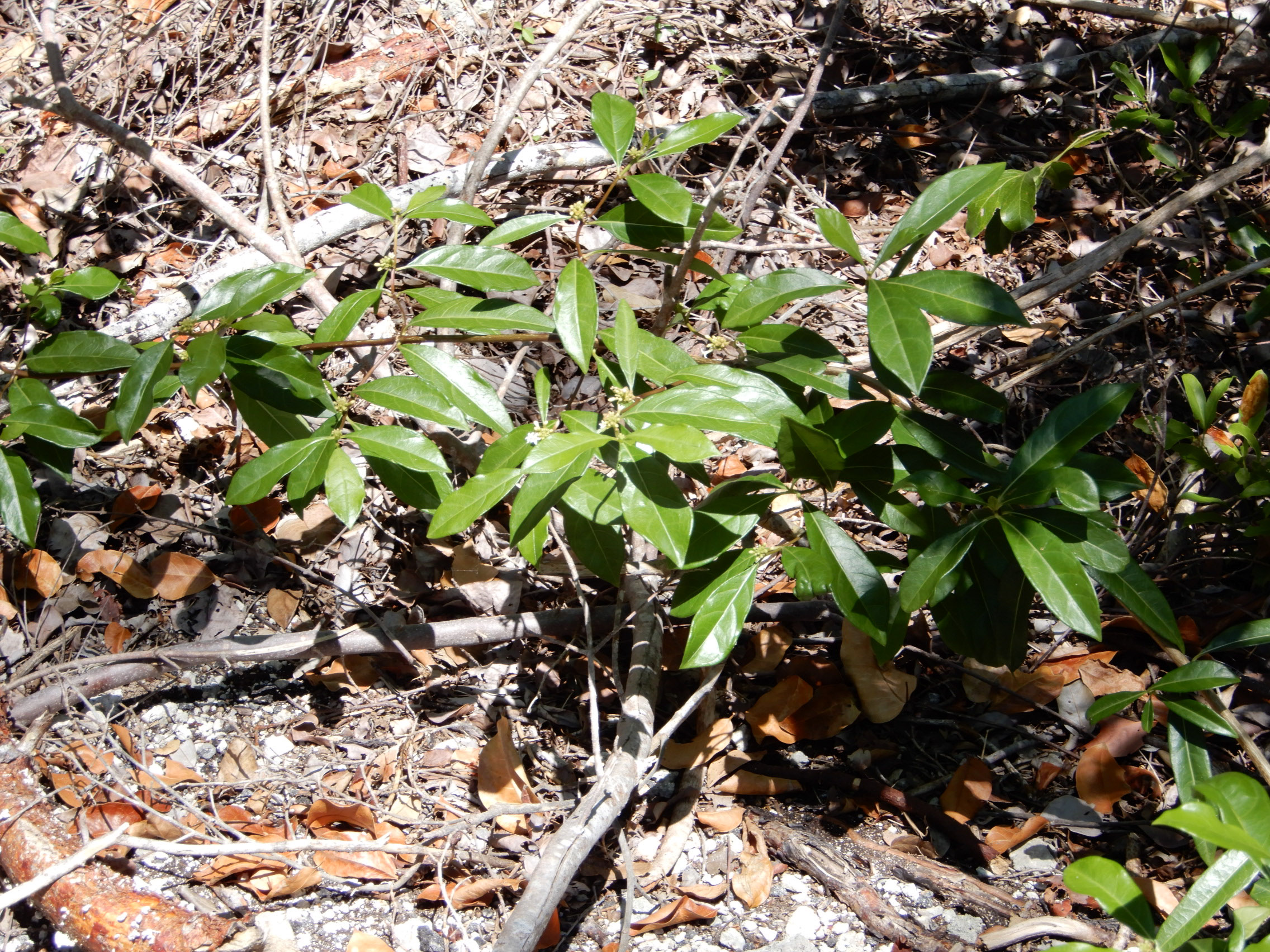 We did, at least, find a geocache. As Eric was putting it back in its place, I asked myself, was this better than working? I figured it was. Then I asked myself, was it better than a day relaxing at home, working in the garden, cooking, and playing with Patience and Fortitude? I figured it was not.
John Pennekamp Coral Reef State Park
John Pennekamp Coral Reef State Park was more promising. It was featured in my National Geographic state park book. But it also seemed overdeveloped and overcrowded. We had to pay $9 to enter, after having paid $5 for our brief visit to Johnson. It was hard to find a parking spot, and we were surrounded by concessionaires renting snorkeling gear and kayaks and running glass-bottom boat tours. After some consideration, we decided to leave the main area, Cannon Beach, and go out to Far Beach. While Far Beach was not actually very far in physical distance from Cannon Beach, it was a world apart in terms of crowding.
There was a mangrove trail, closed, of course, for post-Irma restoration. Photo by Eric.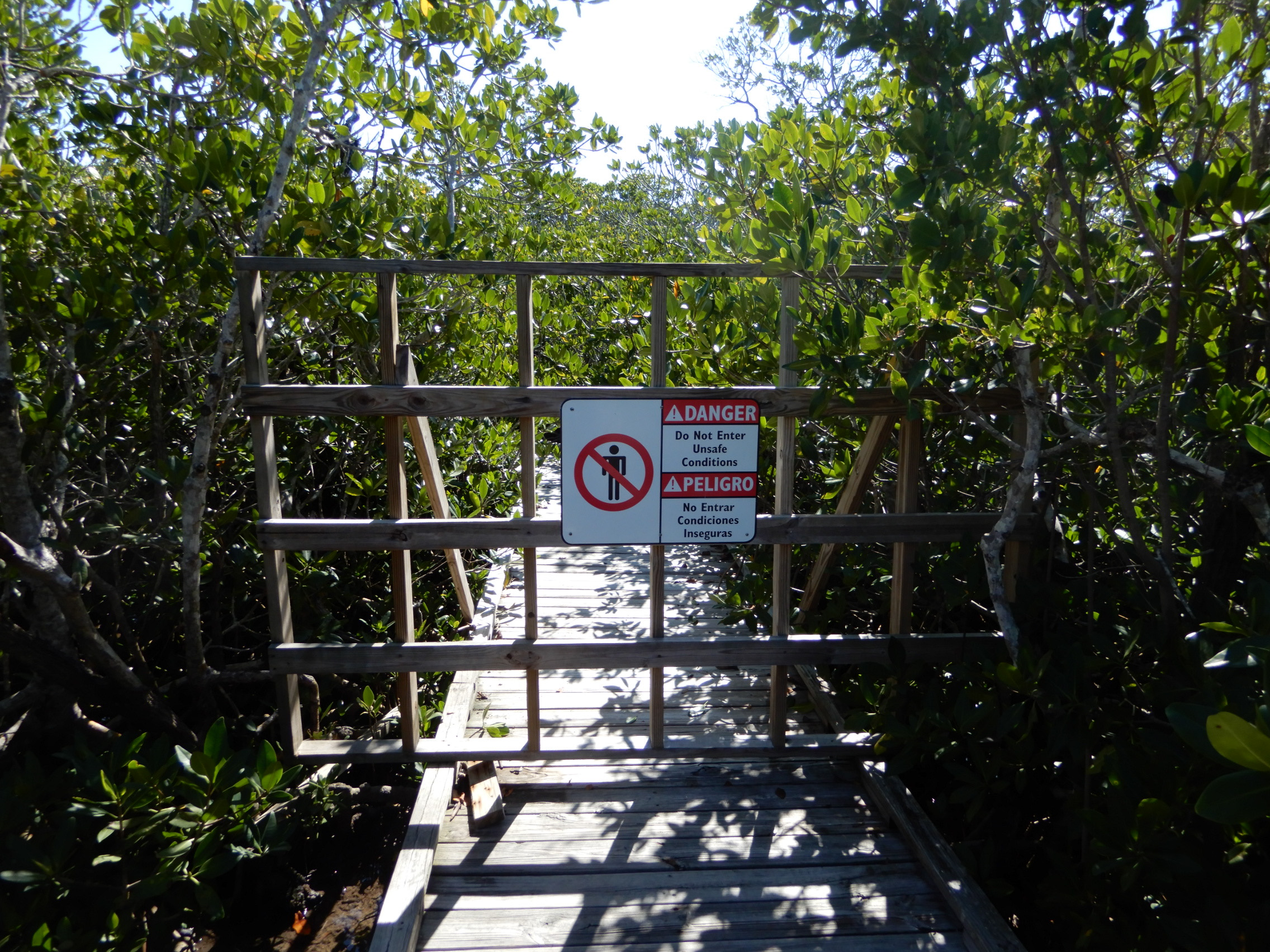 Far Beach looking idyllic.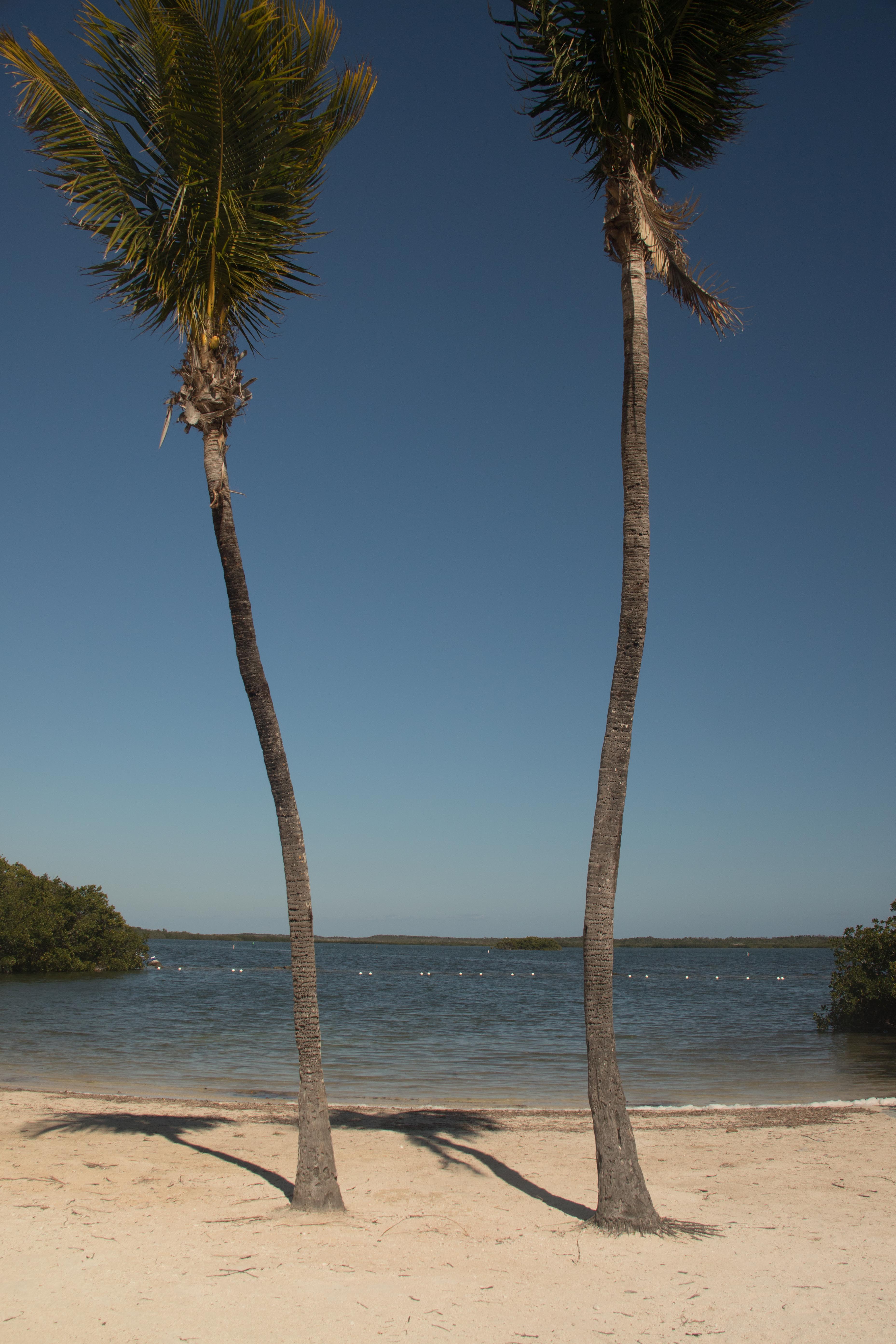 Clear water at Far Beach.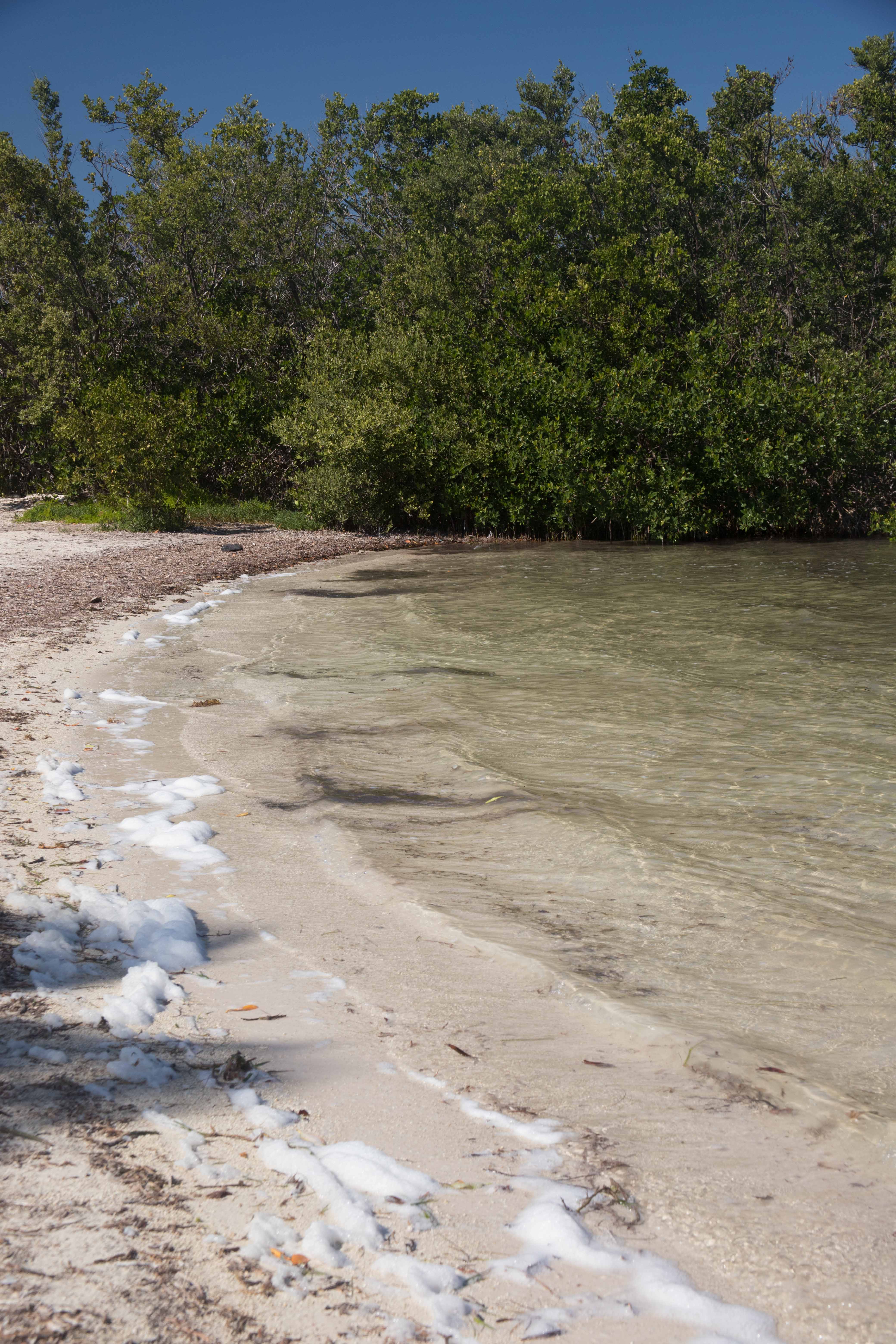 Eric found this secluded trail through the mangroves, and we decided to snorkel through it.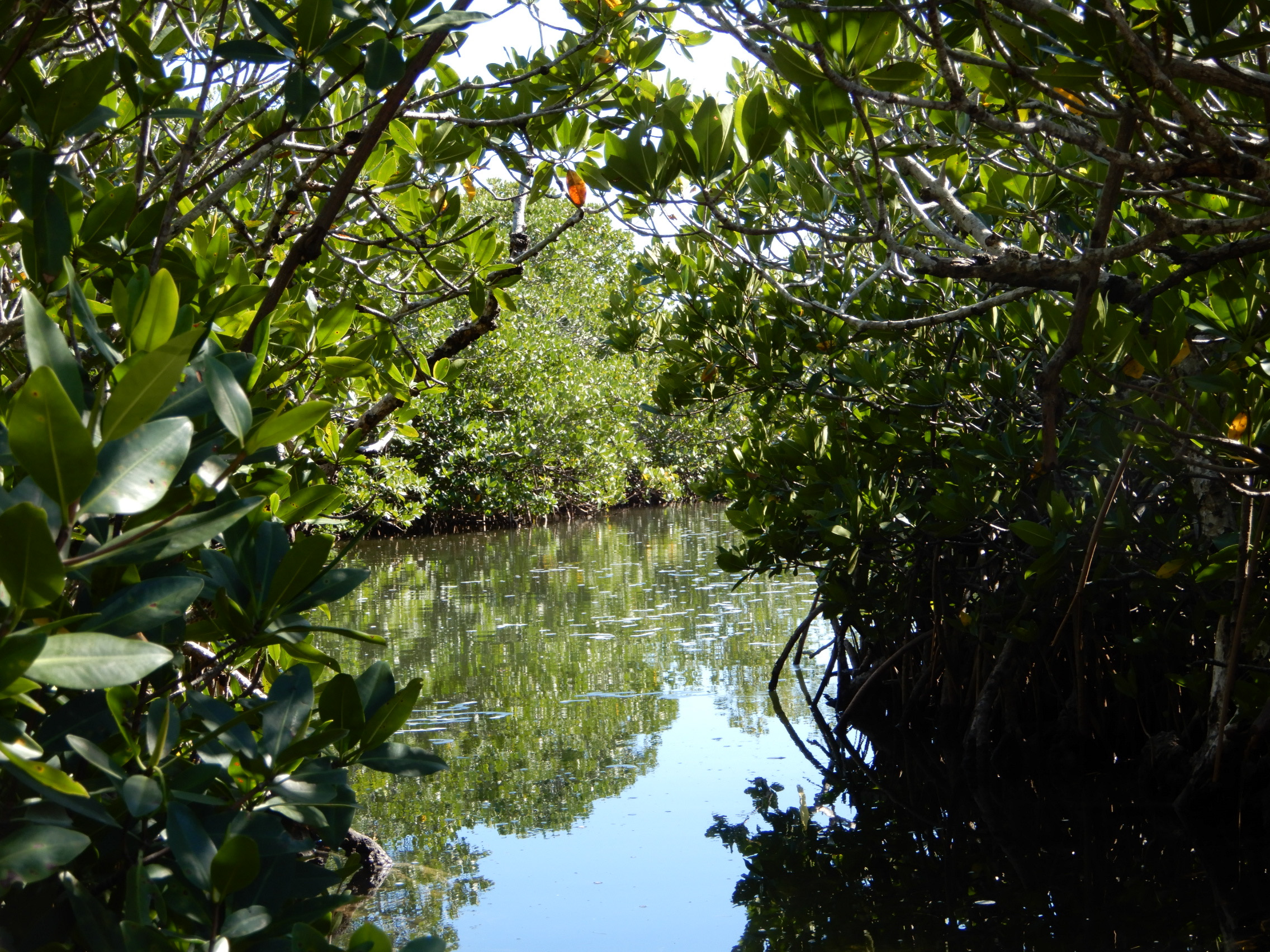 We had a chilly but lovely snorkel through the mangroves. The water was not as clear as it had been on the beach, but we were able to see some fish and crabs, and something that perhaps was an immature barracuda. The mangroves above us were beautiful, and the sun reflected off the water and bounced back up along them. We encountered a few kayakers, but mostly we enjoyed ourselves in the mangroves alone. Now, we were having a worthy vacation day!
Key West
As prices in Key West were extraordinarily high, I had made arrangements to spend our nights on a boat through AirBnB. We had to take this water taxi out to the boat. Photo of water taxi and Captain Sherwood by Eric.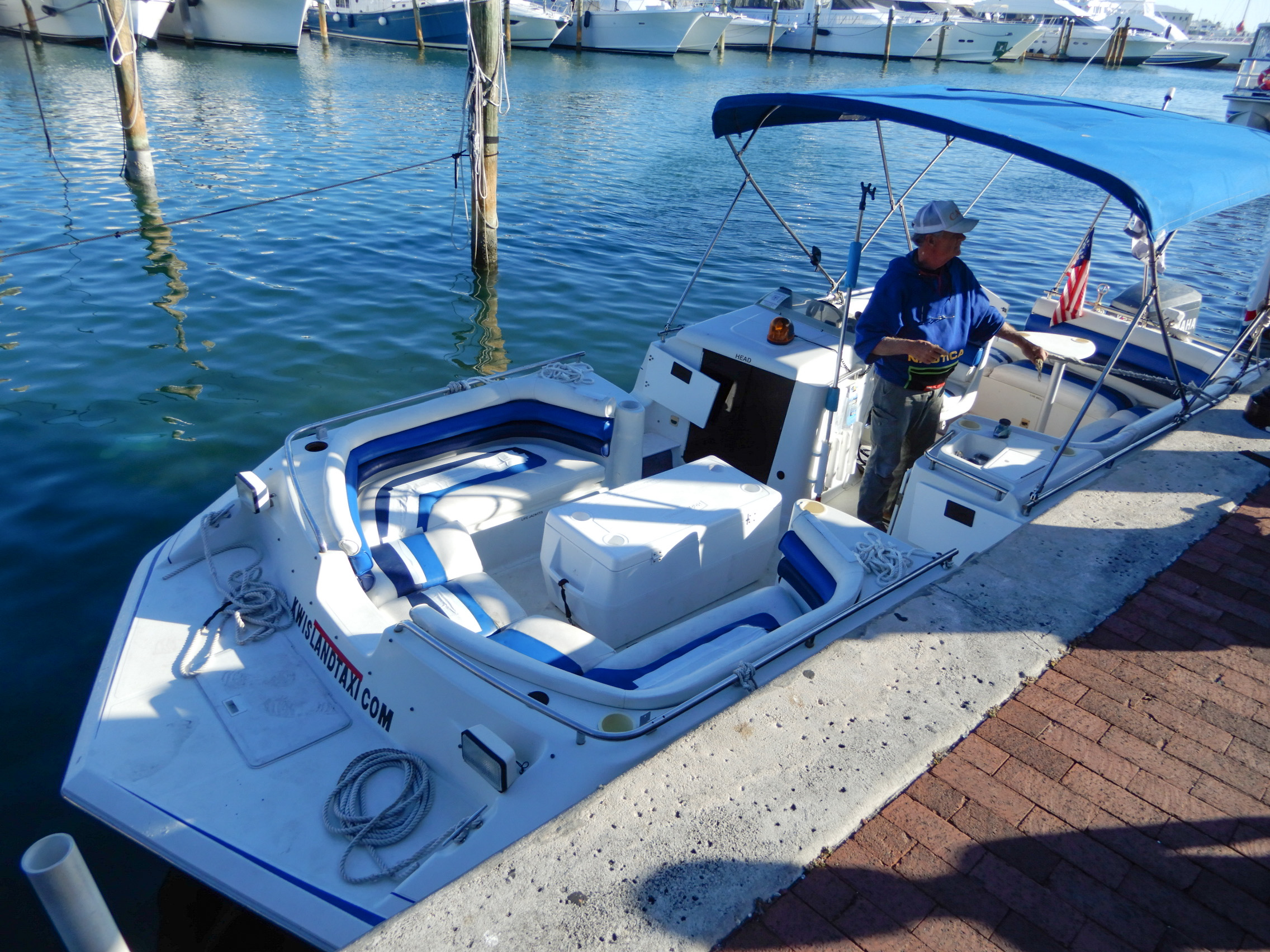 Peter's boat, the Orion V.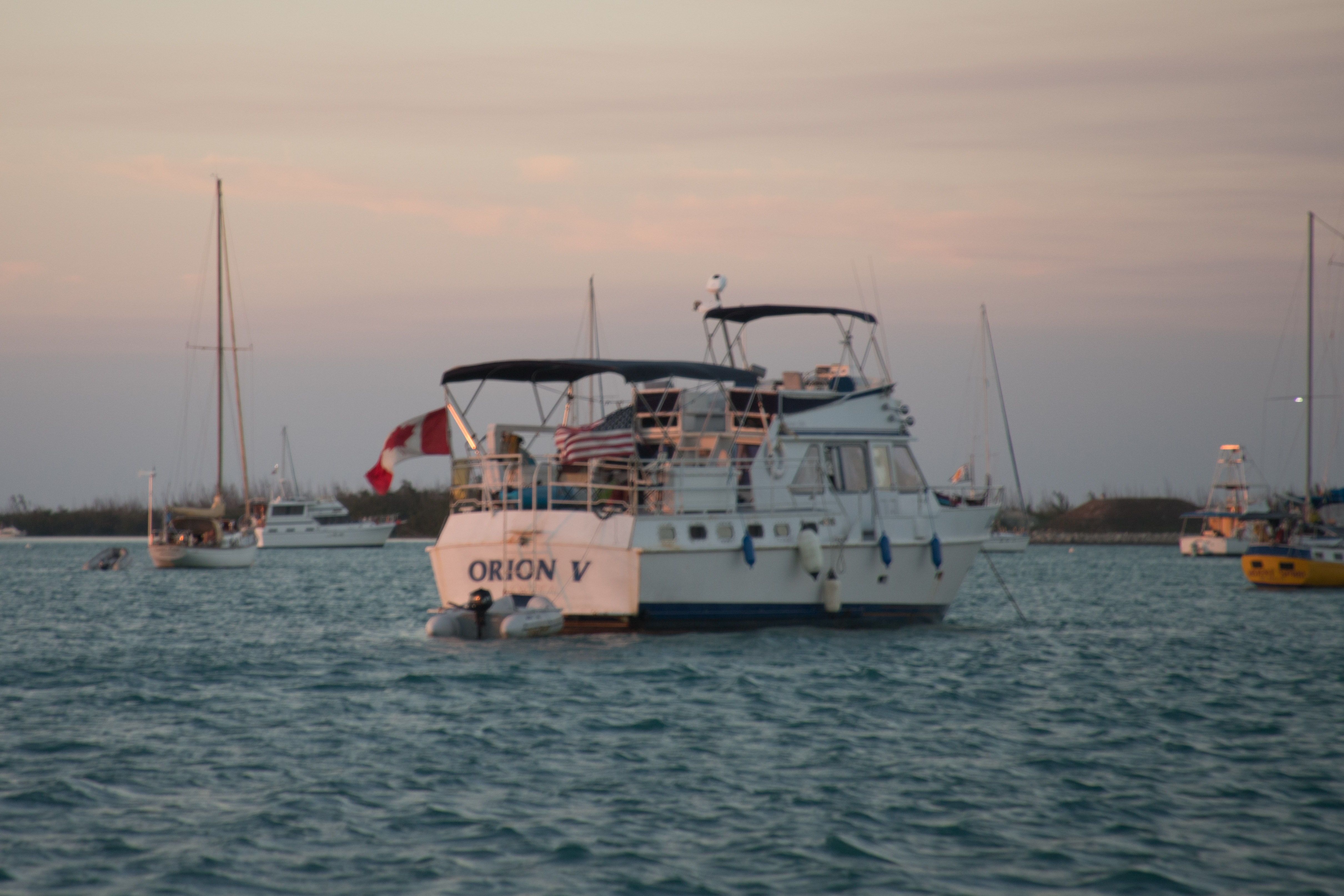 We slept in the captain's bedroom. Photo by Eric.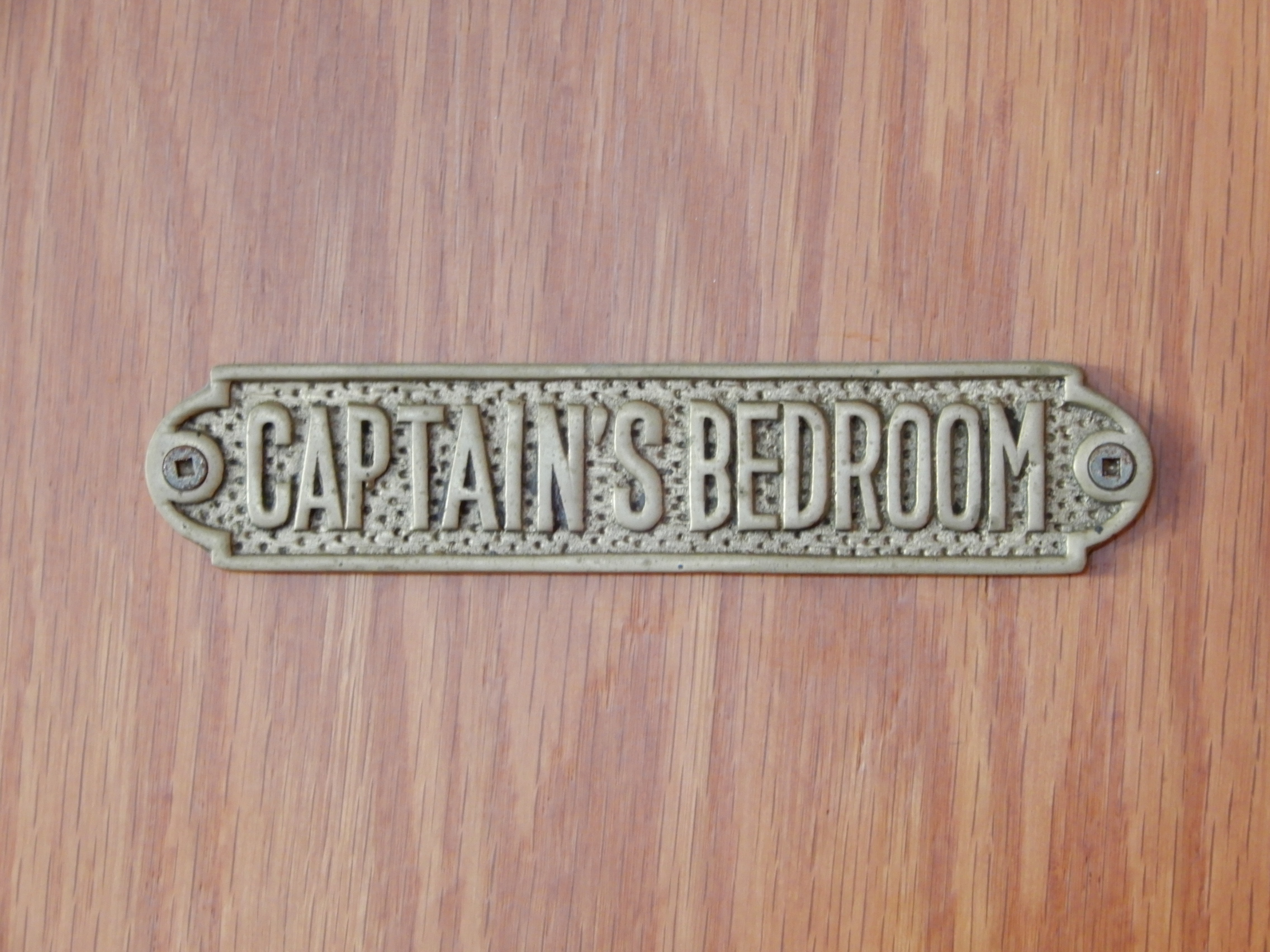 Eric took a picture of our comfortable accommodations. Water and electricity were limited, but our host, Peter, was quite pleasant, and breakfast was included.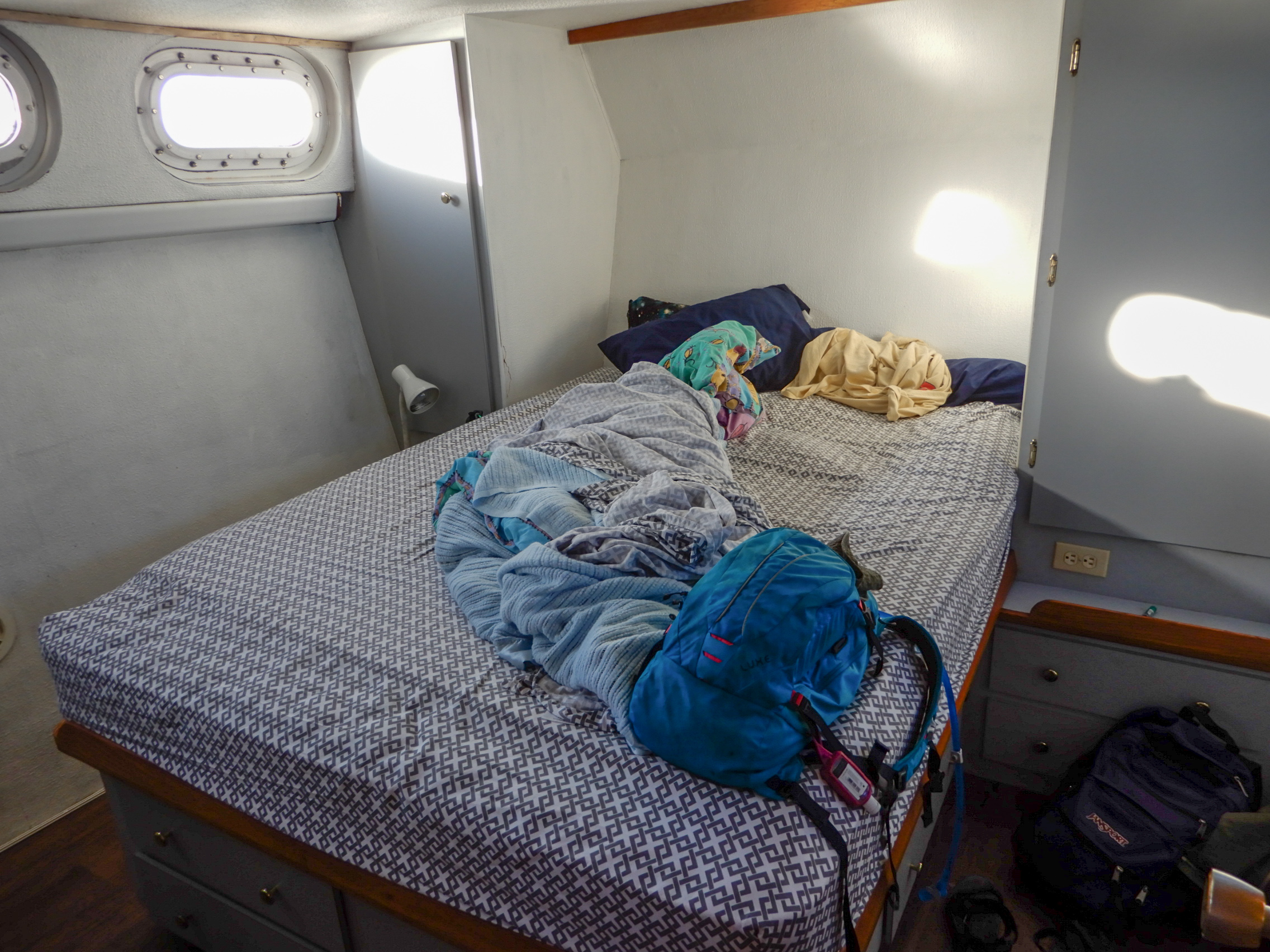 Eric took a picture looking out the window of our cabin.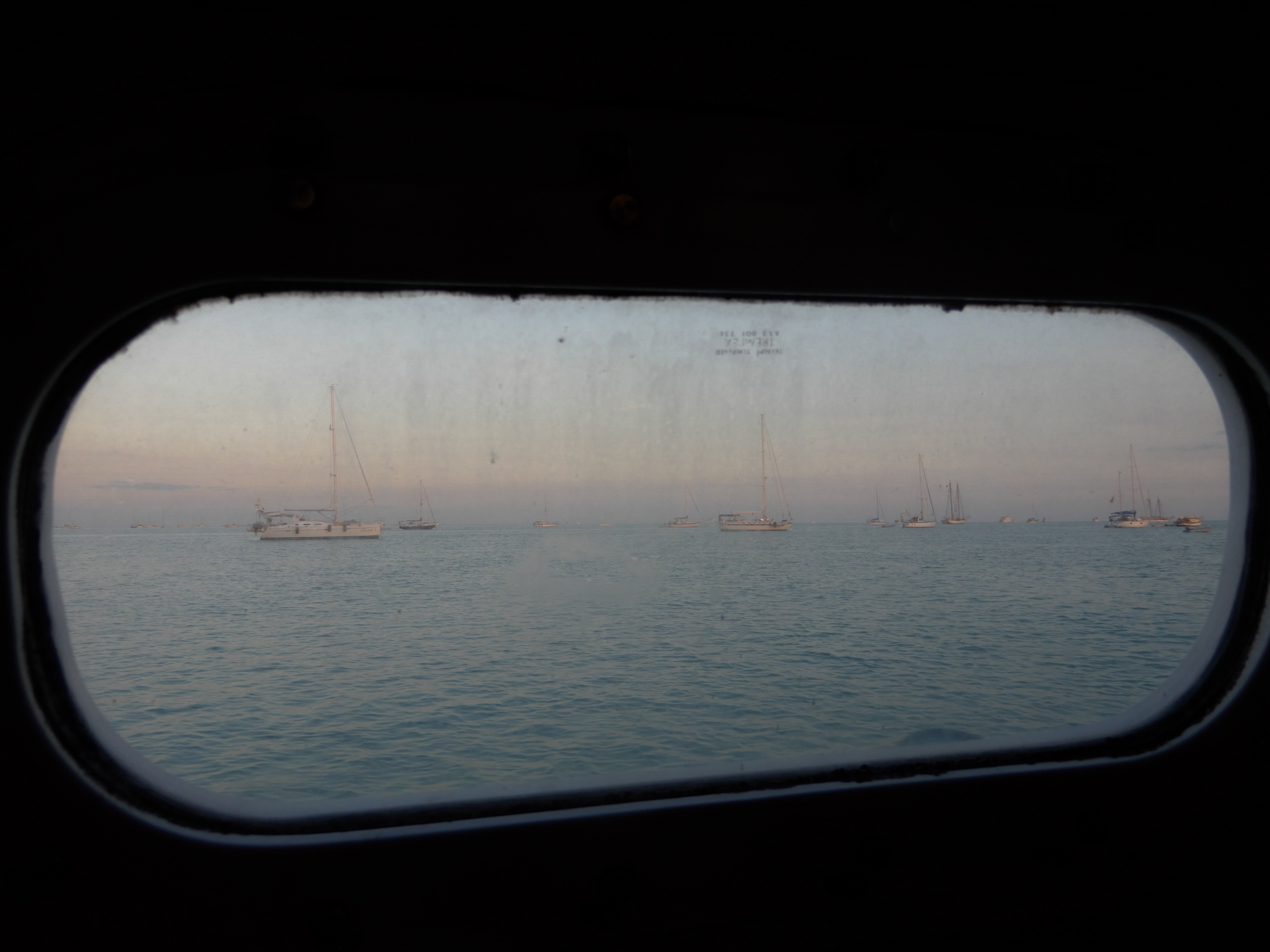 Views from the boat.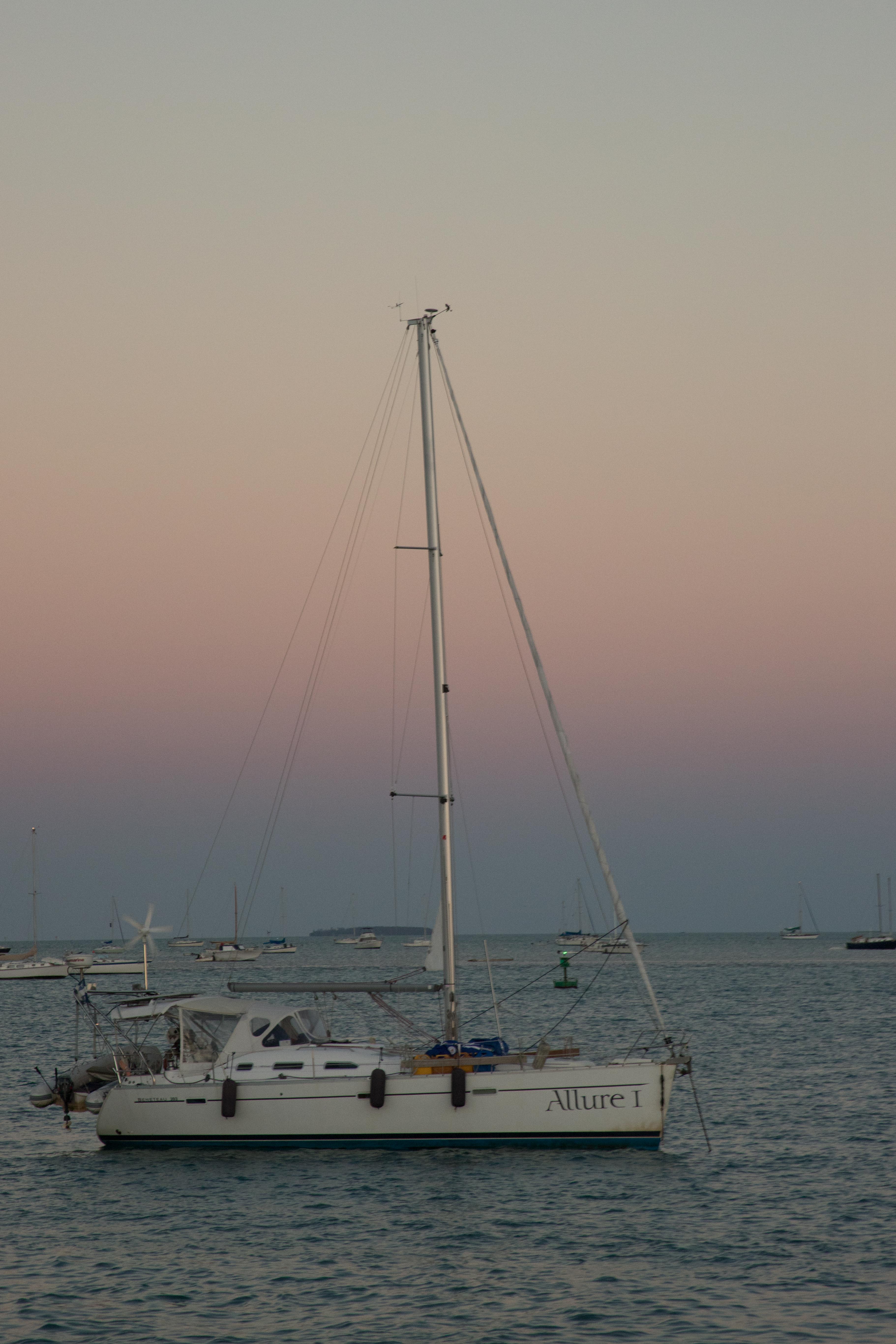 I got up to photograph the sunrise.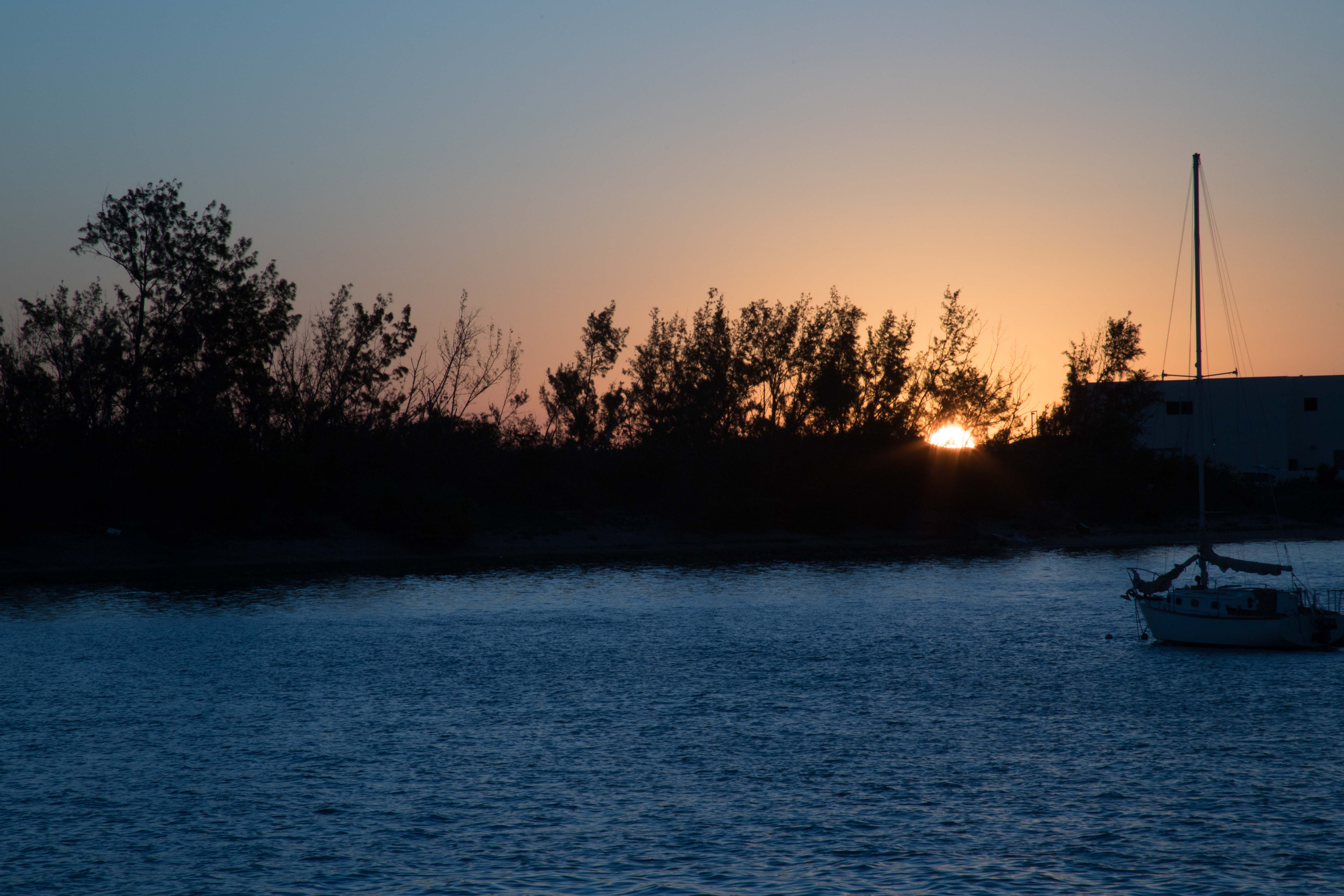 We spent a fabulous day taking a seaplane out to to Dry Tortugas National Park, and spent the late afternoon searching for geocaches in Key West. We went to the southernmost point in the continental US. It was rather a tourist trap. We did not wait in the long line to get our picture taken here. Eric just took a picture of the tourist trap.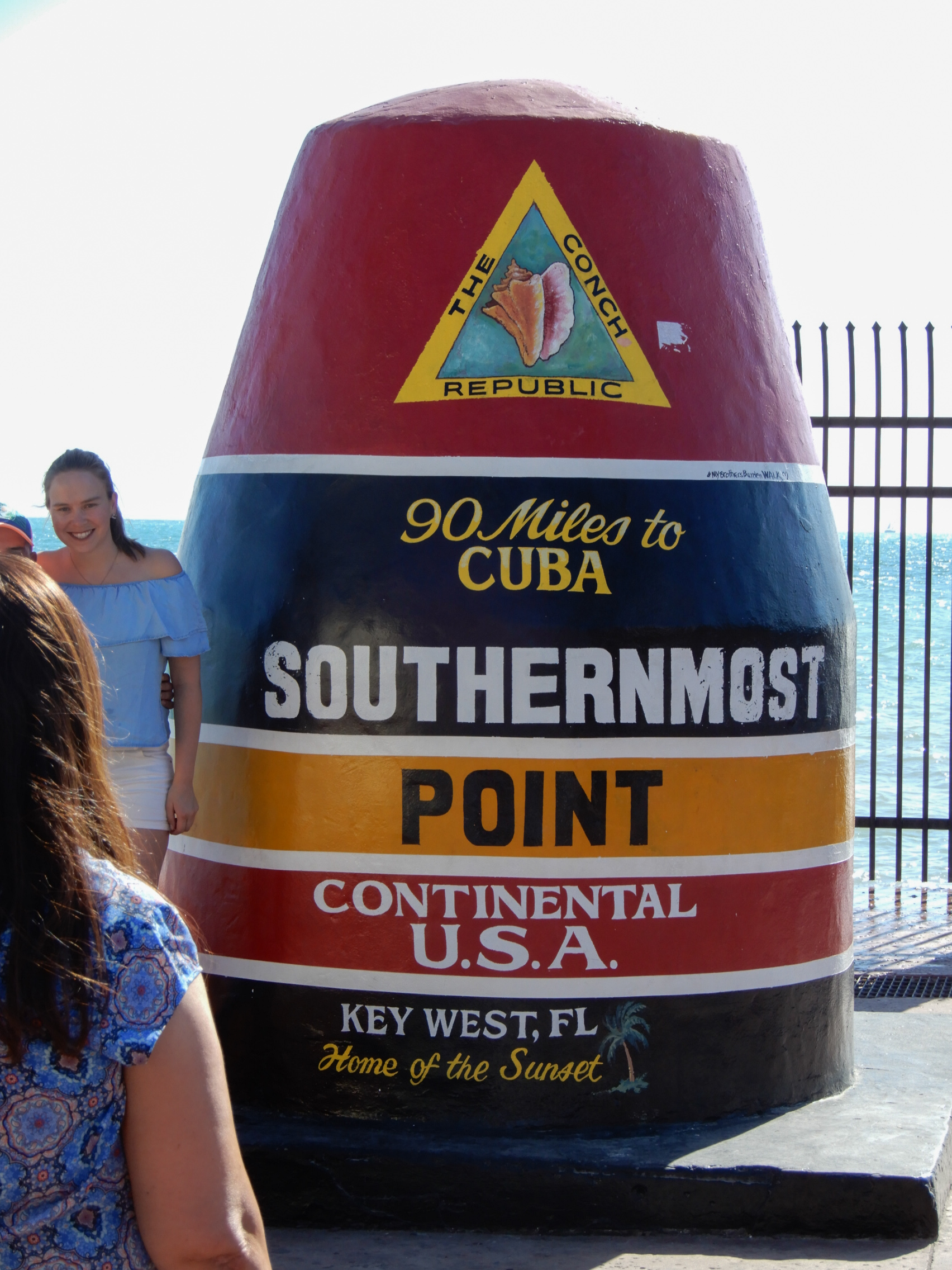 Key West City Hall had both a rainbow flag and a POW/MIA flag outside. Eric took a picture, since we had never seen such a combination before. There is also a Conch Republic flag for good measure.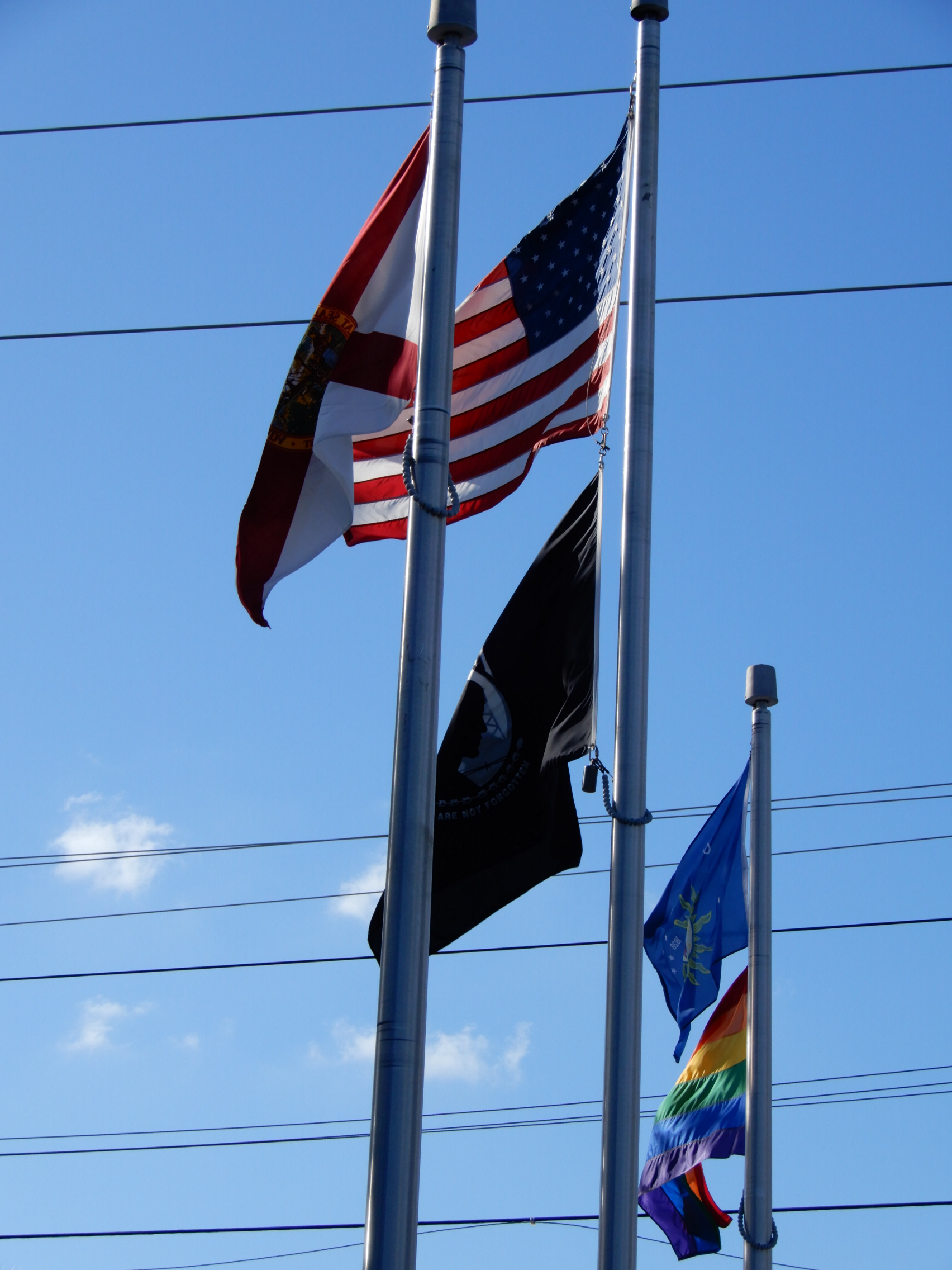 For dinner, we sampled the local cuisine, stone crab, Florida spiny lobster, and conch fritters. Eric took a picture of the stone crab. The lobster and conch fritters were much tastier.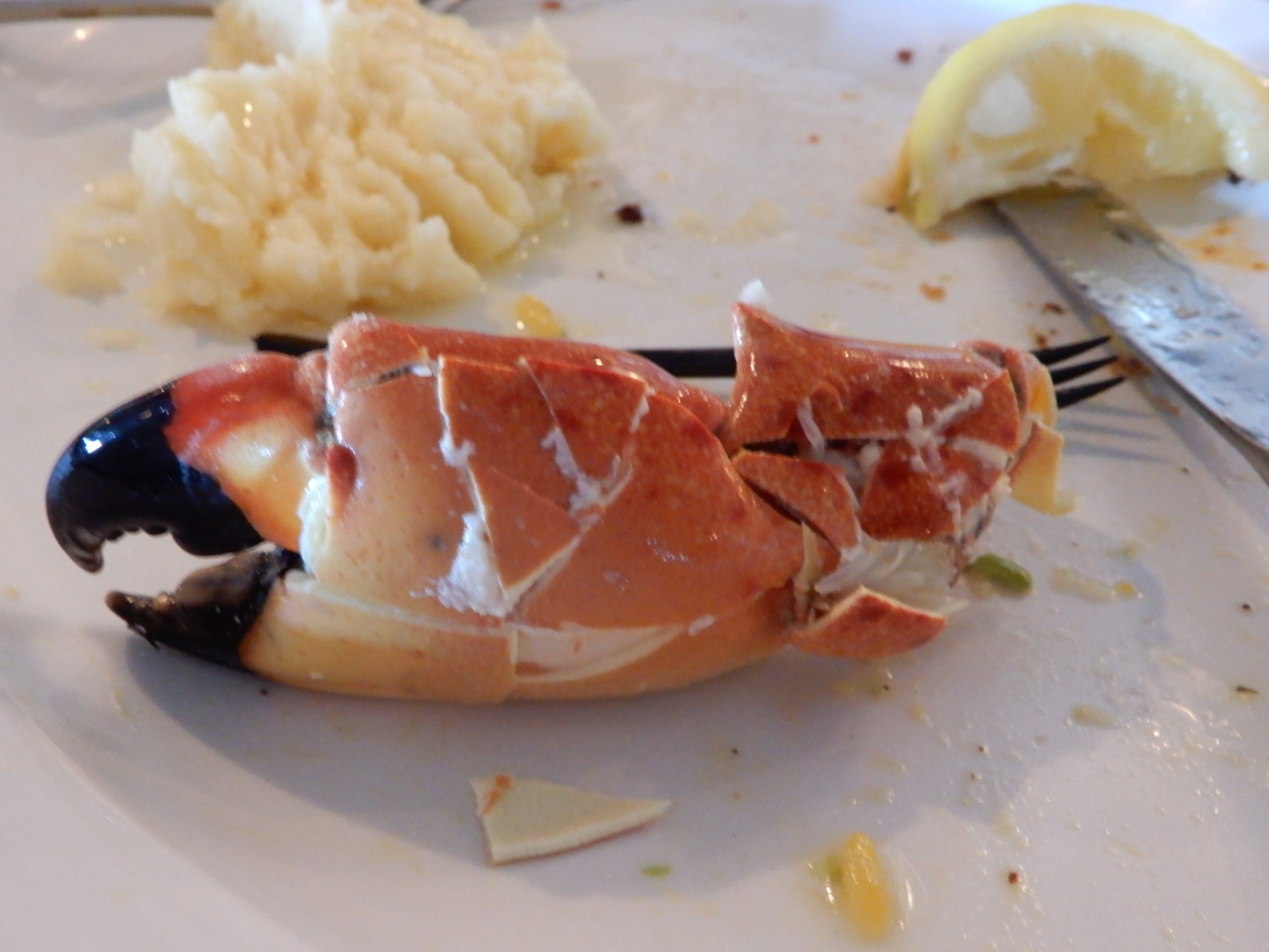 Eric took a picture of the sunset from Peter's boat.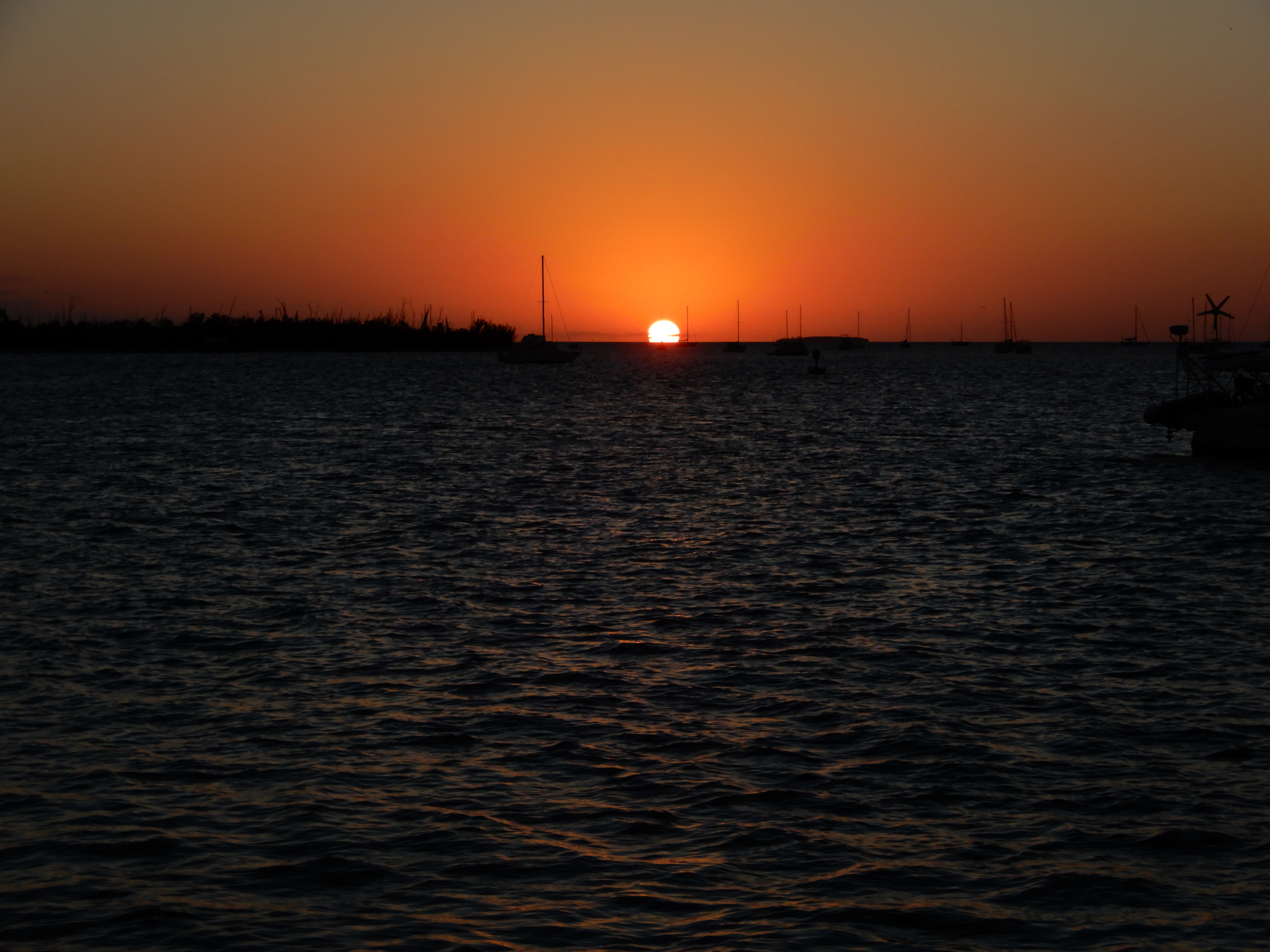 Sleeping on the Orion V was absolutely spectacular, except for our dependence on the water taxi. I did not know that its hours were from 10:00-22:00. We had to pay extra for an early pickup to make the seaplane flight on Saturday, and we had to wait about two hours later to leave on Sunday than I would have preferred. This is an awesome opportunity to get away from the drunken crowds and chaos of Key West if you have a more flexible schedule than we did.
Windley Key Fossil Reef Geological State Park
I would have left Key West around 8:00 on Sunday, to give us some more time to explore the state parks along the Keys, but the water taxi schedule meant that we couldn't leave until 10:00. All the same, we couldn't resist taking a little time to stop at one park, Windley Key Fossil Reef Geological State Park. We went looking for a geocache, and had to have Helen Keller help us find it. Yes, there's a story.
The park is the site of a former quarry, where many fossils of coral were dug up. The area was so geologically rich that the rangers gave us this enormous laminated booklet to help us see them all. Photo by Eric.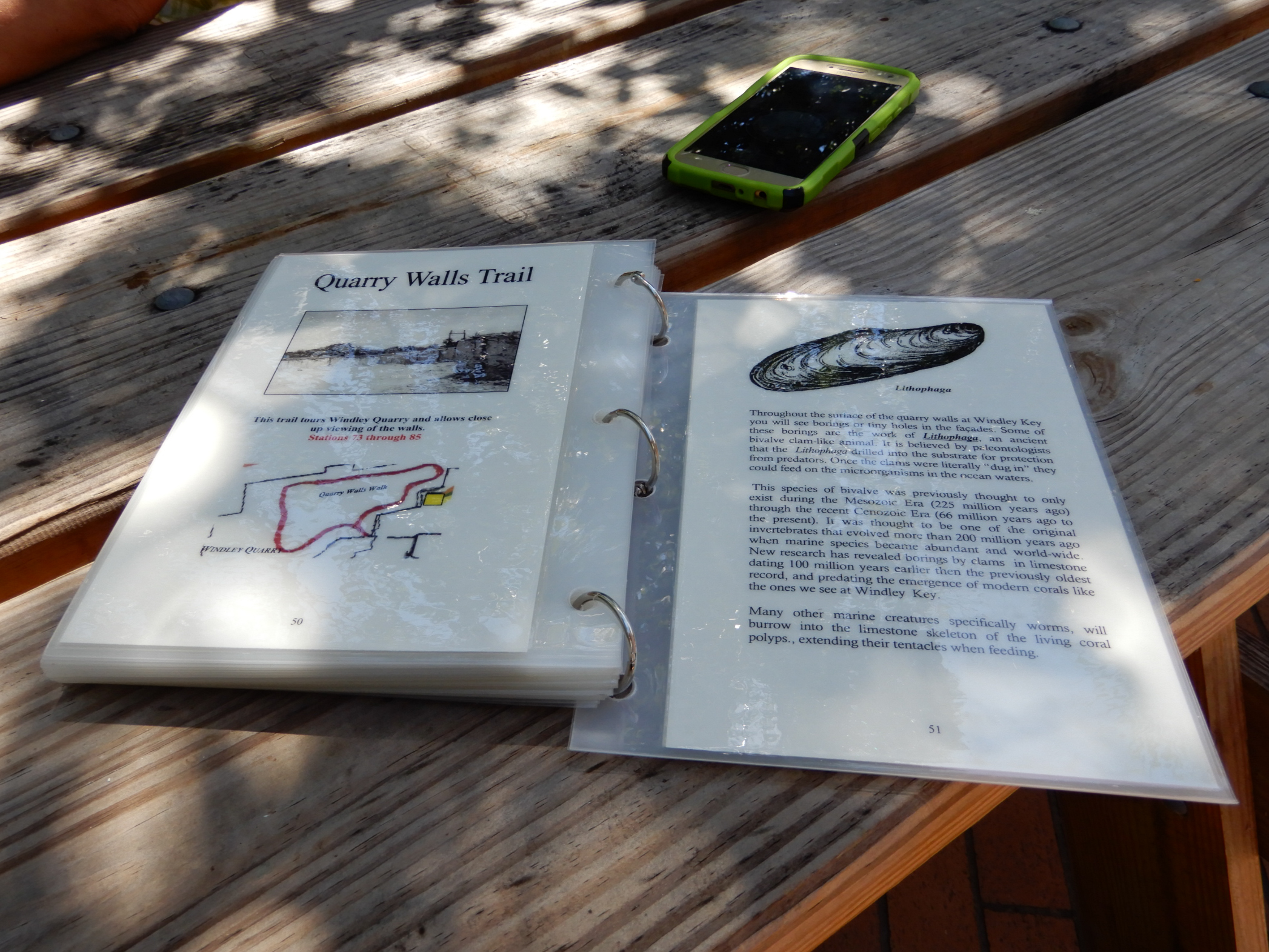 We didn't really need the enormous laminated booklet, though. Coral fossils were thick on the ground.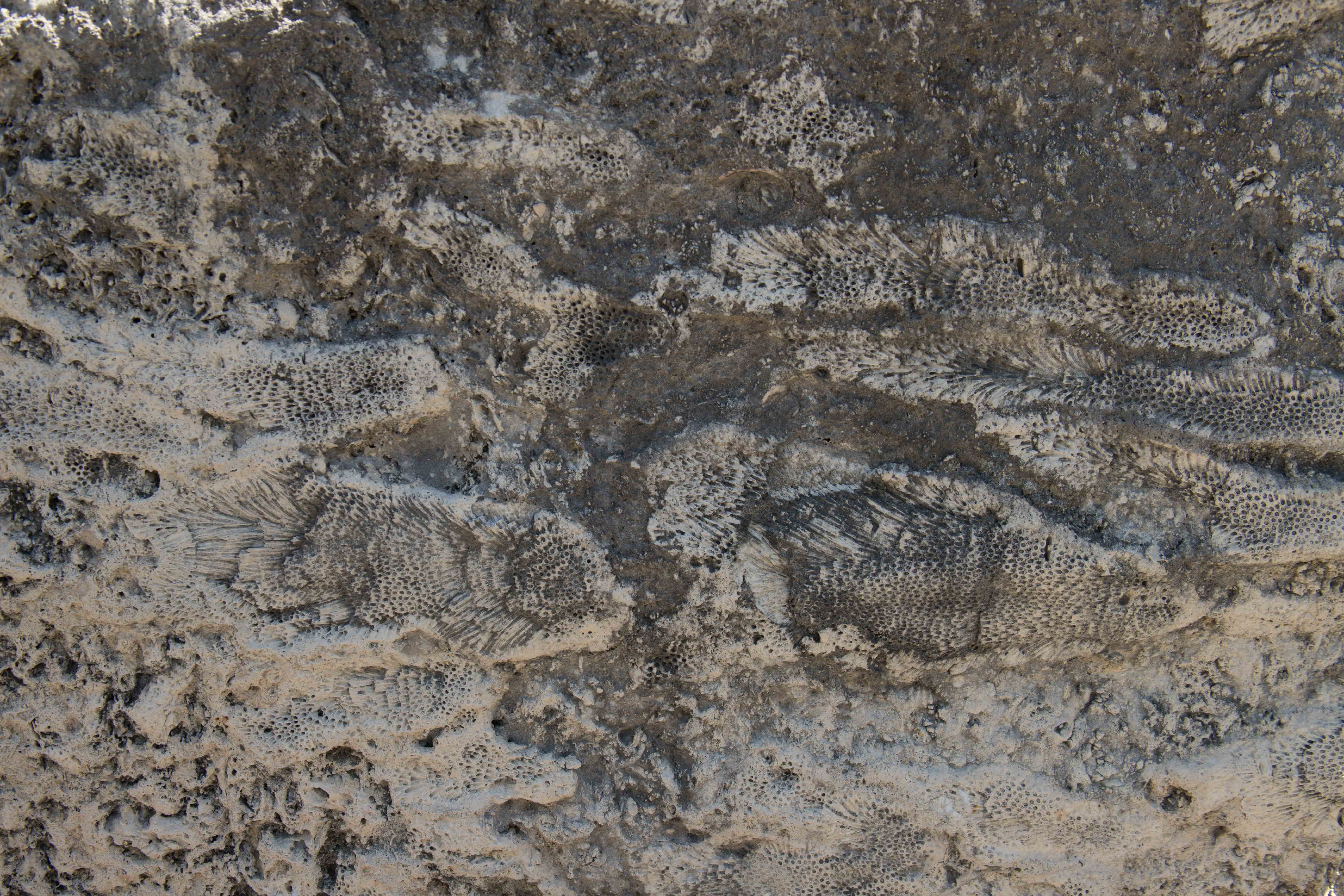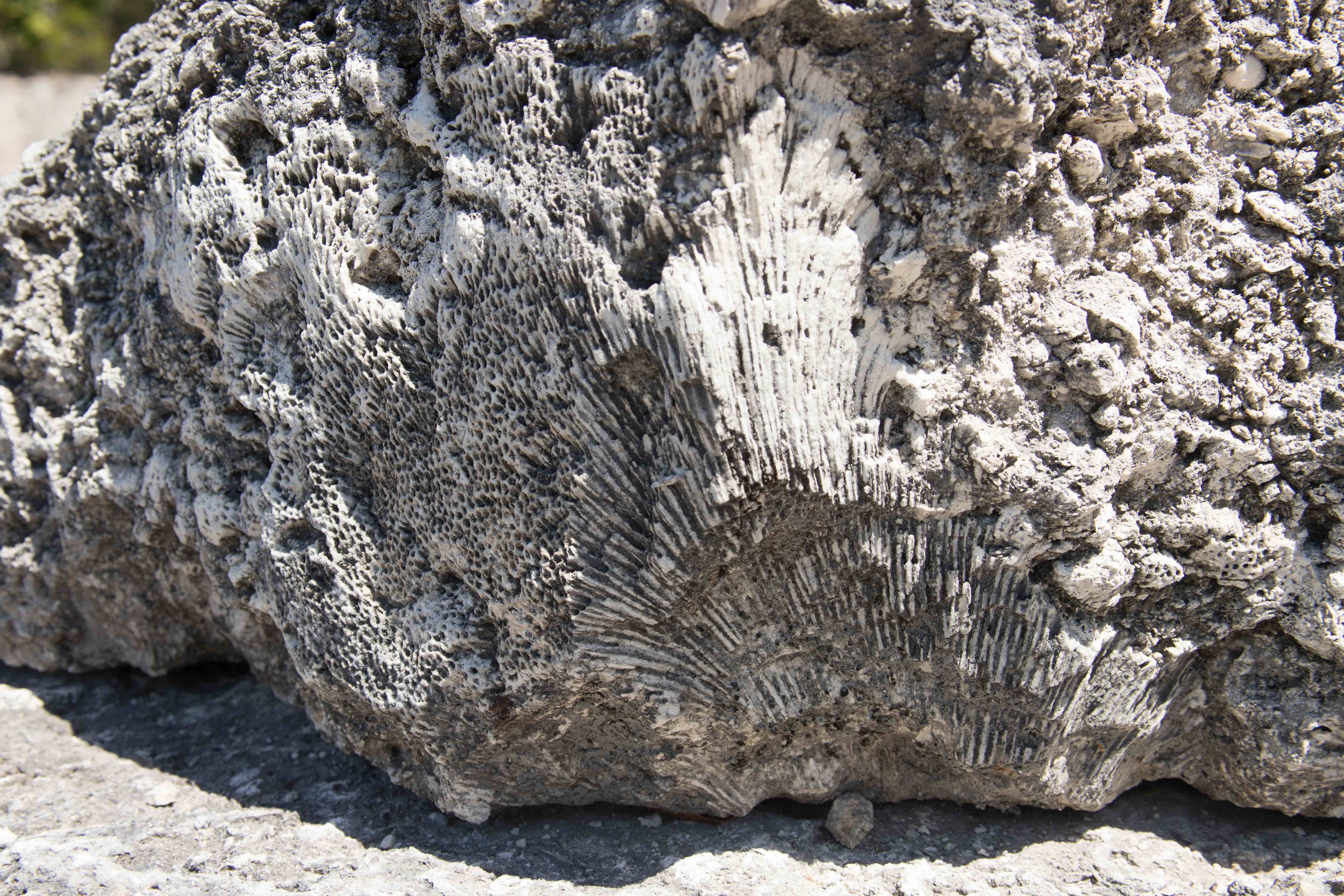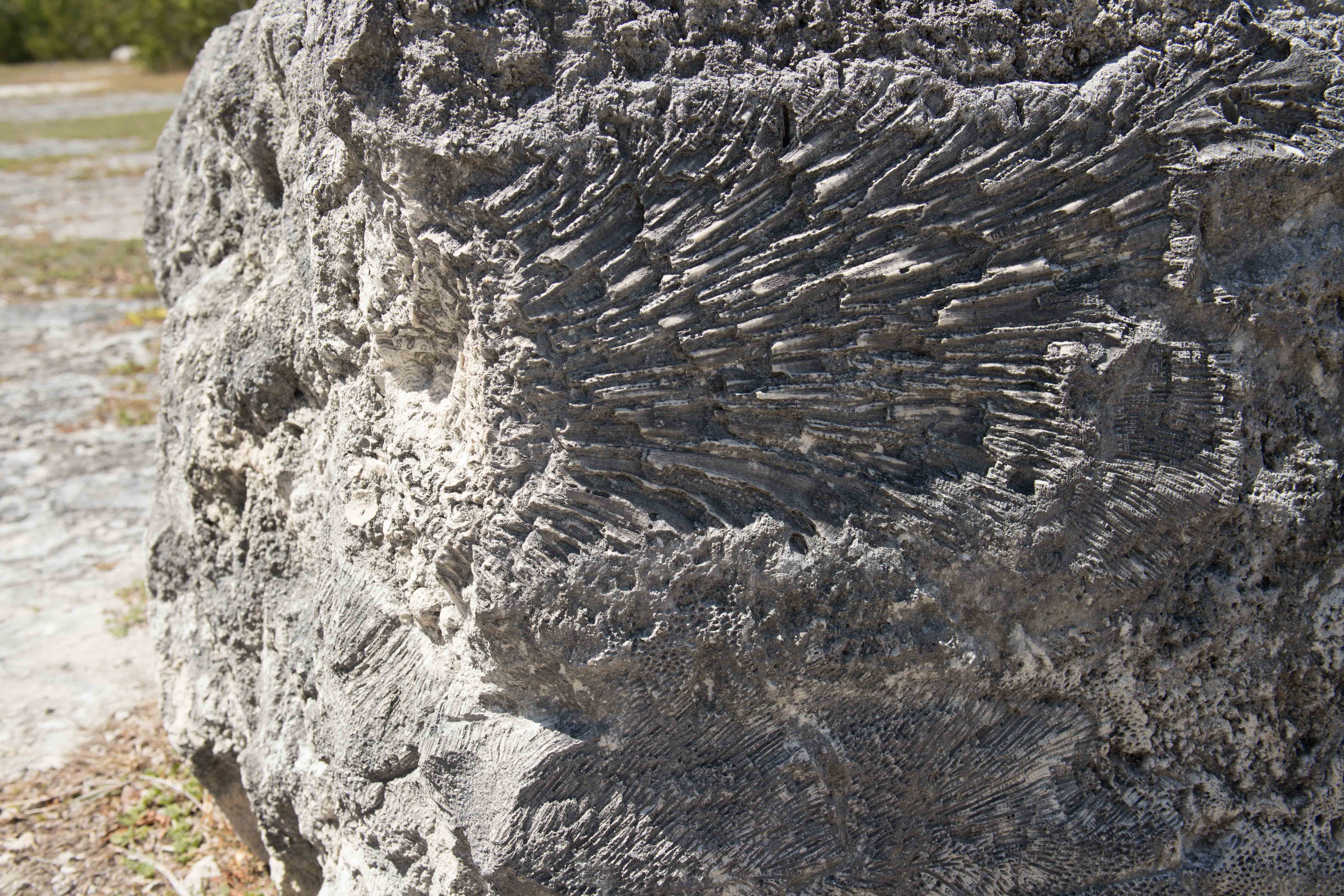 Brain coral fossil.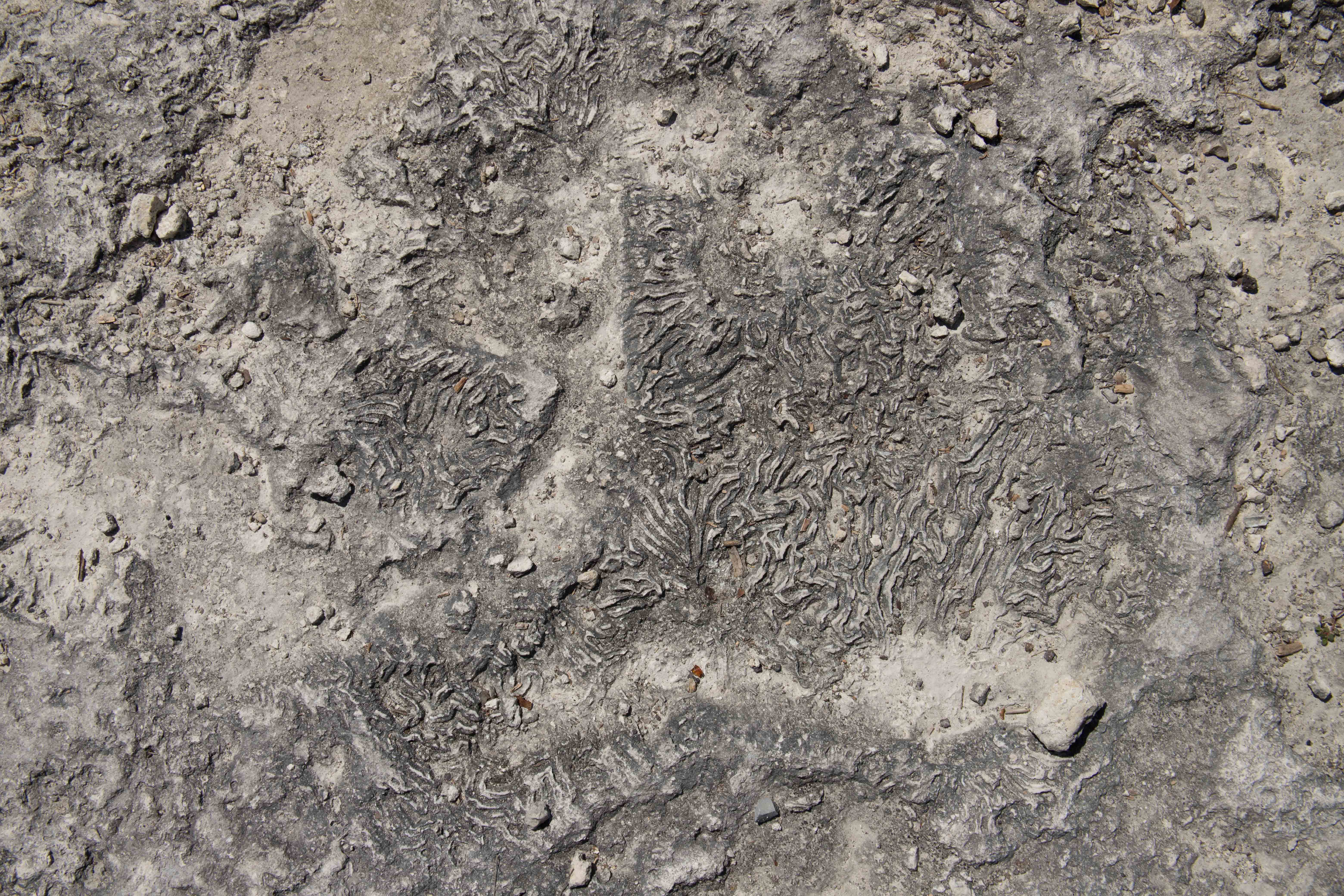 Eric took my picture with a large coral fossil.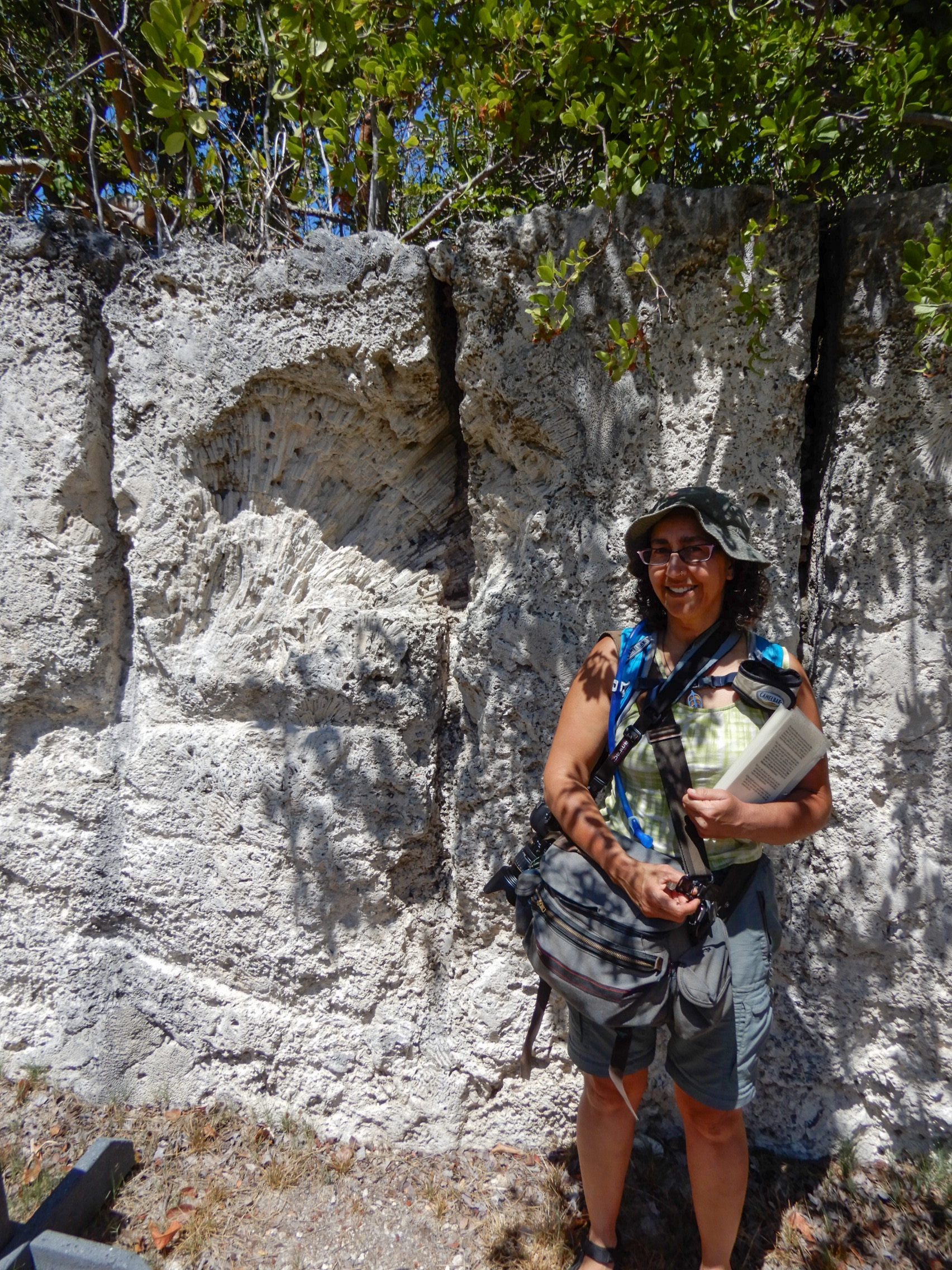 With such limited time, though, we decided to move on and find the cache. We headed onto the trail in the direction the GPS was pointing. It looked like the cache was in the vegetation off the side of the trail.
"Watch out for poisonwood," I cautioned Eric, examining the illustration of poisonwood in the enormous laminated booklet, trying to determine whether any of the vegetation in the area matched the illustration.
We paused our activities, because a ranger in a golf cart drove up. However, she called out, "Don't mind me, I'm just looking for a geocache."
"You're a caching ranger?" Eric asked, as she got out of the golf car and walked up to us.
"Yes!" she said. She told us that she had been looking for the cache here for a couple of years, but hadn't been able to find the coordinates. When she saw us with the GPS, she followed us, knowing that we would lead her right to it. "Not to stereotype," she explained, "but there's kind of a geocaching look, you know? That fish shirt you're wearing."
After ascertaining that there was no poisonwood in the area, the ranger trotted into the brush and excitedly grabbed the cache. "I hope I haven't spoiled all the fun," she said, as Eric took her picture.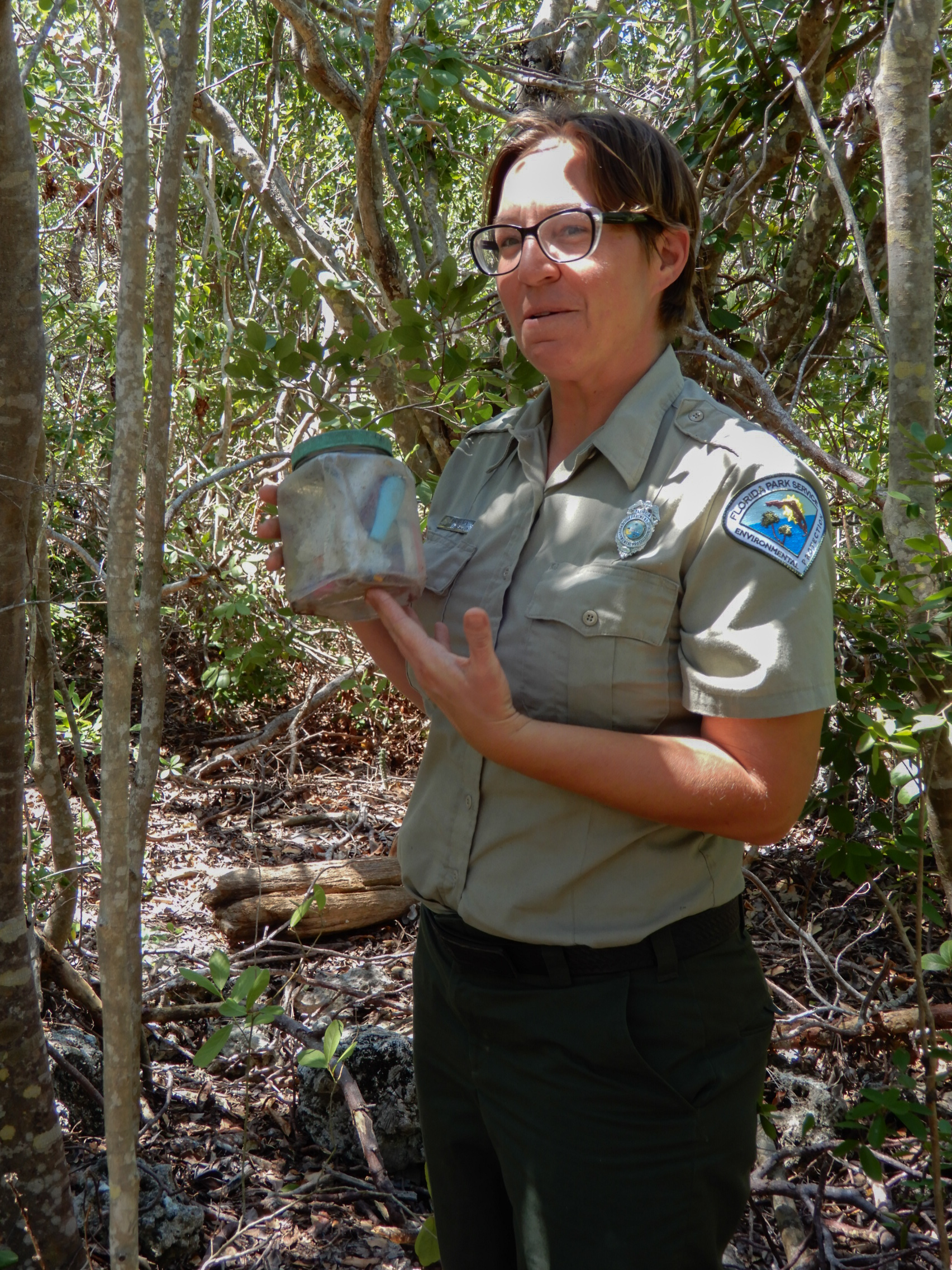 "Oh, not at all!" I said. "We need to get back to the airport in Miami, but just wanted to make a quick little stop at this cool place."
This was when we noticed the name on her badge: Helen Keller. "It's a long story," she told us.
We signed the log, all three of us very excited about this wonderful caching experience!
Eric with Ranger Helen, displaying his giveaway fish shirt.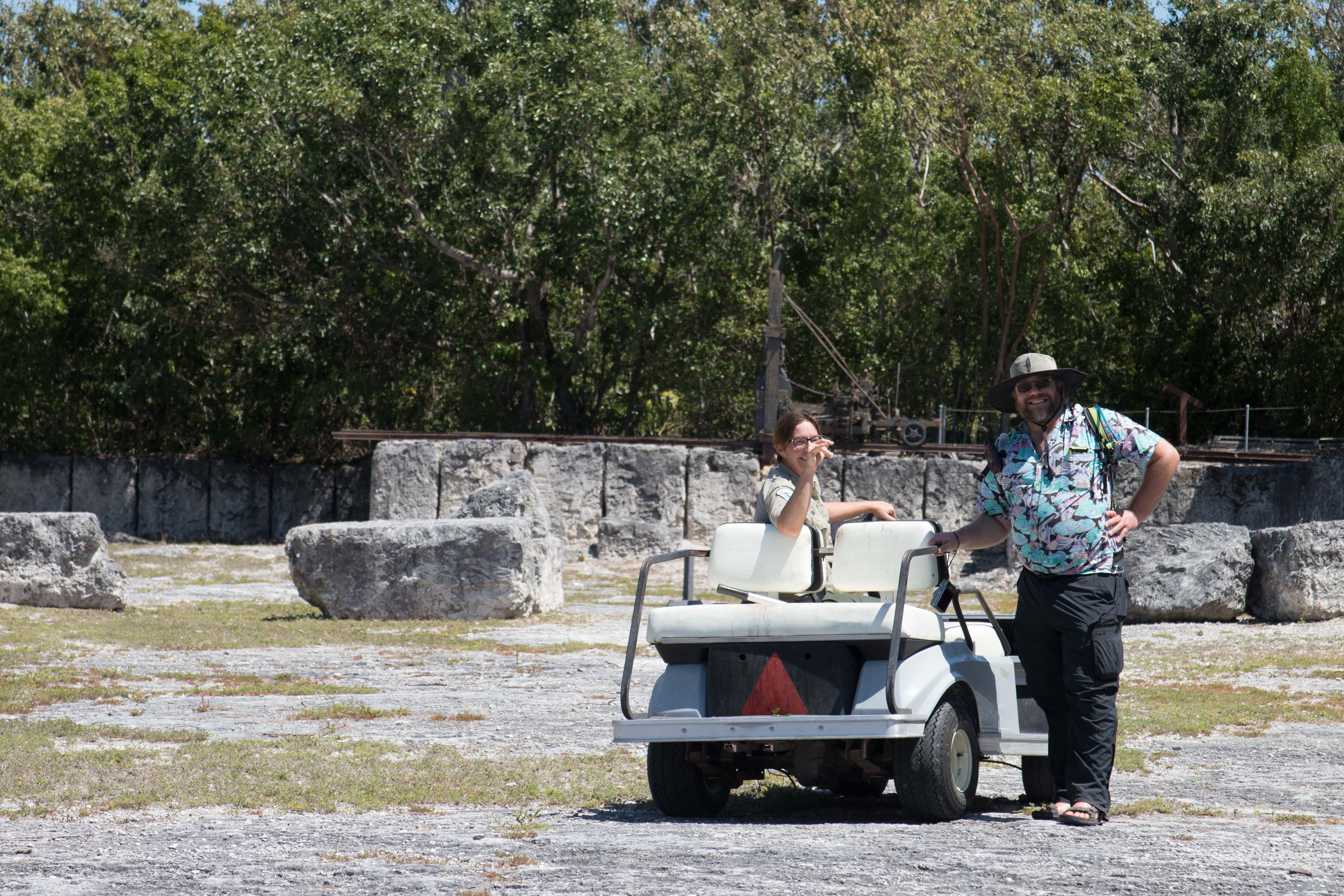 We made a brief stop for takeout back at Harriette's in Key Largo, where the wonderful and superbly efficient waitress remembered us and asked us how our visit to Dry Tortugas had been. What a great way to end our excursion out to the Florida Keys!
On to
Dry Tortugas National Park
.
---