---
Redwoods and Lighthouse III
Saturday-Sunday 2-3 July, 2016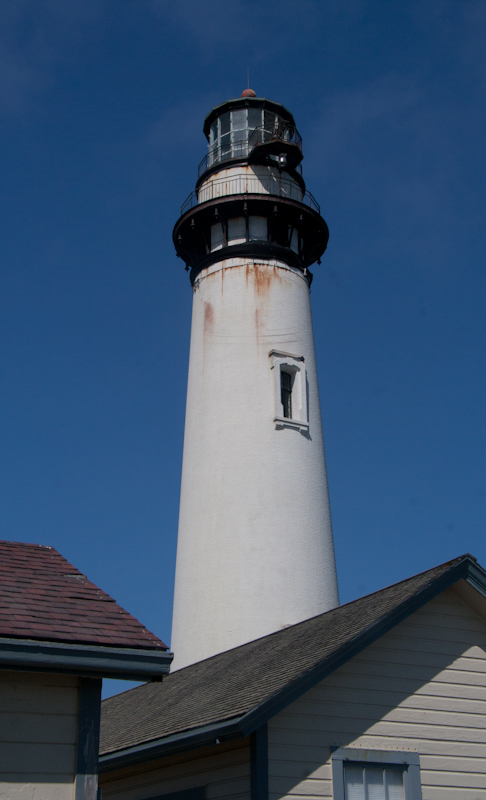 Through all of our travails last year, with a brake failure and fall, we could see that Lonely Planet's Redwoods and Lighthouse bike trip would be a beautiful ride if not marred by so much misfortune. Since the Fourth of July was another three-day weekend this year, we decided to try it again and get it right this time. It was fantastic!
Circumstances, in particular the acquisition of another used hot tub, prevented me from training for the ride as much as would have been optimal. Eric, between contracts, had plenty of time to train. I let him carry all of the food.
We started at 8:10, ten minutes later than the prior year. But we had done the route before and so already taken many pictures and found many of the geocaches. This sped things up considerably, such that, even with my minimalist training, we arrived at the lighthouse fifteen minutes sooner than we had in 2015. We only found one cache Saturday.
The main drag in Boulder Creek. Could there possibly be a more generic name for a bar? Couldn't Joe at least have called it "Joe's Tavern?"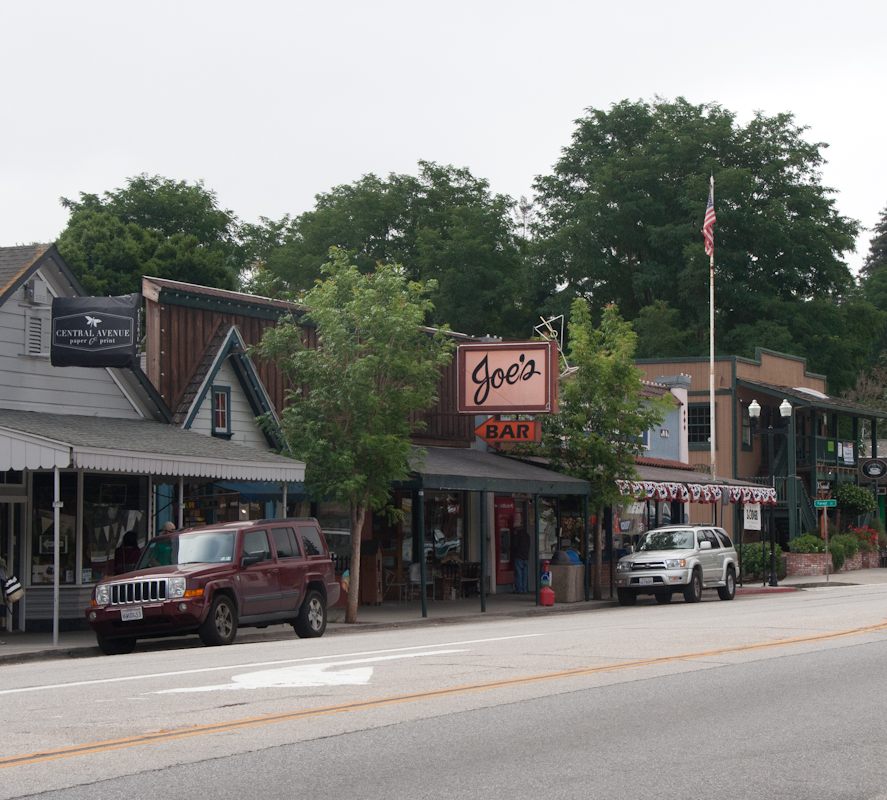 We stopped at the supermarket in Boulder Creek to pick up sandwiches to eat along the way. Eric took a picture of what passes for news in Santa Cruz County.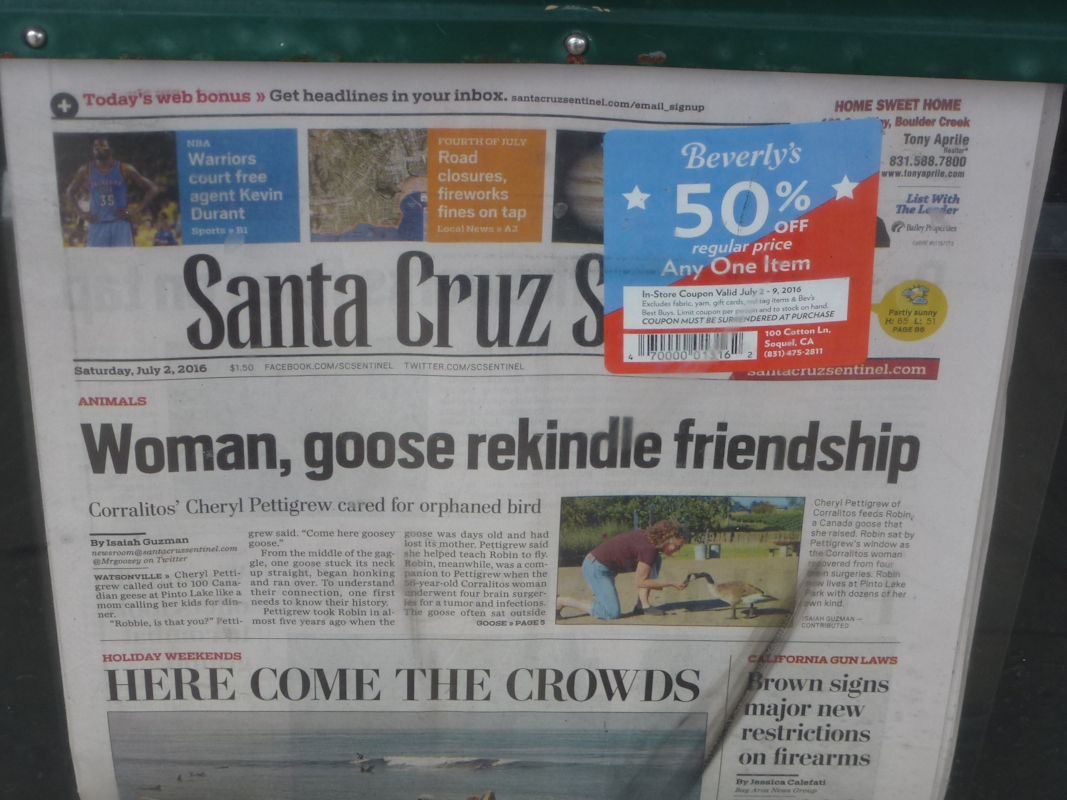 We went over the hill on the dirt road through the lovely redwoods of Big Basin Redwoods State Park.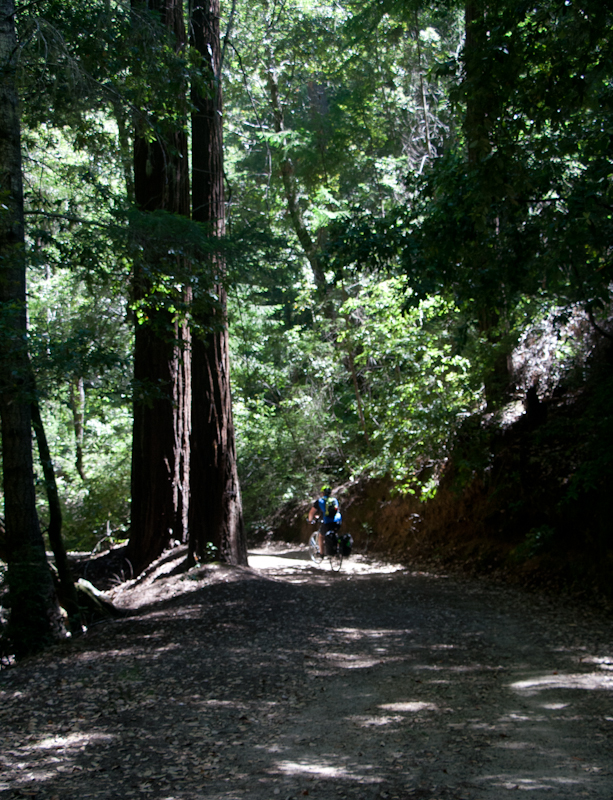 Eric took a picture of the sign as we crossed the county line from Santa Cruz County into San Mateo County.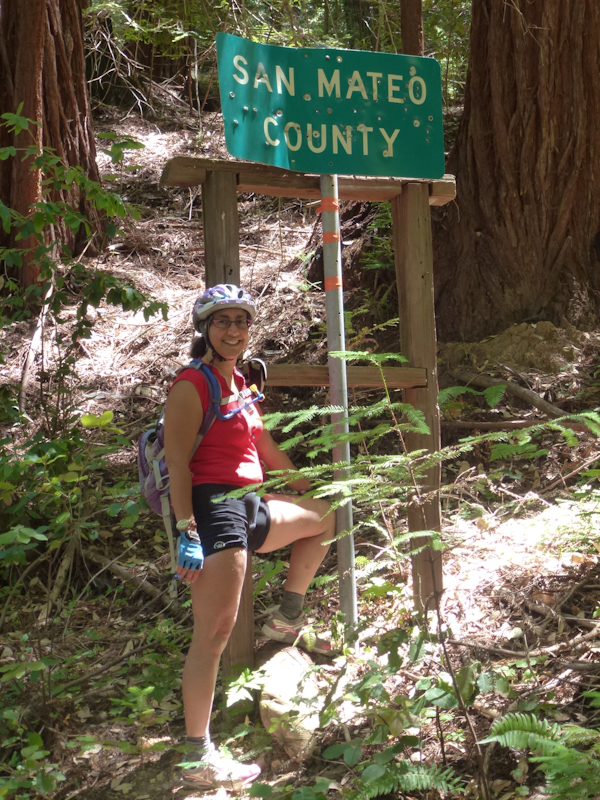 Interestingly, there was only a sign in the San Mateo County direction. Eric speculated that the sign-posters from Santa Cruz County got high and forgot to put up their sign.
Eric took a picture of part of the road that was sort of paved--by rocks. It was still rough riding, but it had an interesting look.
It was a relief to return to the paved road, even though a fallen redwood was now blocking the way around the gate and we had to, literally, go through it. With our bikes. Photo by Eric.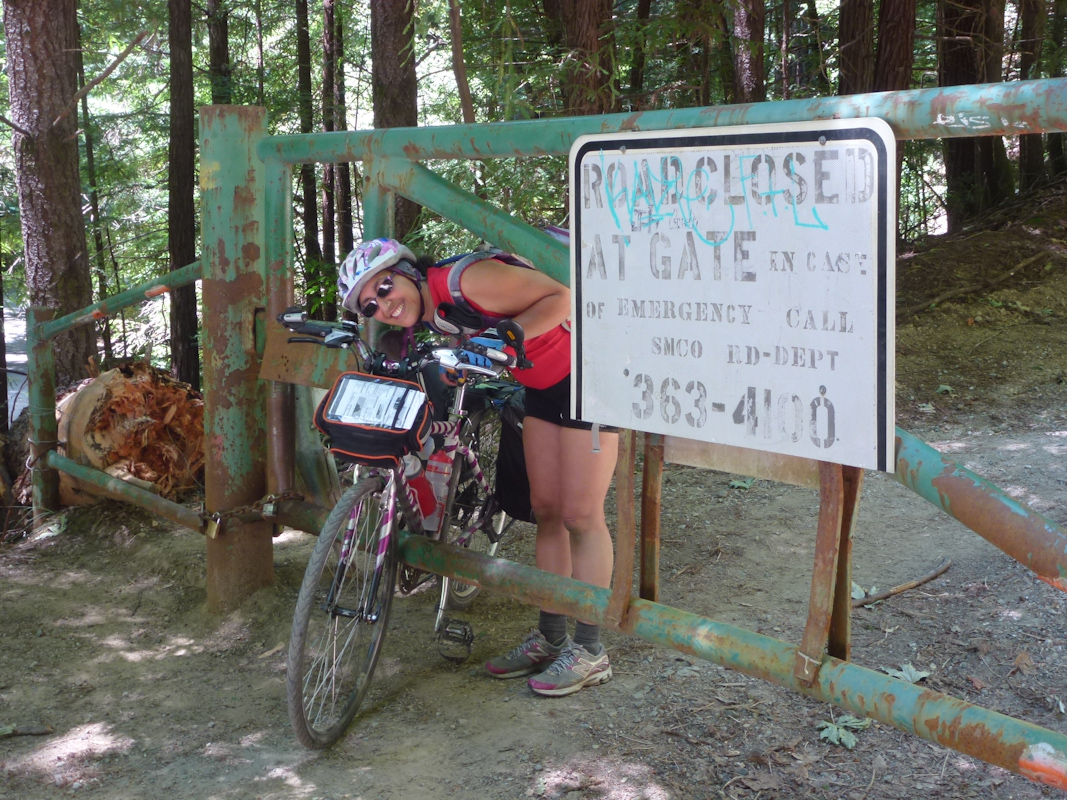 Since we only found one cache, we were making excellent time, until shortly after we left the dirt road. I was riding over a bridge over a creek when, all of a sudden, for no reason, I heard a horrible hissing sound.
The flat appeared not to have been caused by debris in the road, but by some freak movement of the stem in the tube. Eric took a picture while he was fixing it.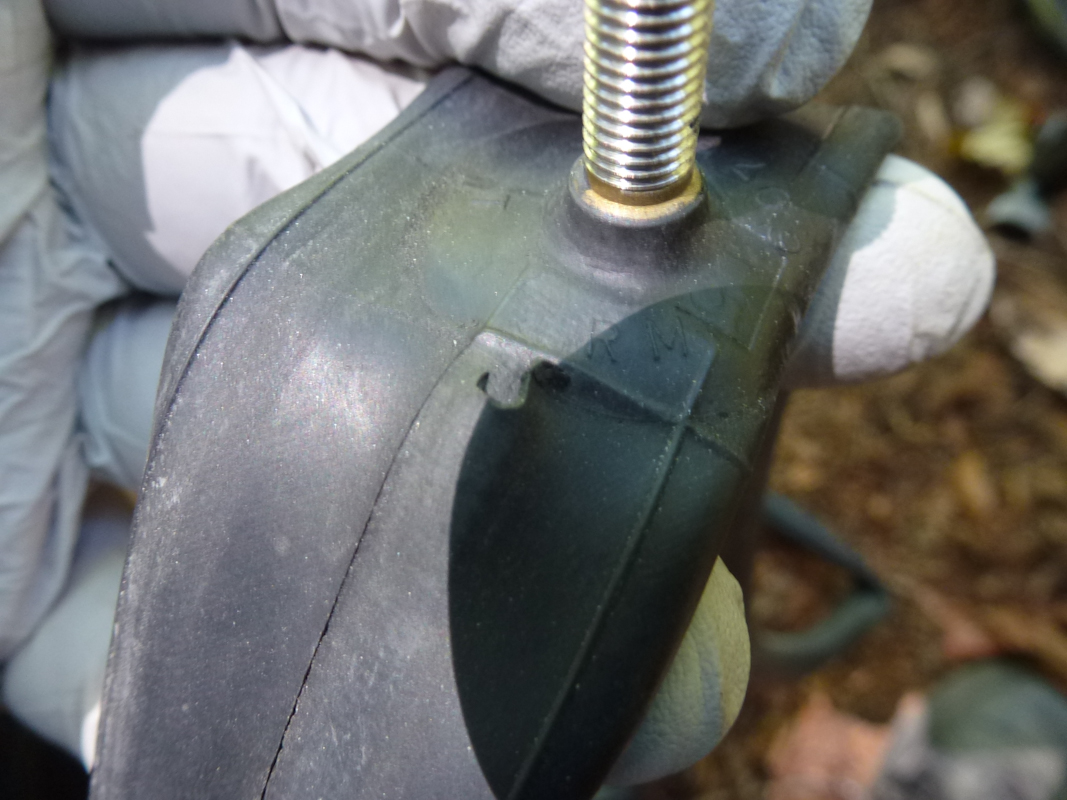 Eric took a picture as the lighthouse came into view lighthouse from dramatic CA 1.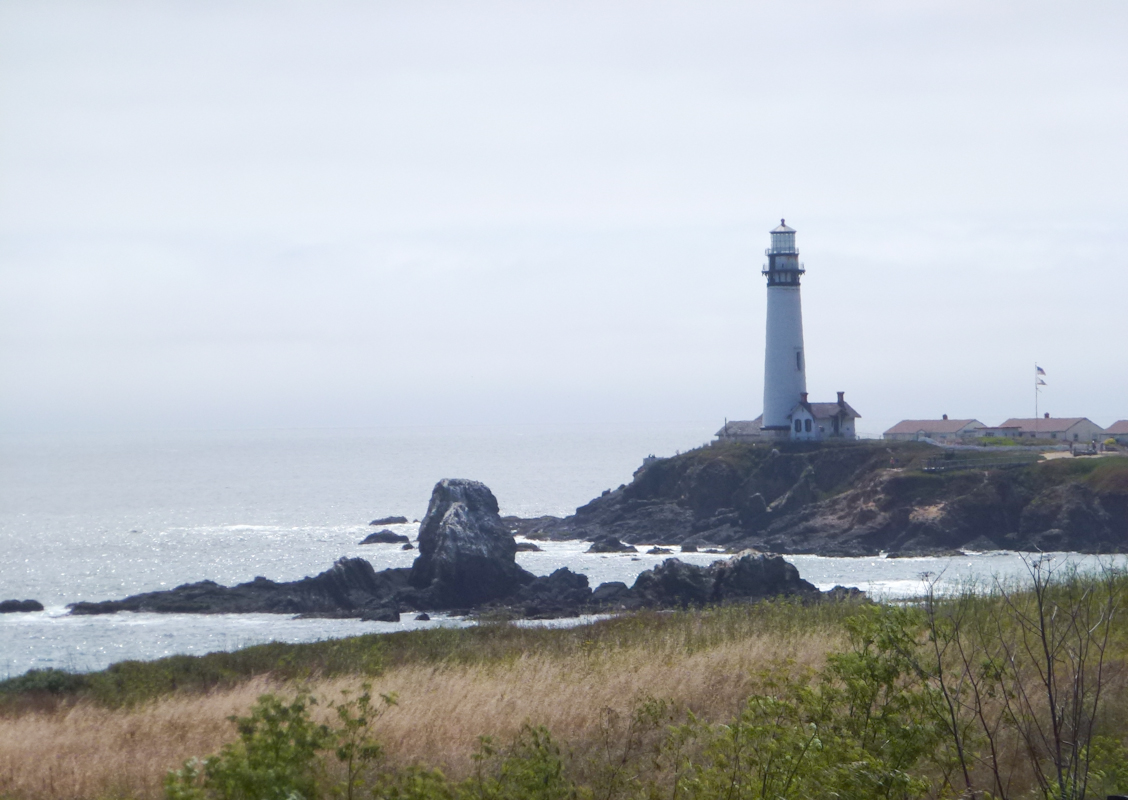 With the delay of the flat tire, we arrived at the lighthouse right at 15:30.
Saturday's GPS statistics. Photo by Eric.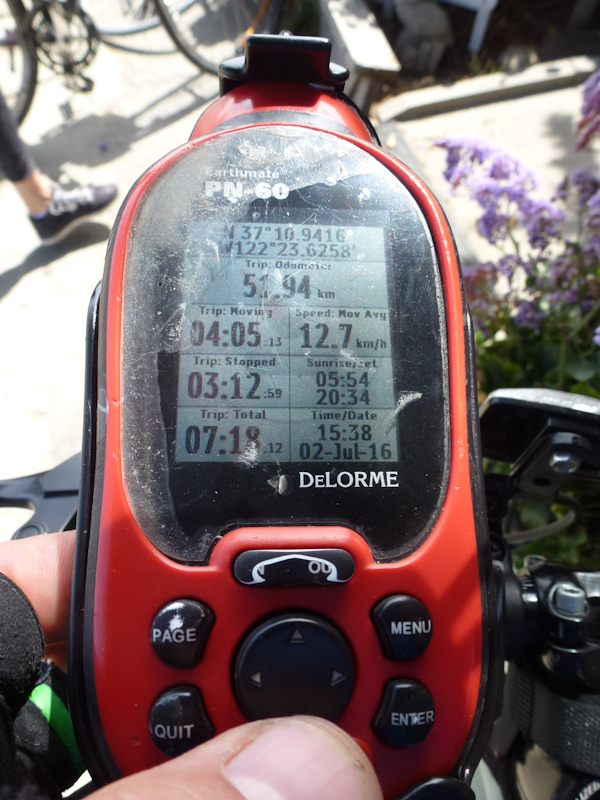 Two different zoom levels of Saturday's elevation profile. Photo by Eric.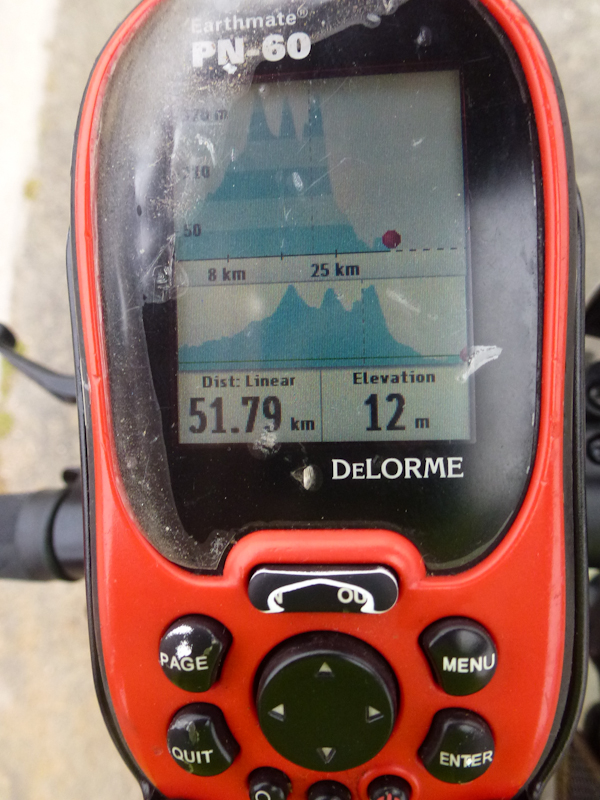 15:30 is the time when the desk clerk at the lighthouse is supposed to begin parceling out hot tub time slots. Even though we arrived right then, we were fourth in line for a slot. I was unable to get the desired slot just before 21:00, and had to take one just before 20:00. Well, going to bed at 20:00 rather than 21:00 would get us another hour of sleep.
We had a lovely afternoon sitting and talking together beside the hostel, enjoying the views of the ocean. Eric took my picture in an Adirondack chair.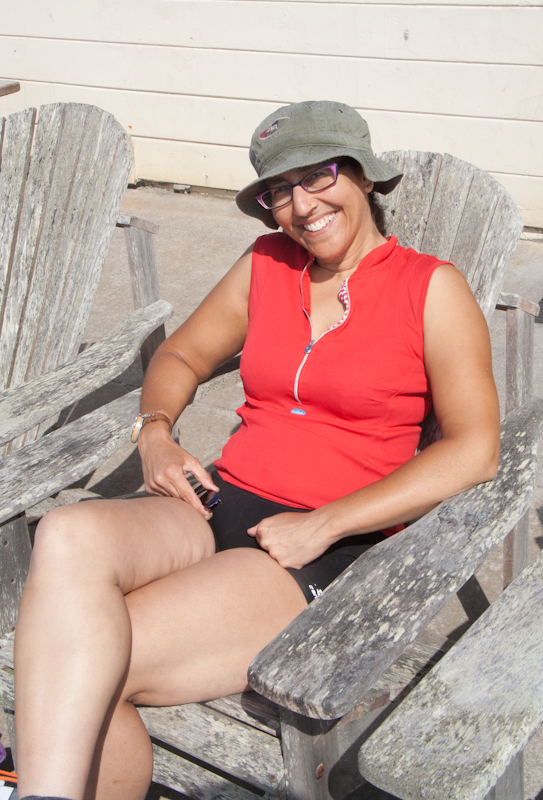 Eric took a picture of me with the view I was enjoying.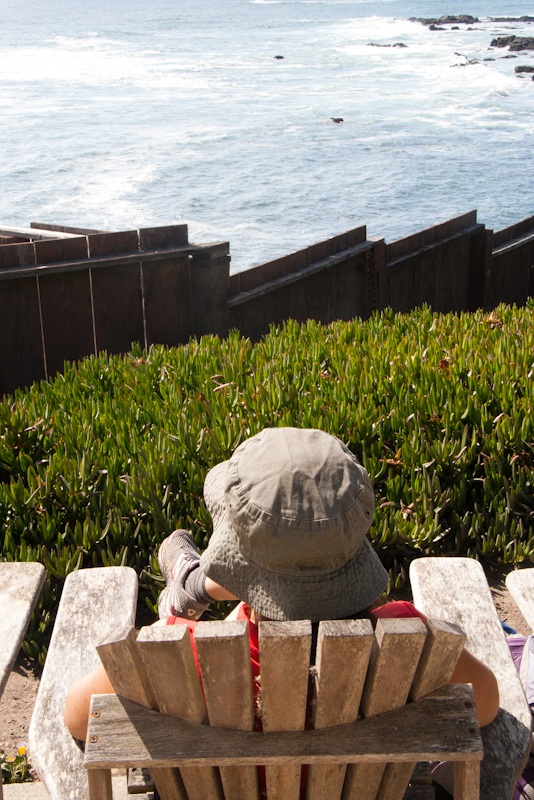 I took some fun creative shots.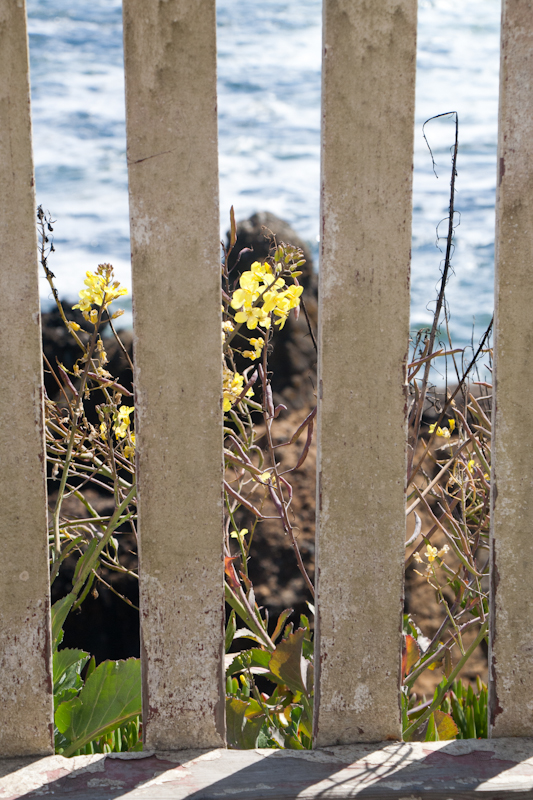 Yellow iceplant flower. Most of their flowers are pink.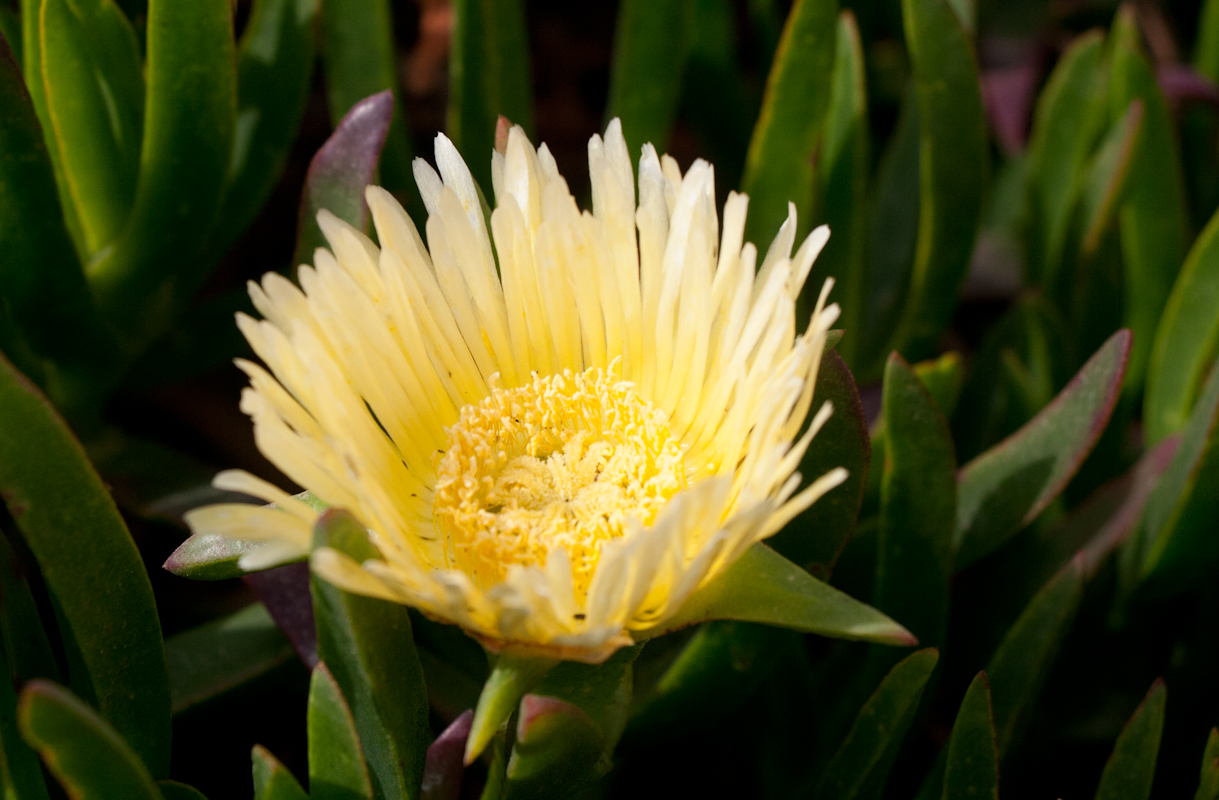 White Pelicans over the Pacific.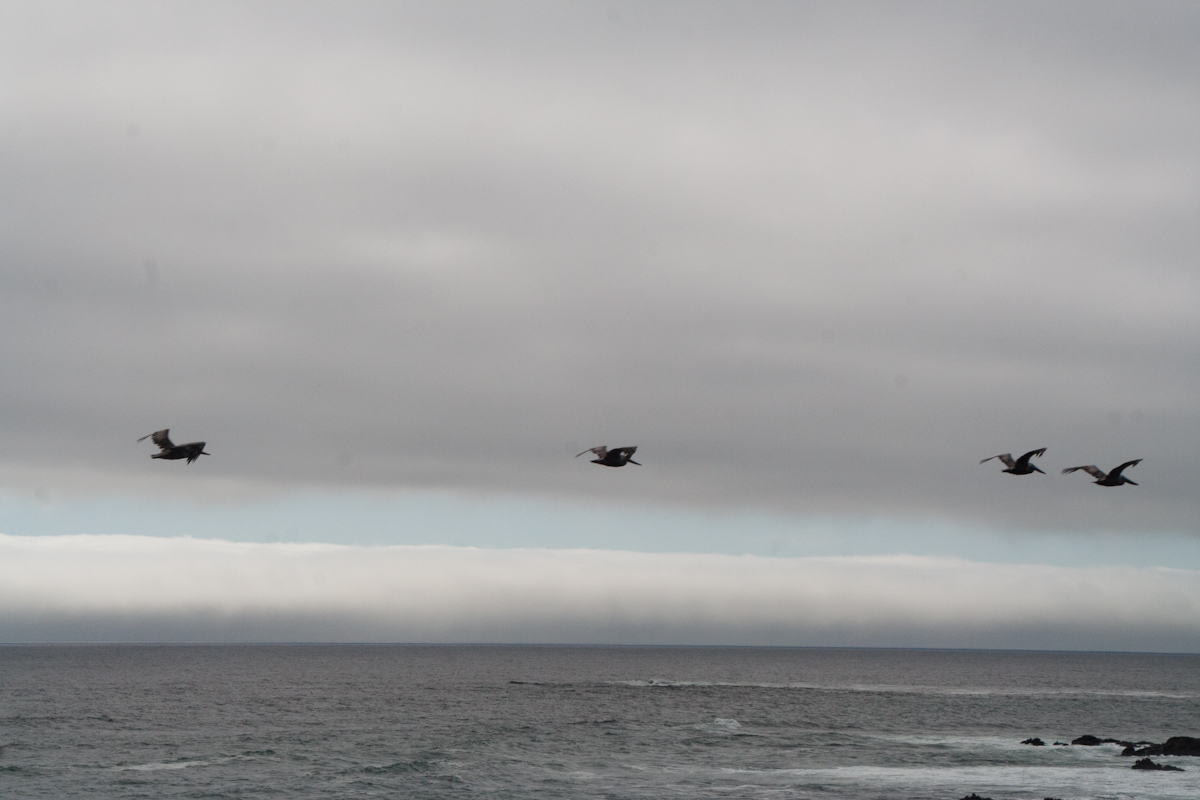 Layers of clouds as the fog rolls in.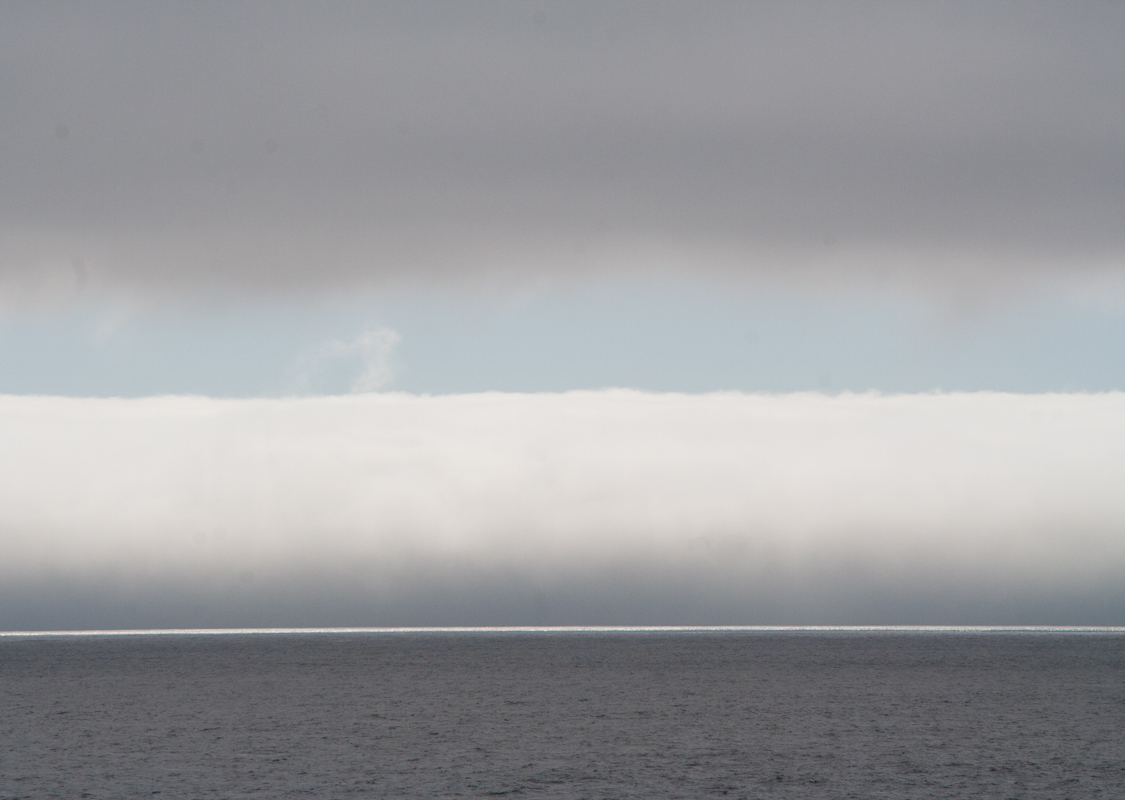 For dinner, Eric heated up the frozen food he had carried all day. Pasta with spinach and turkey meatballs tastes great after a long bike ride.
The amazing hot tub. It was nice and hot!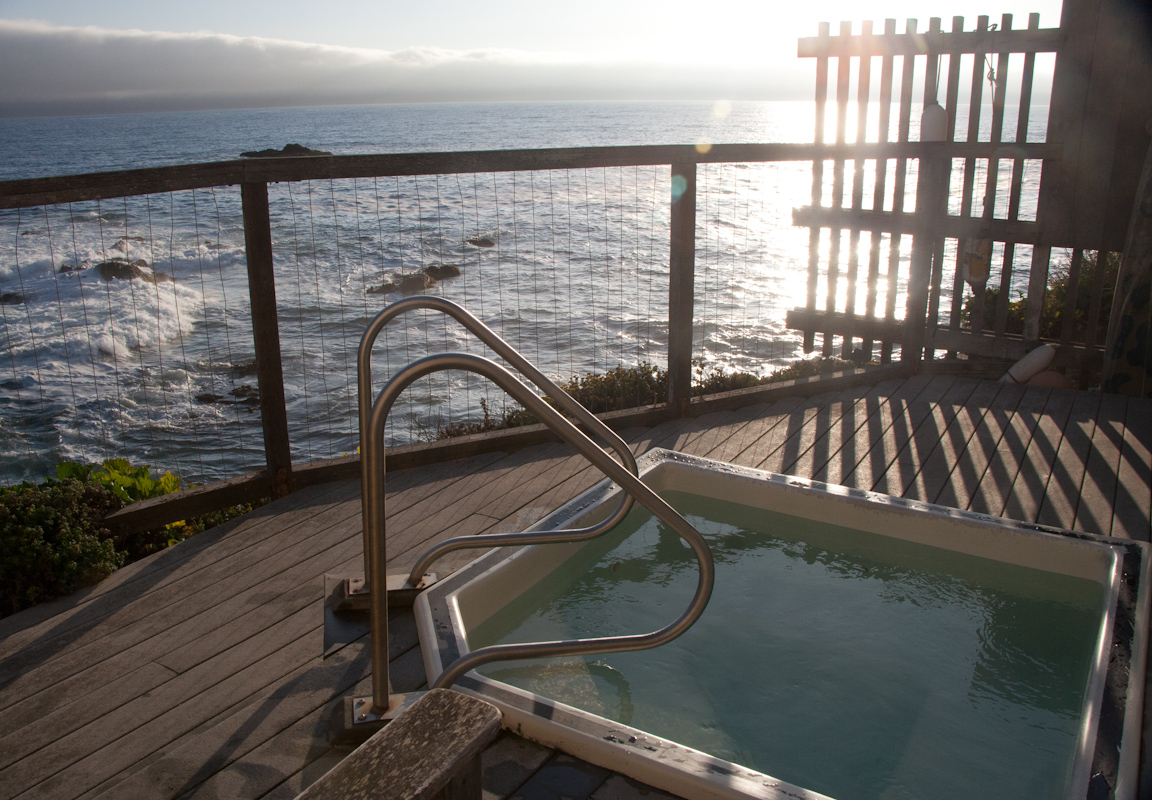 During our half-hour slot, we saw many more White Pelicans, two Harbor Seals, and a juvenile Humpback Whale!
We rose Sunday at 5:00 and had a breakfast of oatmeal with some of our fellow hostel-dwellers. It seems that the hostel must group people in buildings by age, because we were among the youngest people in our building, although we were far from the youngest at the hostel. Our building-mates were all impressed by the task ahead of us. One man, who was a docent at nearby Ano Nuevo State Park, told us that, while we were going to be slogging our way up the steep hill over Saratoga Gap, he was going to be cracking a beer.
Eric found an English-style phone booth as a lawn ornament in Pescadero.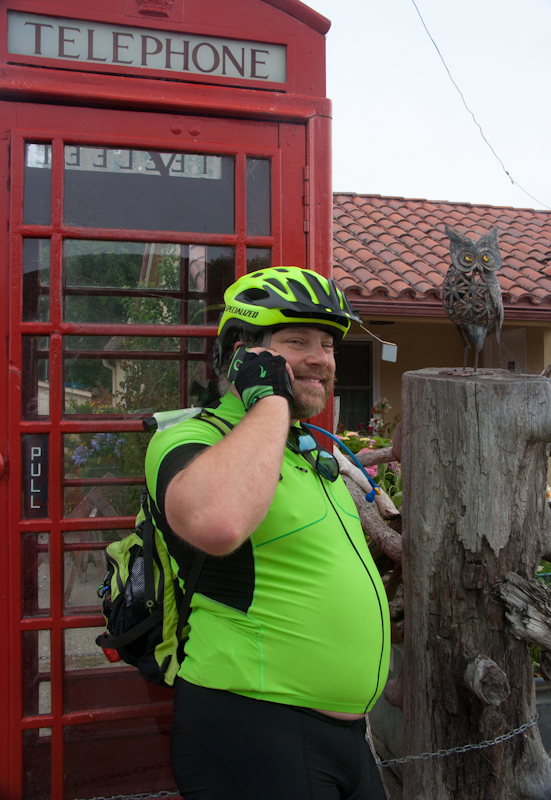 Eric took a picture of the dramatic descent into San Gregorio. This would not be our most dramatic descent for the day.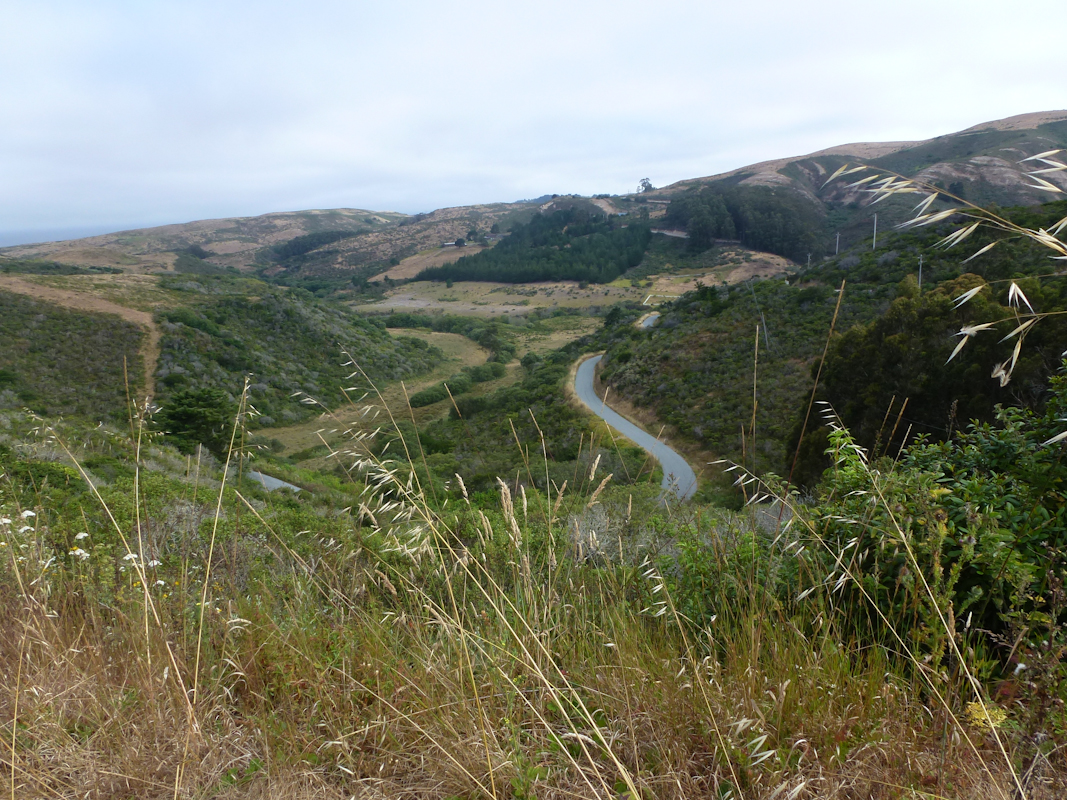 We were in both Pescadero and San Gregorio too early for stores to be open to sell us additional water, and would have to make it all the way to the fire station near the top of the hill on what we had. We made our way over CA 84 with relatively few encounters with poor drivers and, amazingly, no encounters with disgusting, smelly roadkill.
We spent too long on the one geocache we found on the way up the steep incline on Alpine Road. Eric took a picture of the bridge going over to the cache in McDonald Park.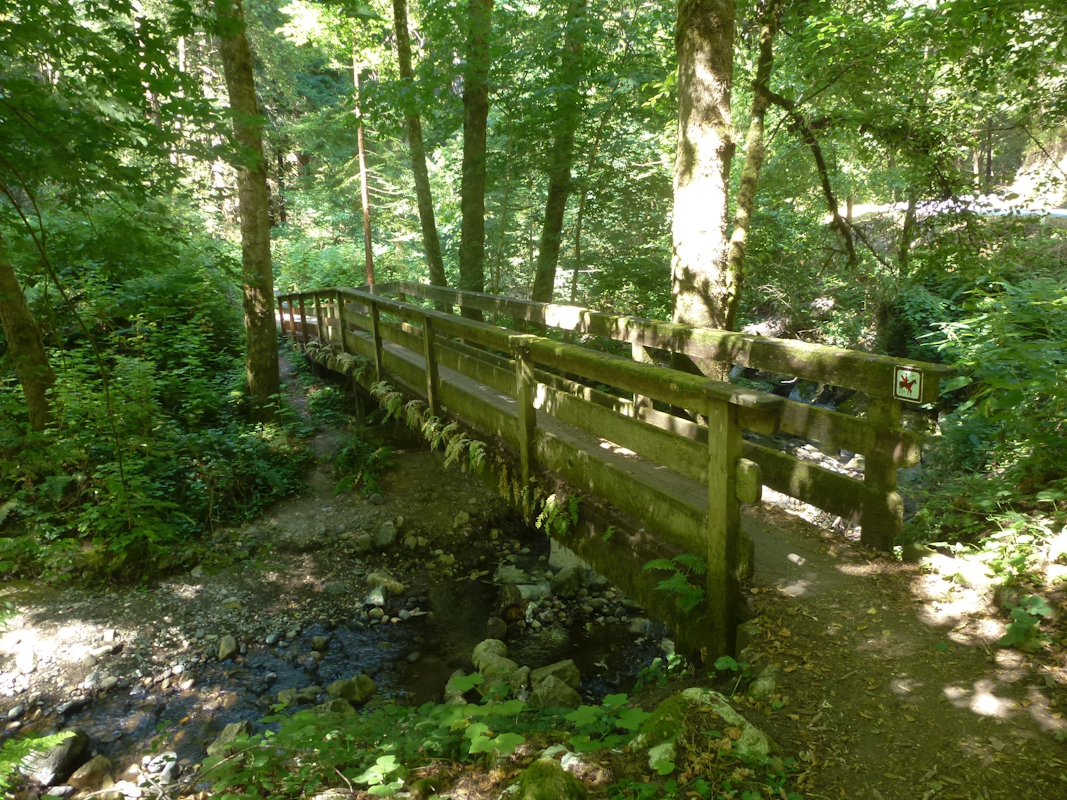 The slog was long and arduous, but not as hot as it had been the prior year.
View of the hill we climbed past on Alpine Road.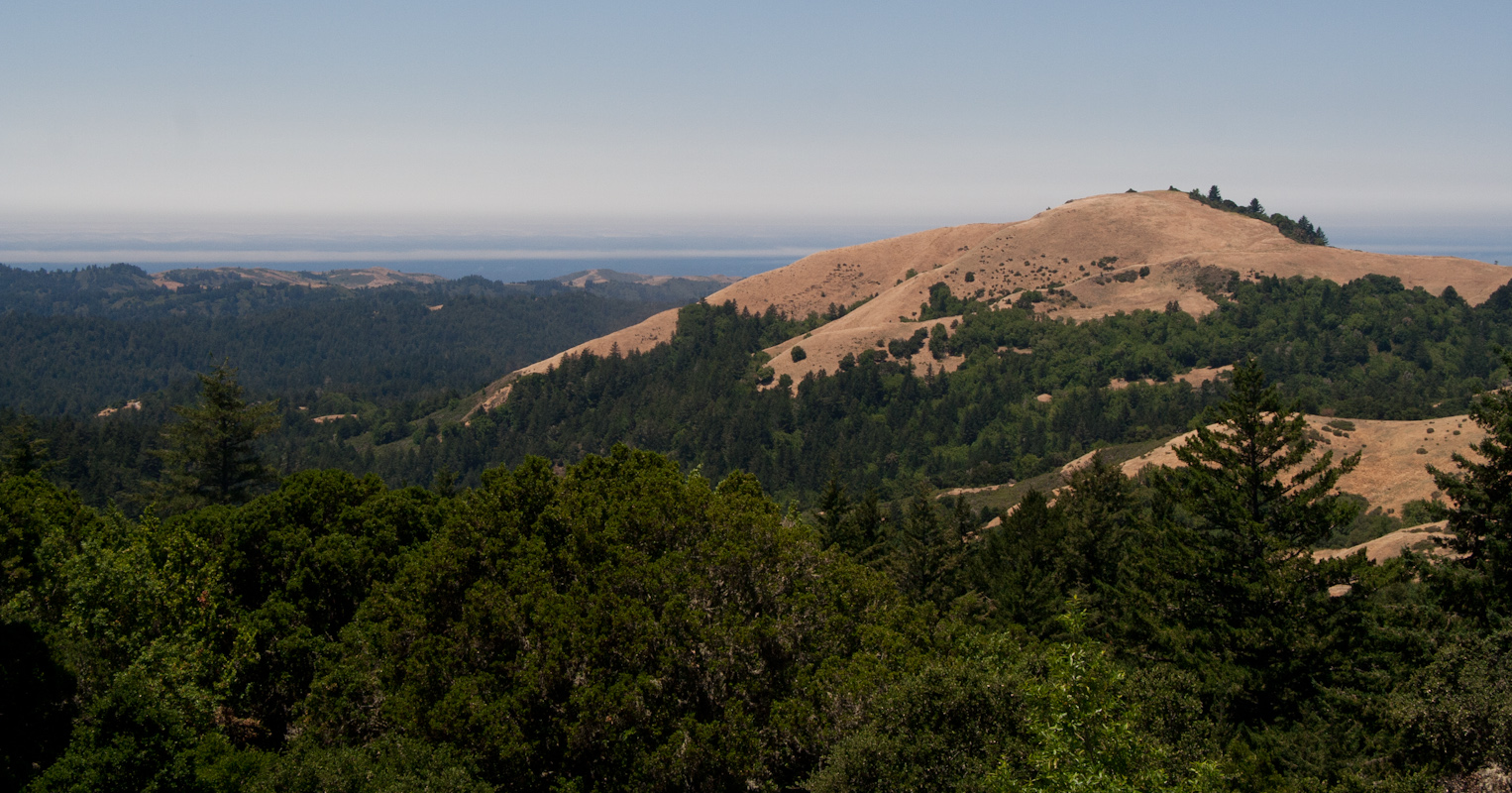 The stretch of CA 35 between Alpine Road and CA 9 was the most difficult part of the trip. We were still climbing (although less steeply), and moving slowly, but now we were in considerably more traffic, with only a small shoulder. We were passed by an impressive number of impressive sports cars. We also saw a woman riding sitting on the edge of the window. That's right, her entire torso and head were outside the car. "We really just saw that, didn't we?" Eric exclaimed.
A head in a rock on Skyline.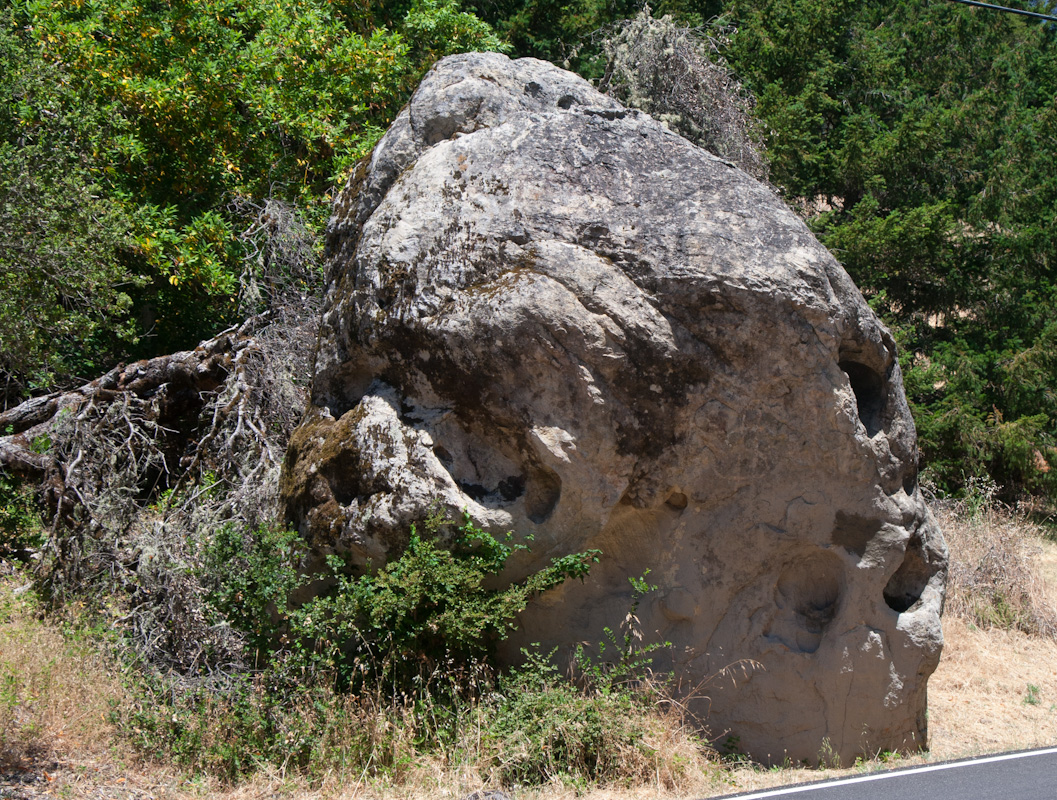 I was anxious to get to the fire station before we ran out water, while Eric was so dehydrated from trying to conserve water that he needed to rest often. We arrived at the fire station somewhat earlier, and considerably less desperately, than we had the prior year, but it was still an arduous struggle.
I took Eric's picture hugging the water pump.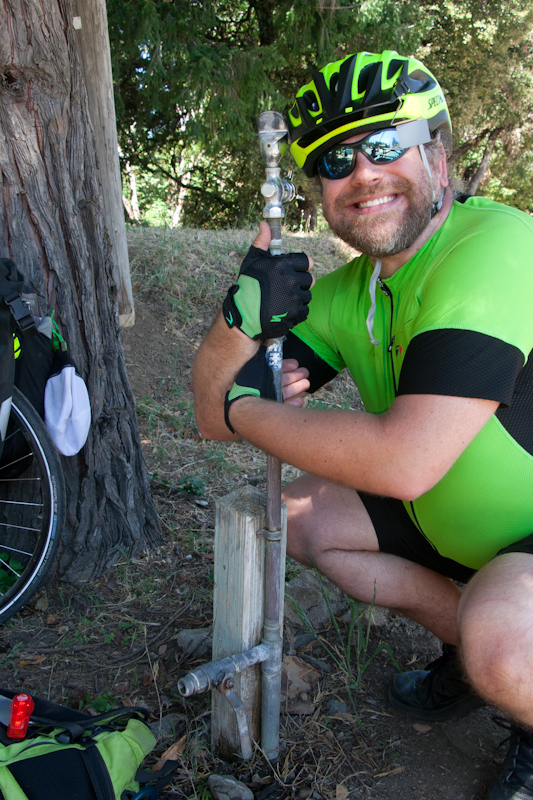 Eric took a picture of this warning sign in the bathroom at the fire station.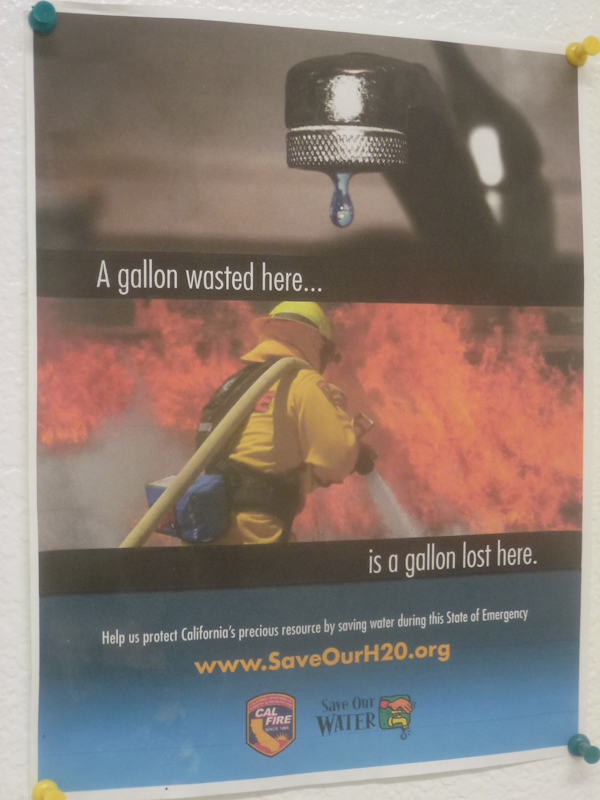 In light of that sign, we were surprised to see one of the firefighters washing one of the trucks. On further consideration, I figured out that they must be getting the truck ready for a Fourth of July parade the next day.
The rest of the way up the hill, with plentiful water, was easier going, particularly once we passed CA 9 and traffic thinned out considerably. We rejoiced at the top of the hill and ate the snacks Eric had been carrying for two days.
A madrone tree at the top of the hill.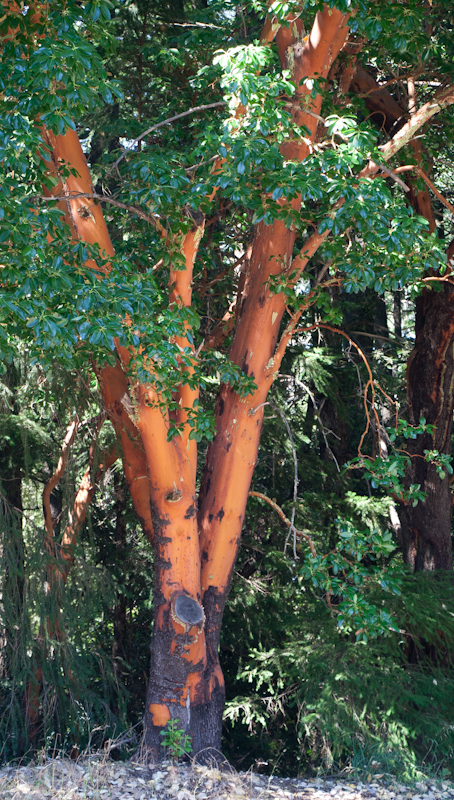 The long descent was much more pleasant this time. Eric had functional brakes, and neither of us crashed. Last year, his only way of slowing down was to use his feet on the ground. It was so bad, and so slow, that the few uphills near the end of the route were a relief. This time, we were able to enjoy the downhill together.
Eric triumphantly holding up his bike at the site of his crash last year.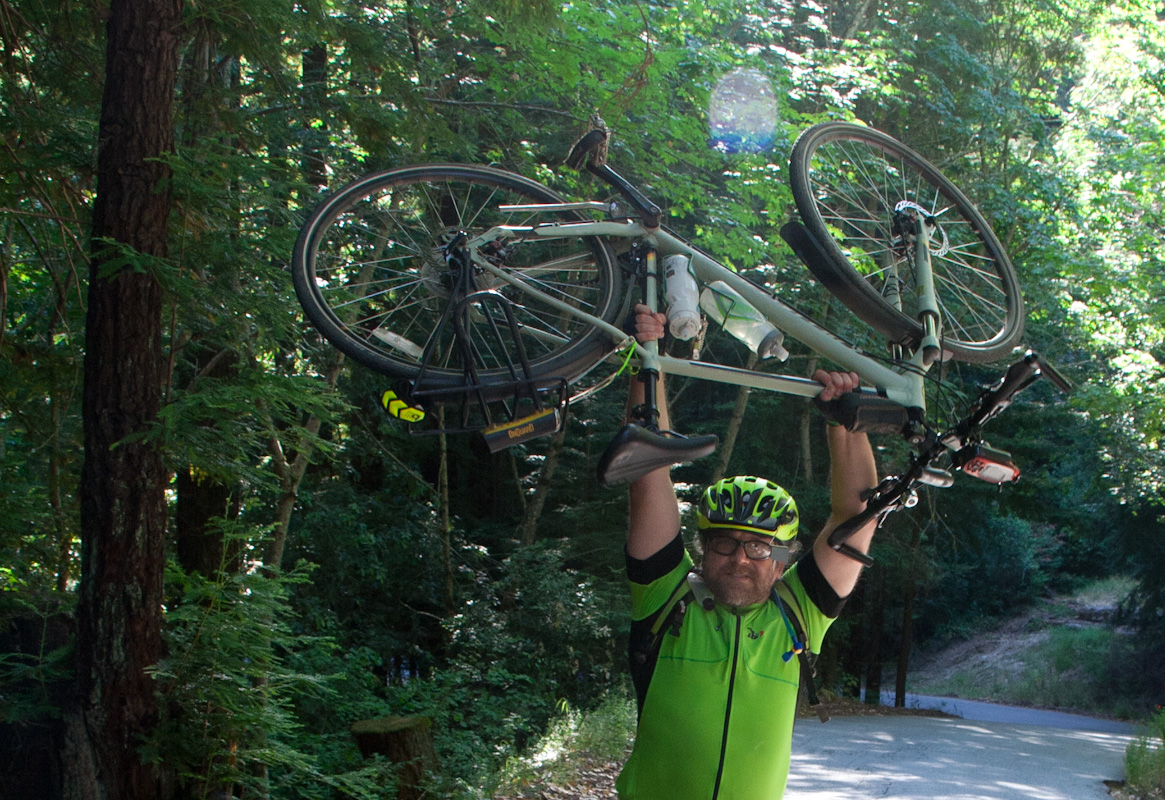 We arrived back at Larry's at 19:45, after about 12.6 hours on the road. A long time for 98 km (150 km for the entire trip), but much of the terrain had been incredibly steep.
Sunday's GPS statistics. Photo by Eric.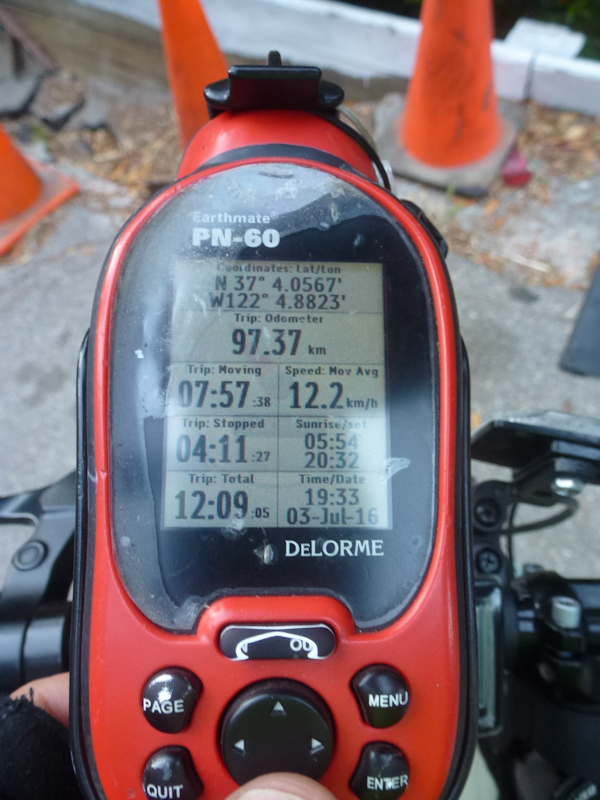 Two different zoom levels of Sunday's elevation profile. Photo by Eric.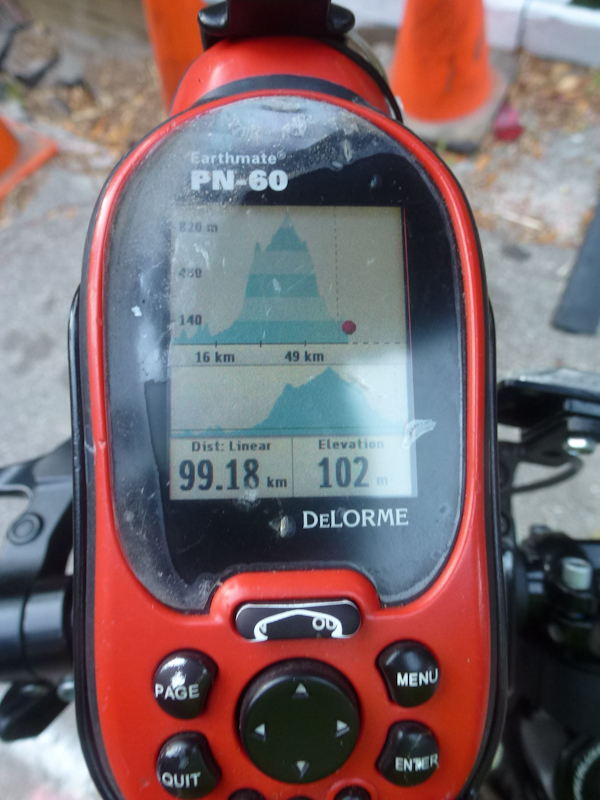 Eric's map of the trip..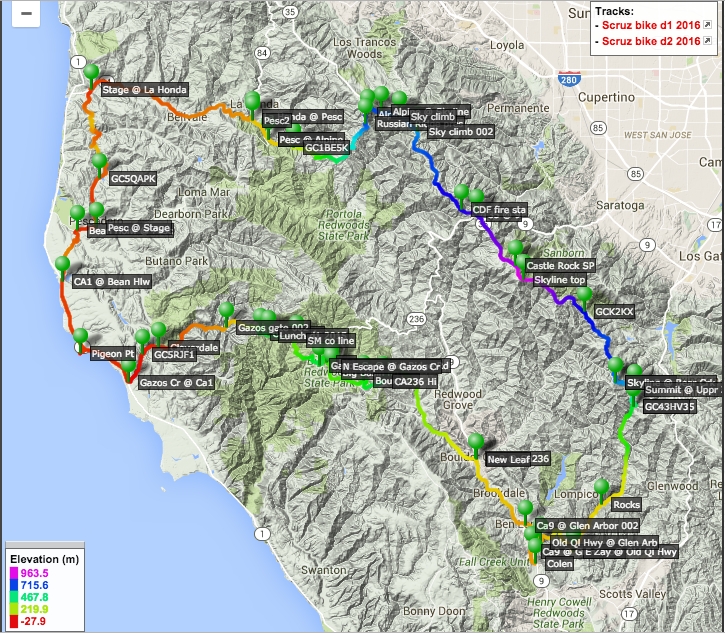 This was a fabulous trip that brought joy to our hearts, reaping the exciting rewards of proving our mettle in this agonizing fashion. The exhilarating triumph was well worth the pain.
---