---
Redwoods and Lighthouse Redux
Friday 3 July, 2015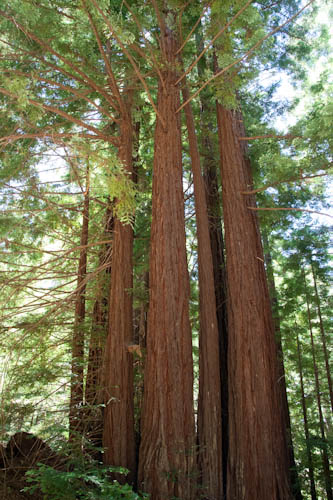 Time for the annual bike tour! As we've been doing this every year since 2009, we're running out of tours in Lonely Planet's Cycling the US West Coast that are within reasonable driving distance of Berkeley, so we did a semi-repeat this year. We had thoroughly enjoyed a modified version of Lonely Planet's Redwoods and Lighthouse ride in 2010. For most of the first day, we traveled on a pleasant dirt fire road through Big Basin Redwoods State Park (we cheated on Lonely Planet's plan by starting in Felton, some 11 km, 7 mi north of their Santa Cruz starting point), but we avoided the ride's "gruelling uphill" and "brake-melting descent" on the second day by taking CA 1, the coast road, back south. We might have been overwhelmed by heavy traffic had we not accidentally but fortuitously picked the same day for the ride as the start of the AIDS Lifecycle from San Francisco, allowing us to shelter from traffic under the cover of hundreds of cycling gay men. The ride through the redwoods and the stay at the Pigeon Point Lighthouse Hostel had been so marvelous that we decided to try it again, returning this time by Lonely Planet's more challenging route over the Santa Cruz Mountains and Saratoga Gap, since there would be no cycling gay men to protect us this time. As we would need to cover an ambitious 92 km (57 mi), with massive hill-climbing, on day 2, we planned for the first two days of a three-day weekend. This way, we could spend the night after the tour relaxing in Felton and sleeping in, rather than trying to drive back home soon enough to crawl out of bed in time for work the next morning.
Preparation
Lonely Planet provided this very scary-looking elevation profile for the second day of the trip.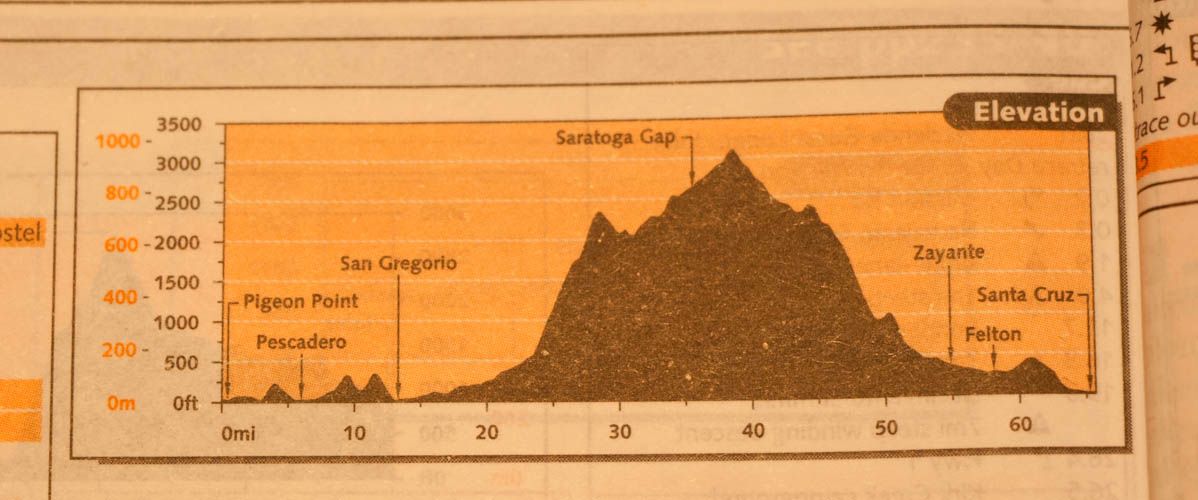 Eric made this map with our tracks and waypoints with a website called GPSVisualizer.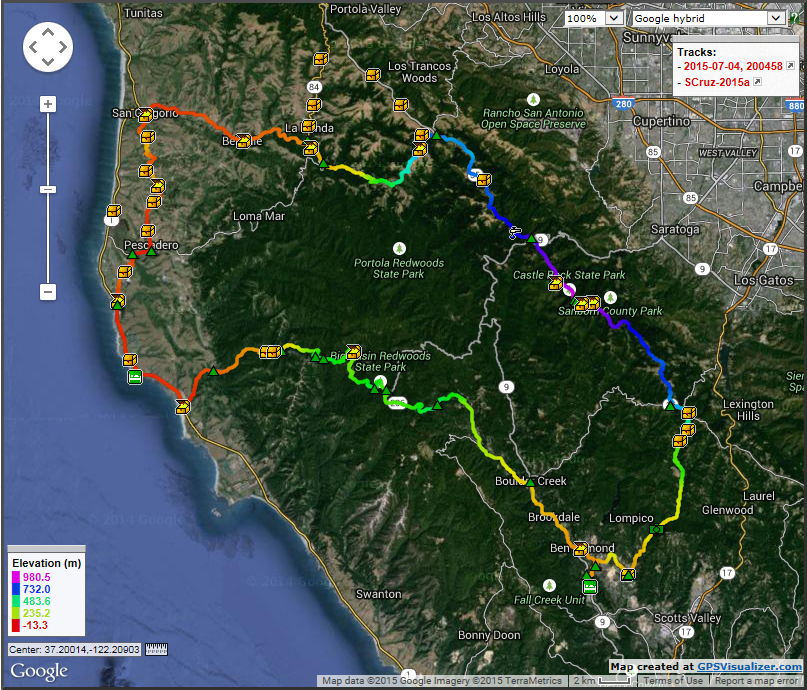 The elevation profile looked even scarier to me, because I was looking at meters on the vertical axis and miles on the horizontal. Who provides units on the vertical axis in both metric and English, but only English on the horizontal axis? I did not discover my mistake in units until after we had endured a gruelling weekend two weeks before the trip, riding the distances we'd need to accomplish in the two days, over ridiculously steep East Bay hills.Names like Moeser, Centennial, Wildcat Canyon, and the Three Bears will bring tears to the eyes of East Bay hills cyclists. I was worn out on Moeser by late Saturday morning (fearing I was pushing the innate capabilities of a 50-year-old woman) , and Eric bonked on Mama Bear Sunday afternoon. Since our last tour, Eric had acquired a new bike, named Screech for its fancy disc brakes. But he had to come down the Arlington very slowly from Moeser because those fancy disc brakes were failing, necessitating a special trip into town to visit the bike shop. When we brought Screech and Scheherazade back for tune-ups during our pre-trip rest weekend, Eric specifically asked them to check on those fancy disc brakes, because he was already having trouble with them yet again. [Cue ominous violin music.]
Panicking in the last few days before the trip, we dithered over various issues. Holiday weekend hostel crowding had forced us into separate men's and women's dorms. Since I wouldn't have another body to keep me warm enough to sleep, should I bring a very warm sleeping bag, in case some other woman wanted to sleep with the windows open right next to the frigid ocean? Fearful of trying to ride 92 km on zero sleep, I half-filled one of my panniers with my mummy bag. We considered doing the ride in the opposite direction, in order to get the long and murderously steep day out of the way first. We ultimately decided against this plan, because it would have had us doing more of our climbing on CA 35 (Skyline Boulevard) rather than more minor roads. We were quite fearful of what the traffic might be like on 35, and in heavy traffic, a cyclist definitely wants to be going downhill closer to traffic's speed. This traffic fear made Eric ask that we leave on our rear lights and put them on a flashing setting. While I recognized the safety value of this idea, my eyes are quite bothered by flashing lights, and the frequent need to duck my eyes away from his back aggravated me throughout the trip.
Photo of our loads by Eric.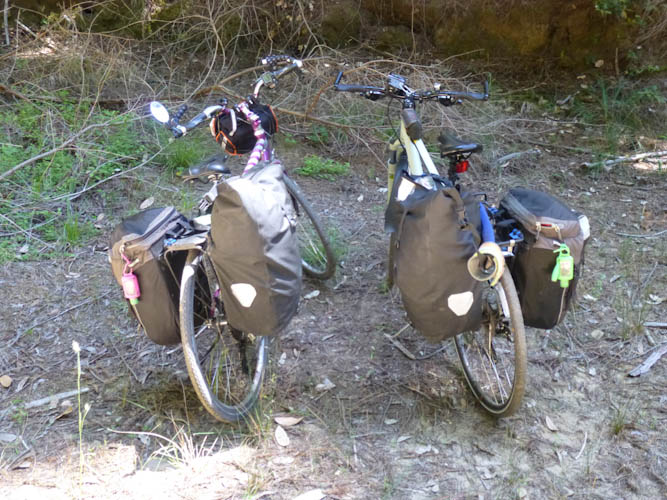 Ben Lomond and Boulder Creek
We spent Thursday night in Felton at the lovely redwood Family Estate of Larry and Elizabeth, allowing us to get a relatively early start. After getting up at 6:00, we managed to get on the road at 8:01.

The first town we reached was Ben Lomond, where we found a geocache outside a church with this cute bell.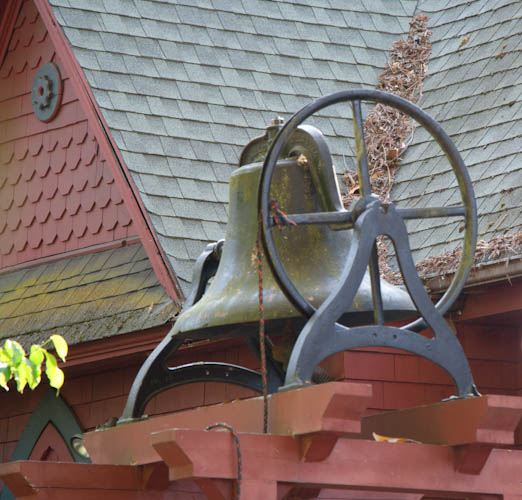 In Ben Lomond, we met someone from Mountain Feed. They do great work teaching people to do their own farming.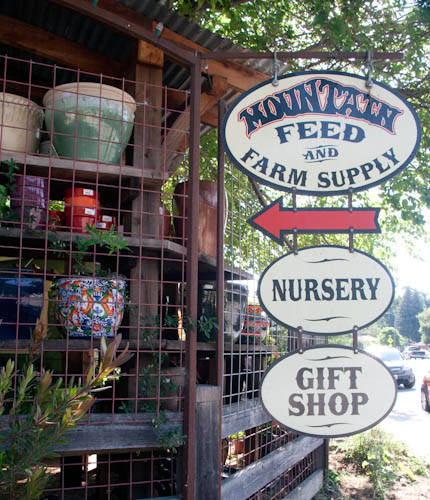 Eric took my picture in front of Mountain Feed's lovely sunflower display. The flowers are being grown for the upcoming wedding of one of their employees. Check out the crazy cyclist's tan I acquired on our big training ride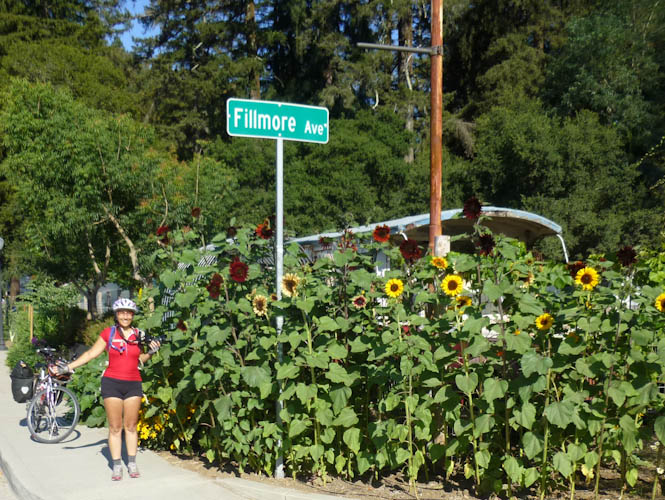 Bee on a sunflower.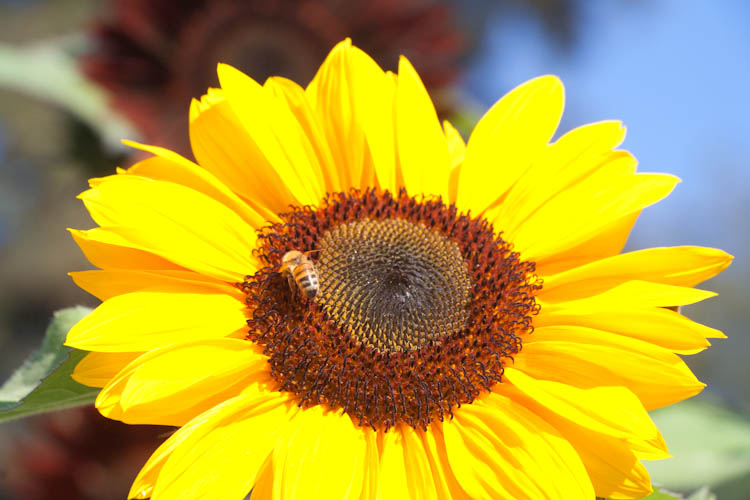 We rode on, mostly on quiet side streets avoiding CA 9, soon coming into Boulder Creek. This sign welcomed us. Note the ax in the far corner.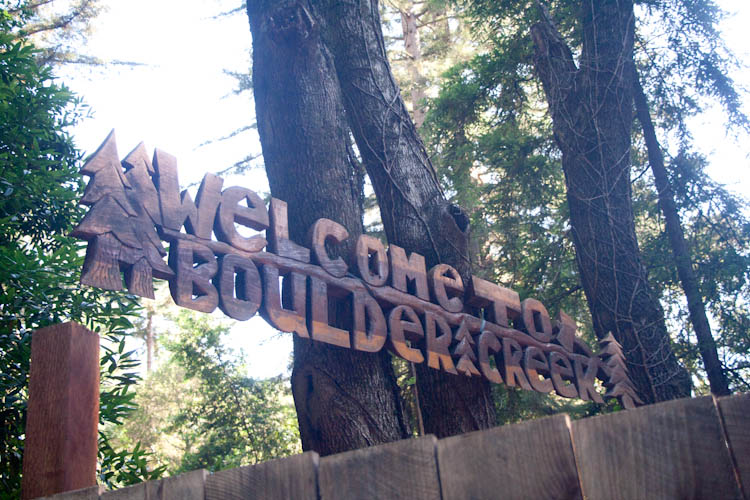 I reminisced about the once homey, now burned-down Boulder Creek Brewery and Cafe.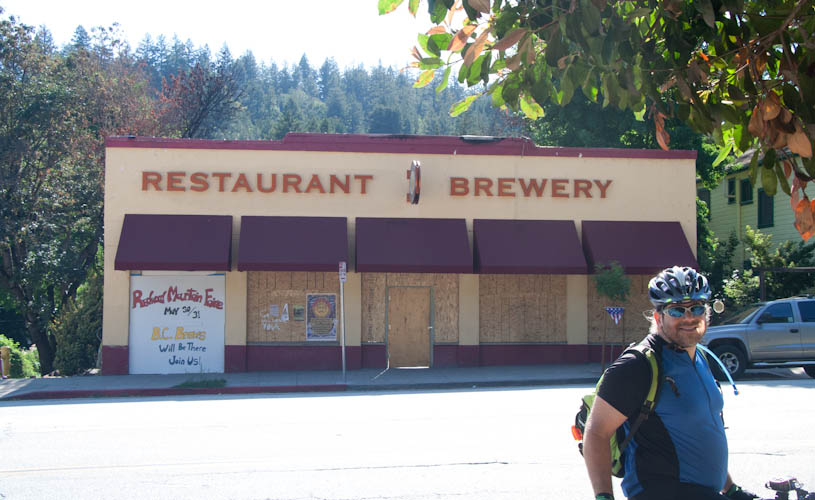 The ax on the sign made me think about how California's redwood coast is heavily populated with both rednecks and hippies.
Sign for the rednecks.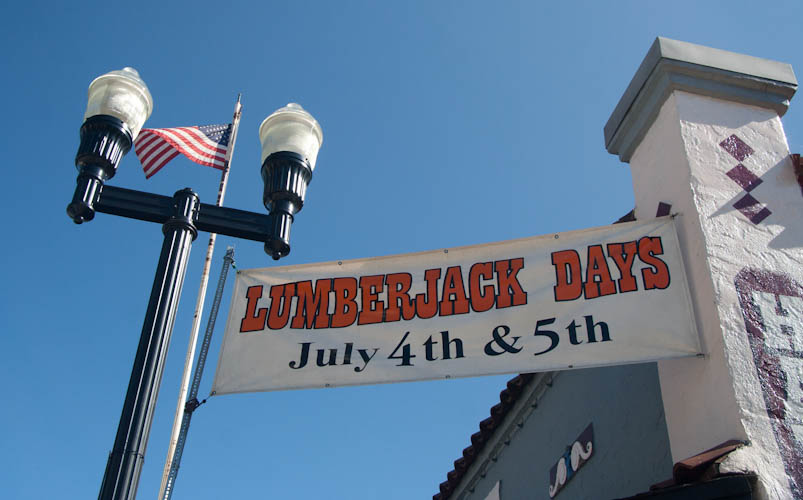 Sign for the hippies. We picked up some sandwiches to eat later for lunch at this market.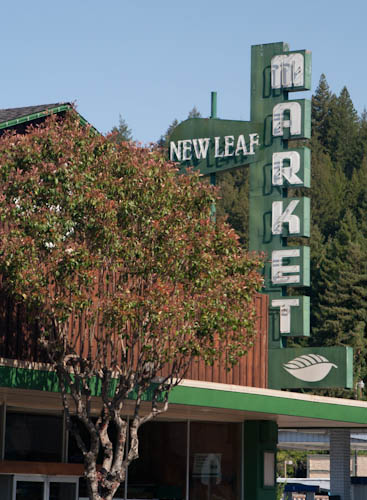 I was so busy comparing redneck and hippie signs that I didn't even notice the mural on the side of the hardware store, but Eric saw it.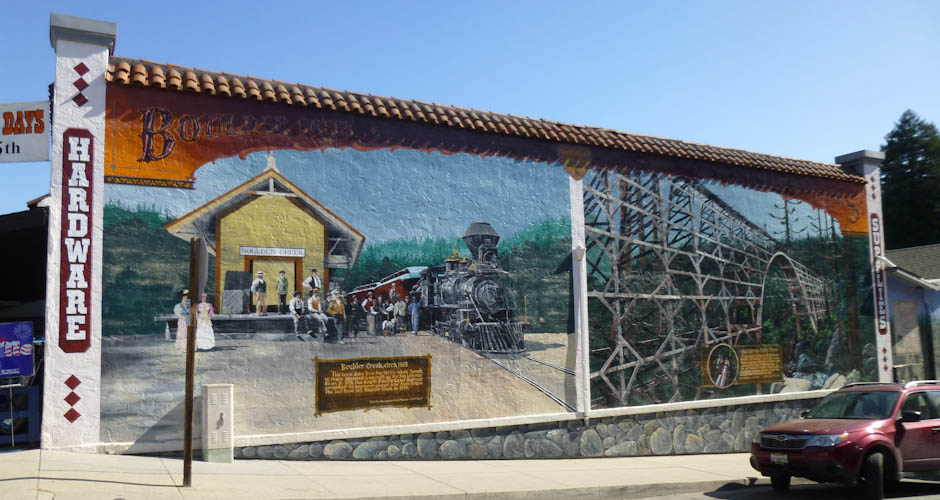 We saw signs for pancake breakfasts to support volunteer firefighters in both Ben Lomond and Boulder Creek. Apparently this is a popular Fourth of July thing. Firefighters are important, especially in places like the Santa Cruz Mountains! There would be more firefighters in our future.
Big Basin Redwoods State Park
We turned onto CA 236, the gently sloping road into Big Basin. We saw major erosion along the road. Pieces of the earth just seemed to have fallen off.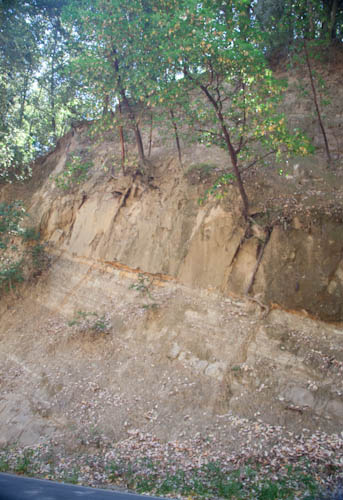 Eric took my picture at the park entrance.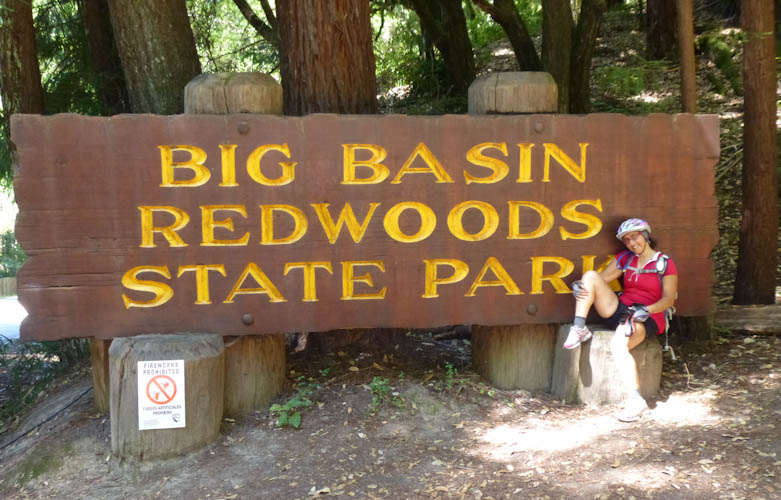 Look! Someone knows how to use a sensible measurement system! (I'm pretty sure, though, that the "1" in "1.5 mi" is actually an "I.")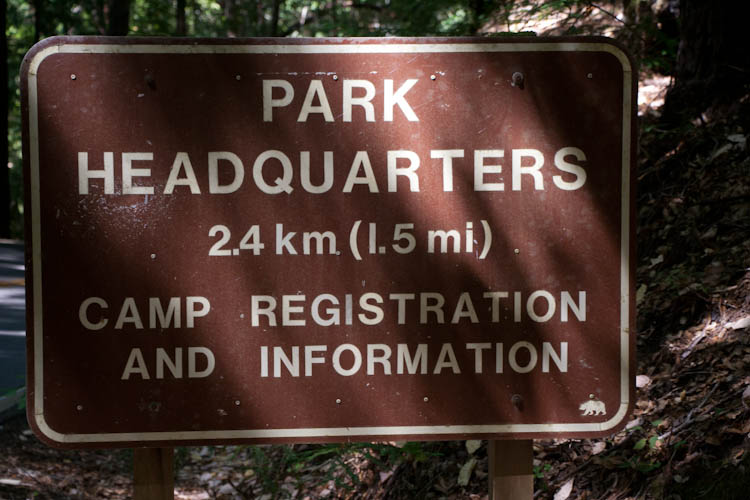 Eric took my picture riding through the park on the dirt fire road.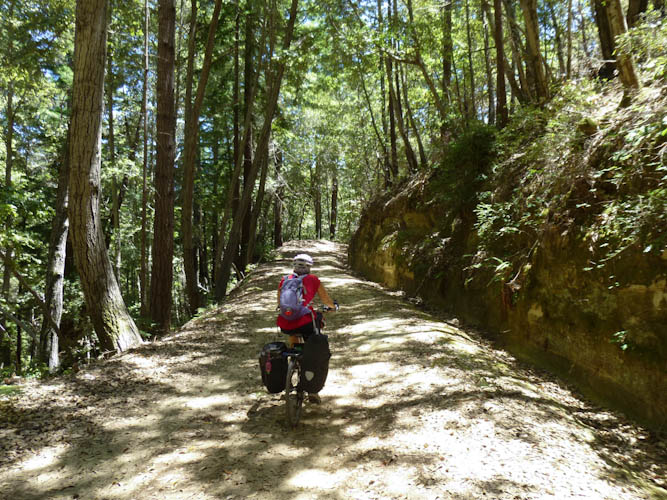 The redwood trees are majestic. You feel surrounded, enclosed, and protected by the height of the forest around you. Their wonderful smell is everywhere, comforting and entrancing. Being in the presence of the redwoods is an awe-inspiring experience.
I took a picture of the lighter-colored tips of the redwood needles while Eric looked for a geocache.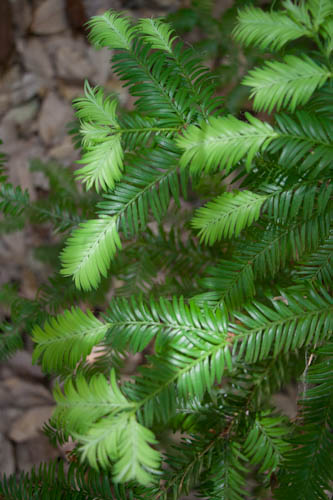 I also found this fascinating log.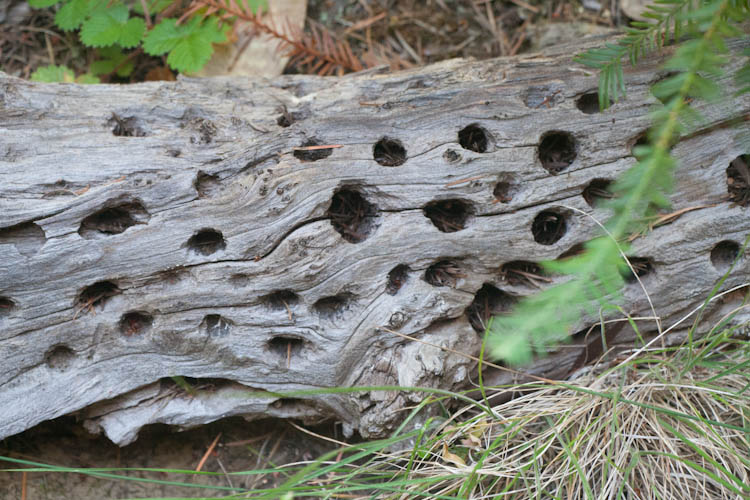 I learned a week later from a park ranger that these holes in wood are made by Acorn Woodpeckers. The woodpeckers drill the holes in the wood to be exactly the smallest size they can stuff an acorn through. This way, the woodpeckers' stashes of acorns are safe from meddling squirrels. The ranger also told me that Acorn Woodpeckers are collective breeders. If one of the females lays an egg before the others do, the others will peck it until it breaks. Eggs will only be allowed to hatch when all of the females are ready to lay them at the same time. This way, the males don't know which of the fledglings they've fathered, and so they help raise all of them. Those females are clever, huh?
We were stopped for a while here, and I got bothered by all of the insects that kept touching my skin. Eric pointed out that they had remarkably little respect for personal boundaries.
Eventually, we emerged into another ecosystem, where we were riding on rock rather than dirt. Eric took my picture riding on it.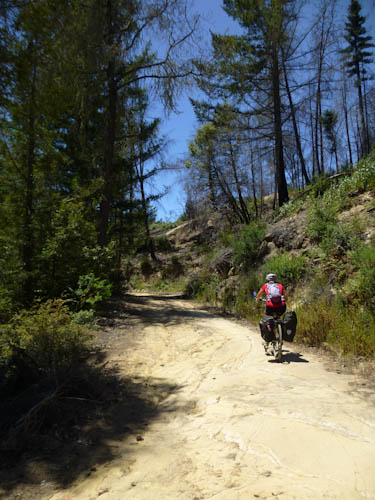 Oddly enough, there was a train car by the side of the road.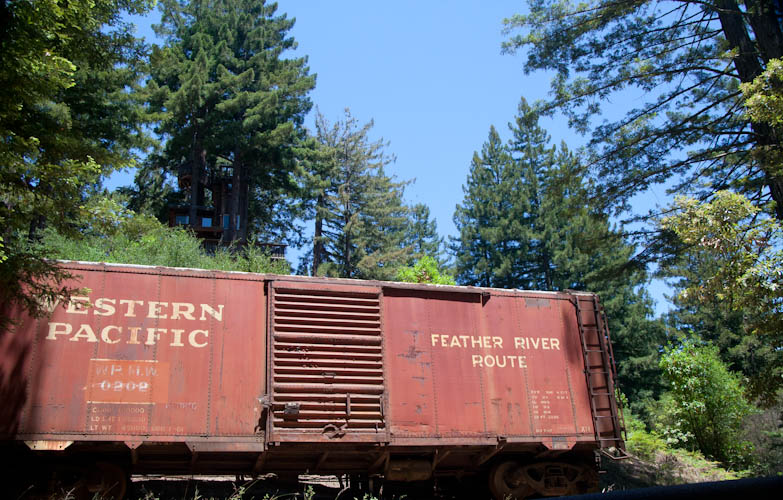 With a treehouse on the hill above it.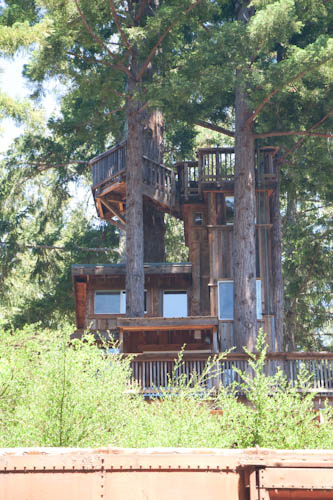 Now it was time to go down the dirt road, more steeply than the direction in which we had come up. And when we say dirt, we were relatively close to the beach, so a lot of this "dirt" was actually in fact "sand." It wasn't easy. Eric taught me to brake mostly with my rear brake, which was fine with me because that's the one that gets operated by my stronger right hand, and my weaker left was complaining bitterly about all the gripping.
Trees leaning over the side of the road.
As we came out of the park and reached the intersection of CA 1 (the coast road), we found a towering group of blooming Century Plants!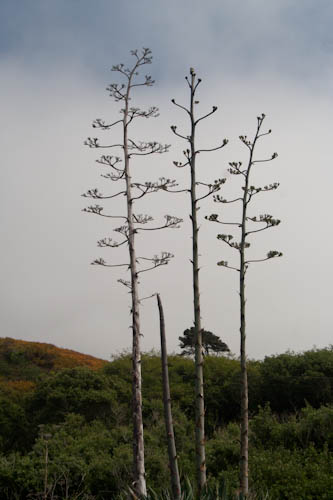 Pigeon Point Lighthouse Hostel
After a short and thankfully well-shouldered stretch on CA 1, we reached the Pigeon Point Lighthouse.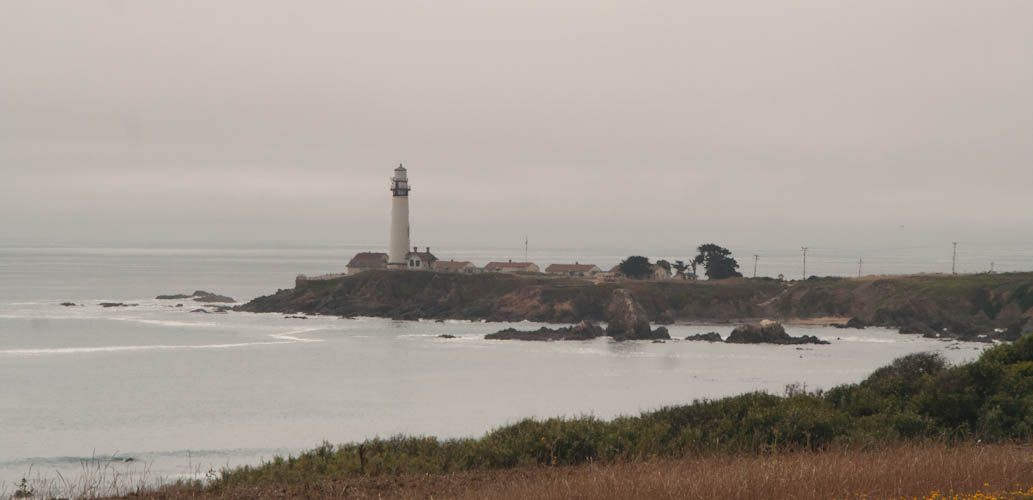 We rode 52.52 km (30.5 mi) in 7:33. Eric took a picture of our stats on the GPS.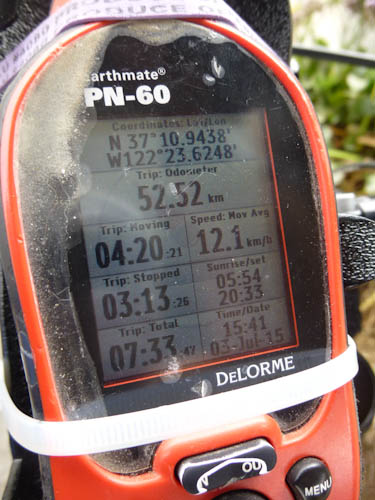 Here are our tracks, plotted out for elevation.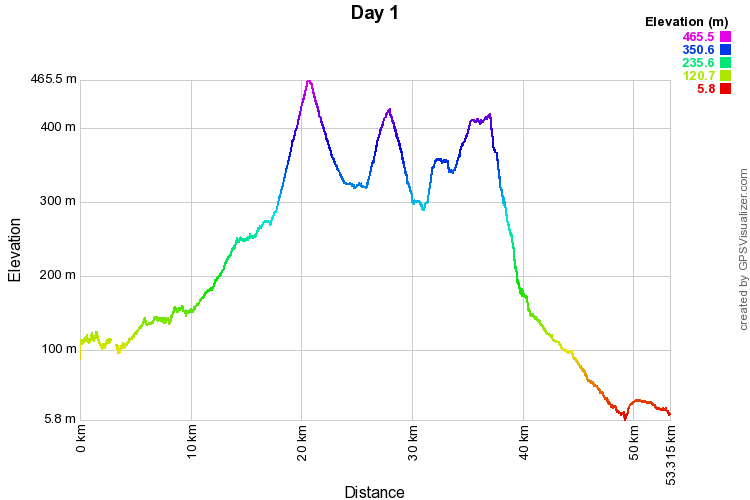 The hostel has a hot tub overlooking the Pacific Ocean. For $8/person, 2-4 people can have a half-hour slot all to themselves. Signups start at 15:30, and we got there about 15:45. A few of the slots were already taken, but I was able to get our desired time, shortly before 21:00. I hoped to go to sleep at 21:00 so that we could get up at 5:00. With the endurance ride we had planned for the next day, we would need all the daylight we could get our hands on.
Eric entering our hostel building with a load of sheets and towels.
The women's dorm room, 6 bunks per room.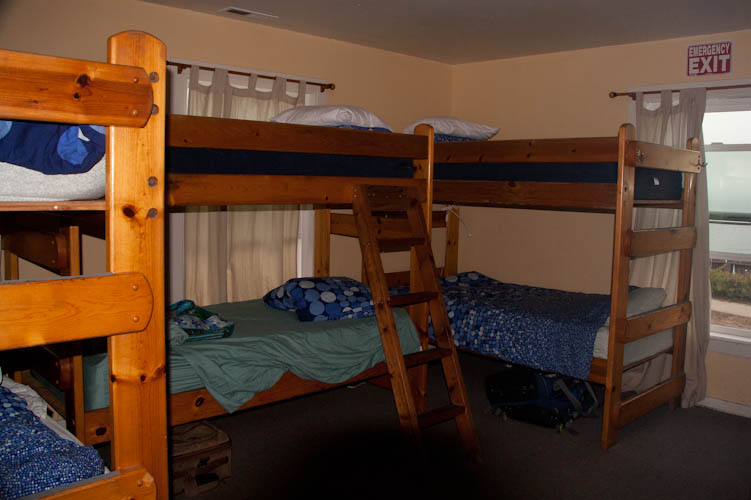 The hostel had a nice communal living room and kitchen.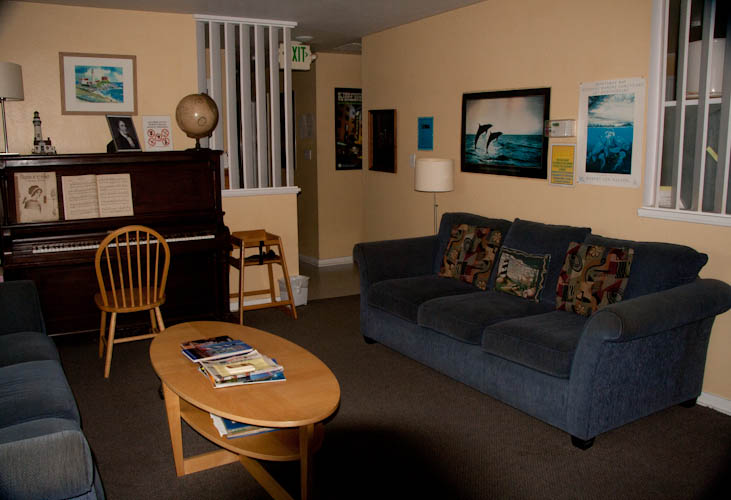 After getting settled and making our beds, we stopped in the living room before going out to photograph the beauty of the area. We met a friendly man named Richard. This is exactly the sort of thing that one hopes to do at hostels, except that one hopes to meet people from other countries, and Richard was from Tiburon but now living in Los Angeles. He was a technical consultant who had moved down south a few years before to be with his girlfriend, but frequently returned to the Bay Area on business. Eric asked him what series of BMW he had had when he was living in Tiburon, and he confessed that he had had a 3 series and a 5 series. (There is a joke that BMW stands for "basic Marin wheels.") Richard joked about how odd it had been being the only black man in Tiburon. He told us that an acquaintance had once asked him (while she was drunk), what he was doing as a black man living in Tiburon. We were appalled. He said he also caught flak from his black friends, who thought he should have been living in east Oakland with them. Richard was a very fun, lively person, and we ended up talking to him for something like an hour.
Eric in front of the lighthouse.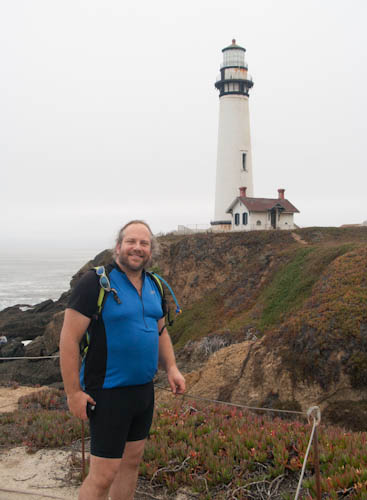 In the kitchen, Eric assembled chicken parmagiana for us. He had to bake it on a pizza pan, because, while there were lots of pots and pans, the only other baking dish was a ludicrously inappropriate muffin tin. I perused a coffee table book about west coast lighthouses, noting that we had visited a substantial percentage of at least the ones between Portland and San Francisco.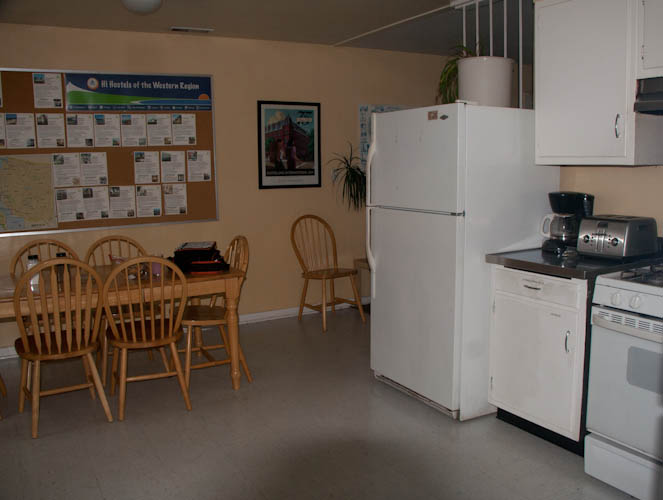 An Indian family was also staying at the hostel, and one of the women suddenly came into the kitchen announcing: "Dolphins!" We dropped everything went running outside to see amazing views of dolphins leaping in and out of the water very close to the rocks at the edge of the promontory.
But I had run off without even any shoes, much less the camera. How could we have come without any camera at all? We went running back to our rooms to get our cameras.
By the time we returned, properly equipped, the dolphins had moved further from shore and we much harder to see. Eric managed to get a better picture than I did.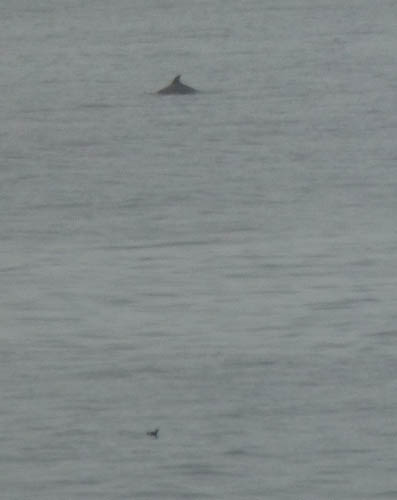 After cleaning up from dinner, it was time for our hot tub reservation. Is this not the most amazing hot tub you've ever seen? (Photo by Eric.)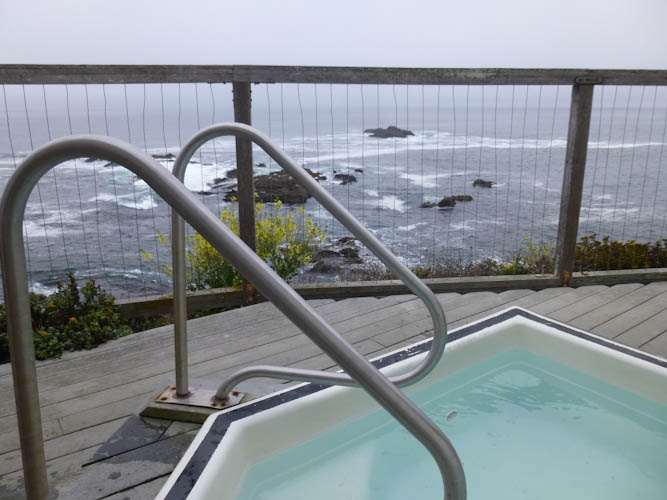 From our perch in the hot water, we could see Harbor Seals on the rocks. (Photo by Eric.)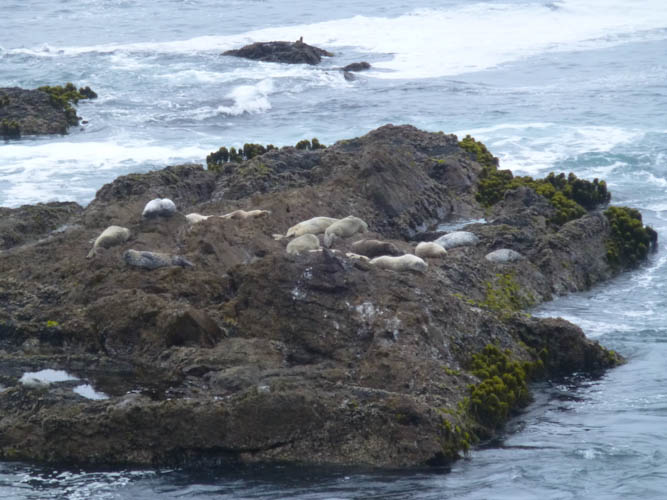 After a nice soak, we did in fact go to bed shortly after 21:00 with alarms set for 5:00.
On to Saturday.
---