---
Redwoods & Lighthouse
Cycle touring is the way life should be. A continuing series of exciting experiences, beautiful scenery, friendly faces and fresh air. The continual rush of motion. The thrill of moving yourself under your own power. Yes, there are brutal hills, aggravating mechanical failures, annoying drivers and unfortunate mishaps. But the overall experience is one of intensely powerful joy.
Frustrated by the difficulty of finding places that would accept a one-night stay on a 3-day weekend, Eric and I opted this time for a two-day tour on an ordinary weekend. We modified a route from Lonely Planet's Cycling the U.S. West Coast. Rather than starting in Santa Cruz, as the book recommended, we started a bit north, in Felton, so we could spend Friday night at the home of our friend Larry Colen. We then followed the book's route for the rest of the day through Big Basin Redwoods State Park to the Pigeon Point Lighthouse Hostel. Instead of taking the book's inland route on Sunday, we rode down famous California Highway 1 along the coast to Santa Cruz, and then followed the book's route from Santa Cruz to Felton through Henry Cowell Redwoods State Park.
The book listed the ride as "hard." It used phrases like "tough climbs," "hair-raising unpaved descent," "brake-melting descent," "grueling uphill" and, notably, "stages [that] encourage despair." Despair! Sounds dreadful, doesn't it? But with careful training and preparation, it was incredible. We did cheat by taking the coast route. The elevation profile of the book's second-day inland route along the ridge of the Santa Cruz Mountains was steeper than the elevation profile for the part of its route that we followed. Our route was also quite a bit more direct, shaving off about 46km (25.5mi). We also made the ride easier for ourselves by staying at the hostel so as to eliminate the need for hauling camping gear. But we did haul quite a bit of weight in food, water and overnight necessities, and all of those phrases above are from the descriptions of places where we followed the suggested route.
Map of our route, as closely as I can approximate it in Google Maps. Google's colo server has not explored the roads inside the parks.
Saturday, June 5, 2010
After oversleeping until 7:30 due to an alarm failure, we got a blazingly early start of about 9:30. This is what we are able to do when we don't sit down with cups of tea and broadband. It also probably helped that Eric had failed to pack his planned breakfast.
Moments after starting out, however, I found myself kicking one of my overstuffed panniers with my heel. Eric had to walk back to Larry's house to get a screwdriver with which to adjust the bag. Our first delay.
Our second delay happened only a few minutes later. When we started climbing a bit, I noticed that I was hearing a lot of clicking whenever I used the next-to-largest of my rear sprockets. This may not sound like a big deal, but on my particular crankset, there is a large gap between the largest and next-to-largest sprockets, so this gear is in fact rather critical for a climbing ride. Eric was able to improve this situation somewhat by adjusting my rear derailleur. And yes, I did have the bikes tuned up before we left.
Eric with his steed and his load.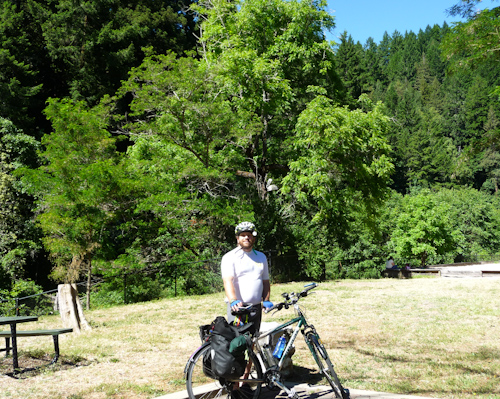 We soon came into the cute little town of Ben Lomond. Since Eric hadn't had any breakfast, we stopped for a burrito at the Ben Lomond Market. This of course represented yet another delay, but the market had this lovely little eating area surrounded by flowers.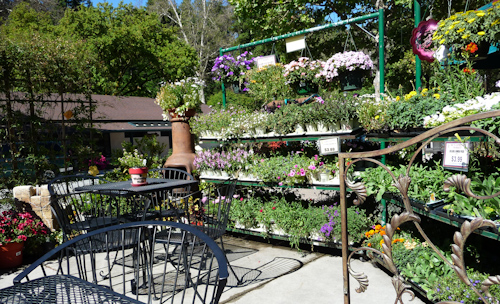 Our next stop was for a geocache, outside a little museum with this cute gazebo.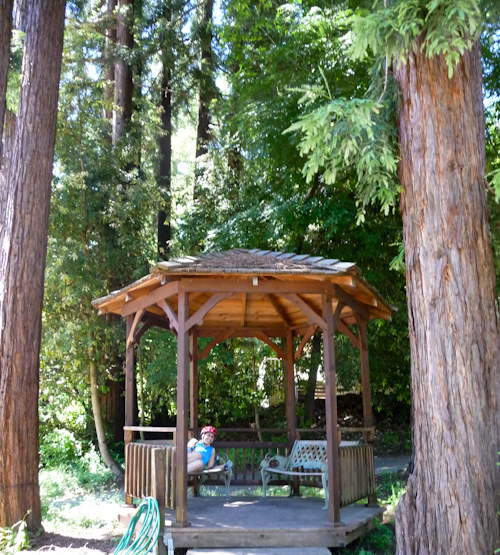 But more exciting, it had bees pollinating flowers, one of my favorite photographic subjects. I was very excited about my photographs of the bees.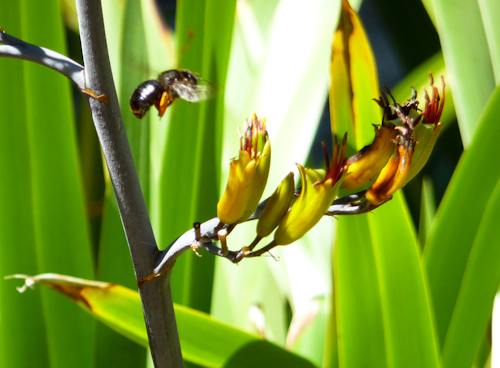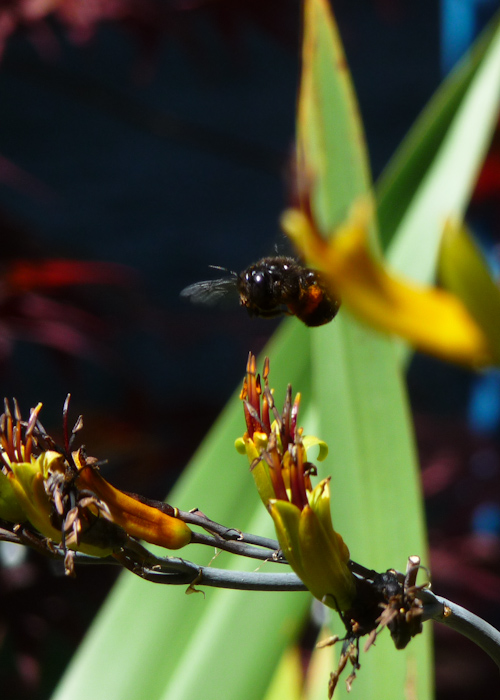 We arrived in the charming little town of Boulder Creek, and stopped to photograph this car.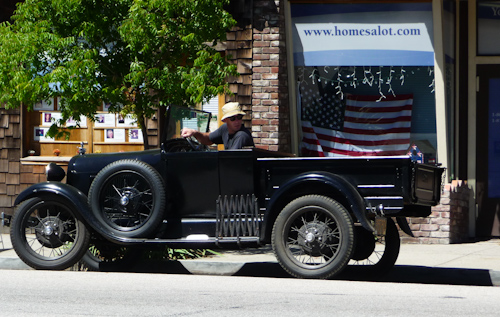 It was around this time, after a couple of hours on the road, that Eric suddenly asked me, "You got the food out of Larry's freezer, didn't you?"
"Uh, no. I thought you were doing that."
Oh, boy. There was our dinner for the night, back in Felton. The hostel had a communal kitchen, and I wanted to do better than our last experience cooking in a communal kitchen. That was the situation where I had had to beg the man to reopen his "closed at 2:00 pm" store so that we could buy some Progresso soup and Oreos. At Orr Hot Springs, people were feeding us dates stuffed with walnuts, honey and cream cheese, and all we had to share were Oreos. I was determined that, even though we were cycling, we would bring something share-worthy, so Eric had packed some frozen chicken, a small container of satay sauce, and some frozen vegetables. Packed and brought as far as Felton, but no further. Eric contemplated leaving me in Boulder Creek with his luggage and riding back to Felton unencumbered, but we thought that would tire him out too much before the climb over the hills. The guidebook said that Boulder Creek was the last place to find full-service supermarkets for the day, and fortunately we had realized our predicament while still in Boulder Creek. So I stood outside the New Leaf Community Market and watched the bikes while Eric went in to find something appropriate for dinner.
Two other cyclists came out of the market and had a snack of packaged smoked salmon, keeping me company while I waited. They had road bikes with no racks, and so no way to carry food with them, so they shared some of their luscious salmon with me. They also shared some utterly delicious non-Reese's chocolate peanut butter cups with me, to my delight. I was eating some GORP (good ol' raisins & peanuts), which I shared with them. They were graduate students from UC Santa Cruz, out for a much less ambitious ride than ours. We had a great talk about the possibility of a rail trail from Davenport to Aptos.
Eric came out of the market and got to meet the grad students and try the salmon and chocolate peanut butter cups. He told me about the exceptional service he had received at the meat counter. They had had dark chicken meat marinated in an orange sauce, and white chicken meat marinated in a more ordinary barbecue sauce. He told the butcher that the orange sauce looked really delicious, but that his wife despised dark meat. The butcher cut up some white meat and packed it in the orange sauce just for us. Moreover, since Eric also told the butcher we were on a cycle tour, the butcher packed the chicken in ice for us. You don't see that kind of service every day!
So, after we had been delayed by another half an hour rescuing ourselves from the dinner dilemma, we headed up the long, steep climb to Big Basin Redwoods State Park. It was a long and winding uphill, but there was very little automobile traffic. It was all so nice that we didn't particularly mind the slog of a climb. We were well trained for it. But by the time we got to the park, we were definitely ready for lunch.
A Park Service vehicle parked next to the Visitor Center made a political statement.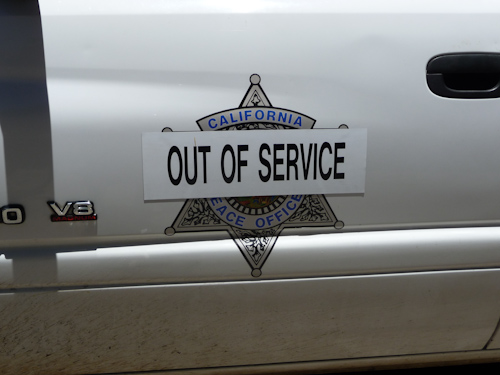 Of course we ended up spending more than an hour hanging around the Visitor Center. It was a lovely setting, a nice place to eat, there were lots of dogs to pet, bathrooms to use, etc. I asked to see the current map of the park to see whether they had come out with a new issue correcting the error I found on one of the contour lines. It took quite an effort to convince the park staff to let me look at a map I wasn't buying -- they kept trying to get me to look at the maps posted on the wall, which were even older than the one in my hand. Eventually I got to look at the map, but they haven't come out with a newer, corrected one yet.
Before we had traveled far from the Visitor Center, I spotted a fascinating stump covered in moss. I got off the bike to take a picture, putting down the kickstand on a spot I thought was level. The bike soon made straight for the ground. I managed to grab Scheherazade before she landed, but all the weight in the bags fought me hard, and I ended up adding yet another set of teeth marks to my collection.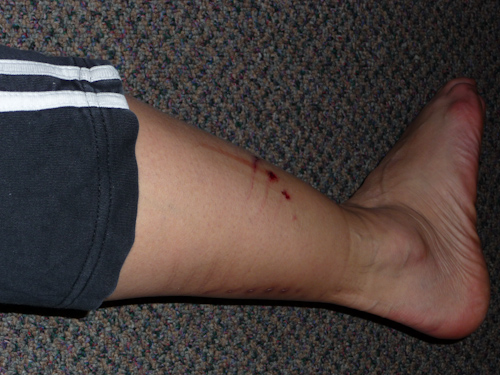 Thus, I absolutely must present the photo of the moss-covered stump, because I quite literally bled for it.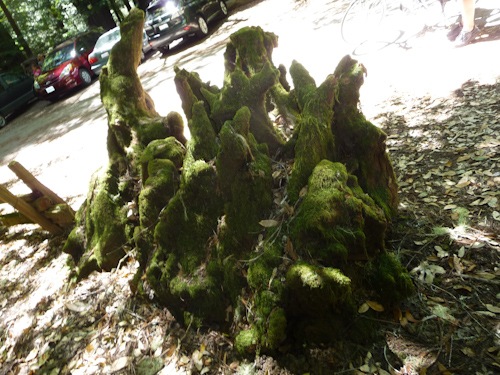 Fortunately, while this sort of injury has great photographic and theatrical value, it doesn't actually hurt very much (except when you put the antiseptic on it). It does, however, itch quite a bit as it heals.
Soon after we cleaned up my wound, we started on the dirt road portion of the trip. This was the portion of the trip for which I had most feared that we would be underprepared. It was almost 13 km (almost 8 mi). The guidebook recommended fat mountain-biking tires and said that if you attempted the this stretch with skinny road tires, "a devil-may-care attitude would...help." We have hybrid tires that are between these two extremes, but if the road turned out to be 13 km like the Ten Hill Trail, or like the fire roads in Wildcat Canyon, we would be walking quite a bit. I had very little idea of how long this stretch of road would take us. But it was a fantastic ride. Not always the easiest terrain, but we were well-equipped for all of it, no need for fat mountain-biking tires that would have slowed us down on the paved parts of the trip. And it was beautiful!
Miles and miles that looked like this.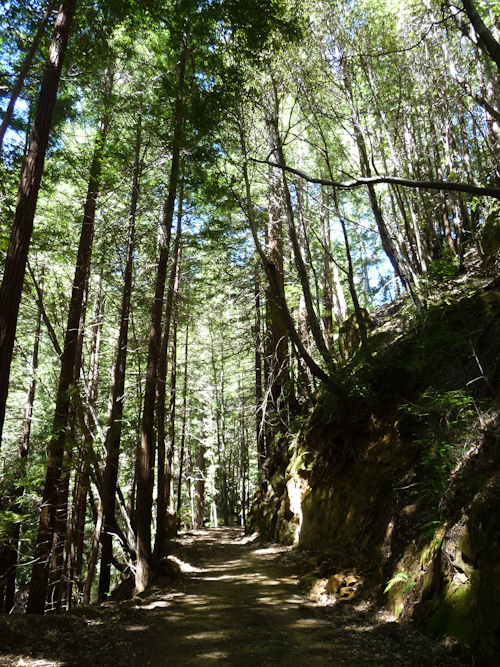 I loved looking up into the trees. We could hear many inhabitants, but I had trouble seeing any.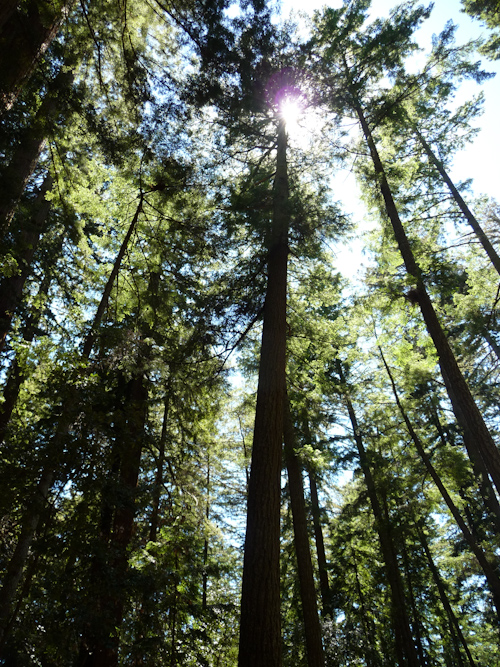 There was a steep dropoff to our left,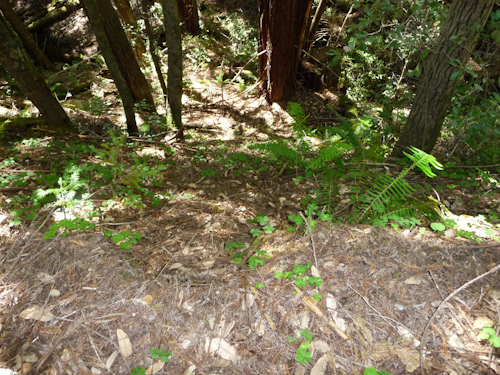 leading down to a bubbling creek.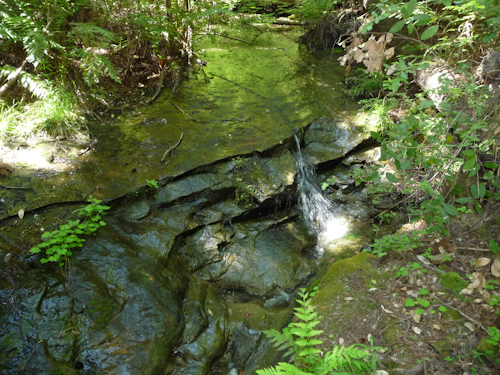 Spanish Moss is another common feature of the redwood forest (photo by Eric).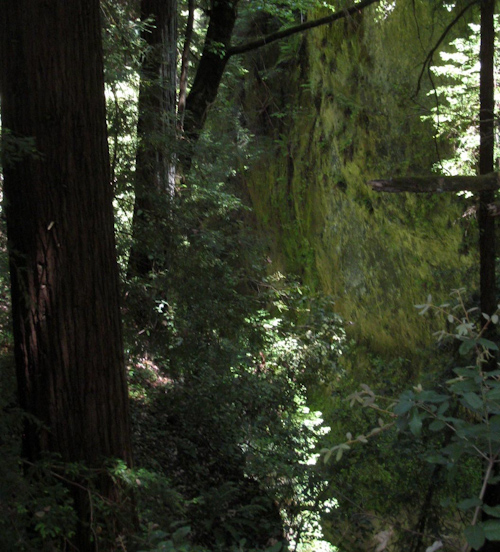 The road was isolated! Shortly into the ride, we saw four other people riding motorized bikes and wearing shirts labeling them as a "sheriff's posse." And then it was more than two hours before we saw anyone else! The area was almost completely devoid of human beings.
It seemed entirely incongruous to see a sign like this out in the middle of nowhere.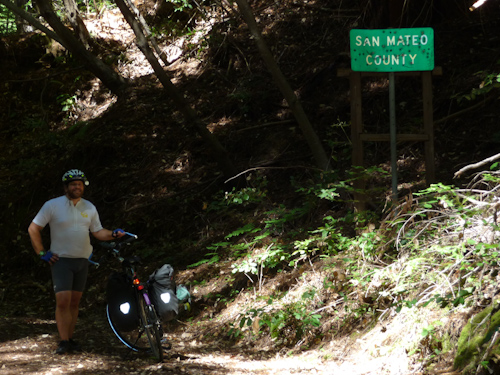 One of the most amazing things about Big Basin is the diversity of ecosystems, and the rapid but seamless changes between them. One moment you are in the shade of the redwoods, and in an eyeblink, you are out in the open, under the sun, surrounded by manzanita instead of redwoods.
The ecosystem has suddenly changed from redwood forest to chaparral.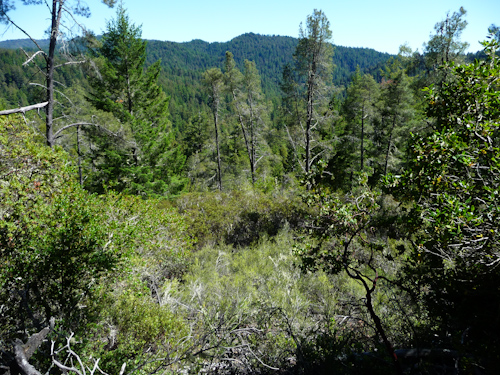 Chaparral often features expansive views. From here we could see the ocean. Still looks pretty far away, doesn't it?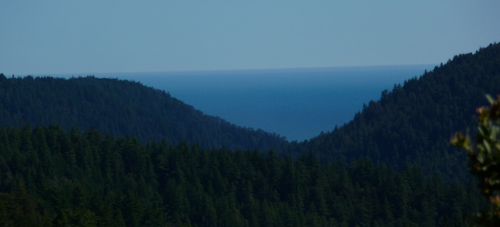 Even the road itself is very different in the chaparral. Check out these rocks!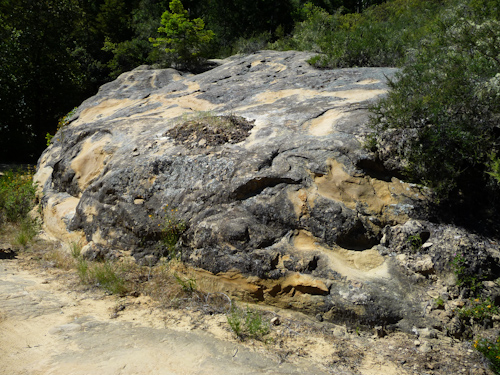 We started downhill, and soon we were back in the redwoods. I spotted some beautiful foxgloves.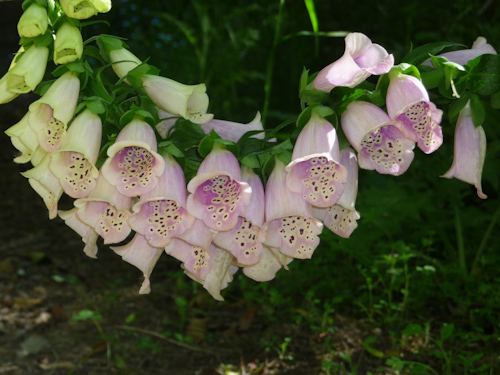 At one point, I was startled to find a butterfly flying a few centimeters in front of my face! It stayed there for several seconds. It was magical, since we so rarely get to be so close to these beautiful creatures. Of course, however, I could not photograph it at that distance.
It seemed as entirely incongruous as a county line sign when we finally did see another human being. I had walked down a side path trying to find a better vantage point for a photo. Further down into the gorge, I saw a man! He was sitting in a wooden chair, admiring the view of the canyon, with a mountain bike beside him. I tried not to disturb his peaceful solitude, but he saw me and called out a greeting.
"Isn't this the most beautiful place in the world?" he asked. (Photo by Eric, obviously.)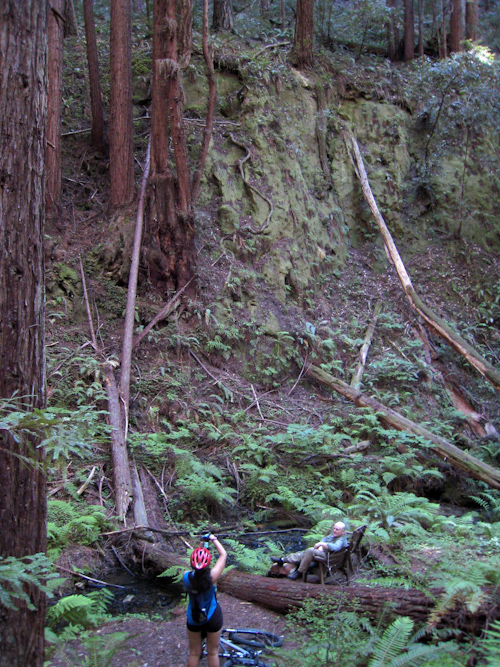 We had to agree that it was very beautiful.
The road was so steep at this point that my hands were aching from holding the brakes. It turned out that the man was riding in the other, more difficult direction, where he would climb up the steep part and go down the gradual part. Of course he had those fat mountain-biking tires, and he didn't have a load of overnight stuff with him, but we were still impressed.
After about three hours of dirt, at last we came back to the paved part of the road. There was a gate blocking the dirt road off to unofficial vehicles, with this warning. They weren't too loose for us!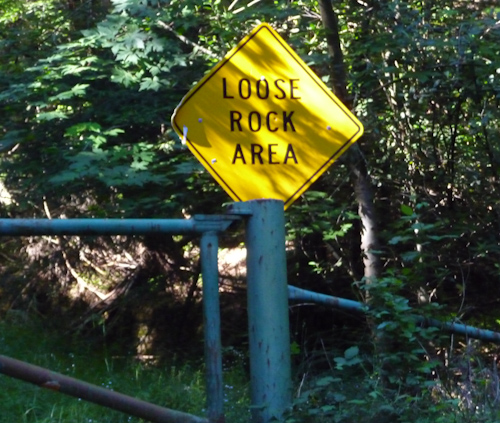 Even though we were back on pavement, we still did not see any cars until the turnoff for Pescadero. We did, however, see quite a few mosquitoes.
We stopped to look for a geocache, and found this giant banana slug. (Photo by Eric)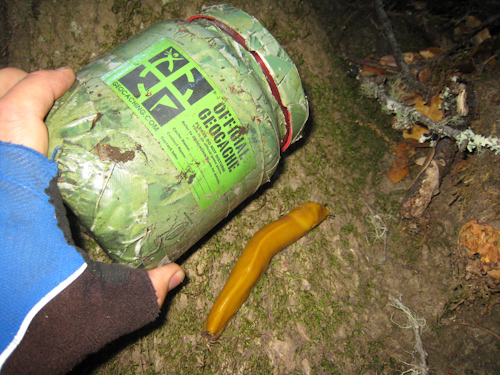 At last we came to California Route 1, the famous coast route. We turned north, away from Santa Cruz, to get to the lighthouse hostel.
But first, I had to cross the road and run down to put my feet on the beach! We had reached the coast!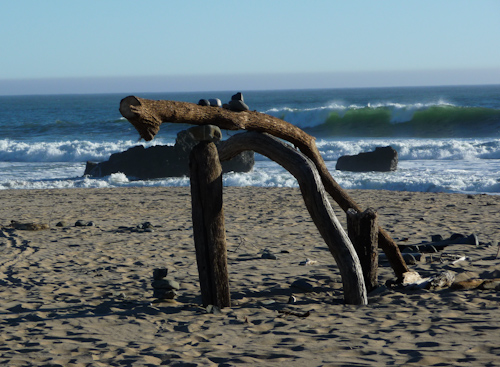 We could see the lighthouse up ahead from the road.
Even with all of the delays, we arrived and checked into the hostel around 7:00 pm. It was landscaped with lovely flowers.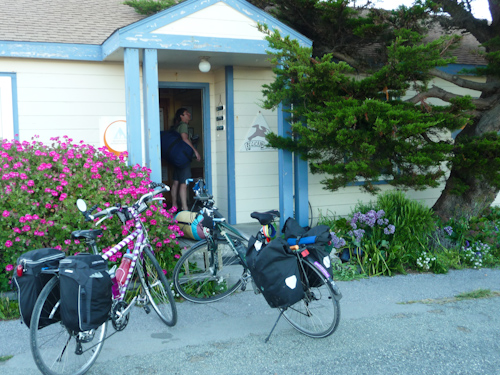 Of course I had to photograph the lighthouse from up close.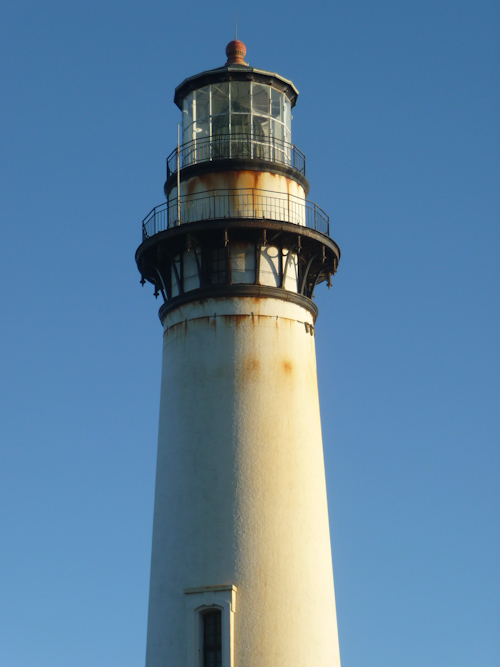 The hostel had sent me an e-mail message explaining the rules. The information indicated that there was a hot tub, and that they started taking reservations for it in mid-afternoon. I had not expected that we would manage to get there in time to get a reservation, but we got the last one. The people who arrived five minutes after we did were disappointed. The reservation was at 8:55, leaving us just about an hour and a half to shower and cook and eat dinner. This of course led to a mad flurry of activity, especially considering that one of the drawbacks of the hostel is that it does not have enough bathrooms. We decided that I would take a shower while Eric cooked dinner, and that he would take his shower after eating, since I eat more slowly. But even my hurried shower felt glorious. It is so good to wash off after a long dirt ride! I felt fantastic.
We were somewhat dismayed to discover that one of our roommates in the dorm room was 10 years old. When they said, "youth hostel," we weren't picturing anyone quite that young! She turned out to be perfectly reasonable, but we could easily envision a situation that would have been quite different. In yet another crazy small-world coincidence, it turned out that we shared not only a dorm room with our roommates, but a neighborhood as well. They live about four blocks from us in Berkeley!
While I had expected food-sharing in the kitchen, everyone just cooked and ate their own dinner with the people they came with. Eric and I had our delicious orange white chicken all to ourselves. While I ate and Eric took his shower, I struggled to answer my e-mail on my phone. One other drawback to this particular hostel is its absurdly slow broadband. I've seen dial-up that worked faster.
The sunset, as seen from the patio off of the kitchen, was spectacular. (Photo by Eric)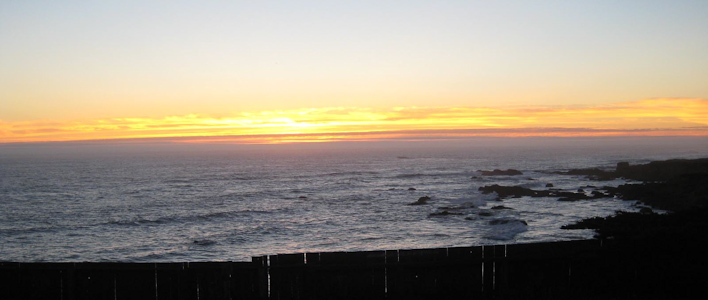 When we signed up for the hot tub session, we just wanted to soak our tired muscles. We did not know that we were in for the hottubbing experience of a lifetime. The hot tub was on a deck right out over the water! The people right before us got the sunset view, which must have been even better. But even in the dark, we were pretty excited about being out there right next to the ocean. Hot tub time is private, so it was just us, the remnants of the sunset, and the sound of the surf. So satisfying. The water was nice and hot, too, the way I like it. It was the perfect romantic ending to an incredible day. If only we had remembered then (rather than the next morning) that it was the 20th anniversary of our engagement.
Sunday, June 6, 2010
Pigeon Point Lighthouse in the morning fog.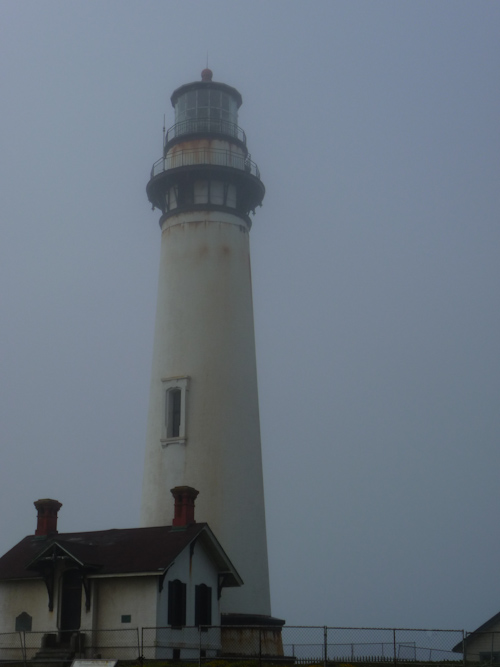 I had expected to share breakfast with other guests, so I had packed makings for blueberry biscuits. Let's just say that cycle touring truly calls for the sort of baking mix that only needs to have water added -- adding powdered milk to regular Bisquick yields unsatisfying results. But no one was interested in sharing our inadequate breakfast (even the blueberries) in any case.
A birder from Fremont took me outside to see a pair of Pigeon Guillemots.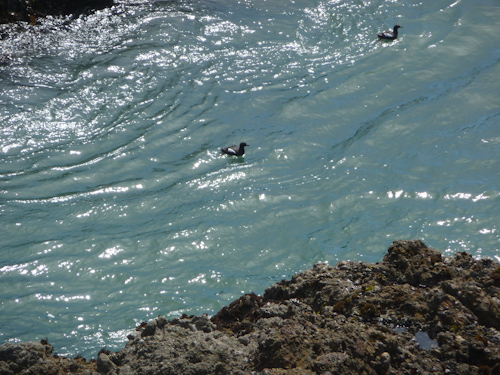 We spent some time admiring the view just south of the lighthouse.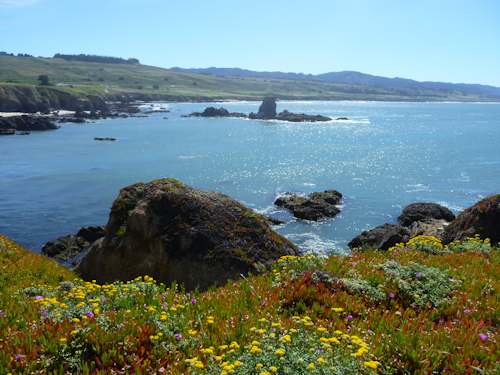 A lagoon just below the lighthouse.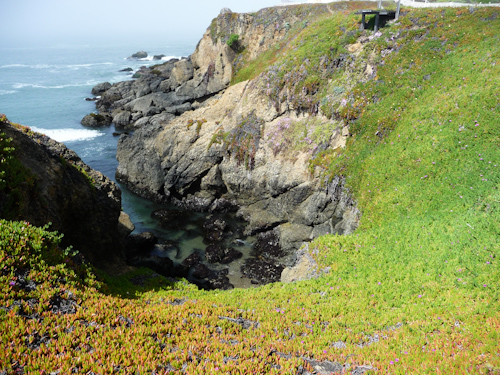 We chatted with a cyclist from Montreal while packing up our bikes, telling him about how much we enjoyed cycling around his town last August. I had expected to meet several foreign travelers at the hostel, but the only non-American I met was this Canadian. Eric told me he talked to a German woman while making dinner.
I had been a bit apprehensive about riding down California Route 1, which has a 65 mph (about 105 kpm) speed limit in some places. But not only did the road have a very reasonable shoulder, we soon found that we were being passed by as many other bicycles as cars.
"Is the AIDS LifeCycle this weekend?" Eric wondered.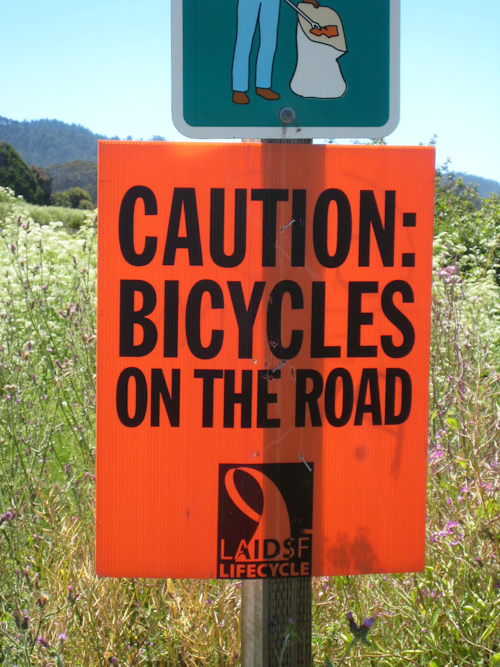 It soon became obvious that it was. A very fortuitous unplanned coincidence for us, because there is, of course, safety in numbers. But this also added significantly to the amount of fun we had on our ride. There were people on the side of the road cheering us on. It was like being in the middle of a mobile party. We were surrounded by (mostly) gay men on bicycles, much lighter and faster bicycles than ours, in most cases, and unloaded bicycles, as they had people to drive their gear in vans. But more than that, these cyclists were involved in raising money to fight disease, which added greatly to the excitement of the ride. Some of the people cheering on the side of the road held up pictures of loved ones who had died of AIDS. Some cyclists wore jerseys identifying them as "positive pedalers." What they were doing was much more important than what we were doing, so we cheered and rang our bells for everyone who passed us. When we stopped to take pictures from an overlook, one of the cyclists asked us to take a picture of him for his mother. We felt that something very big and important was happening around us, and I was quite caught up in the emotion of thing, barely able to hold back tears of excitement. We were extremely proud of all of the people around us.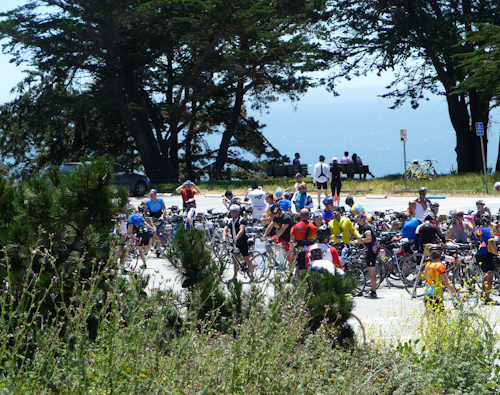 I used to think the quintessential California experience was driving down Route 1 in a convertible with the top down (a joy I have not yet had). I now think that riding a bicycle down Route 1 with a large number of bicycling gay men is an even more quintessential California experience.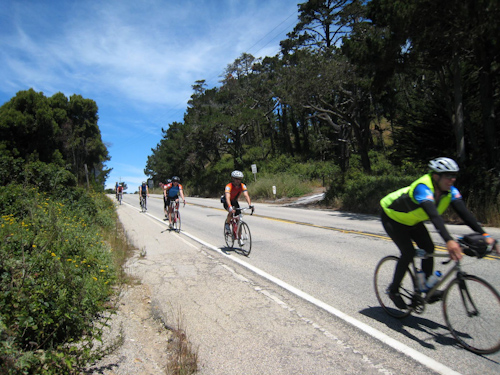 The scenery was spectacular.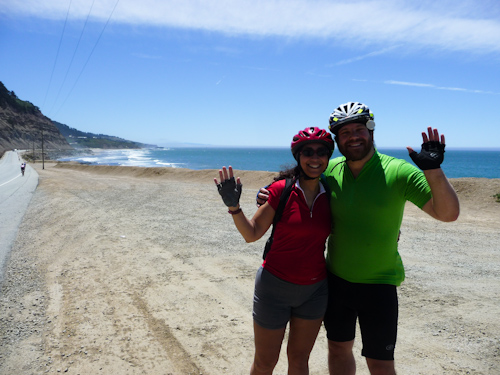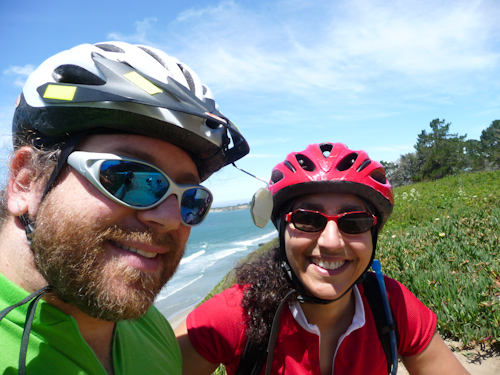 Amtrak runs even closer to the ocean than the road!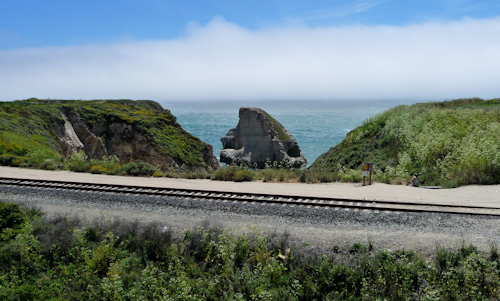 We saw interesting patterns in the sand.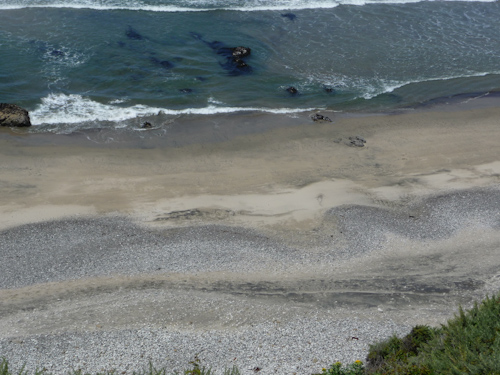 What an amazing road!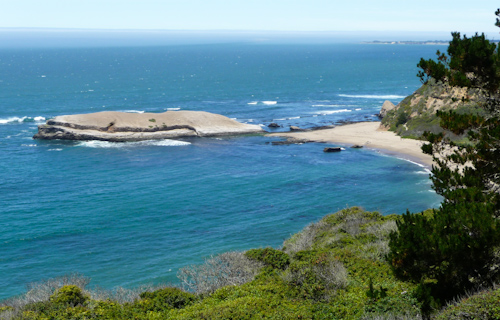 At one point, we saw a bicycle lying by the side of the road, and one of the relatively few female AIDS LifeCyclists walking by the side of the road. Eric asked if she had a problem, and she explained that her cyclometer had fallen off of her bike. I was just going to wish her luck and keep going, but Eric stopped to look. I thought to myself, "Well, if anyone can find a lost cyclometer, about 3 x 2.5 cm, in the brambles by the side of the road, it's me." My special superpower is finding lost objects. Eric calls me Thing Finder Woman. It's actually a rather annoying superpower to have, because everyone expects you to be able to find anything, their keys, their socks, their jewelry. "What do you mean, you can't find a memo I wrote in 1982?" Really, there are limits to my powers. But it only took me a minute or so to find the missing cyclometer and hand it to a grateful and astonished cyclist, proving myself yet again.
Of course, we stopped to look for some geocaches along the road. One listing told us that this was one of the oldest existing stands of Monterey Pines.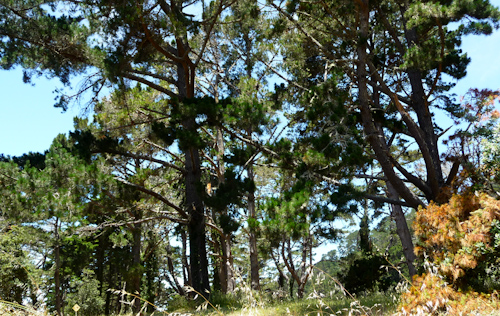 At another cache site, we found this butterfly.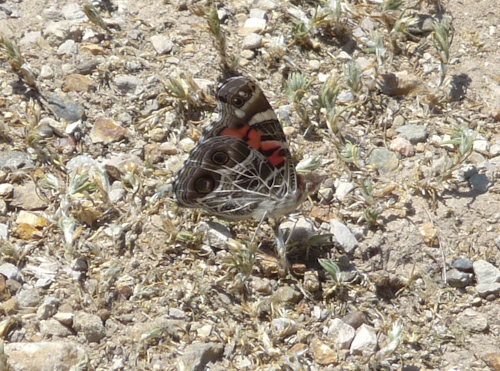 Here, you can see the pollen the bee is scruffing up out of the flower!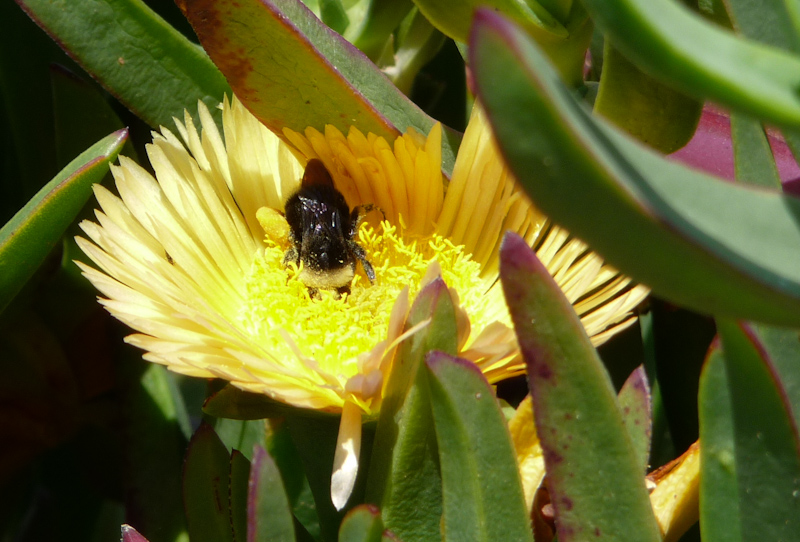 One of the most amazing things about cycle touring is how some normally annoying things like mosquito bites, sunburn, five minutes here or there, suddenly seem entirely unimportant in the face of your enjoyment of your activity. Meanwhile, other things, such as shifter cables, for instance, hold a critical importance. About 10 km (6 mi) north of Santa Cruz, I broke my rear shifter cable. Eric had been riding on a broken spoke since the dirt road, so this was not our only mechanical mishap on the ride. For those of you who don't ride bikes, breaking a shifter cable is akin to breaking one's clutch cable, such that one is stuck in one gear. This is particularly bad for two reasons. First, one shifts a bicycle much more often than one shifts a car. A small change in grade necessitates a change in gear, and we were on rolling terrain. Second, if it is the rear cable that breaks, the chain gets stuck not in the gear one was in when the cable broke, but in the highest gear available. Definitely suboptimal. With the assistance of one of the AIDS LifeCyclists, we tried tying the cable around the frame of the bike and adjusting the limit screw to hold the chain in my second-lowest gear. We succeeded in holding it in my sixth-lowest gear, which was a little bit better than my highest (eighth) gear.
So, for the last 10 km before Santa Cruz, hills were a particular challenge for me. I've become strong enough that the hills on that stretch of Rt. 1 are fairly easy for me, but riding in too high a gear can aggravate my knee issues. Eric took all of the food and water from my bags and carried them himself, helping considerably. I had to ride extra-fast and stand up on the pedals fairly often in order to keep up a cadence that was appropriate for the gear.
We knew it would be easy to find a bike shop in Santa Cruz. For $23, I was able to get the cable fixed. We sat outside the bike shop and made and ate peanut butter and jelly sandwiches. My bike was fixed before I finished eating my sandwich.
In pure Santa Cruz style, the bike shop had a bike with a surfboard carrier.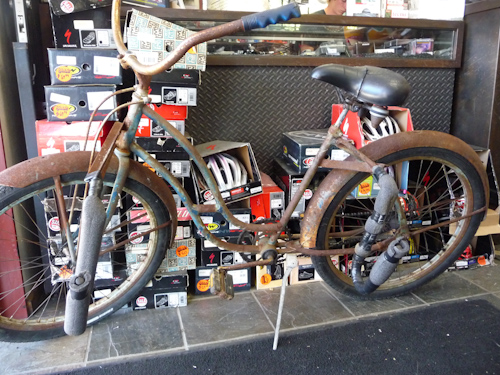 It also had an adorable dog. (Photo by Eric)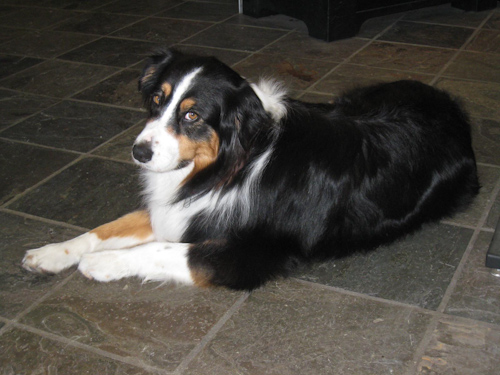 Route 1 turns inland in Santa Cruz, so we left it to continue our spectacular ride along the water. What a joy it was to be able to shift properly!
A geologically-oriented cache led us to these tubular carbonate structures near the water.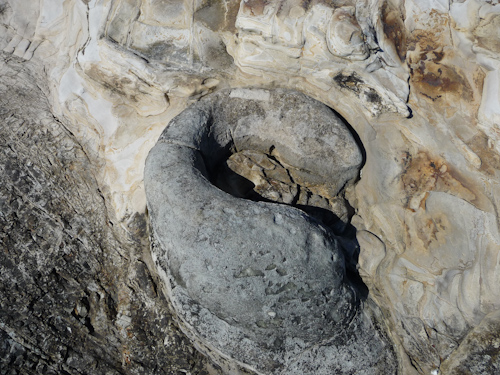 The tidepools were fascinating.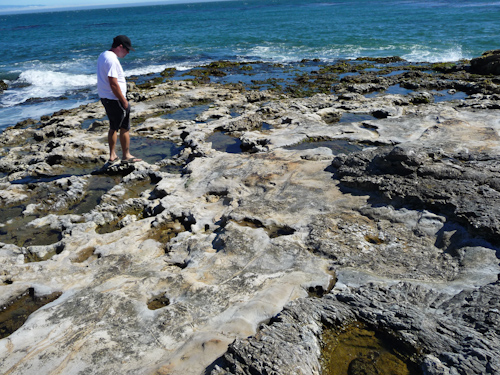 Some anemones inside a tidepool.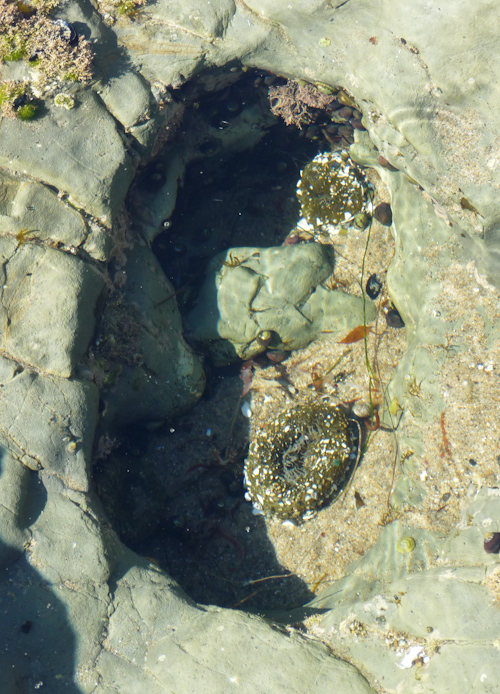 One beach had a rock that looked like a head.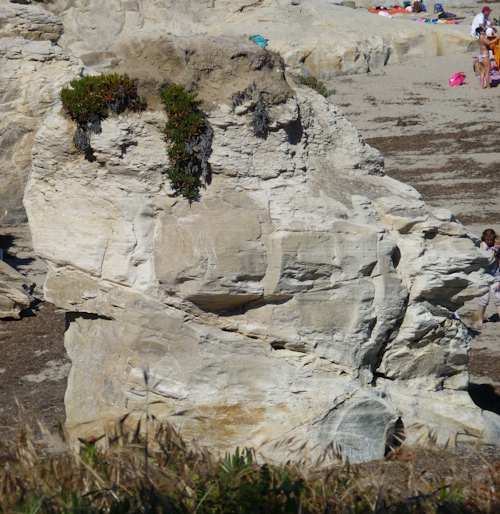 Pelicans (and some cormorants) sunning themselves on a rock.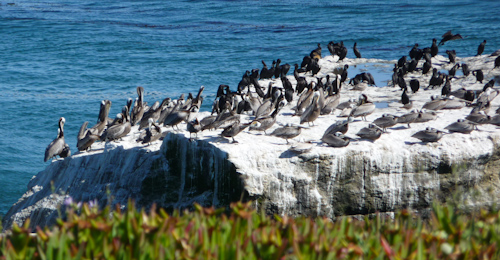 At one point, in an instance of nature being supremely annoying, a Brewer's Blackbird flew right out in front of me, such that I nearly hit it with my face. "You liked it OK when it was a butterfly," Eric said. That is not the same!
Yet another lighthouse in a beautiful setting.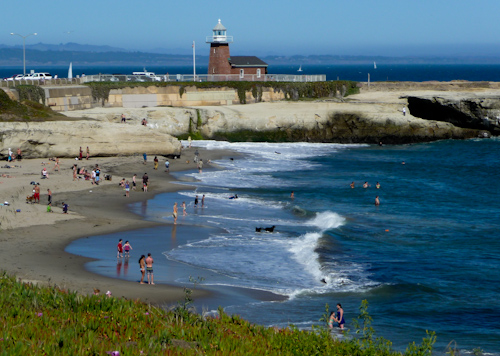 Me in front of the lighthouse. (Photo by Eric)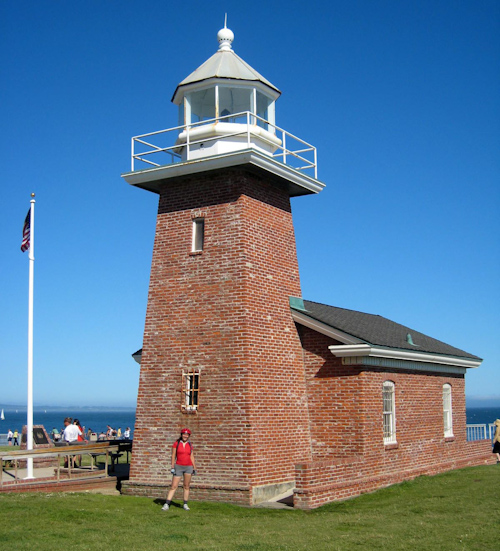 Statue of a surfer. (Photo by Eric)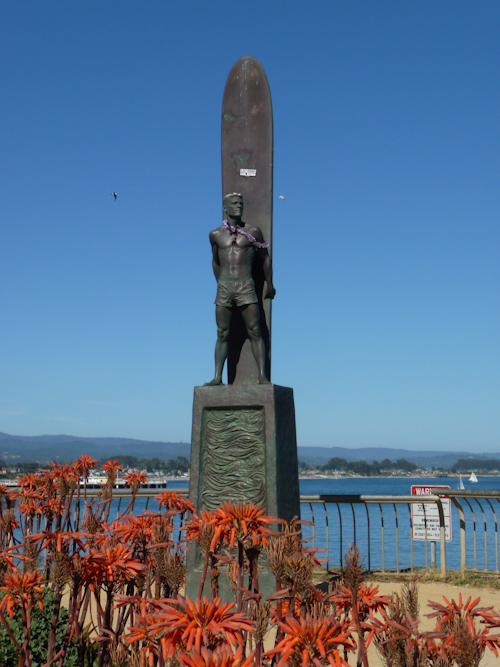 The famous Santa Cruz Boardwalk.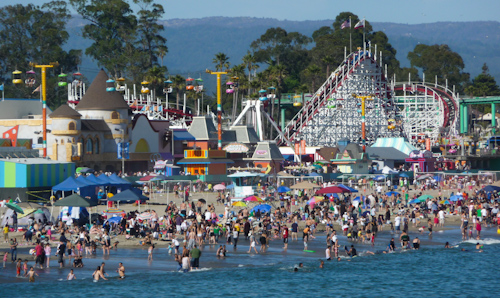 The roller coaster shooting down the track. (Photo by Eric)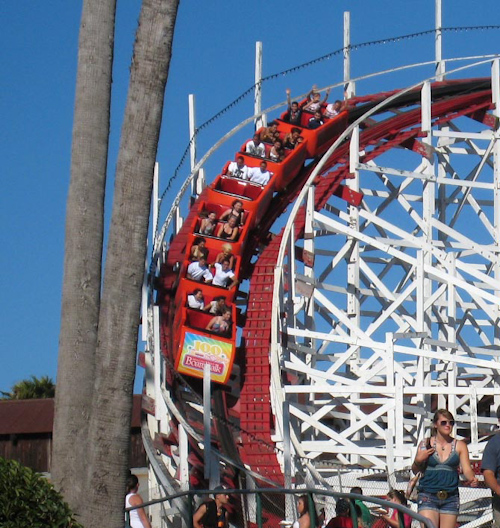 The coast is studded with lovely lighthouses.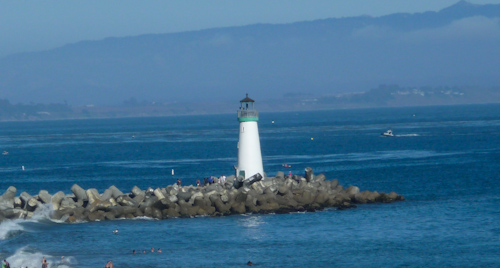 After a wonderful time cruising through Santa Cruz, we turned inland to return to Felton and our gasoline-powered vehicle. Along the way, we rode through beautiful Henry Cowell State Park.
Another road through the redwoods.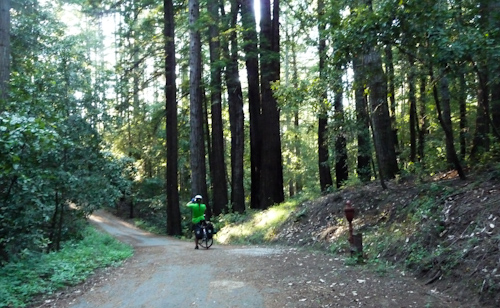 There were hills along this road that were promised by the guidebook to "encourage despair." It was indeed terribly steep. I had taken my food and water back from Eric, and on one hill I just could not restart after stopping to rest. I kept pushing off the ground with one foot, and into the pedal with the other, but I couldn't rotate the pedals fast enough to get myself going again, and so hobbled up the hill one step at a time. I refuse to get off and walk the bike up pavement, but admittedly this part of the road had probably last been resurfaced in the 70's and so was only "paved" according to a fairly loose definition. But it's hard to despair too much when your surroundings are so pretty.
We were struck by the romance of being in such a beautiful setting. We did a romantic thing we often do, which is holding hands while riding. Our hearts were bursting with such joy in our surroundings that at one point we had to stop for a big kiss. Doing all of this as a couple is a great bonding experience.
The park had one of those ancient tree slices that shows you how long the tree lived.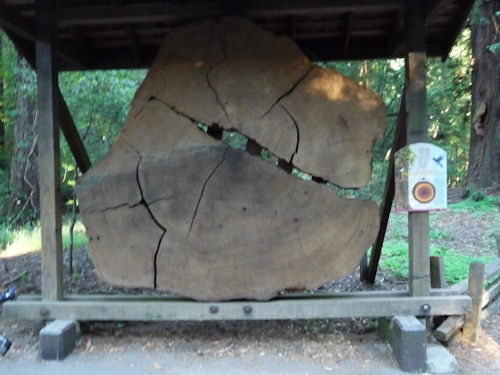 This tree was born before Jesus!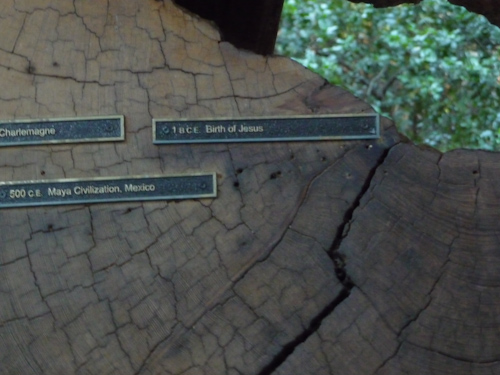 Another nice view of a creek. (Photo by Eric)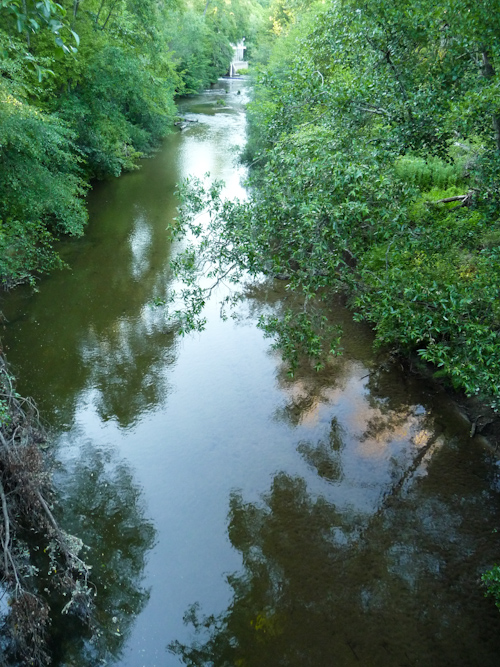 From Henry Cowell, it was just a short ride up Rt. 9 back to Larry's house. The three of us had a nice Chinese dinner together before Eric and I had to head home via a much faster form of transportation. Our adventure had come to an end.
It was an extraordinary weekend. Nothing at all, not the injury, not the mechanical failures, not the hills, nothing, could hamper the joy of participating in a trip like this. Moving under your own power with everything you truly need brings on an amazing feeling of confidence. You feel extremely competent, perfectly able to take care of yourself and handle difficult situations. And the scenery! We saw such a variety of ecosystems, every one of them brimming with unutterable beauty. You feel like part of the environment, exposed to the elements, rather than an intrusion or disruption. Joy fills you in so many moments. Cycle touring demonstrates that getting there really is all the fun.
---