---
The Blackthorne Inn
We stayed at the Blackthorne Inn in Inverness. It's a place I'd read about in Lucy Poshek's fabulous Offbeat Overnights in California and had wanted to check out for years, but the cost could only be justified by a special occasion. 20 years together, we decided, was enough of a special occasion. It turned out to be more charming than we ever imagined.
We stayed in the Eagle's Nest, an octagonal room above the rest of the inn. It was like a fairytale treehouse.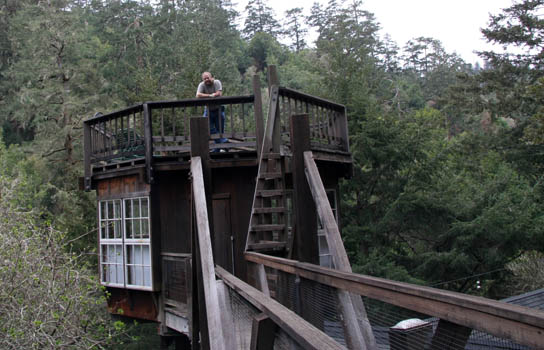 We could climb up a steep ladder onto the roof.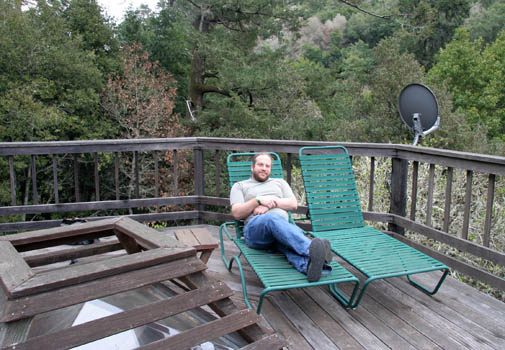 We had to take a bridge from our room to get to our private bathroom, which was on a lovely redwood deck. There was a hot tub, which we had to ourselves after 10:00pm. It was only 100.5 degrees, but it was still nice to have. There was also a satellite for the internet, which was fortunate since we had no cell phone signal.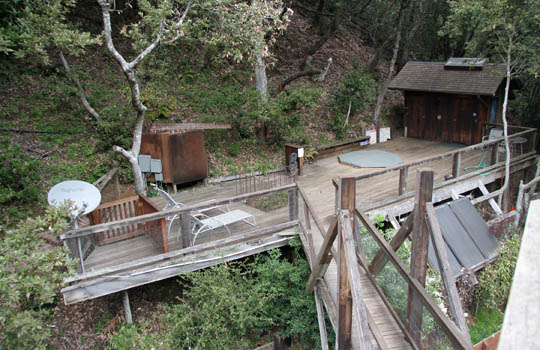 This vertiginous photo from the roof shows the woodsy setting, as well as how high up we were. It was just amazing being up there in the tops of the trees.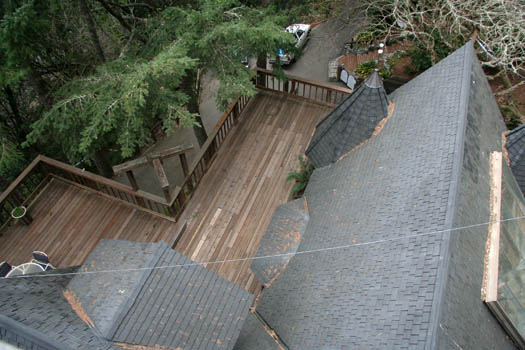 Inside, our redwood room had windows on seven of the eight sides. I had been afraid that it would be cold, but it had a wonderful heater and was cozy, warm, and incredibly romantic.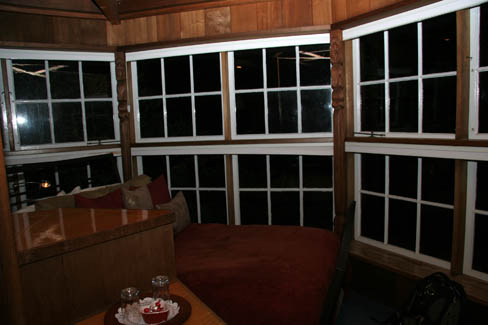 There were outdoor stairs leading up to the deck, but the indoor access to the Eagle's Nest was up this spiral staircase.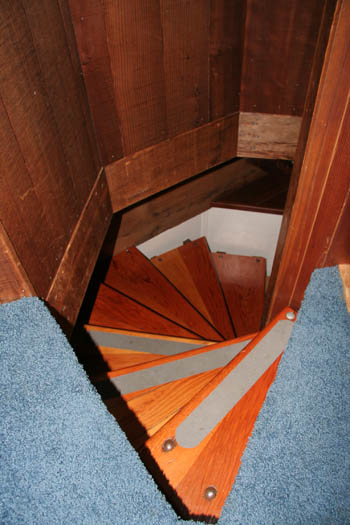 The stairs were capped by a sort of wooden box with a door. If only we had read the instructions that it would be easier to bring your suitcases up the outside stairs before we brought them up to the room!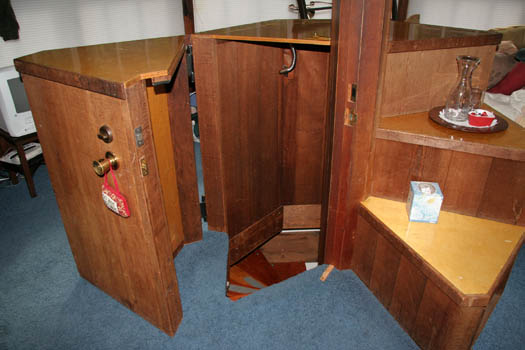 We were served breakfast each day by a wonderful cook from the Bronx named Mary. Each day, we had orange juice, tea, and a cup of fruit. Saturday, we had a yummy loaf of cinnamon bread, and Sunday a yummy loaf of poppy seed bread. Each day there was a frittata with gruyere cheese and vegetables inside and tomatoes on top, and sour cream and salsa to add yourself. Saturday's frittata had mushrooms; Sunday's had peppers and artichokes. I normally don't like eggs, but Mary said, "Just give it a little try. I flavor it like a pizza." The frittatas were good enough that I ate them heartily. I wish eggs always tasted like that! Mary said that her secret was to whip the yolks and whites separately, and to put cream of tartar in the whites. Saturday's breakfast also featured poppy-seed challah French toast, and Sunday's also had roasted potatoes. We ate happily and heavily.
Sunday morning, another couple staying there told us Mary had encouraged them to try sliding down the firepole. We ran up to see it. The pole went from the deck outside of the dining room down to the parking lot. Eric immediately slid right down it at a great velocity. I stood there looking down, trying to figure out why a trained aerialist would find this situation so intimidating. But then Mary told me you could control your speed on the way down by using your feet. I ended up going down very, very slowly. By the time I figured out that it was OK to speed up a little, I was nearly at the bottom. It was a fun experience, and not particularly scary once it was actually happening, but I didn't feel an immediate need to run up and do it again. It was just one more fascinating feature of an incredible inn.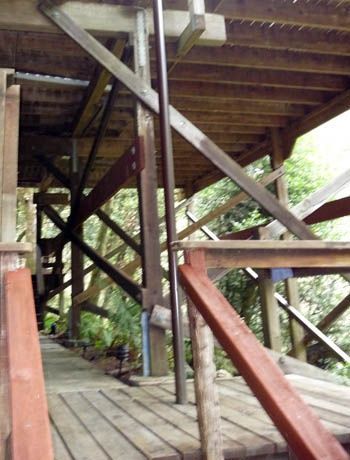 ---