---
Pacific Northwest Adventure 2
14 - 31 August, 2015
---
Eric said, if there were a marquee for our trip, it would be this.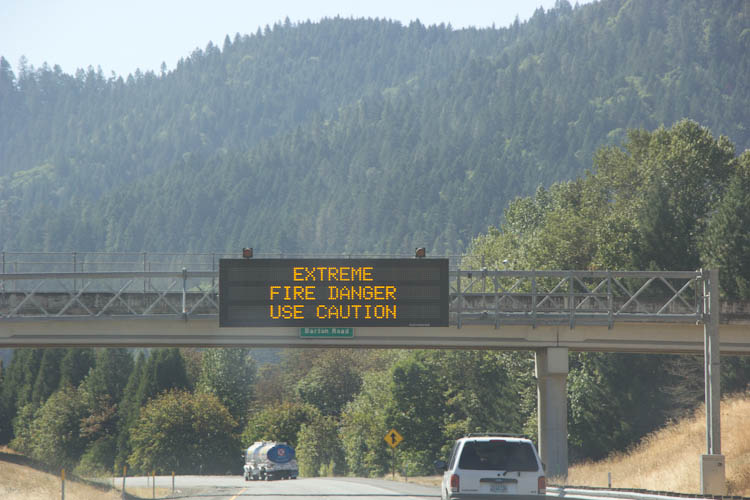 When Spokane, Washington, announced its bid for the 2015 World Science Fiction Convention, Sasquan, I became an immediate supporter. Our glorious 2010 Pacific Northwest tour had left us with a strong taste for more, and this would be an excellent opportunity to see the sights we'd missed on our previous journey through this land of dramatic volcanic beauty and stark rocky beaches. I was delighted when Spokane won the bid. Now, we could ride the boat to Wizard Island at Crater Lake, see the obsidian fields at Newberry National Volcanic Monument in daylight, and visit North Cascades National Park. Of course, we found enough additional amazing adventures to fill 18 days--a Hell's Canyon overlook on the Snake River, Palousse Falls (a remnant of the catastrophic Missoula Floods), the Hiawatha bike trail from the Idaho Panhandle into Montana, a two-day bike tour of Orcas Island in the San Juans, and another opportunity to dive into the Puget Sound and see a Pacific Giant Octopus.
Unfortunately, of those three major items that we wished to accomplish, an unprecedented rash of drought-caused wildfires prevented us from carrying out more than one. We did see the obsidian fields in daylight. The Wizard Island boat tour, and North Cascades National Park, will have to wait for PNW3. Weather also prevented us from taking good pictures of Hell's Canyon or diving to see the Pacific Giant Octopus. So, we had lots of disappointments, but still saw many exciting things.
Links to pages of places visited:
Smoky Crater Lake National Park, with diversion to Salt Creek Falls and Diamond Creek Falls.
Salt Creek Falls, Willamette National Forest.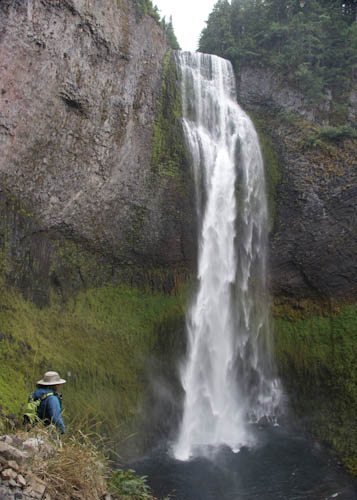 Amazing obsidian fields at Newberry Volcanic National Monument, with a side trip to Smith Rock State Park.
Big Obsidian Flow, with Paulina Peak in the background.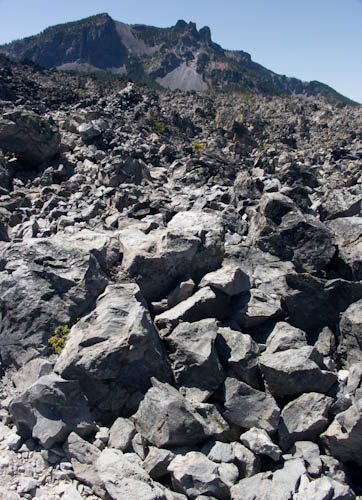 Hazy Hell's Canyon National Recreation Area, from Hat Point.
View of Hell's Canyon. Photo by Eric.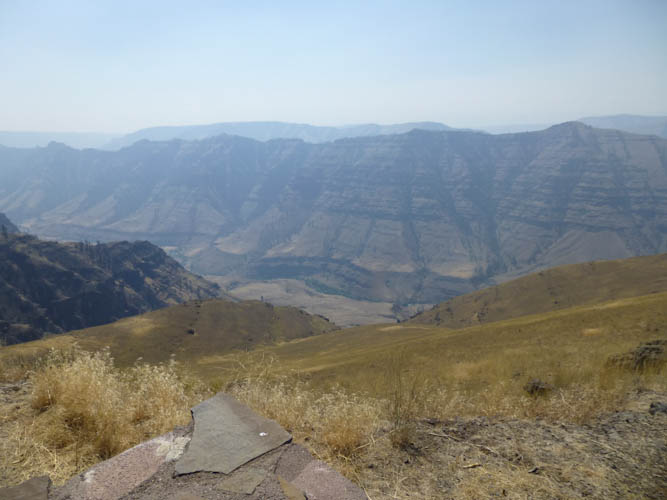 Fabulous Palousse Falls State Park.
Classic view of Palouse Falls from overlook.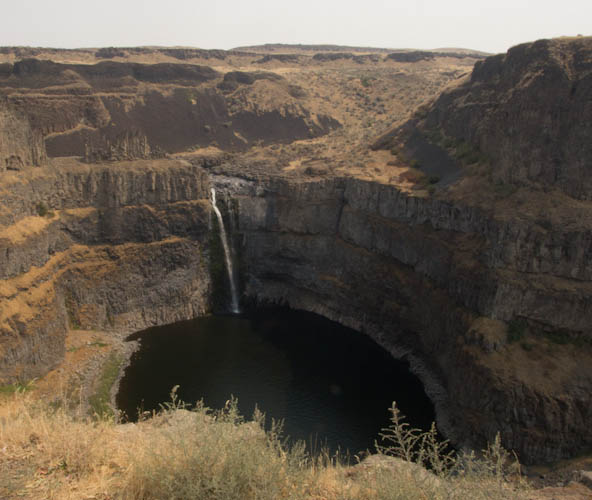 The Hiawatha Trail, a former railroad right-of-way converted to a bike trail.
Bitterroot Mountains from Hiawatha Trail.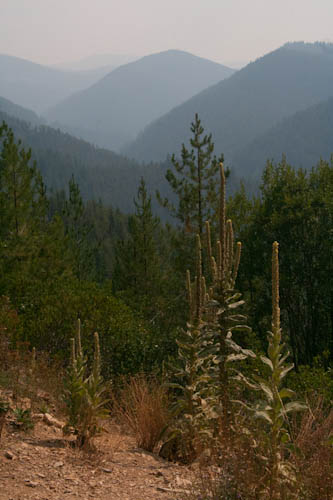 Sasquan, the World Science Fiction Convention, one of the most memorable WorldCons in history.
Eric with cardboard cutout of astronaut Dr. Kjell Lindgren, Sasquan Special Guest. Photo by some random fan.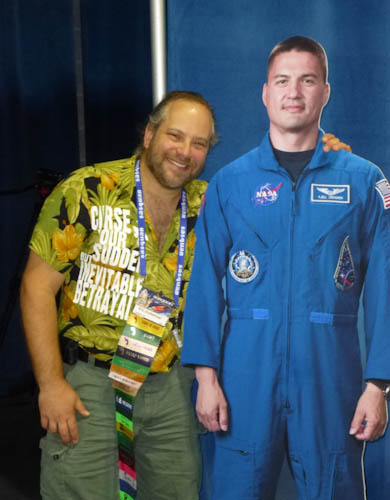 Forested Olympic National Park, an emergency substitution for North Cascades National Park.
Crescent Lake at sunrise. Photo by Eric.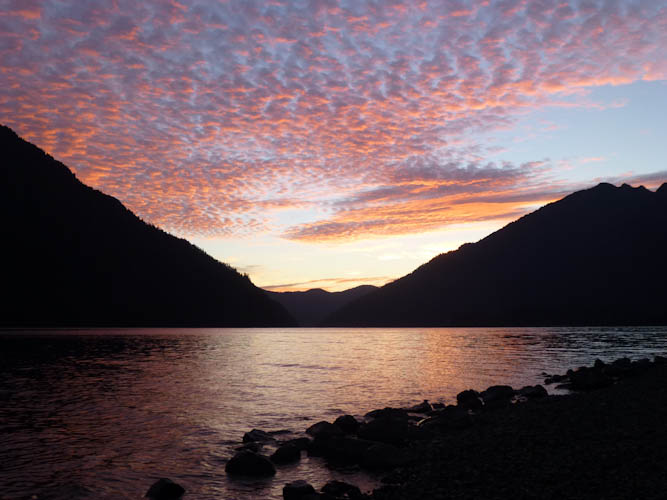 Idyllic Orcas Island, where we did an overnight bike tour.
Deception Pass State Park. Photo by Eric.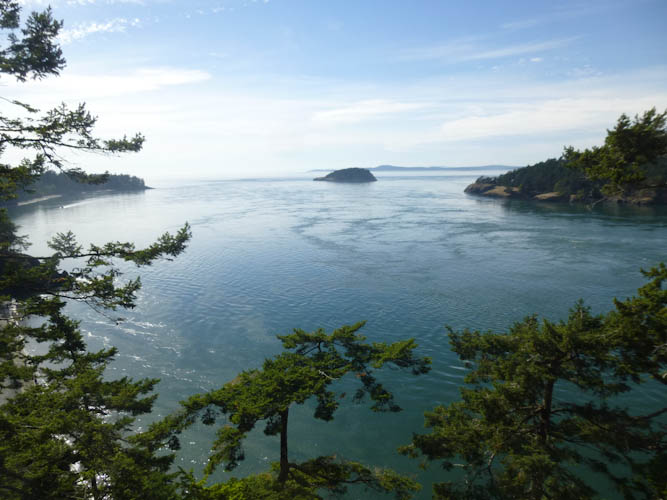 Last days of visiting friends in Seattle, Portland, and Albany.
View of Seattle skyline from Gas Works Park.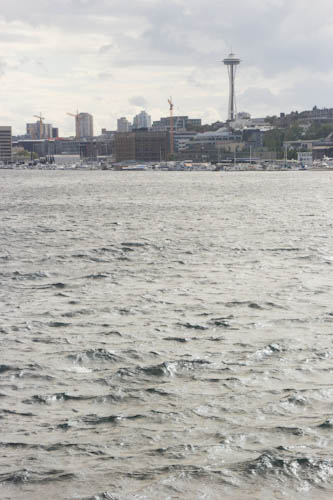 Fortunately, after making so weather-related last-minute changes on our previous adventure, this tour was planned as an experiment in flexibility. I had made lodging reservations only for the most competitive locations: Crater Lake, Sasquan itself, and Doe Bay Resort on Orcas Island. I had a plan for what to see each day, and how far to drive each day, and an idea of a town in which to sleep each night. I had reserved the Wizard Island boat tour, bicycle rentals for the Hiawatha Trail and Orcas Island, and the Puget Sound diving excursion. I had made definitive plans for visits with friends on the last weekend of the trip. Other than that, everything was open and amenable to last-minute revision.
This looser-than-usual plan served us very well. I would not try it in a more densely populated place, such an anywhere in coastal California. The plan depended on the fact that most of our destinations were out in the country. Even so, the plan worked much better on weeknights than on weekends. We ran into trouble when we tried to find a place to stay in Bend, Oregon, at 19:00 on a Friday night, during an inconveniently-scheduled brewfest, after having been without cell phone signal all day. We ended up paying much more than we should have, and I made sure to make a reservation for the following night immediately. I think we used our federal interagency pass enough to justify its cost, but I do wish we'd purchased our Washington Discover Pass sooner. Planning for more state park visits would have been better. Also, for maximum flexibility in a situation like this, be sure to bring your passport.
Eric noted that we slept in an unusually wide variety of accommodations on this trip. Our accommodations ranged from Motel 6, to slightly better chain motels that still fell into the category of what Eric describes as "pizza chain keys lodging," to a non-chain motel where we essentially had an efficiency apartment, to our tent, to friends' houses, to an extremely classy historic hotel, to a yurt.
One very positive development to come out of this trip was a solution for the miserable lower back pain I always experience in beds that are too soft (i.e., nearly all hotel and motel beds, even those in very high-end hotels). One night, we didn't have enough extra pillows for me to put one under my knees, and I substituted a much larger duffel bag instead. Magic! No pain! This solves a major vacation problem.
Now that I've eliminated my back pain, I could travel forever. There were only a couple of things I missed about being home: my little black kitty purring next to me as I went to sleep every night, and reliable wi-fi. At the end of the trip, I wanted very much to keep going, not to return home.
The lack of reliable broadband was a major problem. We all have become accustomed to instant answers to such questions as: "What is the best deal on lodging in the next town?" "What is there to see at this state park here?" "How cold is it going to be tonight?" "What is the schedule for the ferry back to the mainland tomorrow?" When we grew up without the World Wide Web, we had other ways of answering those questions. There were pay phones with directories, almost all gone now. The clerk at the camp store that sells firewood would have schedules for the ferries, a prediction for the weather, and a smile. Now, he just stares at you and says dully, "Uh, I don't know, you could look it up on the web site." Furthermore, irritatingly, the FTP client that I use to upload our web pages does not work with mobile tethering. Access to the web has become essential. While cell signal will surely continue to become more reliable in the future, at the moment, I am jealous of Verizon customers.
Our Pacific Northwest 2 tour was amazing in spite of everything. While so many things did not go according even to the relatively loose plan, we did have great adventures, and particularly saw a great variety of waterfalls. Sadly, the wildfires mean that there will probably not be another Pacific Northwest WorldCon for quite some time. It's a shame, because there are so many exciting places to see in this wondrous area. We look forward to PNW3, when Eric believes yet another thing will prevent us from riding the boat at Crater Lake.
Distance driven: 5,393.7 km/3,351.5 mi
Special thanks to Eric for doing most of the driving, making the production of this website possible.
---