---
Lopez Island
September 8, 2010
---
We spent a day riding bikes on Lopez Island. We chose Lopez over San Juan and Orcas Islands for its cycling, geocaching and wildlife viewing (both avian and marine mammalian) opportunities, as well as promised excellent views of Mt. Baker.1

What an experience! This was one of our more exciting days. Visiting the absolutely amazing scenery on this island involved a great deal of logistic ingenuity and flexibility. We had some moments of difficulty, but I managed to work everything out. The experience of visiting a remote place, where services and transportation are few and far between, is intriguing. The reward for handling the difficulties is seeing a beautiful place where you (honestly) don't have to lock up your bike. For hardcore city dwellers like ourselves, it was both frustrating and thrilling.

We had intended to camp in beautiful Deception Pass, but once again, we retreated from the weather into a motel. This time I was probably just being wimpy, but I had really had enough of being cold. The unexpected cold weather added significantly to the costs and difficulties of the trip. For not too much money, though, we got an enormous room.

One whole bedroom in the front, then a kitchen, then another whole bedroom in the back.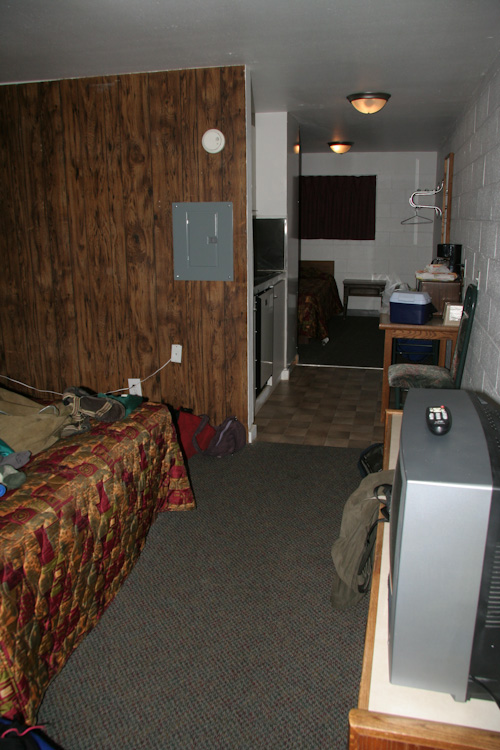 Although we spent much of the ferry ride trying to manage logistics, we did see some beautiful views of the Puget Sound. Photo by Eric.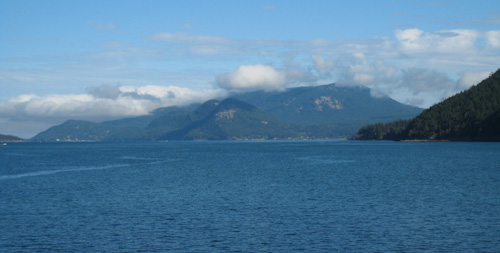 We met some older ladies, one from the Seattle area and one from Wisconsin, who had been friends since junior high school. They were out to spend three days on the island, cycling, kayaking and playing Scrabble. They had a 5" thick dictionary and a bottle of Jack Daniels for that last activity. They took our picture.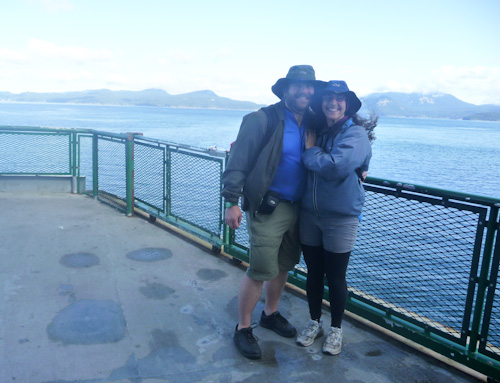 We picked up our bikes in this lovely marina. Photo by Eric.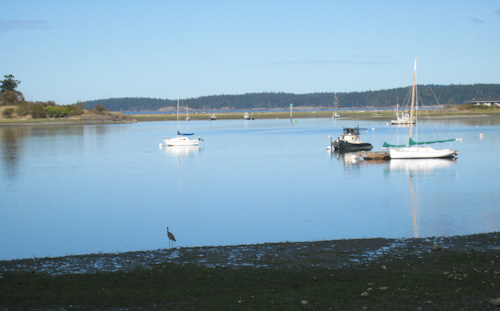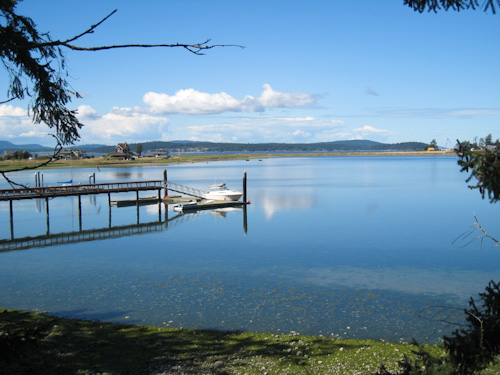 Decorated sunflower outside a restaurant.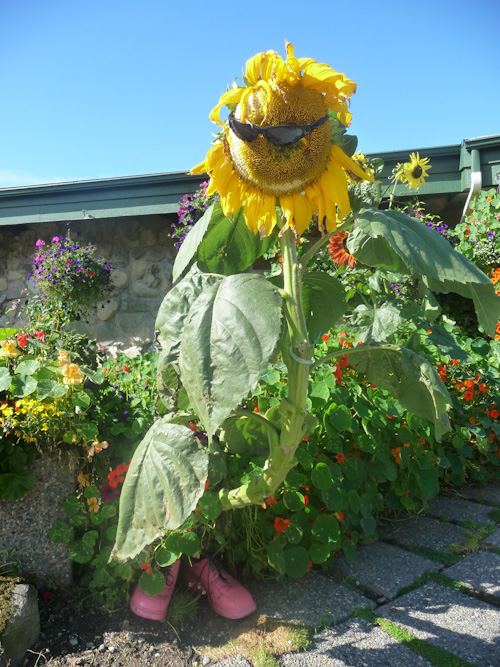 A yard decoration.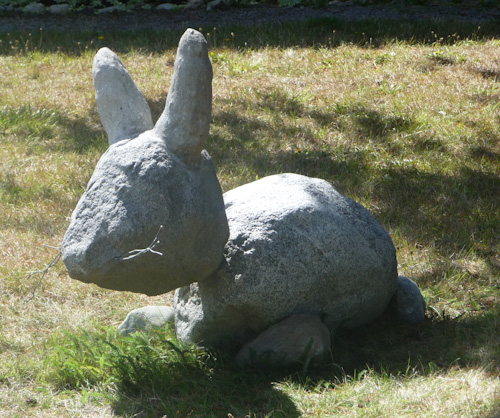 The absence of auto traffic made riding the roads an incredible experience. We exchanged waves with the few drivers we saw.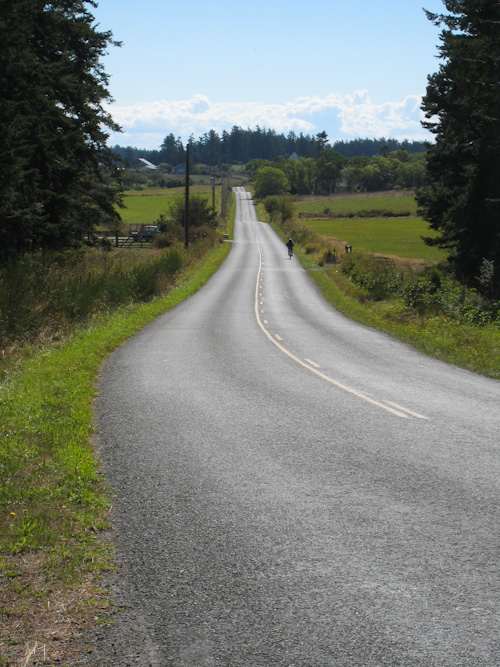 We rode through miles and miles of lovely fields like this.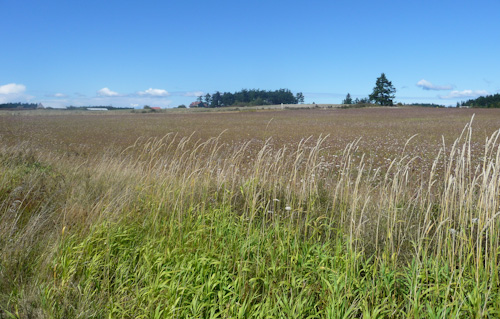 We left the bikes (unlocked!) to walk down a lovely trail to Shark Reef Sanctuary.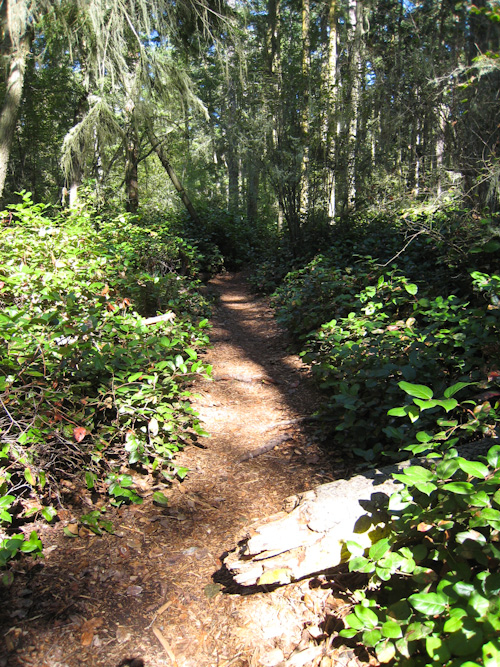 I saw a fascinating piece of wood on the trail.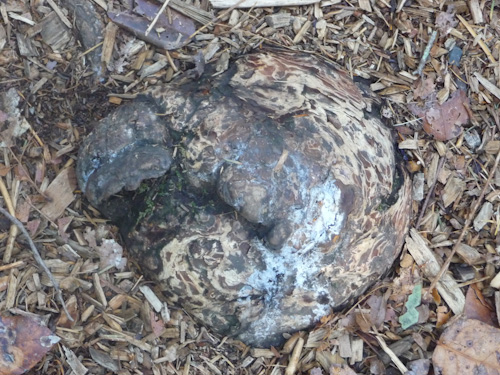 Shark Reef was one of the most beautiful places we've seen on the trip.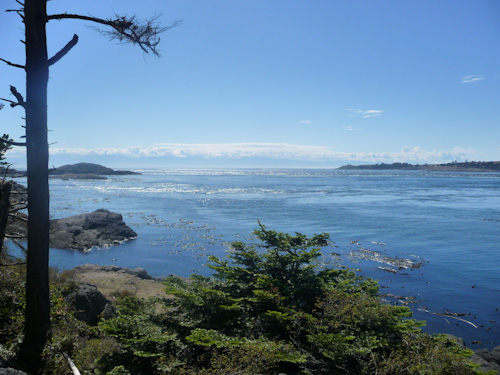 A lighthouse on San Juan island.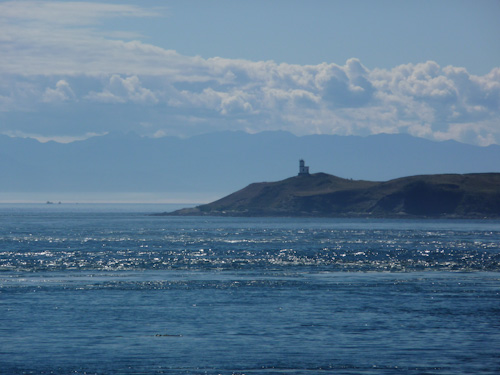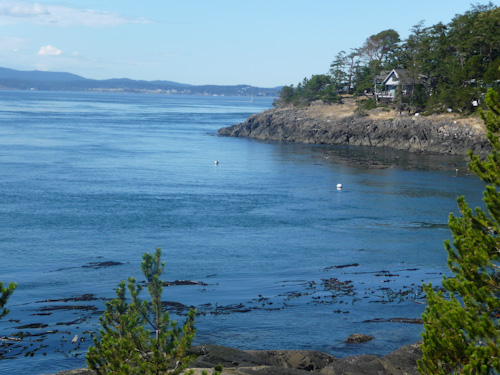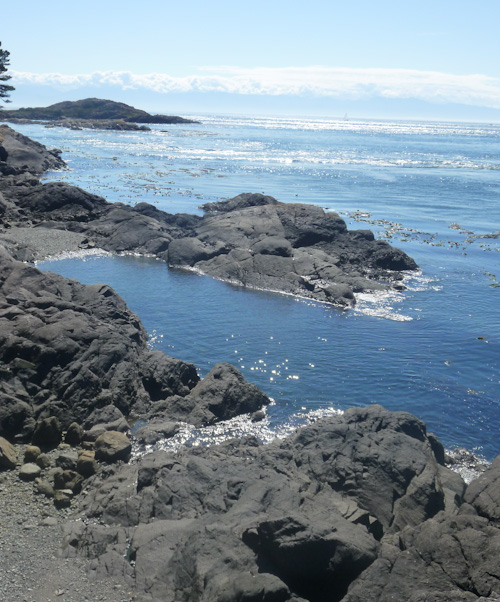 Deadman Island. Photo by Eric.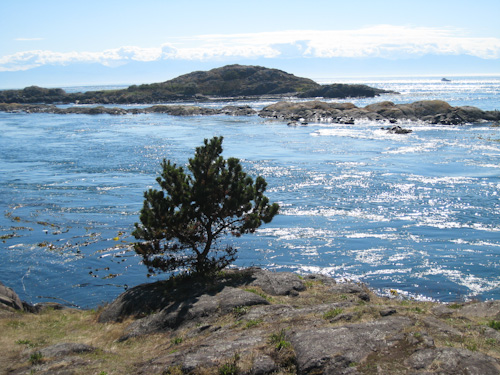 We chose this spot because Lonely Planet promised it was a good place to see marine mammals. We forgot our binoculars, but we did see a harbor seal!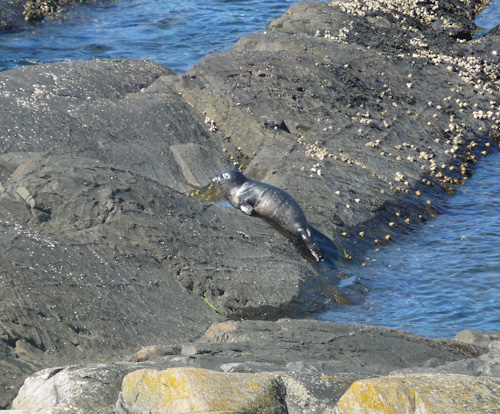 Deadman Island was covered with sea lions!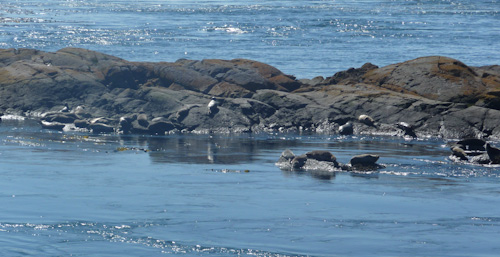 After our amazing visit to Shark Reef, we rode out along a private beach at MacKaye Harbor on the south side of the island.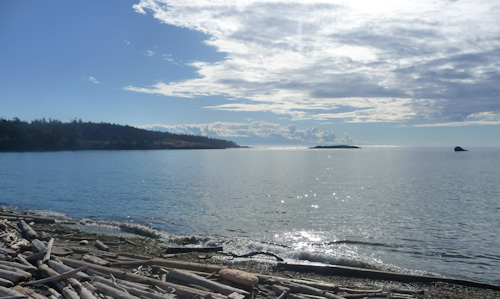 Turning inland, we saw another cute yard decoration.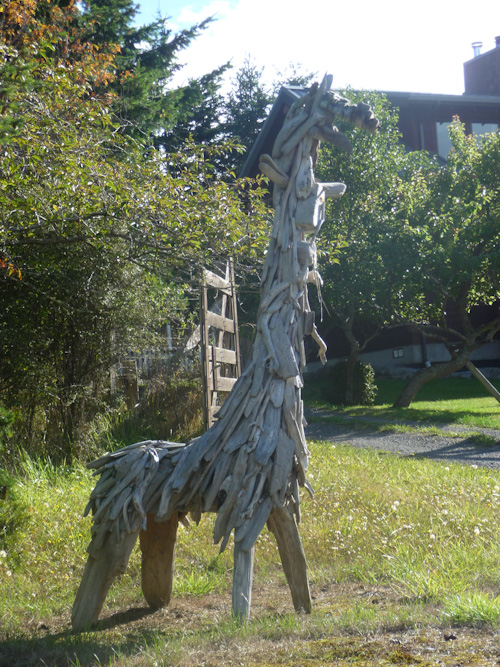 Paul Allen bought the end of the spit. This was as far as he would let us go.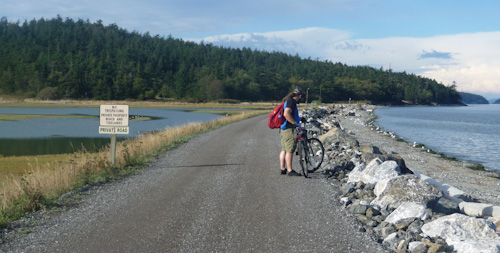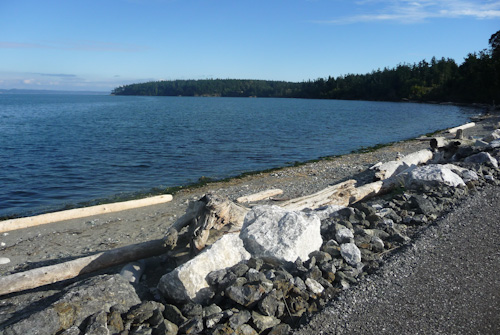 Eric took a picture of me on my bike.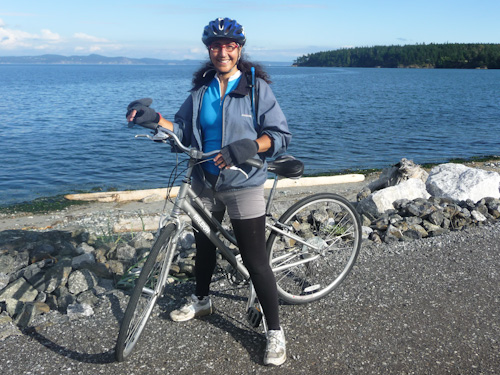 We were running out of daylight, so we had to skip Spencer Spit on the northeast side of the island, supposed to be a good birdwatching spot.
Back inland, we saw Mud Bay.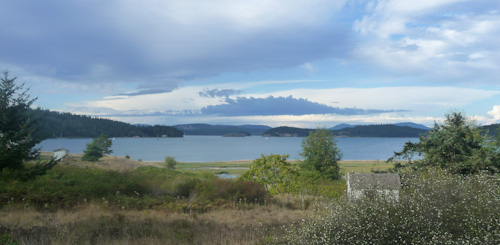 Out there in the farmland, we saw lots of barnyard animals, like this llama.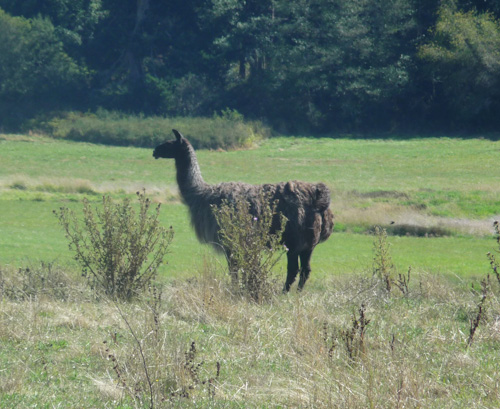 And these pigs.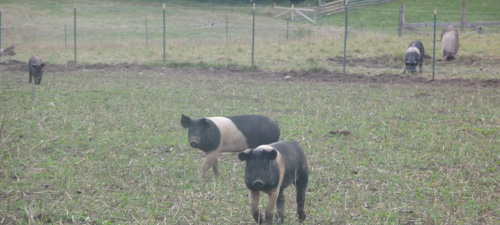 Of all things, there were Highland Cattle.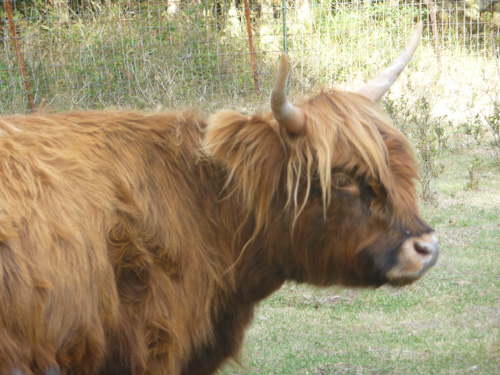 We stopped to have the fish fry and delicious fish tacos at Bucky's, but we shouldn't have. The service was very slow, and we had to ride back to the ferry in semidarkness. We had inadequate lights, but fortunately there wasn't much traffic.
On Tuesdays and Wednesdays, there is no 8:00 ferry. There is one ferry at 5:40 (way too early) and the next one isn't until 9:10. We sat there for almost an hour waiting for it.
The logistically difficult island was still well worth the visit!
Today:
Distance cycled: About 35 mi (56 km)
Caches found: 4
Cumulative:
Distance driven: 1,788 mi (2,878 km)
Caches found: Eric, 28, Beth 26
1Lonely Planet's Cycling the USA West Coast
On to Olympic National Park.
---