---
Oregon Coast, 2020 Trip
Saturday-Monday 15-17 February, 2020
Eric at Fort Clatsop.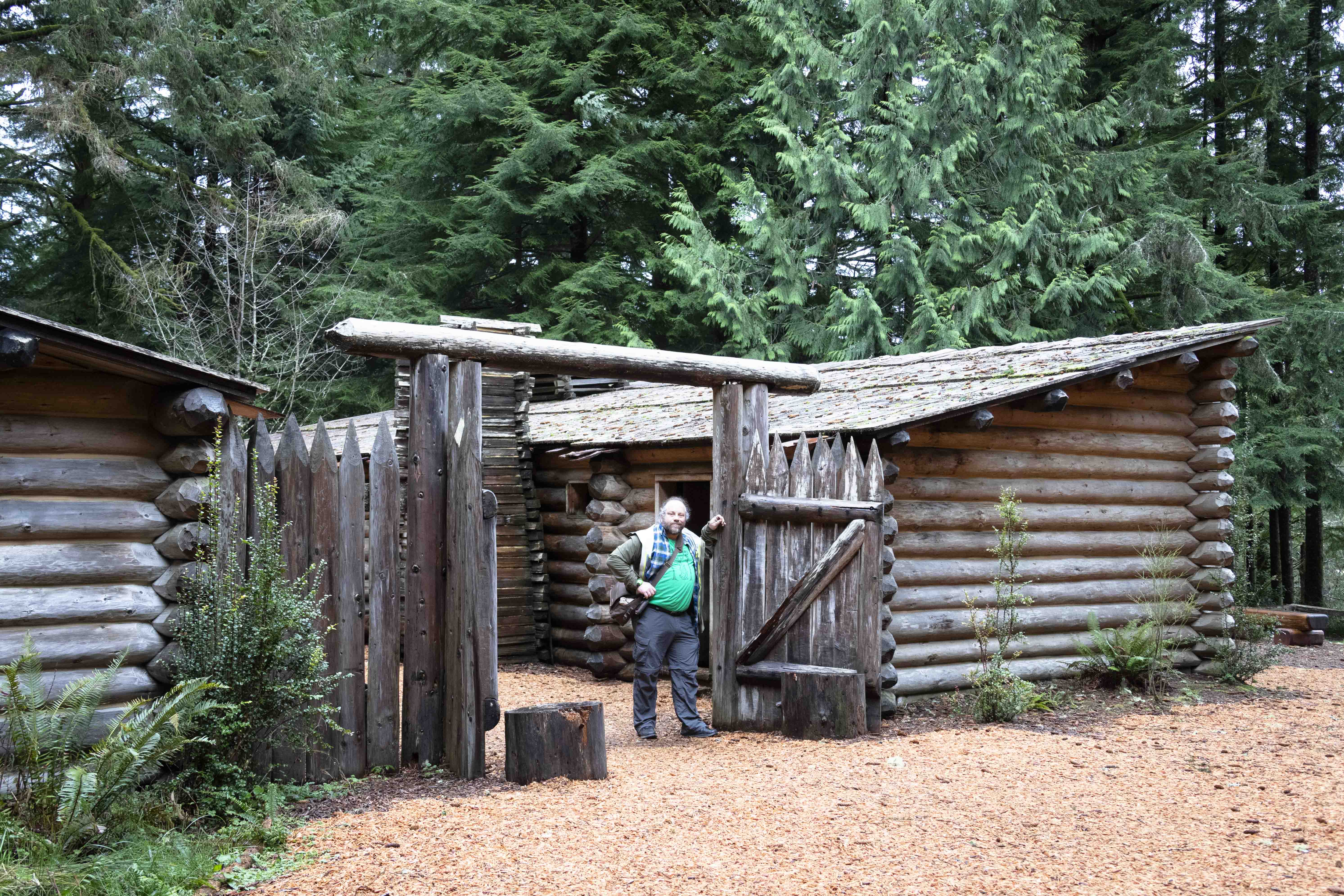 This was the first Oregon trip we would make following the departure of Miranda and Charlie, who had hosted a gaming gathering for us on our annual visits since sometime in the 1990's. We look forward to visiting the Princes at their new home in Chicago when we go there for WorldCon, but in the meantime, we miss them in Oregon. To give us more time in Portland, we decided to do the trip in the opposite direction, going to Portland first, then out to the coast, and swinging back around through Corvallis on the return south.
This year's Oregon visit was marred by much more than the absence of Miranda and Charlie. Eric had caught a cold at Arisia a month before and was still sniffling. I had come down with it on my birthday, February 3, and was still coughing. To add even more trouble, cause major delays, and prevent us from having any fun, my antiquated two-year-old Android had begun to exhibit signs of serious problems, such as starting in safe mode on reboot about half the time. In an effort to spare myself much of the agony I had gone through the last time my phone failed (when, in desperation, I used a temporary throwaway phone for several days and thus lost a considerable amount of data), I decided to replace my phone before it became entirely inoperable. Foolishly, I thought that, with six hours of nothing to do but sit in a car with Eric driving, I could smoothly migrate all of my data from one phone to the other and spare myself the pain of having to spend the next several days re-setting everything up again.
How could I ever have gotten such a ridiculous notion? Even though I spent much more time than that, continuing the process until bedtime, I was only able to migrate most of my data. I continue to turn off notifications, one app at a time, and every time my new phone sings out with a new unauthorized notification, I try to tell myself I saved $400, even though I want to scream.
Thus, we didn't take any pictures in Portland. We had wanted to stop at Rogue Creamery on the way up, but blew past Medford before we figured out that was where it was. We spent so much time stopping for Eric to try to help me with the phone that it was starting to get dark by the time we got to Portland. We barely had time to find a geocache in the rose garden in Washigton Park before it was time to meet Brian, Emily, and Susie for a Thai dinner. We spent the night with Grant and Carly, and somehow didn't even take any pictures of the beautiful Bella. They took us to La Provence for an amazing breakfast with lovely croissants. But I was slow getting going because I was using the wi-fi to download the apps that did not transfer automatically and administering various inhalants for my cough. We didn't head out for the coast until 12:30.
So, rather than hiking or finding any geocaches at all (we searched for a couple that we failed to find), we visited historic Fort Clatsop at Lewis and Clark National Historical Park. This is the national park site where, hungry, exhausted, and stricken with dysentery, Lewis and Clark and their Corps of Discovery spent the winter of 1805-6. Americans are all taught that, following the purchase of the Lousiana Territory in 1803, Thomas Jefferson sent Lewis and Clark to explore the territory and find out just what, and how much, the young nation had bought. The deal with France had specified the drainage of the Missouri River, but no one knew exactly where the source of the Missouri River was. As a secondary goal, Jefferson asked Lewis and Clark to find out whether the Missouri connected with the mighty Columbia. They had heard rumors that it was just a short portage between the two rivers.
The Park Service volunteer at Fort Clatsop put the Louisiana purchase in a new context for me, pointing out that Napoleon sold the territory to Jefferson to raise money to fight his wars on the European continent. Eric asked the man where the fledgling United States had come up with the cash with which to pay Napoleon, and the man said that it did it the same way governments always do.
The volunteer painted a picture of the Corps of Discovery, having discovered not the short, easy portage they had expected between the Missouri and Columbia Rivers, but rather the Rocky Mountains, arriving at last on the west coast of North America in December, knowing they would be unable to go home before spring, because they wouldn't be able to cross those mountains again in winter. They had to build some barracks and settle in for the winter.
Replica of barracks at Fort Clatsop.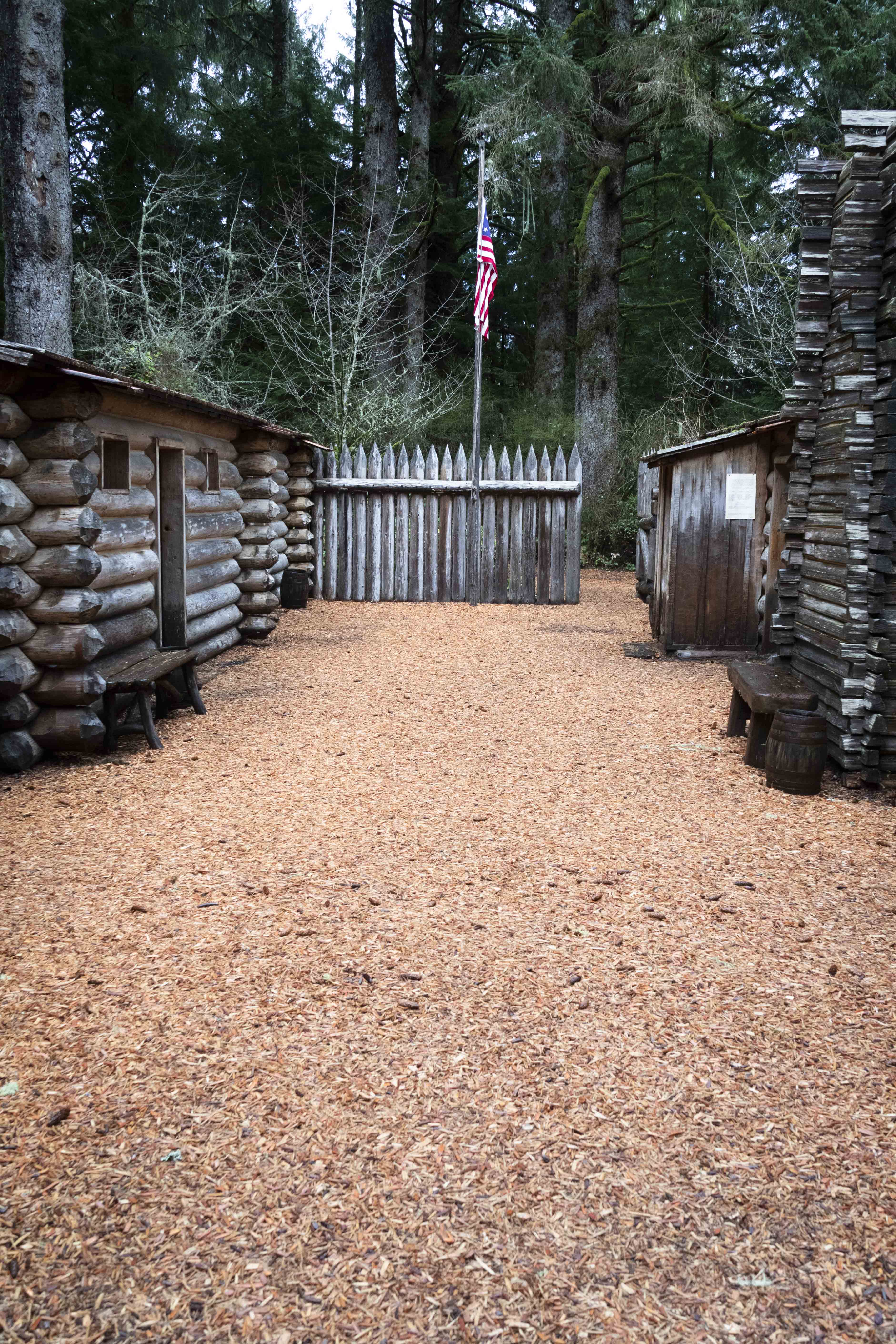 Many members of the Corps had dysentery, and the salmon were not running in December, so they had to kill elk and eat elk meat. There wasn't much else to eat here at Fort Clatsop. They were so hungry that the 33 people were eating an elk every day.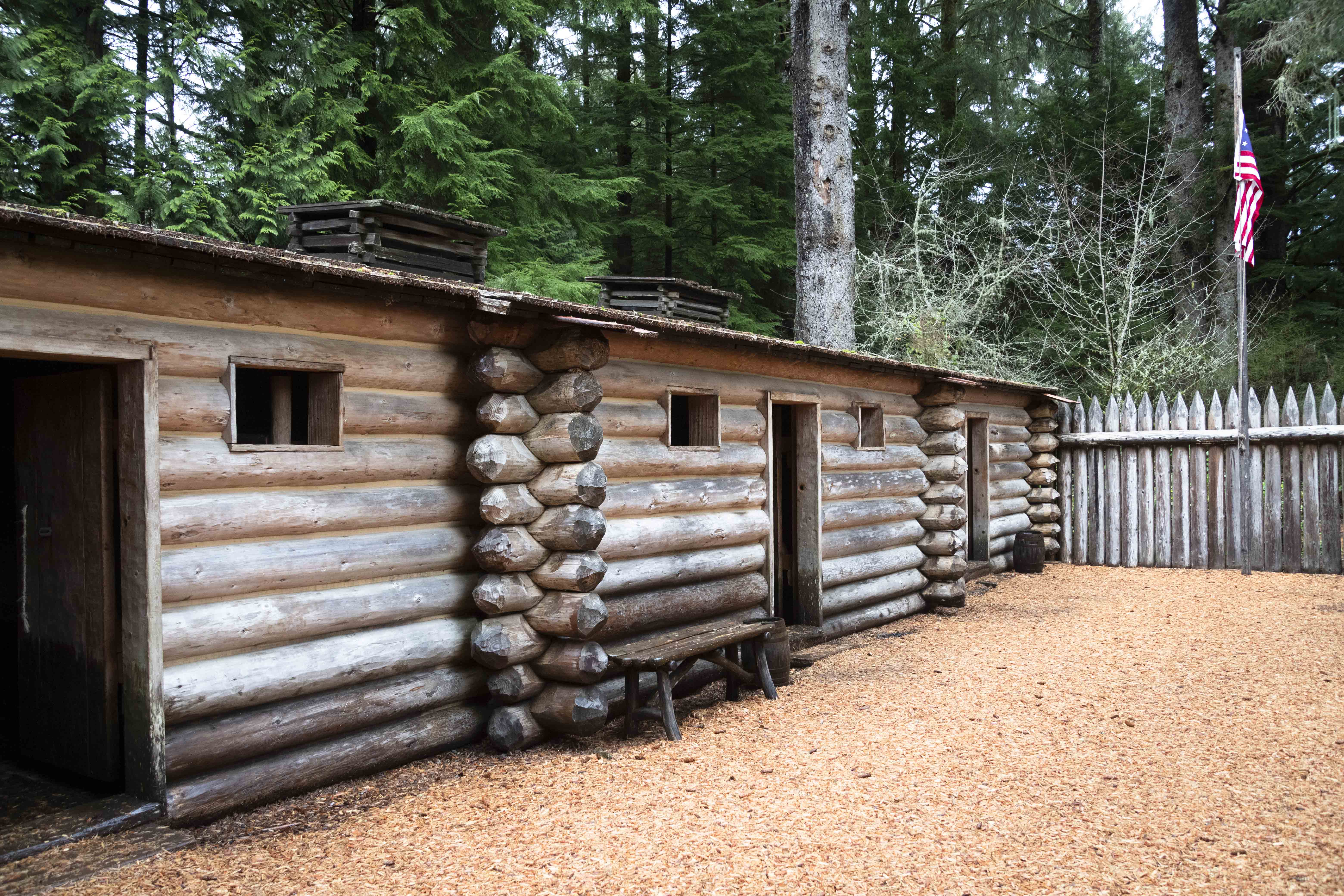 While this was nowhere near as adventurous as our usual coastal visit, our ongoing explorations of Lewis and Clark's route would have been incomplete without a visit to the place where they spent one of the winters of their famous journey.
For the sunset, we headed out to a somewhat rickety observation platform at nearby Fort Stevens State Park. The parking lot was under construction, and much of the beach was cluttered by a lengthy artificial breakwater. Photo by Eric.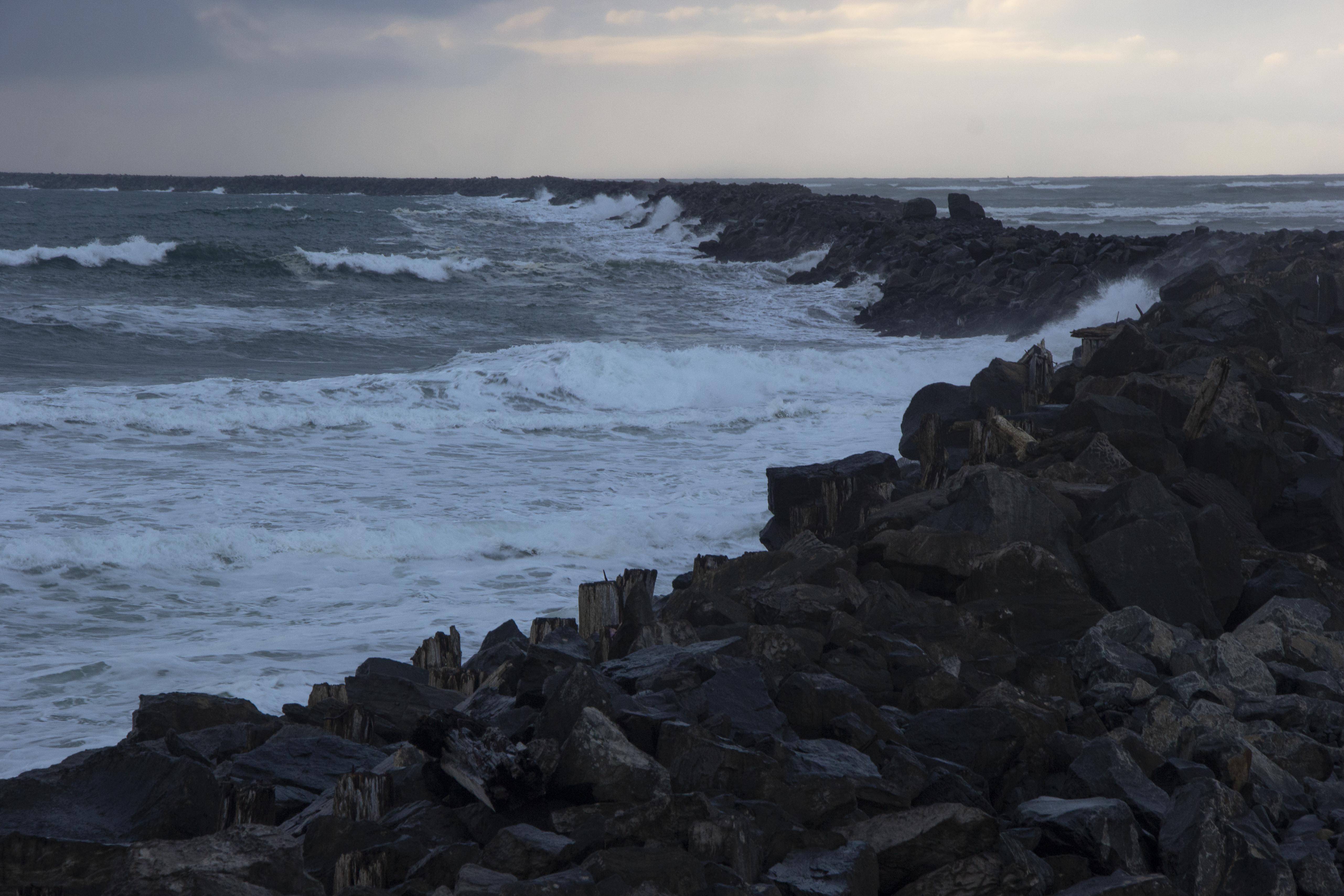 We could look across the Columbia at Washington. In other examinations, of American history, we are listening to Ron Chernow's biography of George Washington, and noticing how many places are named after him.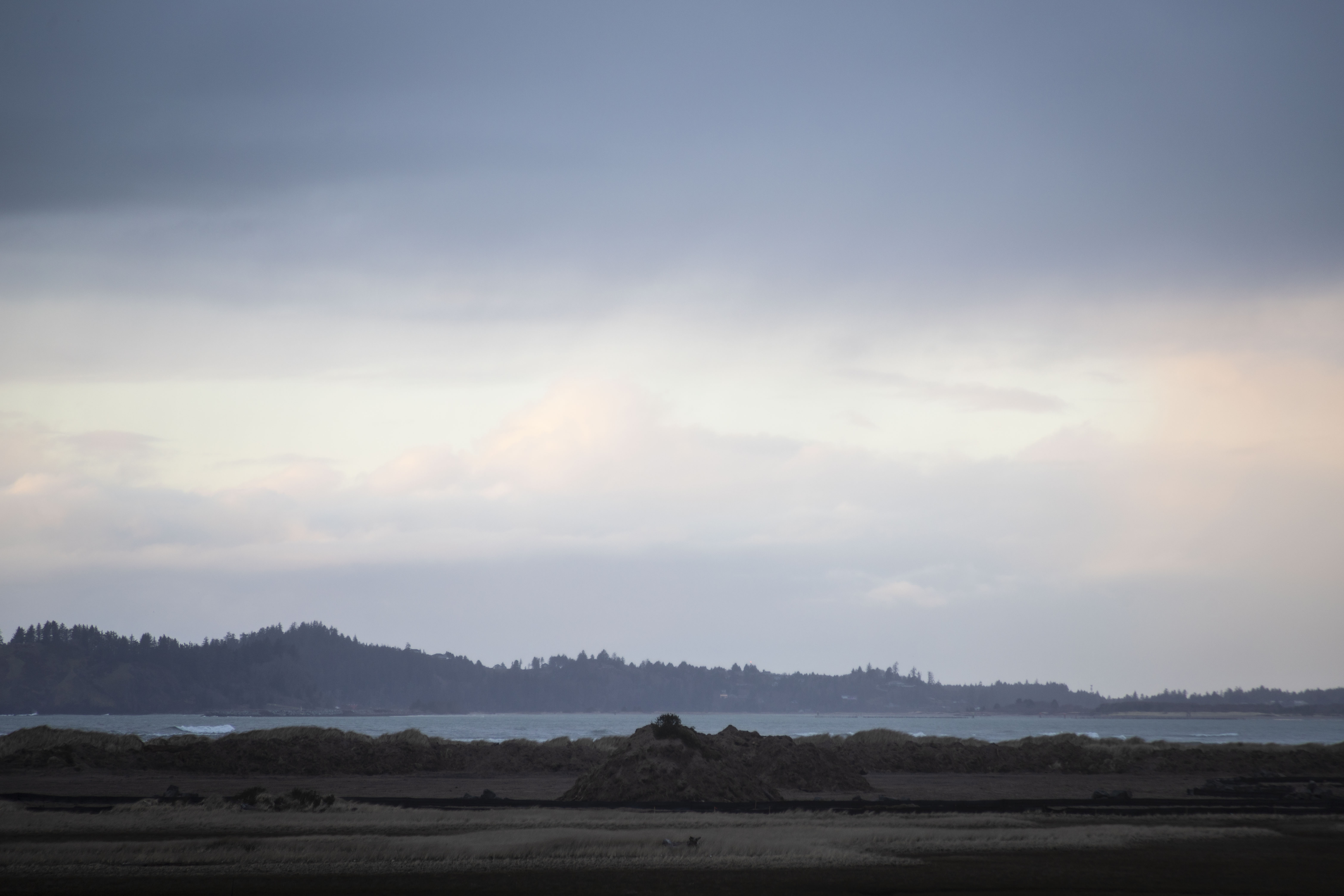 We didn't get much of a sunset, but given that it had been raining a few minutes before and I had been afraid we would get none at all, I was pleased to get even this much.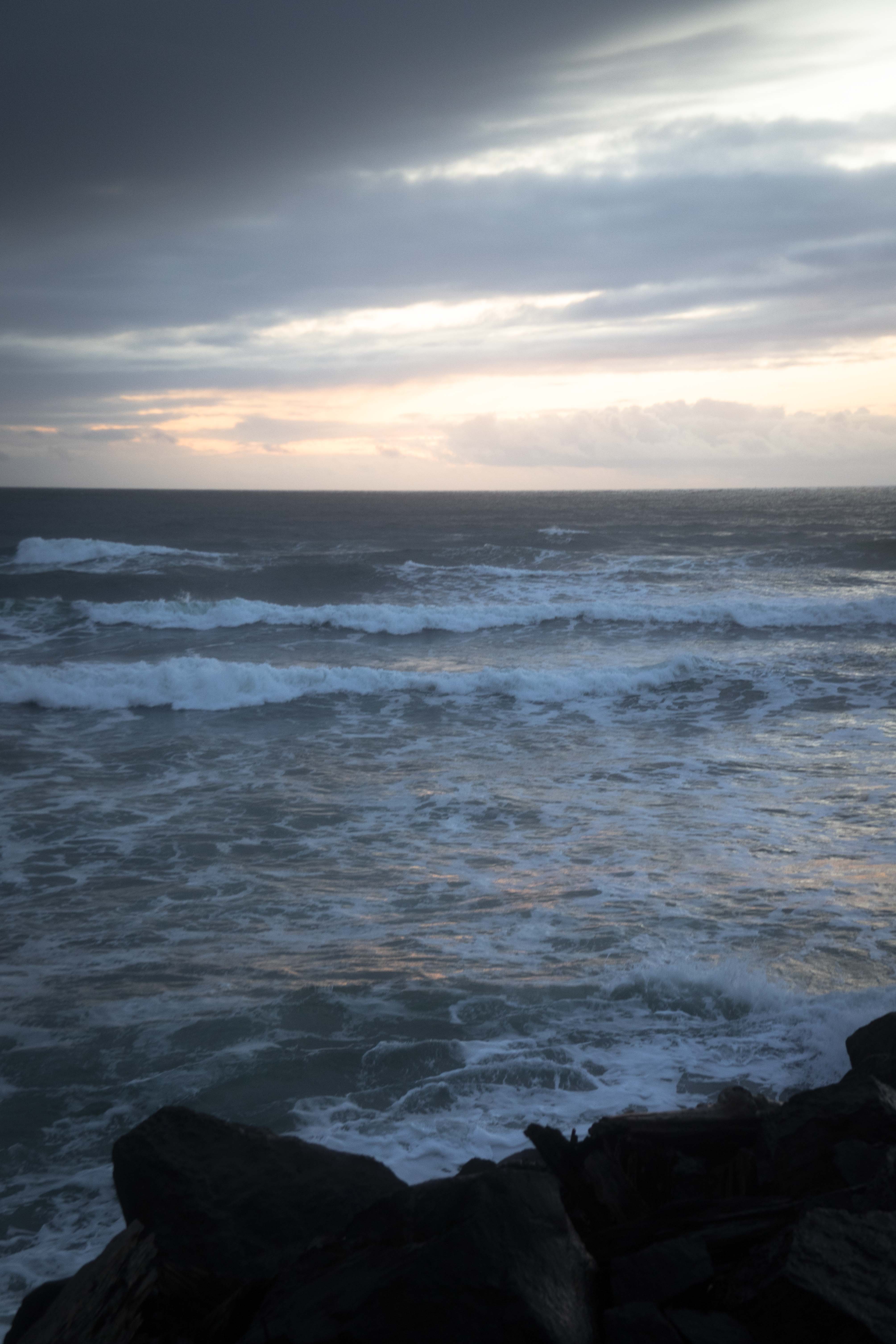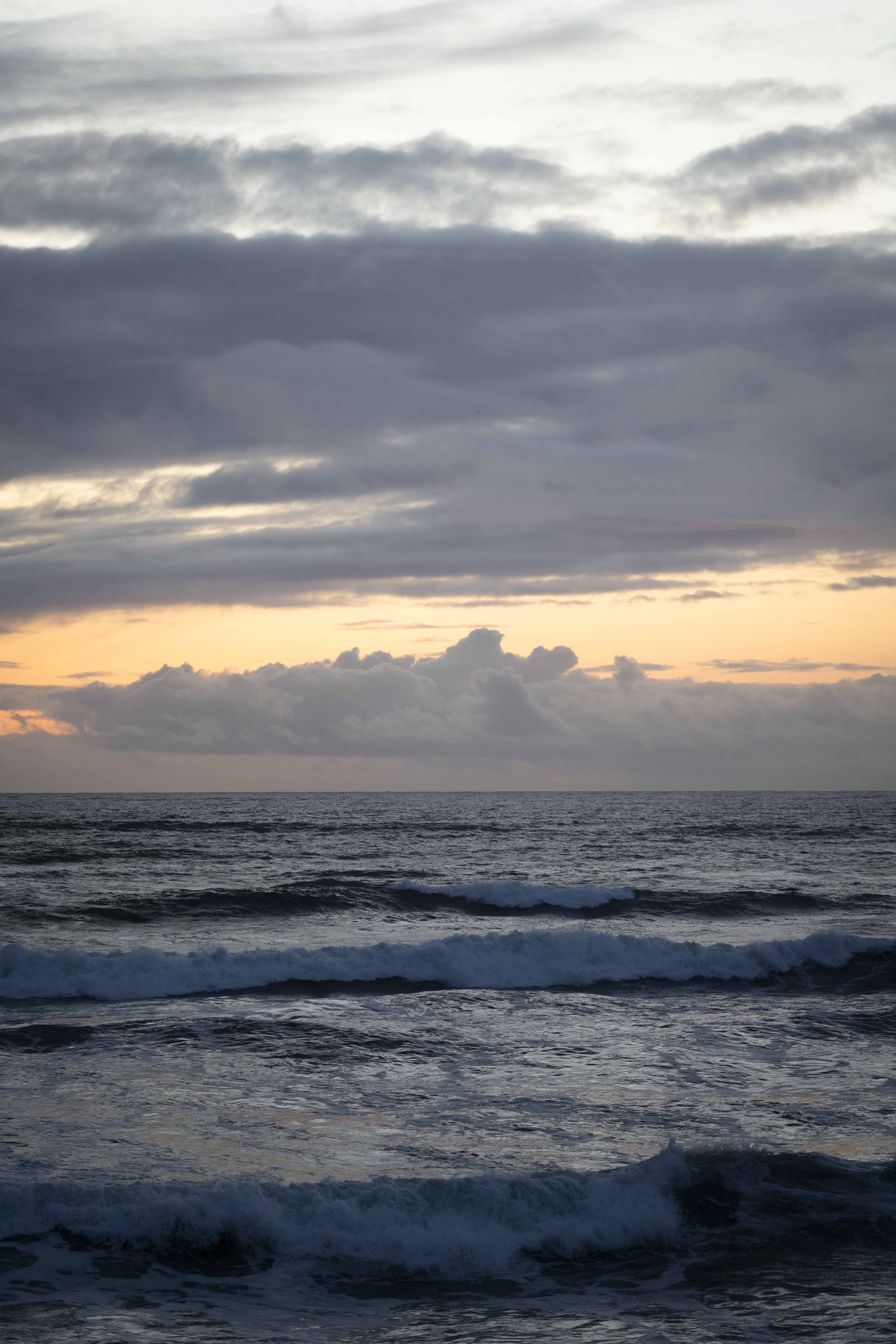 We got a quick look at the shipwreck in this park, but it was getting dark enough at this point, and the tide was high enough, that we didn't dare explore it too closely.
We headed down to Newport to spend the night at the home of our gracious friend Olga, who lent us her place even though she was down in the Santa Cruz area visiting her boyfriend Larry.
We were entirely seduced by the charms of Robbie, Olga's orange cat.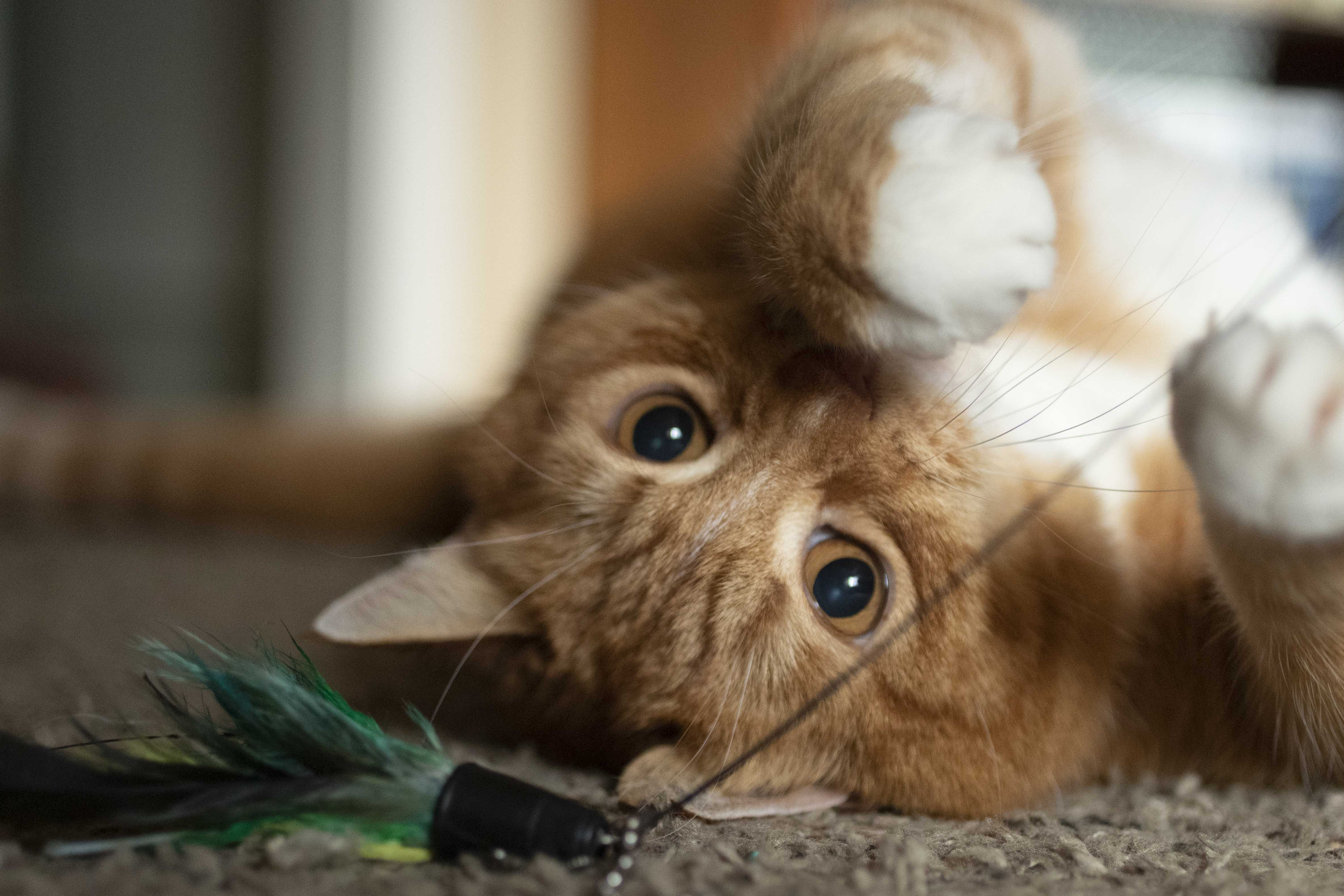 Robbie is superbly affectionate, quick with a purr, both tremendously loving and excitedly playful, never snapping even when Eric pets his tummy, a totally amazing cat.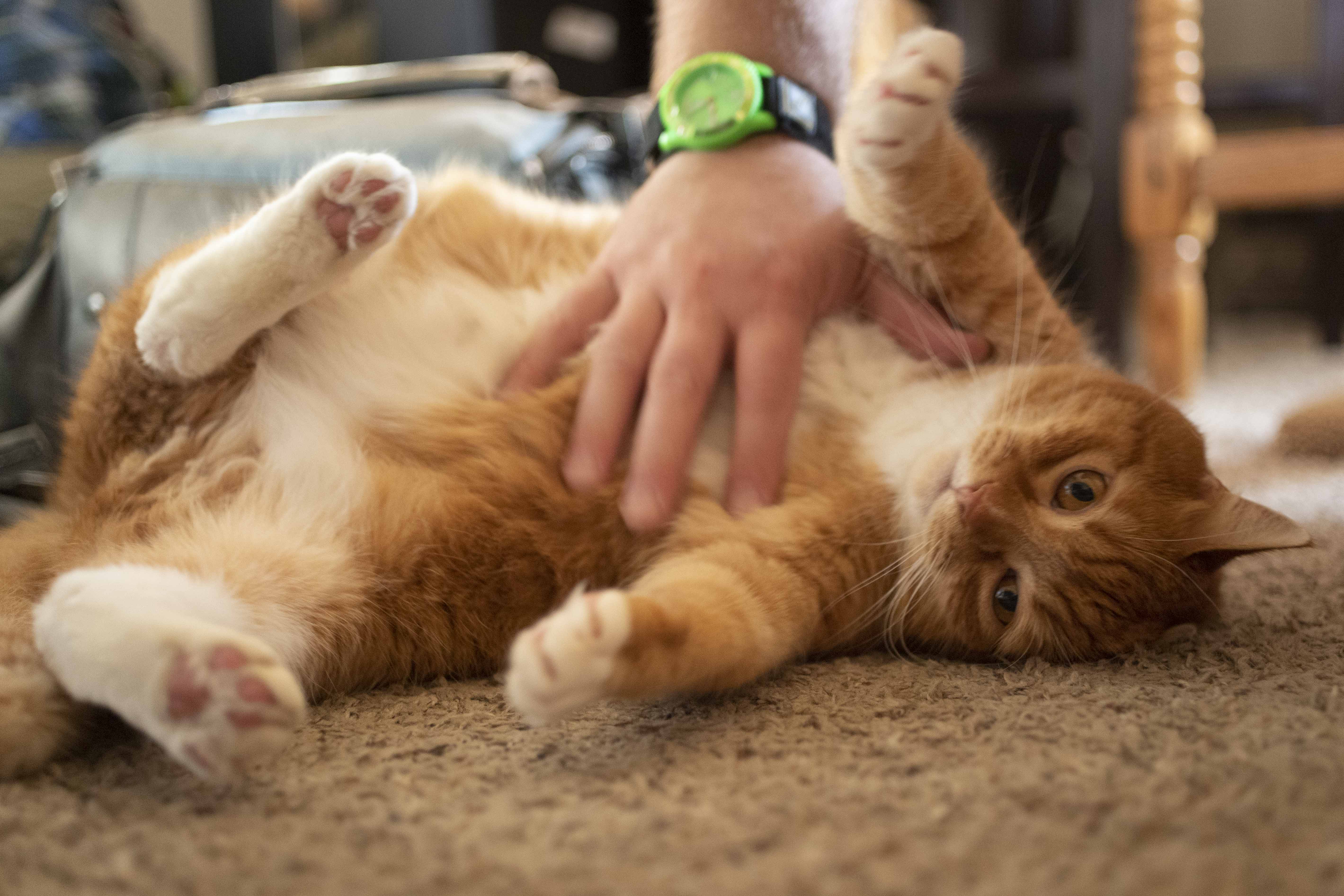 Our last Oregon stop was back in Corvallis, once the home of Mark and the epicenter of our visits, to have breakfast with Lars. Interzone unfortunately does not have its fabulous weekend breakfasts on holiday Mondays, so we went to another of Mark's favorite places, Nearly Normal's.
Lars took us on a short walk around Corvallis to see Mark's old place once again. I took a picture of a daffodil Mark had planted.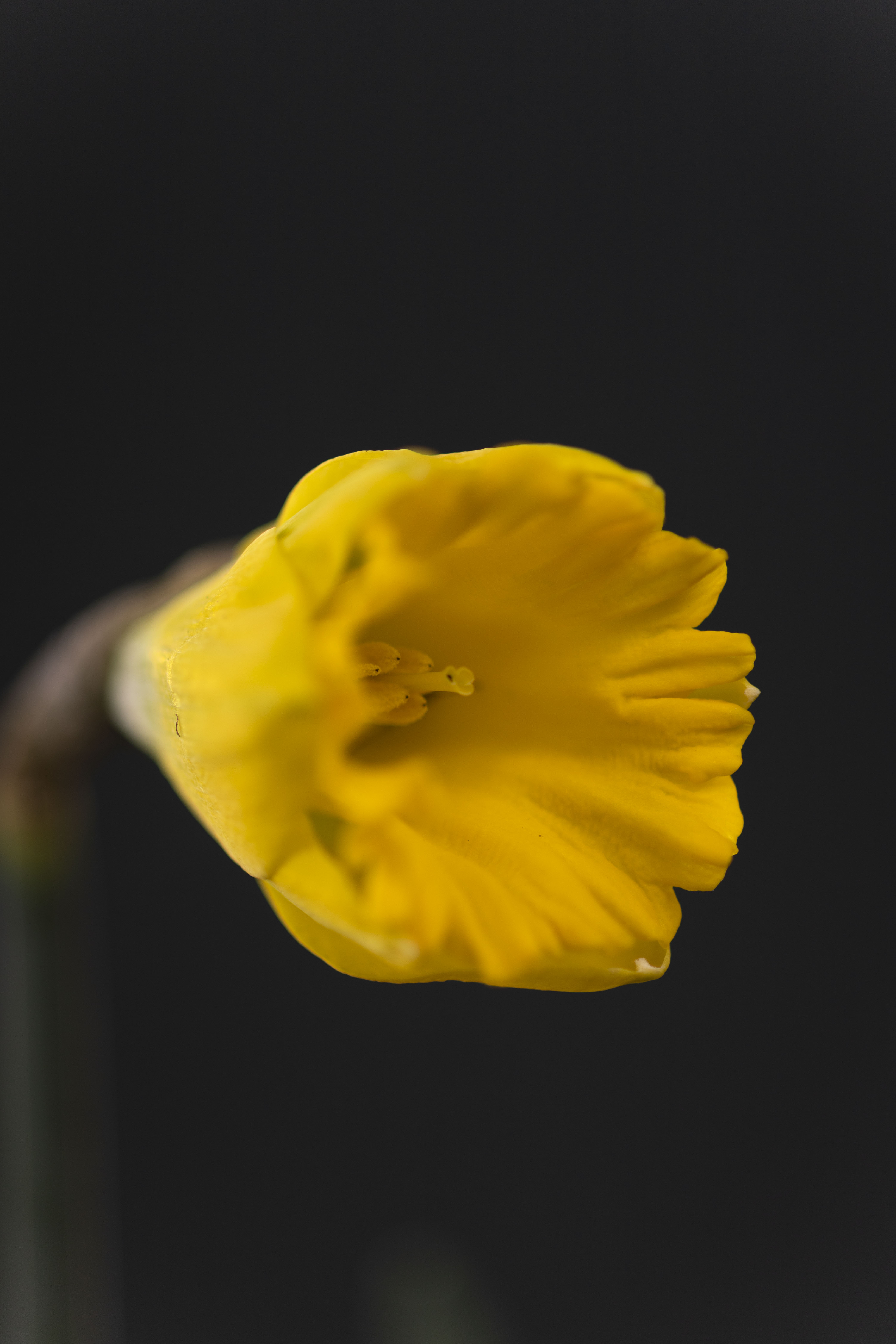 It was a good trip in terms of visits with friends, although ever fewer friends. But we felt very limited in terms of our ability to explore, and in that respect, it was frustrating and even sad.I hope that next year, we will not be suffering from these limitations.
The light on Mt. Shasta was just perfect as we drove past on the way home. I made Eric take a picture while I was driving.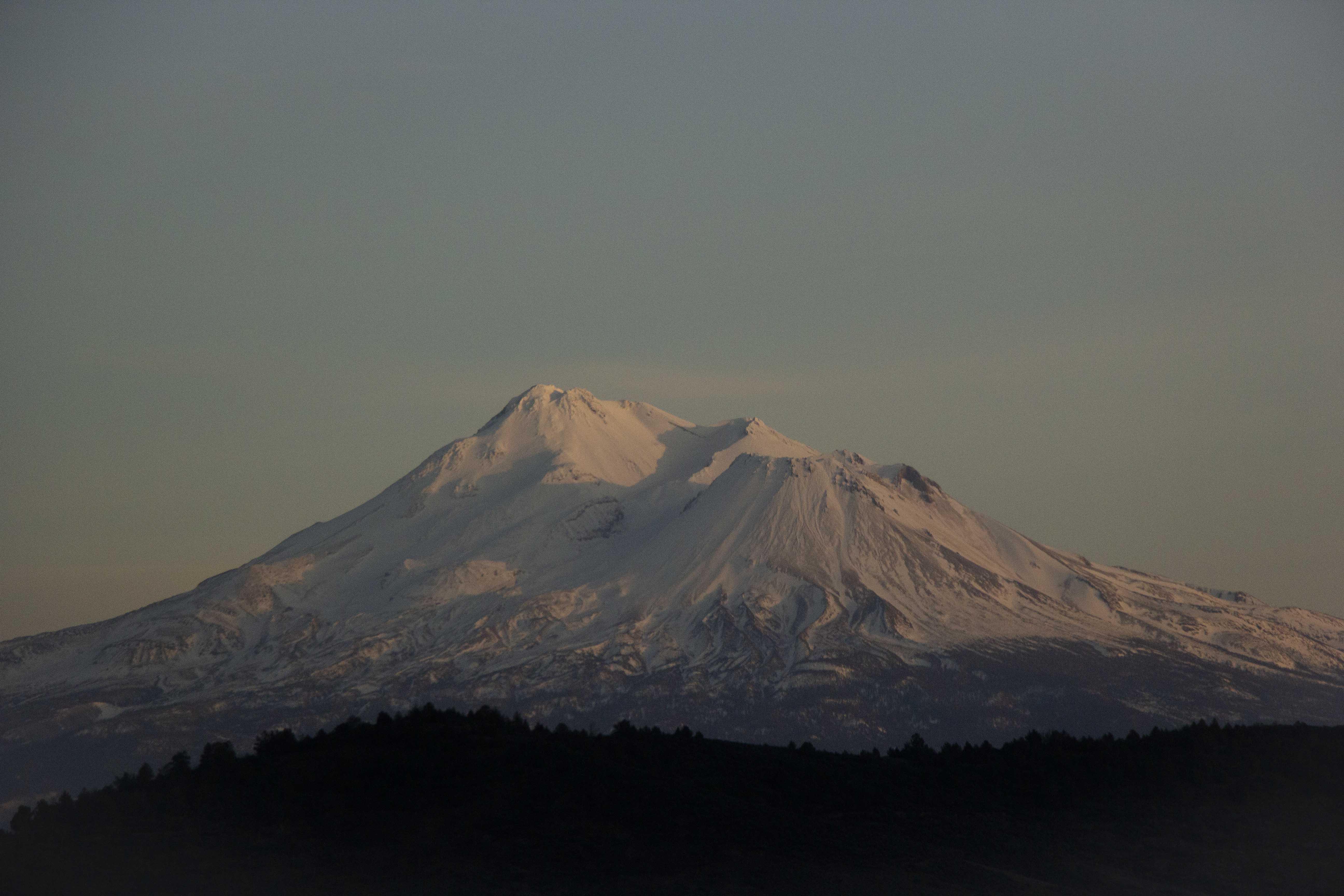 ---