---
Oregon Coast, 2017 Trip
Saturday-Monday 18-20 February, 2017
About our 2016 trip, I wrote: "Impenetrable fog! Treacherous mud! Dense brush! Precipitous cliffs! Incessant drizzle... poor photographic conditions..." Our 2017 trip was... more of the same, except there was true rain rather than just a little drizzle. This year, on the coast, we explored the Three Capes Scenic Route, from Neskowin to Tillamook. In spite of the suboptimal conditions, we hiked out to views of the unusual rock formations that make the Oregon coast so special, and checked out yet another pretty lighthouse. The dramatic coastline is so enchanting that it's taking us quite a few years to see it all, but there is only one more lighthouse that we have yet to see!
Cape Meares Lighthouse. Photo by Eric.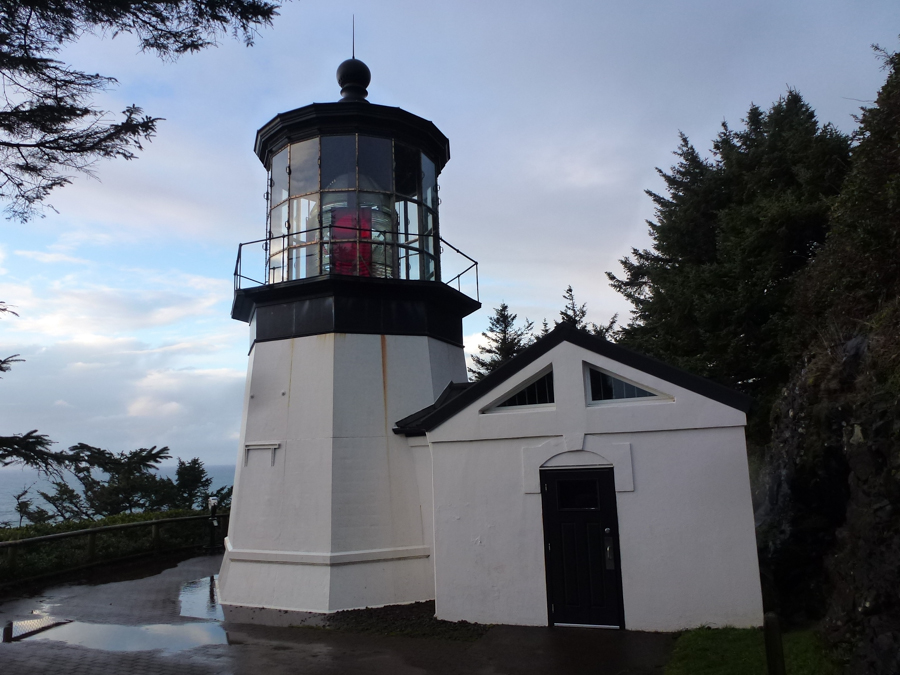 As usual, before our coastal explorations, we had a great day of gaming with our friends on Saturday. Eric took a picture of Charlie dressed for gaming.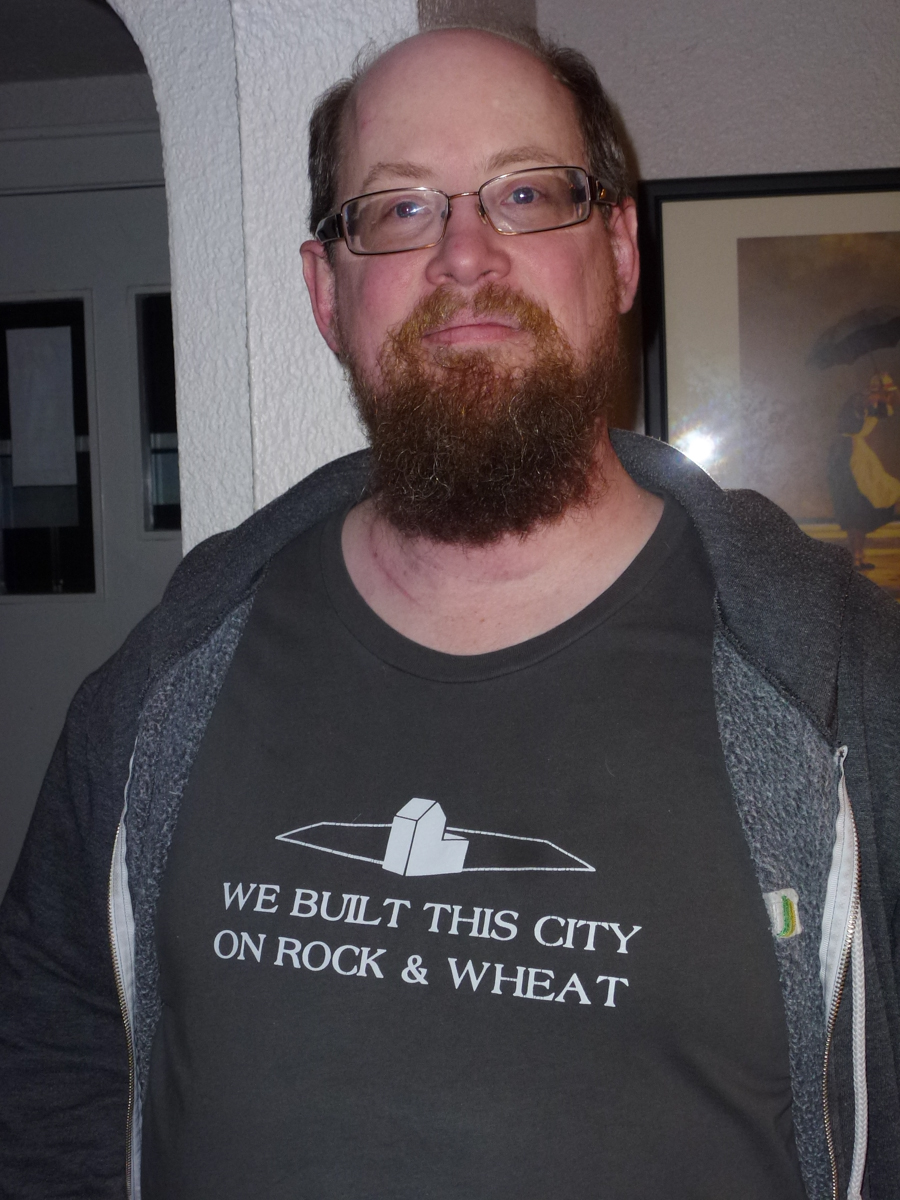 We had a lovely breakfast with Paul and Lars on Sunday. Eric took a picture of Paul (left) showing us his 1959 Rolleiflex, and Lars (right) showing us his portfolio of art.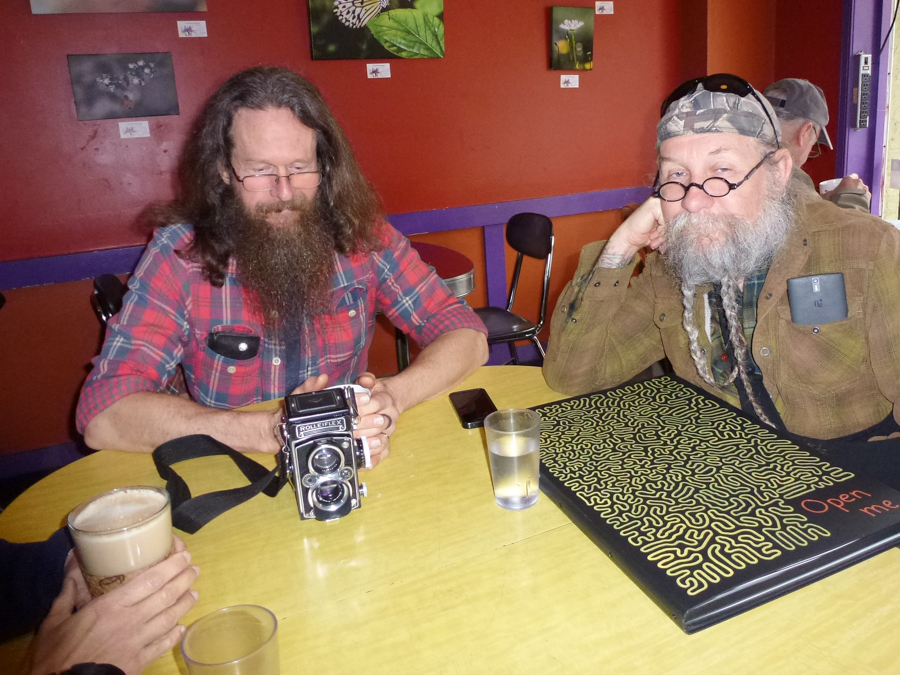 Eric took a picture of the sign for the Three Capes Scenic Route.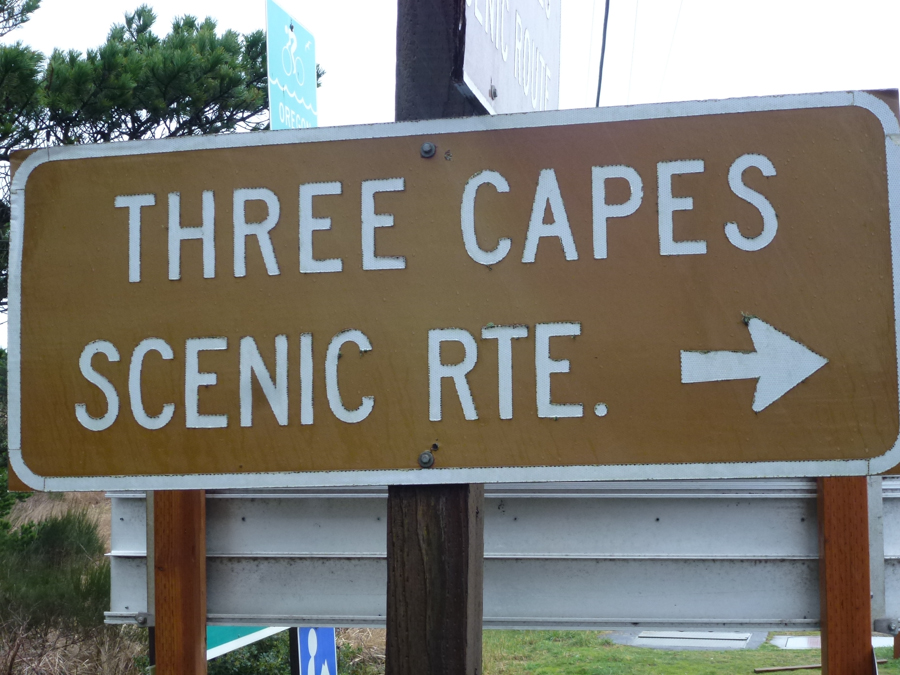 We stopped at Bob Straub State Park, which Eric took a picture of the relatively nondescript beach.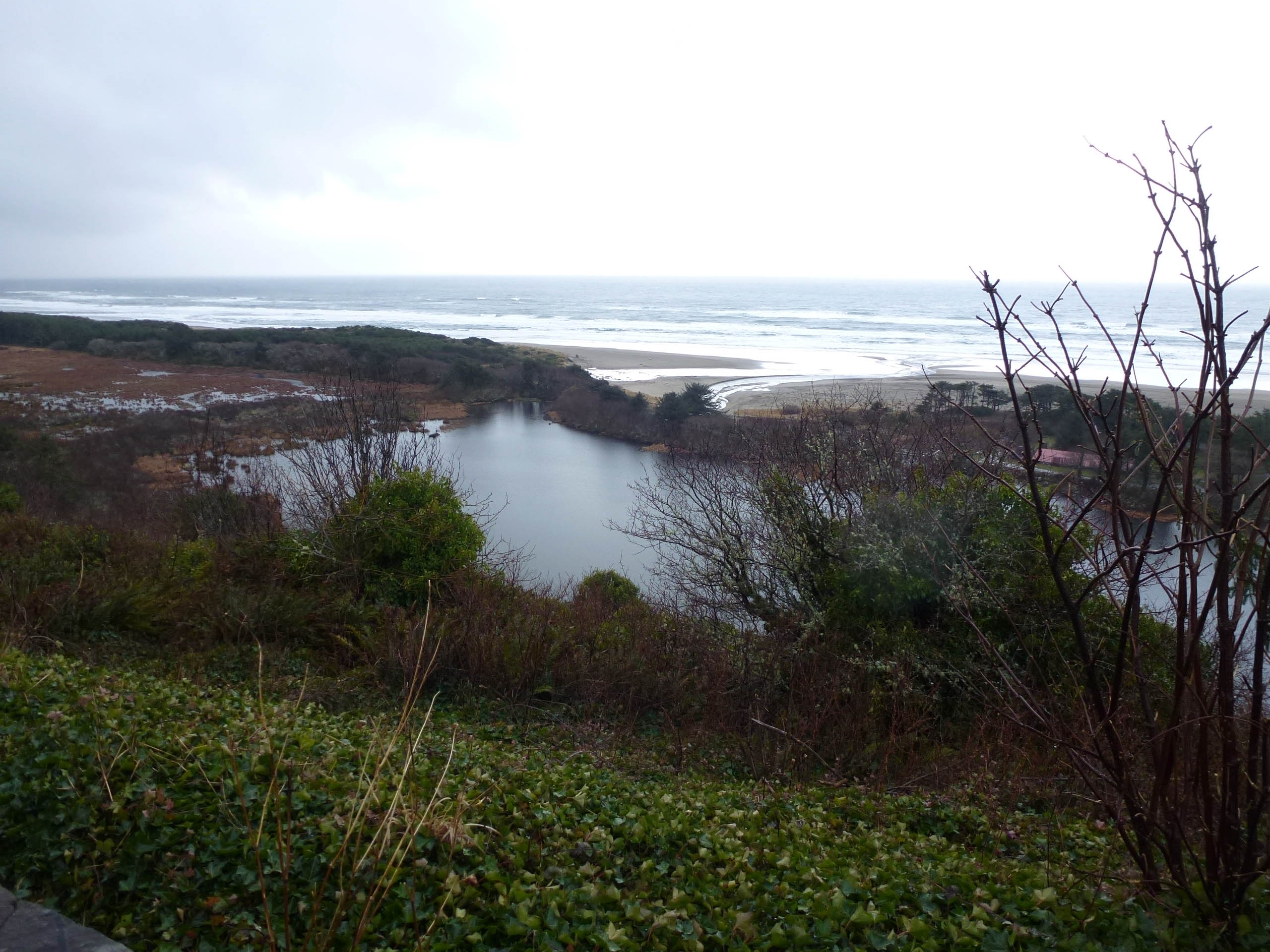 The southernmost of the three capes is Cape Kiwanda. We had intended to walk out to find a geocache there, but were halted by the trail conditions. So much water was coming down from the sky!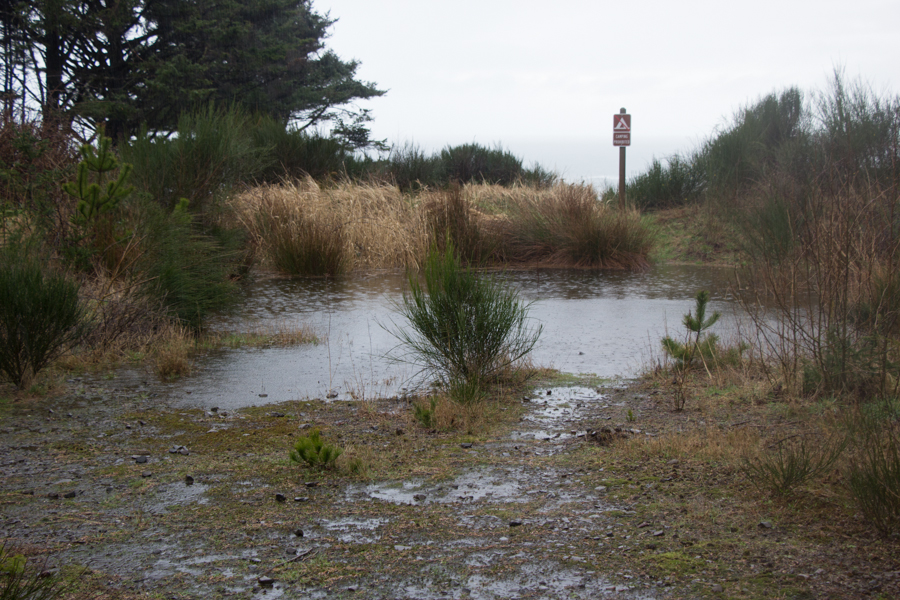 At the second cape, Cape Lookout (Cape Lookout State Park), the trail was on higher ground and so in much better condition. Eric took my picture hiking along, prepared for conditions in my water-resistant pants, Arctic Parka and Seattle Sombrero.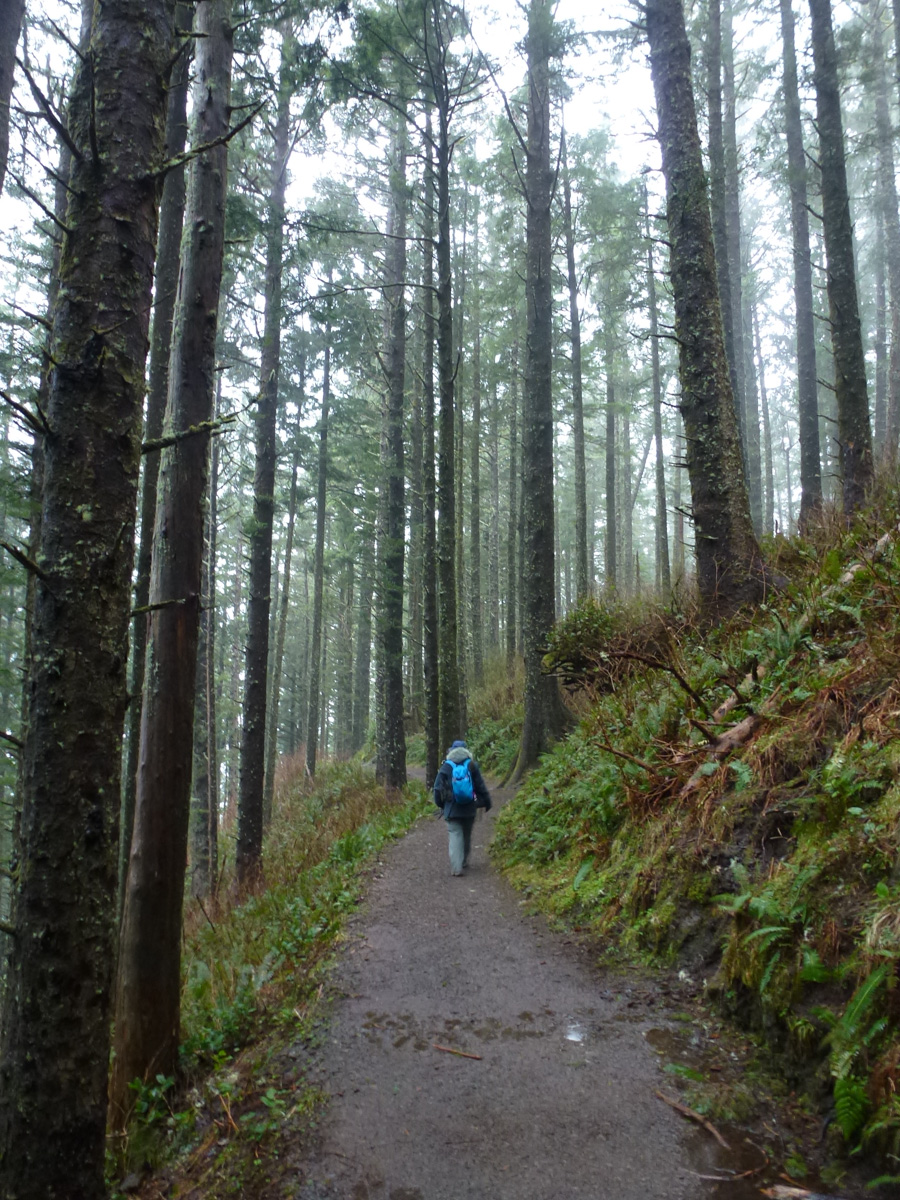 The trail overlooked the curving coastline to the south.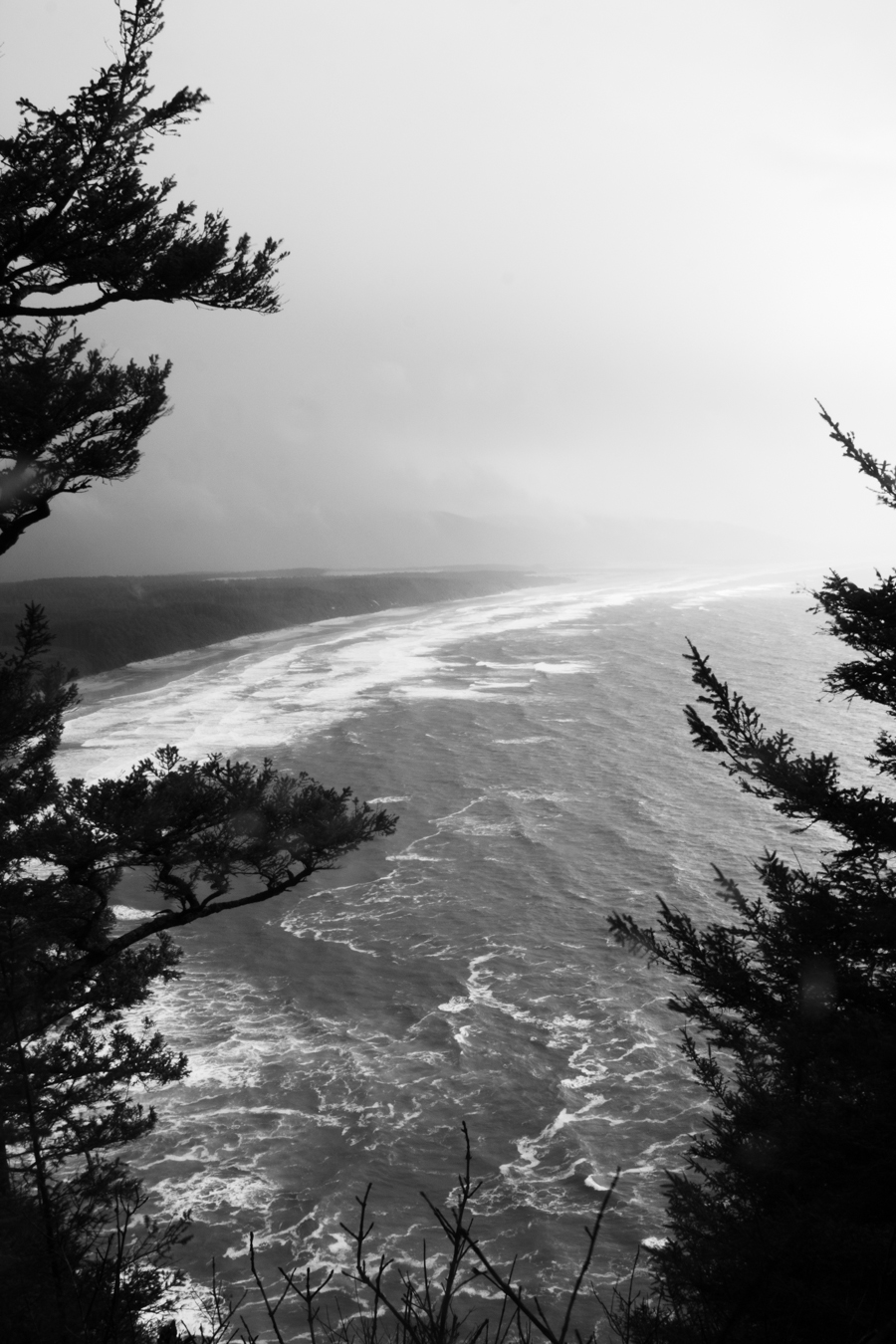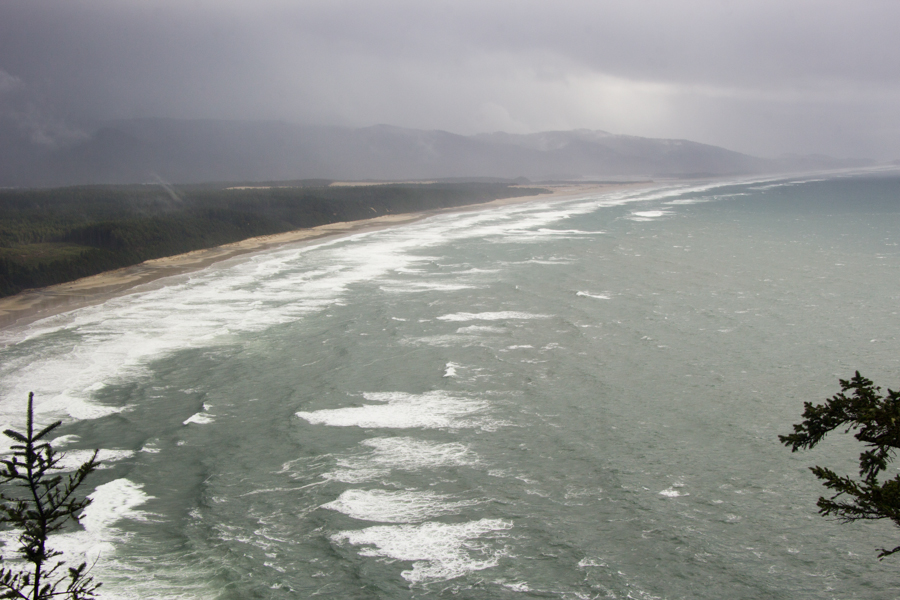 Eric was the one who took a picture just when what I thought was a lighthouse emerged from the fog. But could we really have been seeing as far as Yaquina Head? It seems doubtful.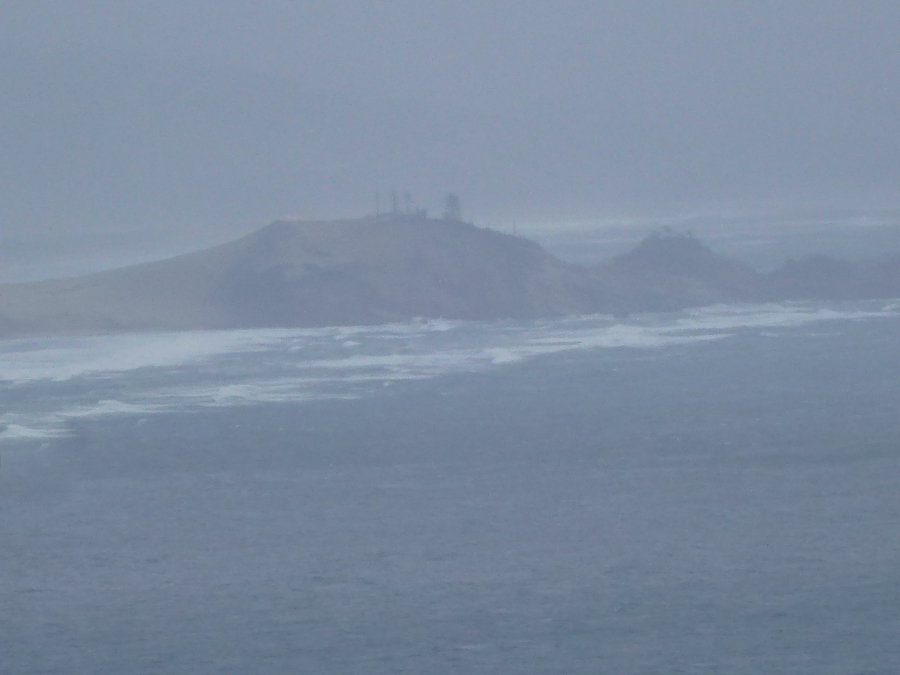 All the rain of the Pacific Northwest makes for great fungi.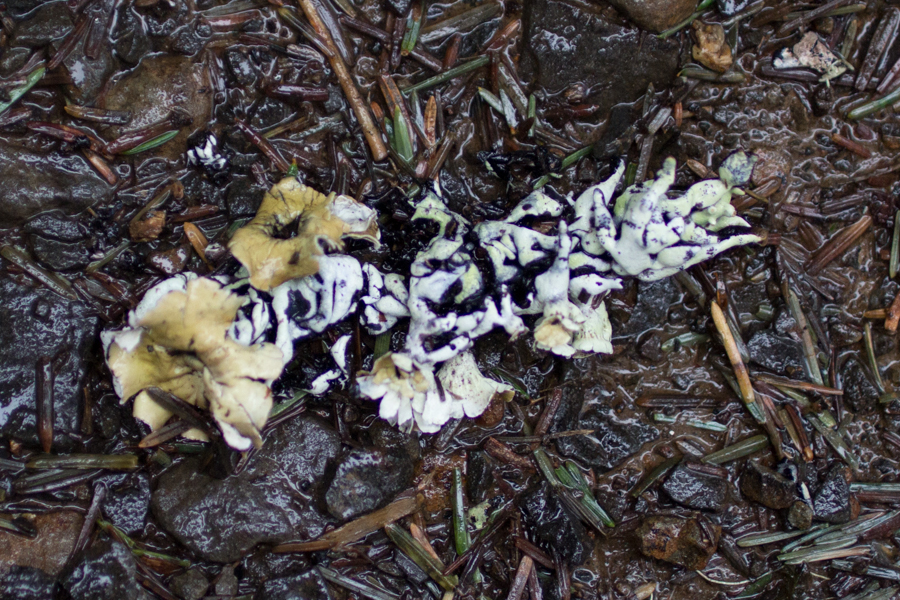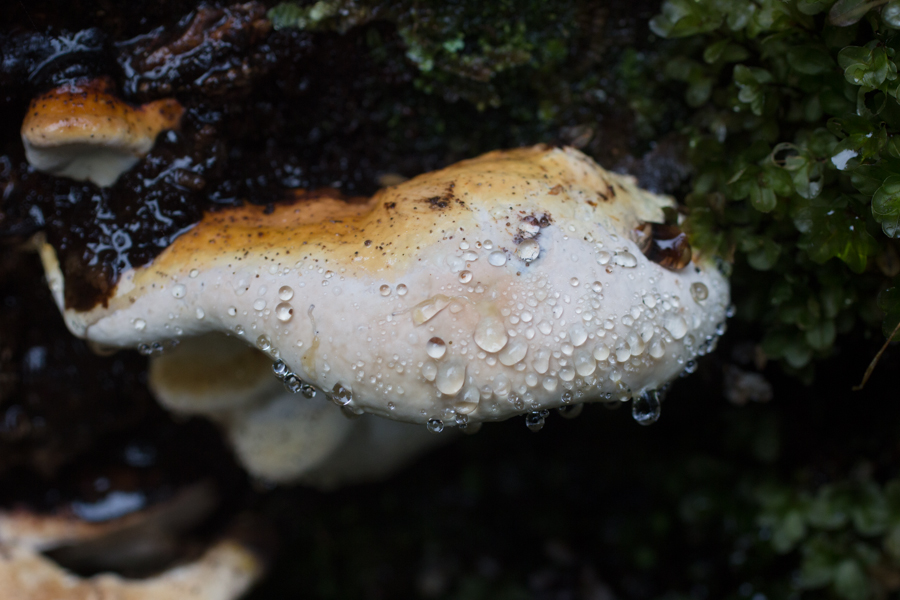 The view looking down on the north side of the narrow cape, and out into the infinitude of the fog over the ocean.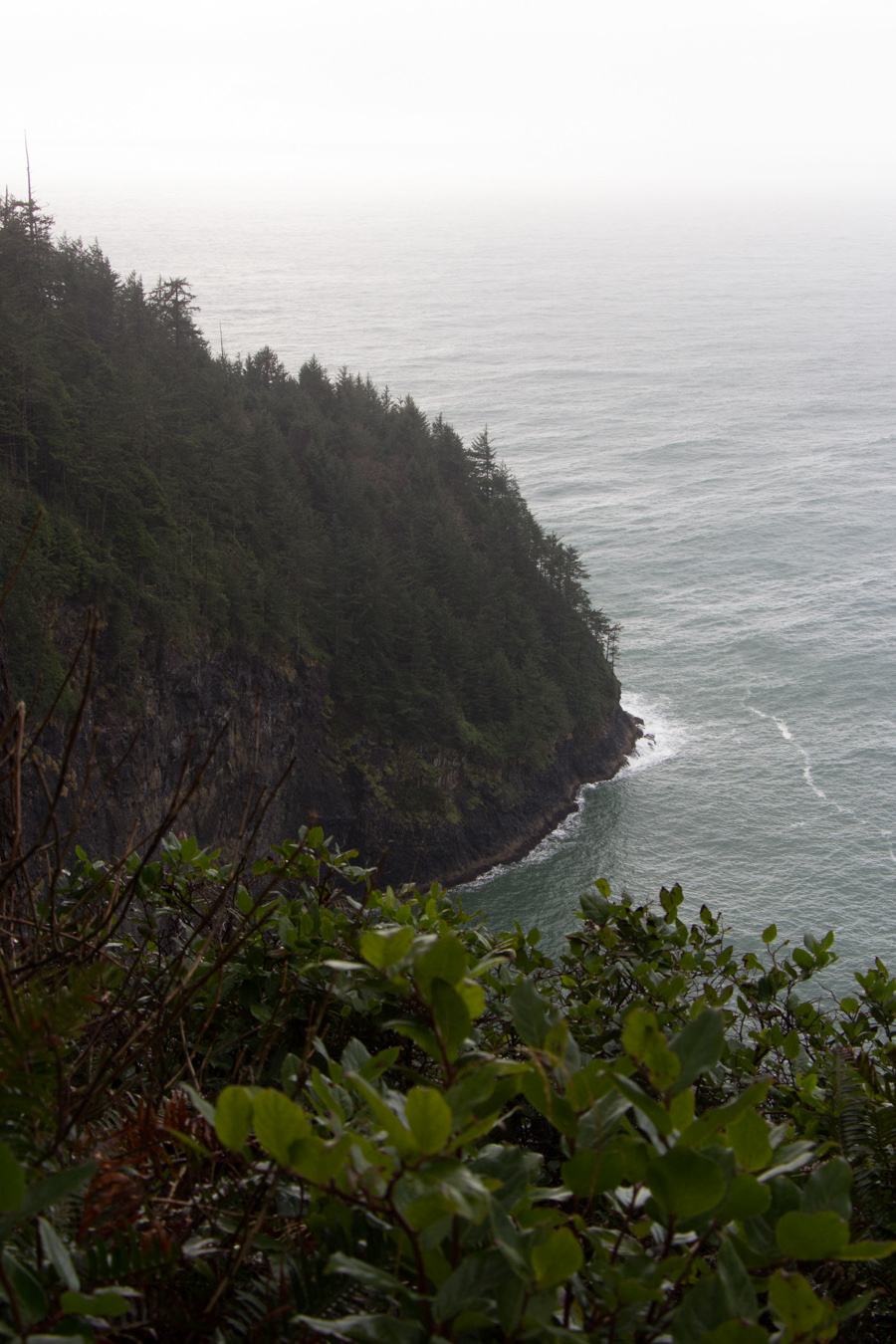 Back in the parking lot, Eric found a van painted in an Oregon-appropriate Lewis-and-Clark theme.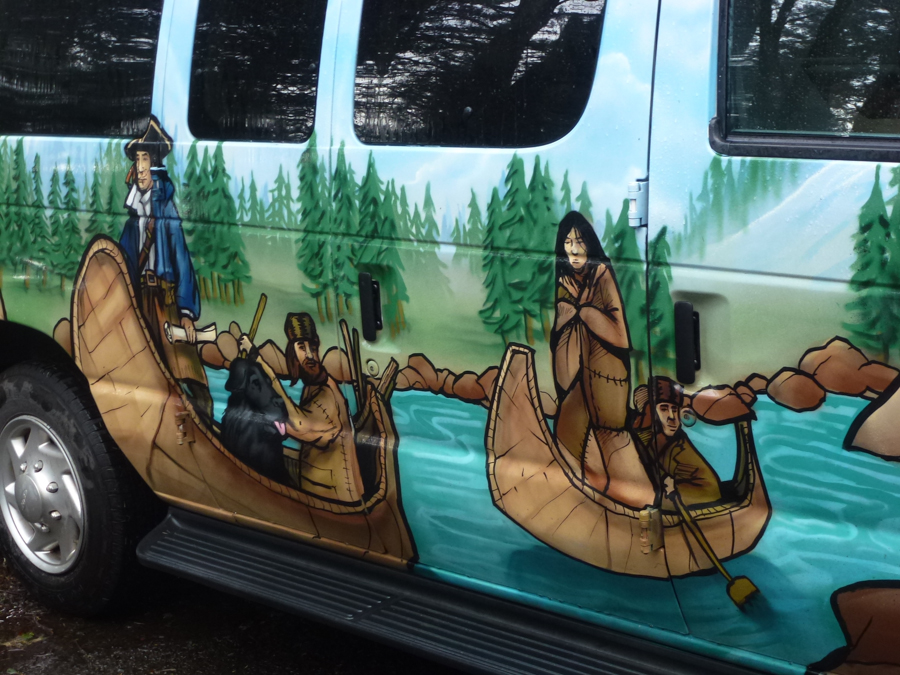 The last cape was Cape Meares (Cape Meares State Scenic Area), protected by a lighthouse that was closed for the winter.
Eric took some closer-in shots of the red and white lamp.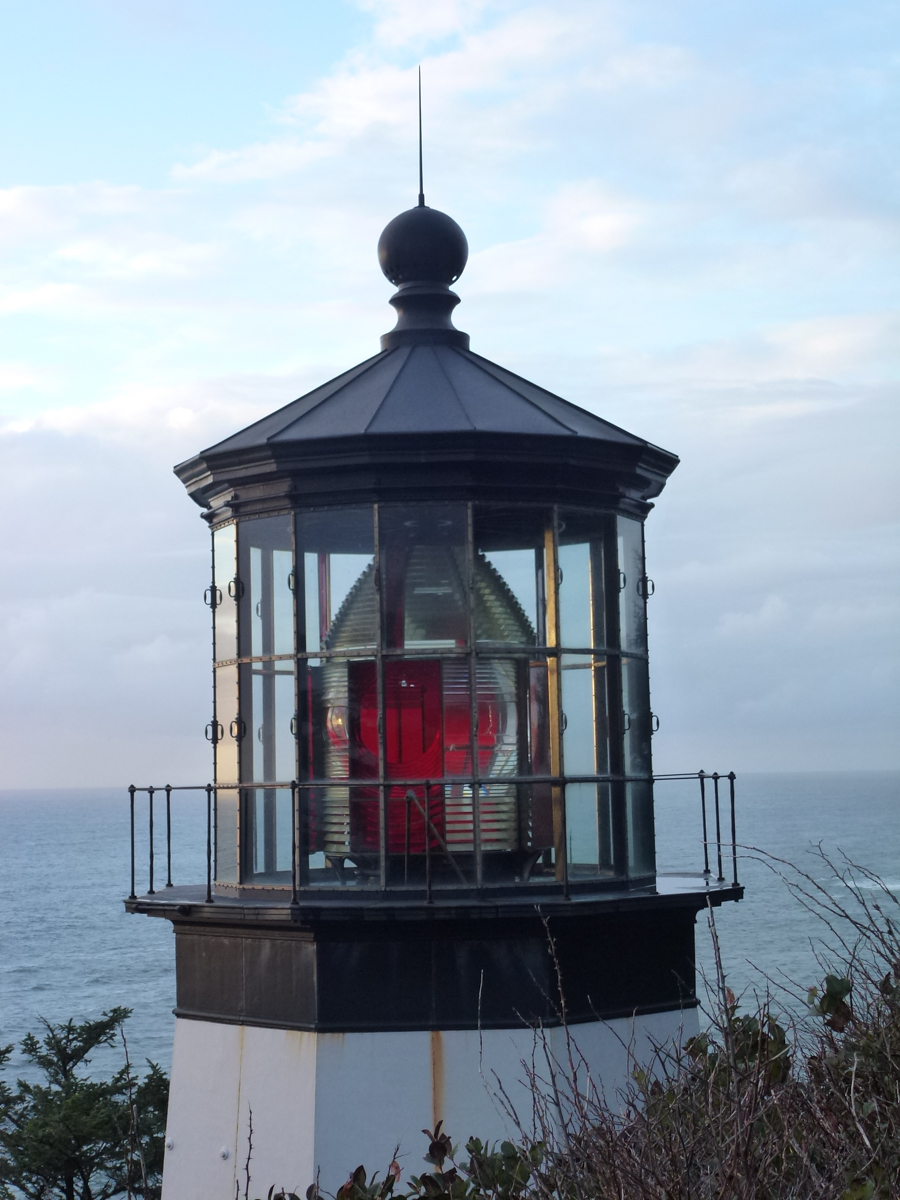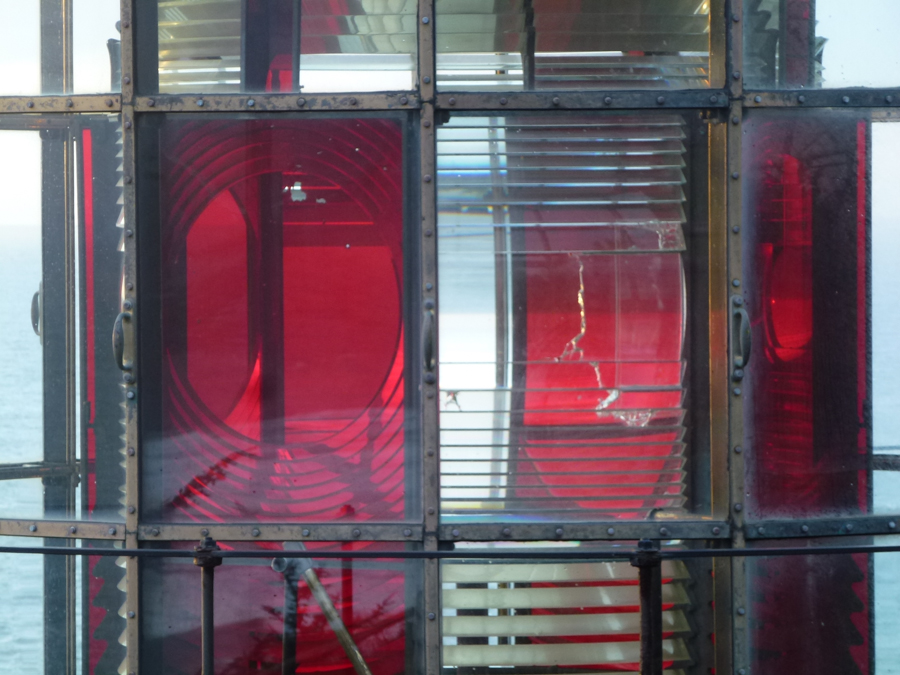 Meanwhile, I, of course, was photographing the marvelous offshore rocks.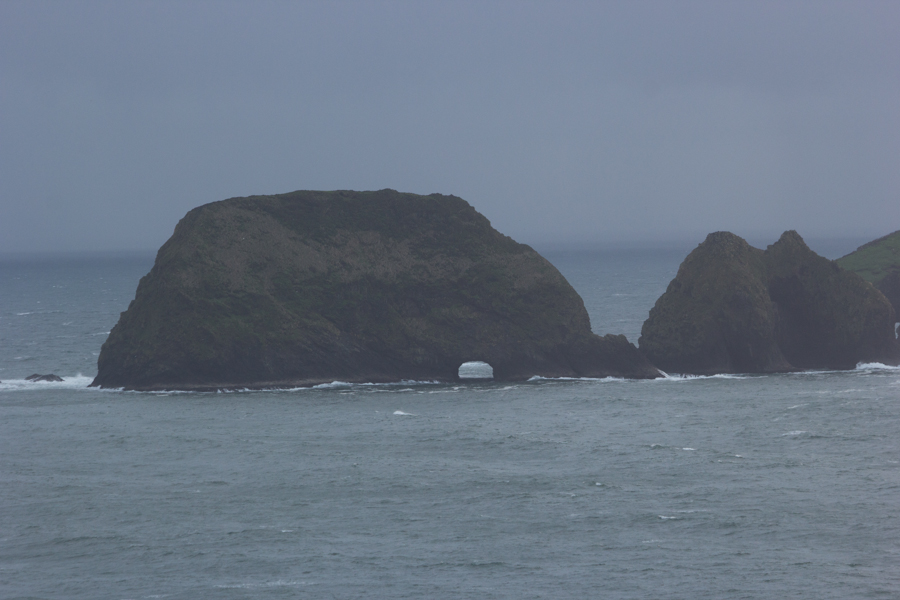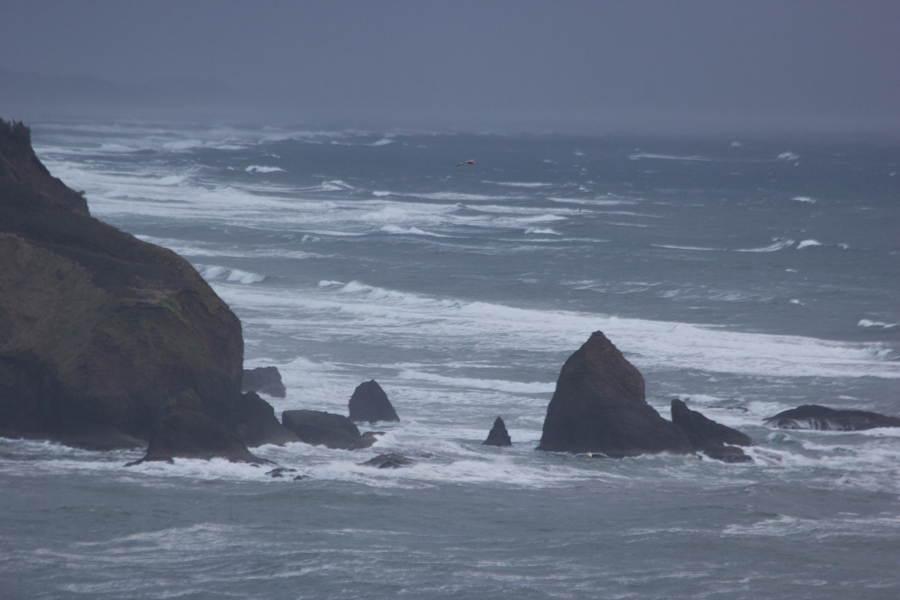 Eric photographed some of them, too.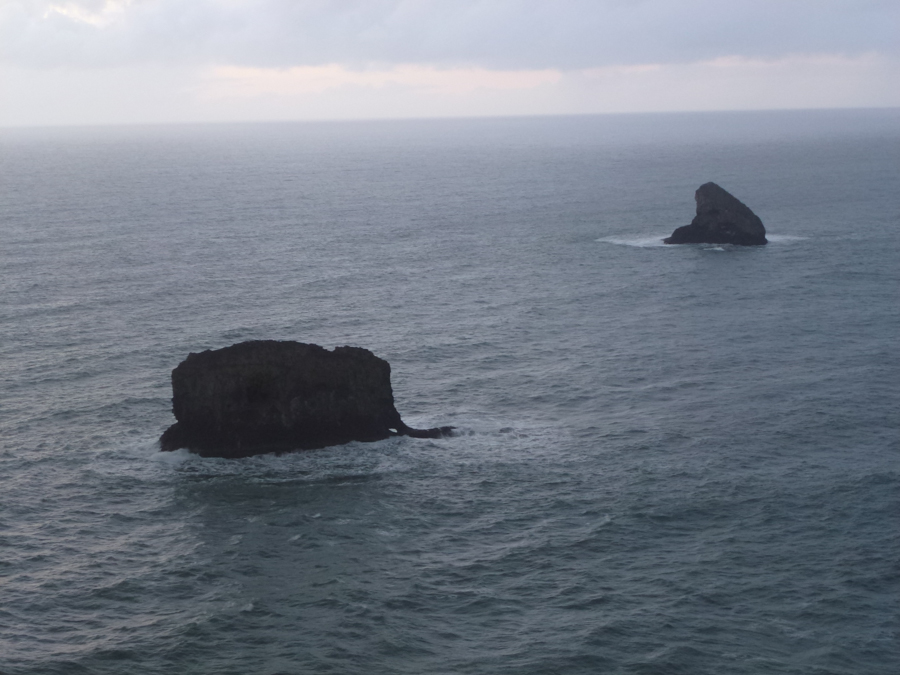 He got a view into one of the deep coves that characterize the Oregon coast.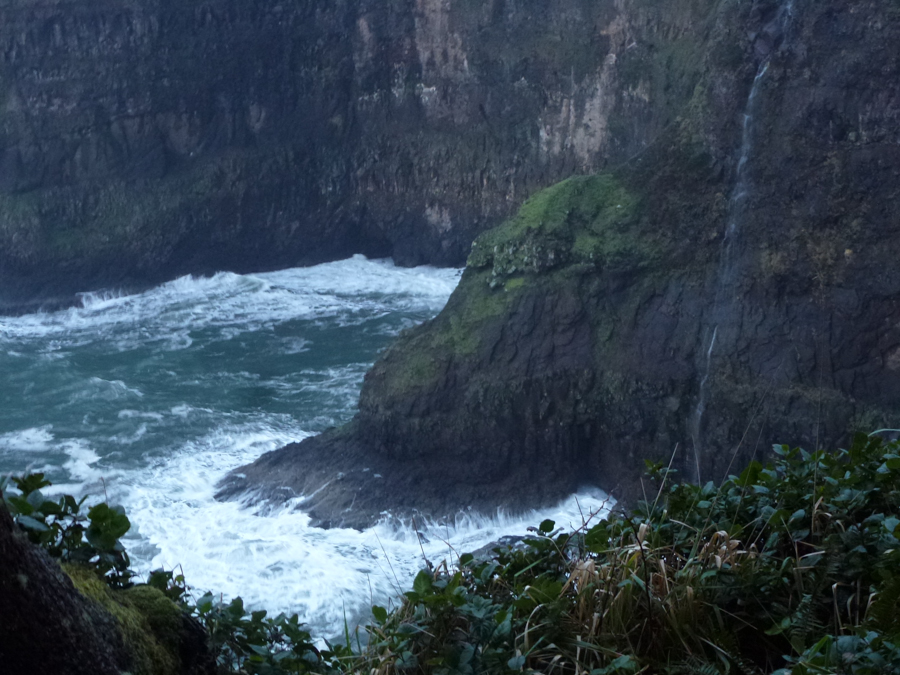 As we (as usual) stayed out later than we should have, Eric photographed the less-than-dramatic sunset.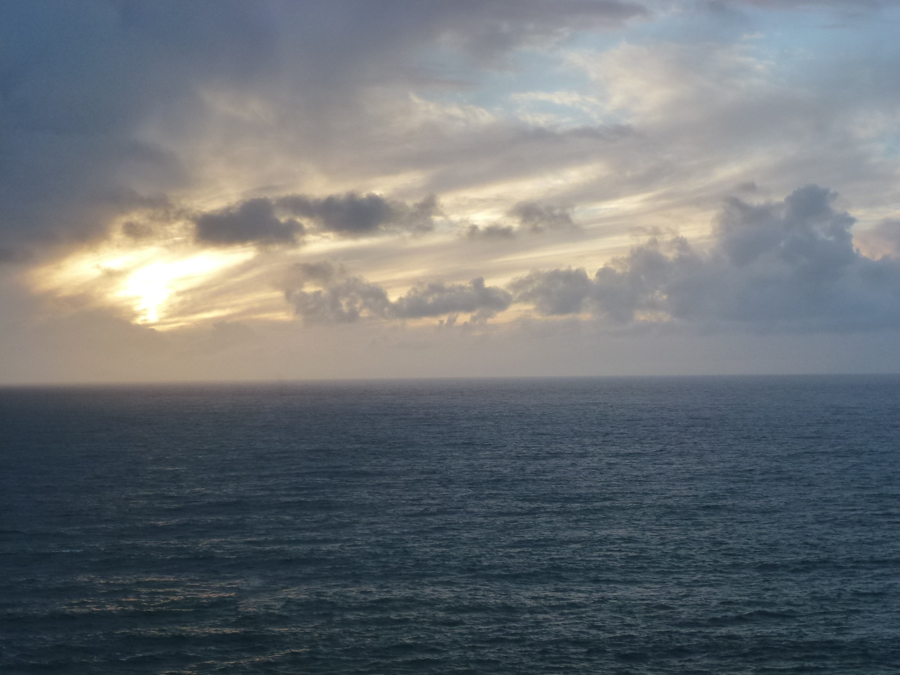 We went to Beaverton for a spirited dinner with Grant, and spent the night in his and Carli's lovely guest room. We were well outfitted with sets of six electrical outlets and a USB charging hub. Everything for the modern traveler! We even found this bottle with glasses by our bedside.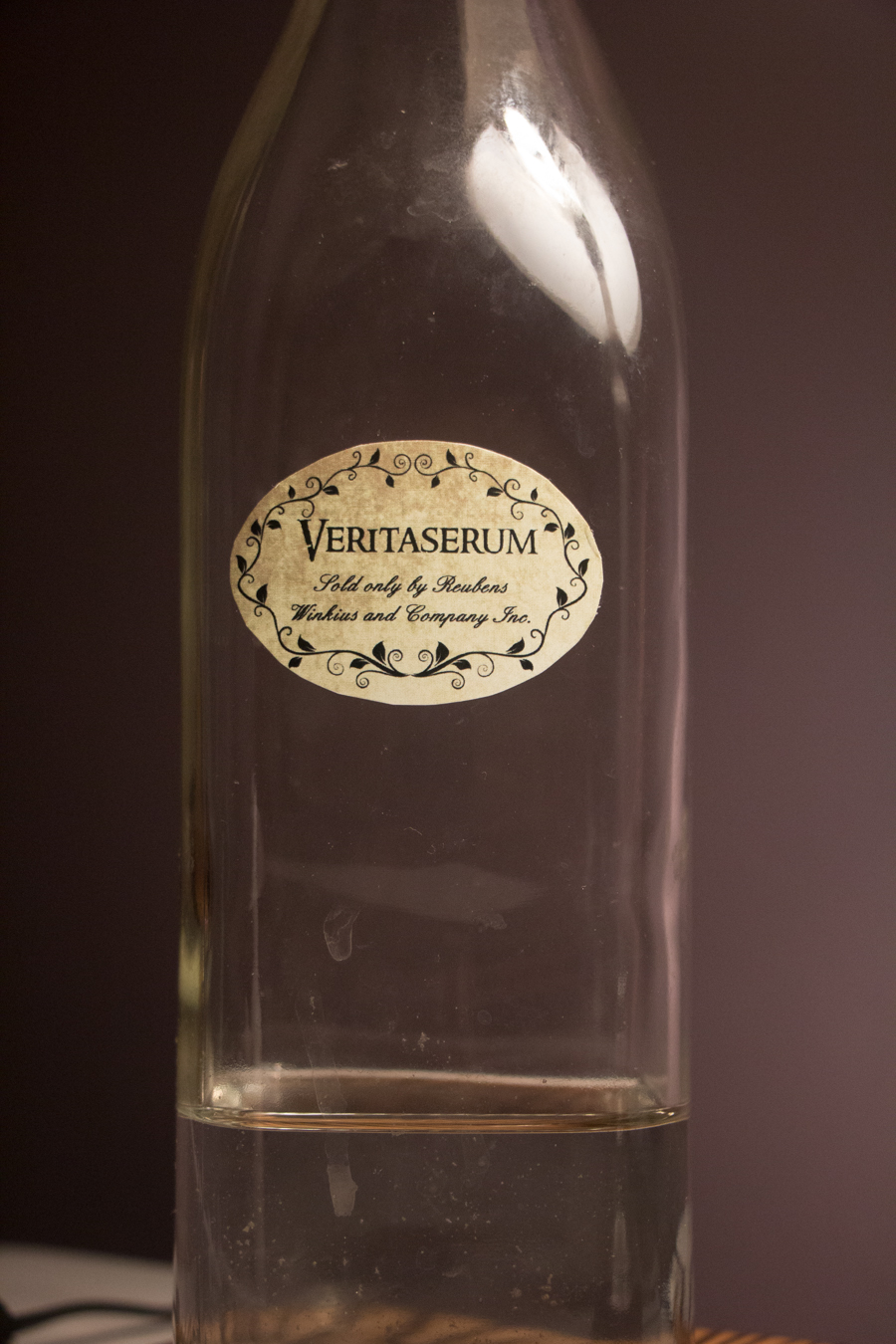 In the morning, Eric told Carli and Grant that I had started talking in my sleep, going on about how awesome he was.
For breakfast, Carli made delicious eggs and French toast for us and her son, Derek. So tasty!
Carli does glasswork, and made beautiful handles for the kitchen cabinets.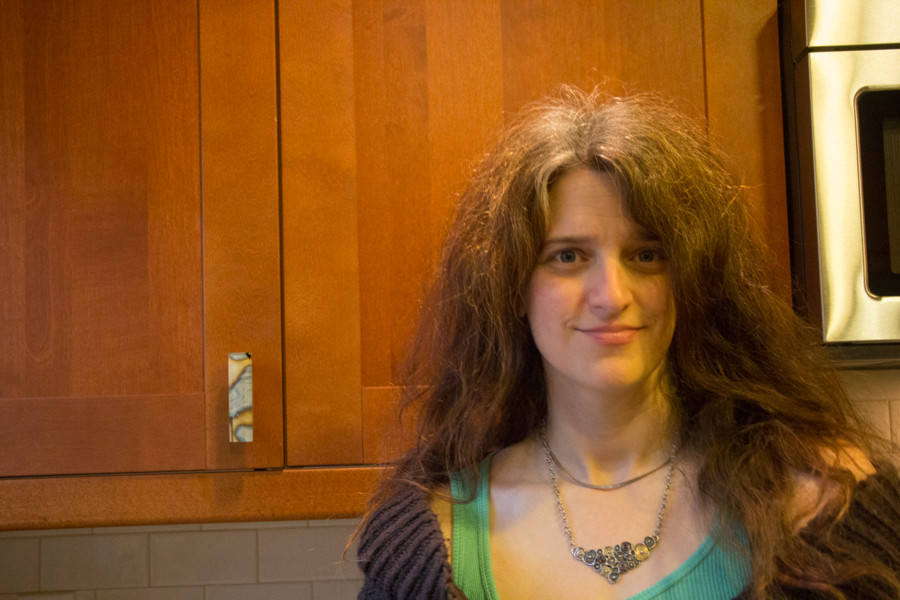 Detail of Carli's glass art.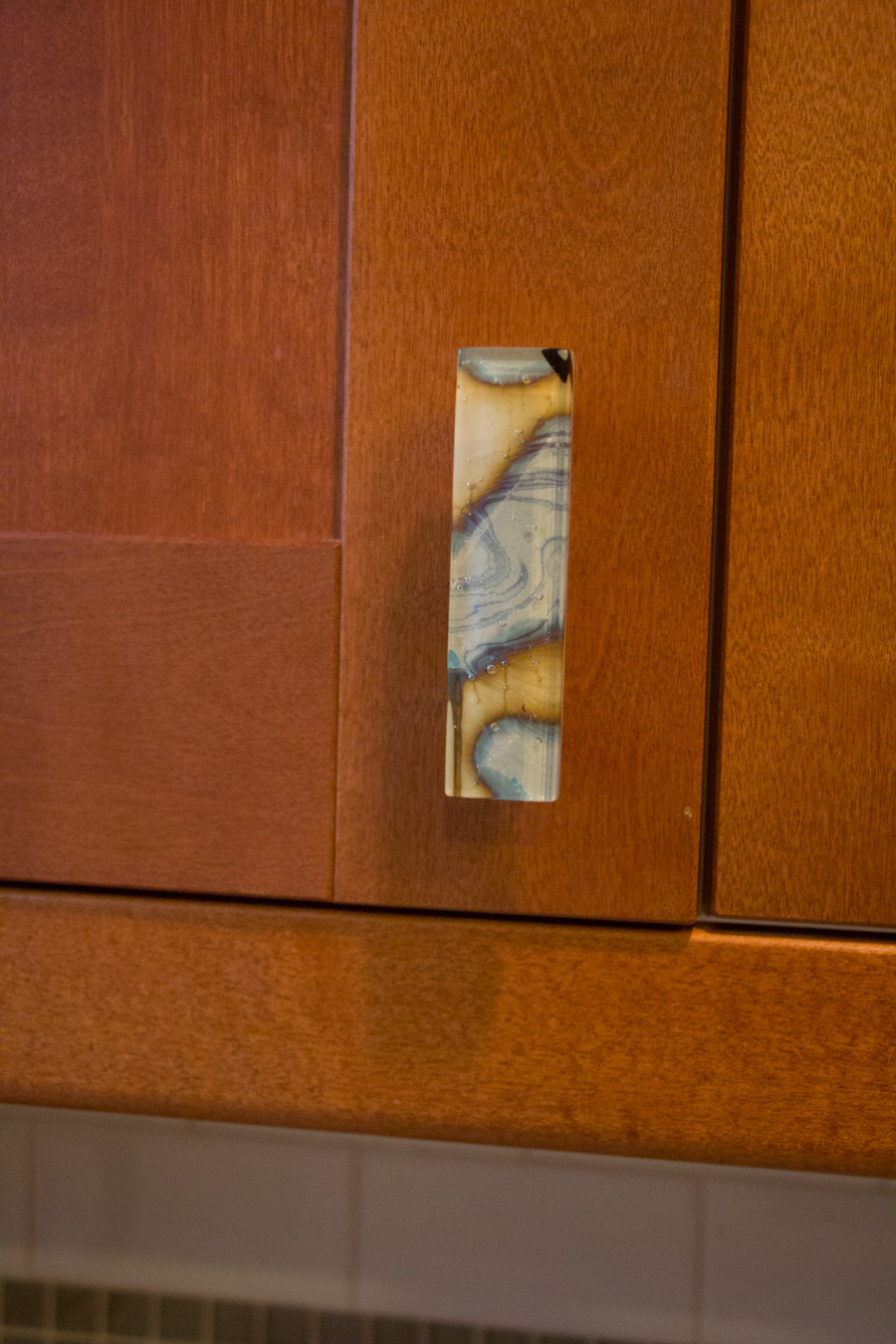 Lars had warned us that we might have trouble getting home, that Caltrans had closed part of I-5 on Saturday due to flooding. Just in case, we left earlier than we usually do, around 10:00. We went home in torrential rain. California needs the rain, right?
---