---
Oregon Coast
Saturday and Sunday 16-17 February, 2013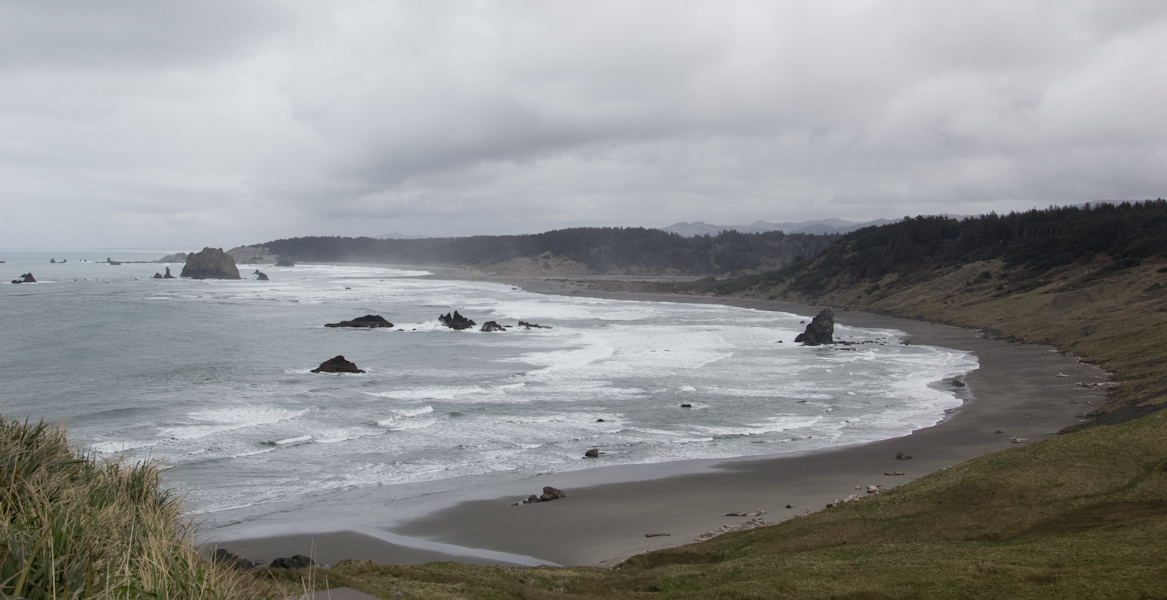 Presidents' Day. A dull holiday in the middle of February when not much else is happening. This was our traditional time to drive up to Corvallis, Oregon, and visit our friend Mark Irons. As I wrote in my tribute page for Mark, we had done this all but one year since 1997. Last October, at age 46, Mark succumbed to cystic fibrosis.
So, what should we do? Not go to Oregon? In all these years, we've not only become used to making the trip, and used to seeing the beauty of the Pacific Northwest, but we've also become good friends with some of Mark's Oregon friends. In particular, Miranda and Charlie had been hosting a gaming gathering for us since the 1990's, and they made it clear they still wanted to see us. We decided that, while it would be very sad to go up there and not see Mark, it would be even sadder not to go at all.
We took a three-day weekend to visit Mark in the hospital in Portland back in September. We had been told that we would get to spend perhaps an hour with him Friday afternoon. Since we had the whole weekend to get back, I made a plan to drive back down the Oregon coast. We had visited one small part of it, Newport, with Mark back in 1997, and we had always heard it was a beautiful place. However, Mark was able to see us for more time on Friday, and wanted us to come back Saturday and Sunday as well. We had a wonderful time seeing him, and it was very worthwhile to spend that time. So we postponed our coastal drive until February.
Photo by Eric.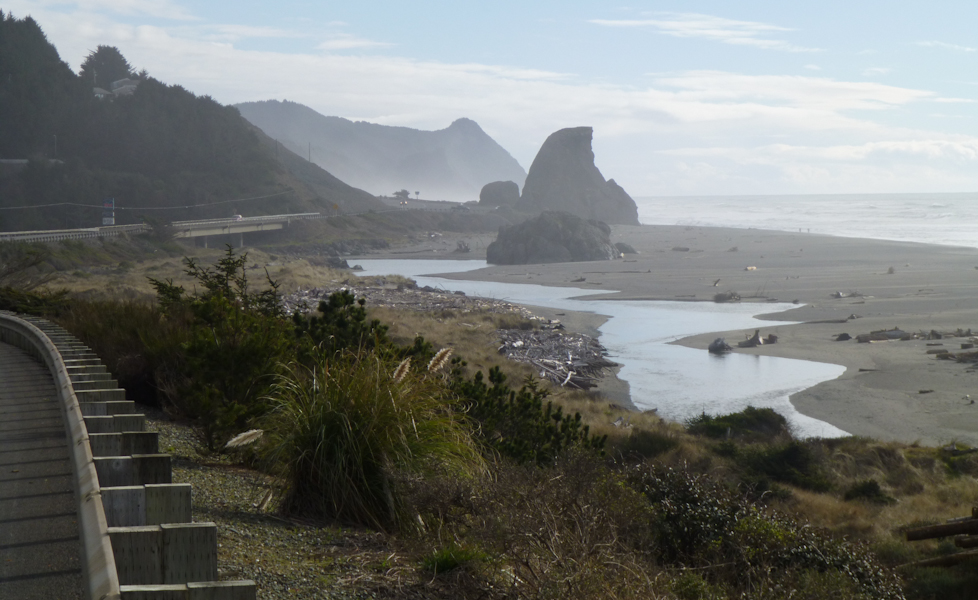 Oh, my. The Oregon coast was positively amazing! I can't believe that, in almost 20 years of living on the west coast, we had never before found the time to do this. We still have only done the area from Newport south, which is only about two-thirds of the entire coastline. There's still the whole area around the mouth of the Columbia, which is also supposed to be spectacular. We've still got so much more to see down here in California, and there is so much to see in Oregon as well! How will we ever see it all?
Our usual plan for this trip is to drive Friday night to Redding, CA, stay at the Super 8 there, then drive the rest of the way to Miranda and Charlie's place in Albany, OR on Saturday. This drive would not be complete without my shooting a few pictures through the windshield in the Shasta area. The object of this game is to take a picture that doesn't look like it was taken through a car window. I discovered that, while the windshield is not polarized, the side windows are.
Castle Crags.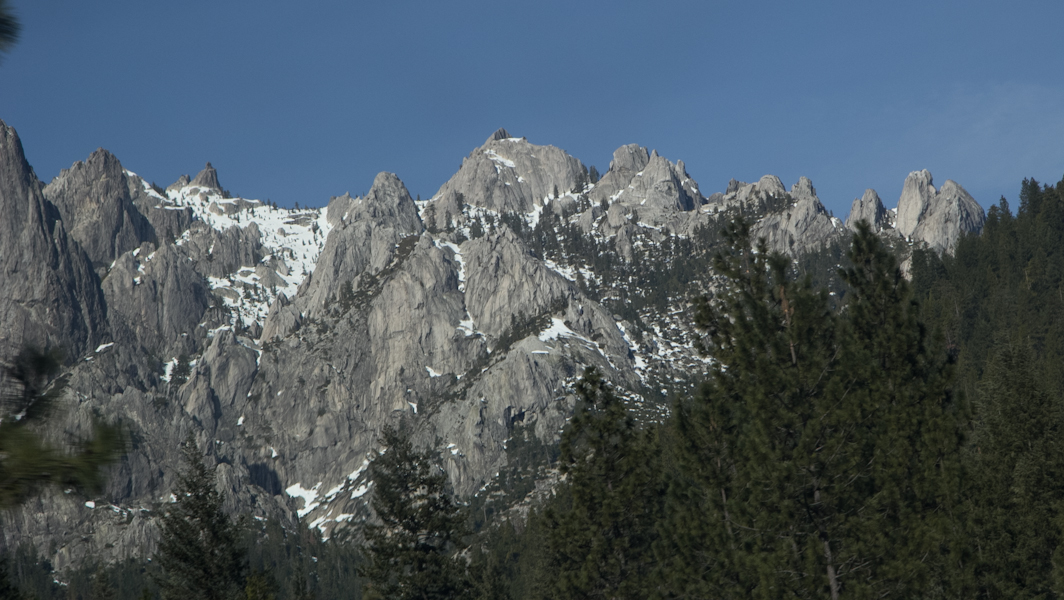 Magnificent Mt. Shasta, one of my favorite places in the world. I have taken an inordinate number of pictures of Mt. Shasta.

Black Butte, near Mt. Shasta, and, as you can see
right
next to the freeway.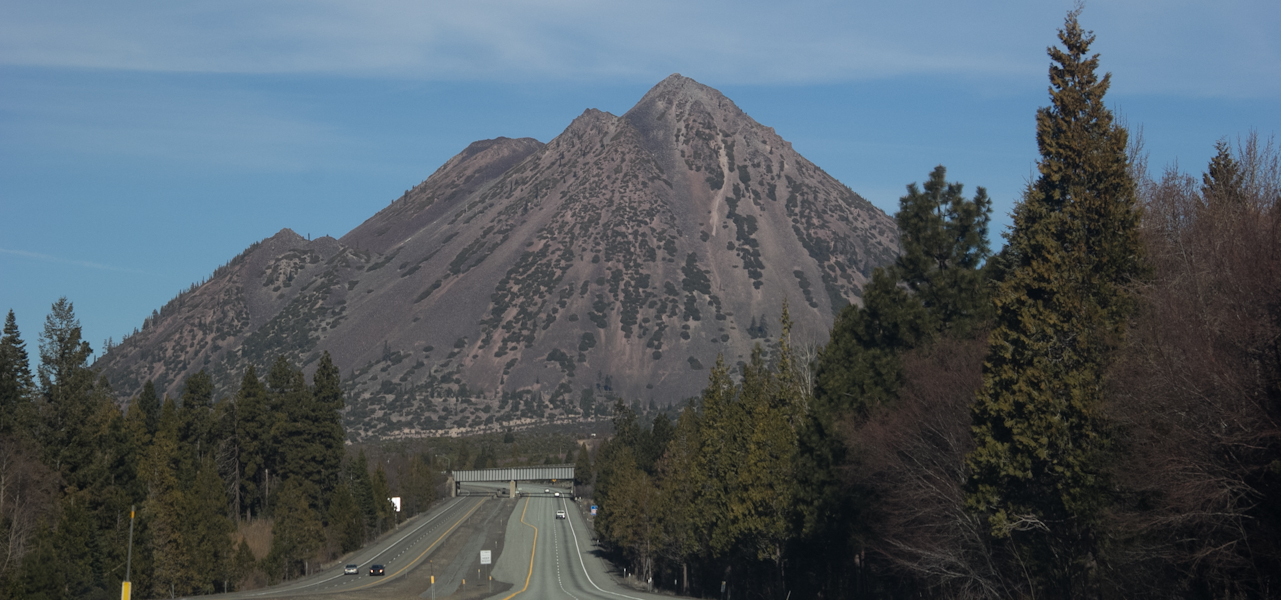 Miranda had taken a puppet-making class and was eager to show us her supremely awesome Sonny Coltrane. Photo by Eric.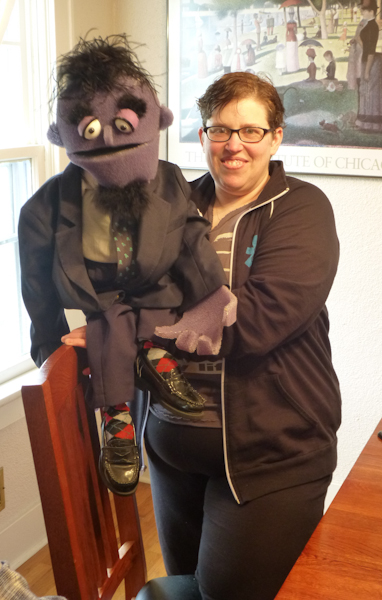 We had a wonderful time playing games with Miranda, Charlie and Tony. The gathering did not feel significantly different than it usually does. Miranda made a yummy dinner for us all.
In the morning, we had our favorite Sunday breakfast in Corvallis, Interzone, with Lars and Bec. Here, I felt Mark's absence a little more, because he and Eric and I had spent hours sitting around Interzone together and talking about anything and everything. But the company we had was fantastic, and we very much enjoyed our visit with Lars and Bec.
We drove out to Newport on US 20. Eric took his own picture out of the car window.
He says this is the first clearcut he ever saw, on our visit to Newport with Mark in 1997.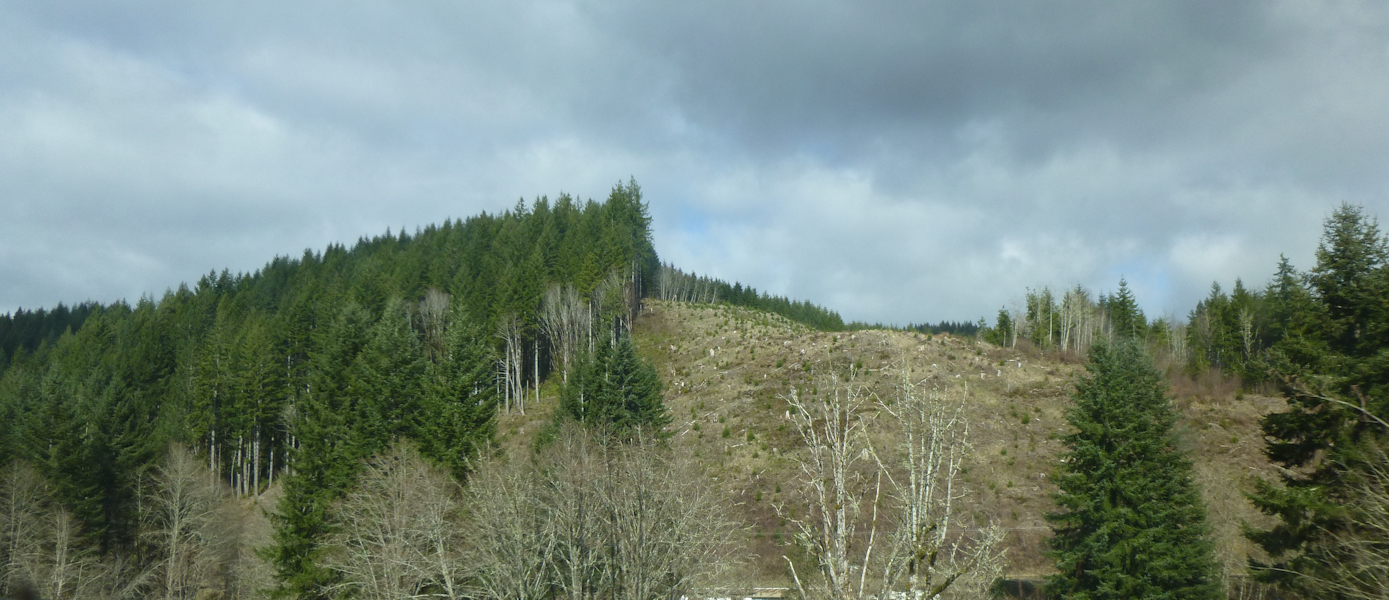 Eric took this dramatic picture of the Yaquina Bridge.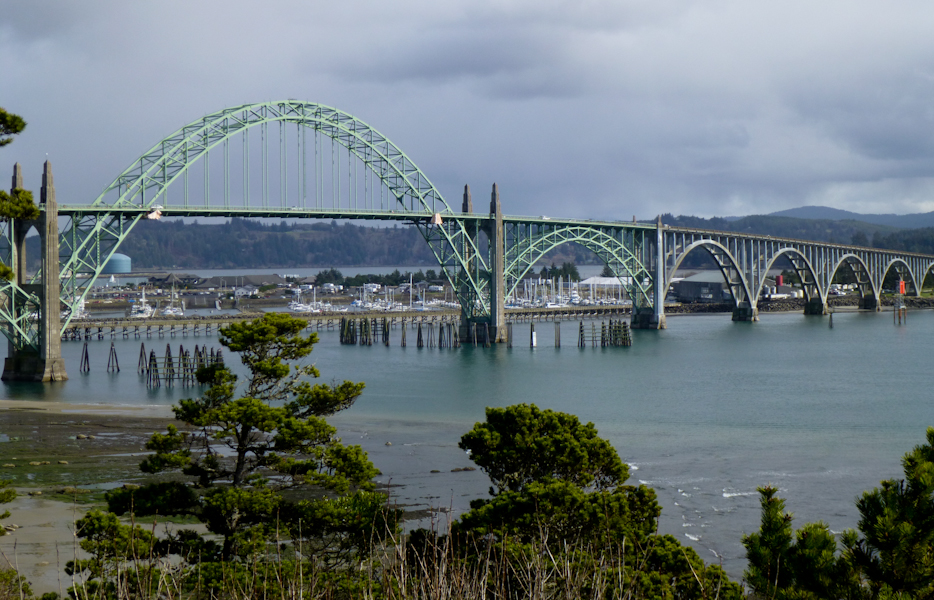 The beach is the boundary between the ocean and the land. The experience of seeing it is always powerful. We know and fear the power of the ocean, but are fascinated by and love to flirt with the edge of that power. It's breathtaking.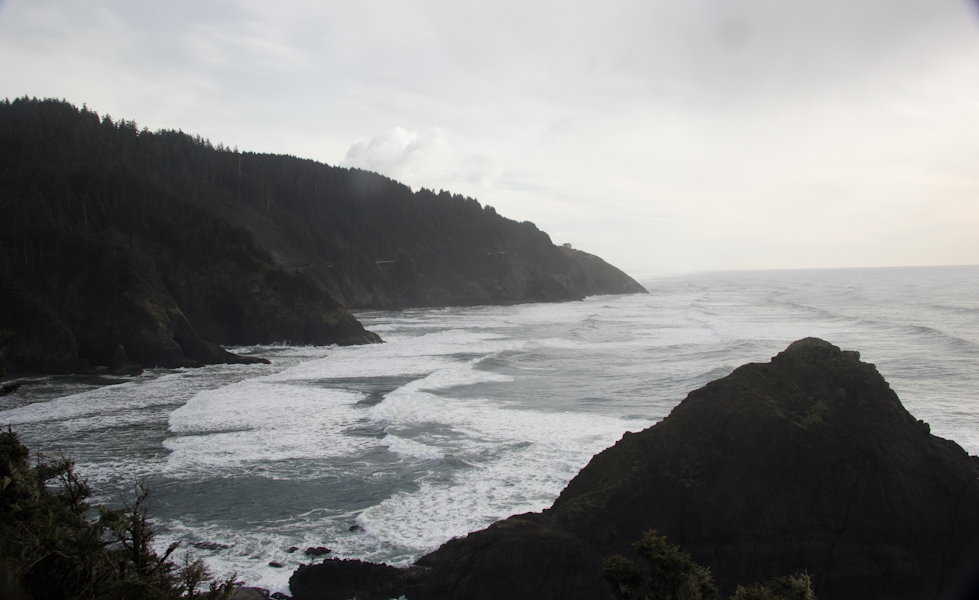 One of the most fun things about the coast is lighthouses, beacons of warning against the boundary between land and sea. The Oregon coast has nine lighthouses, and we wanted to see as many as we could. We saw five. The first two were north of our starting point. A lot of commotion the week before we left prevented us from planning as well as we should have, so we missed the fact that there were two lighthouses, rather than one, right near Newport. It should be reasonably easy to see those three when we eventually do the northern part of the coast. But we missed another lighthouse further south because we drove past it in the dark, and that could be difficult for us to find the time to see.
Yaquina Bay Lighthouse.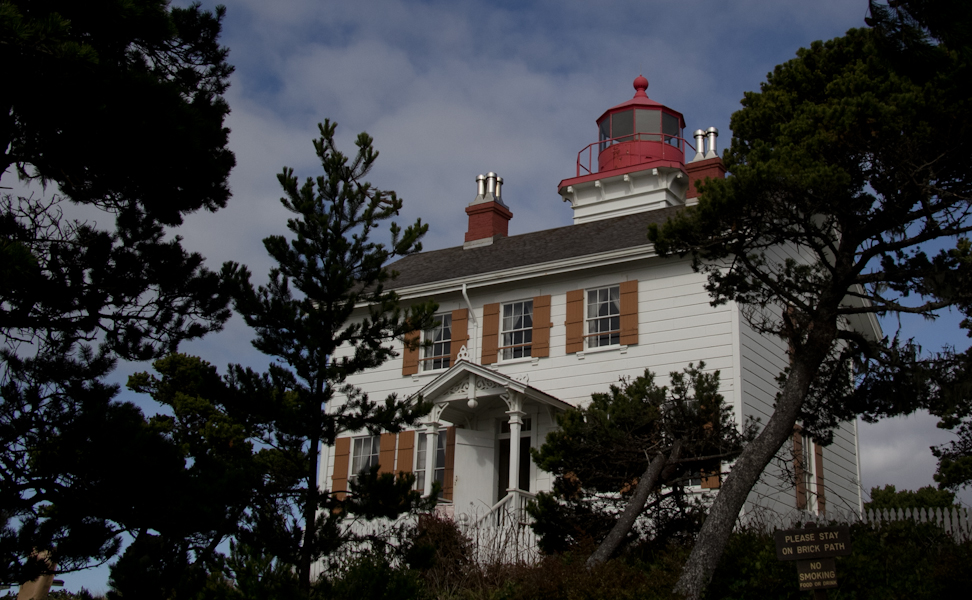 This lighthouse was open to the public, and restored to show period pieces.
Eric took this picture of the ancient kitchen.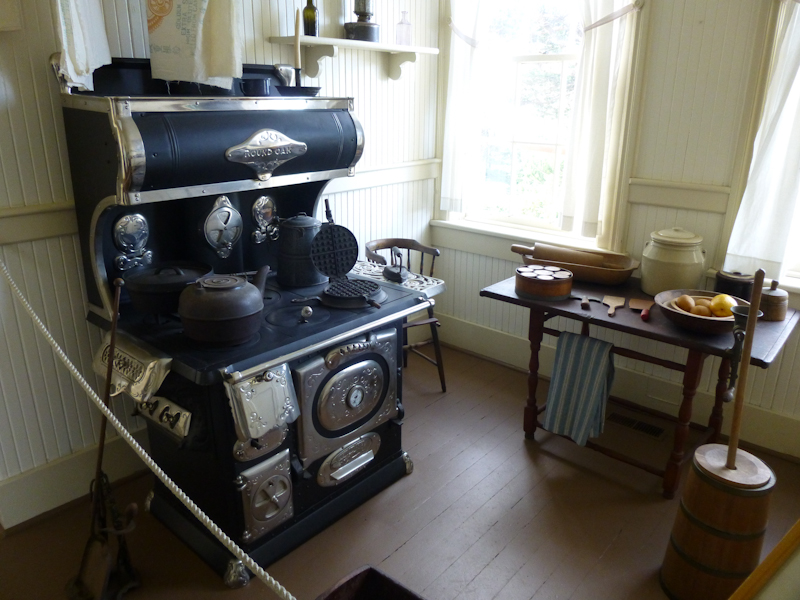 He also took this picture of the bed. I'm sure the relative lack of support would cause a lot of back pain.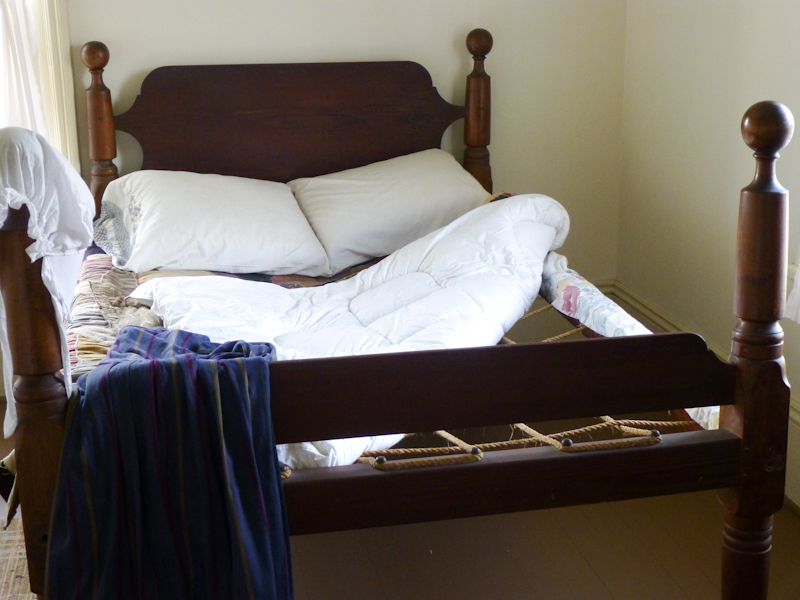 The fresnel lens.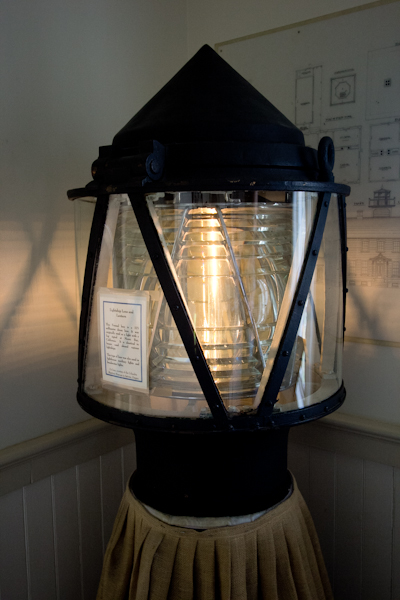 The stairway up to the bedrooms. Unfortunately, they do not let you go all the way up to the light itself.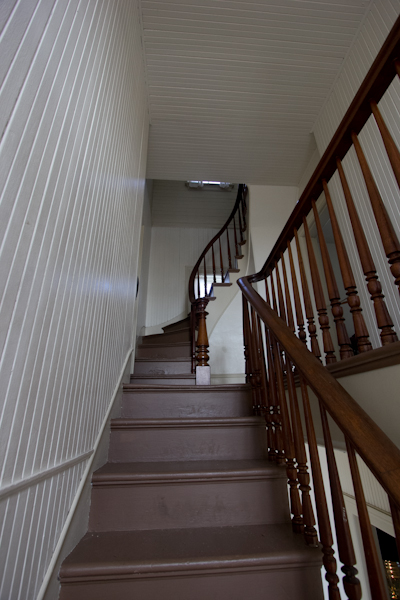 Our next stop was Cape Perpetua, where Eric took this dramatic picture of the Devil's Churn.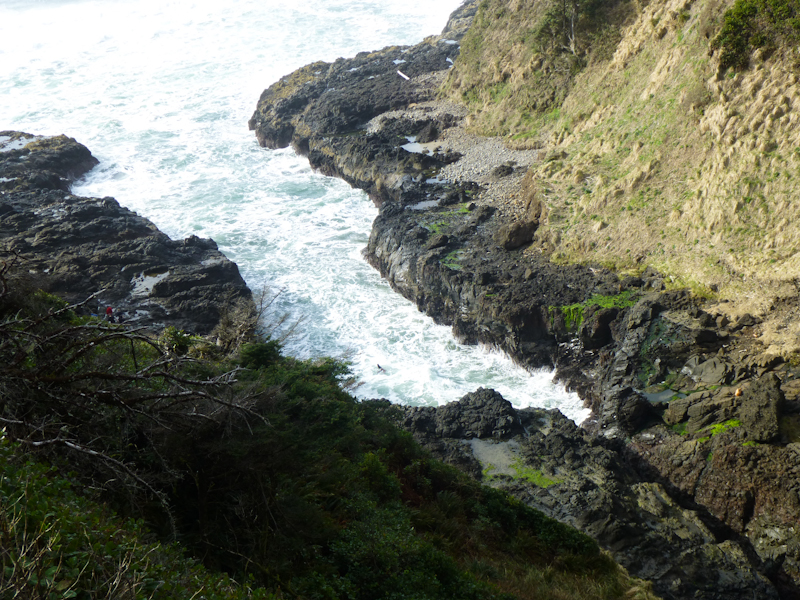 My view of the Devil's Churn.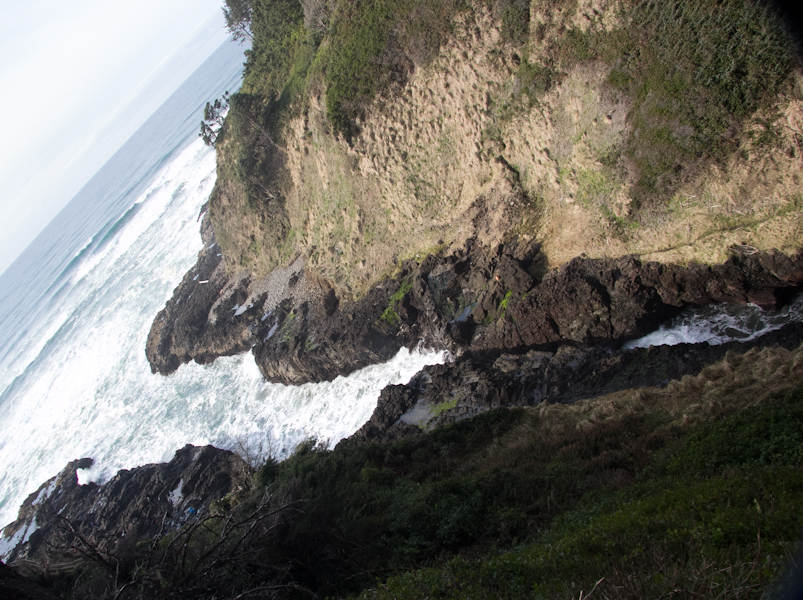 A sea lion playing in the Churn. He's not afraid of the waves and the rocks.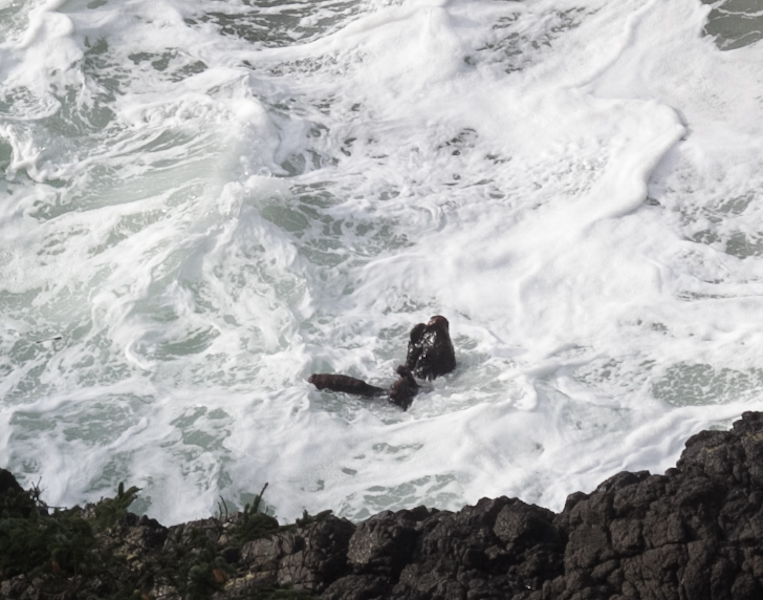 The supreme beauty of the coast.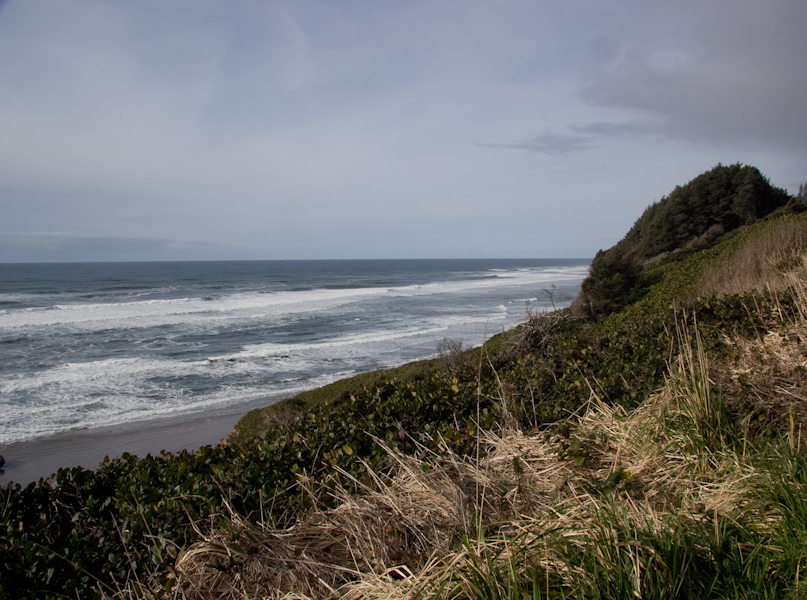 Sun and water.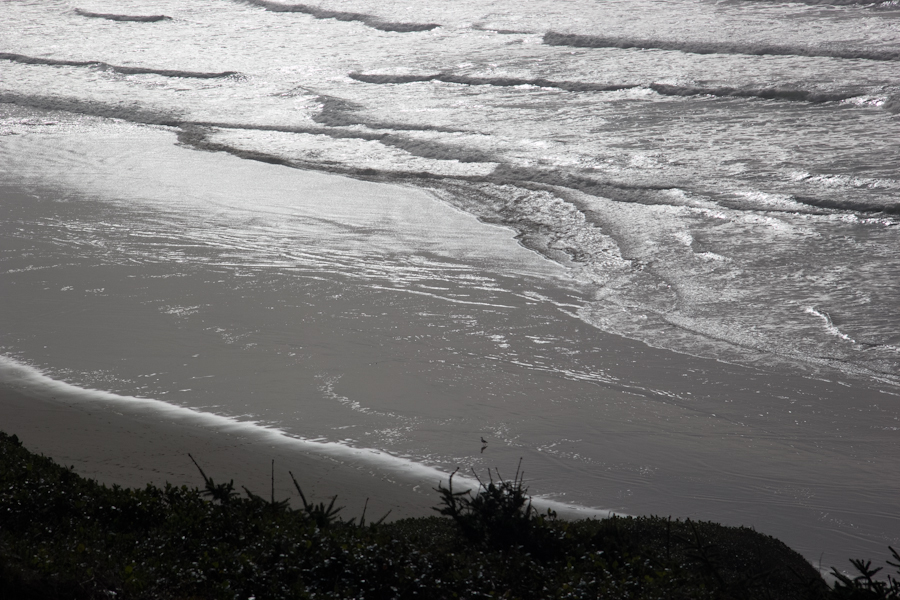 People exploring the wonderful beaches.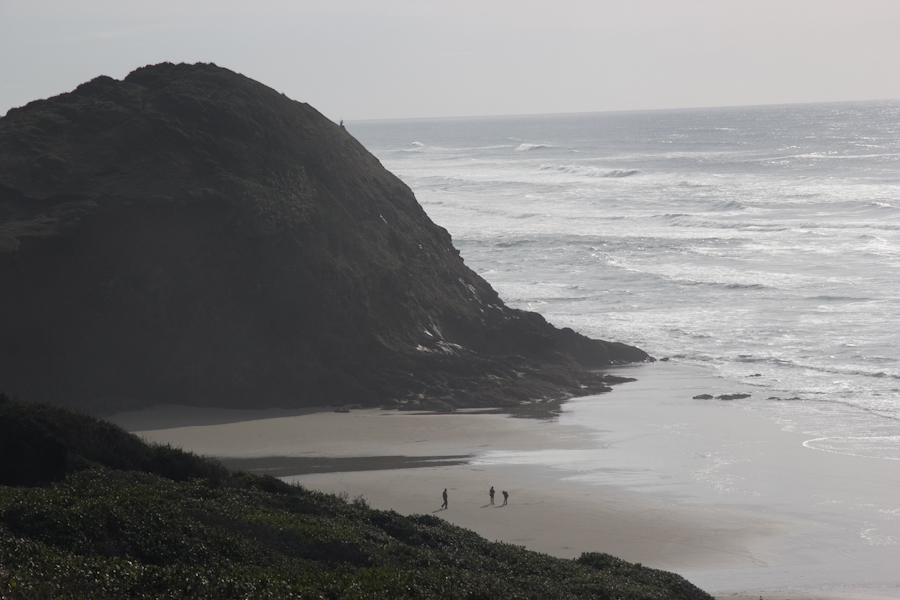 Our next stop was Heceta Head Lighthouse State Scenic Viewpoint, a really nice spot.
Eric took this picture of a fantastic bridge.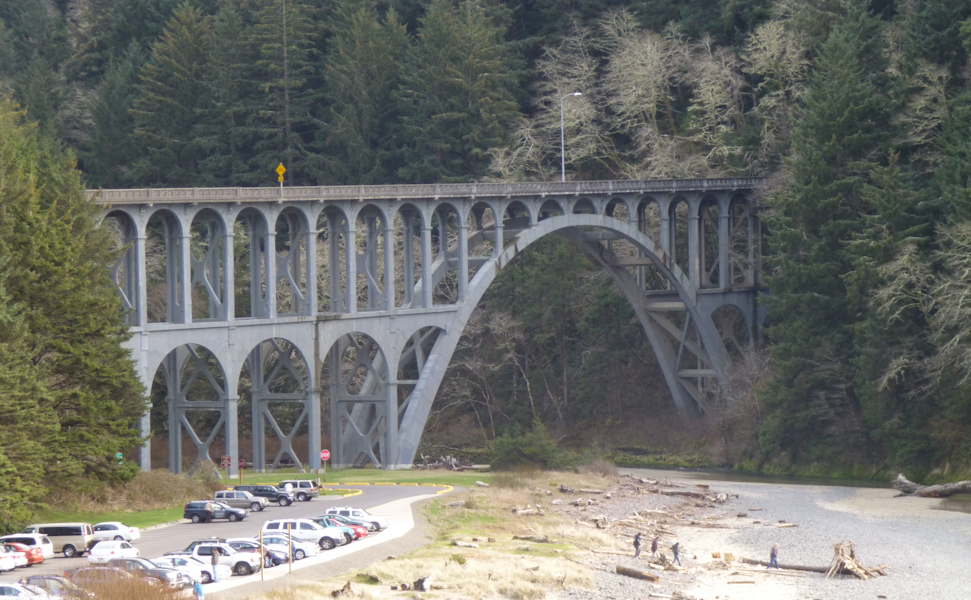 Heceta Head.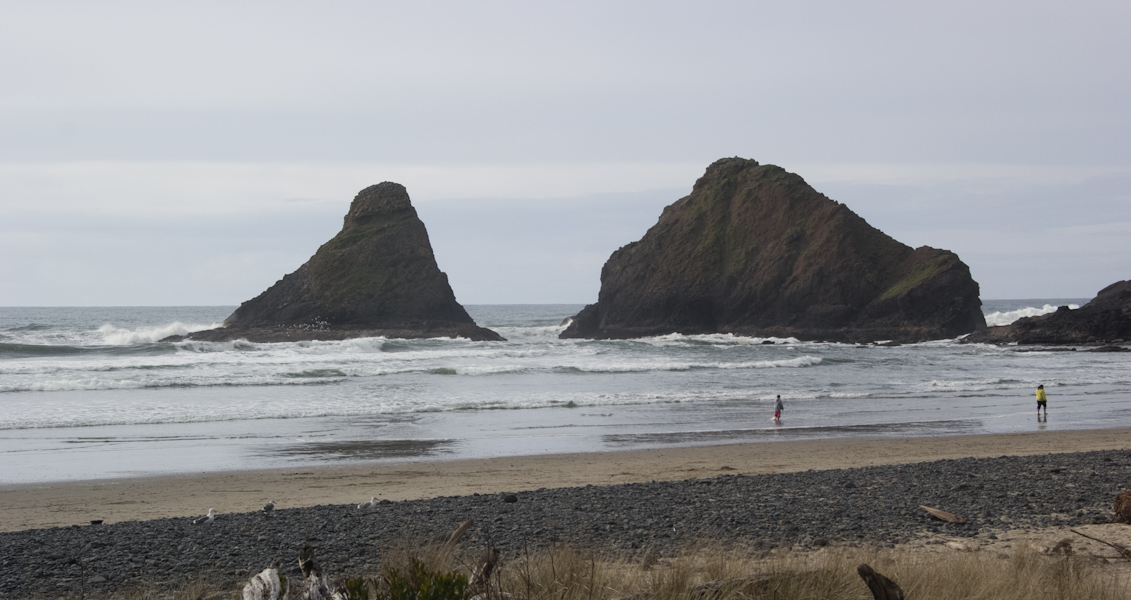 Eric's view of the lighthouse.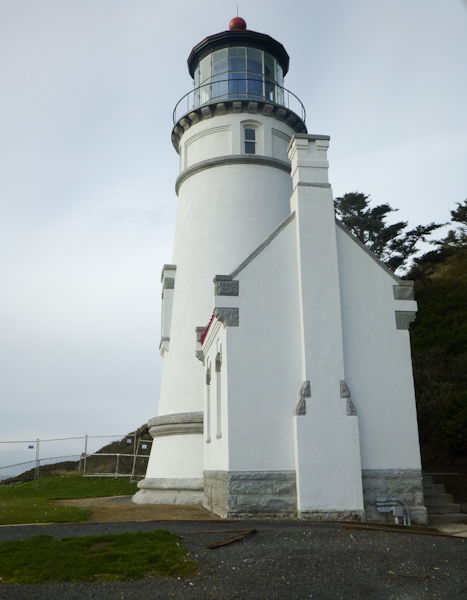 The tower.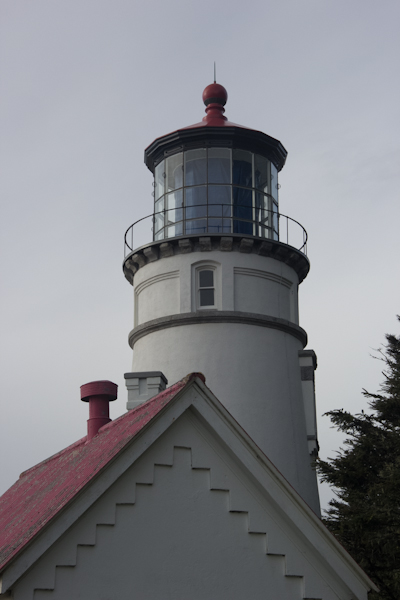 Eric in front of the lighthouse. As you can see from the fencing, you can't actually go inside.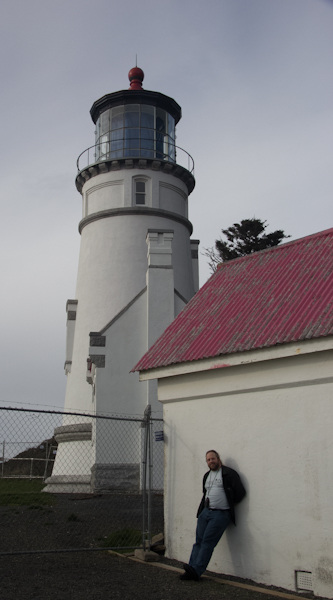 Water splashing against rocks.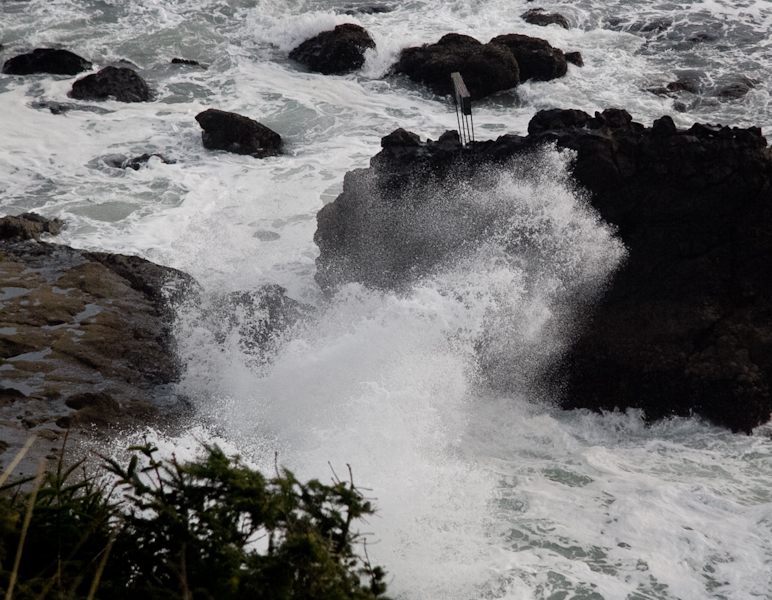 The former lightkeeper's residence at Heceta Head. It is now a bed and breakfast.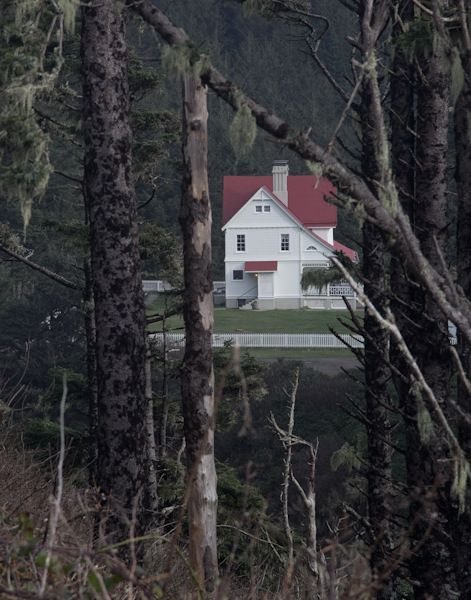 Mark's favorite flowers, daffodils, together with moss--not a combination you usually see.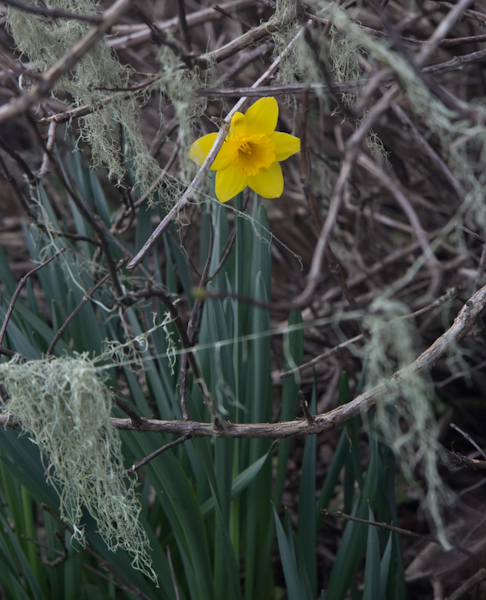 Heceta Head Lighthouse standing proudly, as viewed from an overlook further down the road.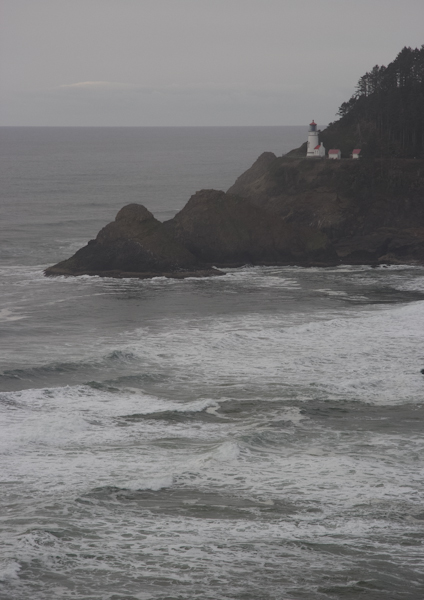 Many miles of the central part of the Oregon coast are covered with these bumpy sand dunes, comprising Oregon Dunes National Recreation Area.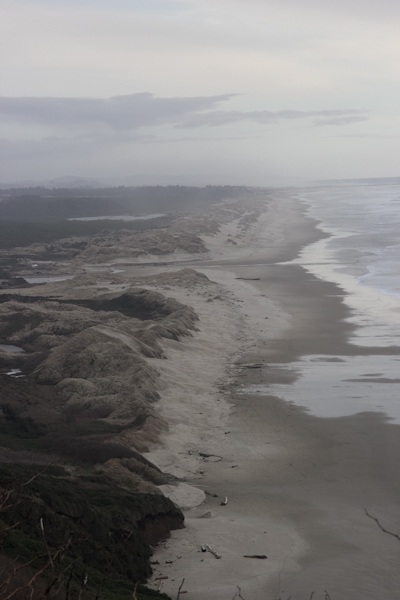 Sand dunes and ocean.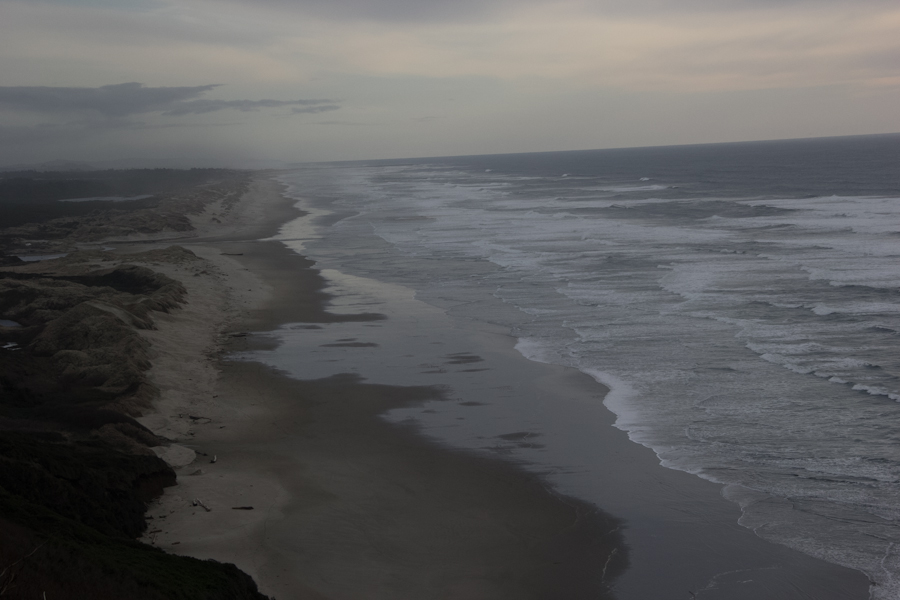 Lars had told us that we should be sure to see the carnivorous plants, which are right near the main entrance to the dunes.
Just off the highway, you can see a bog full of
Darlingtonia californica
, otherwise known as pitcher plants.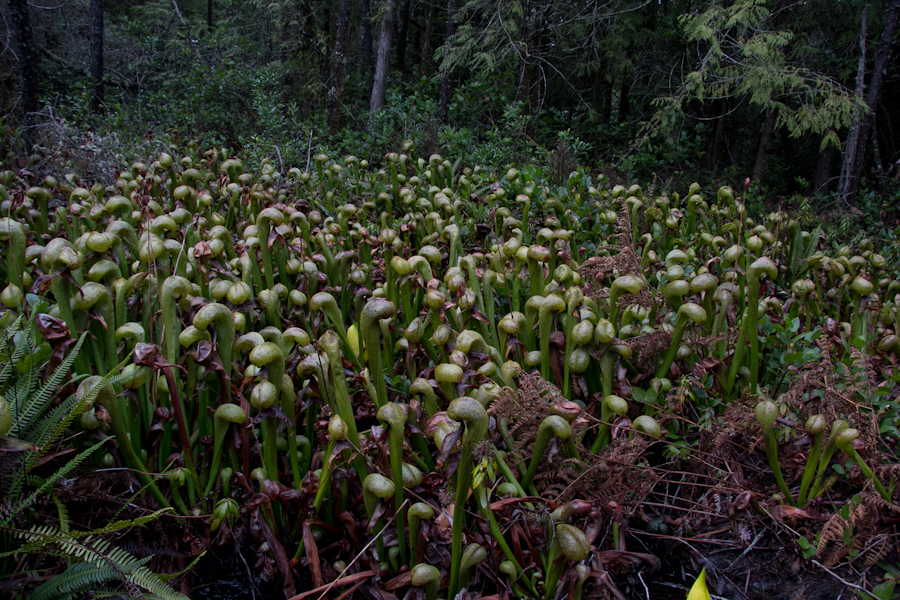 Eric's close-up view. The plants survive in this insect-ridden environment by trapping and eating the insects.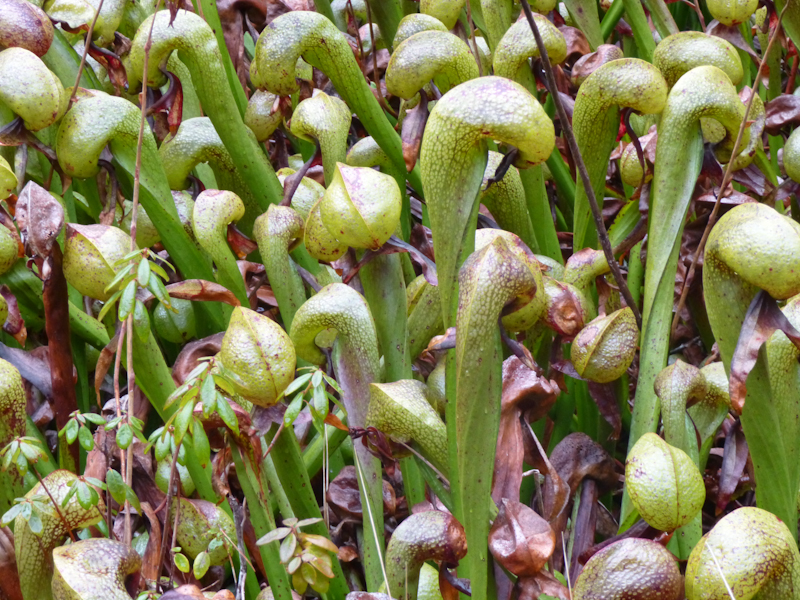 Oregon Dunes. The contrast of sand with conifers was odd.
Eric among the dunes.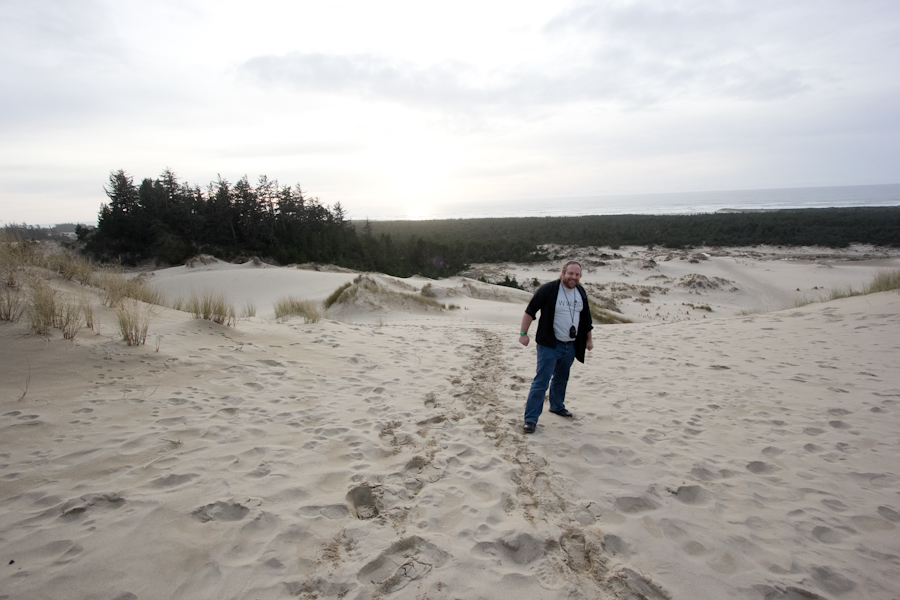 Eric took my picture at the dunes.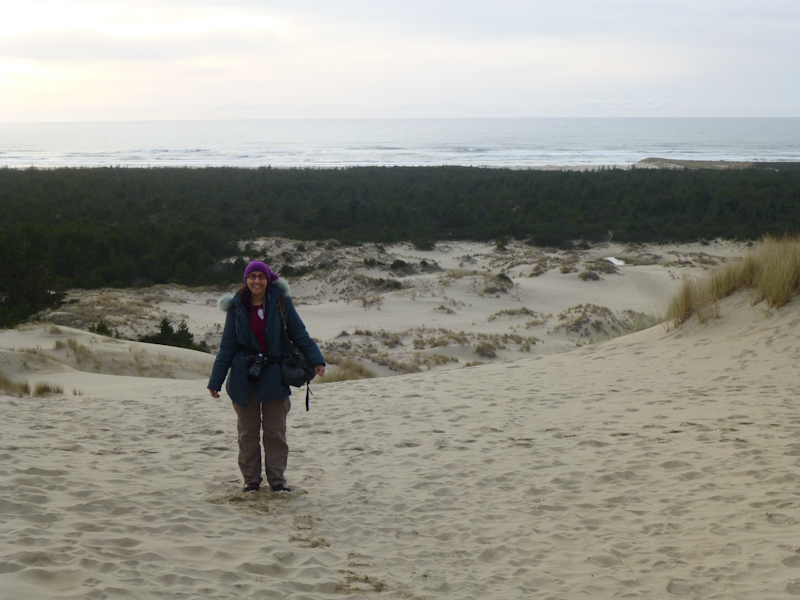 I had thought that Oregon Dunes, as a national rather than a state recreation area, would be the most interesting attraction of the day. But we had had more fun seeing the lighthouses. This was just a lot of sand. It was getting late, and the hiking was hard, so we didn't feel like hiking much.
One thing that did fascinate us was the abrupt transition between sand and trees. How can these trees thrive in such poor soil? And look at the moss right next to the sand! We were amazed by these sorts of juxtapositions all day.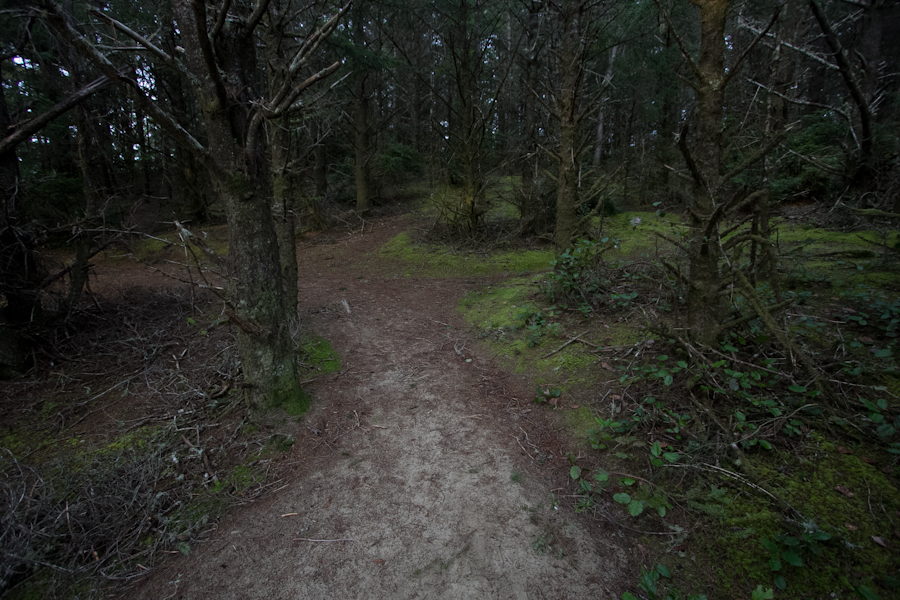 Just for fun, I played with the new wide-angle lens. Sydney isn't really anywhere near as far away from my vantage point as she appears in this picture.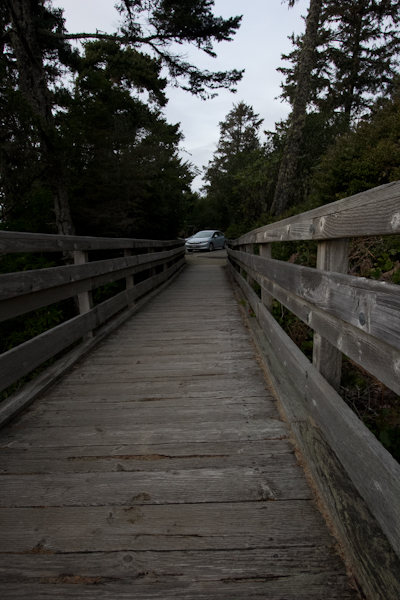 One more lighthouse before we rested--Umpqua!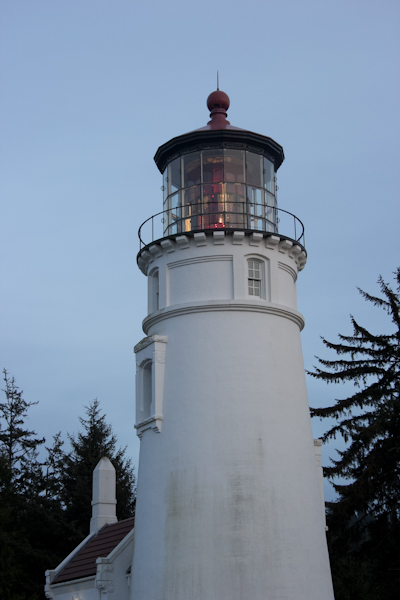 The sun setting at the Umpqua Lighthouse.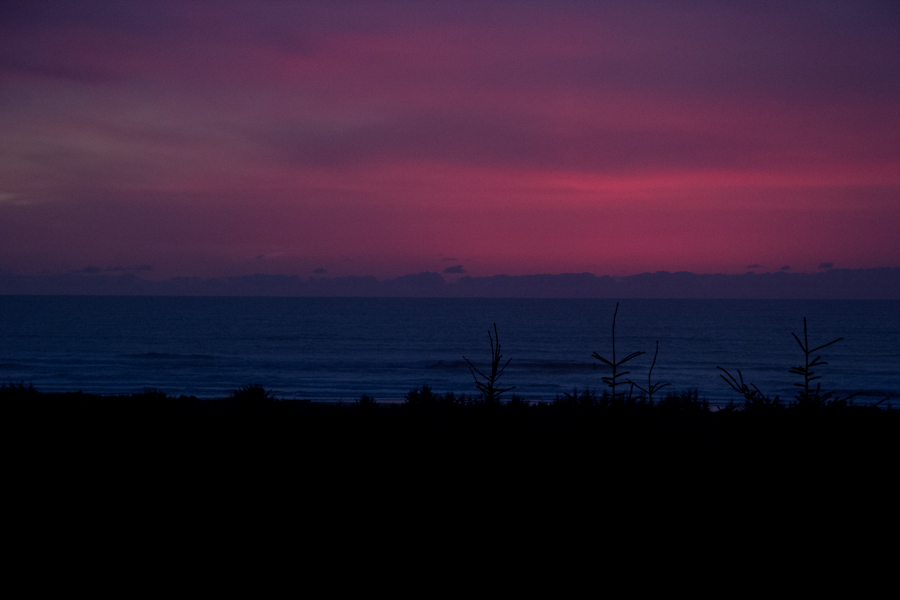 We had some fun finding caches at the Umpqua Lighthouse while we waited for the sky to darken and the light to become more dramatic.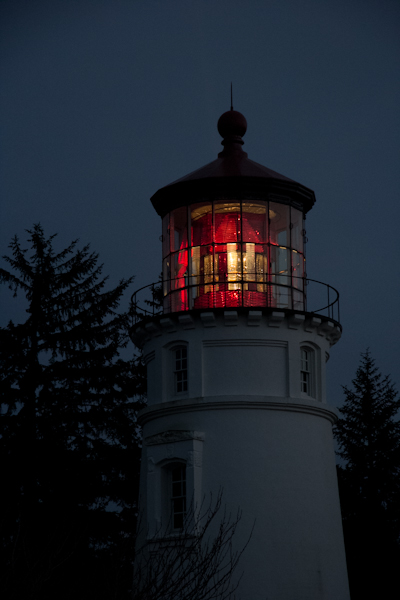 Eric's close-up view of the light lit at night.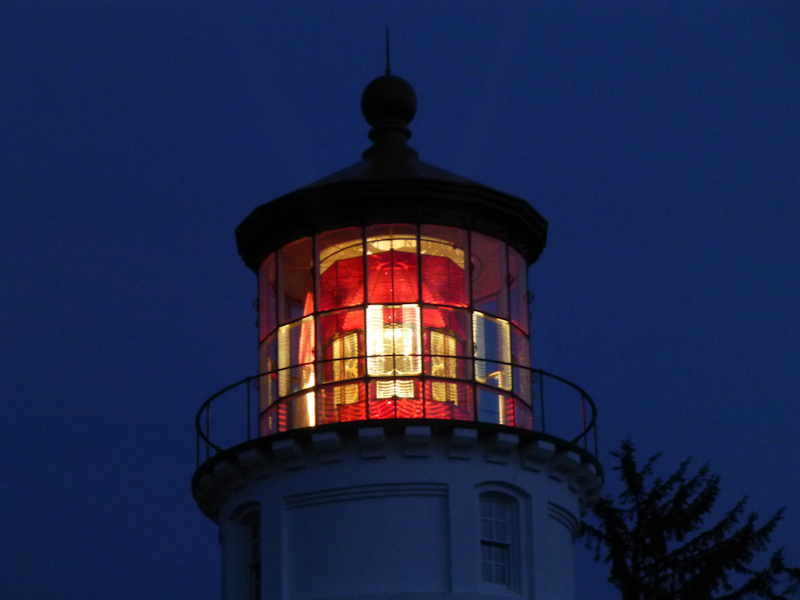 I had planned a stay at the Bandon Lighthouse Bed and Breakfast as a surprise for Eric back when we first planned this trip in September. It turned out to be something of a letdown as a surprise, because we arrived in the dark, and so the view of the lighthouse on our arrival was nonexistent. It just looked like any other B&B.
Our dinner was marred by Eric's losing his smartphone. It turned out that it had fallen out of his clothing on the carpet in the entryway (so that we hadn't heard it drop), and, since it was around 20:00 and after most decent folks have had dinner, when the bartender found it, she took it upstairs to the bar. We spent most of our dinner frantically looking through pockets and around the outside of the restaurant for it, and didn't really enjoy our food very much. Eventually, Eric asked the waitress if anyone else working might have it, and she told him about the bar upstairs. We were quite relieved to get the phone back, but the escapade did ruin our dinner.
Other than the dinner debacle, it was a fantastic day: breakfast with friends, three lighthouses, four state parks, one national recreation area, and five geocaches. On to next day.
---