---
Wine Country Bike Tour
Saturday 31 May, 2014
Many of you who are not from California have heard of California's famous wines. The most famous wine-growing area in California is the Napa Valley, home of numerous lovely wineries. We don't really drink wine, but we still find the country beautiful. For this year's bike tour, Eric wanted to go up to the wine country.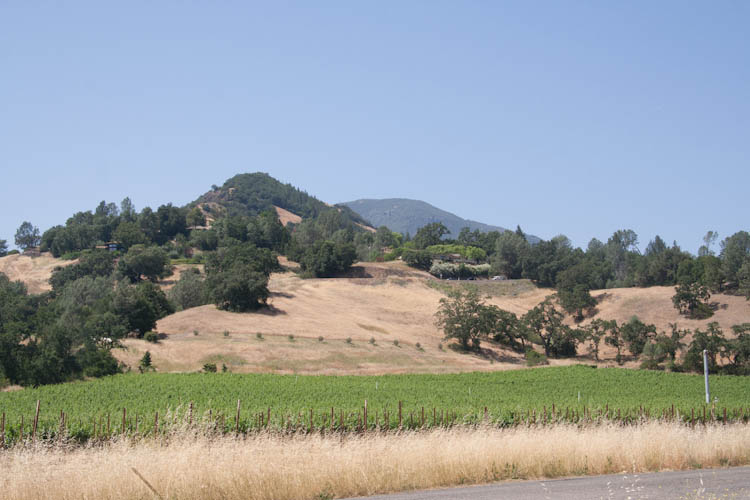 Lonely Planet's Cycling the USA West Coast, our go-to guidebook for these sorts of trips and a book that I can fairly say changed my life, had a six-day tour through the wine country. We could never manage that much time off of work for a bike tour, but we noticed that days four and five of the book's tour came out fairly near each other, such that that section of the tour could be made into an approximately 104-km (65-mi) loop. It looked like fun, and we made a plan.
The Napa Valley sits near an ancient extinct volcano, Mt. St. Helena. Thus, the territory is rugged and hilly, and we would have to cross the edge of Mt. St. Helena. The volcanic soil apparently affects the taste of the grapes. The area has several volcanic features, such as hot springs, a geyser, and a glass (obsidian) mountain. The grades would be much less steep than on last year's tour, though, the epic Lost Coast adventure, totally manageable.
After last year's three days of fully self-contained travel over the California Coast Range in both directions, I had promised Eric a credit-card tour (no camping) this year. Unfortunately, however, this did not work out. Every place I could find to stay up in that area was $200 per night or more. So, we ended up camping again, anyway. (I have a plan for next year, though, that does not involve camping.) We did meet Eric's criterion of not cooking in camp other than oatmeal for breakfast, so we didn't have to carry the cooking equipment or food other than snacks.
Setting Out
I had a bad commute, leaving me frustrated and in pain. Eric, meanwhile, had trouble connecting his Android to the laptop and accidentally erased a bunch of files. So, neither of us was in a good mood when I remembered that I had forgotten to copy the pages from the book describing the ride. Eric suggested taking pictures of the pages with my phone. It emerged that this was a two-person job, for one needed to hold the book flat while the other took the picture. Major shenanigans happened as we were trying to take the pictures while Anais, happy and friendly again after her bout of sickness, continually interspersed her opaque body between the phone and the book. "Pet me, pet me..." We had to keep pushing her off the book and hurry to take each picture before she could sit on it again.

Our first night of camping did not go well. Once again, we cursed Honda for not having given us the pull tabs that would have let us get into the trunk from inside Sydney, and missed our old Pearl dearly. After a failure of our nice spring-supported, poles-sewn-in tent last year, I had gone to Target and found an excellent deal on a new car-camping tent. We hadn't set it up before, and were forced to do so in the dark. It turned out to be one of those tents with shock-cords in the poles! Yuck! The joints in these poles continually get caught on the tent's nylon, making these sorts of tents take about ten times as long to erect and the spring-supported style. We were both frustrated.

Things only got worse from there. The shock-cord poles extend far out away from the tent during the setting-up process. By daylight the next morning, Eric took a picture of the area surrounding the tent.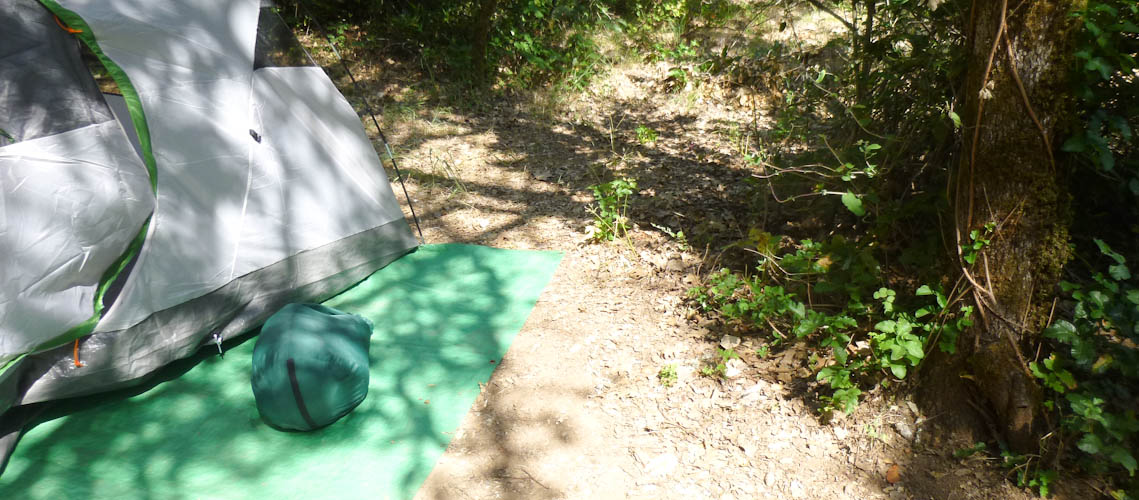 For those of you who don't know how to recognize it, that there, right next to the tent site, is poison oak. Of course the poles got into it before we discovered it in the dark. The failure of the California Park Service to have removed this hazard incensed Eric. It was not a good night.
It took a while to calm down and get to sleep, so I let us sleep until 7:30. I had hoped to get up at 6:30, but even getting up at 7:30 left me feeling exhausted and drained all day, which is not what you want when putting yourself through the endurance test that is self-contained bike touring. It took Eric a frustrating 45 minutes to find the camp host to get quarters for the showers, while I struggled with compressing equipment. We couldn't leave Sydney overnight in a state park without paying, so I loaded the bikes onto her. I did not manage to accomplish this task without getting a large, gear-shaped grease spot on my shorts and jersey. We parked Sydney in a legal spot in town, loaded up Boing and Scheherazade, and get going shortly before noon. However, by the time we stopped at a bike shop to fill our tires, it was a little bit after noon.
The Silverado Trail
Once we got on the road, though, it was lovely.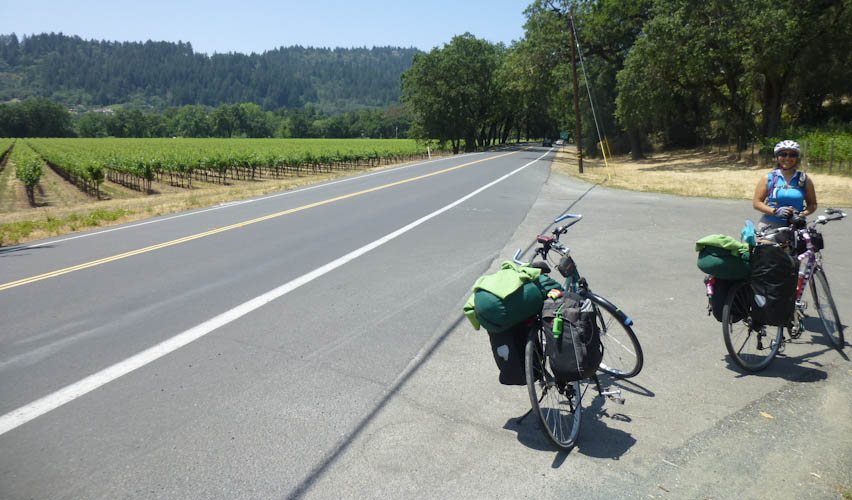 We rode along something called the Silverado Trail, which is not so much a trail as a regular road, but it was quite pleasant riding past the pretty wineries.
Unfortunately, I had not referred directly to the guidebook when planning our geocaching, and I had thought we would be riding the whole way along CA 29. The Silverado Trail was surely a nicer place to ride, but we couldn't look for geocaches. While we had charged up our phones in the car in the morning, we needed to conserve their batteries, so we couldn't use data so profligately as to search for caches for which we hadn't planned ahead.
Eric took my picture in front of some rows of grapes.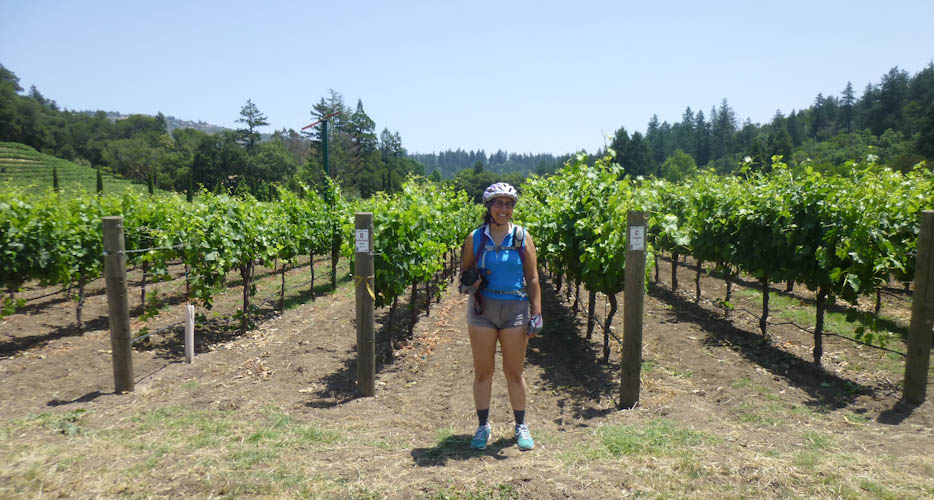 He also took a picture of this ancient vehicle. Note the wine barrels just behind the cab.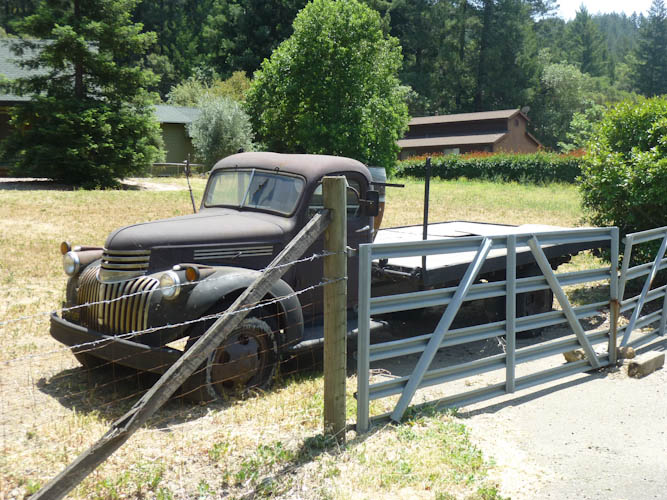 Some of the wineries were very architecturally interesting.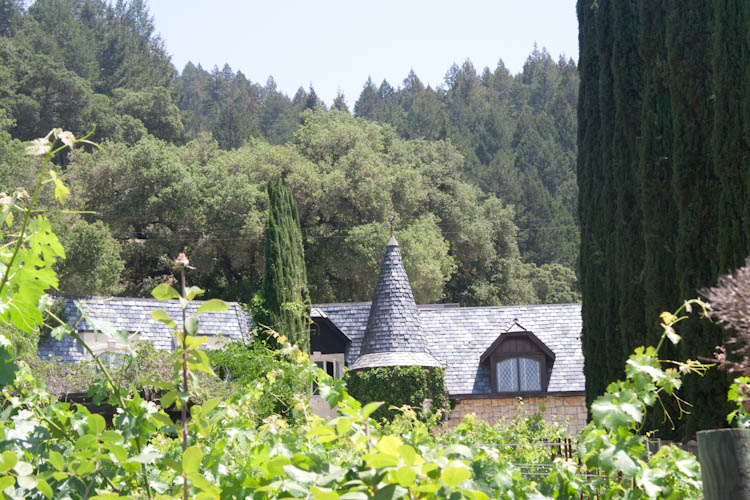 We found some other cyclists stopped by the side of the road to fix a flat, and loaned them our exceptionally nice stand-up touring pump. It turned out they were from Vancouver, and had rented some fancy road bikes in the next town, Calistoga, for the day. They were very friendly and we had some fun talking about cycling. They were impressed that we could give distances in kilometers.
They took our picture with our loads.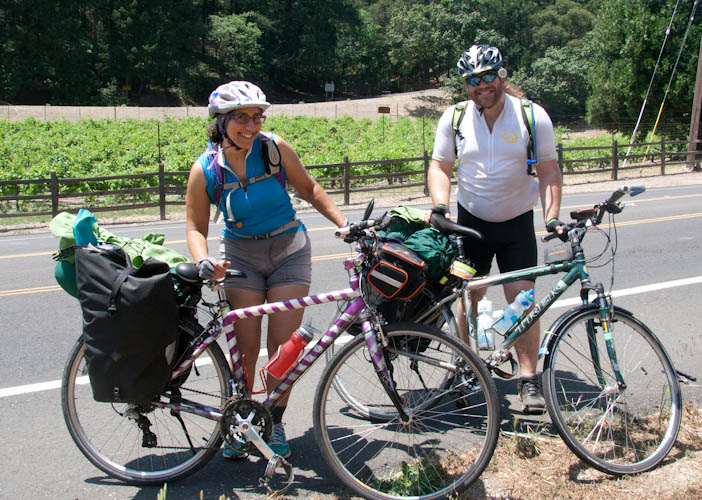 Eric took pictures of another winery.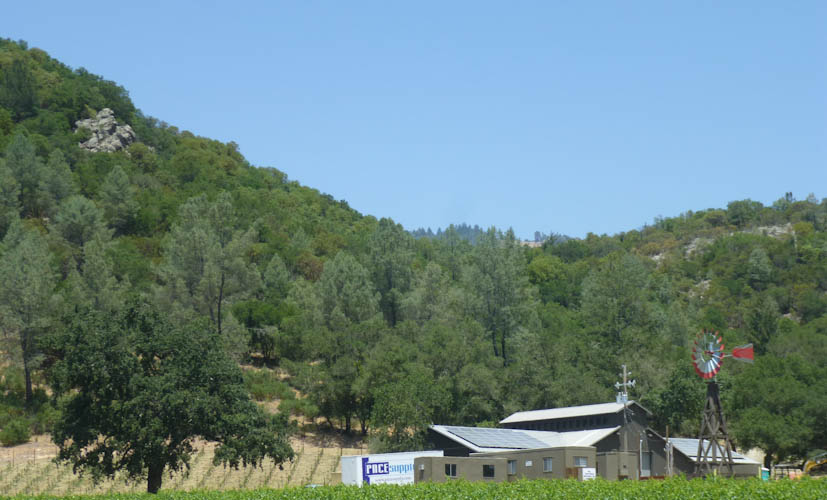 Photo also by Eric
.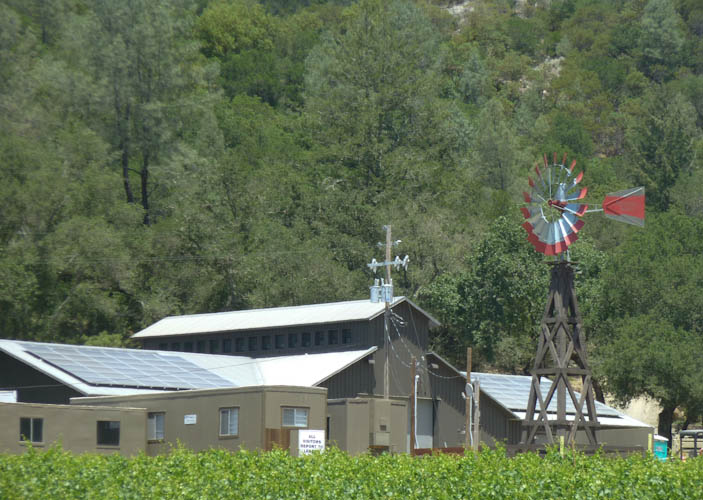 We would pass through one major town on our journey that day--Calistoga. I took Eric's picture with the sign.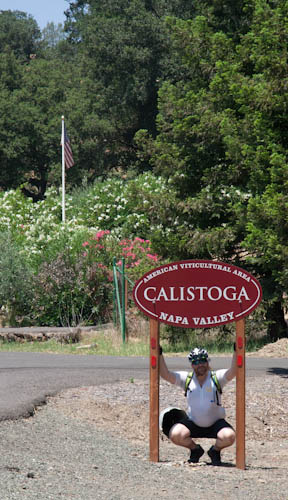 We had a delicious lunch at a sandwich shop inside an old railroad depot. We sat outside next to this cute array of shops inside old railroad cars. Photo by Eric.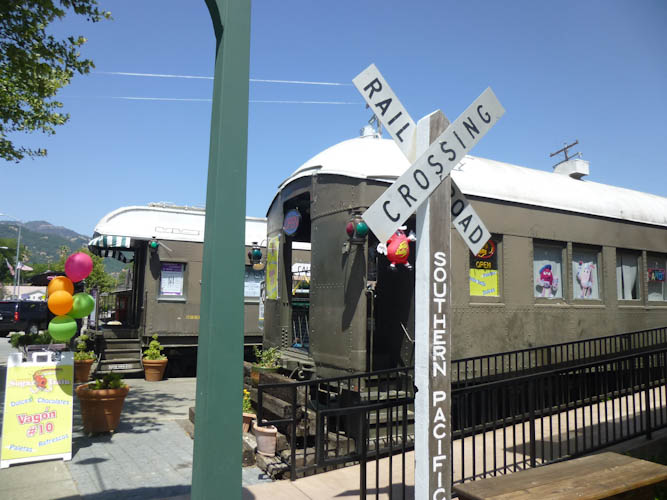 My sandwich had a very messy pesto mayonnaise. I needed quite a few napkins.
Old Lawley Toll Road
The next part of the trip involved an ascent over the edge of Mt. St. Helena. Fortunately, we were able to do about two-thirds of the climbing on quiet Old Lawley Toll Road rather than busy CA 29.

We passed by this pretty ridge. The guidebook says this is part of the Mayacmas Range.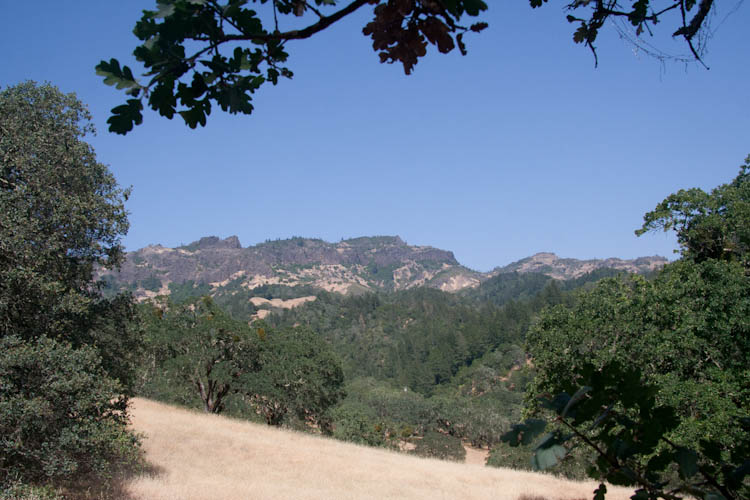 Eric took a closer-in view.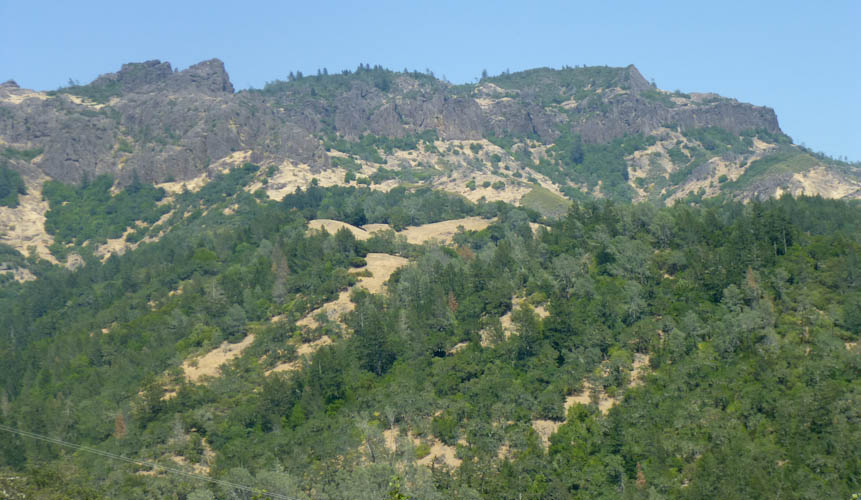 On our way up the hill, I accidentally got a little bit too close to the edge of the road, and then jacknifed in my recovery. It happened slowly enough that, had I been unloaded, I would have been able to catch myself. Unfortunately, I wasn't. I didn't land terribly hard, but I did scrape up my left elbow and knee. The cuts weren't bad, but the incident shook me up a little bit, leaving me, in my overtired state, with even fewer reserves for what was to come.
It bled so much that Eric took a picture. Between the blood and all the grease on my clothes, he announced, "You are a mess!"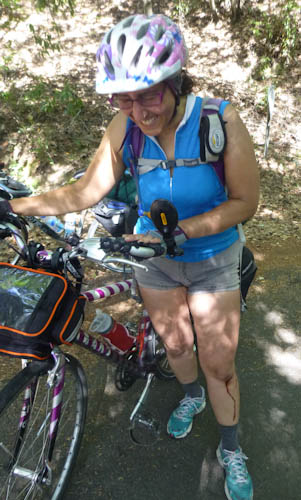 Not long after this, we were cheered up by the inevitable barnyard animals.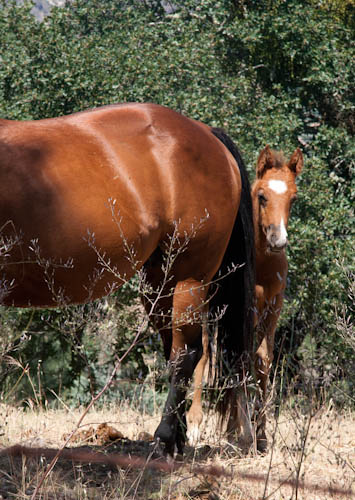 Eric's picture of the pony. Look at those hindquarters muscles!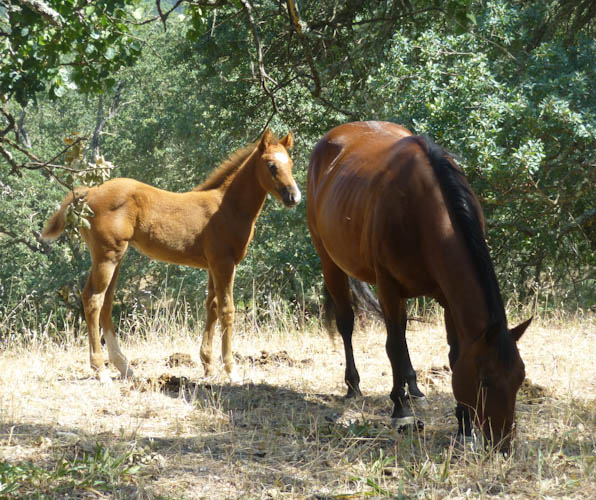 I got a picture of the pony nursing.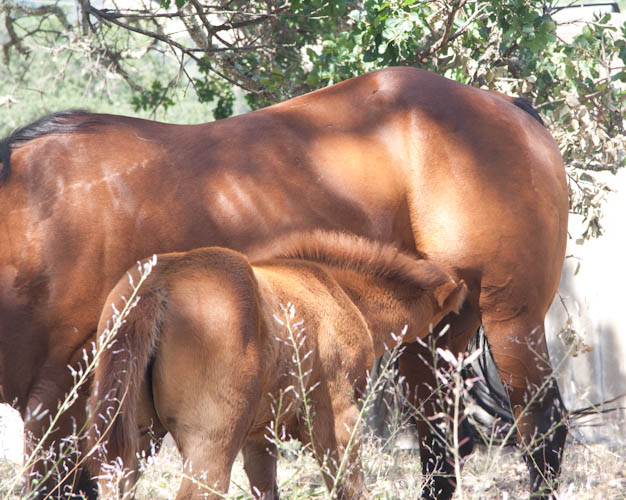 Eric thinks this guy is a mule.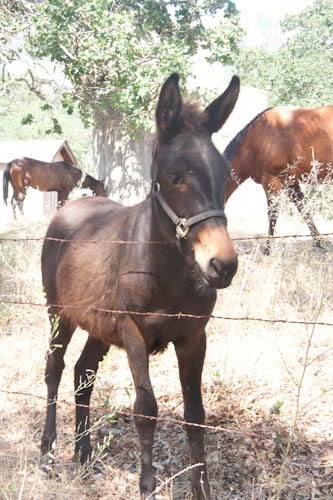 The view down into the valley with more wineries.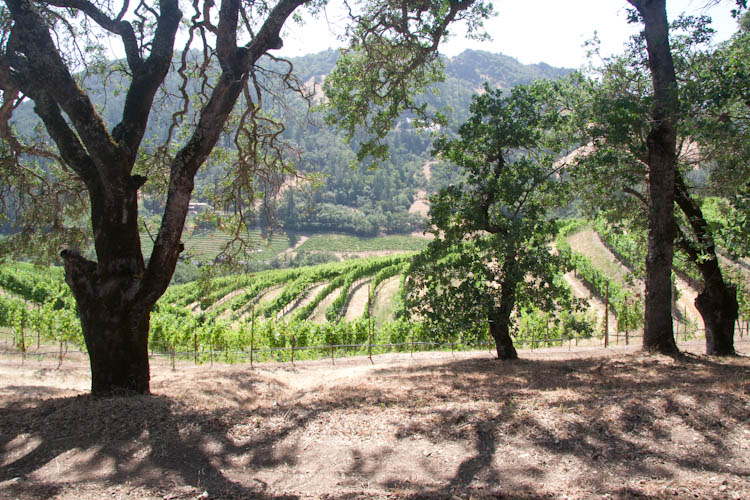 A ridge that looks pretty volcanic to my relatively untrained eye.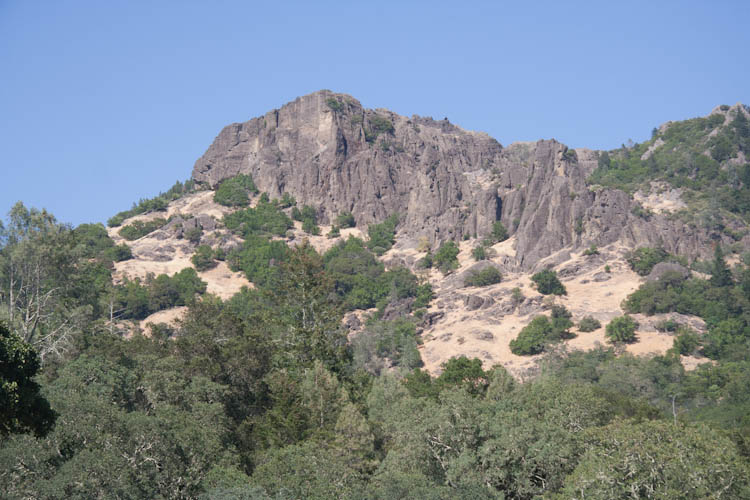 By accident, Eric found a geocache at the base of a road sign. At least we had found one!.
Eric took a picture of some sheep and goats.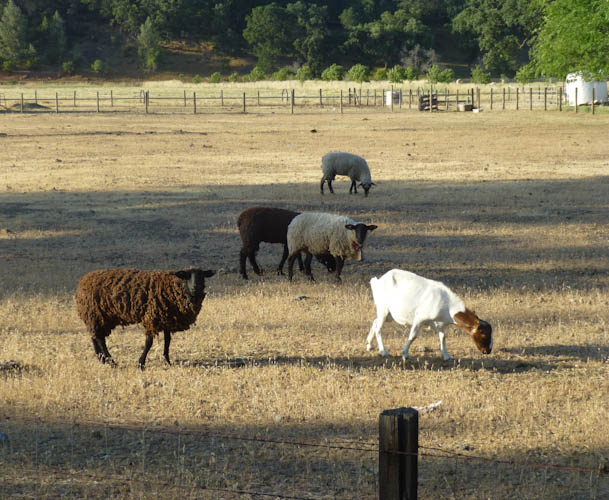 The Terror of 29
Now comes the bad part. While most of this tour was quite enjoyable, there was one 3-km (2-mi) stretch that was so bad that it nearly ruined the entire thing. Here is the Google Maps image of the area:

Now, Eric and I trained for hills like this, so we weren't frightened by the switchbacks. The grade was steep, but not ridiculously so. The problem was the traffic. The guidebook puts you on side roads like Old Lawley Toll Road wherever it can, but here, as you can see, there is only one road through the pass, CA 29. It was harrowing. The guidebook had merely described this part of the road as "very busy," making me suspect that an unscrupulous editor had deleted a warning that would have been important.

I was scared. Really scared. Eric was scared, too, although not as much. Sometimes, there was a reasonably wide shoulder. Sometimes, there was a least a narrow shoulder. But where there wasn't any shoulder, it was horrible. The worst parts were places where we had no shoulder and were being passed by some large, lumbering vehicle, while other vehicles were trying to pass the large, lumbering thing on its left. I had to stop frequently in the wider places to catch my breath and keep my strength up.

We were almost to the top, though, when things got really bad. We were going around a curve to the right, with a hill to the side such that you couldn't see around the curve. There were two northbound traffic lanes, and little or no shoulder. We were most of the way around the curve, trying to stay out where we were more visible, when a U-Haul truck came around. This wouldn't have been so terrible had a couple of cars not been trying to pass the U-Haul, such that it had nowhere to go and had to slam on the brakes, honking horribly. Don't pass on a curve, people, didn't they teach you that in driving school?

This was where, as soon as we came to a wider spot, I just had to sit down by the edge of the road and cry. It was awful. Eric even told me that my reaction was not unreasonable. He later suggested that maybe the U-Haul was not honking at us, but honking at the cars in the left lane to give him some room. At least one of them apparently did give him some room, so the honk may have saved us. We'll never know. We survived, but it was terribly scary, and the honking horn had not been good at all for my already overstretched nerves. It was all I could do, with Eric's encouragement, to make the last little bit up to the top.

I had picked out several caches for the state park at the top of the hill, but we didn't feel like looking for them. I didn't even feel like taking pictures for the whole rest of the day. At least, when we had ridden on part of the 101 freeway last year, there had been a very wide shoulder except for one part on a bridge, and even the bridge had had a shoulder. This was worse than any of that, and I never want to ride on a stretch of road like that again, even without panniers full of camping gear.

Traffic was still heavy and fast on the downhill side, but we were going much closer to its speed. I was still scared, but it was much better. We had considered doing the loop in the other direction, but it's a very good thing we didn't, because then we would have had to do the entire ascent on 29, rather than having most of it on Old Lawley Toll Road. Still, I couldn't wait to get to Middletown, where we would leave 29 and hardly have to ride on it the next day at all.
Middletown
The approach into Middletown was much quieter than CA 29 had been over the hill. The shoulder was wider, and traffic was calmer. We were even able to take a side road for some of the distance. I was still all shaken up, but things were looking better.

Middletown turned out to be fairly nice. We stopped in the parking lot of a deli to try to clean up my leg a little bit with alcohol wipes, not entirely successfully. But then, we found a beautiful thing: a library and senior center. Eric rode up to the library in hopes of finding open wi-fi. We hadn't had a data signal for a while, and were probably unlikely to have one for the rest of the day, and he didn't want to break his 110-day streak on our language-learning web site, Duolingo. He didn't get wi-fi, but he did get Edge. I had only a 40-or-so-day streak going, so I didn't care enough to try to do a lesson with Edge rather than 4G. But the building turned out to be open, and, while Eric was doing his lesson, I was able to go inside and clean up my leg with actual paper towels and running water. Honestly, there is nothing more beautiful than plumbing. I love the library.

We would be camping in Middletown for the night, but we just had a short hill to go up before we could rest.

Eric took my picture on this mercifully quiet road.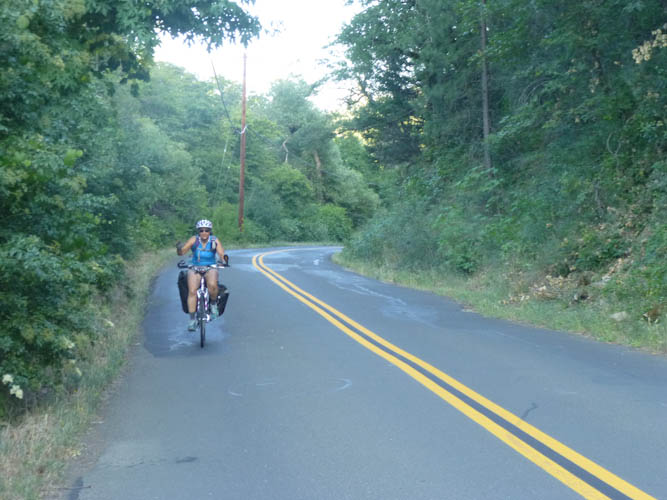 We arrived at the site at about 19:30, not too bad for the 50 km (30 mi) we covered fully loaded. We were able to put up our tent in the light before having a nice roasted herbed chicken dinner at a nearby restaurant. We met a new Brazilian friend, who told us his mother had named him Hercules, so he called himself Lobo. He was with his girlfriend, Sunshine. So, I did get in some Portuguese practice even though I didn't do my Duolingo lesson. I was able to calm down and sleep much better than I had the previous night.
Elevation profile for Saturday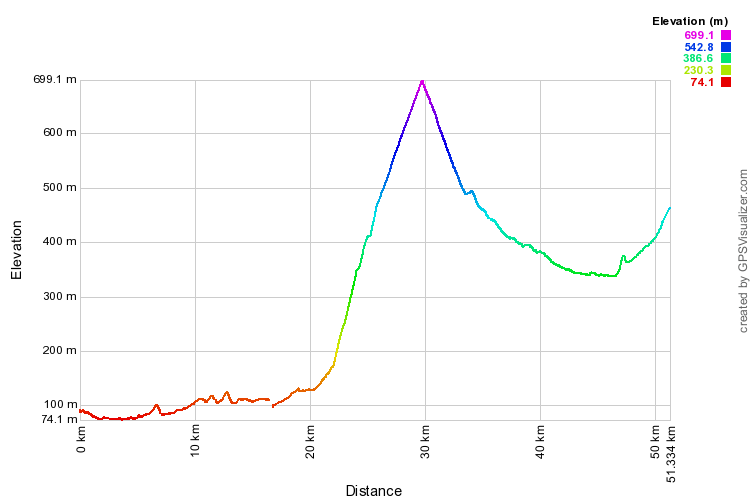 ---