---
Mendocino Bike Tour III
Saturday-Sunday, 17-18 August, 2019
Lovely Mendocino wine country scenery.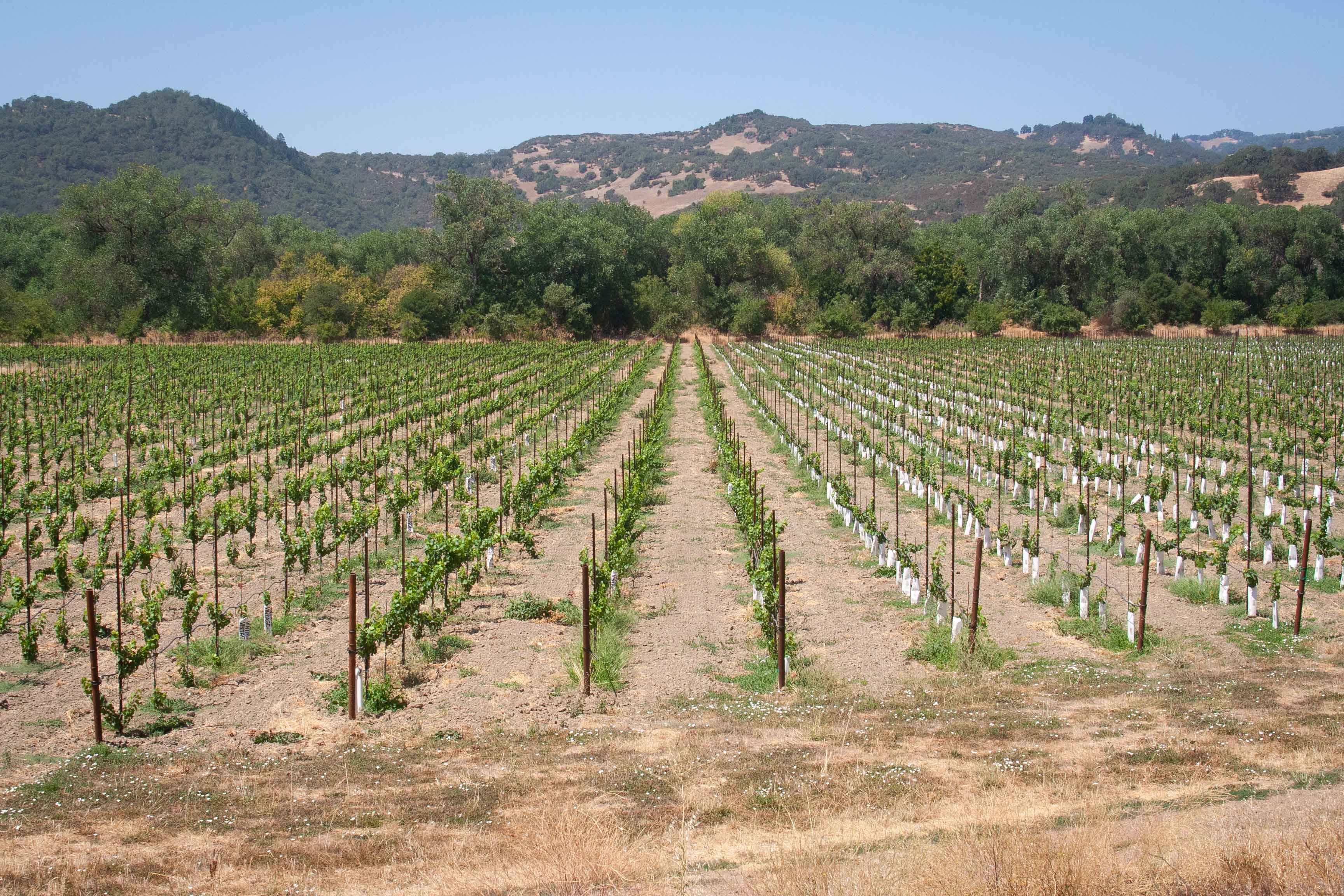 My most major complaint about bike touring has always been riding in traffic, and, after last year's route around Lake Tahoe, I asked to avoid routes that included US Route #XX or State Route #YY. This year, Eric managed to find a route that included only a handful of kilometers on CA 175 and 222. We would return to lovely Orr Hot Springs, as we had two years ago, but from the other direction, from Ukiah, on a two-day out-and-back trip.
Now, the hill between Ukiah and Orr Hot Springs is extremely severe, but it's under 25 km/15 mi, going both up and down in each direction and including a stretch in town. That distance seemed insufficient for bike tour. So, we planned to ride from Hopland, to round out a nice 51 km/31 mi. The road from Hopland to Ukiah was a lovely, flat trip through pretty vineyards in very little traffic. The Mendocino County Sheriff advised us that it was legal to park overnight on any street in Hopland for up to three days. As we only needed to park for one night, it sounded perfect.
As usual, we had an insufficient number of days to train. We took a training day off to go on a fabulous Audubon Society tour to see Tufted Puffins at the Farallon Islands. It was incredible, and we had the most amazing Humpback Whale sightings we've ever had that day, but we really needed more training. We spent only one day training with actual camping gear, not even adding extra weight on any other training days. This year, we had to add a CPAP for Eric to our gear. I took our tent (a new backpacking tent we had bought at the last big REI sale), and our first-aid kit. We were left with no place for our food, and, on our one training ride with the camping gear, we unfortunately decided to defer figuring out where we'd put the food until later.
We had made a reservation at the Motel 6 in Ukiah, thinking we would drive from there south to Hopland in the morning. I wish I had thought Thursday evening of canceling that reservation, particularly as it was rather expensive for Motel 6. I woke up Friday morning wondering why we'd made a reservation for a place an hour and a half from home. Why didn't we just save the money, spend the night at home with Patience and Fortitude, and get up early the next morning? Sadly, it was too late to cancel the reservation.
We couldn't get our money back, it was spent one way or the other, but it still seemed like a better idea to spend the night in our own bed, not have to pack separate bags for a night in a motel, and leave from home Saturday morning. So, we went to sleep at home around 20:30, setting an alarm for 4:15.
I had hoped that, somehow, we might save time by having stayed home, that we might drive in lighter traffic, that we might leave the house in fewer than four hours from the time we rose, any number of faint hopes I had. Eric struggled with packing his panniers and finally had to swap one of them for a larger one, which had to be switched from a left-sided one to a right-sided one. He had to strap the food on top of his sleeping bag. It was 8:45 before we left.
Before we got to the freeway, we realized that we had failed to bring the thumb drive with our audiobook along with us. We enjoyed Chernow's biography of Hamilton so much that we decided to listen to his biography of Washington. Perhaps, in retrospect, this was a critical mistake, but we turned around and went back for the thumb drive. But we did very much enjoy listening to the audiobook on the northbound drive, when we learned all about how Whitehall, NY got to have the honor of erecting that sign that says, "Birthplace of the US Navy." It turns out that, before he became a traitor, Benedict Arnold, on Washington's orders, organized a group of private ship owners and encouraged them to attack British ships, under the promise that they could keep a third of their ill-gotten gain. The Continental Army captured a good stock of weapons in this fashion.
We arrived in Hopland around 10:45. I had been drinking tea while we drove back and forth to retrieve the thumb drive with Chernow's Washington, and needed to use the bathroom fairly badly. I entered a friendly cafe, STEEP Organic Coffee and Tea, and asked for a mocha for Eric. They wisely asked whether he might want it iced, as the temperature was already rather high. He did. I used the bathroom and then paid for the iced mocha. The baristas were taking a picture of another customer's cute dog for their Instagram page. I liked this.
STEEP Organic Coffee and Tea.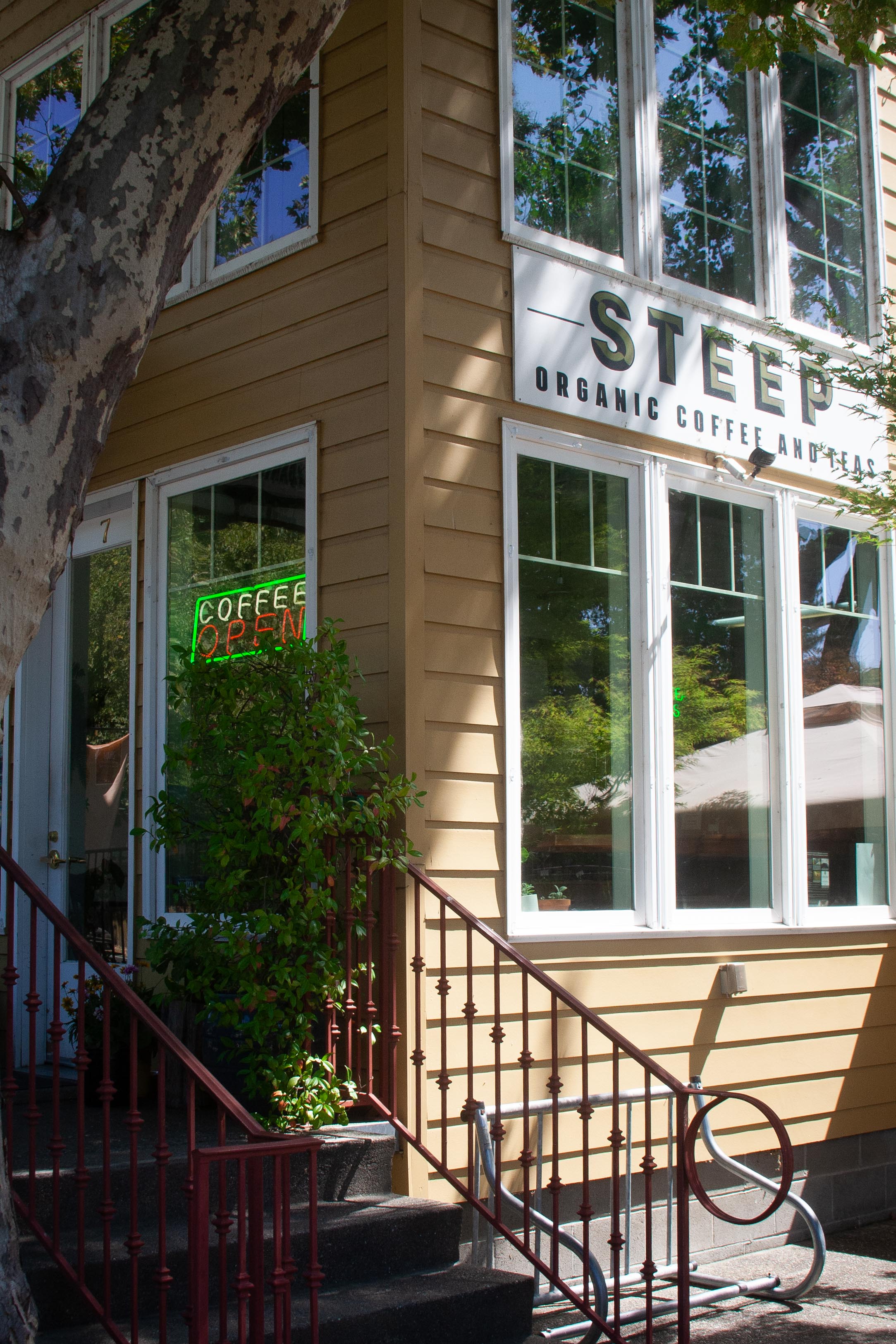 While Eric unloaded Screech and Scheherazade from Mather and loaded Screech with his camping gear and our food, I went in search of more substantial food than STEEP had. I went to the Hopland Superette, but all I found were empty shelves and a "For lease" sign." I went to the Bluebird Cafe, but they told me they couldn't make deli sandwiches to order and that I should go to Hopland Farms inside the gas station at the turnoff for CA Route 175. Eric wasn't responding to my messages, so I improvised a sandwich for him. This is how I found out that sandwich makers other than those at "our favorite restaurant," Subway, mean pepperoncinis when they say "peppers" on a sandwich. Oops. I had eaten my sandwich while I walked back to Mather, so I loaded Scheherazade while Eric ate his.
Screech and Sheherezade loaded up. Photo by Eric.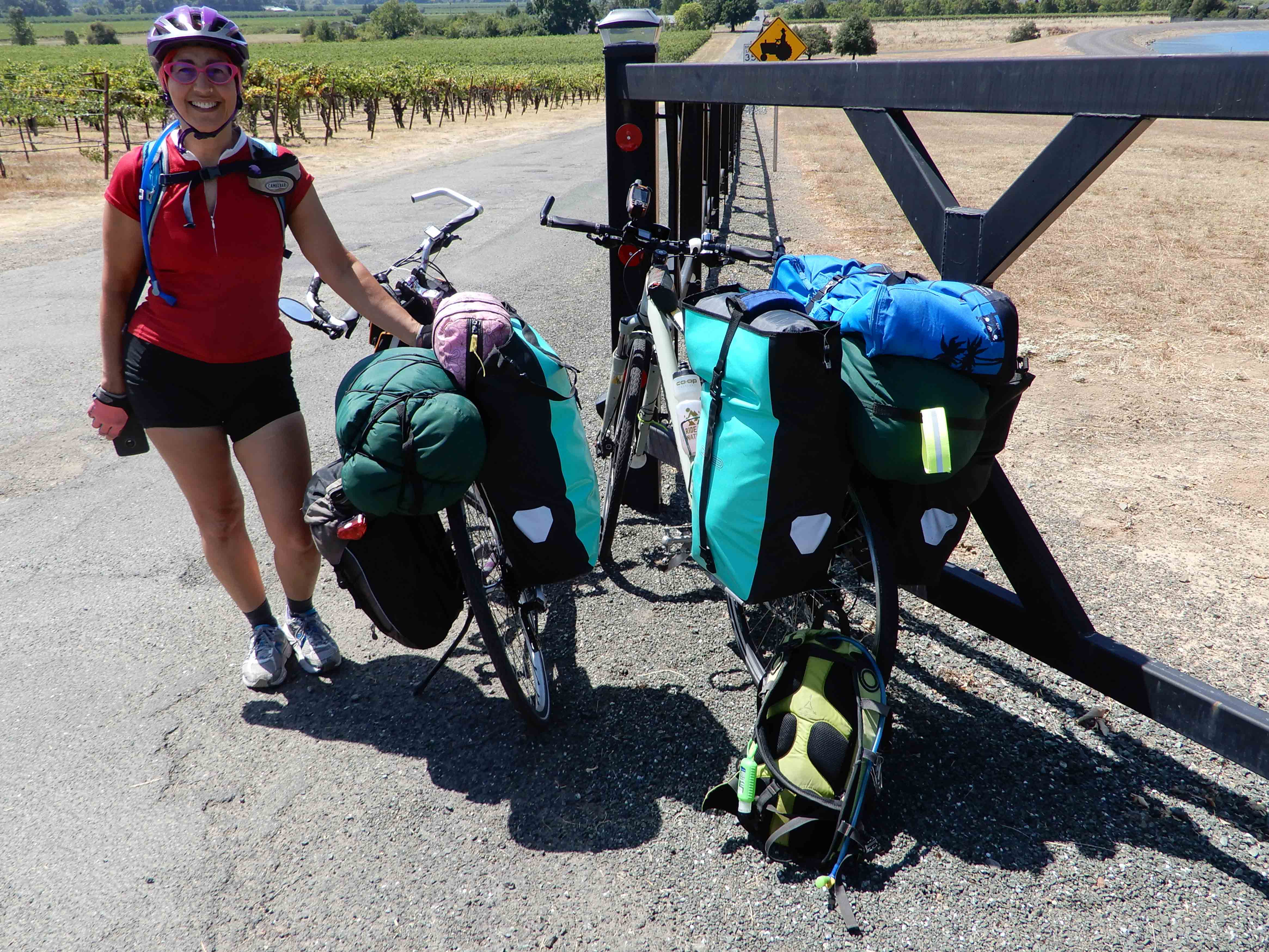 We finally embarked on our journey just a couple of minutes before noon.
We had parked Mather on US 101 (not a freeway part, obviously), and then we had just a very short distance on CA 175.
The first couple of hours of the trip were quite pleasant. We rode along idyllic Old River Road, relatively free from traffic and marked specifically as a bike route, enjoying the scenery of the wineries.
Look how happy I am at this point in the trip. Photo by Eric.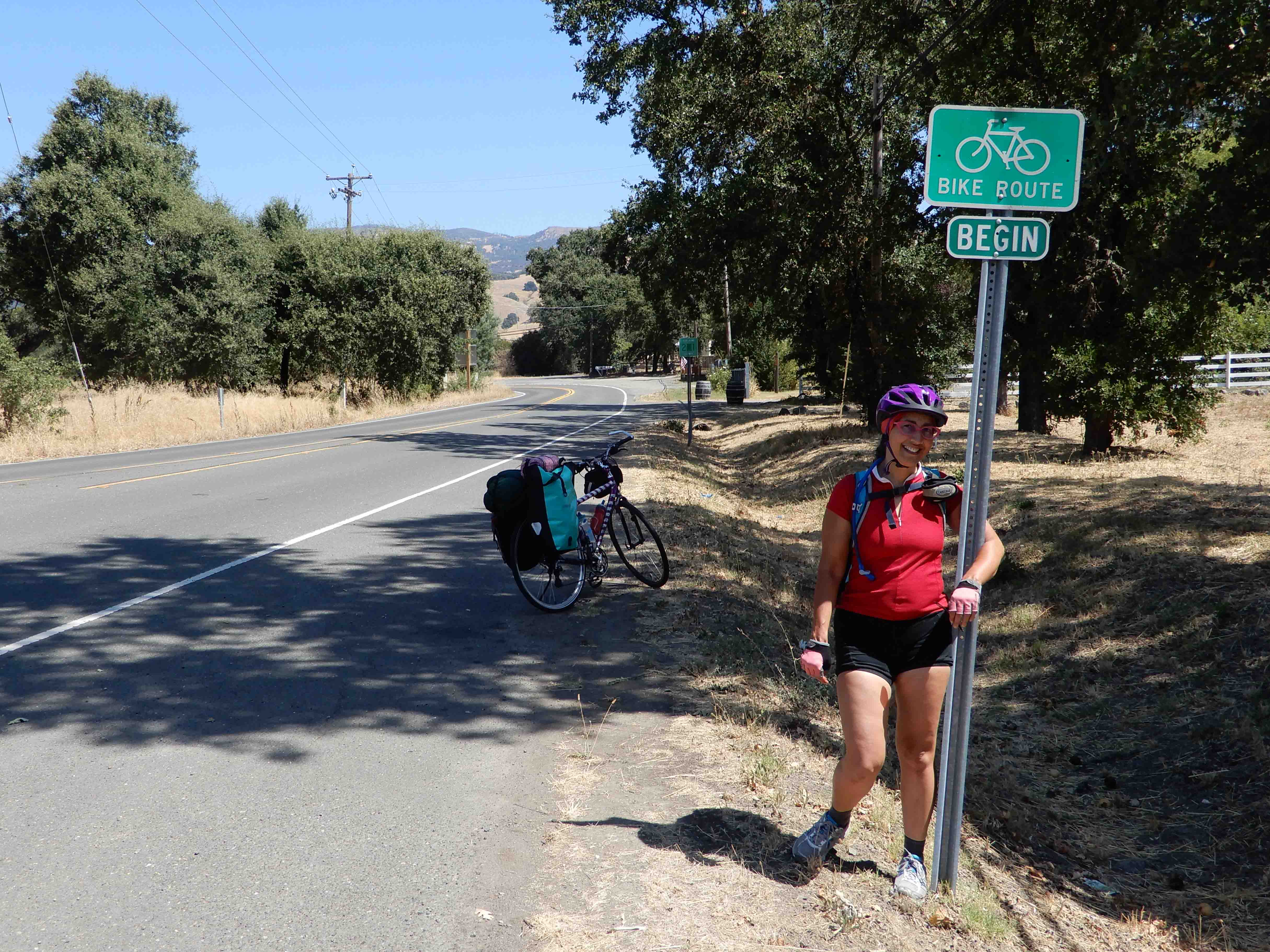 Eric photographed the pretty scenery.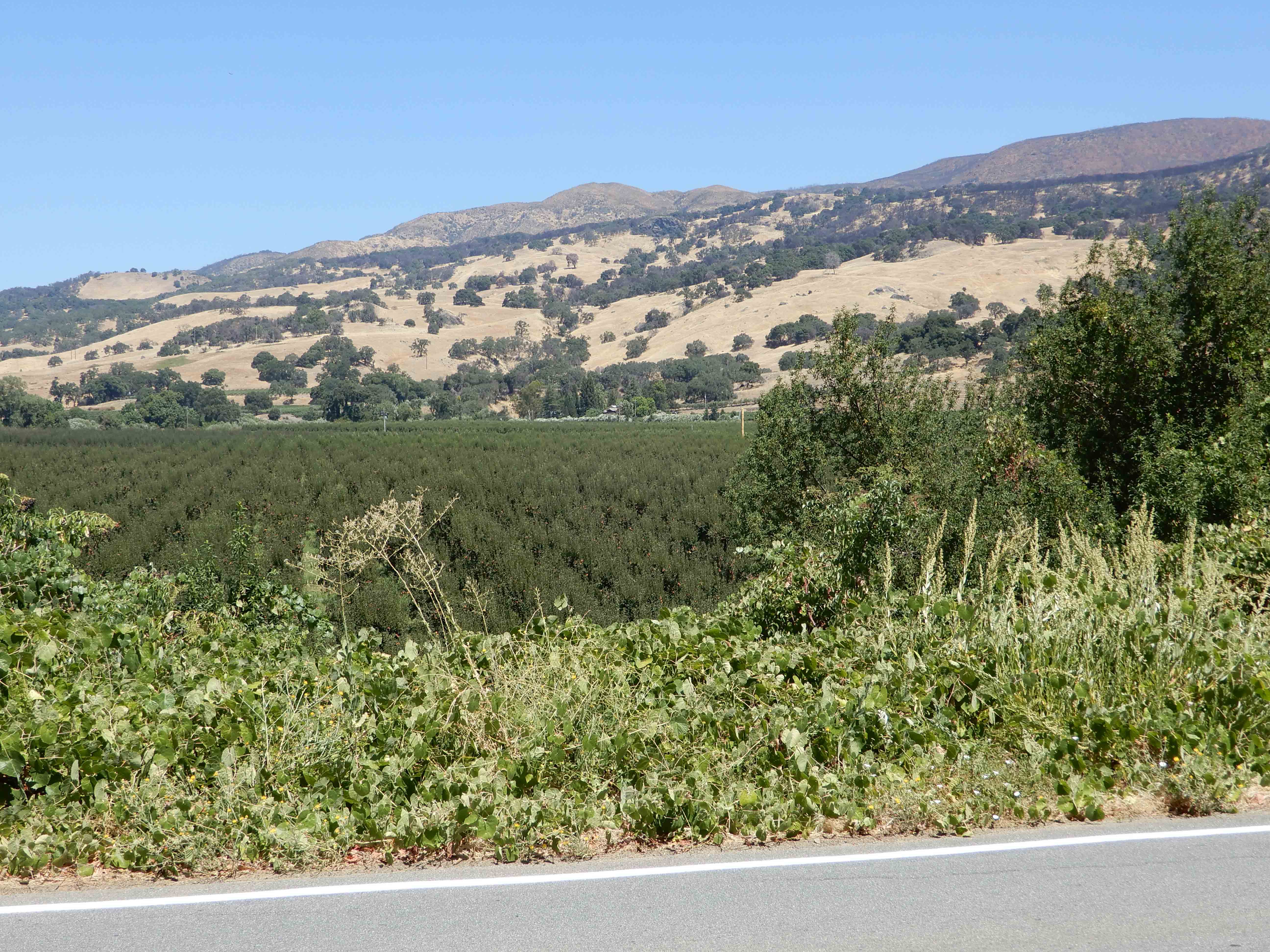 We stopped to find one geocache, beside this irrigation area.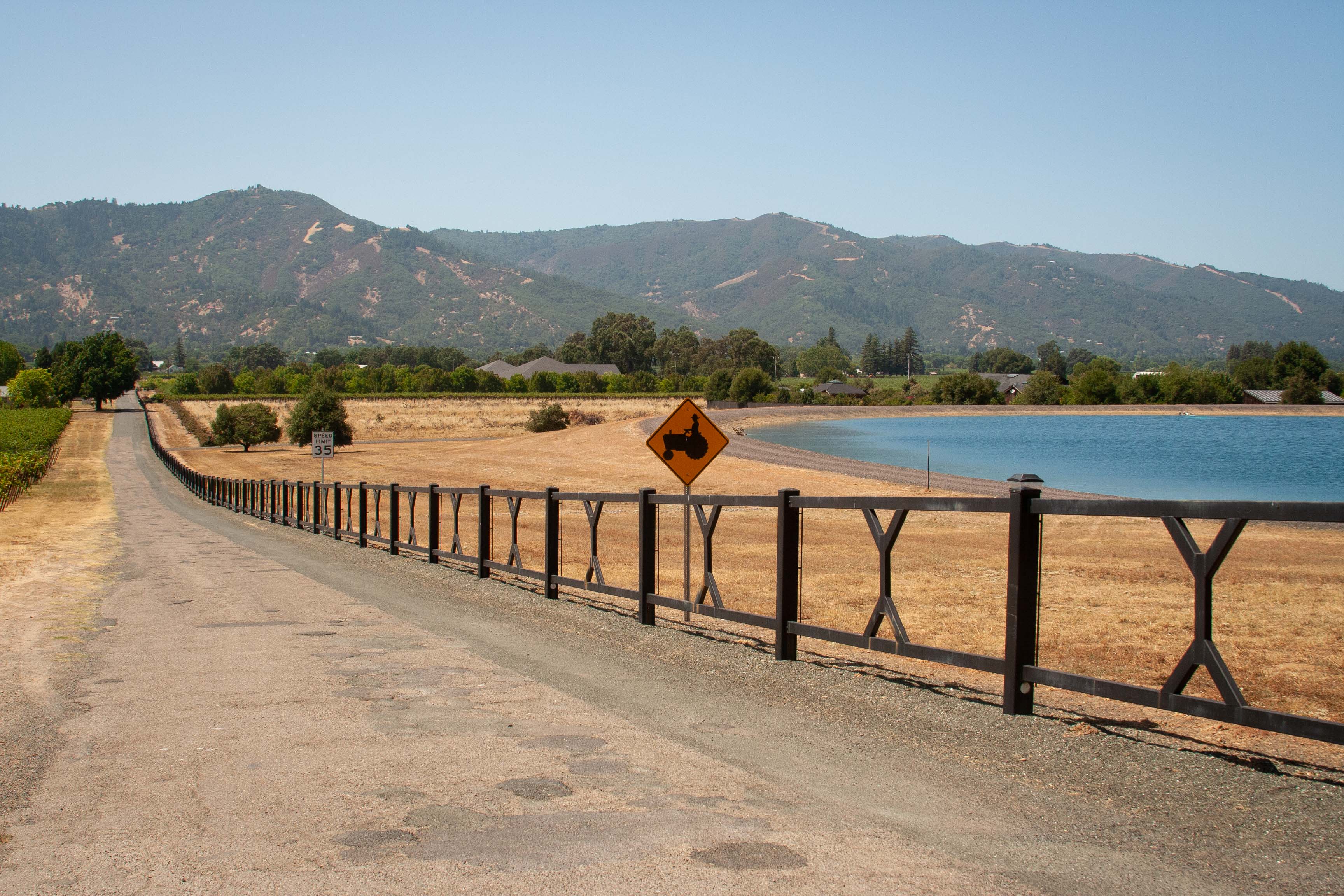 This part of the trip was entirely carefree but for one thing: the presence of this horrible plant, the Yellow Star-thistle. This invader from the Mediterranean can wreck even puncture-resistant bike tires, as we discovered on our ill-fated Yosemite Flat-Fixing Trip. We had to take care to avoid getting too close to the edge of the road.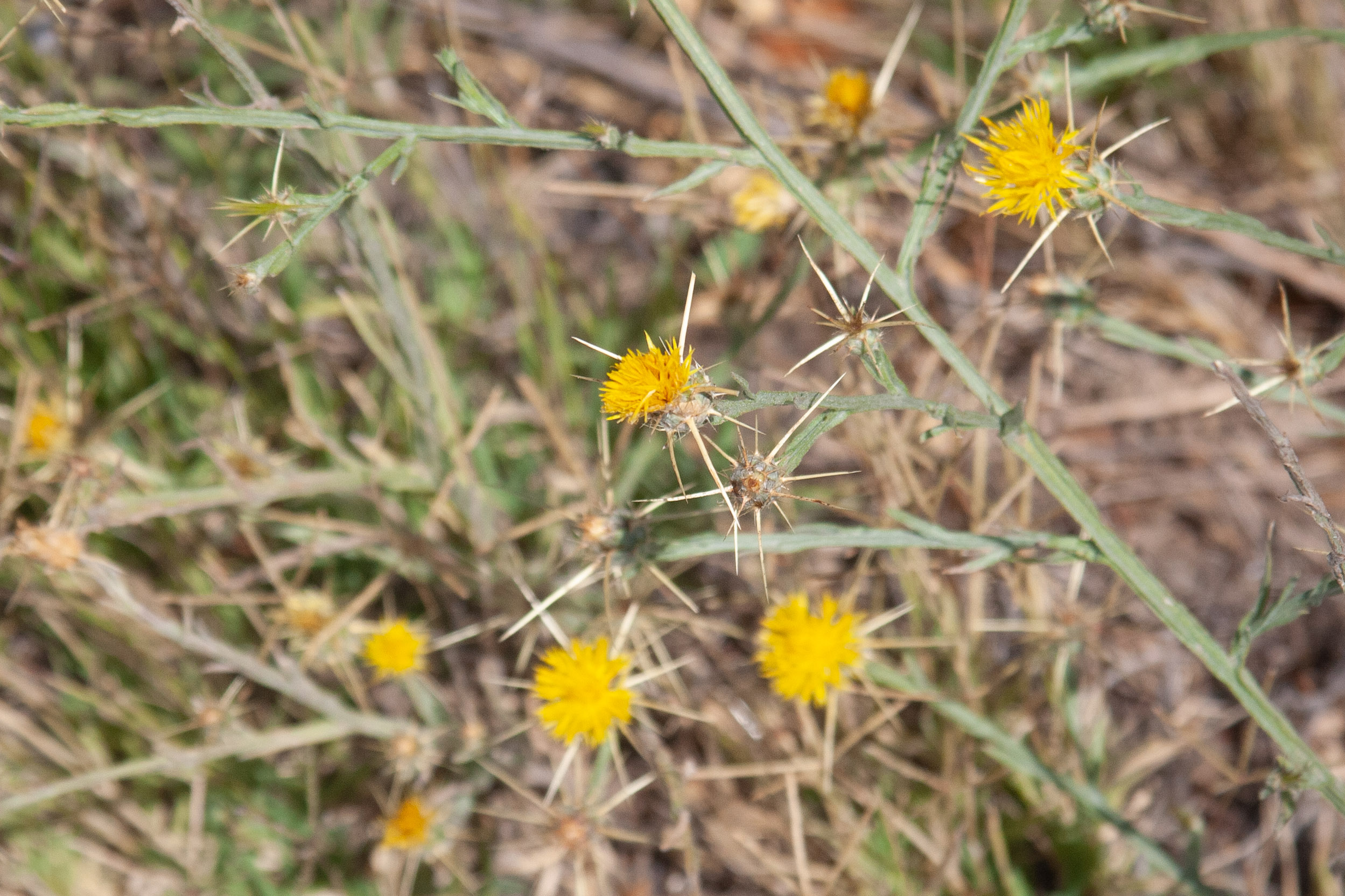 At last, we arrived in Ukiah, and rode through a few kilometers that Lonely Planet's Cycling the USA West Coast described as "less than scenic," although we did cross the Russian River here, on a short stretch on CA 222.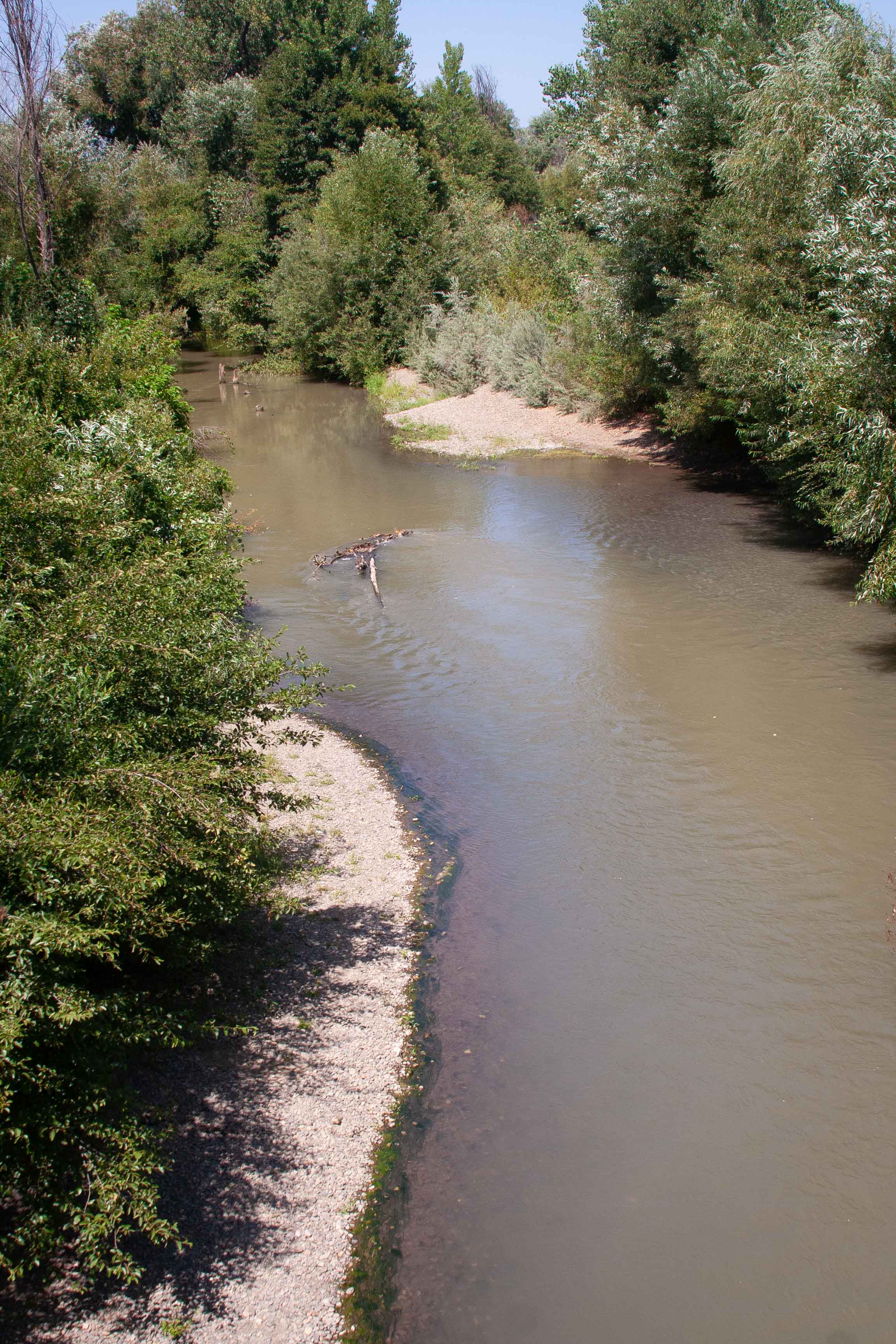 Ukiah is where we should have stopped at a convenience store and purchased some evil bottled water. Instead, all we did was take a few minutes to reapply sunscreen. We left Ukiah, with 19 km/12 mi still to travel, just about 15:00.
And then we started up the hill.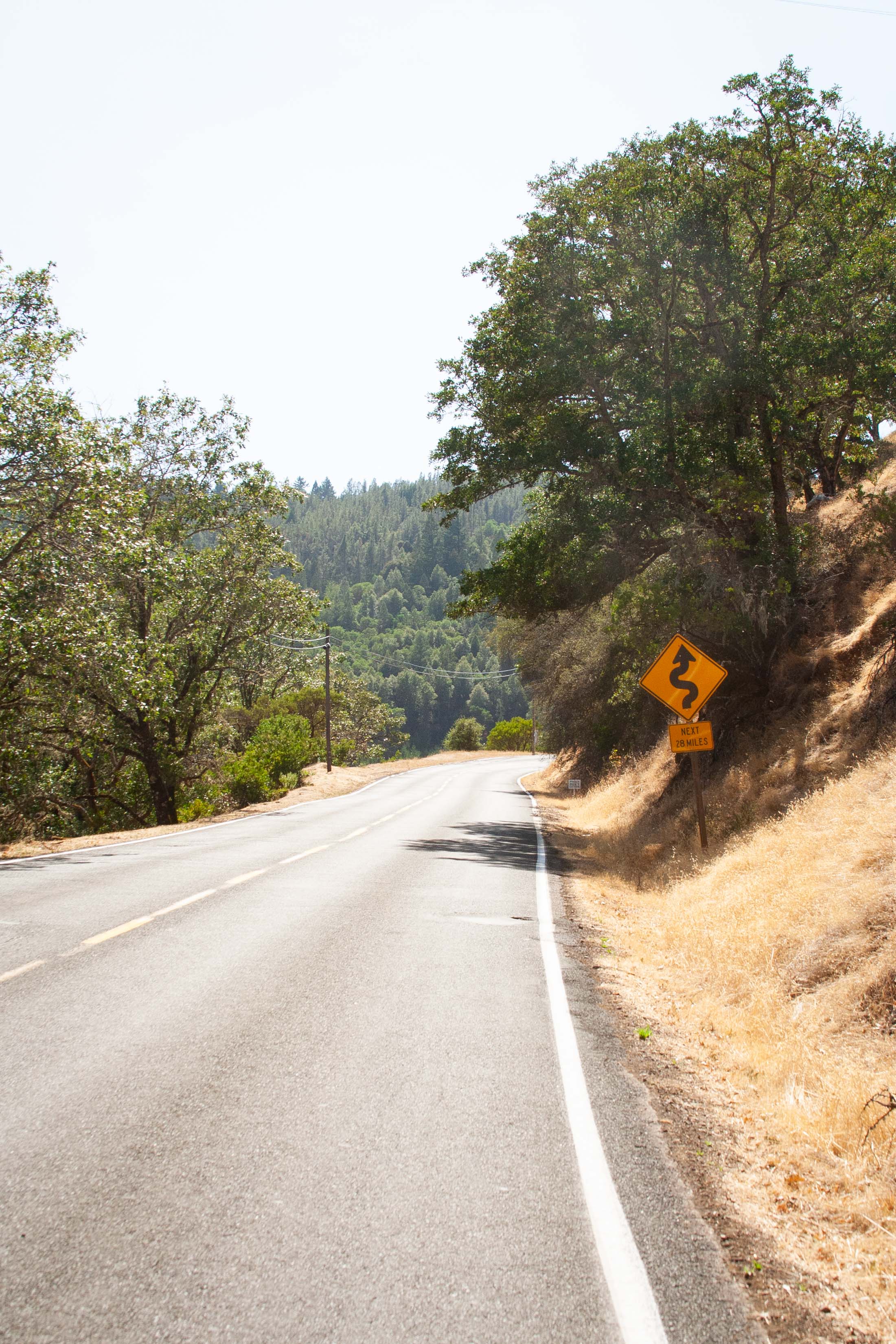 The hill was a mighty struggle. At one point, I took a photo looking back down at the switchbacks we had been climbing.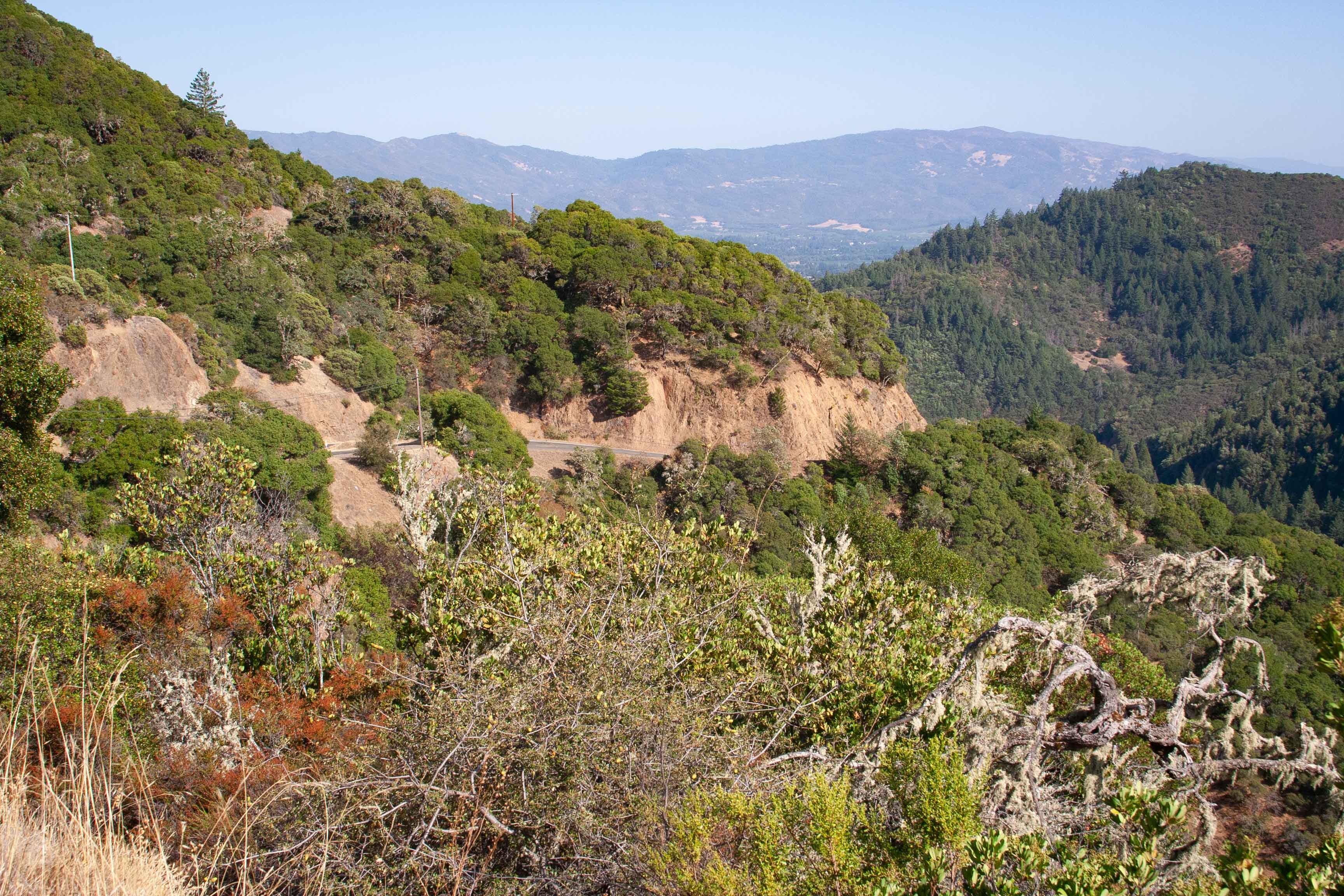 Additionally, the air temperature was high, and the sun was beating down on us. This was the less steep side of the hill, but this meant that the climb was longer. 10.8 km, or more than 6.7 mi. While less steep than the other side might seem easier, it isn't necessarily, because it was still very, very steep, as you can see from the photo above. On long climbs, you're fighting a war of attrition against your remaining resources, energy, time, daylight, water. All of these were strained as we rested every 100-150 m on the steep parts. I desperately wished were were making better time.
The evil Yellow Star-thistle lined the road everywhere here as well, often meaning that we had no good place to pull over to rest, forcing us to rest in the roadway. Traffic was light, but it still made our rests nervewracking. But a puncture, and the need to repair the resulting flat tire, would easily have cost us an additional 20-30 minutes. Eric kept thinking he did not see any Yellow Star-thistle near the side of the road; I repeatedly pointed it out.
We ordinarily rely on geocaching for rest and recovery, but, as we had done this route before, there were only five geocaches that we had not already found. One of them had a terrain rating of 3 out of 5, and when we looked at the hillside where it was, neither of us felt like climbing it, so we skipped it.
We had frozen water in our Camelbaks overnight, but the water had completely melted as we ascended the hill. In a fairly unusual situation, Eric was running out of water more quickly than I was. We became seriously worried about running out. Thankfully, a friendly couple in an RV slowed down to ask how we were doing, and, when Eric said we could use some water, they handed us two bottles. This act of kindness refreshed our energy.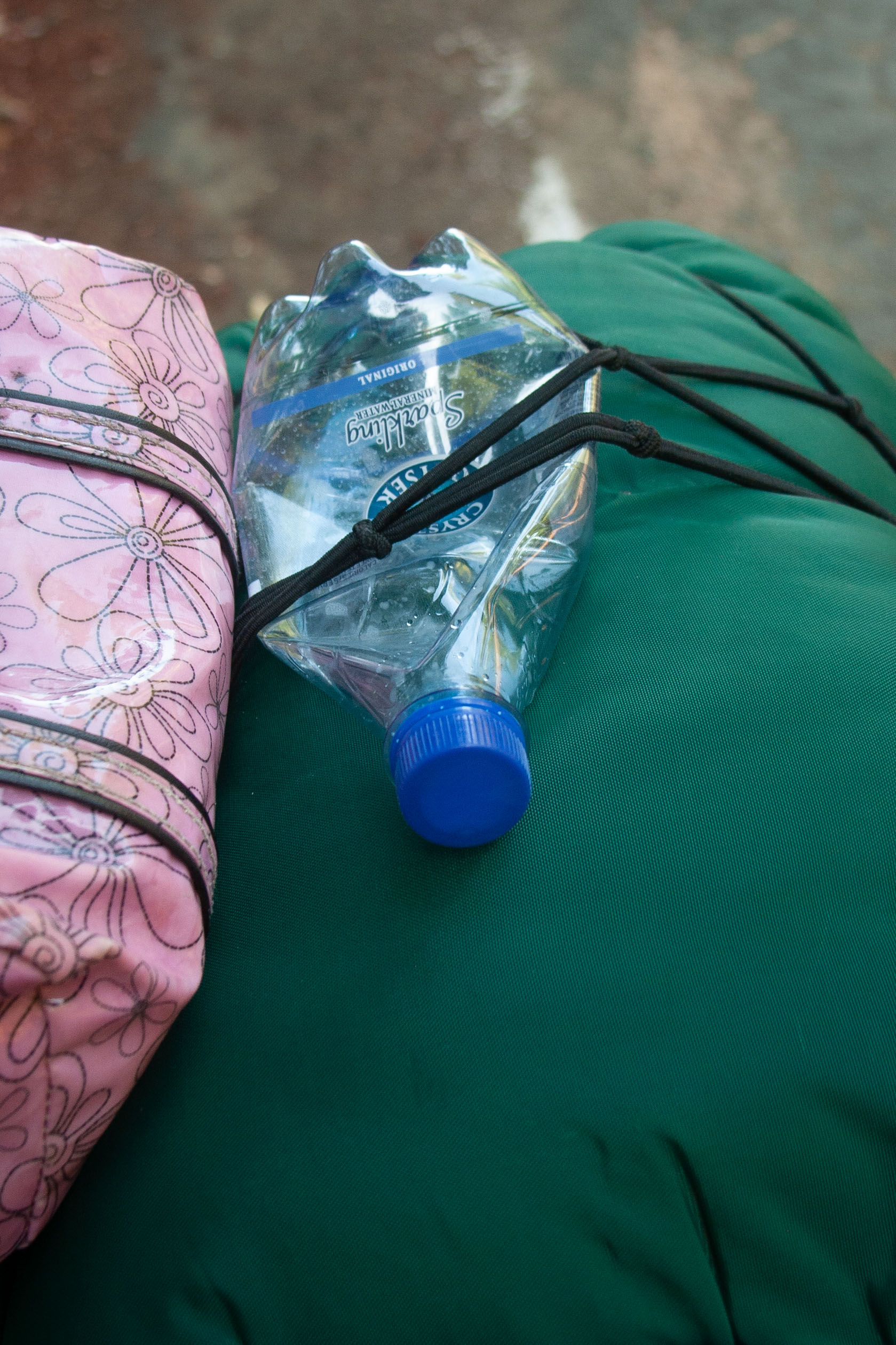 We climbed on and on, and time passed. The air began to get cooler. While this was something of a relief in the immediate term, it also meant that it was getting later.
We stopped for only one more very quick geocache along the way, just to give ourselves a little break from the relentless climbing. As it turned out, it was a very good thing we did! Eric does not have a kickstand that will hold Screech up when loaded with camping gear, so he has to prop the bike against something. There was nothing to prop Screech against at this spot, so he lay Screech on the ground. When getting ready to lift the bike up again, he noticed two separate problems: the wheel's quick-release was open (easily fixed, but dangerous) and the bolt from the rack was missing (more difficult fix, as pictured, but nowhere near as dangerous).
After closing the quick-release for the wheel, we considered the missing rack bolt.
"Well, I could hold this together with a zip tie, but I'm not sure whether it will hold," Eric said. "Do we have anything better with us?"
"How about a spoke?" I suggested.
"That might work," he said. "Do you have a spoke?"
"Yes."
"How hard is it to get to?"
"I can get to them."
I pulled out three spokes, and Eric used the Leatherman that my brother and sister-in-law got him for Christmas a few years ago to bend one of them into a shape that would hold it through the place where the bolt was supposed to go, and bent the ends of it around so that they would not enter his brake rotor.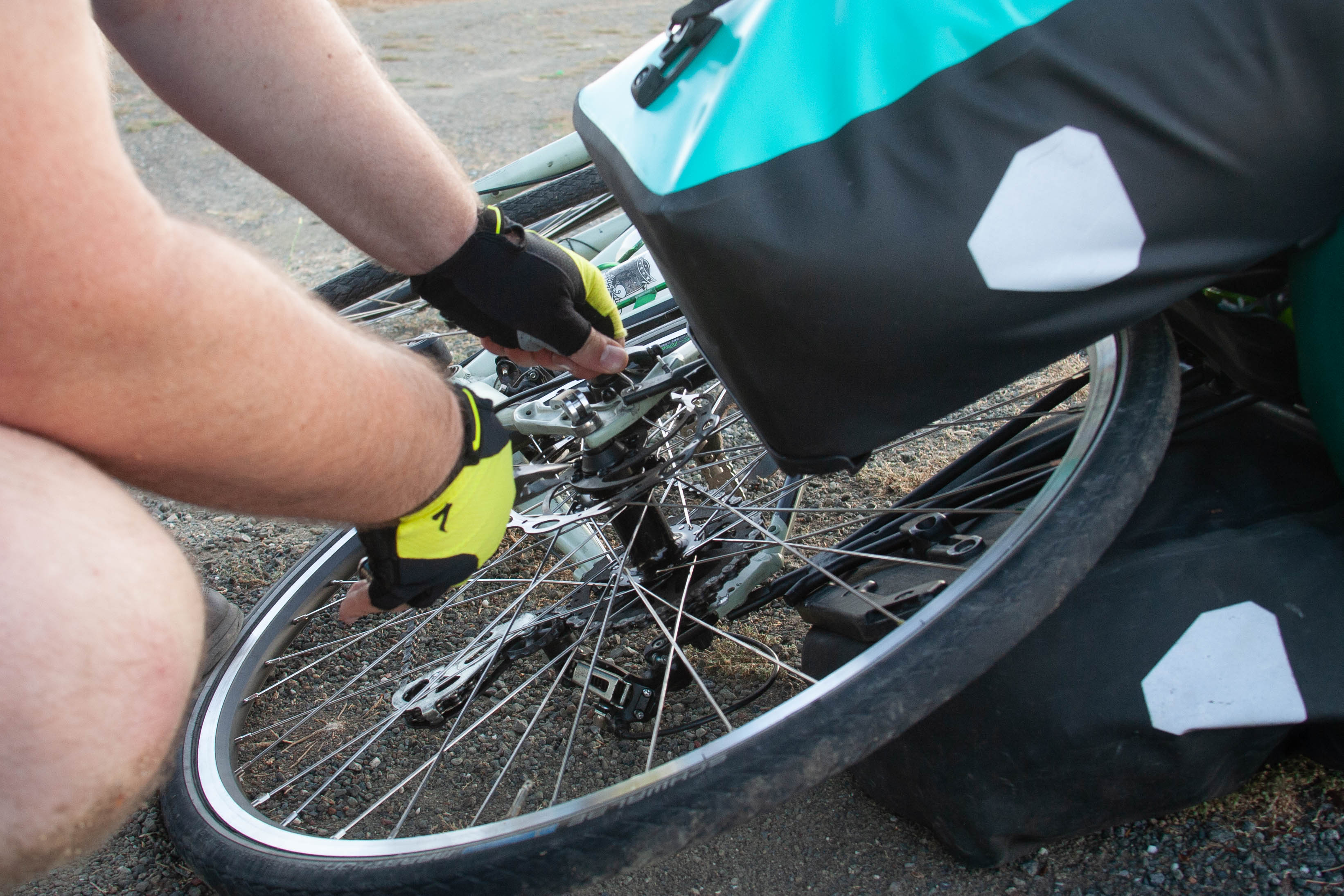 It may not have been as clever as socks and duct tape, but it worked.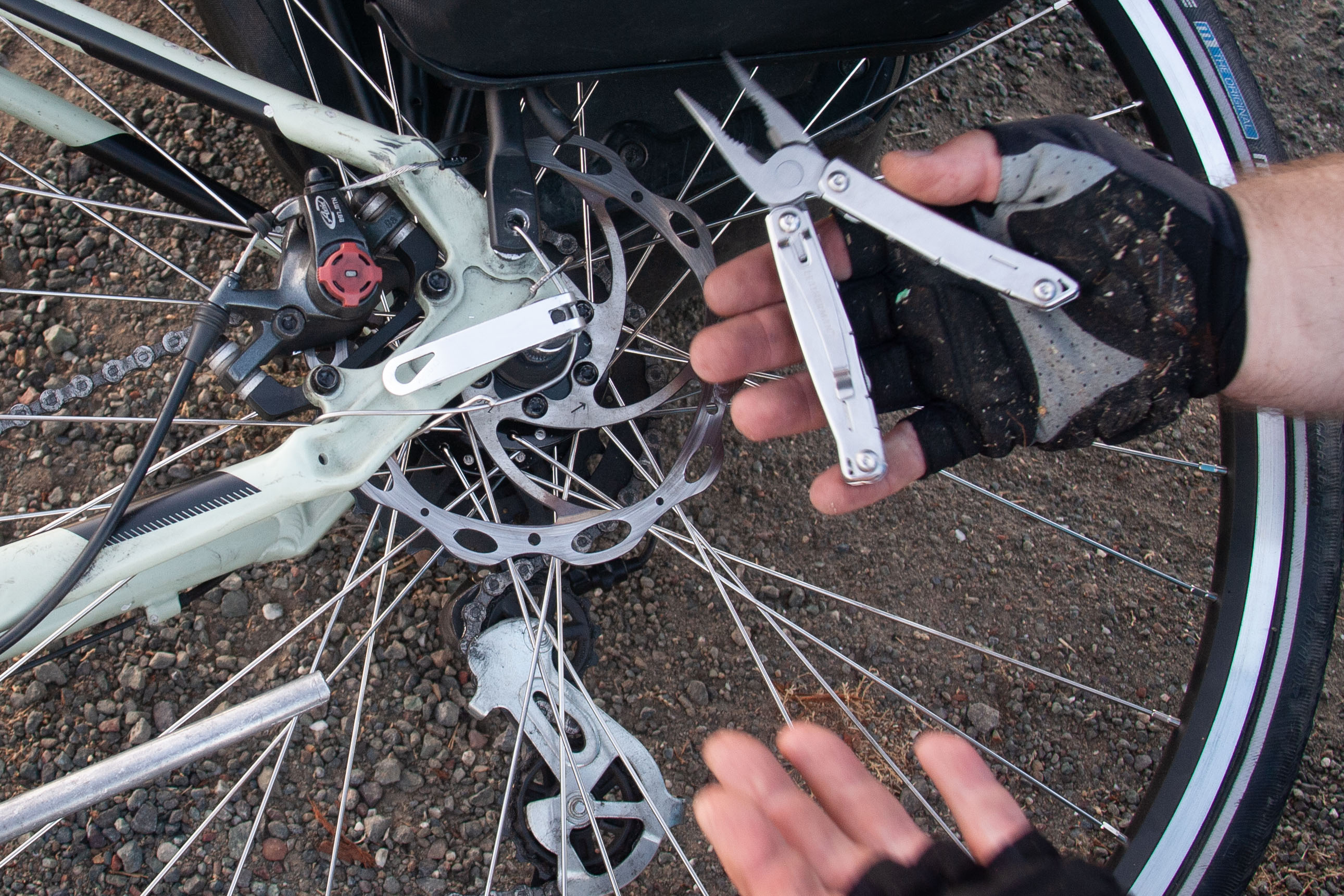 Soon after performing this field repair for the ages, we reached the summit at last, and traveled another short bit to a false summit. Once we reached that, we had only 5 km/3 mi to go, but they would be very steeply down. Now, we needed to worry about overheating our brakes, melting the pads in case of mine, and warping the rotors in the case of Eric's. So, as we had been taught by Dave and Ginny (more on them later), we stopped twice on the way down the hill to cool them off. As we were nearly at our destination and at no risk of running out of water anymore, we saved time by sprinkling water on my rims to cool them.
We found that Eric's rotor was even hotter than my rims--it burned Eric's finger when he touched it. When we sprinkled water on it, it actually sizzled and steamed!
We arrived at the hot springs at exactly 19:59. Eric later photographed our abysmal statistics.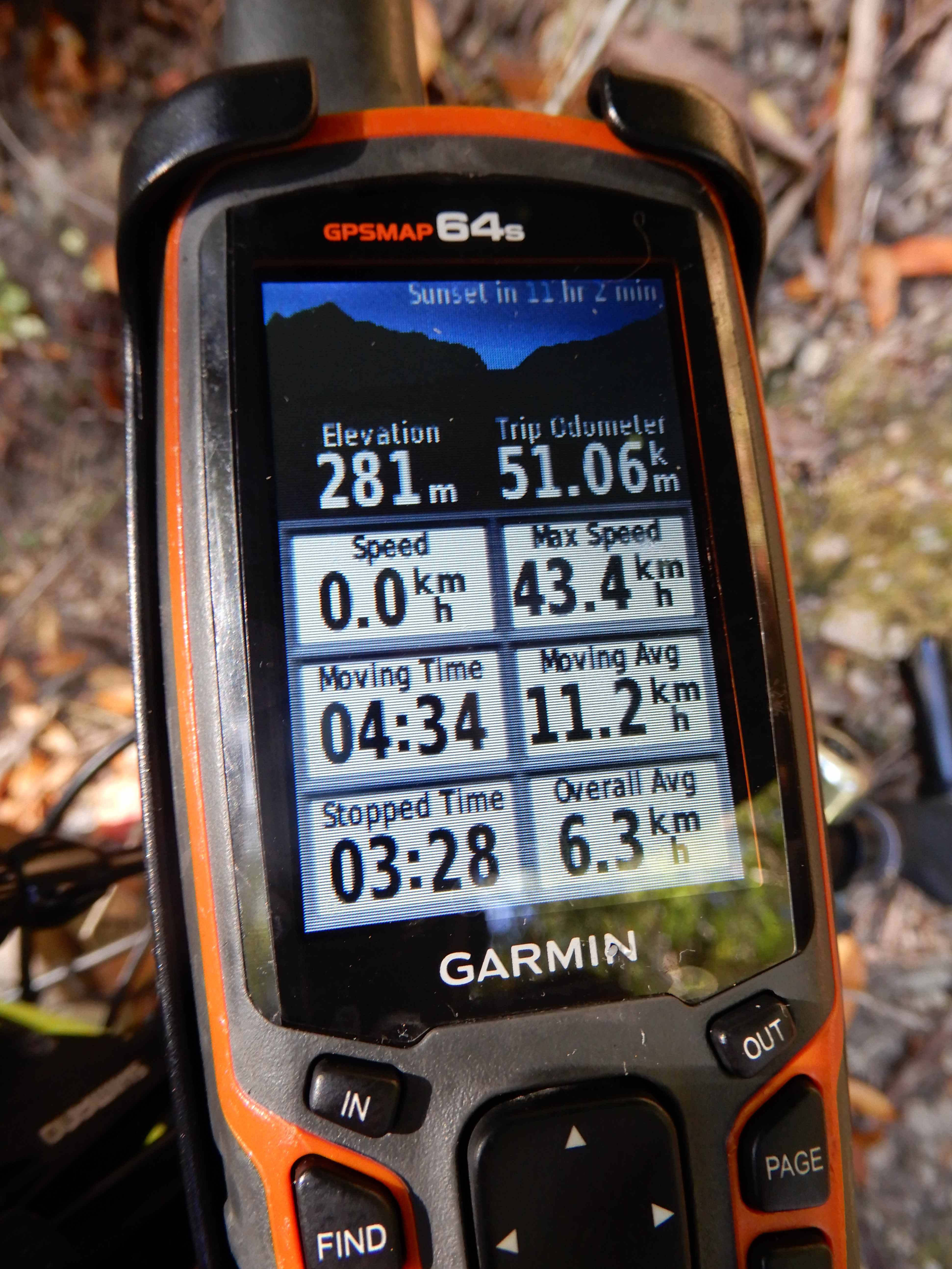 But this was our extremely difficult elevation profile.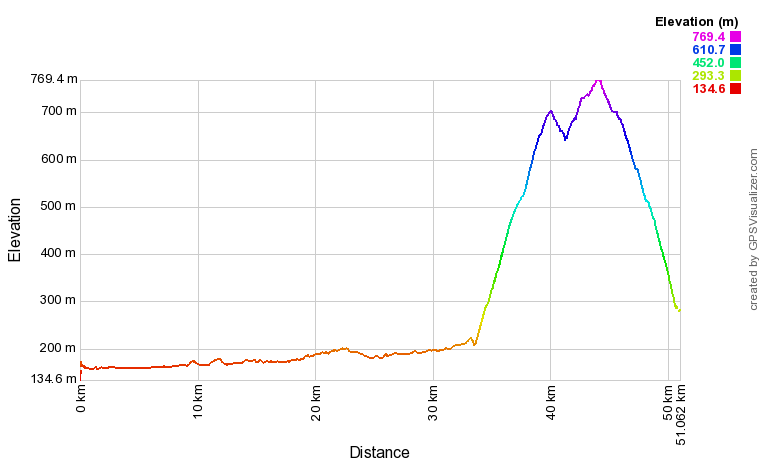 Several other guests were impressed at our arrival, on bicycles, with all of our camping gear. But when I went to check in, at 20:02, I was greeted with a stern lecture about how late we were, and told that we could have been turned away. What were we supposed to do, ride back up over the hill to Ukiah in the dark and hope that we could get a room at the Motel 6? I remained calm, explained that we had had to do emergency repairs in the field, and was allowed to check in. The man did apologize to me later, but it was too late, my feelings were terribly hurt, and I had lost any sense of accomplishment at our achievement. Thankfully, another guest gave me a Weinhenstphaner. That was the only thing that made the experience of my setting up camp, all alone while Eric made dinner in the communal kitchen, tolerable.
In a perhaps misguided bit of desire, I had insisted that we have some tasty food for dinner, with fresh ingredients. Sadly, I didn't feel like eating a large amount of it.
Eric took a picture of his creation.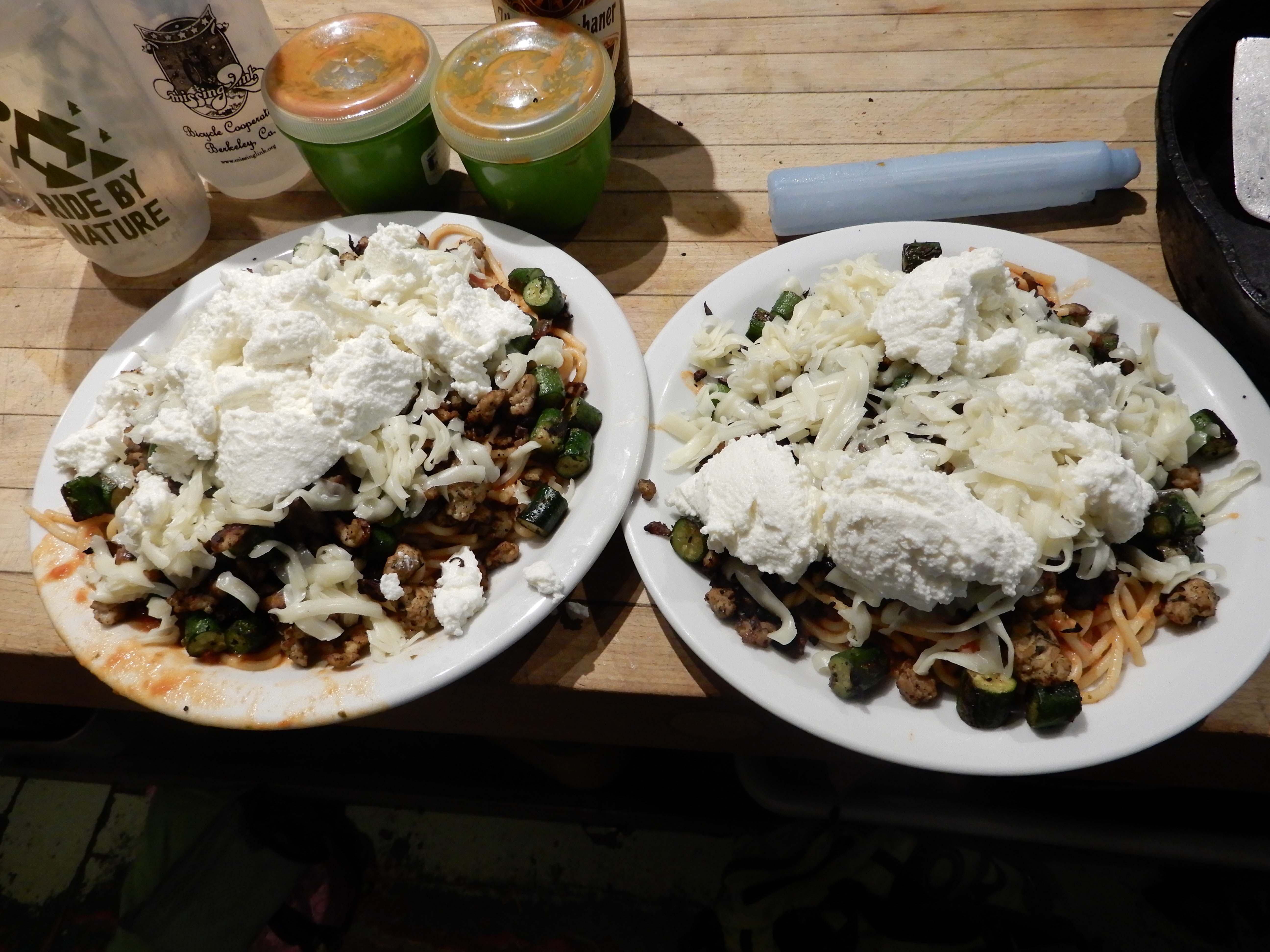 Eric had burned his hand picking up a hot pan while making our dinner. He was given ice packs and burn ointment to treat the wound, but he feared it would be hard to hold on to the handlebars and brake Screech the next day.
Our late arrival left us with relatively little time to enjoy the resort before we had to go to sleep.
We arose in the morning, after just eight hours' sleep. Fortunately, Eric's burned hand was feeling much better.
Before he took down our campsite, Eric took a picture of it, with our new, lighter, smaller backpacking tent. Last year, we were finally forced to retire the 3-person Sears tent that had served us on trips like this since 1993.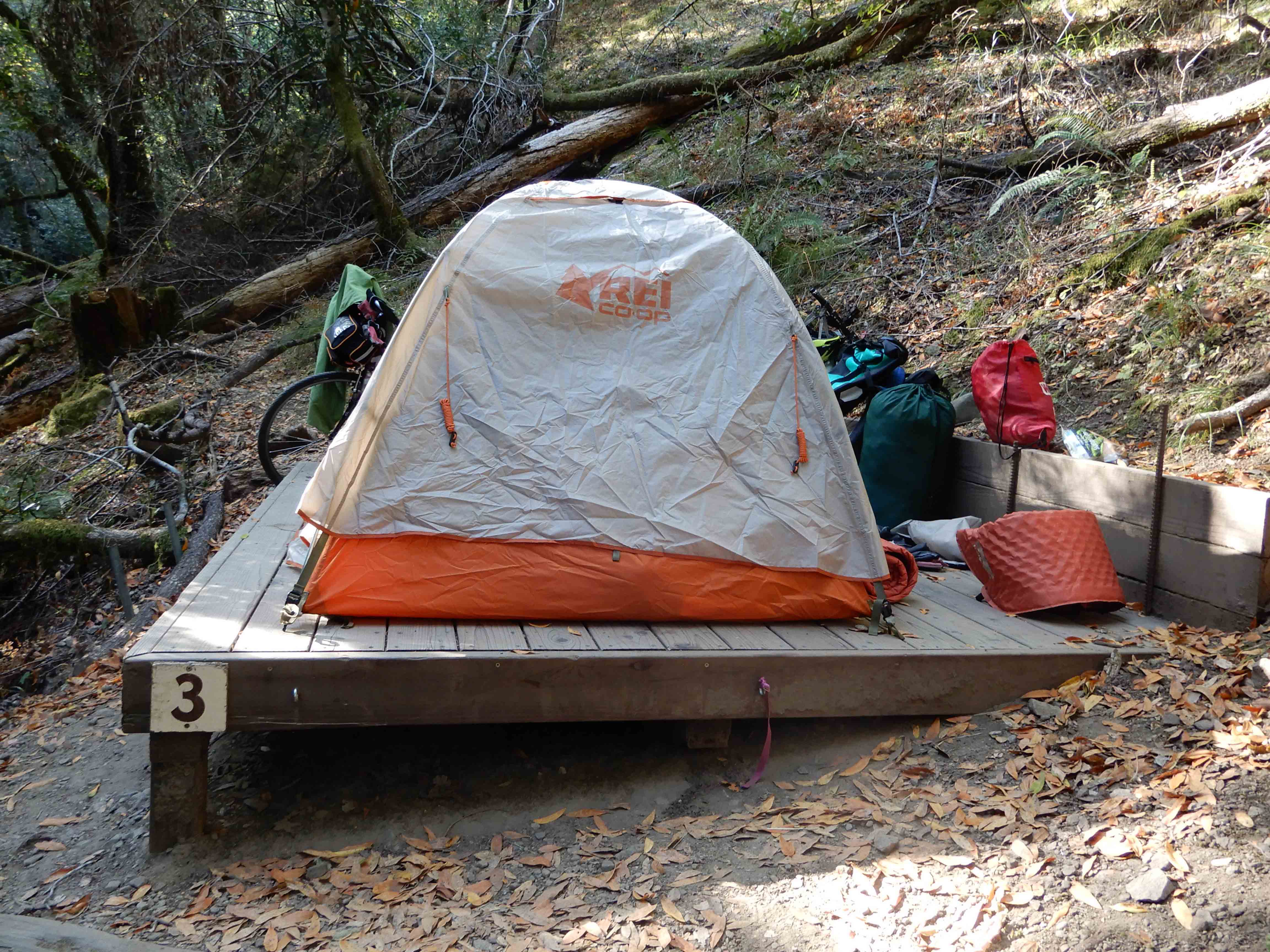 While Eric took down the campsite, I made blueberry pancakes with ingredients I had pre-mixed at home. I feared it would take us eight more hours to return to Mather, so we had very little time to enjoy our breakfast. I did not have any tea, and Eric had only instant coffee he had brought. We managed to get on the road by 11:15.
Heading up the hill, I remembered the last time we had tackled this, nearly ten years before. Very soon after we started, Dave, of Dave's Bike Shop in Ukiah, and his girlfriend Ginny found us climbing slowly up the hill, with Eric pulling our trailer full of camping gear. Dave and Ginny rode up and down the huge hill all the time, and were shocked that anyone would attempt it with such a load. They had climbed the hill with us, encouraging us every pedal stroke of the way, telling us where the hill leveled out and where it got steep. They gave us tips on how to get through the worst parts, and taught us to stop to cool our rims on the way down so that we didn't melt our brake pads. They taught us that, if we were near the end of our journey, we could use our water to cool our rims. We learned so much from these people, and then we never saw them again. And we shared the experience of having three of us (Eric, Dave, and me) get stung by wasps on the way down the hill. We missed them so much this time. We resolved to stop at Dave's Bike Shop when we got to Ukiah to see whether Dave had a bolt for Eric's wheel.
While we lacked the extraordinary encouragement of Dave and Ginny this time, there were some uplifting signs. A motorcylist rode by and said, "You guys got more guts than I do." While there were, as always, several jerks, most motorists were polite and gave us plenty of room, and several gave us thumbs-up, waves, or other positive signs. Twice, people who had met us at the resort gave us personal encouragement as they passed us on the road with their motorized vehicles (one even two-wheeled).
We don't know whether it was that the hill was easier in this direction, or that it was earlier in the day and therefore much cooler, or that Eric was no longer carrying the weight of our food that made the difference, but we did much better on the return trip. We returned to Ukiah in a mere three hours, a distance that had taken us five hours in the other direction. We stopped to find one geocache, and neither of us was stung by a wasp on the way down the hill this time.
Eric striking a triumphant pose on achieving the summit.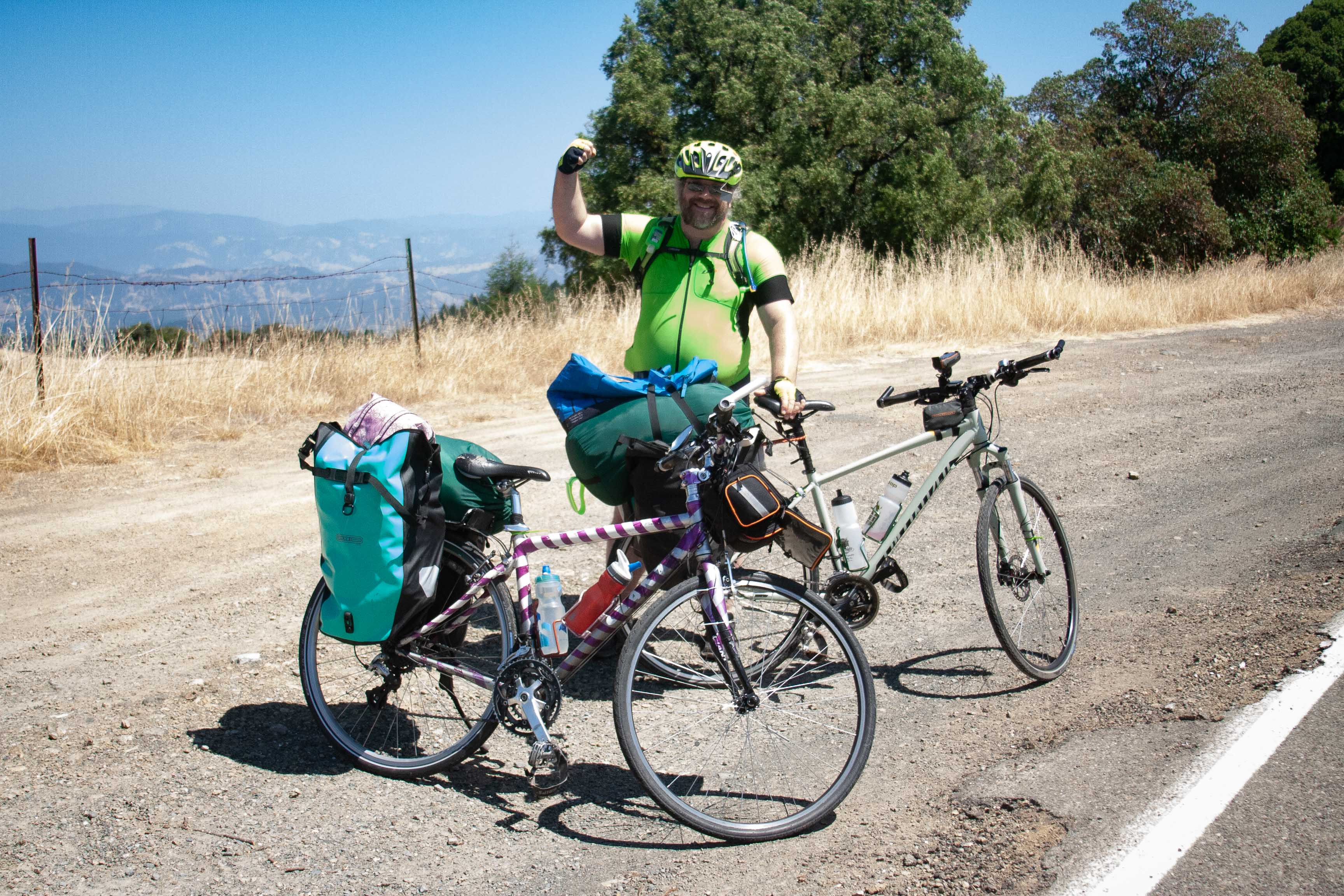 Now within signal, I Googled Dave's Bike Shop, but it was closed on Sundays. We had really wanted to say hello to Dave, and ask him whether the hill really was so much worse in one direction than the other. Not wanting to get caught dry the way we did the previous day, we stopped at a gas station to buy some extra water. It turned out that, moving faster and in cooler temperatures, we didn't need it, but it was a relief to have it.
Now we were back to the really nice part of the trip, on Old River Road, virtually free of cars. There was, as always, the persistent threat of the evil Yellow Star-thistle by the side of the road, but otherwise it was pleasant. I tried to ride quickly, as I wanted to have time for us to reward ourselves with a nice sit-down dinner with ice cream at the Bluebird Cafe in Hopland, so I was still pushing myself. We did stop for one more geocache, for a total of four for the trip.
We returned to Mather in 6:27:33, or an hour and a half less than Saturday. We loaded Mather up, but discovered, sadly, that the Bluebird Cafe was closed. Eric found Hopland Tap, a new place that had good food but no desserts.
We managed to return home at 21:10. No one was injured more severely than a burned hand, and things were generally all right. Still, I was left with an overwhelming feeling of a very unsuccessful trip, at having planned badly and trained insufficiently. But Bike Trip 2019 has been accomplished.
Map of our route.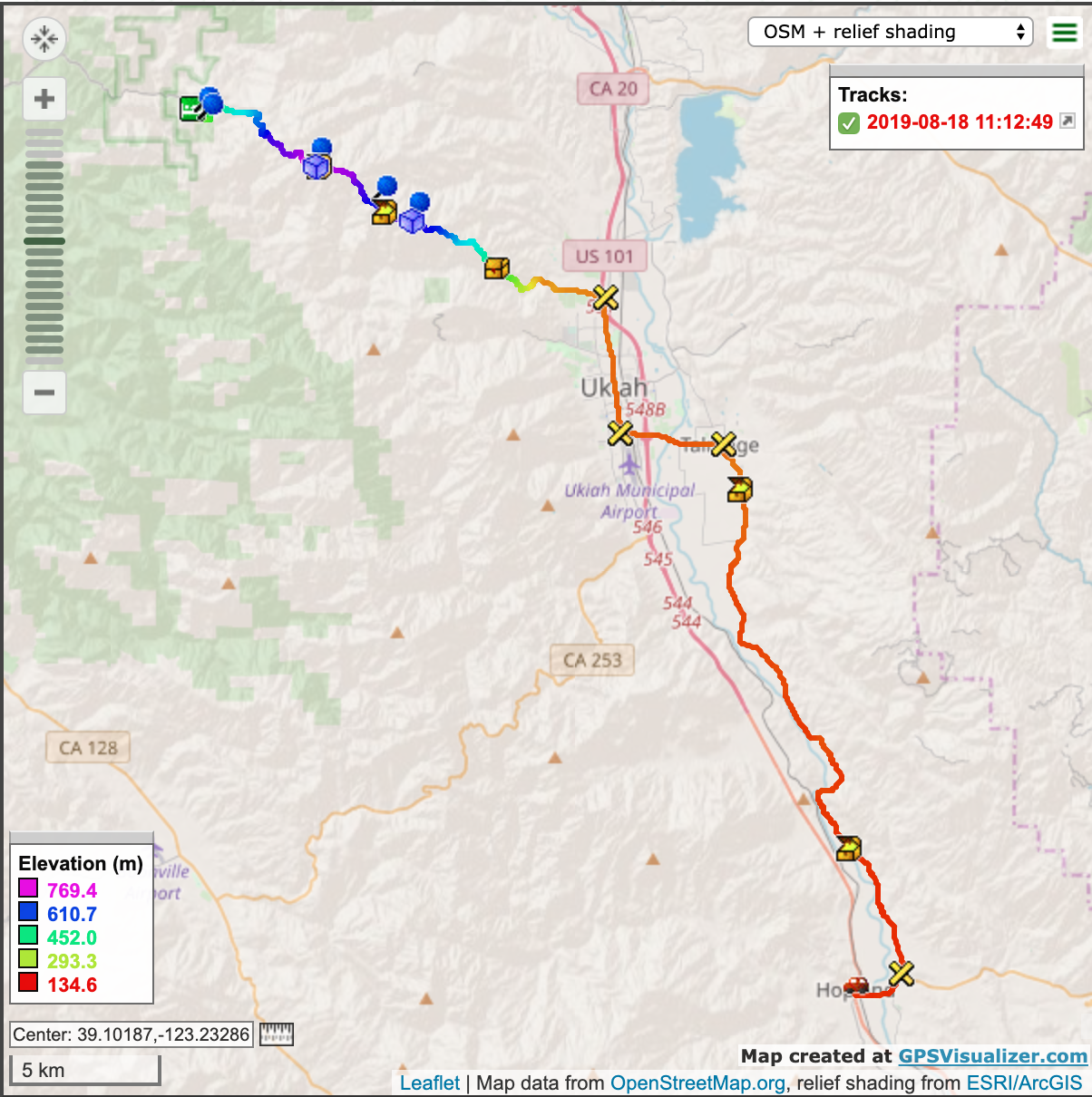 ---
Last updated: 5 September, 2019 by Eric and Beth Zuckerman6>