---
Mendocino Wine Country II
Saturday-Sunday 24-25 June, 2017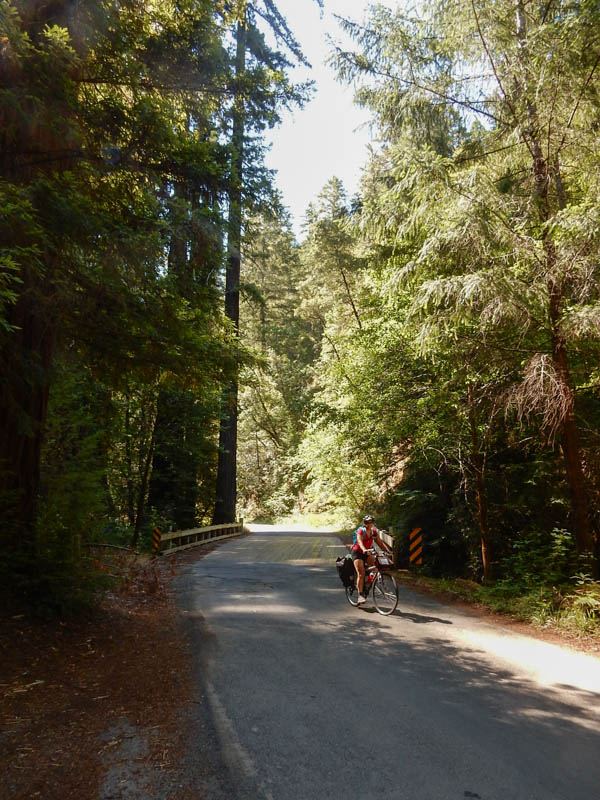 Me on a lovely quiet road. Photo by Eric.
This year's annual bike trip was mercifully relatively uneventful and trouble-free. One (non-fatal) pannnier clip failure, but not a single flat to repair! We did moderate-level trip for us, 55 km (35 mi) each way, with some 8% grades, hampered by 18.5 kg (41 lbs) of camping and other gear in my case and 22.5 kg (49 lbs) in Eric's. Our excitement over the kittens made it exceedingly difficult to leave the house and climb all over the East Bay hills with camping gear in our panniers rather than spending our time dangling toys in front of their eager eyes. But we managed our tour, and we had we had a lovely ride through the redwoods.
We completed our riding in less time each day than we typically spend, partially because we did very little geocaching (and found no caches), and had a time limit each day, making us very goal-driven. We had ridden this road before, as the second day of a three-day tour in 2009, and so also did not spend a lot of time composing photos of scenery we'd already captured. Eric, who rides much faster, did most of the photography while I rode on ahead. But we still had plenty of time to enjoy the scenery and the hot tubs.
I made arrangements with the rangers to leave Sydney parked overnight just outside the entrance to Hendy Woods State Park, our starting point. I had wanted to drive up Friday night and camp at Hendy Woods; Eric preferred only to camp one night and so to spend Friday night at home and rise at 4:00 and drive up to Saturday morning. Since his plan both saved money and gave us more time with our precious kittens, it won over. We managed to leave the Zuckershack by 6:33, and head out on Scheherezade and Boing at 9:07. Very early for us!
Overlooking the bridge at the entrance to Hendy Woods. Photo by Eric.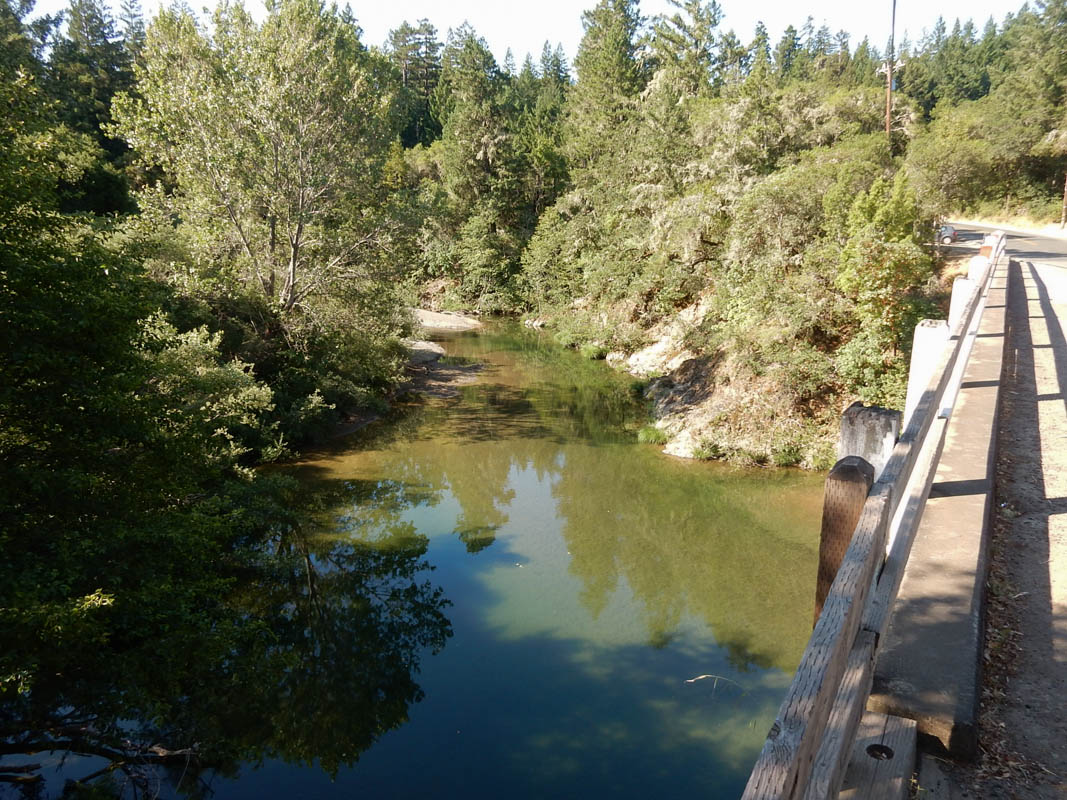 Eric too a picture of his heavy load.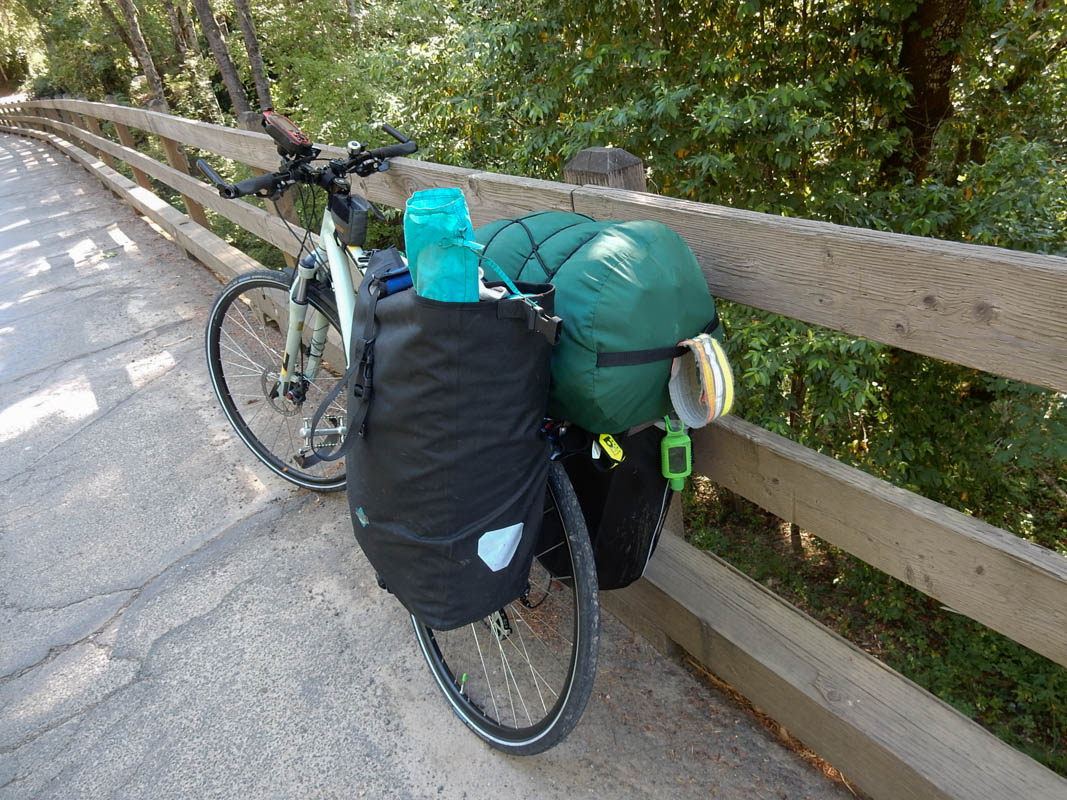 Eric took my picture riding over a bridge.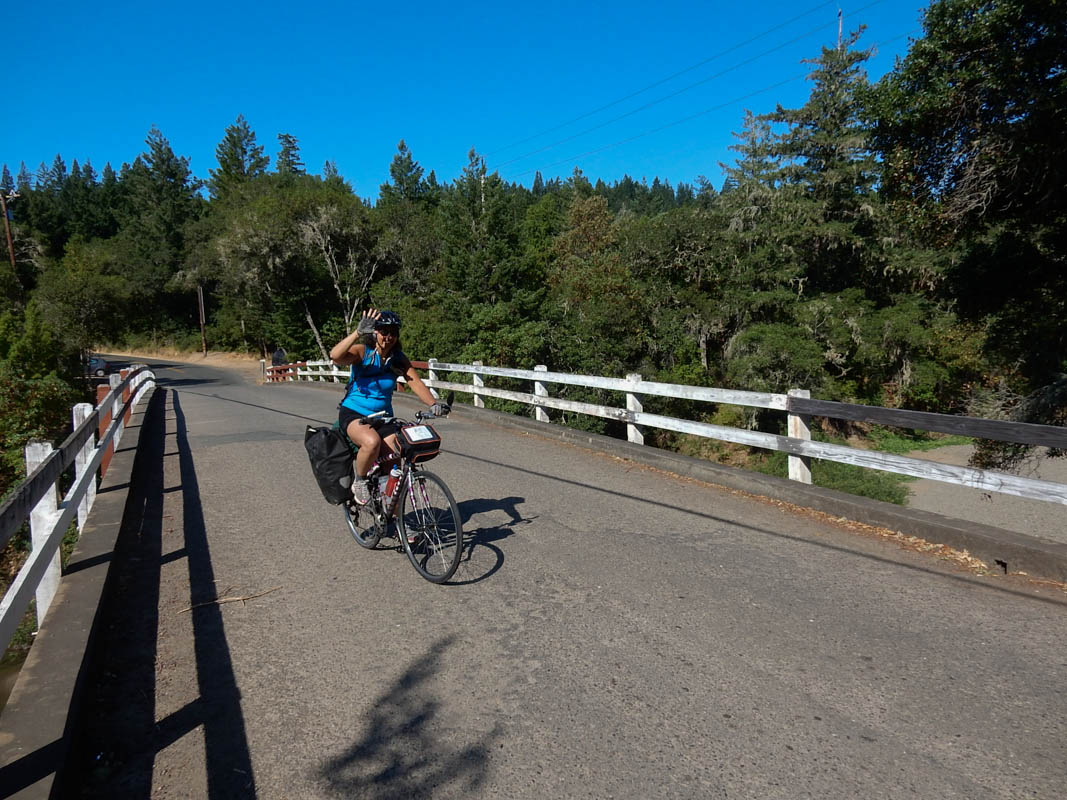 Our route took us along CA 128, past this cute winery.
Our only major stop was at the Navarro General Store, after less than an hour of riding. Eric photographed the statue of Johnny Winter.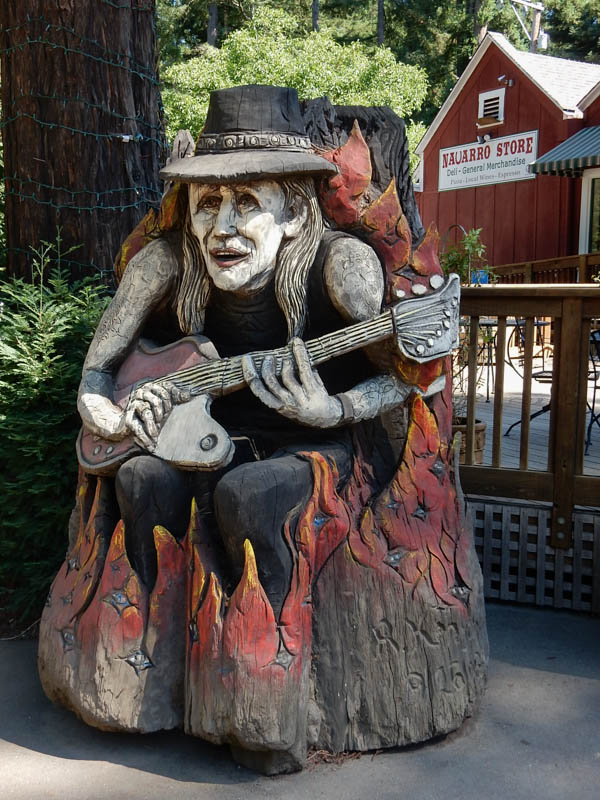 The folks at the Navarro General Store are friendly and helpful, and serve wonderful food. We enjoyed yummy turkey sandwiches on the patio. I had mine with sweet Mendocino Mustard. They gave us tap water to top off all of our water bottles (which turned out to have been very important). They had a barbecue menu, but the barbecue was just getting started when we were there Saturday morning. We resolved to return the next day to enjoy the barbecue, which would necessitate arriving back in Navarro by 16:30. Given that the only other alternative on our route was the Comptche Store (with its racist owner), this seemed a small price to pay.
We turned off CA 128 onto Flynn Creek Road, a quiet, wooded road that we would follow for a considerable part of the distance. I kept seeing signs like this.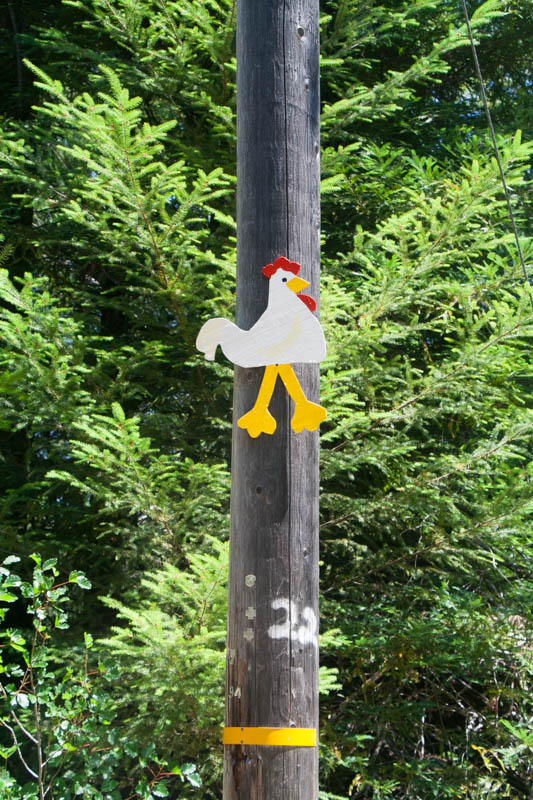 Apparently the Comptche Volunteer Fire Department had had a Father's Day chicken barbecue the previous Sunday.
We reached Comptche, with thankfully no need to stop at the Comptche Store. Eric carried our dinner all day, rather than only half the distance, precisely to avoid having to stop at the Comptche Store.
We saw many signs in Comptche, displaying a diversity of thought. There was hateful garage door graffiti criticizing Gov. Brown's sanctuary policy. Considering the amount of Spanish I had been hearing spoken around me, I found this particularly obnoxious. What kind of a jerk do you have to be to make your neighbors so uncomfortable? But there were several mitigating signs welcoming neighbors in three languages, and this sign Eric photographed. There were also a lot of Bernie Sanders signs. I did not see any signs depicting any mainstream political opinion.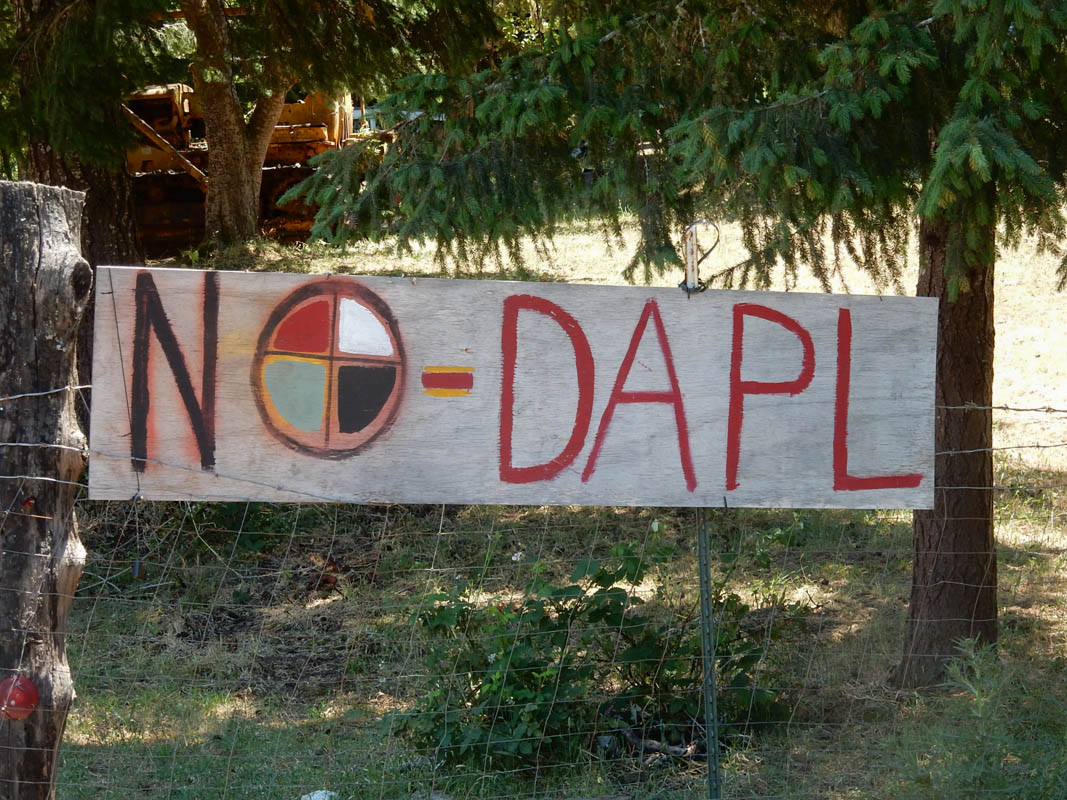 We turned onto the Comptche-Ukiah Road, where we would face most of our climbing for the day. While the day was hot, it was fortunately cooler than the previous few days. Photo by Eric.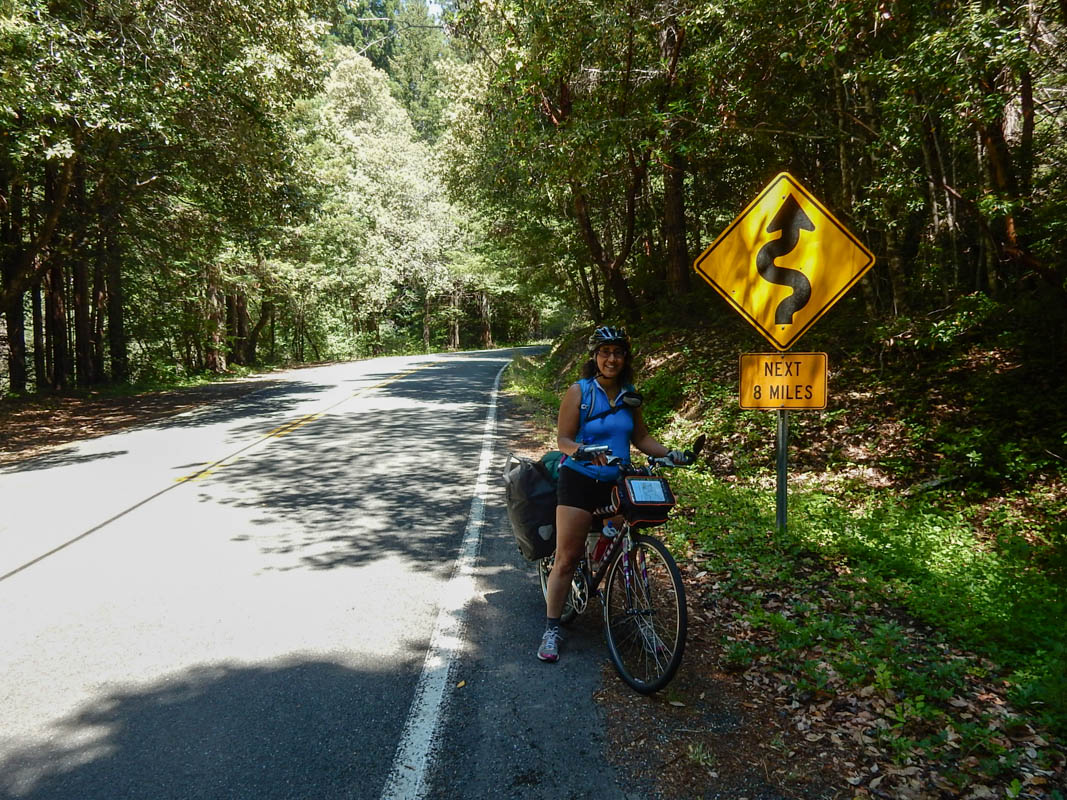 Eric took a picture of my load at a rest on the way up the steep hill.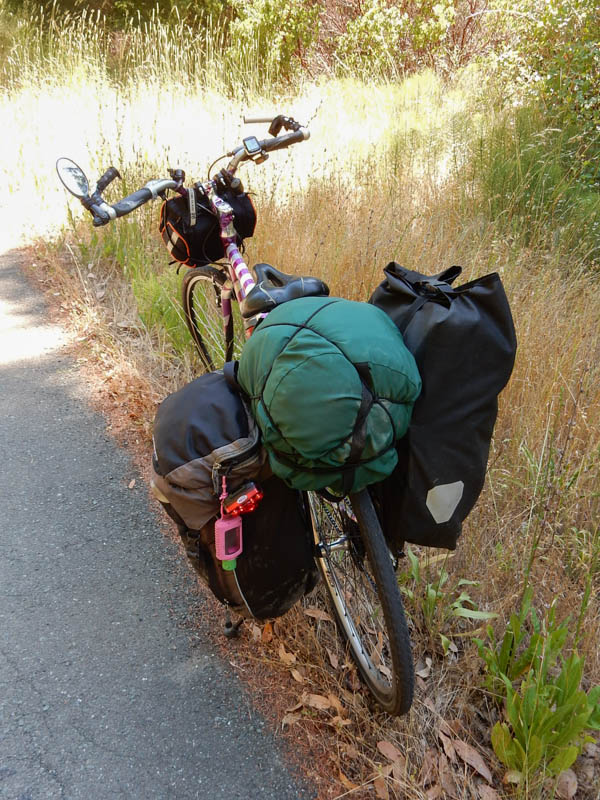 At another rest stop, I tried to mix a bottle of water with electrolyte powder, but could get nothing out of my Camelbak. Turned out I had bottomed out three liters! Eric gave me his liter of emergency water and told me to swish it around in my mouth before swallowing.
We turned onto lovely, quiet, poorly paved Orr Springs Road, and stopped to look for a cache at Montgomery Woods State Park. It seemed to be on hiking boot terrain, replete with poison oak, so we didn't search much for it. Photo by Eric.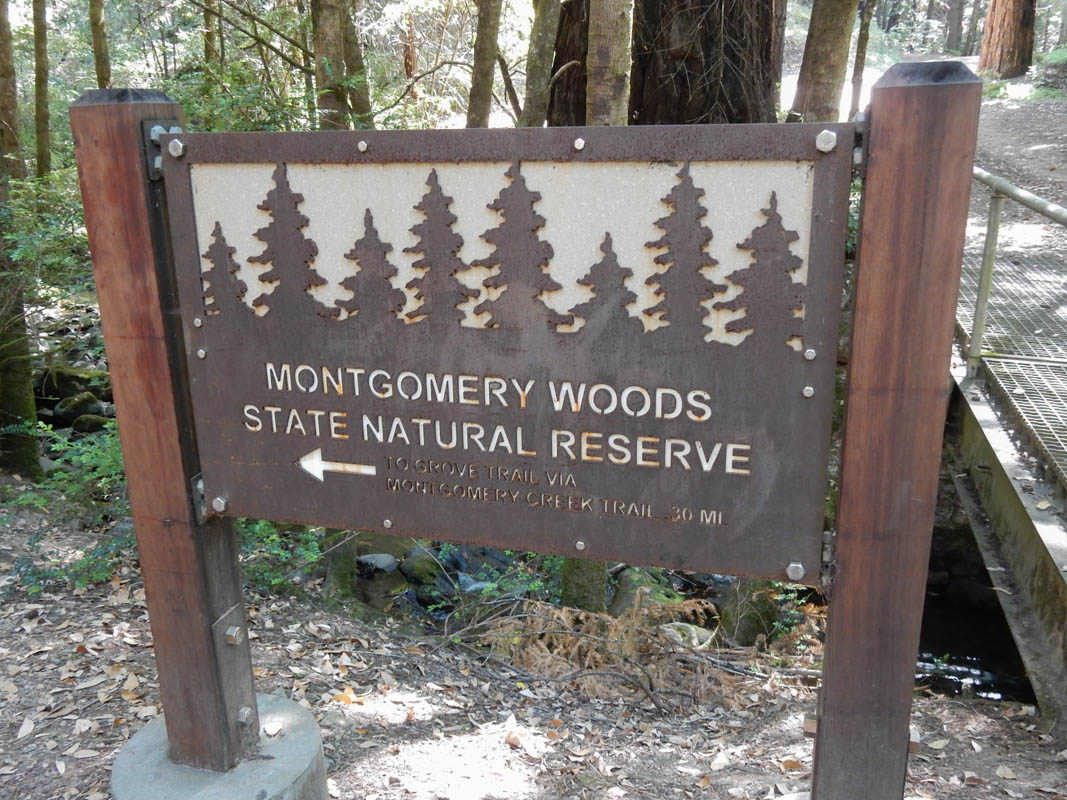 Eric did take a picture of a redwood in the park.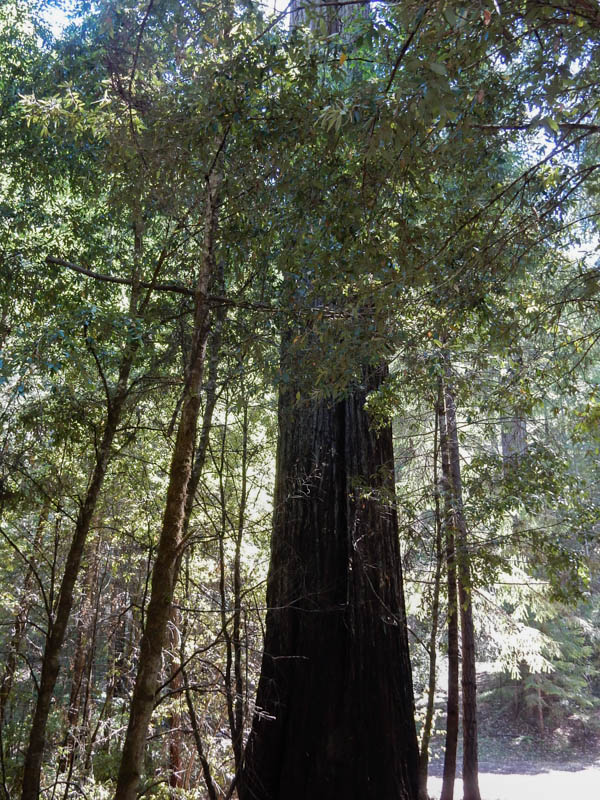 We arrived at the hot springs at 16:20, making very good time for us! We had just a few ounces of water left between us, but we made it without descending into desperate thirst. Eric made a tasty meal of frozen chicken strips with pesto sauce, melted cheese, and Trader Joe's frozen vegetables, and we had an extremely relaxing evening. I enjoyed a brief cool swim in the pool. I'm sure the mineral water will ruin my hair for days. In order to get a good rest and get up soon enough to be sure not to miss the barbecue at the Navarro General Store, we went to bed at 21:30.
We had a campsite with a raised wood platform, meaning that I had unnecessarily carried a tarp the whole way. I can't say we slept particularly well, because we were camping, but we slept enough. We got up at 6:15, had a quick soak and an oatmeal breakfast. We struck camp and set out at 10:11.
We made our way down quiet Orr Springs Road, swerving around the pits in the road. The day's ride would involve less climbing, but we did still have to climb a couple of grades like this.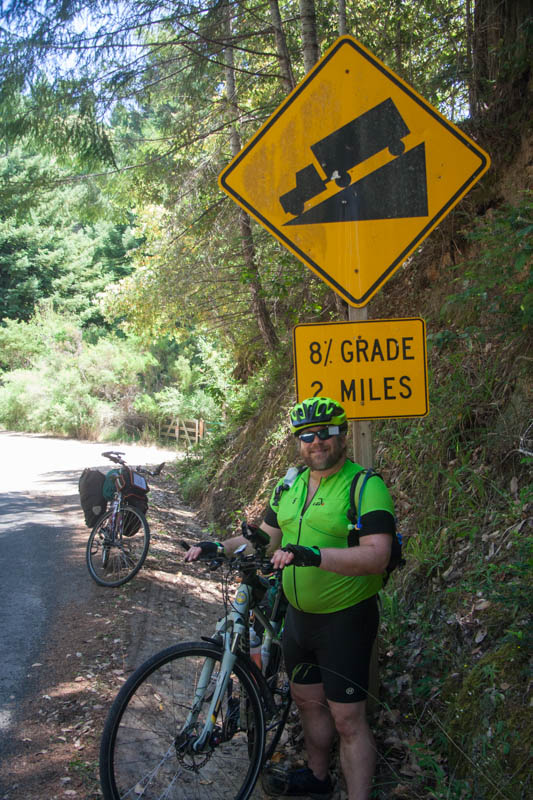 Eric had an encounter on Orr Springs Road, when he stopped to take a photograph of a mailbox built onto an old truck(?) driveshaft in an interesting folk-artsy way. Way above the road, on a steep slope, Veronica the dog jumped her fence and ran/slid down to confront Eric. Her human seemed fairly lackadaisical about the whole thing and indicated that it was just A Thing that Happens every now and again (Maybe build up the fences, then?), but Veronica was a big dog, probably a boxer or boxer-mix, and growling threateningly. After trying to verbally calm her down, Eric took off down the road, and Veronica gave chase, which was kind of nerve-wracking for him (trying to watch the dog in his helmet mirror and follow the curves of the road ahead). Eventually, he stopped, and in his deepest commanding voice, projected, "GO HOME!" and she headed back that way, so Eric could continue unharried. People: if your dogs frequently get over your fences, you need to rethink your fences!
Eric had hoped to refill our water bottles at the fire station in Comptche, but no one was there. Fortunately, after a very hot week, the air temperature was almost vaguely reasonable, and we were drinking more slowly and did not have to buy water at the Comptche Store.
Other than being hungry and struggling up hills, we were doing fine and enjoying ourselves riding through the redwoods until we got back to CA 128. While this road had been fine at 9:00, in the afternoon, the traffic was terrifying on this mostly shoulderless route. Motorists need to realize that it's OK to cross a double yellow line to pass cyclists. We fortunately only had to go about 14 km (9 mi) along it, but neither of us enjoyed this part.
We stopped to look for (and failed to find) a geocache in this redwood "chair" by the side of the road. I offered to try to find a cache back in Hendy Woods, but Eric was ready to give up on finding any caches for the trip. That was just as well, because that cache is apparently not there anymore.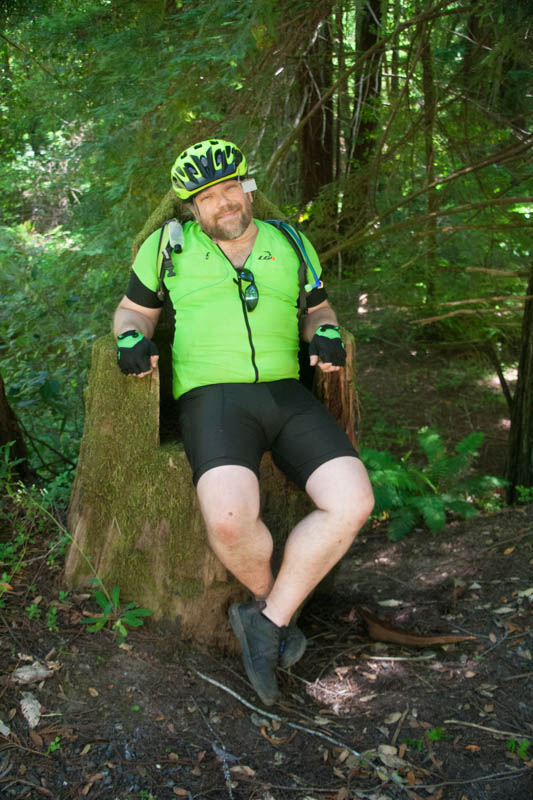 We reached the comforting oasis of the Navarro General Store at 14:40. We thanked them for giving us water yesterday, and told them how important it had been to us. We thoroughly enjoyed the well-deserved barbecued chicken, and we bought a pint of ice cream to eat when we got back to Sydney. The last bit of the trip along CA 128 was quite aggravating in the high-speed traffic, so it was an enormous relief to reach Sydney, find her with all her windows intact, and sit down in the shade with a pint of Ben & Jerry's Half-Baked. We covered the entire 55-km (35-mi) distance in just under six hours, including our barbecue stop.
Map of our route.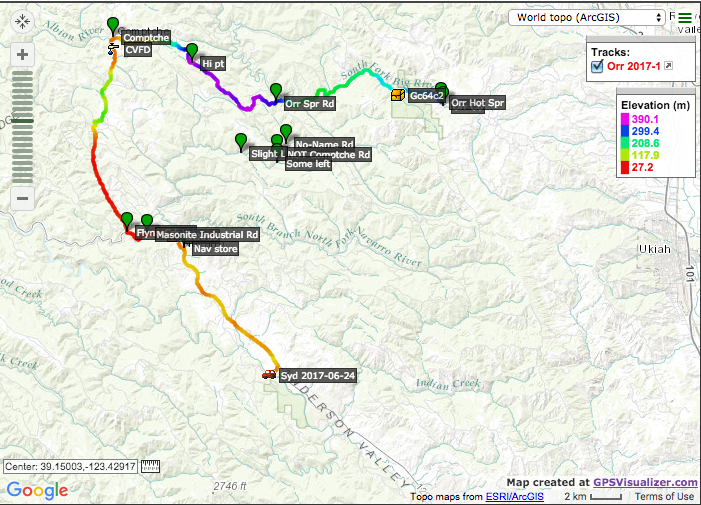 Elevation profile (return trip was the same in reverse.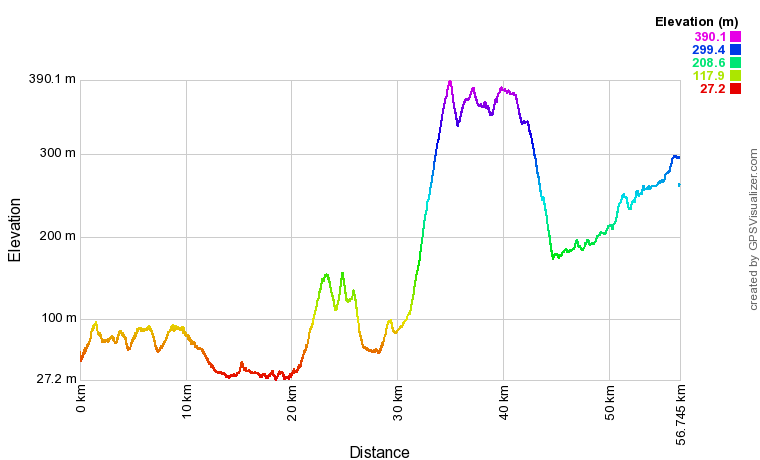 This was a good level of trip for us, some real challenges, but also a very relaxing time. We've once again proved we can get into decent cycling shape (even with kittens!) and get out there on the road and enjoy ourselves.
---