---
Lost Coast Bike Tour
Saturday 31 August, 2013
Far north of San Francisco on the California coast lies an area called the "Lost Coast." It's lost because it's north of the northern end of California Route 1, the famous coast road, and US 101, the next westernmost major road, is running inland at this point. The coast pokes out west into the ocean here at Cape Mendocino, the westernmost point in California. But there's only one road, and services are few and far between. Since almost no one drives there, it's a great place to go riding. The Lost Coast bike ride is called a "classic" by The Falcon Guide to Road Biking Northern California, and someone at the bike store where I bought the book said it was "almost a rite of passage in Humboldt County."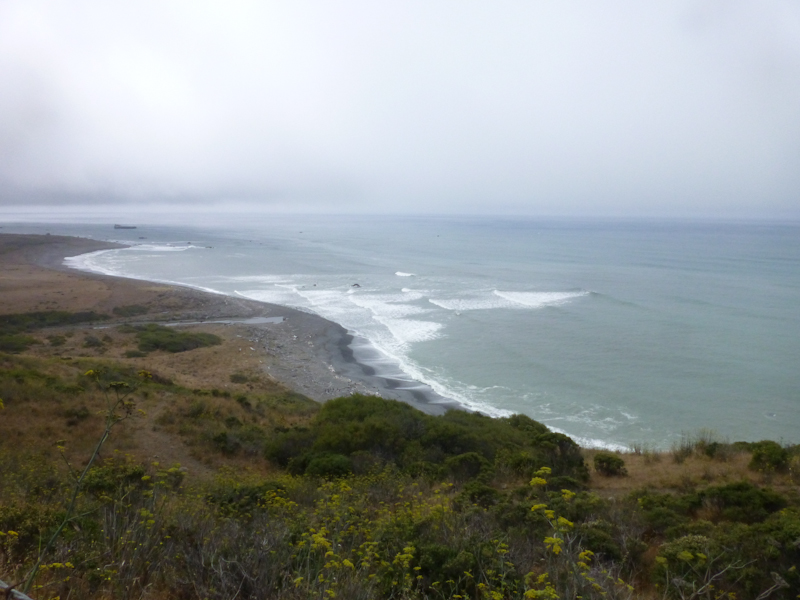 I had first read about this ride as a three-day tour in Lonely Planet's Cycling the USA West Coast, way back when I bought the book in September of 2008. We had driven the Lost Coast in Pearl on an anniversary trip to Humboldt in 2005, and knew how beautiful it was. I thought a bike tour of the area just sounded fantastic, but it took until now for us to do the tour. We only started training for touring seriously after I bought that book, which I suppose you could say changed our lives. It got me out of the gym and onto the road much more seriously. As Ferndale, the ride's start and end, was about five hours' drive away from Berkeley, we needed some extra vacation time to get there and back, so I had to wait for a year when we weren't going to WorldCon and so would have an extra day and a half available. Also, the tour was rated "hard," and we had to do some easier tours first to prepare ourselves (starting with the Mendocino trip).
Why is the tour rated "hard?" Three things. First, you have to ride about 7 km on high-speed US 101, because there just is no other road on that stretch. Second, this is, after all, the Lost Coast. If you have a mechanical failure, there isn't going to be a bike shop a few miles away in the next town to make a repair. You're on your own. Third, brutal hills. Since it's planned as a camping tour, the hills are especially brutal with the weight of your gear.
Sample hill. Photo by Eric.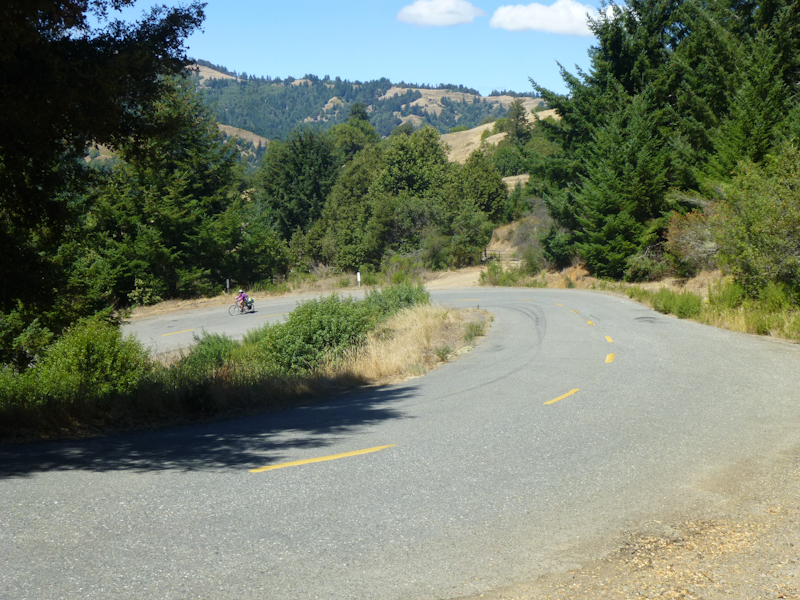 Setting Out
The plan was to pack almost everything up Thursday night, leave work at 12:30 on Friday, get Sydney on the road by 14:00, arrive in Ferndale by 20:00, get to bed by 21:00, and get up Saturday at 5:00.

Eric had wanted to get his rear tire replaced when we brought the bikes in for tune-ups the weekend before. The shop did not have the special puncture-resistant tire he wanted, so he ordered it on the internet. Its delivery was scheduled for Friday. "No," I said, "we do not want to take the time on Friday to put on a new tire. Besides, it might not even arrive before we have to leave Friday. Go to another bike shop Thursday night, get some other puncture-resistant tire that you find acceptable, and put it on your bike Thursday night." So, Thursday night, Eric got another tire, but discovered riding to the shop that his gears felt "grindy," so he also returned to the shop where we got the tune-ups. They replaced his chain, which solved the problem. With all this, however, he didn't get home until after 20:00, and we weren't entirely able to get all the gear ready Thursday night as I had planned.

Friday afternoon, I got home from San Francisco at about 13:15, and Eric got home from Emeryville just a little bit later. (For the out-of-town folks, this means that I left San Francisco long before Eric left Emeryville). We were making reasonable progress on packing up, less than an hour behind schedule, when, while putting Scheherazade on Sydney's rack, Eric noticed that my rear tire was bald. He said that he hated to point it out, but he thought we should take the time to replace the tire. Well, the new tire he had ordered had in fact arrived by the time I got home. So, we sat there and he put on the new tire in the garage. Of course, all of our bike tools were already in the trunk, and you can't get into the trunk with the bike rack on Sydney, so he had to take the bikes and the rack off the car and put them back on again after he was done. Pearl's back seats had pull tabs that would allow you to get into the trunk from inside the car, and also a larger opening between the trunk and the interior of the car. In these respects, she was far superior to Sydney, and I am highly annoyed with Honda for not supplying us with those pull tabs.

My defective tire.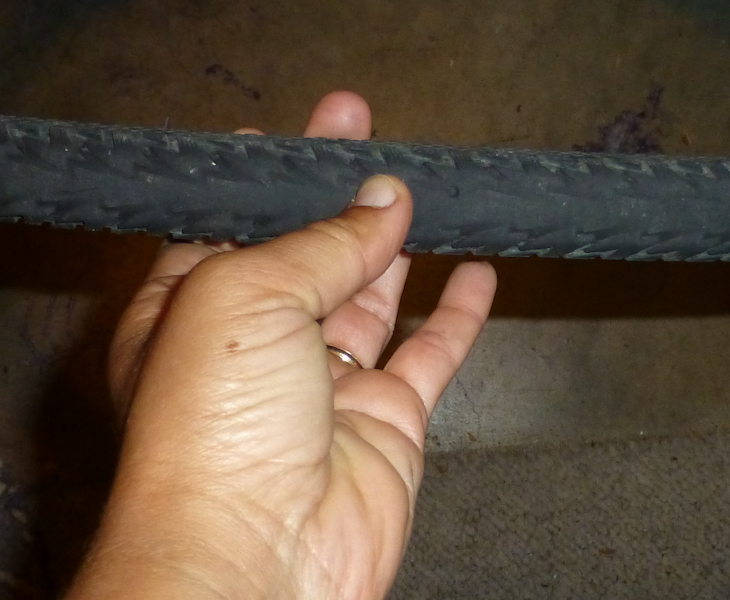 With all this, it was almost 15:30 by the time we actually got on the road to Ferndale. Not only were we starting late, there was, of course, by this time, more Labor Day weekend traffic. Add to this extra traffic on the Richmond Bridge due to the Bay Bridge being closed for the opening of the replacement bridge on Tuesday, and we were in for a slow ride. With a minimalist dinner of cold-case items from a health food supermarket in Willits, we made it to Ferndale just before 21:00.
Francis Creek Inn, in the cute Victorian town of Ferndale.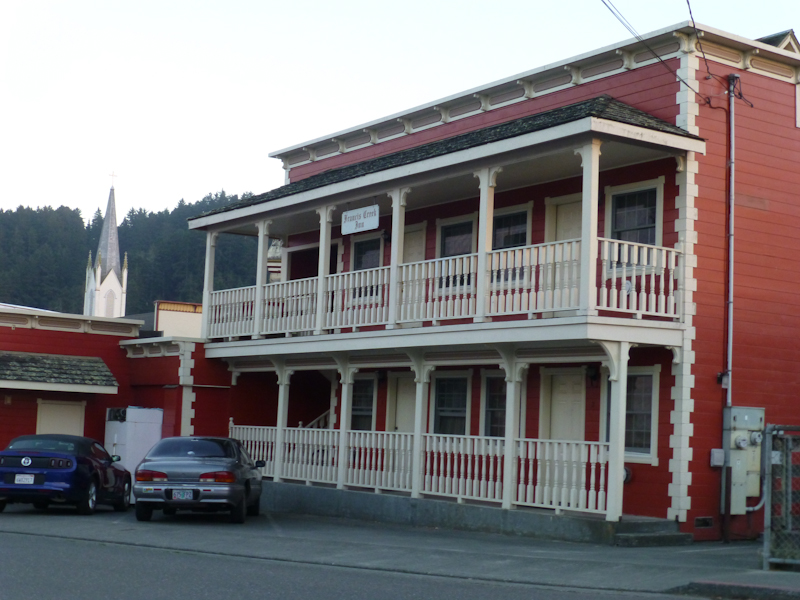 We got to bed at 21:30 and agreed to do with only 7.5 hours' sleep so we could still get up at 5:00, hoping to hit the road by 8:00. Yes, it always takes us three hours to get out of a place, and I have just learned to plan for that. The room was nice and big and there was plenty of room for our bikes and all the bags. The bed was nice and firm, and the sleeping was fairly good.
Our room.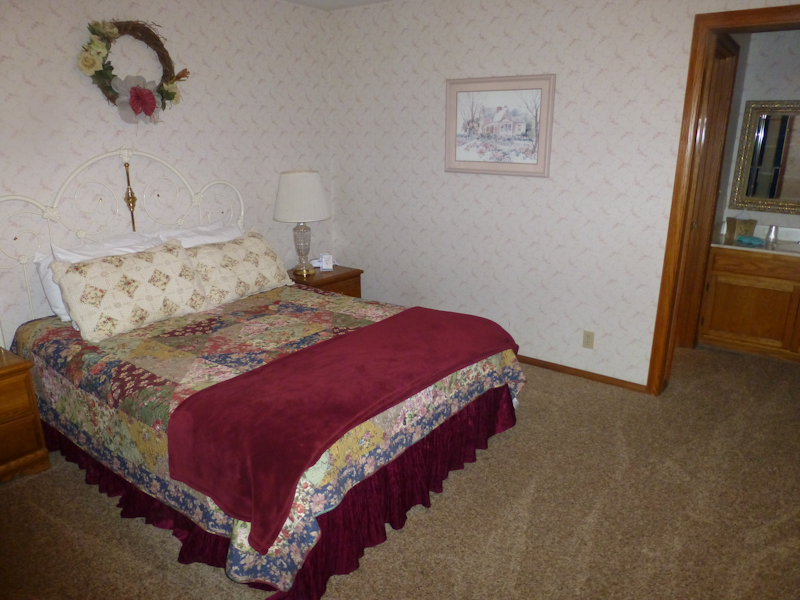 In the morning, while Eric was making inevitable adjustments to what went in which pannier, I went out foraging for breakfast. I found the Ferndale Pie Company just around the corner from the Francis Creek Inn. They didn't normally open until 7:00, but were willing to serve me at about 6:50. I decided to get us something healthier than pie or doughnuts for breakfast, so I got us turkey sandwiches. We had a cold but good breakfast in our room while catching up on the internet.
One big concern in driving to a cycle tour is where to leave your car. This usually isn't any problem if you're staying at a Motel 6, but smaller outfits like the Francis Creek Inn only have as many parking spaces as they have rooms. I asked when I made the reservation, but they didn't know whether or not it was legal to park on the street overnight. So, I tried calling the Ferndale Police. The officer did not quite laugh at me on the phone, but it was quite evident from our conversation that he considered such things to be big-city concerns. "Parking enforcement in Ferndale is kinda lax," he told me amiably. "If you want to, you can park in front of the police station." There weren't any signed parking restrictions on the side street next to the Francis Creek Inn, so I parked Sydney there.
Eric took my picture with our load just before heading out.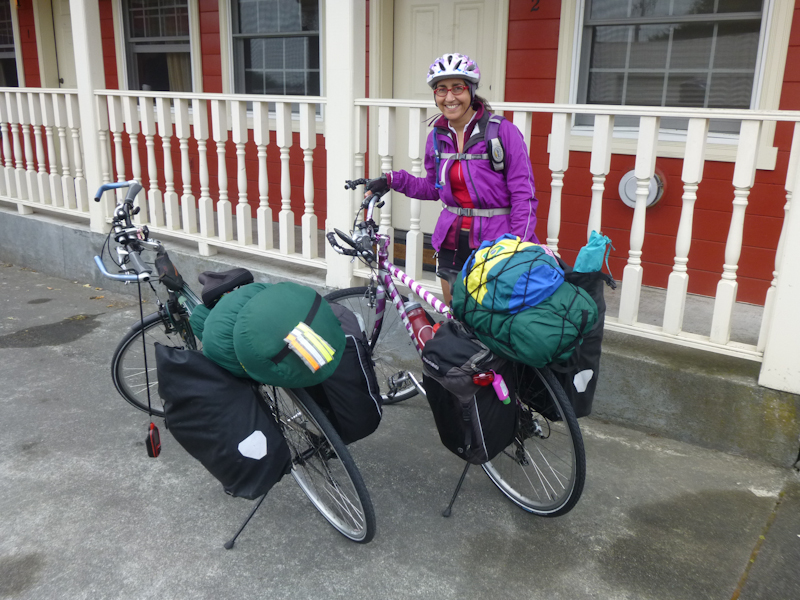 When our water bottles were full, I carried about 23 kg and Eric carried about 24 kg. That's about 50 lbs, for those of you who can't learn to use a reasonable measurement system. We've replaced a lot of our equipment with lighter backpacking gear (backpacking sleeping pads were our big purchase at the REI anniversary sale this year), but since Eric doesn't want to camp in anything smaller than our 2.2m x 2.2m dome tent, that item is still quite heavy.
Ferndale to Avenue of the Giants
We hit the road at 7:57! After something like five years of planning, we were on our way at last! "On the road again," we sang.

The pastoral road was foggy early in the morning. It was so misty that my glasses got all wet.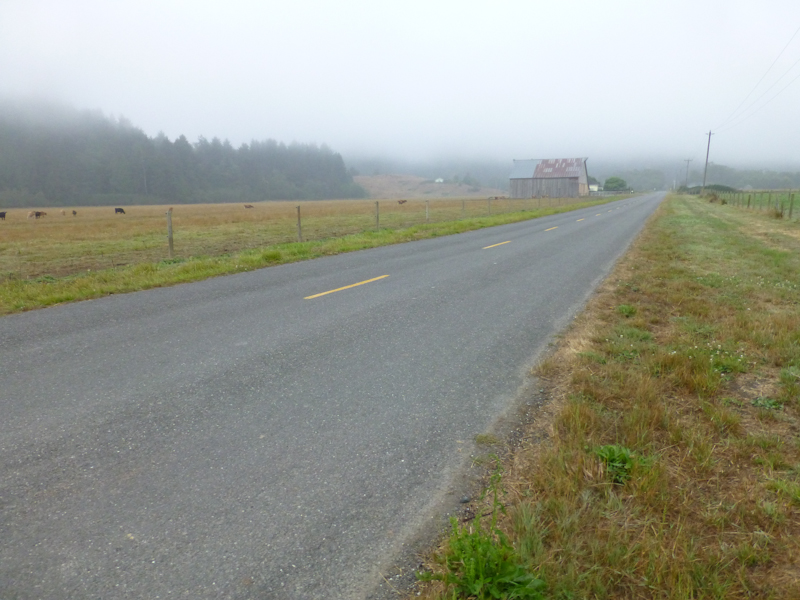 City people that we are, we couldn't resist taking pictures of all of the barnyard animals along the road.
The smaller cow was rubbing her head all over the bigger one, and I just happened to catch this moment with their foreheads together. So cute!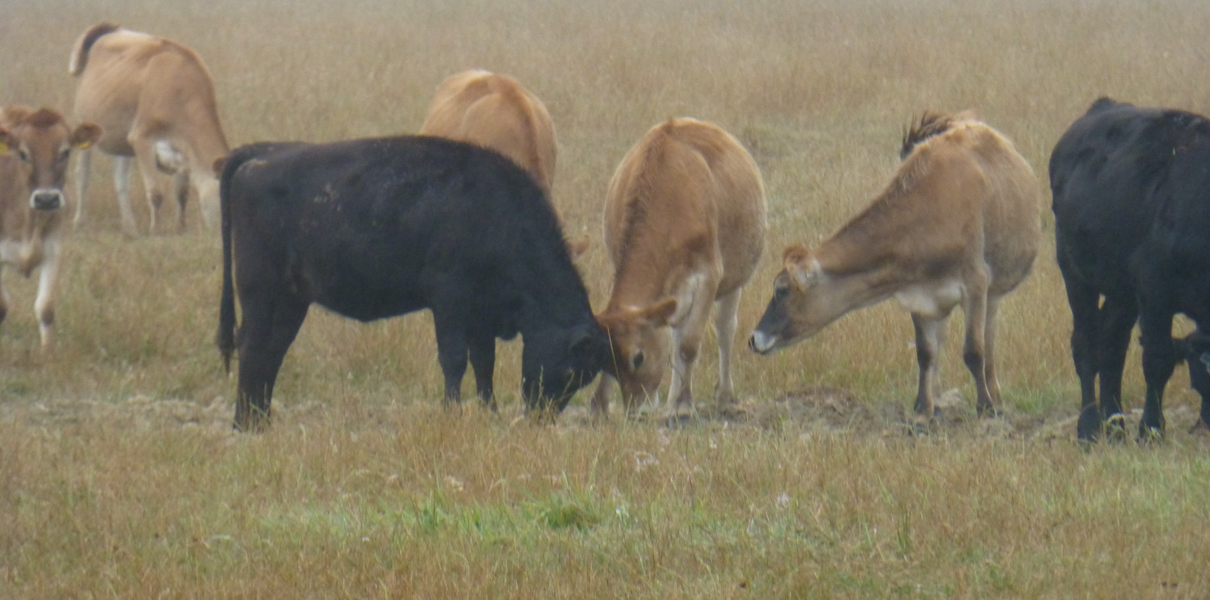 Sheep!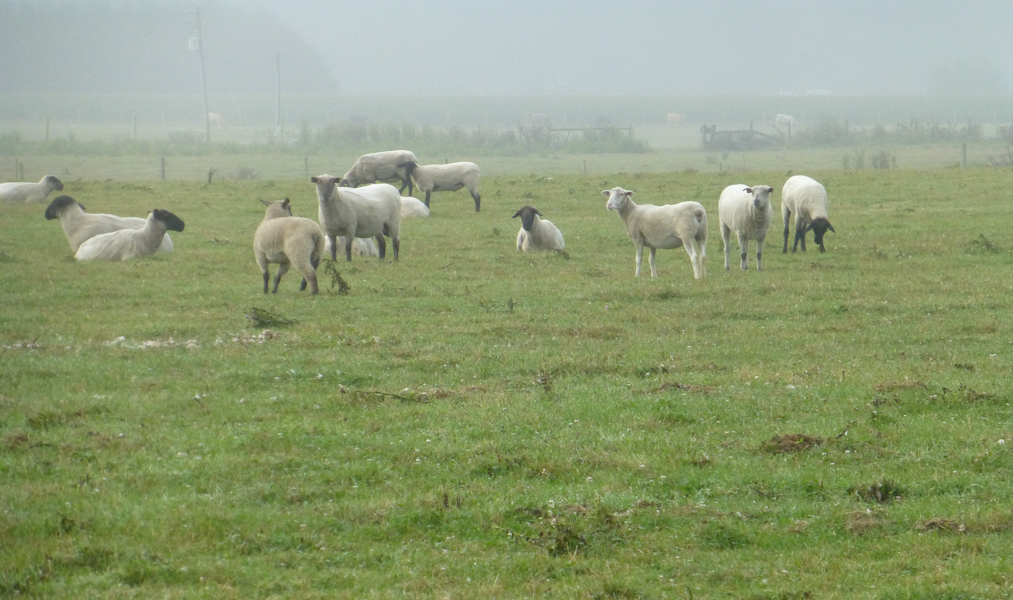 This goat was clearly looking for a handout.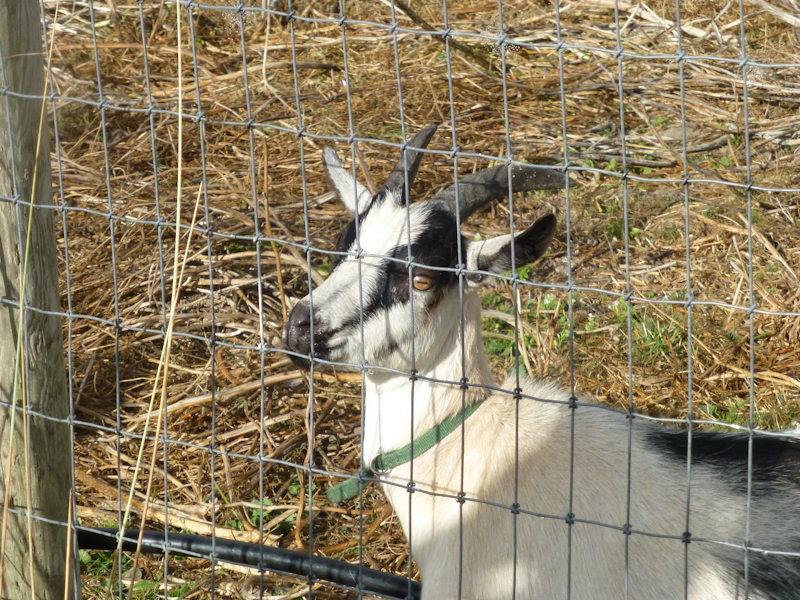 And, of course, horses.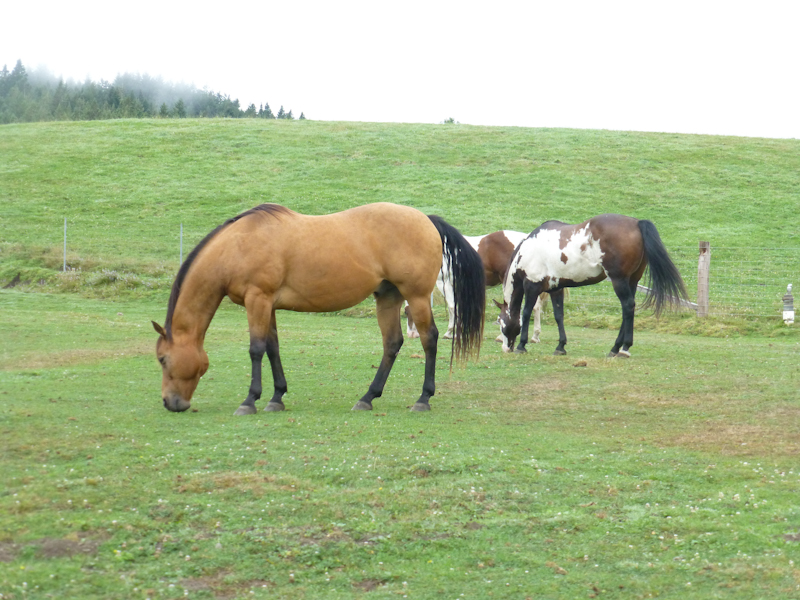 This animal was a real treat, because we usually don't see donkeys.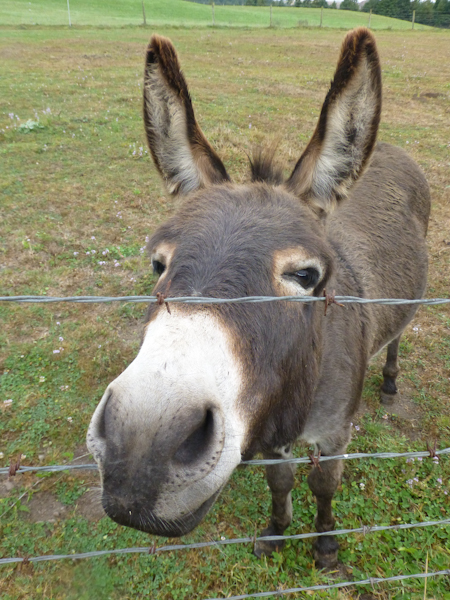 Eric took my picture petting the animal's nose.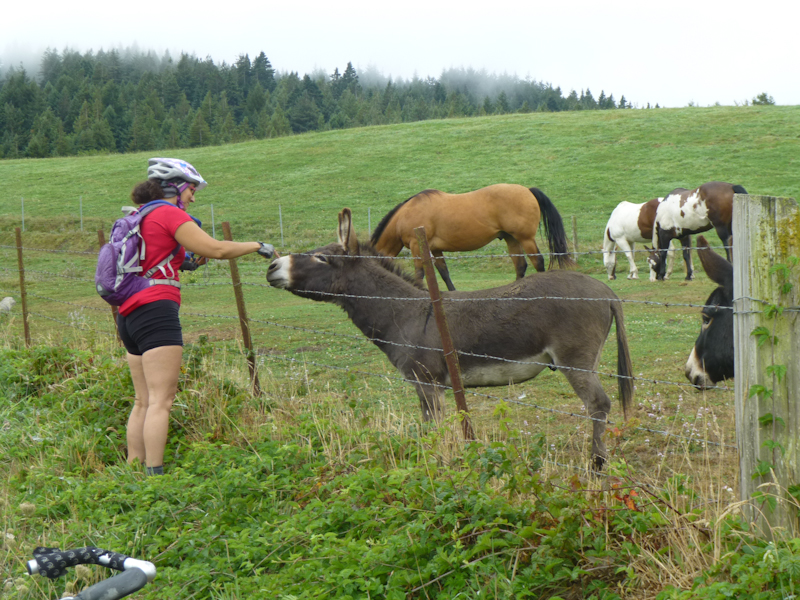 Typical Ferndale Victorian architecture. Photo by Eric.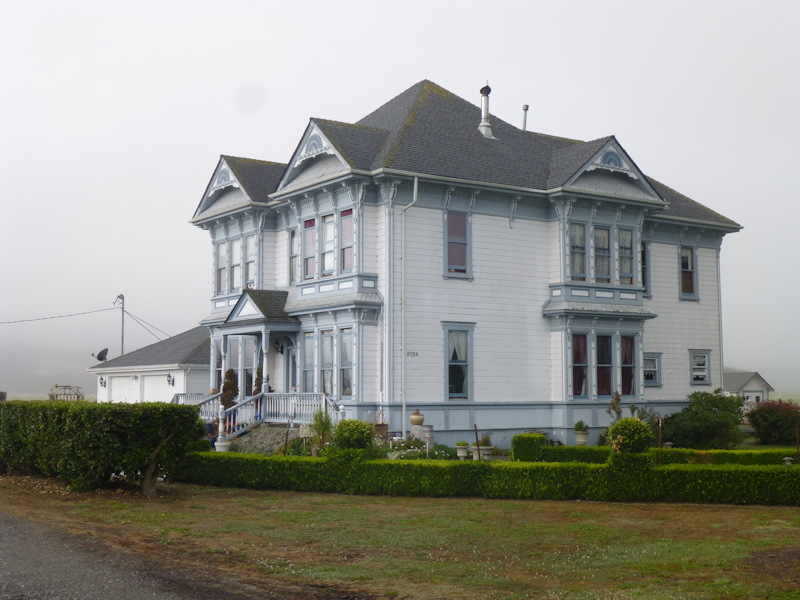 The bucolic scenery was idyllic. Photo by Eric.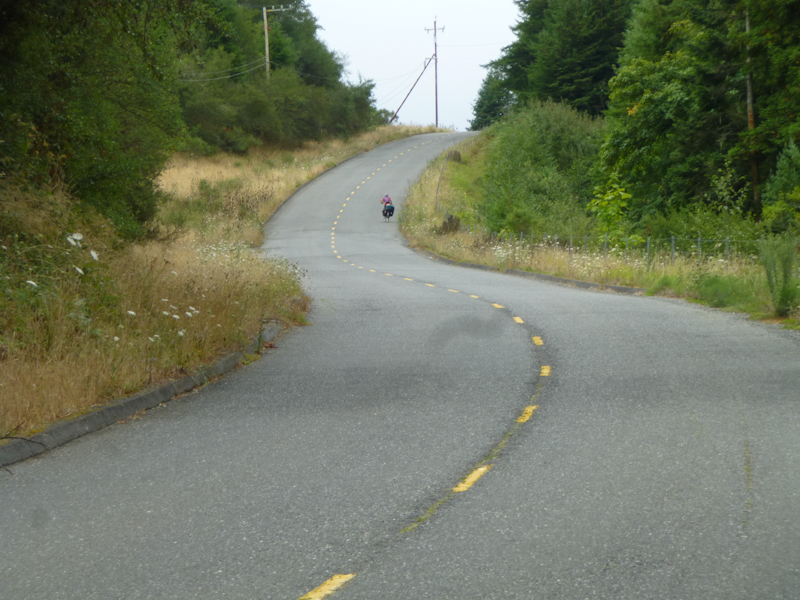 We crossed a bridge over the Eel River between the towns of Rio Del and Scotia. Photo by Eric.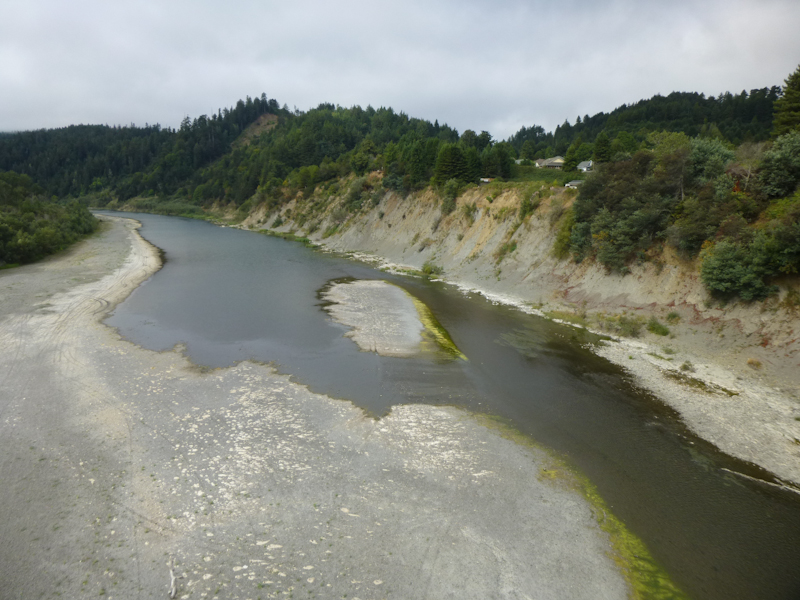 Eric took my picture on the bridge, where I was trying to stop an awful toe cramp.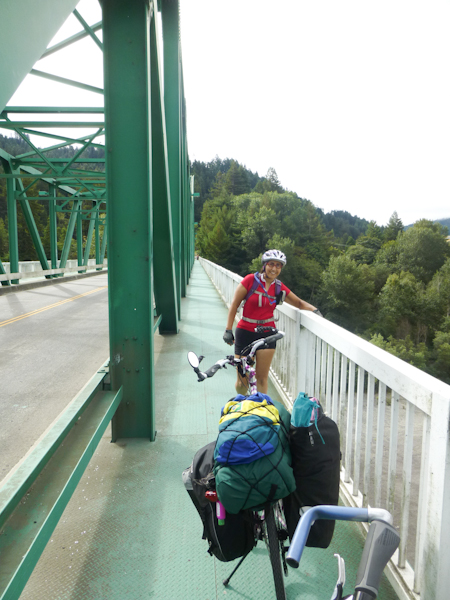 This was, fortunately, the only time on the trip that my typical miserable toe cramps bothered me. We allotted ourselves three packets of electrolyte powder every day, and that must have helped.
We stopped to buy more turkey sandwiches at Hoby's Market in Scotia.
Across from the market was the lovely Scotia Inn. Photo by Eric.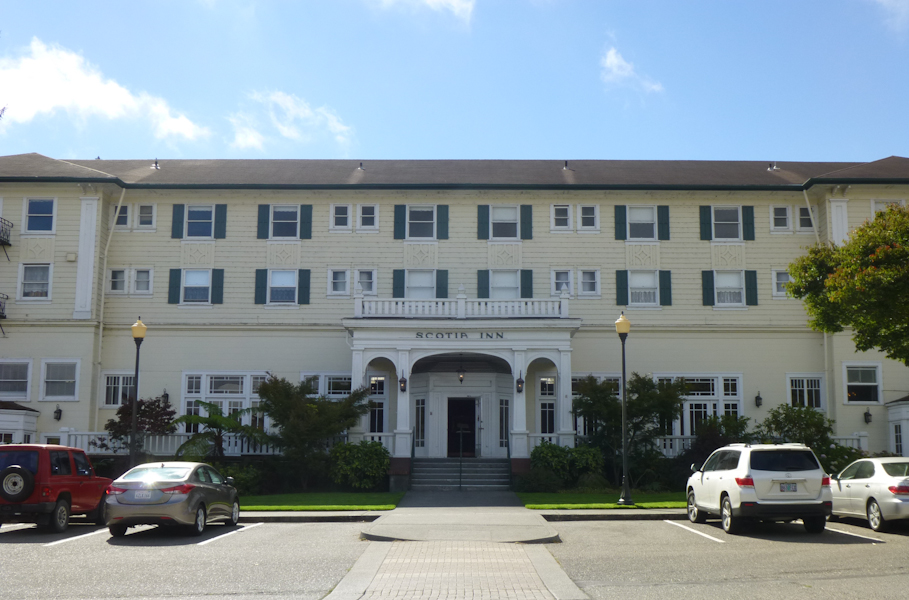 Scotia is where we found our first geocaches of the trip, at the historic Winema Theater and the Scotia Museum. We learned that Scotia is pretty much owned by the Pacific Lumber Company.
The Scotia Museum had an outdoor locomotive exhibit. Photo by Eric.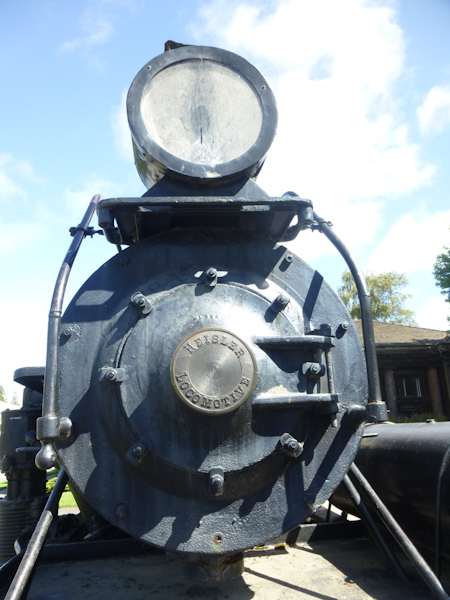 Eric the engineer.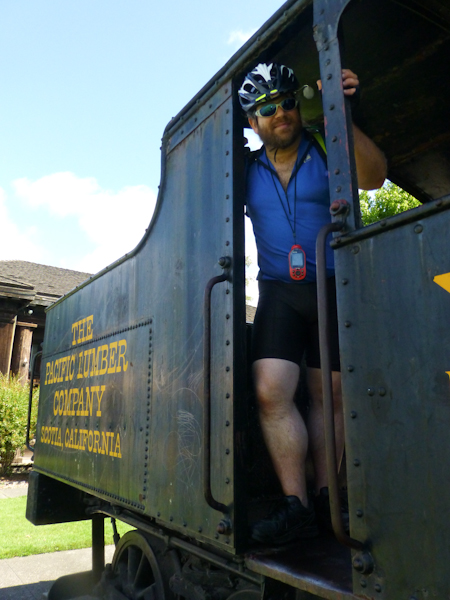 Eric took my picture climbing on the locomotive.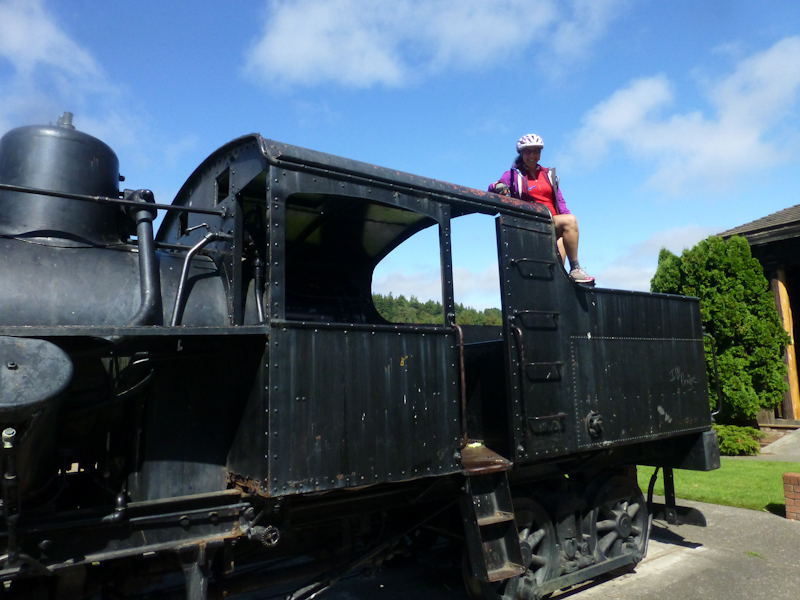 We stopped to find another cache at a fishery museum. They had a fun outdoor exhibit where we learned that salmon are called anadromous because they live in salt water but spawn in freshwater.
Eric on a bridge in the fish exhibit.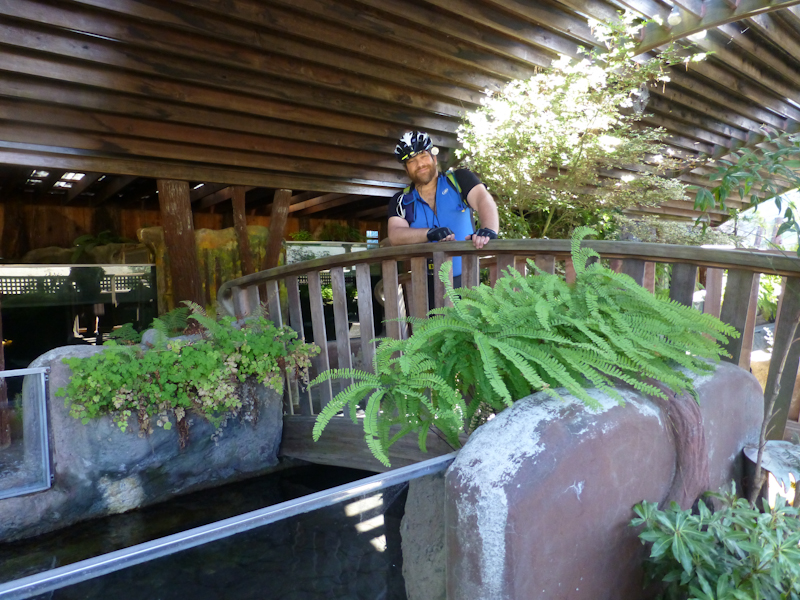 Now came the part of the ride that we were most anxious to have behind us, fortunately relatively early in the trip. We had to get on high-speed US 101. We were promised that this was a legal bike route (it was in fact so marked) and that we would have a good shoulder the whole way. It wasn't as bad as it sounded, except for one place where the shoulder narrowed because we were crossing another bridge over the Eel River. We wanted to pedal as fast as we could, but a vicious crosswind prevented this. Two cars passed us in the right lane, and both times, it was really annoying. Honestly, if you're a driver in this situation, please recognize that bicyclists are only on the road because there is no other road, and be nice and move into the left lane to pass. Cycling guides say that cyclists should just take the whole right lane, but we were not comfortable doing that.
We were pleased that we we were able to cut out part of our distance on 101 by riding through a vista point. We met a touring cyclist from England named Oliver. Oliver was riding from Canada to Mexico.
Oliver took our picture with vista behind us. It was mostly treed over.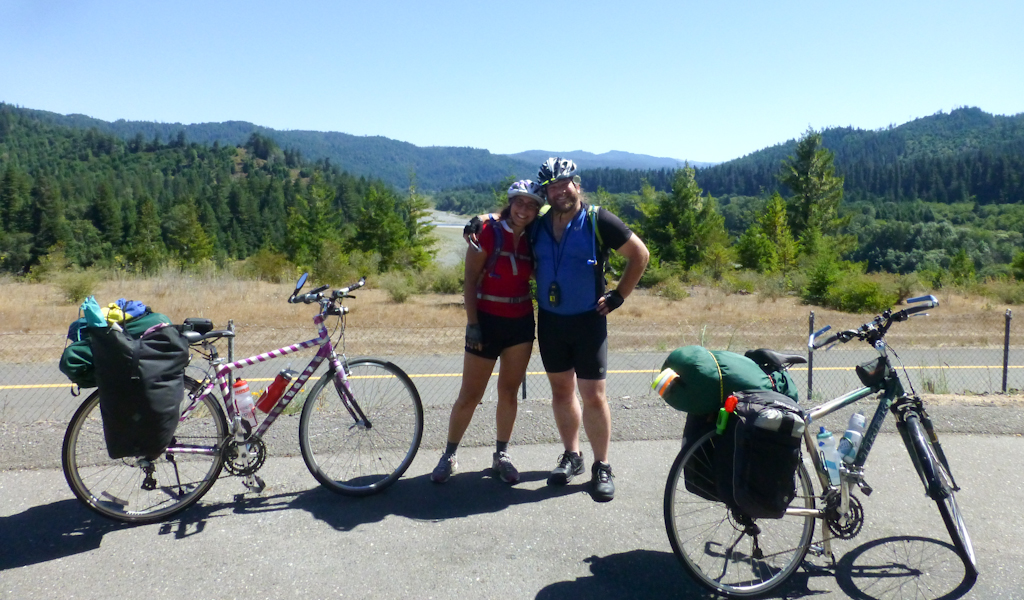 Eric took a picture of Oliver's awesome touring bike, which had an internal-geared rear hub and a dynamo in the front hub that allowed him to charge batteries with his pedaling motion.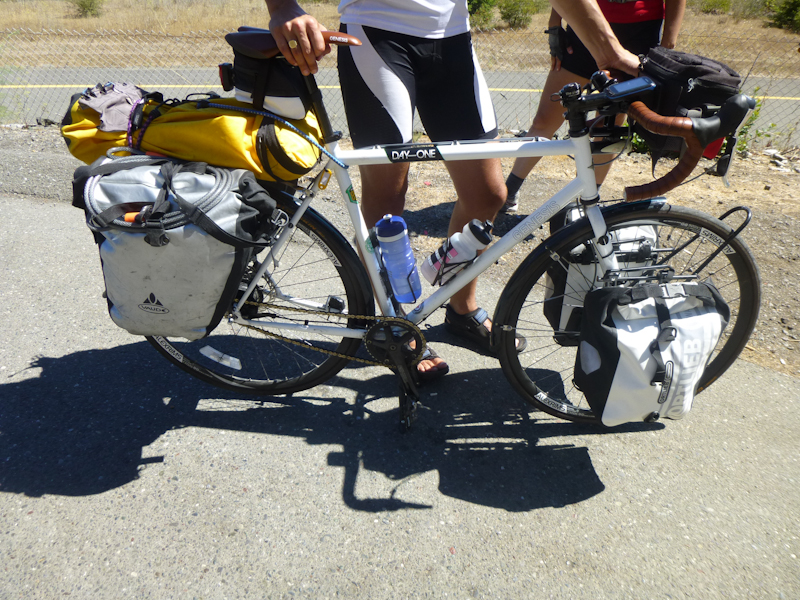 Later, we would meet Mitch and Catherine, cyclists from Canada who were also riding from Canada to Mexico. We felt particularly wimpy when Oliver told us about a guy he'd met named named Brandon, from Northern Ireland. Brandon was doing a tour from Barrow, Alaska, the northernmost point in the US, down to Cape Horn at the tip of South America. Brandon had flown into Anchorage and started his tour by riding 700 km north to get to Barrow. After Cape Horn, Brandon apparently plans to take a boat to the Cape of Good Hope at the southern tip of Africa and then ride up to northern Russia.
I asked Oliver if he knew how Brandon was funding this operation. He said that Brandon was trying to do his whole tour on US$10/day. He had saved about US$8,000, and figured that would allow him to tour for about four years. We noted that we had already spent that much money each on sandwiches between breakfast and lunch. I guess Brandon is made of tougher stuff than we are.
Eric took my picture heading back out onto the highway.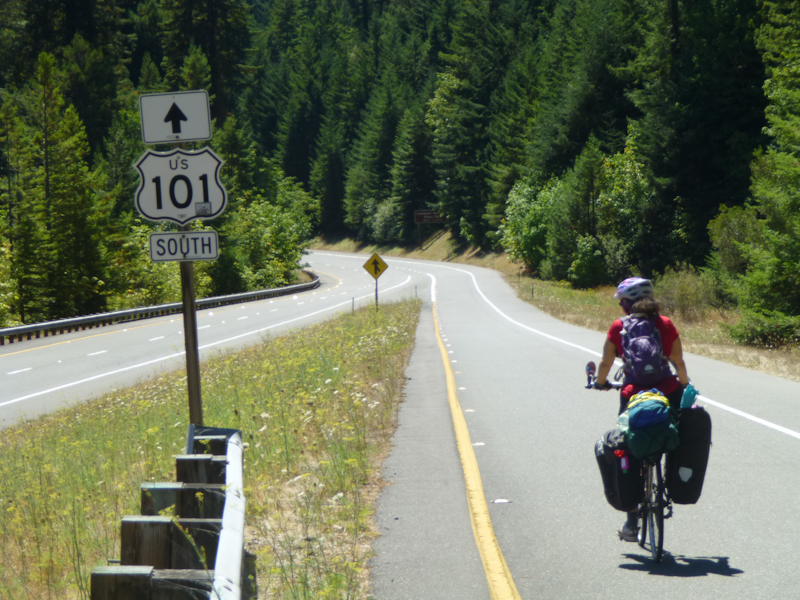 The vista point overlook had given us a nice break, and it turned out that it took us practically all the way to our exit. The first big hurdle of the ride was over! We stopped to eat our sandwiches.
Avenue of the Giants
We rode onto the scenic Avenue of the Giants, through what's left of the famous Humboldt Redwoods. Photo by Eric.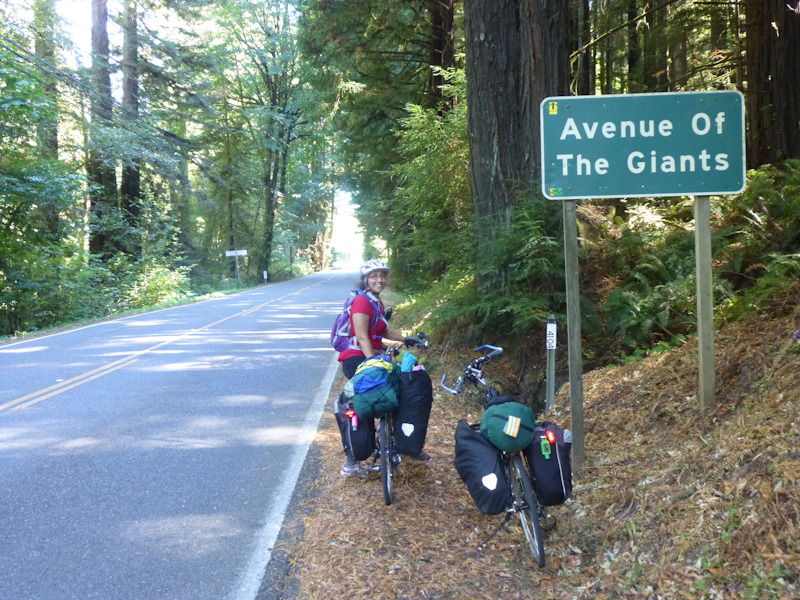 Eric took my picture riding through the majestic redwoods.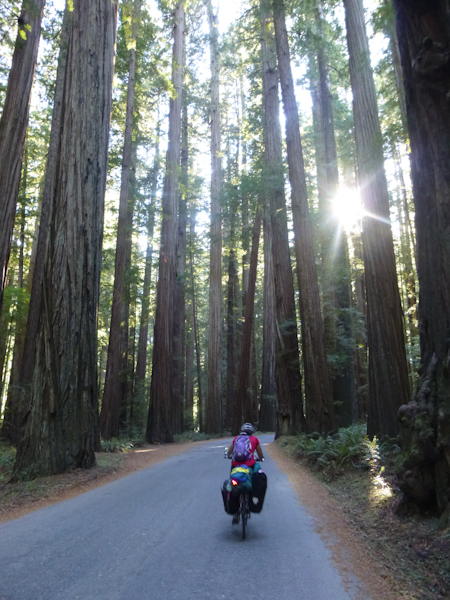 We found one guard rail cache at the entrance to the Avenue of the Giants, and skipped the next one (beneath a giant ear of corn, for some reason) because it had too much poison oak around it. We found one very exciting cache that led us to an albino redwood. We had seen one of these beautiful trees before in Big Sur. We couldn't take the bikes into the woods, so had to take turns going to see it. Walking through the supreme beauty of the trees felt like a religious experience.
The white albino stood out brilliantly against the browns and greens of the forest.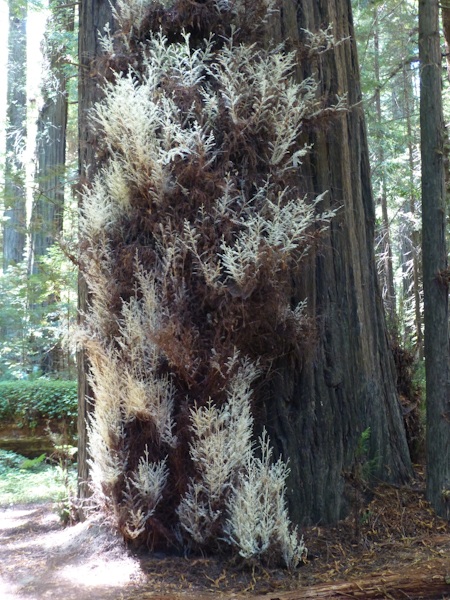 White needles like this obviously can't produce chlorophyll, so the albino redwood is parasitic on the ordinary redwood that supports it.
I could not believe how much poison oak was growing on this redwood. Yup, that's all poison oak! At least it's a native plant.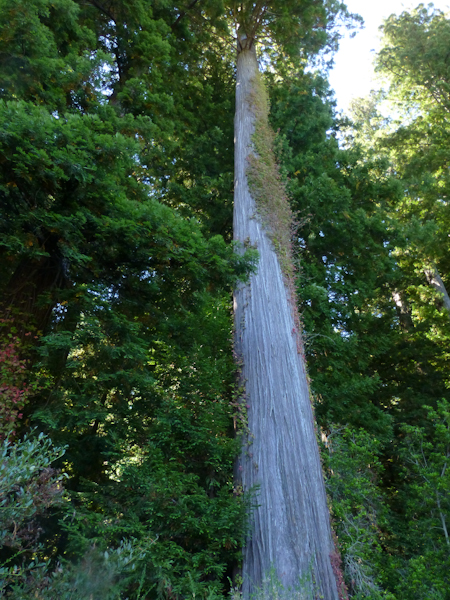 The tiny town of Redcrest had a shop that advertised ice cream. They only had vanilla and chocolate, but they gave you a large bowl of it. They had outdoor seating under the redwoods.
The shop in Redcrest had redwood carvings in the seating area.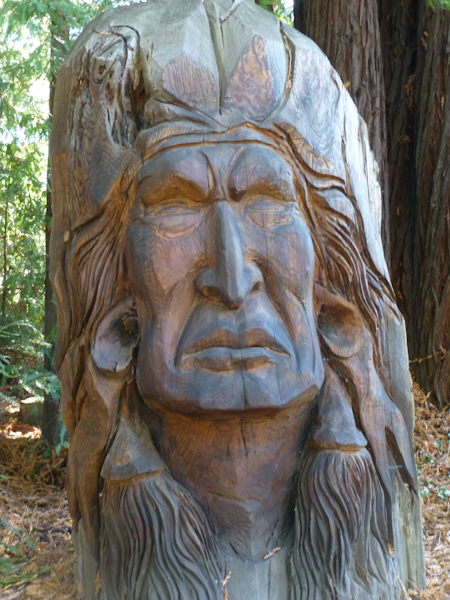 Back on the road, we ran into Mitch and Catherine from Canada and rode with them for a little while. I was panting to keep up with them on inclines, but found myself having to slow down for them going downhill. Catherine had no panniers at all, but pulled all of her gear in a B.O.B. Yak trailer. We have a Yak trailer, and it does track very well, but we haven't brought in on a tour in a couple of years.
Humboldt Redwoods State Park
At last we turned west on Mattole Road, on which we would ride for the entire rest of the trip back to Ferndale. Rather than risk not finding a spot at the hiker/biker camp in Humboldt Redwoods State Park, we had paid extra for a car camping spot. Mitch and Catherine went on further south to the hiker/biker camp. We left the bikes briefly for a short hike into the redwoods to find a cache. The hiking was superlative.

Eric took my picture climbing on a cut redwood. See how big these trees are!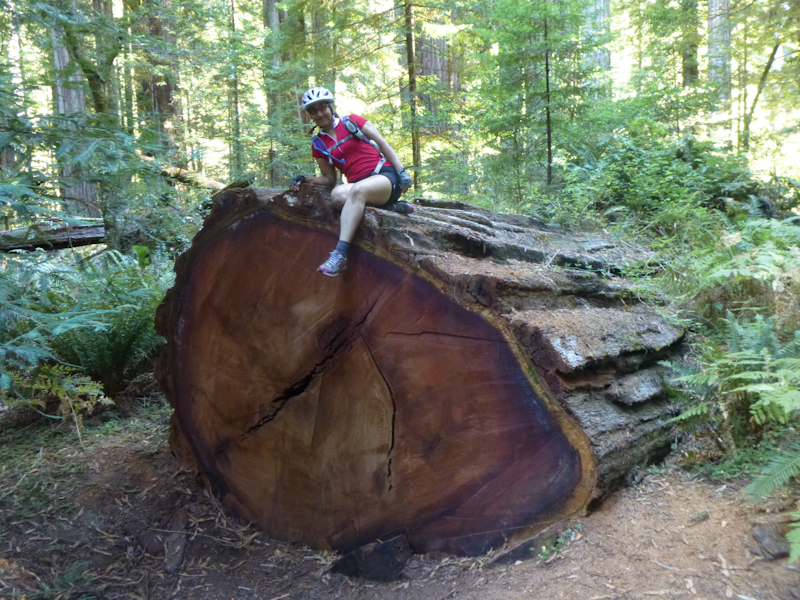 Fearing holiday crowds of loud, drunken jerks, we had reserved a spot at Baxter Environmental Camp. I've found that a lack of running water significantly increases the class of camper in a camp. However, we wanted showers. The day's riding had been easier than expected and we still had quite a bit of daylight, so we decided to stop for hot showers at the more developed Albee Campground. The original plan had been to ride back to Albee for showers in the morning, but the campgrounds turned out to be several kilometers apart, so we changed our plan. The showers at Albee were very nice, and we took our clothes in and washed them as well, so we could wear them again on Monday.
While showering at Albee, we met another touring cyclist named Derek, who lived near the Whole Foods in Berkeley and regularly rode the same roads we do. Derek was doing the same loop, but in the other, apparently more difficult, direction. He was much faster than we were, because he had come the whole way from Ferndale (which we planned as two days' ride) that day. He said that the hills were indeed brutal. He told us he had been turned away from the hiker/biker camp because it was full, but had been given a car camping site for the (US$5) hiker/biker price.
We spent way too long talking to Derek and repacking up our gear. By the time we got to Baxter Environmental Camp, darkness was beginning to fall. Near the parking area, we found a campsite with several tents, and one man relaxing in a hammock. He told us that he would be happy to make space for us, but that there was in fact another site around there somewhere, because there had been other campers there the night before. He wasn't sure where it was, but he had heard that it was over a wooden bridge. After some more riding around, eventually we found the camp. Between the two camps was a water pump, with a small building near it, but the water was labeled as untreated.
We had this whole campsite all to ourselves. The picture isn't very good, because the light was getting dim.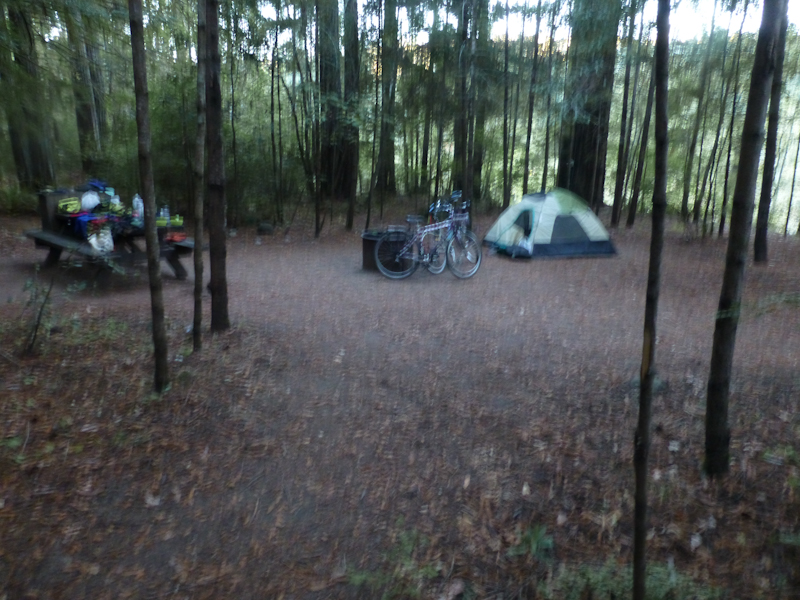 I set up camp while Eric heated up water on our backpacking stove. We had brought lightweight, freeze-dried backpacker meals--just add boiling water. This is a relatively expensive way to travel, but the freeze-dried pad thai was actually fairly good. We set an alarm for 5:00 and went to sleep about 21:00.
We had traveled 59.96 km for the day, but we knew that had been the easy part. The day's ride had been mostly flat. Both of the next days, we would be crossing the California Coast Range, first to the west and then back to the east.
That sleeping was not very good. Yes, there were no drunken jerks around, but we were so very alone. The other campers were a few hundred meters away. When I got up to go to the bathroom in the middle of the night, I felt I'd never been anywhere so dark outside of a cave. Yes, there were a few stars, but most of the view of the sky was obliterated by the trees. Worst was this mournful howling I heard in the middle of the night. Apparently, it was caused by a siren going by on the highway, as the siren eventually came close enough to be within my hearing range. But what was clearly a whole pack of the same kind of canine howled together at the sound. Wolves, I had to imagine. I was scared. I was relieved that, when the siren went back in the other direction, the wolves were apparently gone.
Saturday elevation profile. The chunk of distance under 0m elevation (toward the end of the day) appears to be an artifact of our hike in the redwoods; pretend it's not there.