---
Lassen Anniversary
27-28 July, 2018
Mt. Lassen at sunrise.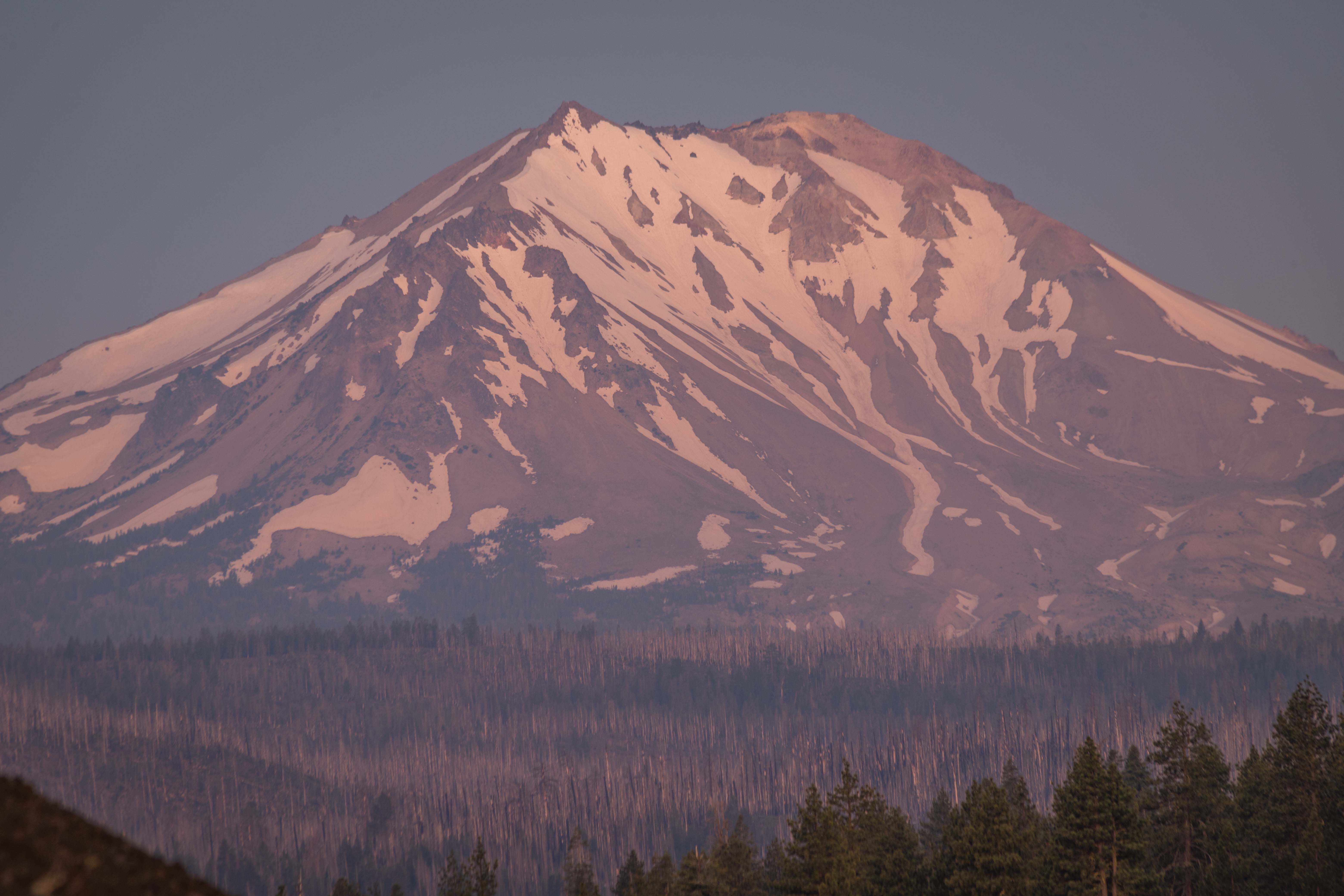 The year has rolled around yet again, and we are celebrating another anniversary of our exchange of vows at the First Unitarian Society of Albany. We are still thrilled to be together. I had explored the Lassen Cinder Cone with Williams Geoadventures in 2017, and wanted very badly to share this amazing sight with Eric. As smoke had prevented me from showing Eric the Lassen Cinder Cone in 2018, we returned to Lassen this year to try again. This time, however, rather than staying at the comfortable St. Bernard Lodge, which is just too far from the Cinder Cone, we camped at Butte Lake, right near the trailhead, so we could try to head up for the sunrise.
In researching places to eat, I found this 5-star Yelp review of the Redline Grill in Manton: "Stop here. Even if just for a basket of fries and a coke. Really. Stop here.... A bit surreal... pretty much in the middle of nowhere dead center in an almost ghost town is a full service restaurant... and a dang good one at that! ...did I mention surreal?? Inside is totally hot rod culture with a heavy dose of Coca Cola, rock concert posters and enough brick-a-brack to fill a collectible store...." Manton was about 15 miles off of State Highway 44, but how could we resist after that Yelp review? The place definitely lived up to the review, with all kinds of fabulous Mopar memorabilia and rock 'n' roll concert posters. The staff was very friendly.
Eric about to enjoy a root beer float.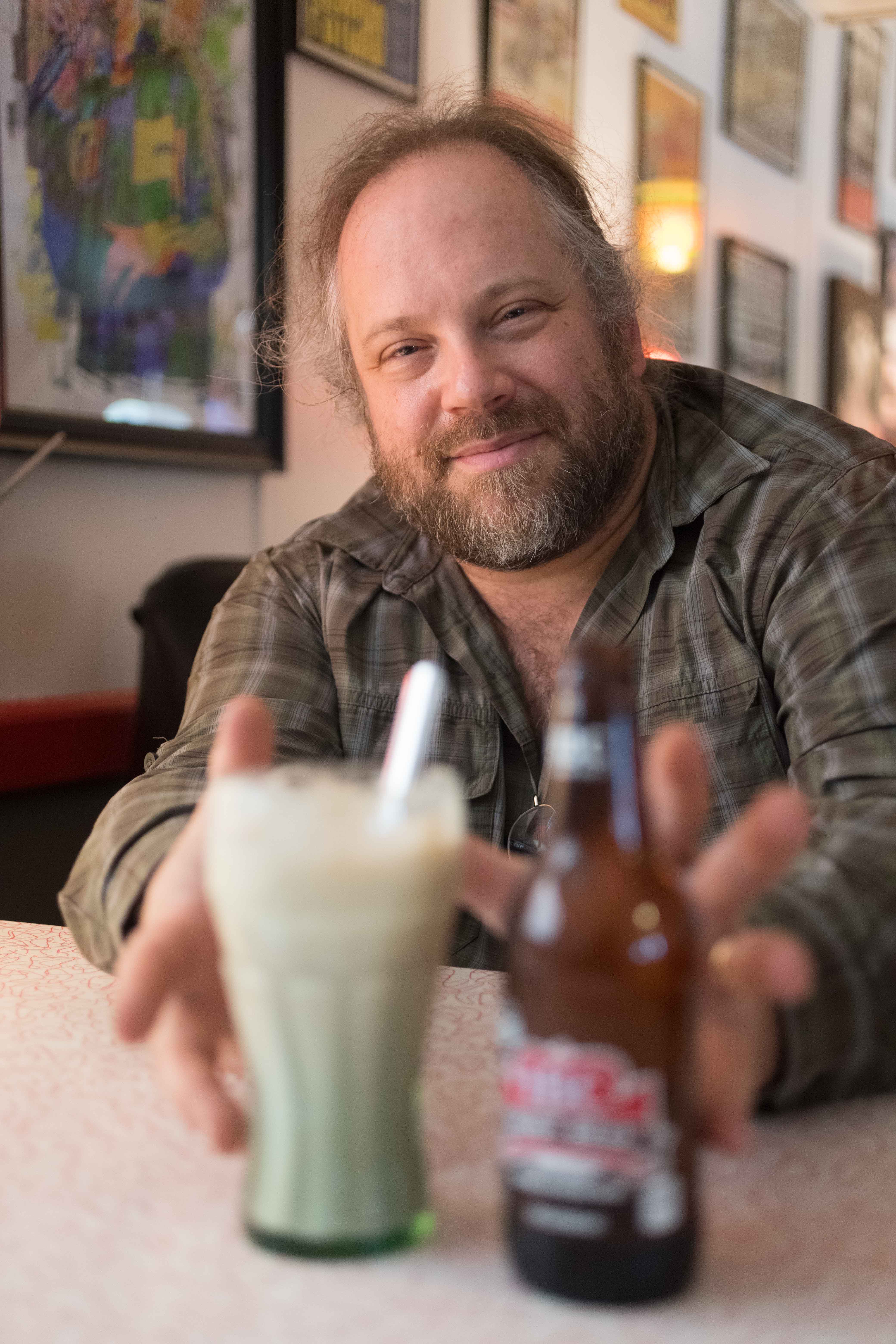 Our detour to the Redline Grill meant that we did not arrive at the campground until about 18:00, but we managed to get to sleep around 19:30. Figuring on sunrise at 06:10, a desire to get to the summit by 05:30, two hours to hike the 2 mi/3 km up to the summit, and half an hour to get up and ready, I set an alarm for 03:00. Even thought Eric's new portable CPAP battery worked very well, neither of us slept very well for a variety of reasons.
We did rise at 03:00, and prepared to leave. It took us more than 20 minutes to set up our packs, and it was 03:45 by the time we left the campsite, and 03:55 by the time we walked from the campsite to the trailhead. I had also looked up the sunrise in San Francisco, and failed to take into account the fact that we had driven 2.5 or 3 degrees of latitude north, so the actual sunrise was at 6:01. Despite amassing every ounce of fortitude we had and dutifully making the difficult trudge up the steep slope of the Cinder Cone, on loose volcanic ashfall, we did not make it time for the sunrise. We had to stop on the trail to photograph the view of Mt. Lassen from the trail.
Lassen in early morning light.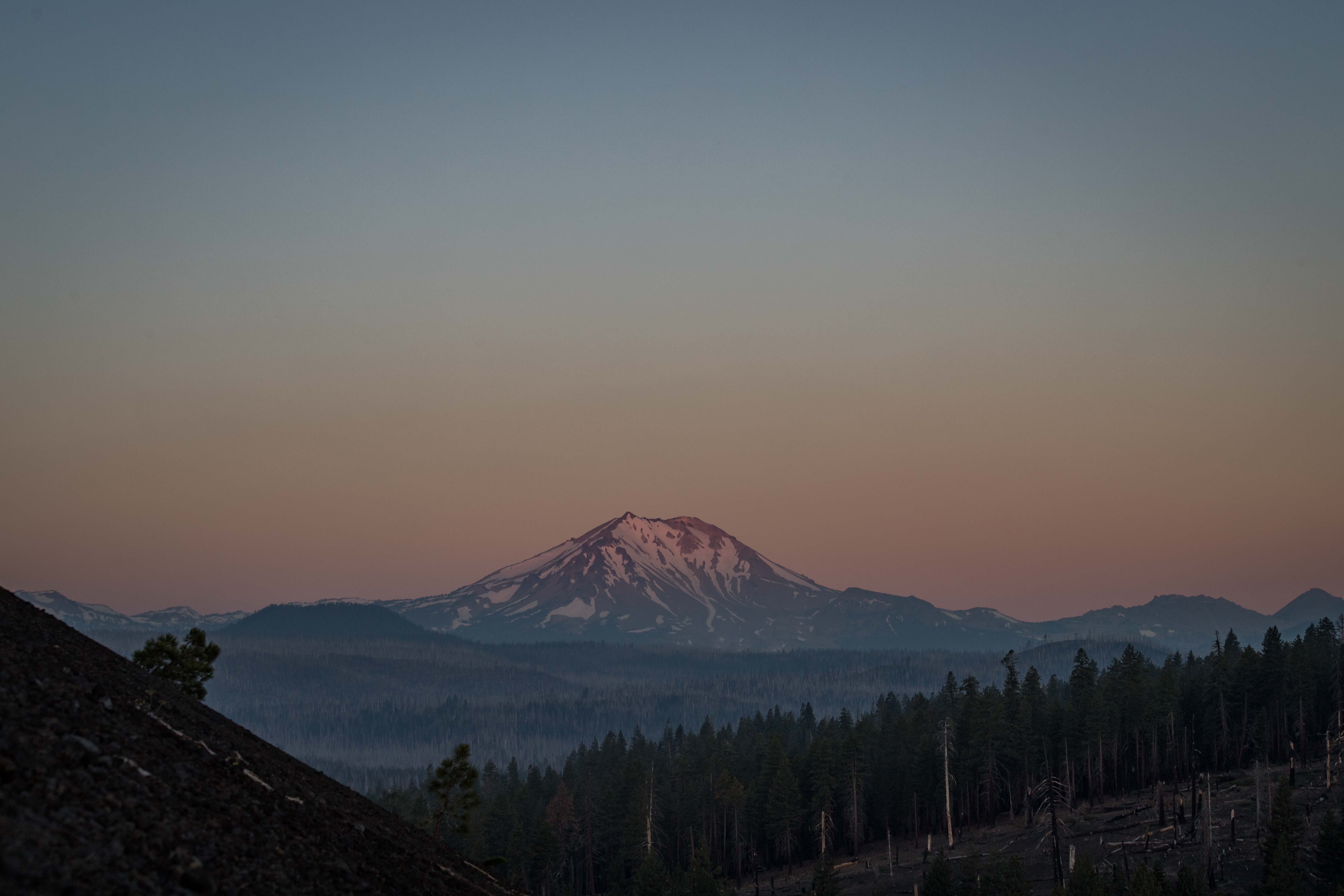 Eric looked east and photographed the rising sun.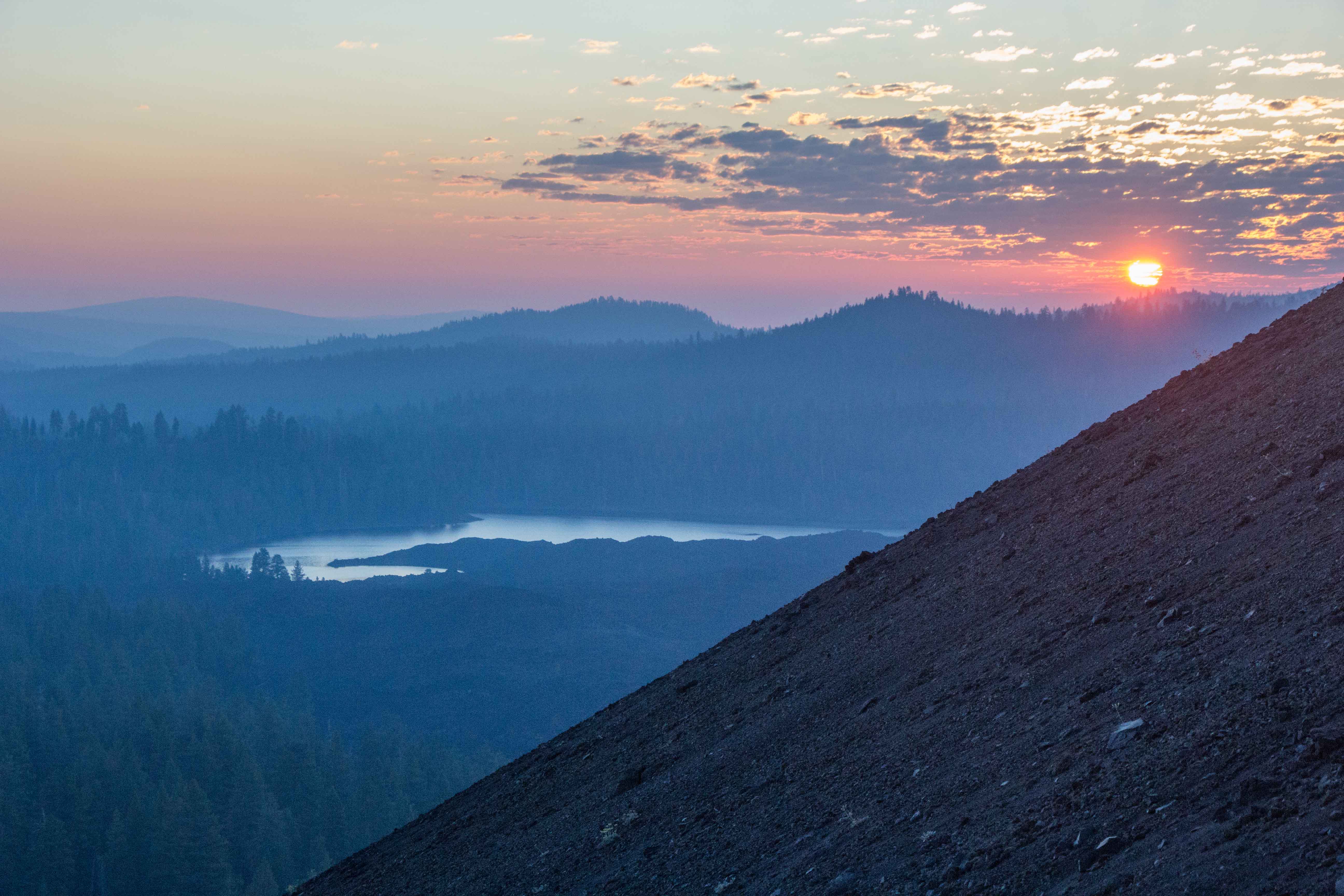 Alpenglow striking Mt. Lassen.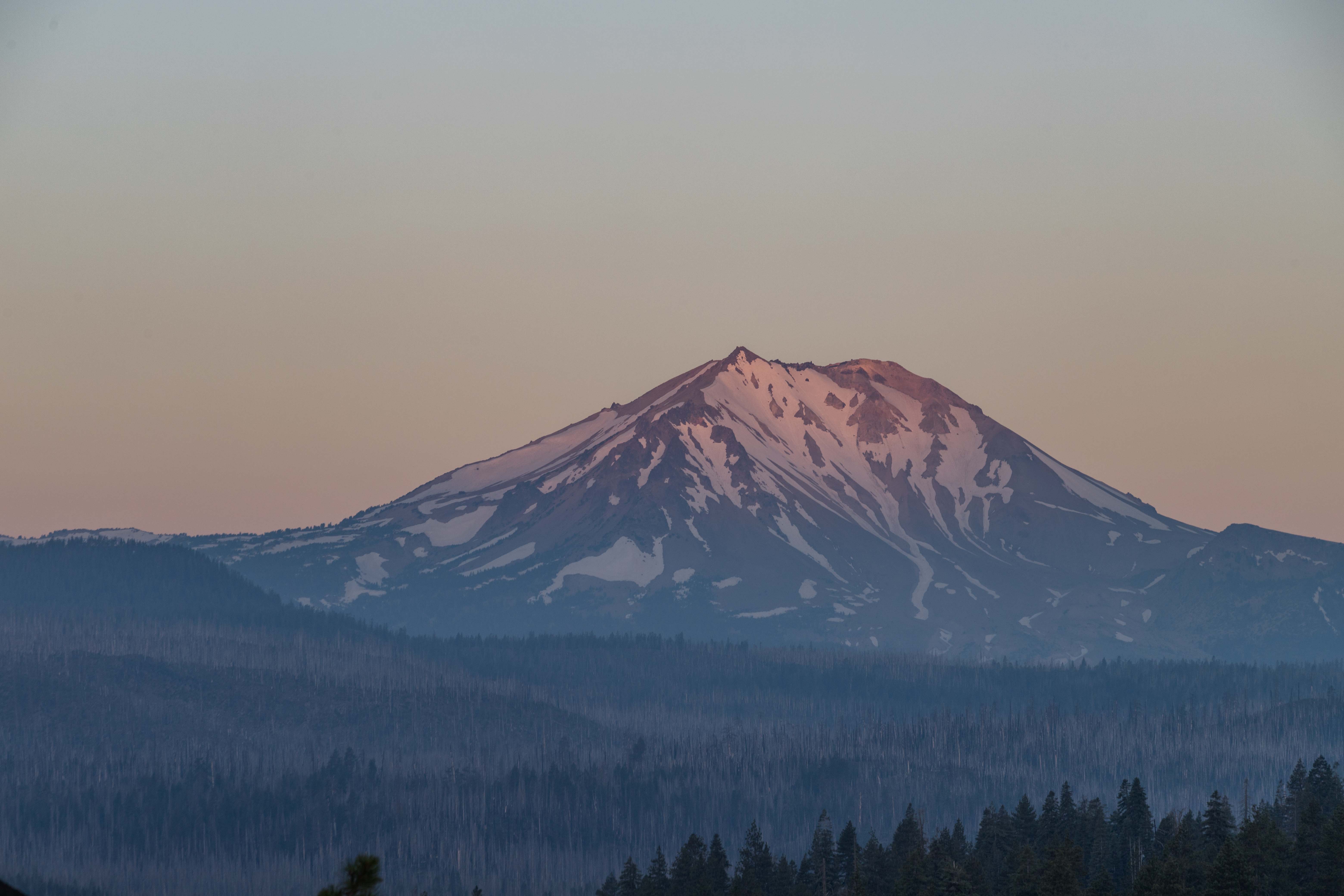 Eric took a picture of me with my camera getting ready to photograph Lassen from a new spot on the Cinder Cone trail.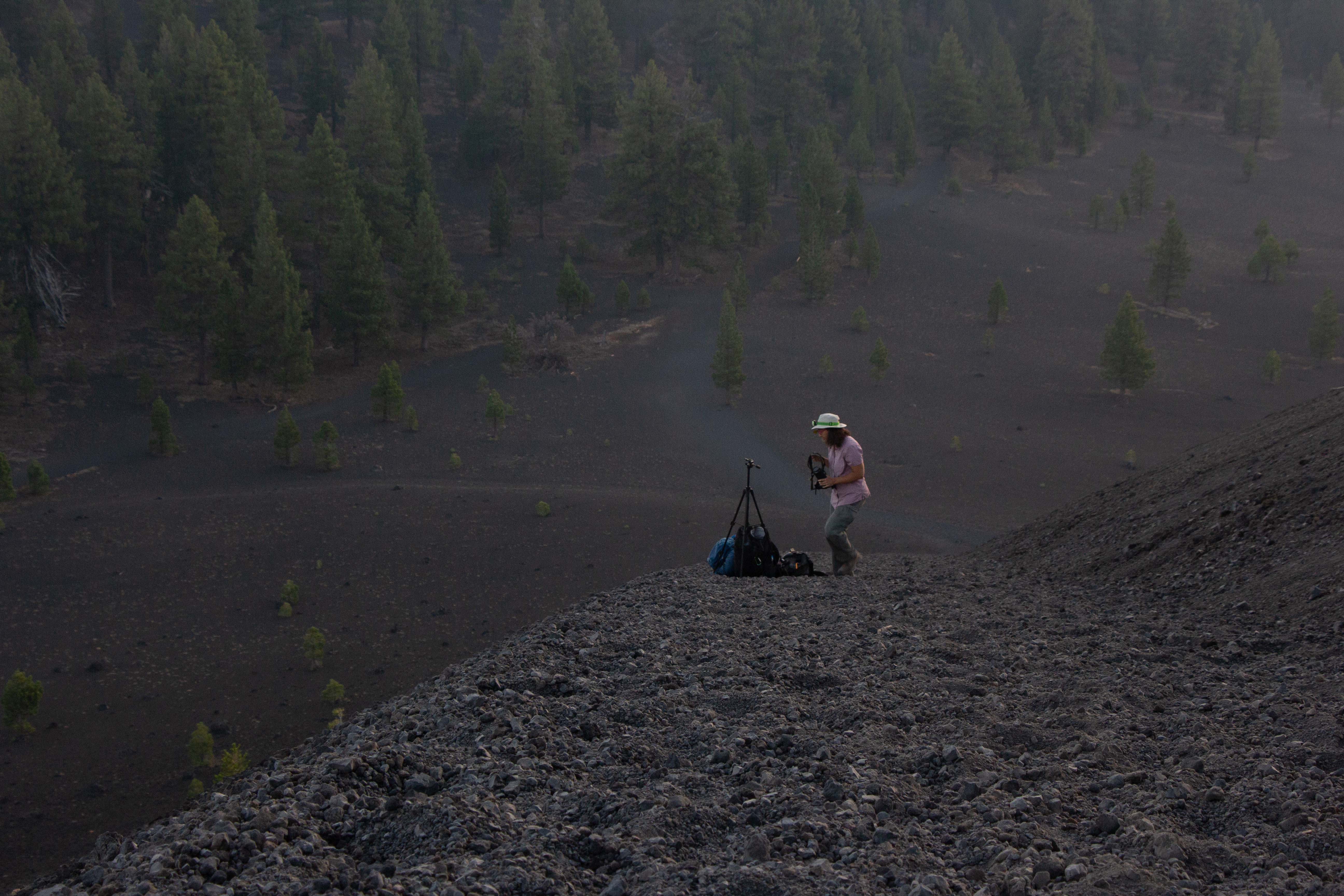 Lassen lit up by the rising sun.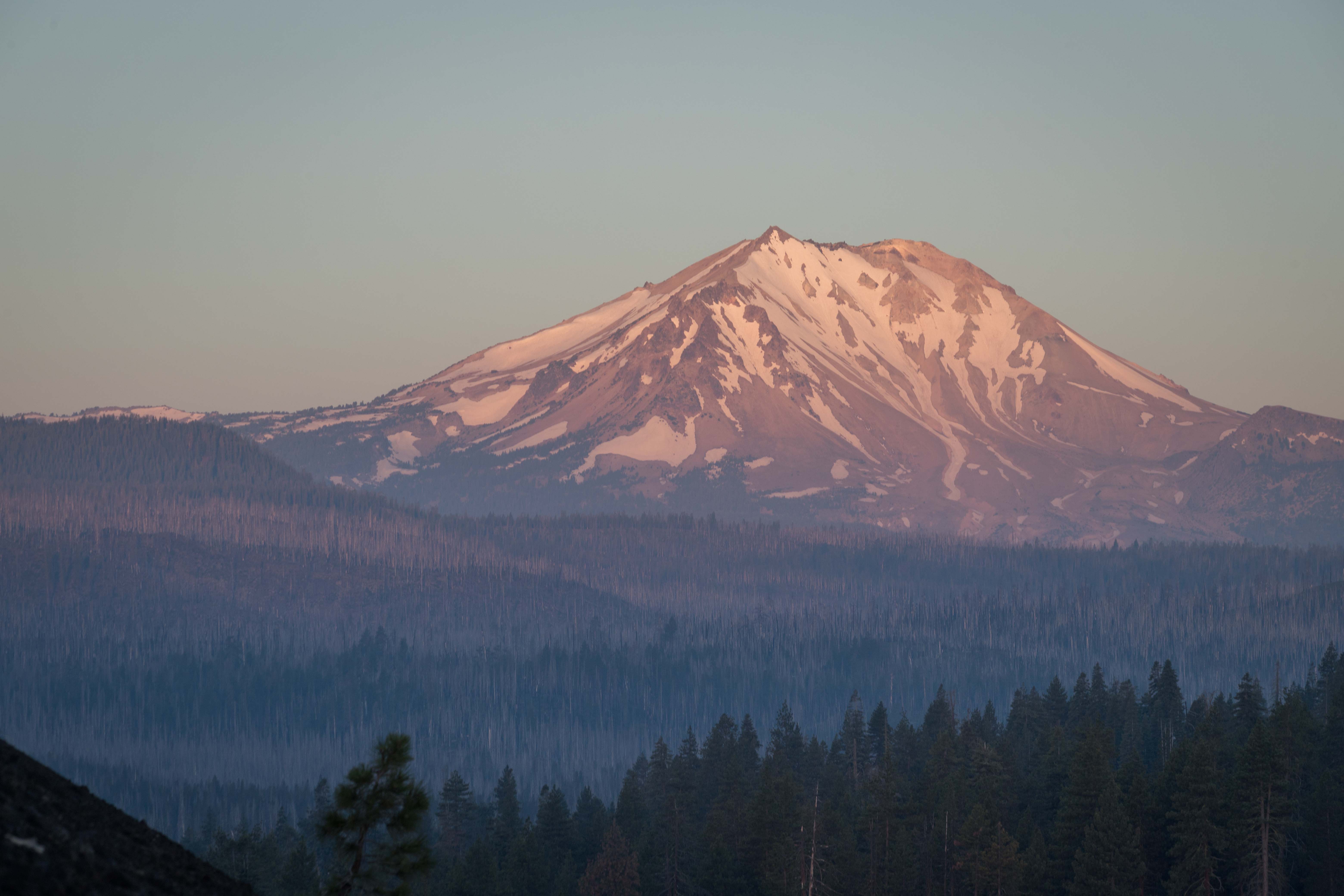 At last, we reached the top of the trail, and I was able to show Eric the summit of the magnificent Cinder Cone. The Cinder Cone erupted in the 1650's.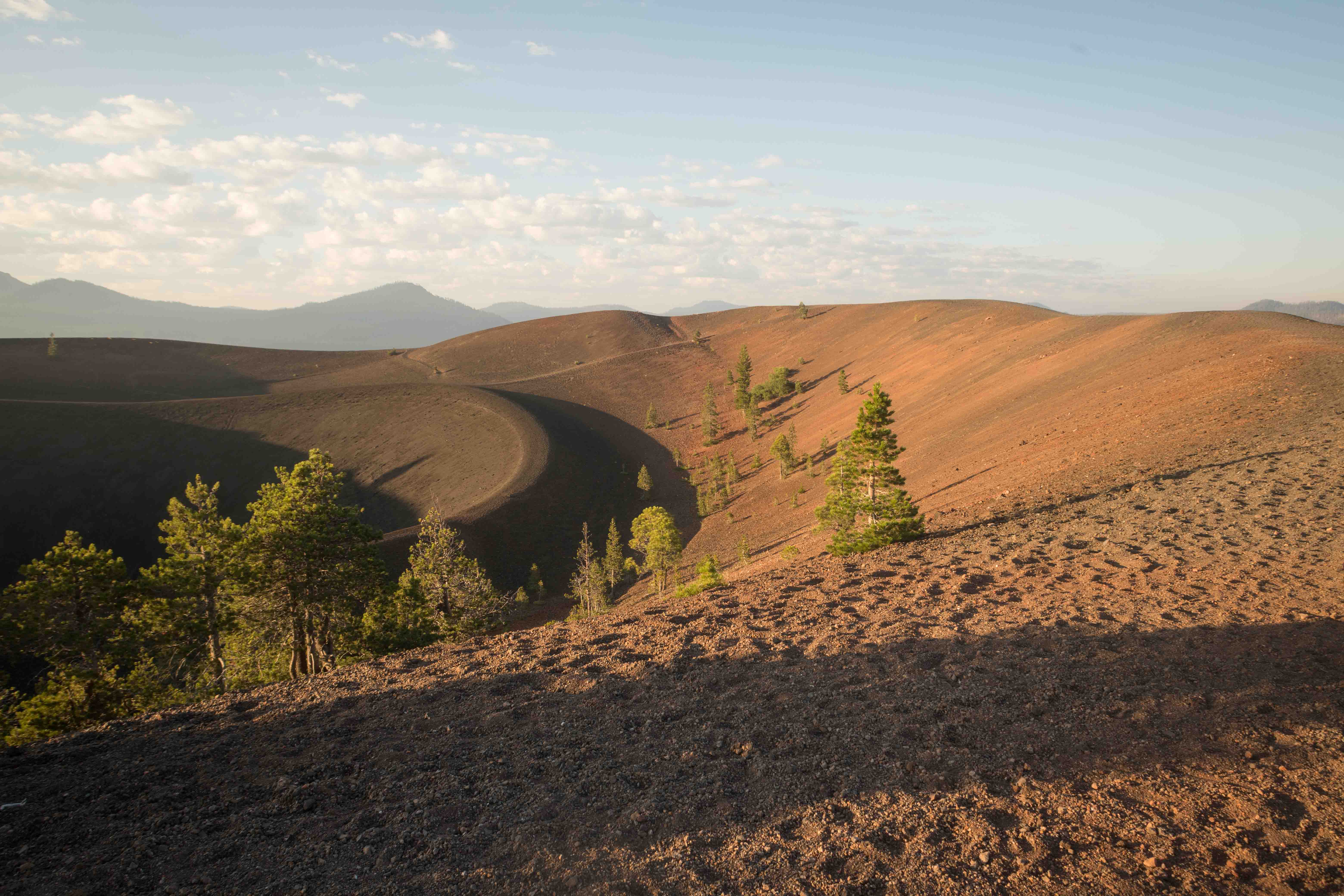 Eric at first didn't understand why it was any more special than any other cinder cone. Then I showed him that there was a trail down into the bottom of the volcano. What a way to celebrate an anniversary, huh?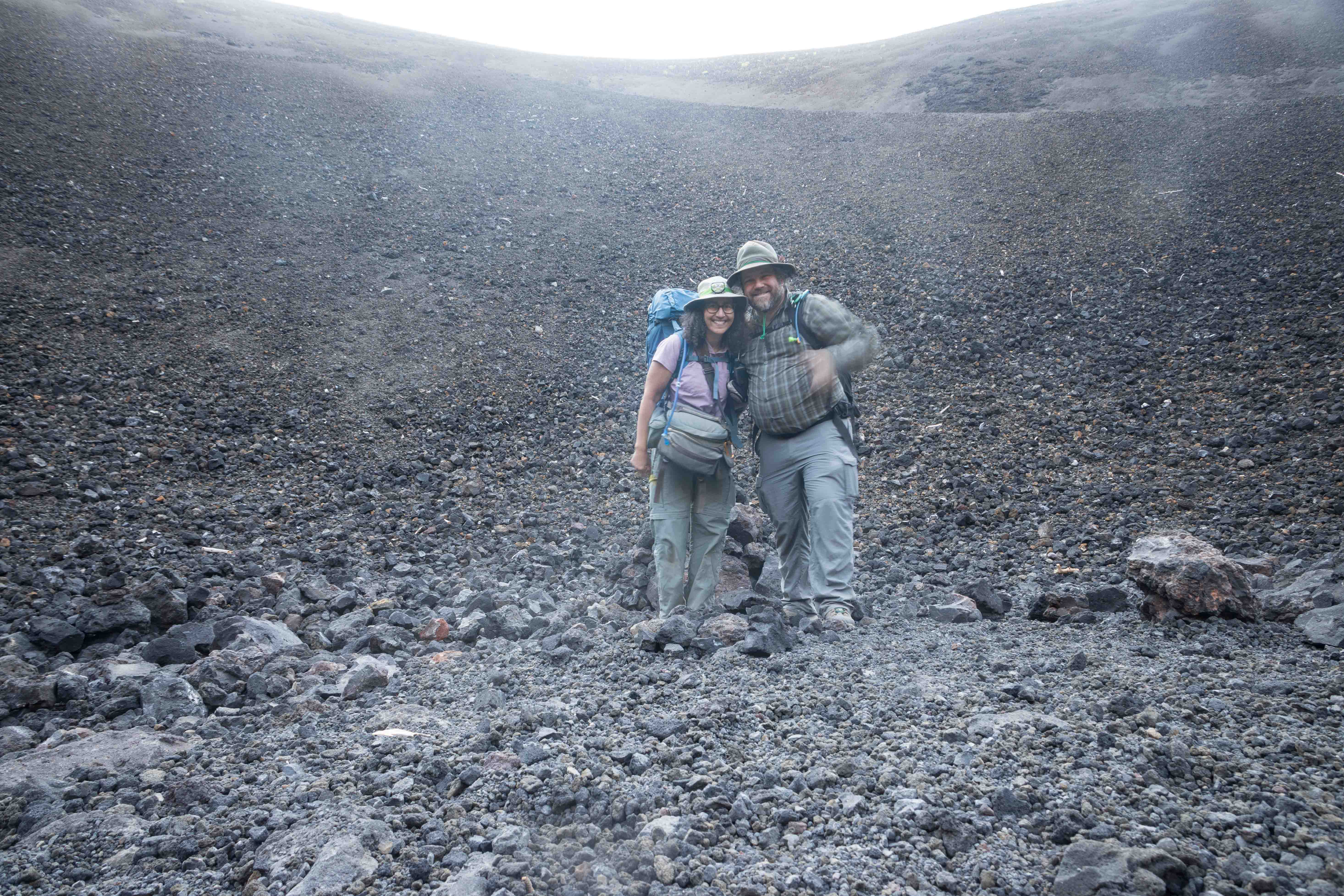 One of the things I had wanted to do up there was get better pictures of the lovely Painted Dunes than I got on my trip with Tom Williams. But a haze in the air made it difficult.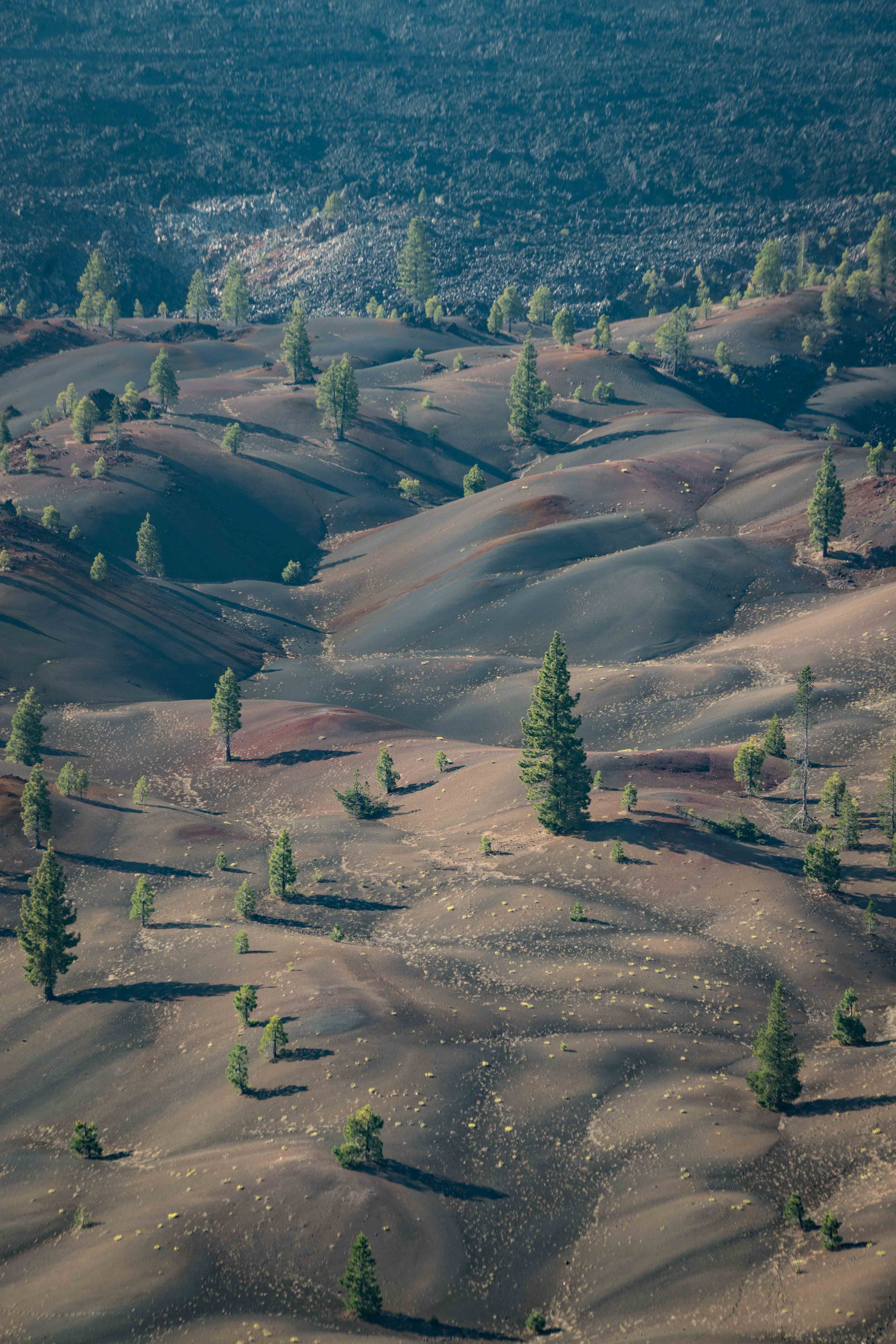 I did get an interesting abstract.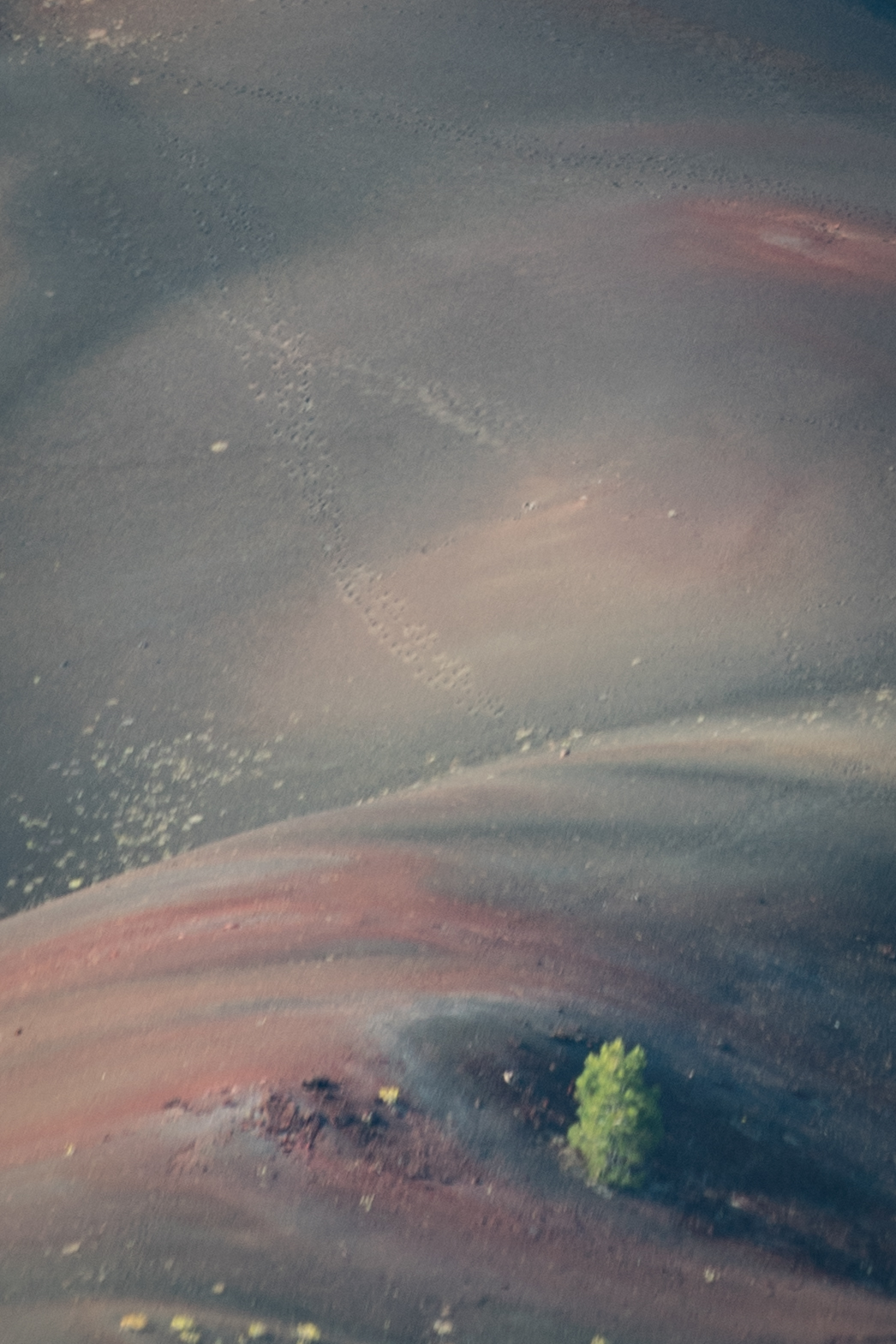 We hiked back down the steep slope and then along the trail back to the campground. Now that it was light, Eric got to see and photograph the Fantastic Lava Beds in this amazing place.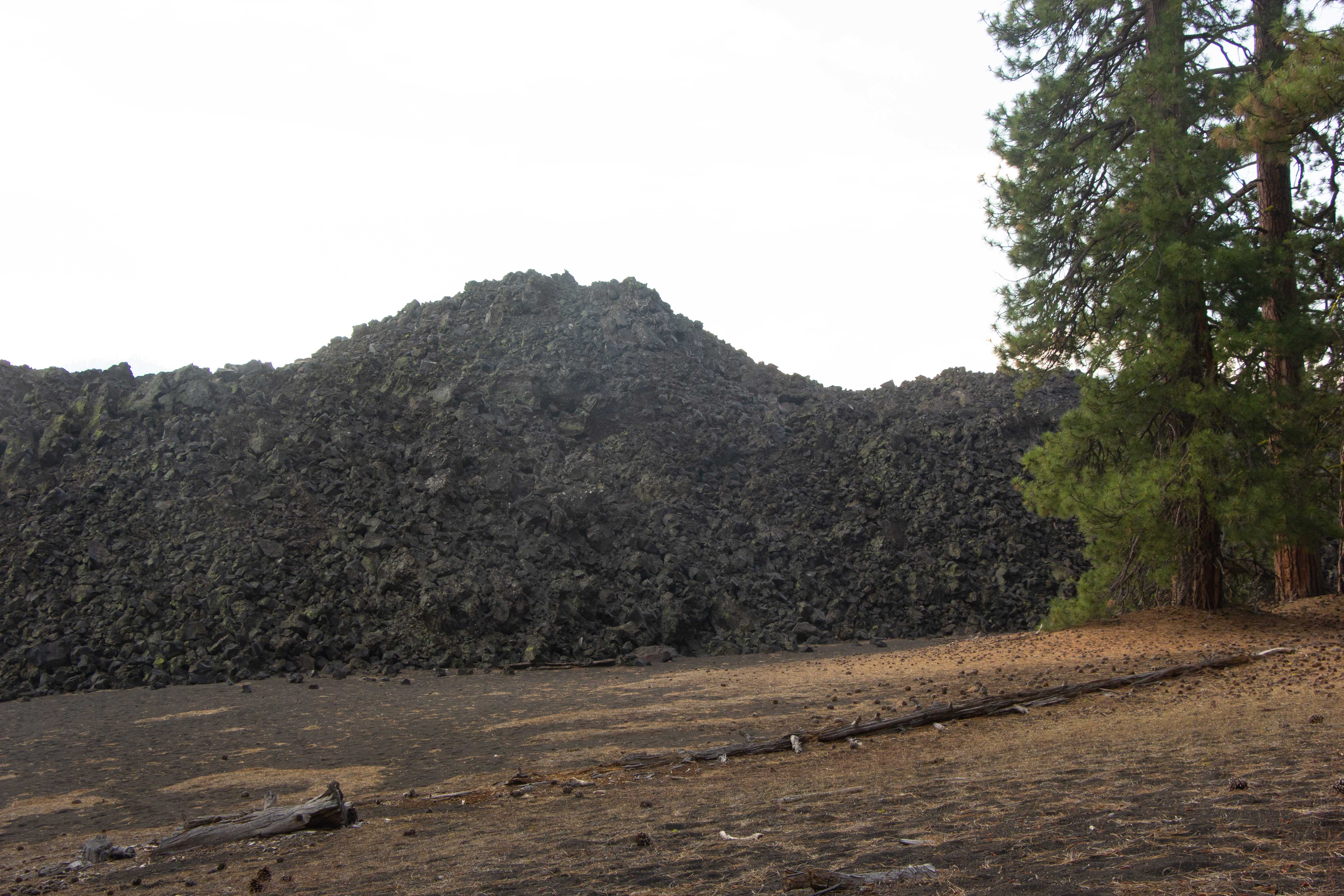 It took until 10:15 to get back to the campsite, and we needed to check out by 12:00. We did have a tasty breakfast of turkey bacon and eggs, but had to enjoy it while packing up gear rather than sitting at a picnic table like civilized people. We managed to depart the campsite by 12:15, but unshowered.
The Fantastic Lava Beds extend into beautiful Butte Lake right by the campground, and I had thought that it would be a lovely paddle with the Weeble. However, Eric pointed out that, since physical geocaches are not allowed in national parks, there would be no terrain 5 cache (a cache requiring special equipment, such as climbing or SCUBA gear, or a boat) for us to find. I did a little research and found a terran 5 at McCoy Flat Reservoir, only about an hour out of our way on the way home. So, we left Butte Lake for another time and headed for McCoy Flat Reservoir.
This place was really in the middle of nowhere. We definitely needed Lulu, our car GPS, and also some advice from some locals in a pickup truck, to find the parking area at the end of a dirt road.
We paddled out 1400m, or a little bit under a mile, across the lovely reservoir to a deserted island full of lava rock. We were very excited to find the cache.
We didn't bring a good camera on the Weeble, so we just took a couple of phone pictures of each other on the island.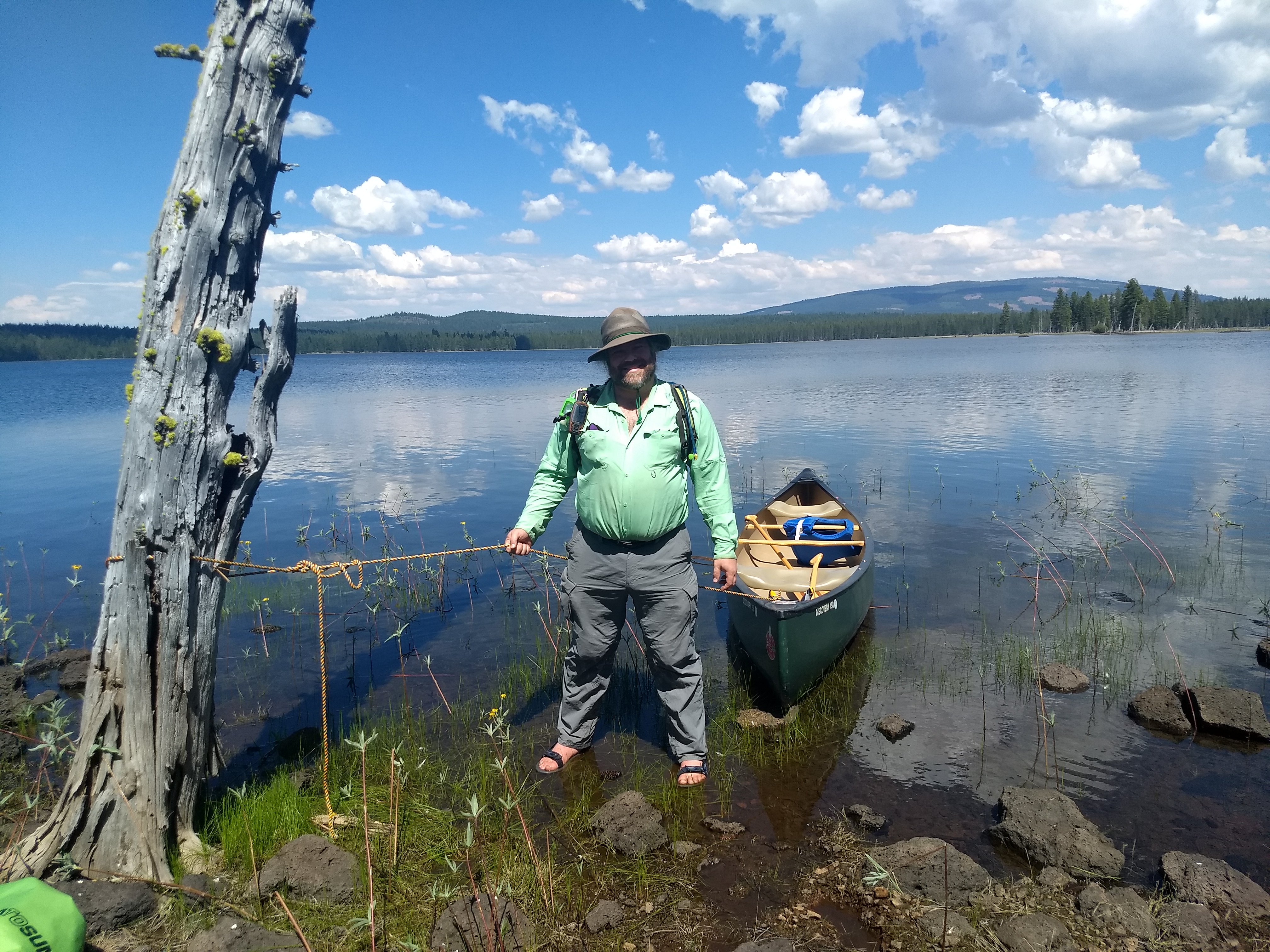 We took a quick dip to cool ourselves off, and paddled back to the spot where we had parked Mather. We loaded up, and were very disappointed to find that Lulu would not start up again. Eric remembered how to get back to CA 44, but from there I had to navigate using a National Geographic Road Atlas.
We had hoped to stop for a nice anniversary dinner in Chico, but it was 16:30 by the time we left, and we really needed to get back home and get some more sleep than we got the previous night. It had to be our favorite restaurant (by frequency of visits), Subway, for us again.
Still adventurous, still romantic, still blazing new trails together... We plan to go to Channel Islands National Park next year.
---
Last updated: 29 July, 2019 by Eric and Beth Zuckerman6>