Waimea Canyon and Koke'e Park (8/24/08)
Today was not as much fun as yesterday. Today was, in a word, muddy.

Last night, we checked into our Classic Cottage in Kalaheo. I found this place in the Rough Guide, and it's amazingly cheap, especially for Kaua'i: $45/night. It's not on the beach, but it is pretty closes to the main road, which I thought would be an advantage for our planned activities. The room isn't all that much, but it's certainly good-sized and serviceable, and it has a kitchenette, which is highly convenient.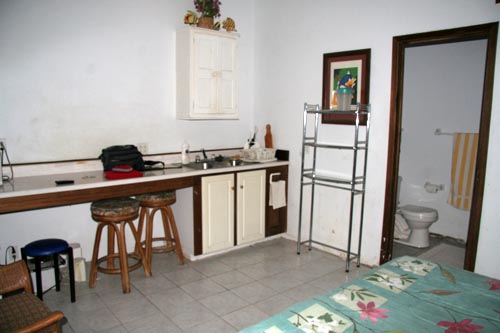 We got up at 7:00 and managed to get on the road by 8:30. We stopped first in Waimea to find a geocache (see www.geocaching.com) at the site of Captain Cook's original landing on Kaua'i. The beach was gorgeous.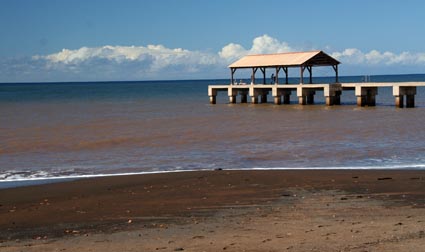 Here, you can (barely) see the private island of Ni'ihau. You can't visit it, but they can't stop you from SCUBA'ing off the shore. I'm including this pretty much just to let you know there's a private island on Hawai'i.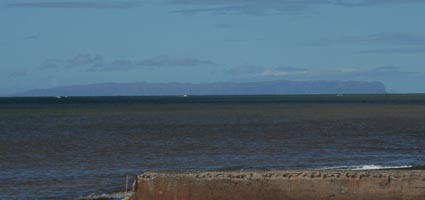 We were feeling strong needs for both broadband and food, so we stopped for smoothies and some connectivity. By the time we got into the park, it was around 10:30.
The plan was to make our way up Waimea Canyon Drive at a leisurely pace, stopping at scenic overlooks for photography and geocaching, and ultimately park at the Pu'u o Kila overlook and, at the recommendation of one of our neighbors (as well as a few of the guidebooks I read) hike out to the Alaka'i Swamp.
The drive up Waimea Canyon Drive was fabulous. In this amazing canyon, you can see layers of volcanic ash. Eric pointed out that every earth tone was represented.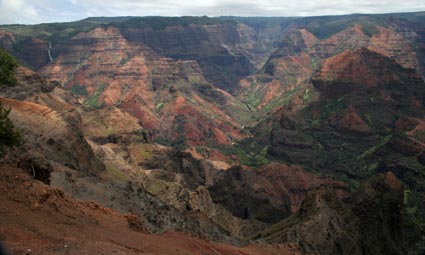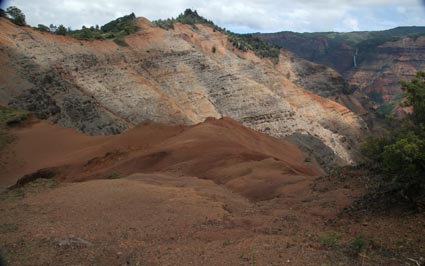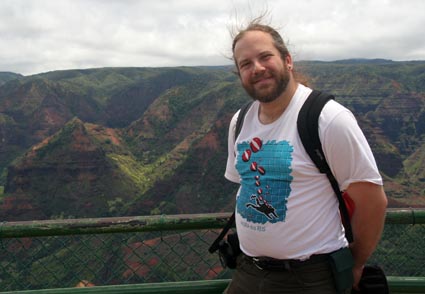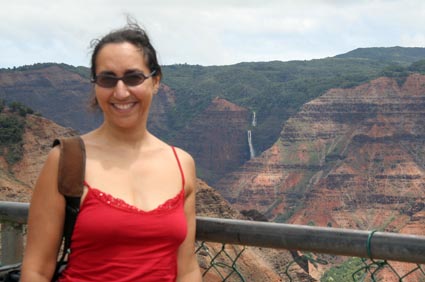 It also features the beautiful Waipo'o Falls.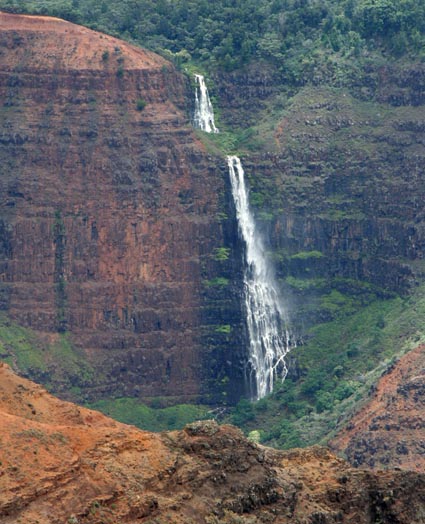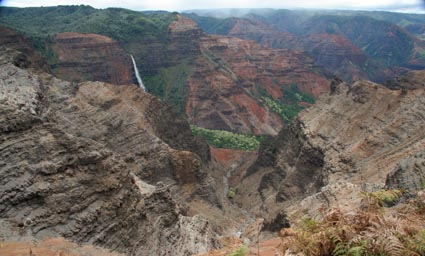 We talked to a Seattleite with some very nice camera equipment, lenses we would love to have. We saw him later in the parking lot, and our enthusiasm for our Subaru Impreza was dimmed when we saw his -- with an entirely busted-out rear window. He explained that this was not the result of vandalism, but rather of his having indelicately closed the trunk lid. We vowed to be extremely careful with our trunk lid.
We had lunch at the only place in the canyon -- The Koke'e Lodge. It was reasonably nice and not as expensive as you'd think. There was a geocache nearby, and Eric decided to try to find it (using only the coordinates, as we didn't access to the listing) while waiting for our food to come. I was highly impressed when he returned a few minutes later with a small box in his hand. However, when he cleared the mud off the box, it said, "Congratulations! You have found a letterbox." It was an item for an entirely different game!
We stopped in briefly to see the museum in the area. They had a fun 3-D model of the island.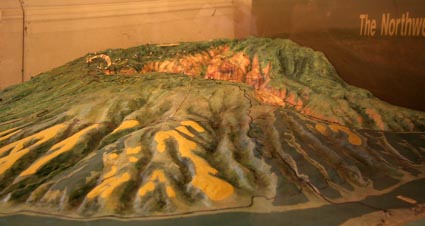 At about 2:30, we started out on the trail to the swamp. This was a two-part hike, the first part being along the Pihea Trail, about two miles out, and the second part along the actual swamp trail. The swamp trail ran for another two miles to a lookout point. Given the amount of daylight remaining and our overall hiking pace (what with stops for photography, food, etc.) of about one mile per hour, we decided we could not make it all the way out to the lookout. We planned to walk just a little ways into the swamp in order to see it and then turn around.
The Pihea Trail runs along a saddle-like ridge, and should have had amazing views of both the valley and the beach, except that it was fogged in. The views looked just like the ones in San Francisco.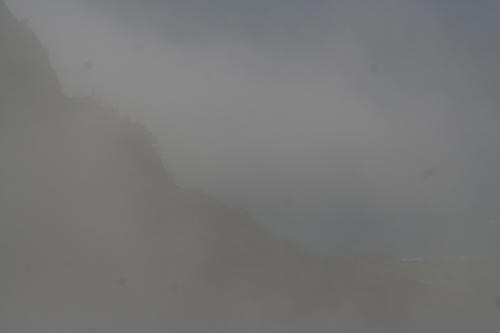 We made our way, up and down, through the mud. Eric was trying to stay relatively clean and picking his way very carefully. I figured it was a lost cause. He had also cut his toe badly while looking for the geocache near the Koke'e Lodge, and the cut toe hampered his progress throughout the trip. I disinfected and bandaged it, and he was very good about managing with it.
The last time we did a hike like this, on Mt. Qua Qua on Grenada with our friend Ethan, we were on a cruise ship and had a crew of Eastern European laundresses to clean up the resulting mess. This time, we'll have to clean it up ourselves. And we had been sternly warned by the hospitable Budget representative that there would be a surcharge for returning the car too sandy or muddy.
The trail led into a covered forest of ferns and pretty trees. It would have been nice if we had been able to look up at it, but we were too busy picking our footing carefully. It's also supposed to be a great park for birds, but again, we couldn't really take our eyes off the path below.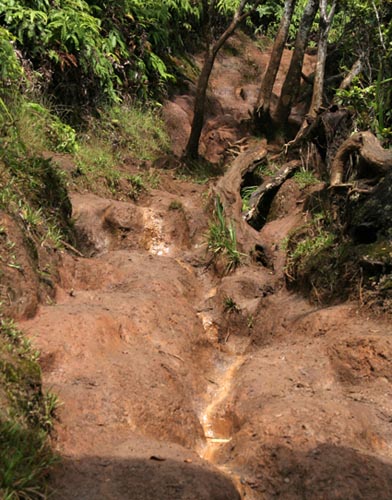 Thankfully, after some distance, the trail was paved with a primitive boardwalk. The going was much easier for a bit.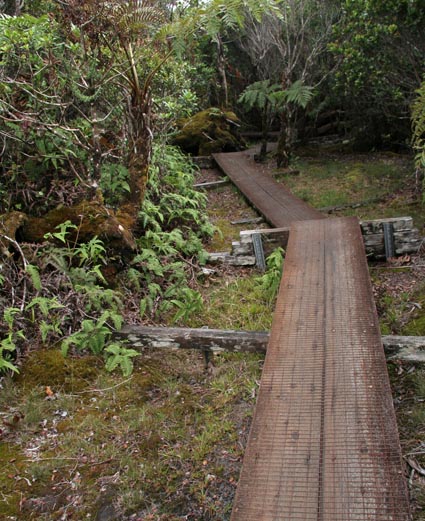 Eventually, we came to the turnoff for the Swamp Trail. We were disappointed, because we found ourselves hiking further along boardwalks through the same type of forest we'd been in before. We asked some people coming from the other direction how much further it was to the actual swamp. It turned out it was around another mile, first down a long stairway, over a creek, and then up a muddy slope. Hmmm. Well, we pressed on.
We went down the stairway (about 300 feet), along some more boardwalks, and eventually forded the stream. I only have a poorly-resolved cell phone camera picture of it, because I had run down the camera battery and forgotten to bring the spare! This was highly disappointing.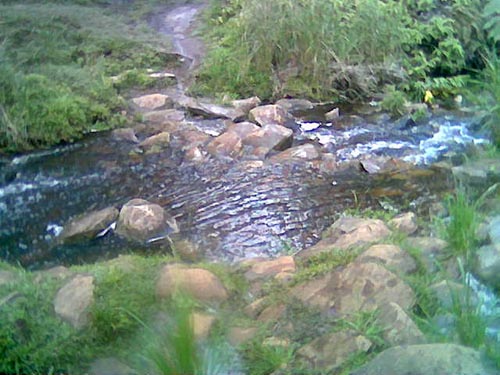 It would have been more disappointing, however, if there had really been anything worth taking a picture of. When the trail finally opened up into the swamp, it turned out to be not all that much to look at.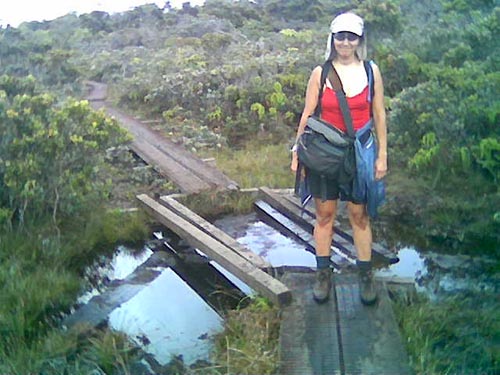 Now, I like hiking. I don't mind a strenuous hike. I don't mind difficult terrain. I loved our hike up Mt. Lassen a couple of months ago. But I want some sort of reward for it. A nice view from the summit, or at least something really pretty along the way. So, to have trekked through all that mud for this put me out quite a bit. Whatever possessed us to go hiking to a swamp, anyway, rather than, say, some nice pretty waterfall?
I had intended to head just a little ways into the swamp, but there was a precarious crossing, and I made a poor choice of footing. I had thought the water would be only a few inches deep, but the next thing I knew, I had fallen down into the swamp! Screaming, I was waist-deep in before I could grab the boardwalk and yank myself back out. The camera bag at my waist got dunked in the water, but thankfully, it's waterproof and it kept the camera (and my cell phone) dry. I, however, was quite thoroughly soaked from the waist down, and my boots and socks were quite soggy. In the picture above, you can see the hole I fell into.
Eric has a writer friend who says that the true value of an experience is how good a story it makes afterwards. I hope she's right.
I decided at that point that I had had quite enough of the swamp and was ready to turn back. We were already 15 minutes past our original turnaround time, but we had decided to get some food from a supermarket and cook it in our cabin rather than waiting for service in a restaurant. Although waitstaff on the island seem quite prompt about taking our orders, we have been frustrated by how long it takes food to come in restaurants.
So, we slogged our way back to the car, through the mud, over the stream, and up the stairs. I had been worried about the time required for climbing the stairs, but it really wasn't all that bad. I would say it was easier than the Filbert Steps, although not as pretty. Then we made our way back along the boardwalks and up and down through the mud again. It turned out it was more up than down, although it was difficult to tell at the time, and up was much easier than down in the mud. The total elevation gain on the trail was about 1,200 feet. The fog had cleared a bit and we were able to see the views out over the Na Pali Coast out to the ocean, which admittedly were amazing. I don't have any pictures, of course, due to that unfortunate battery issue, but tomorrow we are taking a helicopter tour of the island (with a side trip to a waterfall) and a catamaran tour of the Na Pali Coast, so I should have some nice pictures for you then.
At last, around 7:00, with a little bit of light to spare, we arrived back at our Impreza and ecstatically removed our muddy hiking boots.
After tomorrow's thankfully much more sedentary adventures, we have one more day on Kaua'i. I had originally planned to spend it back in Waimea Canyon and Koke'e Park, as our dive buddy Walter had said it was worth two days. But then my brother said that we really should see the Na Pali Coast on foot as well as from the boat, that it was some of the most spectacular hiking he'd done in his life (and he's done a lot). But I've heard from other people that that trail is really muddy, and after today, Eric and I don't particularly want to look at any more mud. Near the end of the trail, we stopped to talk to some other hikers from Seattle. They told us that the Na Pali Coast trail has been closed due to a forest fire. So, that narrows our choices somewhat. We are now planning for a less strenuous day, especially since we have to get up very early the next morning to catch our 8:30 flight for the Big Island. We had been considering a kayak trip along the Wailua River, and these Seattleites, who had been to Kaua'i several times, told us that that was an amazing trip. I had also heard good things about it from Walter. So, now that's our plan for Tuesday. No more mud!
---