Wailua River and Other Miscellaneous Sights (8/26/08)
Today was our last day on Kaua'i before we leave for the Big Island, so it was our day to do everything else we wanted to do but hadn't had time for yet. We got up in the morning with a general plan of trying to see a few sights, trying to kayak the Wailua River on the east side, and trying to snorkel at Moloa'a Bay. We didn't get to all of it, but we did do some very cool things.

Before we left our cottage, though, I took a picture of the pretty garden.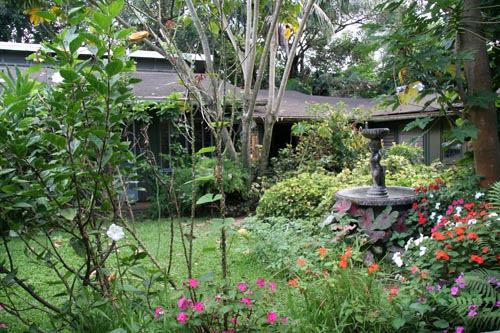 We decided we'd prefer to kayak the Wailua River on our own rather than with a guided tour, so that we could be on our own schedule. The Ultimate Guide, however, said that it was very difficult to rent a kayak for touring on your own on the Wailua River, and that you needed to reserve weeks in advance. Eric, however, insisted that I at least try making some phone calls, and sure enough, I was able to secure a kayak for the day. We were told, though, that we needed to pick it up by 11:30.
It was only about 9:00 at that time, so we had some time to see some sights we'd wanted to see but hadn't had the chance. Our first stop was Poipu Beach. We have been staying on the south side, but we hadn't yet been to its most major attraction. It was postcard-perfect. We found a geocache.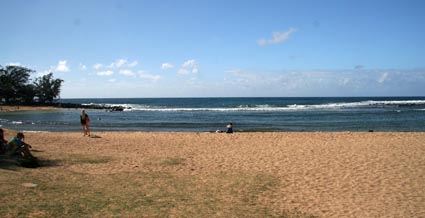 Nearby was Spouting Horn, marked in the Ultimate Guide as "not to be missed." This is a vent in some rocks where the waves spout up. The water underneath the rocks also makes a wonderful sighing and moaning sound. We also saw a sea turtle under the water here, but I couldn't get a good picture of it. There were geocaches in the area, but we decided we needed to skip them and press on if we were going to see the next sight.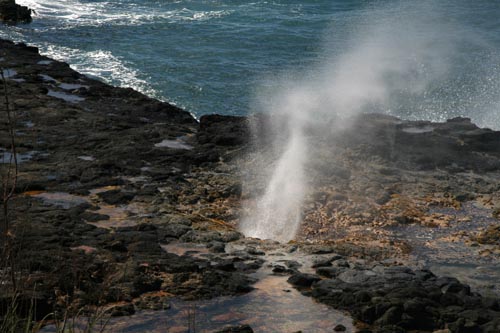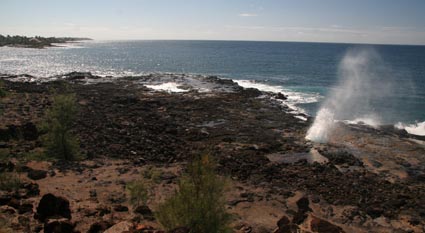 With not much time to spare, we made a quick stop at lovely Wailua Falls, also listed as "not to be missed."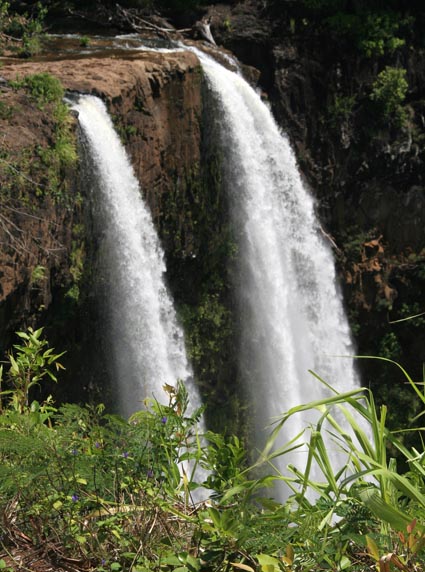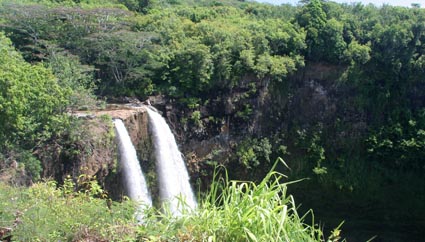 The general plan for visiting the Wailua River is to paddle an easy 2-miles out to a small island, leave your boat on the island, ford the river to get back off the little island, and then hike about a mile to the not-so Secret Falls. Most people take guided tours. The paddle was indeed easy and certainly lovely, and it was great to be out on the water enjoying the scenery.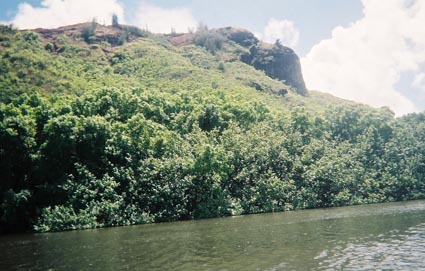 We took a little side trip onto a very secluded tributary. The opportunity to do that was by itself worth doing the trip without a guide.
The hike was described to us as sometimes muddy, but it wasn't particularly bad. It was a relatively flat trail, much easier than the Pihea Trail. After about a half an hour, we came to a very small waterfall. We were disappointed, and again left with a "That's it?" feeling.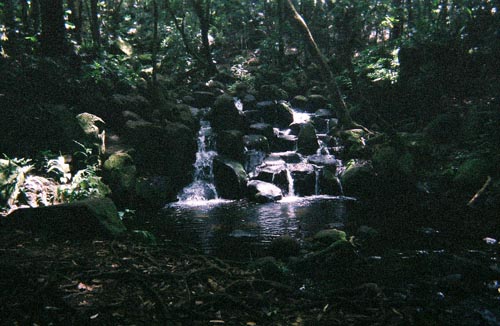 We sat down to eat tuna sandwiches we'd brought with us. After a few minutes, another couple came along and asked us where the waterfall was. We said this was the only waterfall we'd found -- was there a better one? The woman said she'd seen a picture of it, and that it should be much, much larger, with a pool at the bottom. They found a path of rocks that allowed you to cross the river (very shallow here in any case), and that the trail picked up on the other side. Relieved, we said we'd follow them after we finished our lunch.
We were mightily glad we did, because the actual Secret Falls were amazing. 80 feet high, with a large pool at the bottom.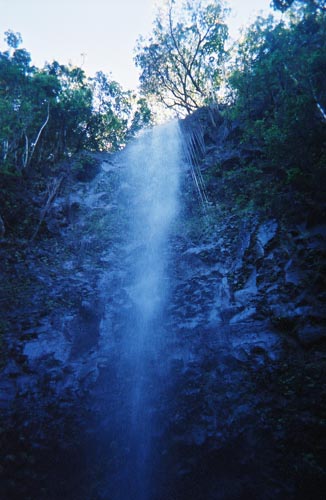 But what was particularly special about these falls was the access. You could swim through the pool and stand right up under the falls and let them rain down on you. Yes, we did try this. Here is a picture Eric took of me through the waterfall.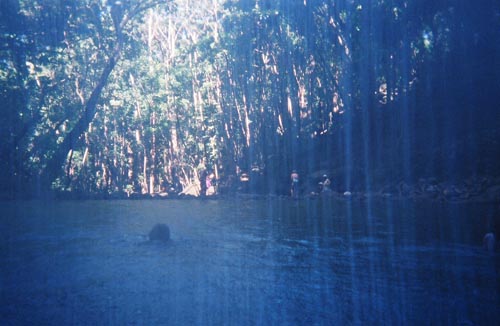 It was, naturally, an extremely intense experience. You couldn't stand it for very long -- you just got so much water in your eyes. But in some ways the water beating down on you felt wonderful. And it was very warming! While the water in the pool had felt a bit chilly at first, after you'd been under the waterfall, it felt nice and warm.
So, it all was a wonderful experience, but it was marred on the way back because I lost the trail coming out of the falls, and we had to hike down some nasty rocks to get back to it. Eric fell down and injured one of his wrists, which made it difficult for him to paddle. I had to paddle about halfway back to the car myself. Fortunately, the going was pretty easy, and we enjoyed watching the jumping fish in the river. We saw several locals paddling themselves standing up on surfboards. I also smashed one of my knees on a rock while swimming away from the waterfall, but that was relatively minor. The two of us were happy to grab some ice from a nearby supermarket. Of course, by the time we got back, there was no time for snorkeling. But we will be spending the next two days diving, so it isn't so bad.
There was also some sort of horrible accident on the highway, and we got routed onto a one-lane barely-paved road. It cost us easily more than an hour, which, since we have to get up for the airplane in the morning, means an hour of lost sleep. Well, there was nothing we could do about it.
Tomorrow -- manta rays on the Big Island!
---