Kaua'i: The Garden Island
---
Our plan for the first day was to arrive at the airport in Lihue, on the east side of the island, and drive up the coast, stopping to enjoy scenery along the way, and eventually end up at the Queen's Bath near Princeville for a nice dip. Unfortunately, we were delayed by an hour and a half leaving San Francisco, so rather than arriving around noon as planned, we did not arrive until 1:30. Nevertheless, we really wanted to see the Queen's Bath, so we decided to head directly there with a minimum of stopping to look at sights along the way.

The process of picking up the rental car from Budget was relatively efficient, although the clerk could have used remedial lessons in customer service. We got a darkish blue Subaru Impreza. Eric liked the handling, the pickup and the turning radius. He even said that if it came with a good standard transmission, he would consider buying one someday.

We couldn't resist stopping at one scenic overlook along the way, a bit north of Kapa'a, on the east side. The scenery was stunning.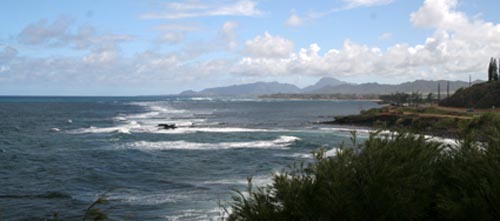 The Queen's Bath (8/23/08)
At the trailhead for the path down to the Queen's Bath, we enjoyed this hilarious warning sign.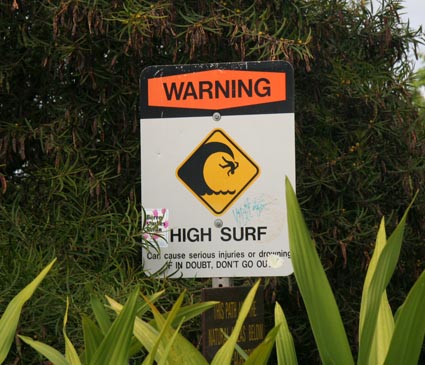 The pathway down to the Queen's Bath from the car took us through a beautiful lush forest.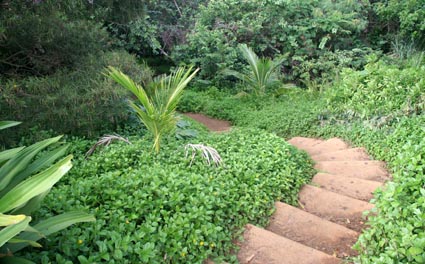 The path took us past this pretty waterfall.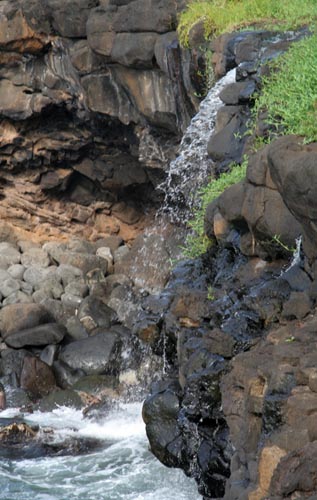 Eventually, we emerged from the foliage to look out at the ocean over a field of black lava rocks.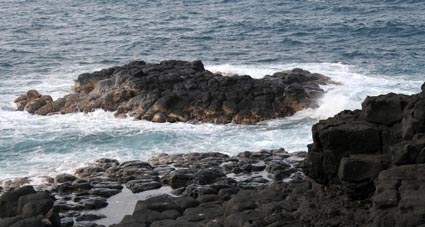 We hiked for a ways along the black rocks, looking at the ocean and at some pretty tidepools.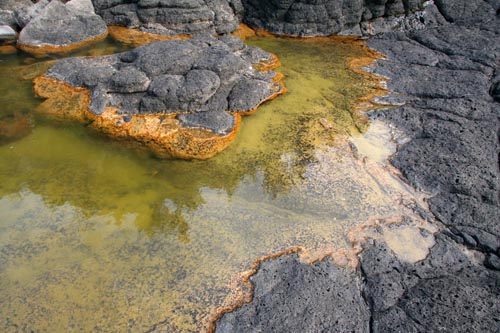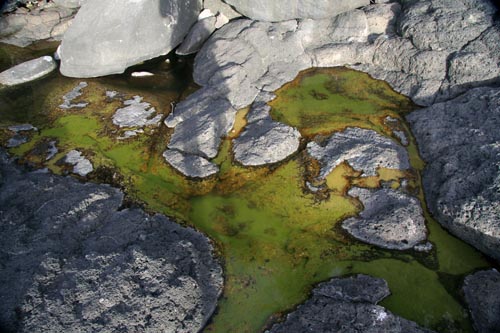 At last we reached the promised lava pools.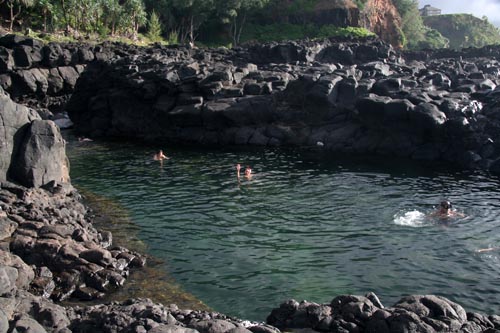 We enjoyed a lovely dip. There were many fish; the snorkeling was great.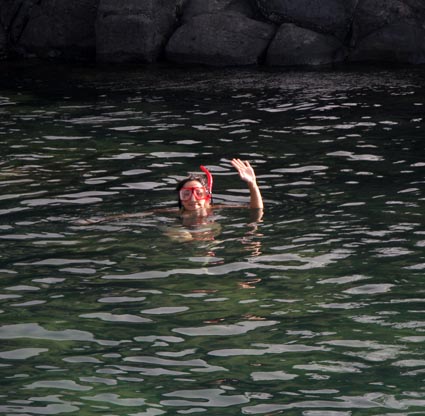 From the outer tip of the bath area, you could see parts of Hanalei Bay and the tip of the Na Pali Coast through the fog.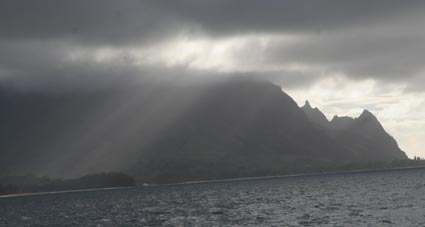 We had a very health-foody dinner back on the east side in Kapa'a, on our way down to our cottage in Kalaheo on the south side. One thing that keeps striking us is that Hawai'i is so different from the mainland that is seems downright foreign. We keep expecting to have to change money or try to communicate in another language. We have to keep reminding ourselves that this place is part of the United States. I guess it is part of the United States by right of arms, but then I suppose, other than Alaska and the Louisiana purchase, so is the rest of the United States.
---