Kaua'i Helicopter Tour (8/25/08)
Now today, today was awesome! We started out with a morning helicopter tour of most of the island, and then took an afternoon catamaran tour of the famous Na Pali Cost on the north side.

I spent a lot of time researching helicopter tours. I didn't want either of us to get stuck in the middle of the back seat where we wouldn't have any kind of real view. If you're going to spend a fortune, I figured, better to spend another 20% of a fortune to make sure you don't waste the first fortune. So, I booked a tour with Inter-Island Helicopters, which promised a 5-seater helicopter so that everyone gets a window view (one person, who turned out to be me, gets the middle front). It was extremely expensive, but it honestly turned out to be worth every penny. The views were amazing, and the tour included a stop at a remote waterfall. That spot was also amazing. The whole thing, really, was breathtaking and, well, almost indescribable.

We turned out to be quite lucky that we chose the morning tour. I had only chosen the morning helicopter tour because the morning boat tour was full, and so I had to schedule that for the afternoon. But the afternoon helicopter tours were likely going to be canceled today because they were going to need to use the helicopter for a search-and-rescue mission. Apparently hikers get lost on an average of once a week, and they have to cancel tours to go rescue them instead. I'm glad that they're there to provide this service, but it must not be very much fun for the people whose tours get canceled.

I can't provide exact descriptions for all of these pictures, because although the pilot, Luke, told us where we were at every turn, I don't remember where I took each picture! I can assure that they are all parts of Kaua'i Island. I did, of course, take a lot of pictures. These are just the highlights. I hope you enjoy them!

First, Luke took us through a familiar place, Waimea Canyon. But the views from the air were, of course, even better than the views from the lookout point.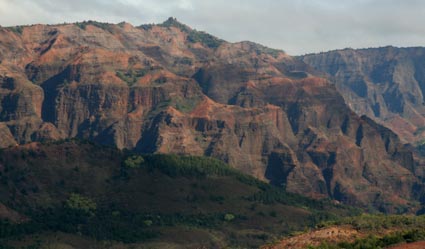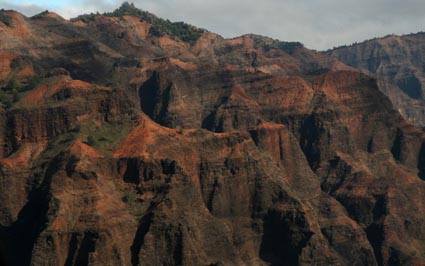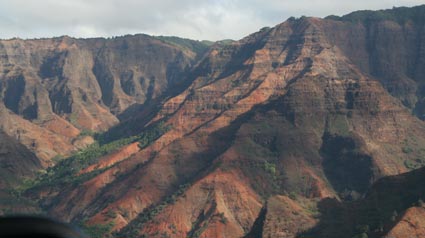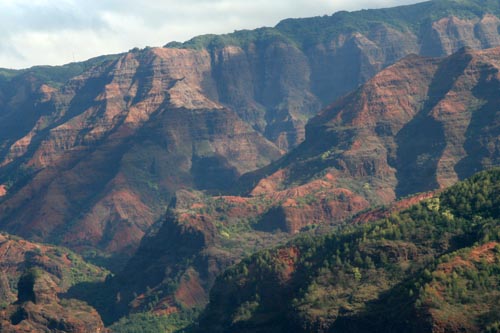 As we made our way out toward the shoreline, we were treated to a rainbow!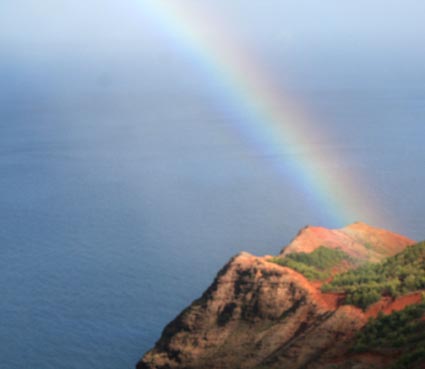 The famous Na Pali cliffs along the north shore were somewhat fogged in.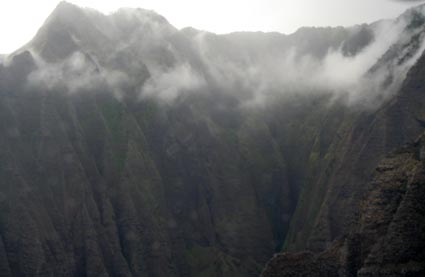 However, it did clear a bit, and we were able to see some of the beautiful coastline below.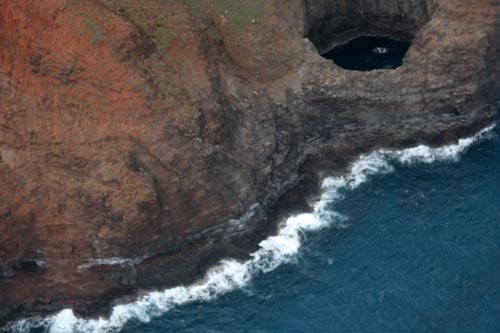 Here is a better view of that strange hole in the previous picture.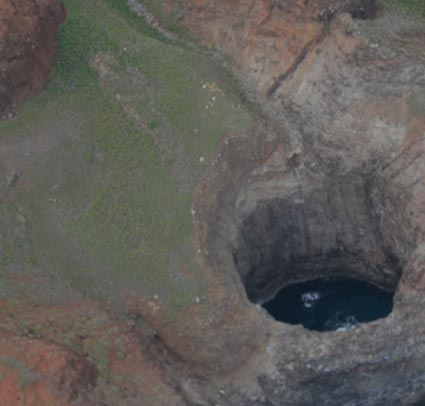 The coast got even better as we went along the north shore.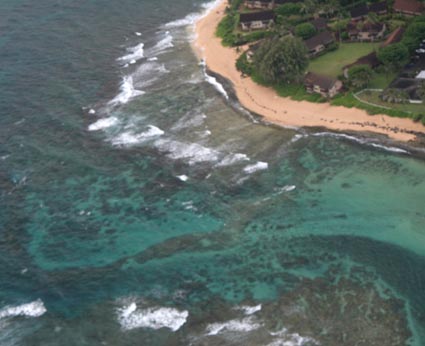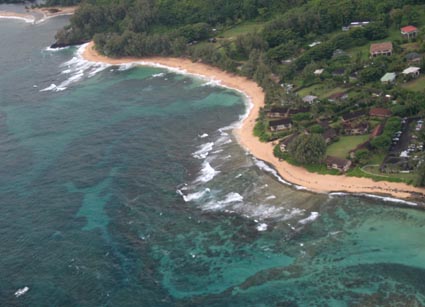 Next, Luke took us into an ancient volcano, full of more waterfalls than you could shake a stick at. I believe this is the Wai'ale'ale Crater from seeing other pictures of it, but I am not positive. He told us we were lucky it had rained so much in the night, because there were more waterfalls than usual.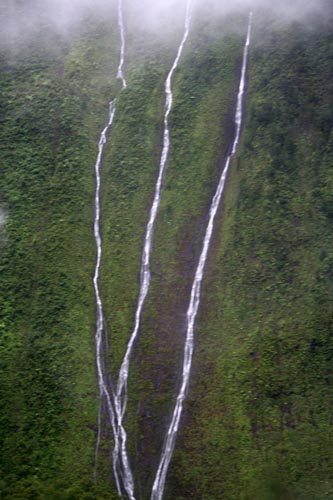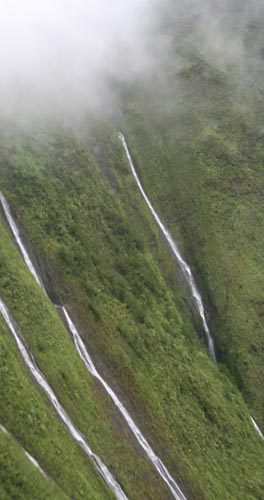 Next, we landed at our waterfall stop. It was incredibly exciting to be someplace so remote that you could only get there by helicopter! The falls were wonderful. Eric and I swam through the puddle at the bottom, and climbed up on the rocks to stick our hands into the falls.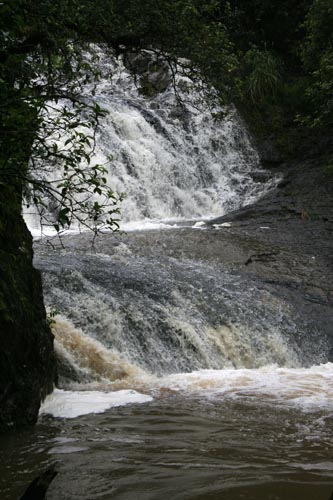 Luke brought us a nice picnic lunch, and then took our picture in front of helicopter.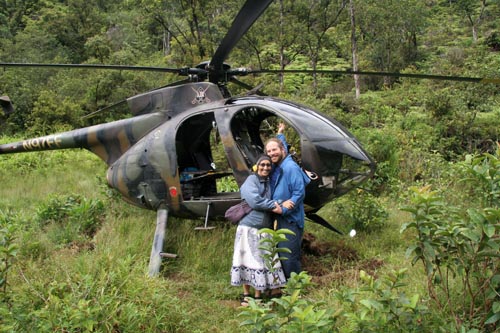 I know some of you are curious about the control panel, so while I'm showing pictures of machinery, here it is.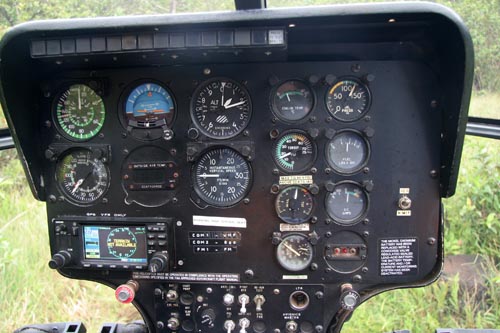 We lifted off again to see another lovely falls...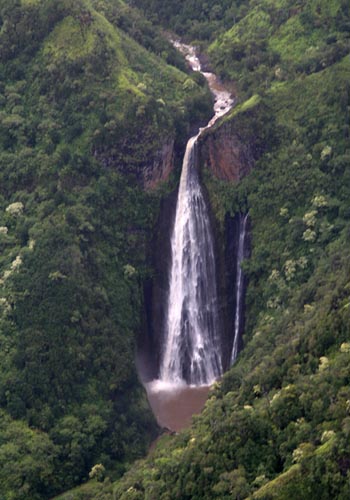 ...and we finished off the amazing tour with some more spectacular coastline.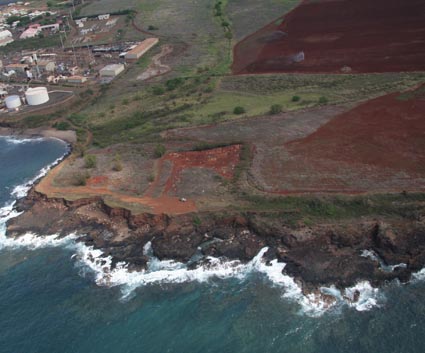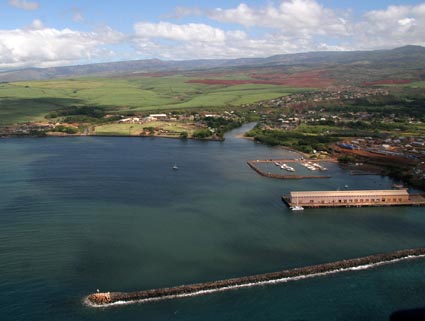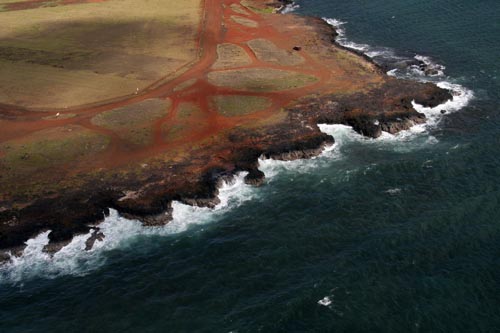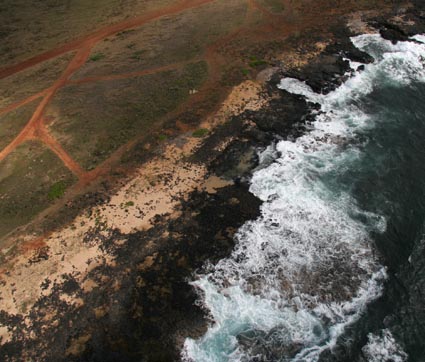 All in all, this tour has to rank among the best things we've ever done on vacation!
After that breathtaking experience, we found ourselves with a little time before we needed to head up to the north side of the island for our catamaran tour of the Na Pali Cost. We were very close to a swinging bridge with a geocache near it. We both love swinging bridges, so we went to see it and found the cache after a nice walk along the creek.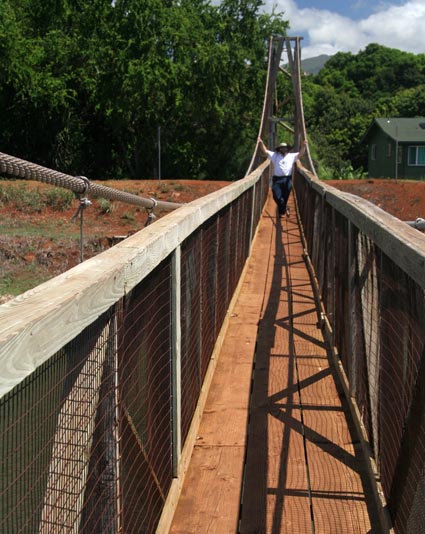 ---