Hawai'i: The Big Island
---
Second Volcano Day, with a Walk on the Caldera
August 31, 2008 -- We haven't had enough of the volcano, and I hope you haven't, either. So that we could get more time there, we spent the night at the Chalet Kilauea in the Village of Volcano. It's another inexpensive condo, but it was cute.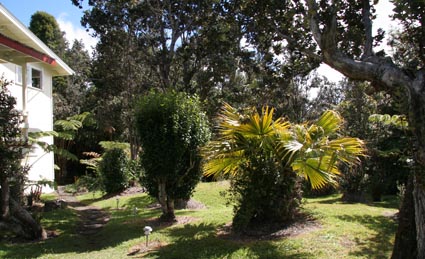 Inside, it had a lot of lovely communal space, with a kitchen, dining area, and this living area space.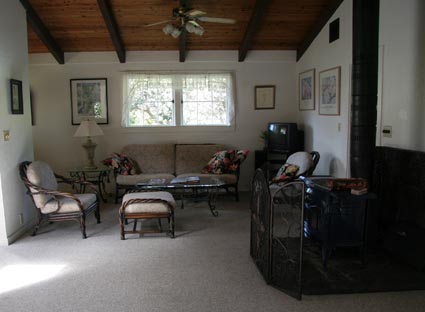 Our room wasn't much (clean but small), and it had a shared bathroom, but it was even cheaper than the condo in Kona.
The main building for the Chalet had beautiful landscaping.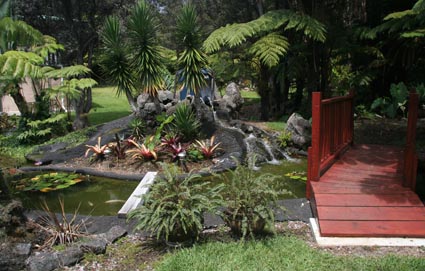 There was even a koi pond -- since we hadn't seen enough fish!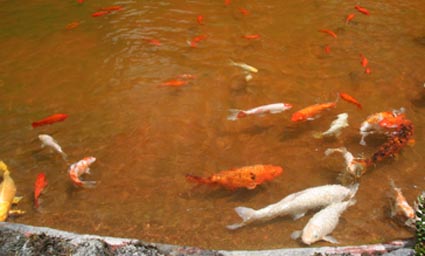 We hadn't known for sure that we were going to have a kitchen, so we didn't pick up anything for breakfast. Instead, we had breakfast in town. Then, off to the volcano again!
I just needed to point out that the National Park Service would have given Frodo a big problem.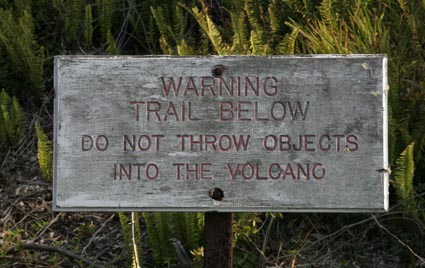 Our first stop was at the overlook for the Kilauea Iki Crater, a smaller crater off to the east side of the main Kilauea Caldera. You can see Kilauea venting steam in the distance.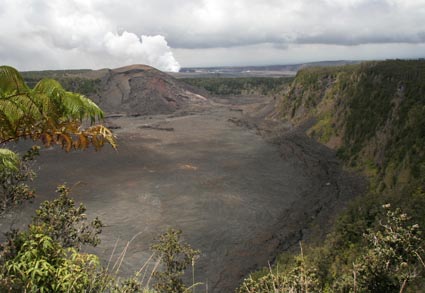 Our next stop was at the Thurston Lava Tubes. This was listed as one of the top three sights in the park, but we hadn't had time for it yesterday. It's also an earth geocache.
The hike down to the lava tubes goes through a lovely rainforest.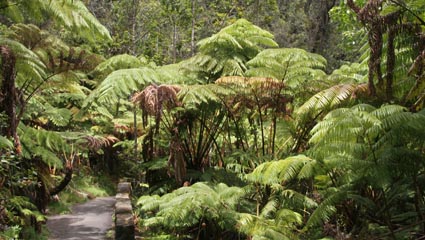 Inside, the tubes are dark!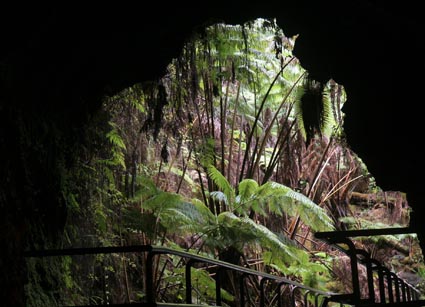 Lava tubes form because of a temperature differential between different layers of lava. The lava on top cools and hardens as it is exposed to air, while the lava beneath remains hot and liquid and continues to run beneath the hardened lava on top.
The Thurston Lava Tubes have two parts -- a lighted, not particularly scary part that you can walk straight through, and an unlit, extremely dark part where you can walk in and back out, 1000 feet in each direction. We walked a little way into this one, just to see what it was like, far enough to get out of sight of the entryway and into the real darkness. But that was enough of it for me. I did it, that was enough.
There are two main roads in the park: Crater Rim Drive, which goes around the main Kilauea Caldera, and Chain of Craters Road, which goes south from the main part of the park through areas of volcanic devastation down to the ocean. We wanted to do some hiking, but it was raining, so we decided to see some of the sights on Chain of Craters Road first.
In just a few miles, we saw quite a number of craters. The most memorable was called Devil's Throat. The earth around the edges of the crater was obviously unstable, so we couldn't get close enough to see to the bottom.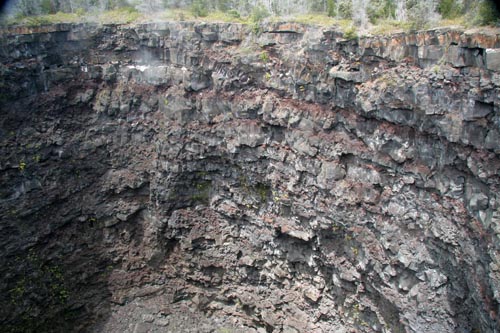 On the way out to one of the craters, we saw these nene. They are native to Hawai'i but are (rather obviously) related to Canada geese. The ranger at the Visitor Center told me we had been lucky to see them -- they are endangered.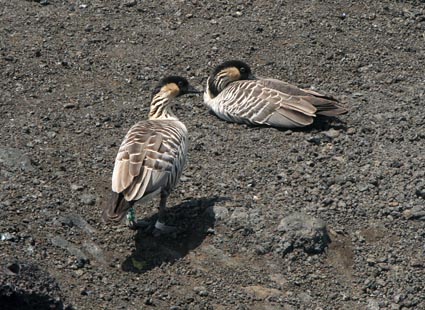 There were many more craters to see, and many exciting hikes in the area, but I really wanted to walk out on the Kilauea Caldera. So, we drove back up to the Visitor Center and headed down the lovely Halema'uma'u Trail toward the bottom. We didn't see anyone else the whole way down, and the rainforest scenery was fabulous.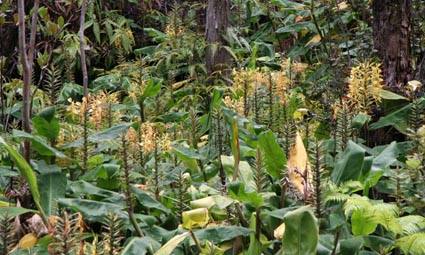 After a lovely hike of about 1.5 miles, we reached this amazing caldera. You can see Kilauea venting in the distance, from ground level this time!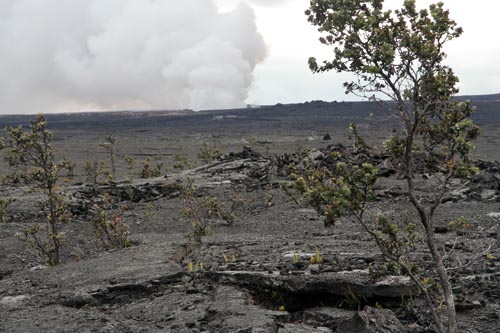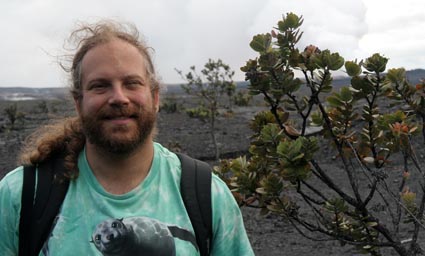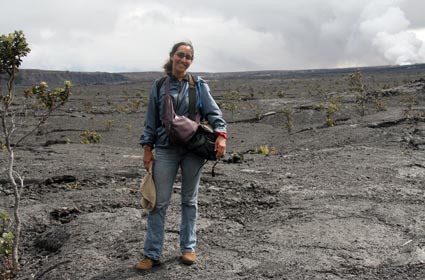 We couldn't hike out onto the caldera, because the trails are closed due to sulphur dioxide fumes from the eruption that started about a month ago. But all I really wanted to do was get out there, see it and walk on it a little bit. It was a breathtaking thing to behold indeed.
Even in this forbidding environment, life thrives. The caldera is rife with these 'ohi'a trees. The 'ohi'a tree survives here because it can sense sulphur dioxide in the atmosphere and close pores in its leaves in response.
The 'ohi'a tree has spiny red flowers, which attract red birds, such as this 'apapane, a native Hawai'ian bird. I was very excited that we got to see this bird, although I wished we had seen the more rare i'iwi, who also likes the 'ohi'a tree.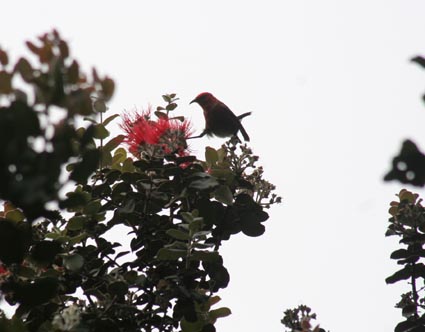 The rainforest is full of these lovely yellow ginger flowers. Unfortunately, they are invasive and are killing the native plants. Their smell adds an air of wonder to the rainforest, though.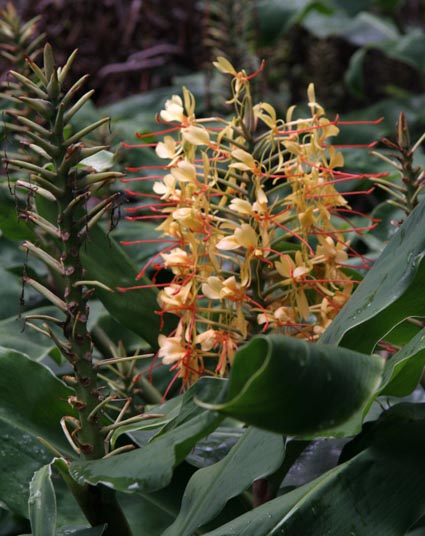 We also saw these lovely orange flowers, although I do not know what they are.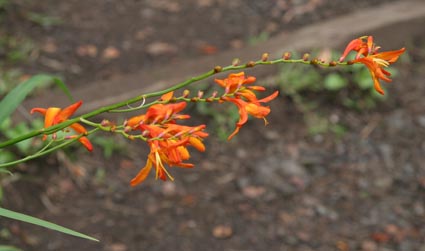 As the rainforest was full of ferns, it was also full of these fun fiddleheads!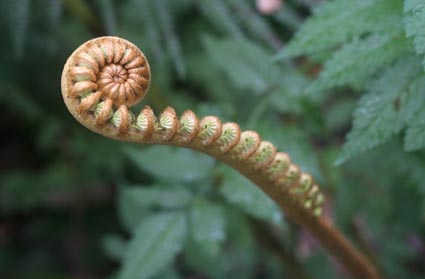 After our absolutely amazing hike down to the caldera, we regrouped at the Visitor Center. We didn't have too much more time to hike, because we needed to get back to the inn in Kona for the night, as we are flying out of Kona tomorrow. The ranger recommended a half-mile hike out to the Sulphur Banks, which turned out to be incredible themselves.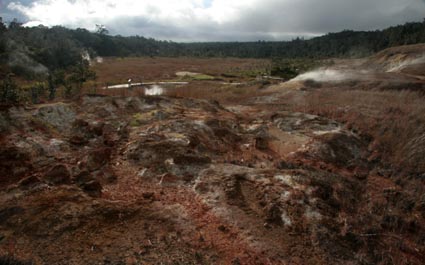 The Sulphur Banks certainly reminded us of Bumpass Hell in Lassen Volcanic Park back in California. Here, though, you could see crystals forming in the sulphur deposits on the rocks. Don't touch them, though -- they are covered in sulphuric acid!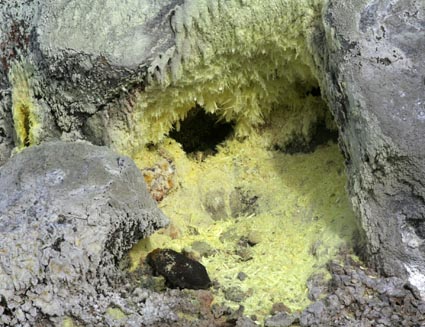 The 'ohi'a tree thrives in this otherworldly environment as well.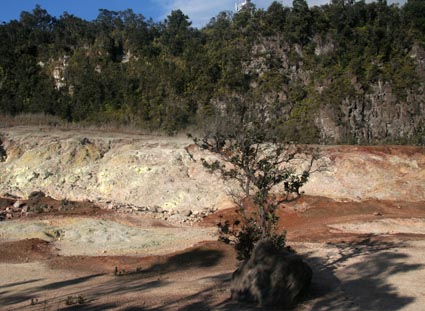 We also saw this lovely flower.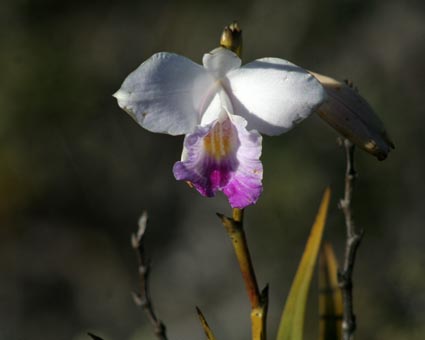 On our way back from the Sulphur Banks, we caught one of our clearest views of steam rising up from the caldera.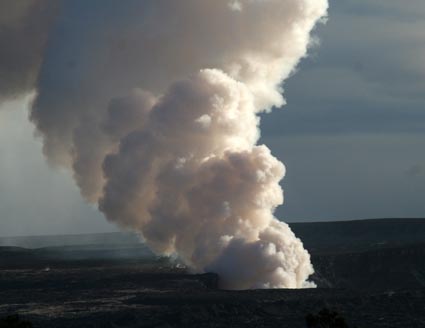 I also wanted to show you a larger image of an 'ohi'a tree...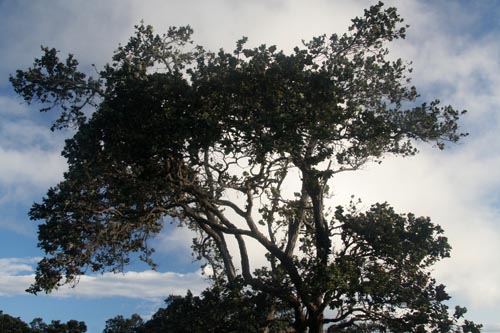 ... and a view of how they grow into forests right around the volcano. See that smoking crater in the background?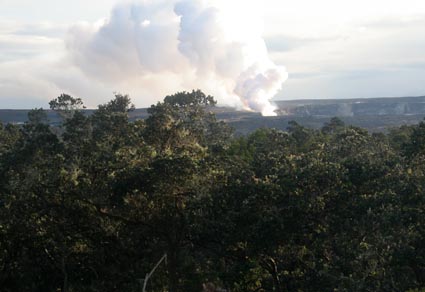 I also saw another 'apapane flying. I guess that's a sufficiently appropriate image for our flying home tomorrow.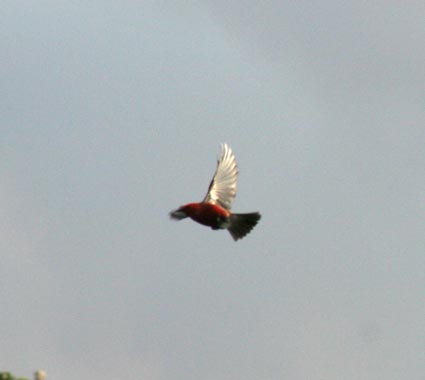 All of this staring at the volcano has left us with some questions.
1. Is the energy driving the volcano left over from the creation of the solar system? From the Big Bang?
2. Or is at least some of it created by the gravitational pull of the moon?
3. If (2) is correct, why is there no volcanism on the moon? Does the moon have a molten core, or has it dried up?
4. If the moon contributes to volcanism, why is there so much volcanism on Venus, which doesn't have any moons?
5. If it's the gravitational pull of the sun that creates the volcanism on Venus, why is Mercury less volcanic than Venus?
These and many other questions will be answered when we have broadband again!
We had decided to stop hiking the volcano an hour before dark, so that we could get back to Kona in time for a nice dinner on our last night, instead of having another frozen supermarket dinner. I had really been hoping to have more ono. I thought places would stay open until 9:00, but alas, a lot of them closed at 8:30. At last, though, we found Boston Basil's, an Italian place open until 9:30. Eric talked me into a fried ravioli appetizer that was just amazing -- we don't have Italian food often anymore, but it reminds us of the places where we grew up. There was salad and yummy garlic bread, and, oh, too much food! I am having leftover macadamia-nut encrusted mahi-mahi for breakfast. It was a wonderful meal, something we had all too few of on this trip, what with all the other things we wanted to do. Ah, well, we seriously underspent my food budget.
Well, that was our trip to Hawai'i. Back to the mainland today. I hope you enjoyed it -- we certainly did! It was quite an adventure.
---