Hawai'i: The Big Island
---
First Volcano Day, with Helicopter Tour
August 30, 2008 -- All I can say is, "Wow!" What an experience this has been! We flew in a doors-off helicopter over steaming lava! And we hiked out to flowing lava at night! It was incredible! This trip has been such an amazing experience!

On the advice of the clerk at the chalet where we're staying in the Village of Volcano, I booked at tour with Tropical/Paradise Helicopters. The woman really recommended the doors-off tour, and this was another one of those companies that had the five-seater helicopter so we could each be assured of a window. Once again, I got the middle seat in front, with good views in all directions.

We started out flying over acres of macadamia nut fields. Nice, but not particularly photo-worthy. Soon, however, we could see steam rising in the distance. And soon after that, we found ourselves in the air over the Pu'u O'o Vent, the site of the current eruption.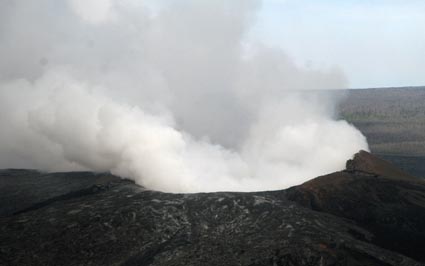 We circled around and saw it from the other side.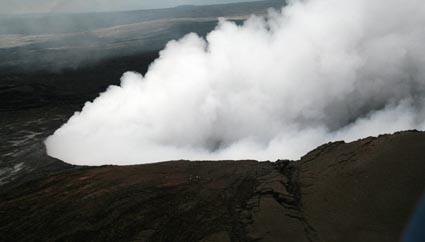 There were rows of further steam vents stretching away from Pu'u O'o.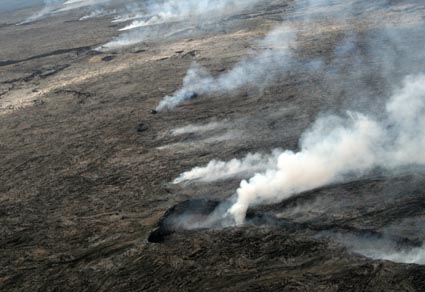 The main attraction, of course, is red-hot lava, and our pilot, George, was on the lookout for that.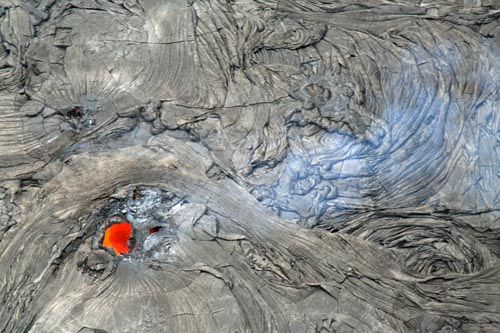 Here is a closer-in view of the same picture, so you can see into the hole, which George called a "skylight." It looked unreal. There was something serious going on in there.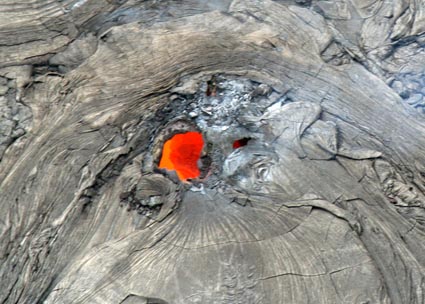 Next, we went to the point where the hot lava hits the cool water.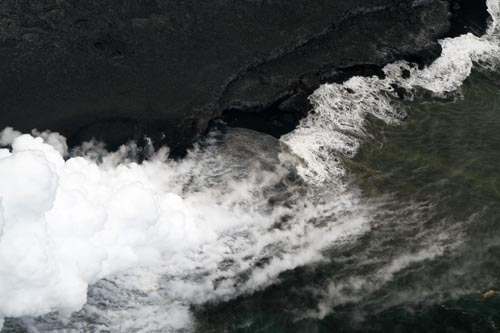 As the lava hits the water, it explodes into the black pieces you can see flying in this picture. At night, they look red.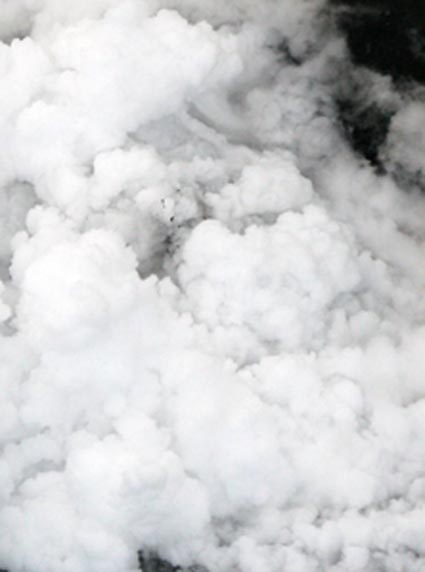 We flew over a sheet of hardened lava.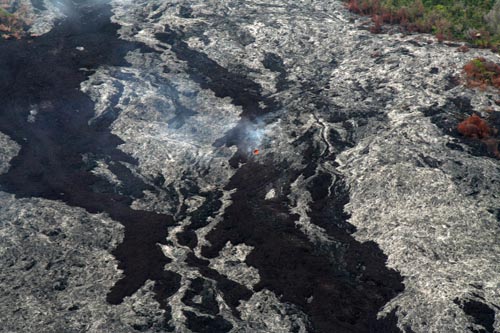 On our way back, as an extra treat, George flew us over this beautiful collection of waterfalls.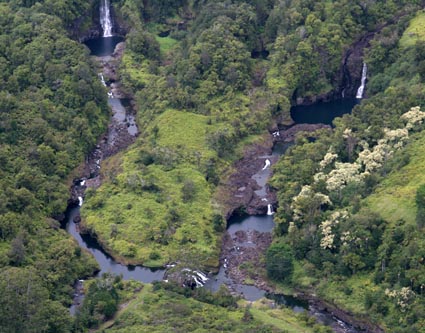 When we landed, we got a picture of ourselves with George and our helicopter.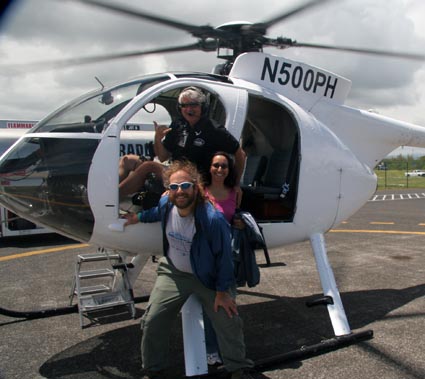 Well, that was certainly something else! I said to Eric, "It'll be awhile before we have another experience like that!" Earth science in action!
While we were in Hilo, we wanted to see a bit of scenery there. We went to Rainbow Falls.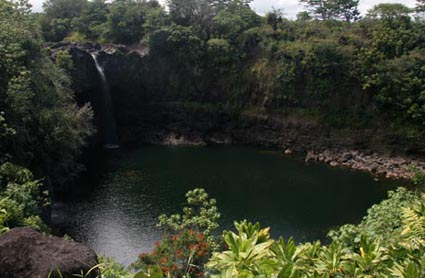 There was an amazing trail to a geocache there. In just about 1/4 mile of hiking, in addition to the falls, you could see all of the following sights:
a rainforest...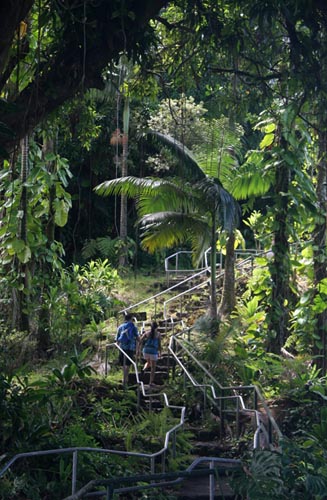 a banyan tree...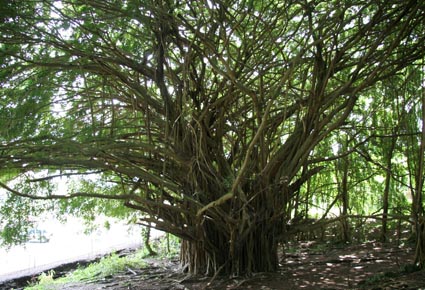 lava pools...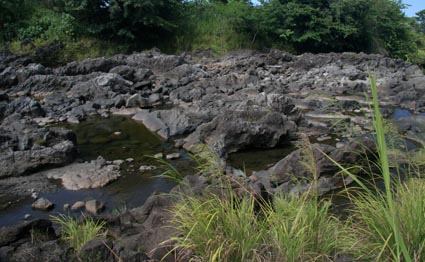 and this lovely reflection.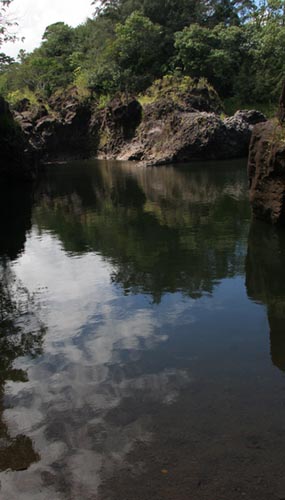 An amazing spot, definitely worth the detour.
But, we really did want to get to see that volcano up close. So on we went to Hawai'ian Volcanoes National Park. The first stop in the park, at the Visitor Center and Volcano House, hardly seemed worth the effort. We were still so far from the crater, you could barely see it. It was a very, "We came all this way for this?" kind of experience. Someone told us that the views got better further up the road, though, and they certainly did!
On the way, we stopped at these steam vents.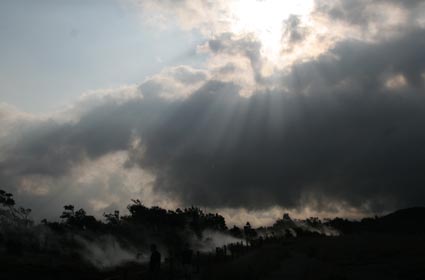 Finally, we got to the Jaggar Museum, which had amazing views of the caldera and crater. Now, this is what we came here to see!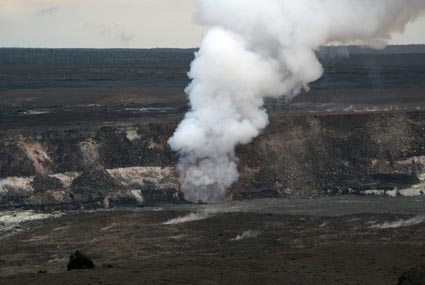 Here we are at the crater.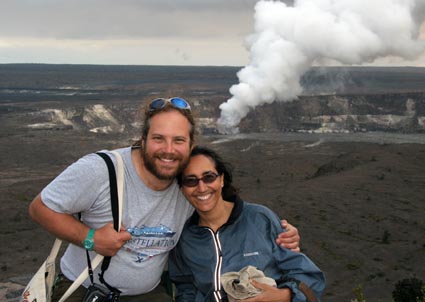 I thought we wouldn't see anything as cool as we'd seen from the helicopter again for awhile, but one of the things on our agenda was to try to see the lava hitting the surf at night, and exploding and turning red on impact. We followed coordinates in The Ultimate Guide out to the end of Route 130. We started seeing signs that the road was ending several miles away from the coordinates. Then we saw a whole bunch of large "No trespassing!" signs. But just a few feet beyond the "No trespassing!" signs were a bunch of signs with rules for how to proceed. They instructed us, as we had been told at an information booth at the airport, that they would stop letting cars in at 8:00pm. So, on we went.
While in some ways it felt like we were trespassing off into some dark adventurous spot, in other ways, it felt not adventurous at all. First, we came to flagmen pointing out where to park. Then we came to rows of port-a-potties. Eric said, "Next thing you know, there'll be someone selling 'I saw the flowing lava' T-shirts." And sure enough, there was a T-shirt stand with shirts that said, "End of the Road -- Lava Flow." Unbelievable.
The path out to the viewing point, although on uneven lava, was well developed. There were blazes every few feet, and posts to help you stay on the trail. And there were lots and lots of other people. It felt very remote and very populous at the same time. It did feel much less adventurous when we noticed small children and, in one case, a screaming baby.
After a hike of about a mile on the well-traveled and well-blazed path, we came to a roped-off area about 100 feet from the beach. The view of the stars was amazing. We were in a wide-open area, and could see nearly the entire sky. And then, off in distance, we could see the lava! Wow! It looked just like pictures you've always seen, but it was quite an experience to see such awesome power of nature up close and personal. An explosive mix of fire and water, quite literally. The mix of lava and stars was spectacular. It was otherworldly.
I wasn't able to get particularly good images -- I just didn't have the right equipment. Here are a couple to give you a taste of what it looked like. Eric got some good stuff on video using infrared.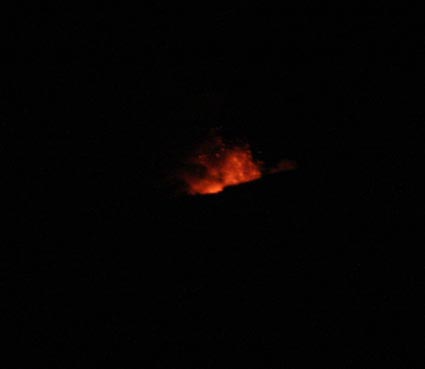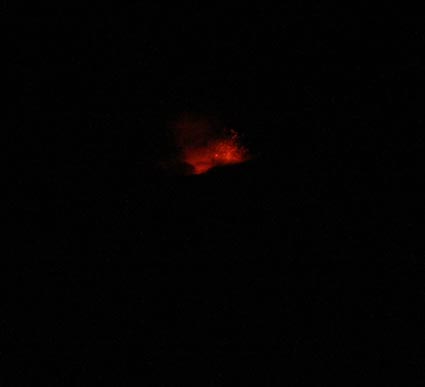 By the time we finally were able to drag ourselves away from the fabulous site, it had become nearly impossible find to find any place to eat that was open (i.e., 9:00pm). Things shut down early here. We found several places that were in the process of closing and would sell us hot meals to take out and eat in our car, but no one who would let us sit down at a table. After several tries, we finally were able to get a couple of salads from a supermarket to bring back to our condo in the Village of Volcano. It was quite frustrating.
Tomorrow -- hiking the volcano!
---