Hawai'i: The Big Island
---
Surfing and Touring the Southwest Part of the Island
Today, August 29, 2008, was a decompression day, not metaphorically but literally. Some people say you can go to altitude only 12 hours after diving, but the standard recommended by the certifying agencies is 24 hours. We wanted to be safe, particularly since we've been diving a lot, and diving fairly deeply. I decided that surfing would be a great decompression activity. After all, you do it at exactly sea level, right? And we really do love to look at fish, so we could snorkel, also exactly at sea level, right? Eric was also excited about seeing South Point, the southernmost tip of the Big Island and also the southernmost point in the United States.

We have surfed a bit before, in Sydney and in San Diego, and Eric also took a lesson in Rio. But I still feel like I could use lessons, so I booked one with Ocean Eco-Tours. We had a friendly and excellent instructor named Smoky. The spot he took us to was beautiful. The water was fabulous. Temperatures in the high 70's, beautiful clarity. Even without my glasses, I could see the bottom.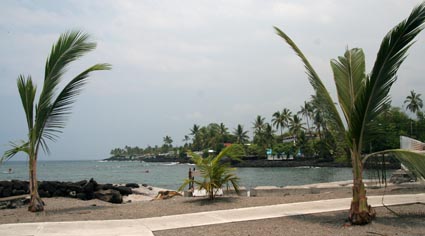 Unlike the way things are on all the mainland beaches I've been to, the waves were relatively infrequent, so we spent a lot of time just floating in the water waiting for them to come along. I love just being in the water, so I was happy just lying there on the surfboard in the water, enjoying the view. I even saw a turtle! But the point of surfing is to stand up on the board, so I did make an effort to do that. And I did! And Eric did! We didn't stand up for a long time, but we each had a couple of runs of a few second apiece. So, it was a highly successful lesson.
After surfing, we had lunch at a sports-bar type place called Drysdale's Two. We got to try ono, in the form of tacos. Eric thought it was OK, but I thought it was really delicious. We also had a big plate of steamed broccoli so that we could get our vegetables in, and we had really yummy desserts -- a piece of macadamia nut pie and a piece of peanut butter ice cream pie with chocolate syrup. Mmmmm...
In the parking lot for the restaurant, I saw these two cute saffron finches.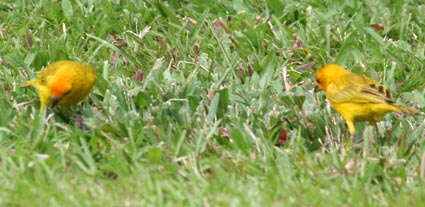 We headed off down the road toward South Point, with a stop at The Place of Refuge, called Pu'uhonua o Honaunau by the Hawai'ians. According to The Big Island Revealed, the ancient Hawai'ians used the death penalty profligately to enforce their social code. It was the penalty for almost any violation. However, if you could get to this Place of Refuge before you were caught, your crimes would be forgiven. This area also contains the point where Captain Cook made his final landing on Hawai'i (or anywhere, for that matter) and was soon thereafter killed in a case of mistaken identity.
The site features these sacred wooden statues, looking out over the ocean.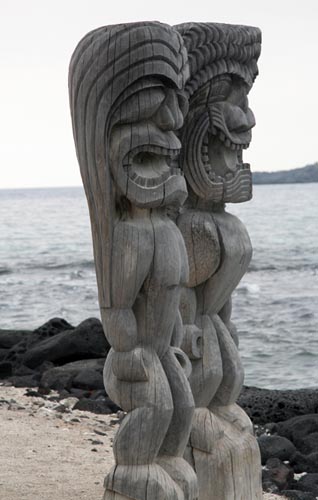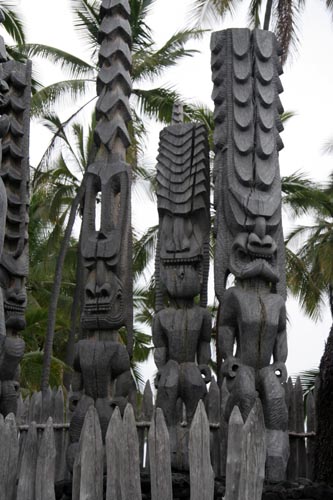 They also had a board set up for a Hawai'ian checkers game.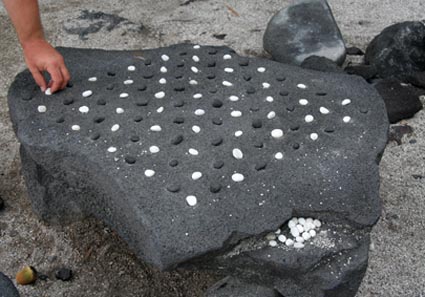 And, after days of trying, I finally got a picture of a turtle with his head above the water!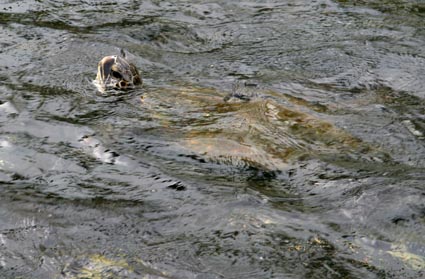 And here is the other end of the turtle, as he dives for something underwater.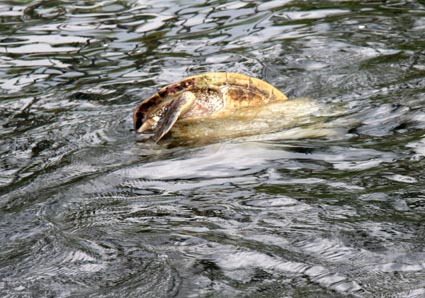 We picked this place because it's also a great snorkeling park. We snorkeled in this lovely cove.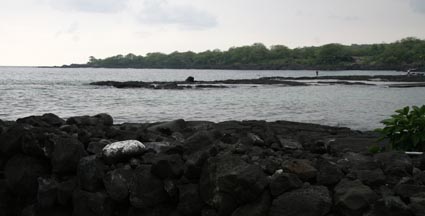 The snorkeling was great! We saw lots and lots of fish: yellow tangs, butterfly fish, surgeonfish, trumpetfish, triggerfish, boxfish, parrotfish, damselfish and a moorish idol (Gil from Finding Nemo). Here is a bunch of yellow tangs.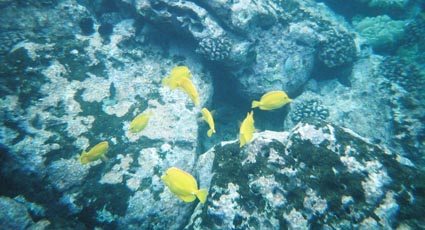 There were also two turtles.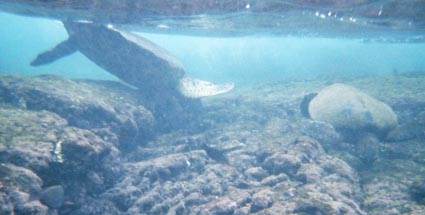 Next, we set off for South Point, the southernmost point in the United States. It's a pretty spot, with a nice view of the ocean (obviously), but there isn't much to see there except for the point itself (and a couple of geocaches). Here it is, the end of the Big Island, the end of the state, and the end of the United States:
It was pretty splashy there!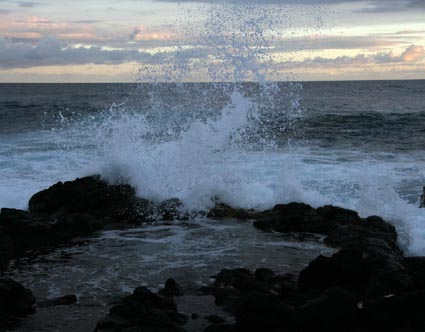 It was interesting to contemplate where we were, what a remote spot. There was nothing but ocean around us on three sides. Almost every time I've looked out over the ocean before, I've thought to myself either, "Europe is a long way that way," or "Asia is a long way that way." Here, however, my orientation was completely different. Looking out from here, what is that way? Antarctica, eventually, but since we're still in the Northern Hemisphere, Antarctica is a really long, long way away. Lots and lots of water. It would have been a great place to watch the sunset from, but the sunset was shrouded in what they call "vog," or a mixture of fog and volcanic ash in the air.
Speaking of water, after five days in a row of water sports, it is time to (sadly) put our bathing suits away. The rest of our trip will be spent above water, at the volcano. Not wet, but it should be pretty exciting in any case.
---