Hawai'i: The Big Island
---
Shore Diving Day
August 28, 2008 -- Today was another diving day. We wanted to do them close together, so that we would have time to decompress before going up to the volcano, which is at some altitude. During the planning process, I called our diving advisor, Jim Steele of Steele's dive shop in Oakland. Jim runs a multigenerational family business and sells equipment more cheaply than anyone else around. He's also a great source of information about diving, all over the world. Jim told me that the Big Island had the best diving (Lonely Planet agrees), and that he had a friend here, Joe, who would take us shore diving so that we could save the money on boats. I called Joe up, and he said he would be happy to take us shore diving, so we made plans for today. It was absolutely excellent to go diving with someone who lives locally (although he is from the mainland and lived in the Bay Area for a long time). Joe was also a dive instructor for many years so knows his stuff well and could take good care of us.

We met Joe at his lovely beach-view house, and headed for a beach park called Kokia. This place was so exclusive it had a security gate. Joe told us that Kelsey Grammar, Tiger Woods and Oprah all owned homes along the shore there. You can see why from the pictures.

In this first one, you can see how the shoreline is composed of a mixture of lava (black) and coral (white because it's dead coral).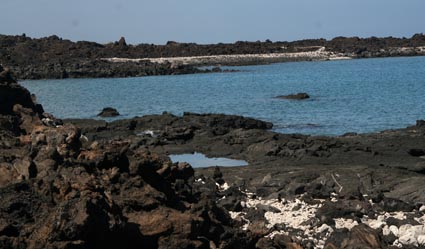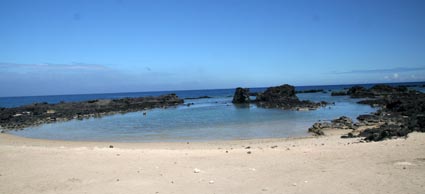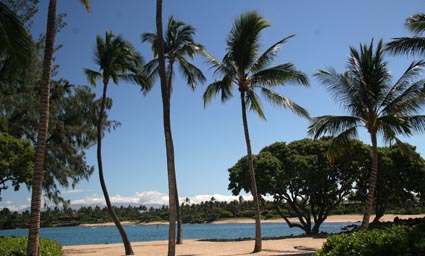 As it turned out, I didn't have anything to worry about vis-a-vis my ears. They were fine; I had no trouble getting down. Joe led us down among the corals, which were just as pretty as yesterday. Here, though, instead of growing in large sheets, they grew in smaller clumps.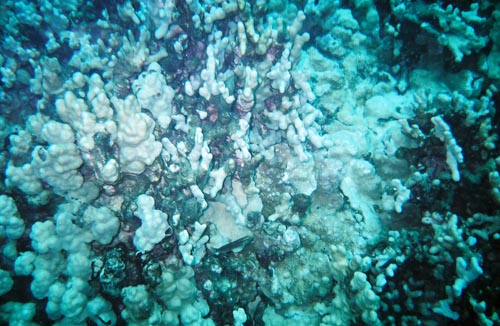 We saw all kinds of tropical fish. Lots and lots, just schools of them. They look so pretty floating through the water in colorful groups. Joe led us down to what are technically caves but which you might think of as large overhangs of coral. We saw five whitetip reef sharks, the same kind we saw many of in Australia.
The water was warm and the dive was shallow, and our air lasted over an hour! As of yesterday, I have logged two days of my life underwater. After today, I have over 51 hours, in 76 dives.
We got back to the car near Oprah's house, and Joe suggested getting lunch at Costco. Normally, I would have looked for something a little better, but The Big Island Revealed had given Costco a great review. Great food for very low prices, one of the best deals on the island, a place where the locals eat all the time. And, while it certainly didn't win any awards for atmosphere, they did give you a reasonably good 18" pizza for only about $11. We also got some frozen yoghurt, a nice treat.
We picked up our tanks from the shop where they were being refilled and drove to a second site at the harbor that the manta ray boats leave from. It was quite a new and unusual experience hiking over lava rocks, and it was certainly novel (and difficult!) to hike over lava rocks in SCUBA gear! Everything was fine once we got into the water, though. We went down to 86 feet, and saw more of the clumps of coral in the more shallow water and the sheets of it deeper down. The goal of the dive was to see an spotted eagle ray, and we did see one. Smaller than a manta, and mostly black with little white spots on his back. He was beautiful! It was particularly great to see him because his is a near-threatened species. You can't see him too well here, but here he is.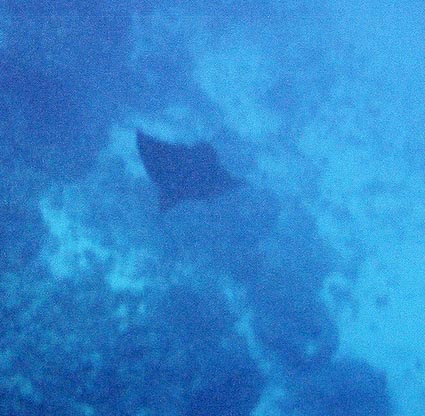 We also saw a reasonably-sized shark -- a 6-foot whitetip reef shark. Now, when I say he's six feet, he's really still quite a bit smaller than a human, because a lot of his length is in his tail. Also, he's not as big around as an average adult human. We didn't get very close to him, though.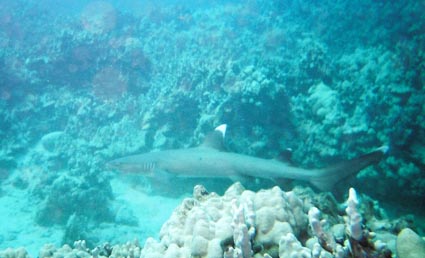 We also peeked into a cave where we saw a bunch of red squirrel fish and two juvenile whitetip reef sharks. Unbelievably, sharks themselves hide in caves until they are old enough to avoid predators. I just love looking out from caves at the water full of tropical fish. This was really great diving.
Joe took our picture at the end of the dive.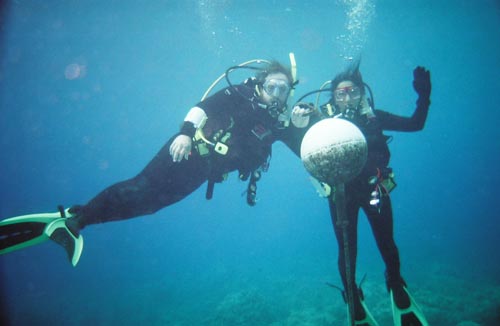 We had a great time with Joe, and the day was almost entirely problem-free. The one problem we had was that the geniuses at Ford had designed the key for the Mercury Milan such that the clicker was integrated with the key. We were sternly warned by the representative at Budget that the key would not work if we got it wet, and that getting the key wet would cost us $200. I didn't think about this sufficiently at the time, or I probably would have asked for another car. How can they rent you a car at a beach resort when you can't get the key wet? What are you supposed to do, leave the key in the car and the doors unlocked? We bought a waterproof case for it for snorkeling, but you can't take electronic gear to depth unless it's designed for it. At the first site, we left the key on top of a tire. I was worried about it quite a bit, but we were on a security-controlled beach. Between dives, I asked Joe if we could leave our valuables back at his house. Besides the camcorder, DSLR and all of their accoutrements, I had in my handbag, as well as a collection of credit cards, my only government-issued ID (driver's license), Eric's passport, and our plane tickets back to the mainland. Getting home without those things would have been difficult and expensive! I was much less nervous at the second site, when we put the key inside the gas tank door. If someone just ran off with the car, well, it would be bothersome and annoying to go get another one, but the cost should be covered by American Express. In any case, no worries, the car was still there when we got back.
We had hoped to take Joe (and a cousin who was visiting him) out for dinner, but they were going to a forum of mayoral candidates. It's definitely election season here in Hawai'i -- there are signs everywhere. We were happy we had at least treated him to pizza at Costco, although we wished we had time to do better. He'd given us a fantastic diving day, and he seemed to enjoy it thoroughly himself.
We had a little time to regroup back at our condo (and rinse the sand out of our hair and all of our equipment -- our shower is now full of SCUBA gear). We went out for a walk along the beach, although it was dark and rainy. We tried to do a webcam geocache, but it was too dark for us to come out in the picture. We had dinner at the Kona Inn, which was recommended by The Big Island Revealed. This place was definitely high on atmosphere -- we ate out on a patio right on the beach, with an awning protecting us from the rain. The ahi tuna was very good, but somewhat marred by the fact that it came as a sandwich on a hamburger bun. I'd like to try ono before we leave Hawai'i -- Joe said it was better than ahi or mahi mahi. We also got a salad to make sure we had some vegetables. I went to bed ridiculously early (just after 9:00) because I was sooooooo tired, and we had to get up early for a surfing lesson in the morning. All in all, it was a fabulous day.
---