---
Garden of the Gods (Wednesday, August 6)
Our day of sightseeing in the City of Denver was relatively disappointing, so I decided we really deserved another good sightseeing day before we consigned ourselves to spending the rest of our vacation mostly inside a convention center. In doing pre-trip research, Eric had come across web sites about the Garden of the Gods, about 1:15 from Denver, so we decided to play hooky from the convention to go check that out. It's actually a city park of the City of Colorado Springs. But it's an amazing city park, a collection of rocks that were dumped on their sides as Pike's Peak pushed its way up out of the earth's crust. The geology is very dramatic. It made for a good vacation day and a good photography day.

The largest and most dramatic feature is North Gateway Rock.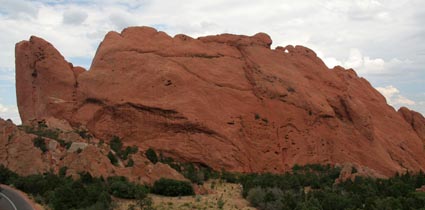 Here is a closer view.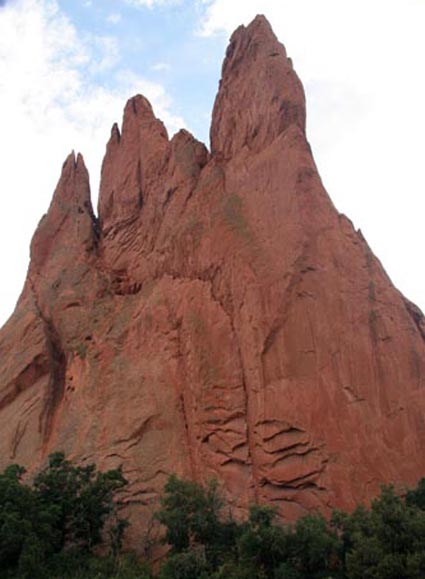 North Gateway Rock is known in particular for this "Kissing Camels" feature on top.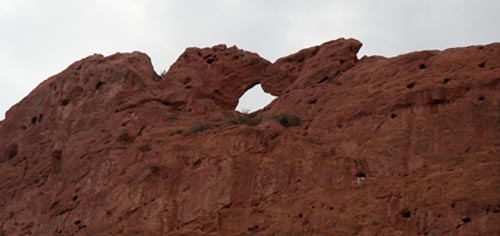 This is called White Rock, and obviously has much less iron than the others.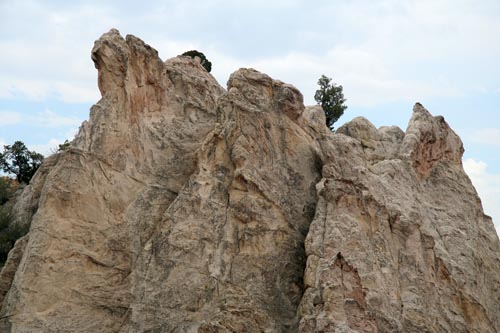 The park features a long dramatic row of rocks. These are South Gateway Rock and Gray Rock.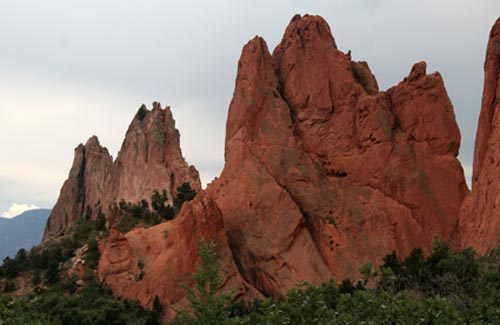 The evidence of wind erosion is particularly dramatic here.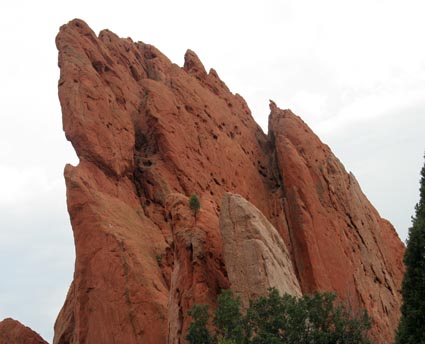 Here you can see how the rocks really were turned on their sides -- the sedimentary lines are vertical!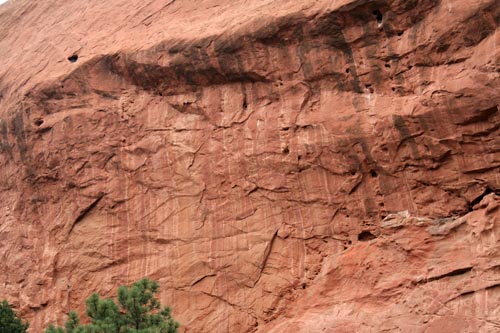 Here's a climber to give you a sense of the scale.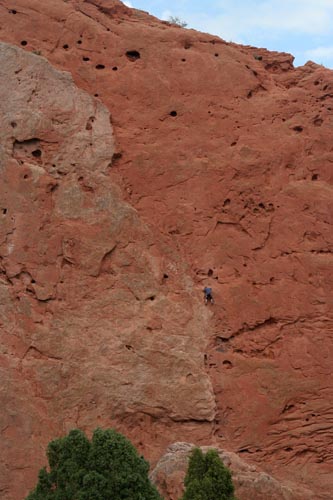 More dramatic formations.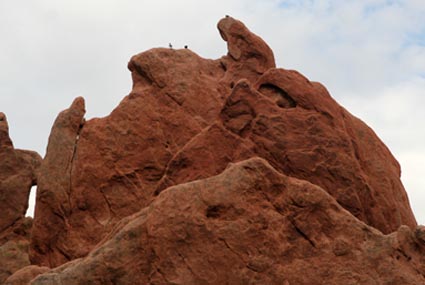 This is Cathedral Rock.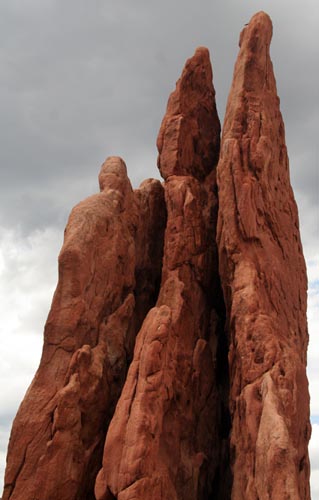 A closeup of Cathedral Rock, with Eric in the middle of a channel that was, unbelievably enough, formed by a stream!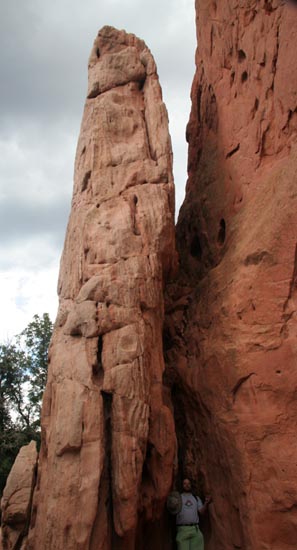 One of the park's more dramatic features is this Balanced Rock.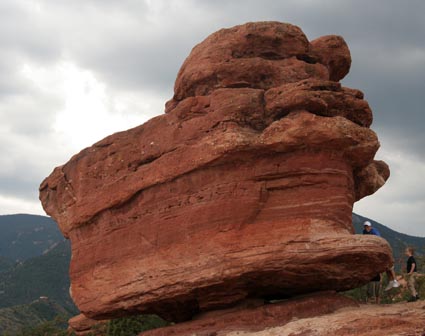 The landscape of the park looked really wild west. It reminded Eric of cartoons, and me of Big Thunder Mountain Railroad.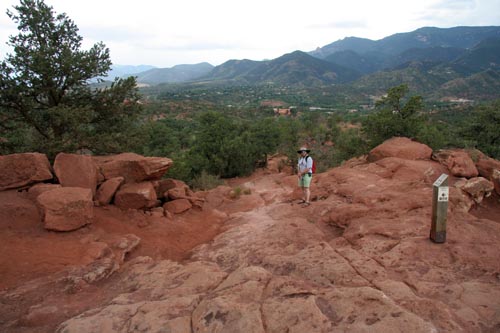 We took a short hike up to a dramatic feature called the Siamese Twins.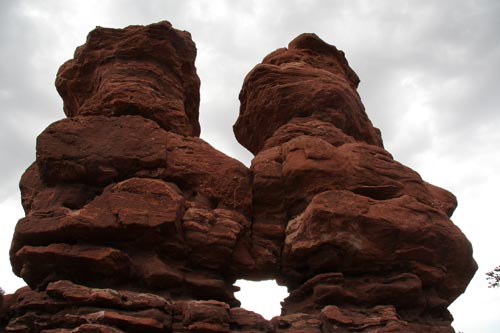 It's part of a larger feature of several rocks.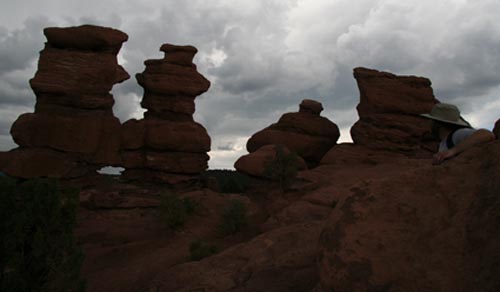 Here's a side view. (Photo by Eric)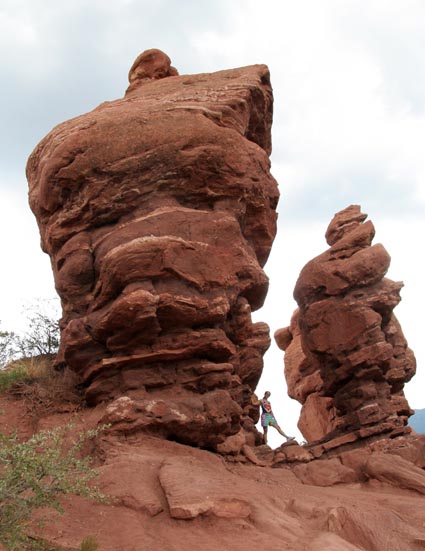 And another side view I took.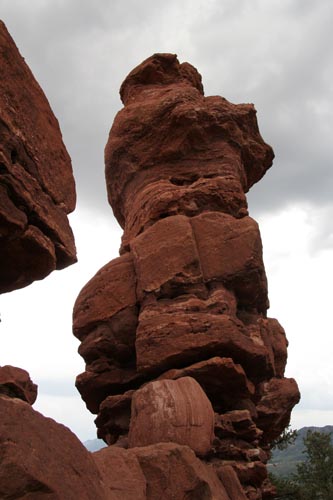 And here's that beautiful hole between the Twins. Apparently on a good day, you can see one of the fourteeners, Pike's Peak, through it, but, alas, today was not the day for that.