---
Beth and Eric's Brazil Visit
30 June - 8 July, 2012
---
Us at the top of Sugarloaf, Rio de Janeiro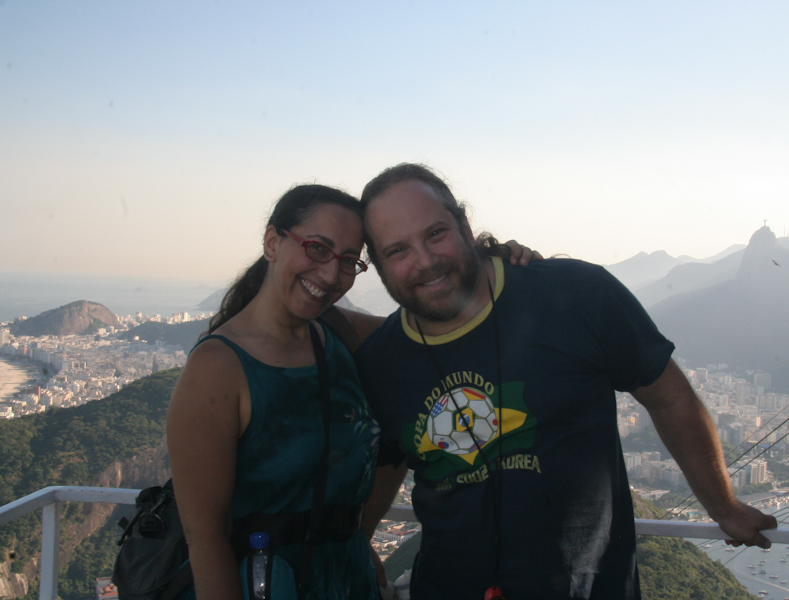 Eric and I have been wanting for some time to visit my brother and sister-in-law in Rio de Janeiro. We loved Rio, and Brazil, the last time we were here. My brother, Tim, is in a very exciting band called Orquestra Voadora. After seeing those awesome YouTube videos, we really wanted the chance to see OV live and in person.
While we had several days to enjoy the beauty and excitement of Rio, we couldn't go to a country as large, diverse, and beautiful as Brazil without seeing some other places, too. As Orquestra Voadora was playing in a cute little place called Penedo while we were there, we visited Penedo and nearby Itatiaia National Park, known for waterfalls and birds. And, because we can never get enough of waterfalls, we visited Iguaçu, one of the world's most incredible waterfalls and a World Heritage Site.
I hope you enjoy the pictures and stories of our travels, and I hope you get the opportunity to visit Brazil for yourself. It's quite spectacular. Boa viagem!
---