---
Rio de Janeiro
3 and 6-8 July, 2012
---
Us at the top of Sugarloaf, Rio de Janeiro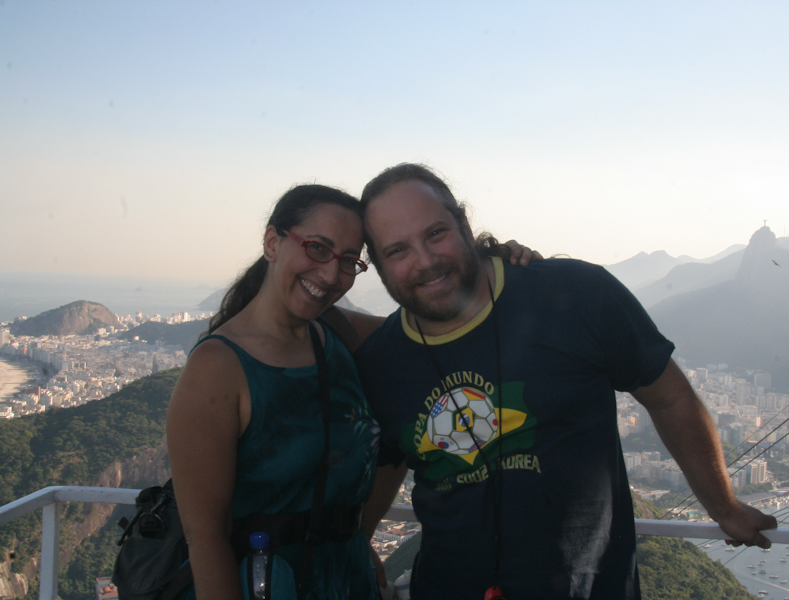 When I was planning our first trip to Rio de Janeiro, ten years ago, a senior partner in my law firm told me that Rio was even more beautiful than San Francisco. Looking out of the windows of our 40th story office at San Francisco's lovely bay and pretty hills, this was difficult to believe. But he was right. Rio also has a bay, called Guanabara, which is every bit as beautiful as San Francisco's. But Rio also has hills that are even more dramatic. The scenery is truly spectacular.
But Rio is more than just a pretty city. You've heard, surely, about the amazing nightlife. My brother, Tim, is a musician and part of that nightlife. You probably also know that Rio has famous beaches, like Ipanema and Copacabana. San Francisco has beaches, too, of course, but the water is very cold. In Rio, you can actually swim.
Rio, of course, is not an American city, it's a Brazilian city. It also has a unique, exciting culture of its own. It's really an amazing place to visit, and an amazing place for my brother and sister-in-law to live.
---