---
Adorable Penedo and Beautiful Itatiaia National Park
1-2 July, 2012
---
Me with Tim and Angelina at the
festa junina
. Photo by Eric.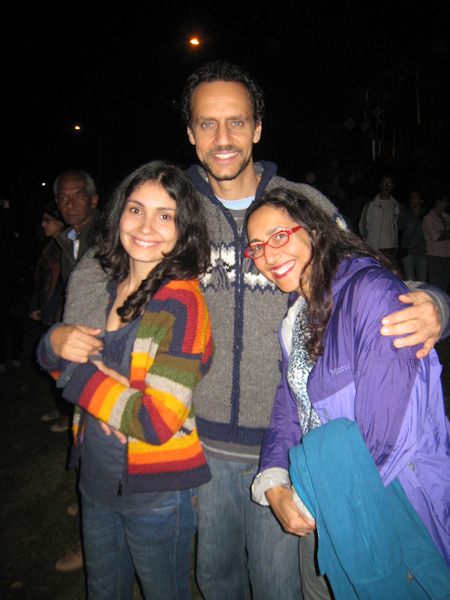 The winter solstice is celebrated all over the world, even in parts of the world, like Brazil, where it is not particularly cold in winter. Brazil has a tradition called the festa junina, which means Festival of June. People wear straw hats and build bonfires. And, as with all festivals, live music is desirable. Because Brazilians never want to stop partying, sometimes the festa junina extends into July.
Eric and I came to Brazil to see my brother and sister-in-law, Tim and Angelina, and to see Brazil, but one of the primary things we wanted to do was see the most famous of my brother's bands, Orquestra Voadora. "Orquestra voadora" means "flying brass band" in Portuguese. The band uses only wireless amplification, and one of their specializations is to get off the stage and interact with the audience more intimately by walking around playing their instruments among audience members. It's very exciting stuff, and you can get a good sense of it from the YouTube videos in the link above. We wanted to see them live and in person.
It so happened that, during the time of our planned visit, Orquestra Voadora would be performing at a particular festa junina in a small town in the northwestern corner of the State of Rio de Janeiro called Penedo. Penedo was settled by Finns and is known for its trout and ice cream. Penedo is also at the foot of a mountain called Pico das Agulhas Negras, 2,791 meters (9,157 feet) high. The peak is surrounded by Itatiaia National Park, a beautiful area full of waterfalls and exotic birds. My brother said that Orquestra Voadora performed at this festa every year, as a benefit for a school, and that he usually made a weekend trip out of it. So, we decided we would spend a night in Penedo and see Itatiaia while we were there.
The show was scheduled for Sunday evening, and we arrived in Rio Saturday morning. On our arrival at Tim and Angelina's apartment, after about 24 hours in door-to-door transit, we were enthusiastically greeted by their dog, Nina.
Nina on the couch.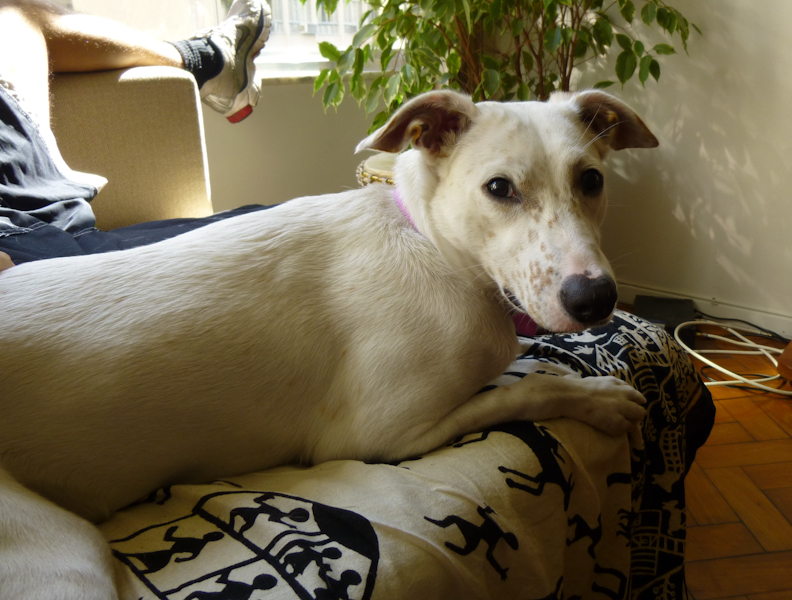 Nina is young, excitable and energetic. She was a rescue dog, so they are still trying to teach her good manners, like not jumping all over people and insisting on licking them everywhere, especially on the face. I could barely see through my glasses whenever I was with Nina, because she would lick them.
We had kind of a down day on our arrival, recovering from the lengthy trip. We chatted, napped, and had dinner at a buffet.
Penedo
The next day, on the way to Penedo, we had to go some distance out of our way to drop Nina off at a kennel. Here she is in the car. She has a really big tongue.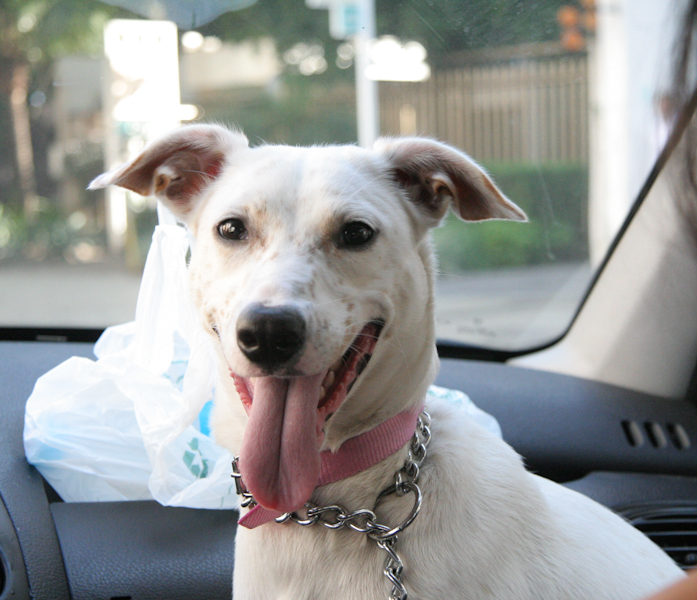 Nina crawled up on top of the hatchback. The Peugeot was pretty crowded with four people, a dog, luggage for the night, and Tim's large amp. Fortunately, Tim was able to arrange for the band to bring his tuba on the bus.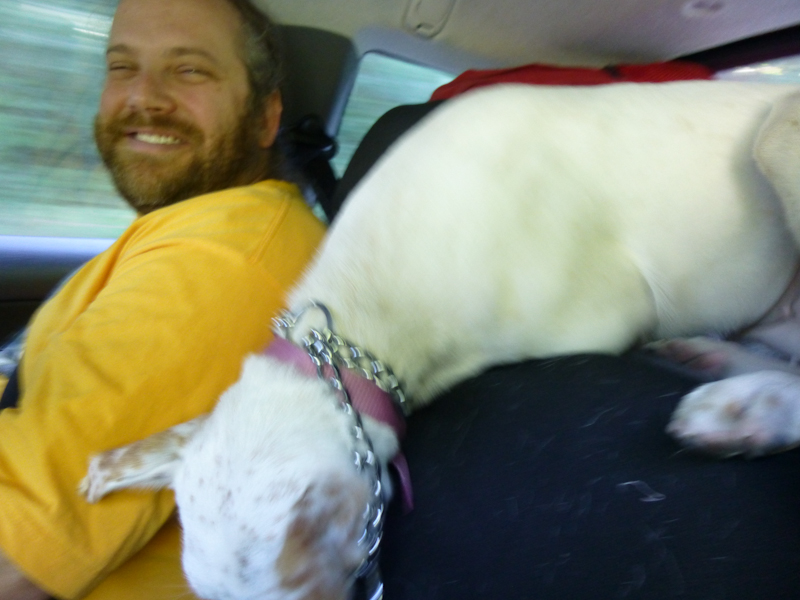 It took all afternoon to get to Penedo, because it was difficult to find the main highway, the Dutra, from Nina's kennel. Eric and Tim had marked out some waypoints for getting to a somewhat principal highway that would take us to the Dutra, and so we found that with relatively little trouble. We should have put more waypoints in the GPS, however, because there was a fork in the road, and we took the wrong fork. We went a long way on a road with a lot of speed bumps, which, while eventually getting us to the Dutra, also took us some of the way back to Rio. By the time we got to Penedo, it was time to find a pousada for the night and have dinner.
Tim found a very cute and inexpensive pousada. Each couple had a cabin to itself, and the cabins were fairly large.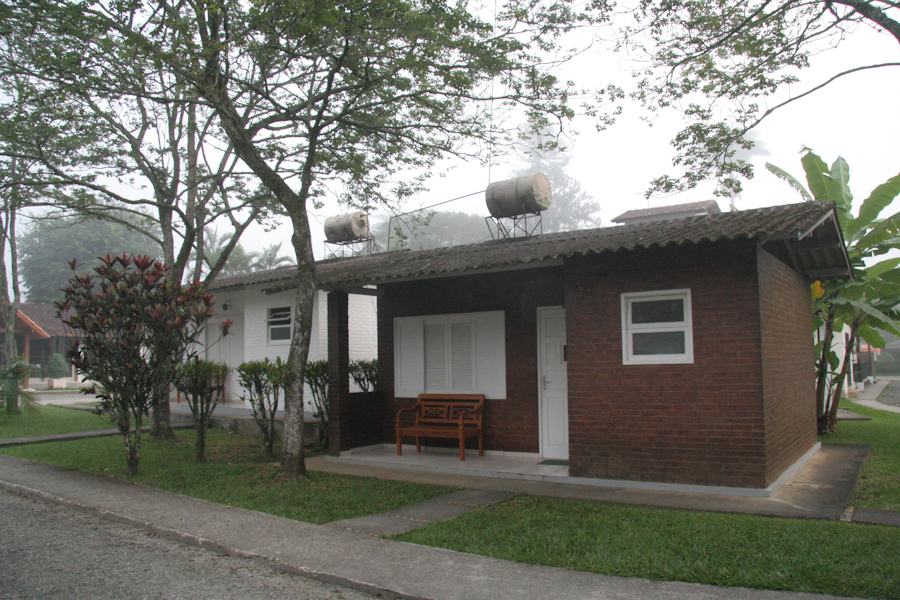 We ran into one of the band members, who gave us tickets for a free meal at a nearby restaurant, courtesy of the producer who was putting on the benefit show. There was only one choice, a tasty trout that came with a cup of butter and almonds to pour on top.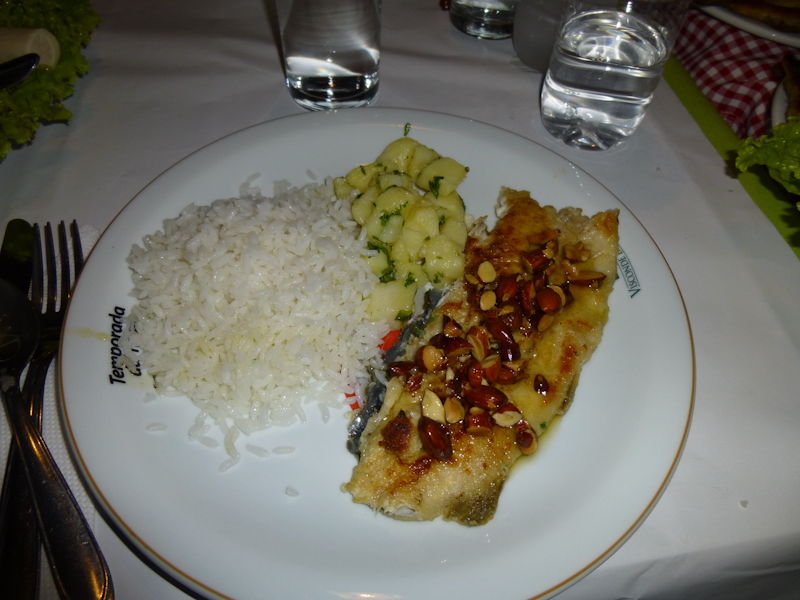 We also sampled some of Penedo's ice cream before the show.
Then, we went on to the
festa
. Eric took a picture of the bonfire.
There were dancers in traditional costumes. Photo by Eric.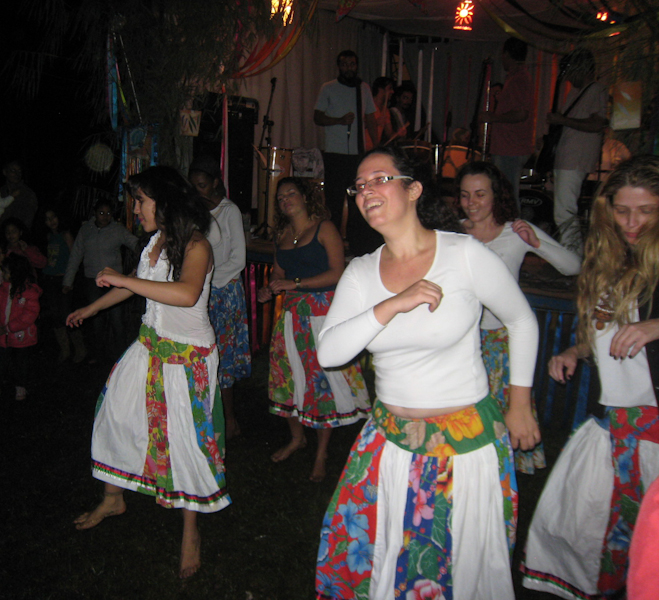 The band performed several pieces on stage, including some composed by Tim.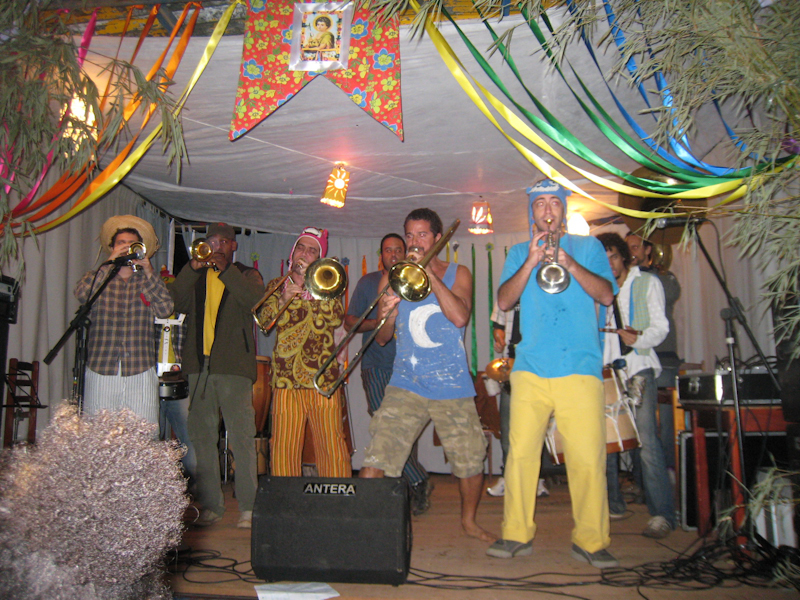 Eventually, though, they literally jumped off the stage and performed in the middle of the audience. Photo by Eric.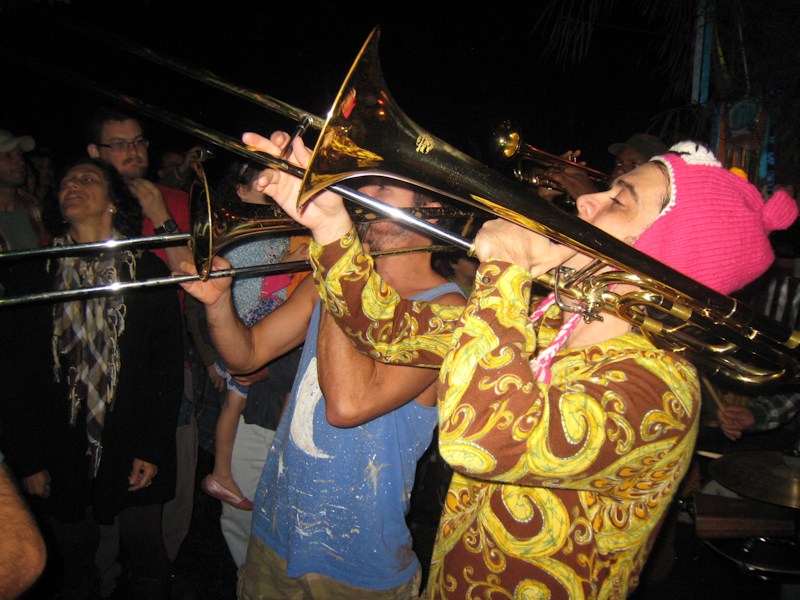 Tim with his tuba. Photo by Eric.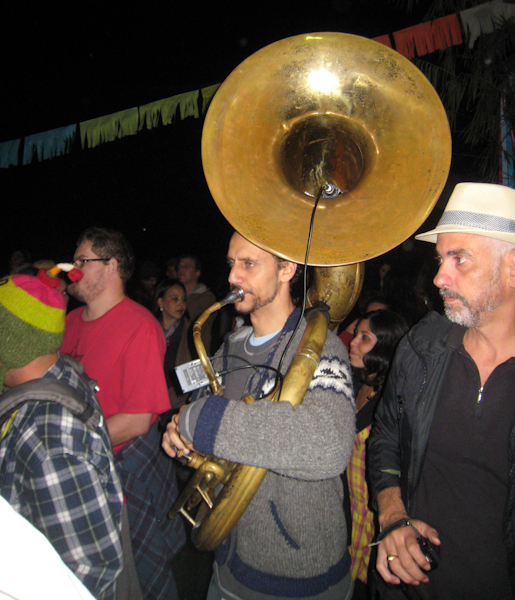 Angelina took a picture of me enjoying the show, with Tim and his tuba in the background.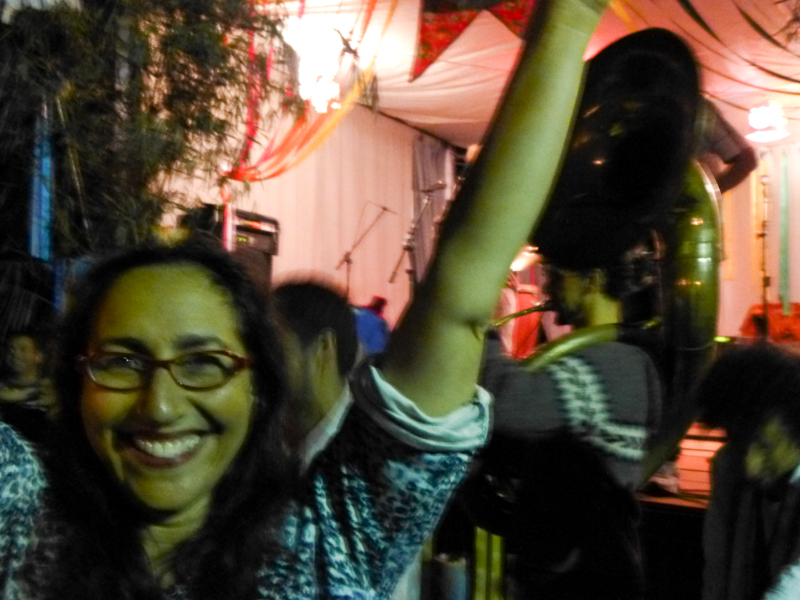 It was a fantastic show, and we enjoyed it very much. The band has even more energy than Nina.
Itatiaia
Itatiaia is a famous destination for birds. I did see several new birds there, but didn't get good pictures of any of them. We did see a monkey up pretty close, foraging in a trash can.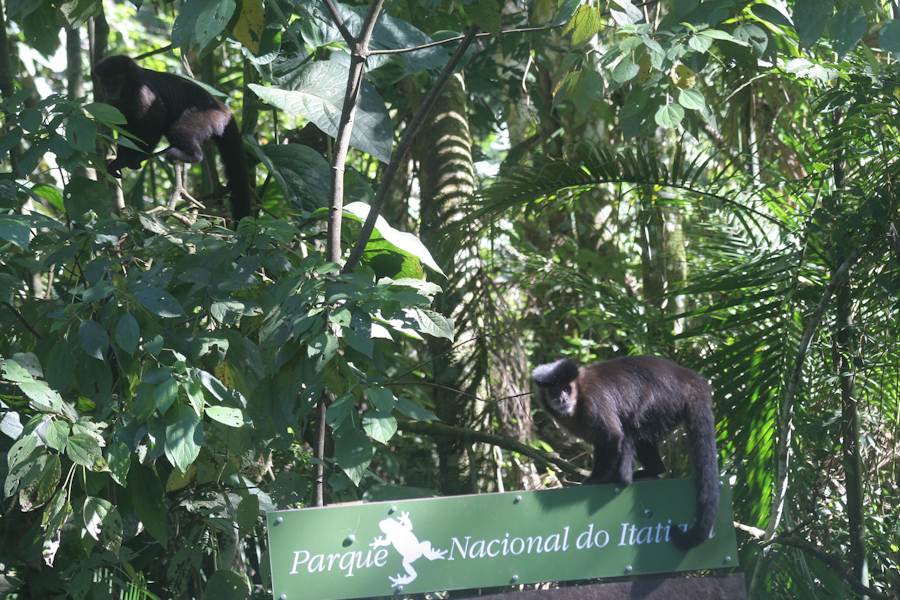 He seemed irritated that we were interrupting his snack.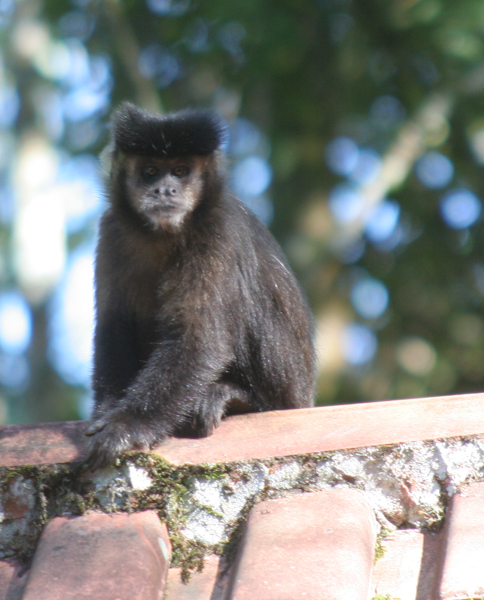 In addition to birds, Itatiaia is famous for waterfalls (
cachoeiras
). We visited a waterfall called Piscinha do Maromba.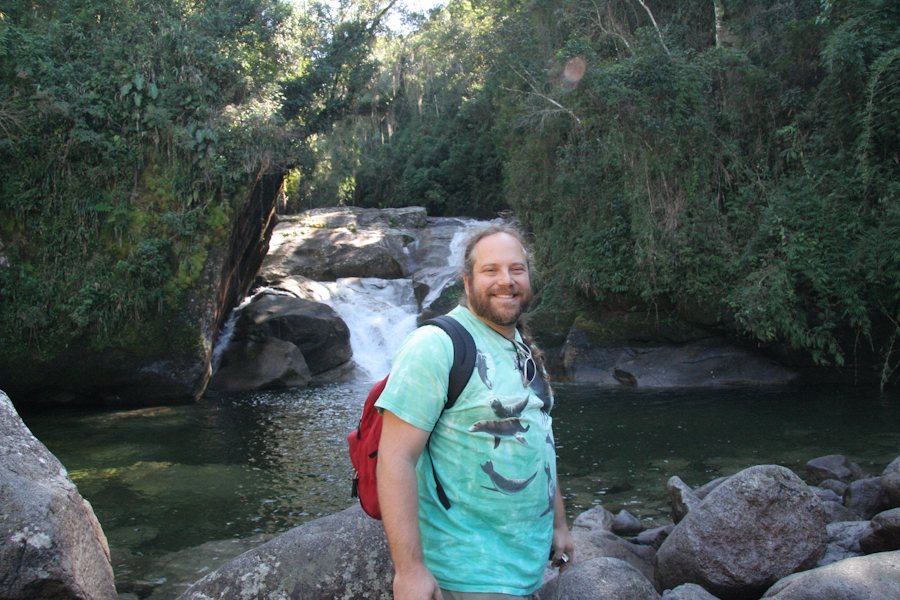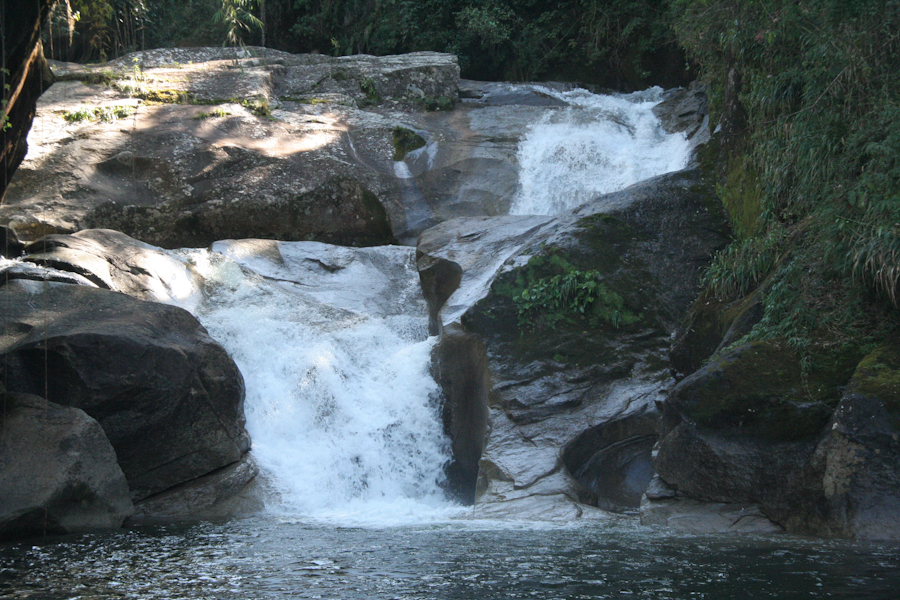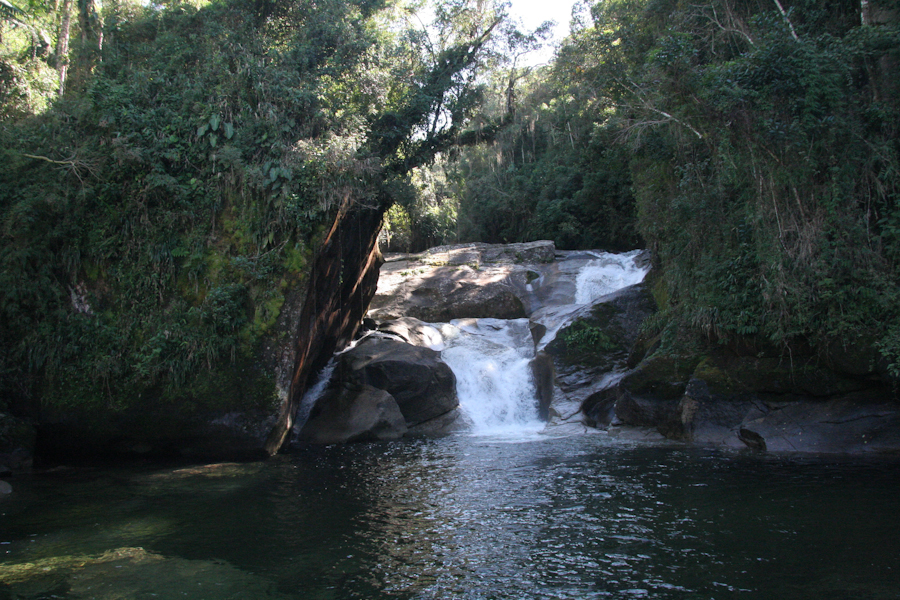 The sun reflecting on the water. It was an amazingly pretty spot.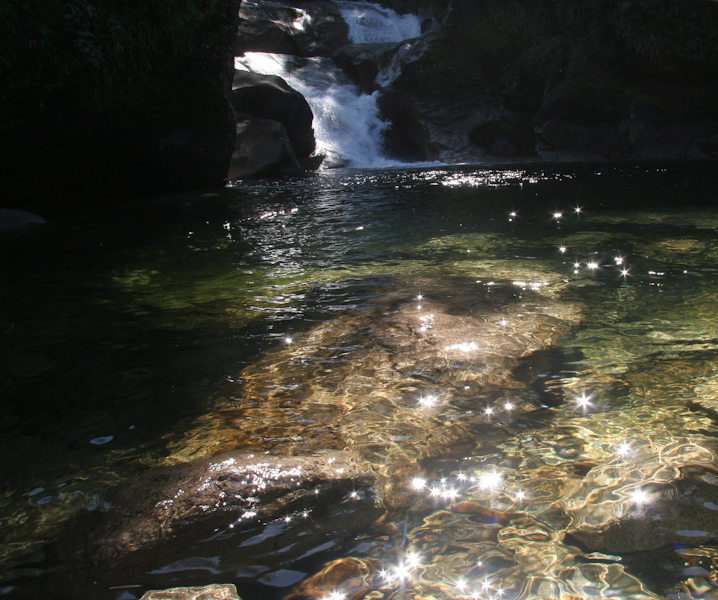 We had thought we might go swimming, but the water was pretty cold. Eric took this picture of me and Tim and Angelina sticking our feet in.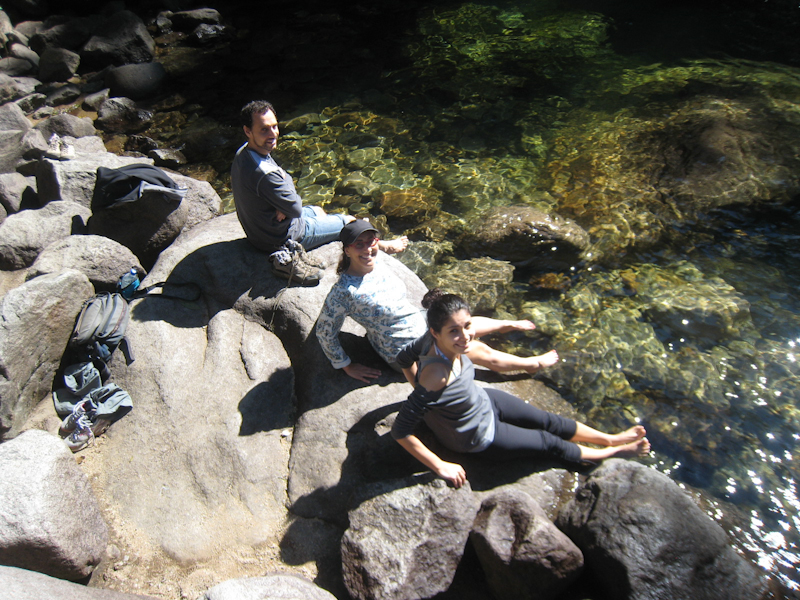 Eric also took a picture of us walking along the pretty trail.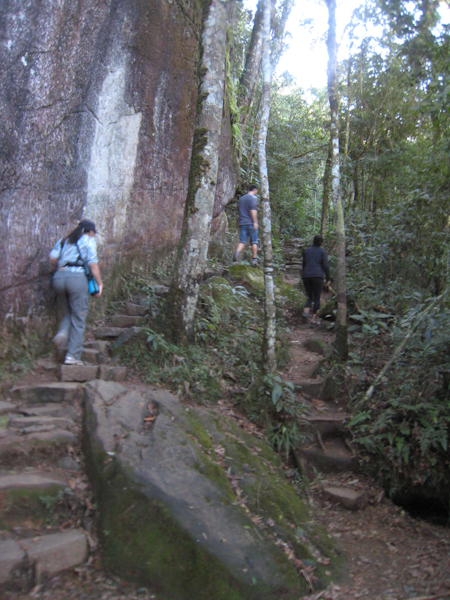 At one point, we went through a small cave.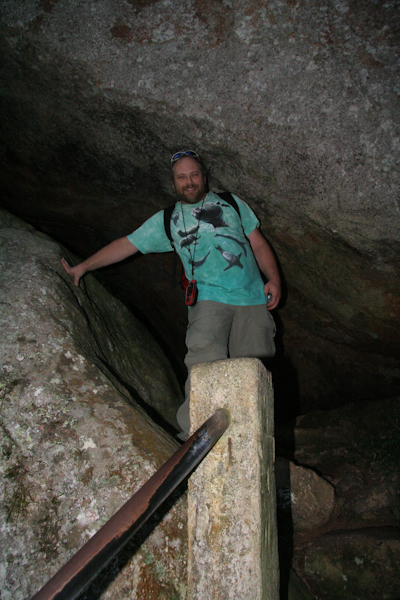 Our second falls of the day was called Cachoeira Veio de Noiva, which means "Bridal Veil Falls."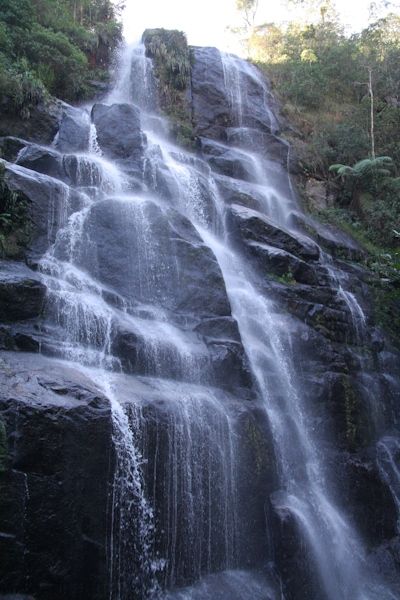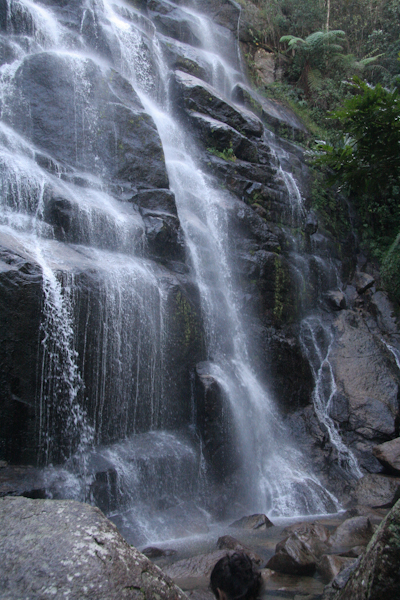 Tim in front of the falls.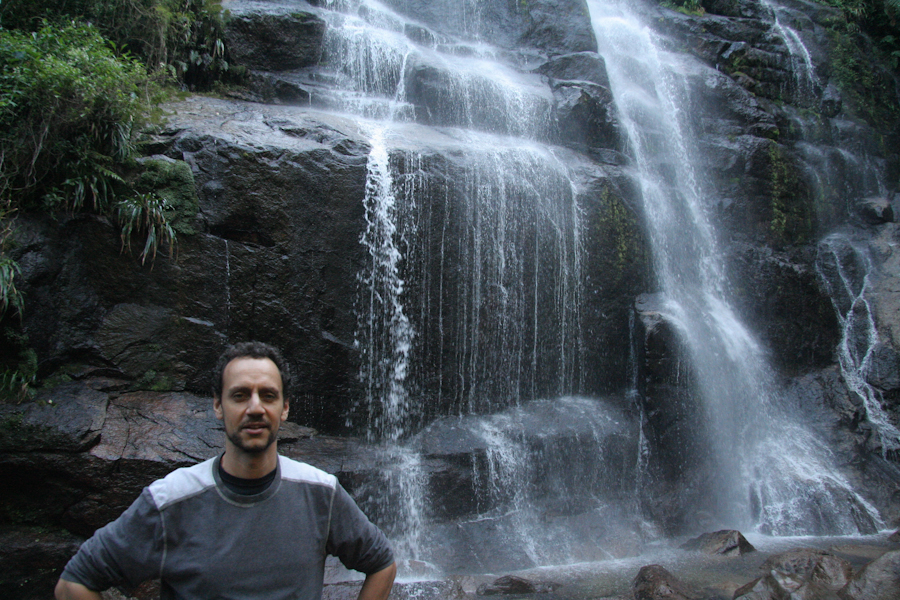 Tim took my picture in front of the falls.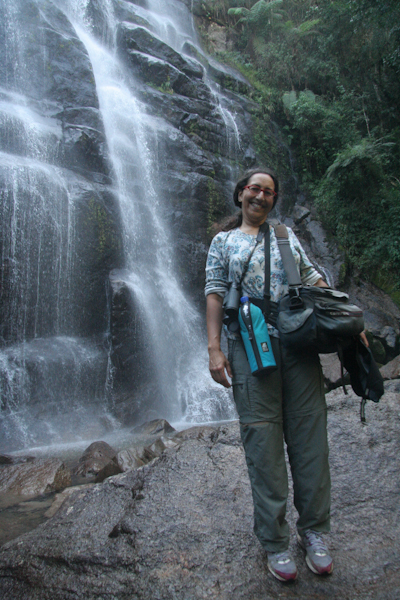 Our next stop was a black called Lago Azul, which means "Blue Lake." Here it is from the bridge above, with our shadows.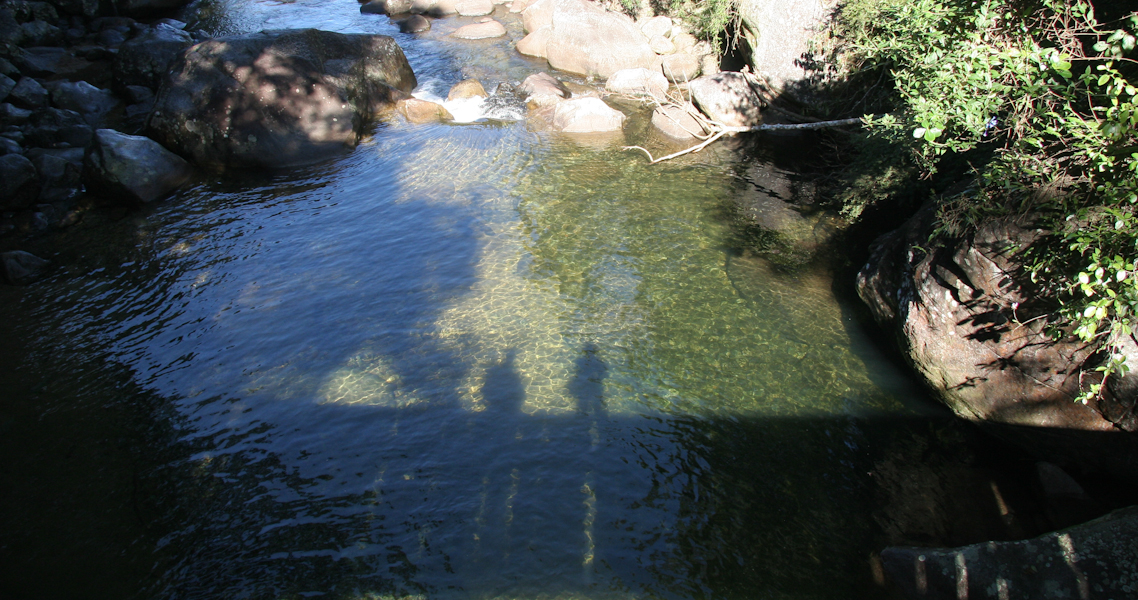 The lake and river.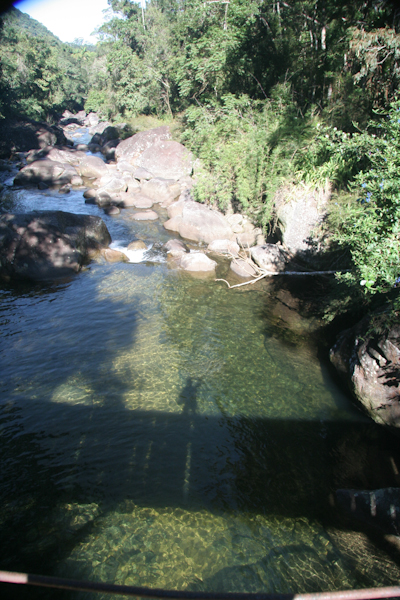 We climbed down to the edge of the lake.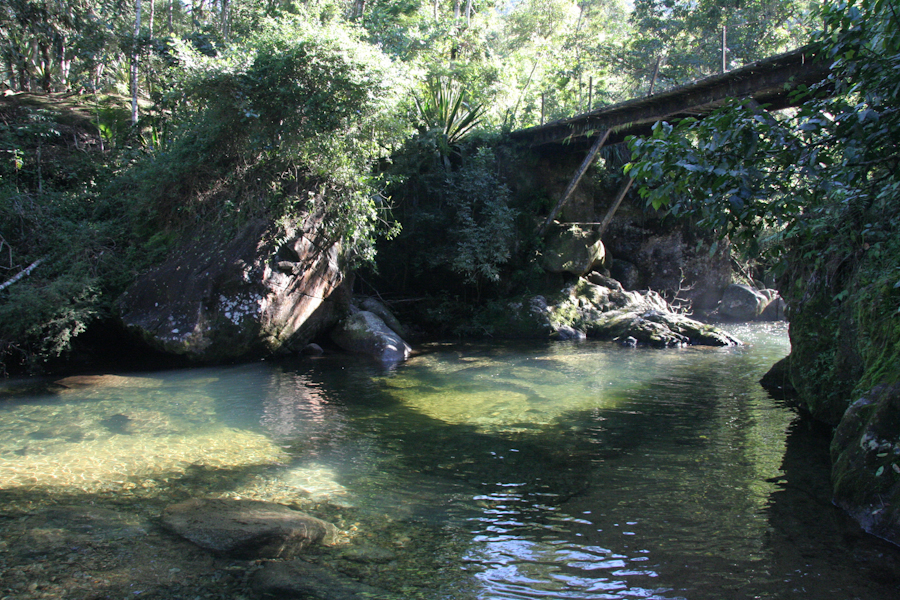 Eric took a picture of a lovely bromeliad.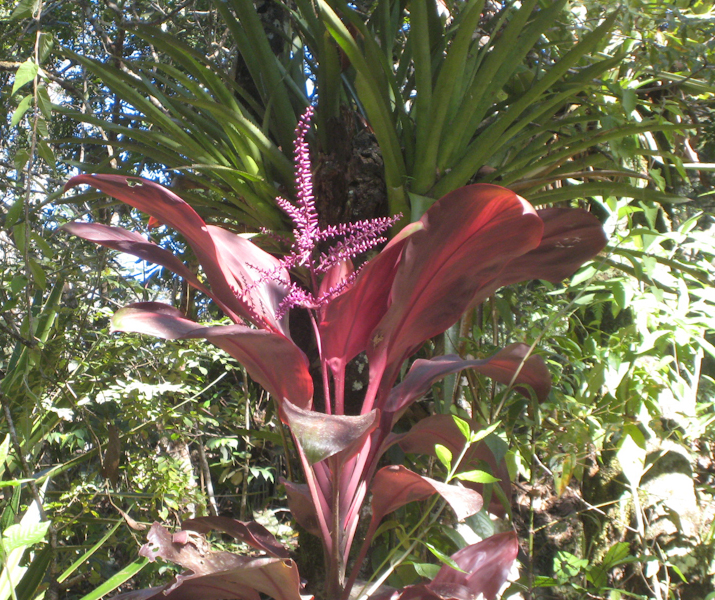 Itatiaia also has tremendous views of the surrounding valley.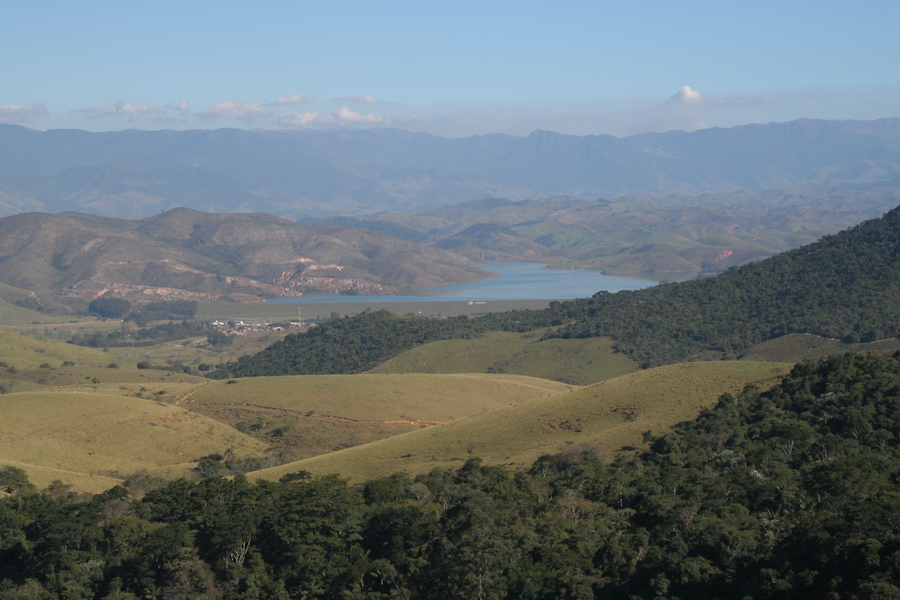 We went back into Penedo for a lovely, cheesy Italian dinner. We had one more item on our agenda: to find our first geocache in Brazil. There was a nearby cache that had been placed a couple of months before, but no one had found it yet. We could be first to find a Brazilian cache!
The parking for the cache was a ways up a small road outside of town, at the trailhead for a falls called Cachoeira de Deus, which means, "God's Waterfall." We had to make our way around some people who were doing a traditional full-moon ritual in white robes.
The waterfalls were pretty.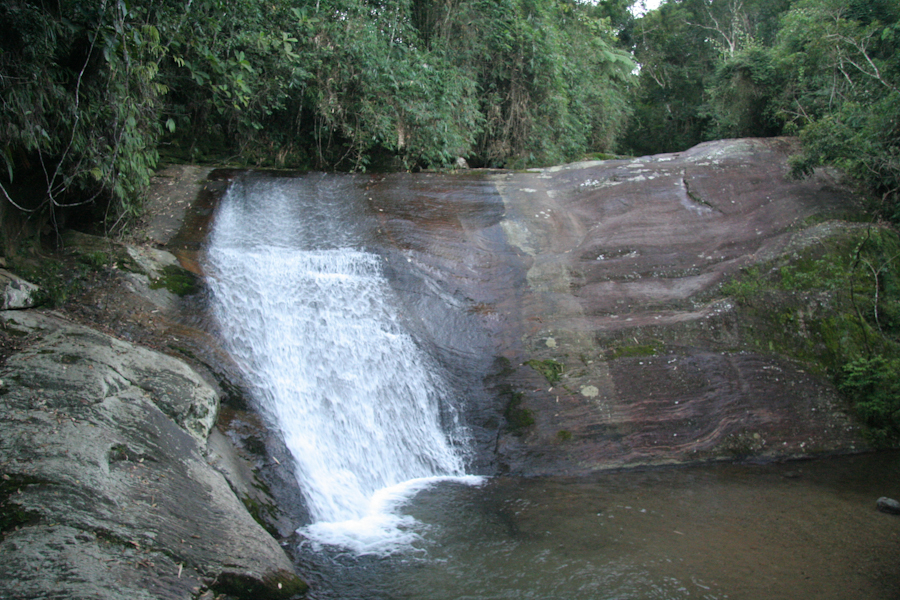 But in order to get to the cache, we had to cross the river! There was a place where it would be virtually impossible not to get our feet wet. Tim found a good, medium-sized rock. He put it in the middle of the wet part for us to step on. Then he went over first with his long legs and helped the rest of us over. It was still pretty impossible to keep our feet completely dry, but we got over mostly safely. Maybe the river crossing discouraged some lesser potential first-to-finders.
It was still difficult to find the cache. I won't give any details here just in case someone else happens to go looking for it, but the hider was very clever. I've never seen someone do that with a tree before. Very nice. Eric took my picture with the log.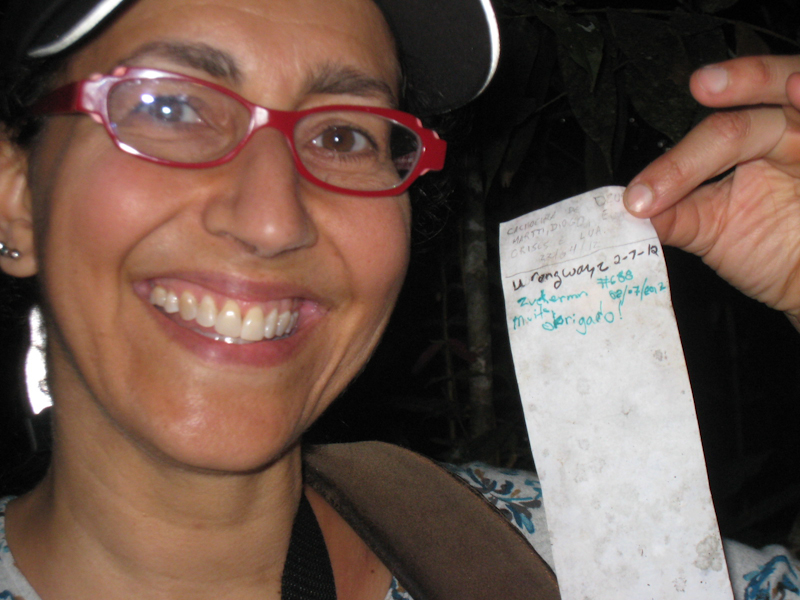 That little adventure was a very satisfying end to our lovely trip to Penedo. This was an amazing spot, and we were very glad we had the opportunity to see it.
On to Sugarloaf.
---