---
Big Sur 2012
As usual, Mom and I went camping in Big Sur for her birthday. This year, we faced unusually cold weather conditions, too cold for the beach, so we looked for some alternative activities. Mom had heard that whale watching conditions off the Monterey coast were excellent, so I schedule a whale-watching trip for Sunday. That turned out to be a fantastic idea, because, in addition to several of the usual Humpbacks, we saw the endangered Blue Whales, the largest animals that have ever lived on earth. On Saturday, we headed inland to the Pinnacles, where temperatures are always very high in summer.
Pinnacles National Monument
The National Park Service's map of Pinnacles National Monument shows two entrances, east and west. If you look closely, you'll see that the two entrances are not connected by any road, only by foot trails. Although it's only about 3 km (2 mi) between the two ends of the road as the crow flies, it's about 116 km (72 mi) by the most efficient road route (to the south down to King City). As Mom had taken the train up to its depot in Salinas, we were north of the park, and by the northern route through Hollister, the two ends of the road are about 164 km (102 mi) apart.

Now, if you were a GPS, and you could see that you were in Salinas, right on US 101, and your human instructed you to find Pinnacles National Monument, which has a west entrance also very close to US 101, would you send your human to the east entrance to the park? Apparently so. Apparently, if you are GPS, you only know about the east entrance. This is why Eric and I have named our GPS "Lulu." Obviously, I should have confirmed Lulu's directions with the paper map. But I knew that the park was close to 101 (although I didn't know whether it was north or south of us), and Lulu told me to get on 101, so I followed Lulu's directions. An hour later, we found ourselves at the park's east entrance. This is what you get for blindly following some stupid machine.

The pinnacles themselves, created by the ancient Neenach Volcano, don't seem terribly close from the east side. Maybe someday I'll see them from the west side.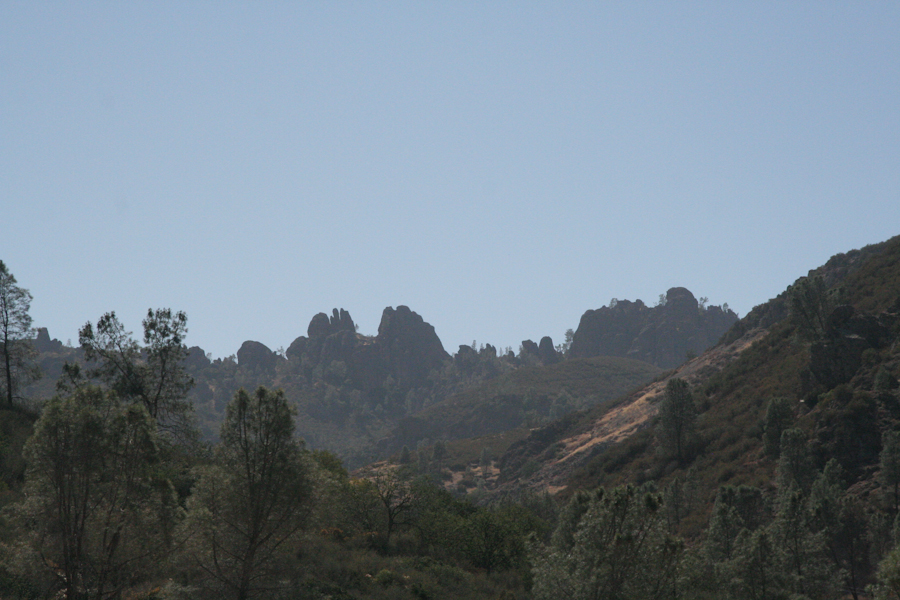 What makes these pinnacles so interesting, other than that they are evidence of past volcanism, is that only about one-third of the remnants of the volcano are here in central California. The rest of the Neenach Volcano is near Los Angeles, 314 km (195 mi) away. The volcano was right on the San Andreas Fault, and, over time, the fault moved these pinnacles all the way up here from southern California. My source here is the National Park Service's web site on the park, and the curious can read more details here.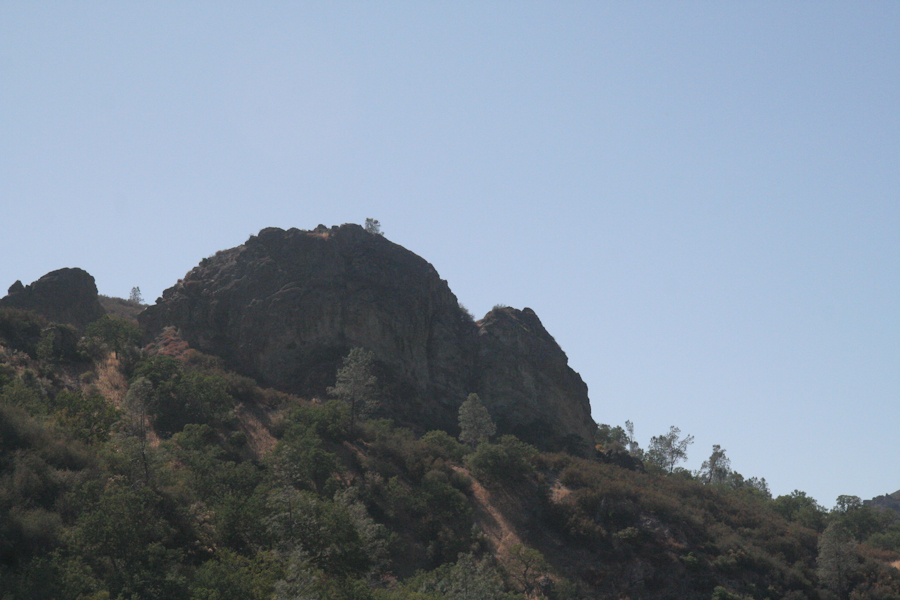 Mom with the pinnacles.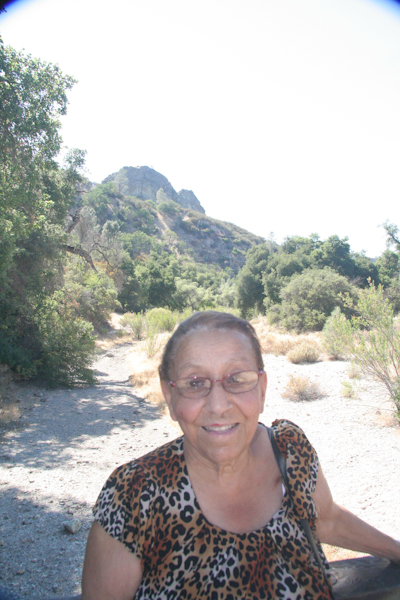 I might have been able to find a Lulu-style scenic route from the east entrance to Big Sur that would have involved driving a shorter total distance, but it seemed safer to go back the more familiar way we had come. On the way, we made a brief stop at San Juan Bautista State Historic Park, but most of it was closed for the day.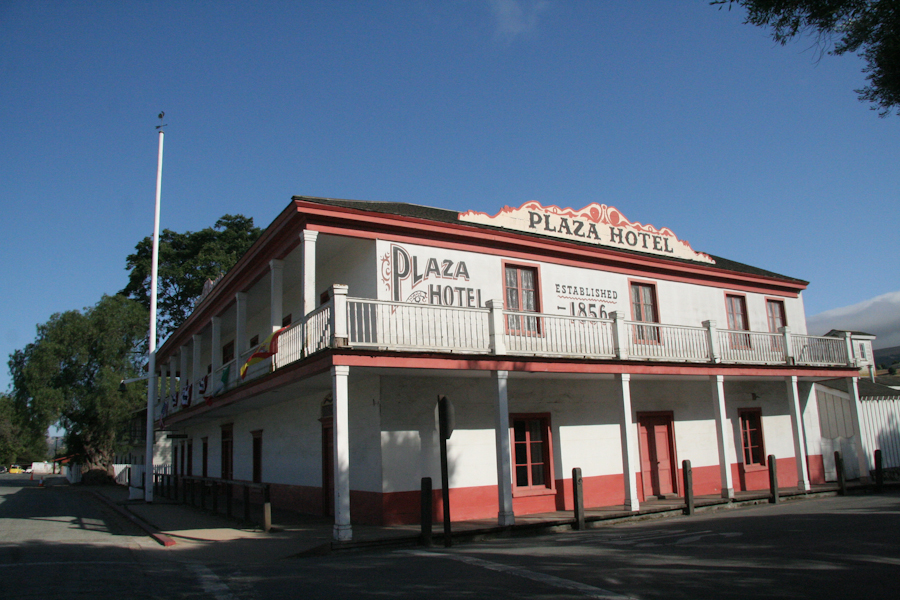 We had dinner at Tillie Gort's, a favorite place in Monterey, and, by the time we got the campsite in Big Sur, it was dark and time to go to bed.
Monterey Whale Watching
In the morning, I made oatmeal with almonds and fresh peaches by the side of the Big Sur River. Before you think our breakfast was very virtuous, we then headed up to Monterey to Paris Bakery for their delicious croissants. Paris Bakery is a must-try place should you find yourself in Monterey.

Although the website for Monterey Bay Whale Watch said our trip was at 2:00, they had told me 2:30 on the phone. I thought that if we got there by 1:30, it would give us an entire hour, and that I was planning on being there early just in case it turned out to be 2:00. So, we made an ill-advised little stop at the Breakwater to look at the beach.

Mom at the Breakwater. The weather had turned out to be very nice after all.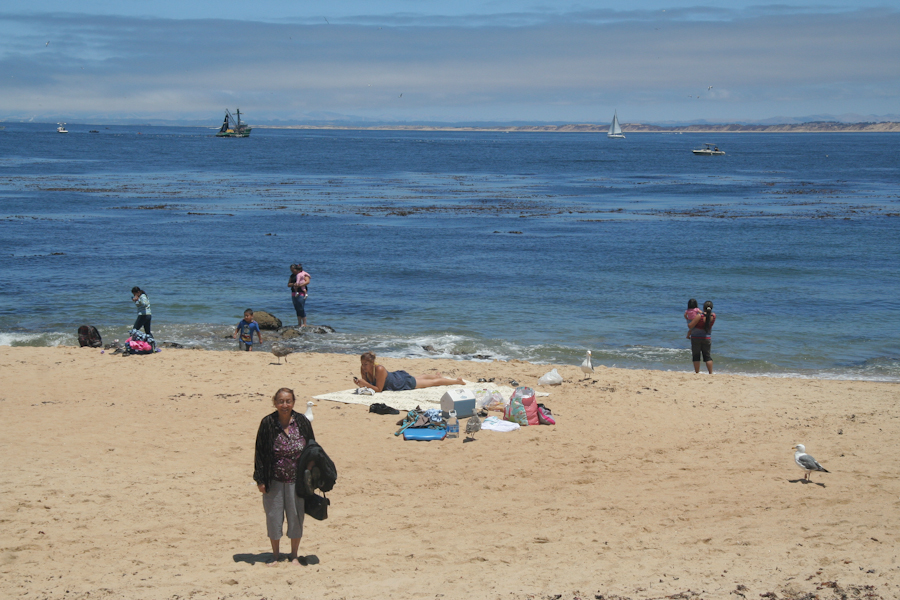 Parking at the wharf turned out to be ridiculously difficult, a matter of finding someone who was leaving and then waiting for their parking space. That took about ten minutes. Then, we had to find the right wharf. There are two wharves, and, while the website's directions said "Wharf 1," neither wharf was labeled with a number. When I asked someone which wharf was Wharf 1, she pointed to what turned out to be Wharf 2. Only after we had walked a long way down Wharf 2 without finding the boat place (the website said, "Walk past the shops and restaurants") did I ask someone else where the boat place was, and that person told me it was on the other wharf. I'm guessing we had to hurry back at least 700 meters (probably nearly half a mile) to get back to the parking lot, over to the other wharf, and then down the real Wharf 1. It was already 1:50. I called the boat place, and all they could tell me was, "Run, run, run!" Poor Mom! All of this stress could have been avoided if they had told me the right time on the phone, and if they had put something useful in their directions like, "Look for the giant pink-and-green lighthouse."
This is from a Google image search and not my photo, but wouldn't this be a better landmark than some unlabeled designation like "Wharf 1?"
Fortunately, the boat did not leave on time and we did make it, because it was an awesome trip. We made our way out of the harbor towards the north-south center of the Monterey Bay, and we encountered Blue Whales!
It was very exciting to see these huge, endangered creatures.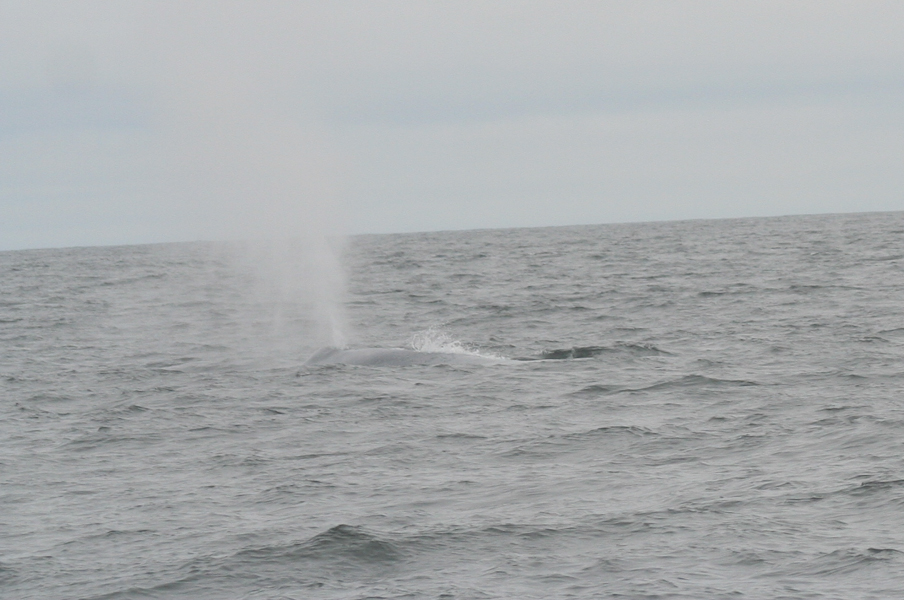 Although the naturalist on board said that Blue Whales usually do not fluke, she said that we were not going to believe her on the point, because we saw several flukes.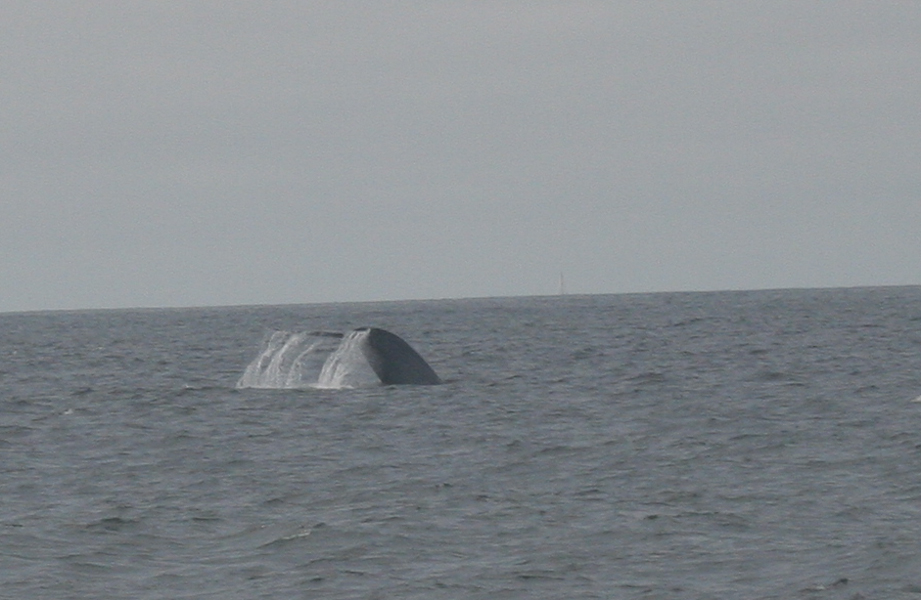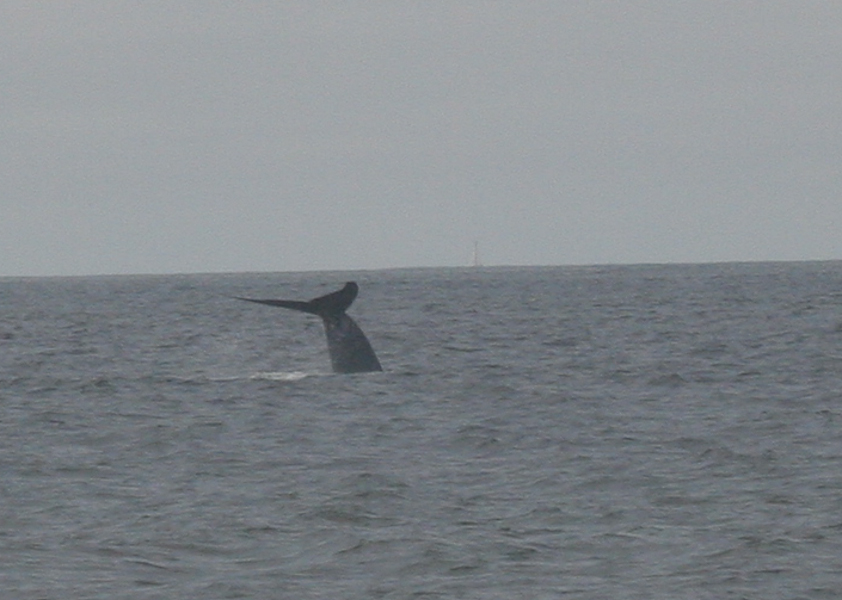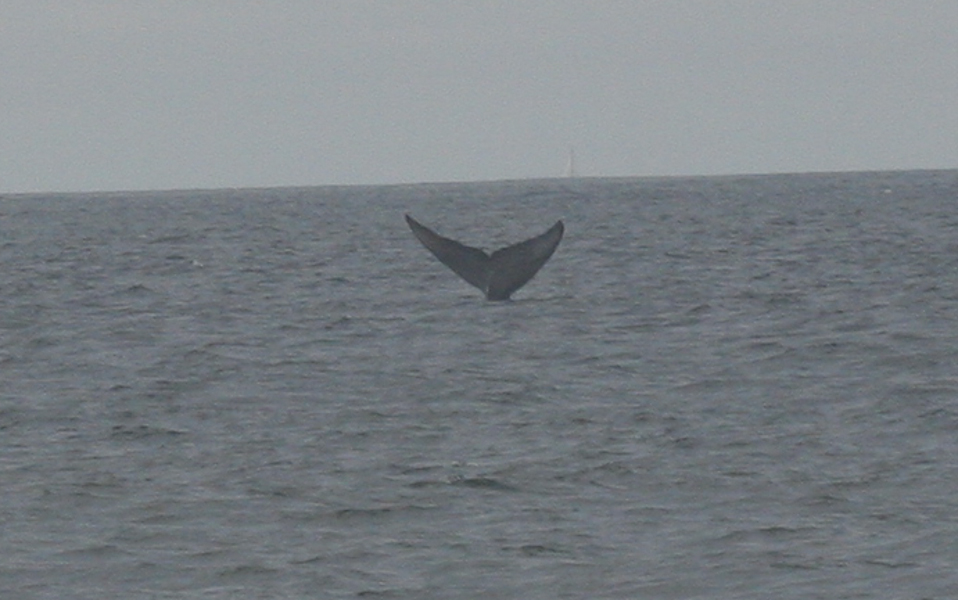 I was really excited about this one!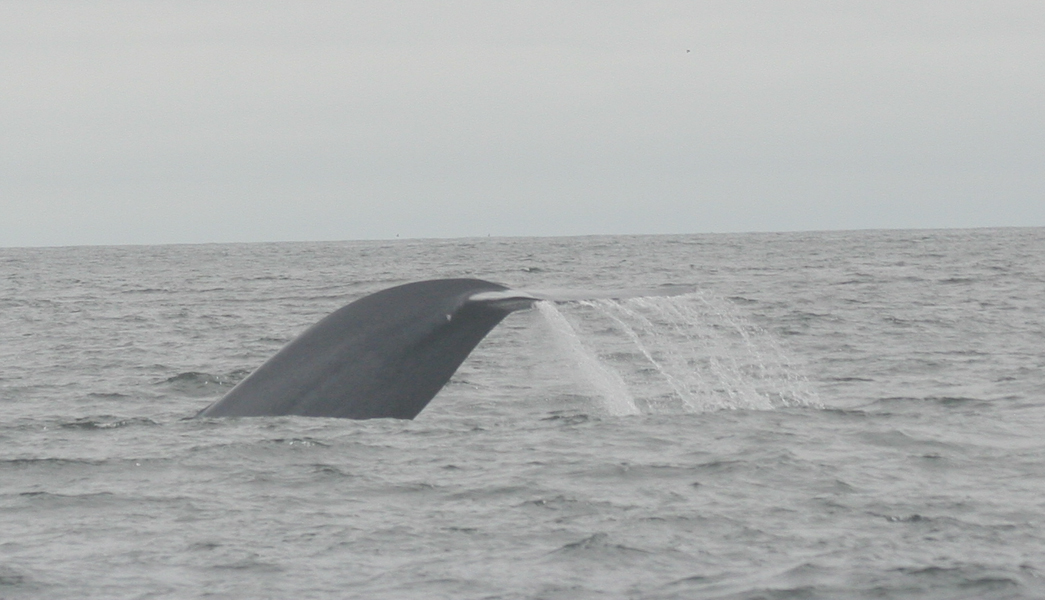 As thrilled as we all were to see the Blue Whales, we wanted to see some Humpbacks as well, so we proceeded out over the 1.6 km (1 mi) deep Monterey Canyon.
On the way, we got some great looks at Brown Pelicans.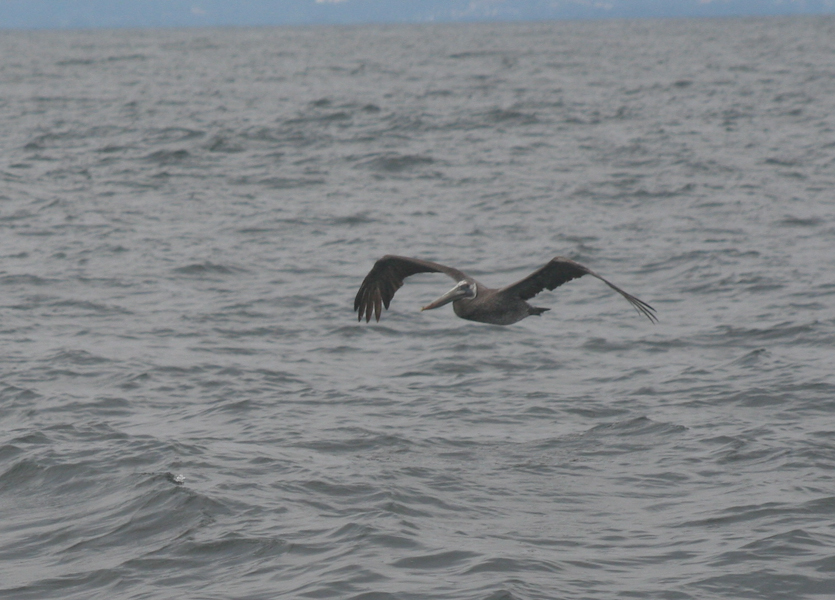 These are also endangered creatures, but they are relatively common in California.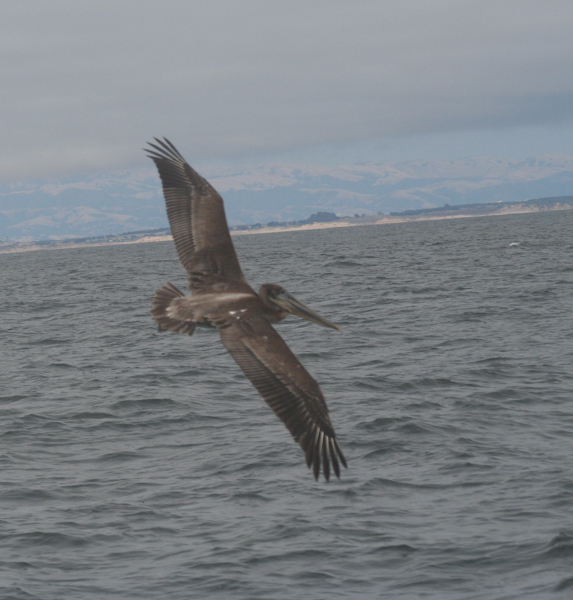 We also saw many Common Murres.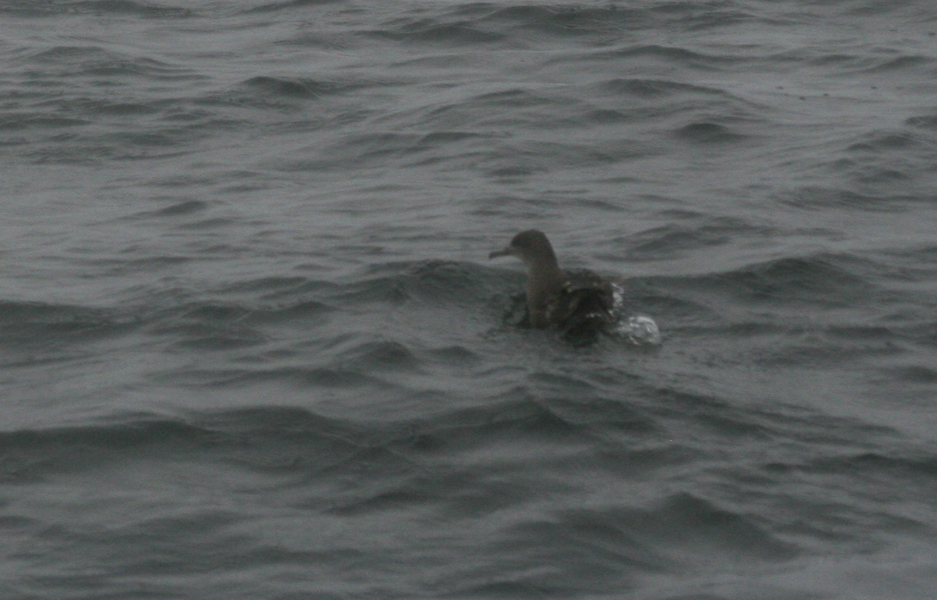 At last, we got to the Humpbacks.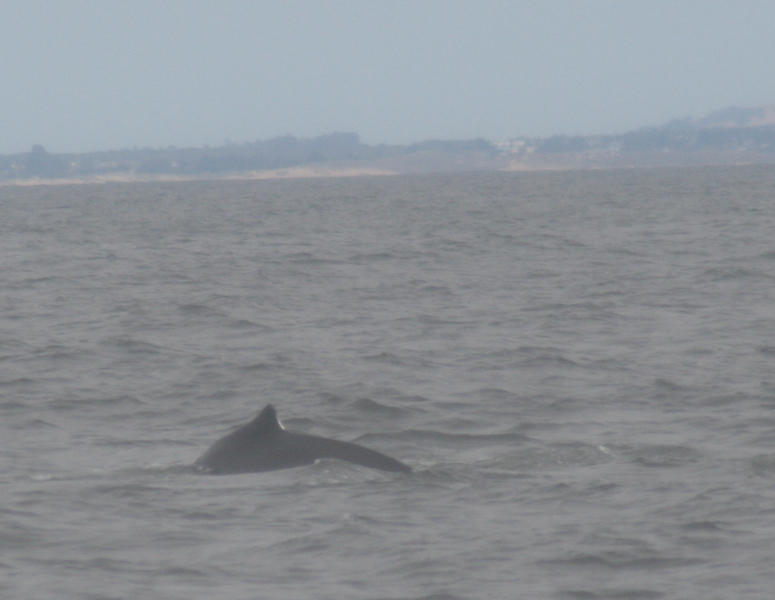 A Humpback blowing, with Heermann's Gulls above.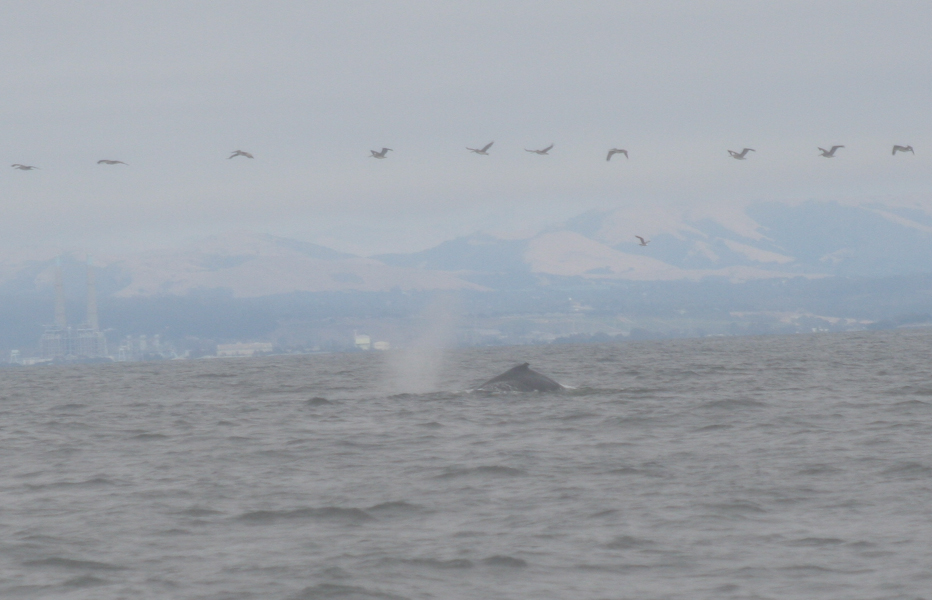 Two Humpbacks.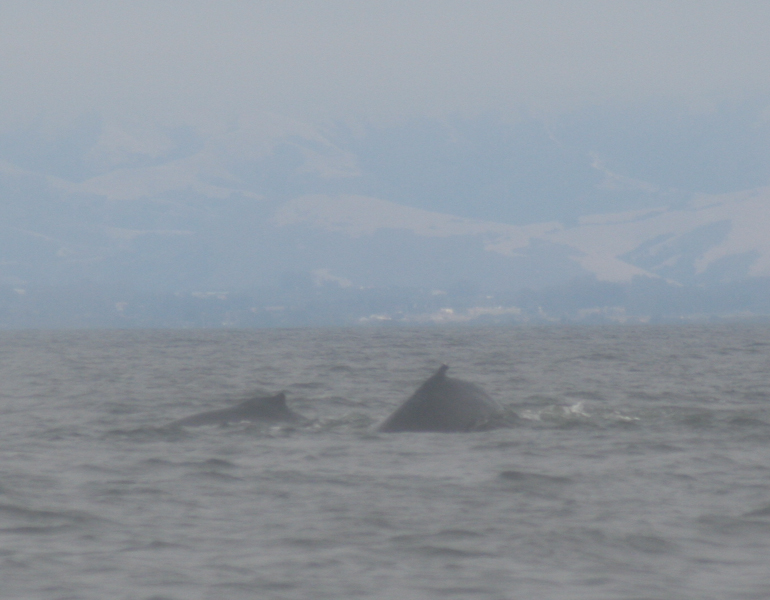 In one particularly exciting moment, we could see a Humpback in the foreground and a Blue Whale in the background.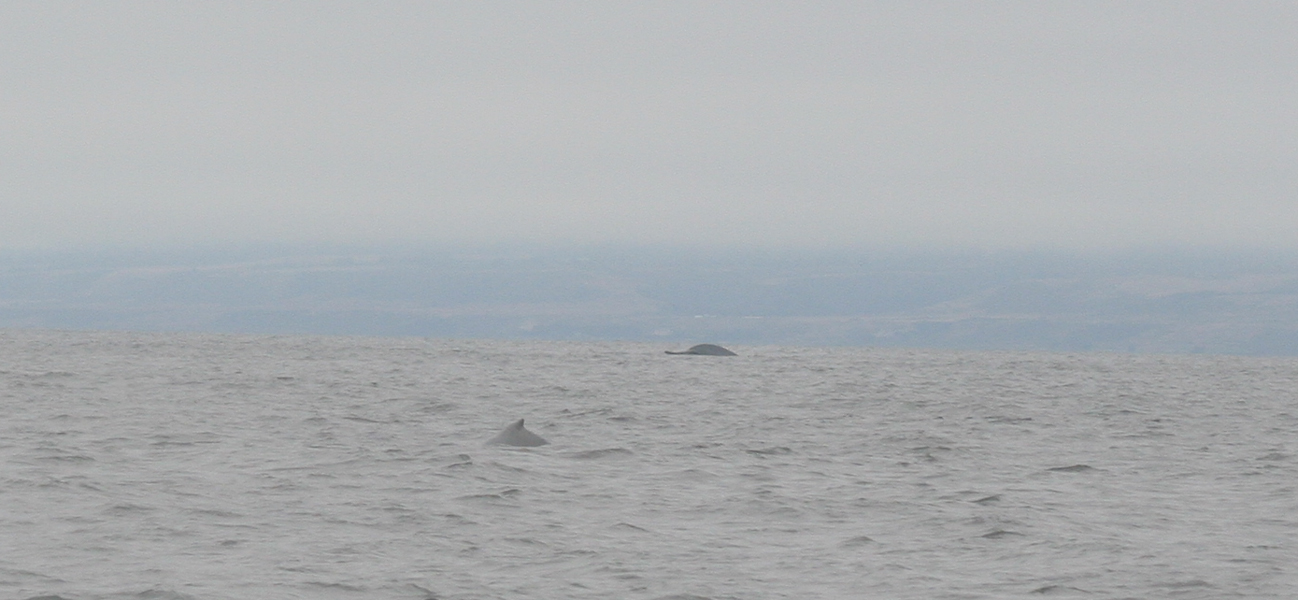 We returned from our amazing trip and looked at the beautiful Monterey harbor.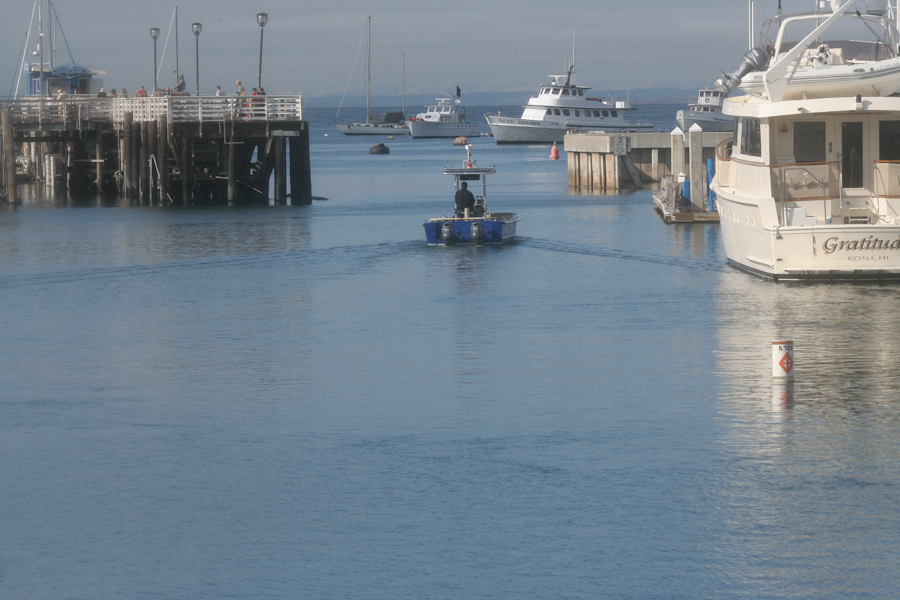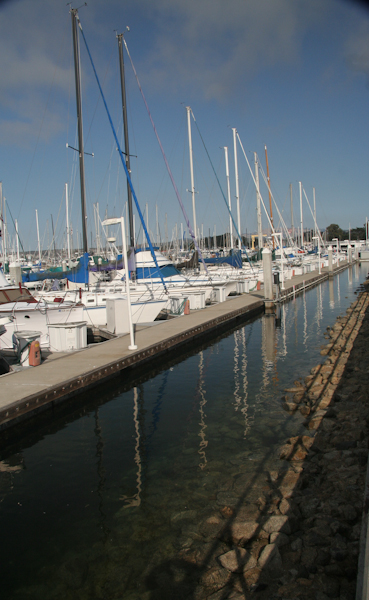 We had a very good Vietnamese dinner for a very reasonable price at Chopstix before it was time to go home.
---