---
Shasta Anniversary
Saturday-Sunday 29-30 July, 2017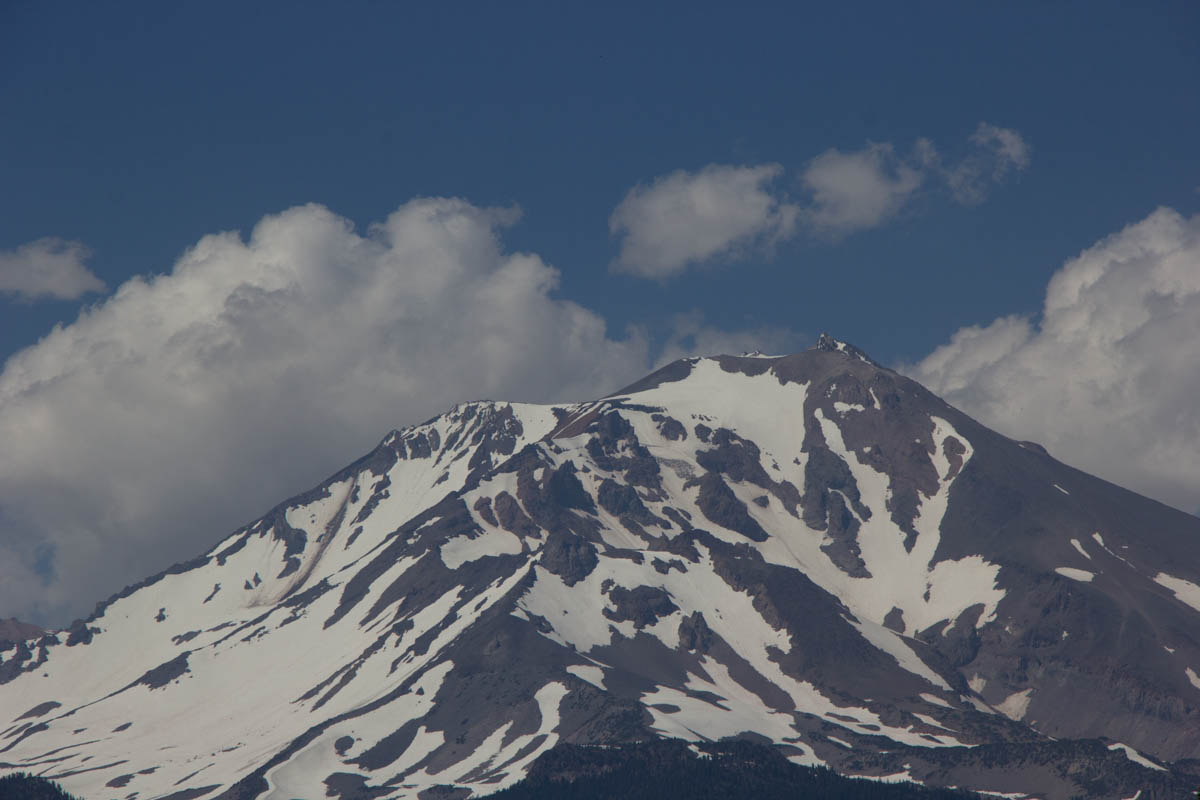 Magnificent Mt. Shasta.
Obviously, our 26th anniversary called for a lesser celebration than last year's quarter-century New Zealand adventure. But it still called for a little weekend getaway, and since we deeply love the Cascades, for the third time, we chose the charming Railroad Park Resort in Dunsmuir . Of course, we planned some geologic explorations.
Railroad Park Resort
The resort full of converted cabooses is nestled at the foot of the dramatic Castle Crags. Photo by Eric.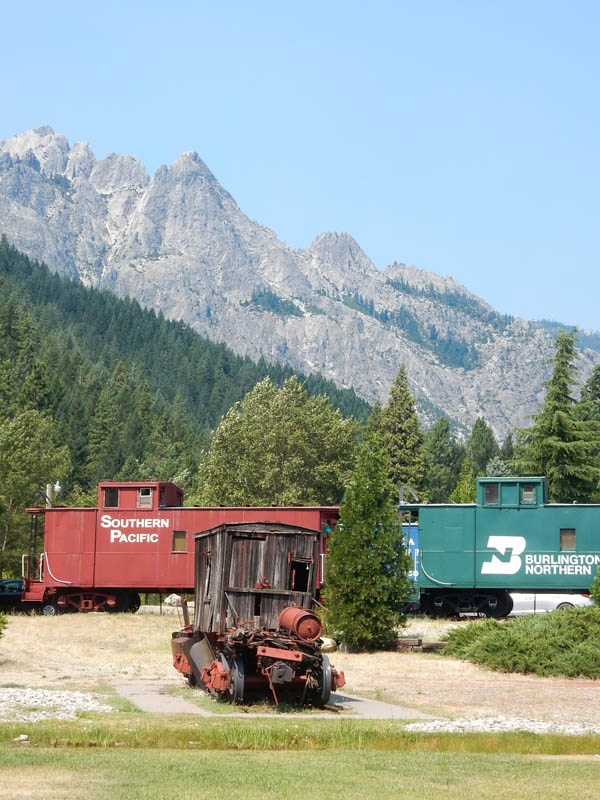 Cabooses and crags. The crags are volcanic plutons, bubbles of granite. Gary Crabbe's Photographing California, Vol. 1--North tells us that, "As the softer, more sedimentary ground was solely eroded away over the eons, these harder, massive crags remained."
The cute resort is full of railroad memorabilia, like this crossing sign where Eric took my picture.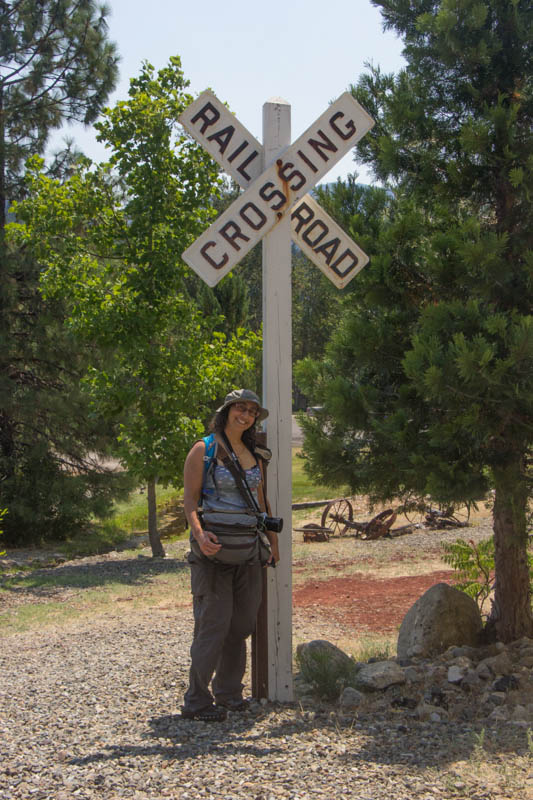 One of the cabooses was from the Great Northern Railway. For its own selfish reasons, the Great Northern played a significant role in the development of Glacier, Mt. Rainier, and Yellowstone National Parks. [Source: The National Parks by Dayton Duncan and Ken Burns.] Photo by Eric.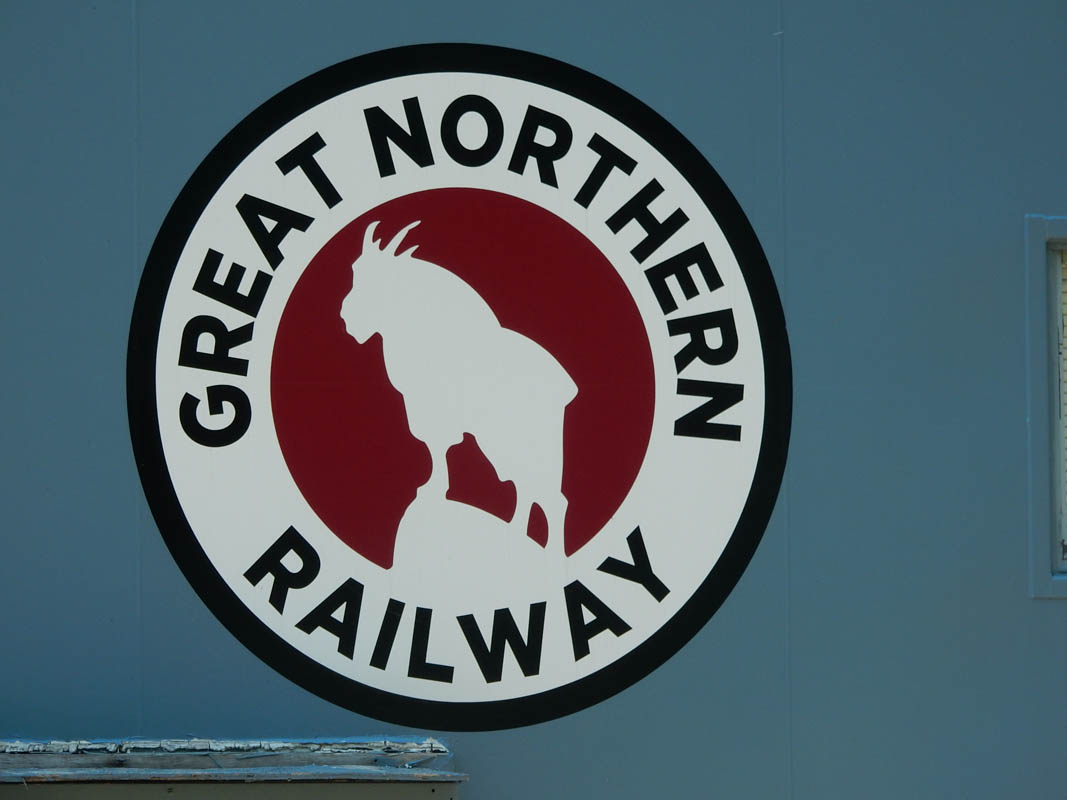 We didn't make our reservation this year soon enough to get a caboose, and ended up in this cabin.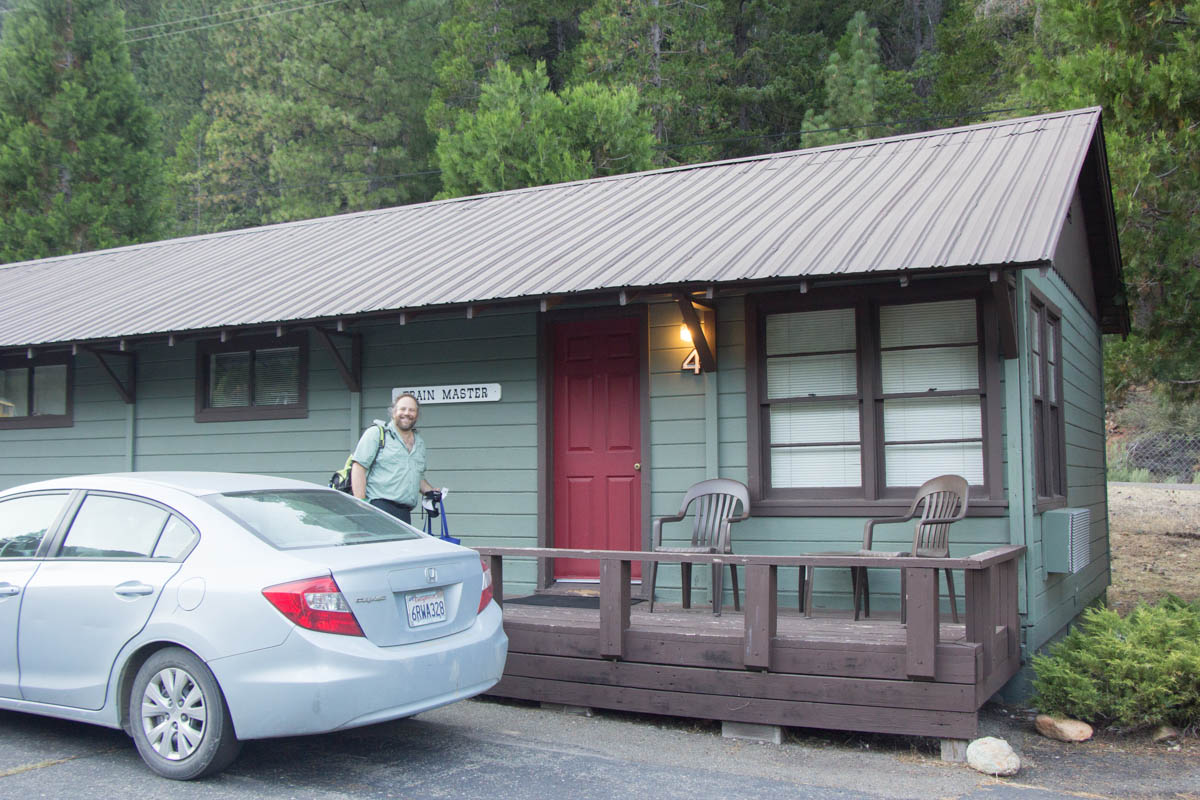 Cabooses outside our cabin.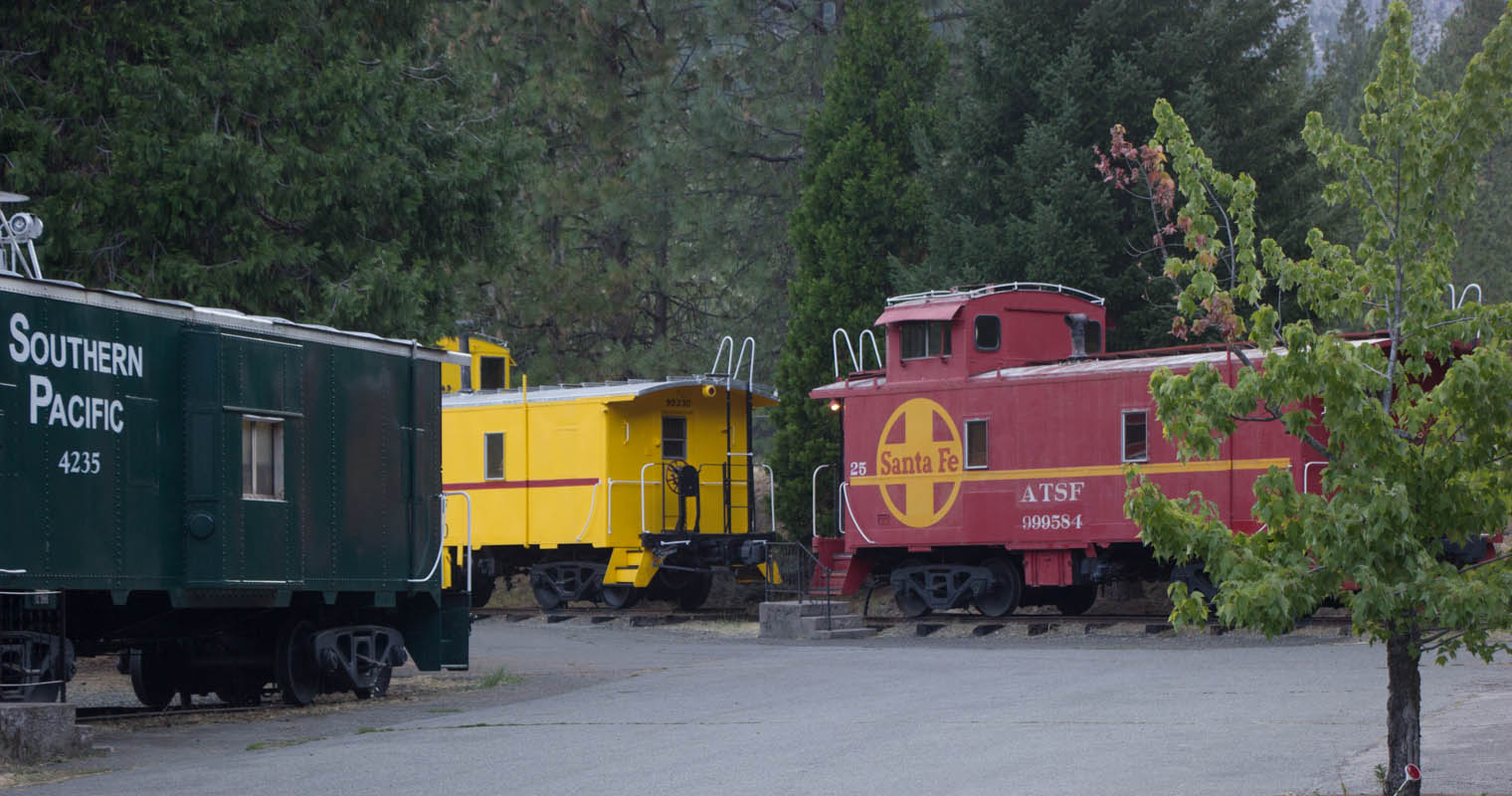 Eric took a picture of our living room.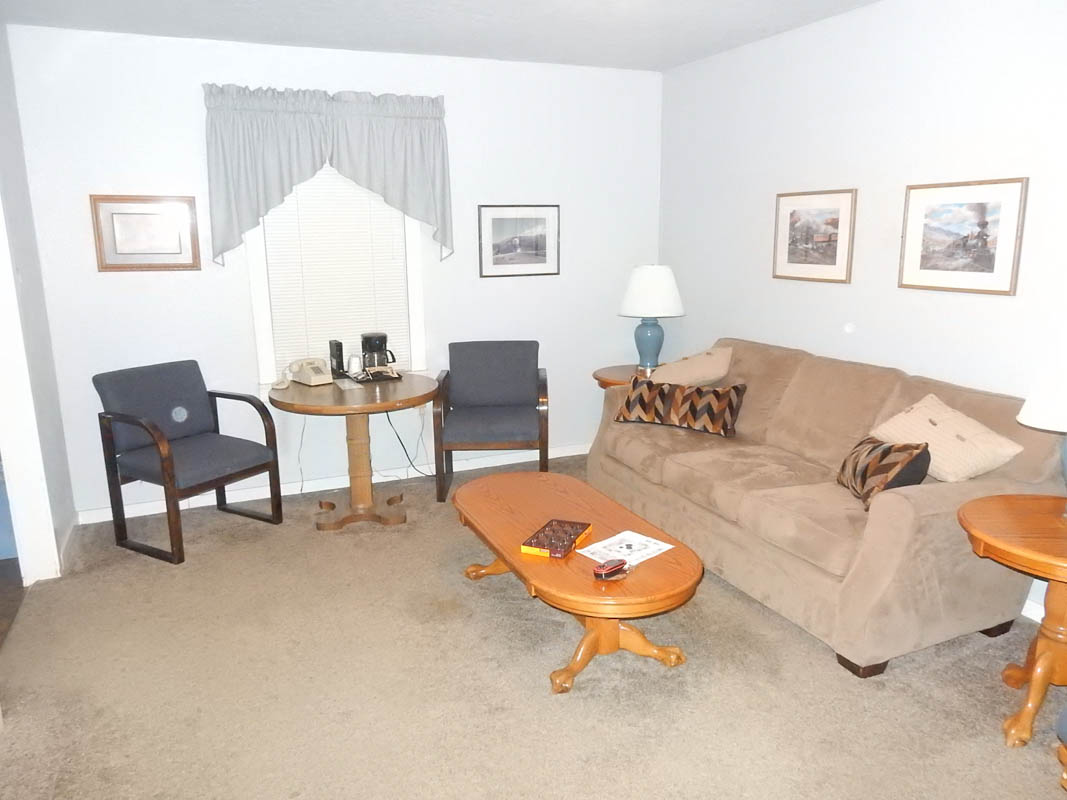 Photo of our bedroom by Eric.
Eric photographed the dining cars, converted to a stationary restaurant where we had a nice anniversary dinner Saturday and a breakfast buffet Sunday morning.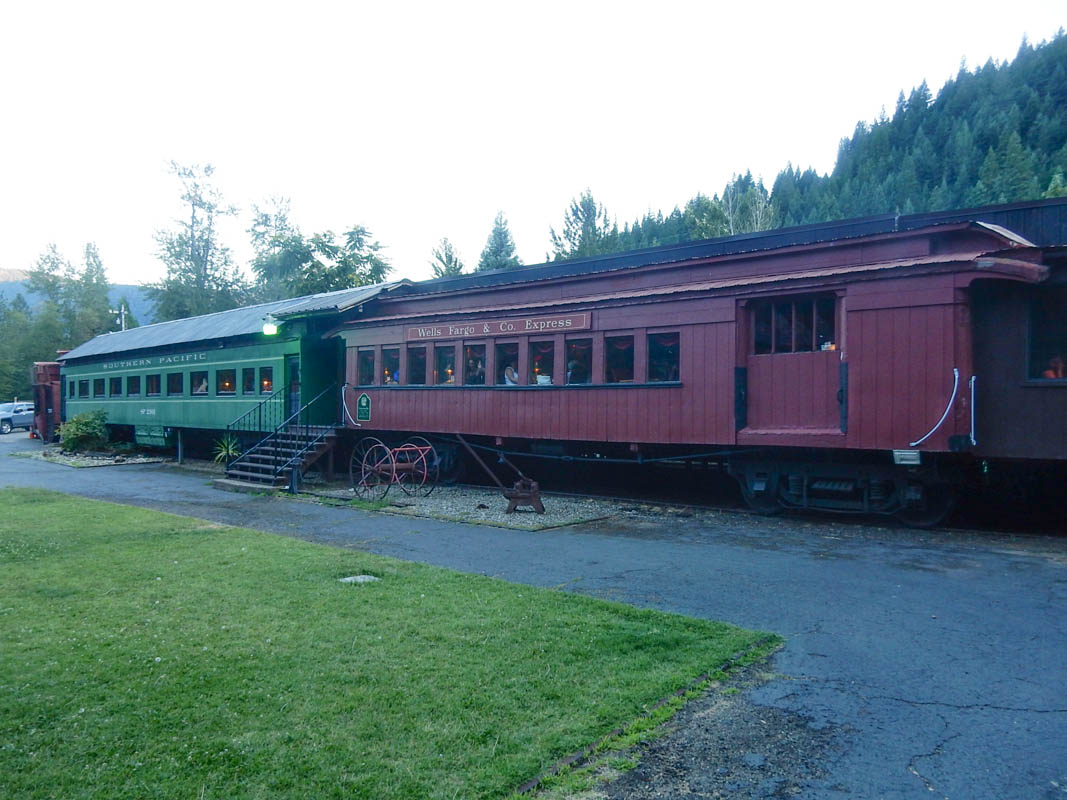 The women's room in the dining car was fancy.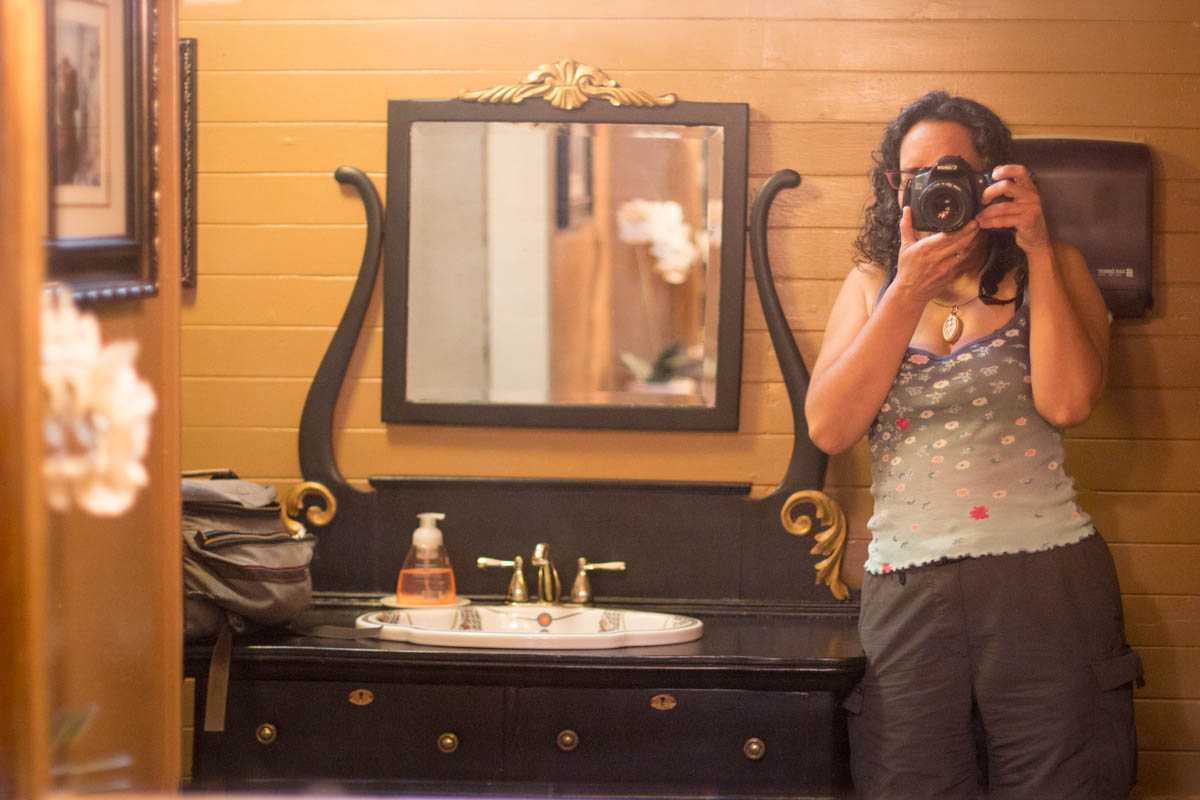 Detail of fancy sink.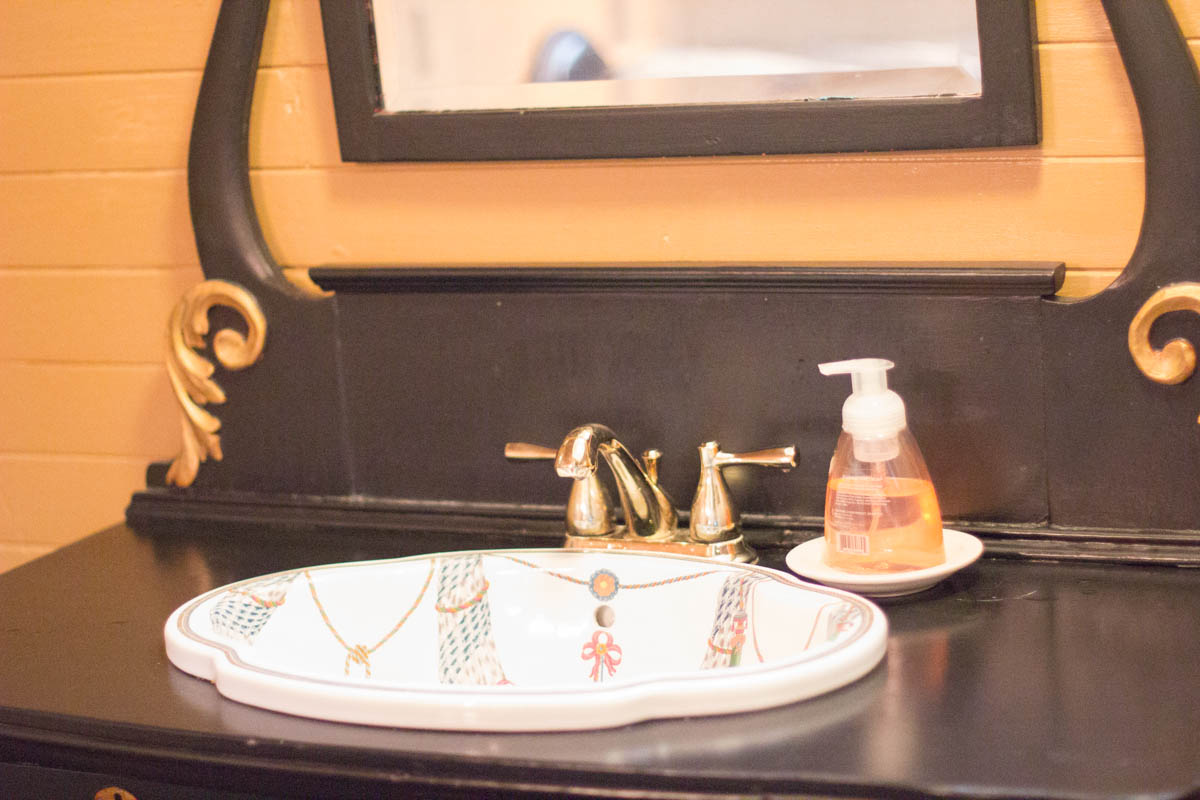 Happy Crater
In a very meta series of geocaches, a cacher called Crowbar placed geocaches in the shape of a smiley face. This is meta because, when you log a geocache, the site appears as a smiley face on the geocaching map. Log all eight of these caches (two eyes, a nose, and five forming a smile), and your map shows a smiley face made up of smiley faces. As geocaches must be placed 528 feet apart, it takes a large space to place a series of caches like this. Crowbar chose Timbered Crater, a remote volcanic crater in Shasta County. Eric had wanted to stop to find the series on the way back from our epic canoe camping adventure at Ahjumawai Lava Springs State Park last year, but I knew it would take too much time. Eric grumbled at the time that we would never return to the location, but I kept my promise. As it was only a 1:15 drive from Dunsmuir, we took the Saturday of our anniversary weekend to go out and find the Happy Crater caches.

We hadn't arrived at the resort until 23:30 Friday night, and then we slept until 11:00 on Saturday. We went into Dunsmuir for a hearty Mexican breakfast/lunch, where Eric took a picture of this cute map of the area. It's cute the way little McCloud Falls looks like it might be comparable in height to Mt. Shasta.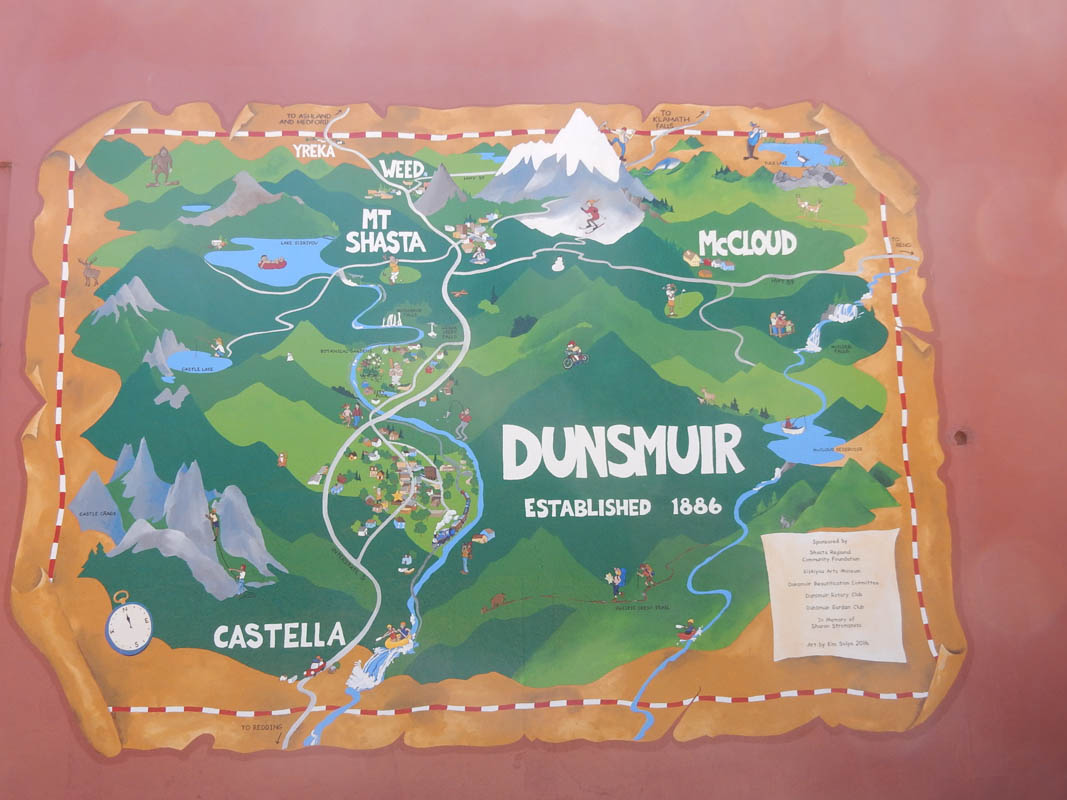 We drove out to the crater's remote location, which involved 15 minutes of driving on a dirt road with no other cars. I was pleased that I was able to beat the time estimate of our GPS, Lulu, driving on a dirt road in a Civic.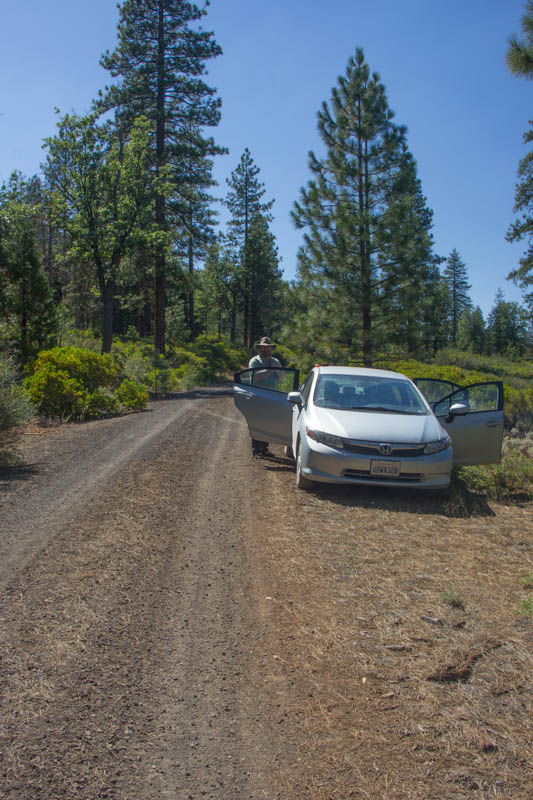 Of course, Sydney got very dirty again. Photo by Eric.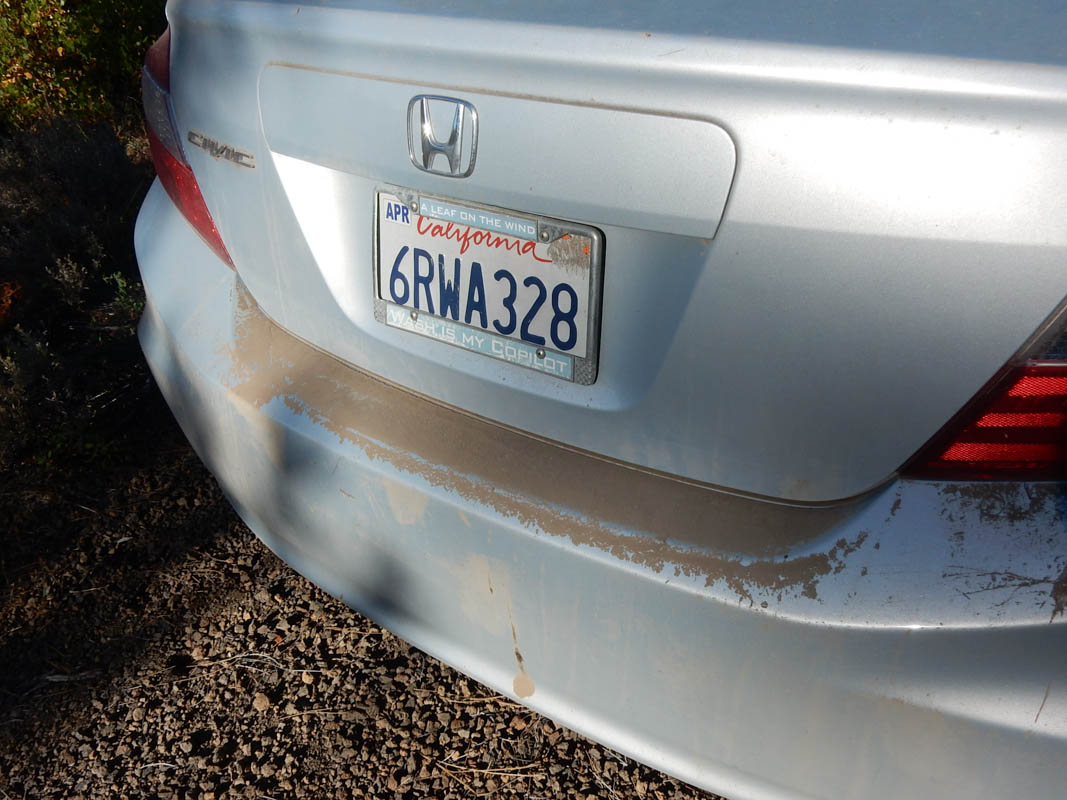 But still, by the time we got there, it was 16:00. And it was still miserably hot. Really hot. Suddenly our very late schedule seemed like an advantage. Also, we were thankful for having had a real kitchen in the cabin in which to freeze our Cambelbak bladders.
It took us about two hours to wander through the crater, trudging around sagebrush and manzanita, looking for ammo cans with little notepads like this inside them. Photo by Eric.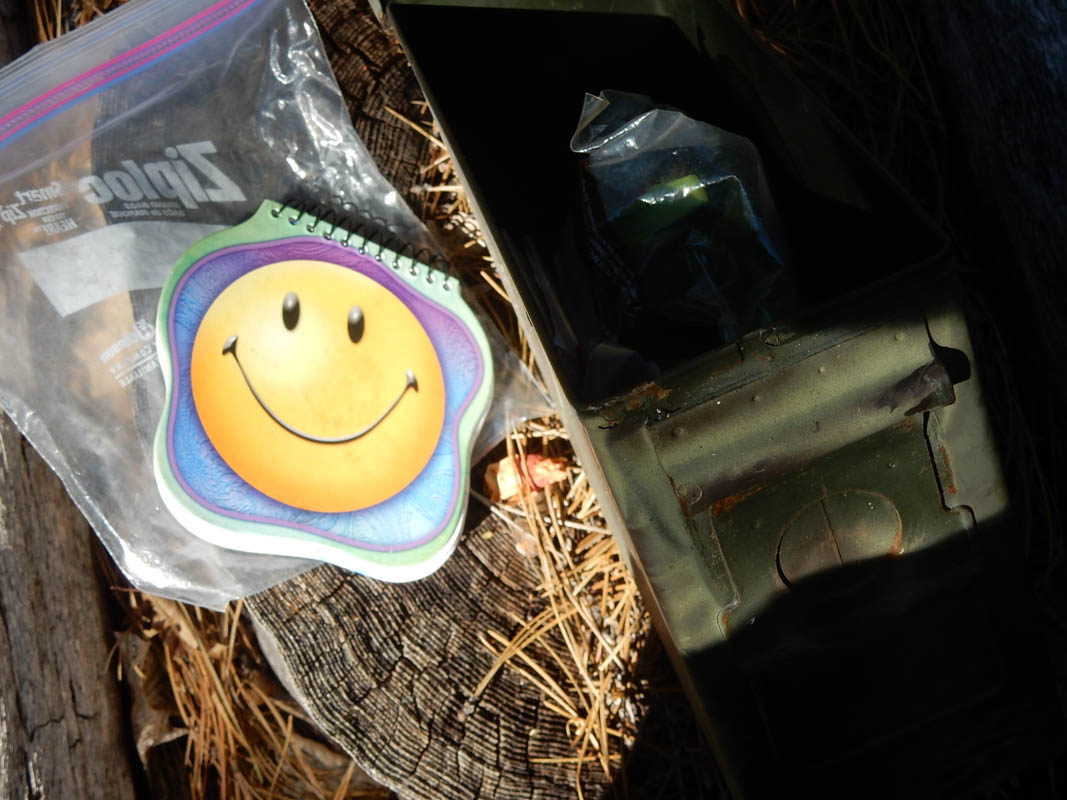 I played with my macro lens, photographing this Paintbrush.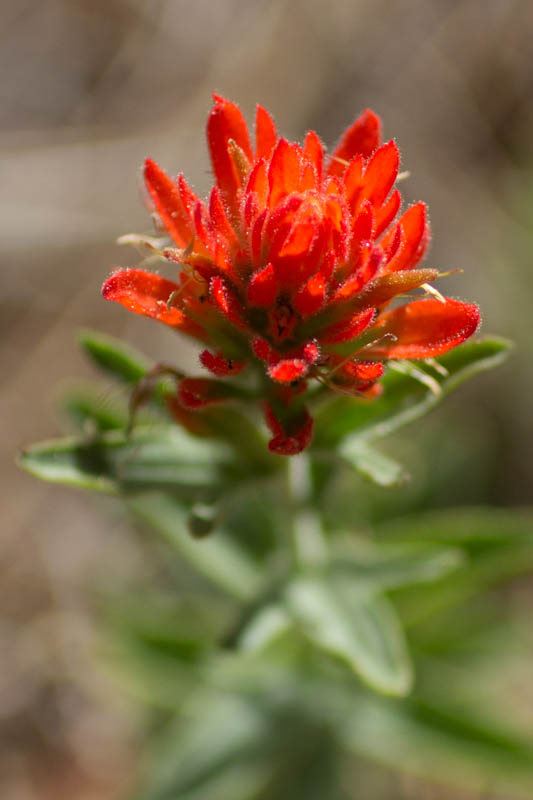 I was particularly pleased with this dandelion photo.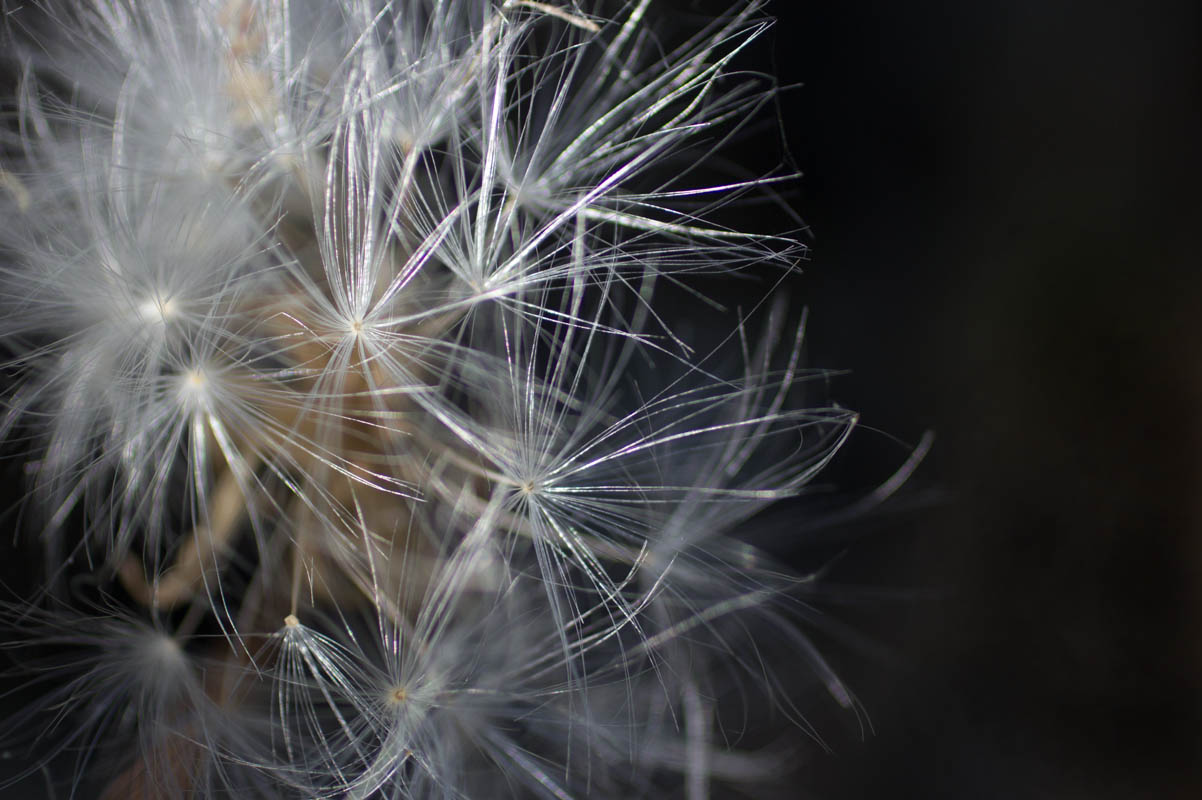 I was wearing boots, but Eric hates his hiking boots and was wearing sandals. His feet got so dirty in the crater that he took a picture of them.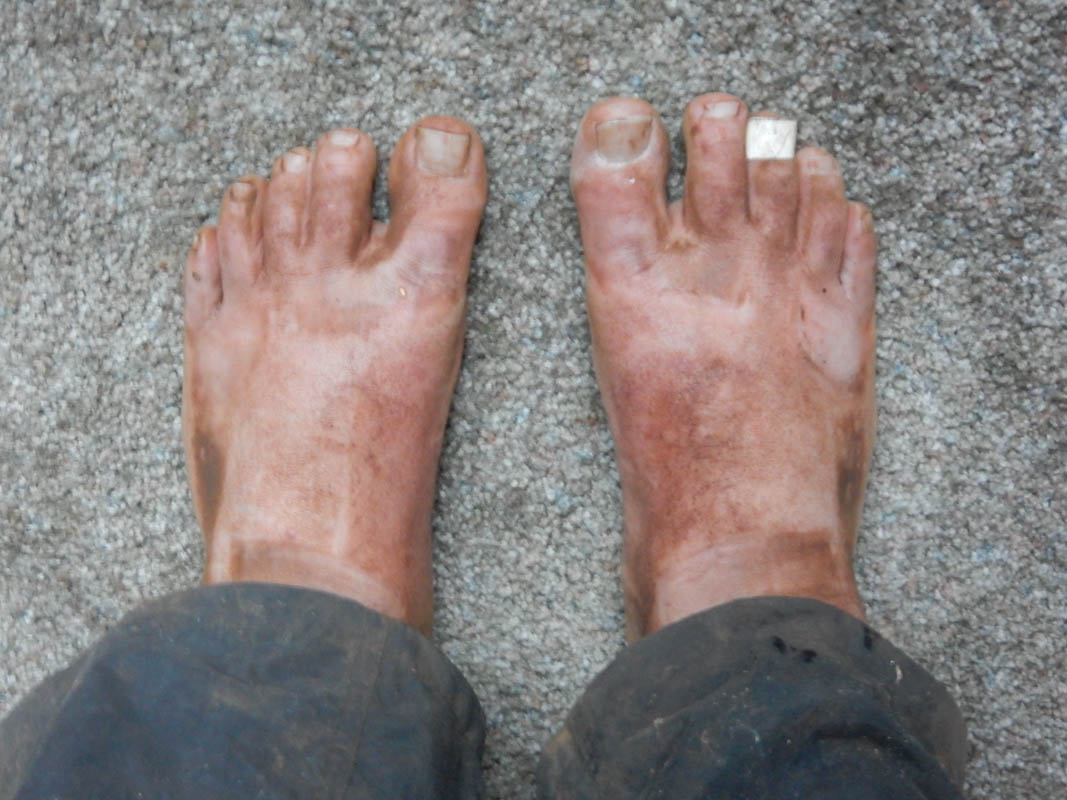 Lake Shasta Caverns
A few years ago, I took my father into his first lava tube, at Lava Beds National Monument, not terribly far from Timbered Crater. Since Dad knew I loved caves, when he came to visit last year, he bought me a book called California Underground Adventures. I found Shasta Caverns in the book, and thought this would be a great destination, on the way home from the Railroad Park Resort. The book tells us that Shasta Caverns is a limestone cavern high above Shasta Lake. Eric took a picture of the sign.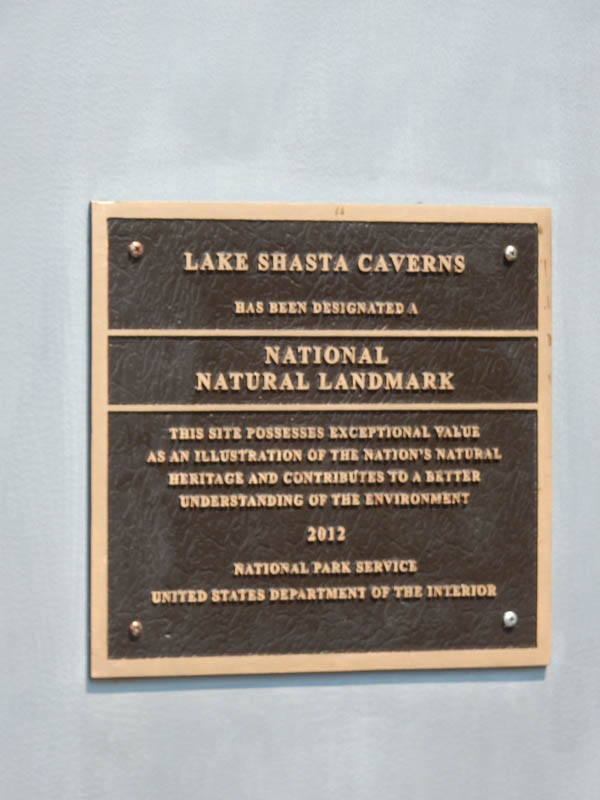 In order to get to the cave entrance, you must first ride a boat across the lake.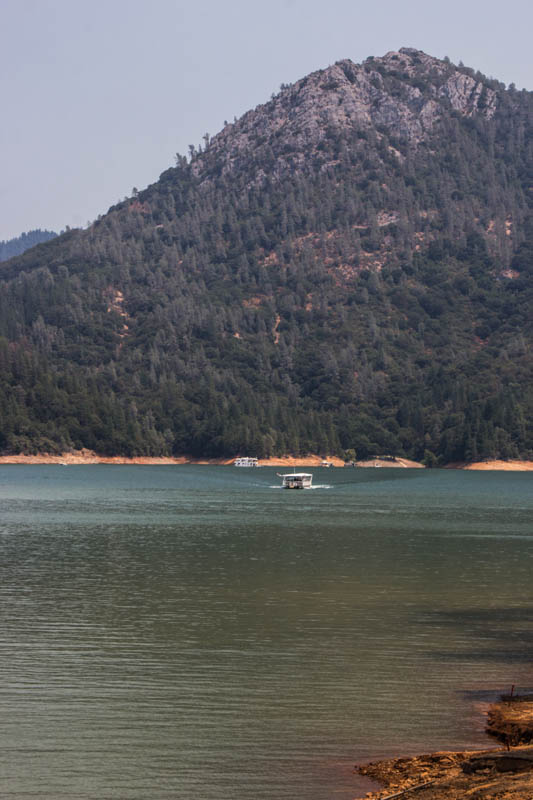 Eric took a picture of one of the boats.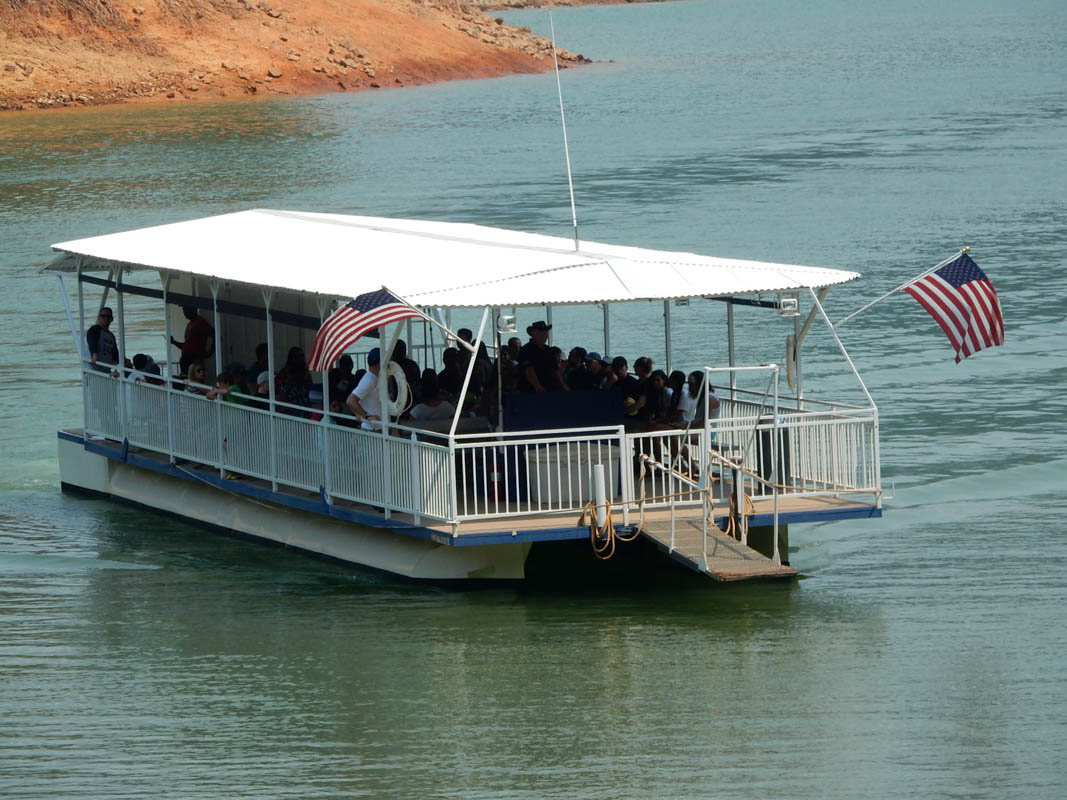 After the trip across the lake, you ride up a narrow, winding road in a bus. Again, it was beastly hot, and they wouldn't let us bring our Cambelbaks, because there's a place in the cave where tours pass each other on a narrow walkway. I brought a water bottle, but it was insufficient and I was very thirsty. I had brought a sweater for the coolness of the cave, but, even though we were inside for something like 45 minutes, I at best cooled off to merely comfortable.
Our guide, Addy, fresh out of high school and on her way to study earth and environmental studies at Tulane, explained that the cave was formed when carbonic acid cut through the limestone. We had a great tour through a cave full of fascinating formations.
A lovely stalactite.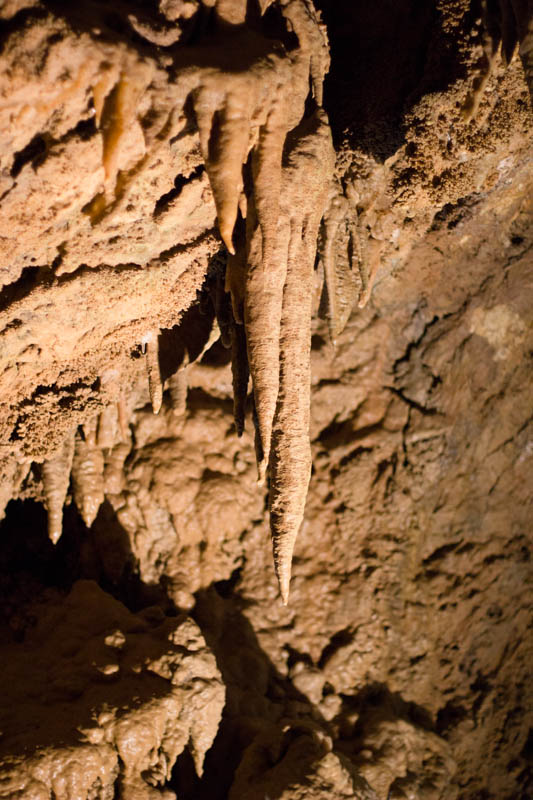 A drapery formation. Here, the rock was rich in calcium and thus had greater surface tension as it flowed. [Source: The Virtual Cave.]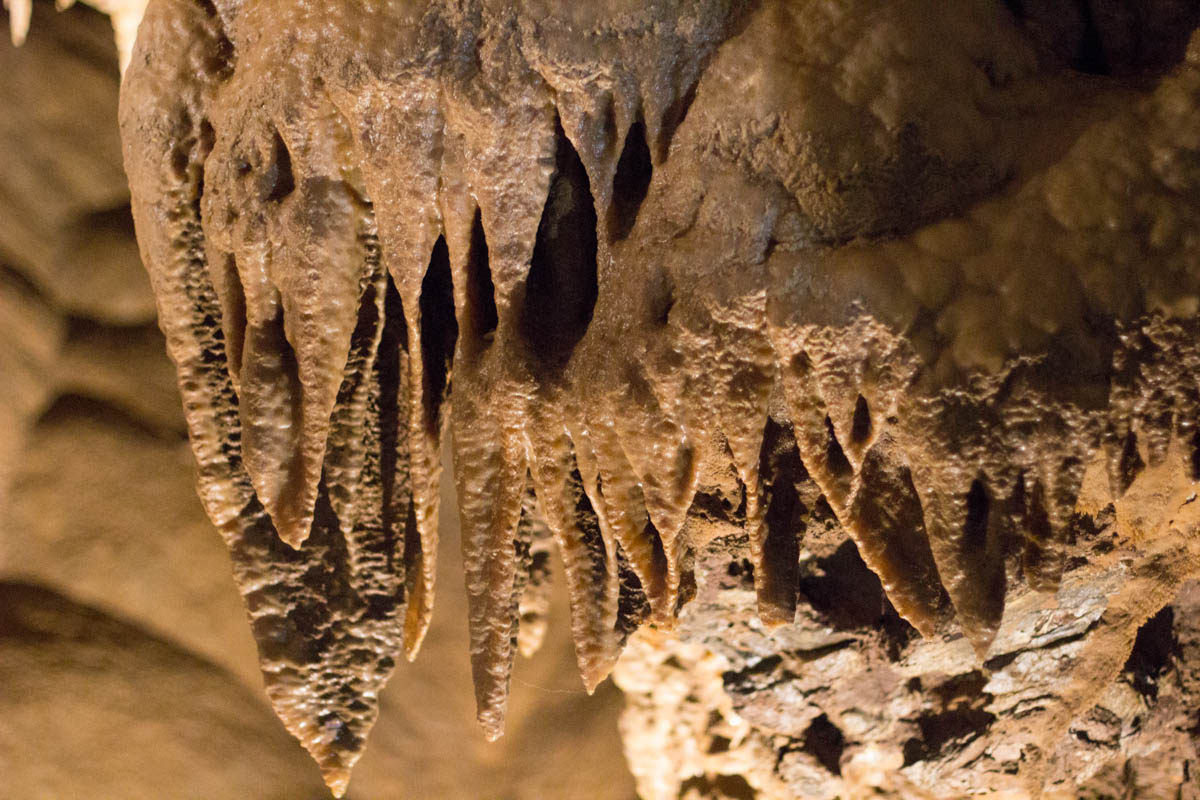 A lovely illuminated formation. I am not sure how to identify it; I think it is flowstone with some popcorn on top? The Virtual Cave site tells us that the origin of cave popcorn is complex and that it is formed under a variety of circumstances, both in the air and underwater. It is likely a product of evaporation.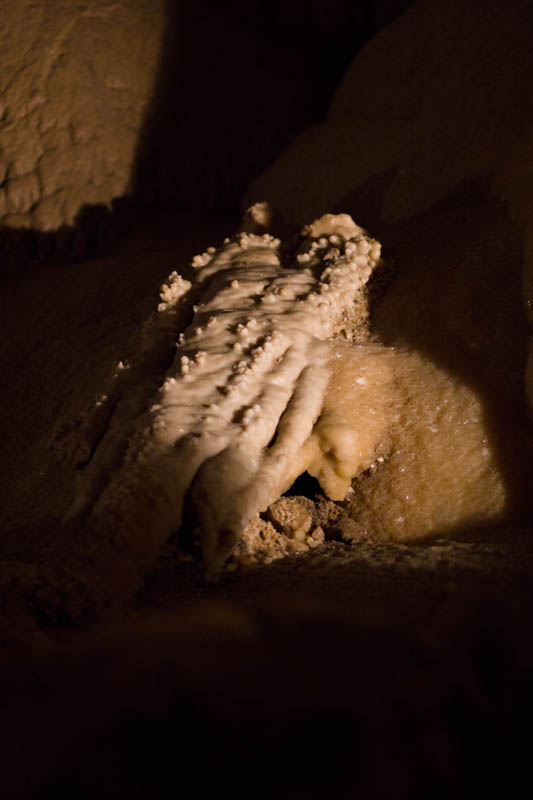 Helictite with cave coral. Helictites can be very weird-looking. The Virtual Cave says: "Helictites are formed by calcite-laden waters seeping through tiny pores in the rock. Hydrostatic pressure forces a small amount of the solution out, carbon dioxide is lost, and calcite is deposited. Growth continues through a tiny, central capillary chanel [sic], which the solution flows through via hydrostatic and capillary pressure to emerge and deposit calcite at the tip."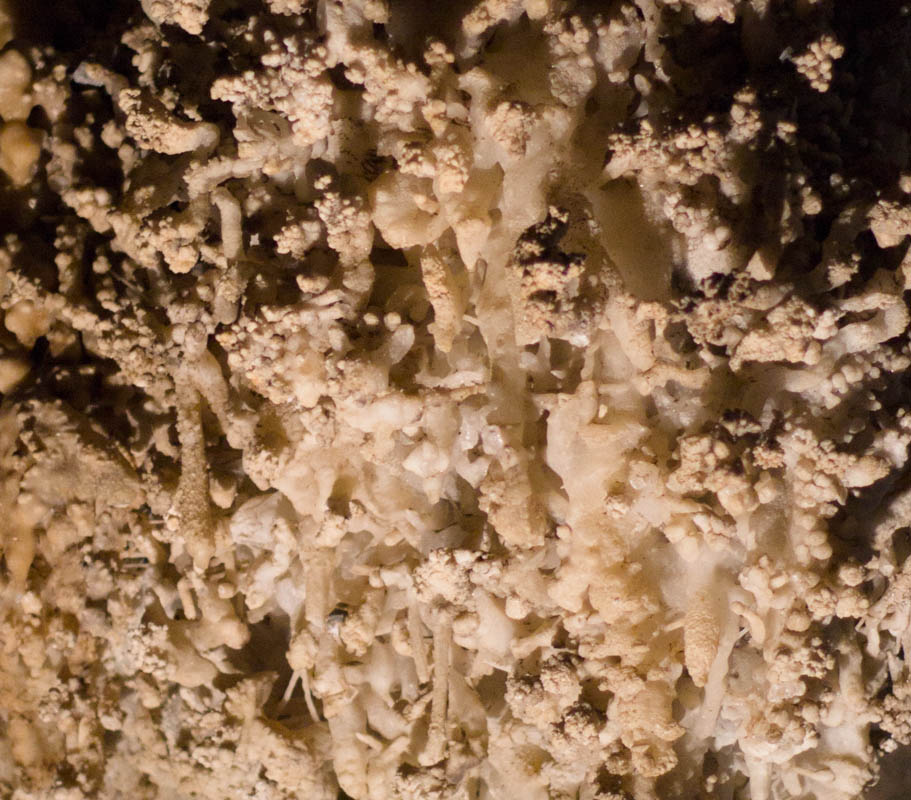 I think this is more helictite, but I'm not sure.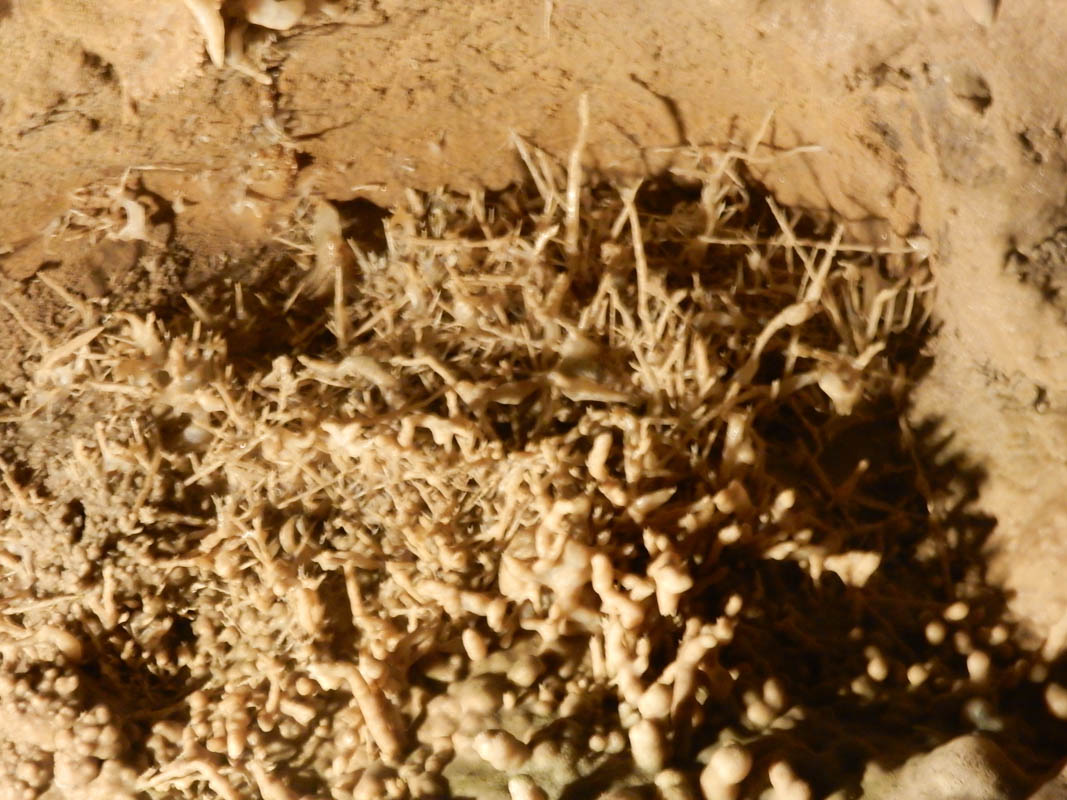 Stalactitites.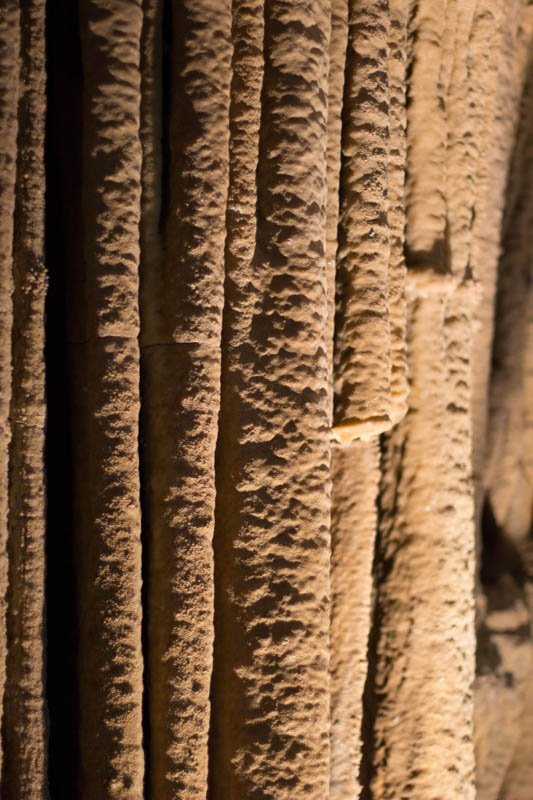 Signatures of Charles M. and James A. Richardson, discoverers of the cave. Charles was a native American whose name is not recorded in most online literature on the cave, and, while Addy told us what it was, we unfortunately do not remember.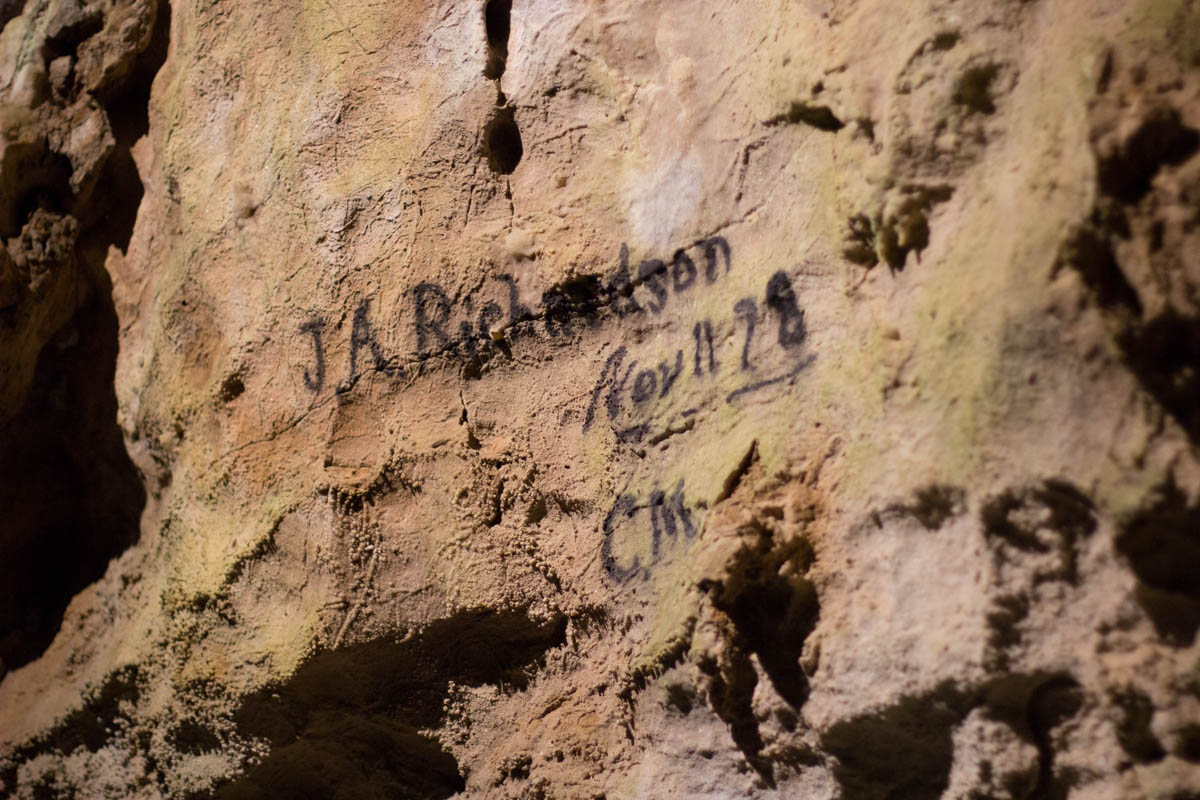 Older makeshift ladder formerly used to access the cave. Today, there are stairs with railings.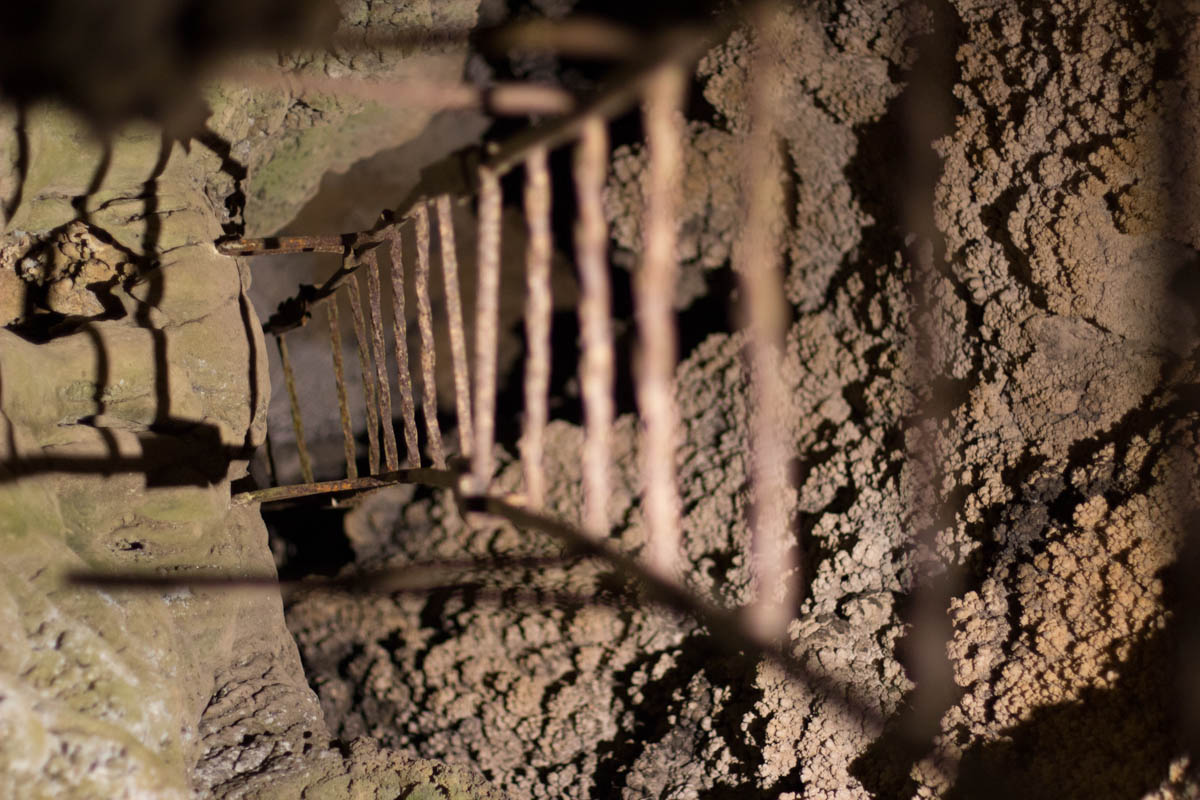 Flowstone. The Virtual Cave explains: "Flowstone forms from actively flowing water (rather than water squeezed through cracks) in which carbon dioxide is lost and carbonate material is deposited."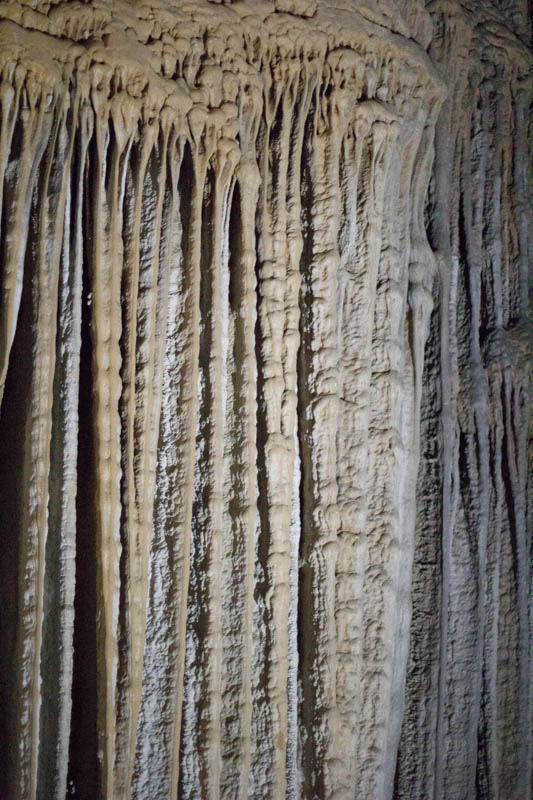 Layers of flowstone.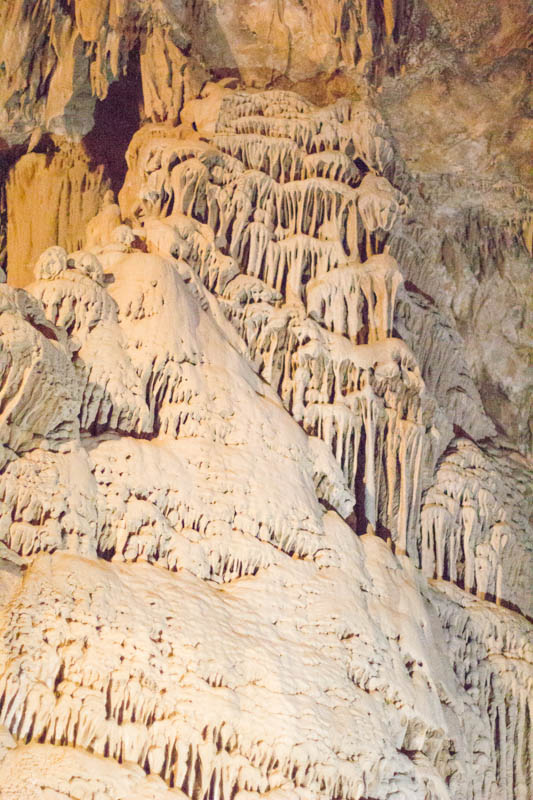 Flowstone.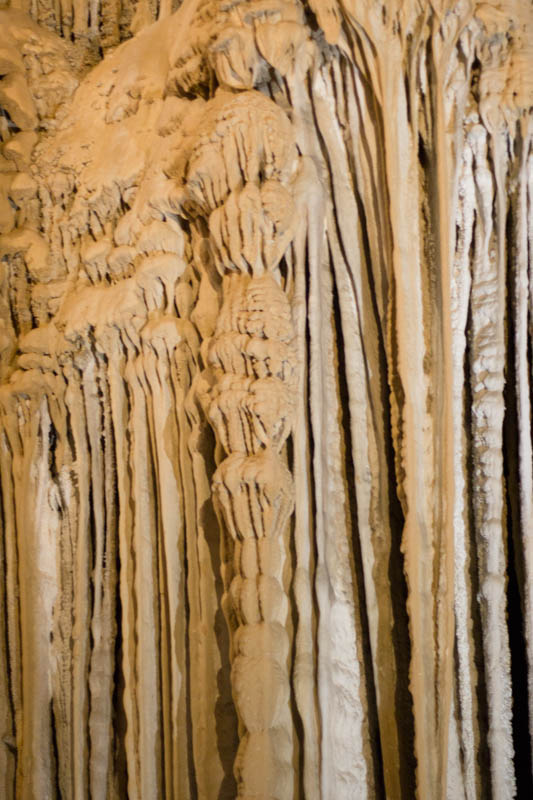 Draperies and flowstone, which, the Virtual Cave tells us, often form together.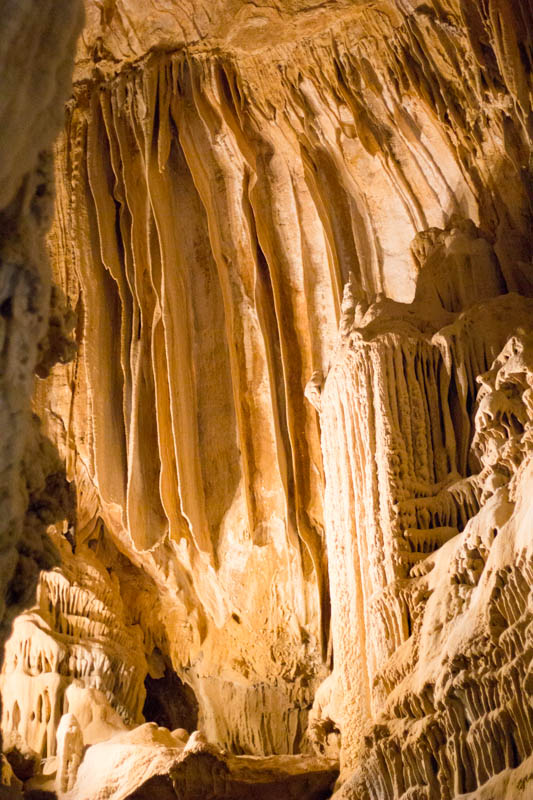 I was enchanted by this flowstone.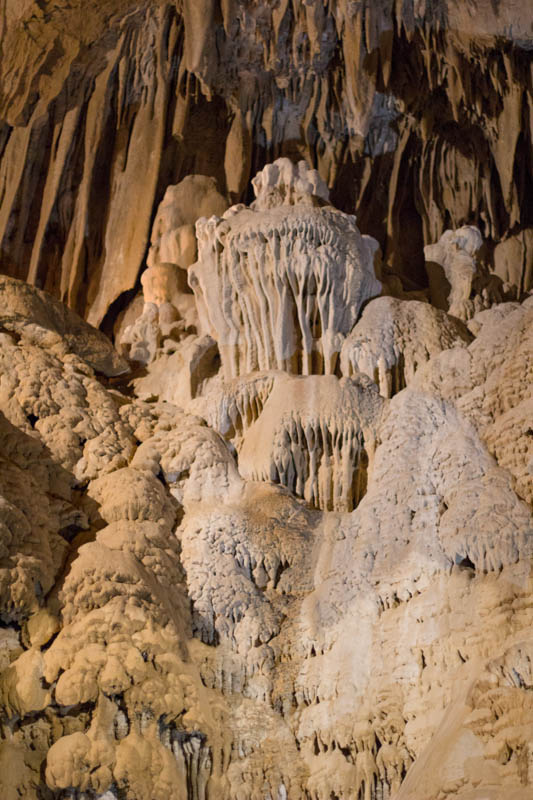 Flowstone.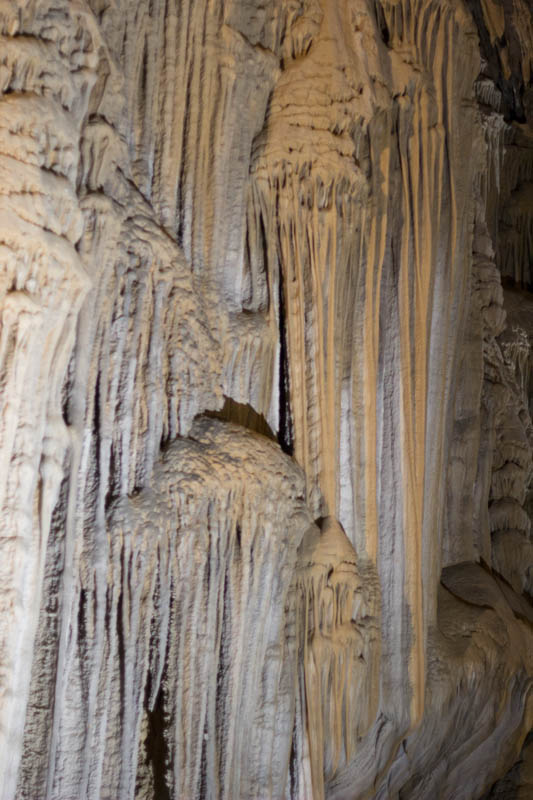 Thank you to speleologist Suzanne for her help in identifying the cave features!
View of the lake from up near the cave. It was so hot outside of the coolness of the cave.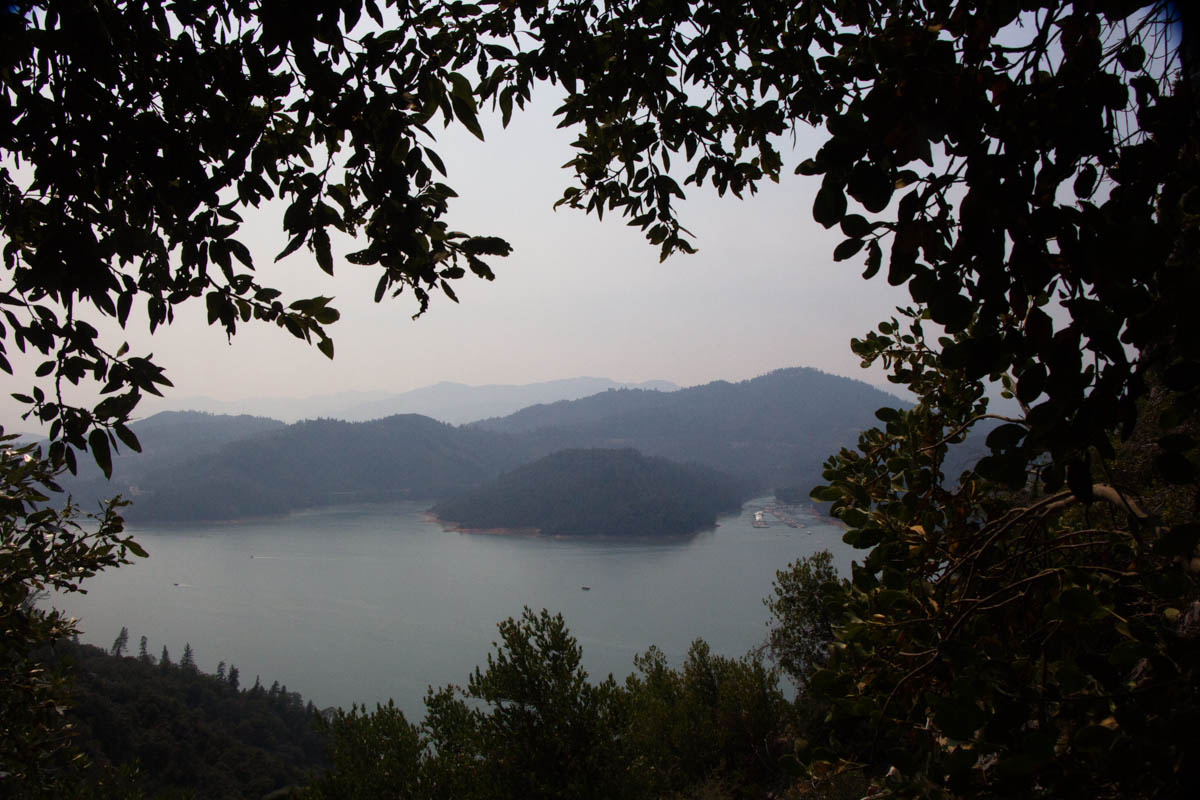 I took a moment in the heat to photograph Eric under the exit sign before we returned to the relief of our air-conditioned vehicle.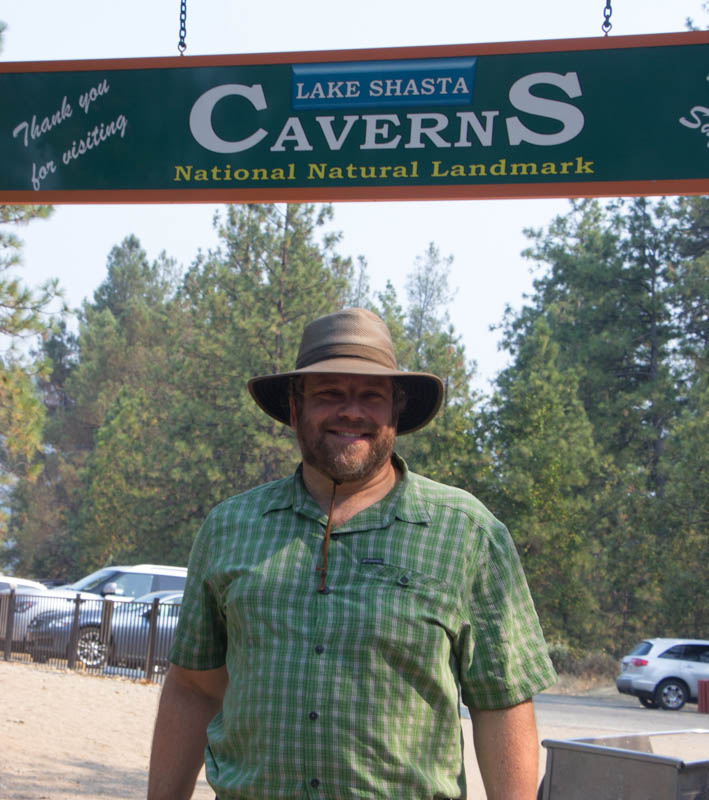 It was only 16:00, and we debated going back north to Dunsmuir to check out some waterfalls, since this was such a spectacular year for snowfall in California. But the heat left us uninspired, and we were anxious to return to our kittens. We stopped at Granzella's in Williams for dinner, and particularly enjoyed the rich gelato there. We returned home after a sweet, romantic, geologically wonderful trip. I look forward to returning and seeing more of the sights to explore in this exciting and beautiful area.
---