---
Mammoth Lakes
Saturday 26 - Sunday 27 June, 2014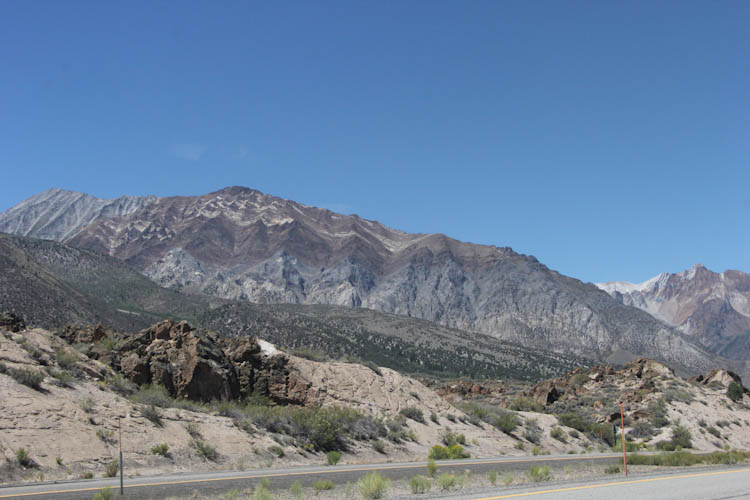 Planning
Once again, the time has come for a little anniversary getaway. We celebrated our 2002 anniversary up in Mammoth Lakes, camping on lovely June Lake. We had explored Mono Lake and the Inyo Craters. We were fascinated by this stark, high-elevation volcanic landscape. My mother had expressed a desire to see Mammoth Lakes, and I made plans to take her for her birthday, the week before our anniversary. When I started reading about things to do in the area, I read about some very fun-sounding hikes in the Devil's Postpile National Monument that were too long for Mom. So, Eric and I decided to go back up again for our anniversary.

As my readers probably know, my Mammoth trip with Mom was not at all peaceful and uneventful. I spent 45 minutes taking turns at performing CPR on a man who had collapsed on a trail at over 3,000 m (10,000 ft), in wilderness territory. I later found out that the man did not make it. So, while Mom and I had both enjoyed the scenery a great deal, we had been unsettled by the middle-aged man's untimely collapse. I decided that, while we would spent Saturday at the Postpile, on Sunday, I wanted to return to the spot and show Eric the territory.
Area Geology (More Interesting Than You Probably Think!)
The Mammoth Lakes are on the high, eastern side of the Sierra, still in California but getting close to the Nevada border. The minimum elevation in the area is around 1,200 m (4,000 ft) in the south toward Bishop, and more like 1,800 m (6,000 ft) in the northern part near Lee Vining. The Rainbow Tarns B&B is at about 2,100 m (7,000 ft). The eastern side of the Sierra is sloped much more steeply than the western side. It is known for spectacular scenery, skiing, hiking and mountain biking. Most of the territory is federally owned and managed by the US Forest Service as the Inyo National Forest, and much of it is wilderness. The famous John Muir and Pacific Crest Trails wind through this area.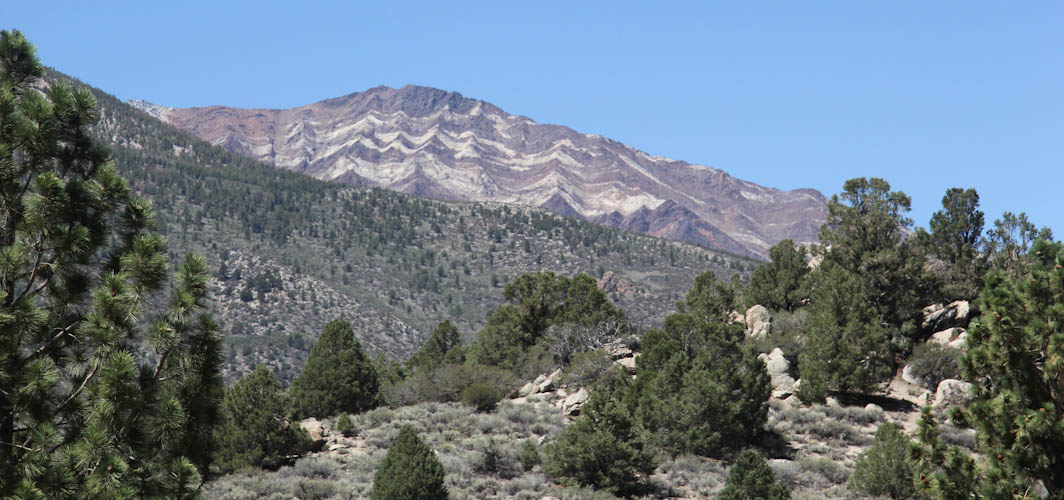 The Mammoth Lakes area is technically part of the Basin and Range area, the valley between the Rocky Mountains and the Sierra, comprising the State of Nevada and parts of Utah. The gap between the mountain ranges has been widening. The area has faults on the east and west sides that curve underground and push the mountains up as the valley slides down along the insides of the curves. (Roadside Geology of Northern and Central California, Alt and Hyndman)
This area is decisively volcanic. It contains the large Long Valley Caldera, the Mono and Inyo craters, and several earthquake faults. Earthquake swarms continuing from 1978 through 1984 prompted the US Geological Service to issue a hazard warning and to set up seismic monitoring stations throughout the area. (Fire Mountains of the West, Harris) Stephen Harris describes the Long Valley region as "California's Potentially Most Dangerous Volcanic Field."
The type of volcano at Long Valley is called a resurgent caldera. There is only one other one in the United States, the potentially extremely hazardous volcano at Yellowstone. This type of volcano is known to produce monstrously large eruptions. No resurgent caldera has erupted since the invention of writing, so the only records of such catastrophic eruptions are geologic. (Roadside Geology of Northern and Central California, Alt and Hyndman)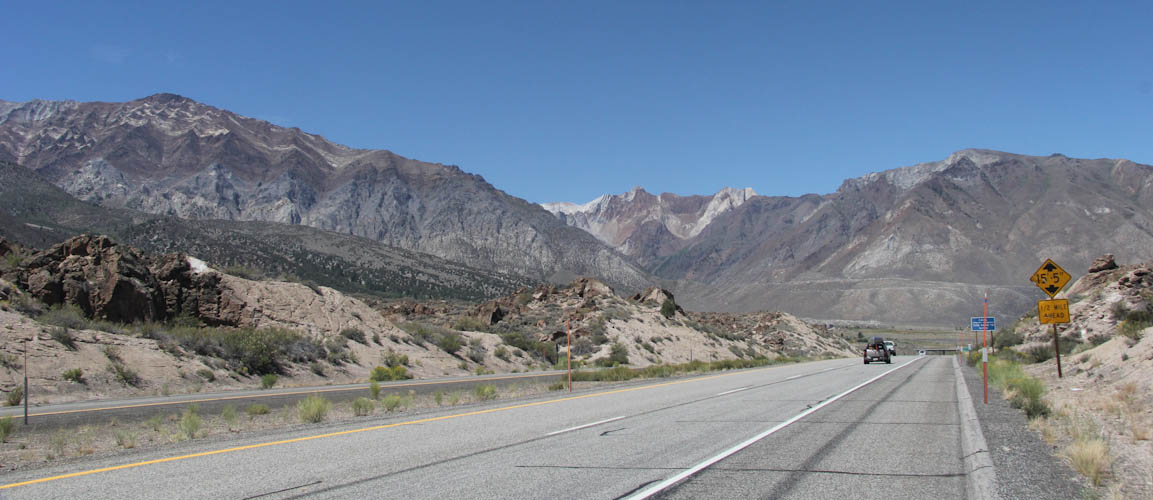 The Long Valley area had its last major eruption about 700,000 years ago. Ash from the eruption has been found as far from the area as central Nebraska. 140 cubic miles (I don't know how to do this metric conversion) of matter was ejected by the volcano, almost four times as much matter as was ejected by the very large historic Mt. Mazama, which became Crater Lake in southern Oregon. (Fire Mountains of the West, Harris)
After all of the volcanism, glaciers scraped the area. Evidence of glaciation is particularly fascinating at the Devil's Postpile, as we shall see. (US National Park Service) All of this geologic activity creates a fascinating and dramatic landscape. Since this high-desert area is to the east of the Sierra, it is in the rain shadow of the mountains. Thus, it is populated by drought-tolerant, high-elevation plants, such as sage. Sage is everywhere up here, and its smell is intoxicating.
Rainbow Tarns Bed & Breakfast
As usual, I looked at Lucy Poshek's Offbeat Overnights in California, and I found the Rainbow Tarns Bed & Breakfast. I had intended to spent Friday night somewhere on the way up, like Groveland, but when I spoke to Brock from Rainbow Tarns on the phone, he encouraged me to come all the way up Friday night. He said that he would be willing to stay up until we got there, even if it were not until 1:00 am. I agreed, because we would start the day already fairly close to our destination (rather than with several hours still to drive), it would give us more time to acclimate to the elevation, and we would get the benefit of Brock's wisdom on our way to the trail, as he seemed to know quite a bit about hiking trails in the area and was full of advice.

Rainbow Tarns Bed & Breakfast. Photo by Eric.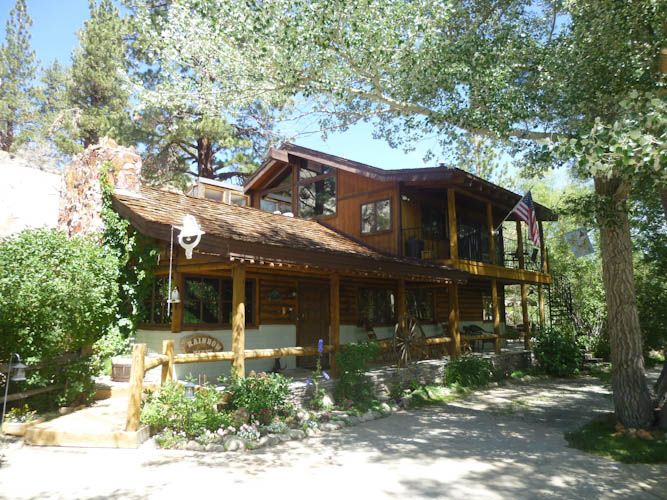 I decided to try a new strategy of doing my physical therapy exercises and other getting-ready-for-bed preparations before leaving. By leaving a little bit later, I thought we would avoid some traffic, and I would be more or less ready to go to bed when we arrived. This worked very well, except that a miserable BART delay cost me 15 minutes. I had hoped to be on the road by 19:00, and instead we were unable to leave until 19:22. I had, as usual, bought Subway sandwiches at lunchtime so that we could eat dinner on the road. We took CA 120 through Yosemite National Park, over the Tioga Pass, saving the $20 charge by arriving after 23:00. Even with minimal stops, though, we did not get to Rainbow Tarns until 0:40.
But Brock was, as promised, up and pleased to meet us. Also pleased to meet us was Gibbs, the B&B's very friendly dog. Brock got us settled into our room and arranged for breakfast at 8:30.
Gibbs. Photo by Eric. Gibbs loves belly rubs and demands them with great frequency.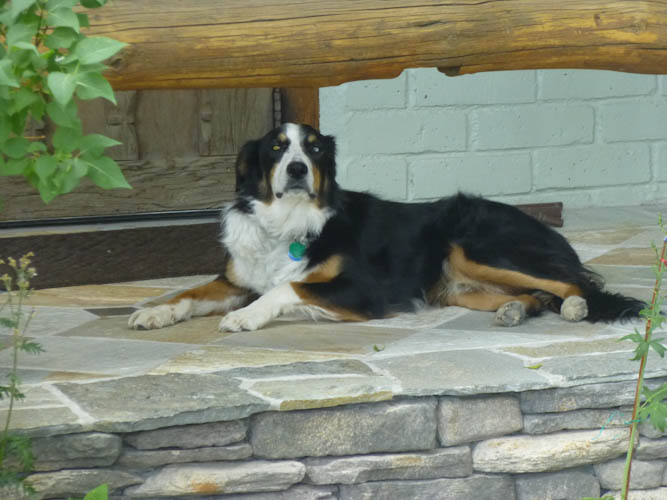 The main room at Rainbow Tarns.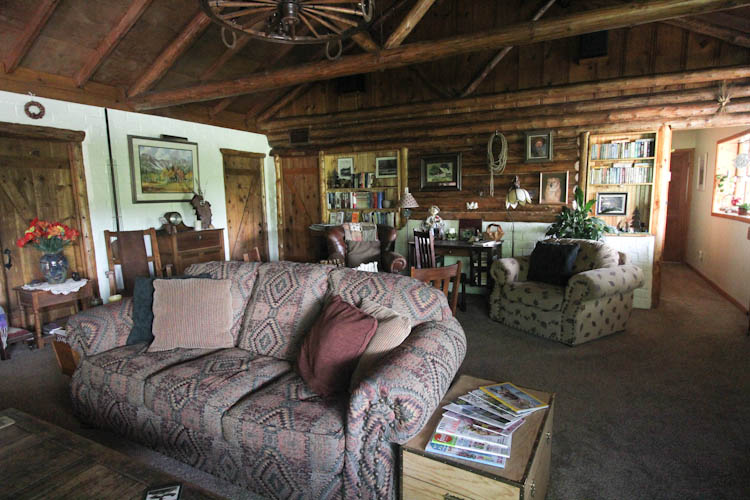 Our little room, Grandma's Room.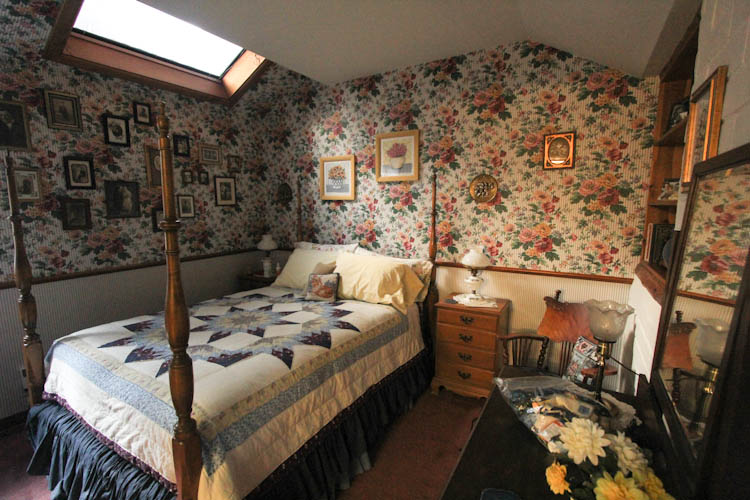 View through the skylight in our room. Photo by Eric.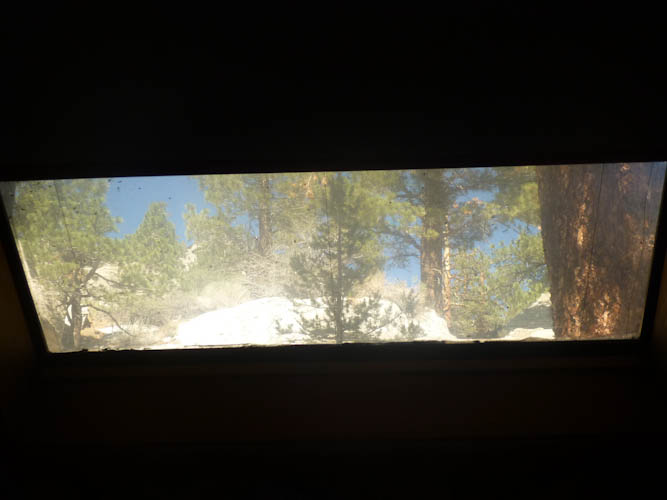 The tarns (essentially glacial puddles) themselves.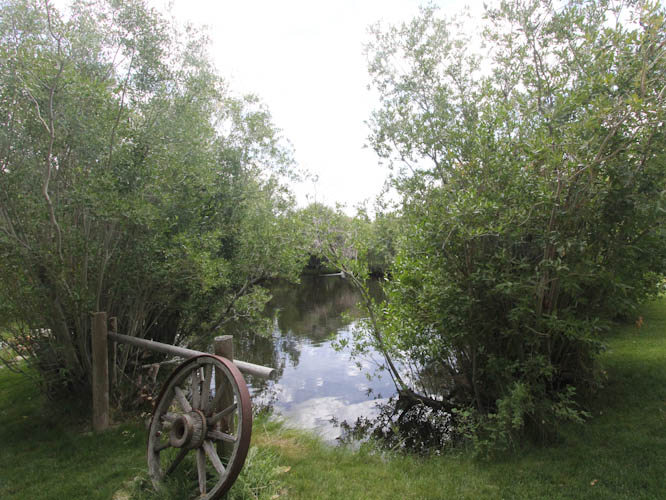 Eric's view of the tarns.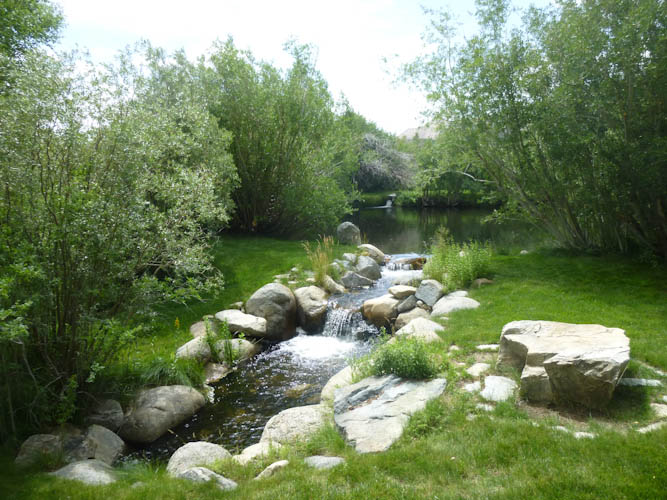 Other parts of the grounds, as photographed by Eric. Note the geology in the background.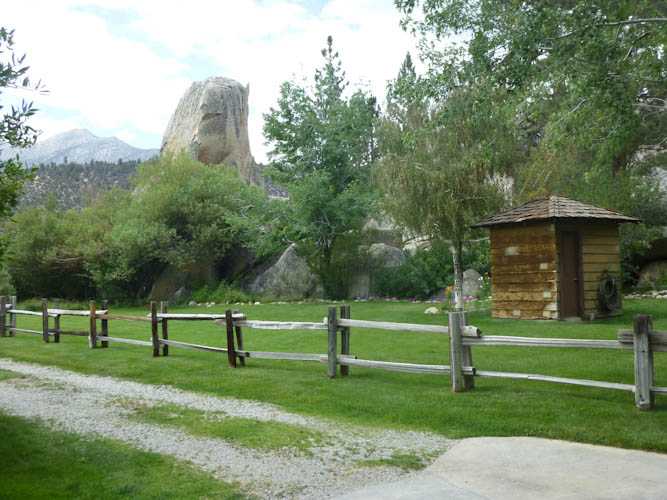 Landscaping with desert plants at Rainbow Tarns.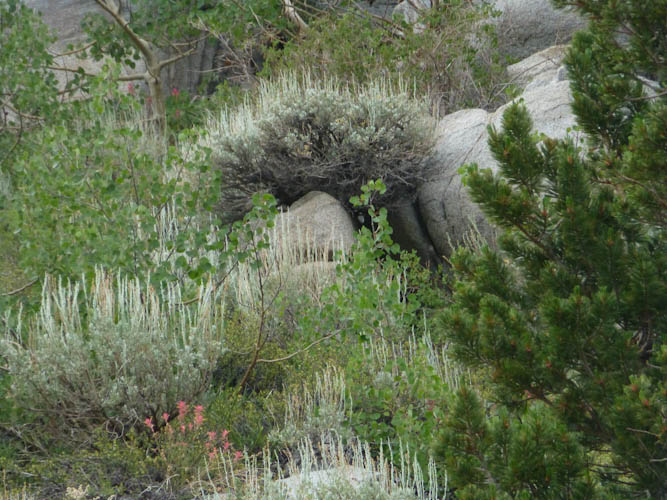 We very much enjoyed staying at Rainbow Tarns. Brock and Diane were very friendly, gracious hosts. Brock was just full of information about the area, and was extremely helpful with everything. He recommended restaurants, made dinner reservations for us, and gave us clear directions. He showed us the map of the Devil's Postpile and told us exactly where to hike, making recommendations for a more interesting adventure. Both breakfasts were very good, and there were wine and hors d'oeuvres in the late afternoon. We'd definitely like to stay there again someday, hopefully for a three-day weekend so we would have more time to acclimate to the altitude before doing serious hiking.
Brock took our picture with Gibbs on the front porch.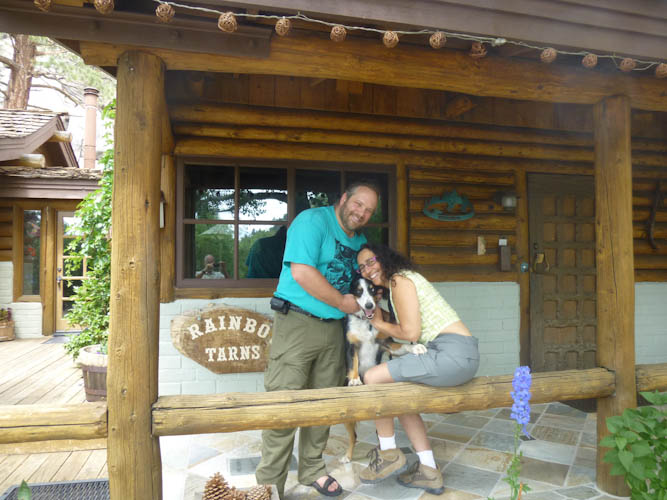 Devil's Postpile National Monument
The Devil's Postpile is a singular example of columnnal basalt. The National Park Service brochure says that, "The symmetrical vertical and hexagonal columns formed because this particular eruption provided ideal conditions: the lava cooled slowly and its mineral composition was consistent."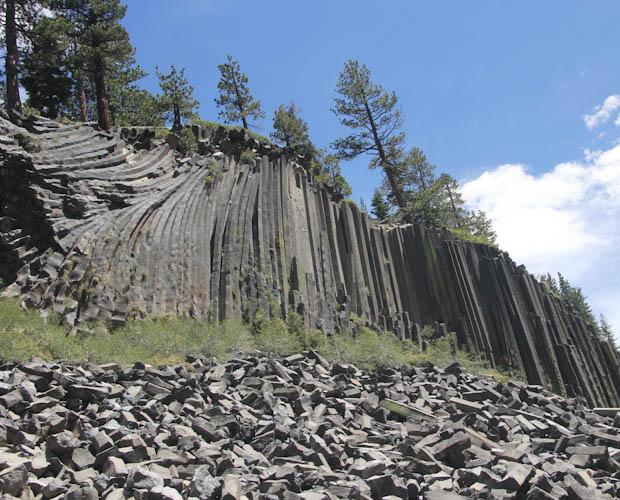 Visiting the Devil's Postpile is a bit complicated, because, unless you arrive ridiculously early in the morning or late in the evening, you can't drive your own car into the Monument, but have to take a shuttle bus. There was an irritating level of confusion over whether the buses ran every ten minutes or every twenty minutes (which, as I pointed out, is a 100% difference), but it seems they regularly run every twenty minutes but that they bring out more buses and go every ten minutes during busy times like summer Saturdays. You have to park at the very touristy resort in Mammoth, and then walk a long way along the road, uphill, in heat and bright sunshine, at nearly 2,750 meters (9,000 feet) of elevation, from your car to the shuttle bus stop while under the seemingly near-constant assault of reckless children on mountain bikes. We sure didn't want to spend any extra time in this area waiting for a shuttle bus.
Things were better once we got through the shuttle bus ordeal and I had a chance to go to the bathroom. Then, we could start seeing some interesting geology.
During my trip with Mom the previous week, I had experienced the same failure of my primary lens, a 17-85 mm, that I had on her birthday trip two years earlier: a failure of the lens contacts to connect with the camera properly. I had replaced the lens in October of 2012, right after Mark died. I was unbelievably annoyed that a lens only about 21 months old would fail. With only 2.5 weeks before we set off for major photography in Iceland, Eric and I had bought a used replacement on eBay for $170. The lens was sold "as-is," but was also advertised as in "very good condition." It worked great at home, but at the Postpile, however, it became apparently that the lens wasn't such a great deal after all. I had major autofocus problems, and we want our money back. I kept trying to find the right focus manually, and then, the lens started exhibiting the same contact problem as the other two. This was really frustrating. Now with only 1.5 weeks before our big trip, we had to buy yet another lens, and couldn't take the chance on another used one. I would spend most of the rest of this trip shooting with my 17-22, so you'll see a lot of wide-angle shots.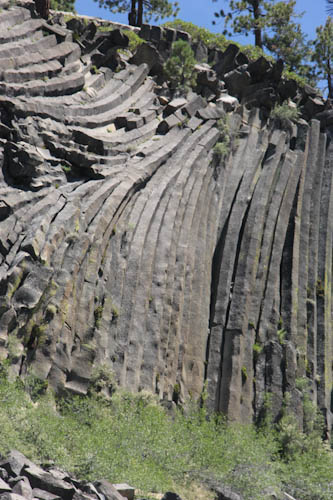 After the volcanic event that created the Postpile, a glacier came along and sheared the tops off of the columns, exposing their hexagonal shapes.
The top. Photo by Eric.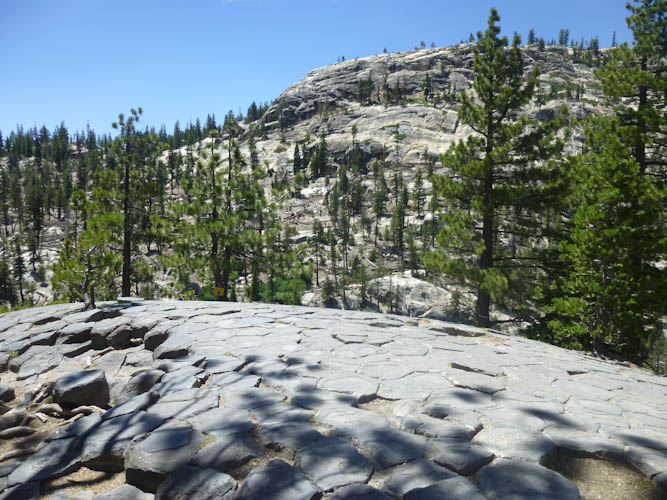 Detail of the top. Photo by Eric.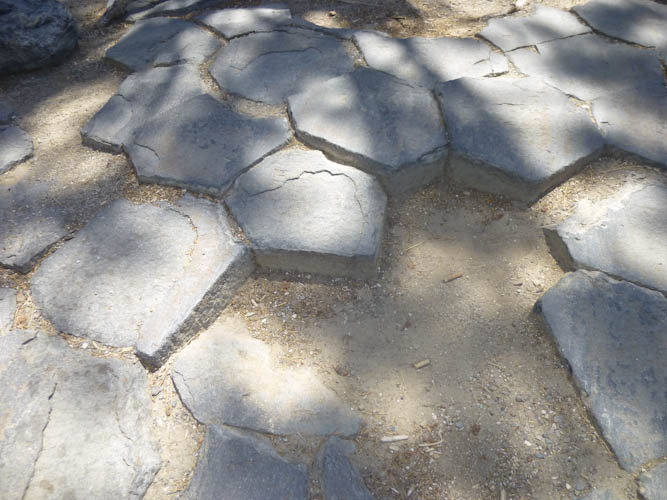 Eric noticed this tree growing between the columns.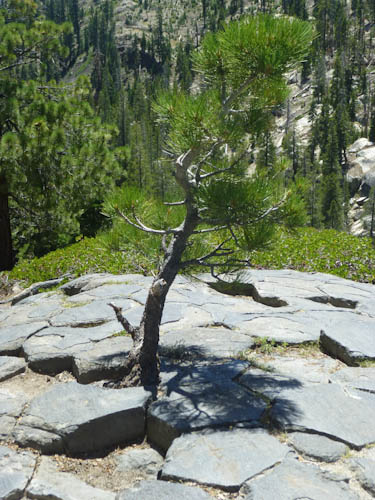 We weren't able to get an earth cache near the Postpile. When we were at the bottom, we thought it required information from the top, but when we were at the top, we found out that we needed information from the bottom as well. As we were hiking on 3 km (2 miles) from the top of the Postpile to Rainbow Falls, and we were hot and breathing hard with the elevation, we didn't want to go back down to the bottom again.
Eric took my picture walking on the top. You can do that.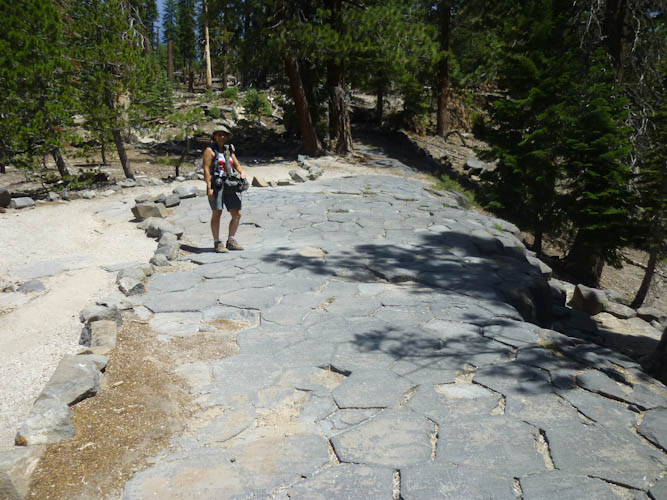 The hike from the Devil's Postpile to Rainbow Falls is supposed to be a great hike. The first half of it was. We entered the Ansel Adams Wilderness, and hiked nearly alone through some very pretty territory.
Eric's view of the scenery.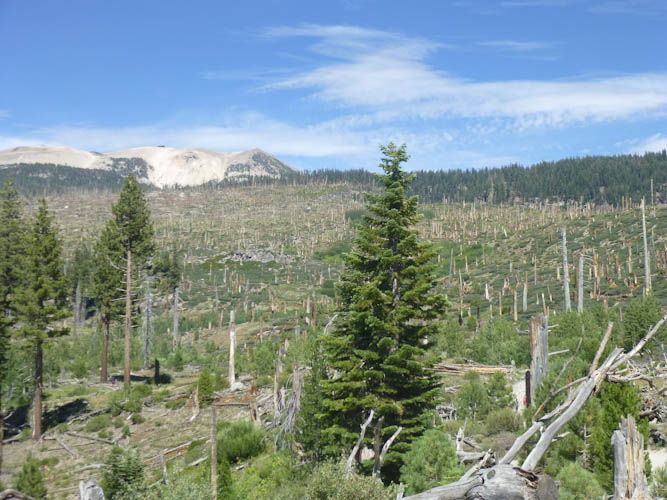 Part of the area had been burned.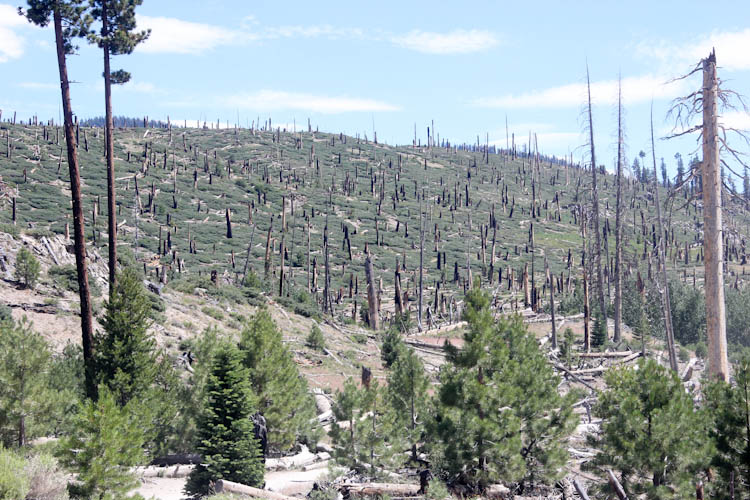 At the intersection with the trail coming down from Red's Meadow, though, we ran into trouble. "Horsies!" Eric said. But my spirits dropped. There was a convoy of about a dozen people on horseback. We would now have to follow the horses down the trail, with poop everywhere around us. But following the horses turned out to be far, far worse than I imagined. Whoever would have thought that people on horseback would travel more slowly than hikers? Hikers in the 40's, no less, hikers with 4.5 kg (10 lb) of camera equipment. We were stuck behind them, hiking more slowly than we wanted to be (attempting to get back to the B&B in time for hors d'oeuvres at 17:00), and eating their miserable dust. The differential between their speed and ours was even greater when the trail went uphill. If you're going to go that slowly on horseback, it is not fair to expect hikers to yield to you. We later complained to the park ranger about this behavior.
We only managed to pass the horses at a stream crossing shortly before the turnoff for the falls. I was panicking about having to follow them back up the trail to the shuttle stop, so we hardly had any time to enjoy the falls themselves. We only got to see the first, higher, viewpoint, as the horses were down at the second one, and of course we had no time for geocaching.
Rainbow Falls.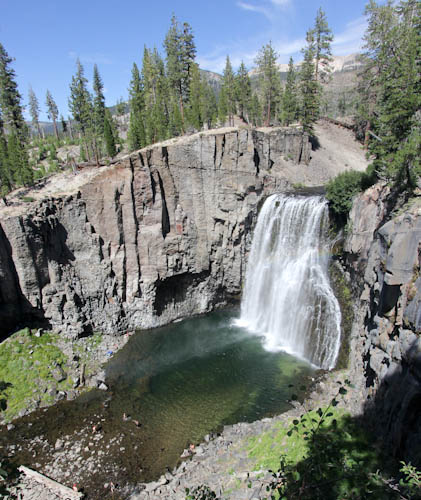 You can just barely make out the rainbow here.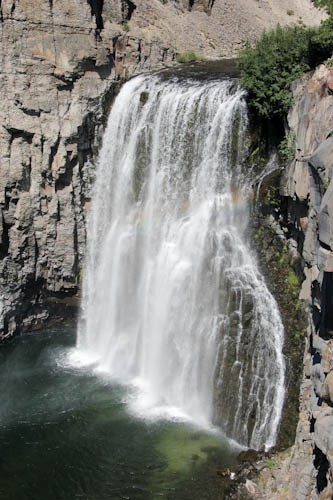 In my panic to avoid the horses, we took not one but two trails in the wrong direction before finding the right trail up to the shuttle stop. Thank goodness for GPS's. Fortunately, in spite of our mistakes, we never saw the horses again.
Eric spotted a California Quail.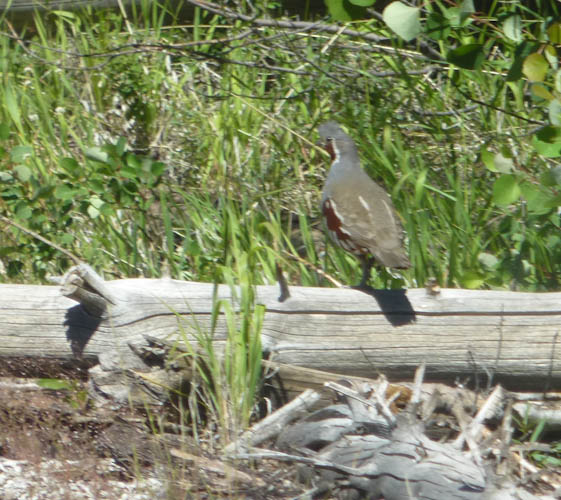 We both found this interesting, but Eric had to take the picture since my lens wasn't working.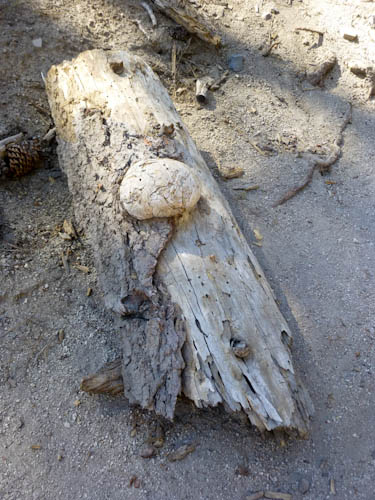 We got back to the B&B at about 17:45. Most of the hors d'oeuvres were gone, but we had a few bites. The other people staying there were a family that ran a B&B winery down near Kings Canyon. They had some of their wine for tasting, and it was very good. When I changed out of my hiking boots, I found that I had developed terrible blisters on my heels. Eric had tied my right boot, and that blister wasn't as bad as the one my left heel, where I had tried to tie my own boot. I would have to wear moleskin on Sunday.
Brock made us a reservation at the MRB Brasserie at the Mammoth Rock 'n' Bowl back in Mammoth. He told us the place was the only restaurant around with a view of the mountains, and we got there shortly before the sunset. It was nowhere near as dramatic as watching the sun setting over the Grand Tetons, but it was still nice. We had a nice barramundi and a lovely tomato salad, along with a mushroom pastry and a chocolate mousse. It was a nice anniversary dinner.
Little Lakes Valley
Brock, Diane and Gibbs cheerfully saw us off with hugs and belly rubs at 11:22 Sunday morning. This was a little bit later than we had planned to leave, but not terribly. I figured that if we left the parking lot at the trailhead by 13:15, we would have time to sit down for both lunch and dinner.

Scenery from the road up to the trailhead.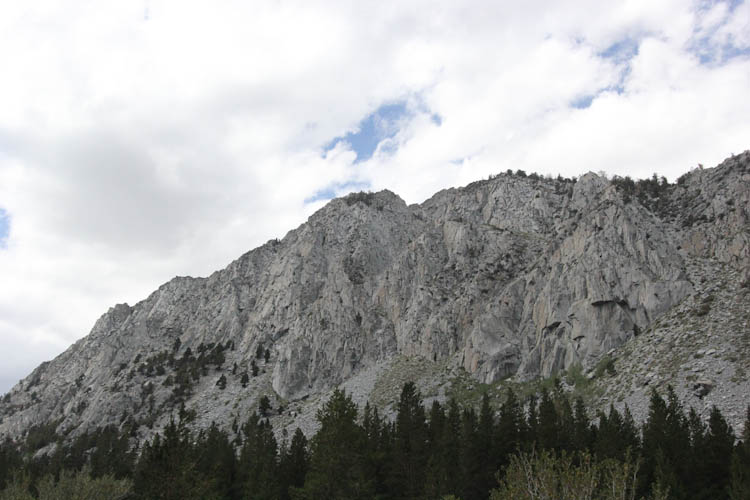 Unfortunately, there were no parking spots in the close lot, and we had to park .5 km (.3 mi) down the road in auxiliary parking. This added a lot of time to our hike, without being very exciting hiking. I wanted to save dealing with the blister pain for the good parts.
We headed up the first, slightly steep part of the trail, and then came to the flat place where we entered the John Muir Wilderness. Photo by Eric.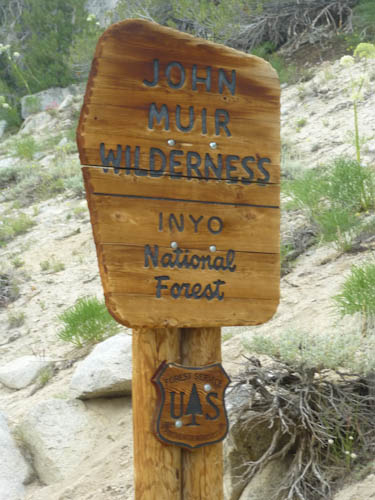 Soon after this, we came to the place where John had collapsed and I had performed CPR. Eric took GPS coordinates and a photo. I found myself feeling not as terribly emotional as I had feared. I knew why CPR had been unsuccessful, but I was glad to have tried.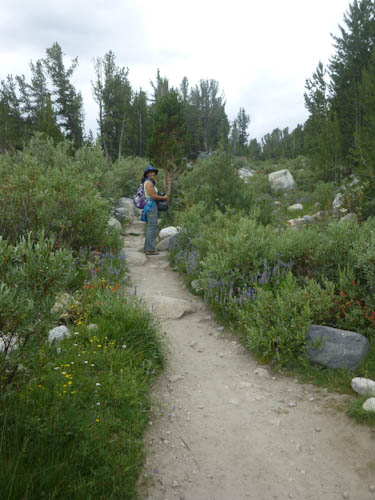 The wildflowers were beautiful. Here you can see both Indian Paintbrush (the orange, fairly common in California), and the redder Scarlet Paintbrush (which I have only seen in Washington before).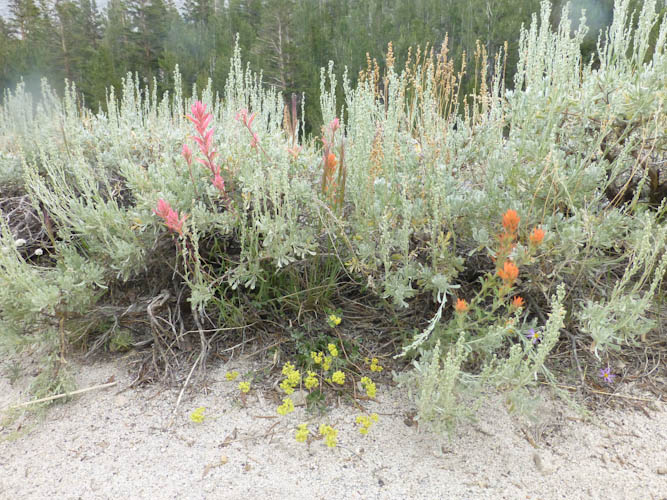 Eric photographed the flowers, too.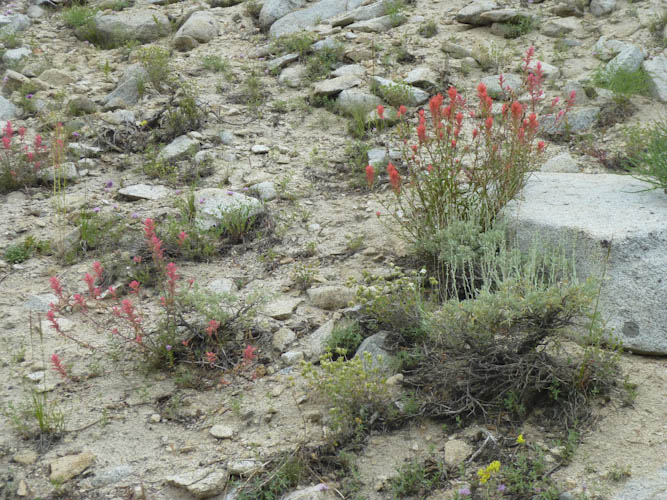 More desert flowers by Eric.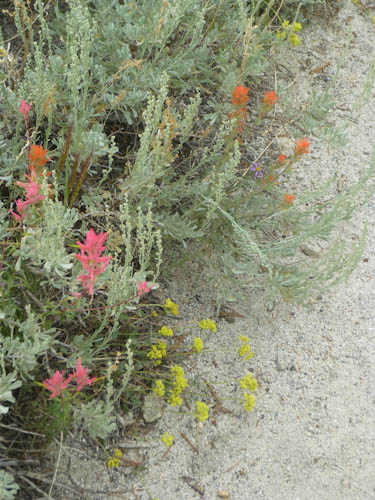 We ascended a bit more, steeply on rocks, and came to the first lake, Mack Lake. This was the spot that Mom and I had reached the week before. The scenery was spectacular.
I let Eric take most of the big scenery pictures, as I had taken similar ones last week.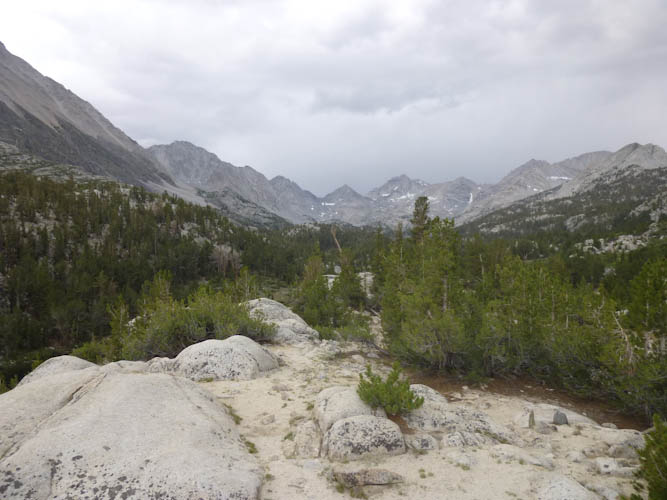 He took a close-up of the peaks.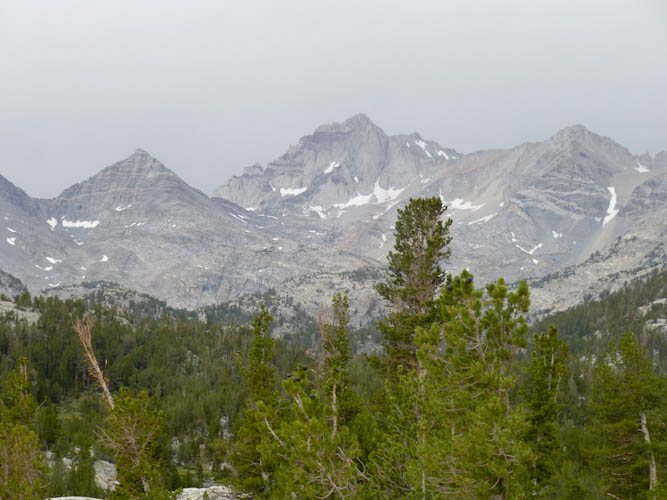 And another.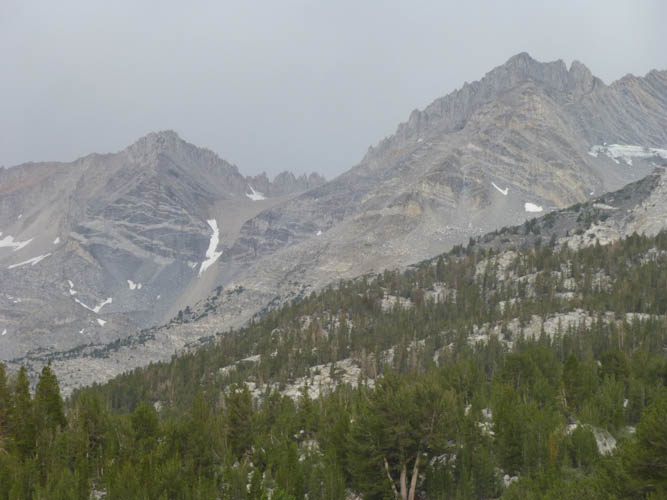 I took Eric's picture in front of the mountains.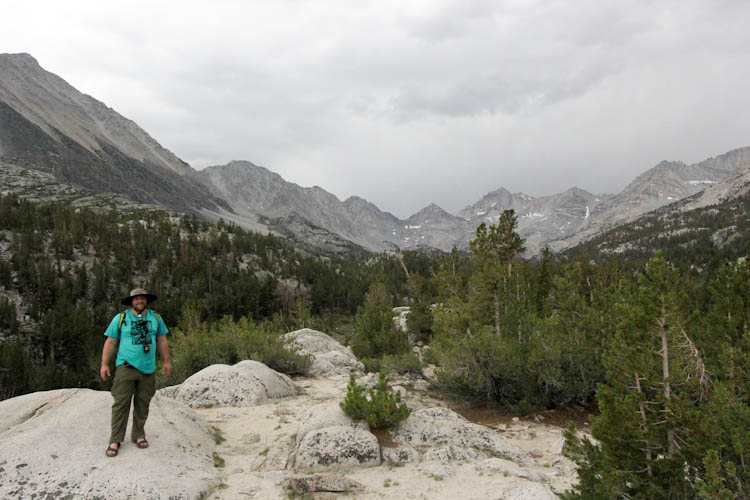 Eric took a picture of Mack Lake.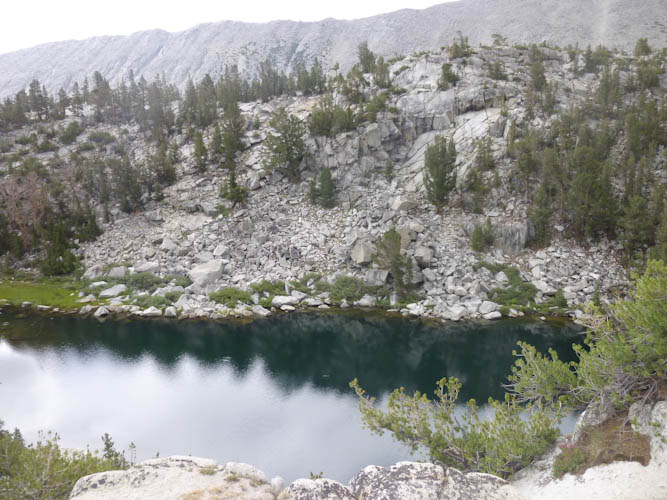 I had hoped to get a bit further with Eric than I had with Mom, up to Heart Lake, but there was lightning in the sky, and it was already 12:56. We went on just a little bit, to see if the next lake were just around the bend, but there was just this meadow. Reluctantly, I agreed to turn around and head back for home.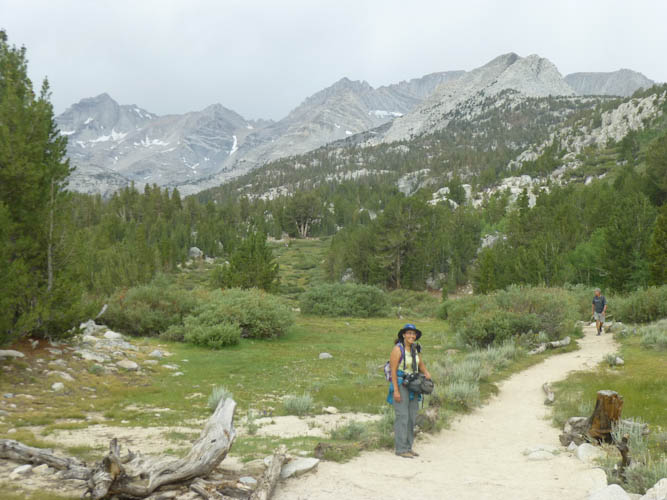 It's a good thing we turned around when we did, because it took until 13:45 to get back to Sydney, and a decent rain had begun to fall. We were wearing rain hats, but only I had a jacket, and Eric was wearing teva sandals. I guess he figured that if Mom could hike it in thong sandals, he could do it in tevas. He was fairly wet by the time we got in the car and I was able to remove my painful boots.
We stopped at the Rock Creek Resort to inquire as to any more details about what had happened to John. Did he make it to the hospital? Did he die on the trail? It turned out that the resort was 5 km (3 mi) down the hill from the trailhead, much further than the 3 km (2 mi) I had thought. Someone had had to go that far to call 911. The people we talked to at the resort knew nothing, however, so we just got back in Sydney and made our way back down to US 395. There was more construction than there had been the prior week, and much of the road was dirt. We didn't get back to the highway until 14:15.
Sonora Pass
There are two ways to get to Mammoth Lakes from the Bay Area: the Tioga Pass, on CA 120, and the Sonora Pass on CA 108. The Sonora Pass is much longer, and also steeper, but the Tioga Pass costs $20, as it runs through Yosemite National Park. Google believes that the Sonora Pass is actually eight minutes shorter, but this just defies reason. We were prepared to pay the $20 for the shorter route, but we saw a sign on US 395 saying that there was a fire at Crane Flat.

We made the obligatory stop for the delicious lobster taquitos at Tioga Toomey's Whoa Nellie Deli in Lee Vining, right at the turnoff for the Tioga Pass. The clerk there advised us that, while the highway was open, it was very smoky. We opted for the Sonora Pass.

Eric took a picture of Mono Lake from Tioga Toomey's.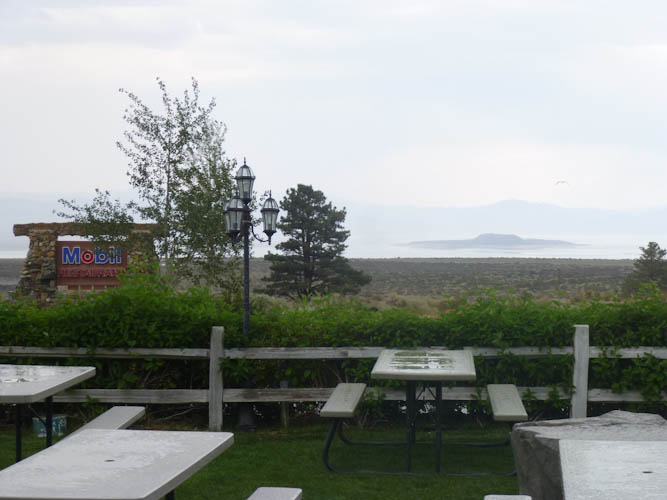 Sage landscaping at Tioga Toomey's.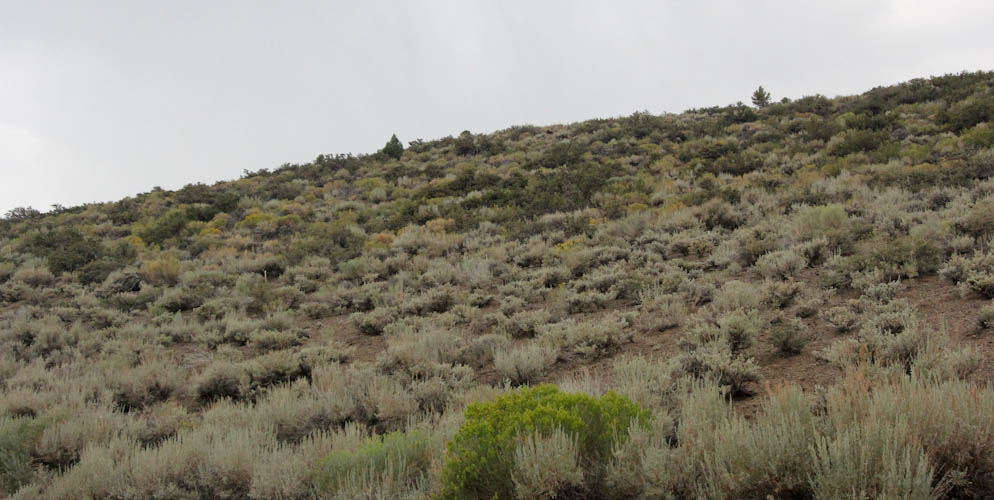 Brock had told us the Sonora Pass would take more time but would be very scenic. And scenic it was! It was wonderful to explore new territory, and we were awed by the beauty.
Scenery from the Sonora Pass, at near 2,750 m (9,000 ft).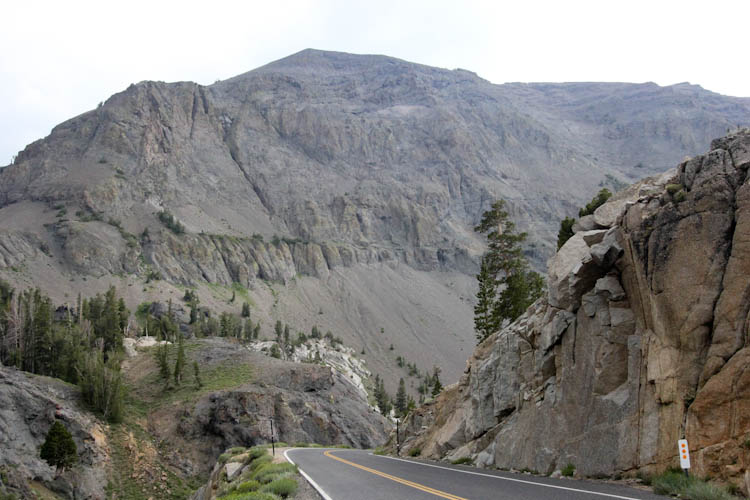 Eric took a picture of the detail in the rocks.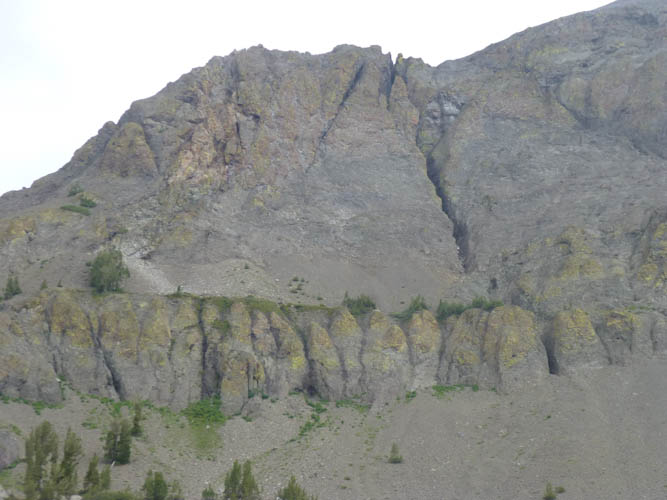 A dramatic curve in the road. This sort of thing could really only have been built by prison labor.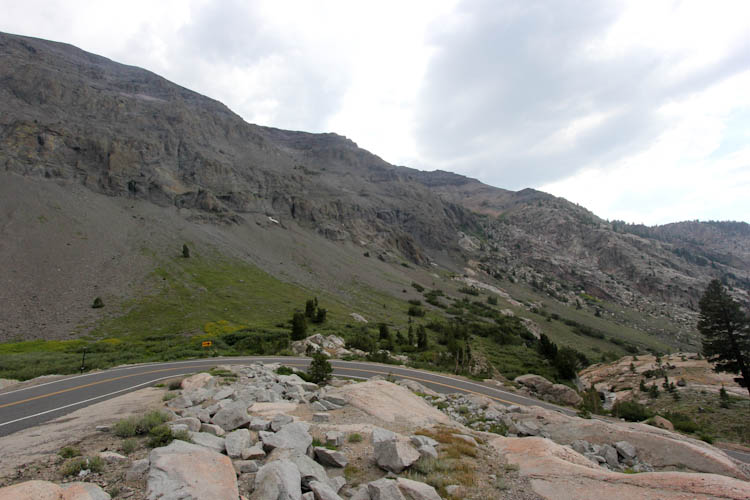 More Sonora Pass scenery.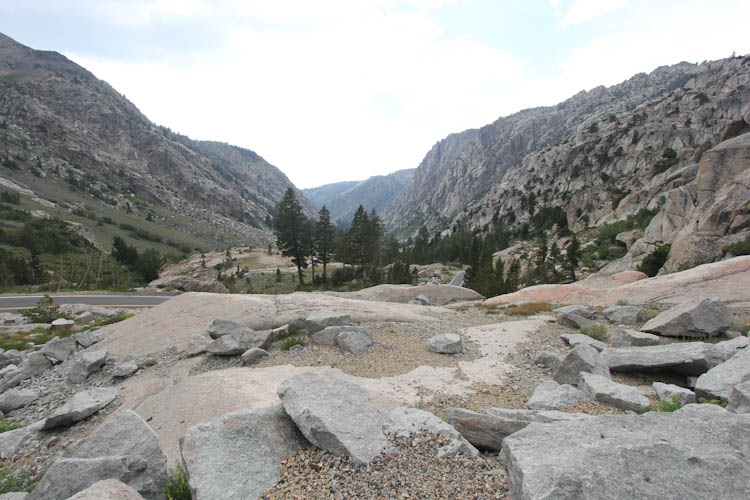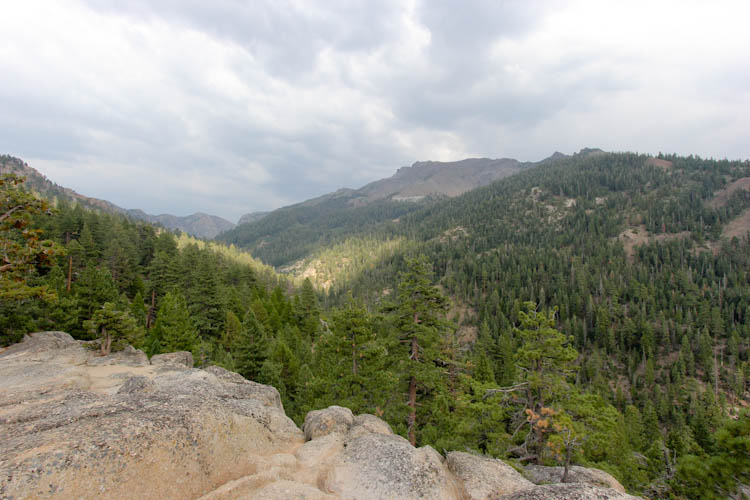 We met a family visiting from the Netherlands near this formation. They had been forced out of Yosemite by the fire.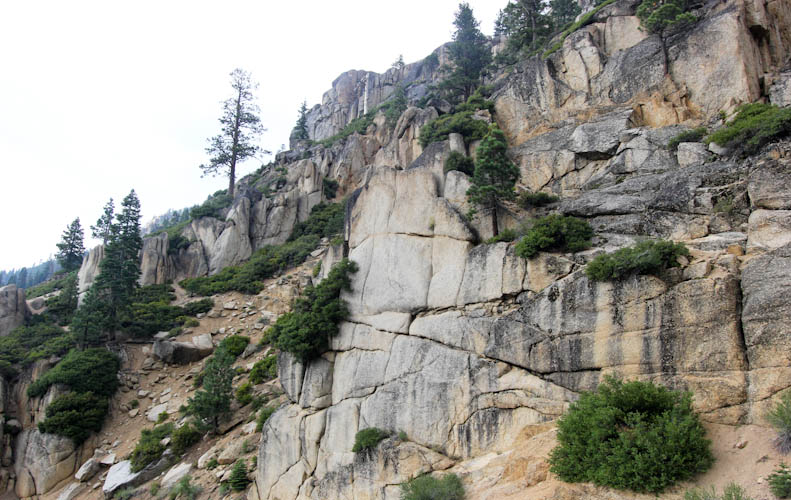 A truly spectacular roadcut.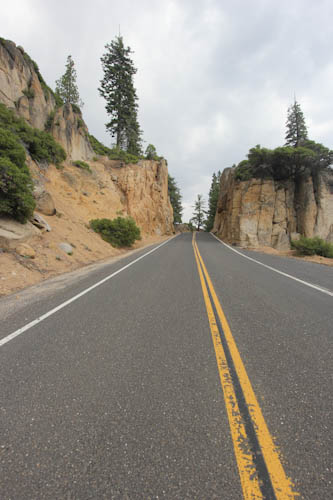 All in all, it was a lovely anniversary weekend. We are so excited about the geologic wonders in Mammoth Lakes. We would like to come back for a three-day weekend, so that we could see the Obsidian Dome and explore more of the Little Lakes Valley. It may have to wait a while, but we will be back, hopefully sooner than twelve years this time!
---