---
Beth and Eric's 20th Anniversary Alaskan Adventure
July 22 - August 1, 2011
---
We were married in a homebrewed, write-it-yourself, Unitarian Universalist ceremony combining Jewish, Christian and ancient religion elements on July 27, 1991, back before any of that was cool. We were blazing trails then, and twenty years later, we're still blazing them.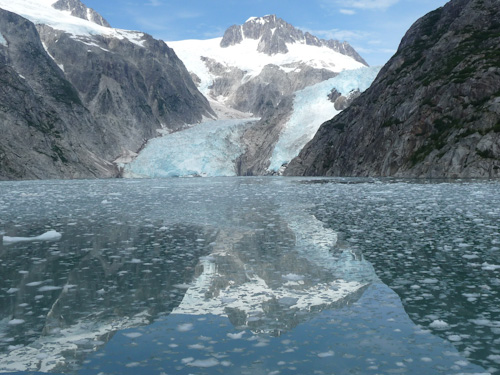 Trip Outline
Alaska. "The Last Frontier" as the license plates say. That seemed an appropriate destination for a trail-blazing celebration of the momentous occasion of our twentieth anniversary. Alaska is an enormous, diverse land of majestic beauty, magnificent mountains, stunning seacoasts, shining glaciers, salmon-filled rivers, active volcanoes, wild animals, and an extremely self-sufficient population. Our desires were to walk on a glacier, watch a glacier (hopefully a different one) calve, see Denali (Mt. McKinley), and see a lot of puffins, sheep, moose, eagles, whales, and seals. With the exception of seeing Denali, we were extraordinarily successful.

We started with the idea of cruising Alaska in the comfort of a luxury liner. But we discovered that cruises only go to southeastern Alaksa, and research revealed that, while southeastern Alaska is quite wondrous, there was much, much more to see. With so many amazing places in the world to see, we don't expect to be able to go back to Alaska, so we were driven to see as much as possible this time. There was no way we could afford the time or the money to explore the entire gigantic state (about 1/6 the size of the continental US), so I looked hard to find the most representative parts. I found a three national park tour from Alaska Tour and Travel. Alaska Tour and Travel is a consolidator who allows you to set you own itinerary, picking and choosing from among their offerings, or booking your own reservations as you please. This was the only tour I found that offered not one, not two, but three national parks: Wrangell-St. Elias, Denali and Kenai Fjords. Best of all, instead of shuttling you around in a bus, this tour included a car so we could drive ourselves (OK, so Eric could drive) and go at our own (geocaching) pace.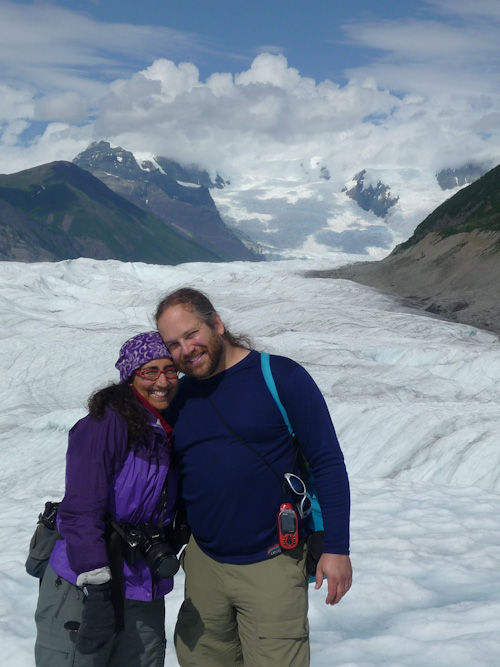 Wrangell-St. Elias, a mountainous park, offering opportunities to hike on glaciers, with a scenic flight over the mountains.
Denali National Park, home of Mt. McKinley, the tallest mountain in North America, as well as many, many sheep, moose, bears, and other wildlife.
Kenai Fjords, a mostly marine park, with glaciers like Glacier Bay National Park and lots of marine life, on the Kenai Peninsula, south of Anchorage along the beautiful Seward Highway.
At the suggestion of fellow geocachers the Berkeley Boomers, I included a side trip to Homer, on the west side of the Kenai Peninsula, as part of our trip to Kenai Fjords.
While the comforts of a luxury liner were highly appealing, the freedom to go off on our own adventures, the ability to see a wider variety of Alaskan ecosystems, and the opportunity to take a more intimate look at the wildlife and the glaciers were even more appealing. This was a real end-of-the-road kind of trip, where we went right to the ends of as many roads as possible: to Chitina at the end of the Edgerton Highway, to Kennicott at the end of McCarthy Road, to Kantishna at the end of the park road in Denali, to Takleetna at the end of a spur off of the Parks Highway, to the end of the Homer Spit on Alaska Route 1, into the deepest fjord in Kenai Fjords Natinonal Park, and to the end of the Seward Highway. No cruise ship would take us all the way to the end of the road like this.
There is no romance like the romance on the road, whether by car, bicycle, or on foot, striking off on your own to someplace new and exciting and controlling your own destiny. Alaska is a fantastic place for road tripping, because it has no interstates. Not a single one. Even Hawai'i has one, as ridiculous as that sounds. Without interstates, there is no temptation to take the easy, fast, tried-and-true path that makes you miss all the good stuff. If you're on the road in Alaska, pretty much anywhere outside of Anchorage, you're in the realm of mostly small, locally-owned businesses. You're seeing something different, and, almost always, something beautiful. Most of Alaska is not covered by any road system at all and is accessible only by small plane. The coastal portions are served by the Alaska Marine Highway, a ferry system. There is a road up to Prudhoe Bay in the very northern part of Alaska, but it's dirt. Together, we explored a substantial percentage of the paved road system.
Photo by Eric.
Alaskans
Contrary to the beer-can-guzzling, environmentally-reckless, Palin-voting stereotype, I found Alaskans to be pleasant, friendly, outdoors-loving people with an intimate appreciation of the beauty of their state. Yes, they all drive SUV's, but with so much snow and so many dirt roads, that's a very practical choice. Yes, they have a lot of guns, but with the risk of being charged by bears and even moose, that also makes a lot of sense.

Alaskans love the outdoors. Most of the ones I talked to had an appreciation for the necessity of preserving their beautiful environment. But the polls show that a majority of Alaskans feel otherwise. You would think that, looking at Alaska, the need for preservation of so much gorgeous scenery would be obvious. But the opposite is in fact true. Alaska is so big, and just has so many resources, that when you look at it, it seems impossible to believe that Alaska could ever run out of anything. With so much amazing beauty, it's hard to see why destroying one little part could make any difference at all. That's the logic of the frontier.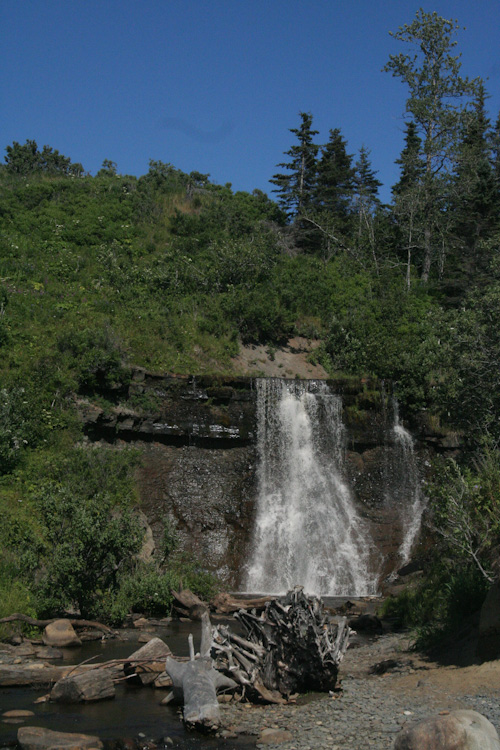 As Californians, however, we have a sense of our frontier history, and our very un-frontier present. When the first miners came to California in 1849, California must have been very much like Alaska today. 162 years later, well, it's quite a different scene. We still have the ocean, the beaches, the mountains, the Bay, and Yosemite, but we've also got traffic, freeways, smog, parking issues, ridiculously expensive housing, and, generally, all the problems of far too many people.
The forbidding winter may very well protect Alaska from California's fate. The mild weather is, of course, one of California's primary attractions. Summer in Alaska may be paradise, but the winter is, as one hotelier described it to me, "lonely and dark." Most of the Alaskans we met in the outlying areas migrated to the cities in the winter. So Alaska may be all right. And California is, after all, still beautiful. Let's hope Alaska will stay amazing for the time when you get to visit it.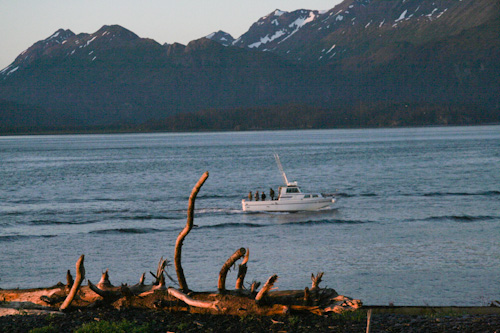 Weather
Although we didn't get to see Denali, we were otherwise extremely lucky with the weather. Of eleven days in Alaska, it only rained on us three, one of which was the day we were just going to the airport, anyway. Experience has shown again and again that pretty much, what distinguishes a good vacation day from a not-so-good vacation day is rain. It rained on us the day we were driving to Denali, mostly over territory we'd covered before, and it rained while we were at Denali so we couldn't see the mountain. But Denali is famous for bad weather, so this was not unexpected. The weather might have been cold and rainy for our entire five days on the Kenai Peninsula, but it was sunny and pleasant instead. The day we went to the airport, which was very wet and cold, gave us a small taste of what could have been, and made us quite thankful for the weather we had had.

Photo by Eric.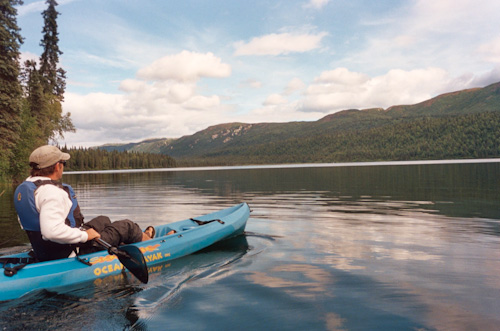 The Light
In addition to exotic wildlife and stunning scenery, one of the things that makes Alaska special is the light at its high latitude. Time and money constraints prevented us from crossing the line into the Arctic Circle, but we were at a higher latitude than either of us had ever been before. At first, the late light was incredibly disorienting. It's hard to feel like it's time for bed when the sun goes down at 23:30. Early in the trip, we lost a lot of sleep. After a week, however, we'd become somewhat accustomed to it, and found that darkness exerted a powerful force of sleepiness upon us. It was extremely difficult to wake up on the dim, rainy day we left for the airport. There were noticeable changes in the amount of light over the course of the eleven days we were in Alaska (the amount of daylight changes by about six minutes each day), as well as when we traveled in a northerly or southerly direction. I found the effects of the light fascinating.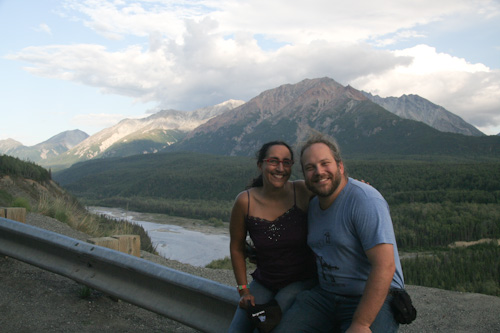 Food
It would be difficult to be a vegetarian in Alaska. There's a reason why Alaskans eat the way they do. While one tour guide told me he had a vegetable garden, we generally found vegetables difficult to find. Often, the only vegetables available were potatoes, often only in fried form. When vegetables were available, they were typically imported from California, and thus were underripe, overly fibrous, and not particularly tasty. The fish and crab we ate, on the other hand, were, of course, fantastic.

Food was also very expensive. Unless we were in a relatively developed area, there was a dearth of inexpensive or even mid-range restaurants. In some less popular places, restaurant choices were limited to one or perhaps two fairly high-priced places, and service would be most charitably described as unhurried. But the food quality did not suffer at all from the lack of competition. While menu choices were often limited, the food we ordered in the remote locations was universally very good.
Successes and Failures
Eric is fond of saying that Napoleon did not invade Russia with as much planning as I do for a trip. I did indeed spend hours doing research, in paper books, online, and on the telephone, trying to plan the best possible trip to Alaska for people like us. In general, I was very successful, but some things were better than others.
What I Did Right
Not Taking a Cruise
My research quickly revealed that, while a cruise ship may be extraordinarily comfortable and a lot of fun, the itinerary will be quite limiting. If you will be satisfied with a few tried-and-true, crowd-pleasing experiences and are most comfortable in more developed places, then the cruise ship may be all right for you. But if you have any desire at all to get off the beaten path, find your own transportation.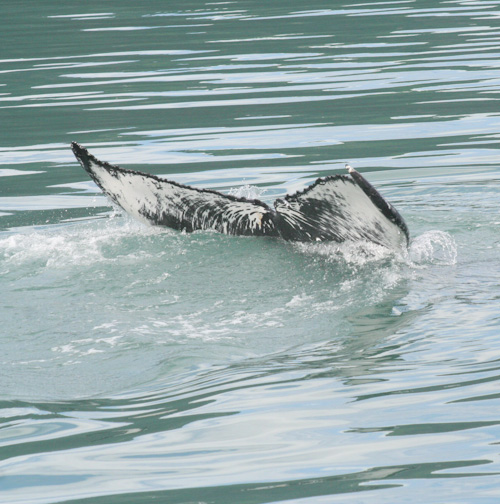 Focusing on National Parks
Our travel agency's outline for this trip was focused on national parks, and it was this itinerary that sent us to Wrangell-St. Elias, the best spot we saw. Without the travel agency itinerary, I probably would not have planned for the long drive out there, but this place was more than worth the trouble. As Americans, we should take great pride in the beauty of our environment and in our national parks. They make great vacations.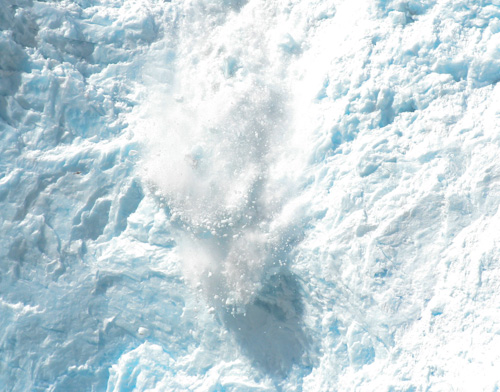 Choosing Smaller Operations
The hotels and motels my travel agent offered were all serviceable and comfortable. But most of them lacked character. When I selected places on my own, I specifically looked for the least professional, most awkward web sites. The places I picked myself were uniformly friendly, fun and unique. While I definitely needed a travel agent to help with this trip conceptually, I liked my own lodging bookings better. But since I needed assistance, it was advantageous to choose at least some of the travel agency's bookings, and their places were usually in more convenient locations, with more food choices, than mine.

The travel agency did well in terms of tours. We took five tours, three of which were selected by the travel agency and two that I found myself. We did not particularly like the tour we took of Denali, but the problems with that tour were largely associated with National Park Service restrictions (and the weather) and not the fault of the tour operator. The other tours our travel agent booked for us were both excellent. The two tours I selected myself were also fantastic. I chose one on the basis of National Geographic Traveler's Alaska's recommendation, and the other on the basis of having a more homemade website. The most exciting tour was the one with the homemade website.
Using National Geographic Traveler as Our Primary Guidebook
Absolutely the best guidebook ever for adventurers, photographers, geologists, naturalists, and any traveler seeking extraordinary experiences.
Getting the Midsize Car
The midsize Sonata was the default option from our travel agent. Normally I try to save money by renting the tiniest car possible, but with all the stuff I knew we would have, and all the remote places we would be parking the car, I decided to go along with the travel agent's advice. Definitely the right choice.
What I Did Wrong
Not Sharing the Driving
Last year, when Eric and I toured the Pacific Northwest, we did a lot of miles. 3,100, or about 5,000 km, in 17 days. This trip was only a little bit more than half that distance, and we had eleven days to do it. But last year, we were in our very own car, with no restrictions on what terrible roads we could take it on, and, more importantly, on who could drive it. I entirely forgot that the rental car company would only let one of us drive without an extra fee. I consider policies like these to be anti-marriage. While we have many romantic ideas about marriage, from a legal perspective, marriage means joint liability for debts. If you are in California and your spouse wrecks a rental car in Florida, you are as liable for the financial damage as if you wrecked the Florida car yourself. (It is worth saying that the same is not the case for any criminal liability your spouse might have if he or she were determined to be driving recklessly or under the influence of substances; you don't have to share that responsibility.) Anyway, it's legal for rental car companies to charge an extra fee to let a spouse drive a rental vehicle. We chose not to pay that fee, and, given that it would have amounted to perhaps $110 with tax, that was a mistake. It was really too much driving for Eric to do all by himself, and it would have been better if I had been able to take the wheel now and then. Of course, I could have done it without paying the fee, but then, in the unlikely event that I had an accident, it would have been quite a bit of trouble.
Moving Around Too Much
We spent eleven nights in Alaska, and only three of them were successive nights in the same place. We packed in and out of hotel rooms eight times. By the end of this trip, this had become rather tiresome. This is where taking a cruise ship is a huge advantage. But without doing this, we would not have been able to see as much as we did, so in some ways, it was worth the trouble. Probably the ideal way to see Alaska is in an RV, because then you can move around at your own pace without packing and unpacking all the time.
Denali
Mike from Kennicott Wilderness Guides spent a while on the phone with me back in November, and I told him about our plans for a three national park tour. Mike told me we could skip Denali. My father told me that visitors to Denali have only a 20% chance of seeing the mountain (although they have very good chances of seeing bears and moose, from a distance, from a bus). We were not among those lucky few who got to see the mountain. While we did see all the animals we expected to see, the experience was still disappointing. We came away from Denali feeling, "Well, we had to try." I think Mike was probably right, especially since the Wrangell and St. Elias Mountains were so amazing. But I did talk to other people who said that if you do see the mountain, Denali's amazing. Unless the idea of spending hours and hours on a bus peering at animals through binoculars really appeals to you, I would either skip Denali entirely or go to Denali State Park rather than Denali National Park. The state park doesn't have the wildlife you can see in the national park, but it is beautiful and gives you an opportunity for a great view of the mountain if the weather is favorable. It's also much less touristy, the food is better, and it's less than half the driving distance from Anchorage.

Photo by Eric.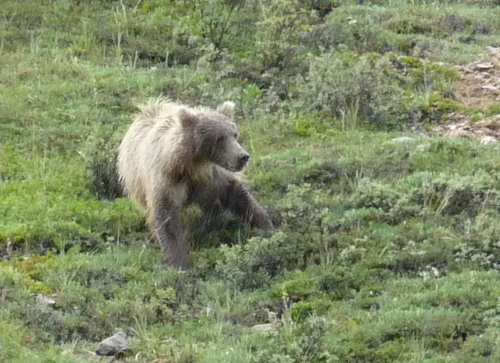 Getting Everywhere Way Too Late
Eric and I have a habit of being entirely fascinated by the first few things we see on a trip, such that we spend way too much time on them and don't see anything further along the way because we're rushing to make up time. I tried very hard to plan for this behavior pattern, expecting that if we were driving from west to east, we would see the sights at the west end of the road on the way out and the sights at the east end of the road on the way back, and planning for a lot of extra time. Honestly, I planned entire days just to cover four of five hours' worth of driving. But it still wasn't enough.

Most of the trip had a basic pattern like this:

Odd numbered day: Drive somewhere on our own

Even numbered day: Take a guided tour

While the guided tours all got us back to our destination early enough for dinner and some relaxing, they all started ridiculously early in the morning. The worst extreme was the Denali bus, which we had to meet at 6:25. But the latest we were ever able to meet a tour was 8:30, so every tour day, we had to get up by 6:30 at the latest. This would mean that we would want to go to bed around 22:30, so we would want to get to our destination by around 20:00, to allow time for dinner, checking in and unloading. We would generally get up around 7:00, thinking that getting on the road by 9:00 would give us plenty of time.

The first day, we had to do five hours of driving to get to a place where we would meet a tour at 8:30 the next day. We didn't leave until 14:00, partially because of our arrival in Anchorage at 1:30 (I had originally booked an itinerary that would have arrived at 23:30, but the airline added a stop in Portland), and partially because of our need to shop for groceries to eat in the car. With a two-hour hike out-and-back to a waterfall, we got in at midnight. Midnight! We did a little bit better after that, but even when I planned an entire day for a four-hour drive, I think the earliest we ever arrived at our destination was around 22:00, not yet having had dinner. This even happened when we had planned a romantic evening of celebrating our actual anniversary. There's a lot to see on the road! All those damn waterfalls! More than halfway through the trip, we figured out that we had to set the GPS for our ultimate destination for the day, and program our interim destinations in as via points, so that the GPS would continually display our expected arrival time for the evening. That helped significantly, but it meant that we rushed through or bypassed altogether places we wanted to see. We could have spent twice as much time on the road as we did and still not seen anywhere near everything we wanted to see.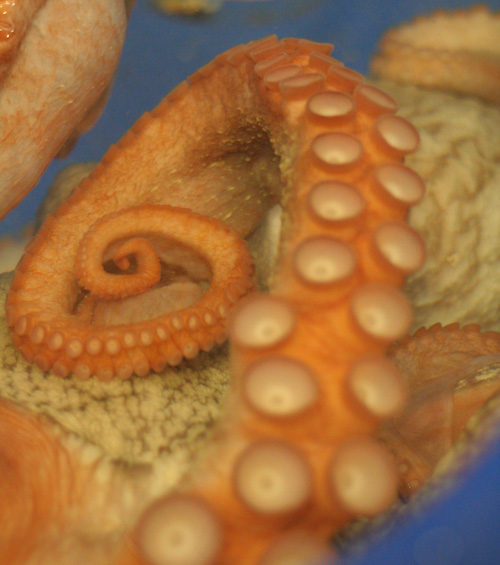 Not Getting Off the Road System
While we covered a good chunk of the paved road system, we barely got off the road system at all. In retrospect, I think it would have been great to do an overnight in one of the roadless parts of Alaska. It would have given us a feeling of having seen more of the "real" Alaska, and more of how the natives live. We went to Alaska with a lot of interest in wildlife and geology, and not much interest in the human history. But once we got there, we found out that the human history was fascinating as well.
Happiness
This trip made both of us very happy. It can be difficult in the modern world of offices and commutes to find the things that bring happiness. Twenty years into our marriage, being on the road together brings us happiness. But above and beyond being in each other's presence was being in the presence of the beauty of Alaska. There were several times when I felt nearly overwhelmed by the awesome power of the places we saw. A glacier calving is an incredible thing to behold. Imagine being right near something as large and majestic as an Orca! You feel astounded by the immensity of your surroundings. These experiences brought tears to my eyes, and I feel amazingly lucky to have had them. It's hard to describe the feeling without resorting to religious language, these experiences were so powerful. I hope everyone who reads this page will be able to have similar experiences. They filled me with joy.

Photo by Eric.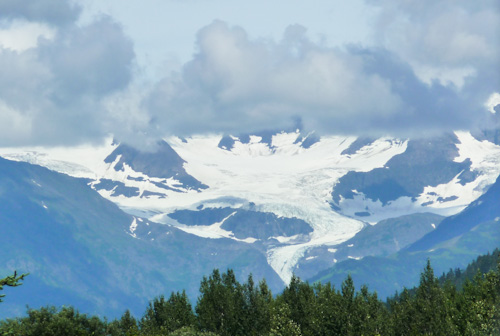 I am grateful for the advice of the Berkeley Boomers in planning this trip. We weren't able to do everything they recommended, but their advice was invaluable.
Distance driven: 2,655 km (1,649.9 mi)
Caches found: 23, including three first-to-finds
Special thanks to Eric for doing the driving, making the production of this website possible.
---